Carrot cake gets a revamp at Ding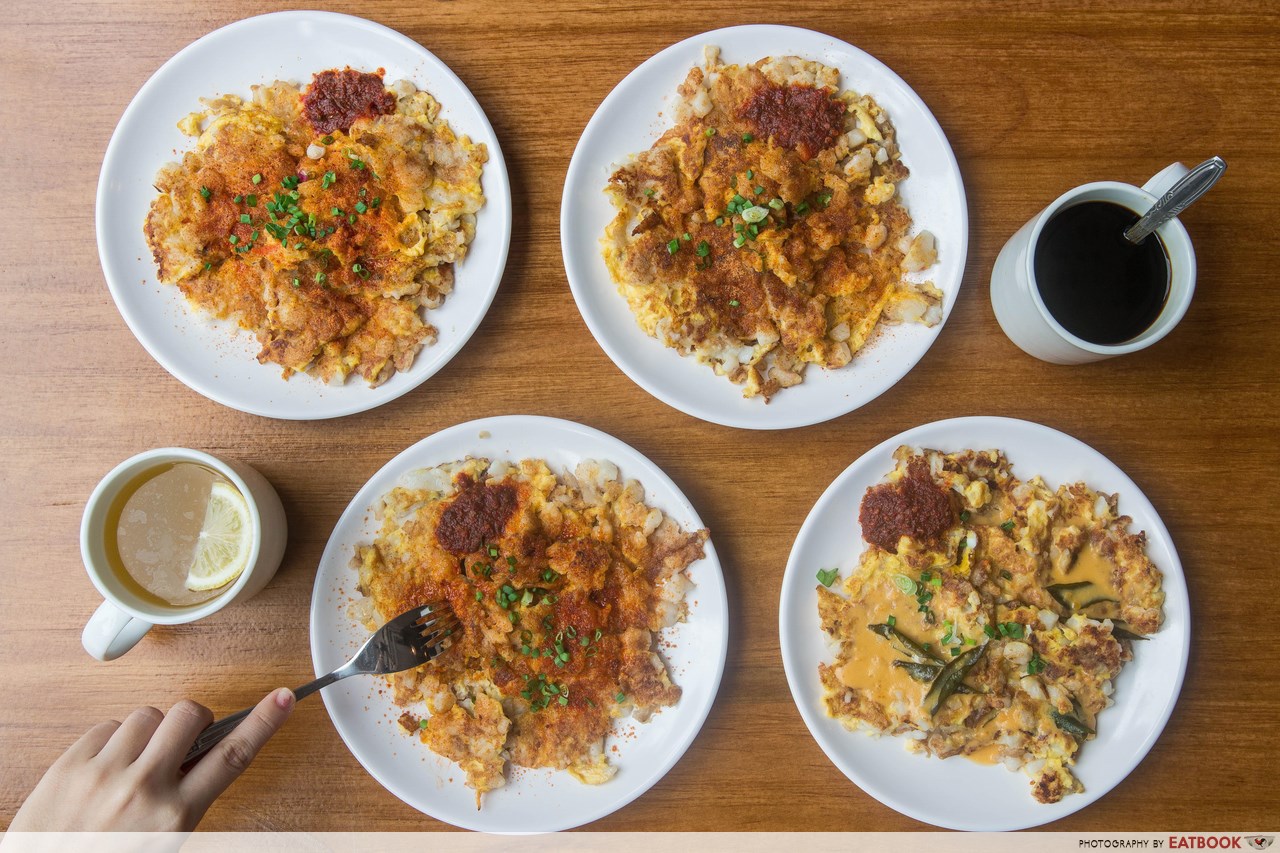 We all have that one special friend in the clique. The person doesn't necessarily take center stage, but things start to feel a little off once they're not around. That, is chai tow kway to me. Not the main reason why I'd visit a hawker centre, but something I'd like to have occasionally.
But it'll be the star of the show today. Nestled among other stalls at atas kopitiam Wild Market is Ding, a fried carrot cake stall that sells just the white version, pimped up with a modern touch. Chai tow kway purists, you've been warned.
Food at Ding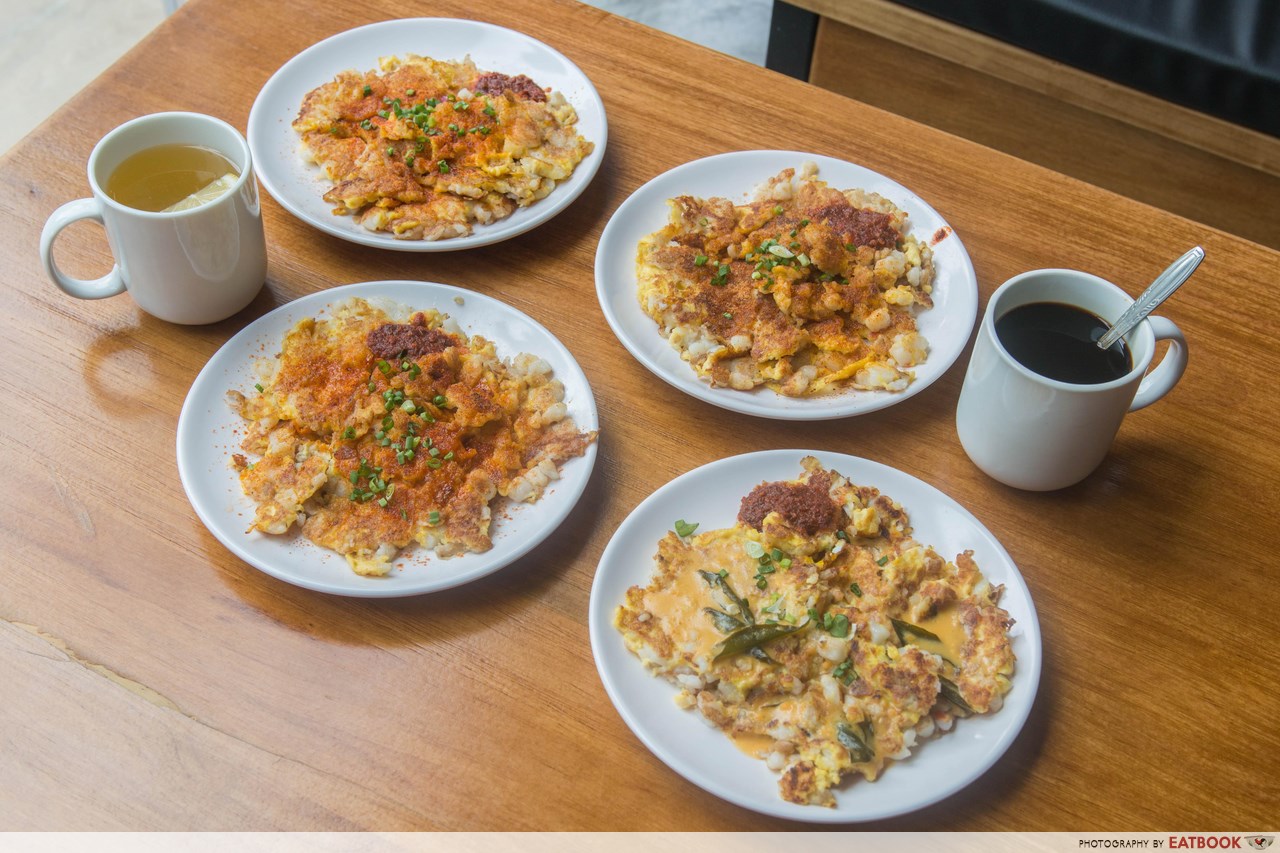 Prior to visiting this store, I was always a black carrot cake kind of girl. The crusty caramelisation that the black version provided made it difficult for me to want something else, and besides, I never had a white one blow me away. It didn't take more than the first bite before I was eating – or rather, shovelling – my words.
Fun fact: the owner of this place is the daughter of Lim Hai Sheng, and she used to help her late father run the stall at Ang Mo Kio Central Market & Food Centre for over 30 years before taking over. Similar to that stall, Ding only serves the white version of carrot cake that is fried using vegetable oil, which explains why you might find the taste familiar if you're a returning customer.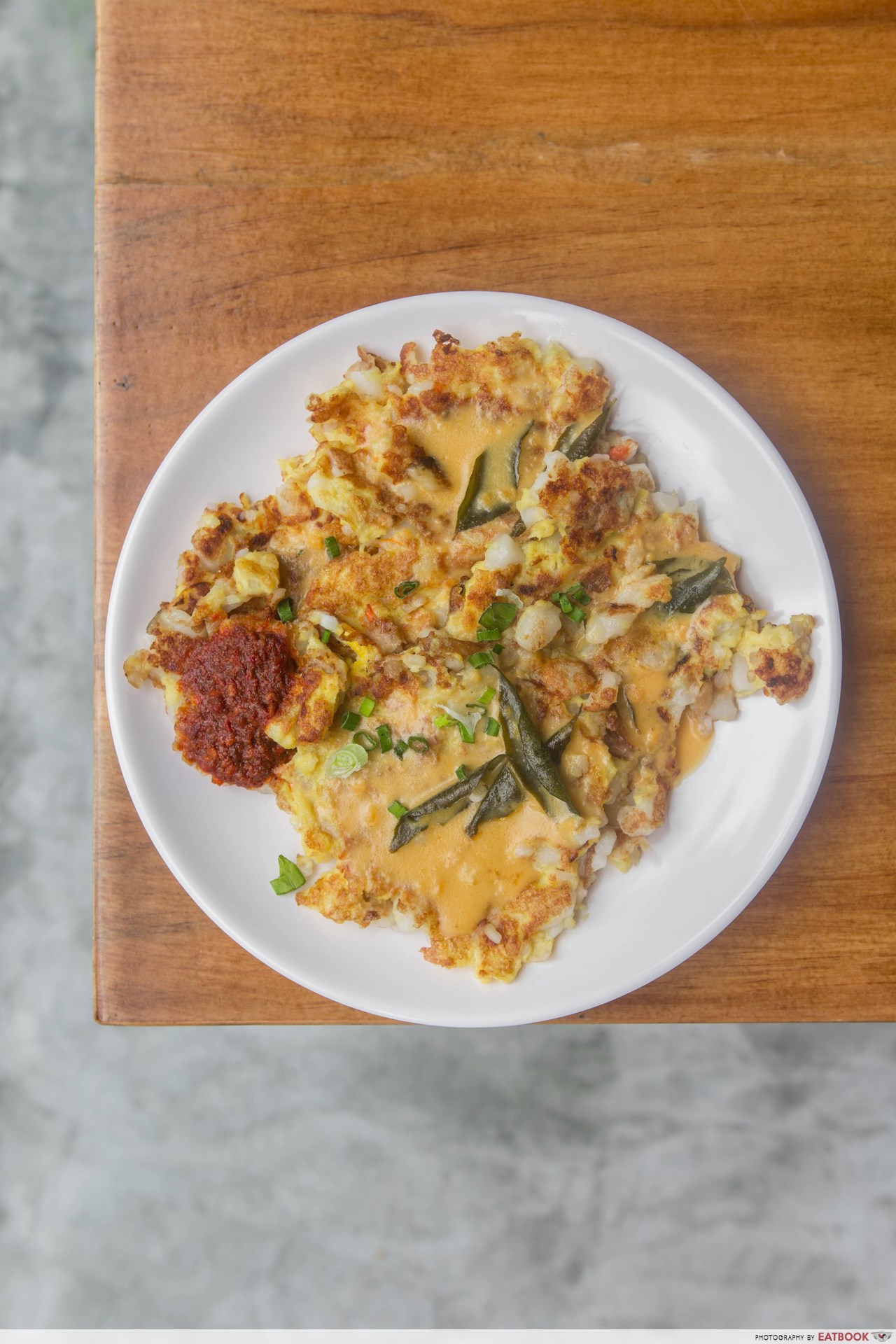 Let's start with something familiar. When I first caught a whiff of the Special Salted Egg Sauce Carrot Cake ($5 /$6), I knew it would be an instant hit.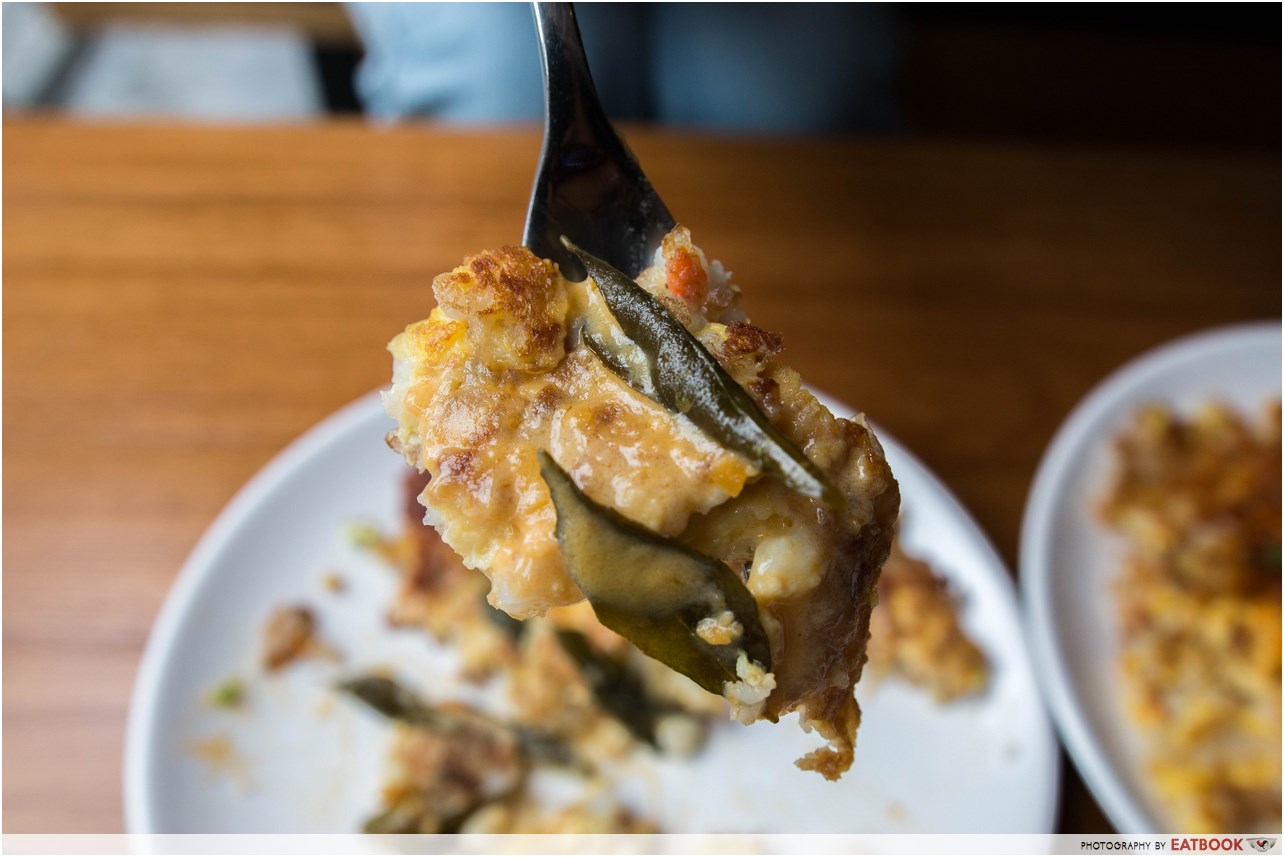 This bad boy was slathered in their salted egg sauce that lent a creamy texture to the dish, and the carrot cake was fried with a generous amount of eggs till golden brown. Needless to say, we cleaned this plate out in record time.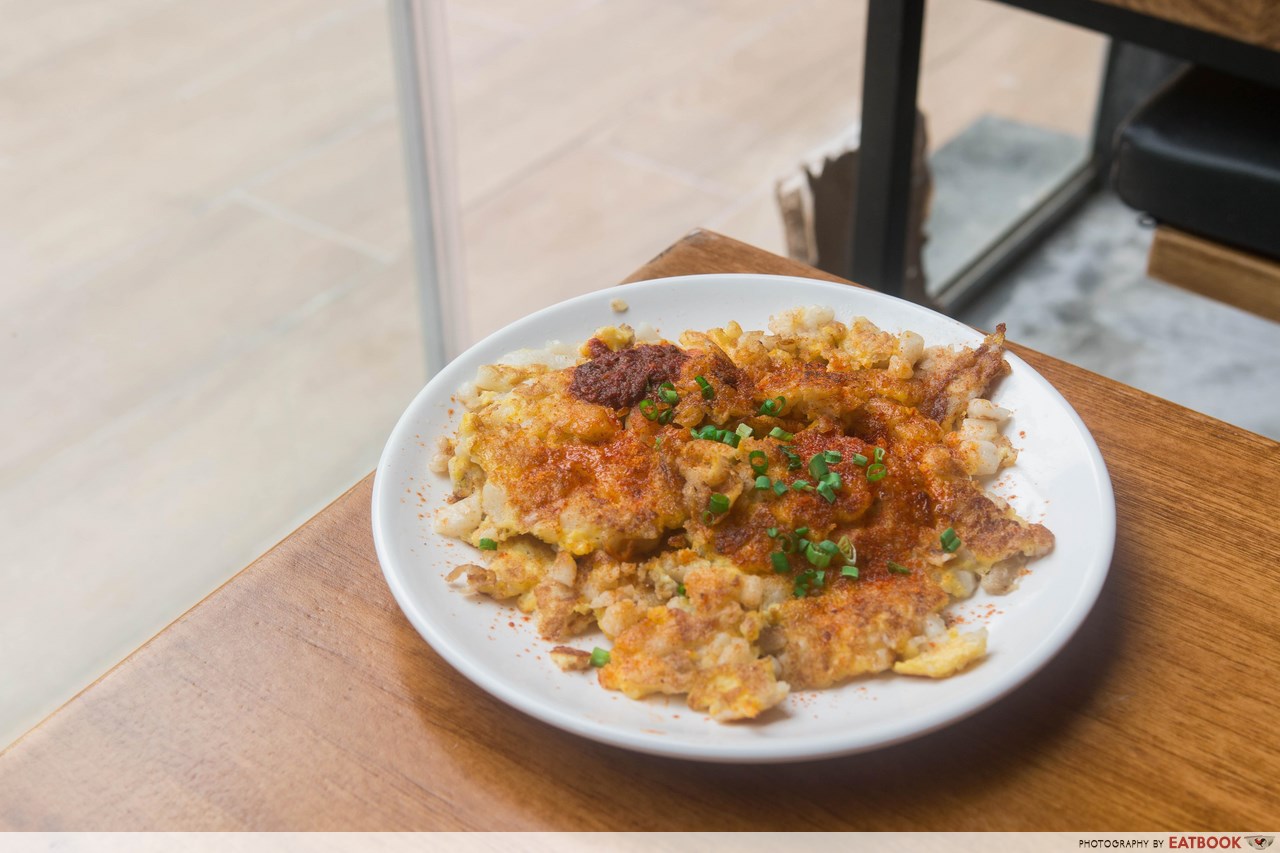 For something completely different, we went with the Grilled Squid Carrot Cake ($4/$5). The dish's name will throw you off – there's not a single chunk of squid in this. Instead, the squid is grilled, dried, then ground into a fine powder and incorporated into the cooking process. Think of it as squid-flavoured salt.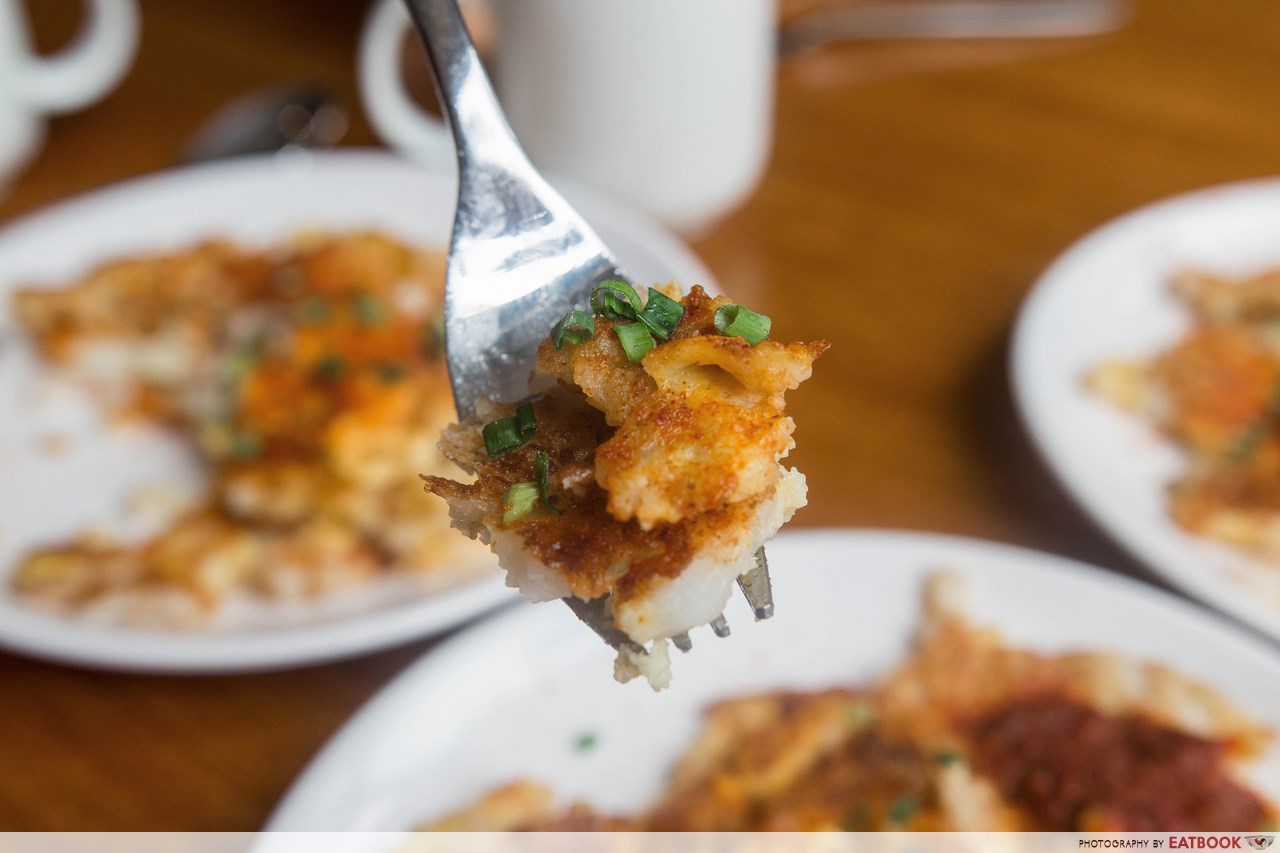 Surprisingly, the first flavour that jumped out at me wasn't squid. If I had to describe it in a word, it would be "umami". The unique savoury flavour was accompanied by a slight spice that didn't overshadow the grilled squid seasoning and made the dish really addictive.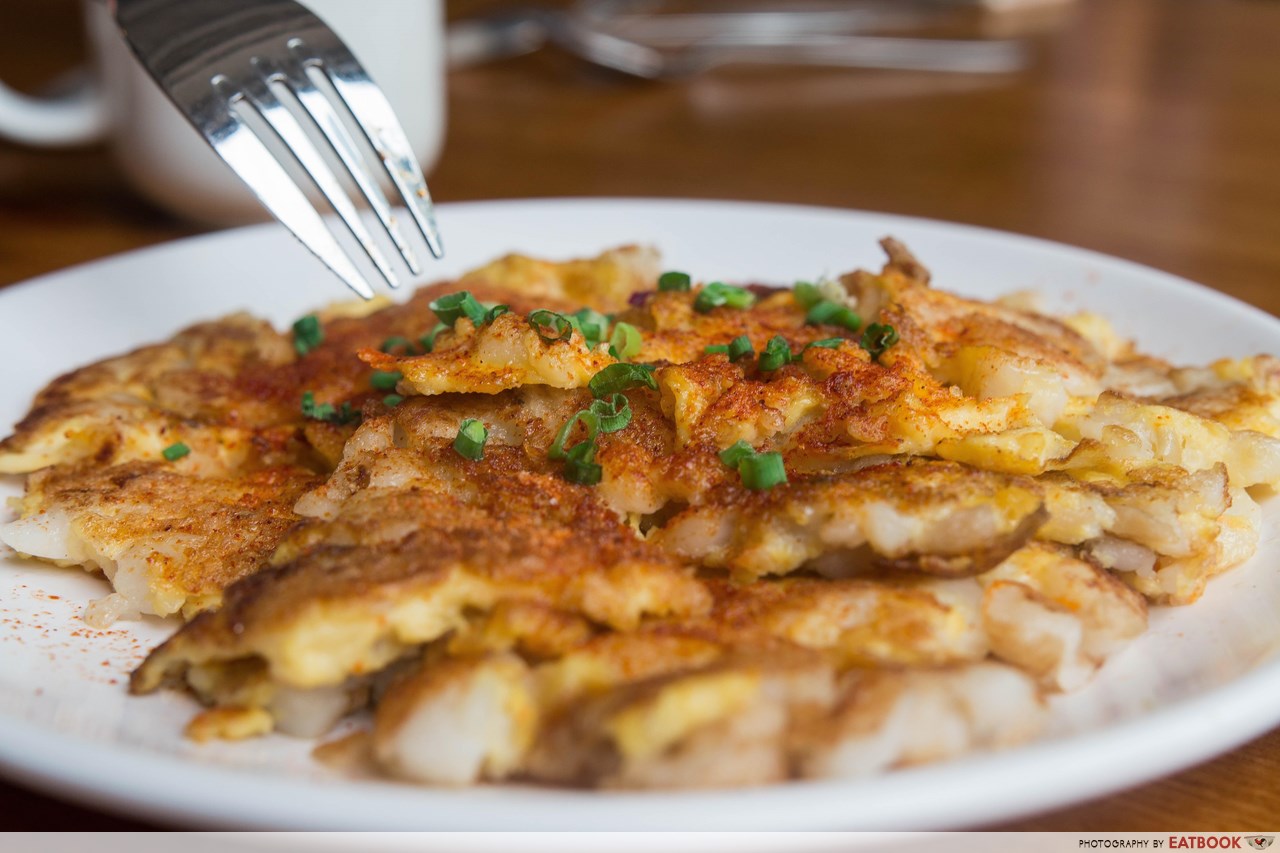 Spicy and Thai food lovers will enjoy Tomyam Carrot Cake ($4/$5). Paired with their sambal chilli, this combo cleared my nose and gave me an 'after-exercise' flush.  I'm no chilli champ though, just an average one. While it tasted similar to actual tom yam, I felt that it lacked a depth in flavour. Still, it was an enjoyable dish to have especially since the carrot cake was studded with chye poh (preserved radish).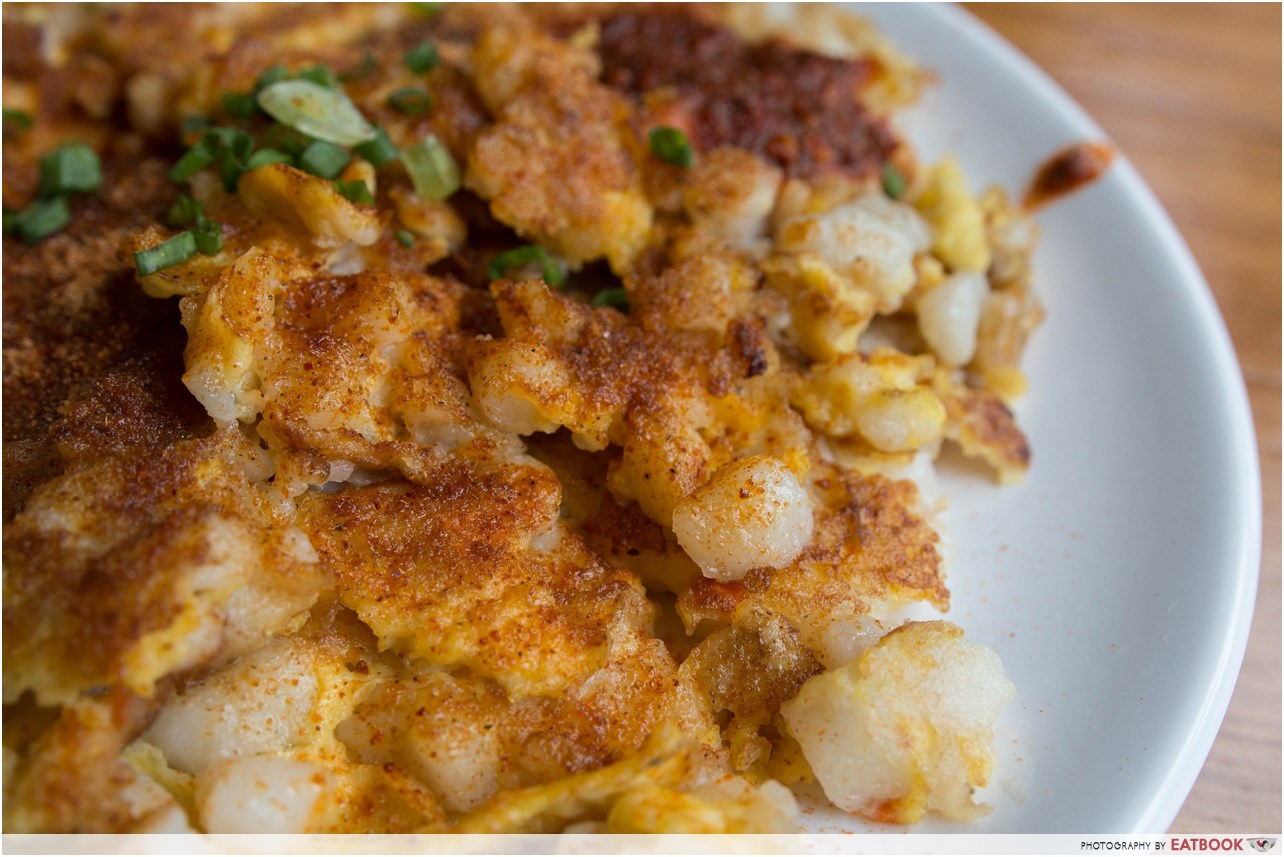 We ended our meal with BBQ Carrot Cake ($4/$5), and this was like eating Lays BBQ chips, chai tow kway style. Part sweet, savoury, and spicy, this was tasty, but nothing to shout about. I was rather underwhelmed by the flavour and found it to be an easily forgettable dish.
Ambience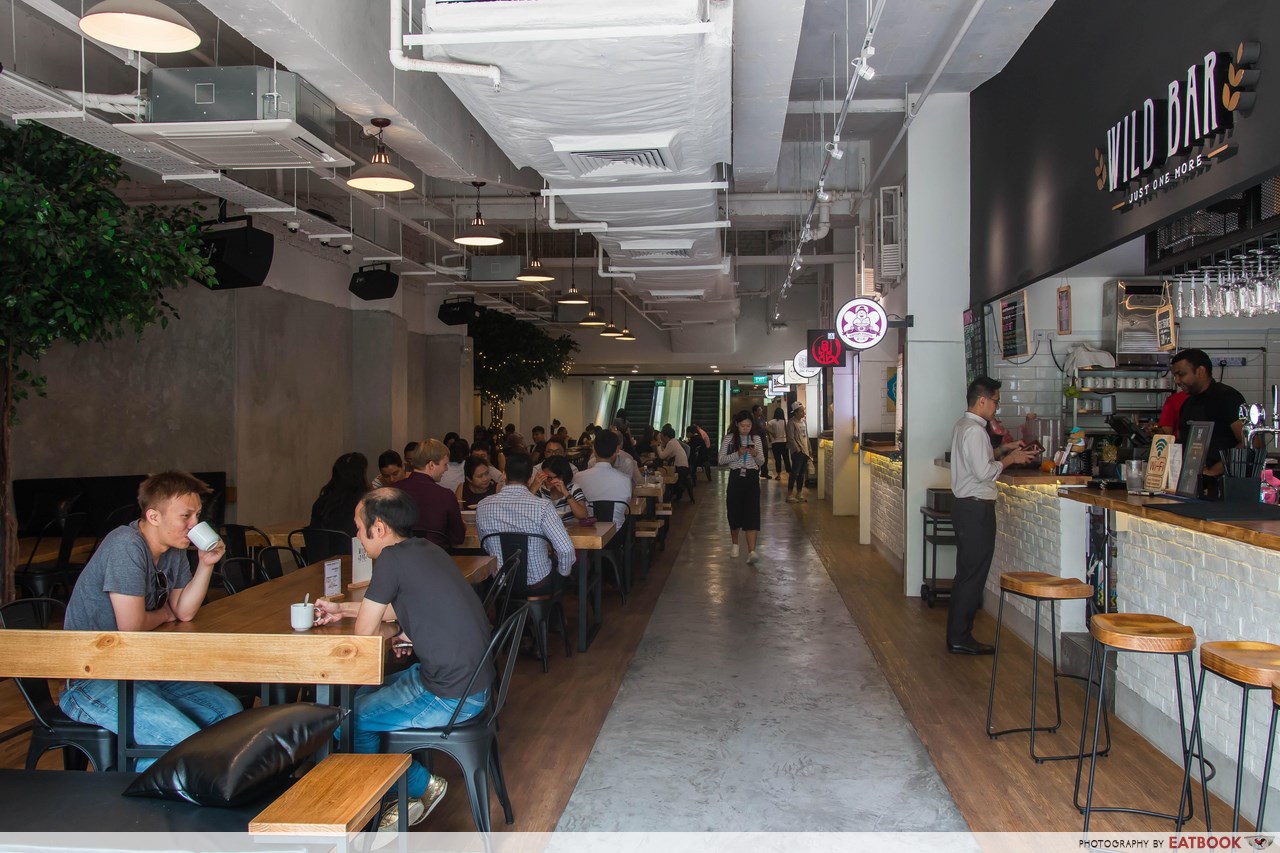 It isn't just the carrot cake that's revamped here. Wild Market is essentially an upgraded food hall that has more atas food options at affordable prices. You'll find French and Japanese stalls here, along with a bar that serves the usual kopi-o and teh-c, as well as draft beers and bar bites.
Wild Market has the option of cosy sofas, good ol' chairs, benches, as well as bar and alfresco seats, so you're bound to find a spot you like. The food hall is air-conditioned, but there wasn't a strong smell of cooked food that clung to our clothes or hair.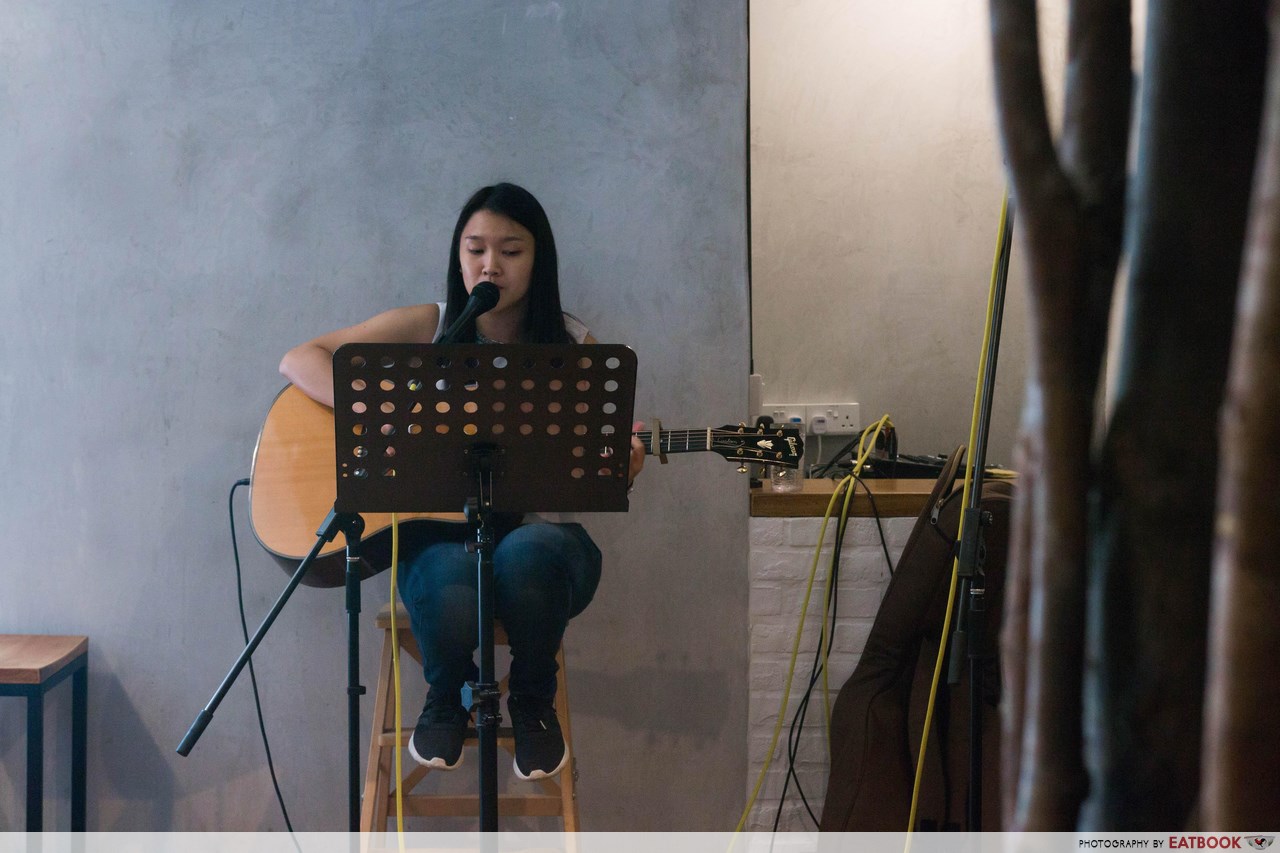 I'd recommend getting a seat indoors so you can catch a live performance by artists who jazz up the place throughout the day.
The verdict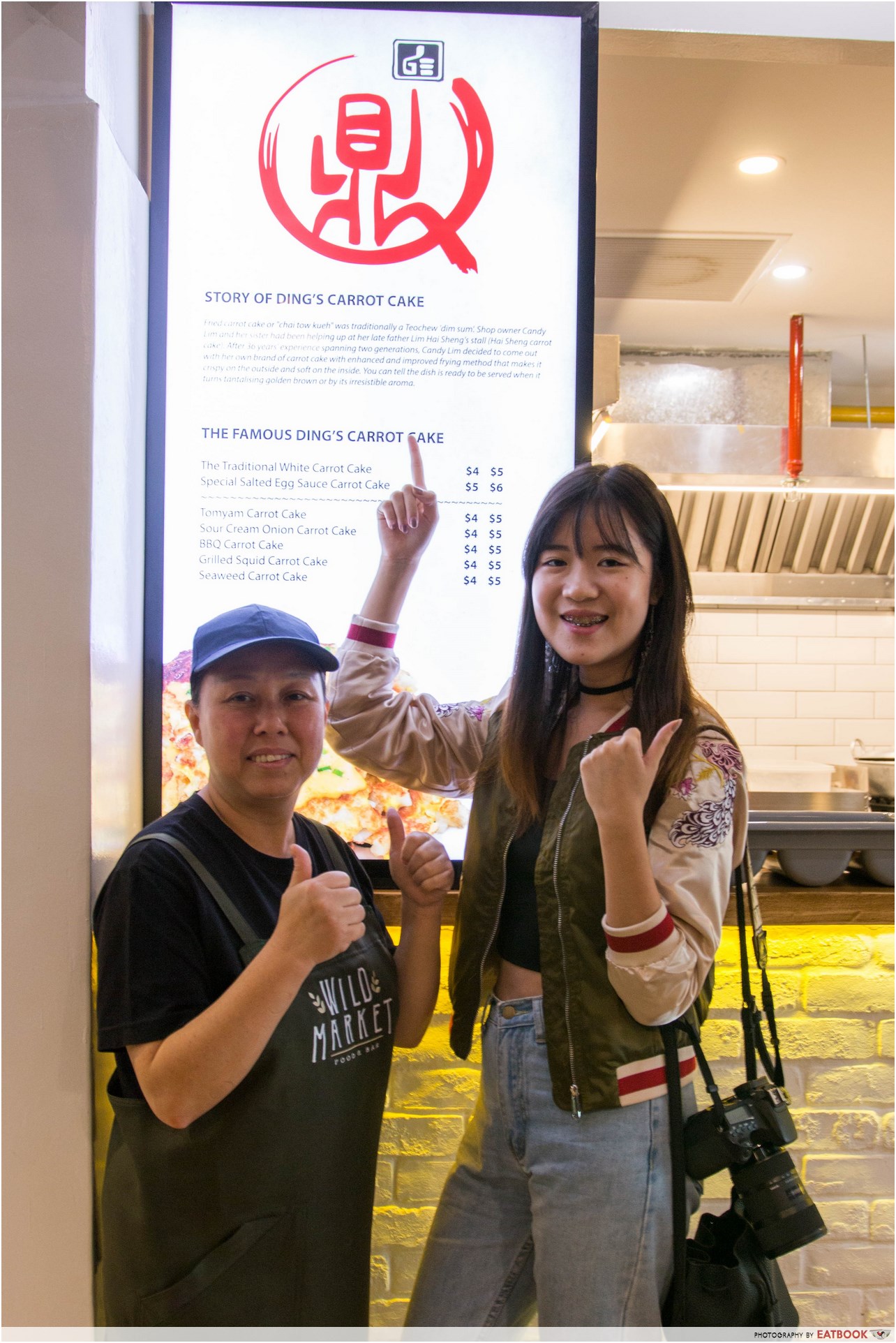 Out of all the plates of chai tow kuay I've eaten, Ding takes the (carrot) cake. With good food, great ambience and chill vibes, there's nothing more this girl can ask for. Besides, with the other stalls at Wild Market, you can bring down the pickiest of friends and still dine together!
This is an independent review by Eatbook.sg.
Summary
Pros
– Friendly owner
– Unique dishes
– Comfortable environment
Cons
– Some dishes fell short of expectation
Recommended Dishes: Special Salted Egg Sauce Carrot Cake ($5/$6), Grilled Squid Carrot Cake ($4/5)
Operating Hours:
Daily 8am to 12am
Tel:
9247 5319
Address: 100 Beach Road, #01-27/37, Shaw Towers, Singapore 189702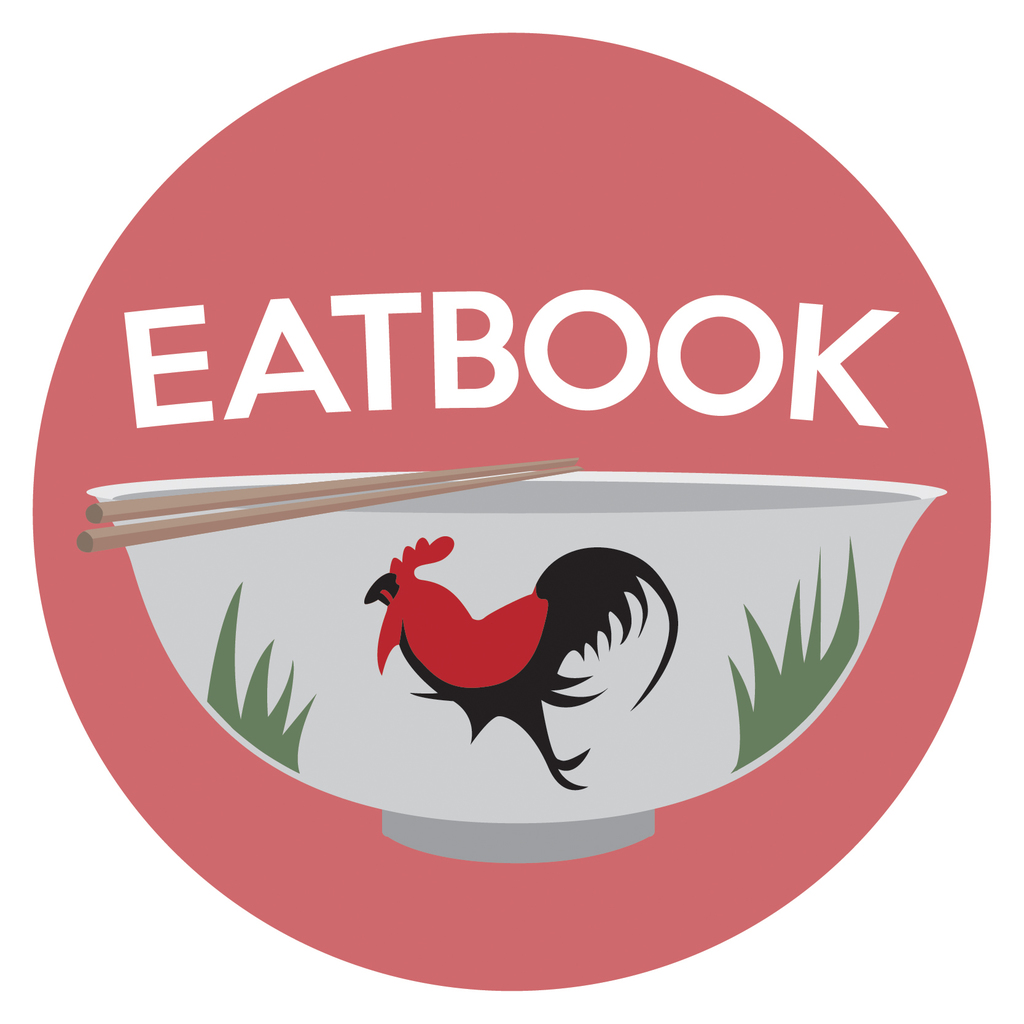 Drop us your email so you won't miss the latest news.