Durian omakase at 99 Old Trees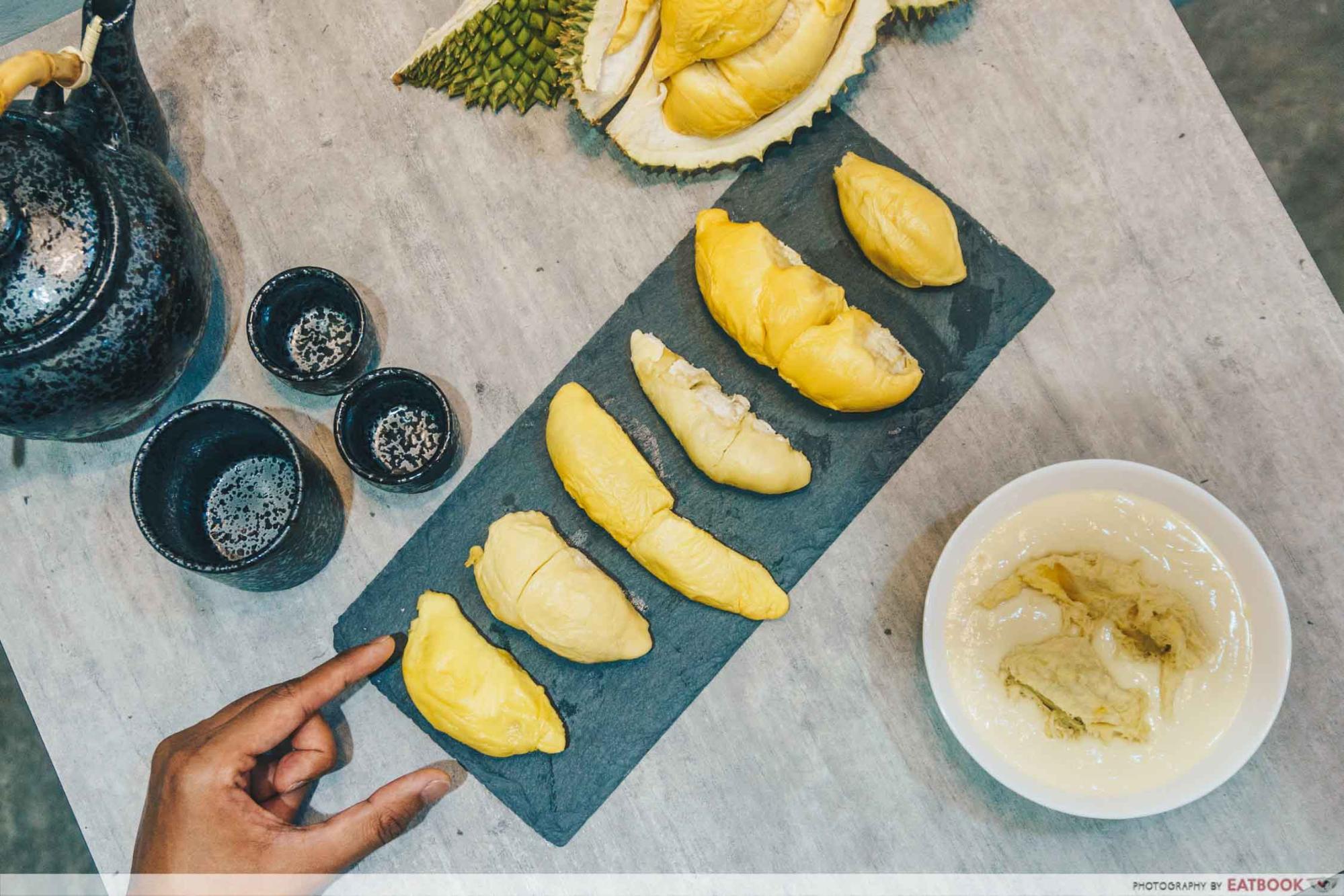 We're well into the durian season and if you've kept up with Eatbook, you'll know that this year's all about 'em durian buffets.
7 Durian Buffets To Feast At From $4.50 Before The Durian Season Ends In 2019
Standing out from places doling out durian tarts and hot pot is 99 Old Trees' durian omakase dubbed SukaWa or "As I please" in Malay.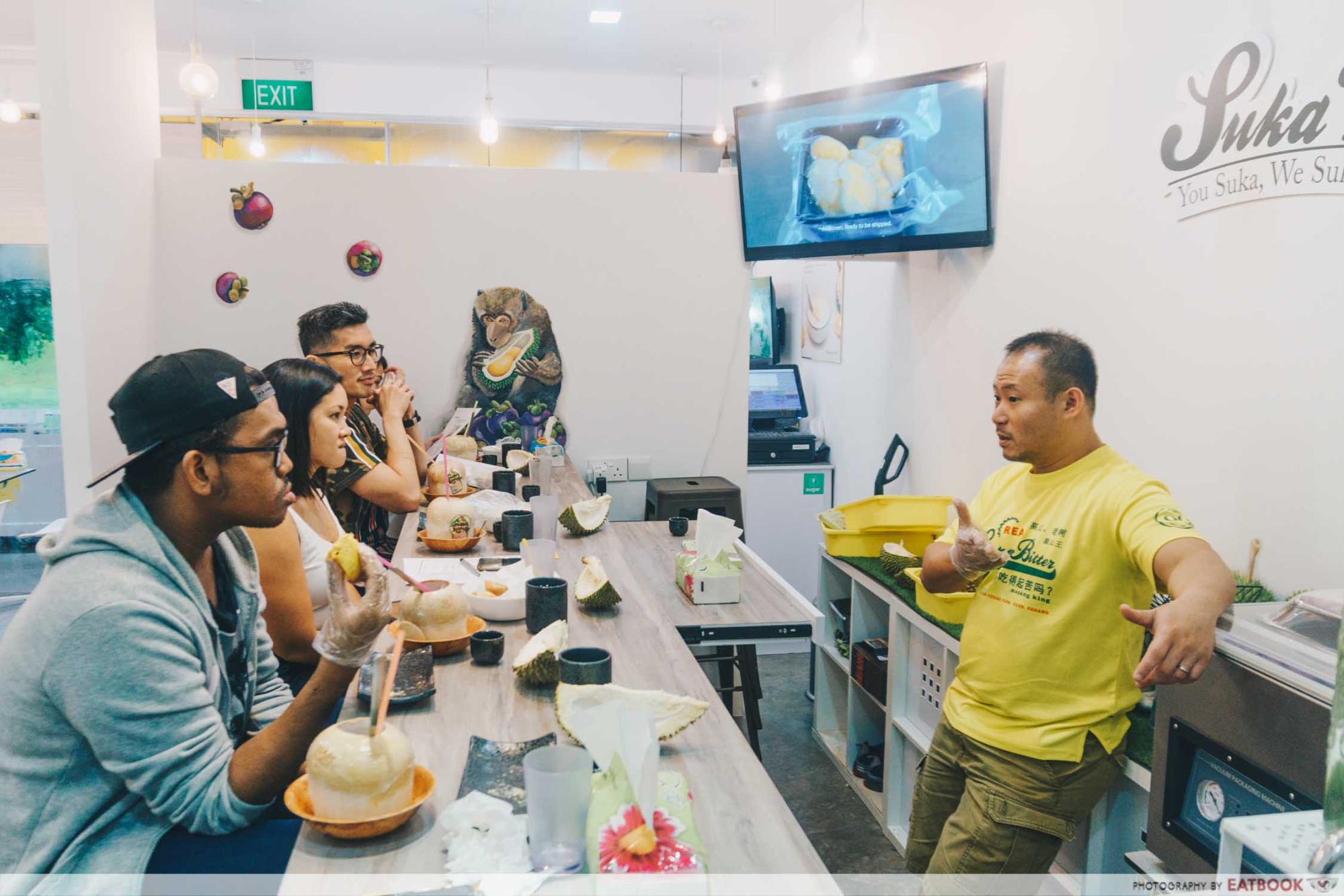 Here, participants can savour at least six durian variants, followed by free-flow Mao Shan Wang. Hosted by their director, Kelvin Tan, the session lasts about an hour with a maximum guest list of eight people. Along the way, Kelvin will regale diners with durian factoids and personal anecdotes—all of which adds to the informal and intimate setting.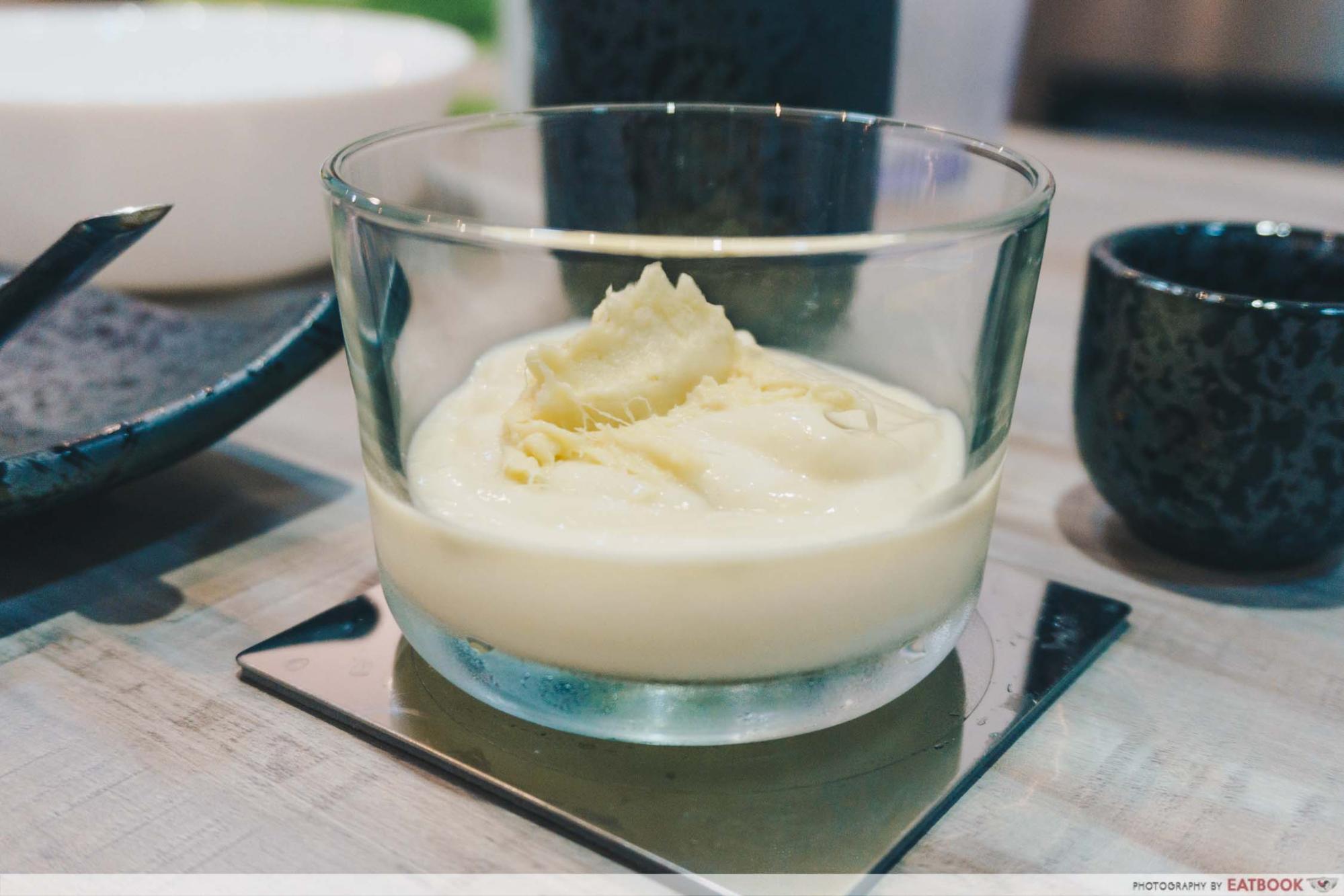 We kicked off the tasting with A Sweet Beginning: a durian mousse made with D24 durian puree. The dessert was created by Kelvin's friend who's a former Ritz-Carlton chef, and it shows. Upon tasting it, we were bombarded with a strong durian front. However, instead of lingering, it gracefully transitioned to a milky finish, showing a masterful play on flavours.
Here's when the omakase lives up to its name. Prior to the session, we were given a menu listing the durian varieties we were getting that day. However, due to supply issues, Kelvin went off-script and managed to improvise alternative cultivars that showed the different nuances of durian. Truly an "as I please" attitude.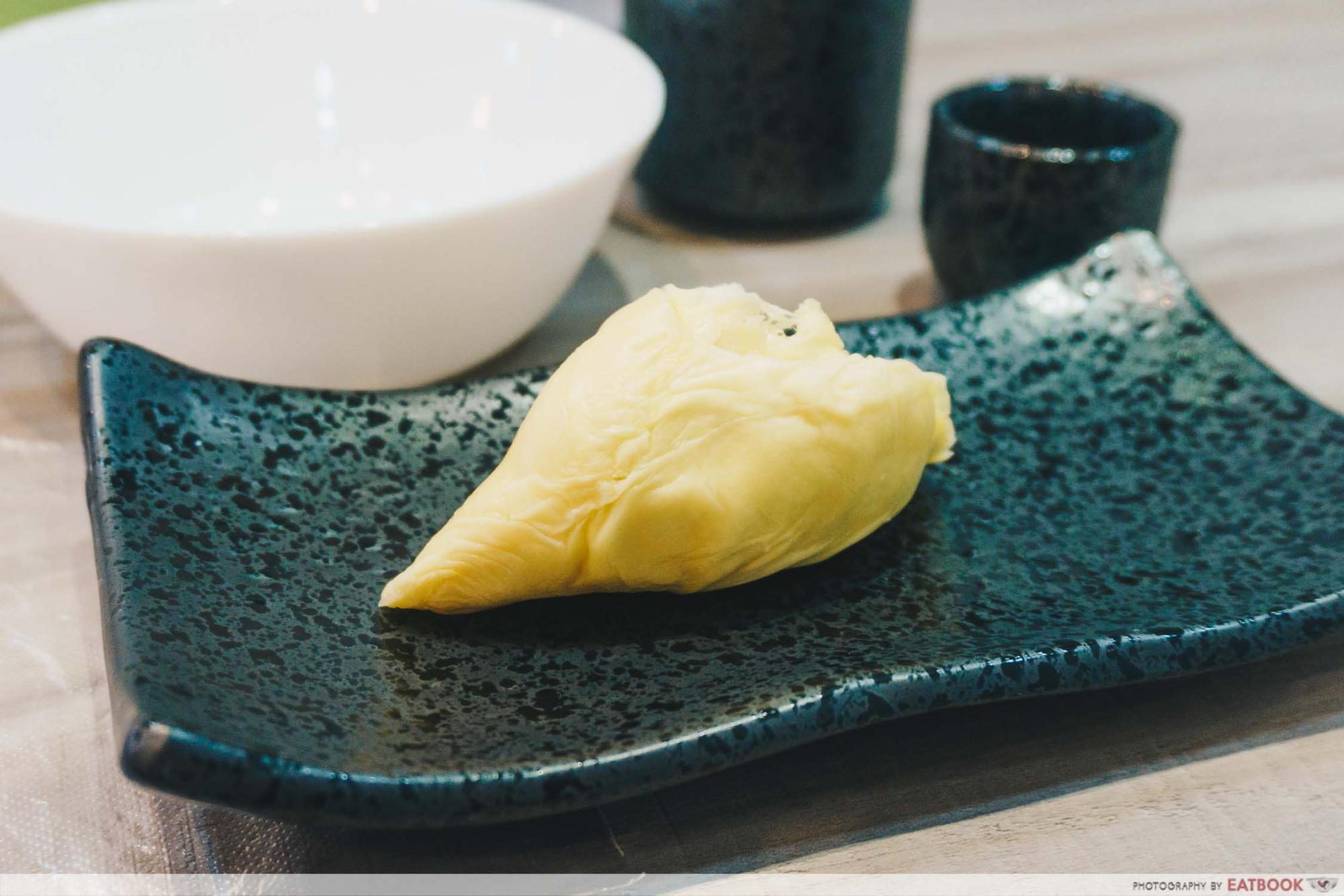 First up to the plate was the D17. Hailing from Johor, this fruit had pale flesh with a custard-like finish. Taste-wise, it was sharp with faint soya bean notes. Wasn't the worst durian I had but definitely not the best.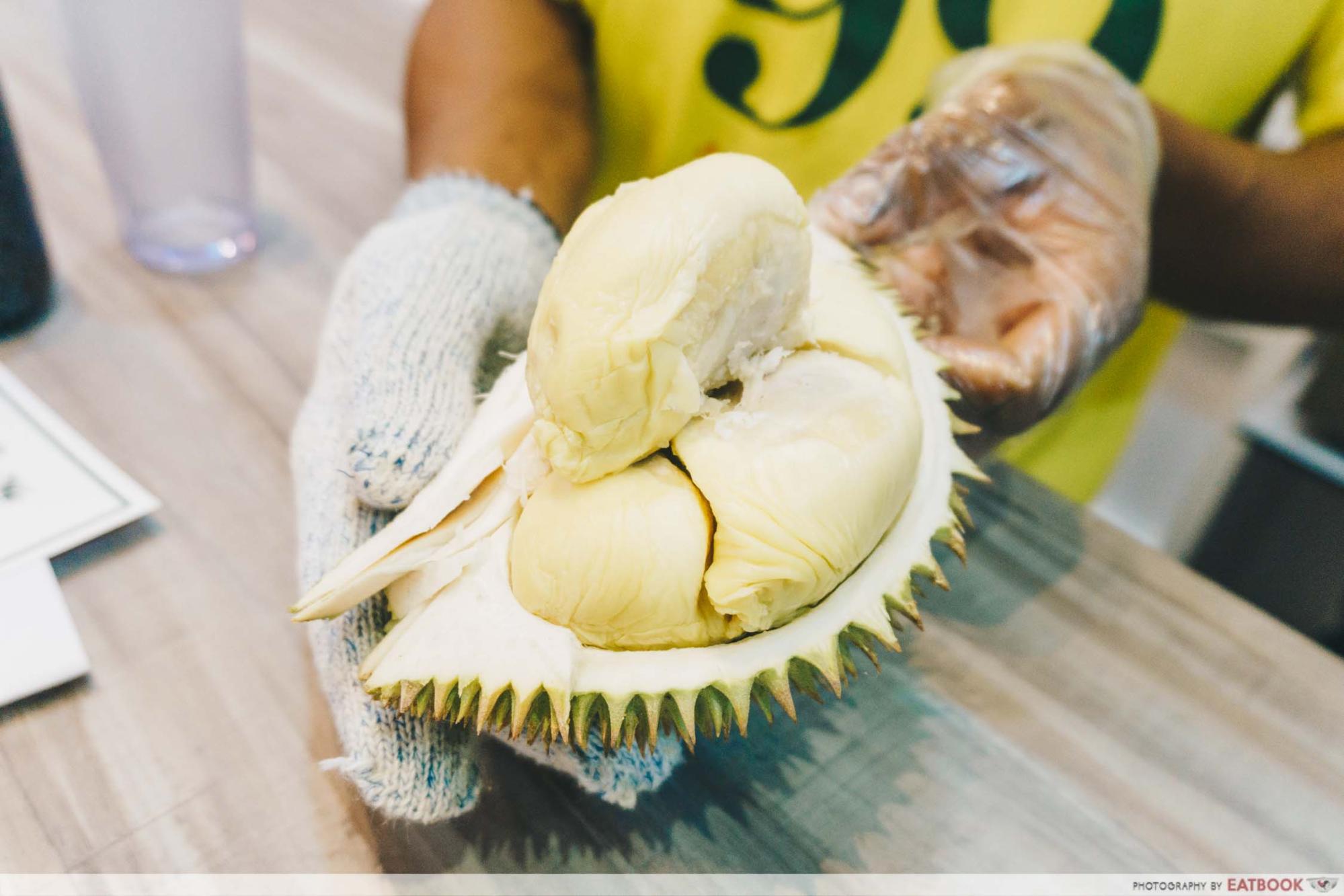 Next up was the Cat Eye or Mao Yan. Its flesh was one of the biggest we had that day. However, what made this fruit truly stand out was its sweet and creamy taste that's reminiscent of tiramisu. Definitely get this if you're looking to try a unique-tasting durian.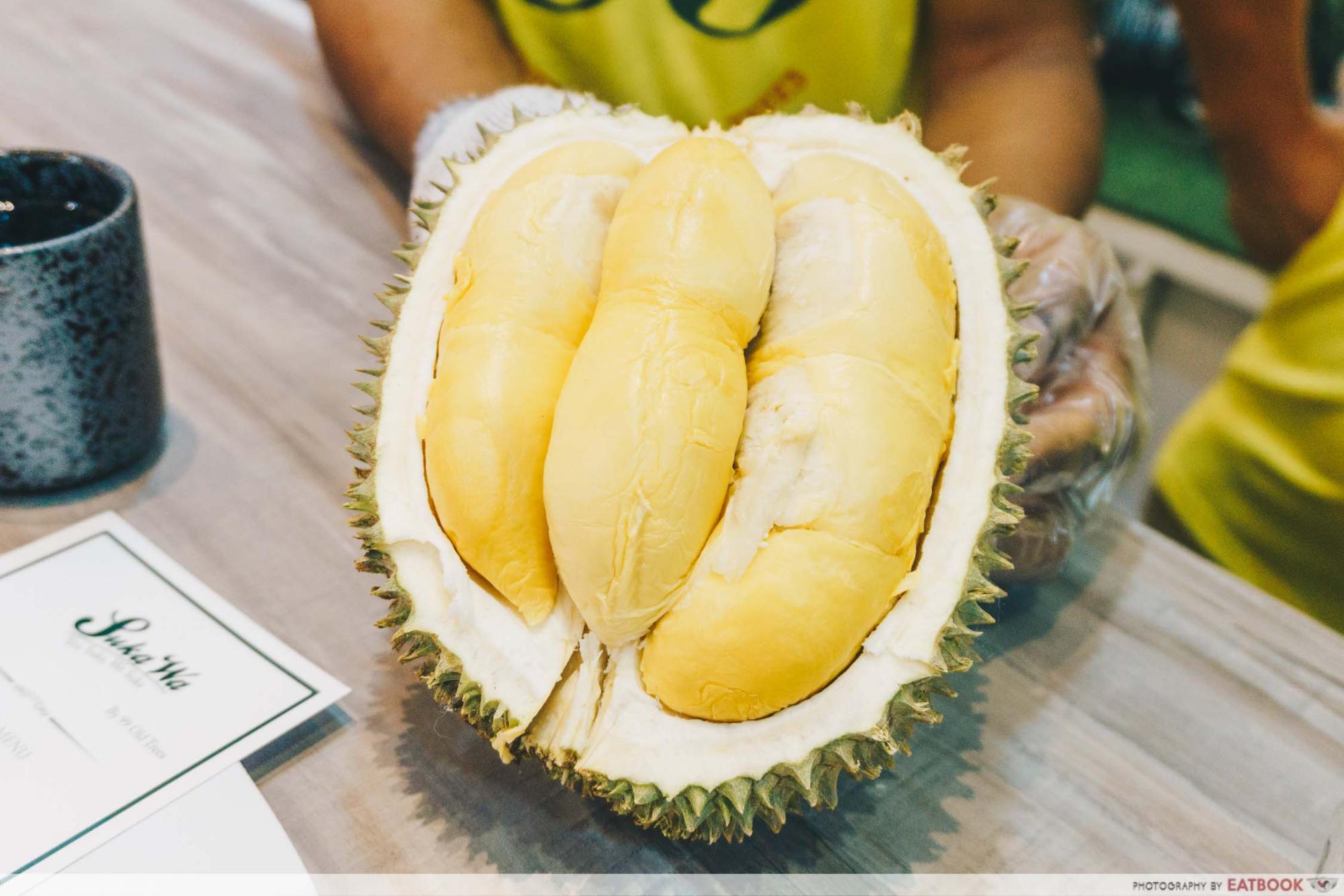 The D18 elicited a lot of whoas when it was brought out due to its deep yellow colour. This was when Kelvin chimed in with a fun fact: "A durian's colour is not indicative of its taste." And it was true. The D18's sweetness was in the same ballpark as the Cat Eye's, despite boasting a bolder colour. What sets it apart, however, is the mild alcoholic aftertaste that makes it a favourite amongst older folks.
At this point, we were given a super gao ginger tea to cleanse our palates in preparation for the second leg of the session.
I'm gonna spoil the article and say that the D13 was our favourite durian that day. Yes, it even trumped the prized Mao Shan Wang. Kelvin mentioned how young people seemed to gravitate towards the fruit. Since my colleague and I were the youngest attendees that day, we're inclined to agree.
Despite its small size, the fruit was mostly made up of reddish flesh that had a yoghurt-like consistency. It was very sweet and had a slightly bitter aftertaste—a combo our palates loved.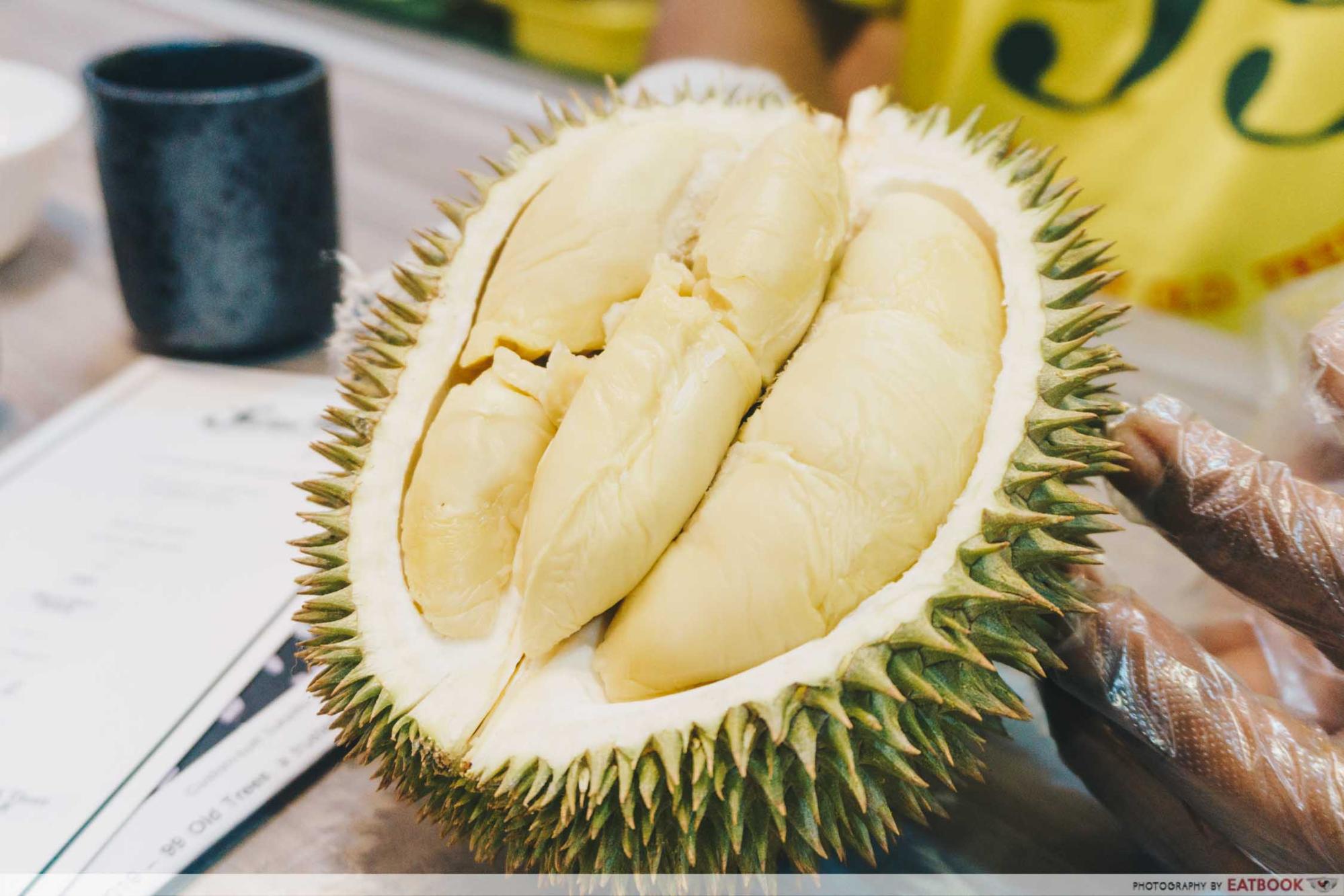 The second last item was the Golden Phoenix. Despite its name, the durian boasted a nice lime green flesh. According to Kelvin, this was the most value-for-money durian, given its high flesh-to-husk ratio. It also had very small seeds, allowing you to appreciate its sharp and bitter taste.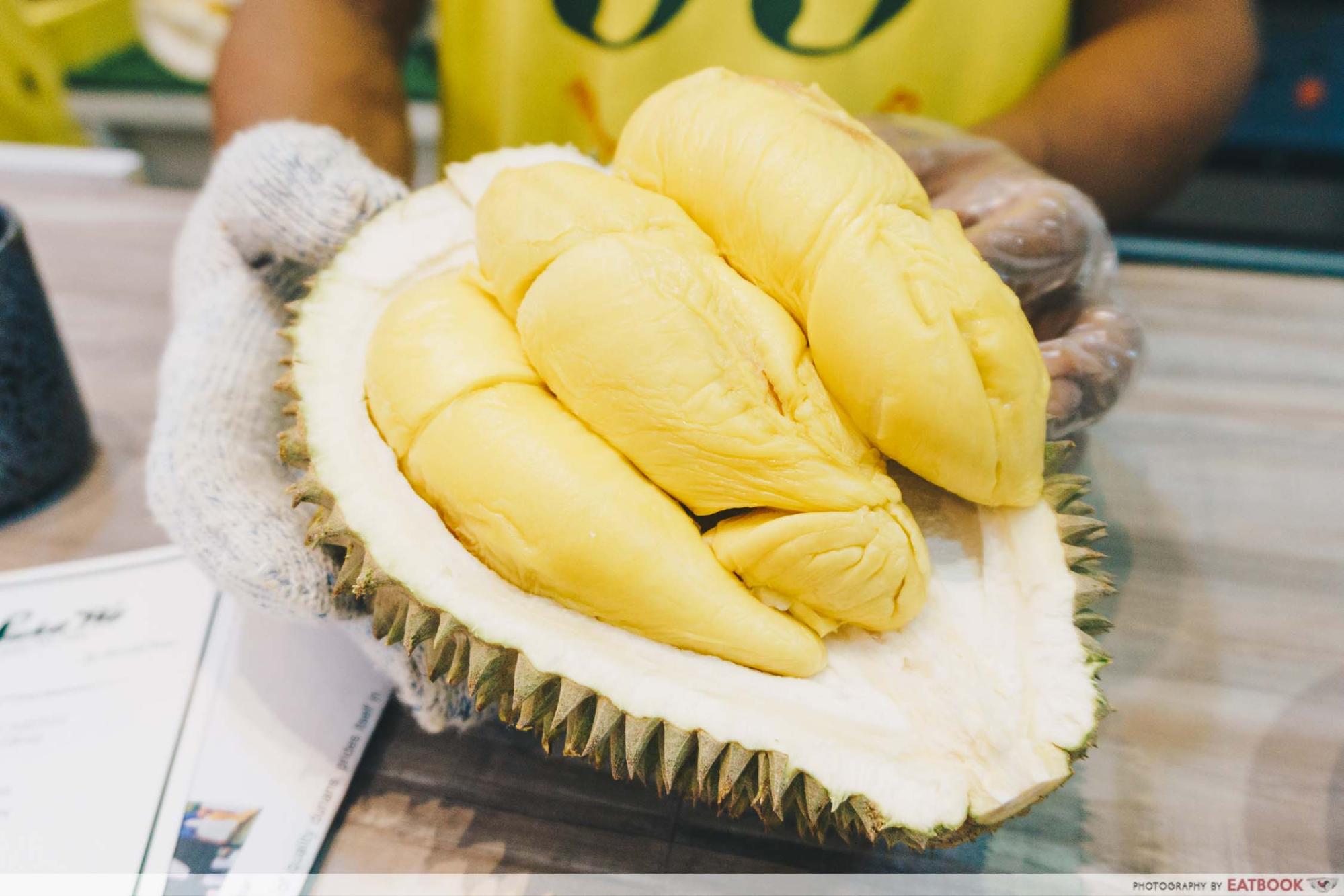 Finally, the granddaddy of them all: the Mao Shan Wang. We were audibly surprised by the huge pieces inside the durian. Bear in mind, by this point, each of us had consumed roughly an entire durian's worth of fruit. So we were understandably feeling a lil' apprehensive.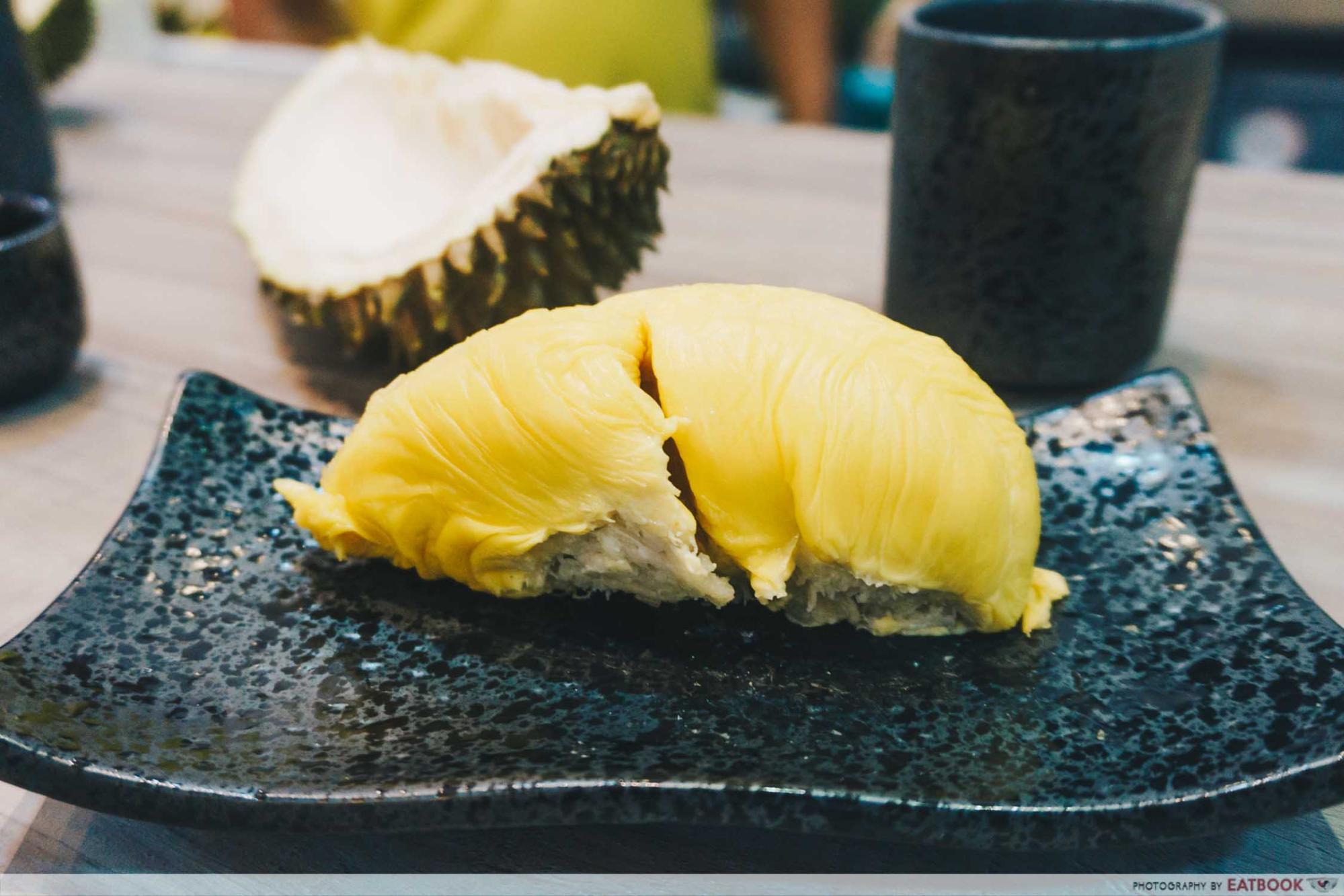 Thankfully, the MSW managed to whet our appetite with its creamy and bitter taste. It had a thicker texture than the previous fruits, which helped us pace ourselves. The best part of it all, it's free-flow! All you gotta do is place a yellow stick in a cup to indicate staff members to fill your plate with MSW. I only placed one refill before I called it a day.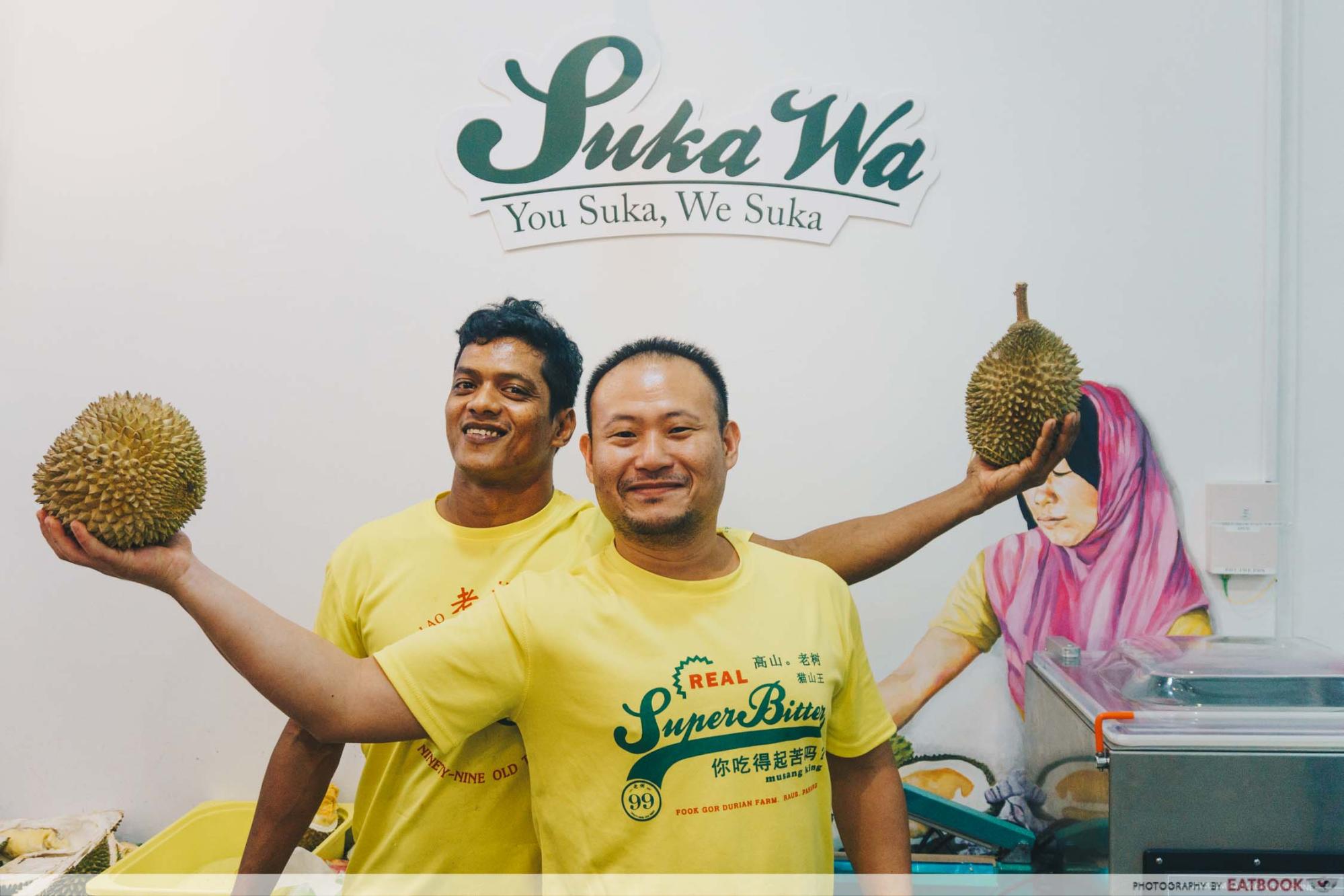 Having been to other durian buffets before this, 99 Old Trees sets itself apart as it elevates the durian-eating experience without being unpretentious. It truly felt like an informal sharing session among old friends. It helped that all the Mao Shan Wang here are of the Grade A variety that's sourced directly from Pahang.
However, what truly sealed the deal for me was having our durian served by Bruno Mars lookalike Chee Kang, as the singer's tunes played in the background. Truly 24K magic.
For those looking to participate in the omakase, you'll need to wait a bit as sessions are filled till the end of the month. The next round of sessions will begin from end July and will be priced at $60 per person. Stay tuned to their website for more updates!
Address: 46 Owen Road, #01-277, Singapore 210046
Opening hours: Daily 11:30am to 11pm
Website
Photos taken by Lim An.
This was a media tasting at 99 Old Trees.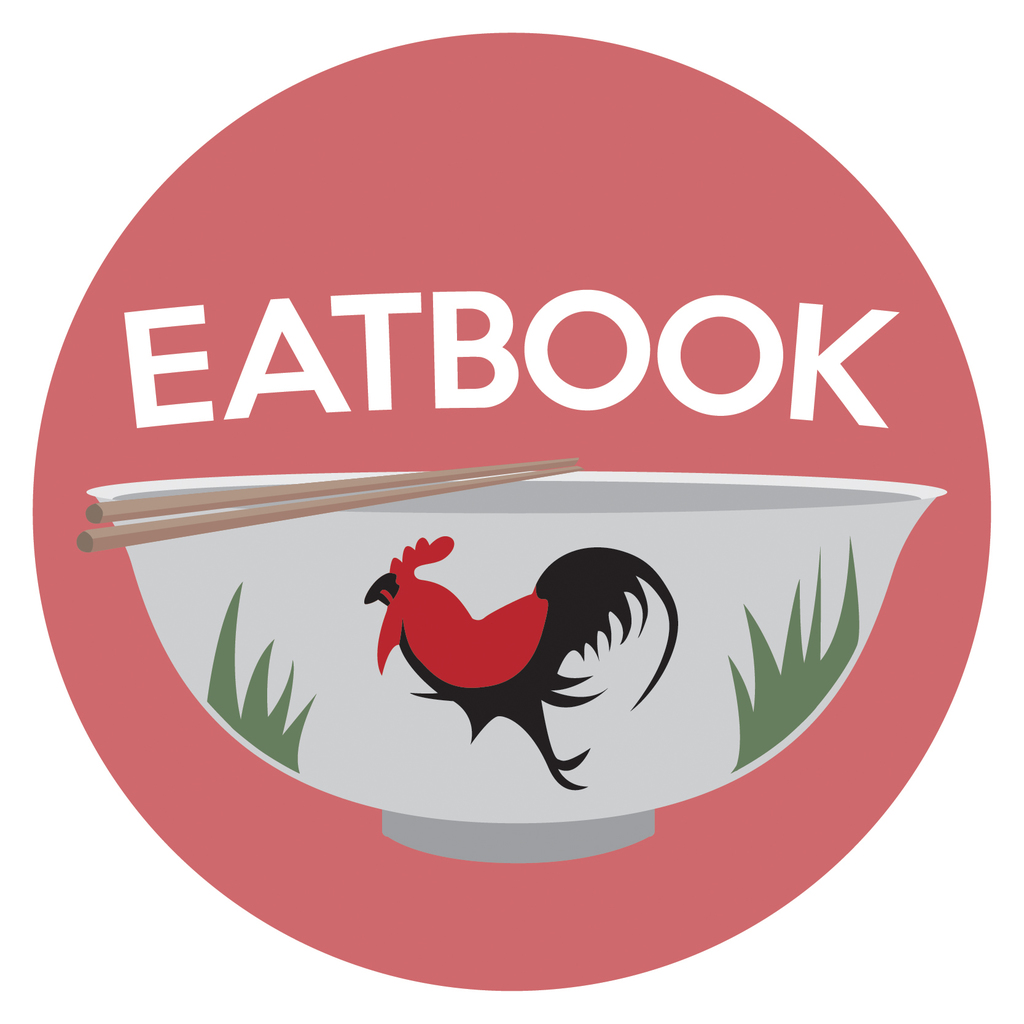 Drop us your email so you won't miss the latest news.