---
Easy hotpot broth recipes
---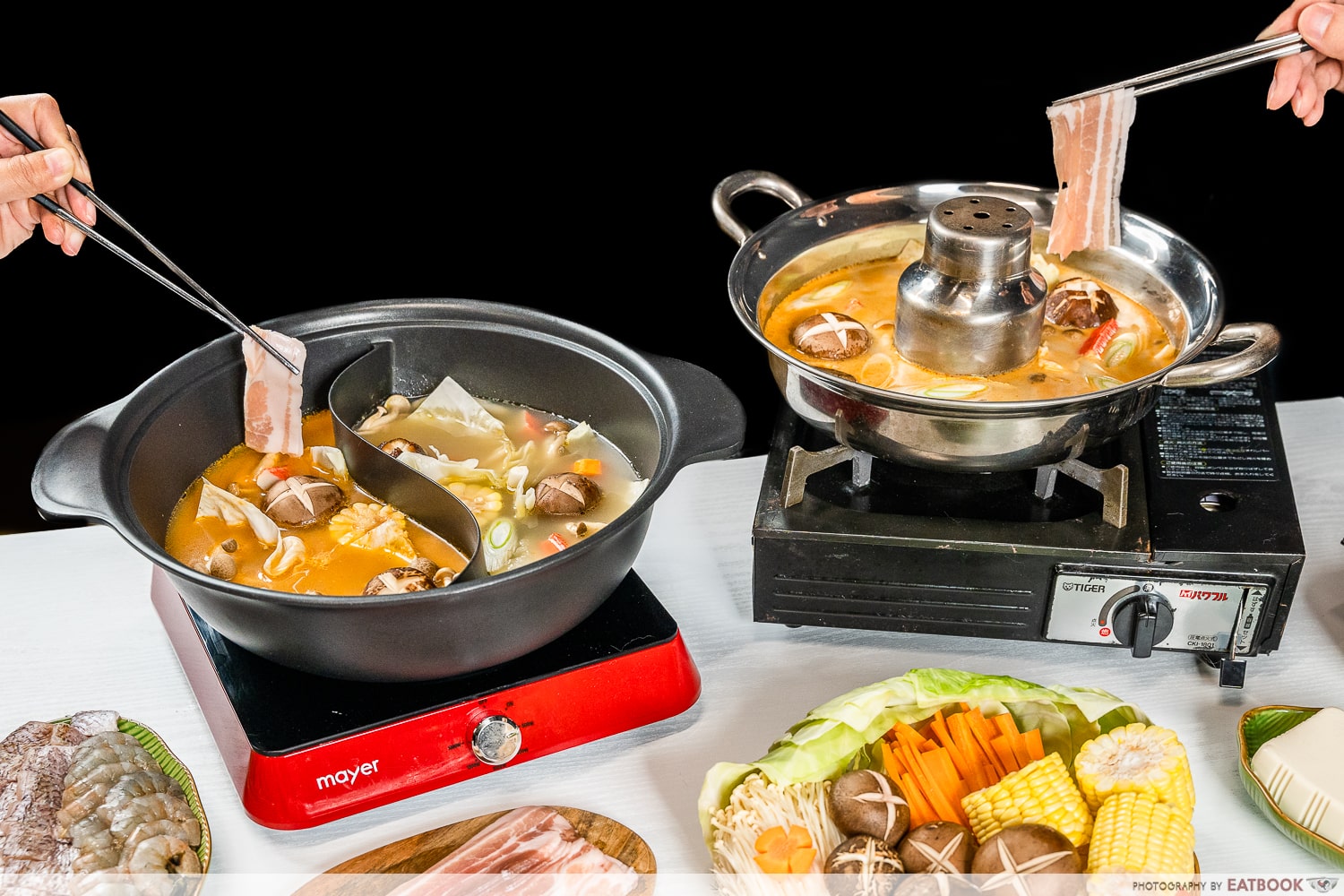 If hotpot were a religion, I think many of us would be borderline fanatics. This is ever more apparent, from the number of businesses that have popped up in recent times, specialising in hotpot broths, and the endless queues at hotpot restaurants across all budgets. Making your own is, honestly, super easy, and you could do it with stuff in your kitchen that you'd otherwise throw away. With that, here are three easy hotpot broth recipes that you can make for less than $5. We also included tips on how you can reduce food wastage!
---
1. Soymilk Seafood Nabe
---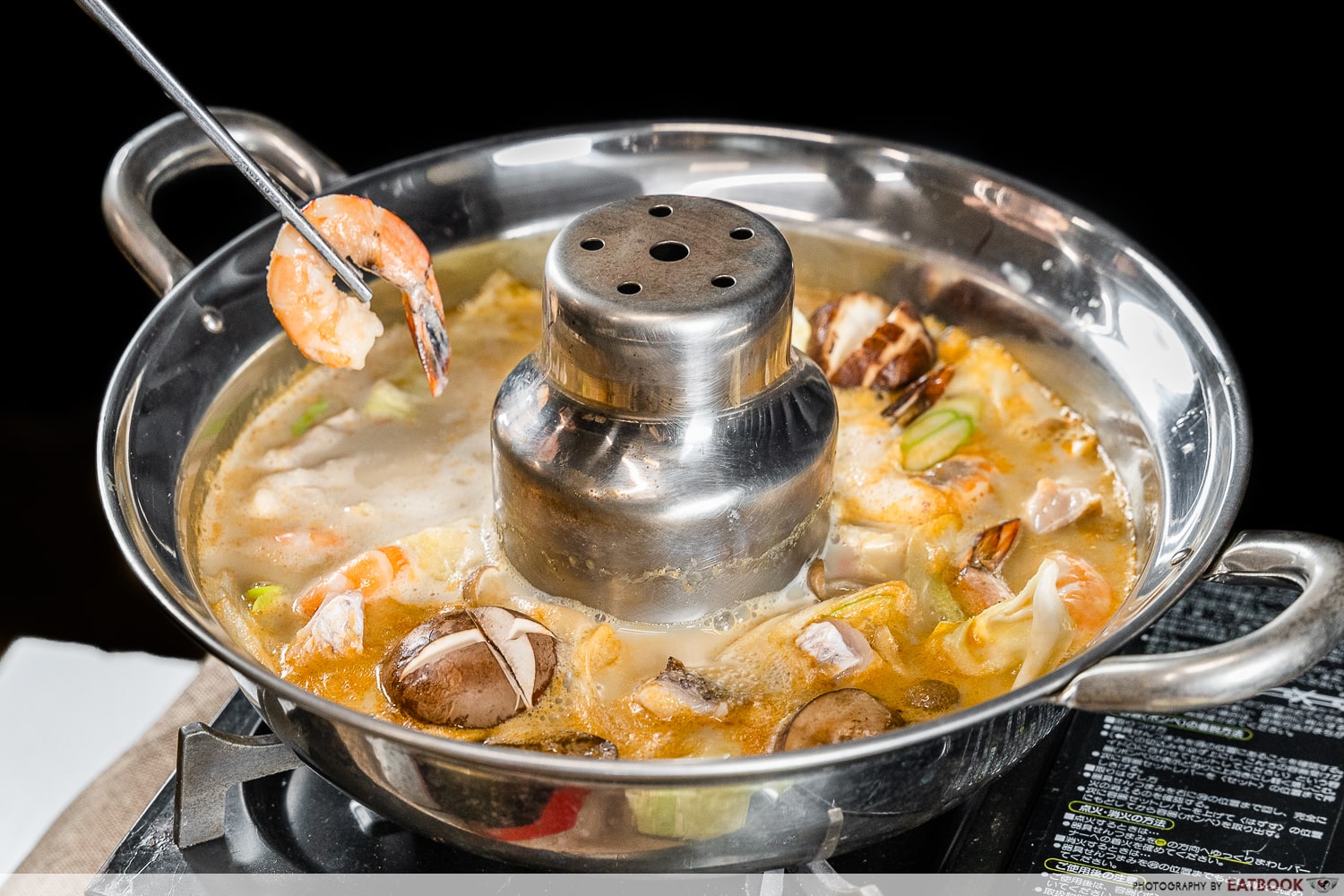 This Japanese-inspired Soymilk Seafood Nabe enhances the natural sweetness using prawns and fish with delicate soya milk for a rich, creamy finish, proving that a good seafood soup doesn't necessarily have to cost you an arm and a leg.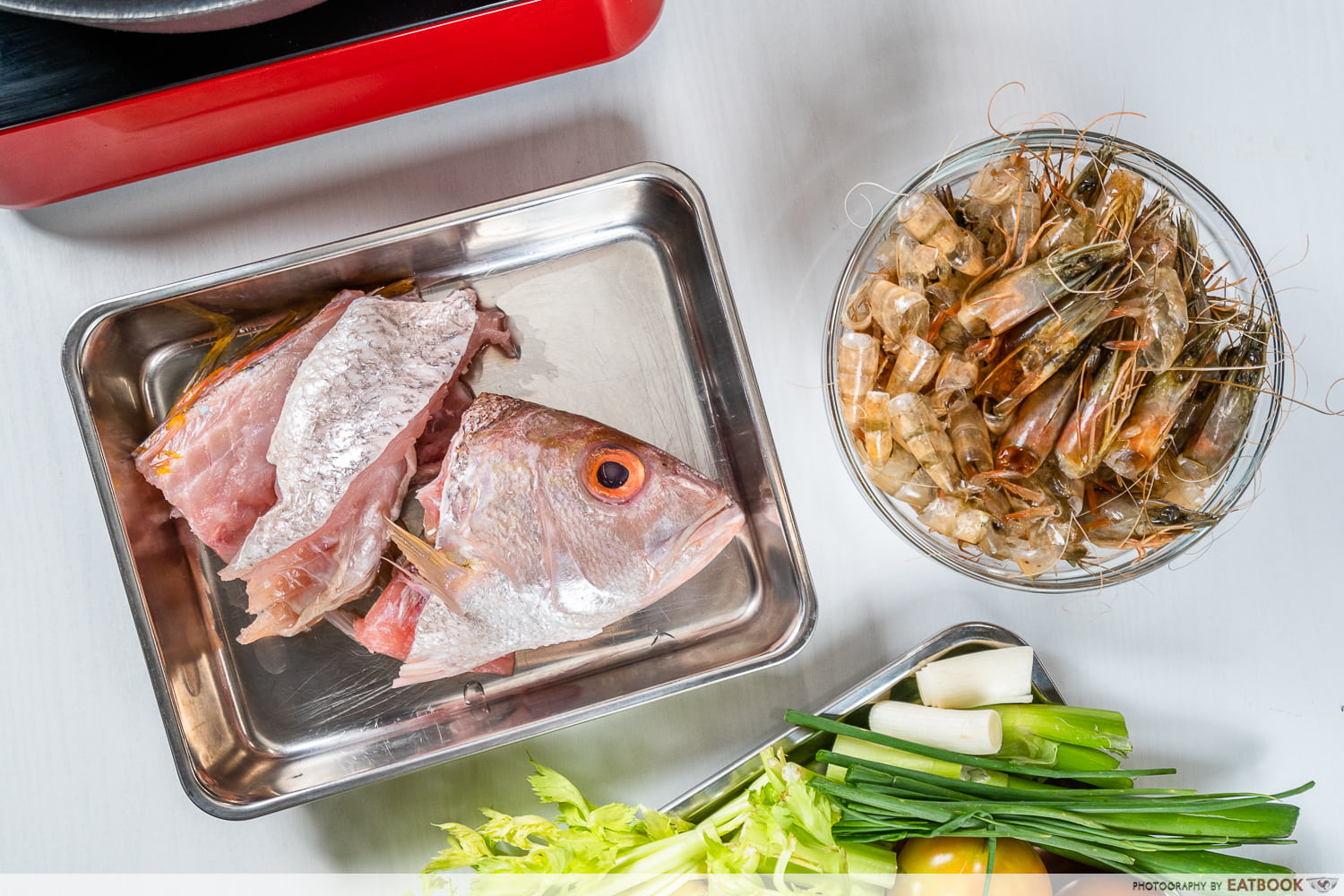 Start with prawn shells and fish parts: set aside the heads, bones, and shells of these seafood when you're prepping them for meals. Instead of throwing them away, pop them in the freezer so you can accumulate a good amount for a rainy day to bulk-make stock, or in this case to prepare an ultra-tasty hotpot base. P.S. reusable boxes make all the difference to creating less waste, so store your seafood in them rather than plastic bags.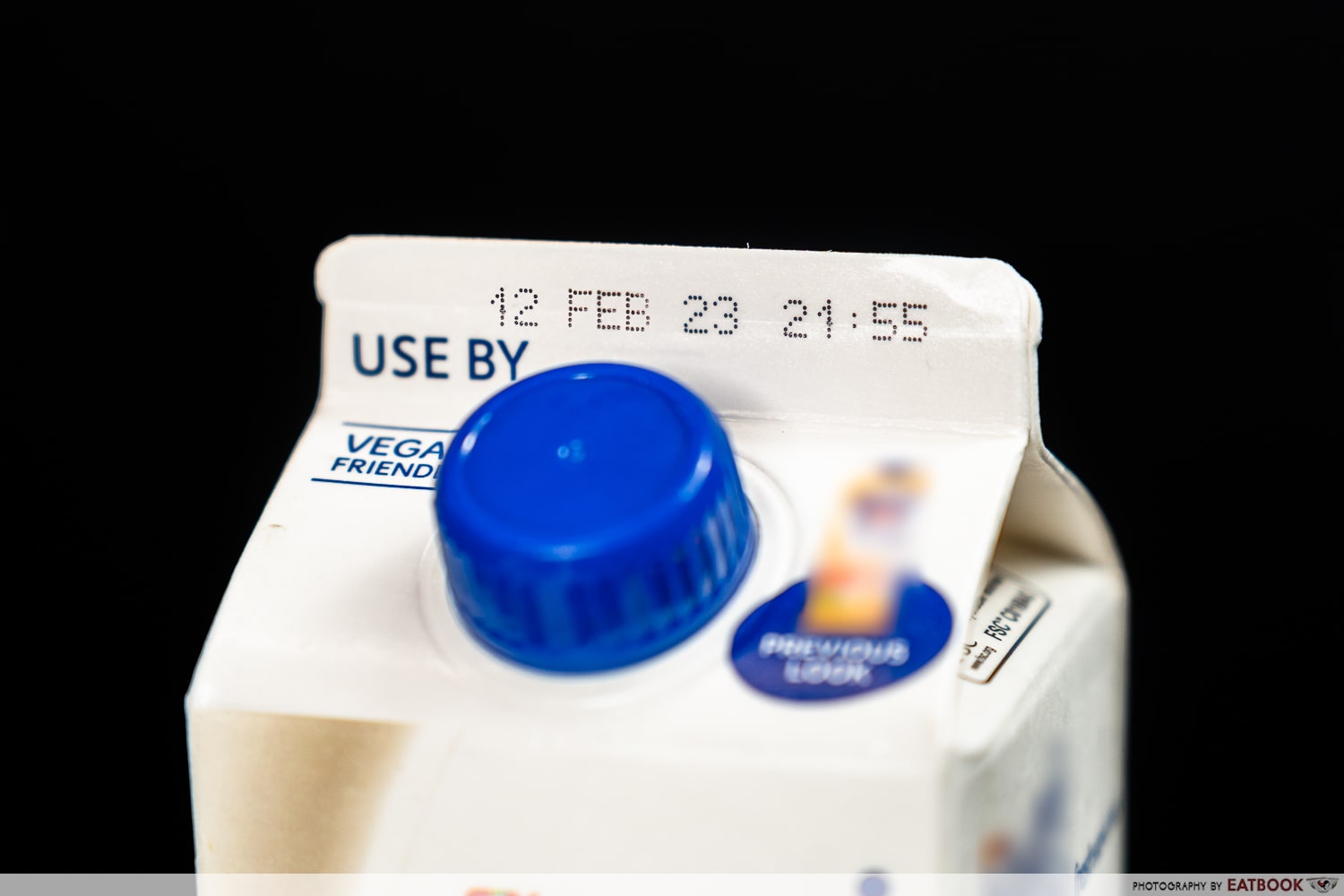 The aforementioned rainy day can be that occasion when the soymilk in your fridge is about to reach its use-by date.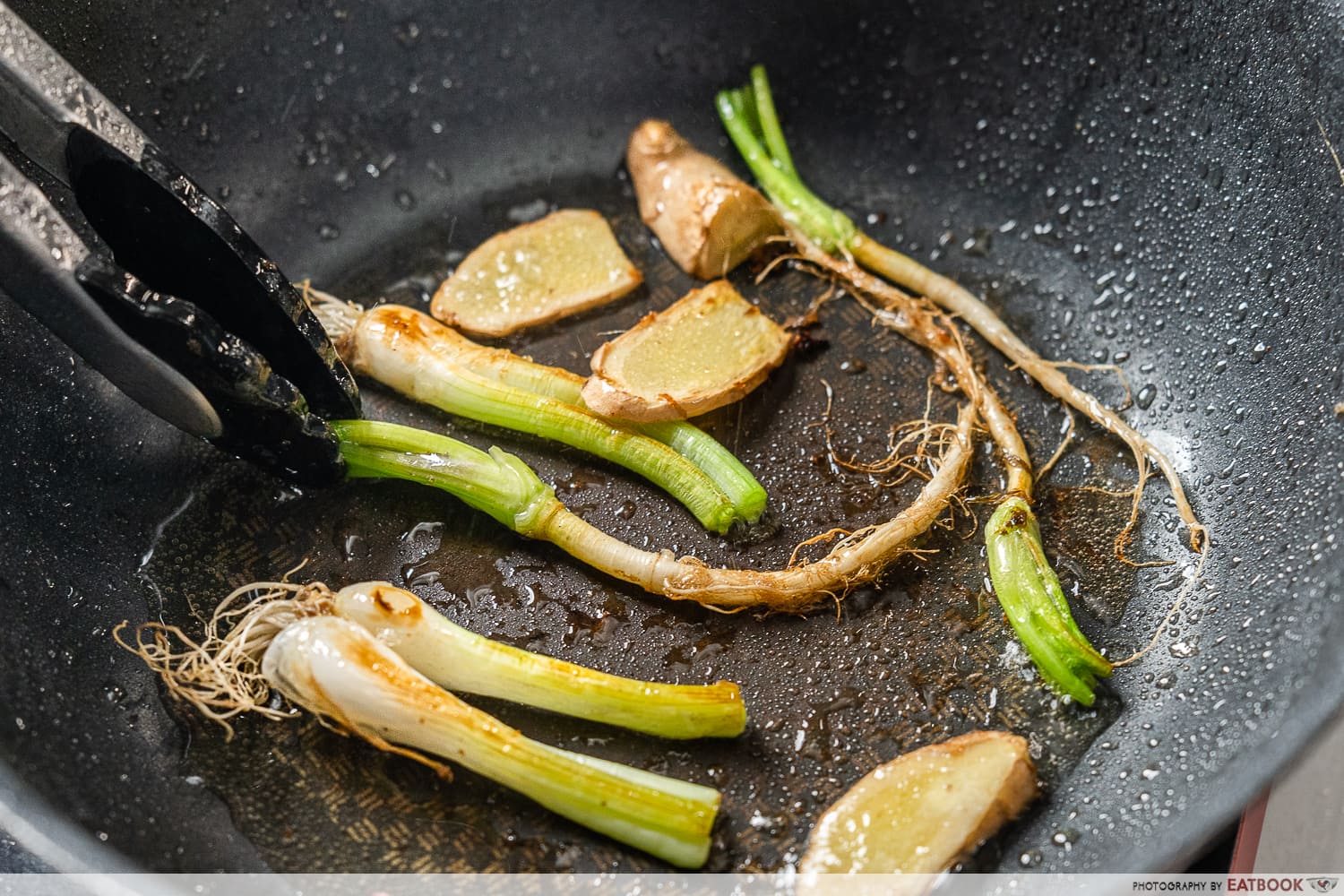 When it comes to aromatics for broth, it is best to make use of the vegetable roots and cut-offs that you aren't going to eat━they're full of flavour and you'd otherwise be throwing them away.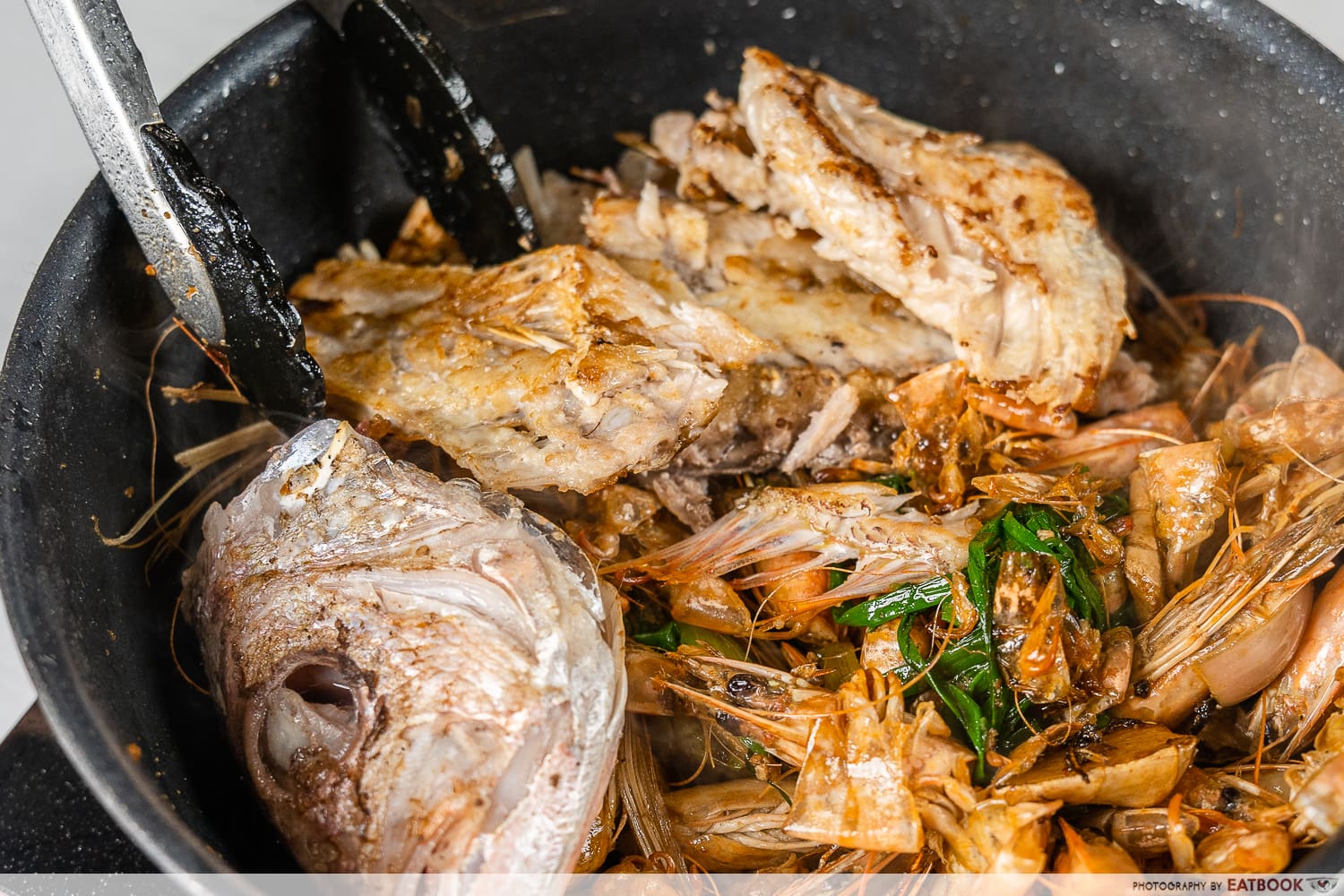 If you're short on time, skip the browning bit, and toss everything into a pot to boil to smithereens.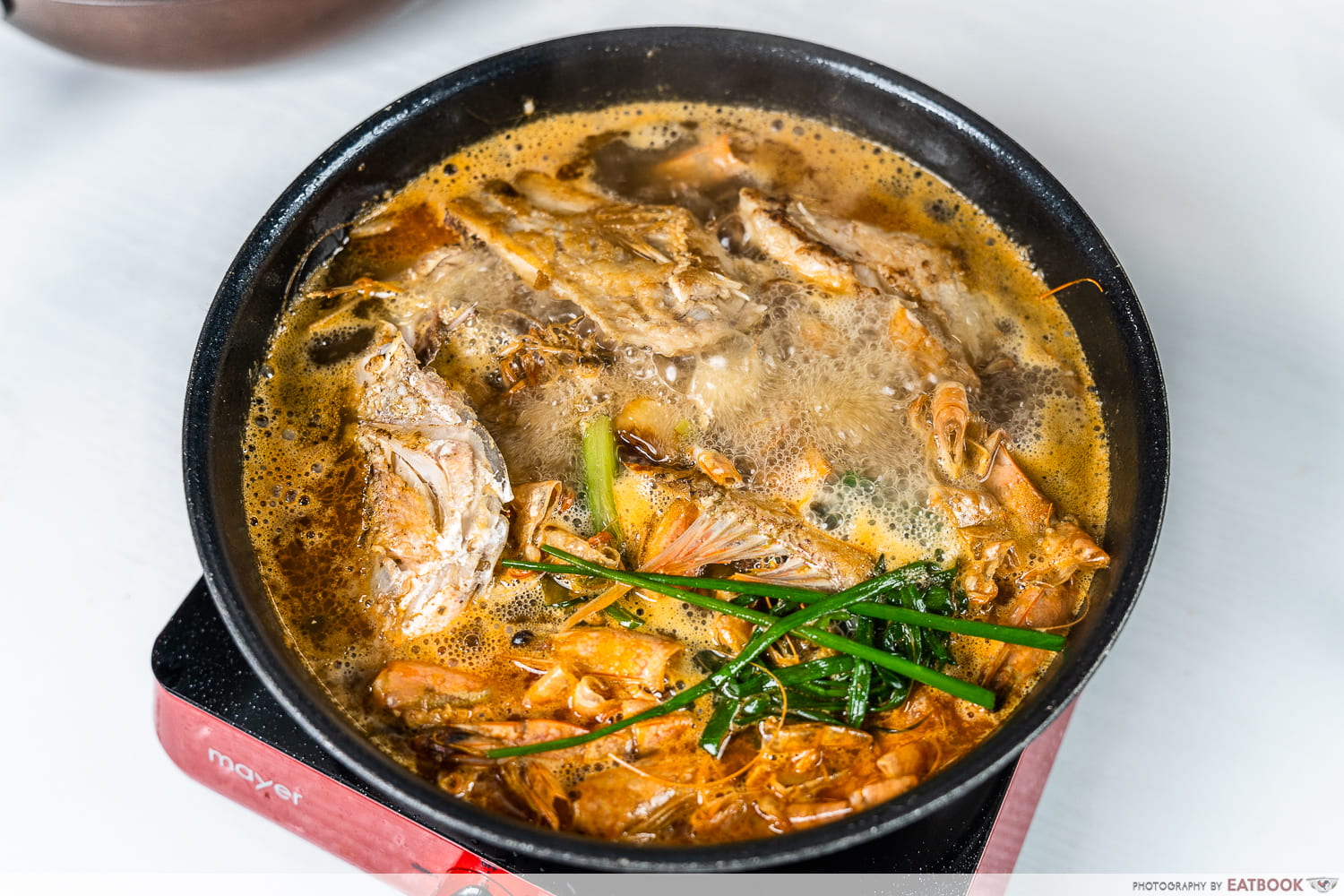 In the case of boiling prawn shells, longer is not better. As with most bones, boiling them for longer releases oils and more flavour. Let them go for a maximum of 45 minutes before taking the pot off the heat and straining it.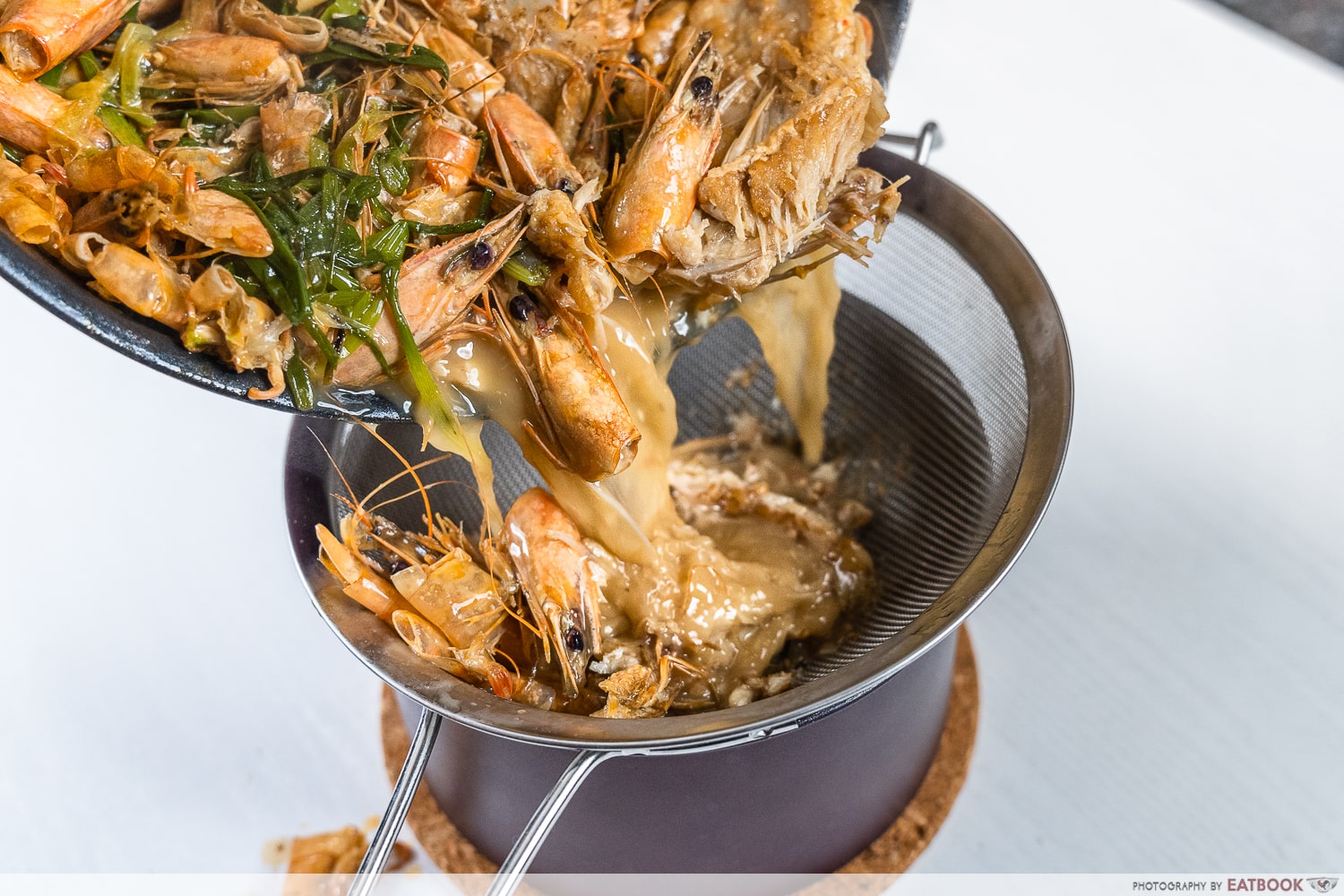 Squish out the prawn heads for the most flavour, and double strain the stock just in case you miss anything the first time around.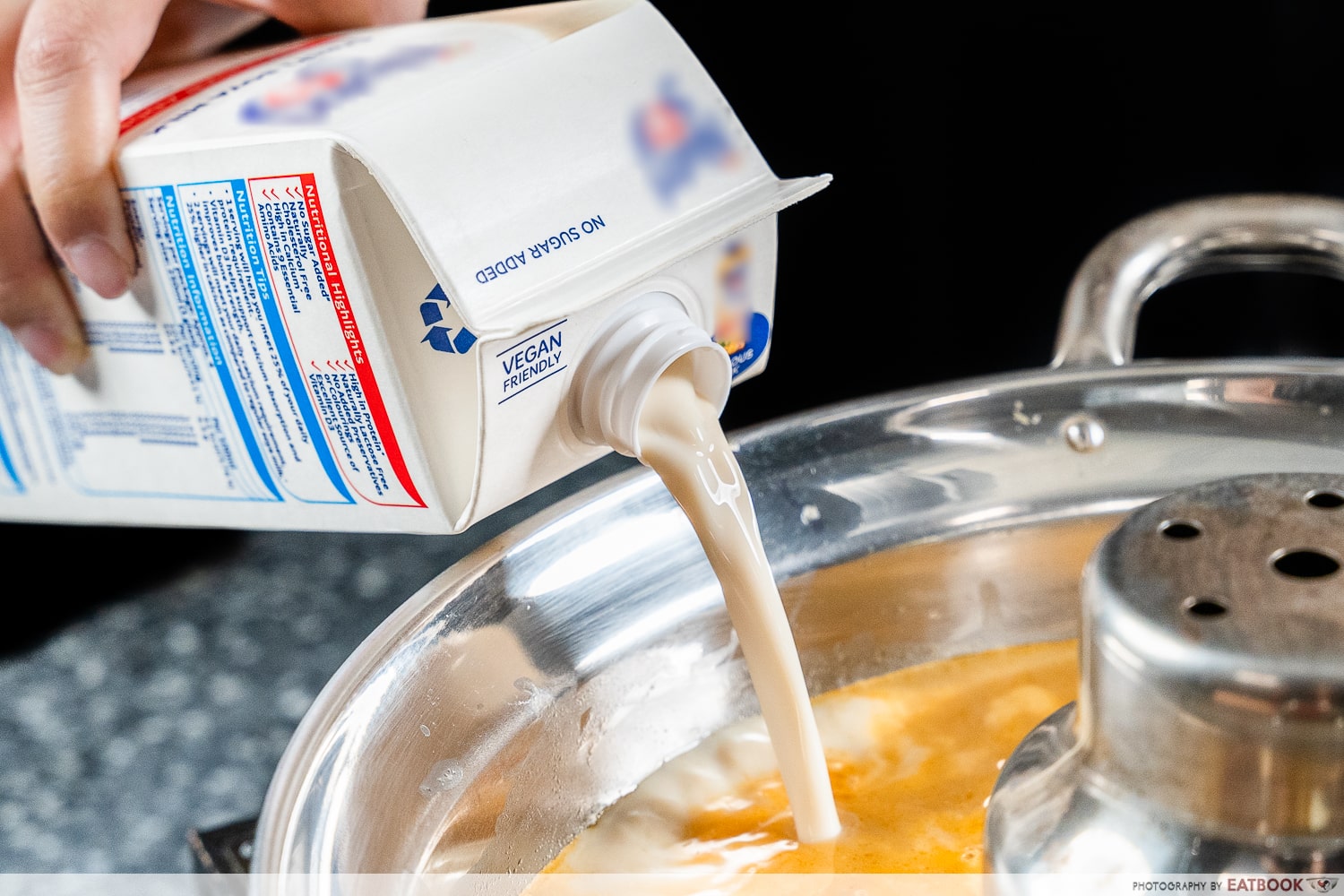 Add the soymilk only as you're about to start your hotpot. This recipe makes quite a bit of it, so the rest of the stock can be kept for many other purposes: frying bee hoon, making noodle soup, cooking vegetables and so on.
Yield: 4 servings
Cooking time: 1 hour
Ingredients:
Generous dash of Shaoxing cooking wine, optional
500g fish head and bones
Oil
Knob of ginger, thickly sliced
3 shallots, halved
Scallions, halved
Coriander roots
500g prawn head and shells
Water, to cover
500ml fresh soymilk
Salt and pepper to taste
Directions:
If using, generously dash fish head and bones with Shaoxing cooking wine.

Heat oil in a stockpot. Sear fish head and bones on medium heat till lightly golden, then remove and set aside.

Turn heat down, add more oil if necessary and fry ginger, shallots, scallions and coriander roots till fragrant. Throw in prawn heads and shells. On medium heat, fry till dry, and shells start to char. 

Add fish head and bones back in, and water to cover. Bring to a boil, then simmer on low heat for 30 minutes.

Strain into a clean pot, add soymilk, and bring up to a simmer. Season to taste.
---
2. Chicken & Vegetable Soup
---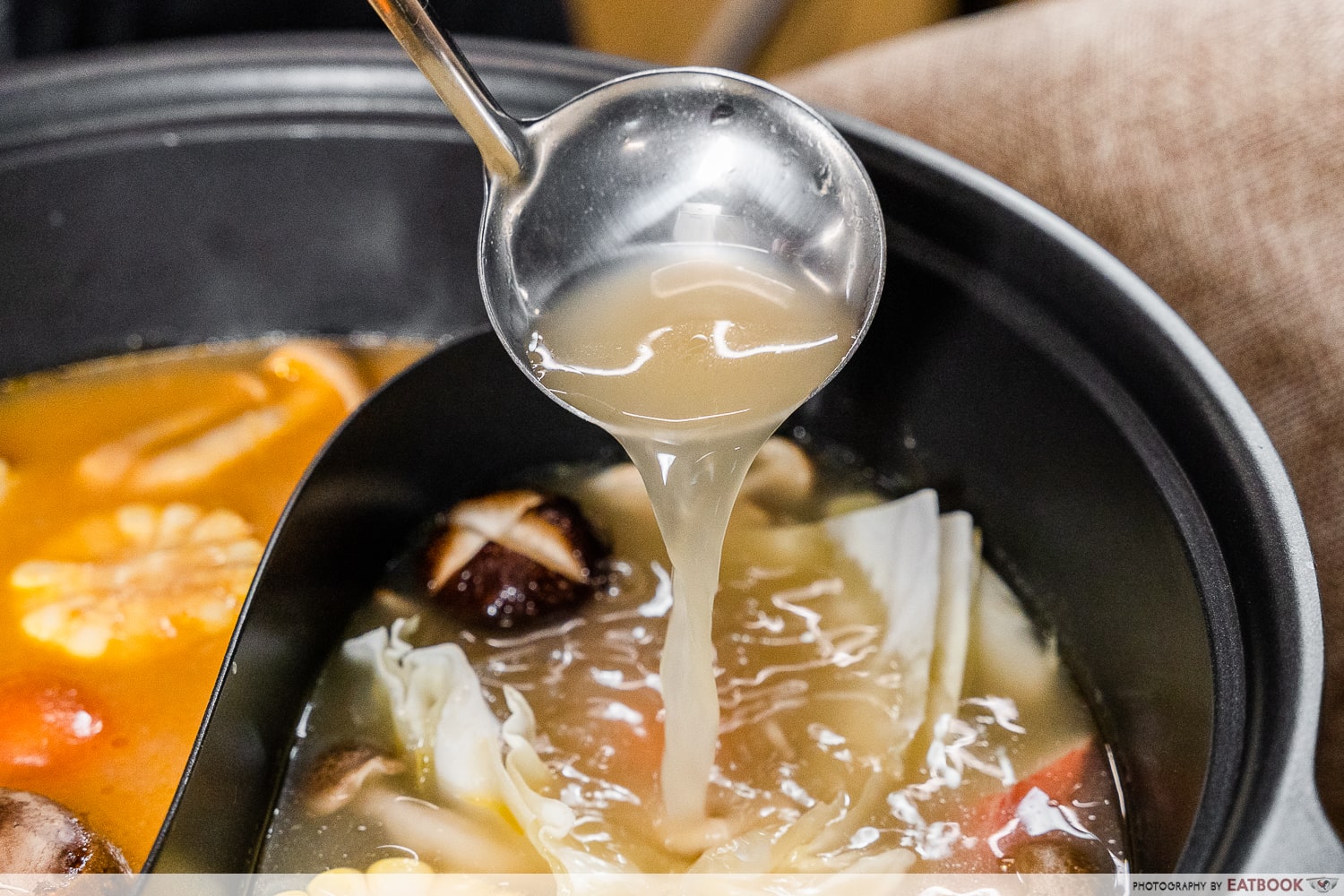 This Chicken & Vegetable Soup is, in essence, chicken soup for the soul, laced with collagen and full of flavour. Recipes online for chicken soup would usually have you heading to the supermarket to stock up on vegetables and whole chicken, but we've hacked it so you can achieve an even tastier version for so much less.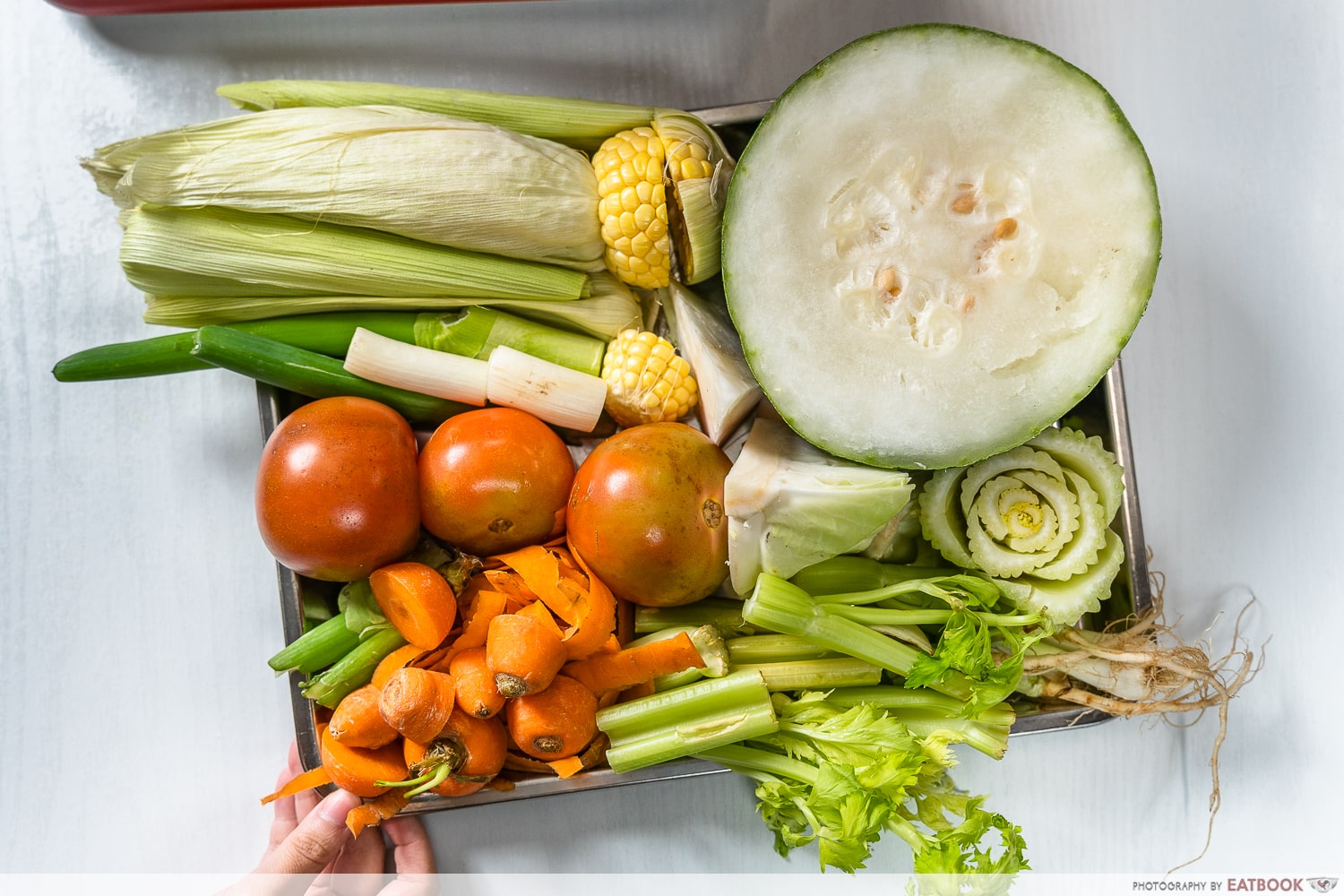 When shopping for vegetables, don't shy away from blemished or imperfect produce, as they're equally full of flavour. Once home, cut off the odds and ends from your selection of greens and set them aside to make the stock. Scour the fridge for stuff like overripen tomatoes to add to your stockpile of flavour too━the more, the merrier.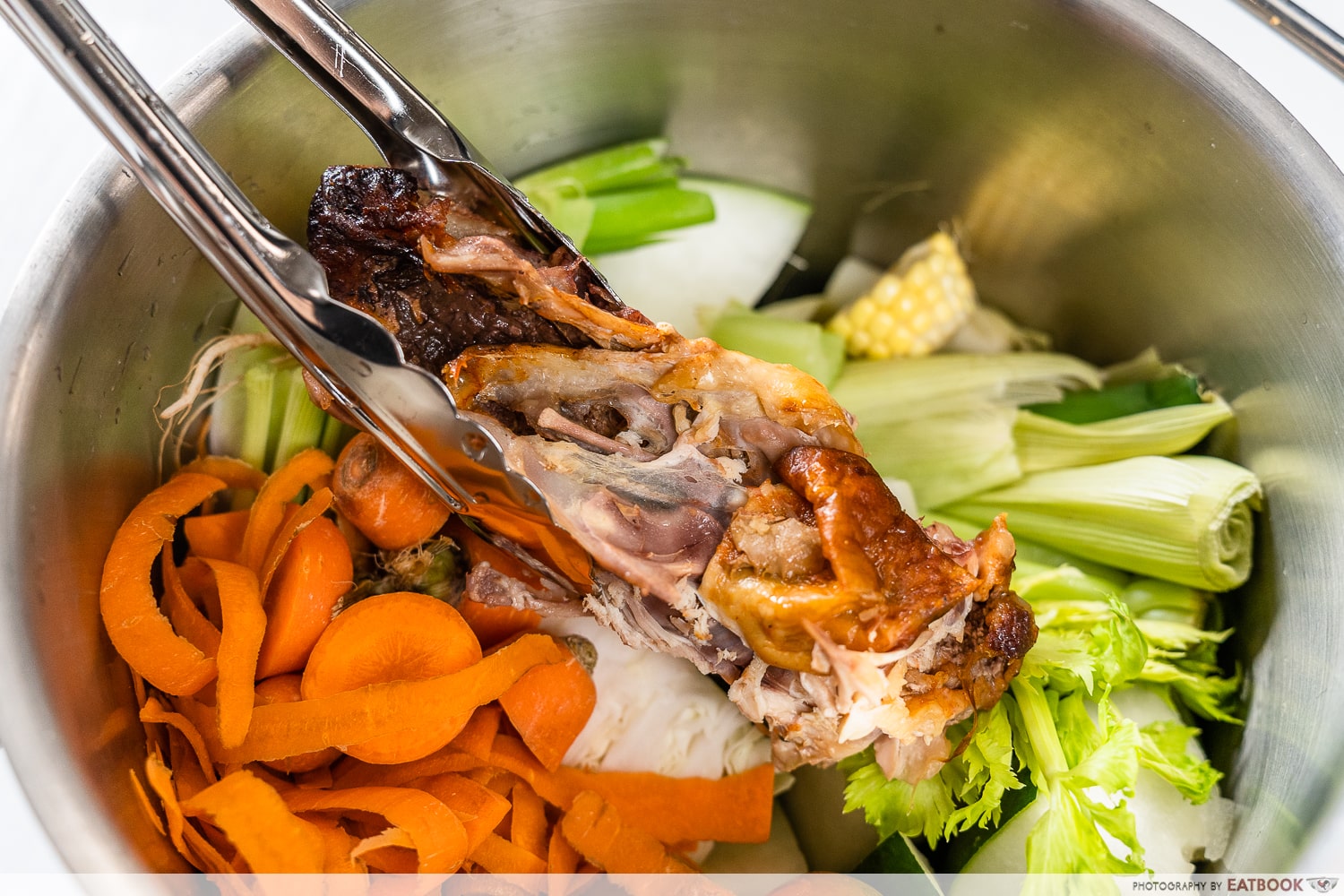 Plus points if you've had a roast chicken dinner, because the carcass and skin that you've not eaten are going to add an extra layer of savouriness to the stock. Even if it's the leftovers of a roast pork knuckle or sio bak that you can't finish, you can freeze them with reusable containers and chuck 'em into this pot too!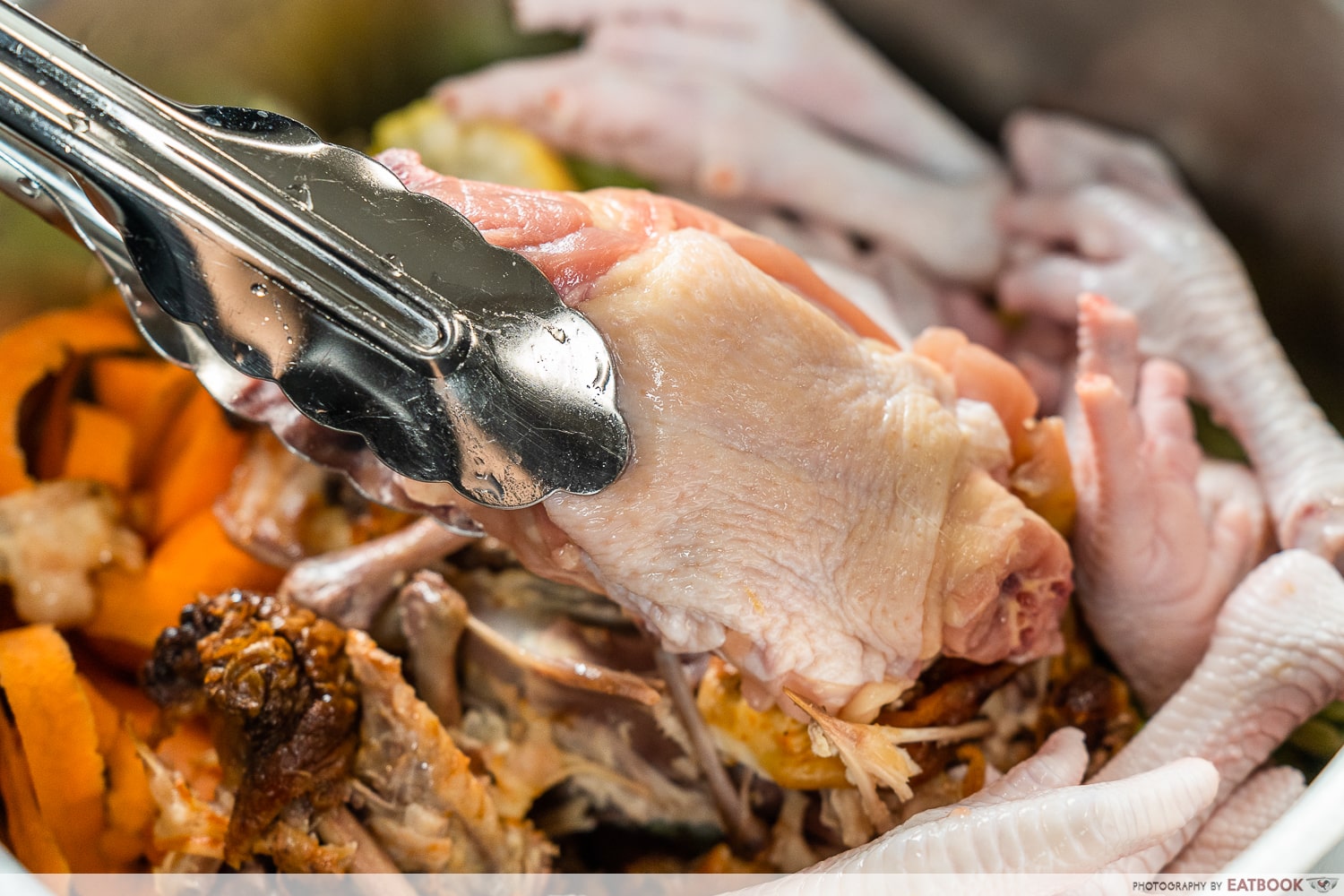 Fat is flavour, and this can be obtained from chicken wing tips, chicken feet, and chicken necks that you might dispose of when prepping a whole chicken for meals. All that skin and joints will add body to what would otherwise be a plain veggie soup. Again, build a store of these unwanted bits in the freezer for a handy addition to this hotpot broth.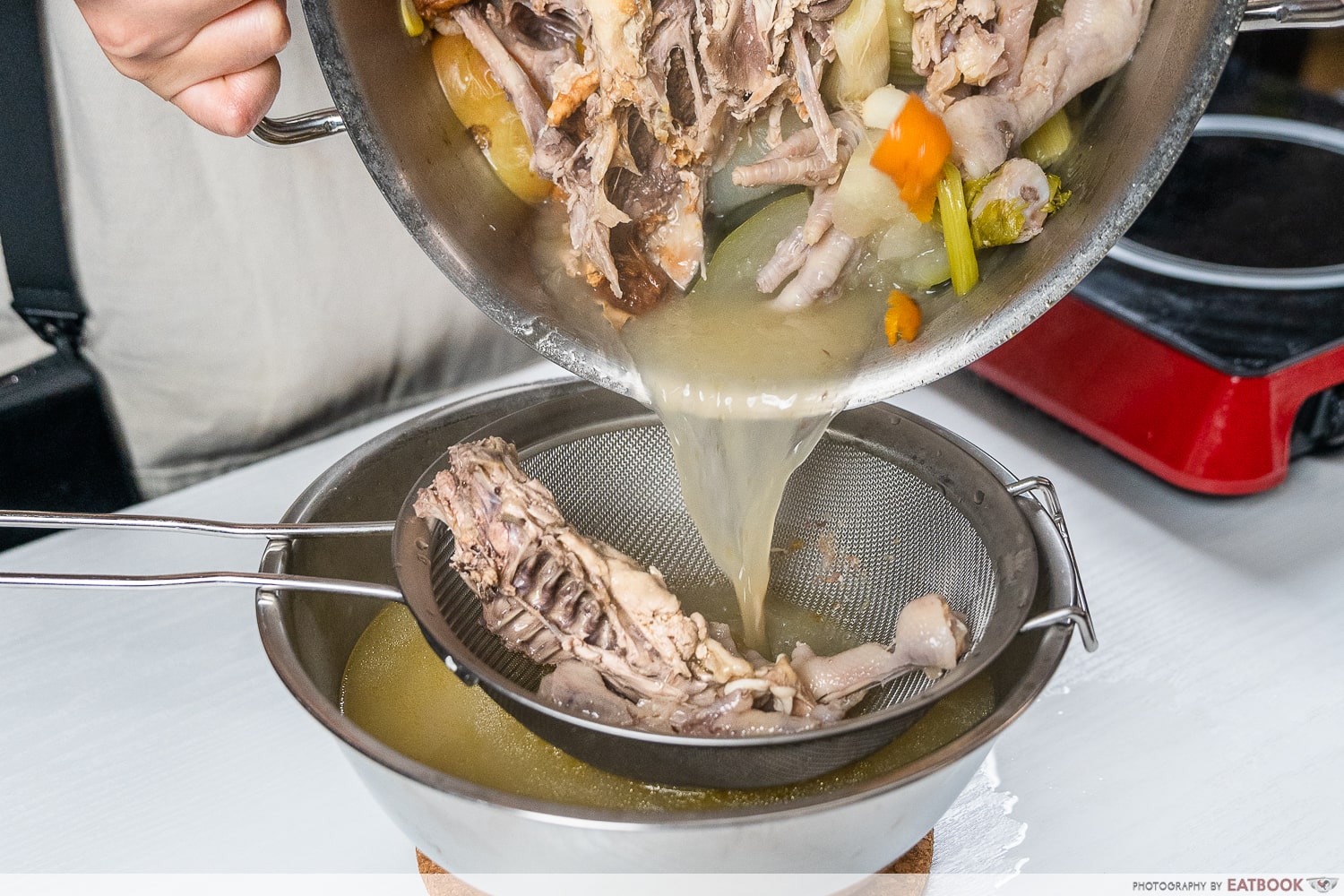 Seasonings are optional, but a little salt does go a long way to elevate this chicken soup. Keeping it at a rolling boil for the final 15 minutes gives it a milky finish, but you can leave it to continue simmering if you don't mind a clear soup.
Yield: 4 servings
Cooking time: 45 minutes
Ingredients:
500g chicken wing tips, neck, and feet
1 rotisserie chicken carcass
Vegetable scraps
Water, to cover
Salt and pepper to taste
Directions:
Throw everything into a stockpot, and add enough water to cover.

Bring to a boil, then simmer for at least 30 minutes.

Turn the heat back up to a rolling boil for 15 minutes. Season as desired.
---
3. Cheesy Tomato Hotpot
---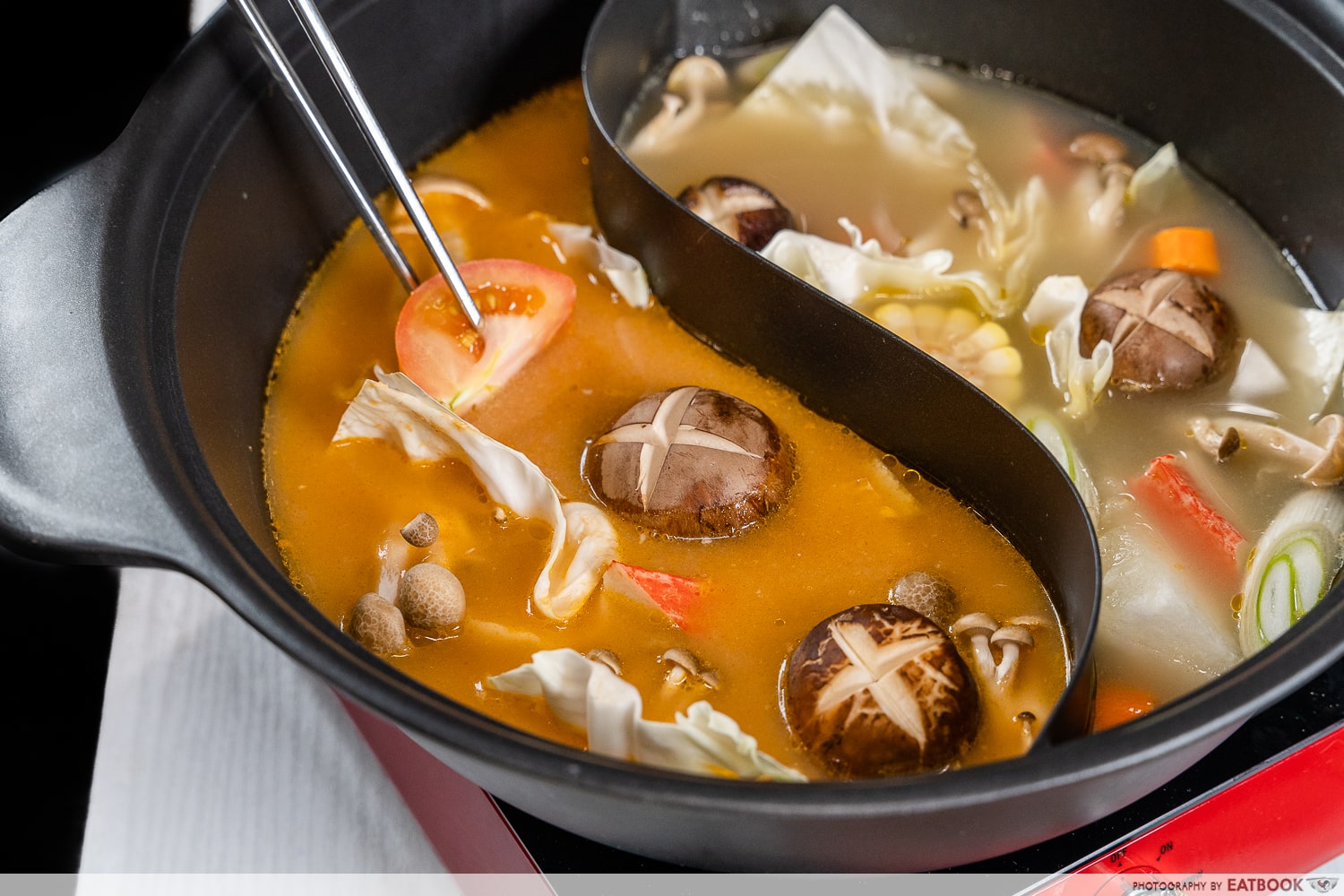 Tomatoes and mushrooms are naturally full of glutamate, AKA they are umami bombs. If you're looking for a meat-free alternative to hotpot broths, this vegetarian-friendly Cheesy Tomato Hotpot would be right up your alley. To make this soup base vegan-friendly, skip the addition of milk and cheese.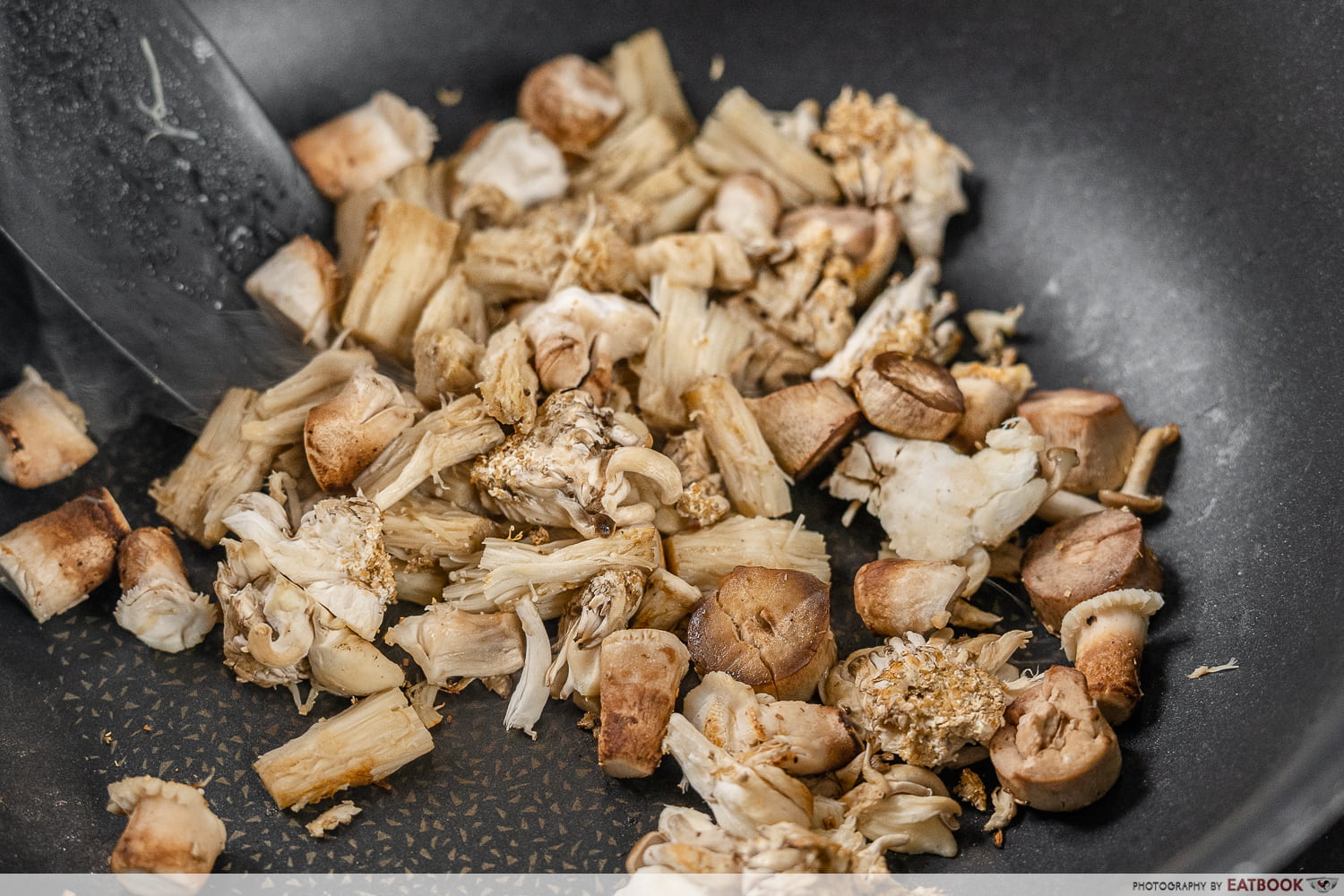 Mushroom stems usually end up in the waste bins since they're harder and more fibrous. This doesn't mean they're any less tasty, and we can harness this by distilling them into a soup. Giving them a quick sauté enhances this.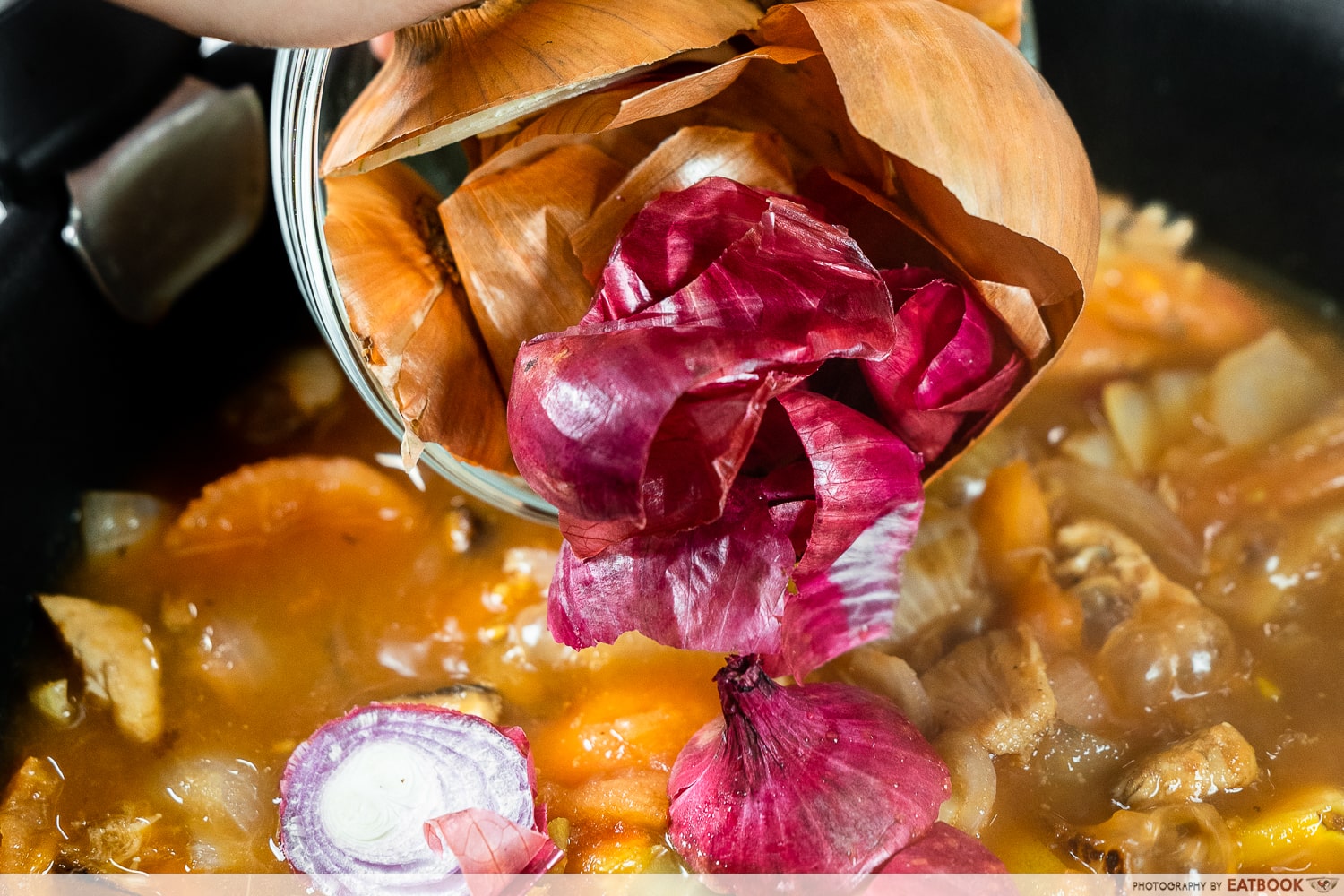 Surprise, surprise, but onion peels are actually flavour powerhouses too, just as much as the juicy parts within. Understandably, they look kind of gross when they're covered in soil and other grimy bits, but there's nothing a quick rinse and scrub can't fix. If it really irks you, peel off the dirtiest, outermost layer and the rest are just as good.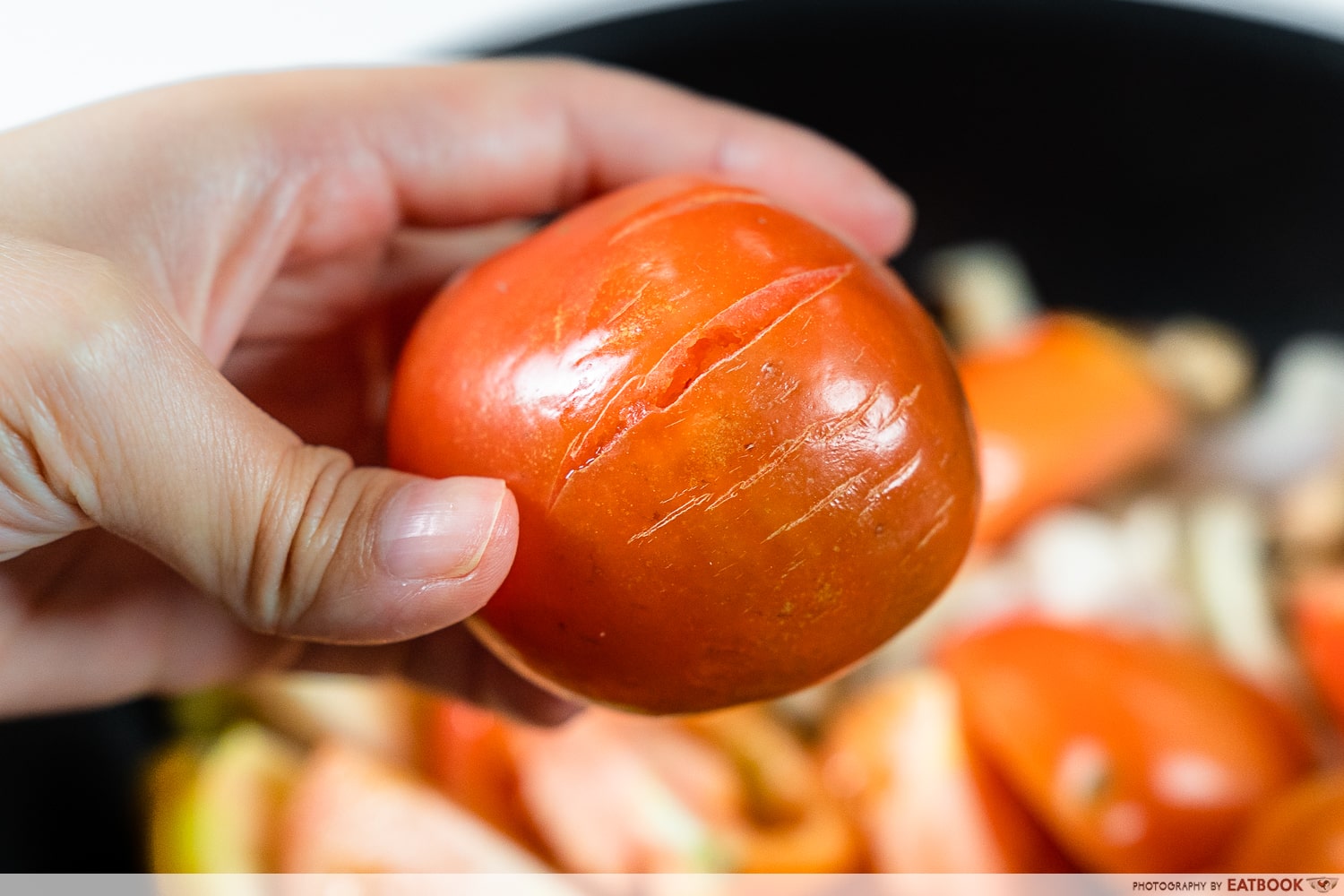 Hands up, if you've accidentally squished your bag of tomatoes or left them in the drawer till they're overripened and kind of sad-looking. It's really all right, because making them into stock means they'll be boiled down to unrecognisable ends anyway.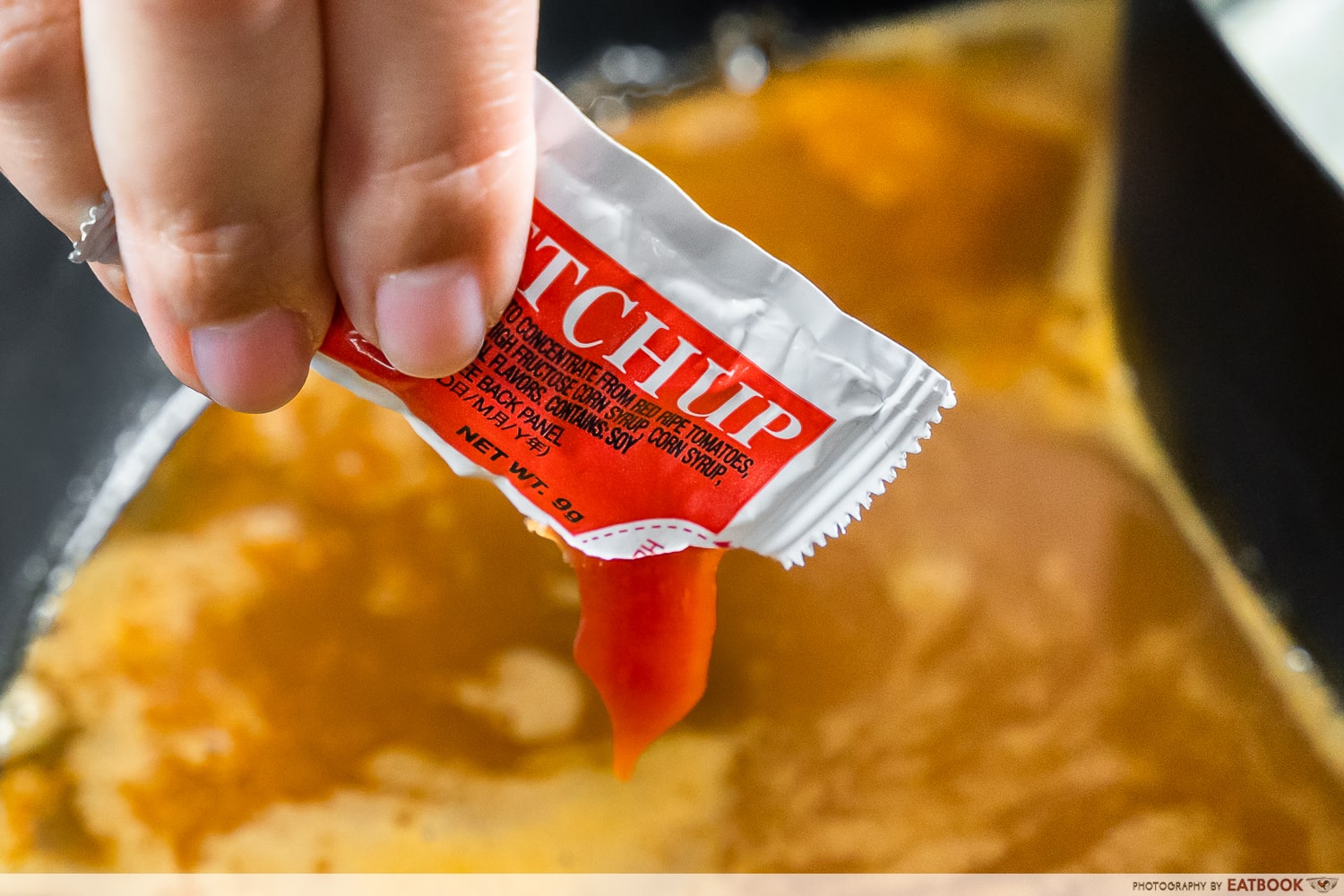 Turn up the tomato in this broth by squeezing in all those packets of ketchup that you have lying around the house from fast food deliveries. And if your tomato packets are piling up like mine, here's a reminder to opt out of these sauces when you order food deliveries and take away so we can reduce wastage!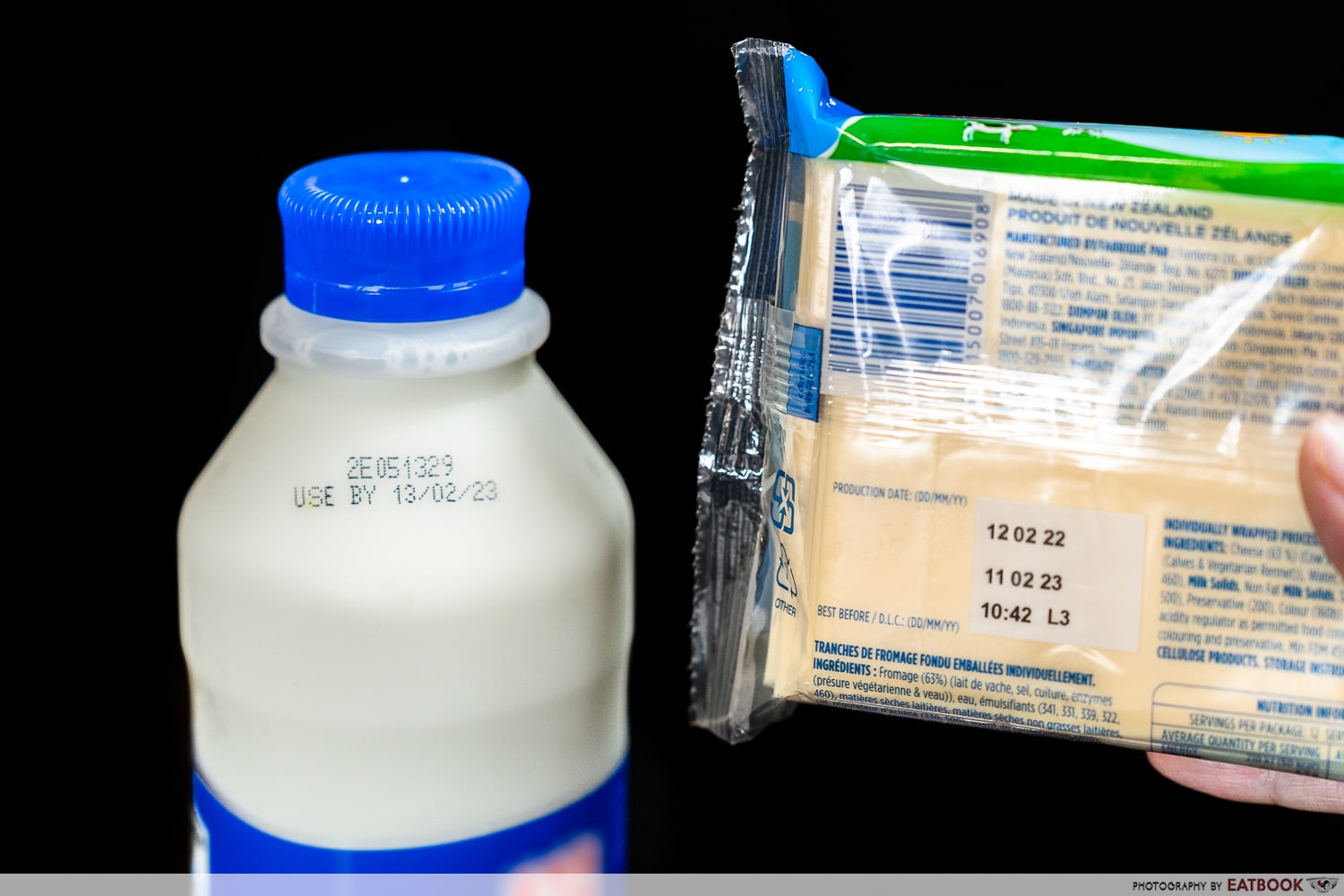 Like with the soymilk in our other recipe, this broth allows you to very quickly finish up any milk or cream and cheese that's fast approaching their use-by dates.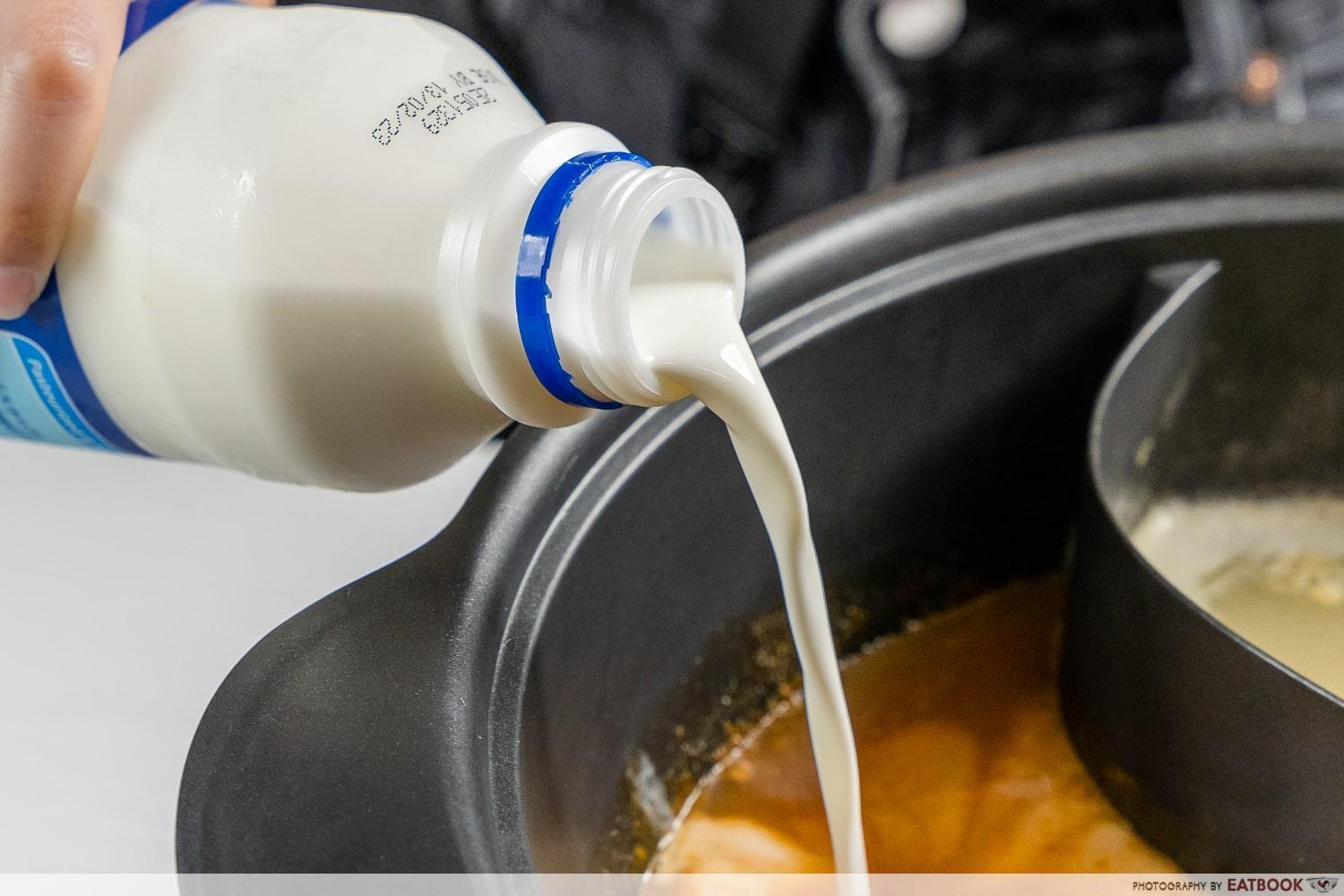 The strained broth should just be simmering when you pour in the milk or cream, so that it won't curdle.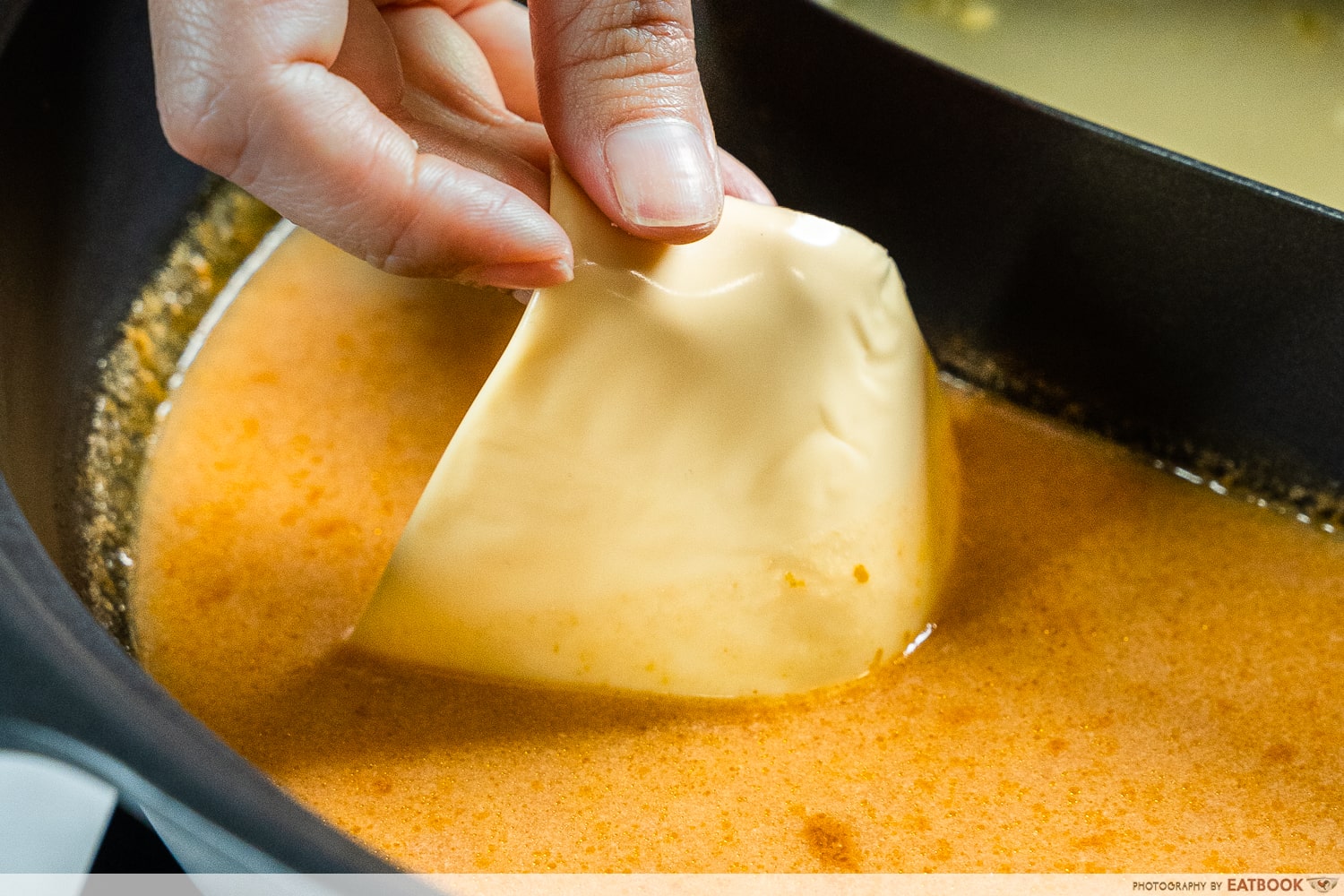 Then go ham on the cheese, and add as many slices, or as few, as you like.
Yield: 4 servings
Cooking time: 30 minutes
Ingredients:
200g mushroom stems, imperfect mushrooms
Oil
Handful of coriander roots
Scallions, halved
Leek, green parts and roots
Onion peels
Vegetable peels
Bruised and imperfect tomatoes, quartered
Water, to cover
Ketchup
500ml milk
Cheese, as desired
Salt and pepper to taste
Directions:
On medium heat, saute mushrooms with no oil till dry.

Add oil and aromatics, and fry till fragrant. 

Throw tomatoes in, and fry till they start to break apart. Add water to cover, and bring to a boil. Stir in ketchup, and simmer for 15 minutes till everything has broken down.

Strain into a clean pot. On low heat, add milk and let it come to a gentle simmer. Melt cheese in, season, then serve.
---
Hotpot broth recipes under $5
---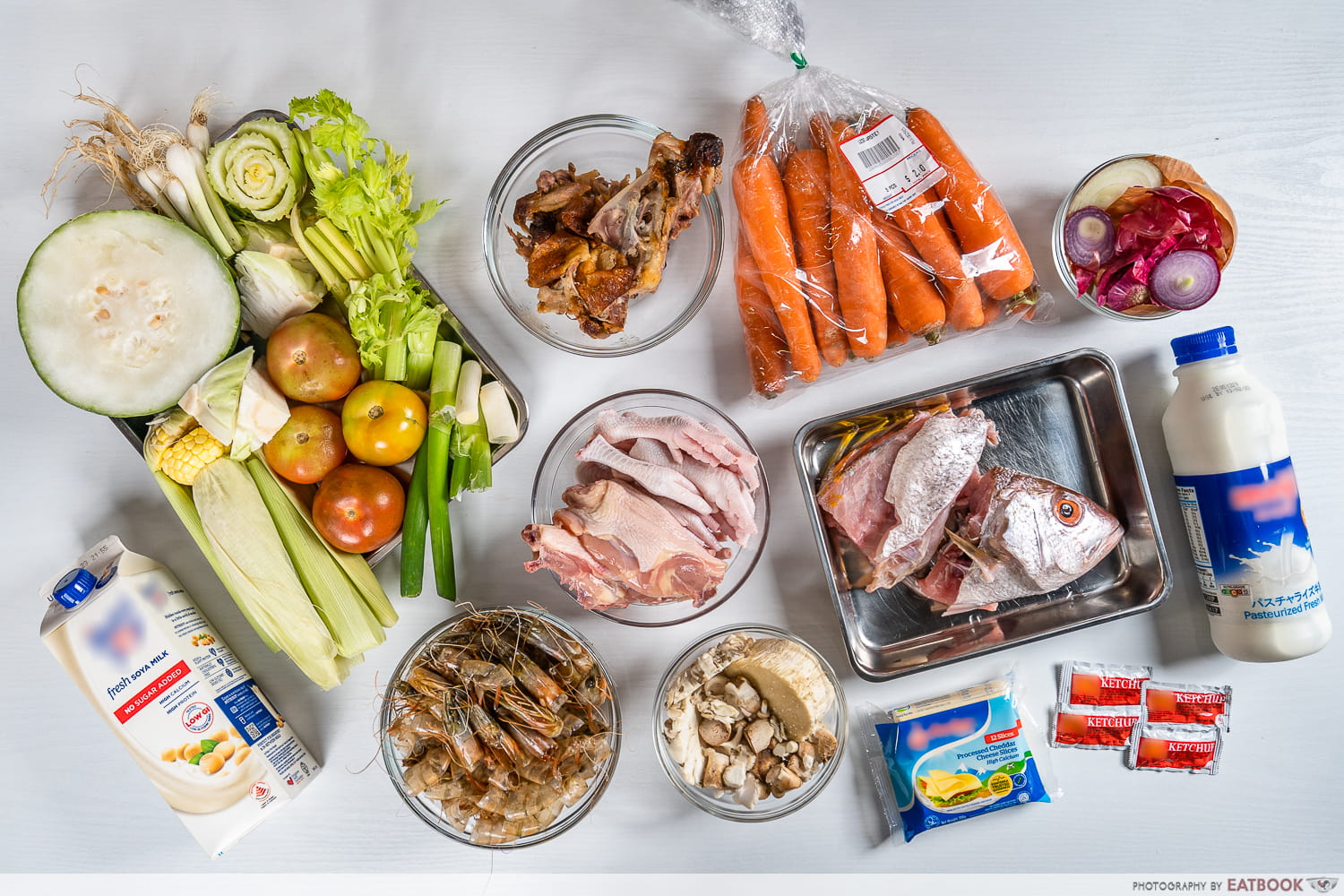 What we assume to be food wastage in our home kitchens actually has so much more to give. It's high time we take a closer look at our groceries and potential waste to stretch them the extra mile.
We may not be aware of how pressing Singapore's waste situation is, but our only landfill, Semakau Landfill, is expected to be full in the next 12 years. Just because Singapore is relatively clean, and we can't see the problem, doesn't mean it doesn't exist━we can all do our part to alleviate the amount of waste Singapore produces, and it's as easy as getting the most out of our groceries, rather than throwing away what's otherwise deemed useless. We are the problem, but we can also be the solution!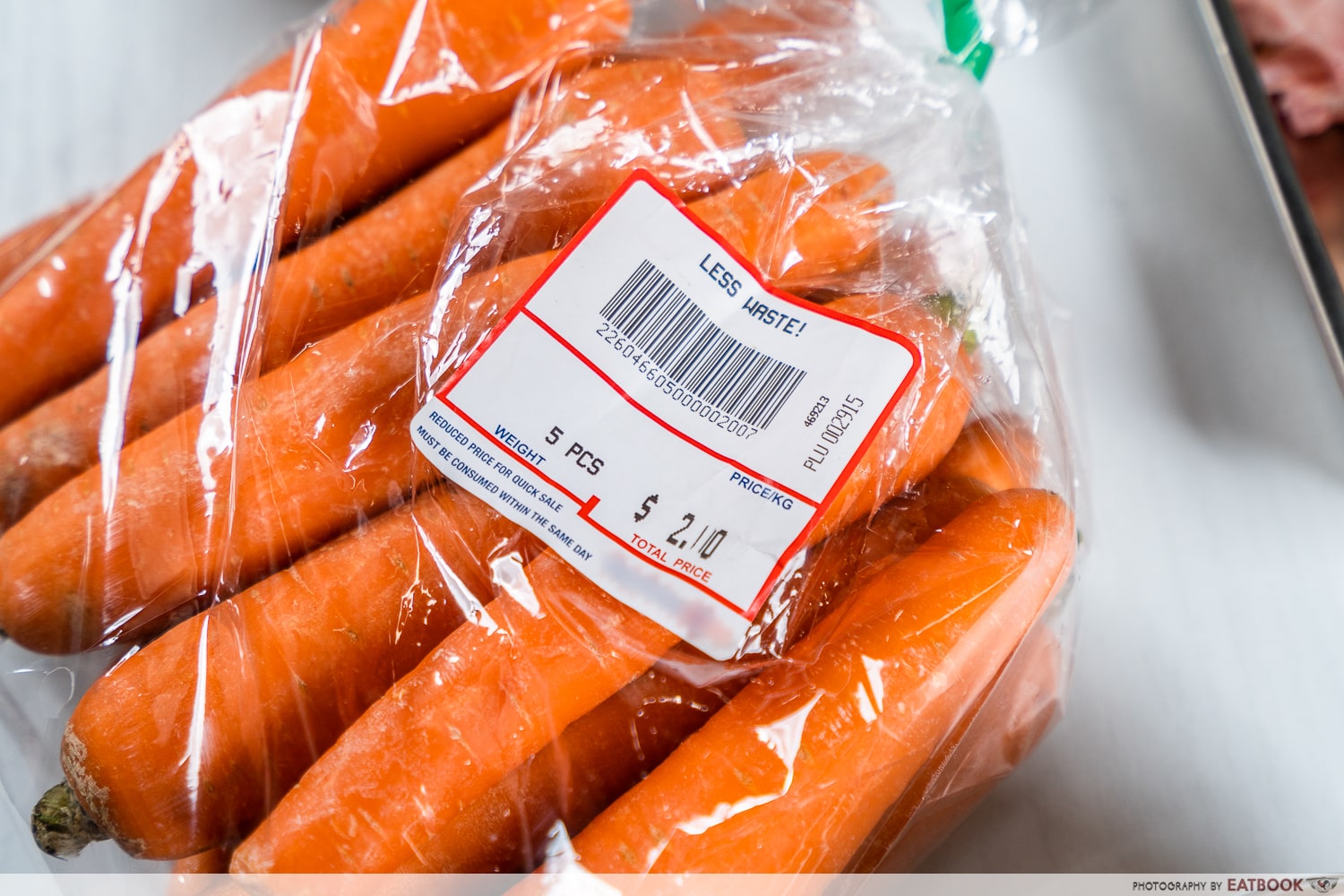 The National Environment Agency (NEA)'s Say YES to Waste Less movement started in 2019, and more than 190 partners have come on board with initiatives to cut down on food wastage or the use of disposables. These include FairPrice Group, who champions food waste reduction through community food rescue partnerships as well as through offering blemished produce at reduced prices in stores.  They were also the first supermarket in Singapore to encourage BYOB through various initiatives since 2007 to reduce the use of single-use plastic bags.
Similarly, being able to buy only what you need at Scoop Wholefoods helps cut down on food waste; the produce here is all sustainably produced and sourced, with minimal packaging and chemicals for the long-term health of our planet. Then, there's UOB, which achieved carbon neutrality, and promotes environmental sustainability across the board━if you hold a UOB EVOL card, you can enjoy 10% off sustainable Eco-Lyfe products which you can use to pack your meals in, and receive a free cutlery set as well!
Get a free Starbucks coffee, while stocks last, when you bring your own reusable mug down to The Waste(less) Cafe Exhibition, where you can find out more about Singapore's waste sich and what we can do to help make it better. This exhibition is happening on 4 and 5 March at Singapore Expo, as well as 11 and 12 March at NorthPoint City, from 12pm to 7pm for both locations, so start making those weekend plans. 
Photos taken by Tan Zi Hui
This post was brought to you by the National Environment Agency (NEA).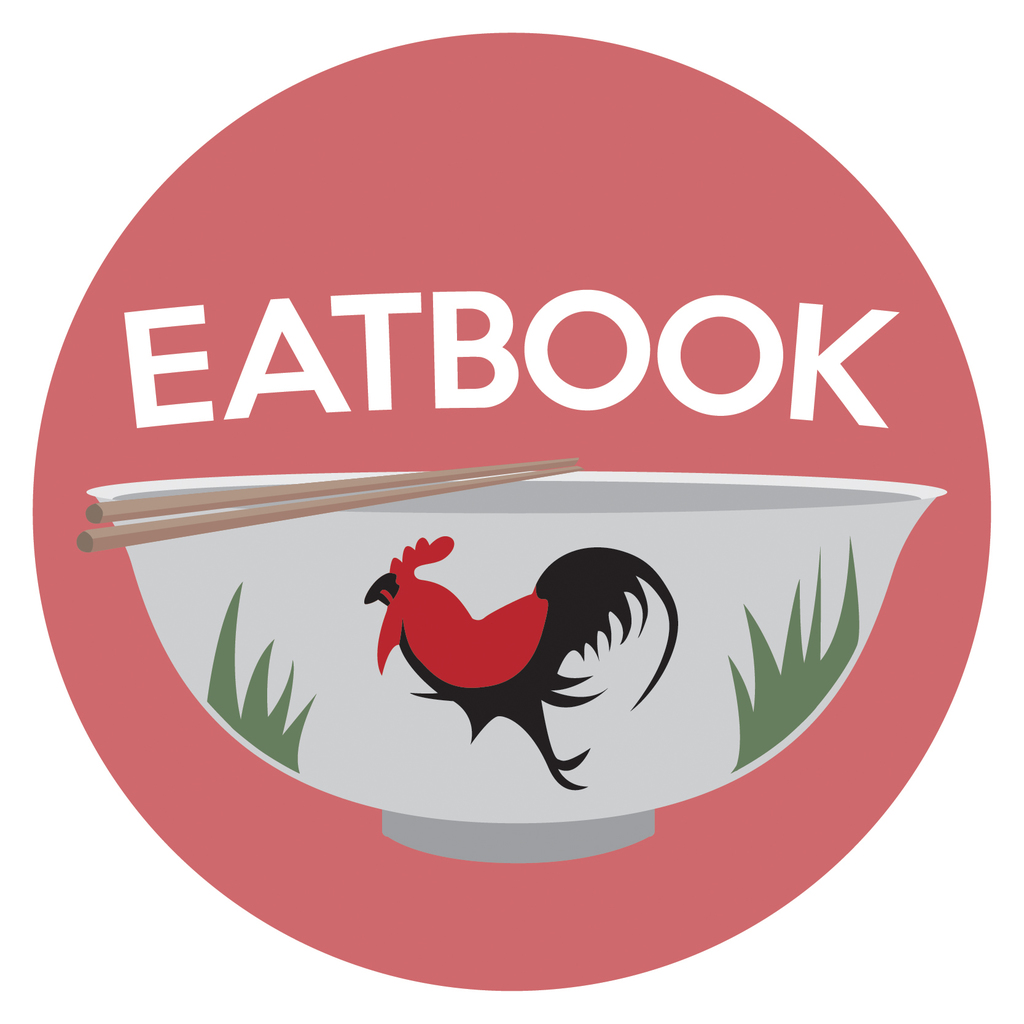 Drop us your email so you won't miss the latest news.