---
Easy tofu recipes made with plant-based milk
---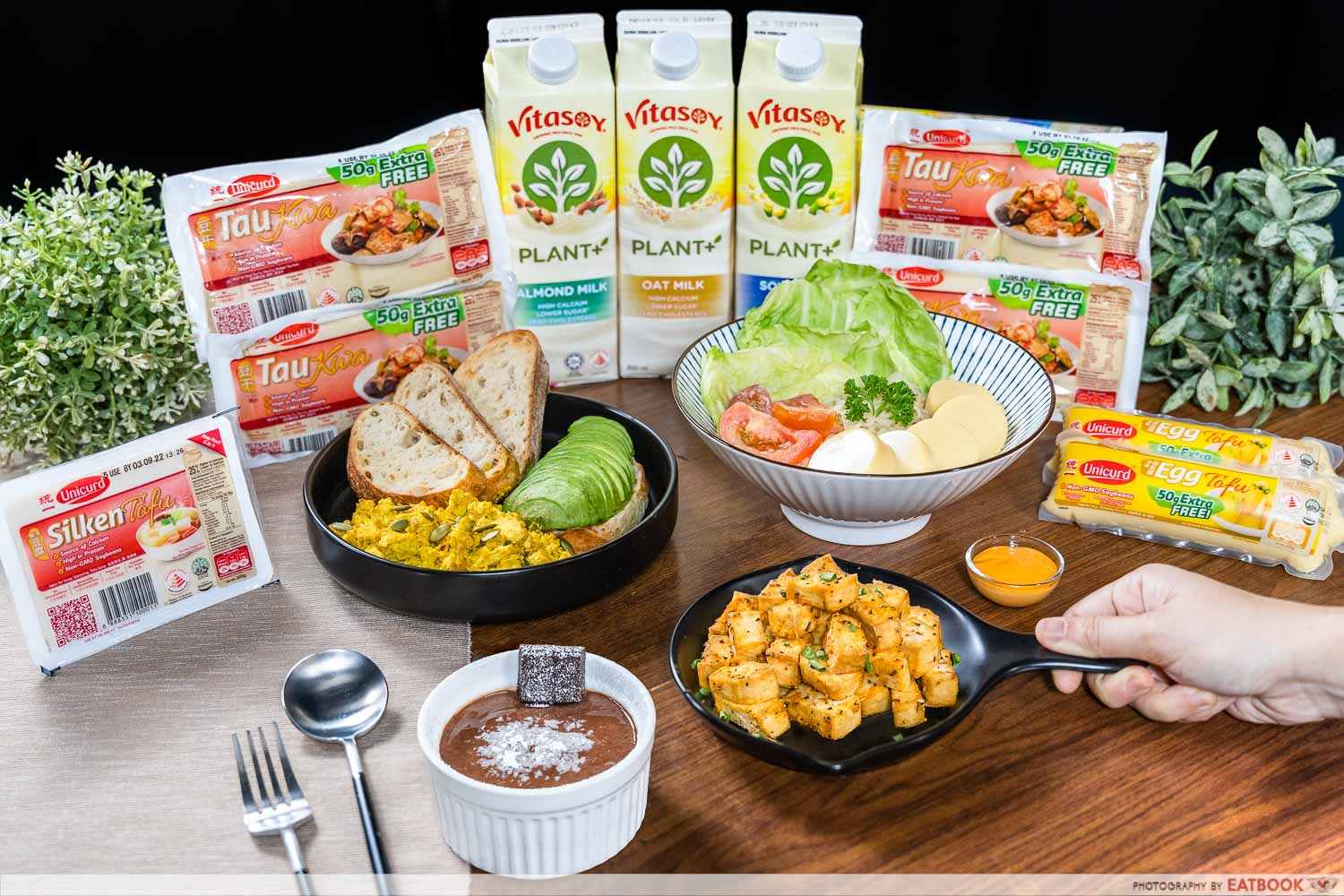 Tofu is an easy and delicious way to impart plant-based protein into your diet, whether you're trying to go meat-free or not. To get you started, here are four simple 5-ingredient tofu recipes made with Unicurd's tofu products and Vitasoy's range of plant milks. As each recipe takes less than 20 minutes, they're perfect for any time of the day—especially when you get the midnight munchies. 
---
1. Crispy Airfryer Tofu Nuggets 
---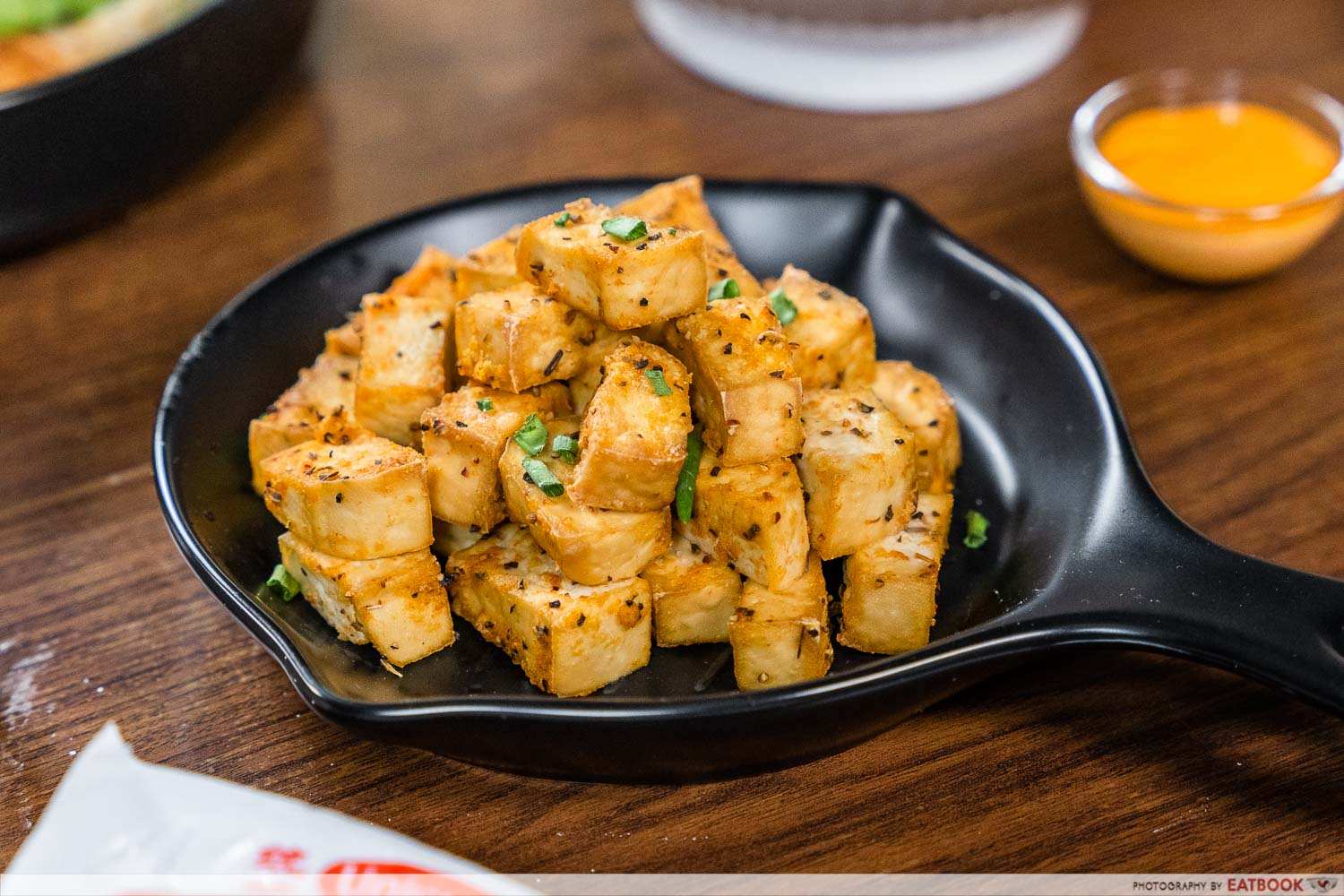 This recipe is super popular on TikTok for good reason: it's healthy, easy, and delicious. Crispy Airfryer Tofu Nuggets are a great alternative to chicken nuggets as they swap out regular meat for Unicurd Tau Kwa, which is packed with plant-based protein.
Only five ingredients are needed and prep time takes less than five minutes. The key to crispy nuggets is getting the tau kwa as dry as possible before mixing it with the rest of the ingredients. You can use paper towels or a tea cloth to pat the tau kwa block to remove excess moisture.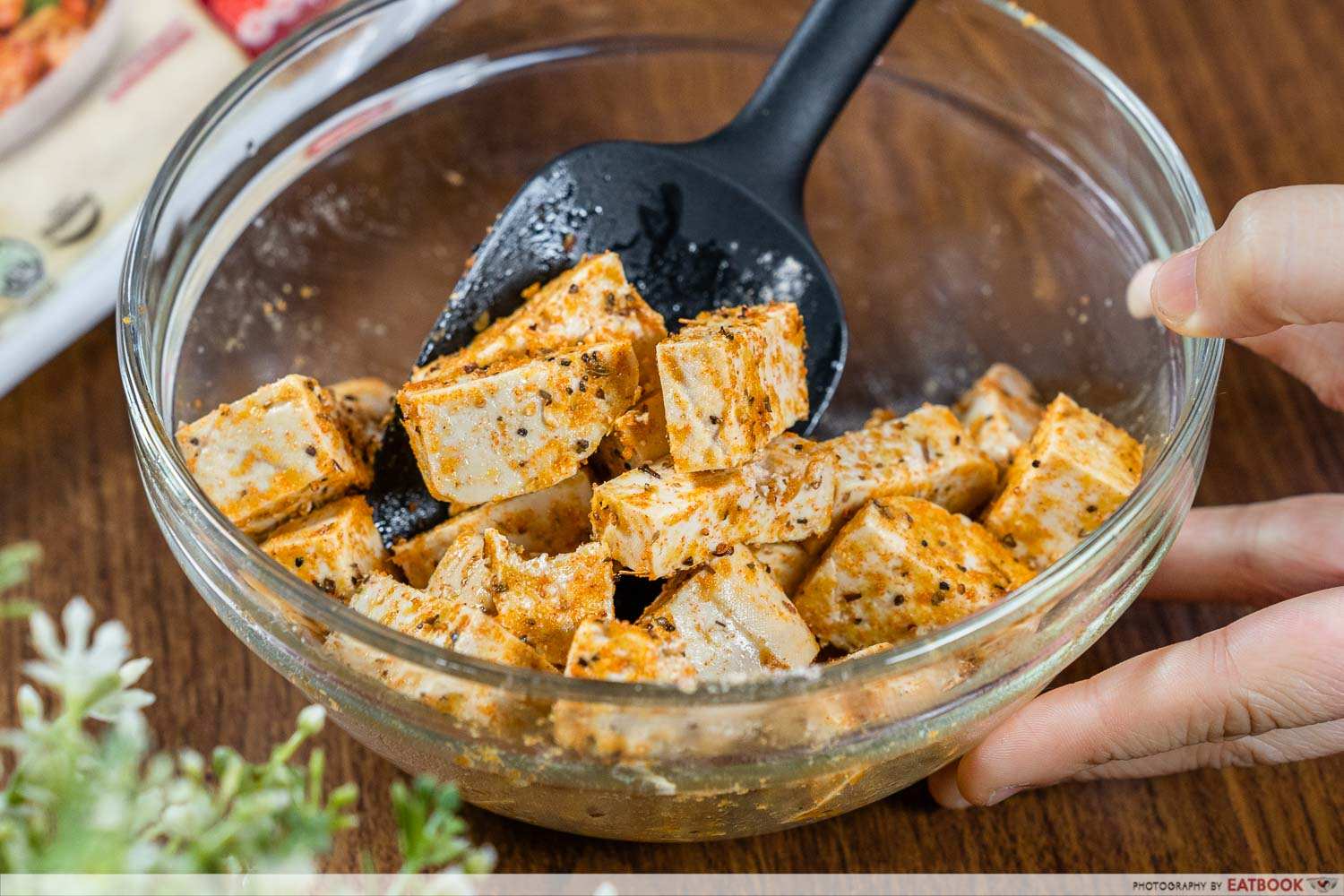 I added Cajun seasoning, which adds a kick of spice, and nutritional yeast for vegan-friendly umami goodness. If you don't have the latter, simply substitute it with soya sauce. The corn starch coats each tofu strip, helping it to crisp up in the airfryer.
As the tau kwa is cut into bite-sized strips, it doesn't take long to cook. Once the nuggets are golden-brown, take them out of the airfryer.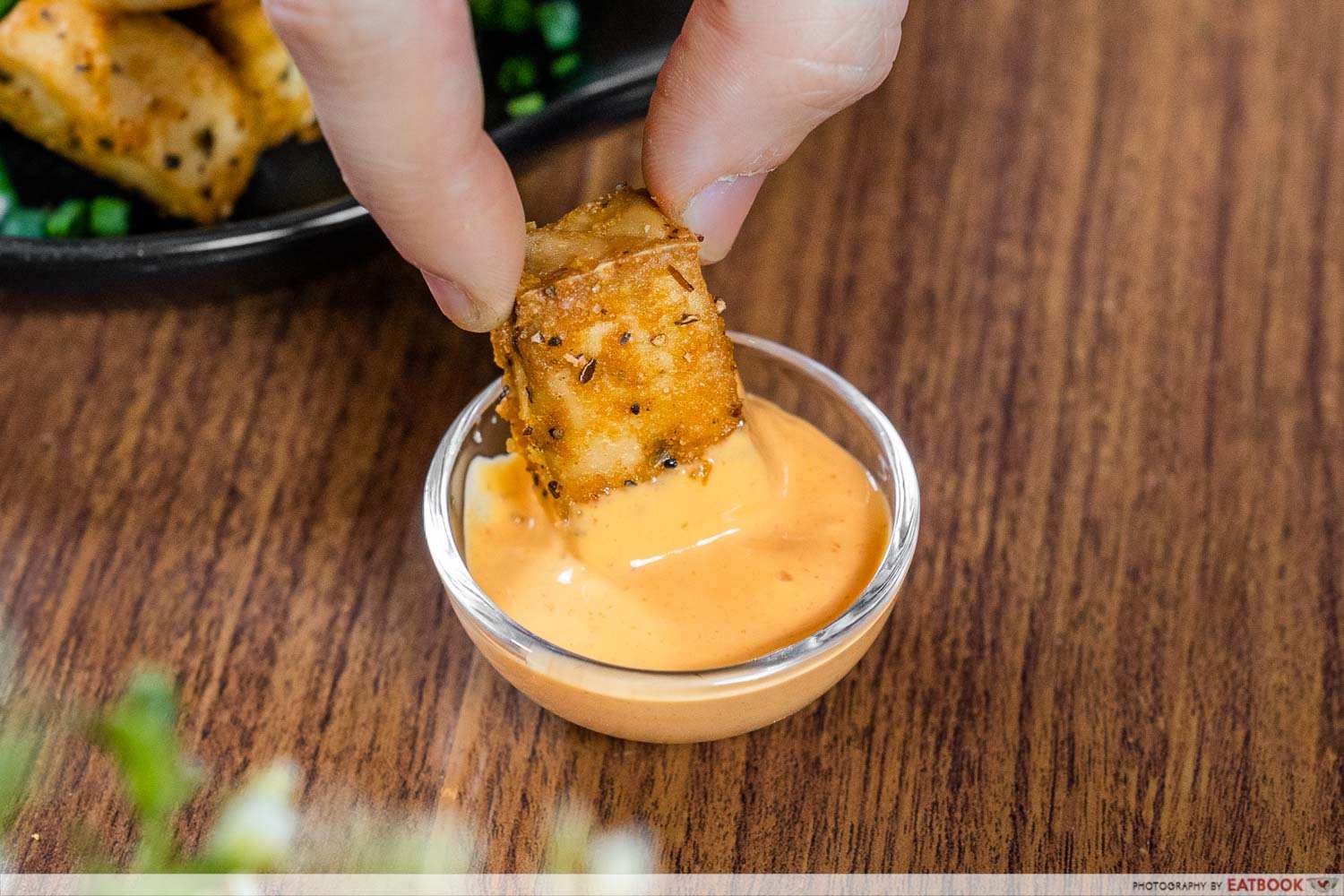 Serve with your favourite dip— sriracha mayo or ketchup is a good one—and enjoy!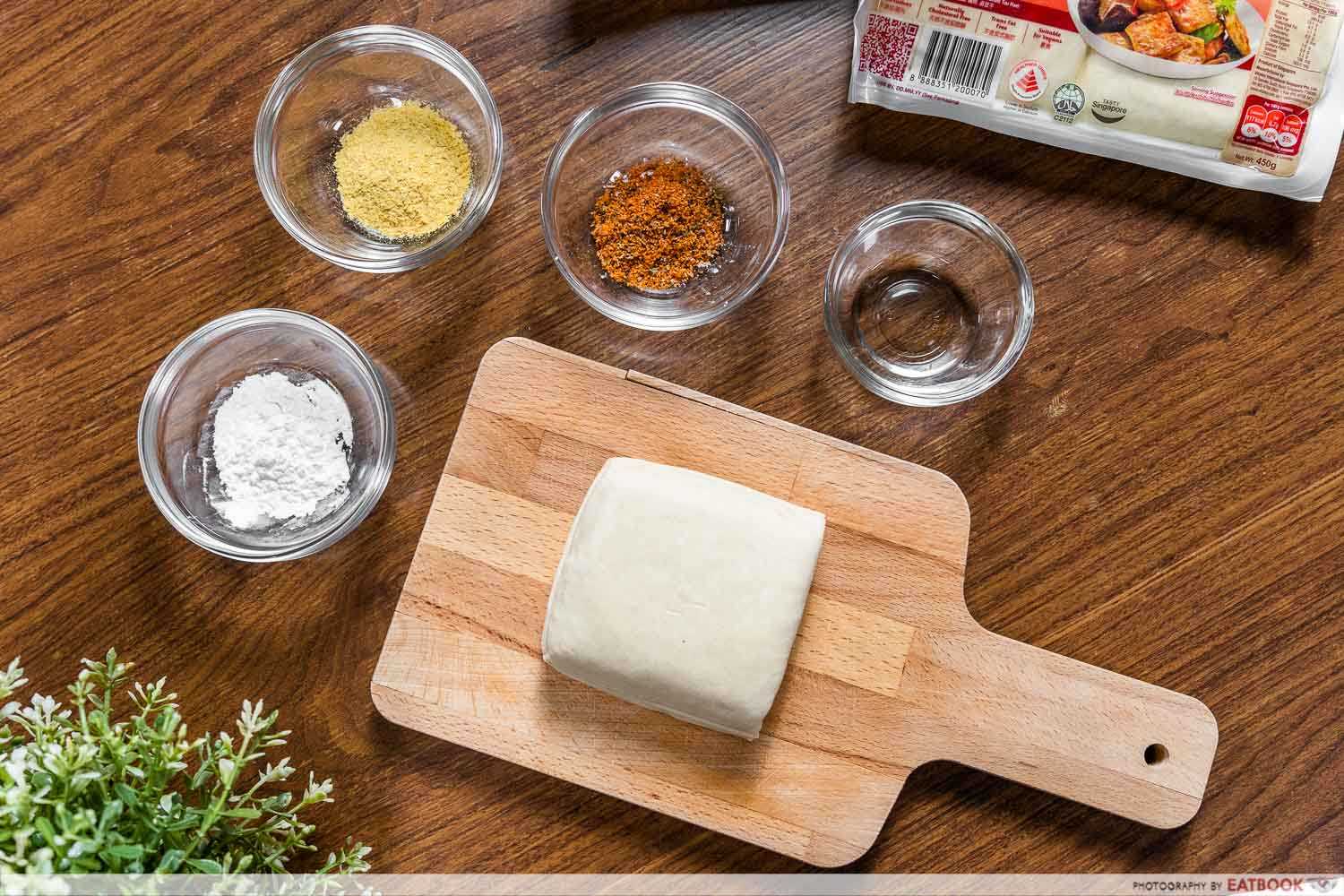 Yield: 2 servings 
Cooking time: 15 minutes
Ingredients:
1 block Unicurd Tau Kwa (250g)
1 tbsp oil
1 tsp nutritional yeast
1 tsp cornstarch
1 tsp Cajun seasoning
Optional: chives for garnish and sriracha mayo for dipping
Directions:
Cut the pre-dried tau kwa into strips.

In a separate bowl, mix the dry seasonings together.

Toss the tofu slices in the oil

Add the dry seasonings and mix well.

In a single layer of baking paper, line the tofu strips.

Place in an airfryer for 15-20 minutes at 200 degrees celsius. 

Transfer to a plate and garnish with chopped chives.

Leave to cool and enjoy alone or with your favourite dip.
---
2. Dark Chocolate Tofu Mousse 
---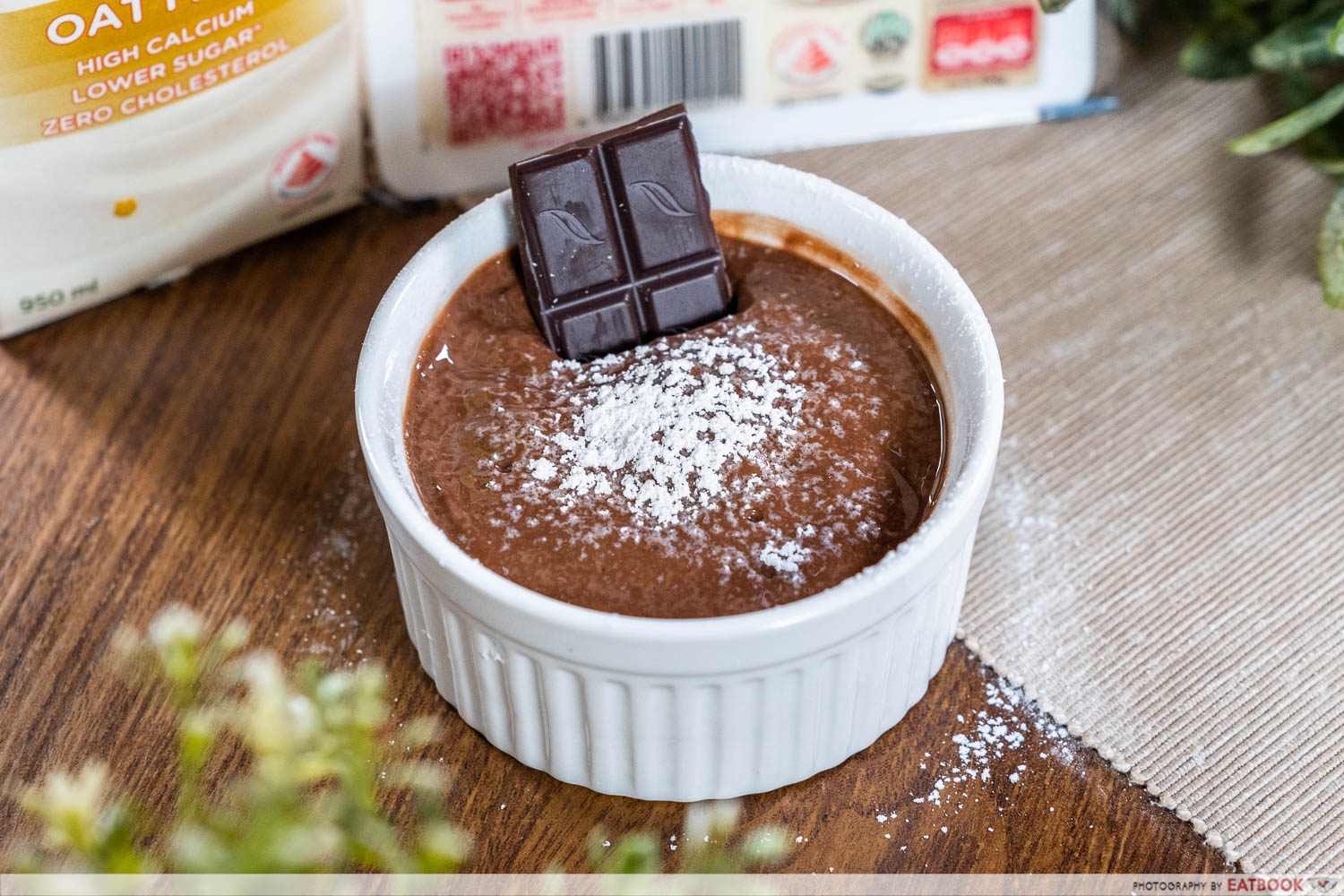 For a healthy yet satisfying dessert, try this fuss-free Dark Chocolate Tofu Mousse. This five-minute, no-bake recipe can be easily whipped up with just one blender.
The star of the show is the nutrient-rich Unicurd Silken Tofu, which creates a soft and creamy texture typically associated with dairy. Honey adds a touch of natural sweetness, while a pinch of salt brings out the rich chocolate flavour. A splash of Vitasoy Plant+ Oat Milk is used to thin out the mousse ever so slightly.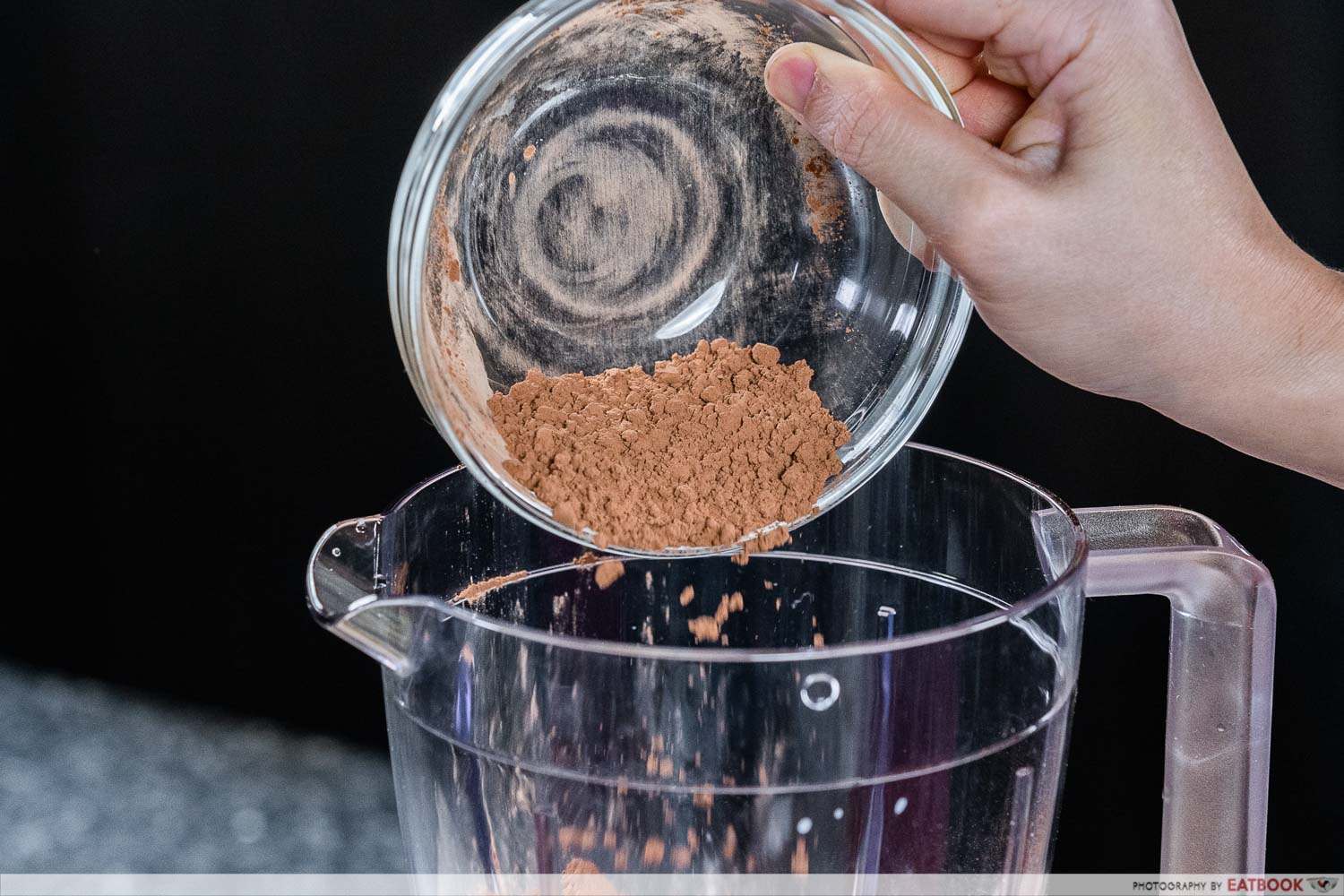 Simply throw everything into a blender or food processor, and whizz it up until the mixture is smooth.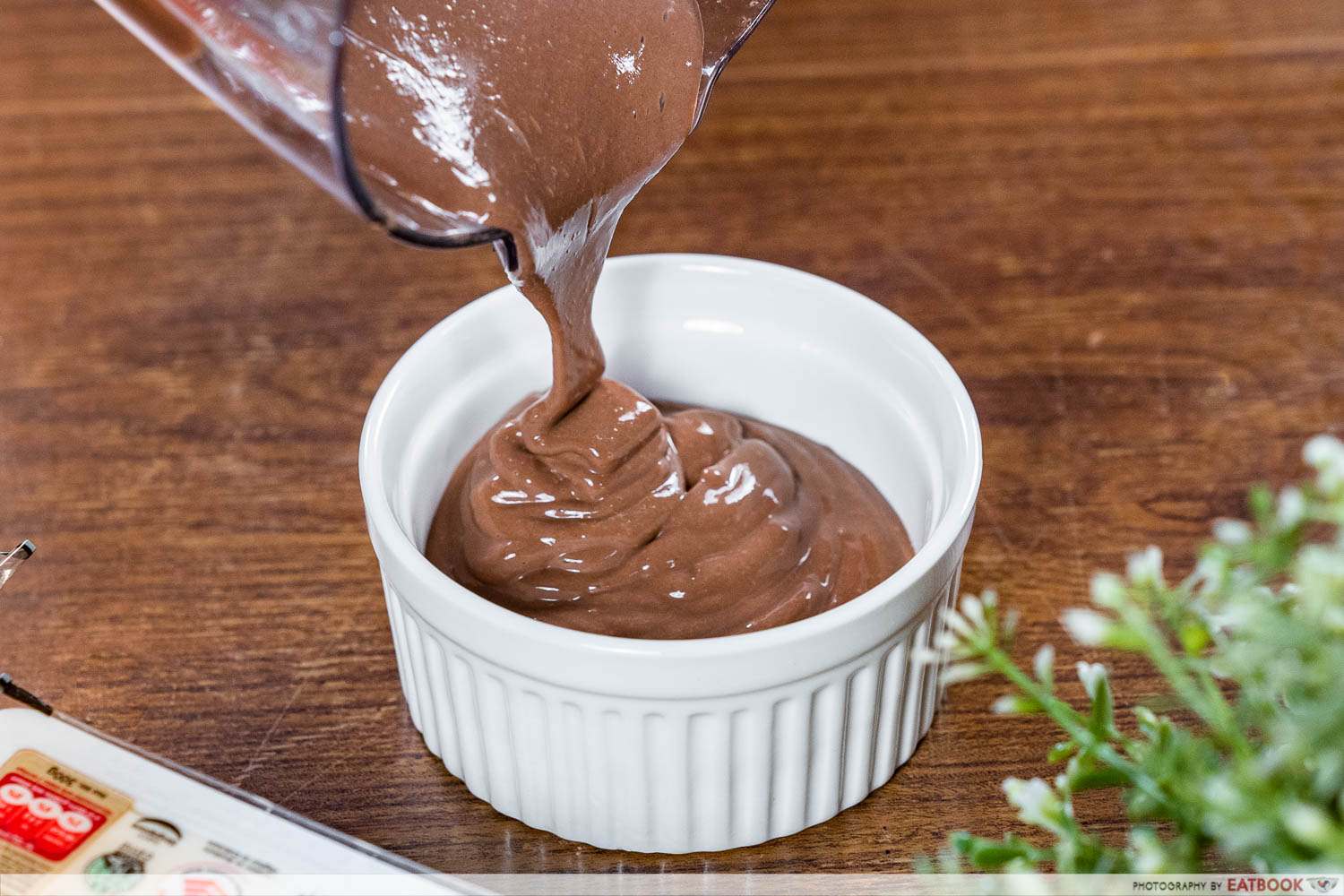 Then, transfer the mousse into your favourite bowl or ramekin, and place it in the fridge to chill until it's set.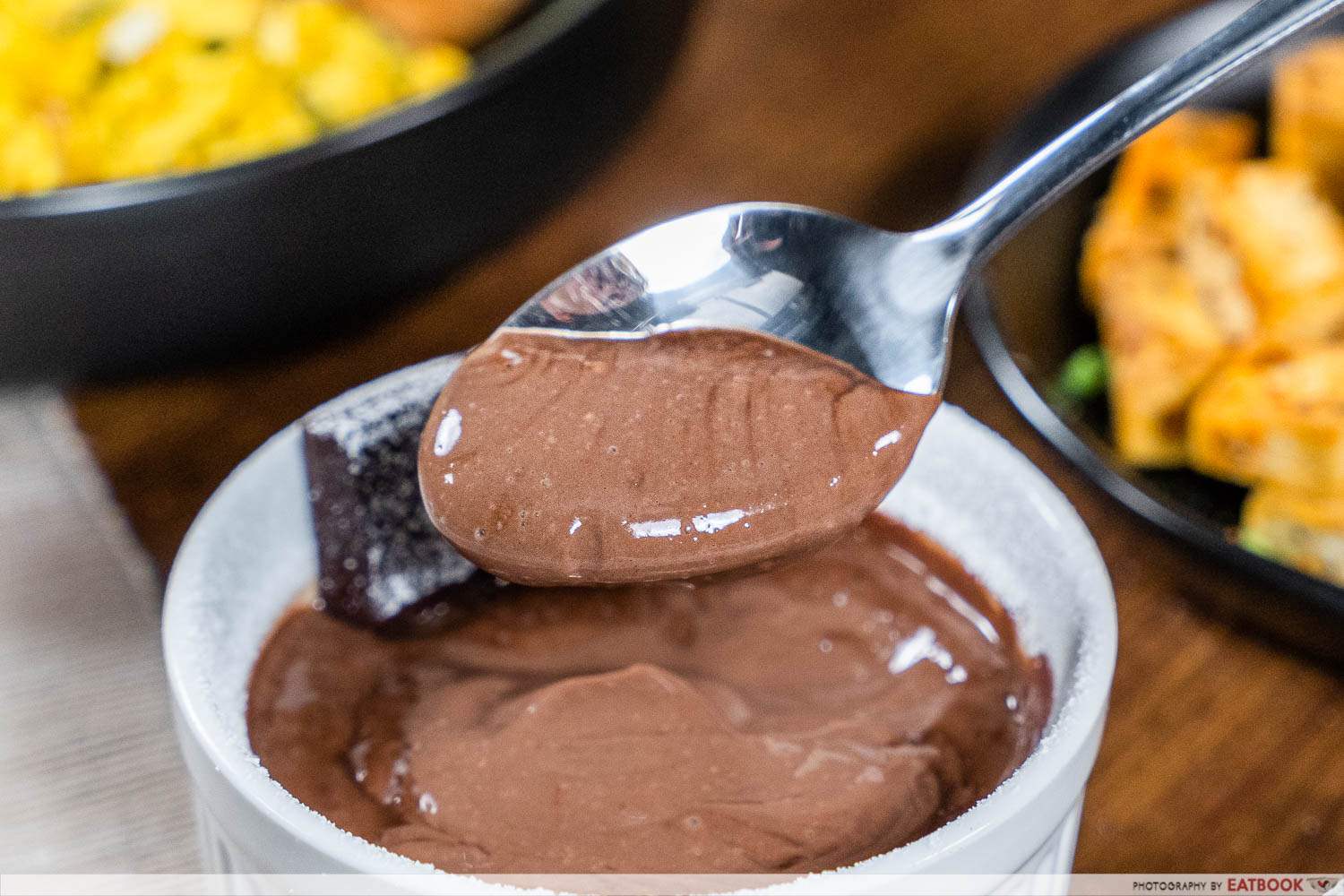 To garnish, you can go simple by dusting on some icing sugar. Alternatively, add some dark chocolate shavings or go all out with the sprinkles. Whichever you choose, the indulgent chocolate mousse is sure to satisfy your sweet tooth—without the unnecessary sugar crash!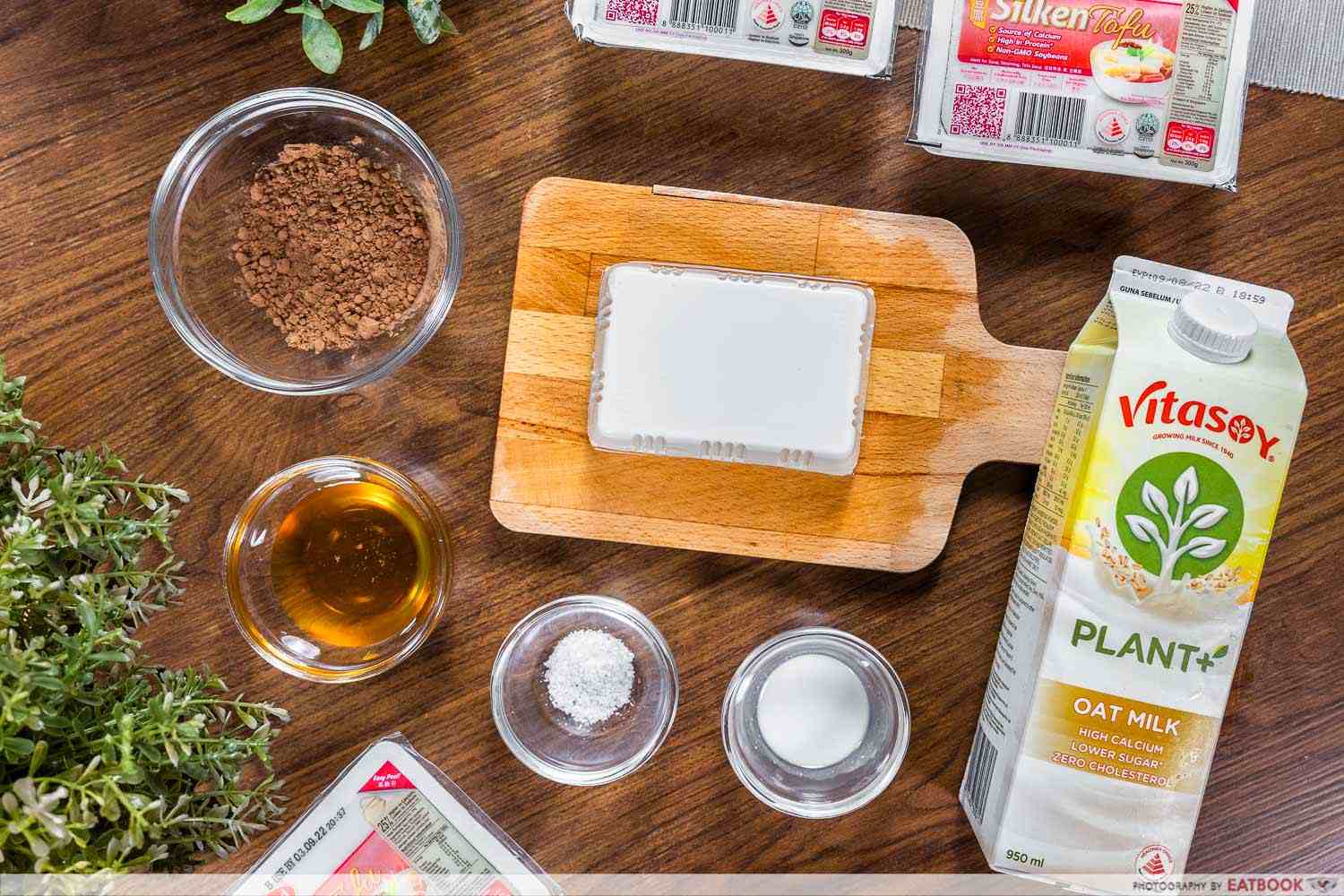 Yield: 2 servings
Preparation time: 5 minutes
Ingredients:
1 block Unicurd Silken Tofu (300g)
3 tbsp honey
¼ cup unsweetened cocoa powder
1 tsp Vitasoy Plant+ Oat milk
¼ tsp salt
Optional: Icing sugar and dark chocolate for garnish

Directions:
Pour everything into a blender.

Blend until well-combined.

Pour out the blended mixture into ramekins.

Place in fridge to chill for at least an hour.

Garnish with icing sugar and a small block of dark chocolate.
---
3. Creamy Tofu Scramble 
---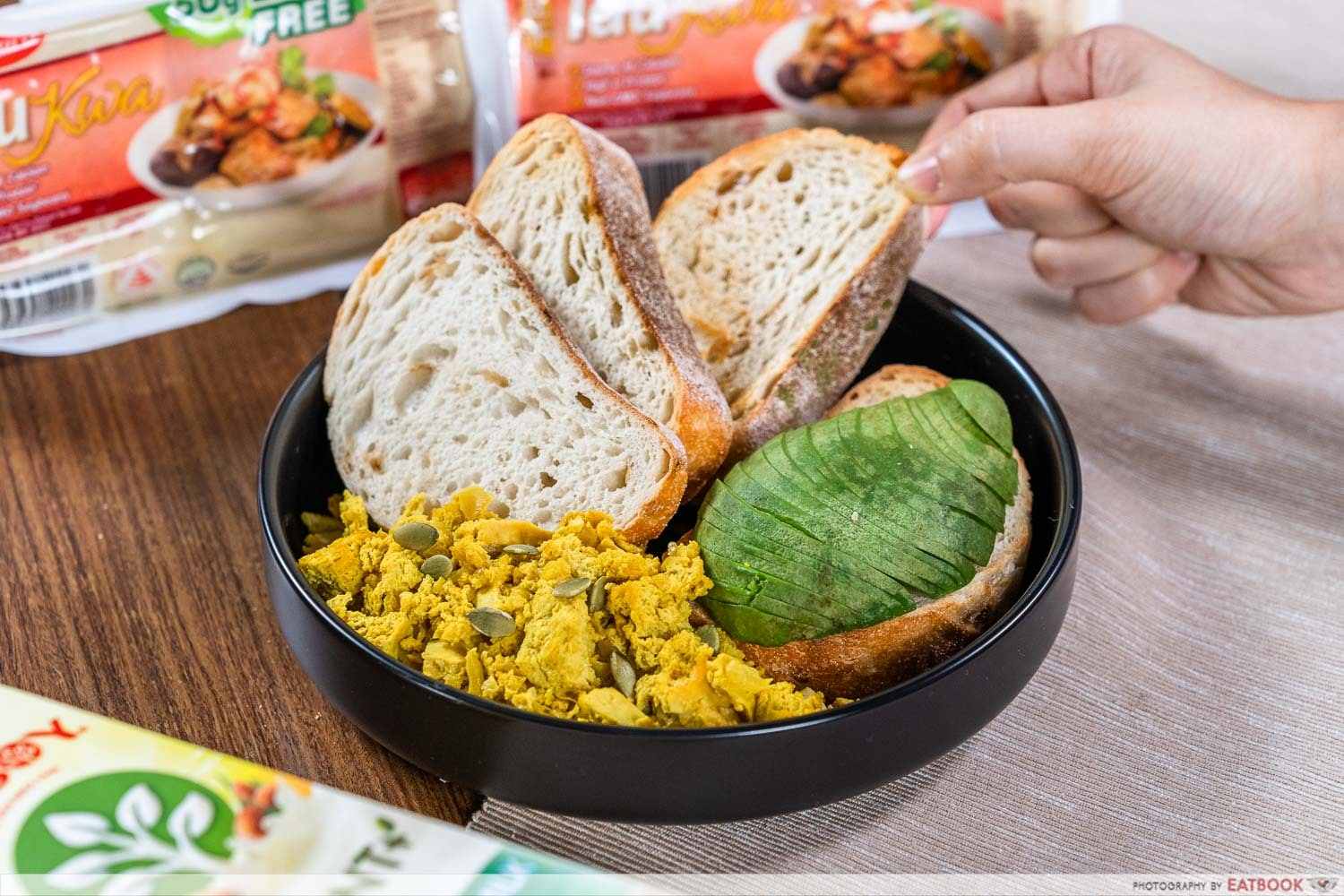 If you love your scrambled eggs, give this Creamy Tofu Scramble recipe a go. Unicurd Tau Kwa replaces eggs as the protein, and a generous splash of Vitasoy Plant+ Almond Milk is used instead of dairy milk for a soft and creamy texture.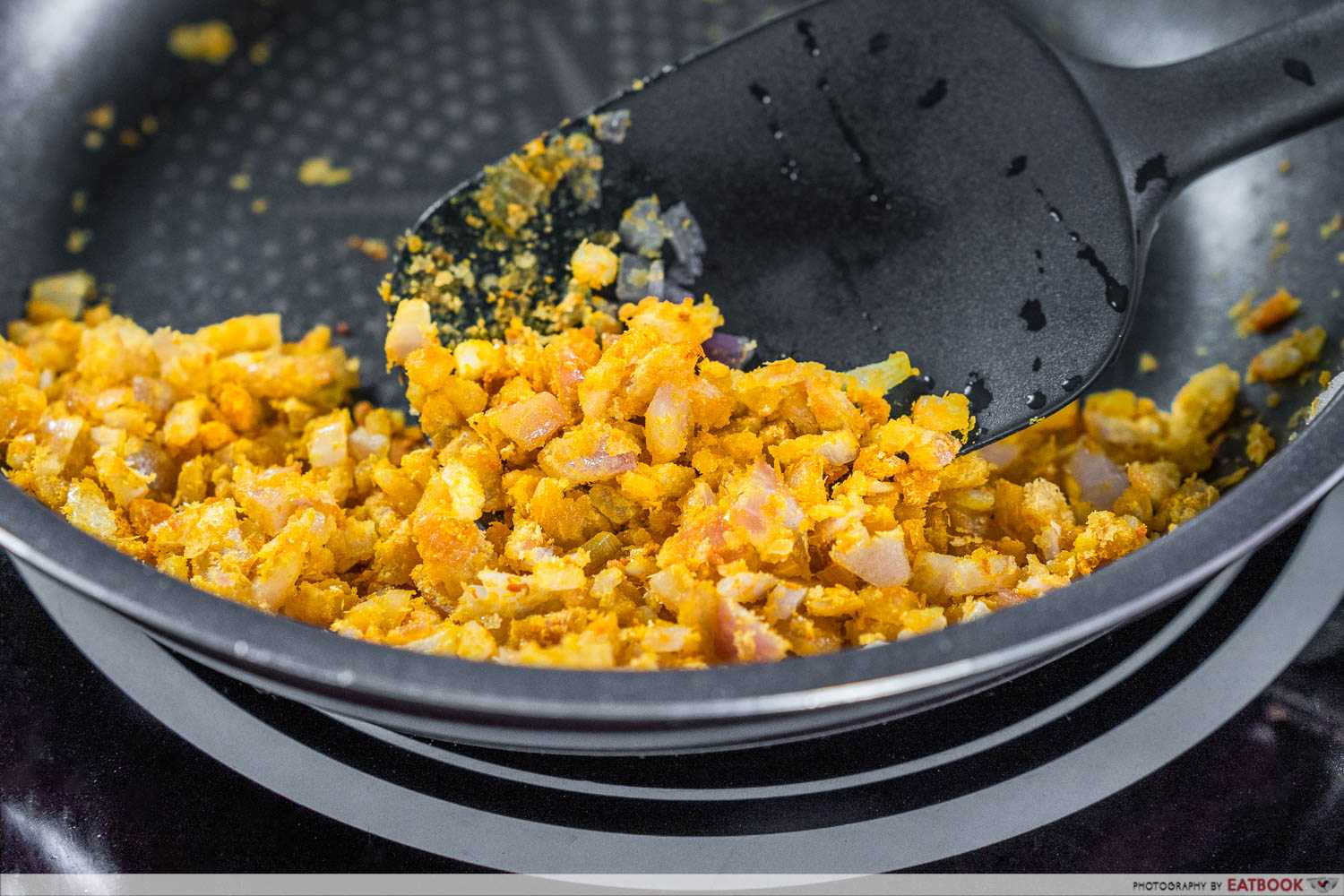 To start, sauté the diced red onion until it's fragrant to bring out its sweetness. A dash of turmeric powder is thrown in for flavour and colour. Nutritional yeast joins the pan for extra umami, but you can also swap it out for soya sauce instead.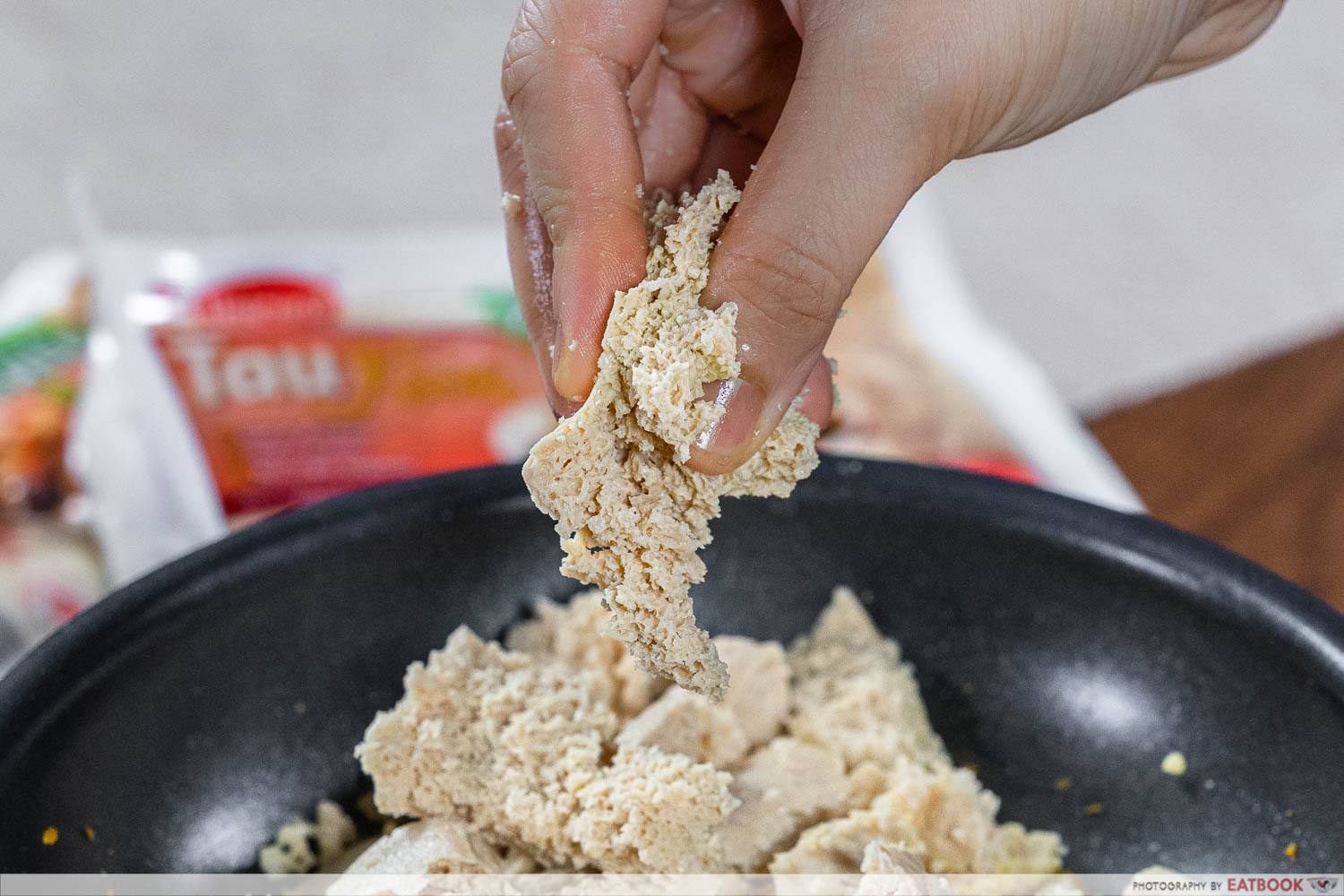 For the "eggs", simply crumble one block of towel-dried tau kwa with your hands, straight into the frying pan.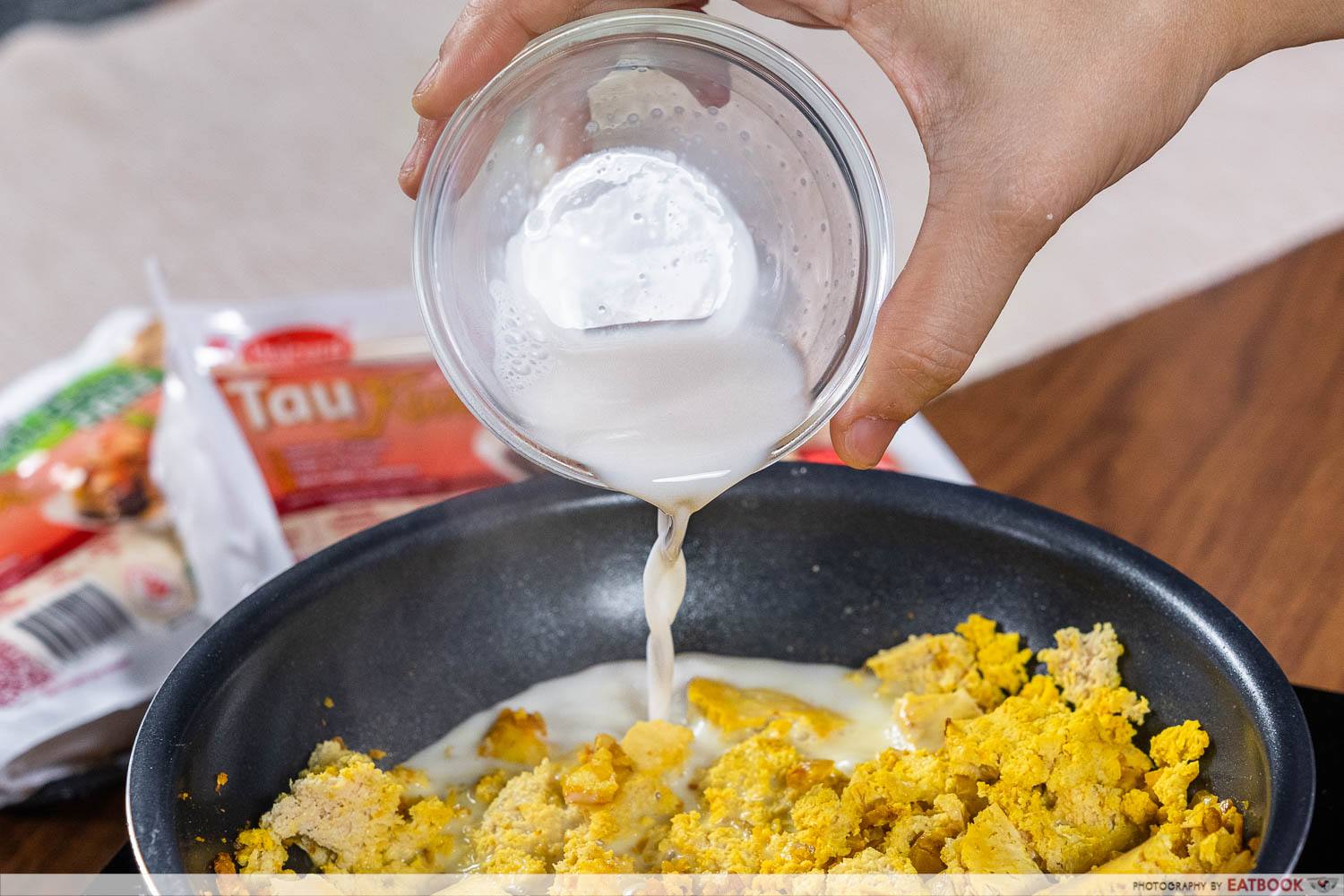 If your mixture is looking a little dry at this point, don't worry. The almond milk will add moisture back to the scramble and make it slightly richer.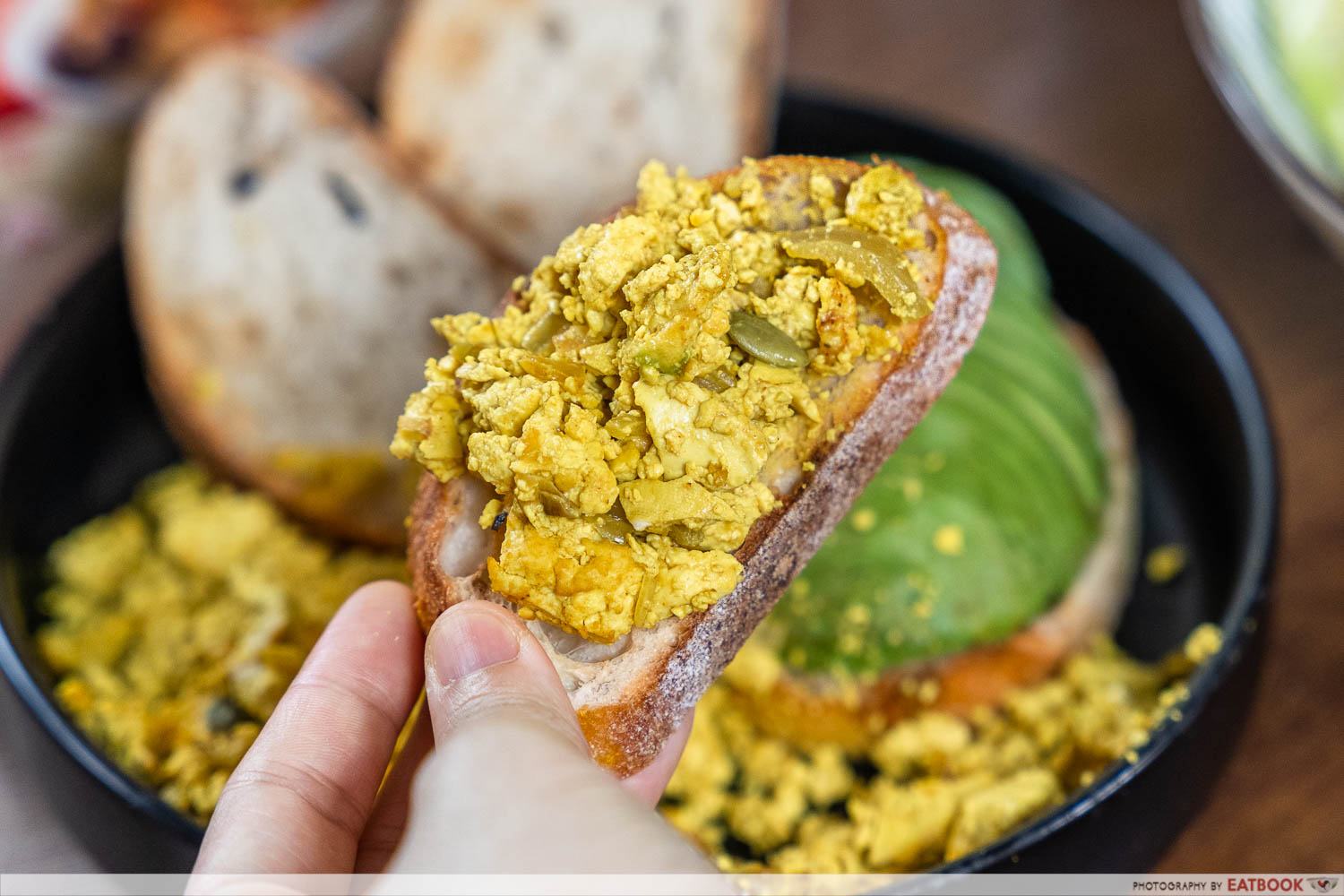 My favourite way to serve this protein-packed brekkie is with toast and a perfectly ripe avocado. You can also add some pumpkin seeds for crunch.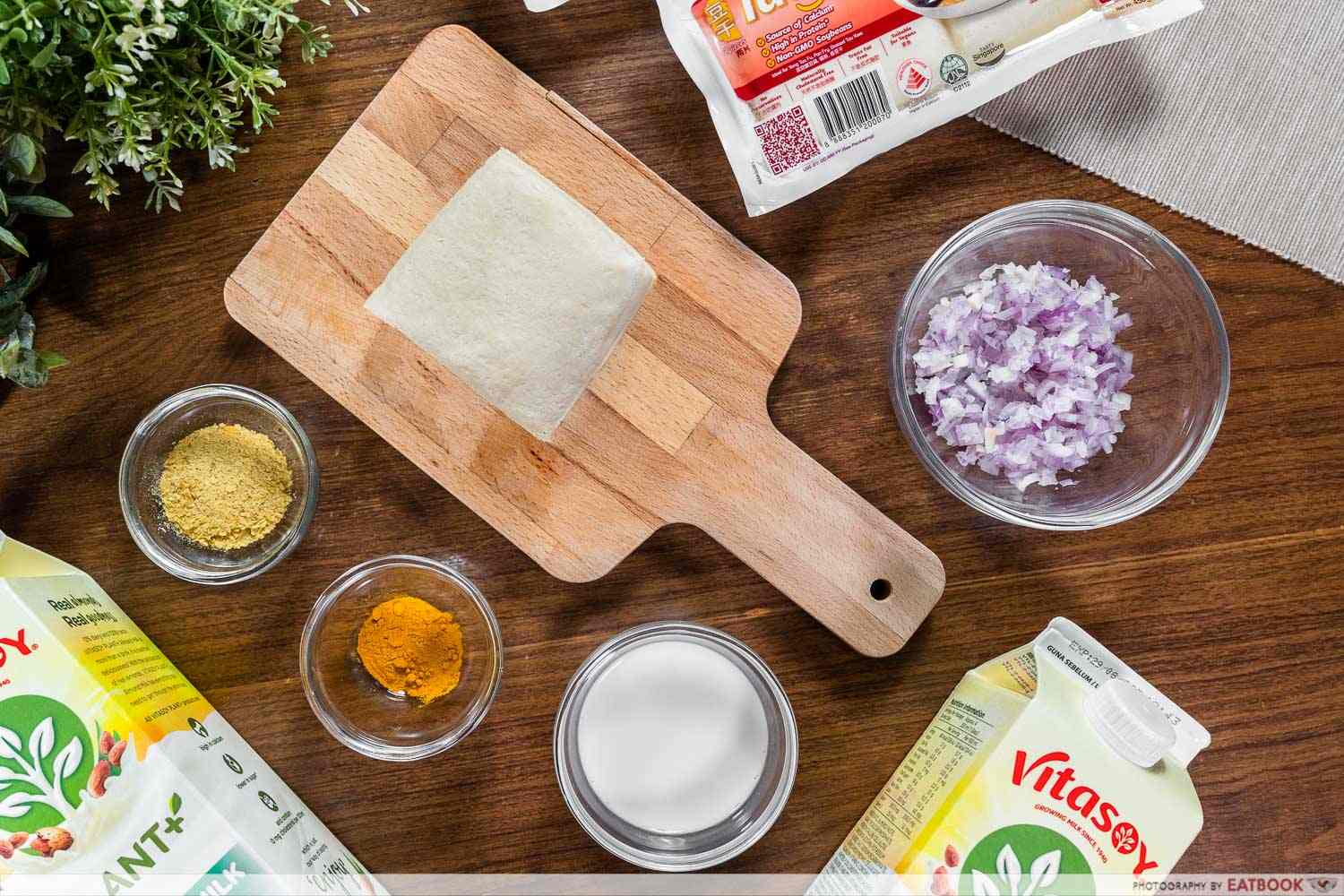 Yield: 2 servings 
Cooking time: 5 minutes
Ingredients:
1 block Unicurd Tau Kwa (250g)
2 tsp nutritional yeast
½ tsp turmeric
1 small red onion, diced
3 tbsp Vitasoy Plant+ Almond Milk
Optional: avocado and toast to plate
Directions:
In a pan with some oil, fry the diced onion until fragrant.

Add the turmeric and nutritional yeast

Pan-fry for around a minute.

Crumble the pre-dried tau kwa into the pan.

Mix well and fry for 2 to 3 minutes.

Add in the milk and fry for another 1 to 2 minutes.

Enjoy with avocado and toast.
---
4. Soy Nabe Instant Noodles
---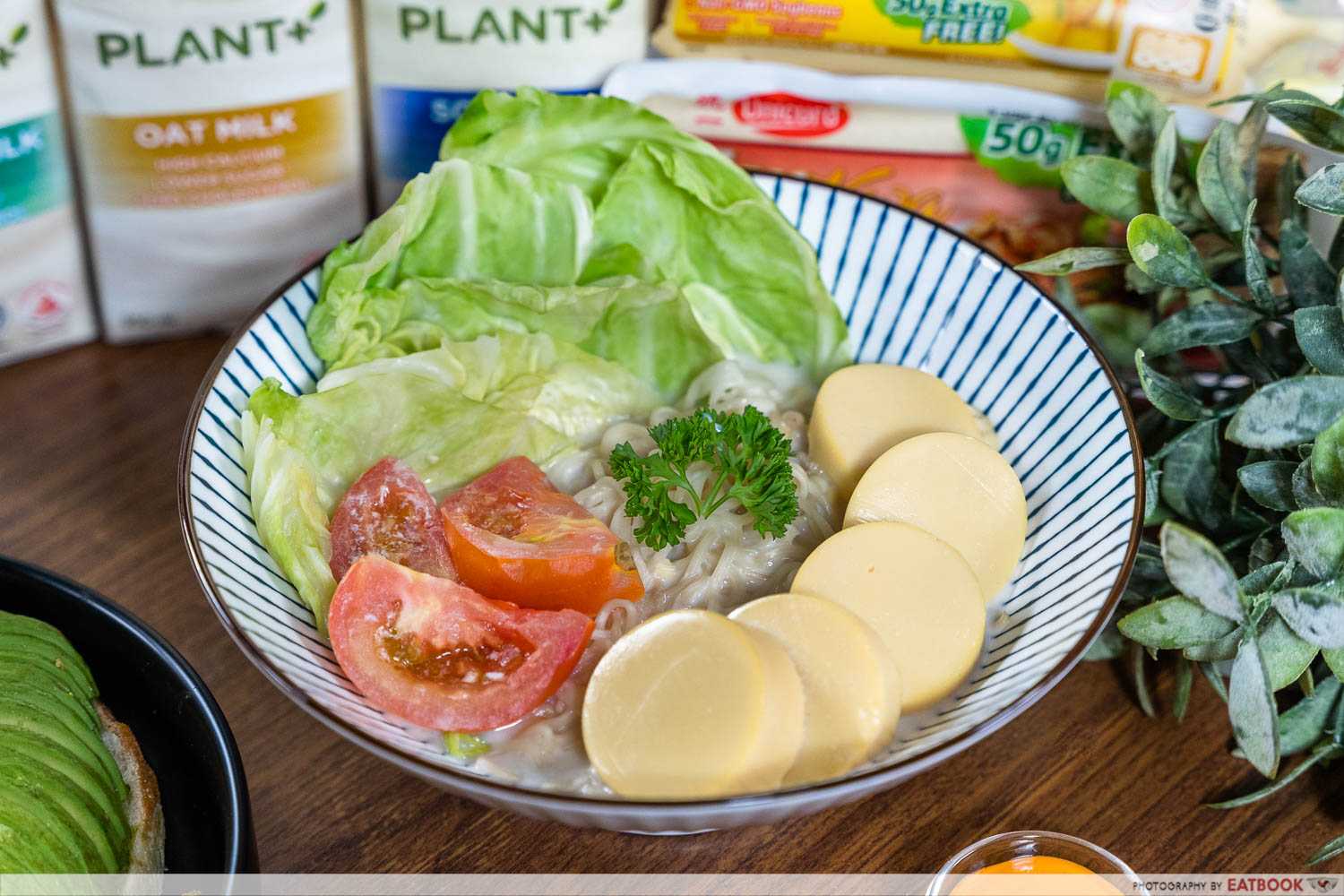 Satisfy your late-night noodle cravings with this Soy Nabe Instant Noodles hack. The Japanese-inspired soup is made with just four ingredients: Vitasoy Plant+ Soy Milk, chicken broth, cooking sake, and water.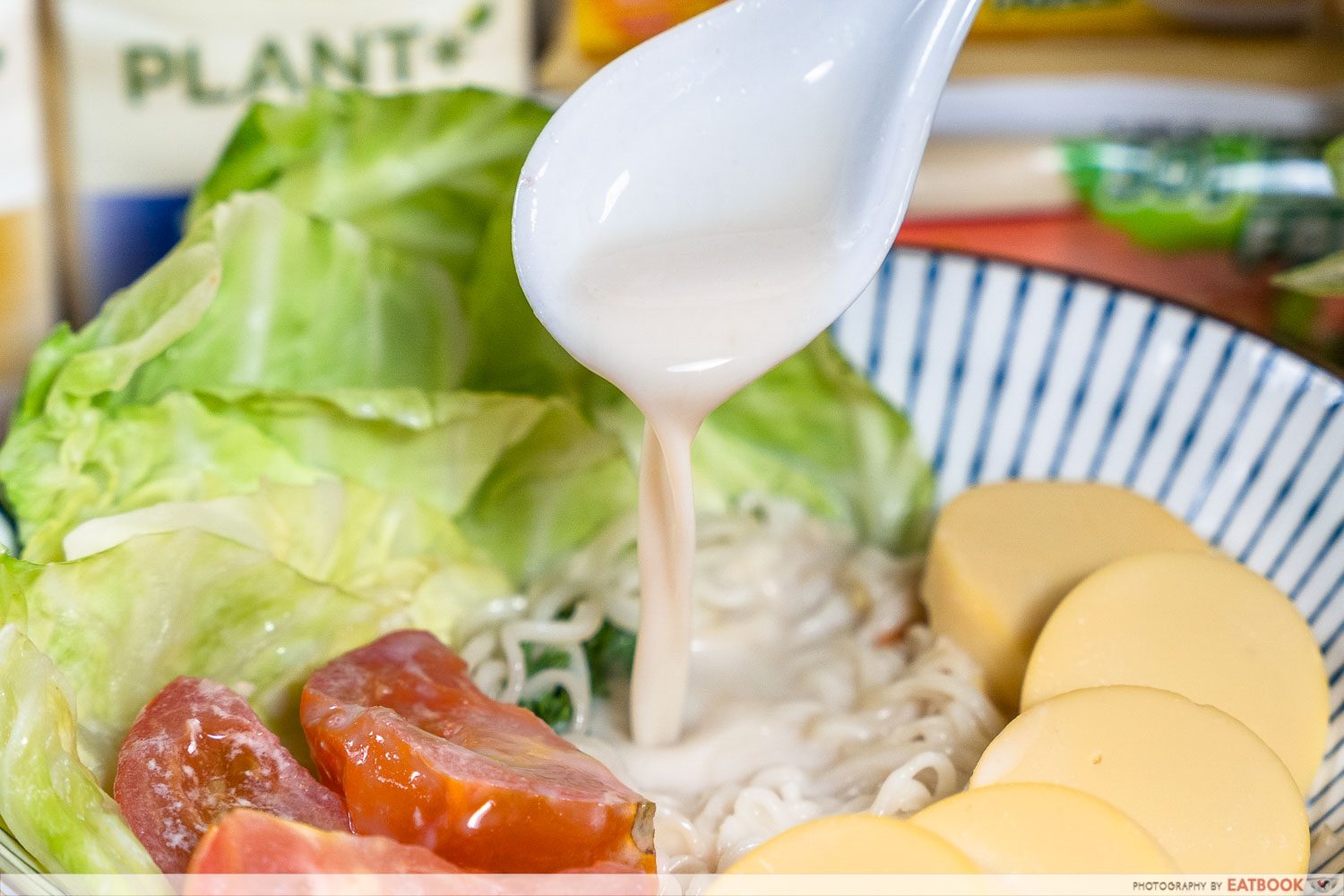 Chicken broth and cooking sake form the soup base, while the soy milk adds a layer of richness and creaminess for an extra shiok finish. As the soy milk is lightly sweetened, it also brings out the savouriness of the chicken broth and umami notes of the cooking sake. If you don't have cooking sake, use mirin or soya sauce.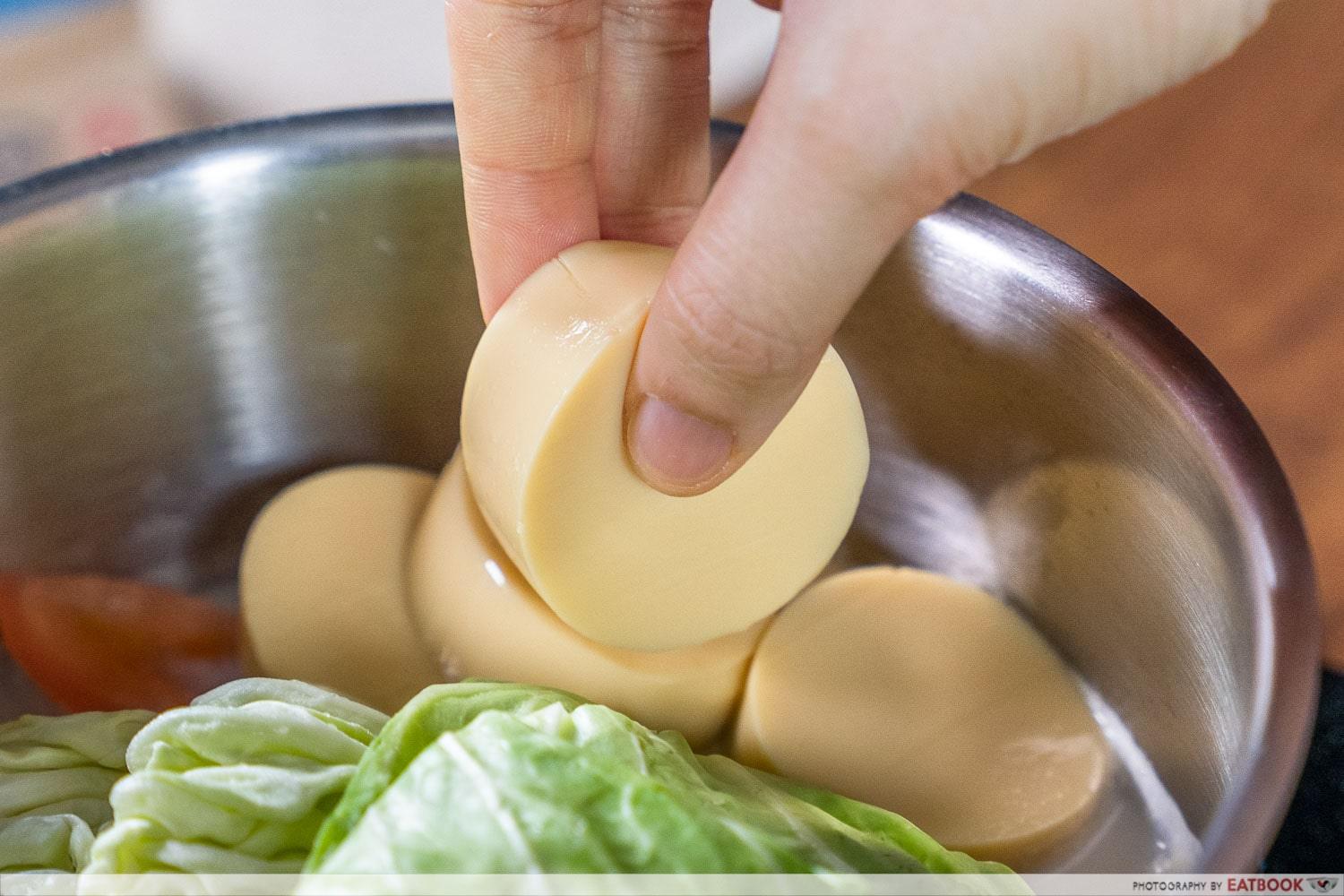 Don't forget to include your favourite veggies and toppings—the silky smooth Unicurd Egg Tofu slices add great flavour and texture to go along with your noodles.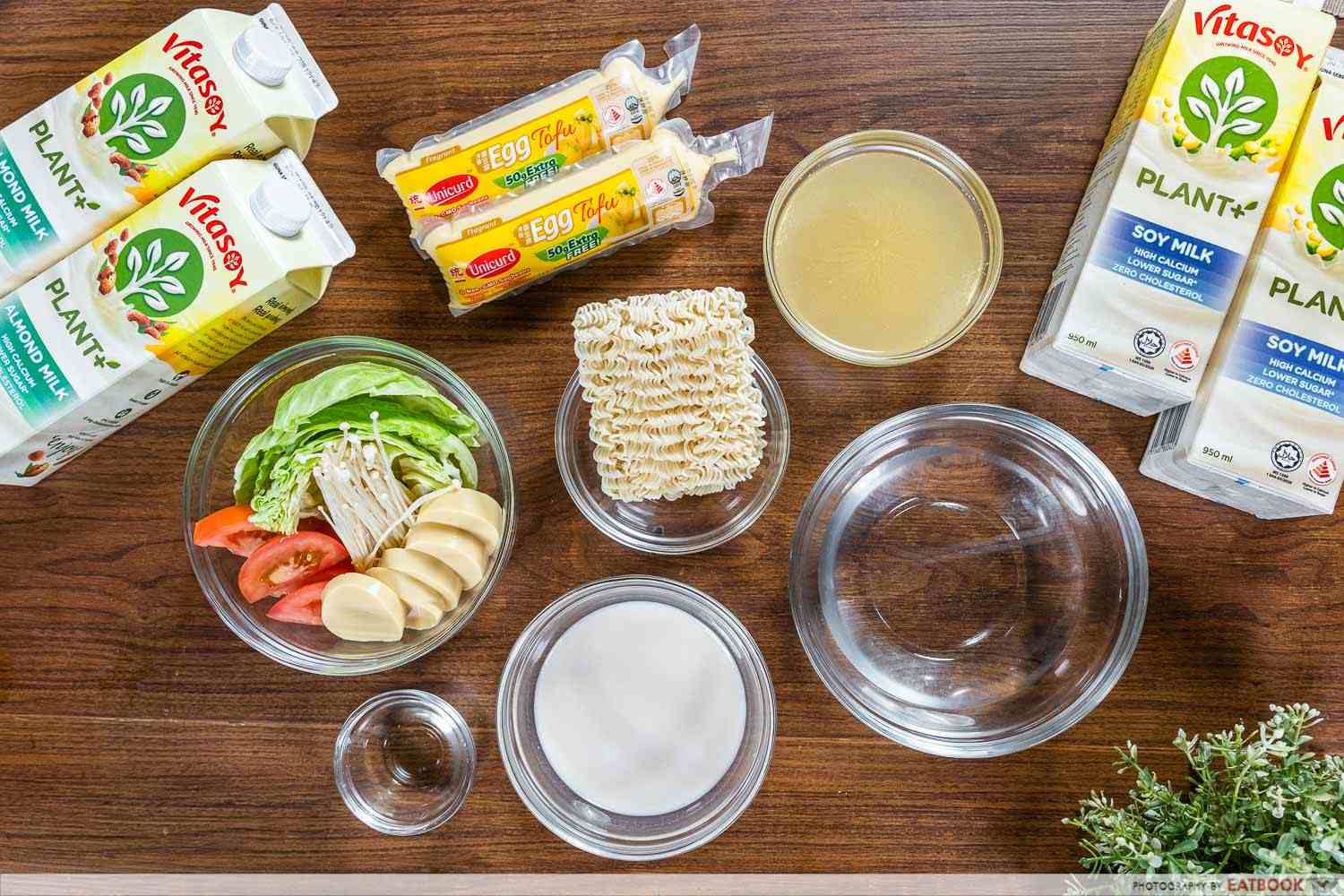 Yield: 1 serving
Cooking time: 5 minutes
Ingredients for the soup:
¾ cup Vitasoy Plant+ Soy Milk
1 tsp cooking sake, mirin, or soya sauce
¾ cup water
½ cup chicken broth
Unicurd Egg Tofu
Optional: instant noodles, mushrooms, veggies
Directions:
Add the water, chicken broth, and cooking sake into a pot and bring to a boil.

Lower the heat and add the soy milk.

Bring to a boil and add the noodles, mixed veggies, and egg tofu.

After 2 minutes, take out from heat and serve.
---
Easy tofu hacks and healthy recipes
---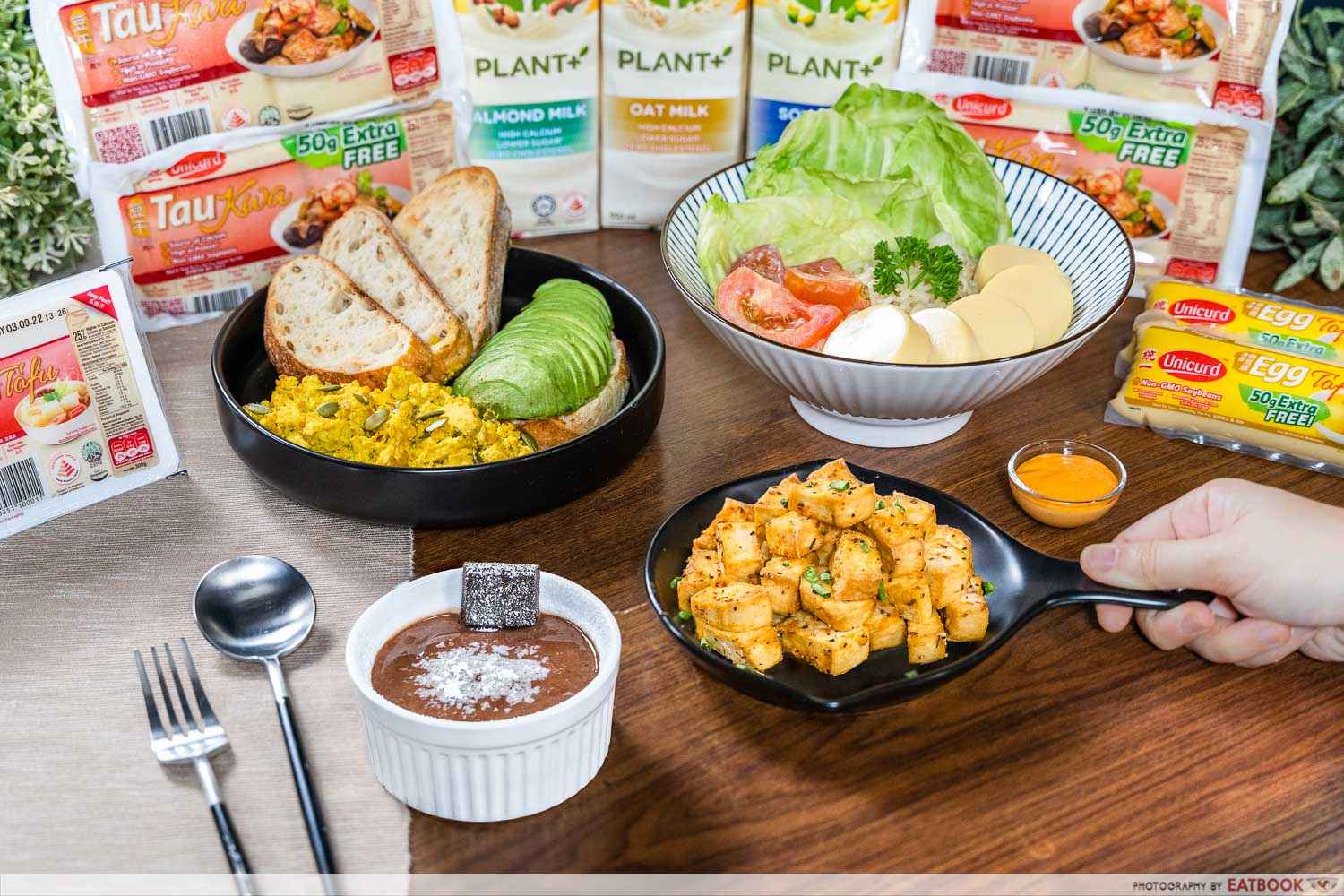 Recreate these four easy tofu recipes the next time you're feeling peckish. These healthy yet delicious tofu dishes are great for any meal of the day, especially if you're time-strapped on a busy weekday.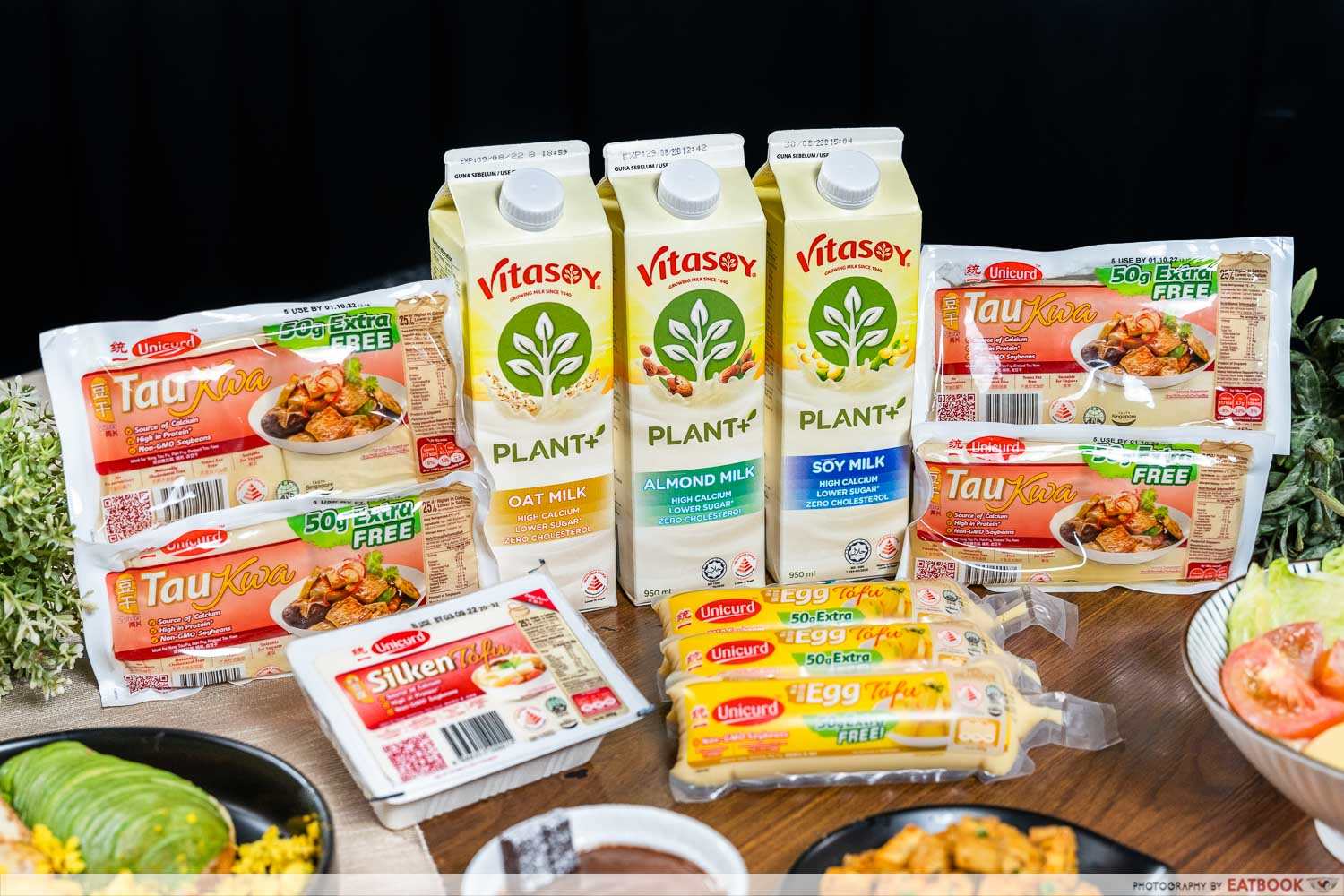 Made with non-GMO soya beans, Unicurd's range of tofu products are packed with heart-healthy fats and protein. Vitasoy's Plant+ milks, which are low in sugar and calcium-rich, are also excellent plant-based alternatives to dairy milk. 
Here's another reason to stock up: from now till October 2022, Unicurd Tau Kwa and Egg Tofu come with an extra 50g of product, so you can stretch your dollar with your purchase! 
Photos taken by Tan Zi Hui.
This post is brought to you by Vitasoy.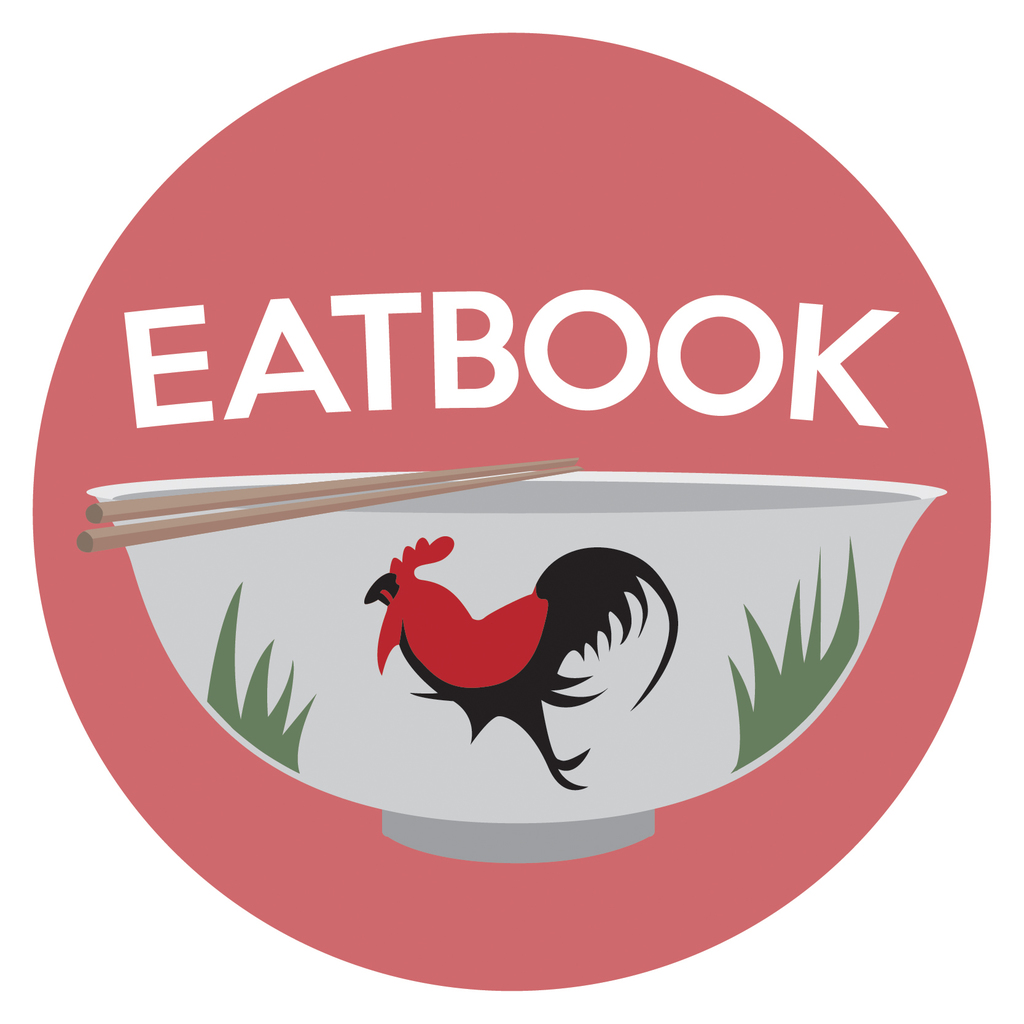 Drop us your email so you won't miss the latest news.