---
About ENBU
---
Update (4th April 2019): ENBU has permanently closed.
Being a fan of Japanese food, I am always thrilled when new Japanese concepts reach our shores. In particular, Eat At Seven was one of the restaurant ventures I was looking forward to because they house seven different Japanese culinary joints under one roof. The first restaurant to launch under Eat At Seven is ENBU – Singapore's first Warayaki Izakaya. Originating from Shikoku in the Kochi prefecture, Warayaki is a traditional cooking method by searing food over burning straw at 900ºc.
However, after trying ENBU, I must admit that I was confused by the theme of the restaurant. The dishes using the Warayaki method were done beautifully. However, there were many other dishes in the menu that borrowed inspiration from elsewhere, and this resulted in a very strange selection of food that didn't go with the entire Japanese concept of the place.
I am not quite sure I will return, but if I do – it's only for the superbly fresh sashimi, and straw-grilled dishes.
---
Starters
---
Fried Tofu With Uni Sauce – $12
---
The crackly exterior of the deep-fried tofu gives way to a plain, wobbly beancurd on the inside. I expected a combination packed with umami given the uni sauce, but it was highly disappointing.  Lacking any flavour of uni whatsoever, the sauce did nothing to compensate for the bland tofu. I would not pay $12 for this again.
---
Taco Salad – $15
---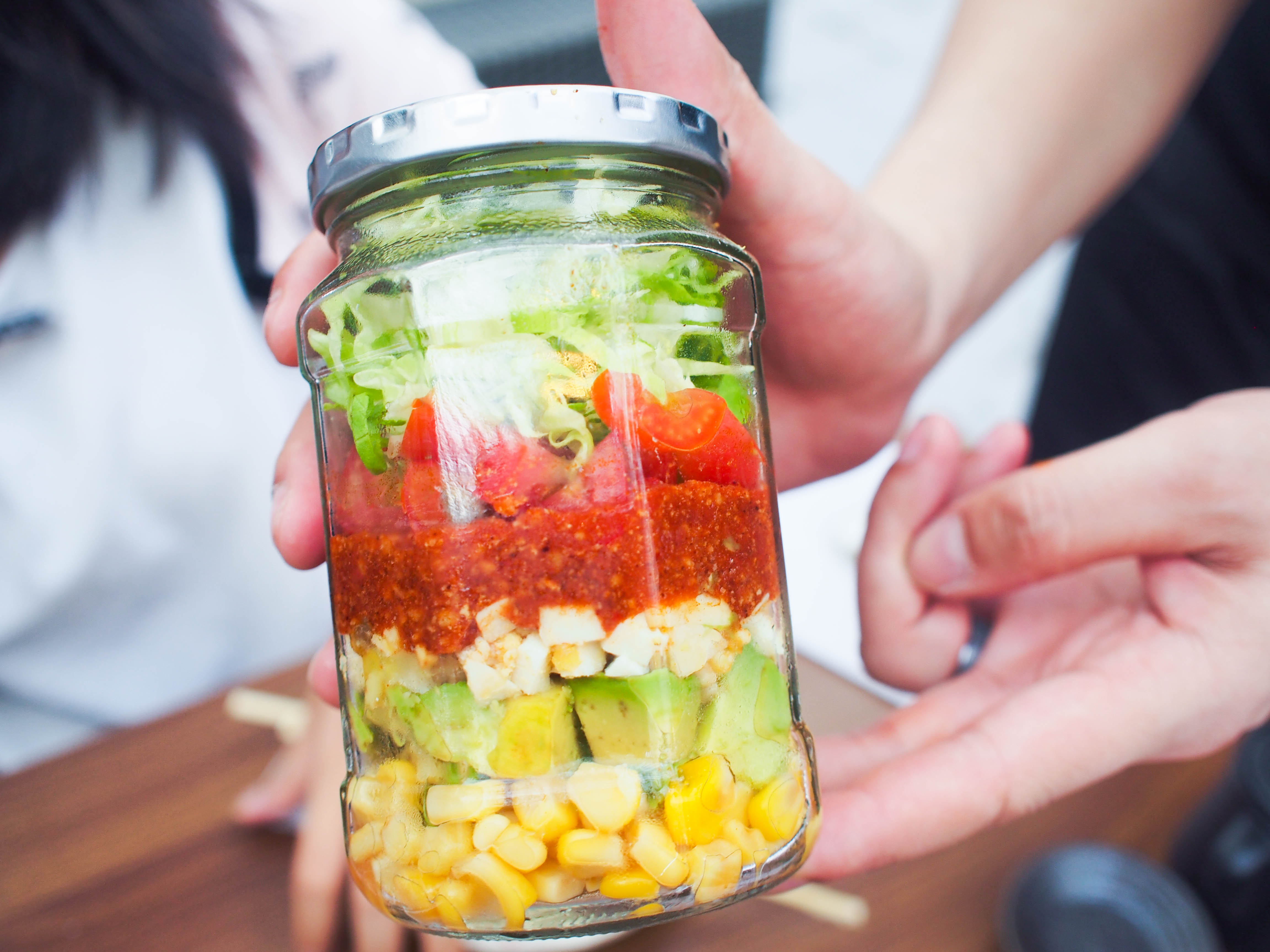 When this dish was served, I was bewildered. How is a taco salad Japanese? In fact, this looked like it would fit right into the menu of a Mexican joint. Layers of corn, avocado, egg, spicy mince sauce, tomatoes, and lettuce are stuffed into a jar. Everything is then poured out into a crispy taco shell made from a giant wonton wrapper.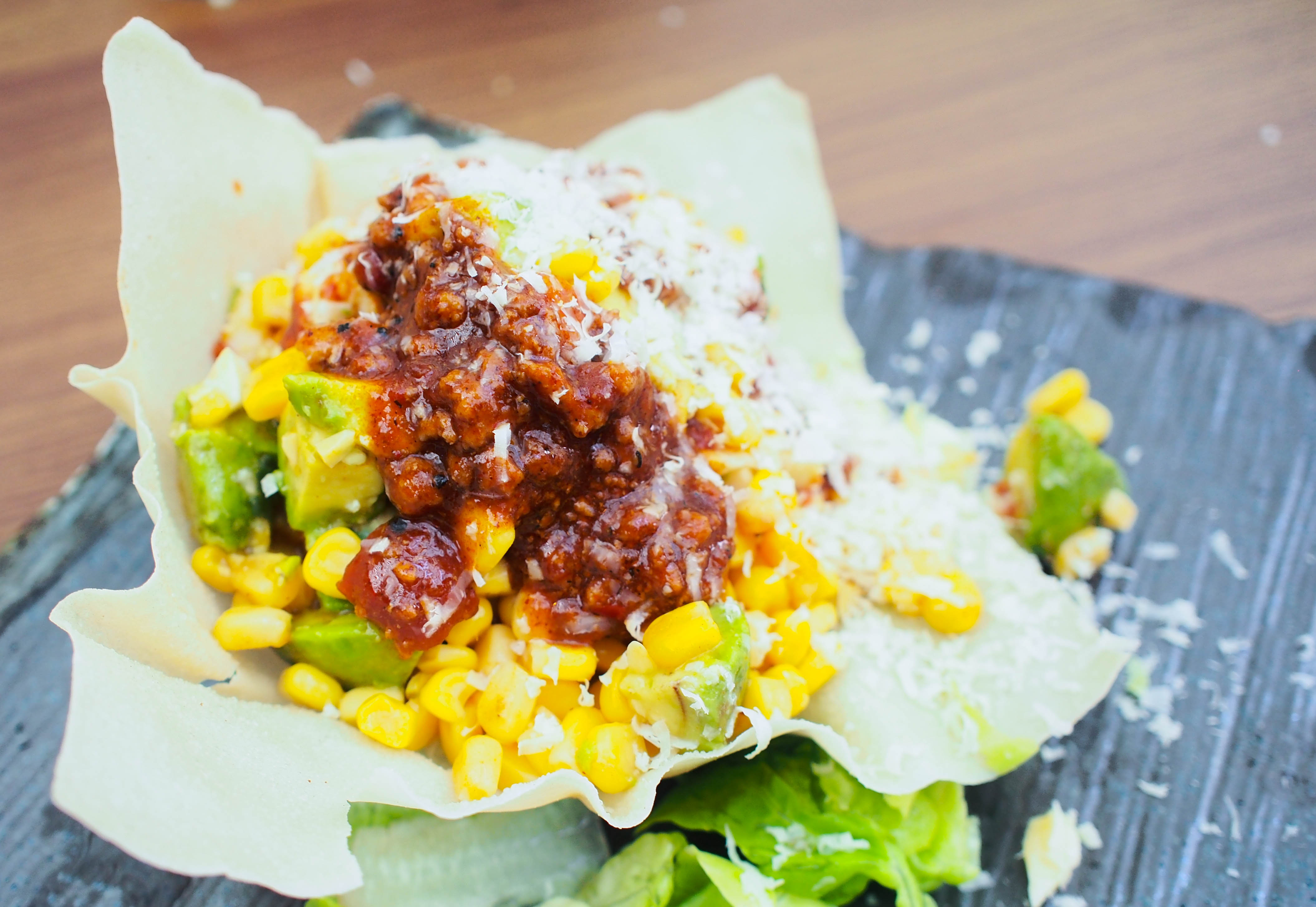 The lack of any Japanese elements aside, this salad worked for me. I liked the how the creamy avocado softened the impact of the spicy sauce, and how the corn and wonton skin added a crunchy texture to the salad. I just don't know if I would pay this much for a tiny portion of salad again.
---
Mains
---
Chicken Warayaki with Special Spring Onion Sauce – $12
---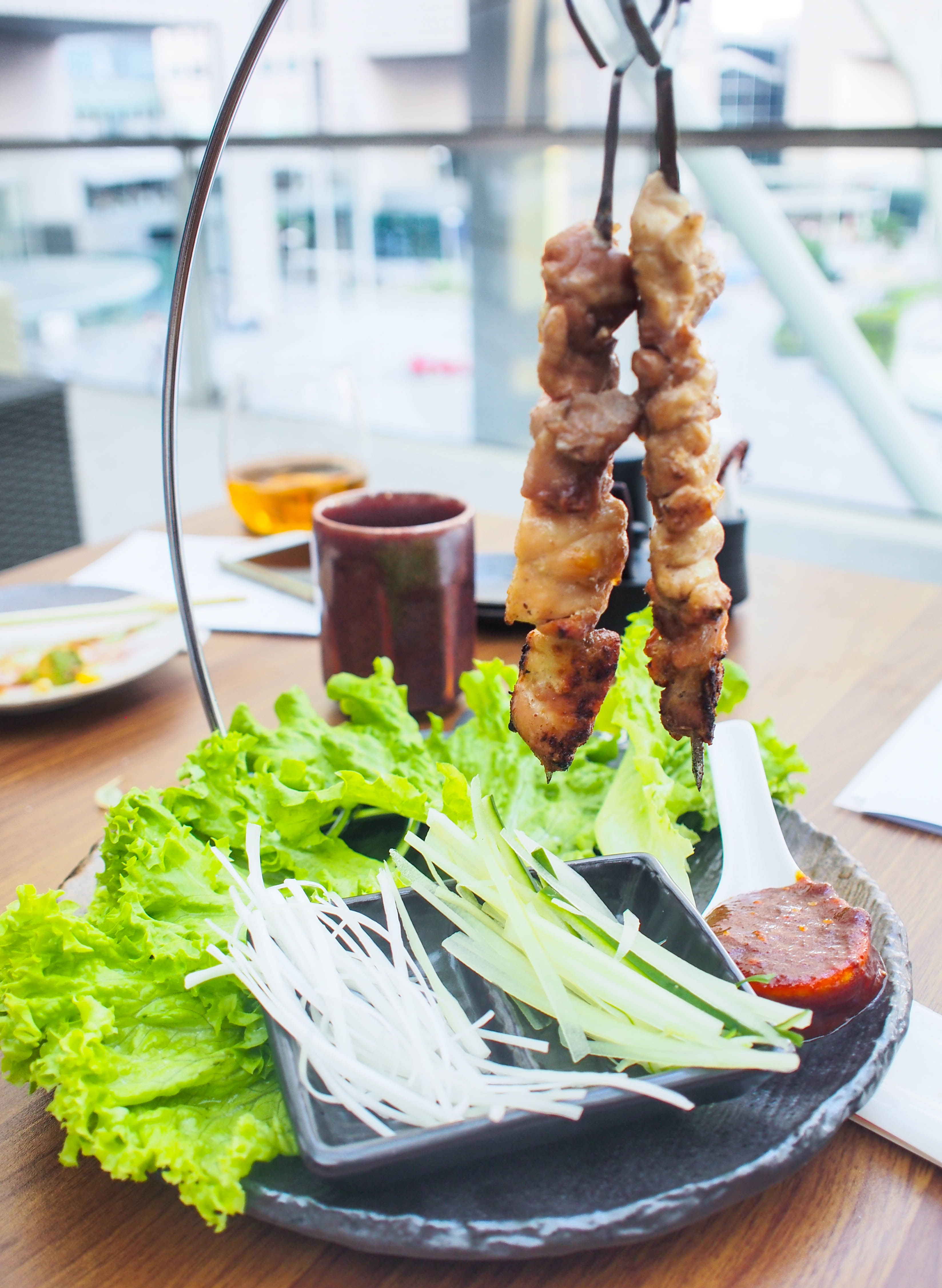 Dinner took a turn for the better when ENBU finally served up an item representative of the Warayaki style! This straw-grilled chicken was tender and bursting with fragrant juices. The use of straw imparts a gentle smokiness to the meat, which leaves a luscious aftertaste on your palate. According to the staff at ENBU, you're supposed to place a piece of chicken on the lettuce, add some shredded leek and cucumber, top everything off with some spring onion sauce, and pop everything into your mouth! I never knew chicken could taste so good, but it was unfortunate how the miso in the sauce completely overwhelmed the meat.
---
Katsuo Warayaki (Bonito) – $16
---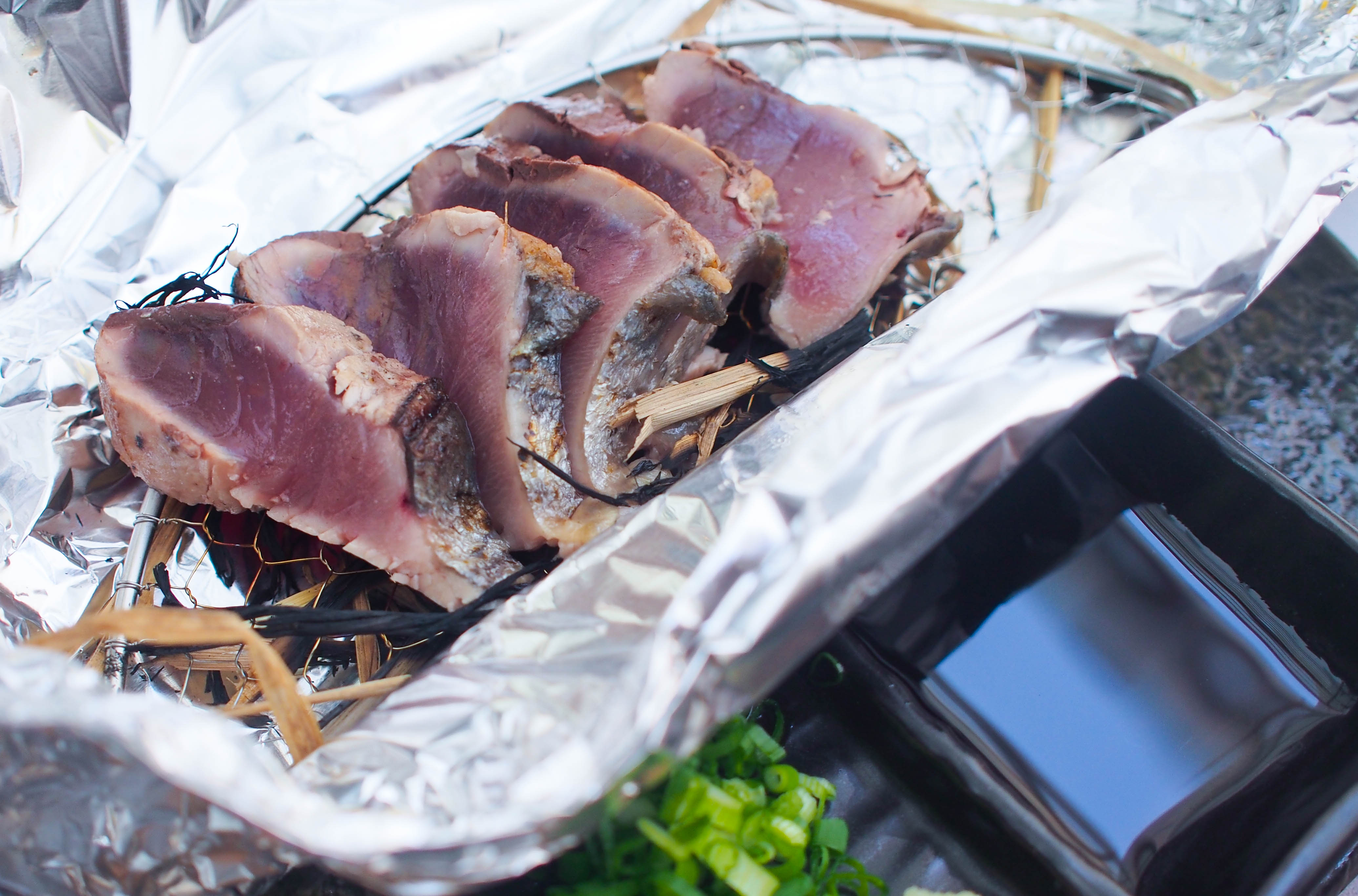 Searing bonito over straw really elevates the taste of this fish. Nicely perfumed with the scent of burnt straw, the bonito is flaky on the outside, but firm on the inside. I half expected the bonito to be fishy but there wasn't even a need to mask the taste of the fish with wasabi, ginger, or soy sauce. I wouldn't necessarily order this again as I don't like bonito, but I would strongly recommend this to people who do.
---
Oyster and Spinach Teppanyaki with Uni Sauce – $15
---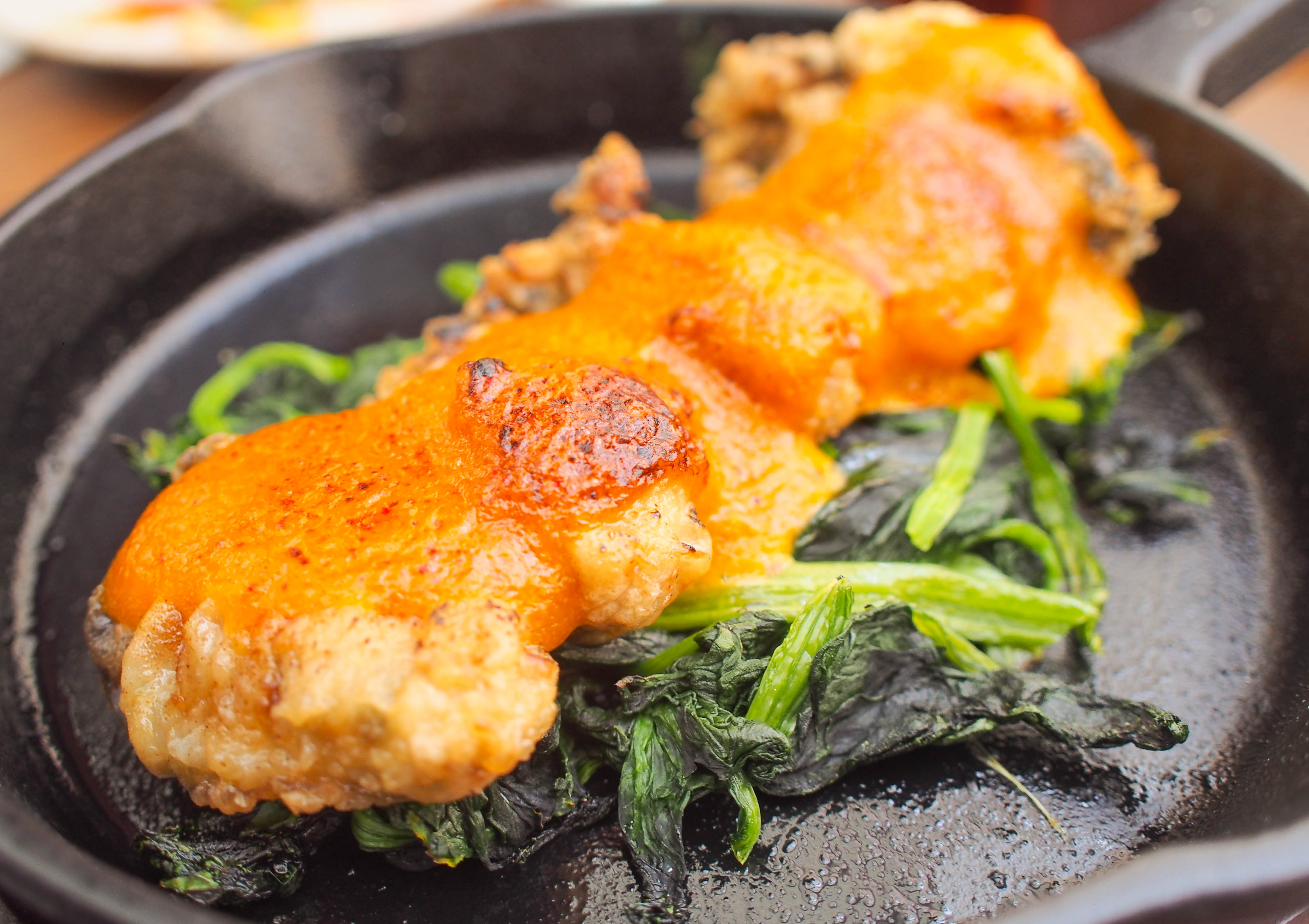 After the sublime bonito, I didn't think things would get any much better, but I was wrong. A starchy layer encases a plump oyster bursting with the essence of  the ocean. Even though I still couldn't taste any uni in the sauce, it did complement the savoury oysters.  The subtly charred spinach was also a touch of genius, and I can safely say I've never had spinach this good.
---
Sashimi Moriawase – $120
---
For $120, I expected nothing but the best. And I did get nothing but the best – thick, firm pieces of fresh fish displayed beautifully in a stone bowl. That and a lovely mound of sweet, sweet uni. My tastebuds danced in exhilaration as I savoured piece after piece of melty, fatty, omega-3 laden perfection.
I honestly don't know how I'll ever go back to the sashimi platter at Sushi Tei. Apparently, the sashimi we ate was even fresher than what you would typically find at Tokyo's Tsukiji Fish Market! I guess this is one definite perk of dining at a restaurant co-owned by ANA.
The $120 sashimi platter feeds 4, but you can always opt for a smaller sized one at $60.
---
Homemade Steamed Tofu – $12
---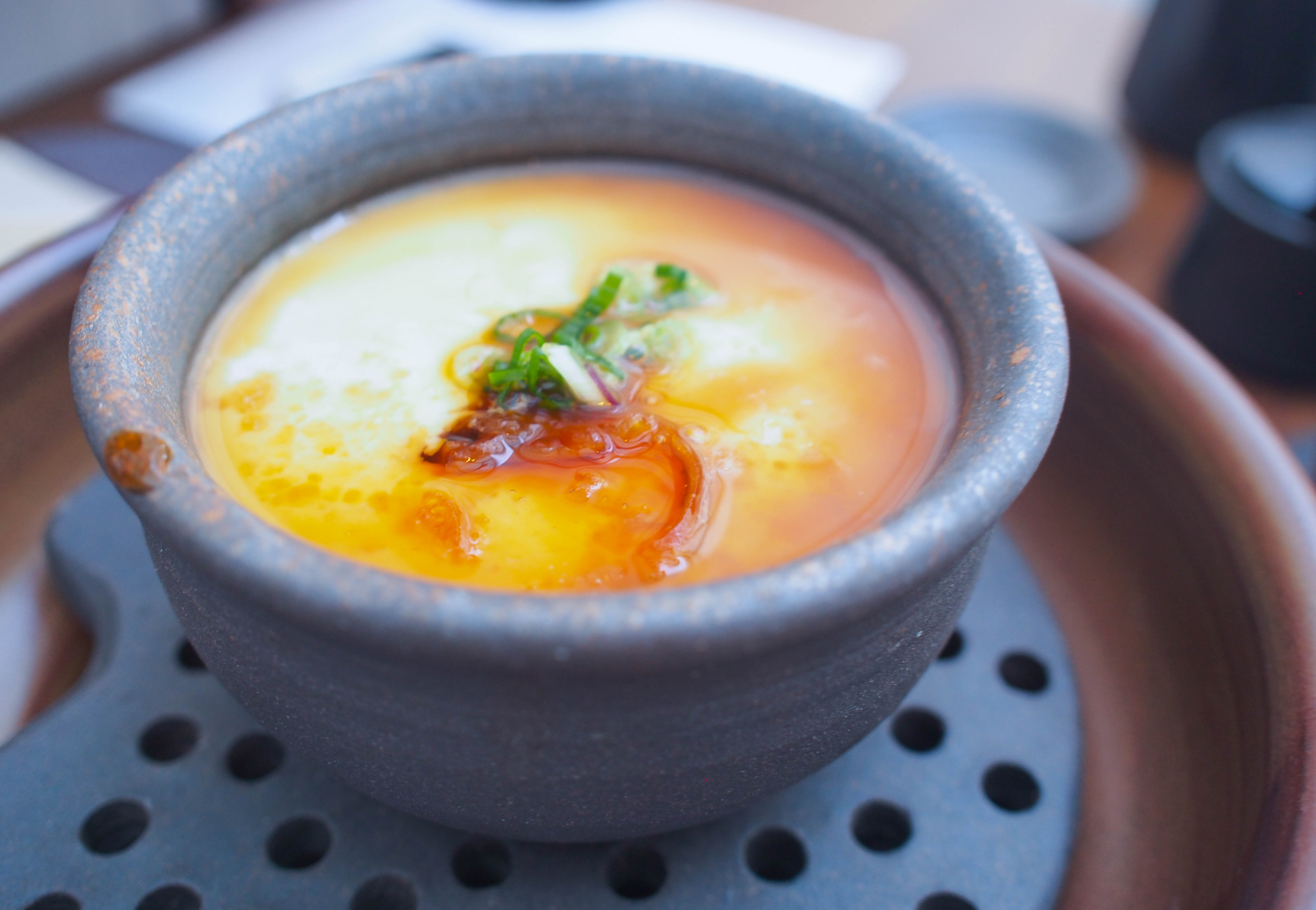 I was initially skeptical of this dish when I first saw it on the menu, because most restaurants serve 'homemade tofu' that come from factories. But this simple dish far exceeded any expectations I had of it. The silky beancurd melts into a creamy soy milk in your mouth, and the refreshing yuzu soy sauce further accentuates the velvety, nutty taste of the tofu. For the effort that goes into making your own tofu taste this good, I wouldn't mind occasionally splurging on this.
---
Desserts
---
Mochi Ice Cream – $8
---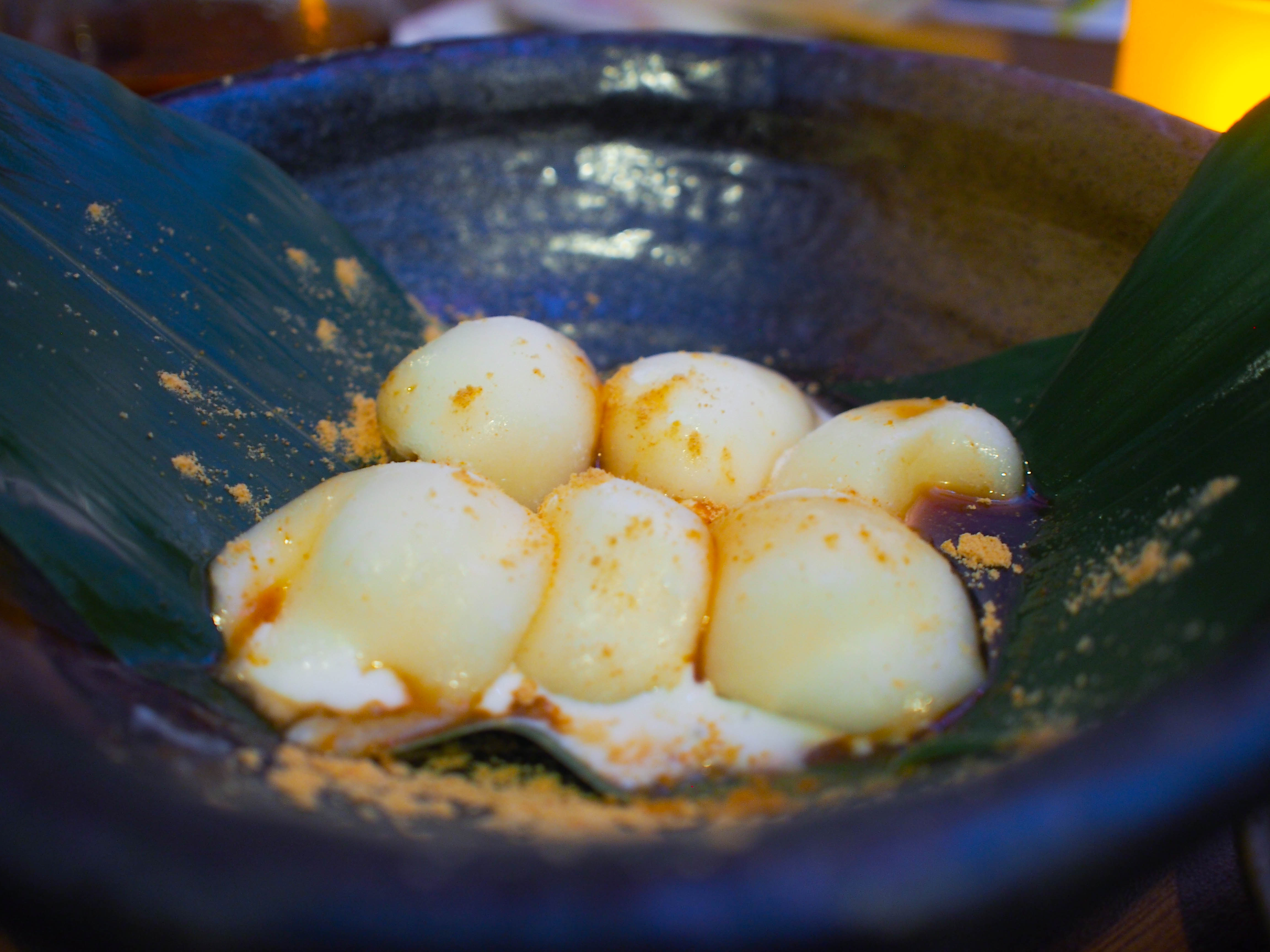 Dessert was highly anticipated by all of us, but I think the execution was slightly disappointing. I loved the combination of thin, stretchy mochi, with milky ice cream, and smoky black sugar syrup. But it was a pity the ice cream melted too fast, leaving the mochi skins behind in a gooey mess. This dish would have been so much better if the ice cream remained firm for a longer period of time.
This article is brought to you by Enbu
Summary
Pros
-Good flavours
-Interesting concept
-Very fresh sashimi
Cons
-Some dishes are not very Japanese
-Long waiting time between dishes
-Pricey for the small tapas portions
Recommended Dishes
Sashimi ($120)
Oyster and Spinach Teppanyaki ($15)
Katsuo Warayaki ($16)
Homemade Tofu ($12)
Opening Hours
Mon – Sun: 11:00 am – 10:30 pm
Address</br/>
3 Temasek Boulevard, Suntec City, Singapore 038983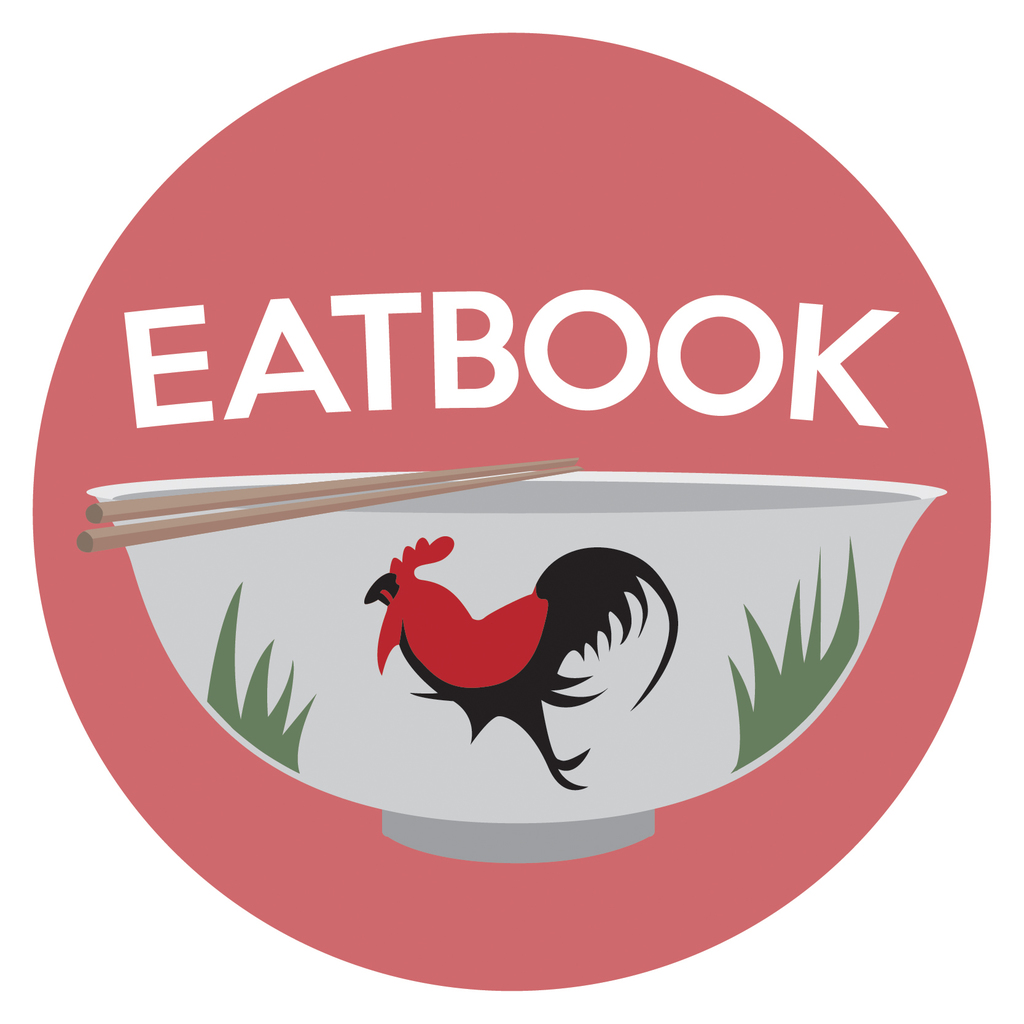 Drop us your email so you won't miss the latest news.