---
Spoiled for choices in the West
---
I've stayed in the West all my life, yet when asked by friends, I struggle to come up with suggestions of places to eat in the area right off the bat. To make things easier, we've sussed out eight famous local food stores you can find in malls around Jurong East MRT station. Whether you want to drop cash like a tourist and dine out on a special occasion, or prefer a simple, hearty meal, this list has got you covered.
---
1. Fu Lin Fried Yong Tofu
---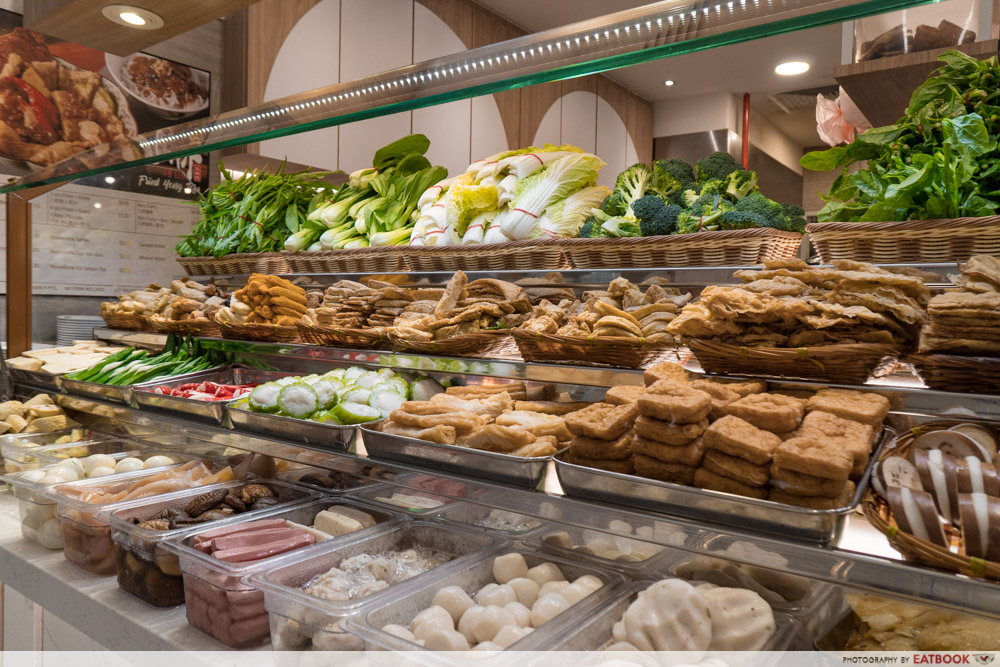 A tell-tale sign that you've found Fu Lin Fried Yong Tofu is the queue that weaves its way past the storefront during mealtimes. Their new outlet in the West opened this May, and the yong tau foo served here isn't just limited to the usual curry, soup, or dry versions; they are known best for their gravy option.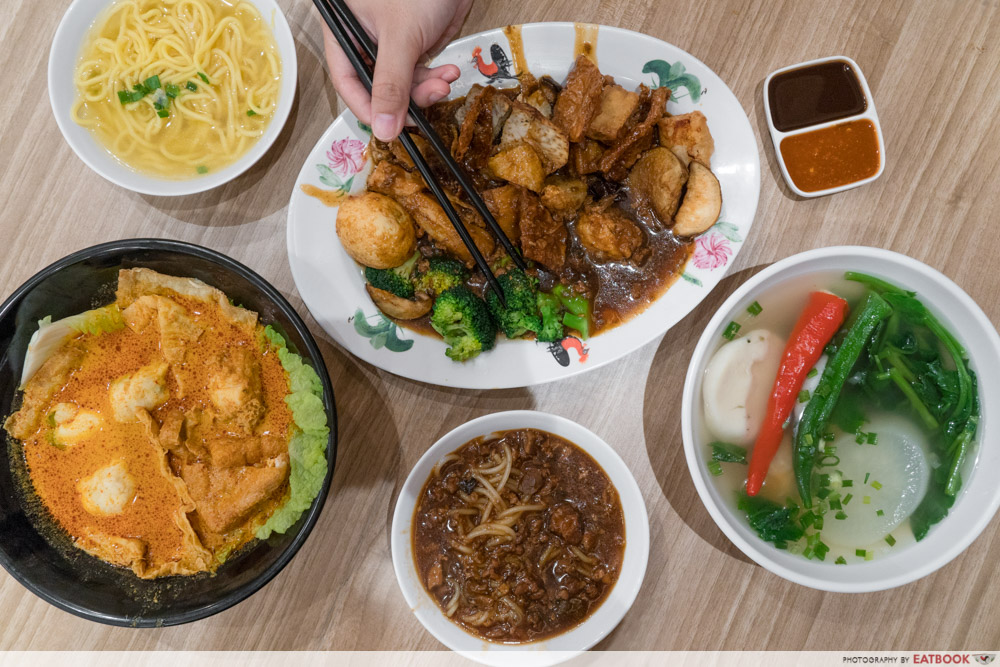 Fans of Fu Lin usually have their yong tau foo deep fried, then doused in a brown starchy meat gravy. The $6 dish might not be a looker, but the taste makes up for it. The sauce is aromatic and savoury, adding an extra depth of flavour which comes from the minced chicken, mushroom, and spices like star anise.
Address: 2 Jurong East Street 21, #01-47, IMM, Singapore 609601
Opening hours: Daily 10am to 9:30pm
Tel: 6256 1013
Website
---
2. Red Ginger
---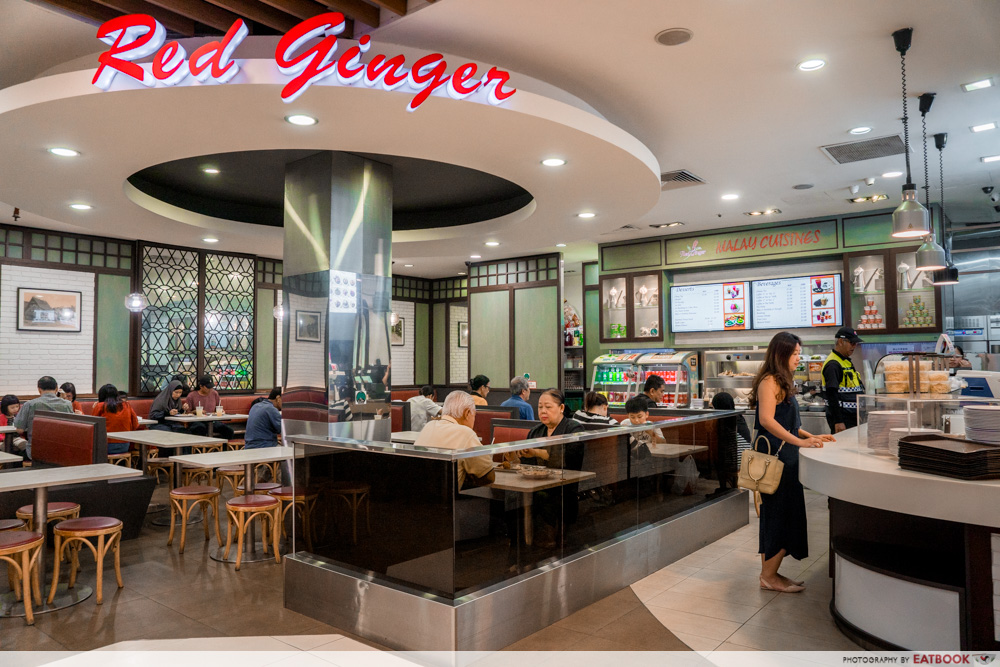 Red Ginger is a halal cafe that has been located at level one of IMM for over 20 years. Like a well-oiled machine, their kitchen is run by an experienced team of Muslim chefs. This family-run establishment is an old favourite for their nasi padang and extensive menu of claypot, fried rice, noodles and more. Over-ordering is part of the experience here, so check your self-control before stepping in.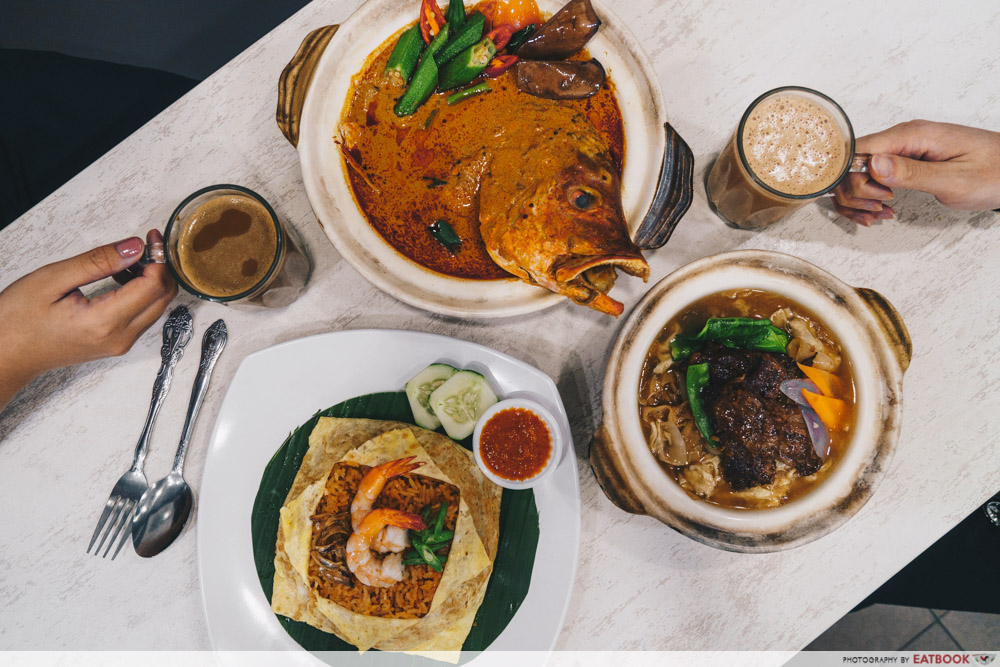 Claypot dishes you must try include Curry Fish Head ($19.90) and Claypot Beef Hor Fun ($7.90), which are great for sharing. If you're here for a quick lunch, the Nasi Pattaya ($7.90) makes for a wholesome meal with shelled prawns, chicken bits, and chopped vegetables fried with rice, all encased in an omelette. They do a solid sambal belachan that is sweet and tart, with an intense kick of heat. Mixing it into your hor fun or fried rice will leave you hankering for more.
Address: 2 Jurong East Street 21, #01-46, IMM, Singapore 609601
Opening hours: Daily 8am to 9:30pm
Tel: 6567 3077
Website
---
3. 328 Katong Laksa
---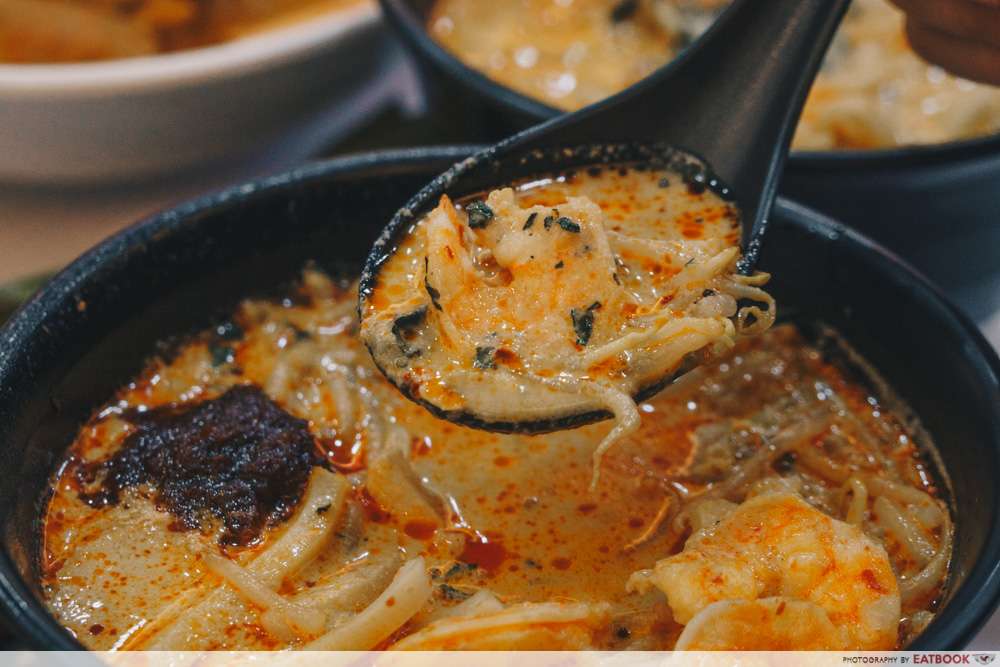 There are not many who can emerge victorious in a cook-off with Gordon Ramsay, but the founders of 328 Katong Laksa sure did. This laksa stalwart does their main dish well, and it's no wonder it is still one of the hottest joints for a laksa fix.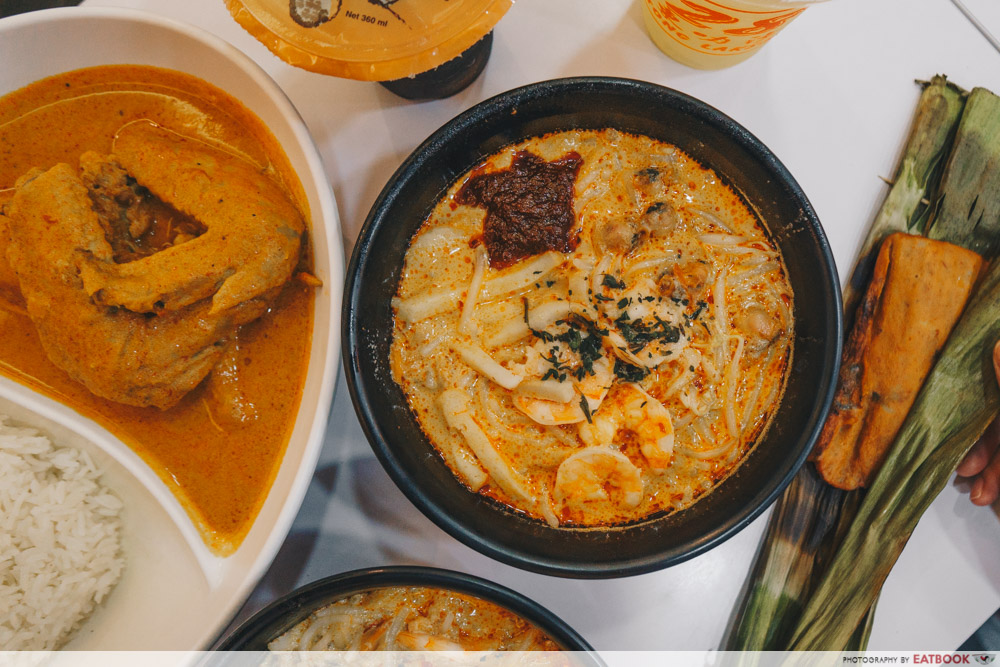 Enjoy these bowls of goodness in small ($5.50), medium ($6.50), or large ($7.50). They are still served up the old school way, with just a spoon and no chopsticks. The coconutty broth is thin yet robustly flavoured, and comes teeming with cockles, peeled prawns, thinly sliced fish cakes, and noodles that are cut short . Other than laksa, they also serve Curry Chicken ($4.50/$5.50/$6.50) which tasted like a home-cooked meal prepared with care.
Address: 3 Gateway Drive, #B2-06, Westgate, Singapore 608532
Opening hours: Daily 10am to 9pm
Tel: 9732 8163
Website
---
4. Springleaf Prata Place
---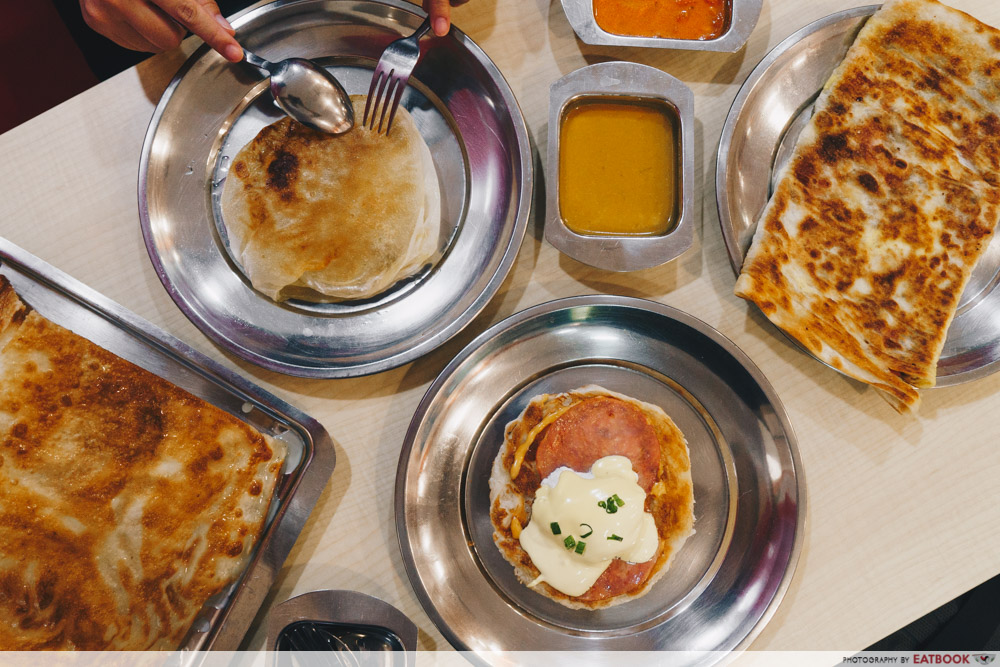 At Springleaf Prata Place, watch the theatrics of chefs flipping and spinning the silken dough into layered, buttery folded prata. With its bright canteen vibes and quick staff, the eatery at JCube is ideal for both a swift midday treat or a family feast.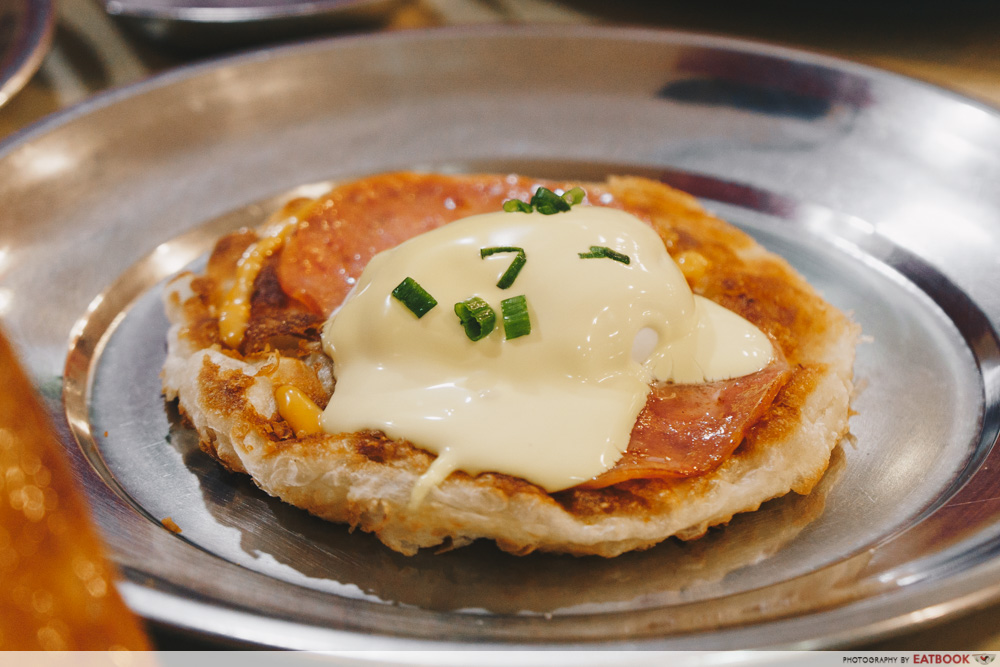 The menu is peppered with unconventional creations such as the Plaster Blaster ($6.10). This Frankenstein of a dish comprises a plain prata and eggs benedict. It delivers a hodgepodge of flavours and is a novelty to eat. End your meal with Roti Bomb ($2.80), a bomb-tastic dessert prata made with just sugar and margarine crisped up on the hot plate.
Address: 2 Jurong East Central 1, #B1-11, JCube, Singapore 609731
Opening hours: Sun-Thur 9am to 10pm, Fri-Sat 9am to 11pm
Tel: 6570 6554
Website
---
5. 85 Redhill Teochew Fishball Noodles
---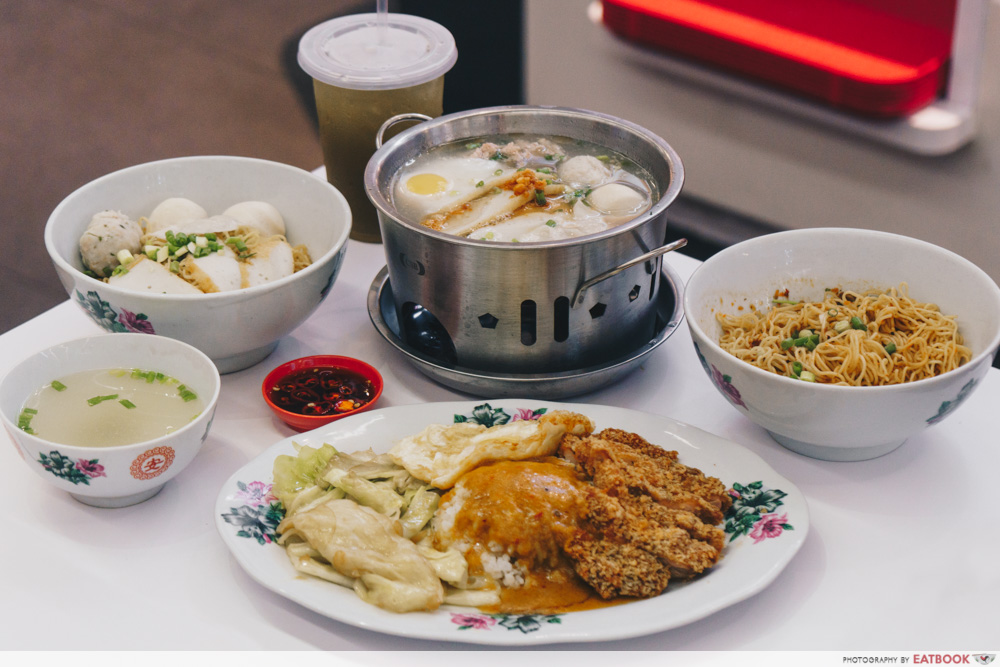 On a cold and wet day, there's nothing I love more than a bowl of tasty fish balls in a clear, aromatic soup. 85 Redhill Teochew Fishball Noodles is known for their simple yet satisfying fish ball mee. $5.50 gets you their Signature 85 Fishball Noodle, which comes with bouncy fish balls, fish dumpling, fish cakes, and a bed of springy and robustly-flavoured noodles.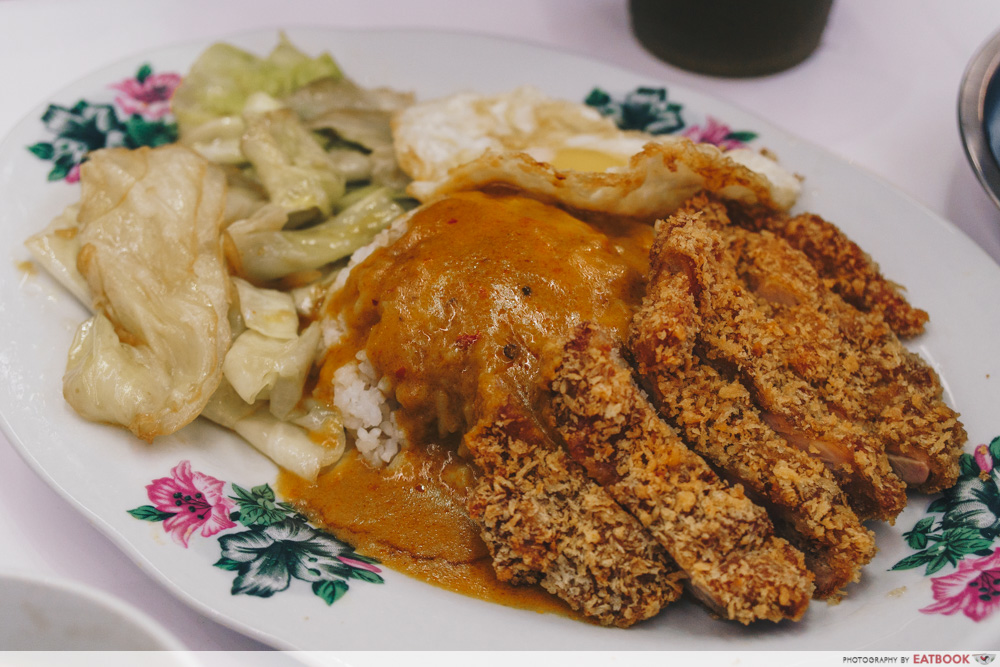 Other reliable favourites here include their Hainanese curry rice sets. A chicken cutlet set comes with a drink at $5.50 a pop, or $4.50 a la carte. It is best for a quick but shiok meal, as you get steamed white rice, battered chicken, and a fried egg doused generously with thick curry gravy. You will leave with your belly satisfied and wallet happy.
Address: 3 Gateway Drive, #B2-K13, Westgate, Singapore 608532
Opening hours: Daily 10am to 10pm
Website
---
6. Old Street Bak Kut Teh
---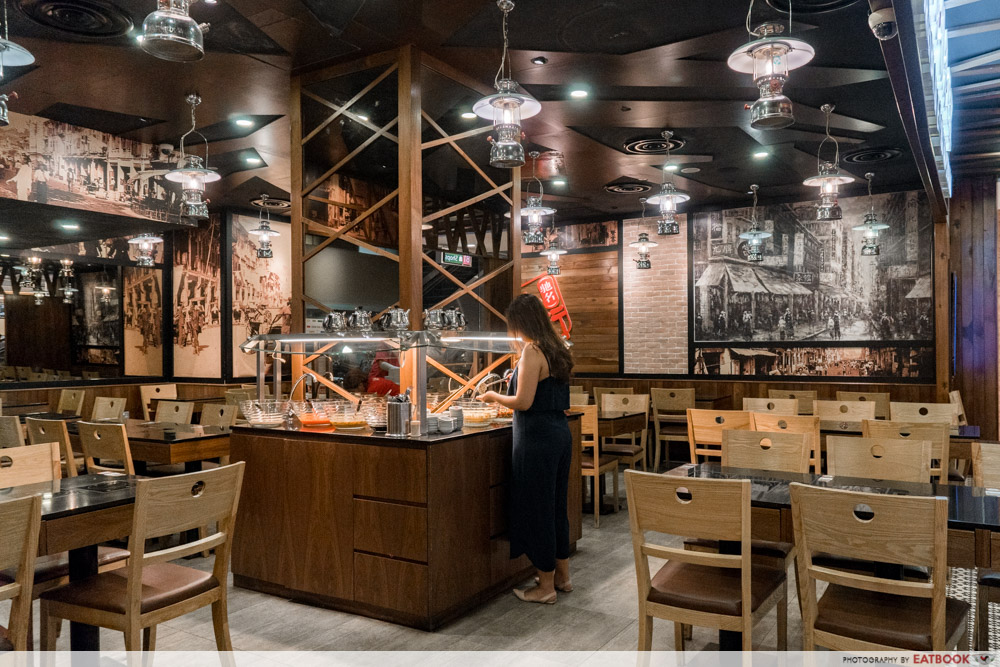 Old Street Bak Kut Teh is another crowd pleaser. With decor plucked straight out of the '60s, enjoy soul-warming bowls of bak kut teh and more at this charming restaurant in Westgate. For the uninitiated, their version leans more on the peppery side, with ample amounts of garlic and spices in the broth.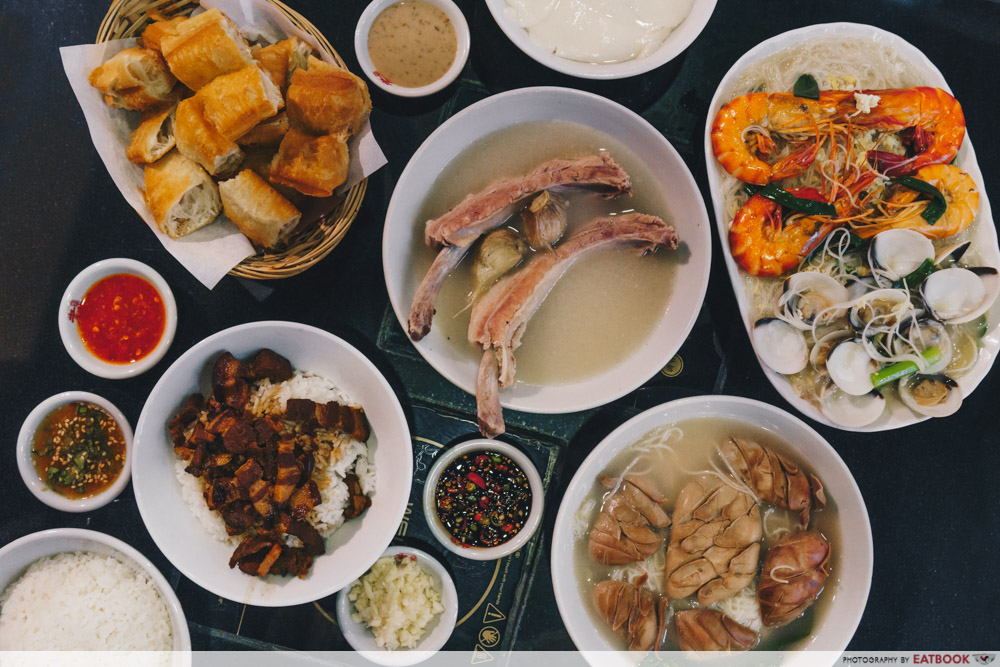 They offer a value-for-money bak kut teh set that is available round the clock. Set Menu A ($11.10++) gets you a bowl of pork ribs soup, rice, you tiao, and beancurd dessert. It is easy to wolf down the entire rib in five to six bites. Resist the temptation and savour each mouthful slowly instead. Other than bak kut teh, they also serve old-school favourites such as Minced Meat Rice ($4++) and Mee Sua Soup With Kidney($10.50++).
Address: 3 Gateway Drive, #B1-25, Westgate, Singapore 608532
Opening hours: Daily 10am to 10pm
Website
---
7. Long Beach Seafood Restaurant
---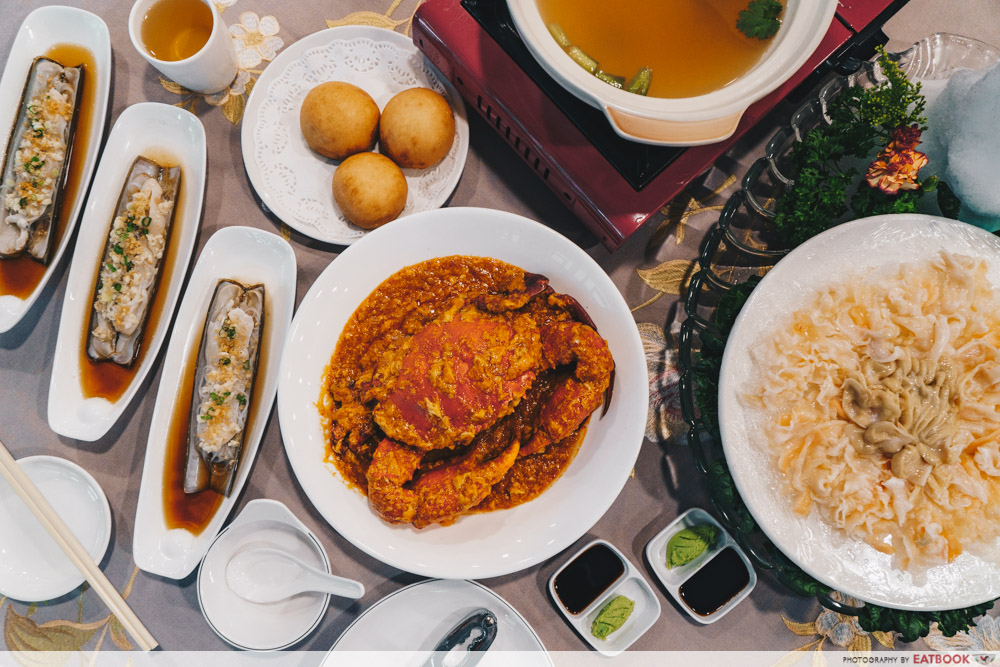 Creator of, and dubbed by many as the best black pepper crab of Singapore, Long Beach Seafood Restaurant is a great choice for special occasions. A big name or slick branding does not always guarantee that things will be done right, but Long Beach manages it with their impeccable service and food standards.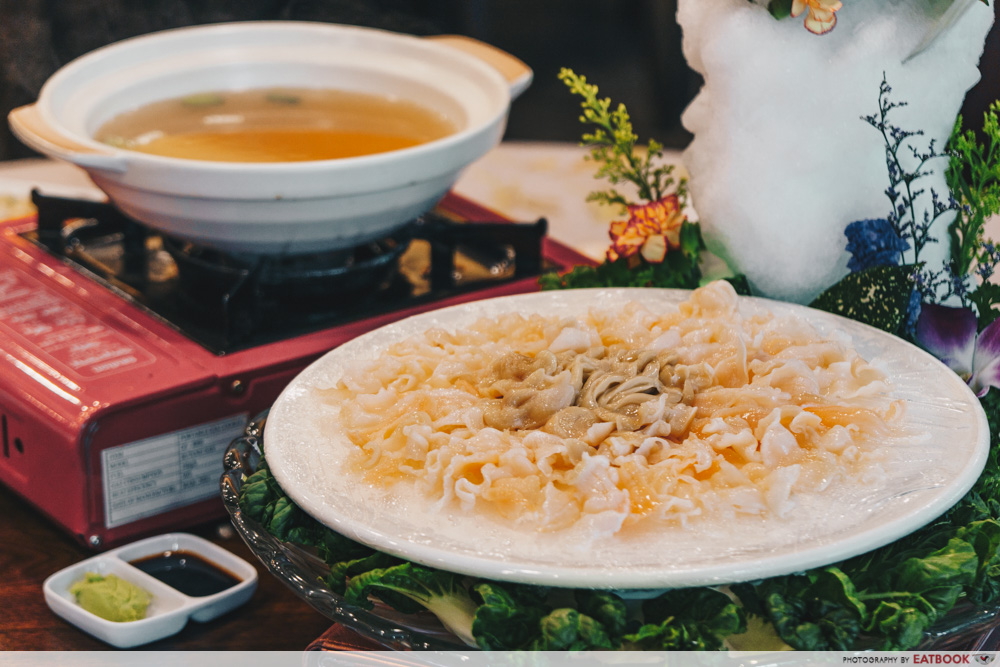 Echoing their ethos of using only the best ingredients, the seafood here are never frozen, only brought in live. Have their Live Geoduck Sashimi With Superior Stock Steamboat two ways – dip it in soya sauce and wasabi or do it shabu-shabu style. For those looking to impress, their Popular Chilli Crab will do the job. Diners can also enjoy all the flavour with none of the messy work, thanks to their deshelling service.
Address: 2 Jurong East Street 21, #03-07, IMM, Singapore 609601
Opening hours: Mon-Fri 11am to 3pm, 5:45pm to 11pm, Sat-Sun 11am to 3pm, 5pm to 11pm
Tel: 6566 9933
Website
---
8. Tai Chong Kok
---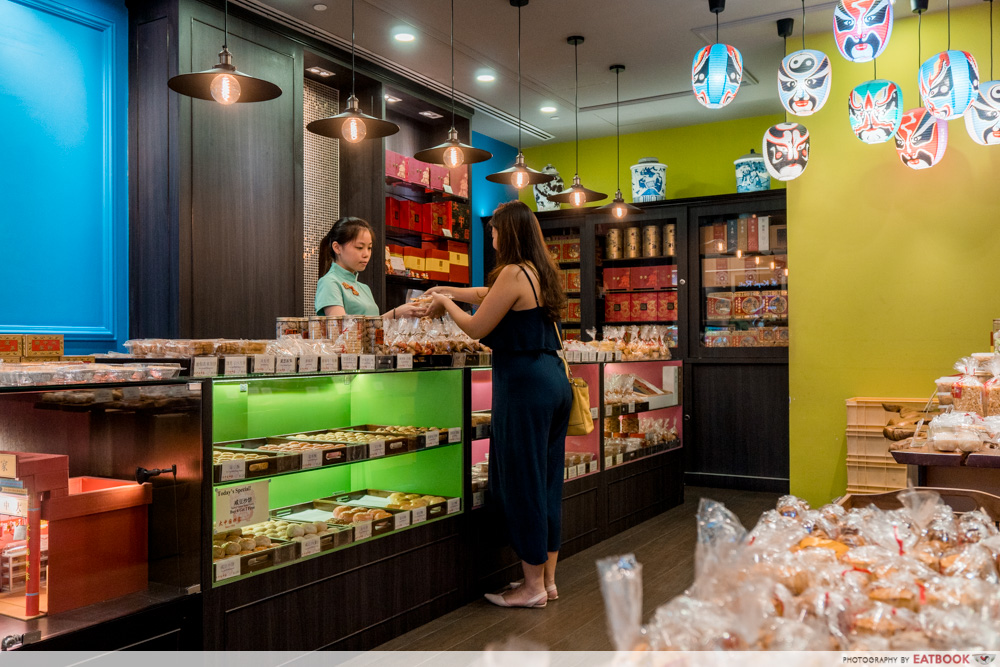 More of a pit-stop than a restaurant, choose from an eye-opening selection of Chinese pastries at Tai Chong Kok. Chinese pastries can be a bit predictable, but they offer more than your usual suspects of sachima, salted green bean pastries, and lotus tau sar piah.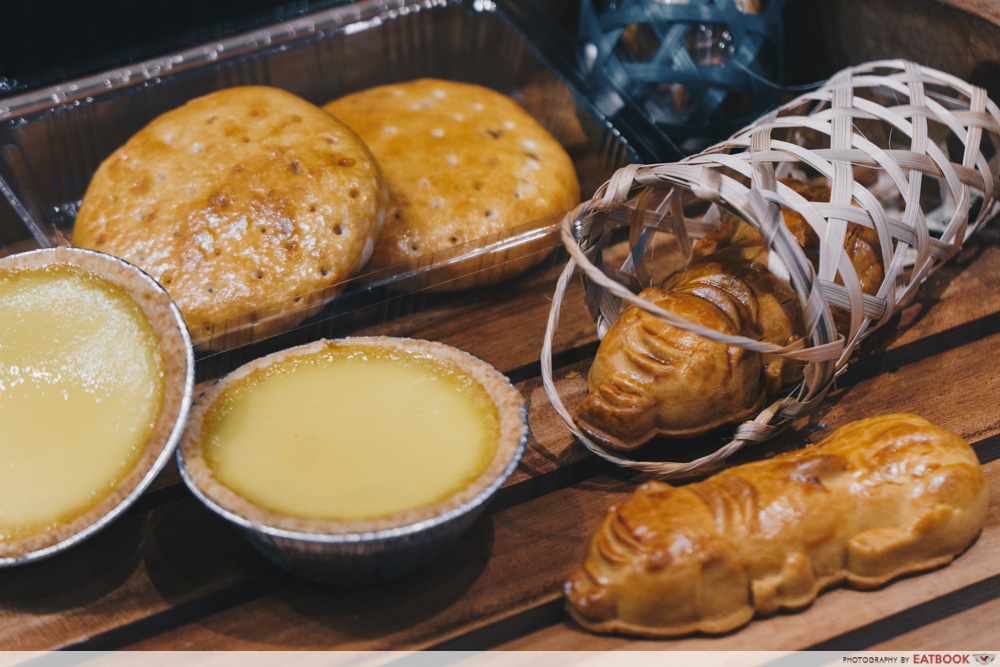 Baked goods are neatly arranged in glass displays and cookies are stacked onto each other – it's almost like walking into Willy Wonka's factory. I highly recommend their Egg Tarts ($3 for two). They are a beautiful marriage of sweet, eggy custards, and savoury shortcrust pastry. Bring home a Piglet In A Basket ($4) for a hint of nostalgia.
Address: 3 Gateway Drive, #B2-05, Westgate, Singapore 608532
Opening hours: Daily 10am to 9:30pm
Tel: 6710 5996
Website
---
Trio of malls to check out
---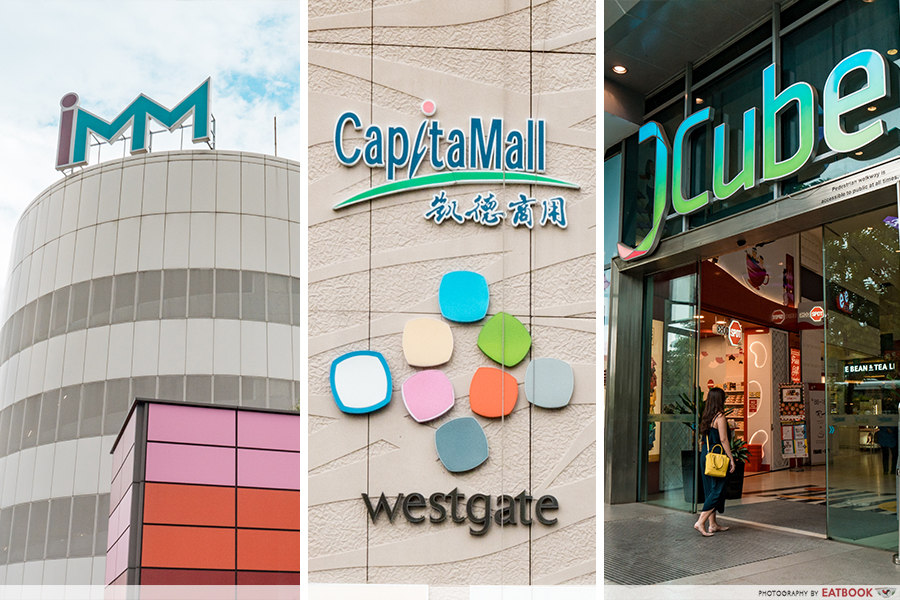 These eateries are conveniently located just a stone's throw away from the bustling Jurong East MRT station and bus interchange. With a good mix of hawker fare and swish restaurants, IMM, Westgate, and JCube are great malls to shop and fuel up.
Keep yourself updated on monthly deals, events, and new stores popping up. Be sure to follow IMM on Facebook and Instagram, Westgate on Facebook and Instagram and JCube on Facebook and Instagram.
Photos taken by Nadia Elijanto.
This post is brought to you by CapitaLand.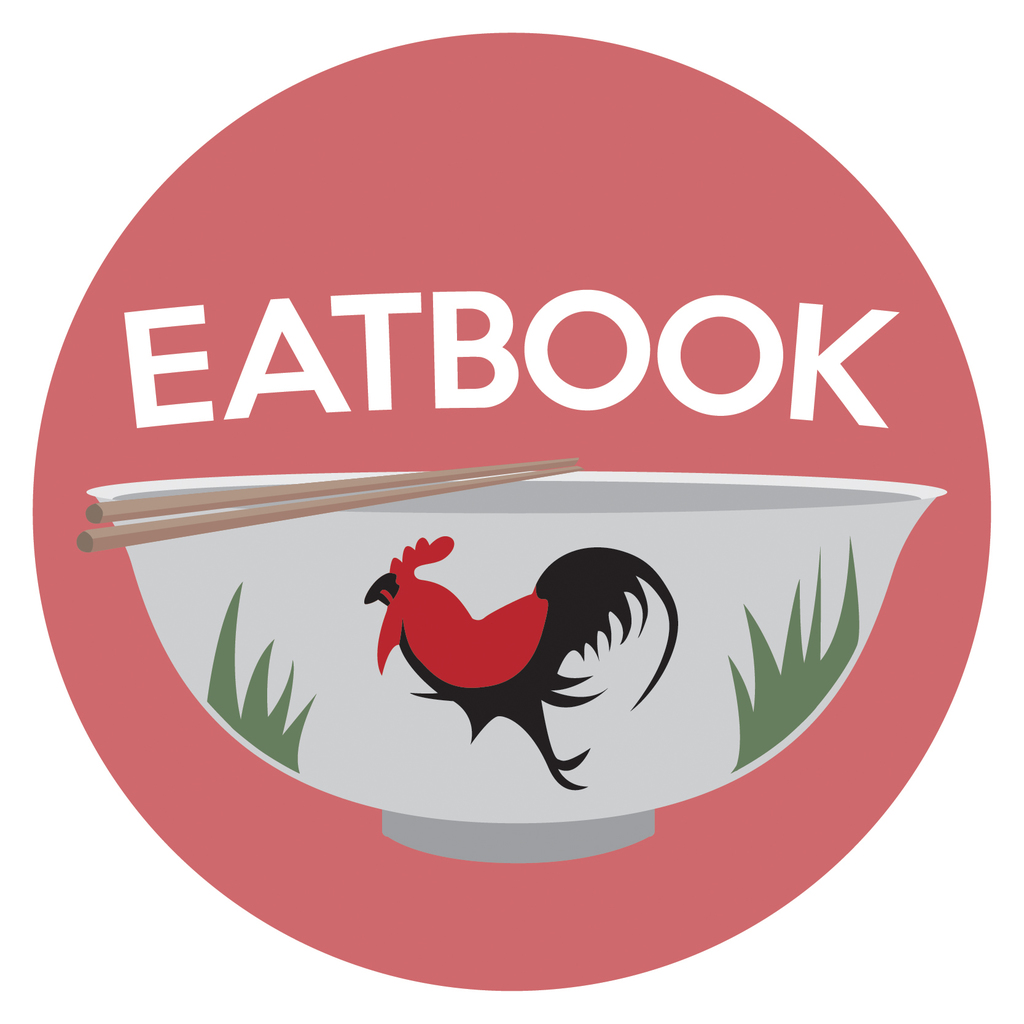 Drop us your email so you won't miss the latest news.