Fat Monkeys is here at Upper Serangoon Road
Update: Fat Monkeys is now permanently closed.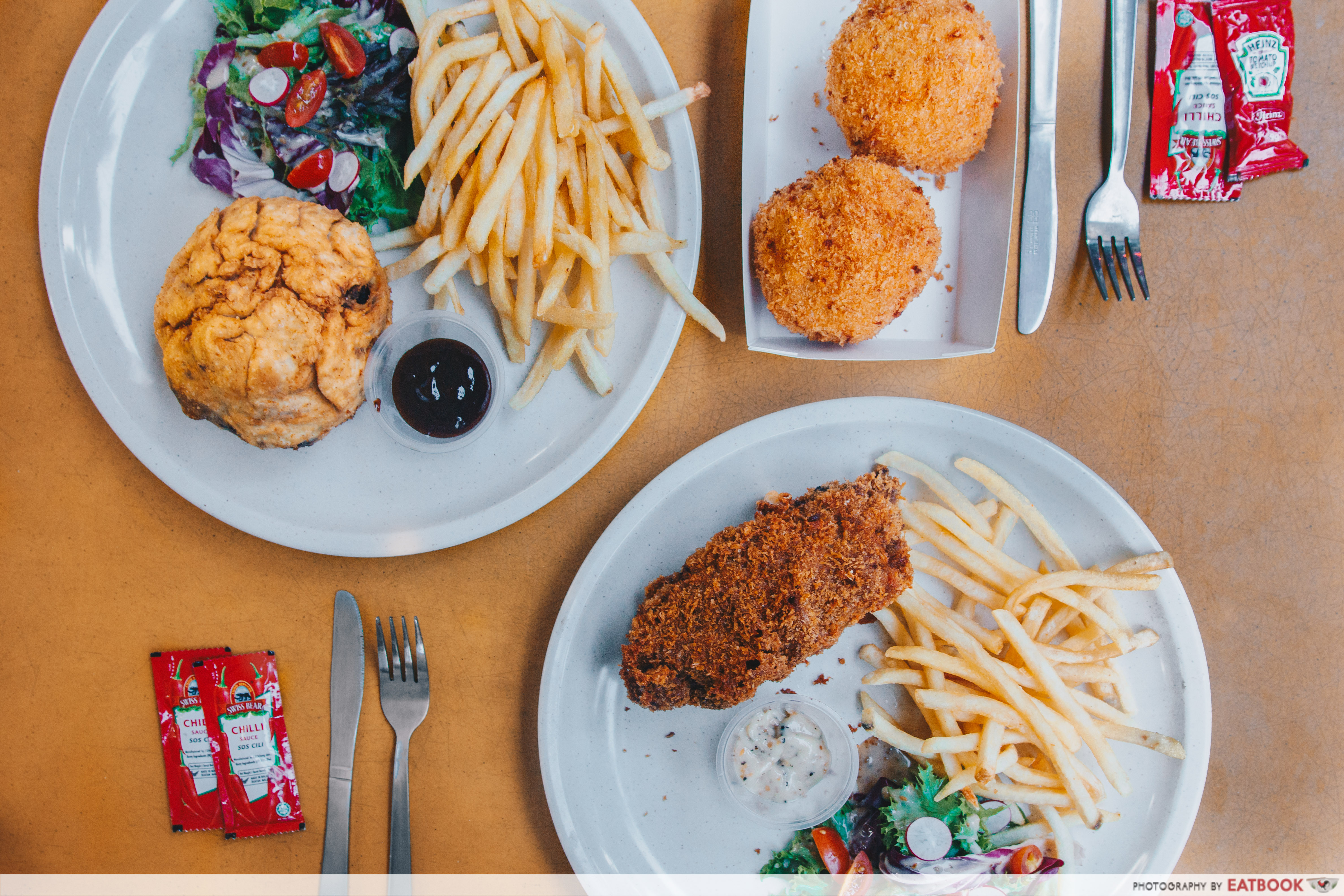 My colleague and I recently stopped by Fat Monkeys for dinner. Fat Monkeys is a Western hawker stall that opened late last year, and it is run by two hawkerpreneur friends. We'd just wrapped up another food shoot only an hour earlier, and as much as I love eating, I was beginning to question my ability to stomach so many dishes at one go. Well, all thanks to the good food, it turned out that I could! What a day of self-discovery.
Food at Fat Monkeys

We dug into the Chicken Almighty ($9.90) first, simply because it arrived the earliest. All main dishes come with a side of fries and salad greens tossed in Japanese Sesame dressing and cherry tomatoes.
I was fascinated by how deceptively ordinary the cutlet appeared to the unsuspecting eye. But we knew exactly how to get it to reveal its secrets; all we had to do was cut it open. And so we did.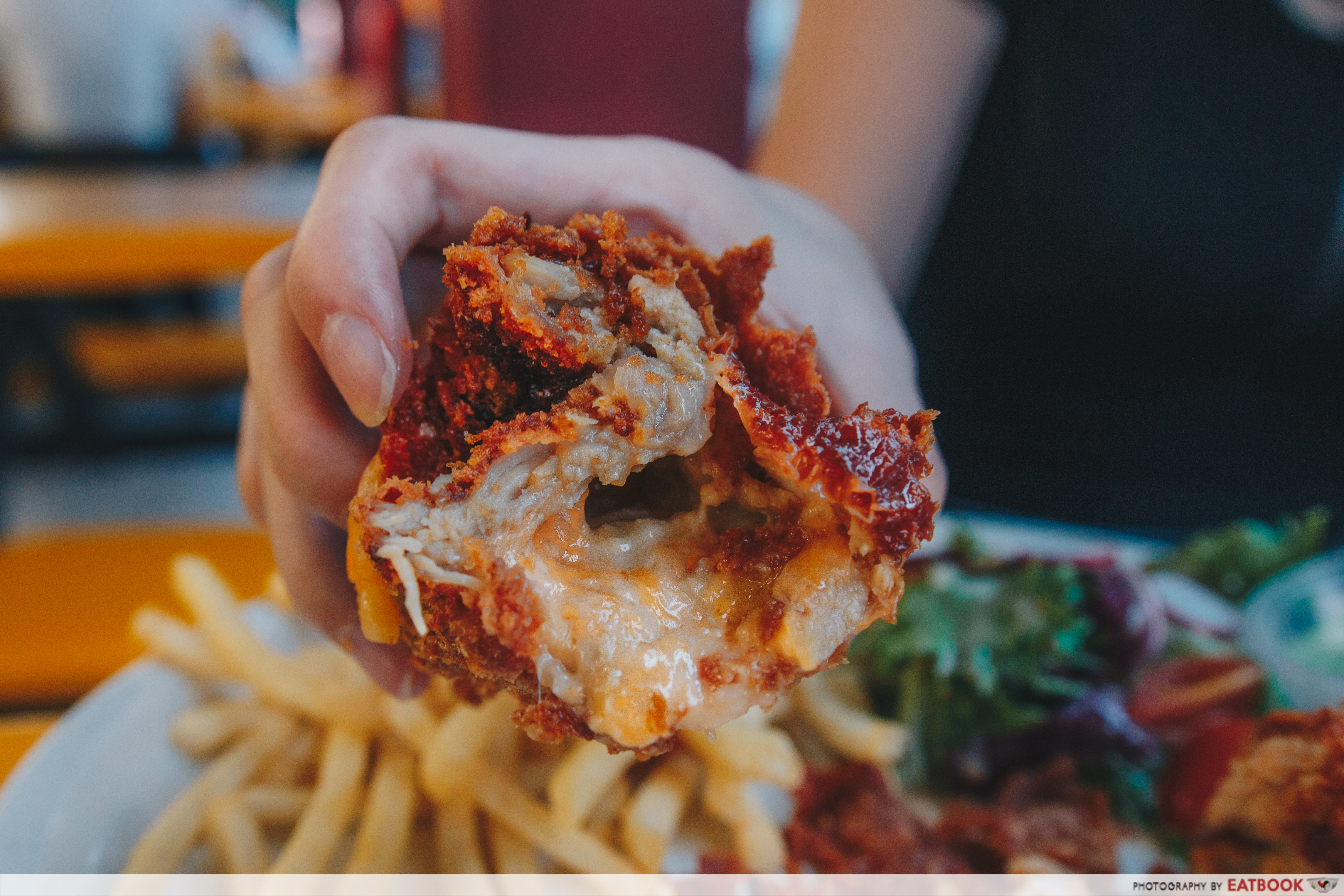 The minute I sliced through the meat, the three-cheese stuffing oozed out slowly from the centre, accompanied by a gentle waft of steam.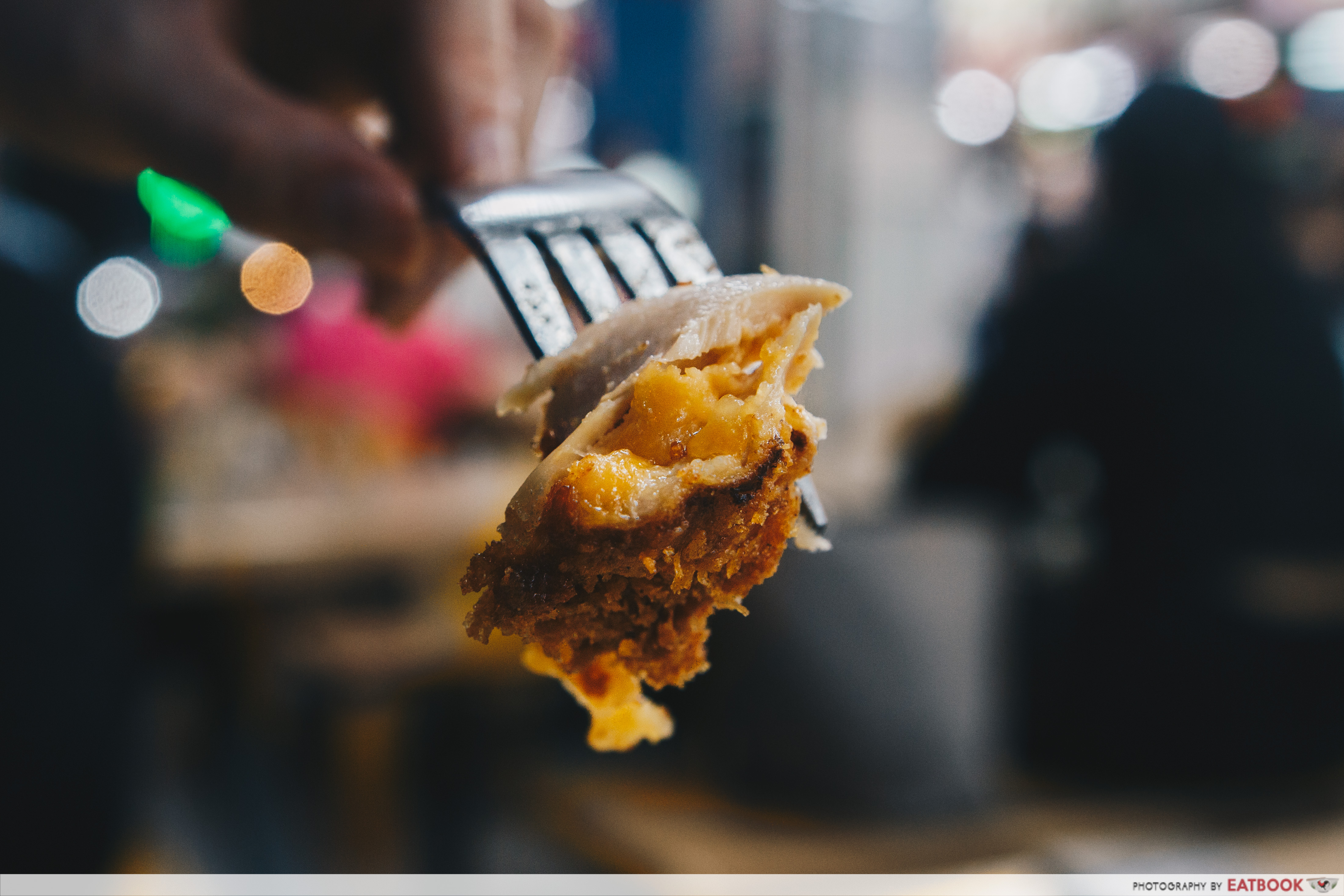 The chicken was very well-marinated and tender, and coupled with the gooey melted cheese, made a sinfully decadent combination. The chicken crust was also super crispy and mildly flakey. The cheese consisted of Swiss, mozzarella, and Cheddar, producing a rich mix of flavour, albeit a little salty.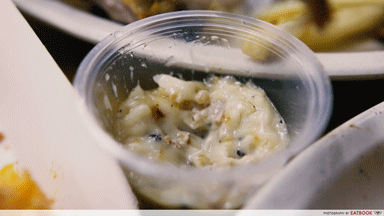 I can't help but give a special mention to the sauce, Garlic Fever, which came with the Chicken Almighty dish. I'd initially perceived it to be regular mayonnaise, but delightfully, I was proven wrong. The sharp flavour of the garlic filled up my senses – cue Annie's Song – and provided the dip with a tangy, nutty taste. Another sauce listed on the menu which I would like to try next time is the Chilli Crab sauce, as it is said to contain actual crab meat!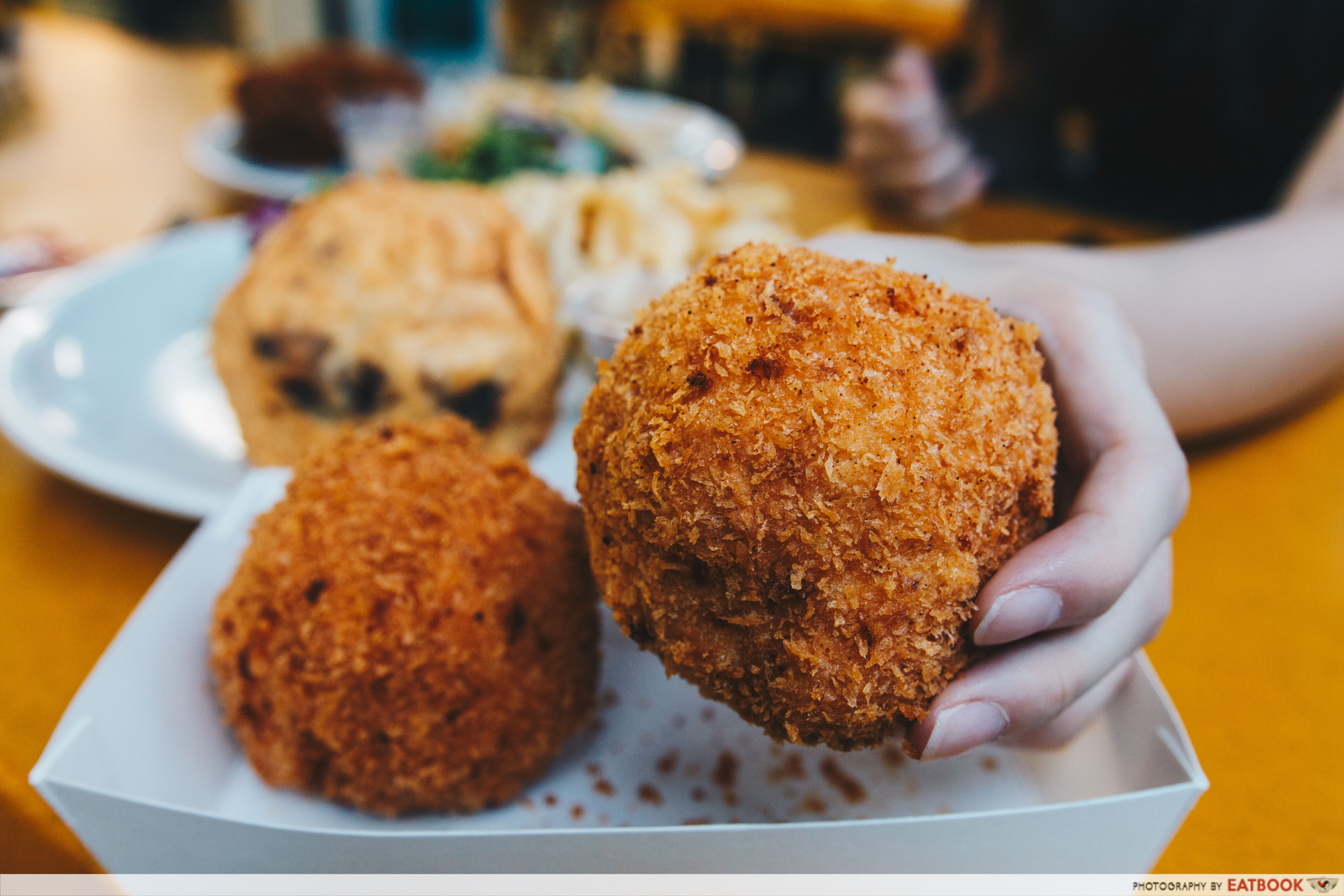 I can guarantee that most people would not have guessed the two brown and battered round balls on our table were actually Fried Mac and Cheese ($4 for two pieces). Afraid that the cheese inside would quickly harden, we wasted no time in halving the balls, all for the sake of the 'gram.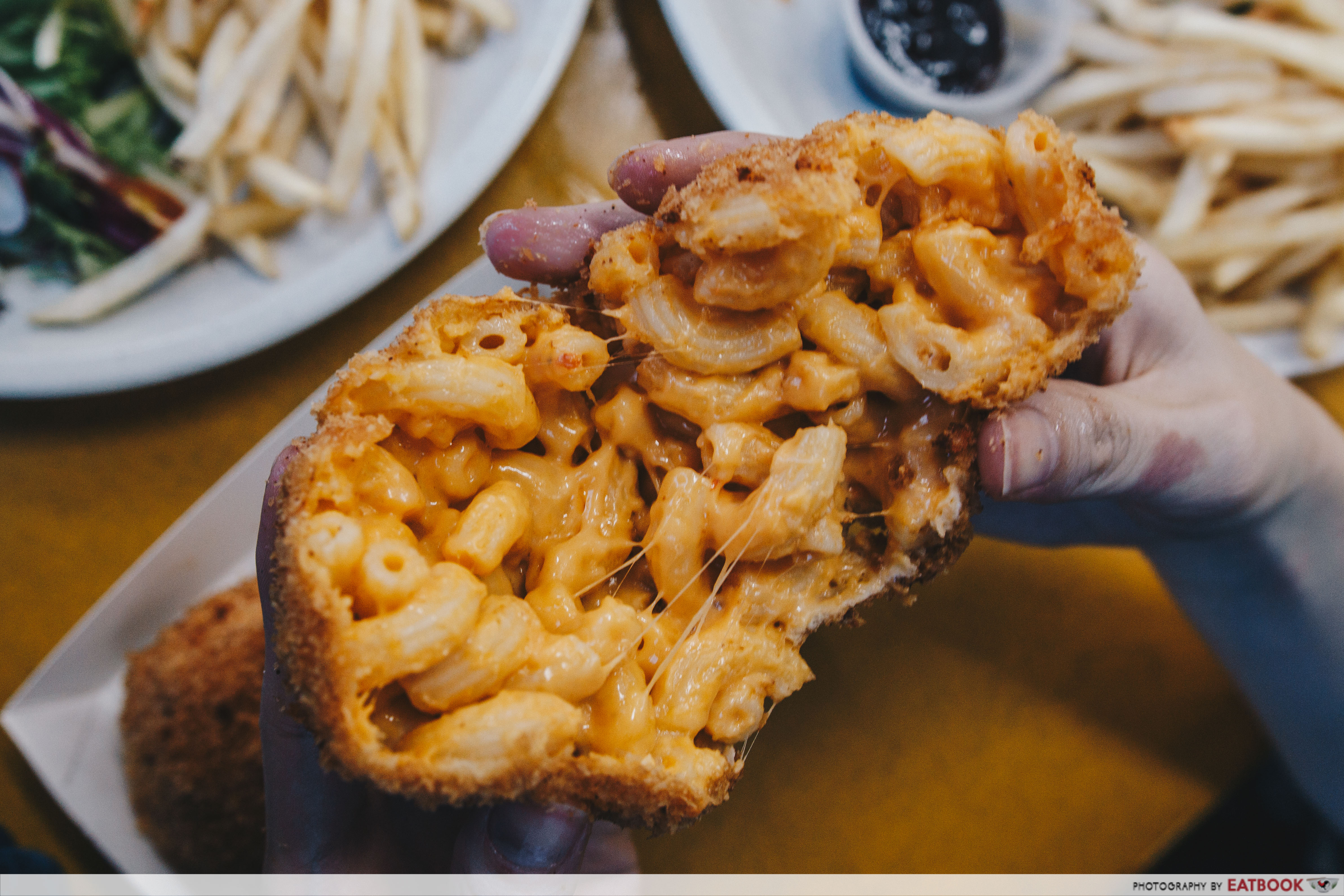 The rough, sandy surface of the Fried Mac and Cheese ball made me feel like I was carving open a geode to slowly uncover the gem within.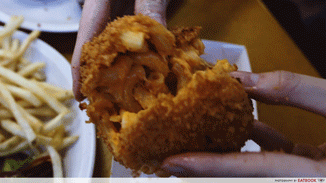 The sight we were rewarded with took my breath away. Just take a look at that golden, cheesy pull!  
I felt that the cheese flavour could have been stronger in this one. Perhaps more salt should have been added to enhance the seasoning as well. If it weren't for the crunchy batter which gave the mac and cheese a chewier bite, I would have found this snack a little bland. Alas, I didn't regret getting it, because it was both aesthetic and cheap, given its portion size. One ball could fit snugly in the palm of my hand.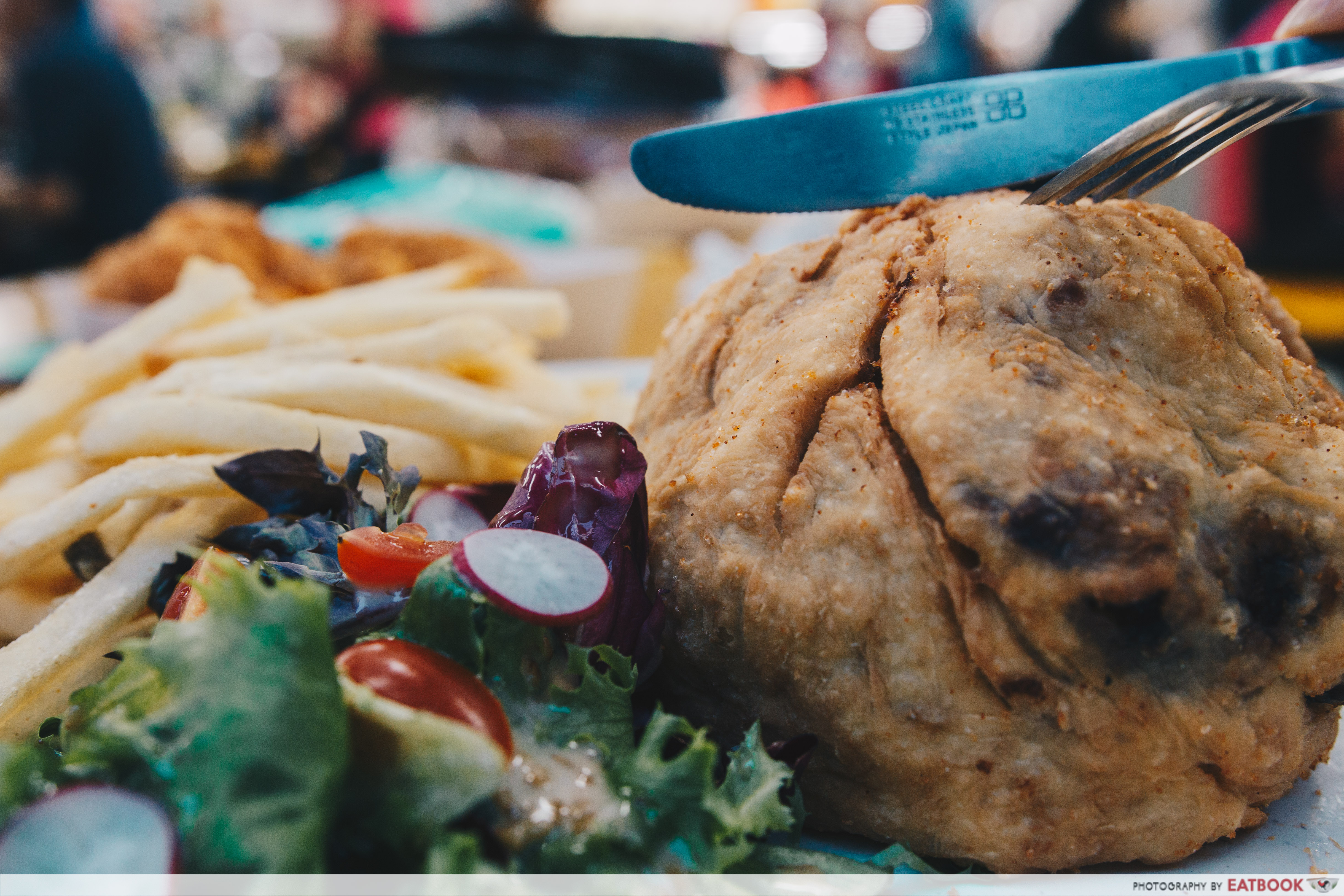 Finally, we tried Da Bomb ($13.90), a deep-fried beef burger marinated in barbecue sauce, and stuffed with cheddar, bacon strips and caramelised onions. I couldn't help but liken this burger to a giant bao!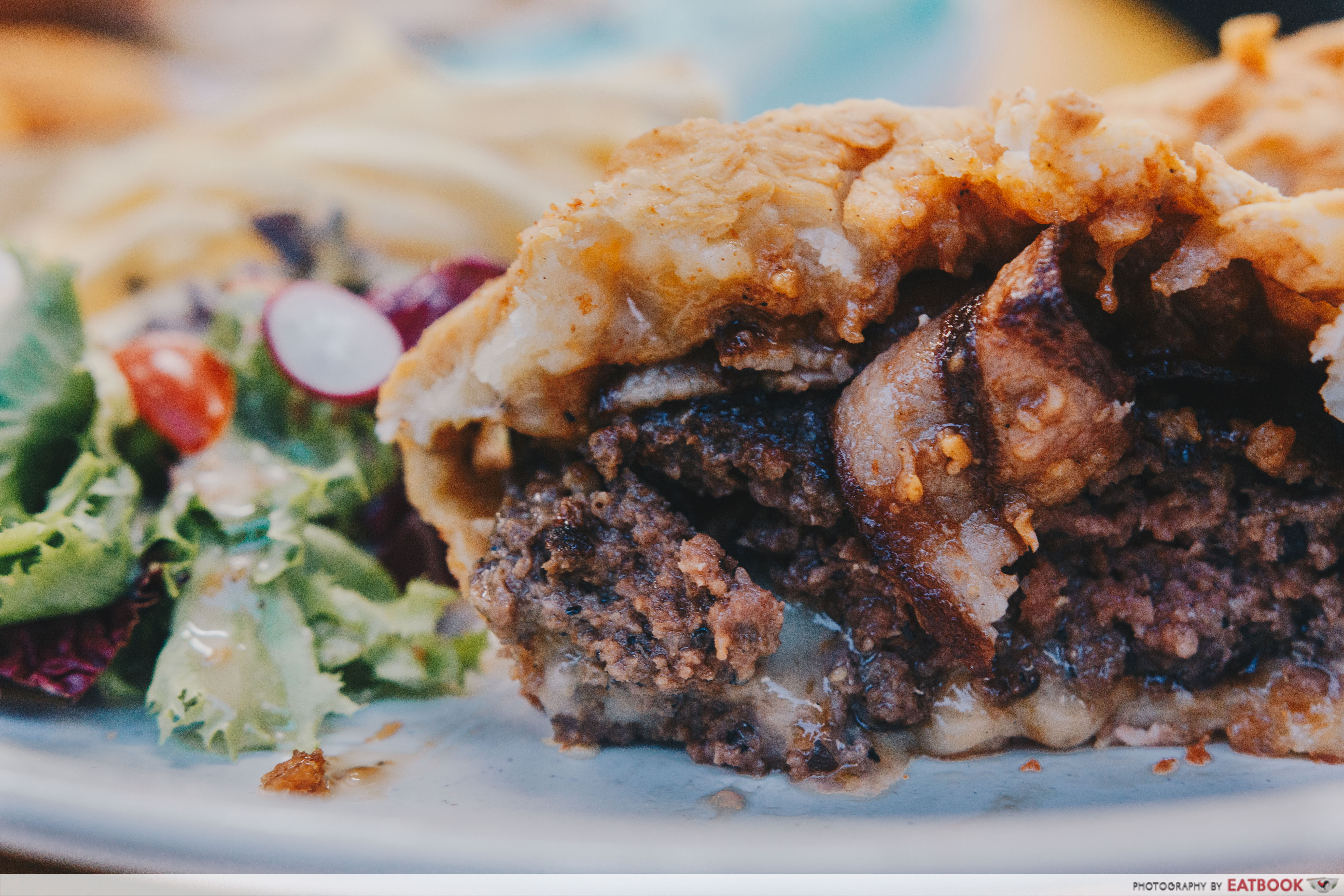 Once again, we had to slice the burger in half to get a good look at its contents, because the whole thing was encased in fried bread. I was beginning to see a pattern here, one that continued to impress me.
The grilled beef patty amazed me with its thickness. It's rare to come across a burger as unique and generous as the one I held in my hands.The beef was succulent and juicy, while the bacon added a salty, umami touch, which was lightened by the toasty bread.
Ambience at Fat Monkeys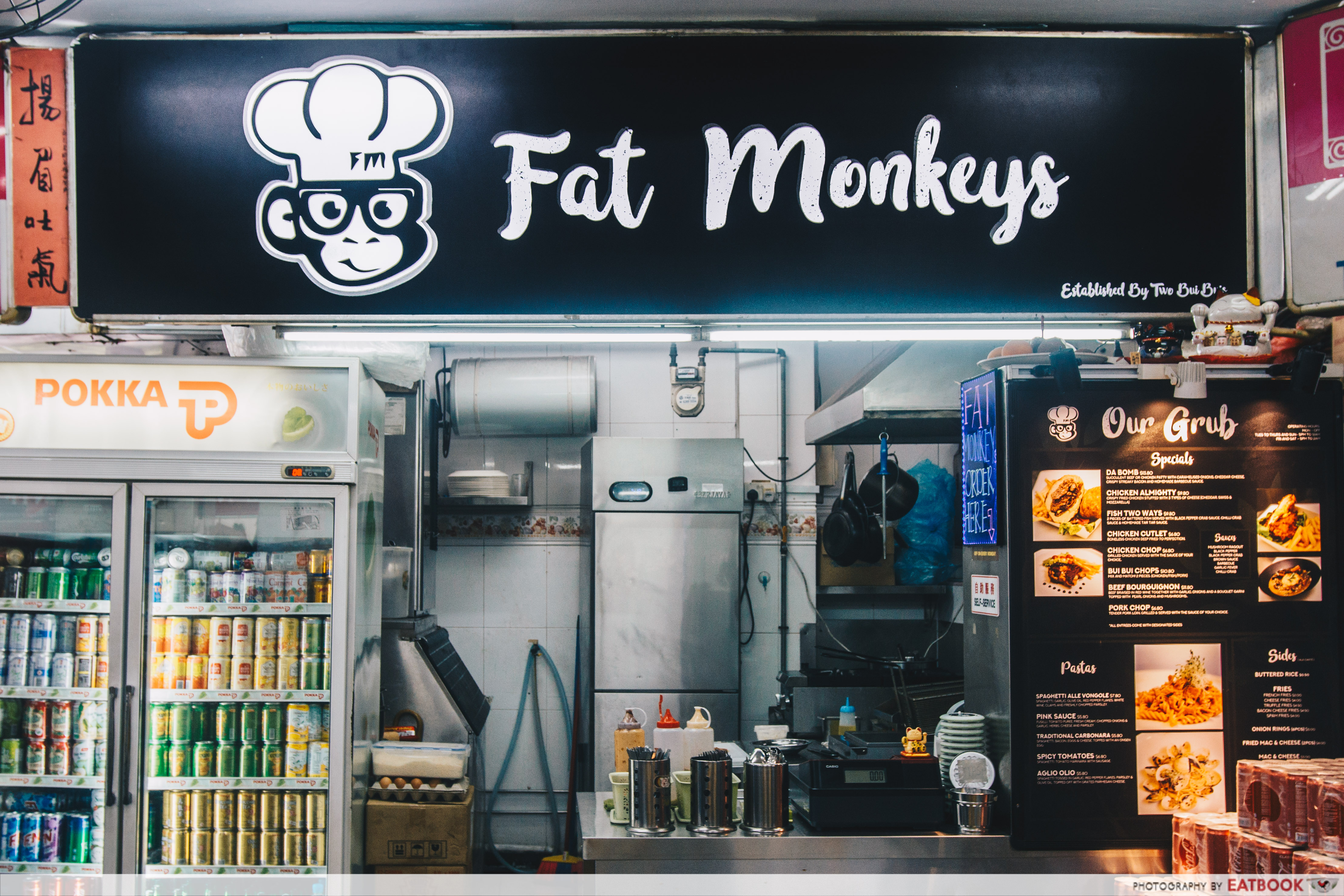 The two friends who served us were friendly and polite. They came across to me as a duo of chill guys who, at the same time, were really passionate about their food business. 
We had to wait a good 20 minutes or so to be served, but later found out it was because everything we ordered was prepared on the spot, and from scratch, too – from the shaping of the Fried Mac and Cheese balls to the kneading of the bread dough for Da Bomb. In the end, the guarantee of fresh food made the wait completely worth it.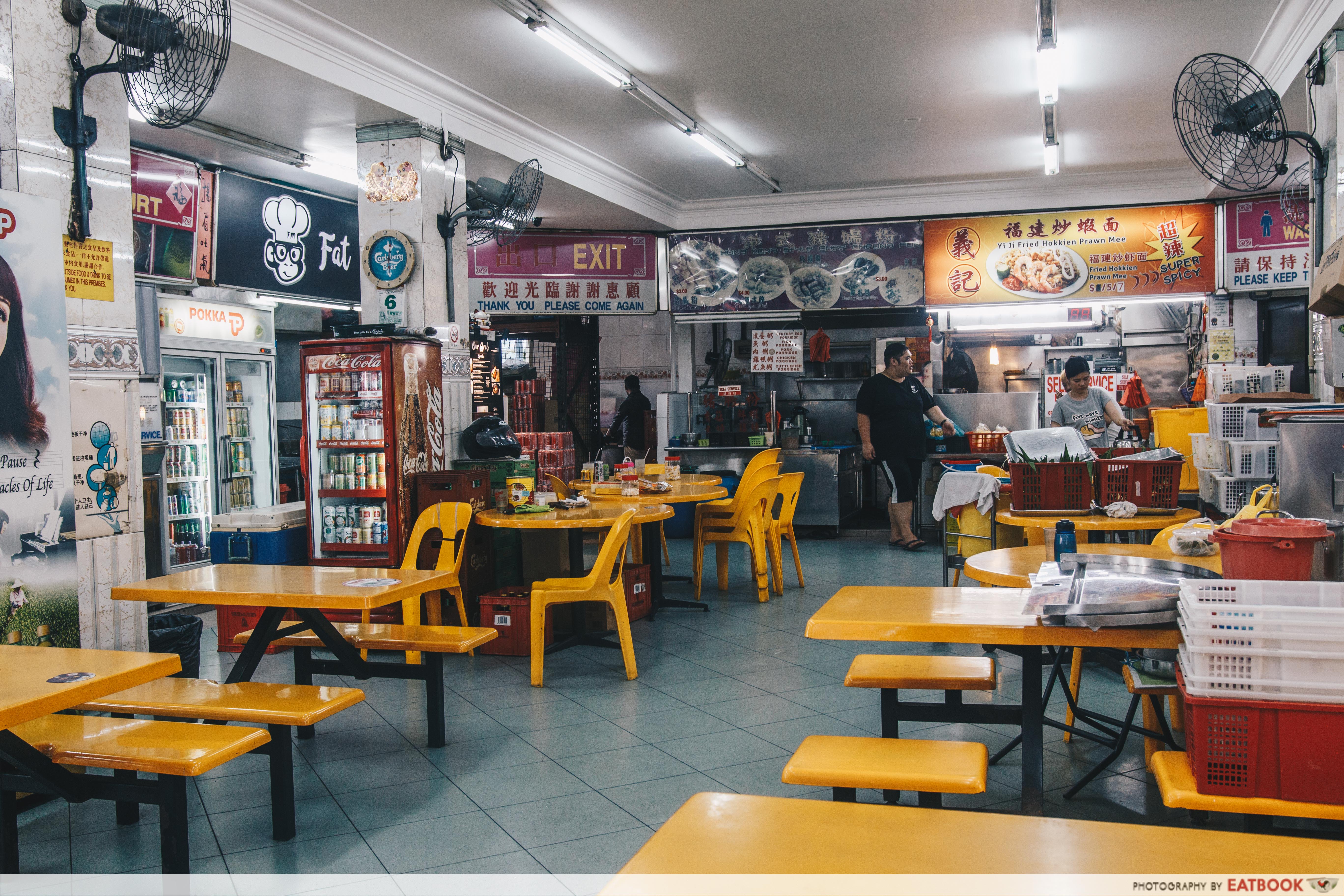 You can drop by Fat Monkeys in the evening for dinner, as the stall only opens late at 5pm. My colleague and I arrived at around 5:30pm, when the dinner crowd was only beginning to trickle in. The stall is located in the same kopitiam as the famous Ponggol Nasi Lemak at Kovan, so come early if you want to chope a good seat.
The verdict

It was a windy night and the sound of cars rushing past us on the street created a relaxed, peaceful vibe. I love cheese, and came to Fat Monkeys with high expectations that were well lived up to. Good service, high-quality food and enjoyable company – ten out of ten would recommend!
For more cheese-stuffed Western specials, check out our review of Happy Chef Western Foods, which features Chicken Cordon Bleu.
Address: 965 Upper Serangoon Road, Stall 5, Singapore 534721
Opening hours: Fri-Sat 5pm to 2am, Sun-Thur 5pm to 12am
Tel: 8380 2555
Website
This is an independent review by Eatbook.sg.
Summary
Pros
– Unique menu
– Tasty
– Affordable
Cons
– Long wait
Recommended dishes: Da Bomb ($13.80), Chicken Almighty ($9.80)
Operating hours: Fri-Sat 5pm to 2am, Sun-Thur 5pm to 12am
Address: 965 Upper Serangoon Road, Stall 5, Singapore 534721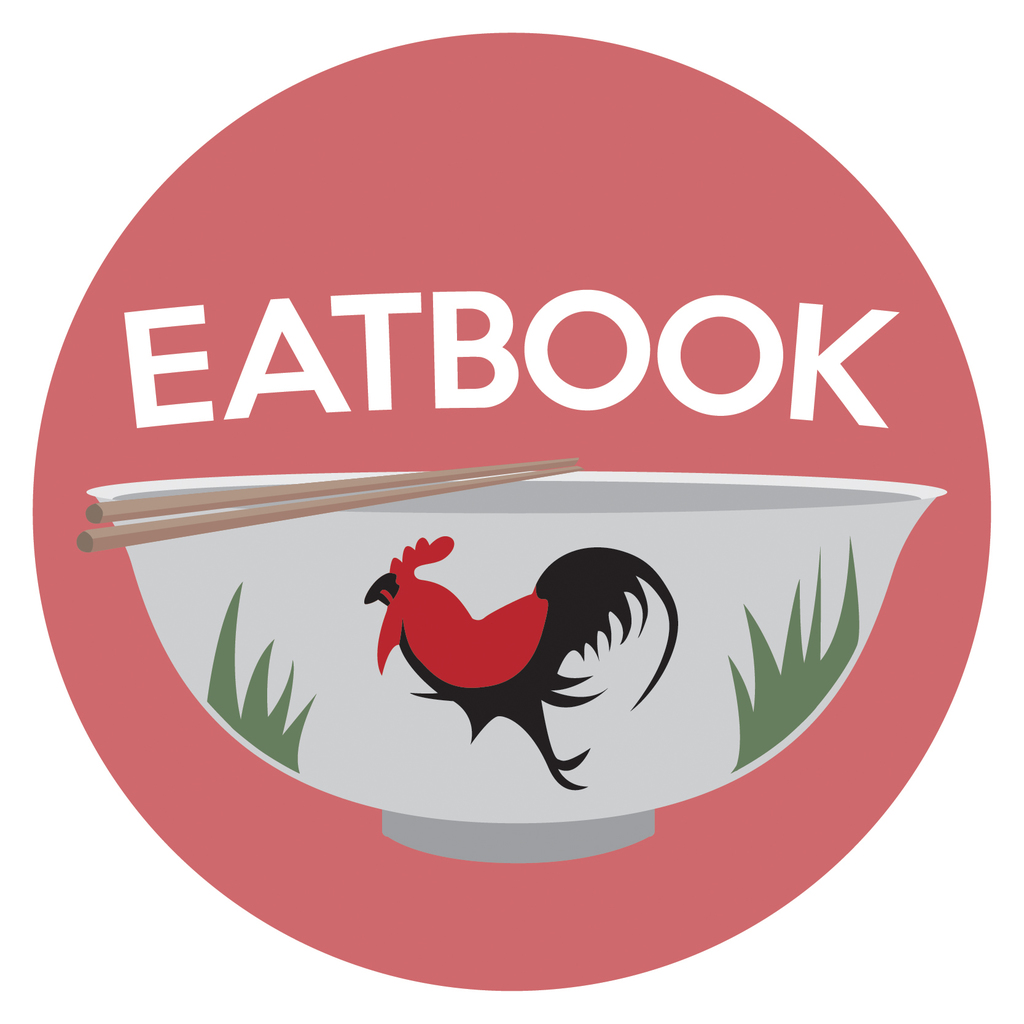 Drop us your email so you won't miss the latest news.