Fish & Chicks presents new Thai-inspired dishes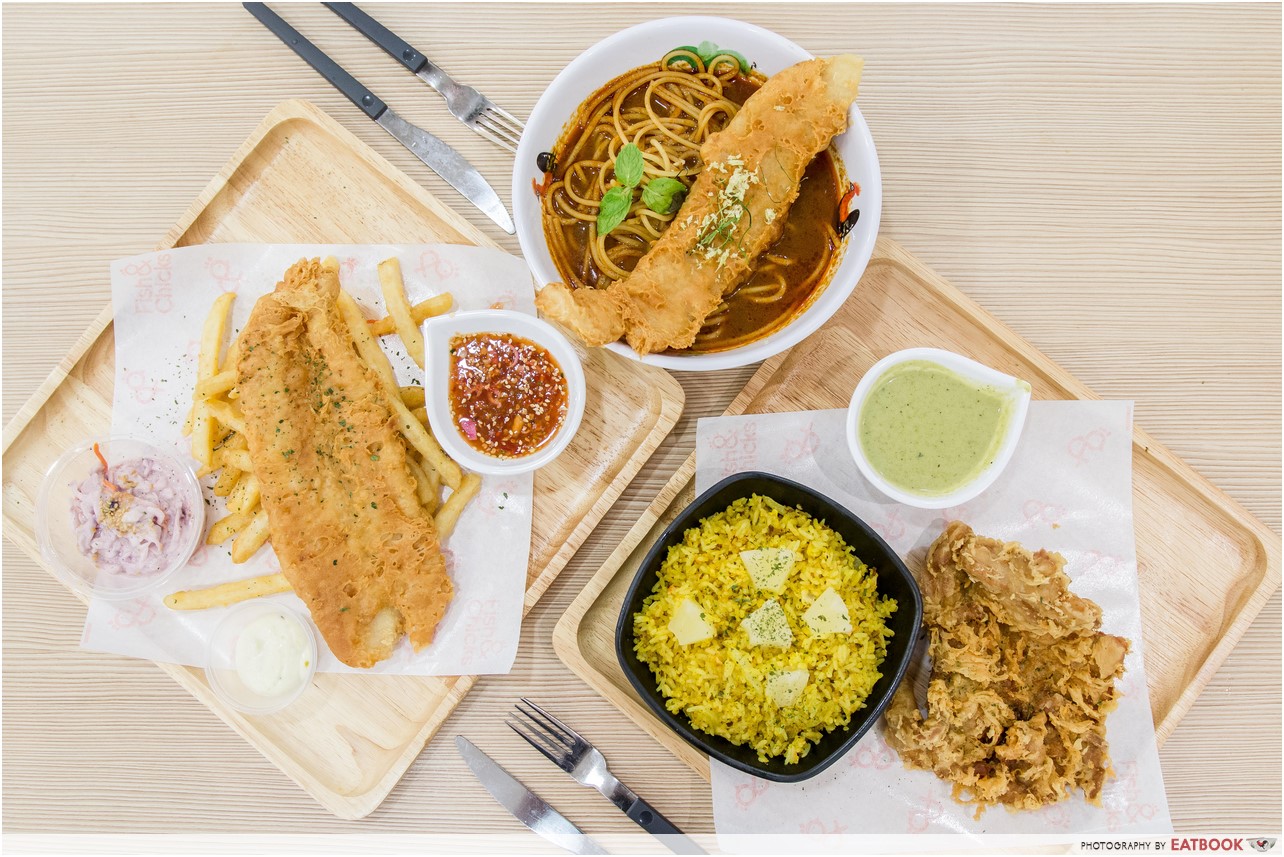 After making waves over social media with their affordable and unique take on fish and chips, Fish & Chicks has added three new Thai-inspired dishes to their menu. Though their crowd-favourites are sure to please, these new dishes are a must-try if you like your food with a spicy kick, or even if you simply want to try something different for a change.
Food at Fish & Chicks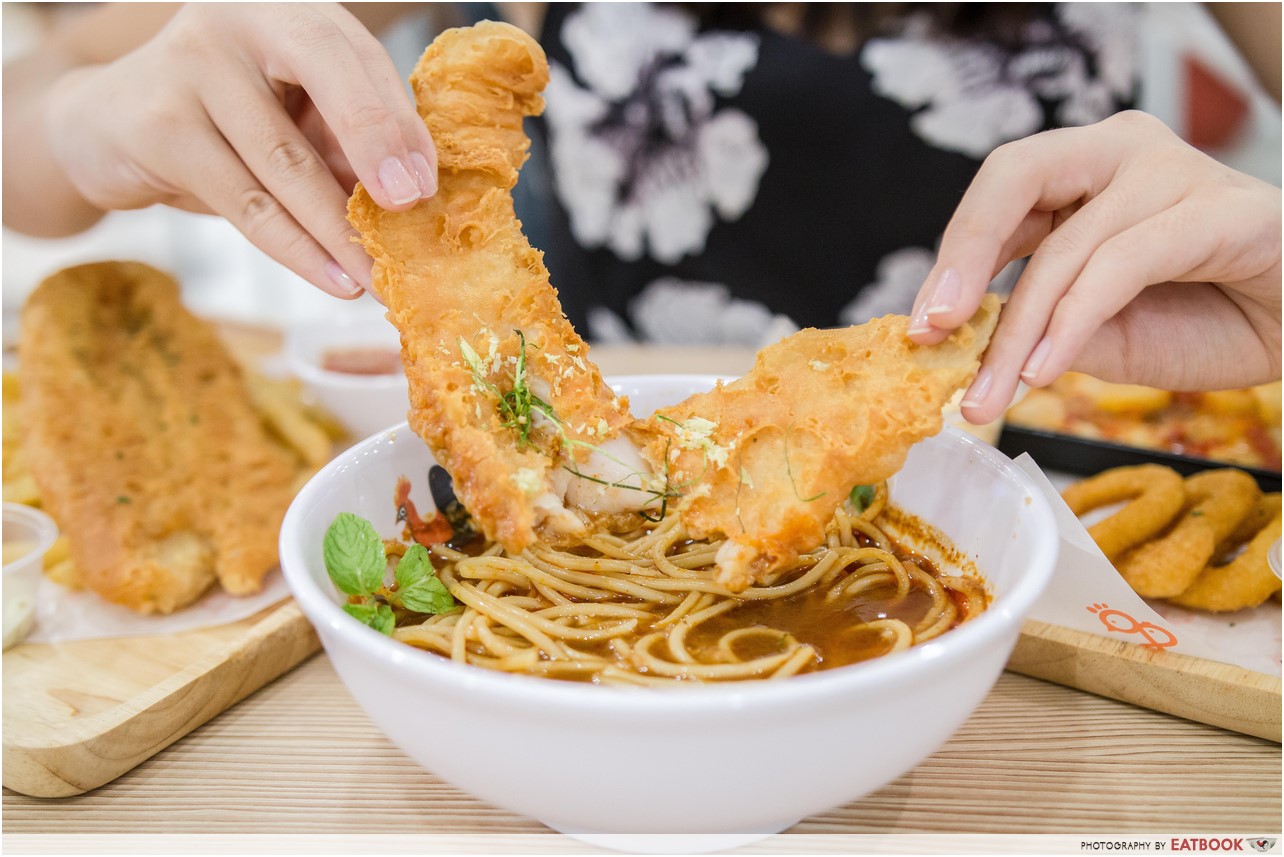 Thai cuisine without tom yum is like Japanese cuisine without sushi – incomplete. Fish & Chicks' take on this quintessential Thai dish combines pasta and a flavourful, spicy tom yum broth. Tom Yum Pasta ($10.50) is topped with a piece of battered fish too. This was the spiciest out of all of the dishes, so you might have to give it a pass if you're a lightweight chilli champ like myself.
That being said, I still enjoyed the tanginess of the broth and can safely say it was worth the burn. As someone who loves fried sliced fish beehoon soup, I liked how the battered fish here soaked up some of the soup without turning soggy too quickly.  
The only thing that could have been executed better was the doneness of the pasta. I like my noodles al dente and these were a little too soft.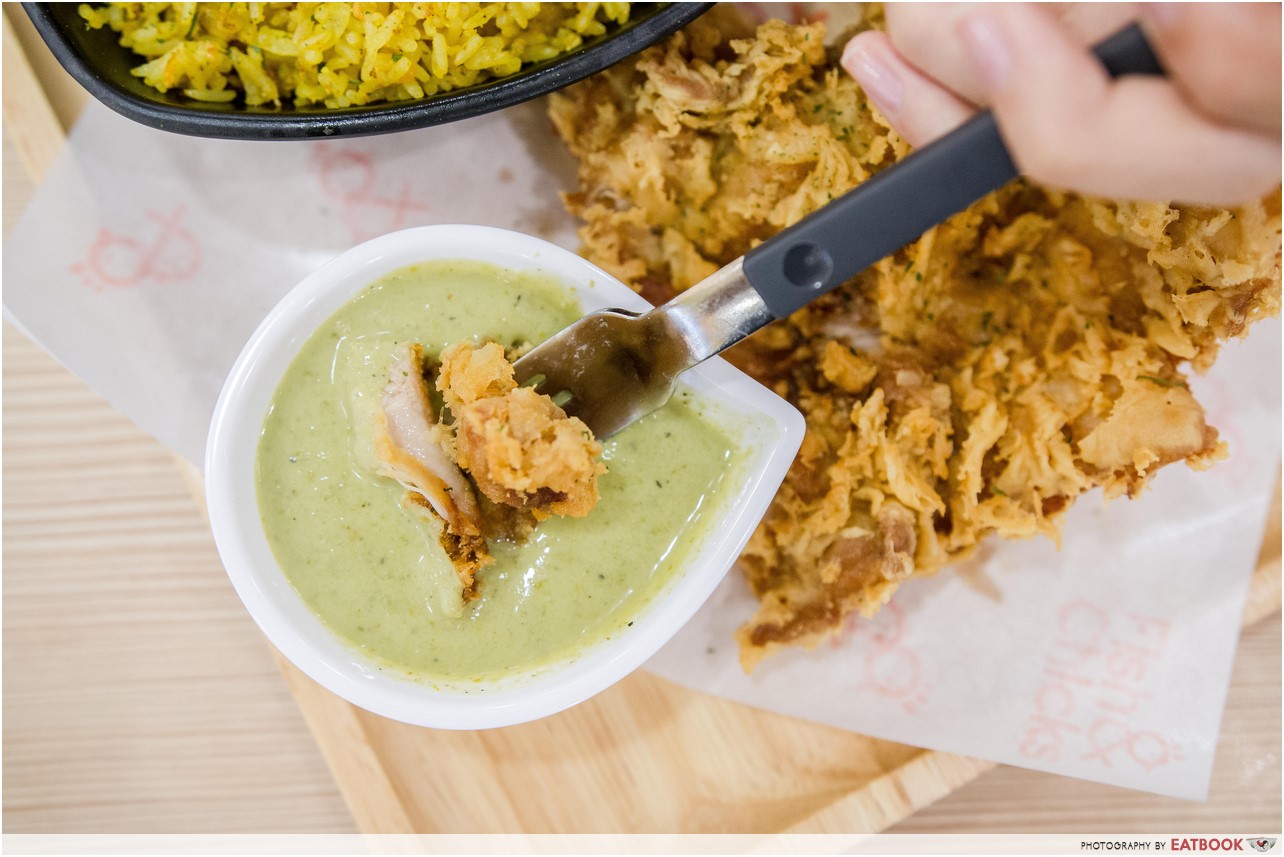 Next up, Green Curry Chicken Cutlet ($11.60). The juicy chicken cutlet was battered and fried to perfection, giving each bite a satisfying crunch. Though I would've been glad to eat the chicken on its own, the green curry sauce took it to a whole 'nother level.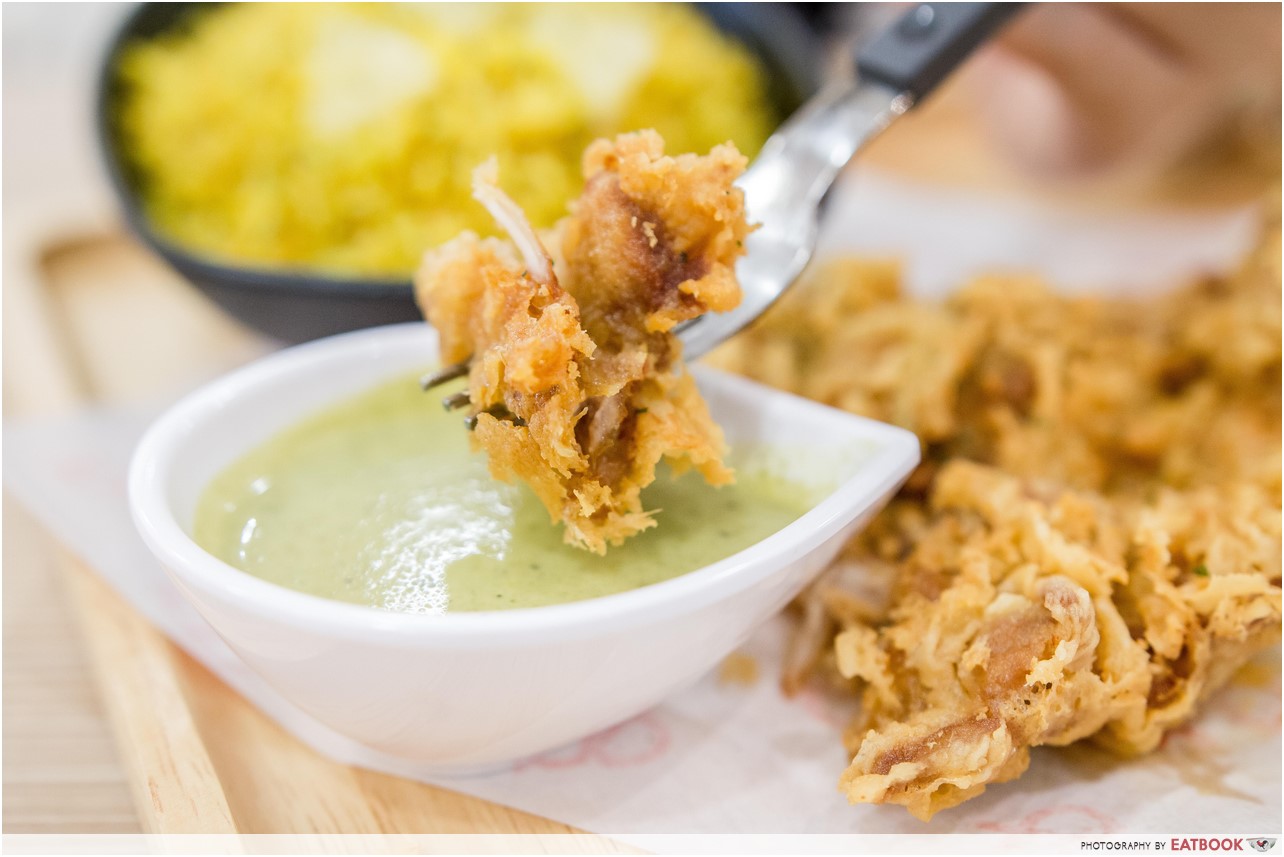 This creamy green curry was made with fresh green chilli and coconut milk, giving it a milder flavour that complements the slightly salty chicken cutlet. If spiciness is a concern, this is manageable even for those who don't usually eat spicy food.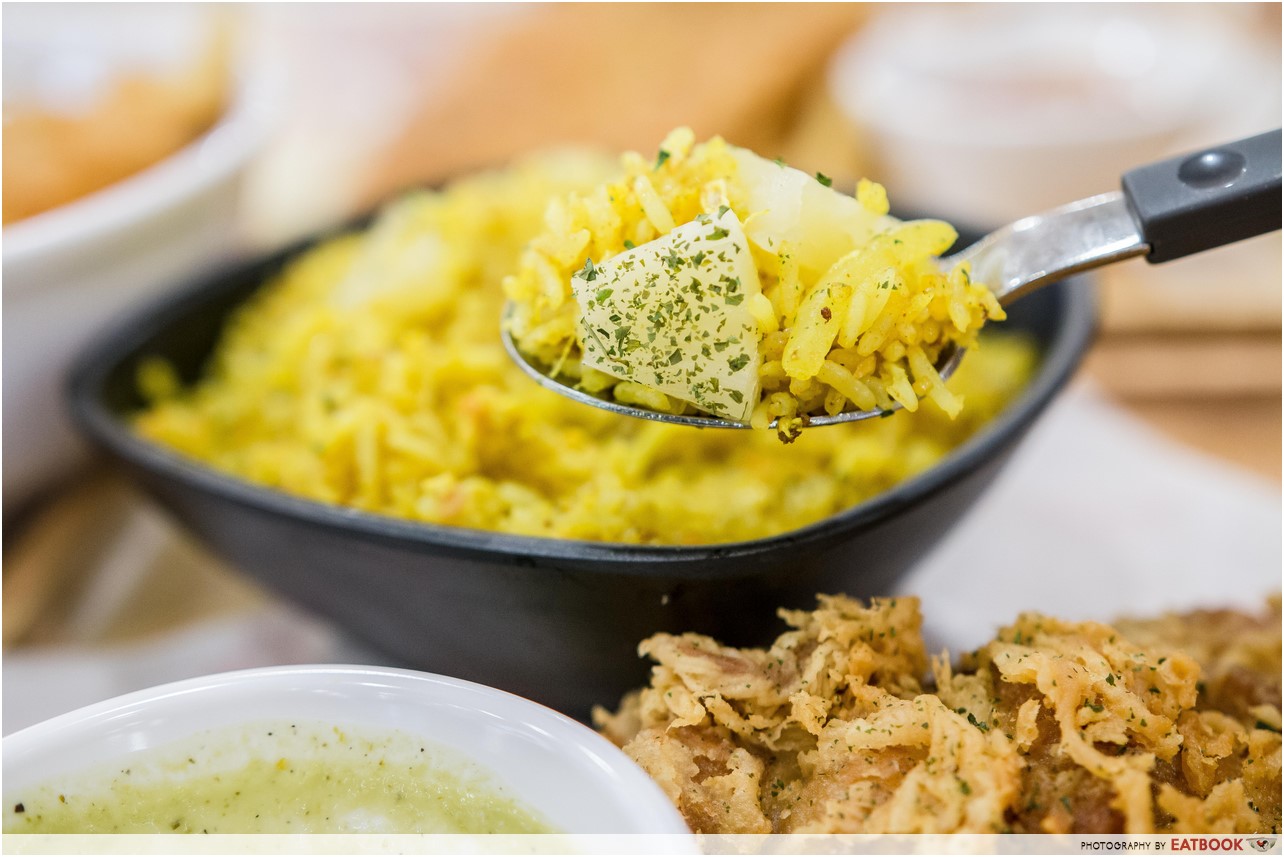 If you need some carbs to complete your meal, you're in luck because the chicken comes with a side of pineapple fried rice. The vibrant yellow rice was satisfying without overpowering the chicken cutlet or the curry. The pineapple slices in it were refreshing to bite into and gave the dish more sweetness, balancing out the earthy, distinct taste of turmeric.
If you're still not impressed, Thai Chili Fish and Chips with Coleslaw ($11.60) may be the dish for you. Here, a large piece of battered fish is served on a bed of warm fries with a side of sweet chilli sauce and coleslaw.
A plate of fish and chips is great on its own, but the addition of sweet Thai chilli sauce adds another layer of flavour you wouldn't typically experience. Though the sauce was on the watery side, it managed to cling onto the fish well and packed a punch. The slightly spicy sauce had hints of vinegar, garlic, and onion.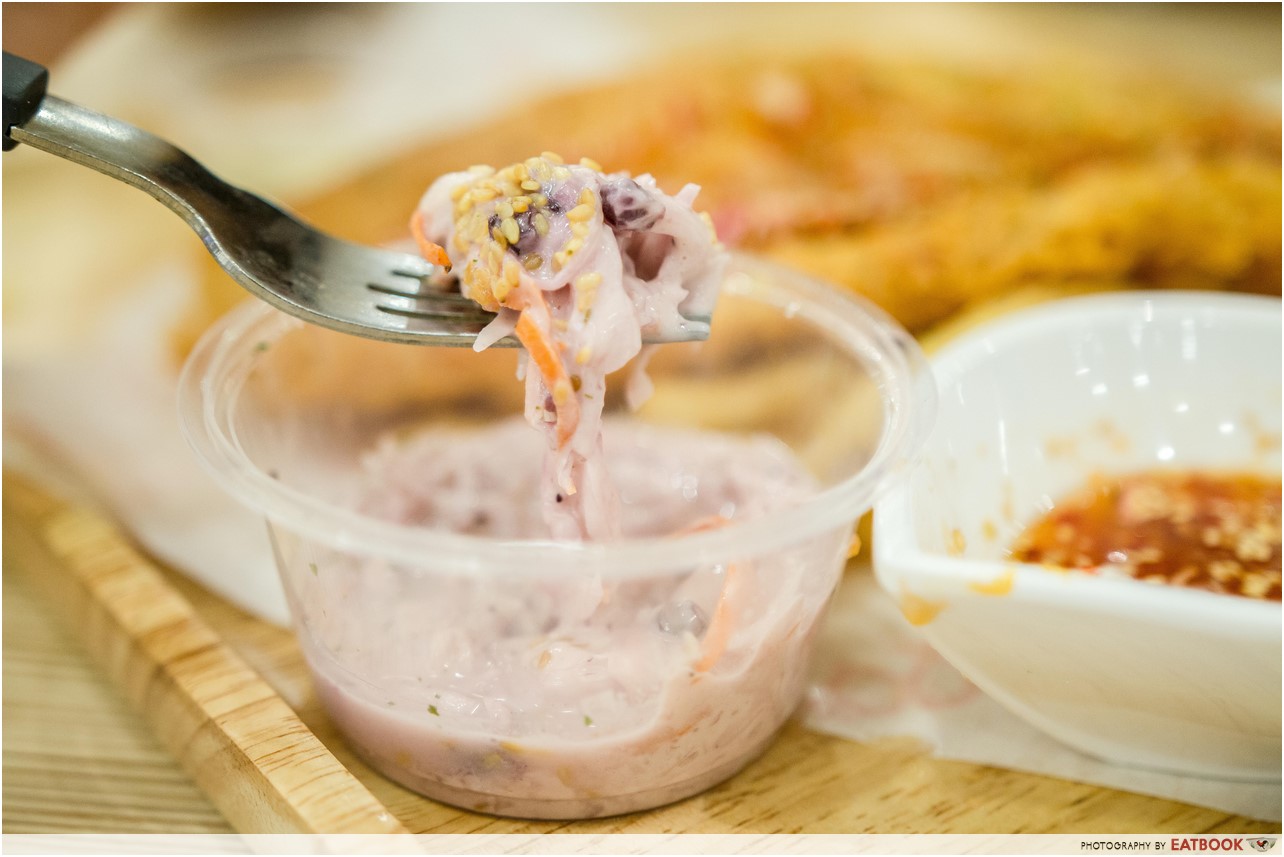 The coleslaw served with this dish had sweet blueberry sauce mixed into it and the inner child in me was already tickled by the idea of eating purple coleslaw. Though this may sound strange, the added sweetness actually made the coleslaw more appetising, similar to fruit salads that have mayonnaise in them.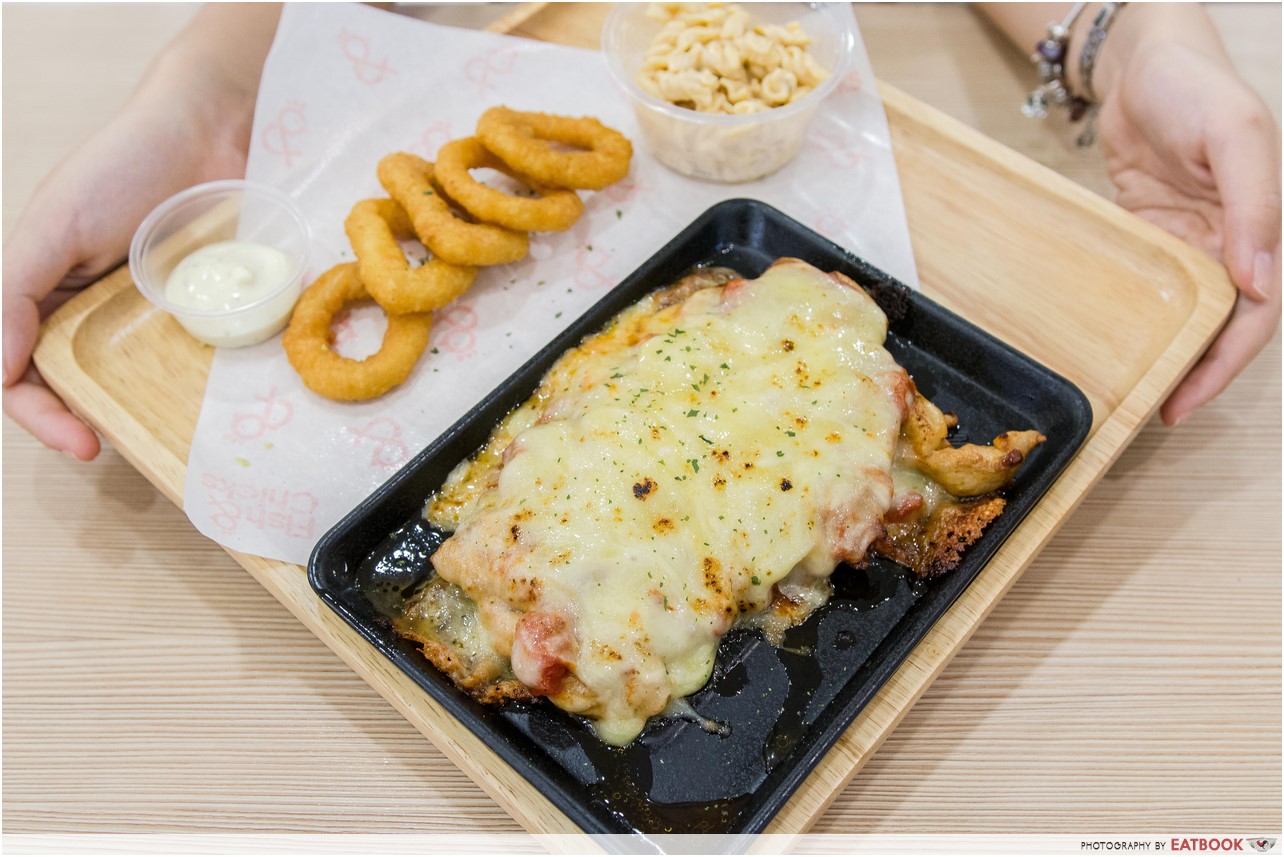 There's something foolproof about the flavour combination in Hawaiian pizza, probably because the sweetness of slightly roasted pineapples, the savoury ham and the richness of melted cheese come together so well. Put this satisfying combo atop a slab of grilled chicken thigh and you'll get Hawaiian Chicken ($9.50).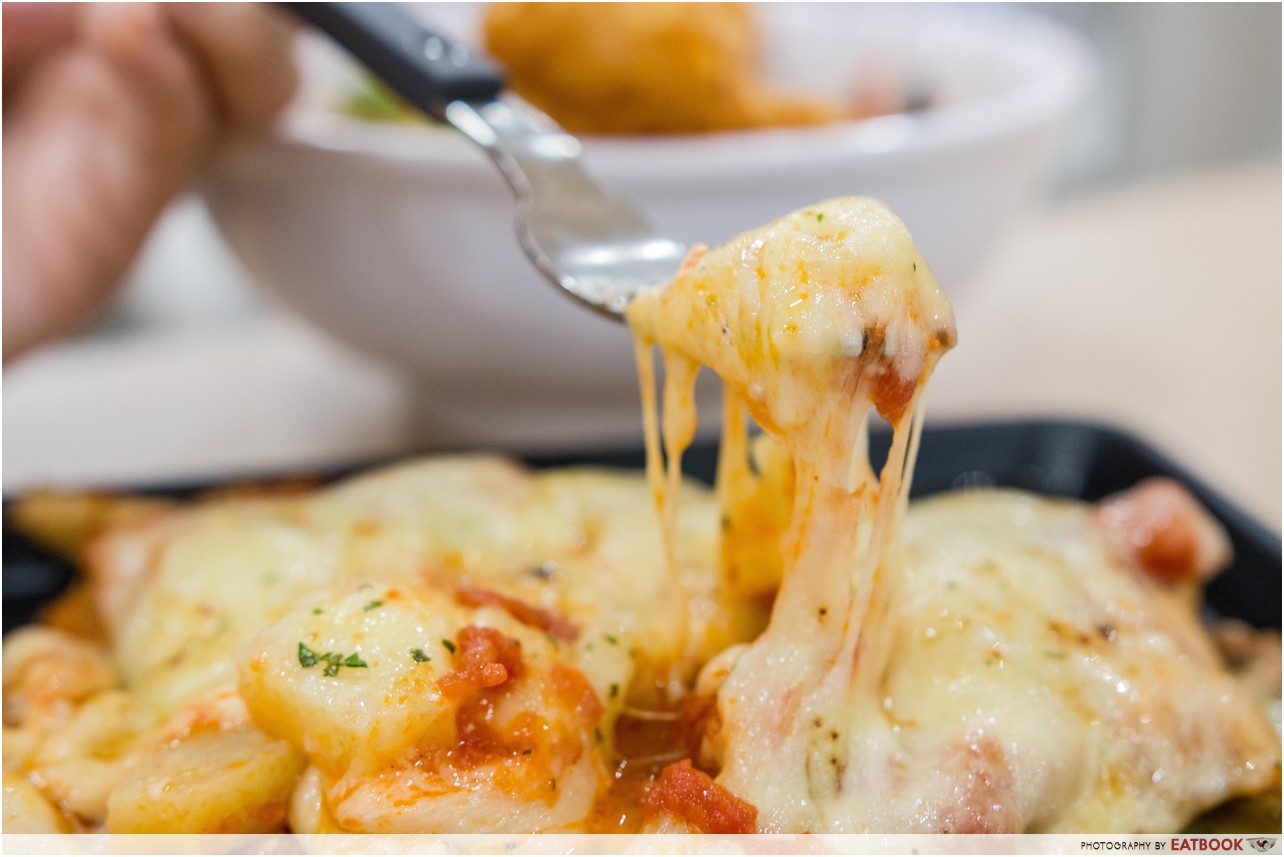 This dish features juicy chicken thigh topped with tomato sauce and slices of pineapple. Everything was held together under a thick blanket of stringy, melted cheese. The best part was the edges of the cutlet that had all that crisp, toasted cheese. If you love Hawaiian pizza, this is a must-try!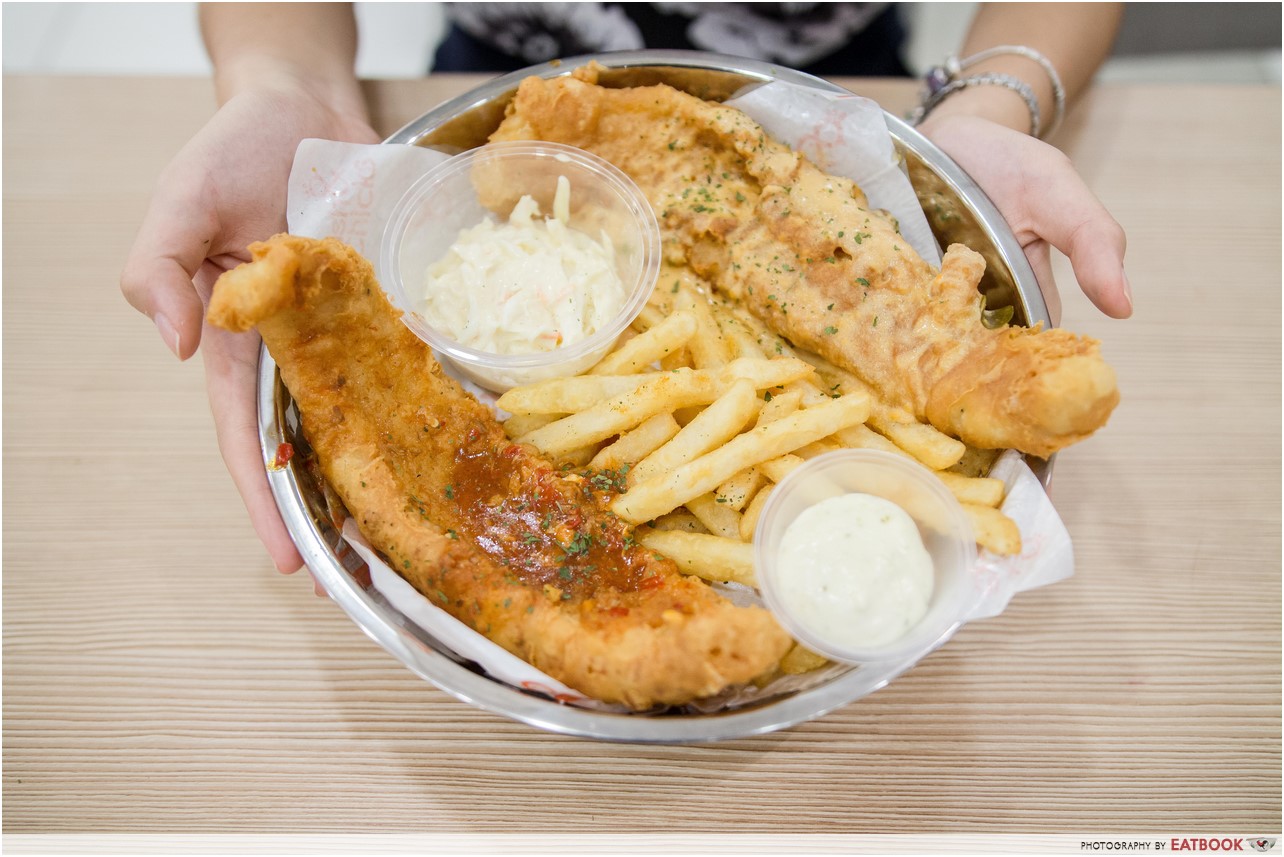 If you're someone who thinks choosing between salted egg yolk and chilli crab is like choosing a favourite child, Best of Both Worlds ($14.80) is the dish for you. Each portion comes with two large pieces of battered fish that are drenched in salted egg yolk sauce and chilli crab sauce respectively. You'll also receive a generous serving of fries and a cup of coleslaw.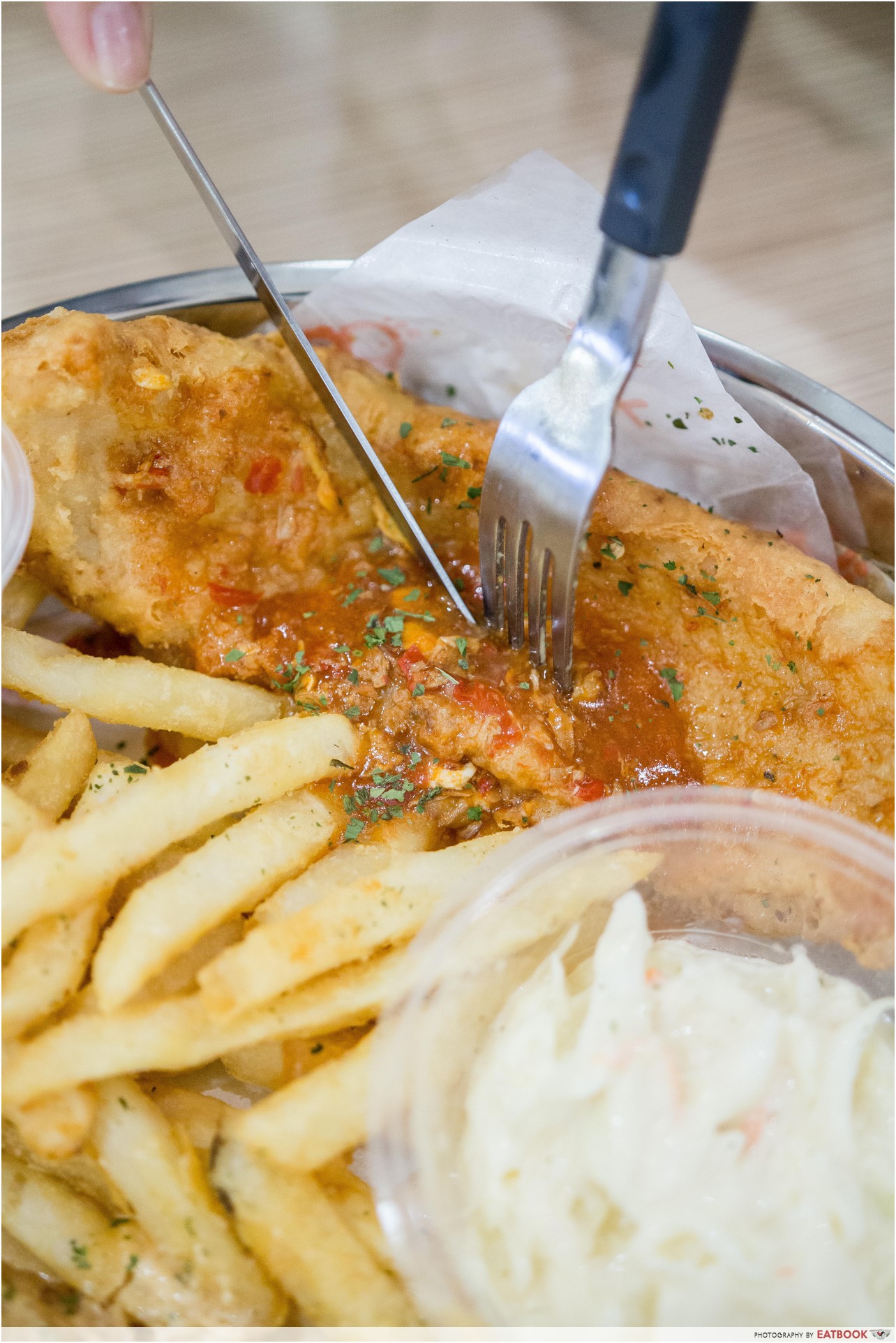 The fragrant salted egg sauce was my favourite. The addictive zi char-style salted egg sauce complemented the fried fish well since the fish itself did not have a strong flavour.
On the other hand, the chilli crab sauce was thicker and more substantial. It even had ribbons of egg white running through the sauce, just like your usual chilli crab dish. Though there was no actual crab meat, the combination of sweet and spicy was satisfying nonetheless.
Ambience at Fish & Chicks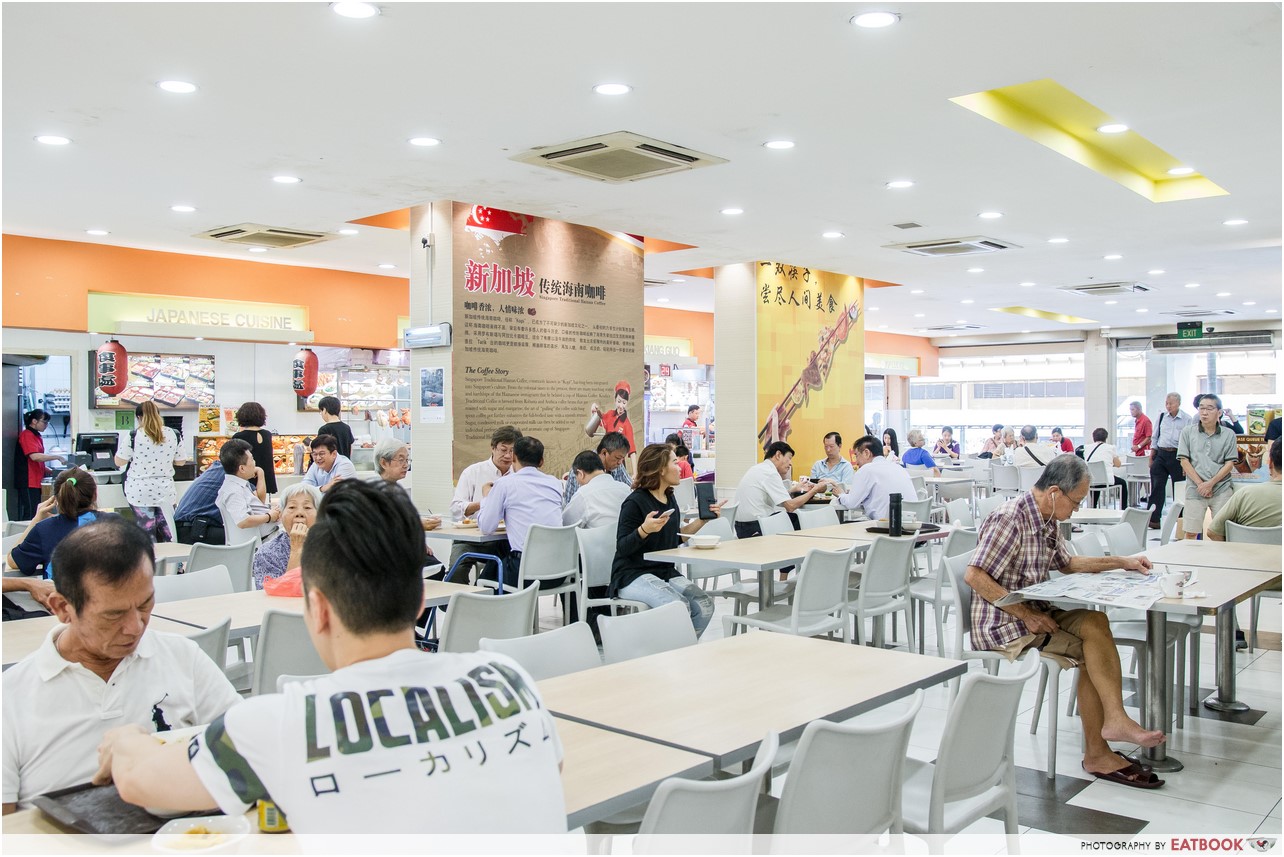 Fish & Chicks' new outlet is conveniently located in Koufu at Tanglin Halt, which is right behind Commonwealth MRT Station. Though it can get quite crowded during lunch and dinner hours, the wait should not be too long as there are many seats around. The food court is also well air-conditioned so you'll be able to enjoy your meal in comfort. They also have another outlet at the basement of Cathay Cineleisure and their first outlet remains at its original location at Blk 521 Ang Mo Kio Avenue 10. 
The verdict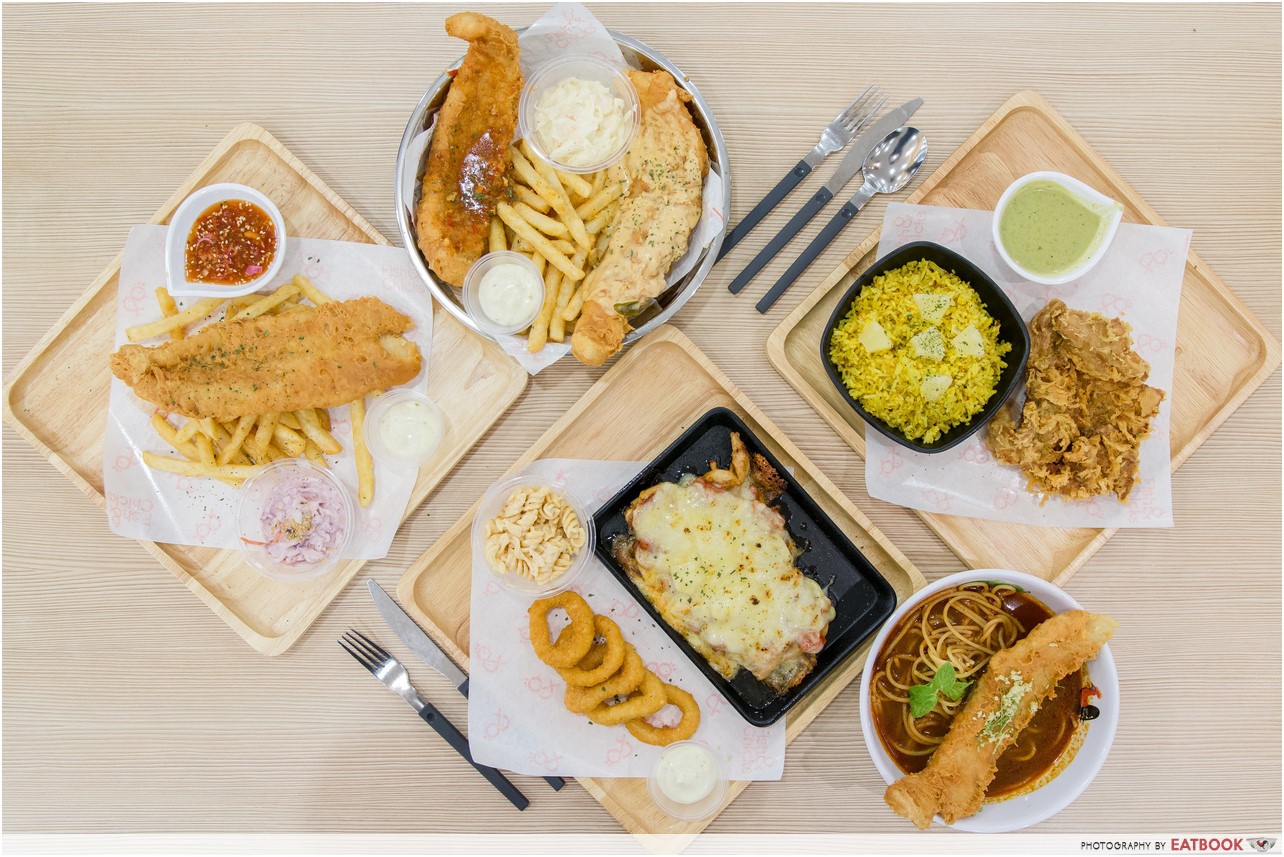 Overall, Fish & Chicks offers a different take on Western fare at affordable prices. Whether you order their tried-and-tested classics or decide to check out a Thai-inspired dish, you are sure to leave with your tummy full!
This post is brought to you by Fish & Chicks. 
Visit Them At:
Blk 531 Ang Mo Kio Avenue 10, #01-2429, Singapore 560531
Open in Google Maps
88 Tanglin Halt, #01-08, Singapore 079329
Open in Google Maps
8 Grange Road, #B1-01, Cathay Cineleisure, Singapore 239693
Open in Google Maps
Summary
Pros
– Convenient locations
– Nett prices
– Affordable
Cons
– All outlets can get crowded during meal times
Recommended Dishes: Green Curry Chicken Cutlet ($11.60), Thai Chili Fish and Chips with Coleslaw ($11.60), Hawaiian Chicken ($9.50)
Operating Hours:
Daily 11am to 9:30pm
Tel:
9828 3490
Address: 88 Tanglin Halt, #01-08, Singapore 079329 / 8 Grange Road, #B1-01, Cathay Cineleisure, Singapore 239693 / Blk 531 Ang Mo Kio Avenue 10, #01-2429, Singapore 560531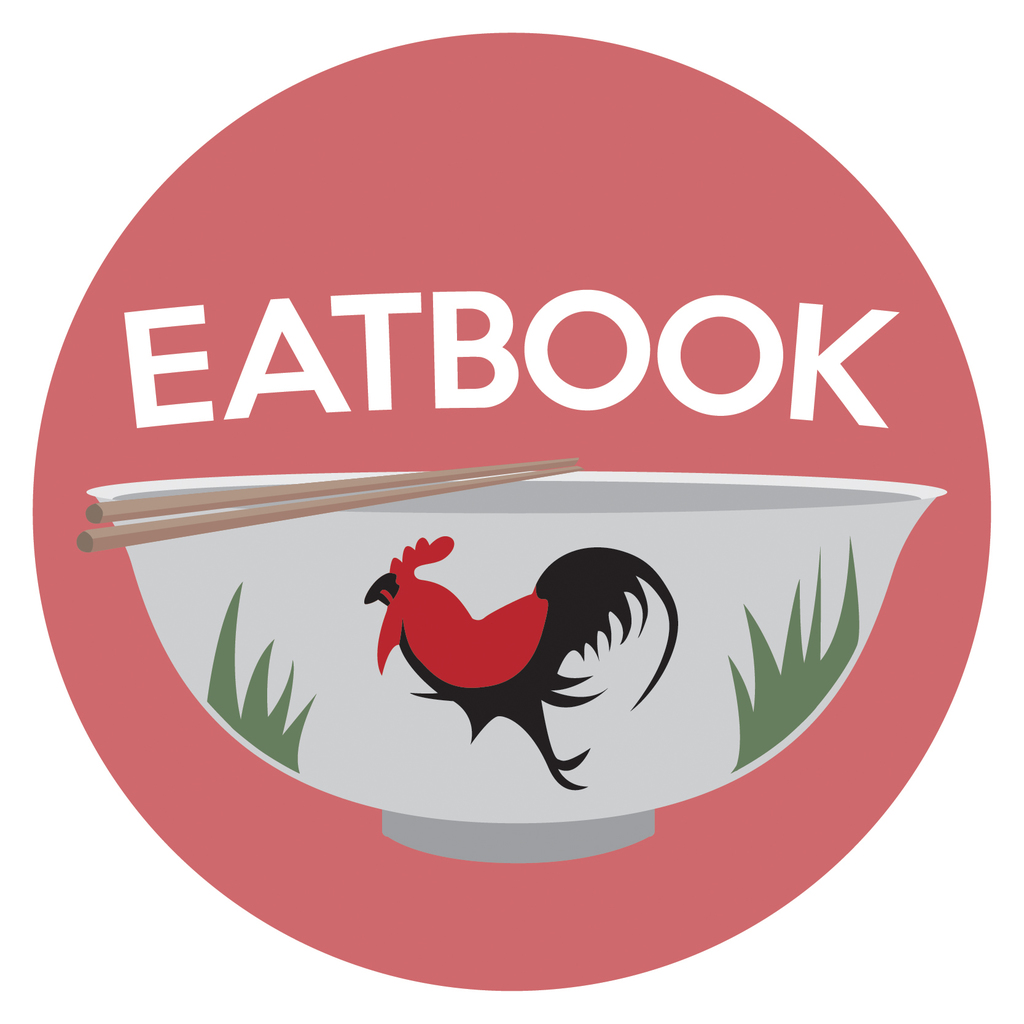 Drop us your email so you won't miss the latest news.