Five Oars Coffee Roasters at Tanjong Pagar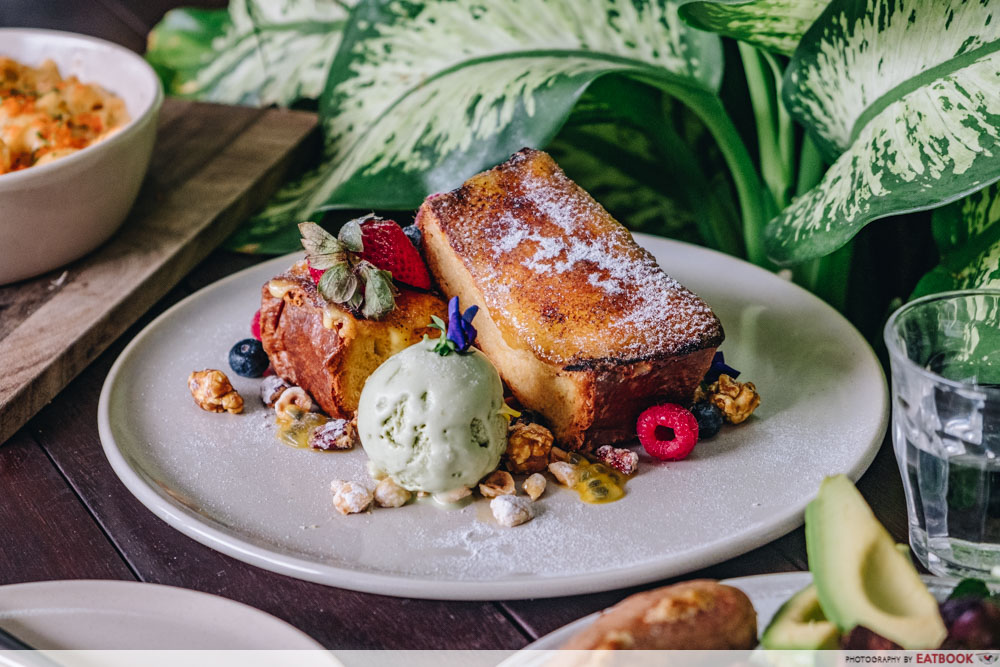 Eggs Benedict, avocado toast, and waffles – the cafe food in Singapore has become so typical that I sometimes don't need a menu to know what I'm gonna order. It is this phenomenon that makes Five Oars Coffee Roasters at Tanjong Pagar such a standout.
Their day menu offers over 20 dishes that go beyond the usual eggs and toast, and anyone who has checked out the menu will be able to tell that it went through some thoughtful planning. With that in mind, I headed down to the cafe twice to see and make sure that the food they serve matches up to their promising menu.
Food at Five Oars Coffee Roasters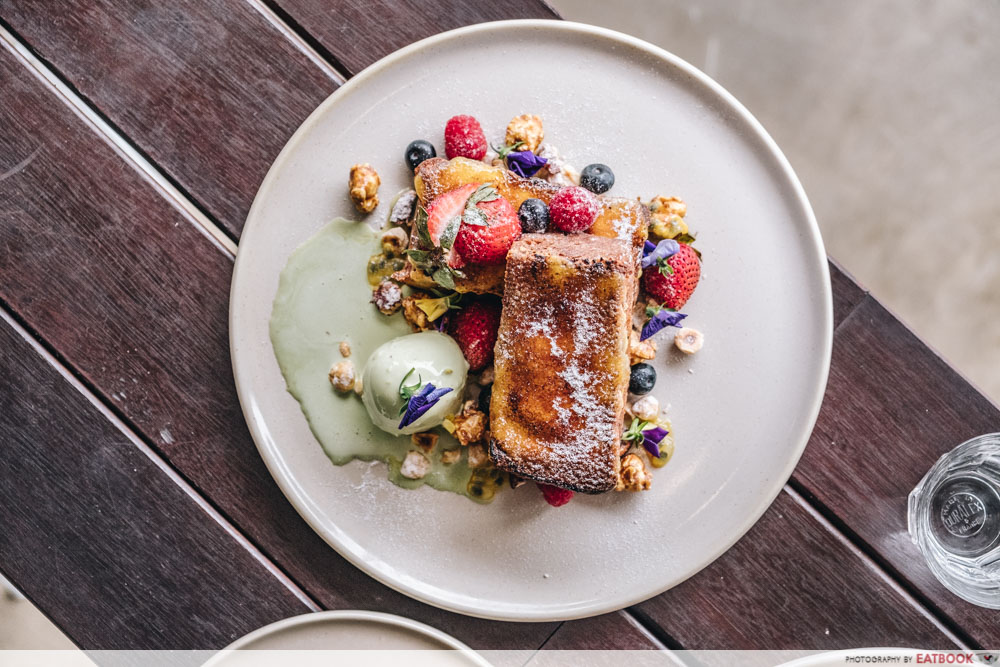 My favourite dish here is their Creme Brulee French Toast ($18.50+). This recipe has been around for ages now – a quick Google search gives you millions of results – but it's the first time that I've heard it being served at a cafe in our sunny island.
As if French toast is not decadent enough, the ones here come with a thin and hard layer of caramelised sugar on top. Serving as my kind of ASMR, the crackling of the caramelised sugar revealed a layer of creamy egg custard. Stuff a bit of everything in your mouth, including the pistachio ice-cream at the side, for a shiok mix of warm fluffy brioche with sweet custard and cold ice-cream.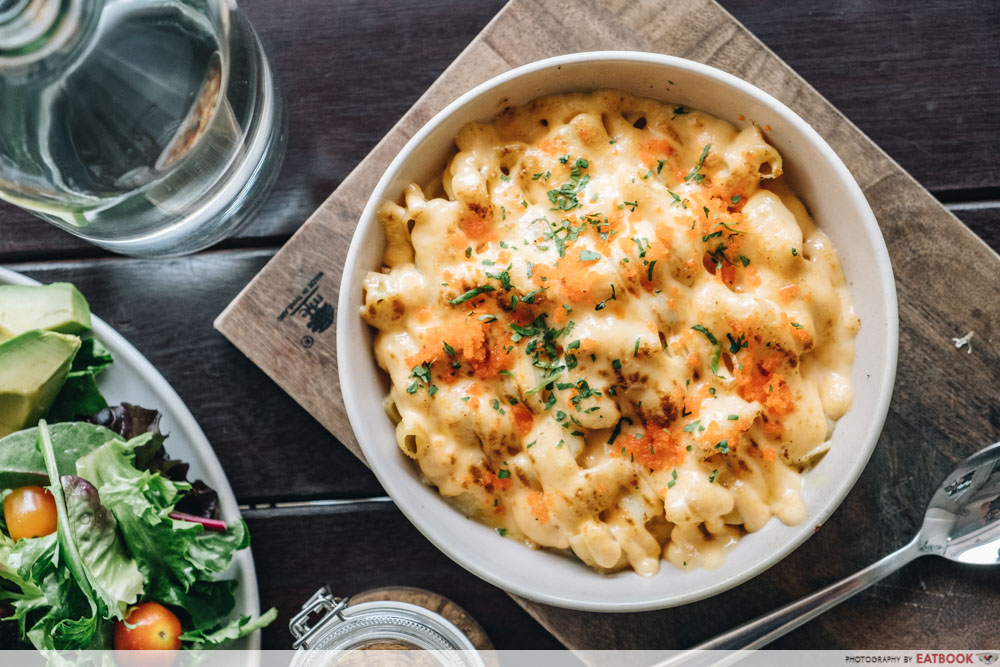 Another must-try at Five Oars Coffee Roasters is their Mentaiko Mac & Cheese ($20.50+). This carb-heavy treat comes with chunks of prawn, crab meat, and ebiko. It's baked with mentaiko sauce, Parmesan and cheddar to create that creamy texture all mac and cheese lovers would die for.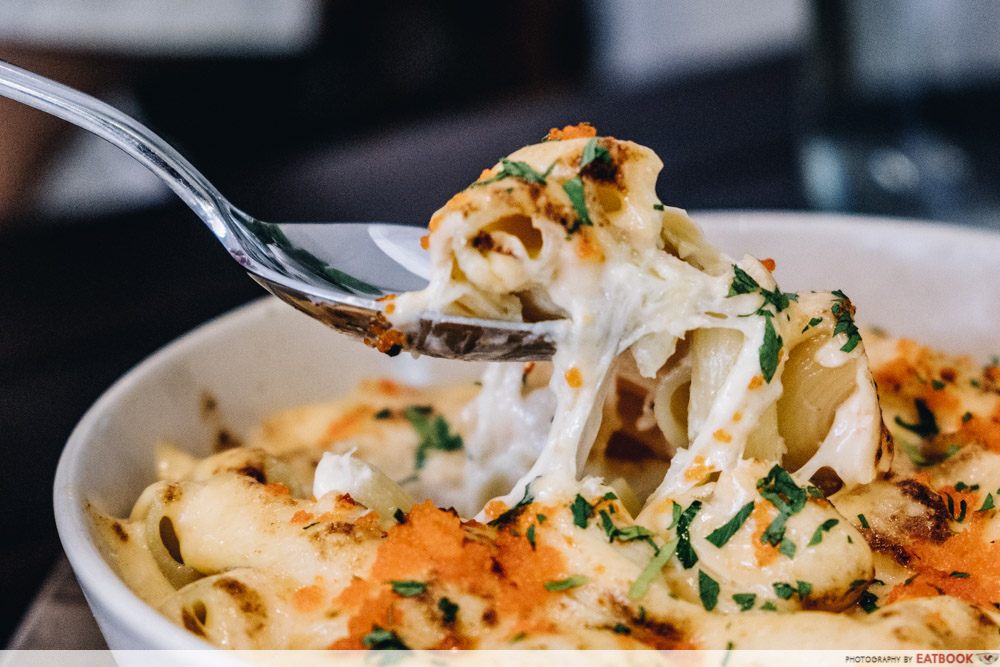 Mozzarella isn't included in the cheese mix, so don't expect any crazy cheese-pulls here. That's not a big deal though, because I'd rather my macaroni be soaked in rich cheesy goodness than being all stringy and dry. The mentaiko sauce really worked its magic by making sure every mouthful was packed with umami flavours. In fact, the prawn and crab meat didn't even need to be present for me to enjoy this toothsome dish.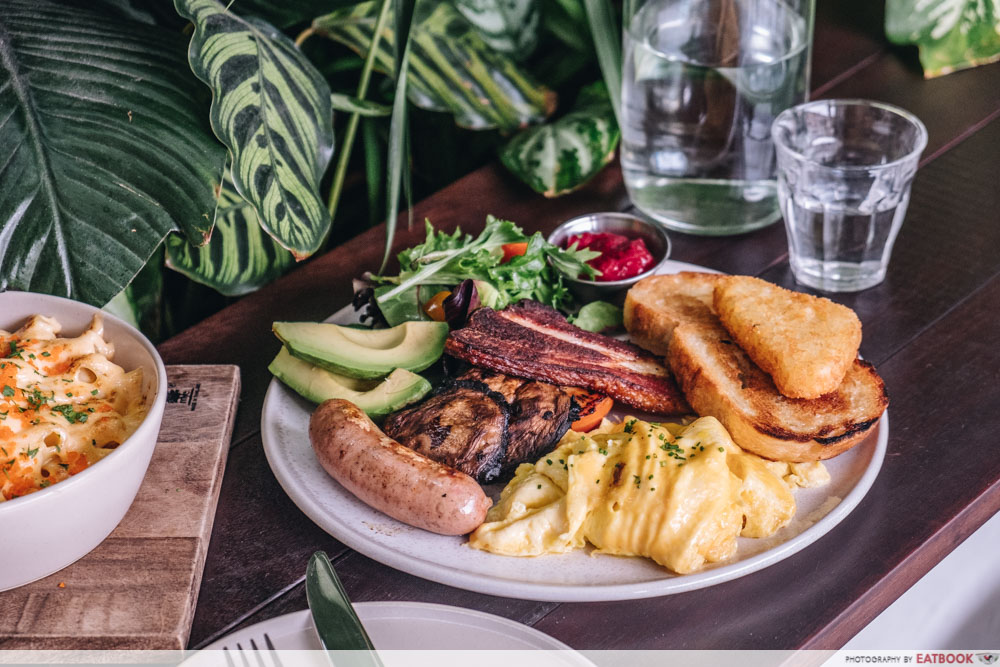 Wanting to see if they can do typical brunch plates right, I also got their Five Oars Breakfast ($24+). This assembly of classics includes sourdough toast with house-made rhubarb jam, sausage, hashbrown, avocado, portobello mushroom, half a grilled tomato, a giant cut of bacon, salad, and eggs in a style of your choice – mine was, and will always be, scrambled. Just one look and you'd know this is a breakfast for not one, but two champions.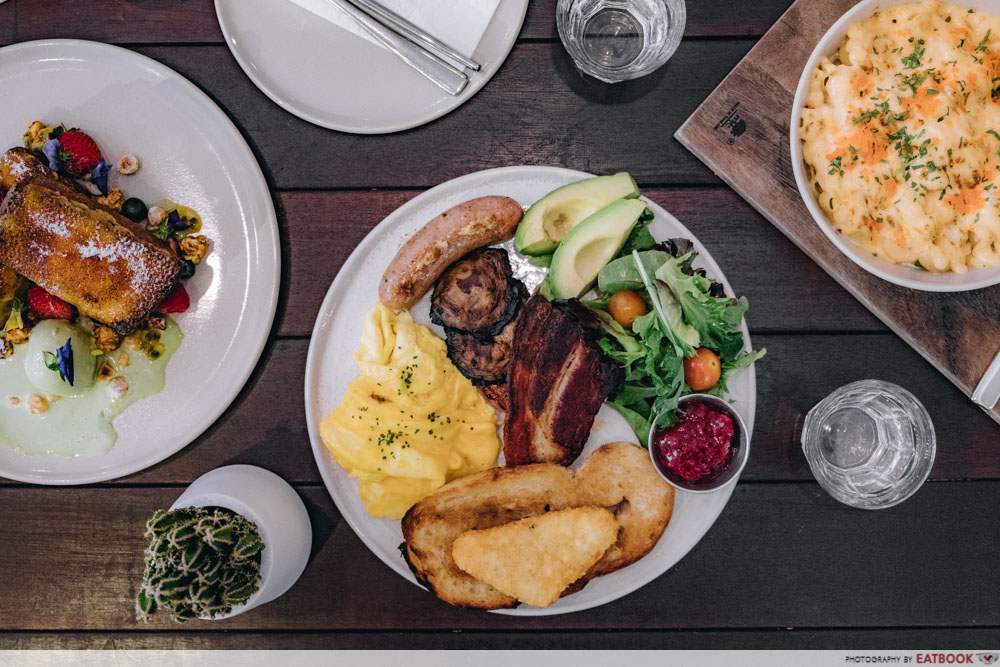 I was most skeptical about the bacon because it looked real dry and tough. It proved, surprisingly, to be quite tasty and the fats helped make it juicier than I had expected. Everything else was cooked decently, with the creamy scrambled eggs being my favourite.
Ambience at Five Oars Coffee Roasters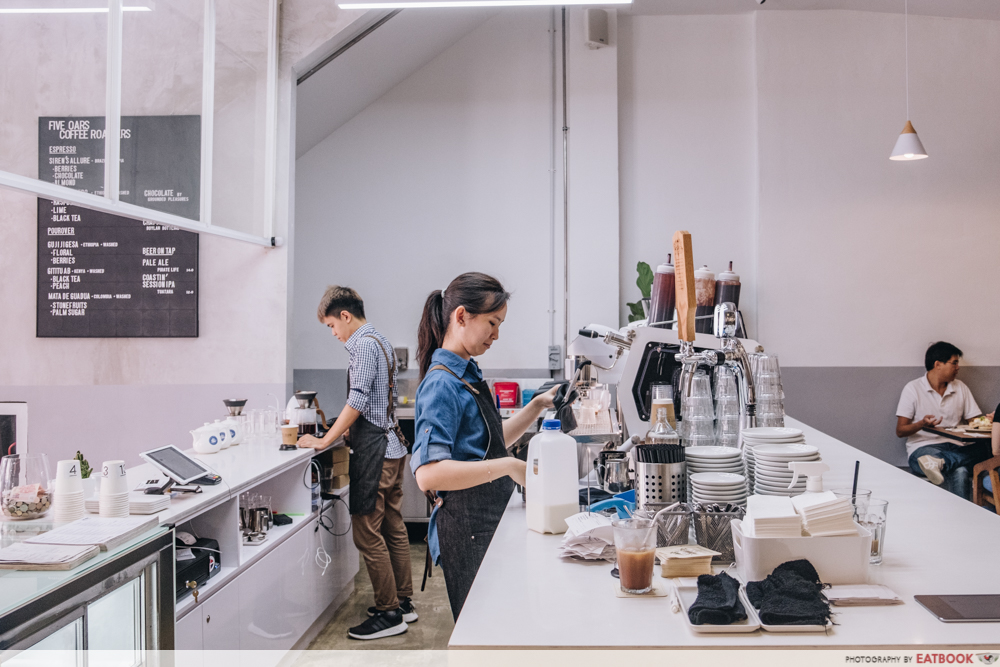 The most eye-catching thing at Five Oars is the huge block of plants at the door. You can take a seat around it, or head indoors for air-con. The cafe doesn't look as aesthetic inside, as it takes on the usual industrial-chic look that most cafes go for.
What's good is that it's located just a short walk away from Tanjong Pagar MRT Station, and a few shops down are dessert cafes such as Cake Spade and 5 The Moments.
The verdict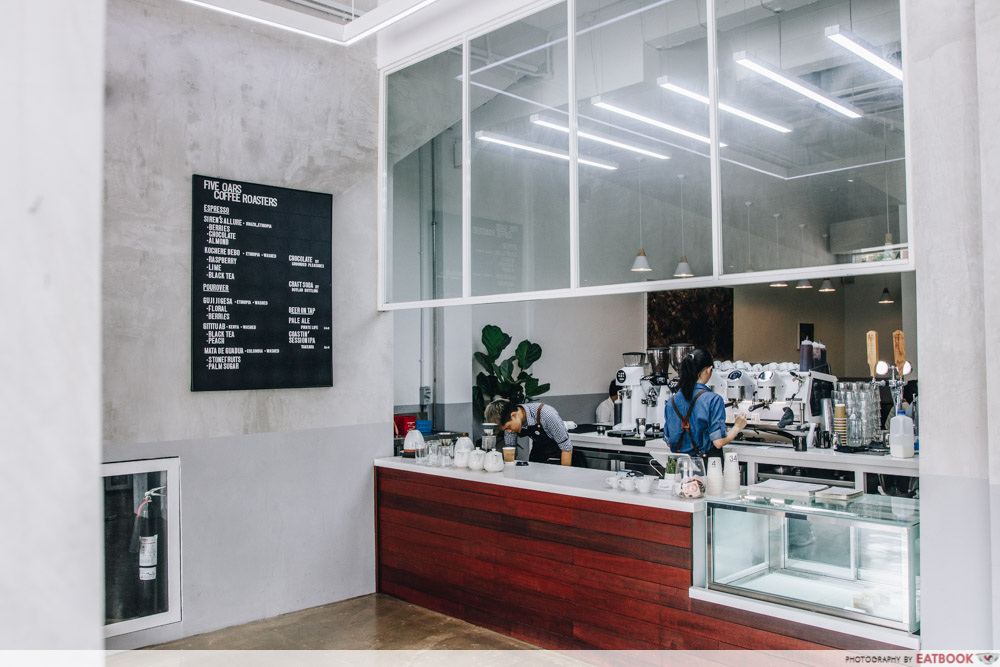 The food at Five Oars Coffee Roasters is good, period. You won't find lacklustre sandwiches, plain ol' waffles, or canned tomato pasta here. I can see this cafe staying in the scene for quite a while, much like OGs such as Chye Seng Huat and Strangers' Reunion. The next time I head over, I'd probably try their night menu, which has mains such as Iberian Pork Burger ($19+) and Beef Wellington ($32+).
Address: 39 Tanjong Pagar Road, Singapore 088462
Opening hours: Daily 8am to 10pm (last order for food and drinks at 9pm and 9:30pm respectively)
Website
Menus
Summary
Pros
– Wide menu
– Well-executed food
– Convenient location
– No service charge
Cons
– Expensive
– Long queues on weekends
Recommended dishes: Mentaiko Mac & Cheese ($20.50+), Creme Brulee French Toast ($18.50+)
Opening hours: Daily 8am to 10pm (last order for food and drinks at 9pm and 9:30pm respectively)
Address: 39 Tanjong Pagar Road, Singapore 088462