---
1-for-1 food delivery lobangs in the month of July
---
We've known honestbee as the good people who bring your groceries to your doorstep, but the bees have something else up their yellow sleeves. That's right, apart from delivering raw food that you have to cook yourself, honestbee has begun sending cooked dishes as well. Even better, from 17 July to 30 July 2017, restaurants will be delivering one-for-one deals on selected items!
Plus, first-time users can get $18 off a minimum order of $25 with the code <EATBOOK>. With over 50 participating restaurants, here's a look at some of the food delivery lobangs you can get.
---
1. Pizza 101
---
While large pizza chains may boast of massive, five-page menus, Pizza 101 features only 11 pizza flavours, which means they have more time to concentrate on making their pizzas great. The dough used for their pizzas ($20 for 10-inch) is made daily from scratch, and cooked inside their stone ovens. This ensures you only get the freshest pizzas, made with care and passion.
Promotion: 1-for-1 10-inch Curried Chicken Thin Crust Pizza and BBQ Chicken Thin Crust Pizza
Address: 18 Cross Street, #01-18, China Square Central, Singapore 048423
Opening hours: Mon 11am to 9:30pm, 10pm to 11pm, Tue-Fri 11am to 9:30pm, Sat 5pm to 9:30pm, Sun 11am to 8pm
Tel: 9476 7856
Website
---
2. Merchants Wine Cellar & Bistro
---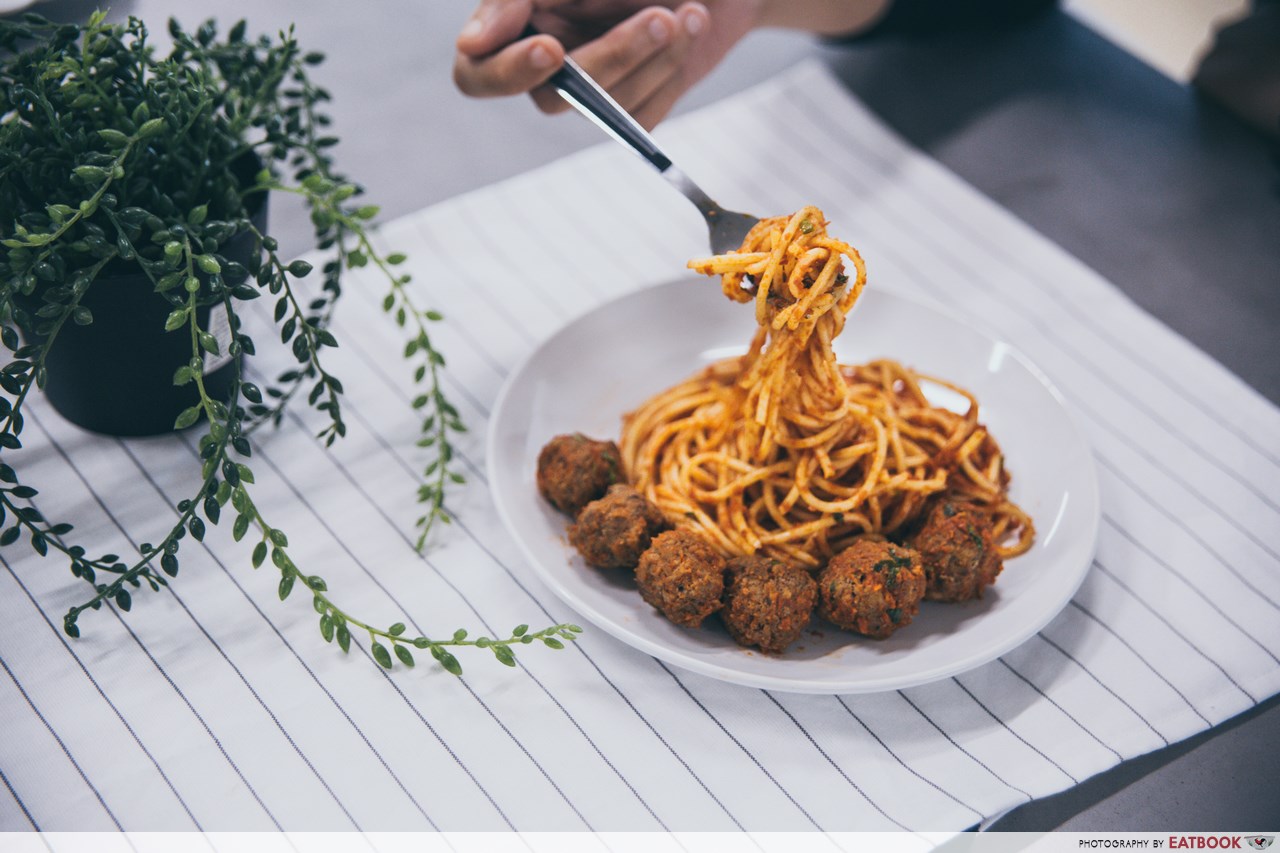 Known for stocking hard-to-find boutique wines, Merchants Wine Cellar & Bistro also serves up pastas and bites perfect for pairing a good bottle of Merlot with. There's plenty of wine-friendly fare here, but grab the Spaghetti Meatballs ($23.54), which features hearty house-made meatballs with 100% beef, for a satisfying meal.
Promotion: 1-for-1 Spaghetti Prawns Aglio Olio, Spaghetti Meatballs, Spaghetti Chilli Crab, Spaghetti Marinara, Bread & Butter Pudding with Custard, Crunch Chicken Wings with Spicy Tomato, Sous Vide Chicken Breast Sandwich, and Merchants Mega Salad with Sous Vide Chicken Breast
Address: 443 Joo Chiat Road, Singapore 427656
Opening hours: Mon-Tue 8am to 12am, Wed-Fri 8am to 1am, Sat 12:30pm to 1am, Sun 12:30pm to 10pm
Tel: 6440 0892
Website
Full list of outlets
---
3. The Twenty Cavan
---
Stylised as the.twenty.cavan, this cafe features modern-Chinese dishes you wouldn't think would work, but actually do. Take for example, their Char-BBQ Pork Squid Ink Pasta ($21.40). Who would think of putting humble char siew on top of a bed of squid ink pasta, garnished with edamame and other greens? These guys, that's who.
Promotion: 1-for-1 Char-BBQ Squid Ink Pasta, and Crispy Chicken
Address: 20 Cavan Road, Singapore 209851
Opening hours: Tue-Sun 11am to 11pm
Tel: 6612 6024
Website
---
4. Thaitogo
---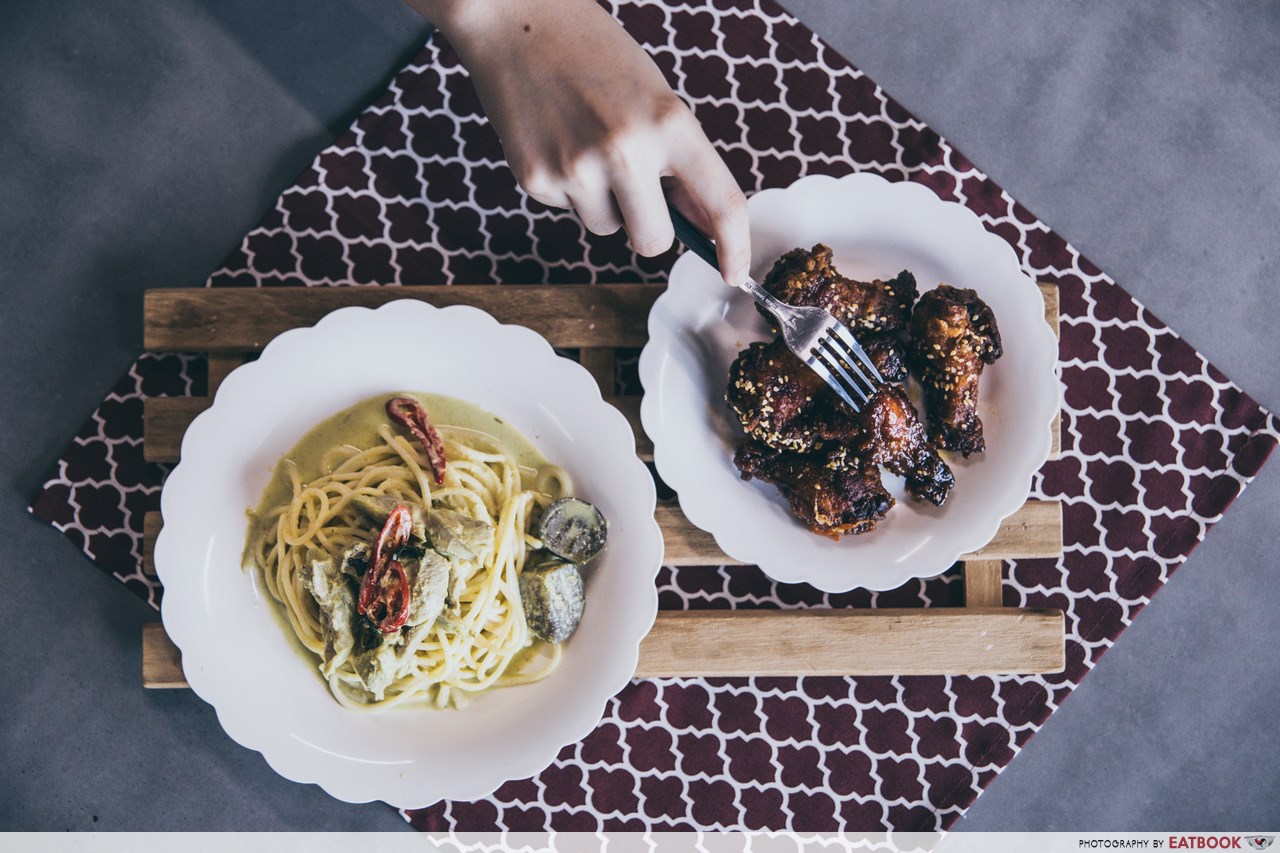 There's just something about Thai food that really hits the spot when lazing at home. Thai To Go is a halal-certified joint for these occasions. For something a little out of the ordinary, order their Green Curry Spaghetti ($9.90), which comes with green curry sauce thoughtfully packed in a separate compartment.
Promotion: 1-for-1 Green Curry Chicken Spaghetti, Thai Basil Chicken Spaghetti, Thai Banana Fritters, and Honey Chicken Drumlets
Address: 391 Guillemard Road, Singapore 399789
Opening hours: Daily 10:30am to 9pm
Tel: 6396 9696
Website
---
5. Saute

---
Vegetarian food may not sound the most appealing if you're a meat lover, but Saute may just make you think twice. With an impressive array of vegetarian food, including a vegan orh luak, the dishes here are creative versions of familiar dishes that even self-proclaimed carnivores can enjoy. Truffle Aglio Olio Spaghetti ($16.90) is a vegan take on the classic pasta, featuring soy bacon and truffle-sauteed white button mushrooms to elevate things.
Promotion: 1-for-1 Truffle Aglio Olio Spaghetti
Address: 470 North Bridge Road, #02-08, Bugis Cube, Singapore 188735
Opening hours: Daily 11am to 9pm
Tel: 9007 5507
Website
---
6. District 10
---
Squid ink pastas are typically served as aglio olio with calamari, but District 10 switches this up with their rendition of Black Ink Tagliolini ($23.54), which comes with crab meat in a tomato basil sauce. Juxtaposed with the red sauce, the black noodles make a bold statement. If black food is not your thing, go for their equally fancy Spaghetti Carbonara with Black Truffle ($25.68), which comes with shavings of actual black truffle.
Promotion: 1-for-1 Black Ink Tagliolini with Jumbo Crab Meat in Tomato Basil Sauce, Linguine in Aglio Olio with Squid and Bottarga, Penne Arrabiata in Spicy Tomato Sauce with Grilled Vegetables, Spaghetti Carbonara with Black Truffle, Tagliatelle with Porcini Mushrooms, Sun-Dried Tomatoes and Tiger Prawns, and more.
Address: 81 Clemenceau Avenue, #01-15, UE Square Shopping Mall, Singapore 239917
Opening hours: Mon-Thur 11:30am to 12am, Fri & eve of PH 11:30am to 1am, Sat 9am to 12am, Sun & PH 9am to 11pm (last order at 11pm on Fridays and eve of PH, and 10:30pm on all other days)
Tel: 6738 4788
Website | Full list of outlets
---
7. PerBacco

---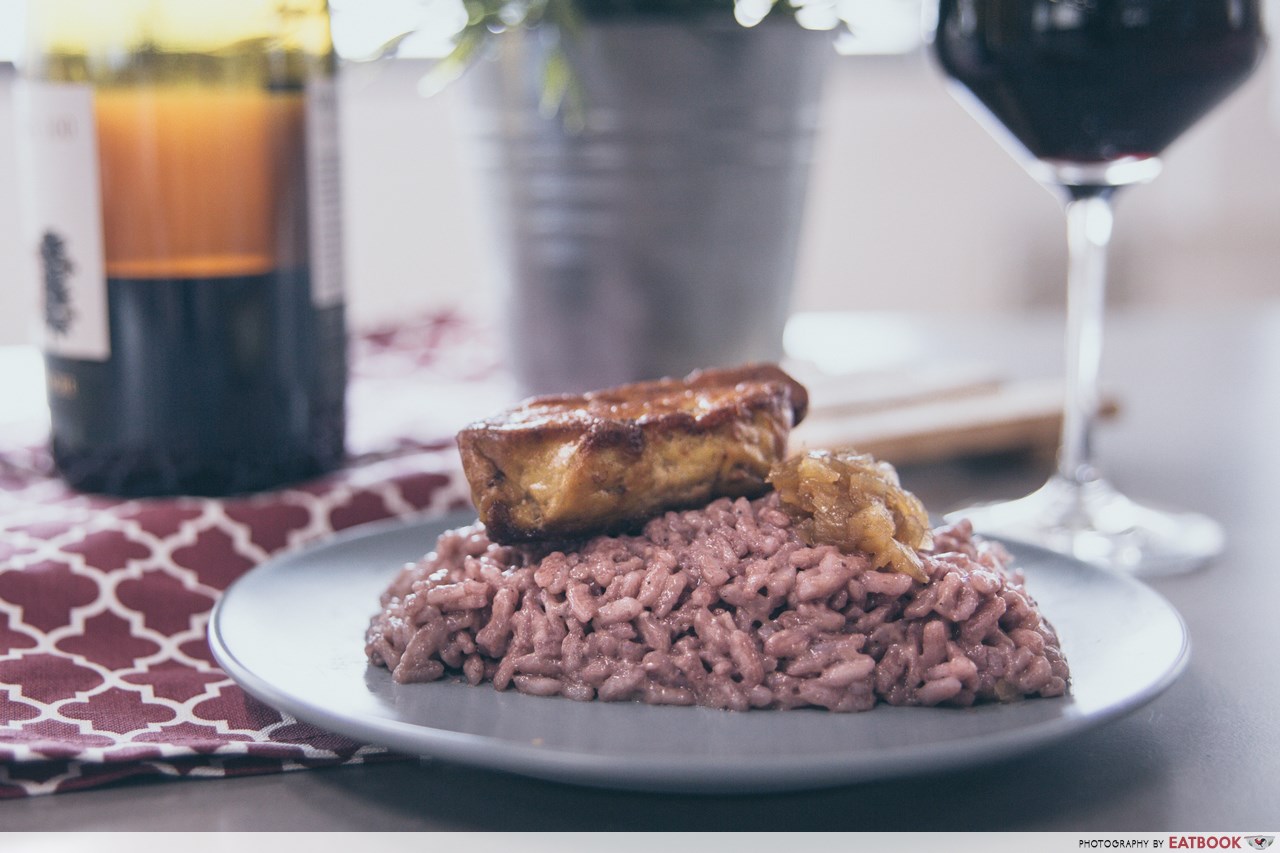 Just because you don't want to step out for the atas, doesn't mean the atas can't come to you. PerBacco's food is North Italian, and their chefs focus on dishing out quality plates. With eight pastas on the menu – including one risotto item – and zero tomato sauces in sight, this is Italian like you know know it. Their Carnaroli Risotto ($40) is cooked in amarone wine, which is made from what are almost raisins, resulting in a sweeter, more alcoholic wine. Paired with foie gras, this dish is perfect for that luxurious night in.
Promotion: 1-for-1 Fresh Pappardelle with Braised Shredded Lamb and Shaved Parmesan Cheese, and Carnaroli Risotto
Address: 20 Craig Road, #01-03, Craig Place, Singapore 089692
Opening hours: Mon-Fri 12pm to 2:30pm, 6pm to 10:30pm, Sat 6pm to 10:30pm
Tel: 6635 7130
Website
---
8. Seed and Soil

---
The first time I saw a smoothie bowl, I thought it was a zhng-ed up gelato. So I was utterly surprised when it turned out less cold and less sweet than expected. That doesn't mean I didn't like it though – it was just a little like walking into Dr. No expecting a medical drama but realising it's actually a James Bond flick. Great for those detox days, Seed and Soil stocks natural, raw foods that are preservative-free and utterly good for you. With a variety of colourful cold-pressed juices and smoothie bowls that range from $8 to $15, Seed and Soil is a great option on days you want to your meals to be healthier but not boring.
Promotion: 1-for-1 Pitaya Sunrise, Green Glow, Cacao Warrior, Tropical Bliss, and Morning Glory smoothie bowls
Address: 1 Tanjong Pagar Plaza,  #01-22, Singapore 082001
Opening hours: Mon-Fri 8am to 8pm, Sat 10am to 5pm
Tel: 9644 0752
Website
---
9. Pies & Coffee
---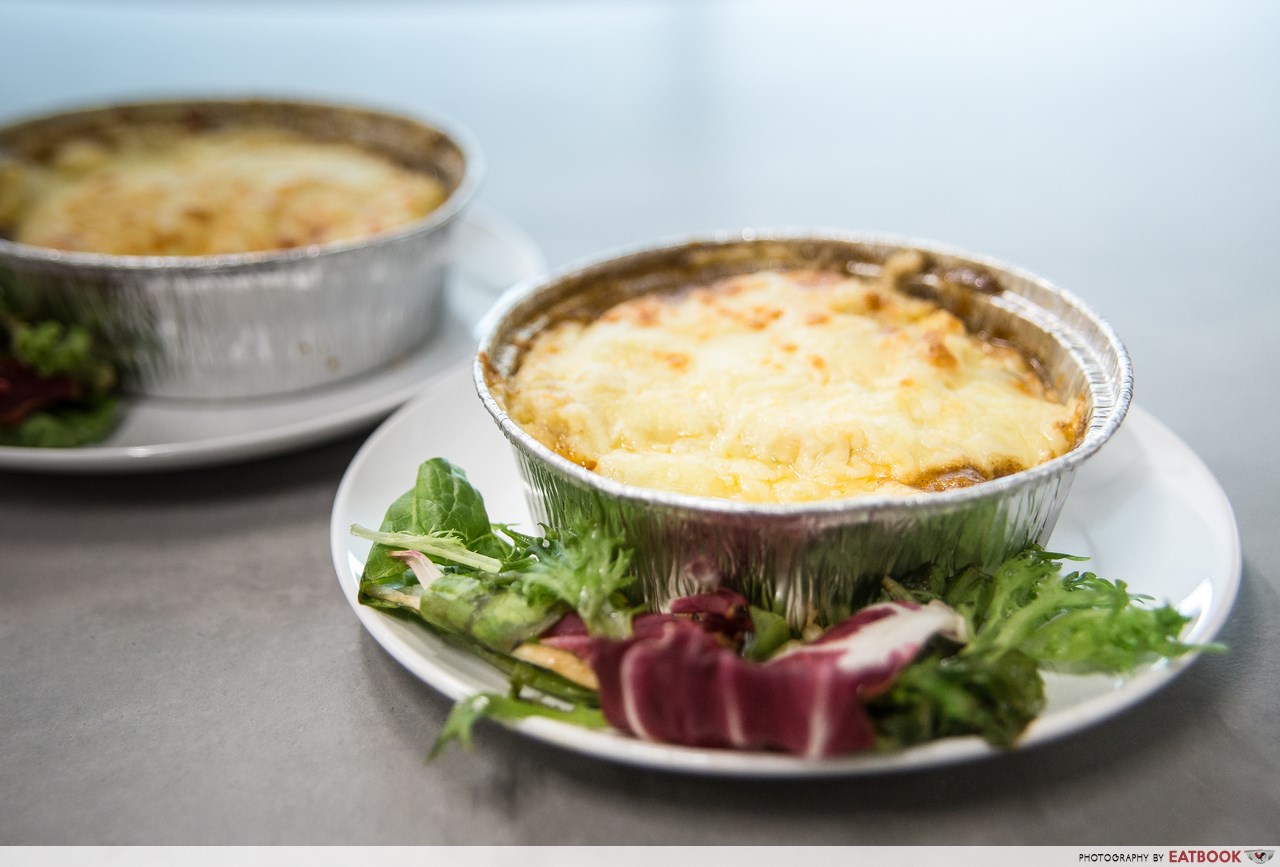 The mark of a good pie is generally an incredibly sinful buttery crust. Pies and Coffee does theirs well, with a crust that almost melts in your mouth. Grab their popular Chicken Mushroom Pie ($8.45), which has a filling that's held together by a creamy white sauce. They also stock shepherd's pies too, and their Black Pepper Chicken Shepherd's Pie ($9.52) is a highlight.
Promotion: 1-for-1 Orange Flourless Cake, Sticky Date Cake, Curry Chicken Pie, Chicken Mushroom Pie, Chicken Cheddar Pie, Black Pepper Chicken Shepherd's Pie
Address: 11 Unity Street, #01-25, Robertson Walk, Singapore 237995
Opening hours: Mon-Thur 8:30am to 9:30pm, Fri-Sat & eve of PH 8:30am to 11pm, Sun 8:30am to 9:30pm
Tel: 6733 9272
Website
---
10. King's Briyani
---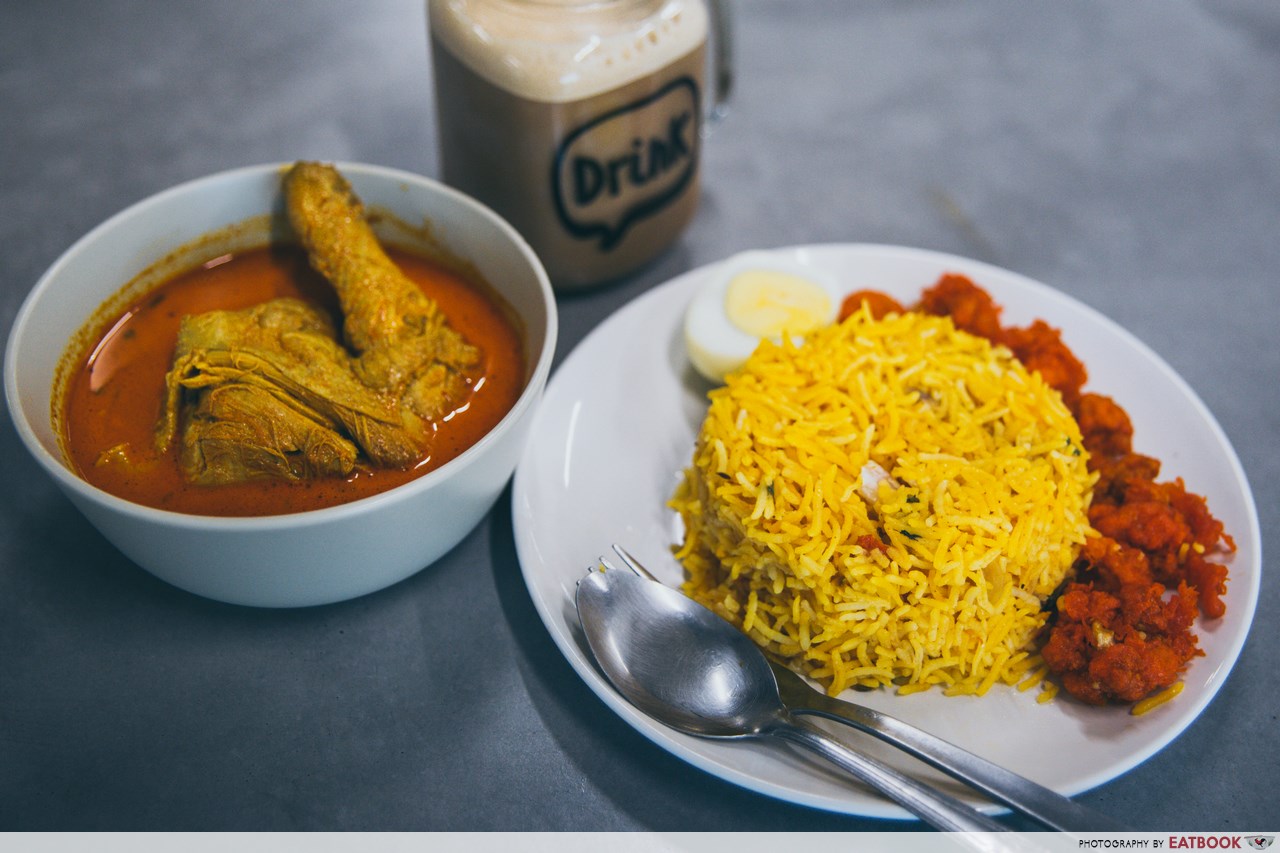 With a name like King's Briyani, the food here better be fit for a king. And thankfully for residents who live in Serangoon, the briyani here is packed with spices and remained fragrant despite journeying in a styrofoam box. We got their Chicken Briyani with 1 Veg ($7.90). Unlike most places, the biryani here even comes with a boiled egg!
Promotion: 1-for-1 Chicken Briyani with Raita, and Chicken Briyani with 1 Veg
Address: 3 Lorong Liew Lian, #01-79, Singapore 531003
Opening hours: Daily 5:30am to 9pm
---
1-for-1 food deals on honestbee
---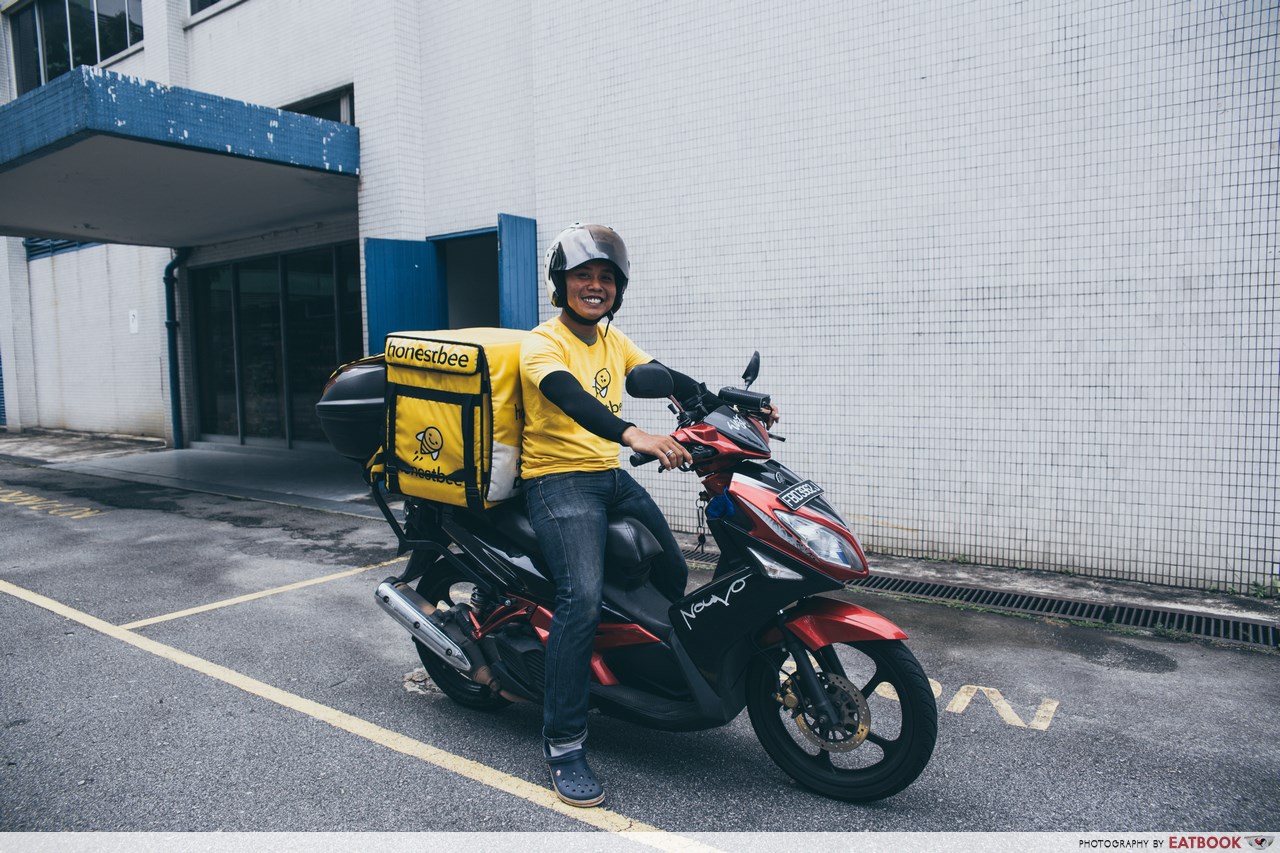 To celebrate honestbee's second anniversary, you'll be treated to more than just 1-for-1 deals in July. Simply download the app, and enter the promo code "EATBOOK" at checkout to get $18 off a minimum order of $25 for all first time users from now till 18 September. Even better, there is no delivery fee! All the more reason to share the joy!
Download the honestbee app on Apple's App Store or Google Play!
This post is brought to you by honestbee.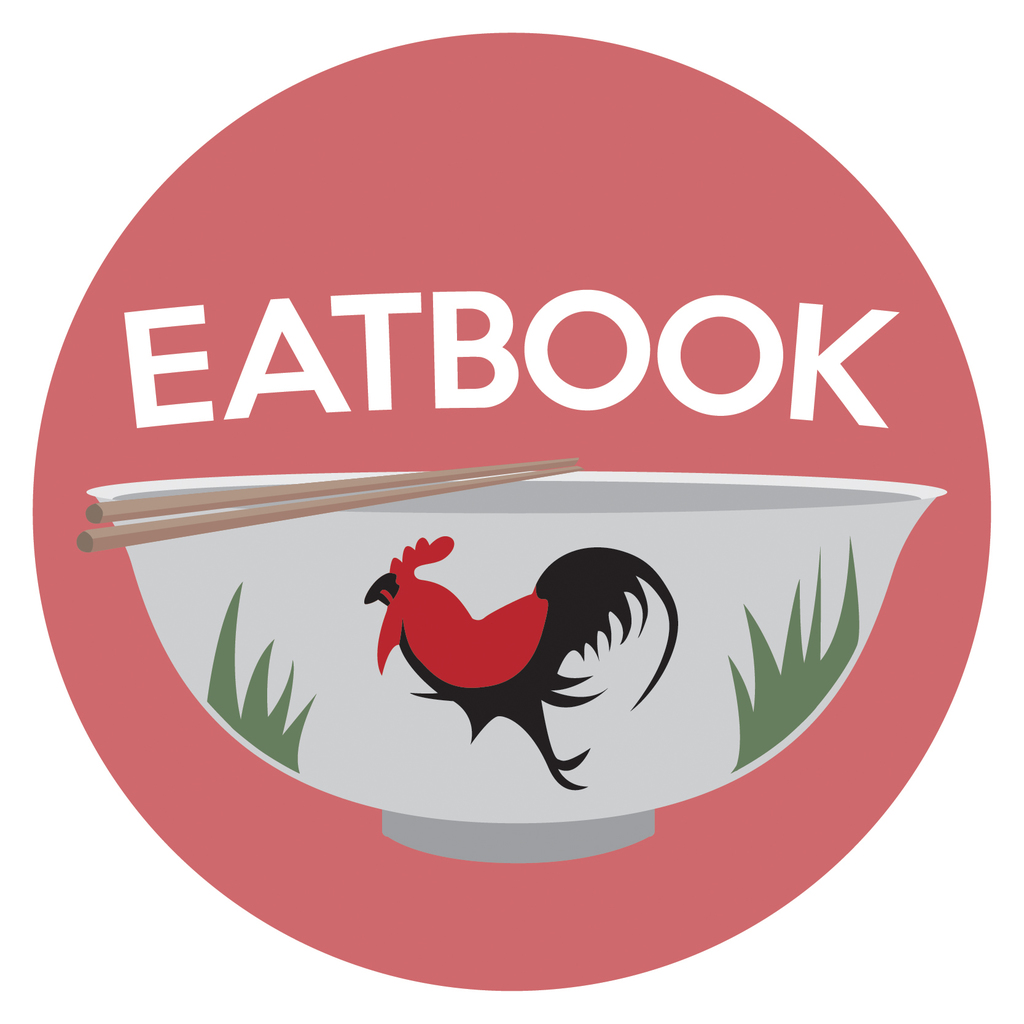 Drop us your email so you won't miss the latest news.