Classic bak kwa and salted egg snacks at Fragrance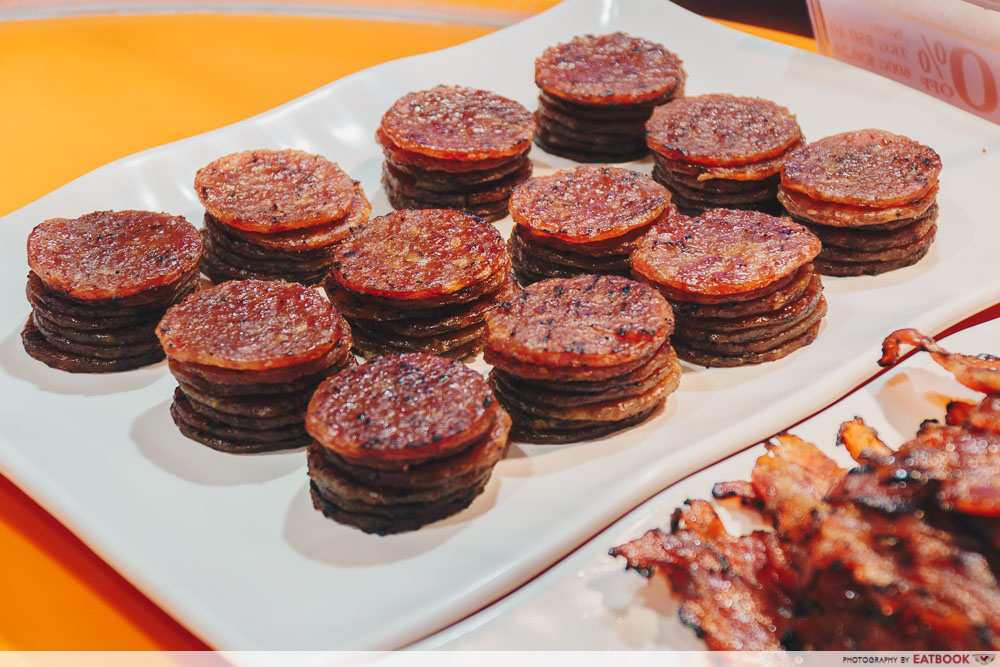 Along with lively lion dances, house visiting, and cash-filled ang baos, bak kwa is one of the iconic things you think about when Chinese New Year rolls around. I dare say it's the most popular CNY snack. Every year, I'm excited to sample any of the succulent, meaty morsels that are brought back home. Fragrance is one of the household names for bak kwa in Singapore, and this year, they're bringing in a couple of new products for the festive season.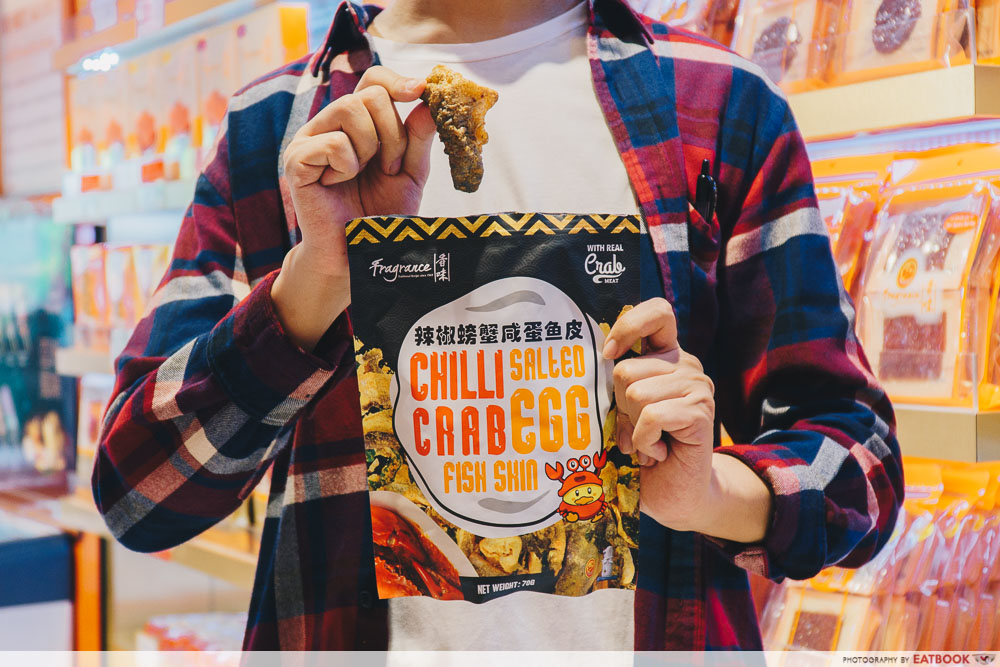 Fragrance is dishing out a new range of salted egg fish skin snacks, along with their classic bak kwa flavours. The Chili Crab Salted Egg Fish Skin ($7.60) mixes the Singaporean classic with ever-popular fish skin. You can taste the sweetness of the chilli, with bits of crab meat giving an umami punch between bites.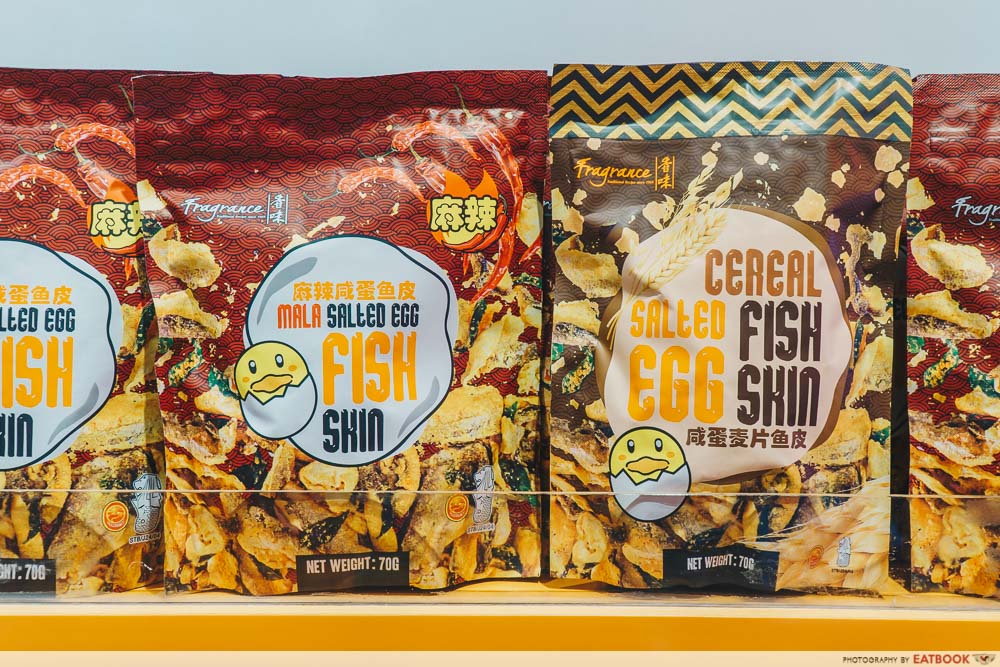 The Cereal Salted Egg Fish Skin ($7.60) is another new addition. It's coated in sweet and crispy cereal bits, making the salmon skin even crunchier. While the Mala Salted Egg Fish Skin ($7.60) is no newcomer, it's still flavourful and delicious. The crunchy morsels are mildly spicy, with a heavy dose of that classic salted egg taste and Sichuan flavour. It leaves a numbing sensation on your tongue afterwards, just like an actual hotpot of mala.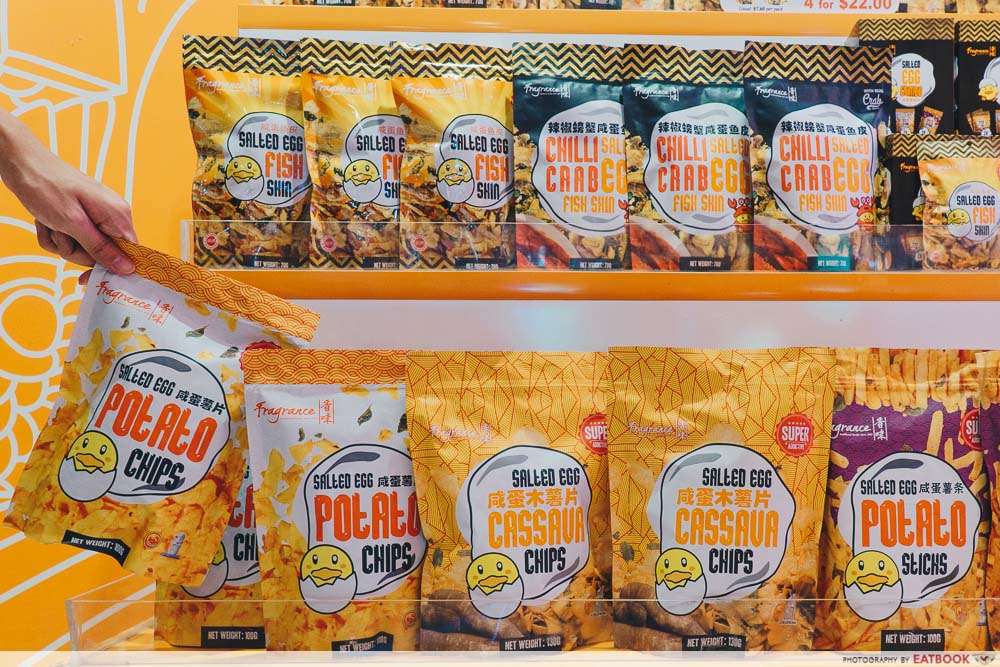 The rest of their salted egg range includes Salted Egg Potato Chips, Salted Egg Potato Slices, and the healthier Salted Egg Cassava Chips. These flavourful chips are light and crispy, and delightfully addictive. You can get your salted egg fix at just $8.05!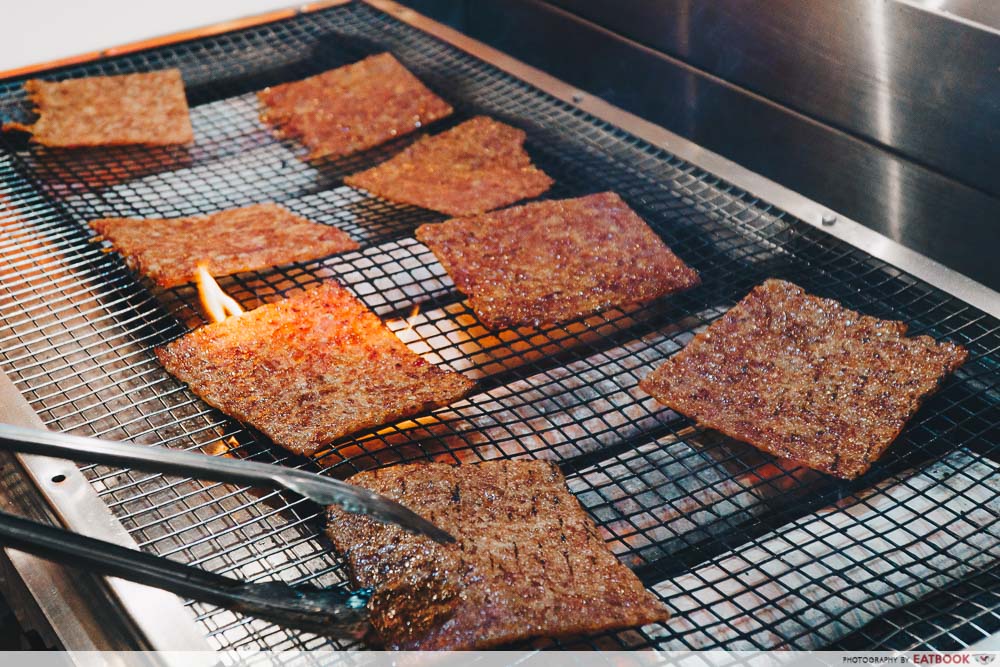 I consider bak kwa to be a must-have for CNY festivities, and it's the snack I eat the most when the season rolls around. While goodies such as sweet pineapple tarts and spicy shrimp rolls are delicious, nothing beats a piece of gleaming, savoury-sweet meat that's lightly charred and giving off a smoky aroma.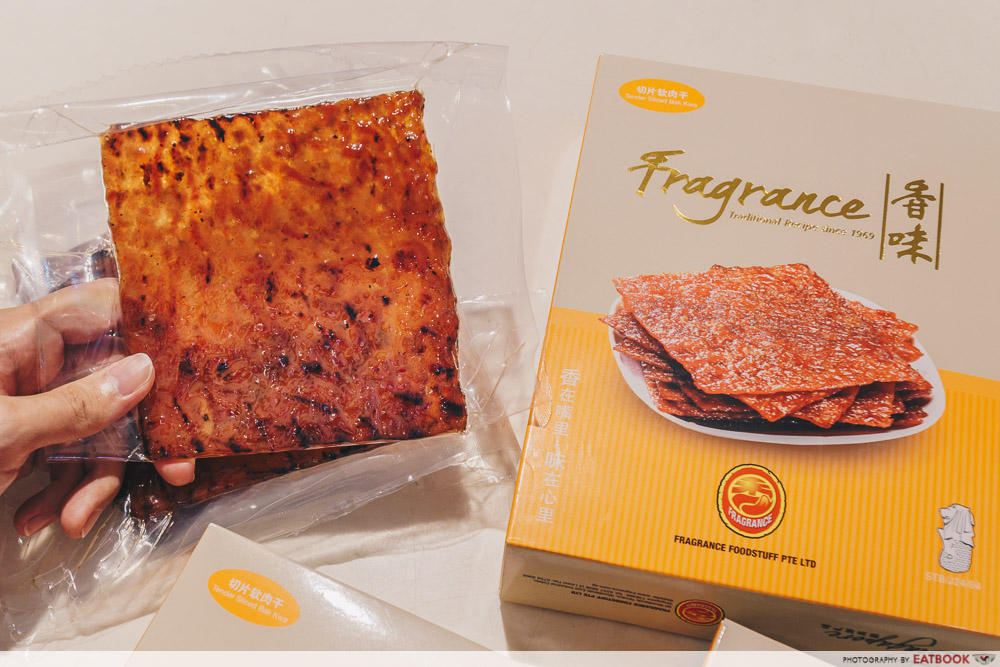 Fragrance's signatures this year are the Signature Sliced Tender Bak Kwa ($56/kg) and Kurobuta Bak Kwa ($38/box). You can get the former either freshly grilled, or sealed and pre-packed—which is great for gifting. Each box contains 500g of delicious barbecued meat.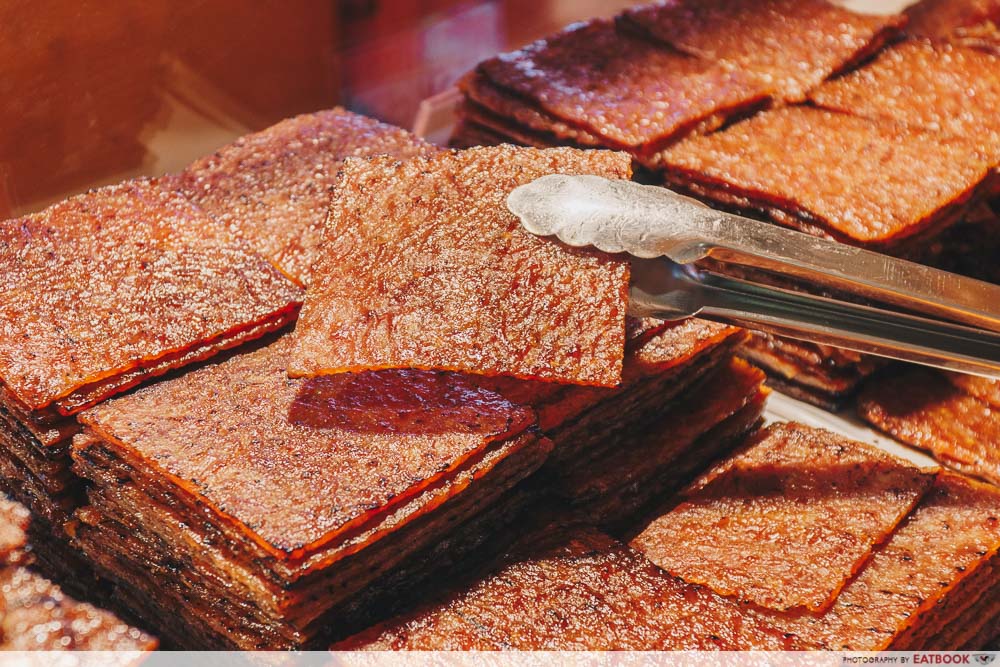 True to its name, the Signature Sliced Tender Bak Kwa is easily the softest and most tender meat among the many options. It was easy to chew through, and was juicy while not being overly oily. You don't have to give your jaw a workout to enjoy this.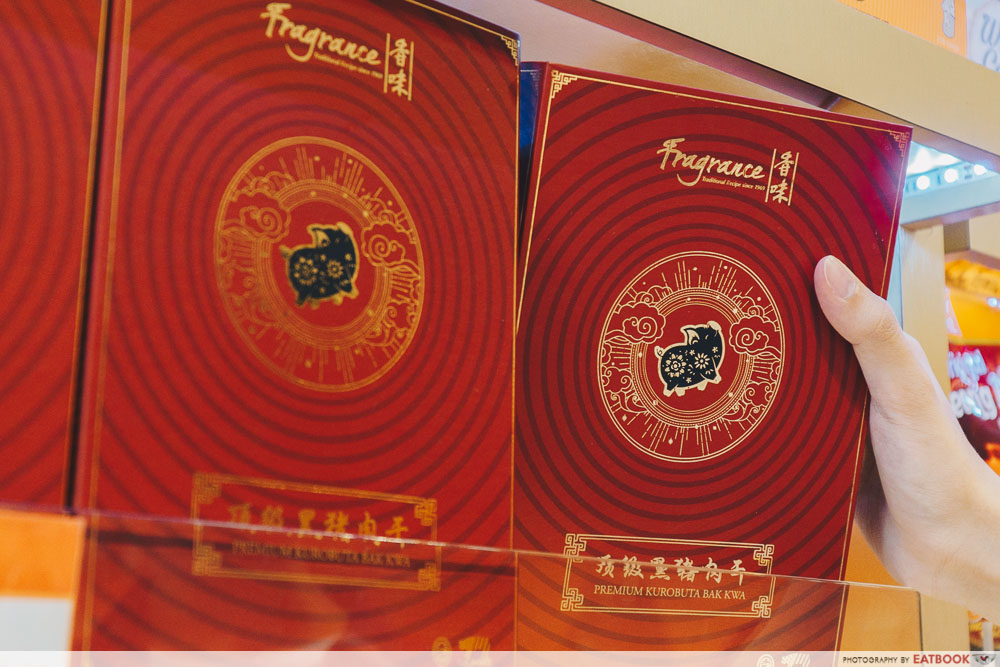 Kurobuta pigs, also known as Berkshire hogs, are desired for their fat content and juiciness. They make excellent pork chops and bak kwa, due to their beautiful marbling and fattiness. They're the pork equivalent of wagyu, so I was pretty excited to pop the box open and get a taste.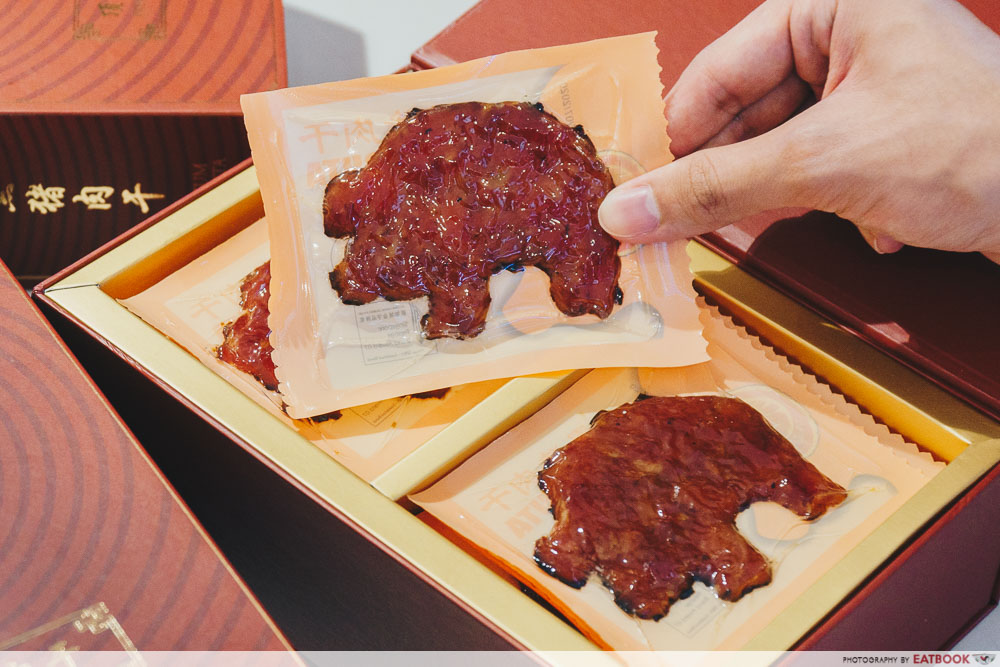 The Kurobuta Pork Bak Kwa is cut into adorable pig shapes and vacuum-sealed for freshness. It's a lot more flavourful than standard bak kwa. Even though it wasn't as soft as the sliced tender ones, I could taste the richer flavour of the meat. The portions were also charred gently to give it that iconic charcoal aroma.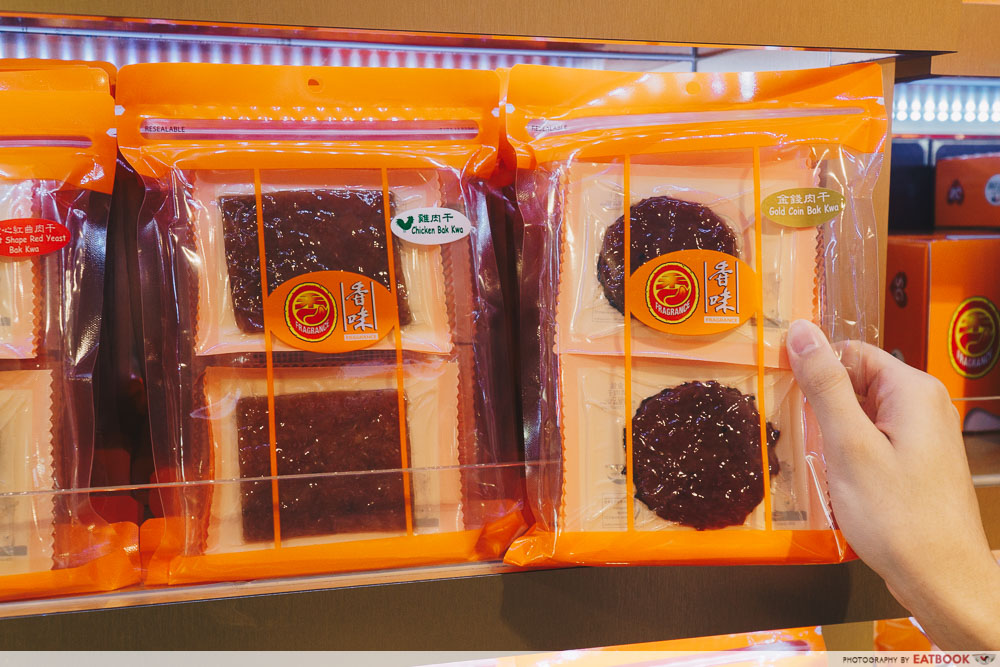 Standard varieties of bak kwa are also available, such as the Chicken Bak Kwa ($56/kg) and Gold Coin Bak Kwa ($56/kg). The chicken wasn't as meaty and strong as the other bak kwa, but it was a lot softer and lighter tasting. I have a particular attachment to gold coin bak kwa, since it brings back childhood memories of long road trips spent snacking in the car.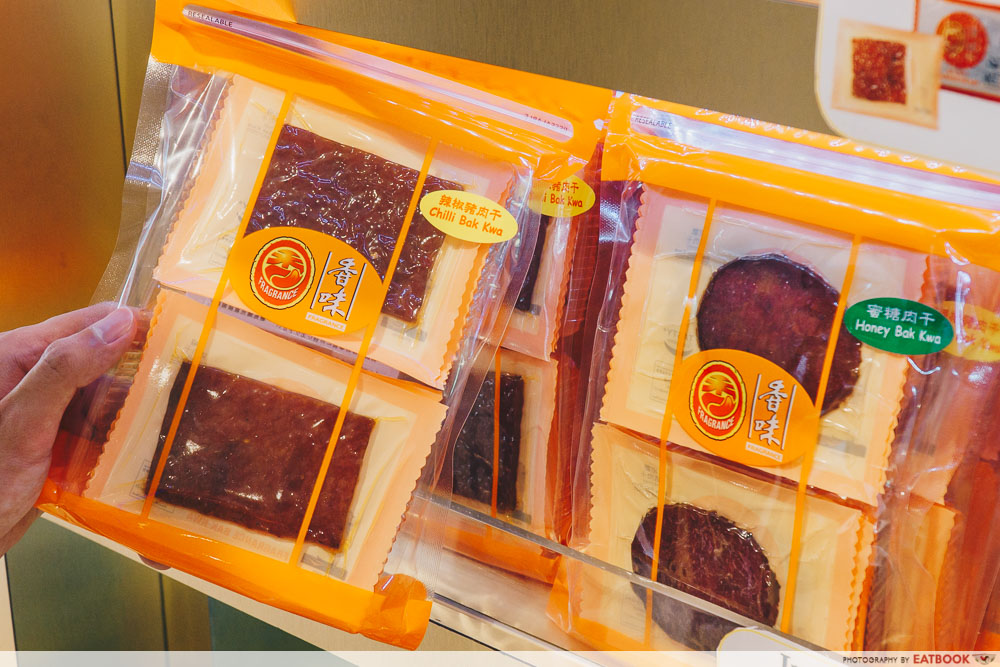 The Chilli Bak Kwa ($58/kg) was my personal favourite. As soon as I took a bite, my mouth was filled with a sharp spiciness. It had a lot more flavour because of the powerful chilli. I also really liked the Honey Bak Kwa ($56/kg), which is essentially gold coin bak kwa with added honey and a burst of caramelised sweetness. 
Some other flavours are red yeast bak kwa, beef bak kwa, and exotic cuts of crocodile bak kwa.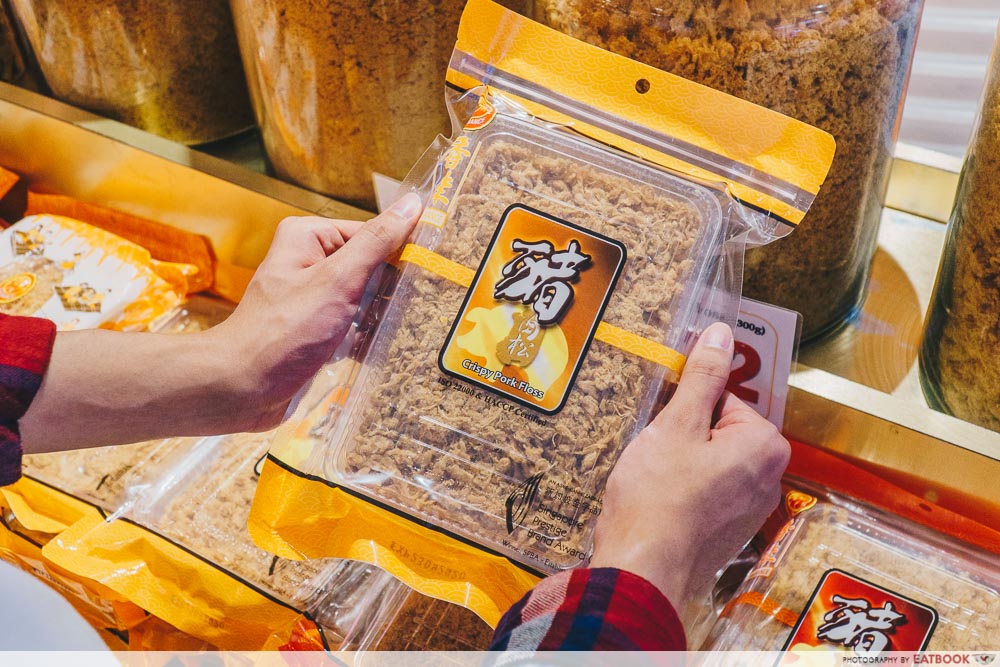 Not to be neglected is the Pork Floss ($17.80). This fluffy yet crispy topping goes beautifully over rice, instantly blessing a plate of plain white rice with meaty, savoury flavours.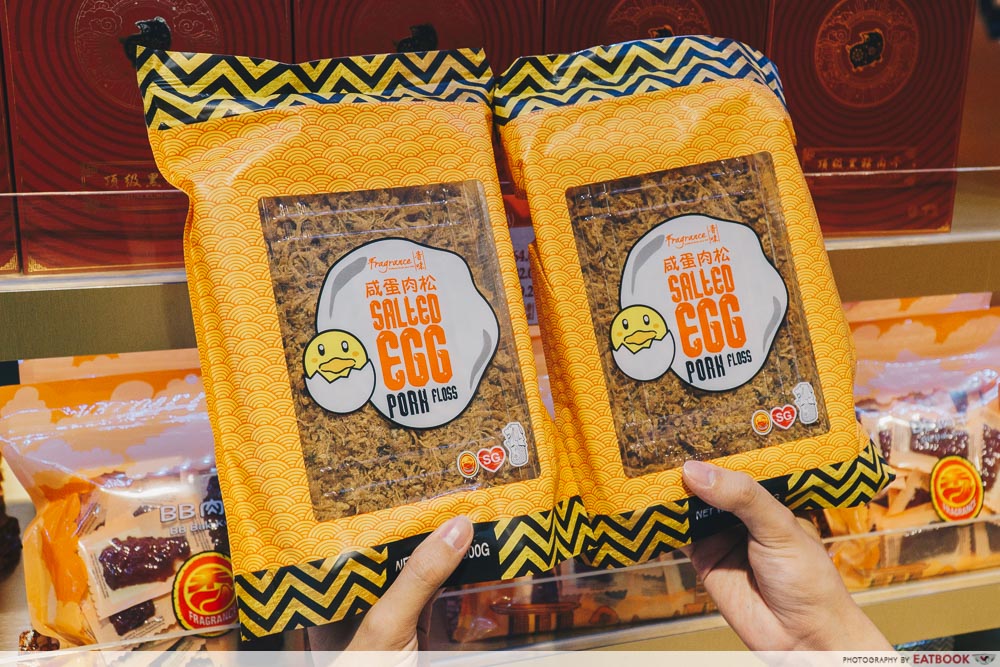 Another new product this year is the Salted Egg Pork Floss ($17.80), which will have you eating spoonfuls straight from the bag. The snack is heavy on the rich and savoury flavours from salted egg, and is sure to spruce up any meal it's added to.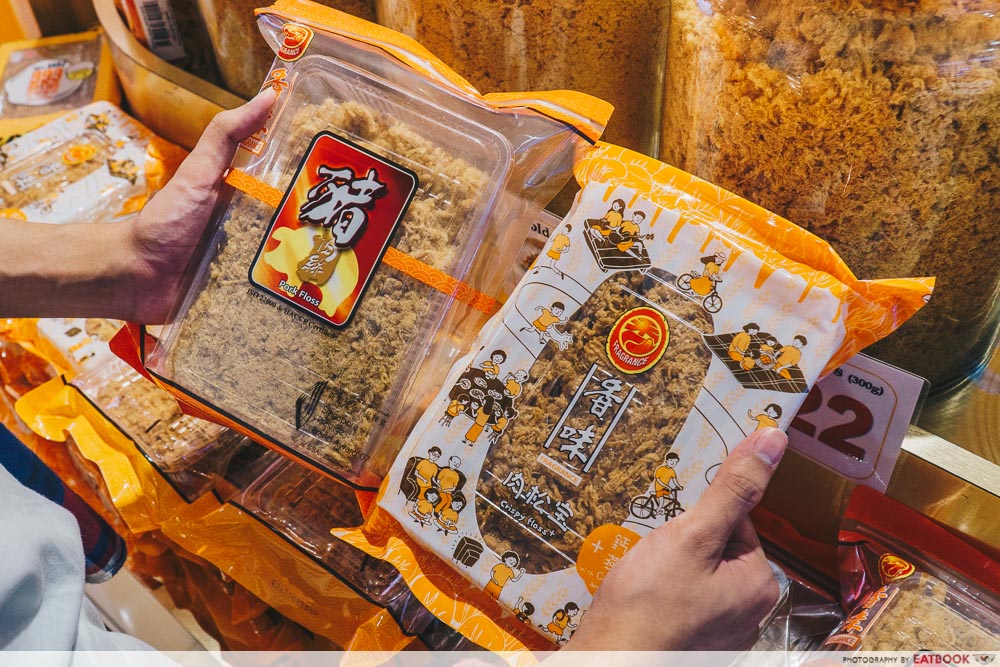 Apart from the classic and salted egg flavour, there's also the Crispy Pork Floss and Crispy Pork Floss With Oatmeal ($17.80 each) in case you can't get enough of that addictive crunchy texture.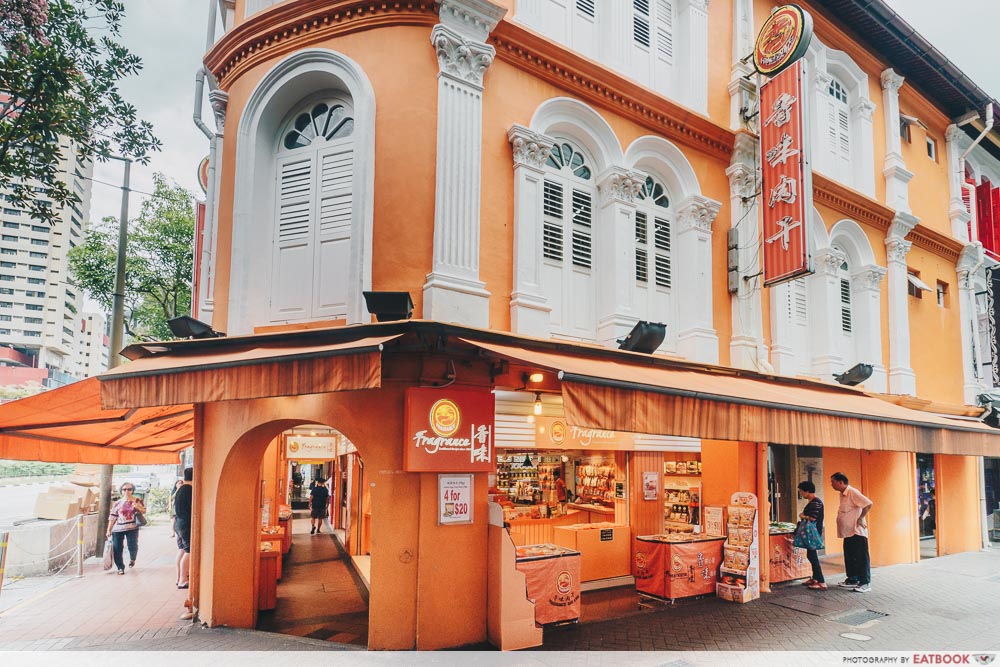 With 34 Fragrance outlets all around Singapore, it's easy to drop by and stock up on bak kwa for CNY. Treat yourself to brand new flavours this year, and familiar slabs of savoury, aromatic meat.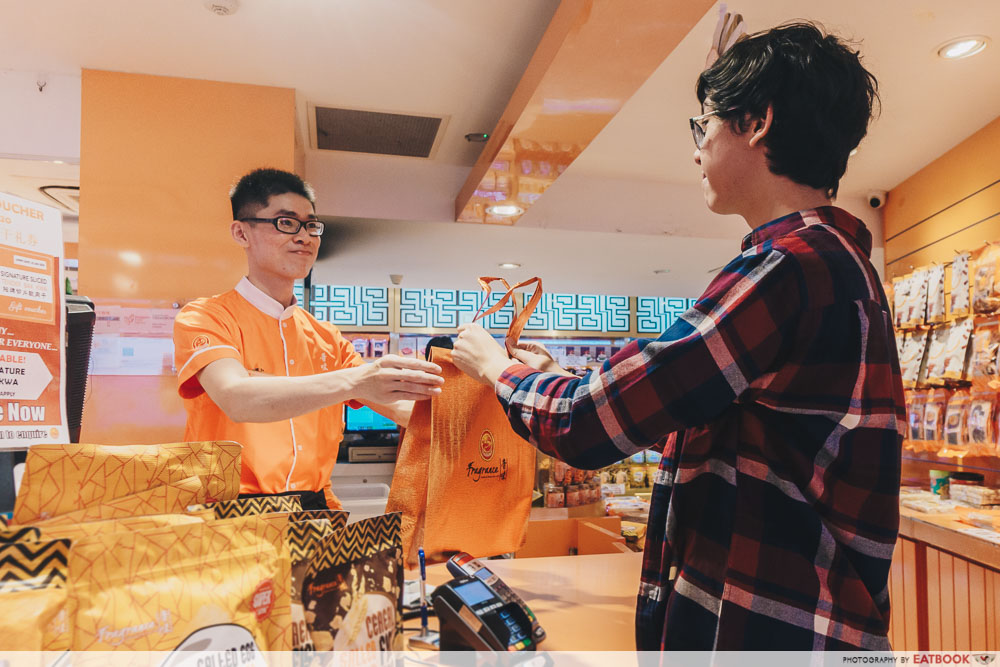 The promotions available at Fragrance retail outlets change regularly, so be sure to check in and see what kind of deals on bak kwa and fish skin you can get closer to the date. Look forward to another year of joy and prosperity, and have a good time snacking and celebrating with your loved ones this festive season!
Photos taken by Pichan Cruz.
This post is brought to you by Fragrance.