Funan level 2 dining deals you can't miss
City Hall has plenty of dining options, but the ones you can find at Funan are as varied as they come. The mall, located just a quick walk away from City Hall and Clarke Quay MRT Stations, is chock full of eateries that serve up a multitude of different cuisines, both for sit-down meals, or as quick grab-and-go bites.
The mall's second floor is, especially, a foodie hub, with plenty of unique eateries ranging from local delights to desserts, Japanese fast food and plenty more. It's also worth noting that the mall has launched a monthly roster of dining deals, so you can save as you enjoy all your favourite eats.
The next time you're in Funan looking to dine, here are some eateries you ought to check out.
---
1. Smile Dessert
---
Image credit: Smile Dessert
Smile Dessert hails from China, and currently has over 1,500 outlets worldwide. They have a handful in Singapore as well, including their latest Funan opening. As with all Smile Dessert outlets, the Funan cafe is themed. Enjoy your shaved ice treat amidst a quirky, futuristic space, which includes the option for you to dine in a ball pit.
The dessert menu is equally IG-worthy. Choose from a range of souffle pancakes, bingsu, mille crepes, waffles, and other small bites. Must-tries include their Original Honey Souffle ($18.90) stars a jiggly soufflé pancake stack with a honey sauce, and their Coconut Shaved Ice ($12.90), a towering treat best to share, made with fresh coconut. They also have a popular Taro Tiramisu ($8.90)!
Unit number: #02-03
Opening hours: Daily 10am to 10pm
Tel: 6518 4498
Website
Smile Dessert is not a halal-certified eatery.
---
2. The Oyster Bank
---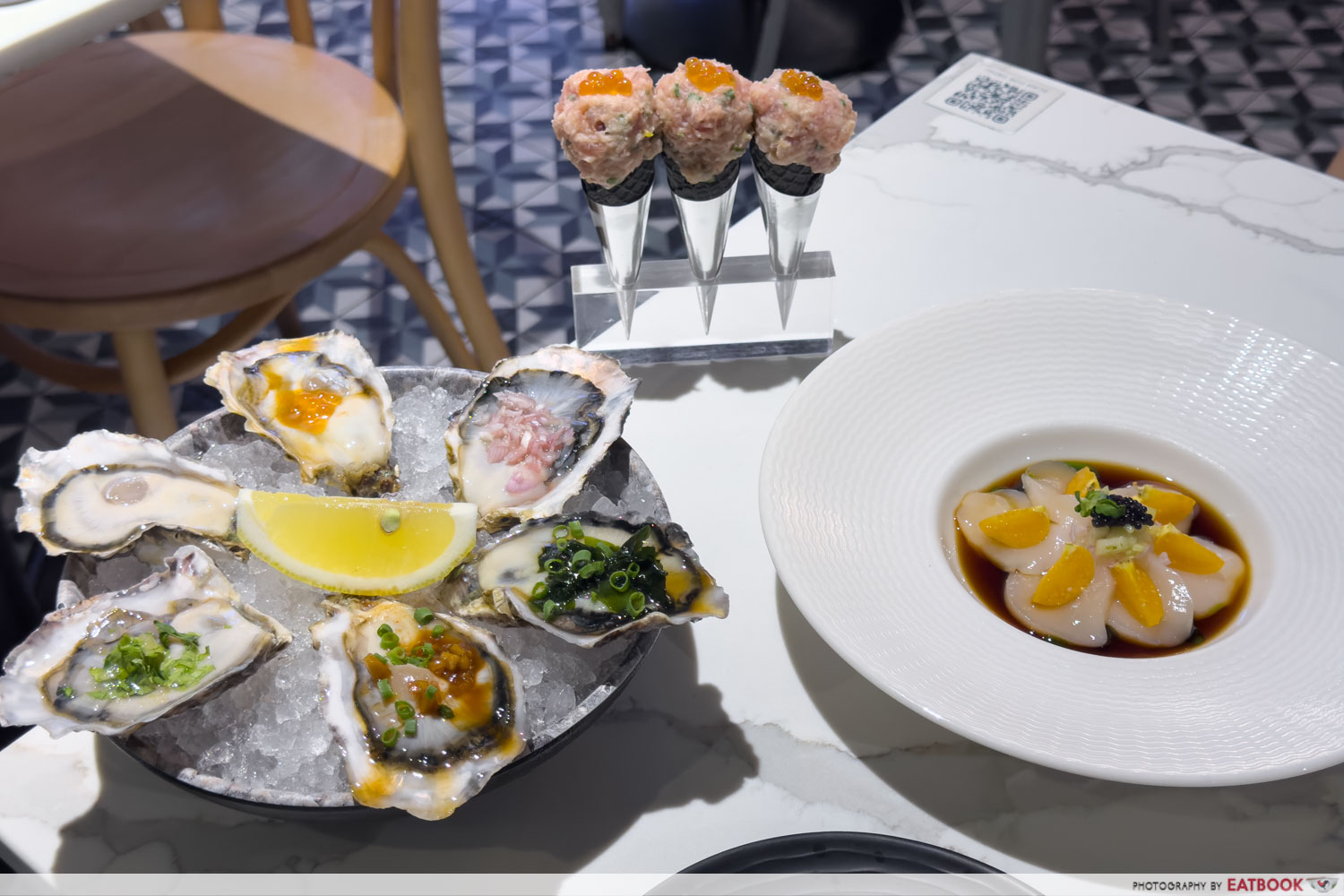 For fresh seafood platters and oysters that won't break the bank, pay a visit to The Oyster Bank. The casual restaurant serves an all-day menu that'll impress any seafood lover. This includes their Petite Seafood Platter ($58++), great for sharing between two. This comes with salmon and scallop sashimi, raw oysters, tiger prawns, a negitoro mix, a Bloody Mary shooter and some endive leaves. If you prefer your mains cooked, The Oyster Bank also has a delicious array of donburi bowls, of which their Wagyu Beef Karubi Don ($24.90++) is a house favourite. Each serving comes with 120g of M5 grade Wagyu slices, shiitake mushrooms, and an onsen egg. For the traditionalists, the Bara Chirashi Don ($17.90++) is an easy go-to, and comes with 160g of cubed sashimi fish.
Aside from these mains, The Oyster Bank also runs their famous Happy Shucking Hour, where you get Naked Oysters at $2++ each, from Monday to Friday between 5pm to 8pm, or all day on Saturday and Sunday. This promo is limited to six oysters, and valid with the purchase of an alcoholic drink. Pair these with a tipple or two from their extensive cocktail menu. If you're dining with friends, we suggest poring over their varied sake list instead.
Unit number: #02-32
Opening hours: Mon-Thurs 11:30am to 3pm, 4:30pm to 9:30pm, Fri 11:30am to 3pm, 4:30pm to 10pm, Sat 11:30am to 10pm, Sun 11:30am to 9:30pm
Tel: 6970 0487
Website
The Oyster Bank is not a halal-certified eatery.
---
3. Yan Ji Gourmet Seafood Soup
---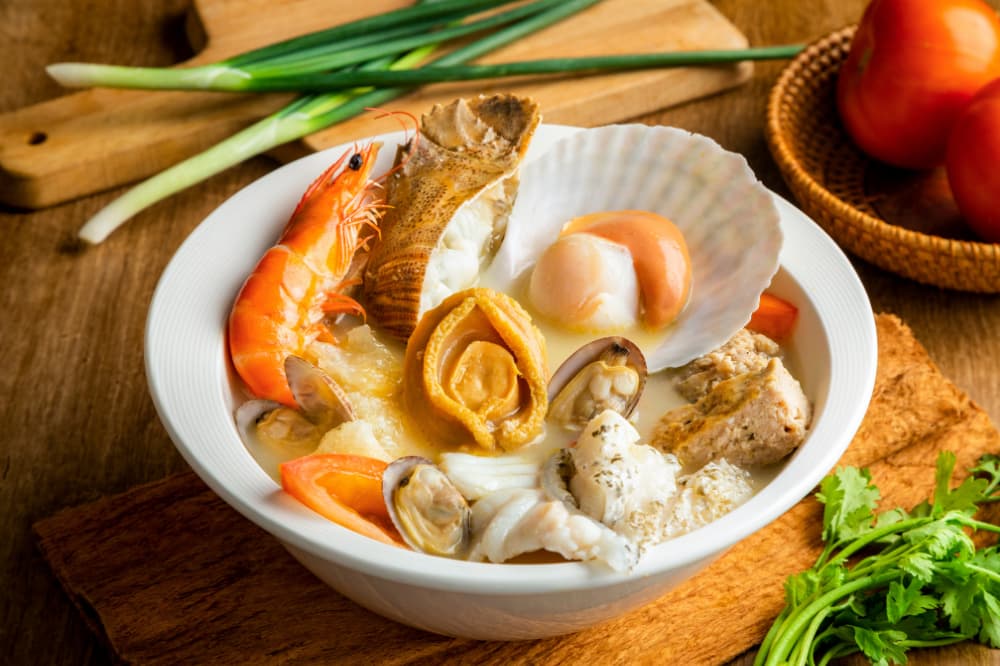 Image credit: Yan Ji Gourmet Seafood Soup
Yan Ji Gourmet Seafood Soup is best known for their seafood soup, made with the freshest catch. There are 15 different types of seafood and meat that go into the soup alone, all boiled to extract maximum flavour. What results is a gao, luscious broth that's rife with notes of sweet seafood.
The Funan outlet has options for all budgets, with the most popular being their Dory Seafood Soup ($9.80++), served with sliced dory fish, prawns, and baby clams. If you're in the mood to splurge, then their House Special Seafood Soup ($22.80++) is one to try. This feeds two and comes with a rainbow of seafood, including crayfish, scallops, and abalone. For something cosy, there's their Hokkaido Scallop Porridge ($13.50++).
Unit number: #02-05
Opening hours: Daily 11am to 4pm, 5pm to 9pm
Tel: 6970 0708
Website
Yan Ji is not a halal-certified eatery
---
4. Delibowl
---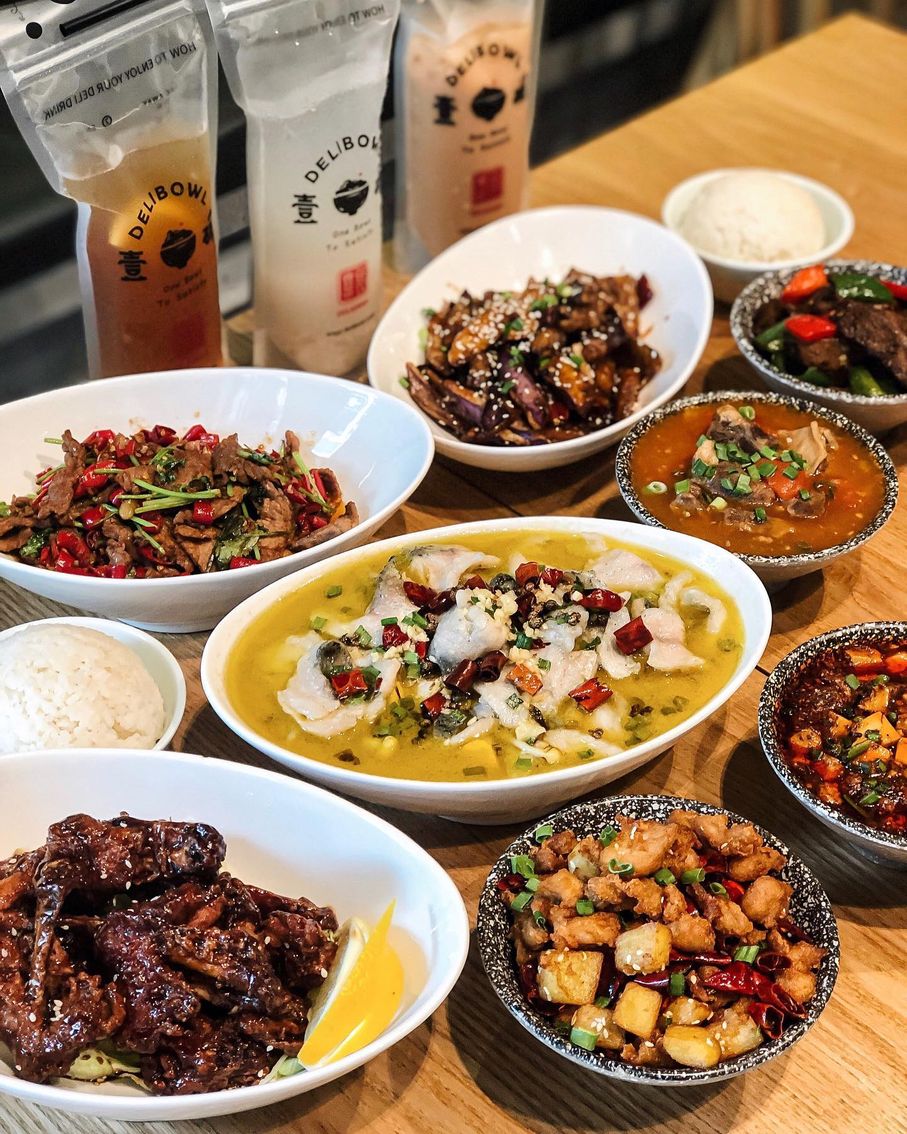 Image credit: @thehungertrack
If you're in the City Hall area looking for a quick, soul-warming meal, make a beeline for Delibowl. The eatery specialises in a blend between Sichuan dishes and local zichar mains, served with rice and soup, for under $12+. They also serve Lanzhou-style la mian! 
All their items are homely and delicious, so it's hard not to be spoiled for choice. We recommend their signature Mapo Tofu set ($10.90+), where a numbing, meaty mala sauce coats the silken cubes of tofu just so. If you prefer something with less spice, try their Stewed Beef Brisket with Tomato. Priced at $9.90+ ala carte or $12.90+ as a set, this dish stars a moreish tomato broth with melt-in-your-mouth chunks of beef. They also serve a delicious Honey Chicken ($13.90+) side!
Unit number: #02-06
Opening hours: Daily 11am to 9:30pm
Tel: 8813 1577
Website
Delibowl is a halal-certified eatery
---
5. 5 Senses Bistro
---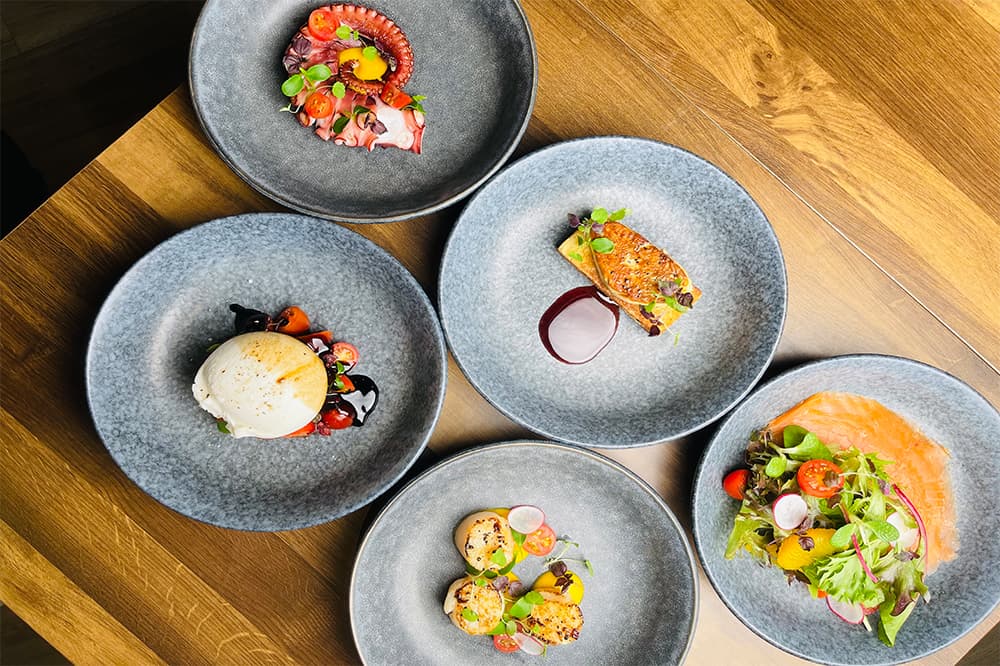 Image credit: 5 Senses Bistro
5 Senses Bistro is a local eatery run by a few young entrepreneurs who wanted a place where people could find affordable, comforting food. They primarily serve a variety of Western mains and pasta dishes, with the one main, two sides format found in casual restaurants of similar calibre.
We're huge fans of their Char Siu Chicken ($15.90++), a riff on a chicken chop with a sweet-smoky char siew sauce, but do note that this dish has a waiting time of 20 minutes. Else, their Angus Braised Beef Cheeks ($24.90++) is another winner, starring ultra-tender braised beef. For sides, choose between time-honoured classics such as Macaroni and Cheese or Mashed Potato, and more fusion options such as Asian Rice. Don't skip on their appetisers, made for sharing. Favourites include their Seared Hokkaido Scallops ($18.90++) and Grilled Octopus ($21.90++)
Unit number: #02-17
Opening hours: Daily 11am to 9:30pm
Tel: 6241 0676
Website
5 Senses Bistro is not a halal-certified eatery
---
6. Kebabs Faktory
---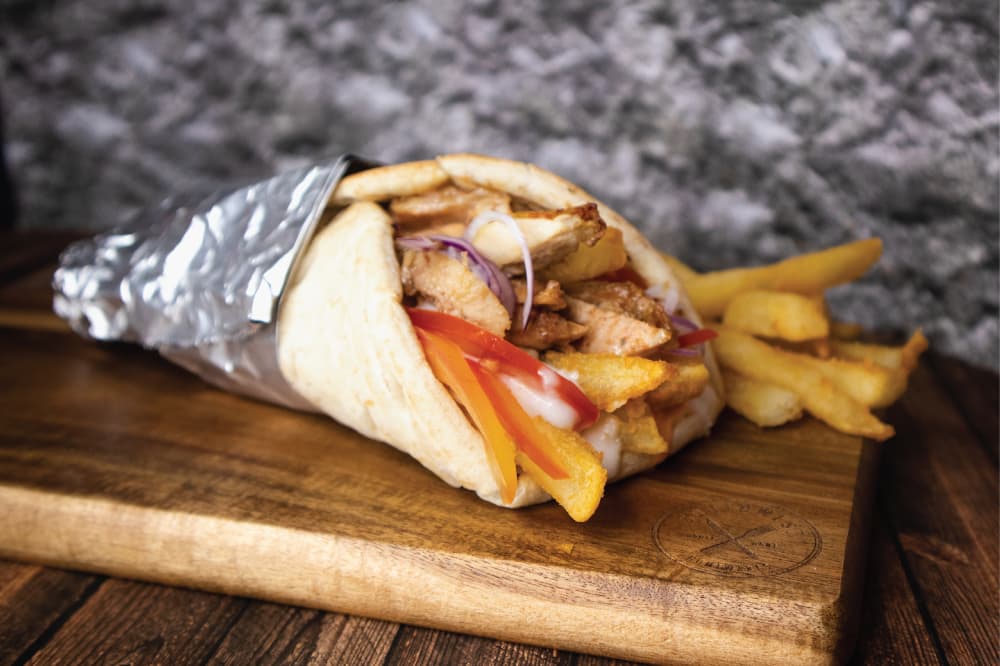 Image credit: Kebabs Faktory
Kebabs are one of the best options for a quick and casual meal. Get your fill at Kebabs Faktory, a halal-certified kebab joint selling various wraps, gyros, pitas, bowls, and salads. If you're looking for a healthy lunch, then grab their Grain Bowl, which has all the ingredients you love from their popular Kebab Wrap, sans tortilla. Instead, you get basmati rice or couscous, with your choice of meat, from $9.90. If you want to stick to the classics, then grab a Kebab Wrap! Priced from $7.90, you get your kebab generously packed with your protein of choice. Plant-based options are available too.
Unit number: #02-31
Opening hours: Daily 11am to 9:30pm
Tel: 6970 4408
Website
Kebabs Faktory is a halal-certified eatery
---
7. The Tree Cafe
---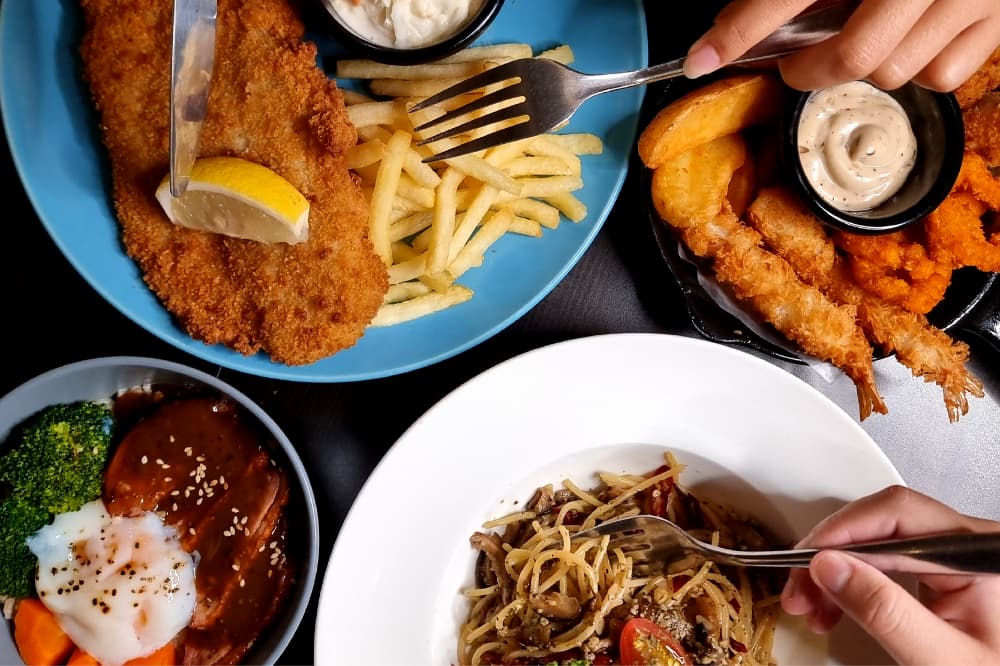 Image credit: The Tree Cafe
For wallet-friendly Western food and chill vibes, pay a visit to The Tree Cafe. With cosy decor and even swing seats, the eatery is ideal for casual bites with friends after work or school. The eatery serves up classic and specialty Western dishes, all priced from $11.50. Dig into their signature Rock Honey Chicken ($11.90), served with two sides of your choice. The crispy-skinned grilled chicken is topped with a sweet rock honey sauce, great for lovers of Korean honey butter chicken wings. Another popular pick is their Sous Vide Duck Confit, priced at $16.90. You get a whole bone-in duck leg, sous vide till tender, then seared to finish. This comes served with steamed greens, a salad, and mashed potatoes, as well as brown sauce. FYI: students also get $2 off all mains on the menu, all day, except on public holidays and the eve of.
Unit number: #02-33
Opening hours: Daily 11:30am to 10pm
Tel: 6909 9925
Website
The Tree Cafe is a halal-certified eatery
---
8. Smile Martabak
---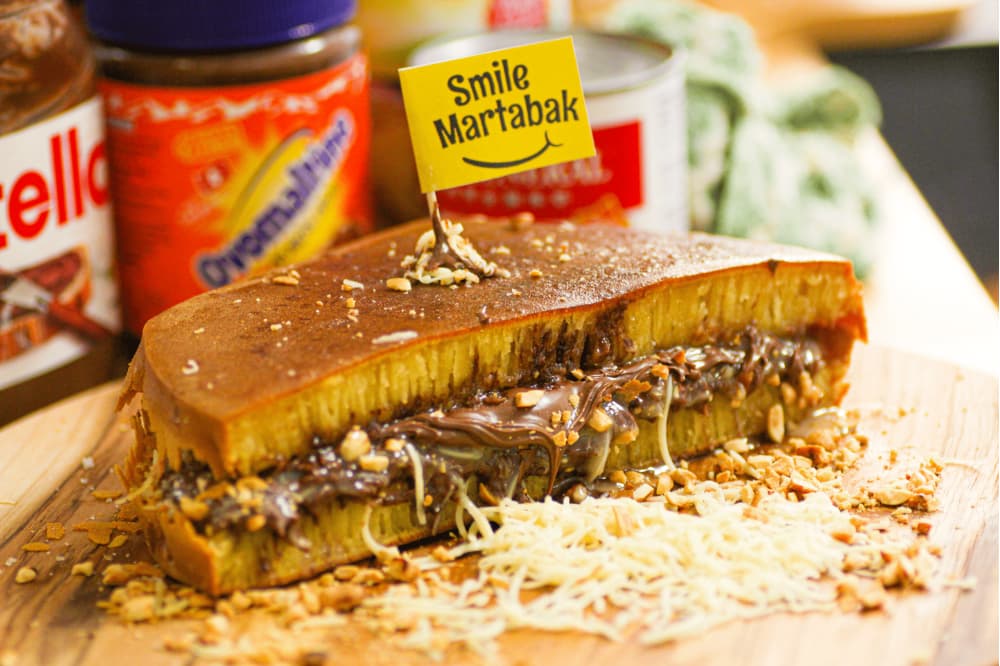 Image credit: Smile Martabak
Halal-certified Smile Martabak is best known for selling martabak manis, one of Indonesia's most popular street foods. If you've ever been to Indonesia, you've definitely enjoyed your fill of these sweet treats, which share a similar batter to min jiang kueh. The fillings here are slightly different, however, ranging from Choco-Cheese, to even Ondeh Ondeh! Pop by for a quick post-lunch treat, or when you need a sweet snack to perk up midday. You get to pick three pieces for just $5.95, or get a whole slab at $19.30. Smile Murtabak also offers full meals, including their Indomie Martabak set (from $10.90), Bakso Soup (from $7.90), and Ayam Geprek (from $10.40).
Unit number: #02-34
Opening hours: Sun-Thurs 11am to 9:30pm, Fri-Sat 11am to 10pm
Website
Smile Martabak is a halal-certified eatery
---
9. The Alley
---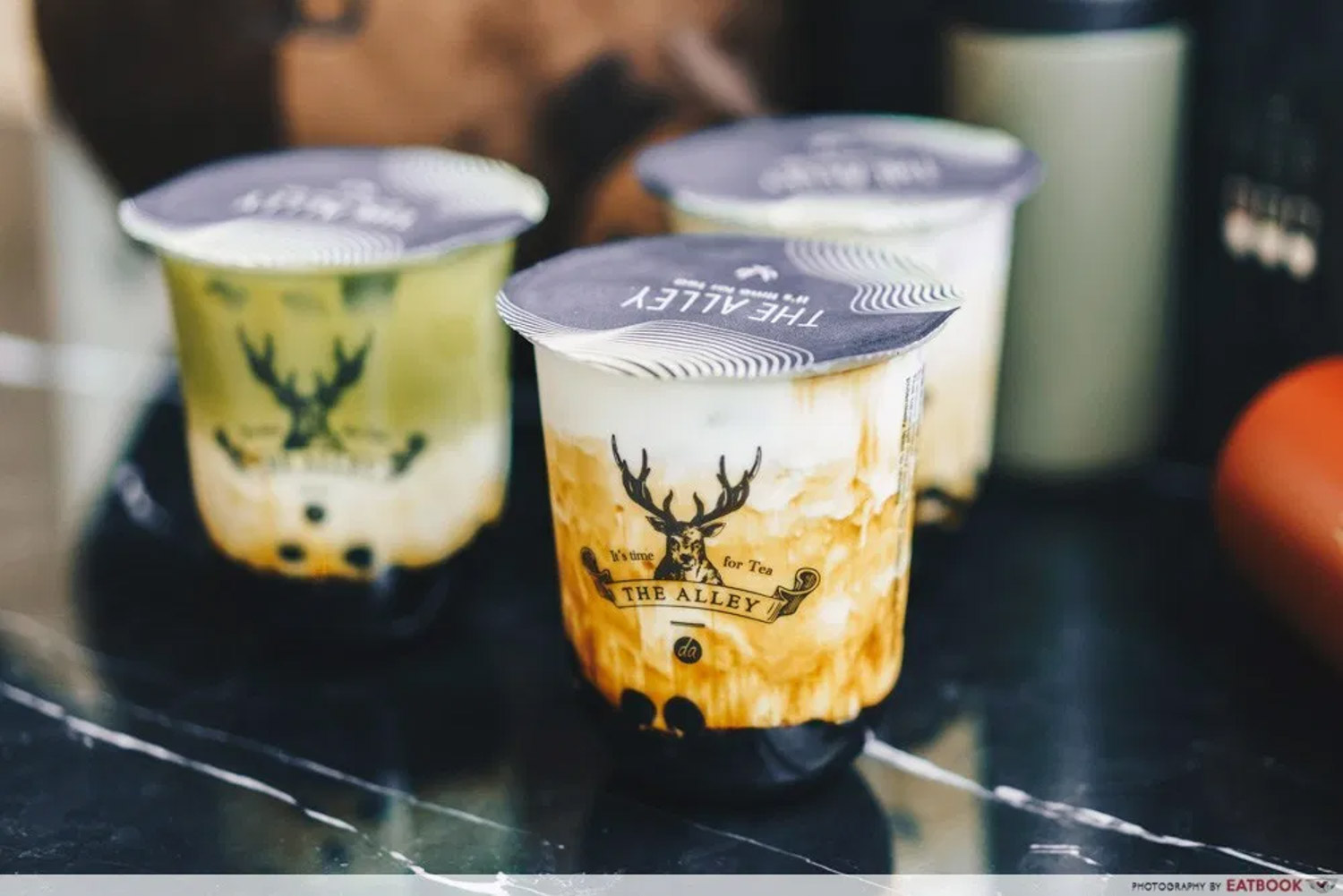 Cult Taiwanese bubble tea brand The Alley is where it's at to get your bubble tea fix in Funan. The brand is known for being one of the first few to popularise brown sugar milk in Singapore, known as their Brown Sugar Deerioca Fresh Milk (from $5.30), but they've since expanded their menu to include a variety of interesting drinks, as well as exclusive creations. Highlights include their Royal No 9 Milk Tea (from $3.80), made with a refreshing blueberry-infused black tea, and their Matcha Brown Sugar Deericoa Fresh Milk (from $5.80), where brown sugar milk gets a matcha upgrade.
Unit number: #02-36
Opening hours: Mon-Sat 11am to 9:30pm, Sat 11:30am to 9:30pm
Website
The Alley is not a halal-certified eatery
---
10. MOS Burger Express
---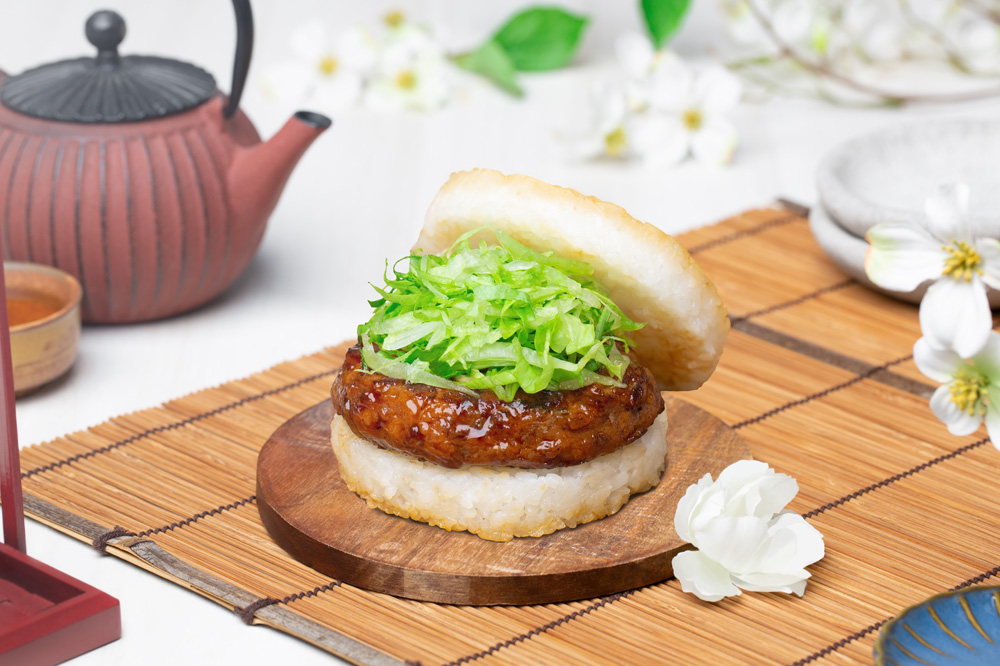 Image credit: MOS Burger
Everyone's beloved Japanese fast food joint, MOS Burger, has an Express outlet in Funan. Get your burger fix here, ranging from their crowd favourite Fish Burger ($3.95++) to their unique Yakiniku Rice Burger ($4.50++), where bread buns are swapped out with grilled rice patties, and packed with seasoned strips of beef. Make your ala carte order into a meal for an extra fee, starting at $4.70. This gets you a cold drink, including their signature iced teas, and your side of choice, from fries to butterfly shrimp. MOS Burger Express also frequently has seasonal specials available for a limited time only, so keep your eyes out for those. 
Unit number: #02-37/38
Opening hours: Daily 10am to 10pm
Website
MOS Burger Express is not a halal-certified eatery
---
Where to dine in Funan
---
Besides the eateries we've mentioned, Funan has plenty more dining options for all occasions and cravings! For seafood and fresh oysters, swing by The Oyster Bank. If it's cookies you want, then the OG Nasty Cookie has a grab-and-go kiosk here too. For a work-friendly cafe that serves quality cuppas, visit PPP Coffee. And finally, for premium brewed tea beverages, visit CHAGEE.
This post was brought to you by Funan.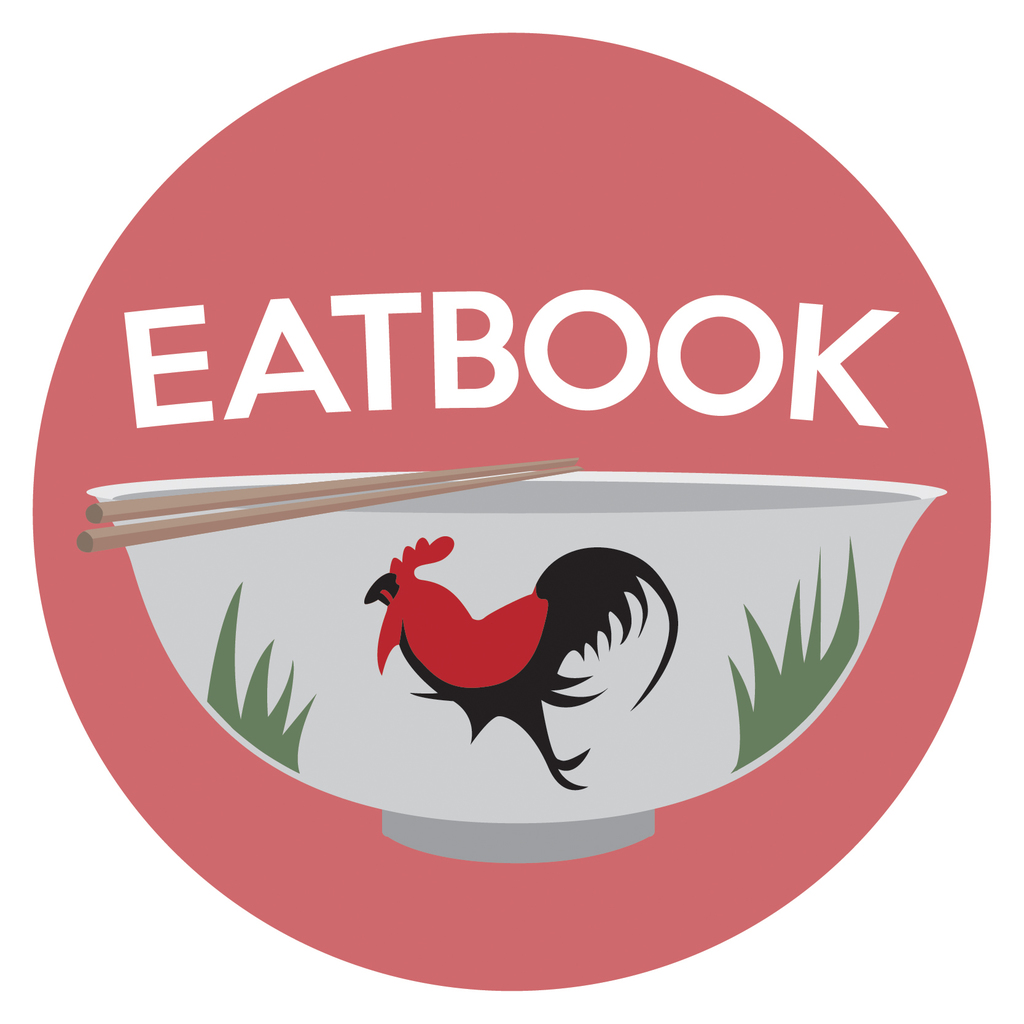 Drop us your email so you won't miss the latest news.