The Ultimate Carnivore's Dream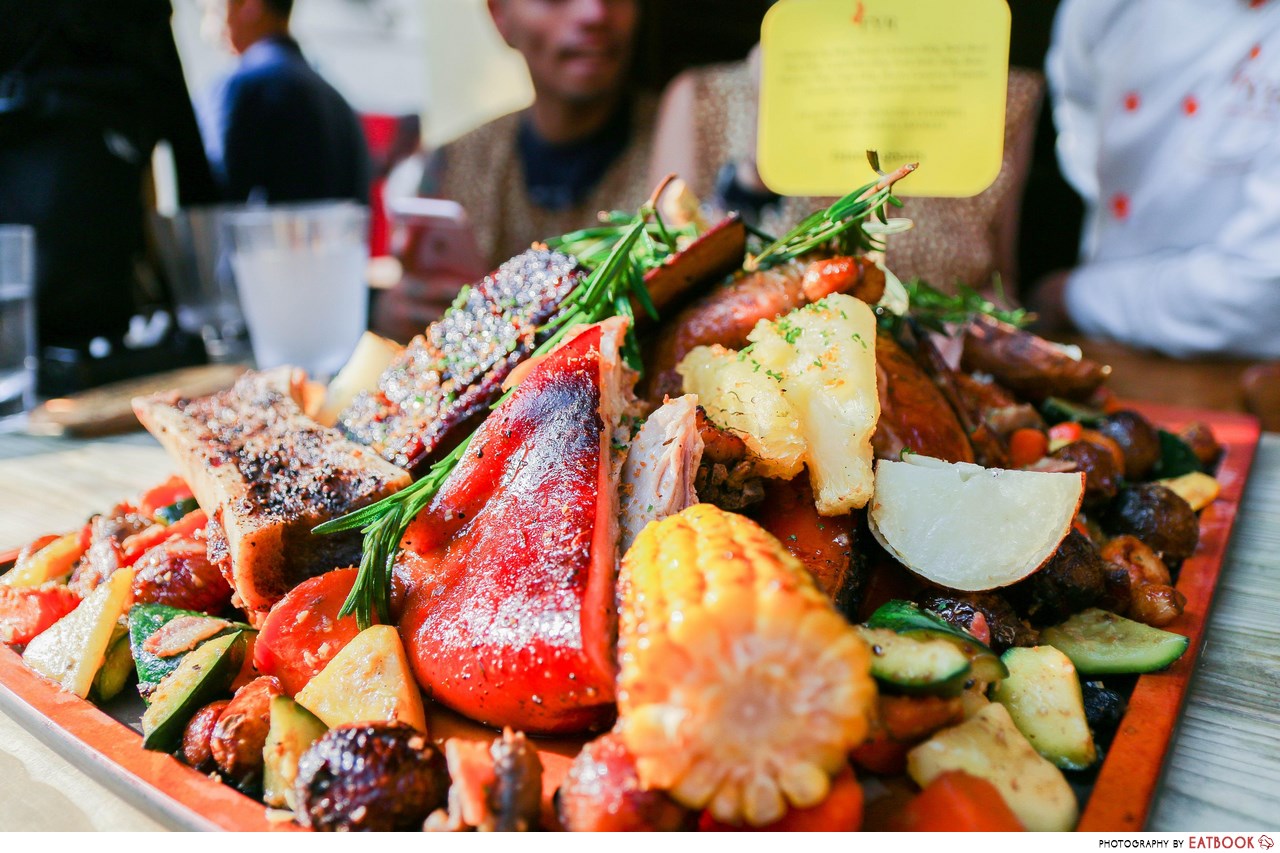 In the age of celebrity chef restaurants, and with fine-dining enclaves popping up like daisies all over the country, FYR Cycene Ond Drinc (pronounced FIRE Kitchen and Drink) stands out with its rustic brick-and-mortar dining space, and a reputation for serving up unpretentious Modern European cuisine. To mark its 1st anniversary month, FYR is unveiling a brand-new menu with an insane "FIRE" concept that'll get every hard-core meat lover salivating and raring for more.
If tucking into a ginormous platter of flame-cooked meats sounds like your thing; The Caveman Supper (150++ per platter) is tailor-made for you. Launched on the 20th of April, FYR's Caveman Supper is good for sharing between you and four other friends. The platter is decked out with all kinds of premium meats; grilled, flamed, charred, roasted and seared. To top it all off,the Caveman Supper has a strict no-cutlery policy; only bare hands allowed.
We were invited down to FYR's space at Boon Tat Street for a preview of the supper. I was more than ready to ditch my table manners and get down to a promising night of uninhibited feasting!
The Drinks
As a prelude to the main course, we were served bowls of FYR's newly-crafted drink: the Caveman's Grog ($12+). Keeping in step with the element of "fire", the boozy concoction was flambéed before our eyes.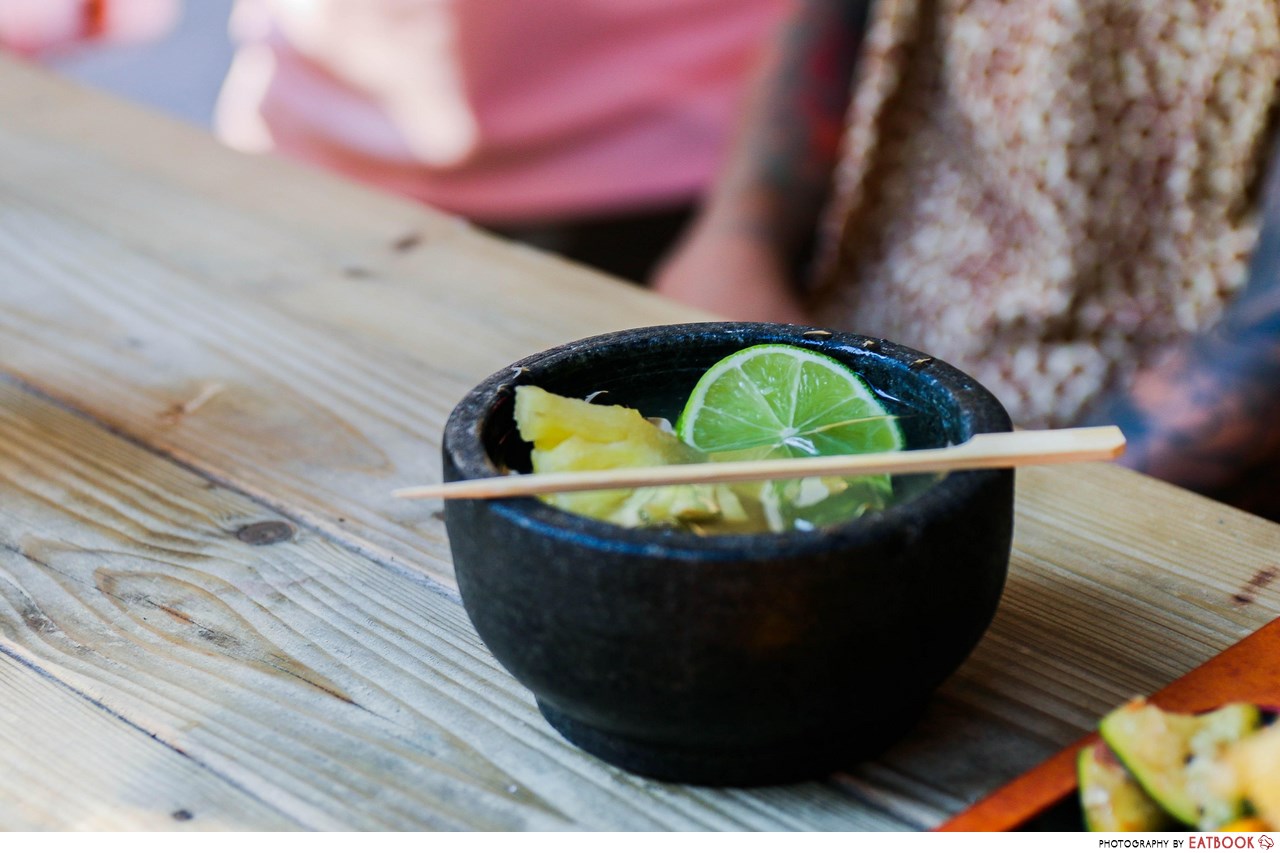 This cocktail was a slurry of muddled pineapple, fresh lime juice, rum and lemongrass syrup, topped with fresh slices of rum-soaked fruit. The drink itself was light, with the spiked pineapple packing a surprising amount of punch. Its potency can be overpowering, so skip the pineapple if you are a lightweight.
The Platter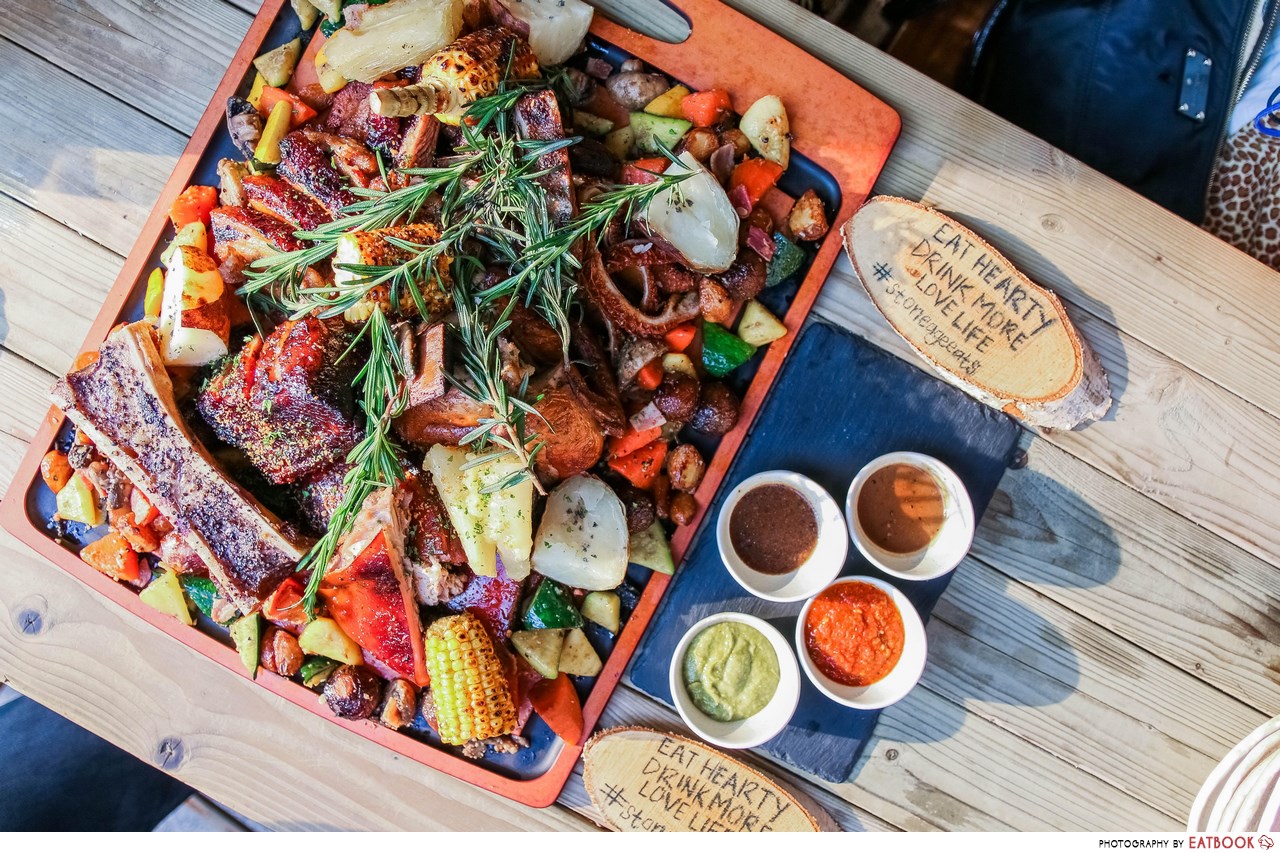 The Caveman's Supper: 300g of Suckling Pig, A Whole Chicken, 300g of Beef Short Ribs, 200g of Lamb Ribs, 200g of Pork Belly, 300g of Bone Marrow and 100g of Tripe.
The Caveman's Supper arrived at our table in all its glory: Piled sky-high with premium meats arranged atop a bed of roasted cassava, potatoes, zucchini, carrots, mushroom, shallots, and crowned with crispy streaky bacon and sprigs of rosemary.
The charred shallots were particularly delicious – sweet, crispy and downright addictive. Same with the butter-roasted cassava (tapioca), which had been cooked till tender all the way through.
We were served a spread of signature house-made sauces to pair with the meats and veggies. The Green Chili Pesto tasted fresh and packed a mild amount of heat, while the Super Spicy had a great complexity from the blend of chilli padi and jalapeños, with a sweet note from pureed tomatoes. My personal favorite was the aromatic Black Truffle Sauce that was infused with an amazing earthy flavor, and worked with everything on the platter.
Here's a breakdown of the highlights in The Caveman's Supper:
Bone Marrow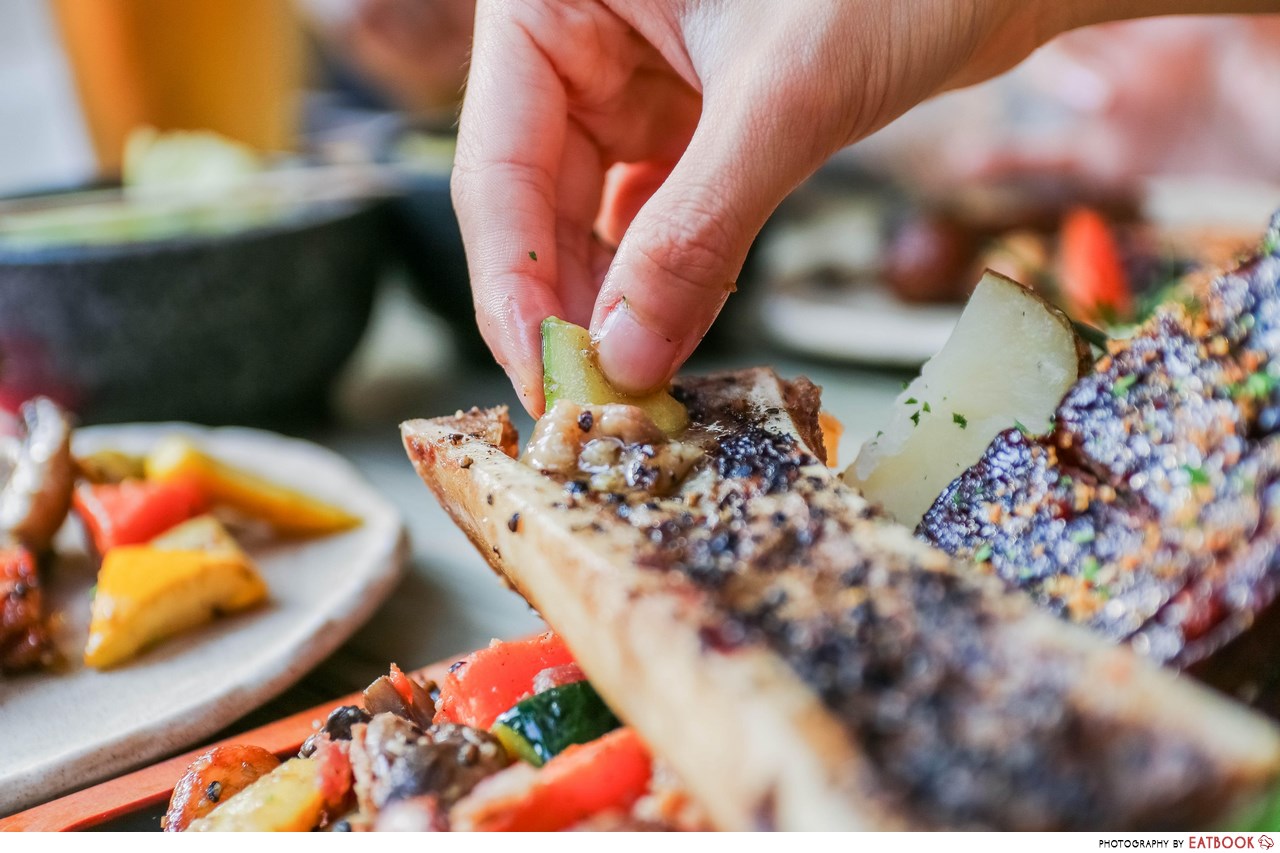 The oven-baked Bone Marrow was seasoned simply with salt and pepper, allowing its flavor to shine through. With no spoons in sight, I scooped this up with some of the roasted veggies.
The marrow was smooth and incredibly buttery; a mouthful or two left me feeling satisfied. Anymore, and this dish would have been too gelat.
Beef Ribs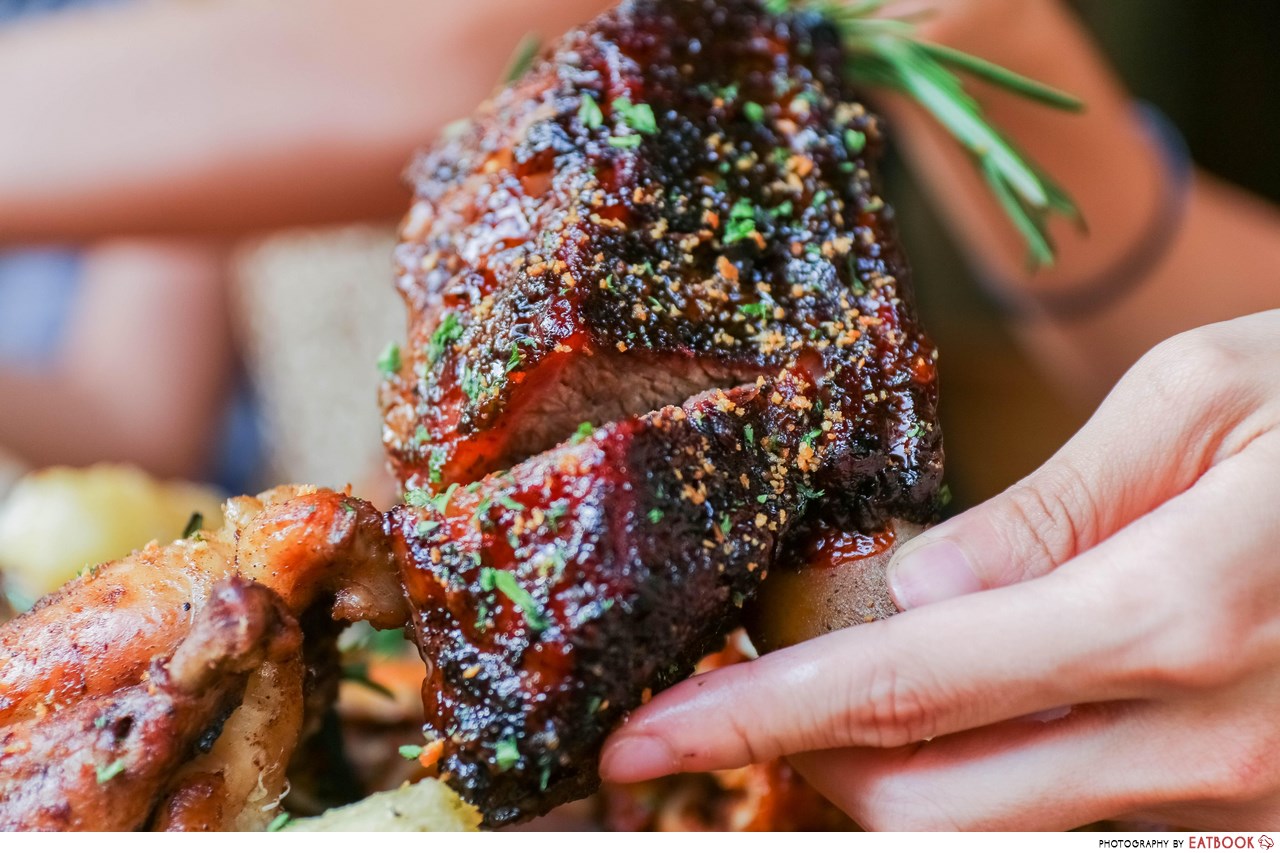 These gigantic slabs of Beef Short Ribs were slow-roasted overnight before being grilled on high heat, leaving a beautiful char on its glistening surface.
I'm not a fan of ribs, but these beef short ribs were, by far, the best ribs that I had ever tasted. The meat was fall-off-the-bone tender, and was so incredibly flavorful that the dipping sauces were made redundant.
Chicken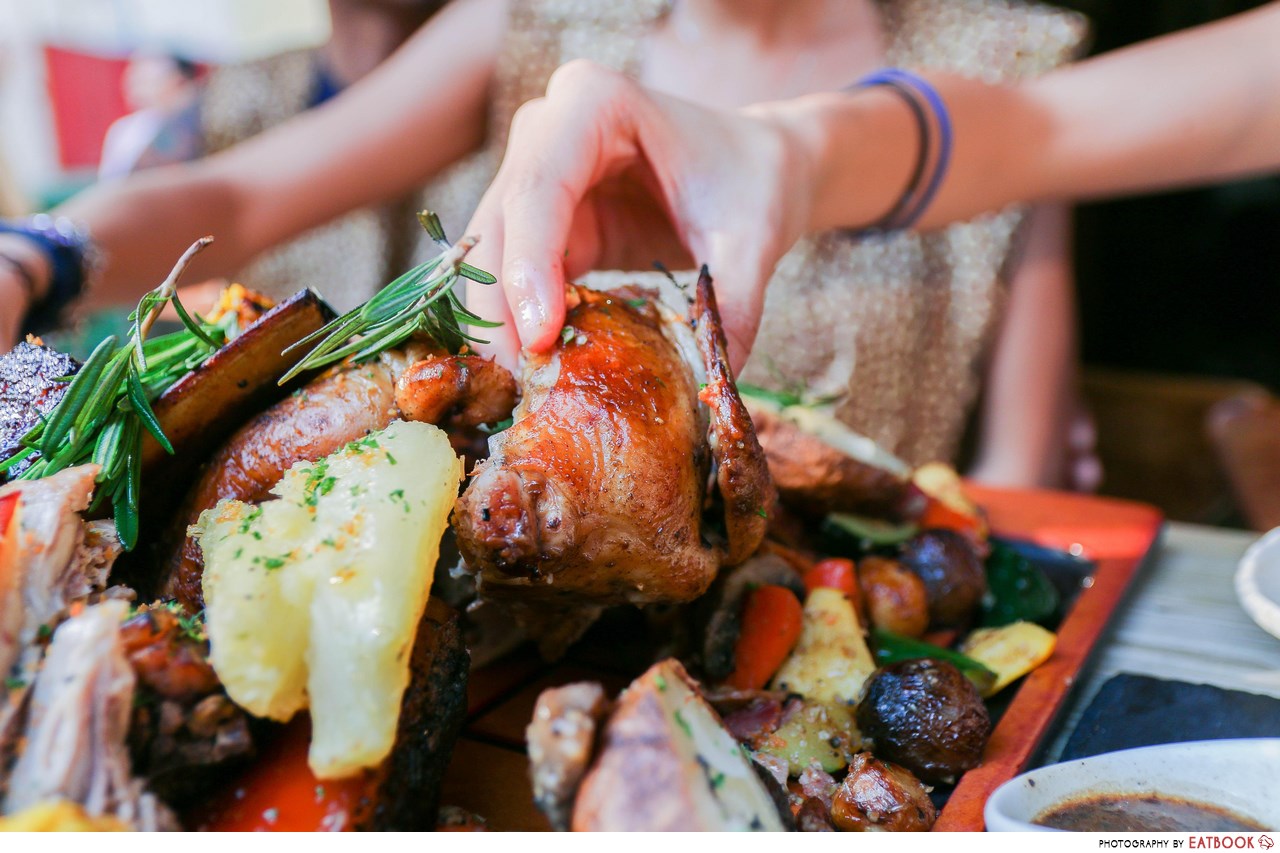 The 5-spice marinated Whole Chicken was another star. Cooked 5-hour sous vide and flash-roasted in the oven; every part of the chicken, even the breast, was very juicy and not dry in the least. This rendered the bird perfectly crisp on the outside, and nearly fall-apart tender on the inside.
Beef Tripe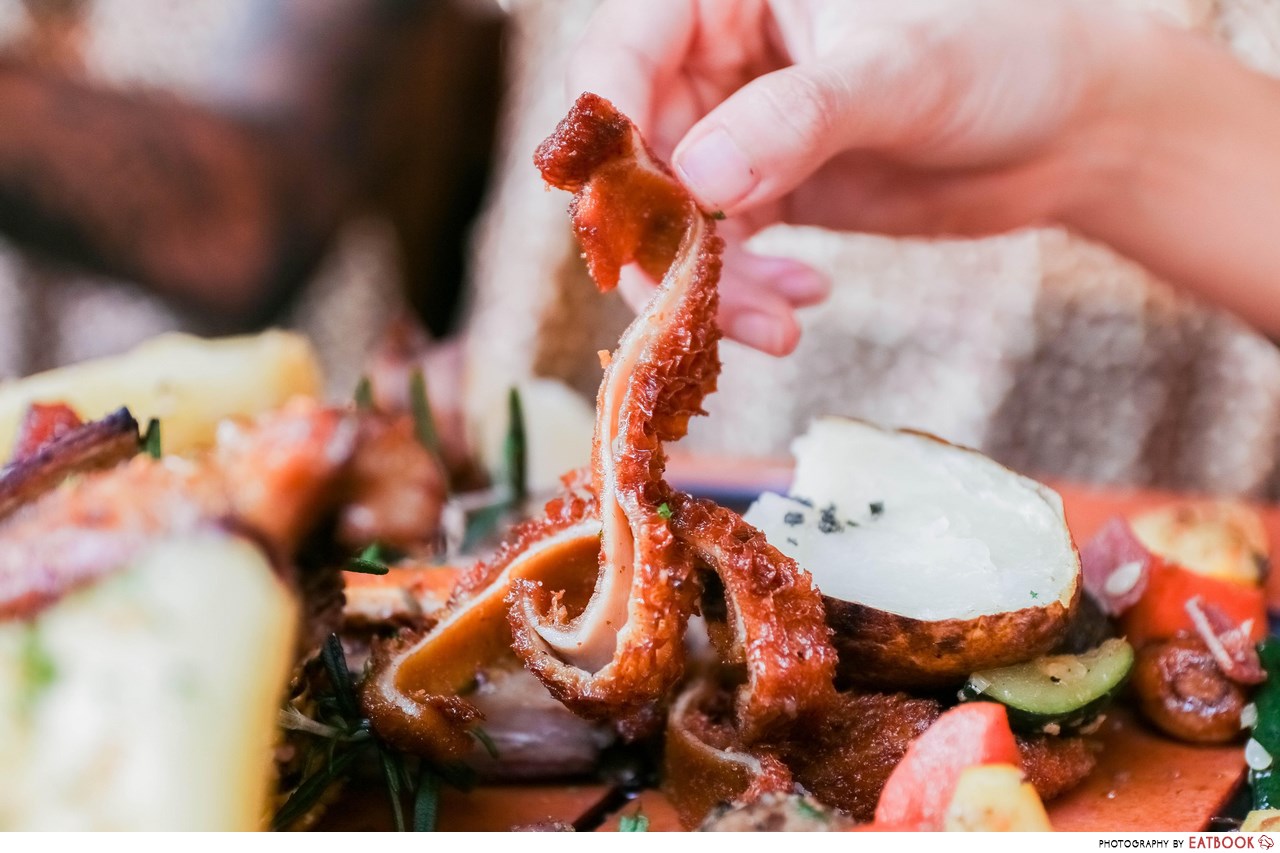 This was my first time having tripe, and naturally, I was slightly apprehensive as I bit into a piece. Thankfully, FYR's smoked Beef Tripe quelled my previous reservations about stomaching, well, stomach.
The tripe was crispy and chewy, with no unpleasant offal odor. While it wasn't my favourite item on the platter, in part due to the other flavorful meats that are more to my liking, I can imagine that fans of the chewy braised intestines in kway chap would love this.
Suckling Pig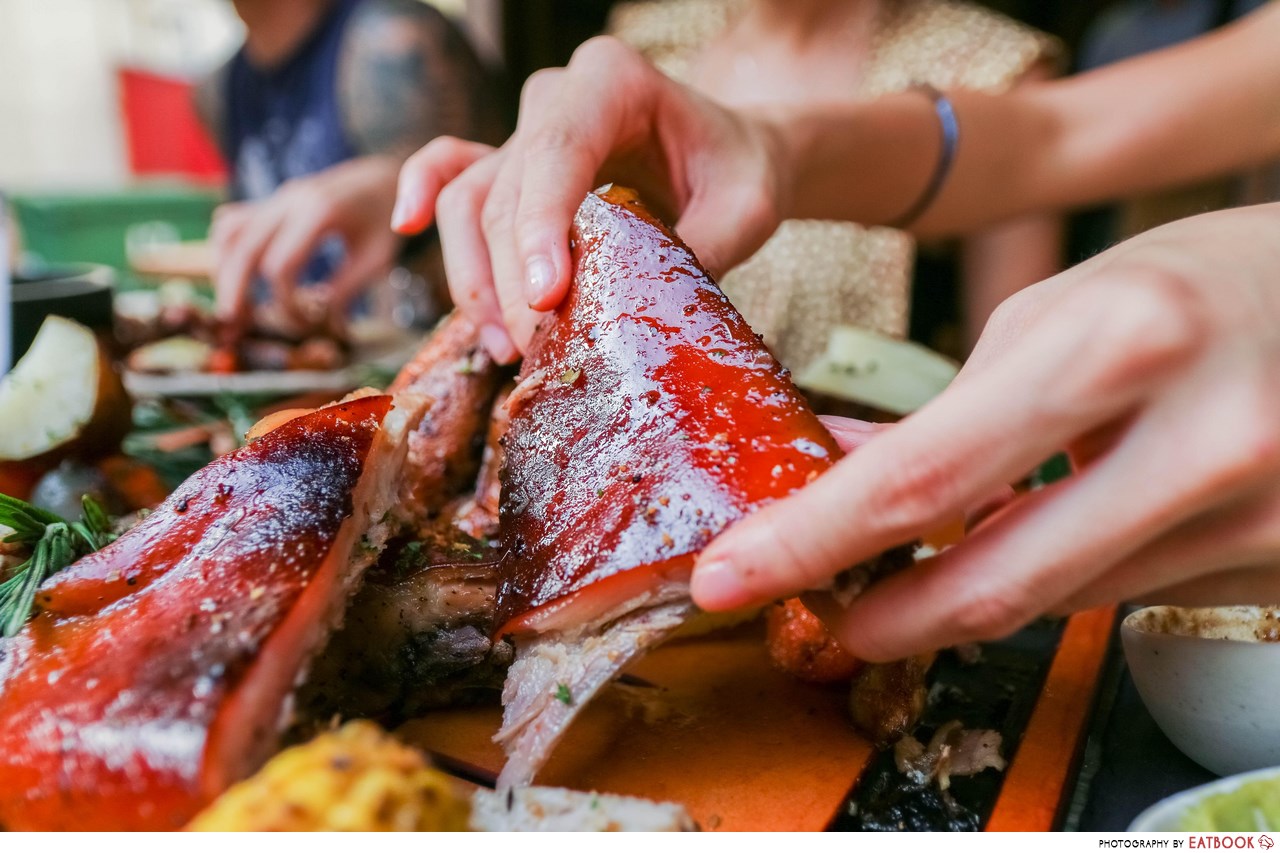 As a general rule, I would pick beef or chicken over pork any day. But FYR's Suckling Pig won me over completely.
Just look at that glossy sheen. This suckling pig went through a full 12 hours of slow-cooking (7-hour sous vide, followed by a 5-hour roast), fully locking in all the flavors and juices.
The best way to enjoy this is to pull the slab apart and take a bite of the crispy fat-layered skin before taking a bite of the smooth pork meat. The ultra-succulent meat was infused with a notable honey sweetness that complemented the smoky and charred flavors perfectly, taking this dish to the next level of roasted exquisiteness. This dish just goes to show that not all meats were made equal.
The Dessert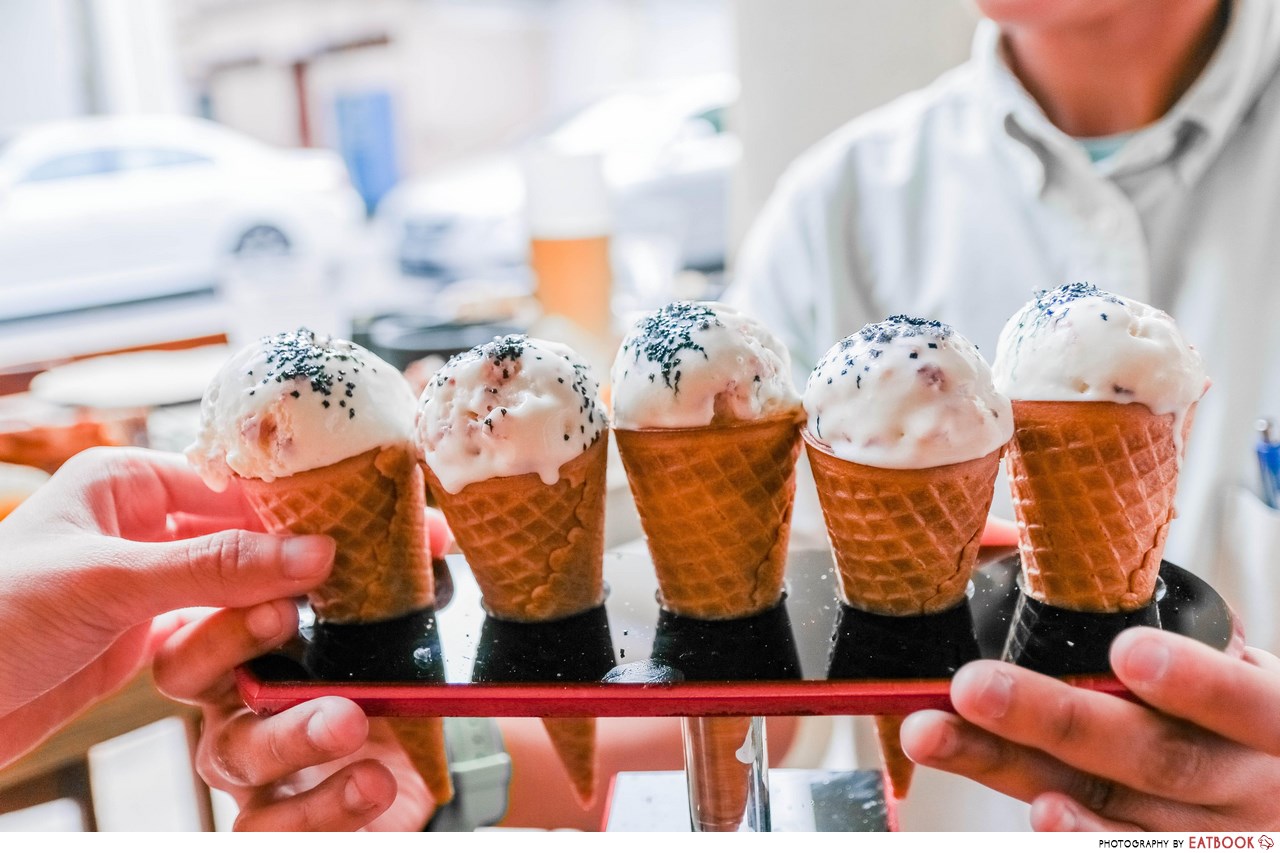 If you thought we were done with the meats, you thought wrong. Even the dessert at the Caveman Supper was in sync with the meat-bonanza theme; we were served creamy cones of Bacon and Black Sea Salt Ice Cream to cap off the massive feast.
Unfortunately, the ice cream failed to strike a chord with me. The bacon did nothing much for the dessert, apart from having the occasional chewy texture. It would have also been better if the salt was incorporated throughout the ice cream rather than being sprinkled on top, as the first bite was overwhelmingly salty.
I would have prefered a plain vanilla cone, or perhaps even a sorbet, for a more refreshing end to the already decadent feast. The ice cream, although fitting to the theme, could have been executed better.
Unleash Your Inner Savage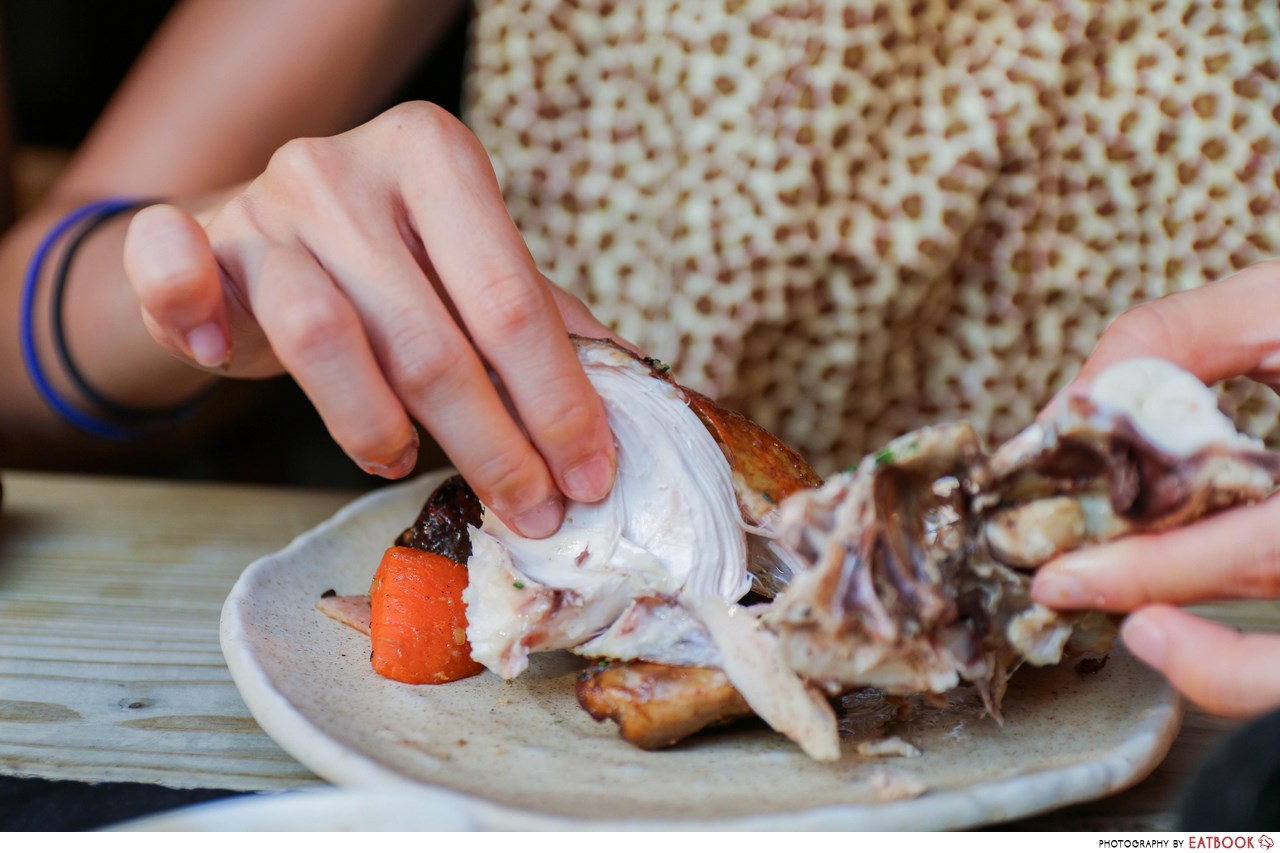 All in all, I enjoyed the Caveman's Supper immensely. While the meats and sides were devilishly good, it was the hands-on, no-holds-barred dining concept that was the highlight for me. Feasting with my hands was entirely foreign to me, the shared experience of unabashedly digging in with everyone was the catch that made The Caveman Supper so much fun to devour.
You might feel a little impolite at first, going at the platter with your hands. But no worries, you'll soon get into the swing of things as you pull huge slabs of meat apart to share with your tablemates. The Caveman Supper concept works fantastically for a close, dynamic group of friends who have no qualms about stuffing their faces; this is the ultimate SOUL FOOD.
It's all-hands-on-deck with this mega huge meat platter. Forget the dress code, tie up your bib, and get down to smashing your Caveman's Supper.
This post was brought to you by FYR Cycene Ond Drinc
Summary
Pros
– Well cooked meats, huge portions
– The sides and beverages were excellent accompaniments
Cons
– Bacon ice cream was a miss
Recommended Dishes: The Caveman Platter ($150++)
Operating Hours:
11.30am to 11pm (Daily)
Address: 19 Boon Tat Street