Garang Grill by New Ubin Seafood
Update: Garang Grill has relocated to 15 Swan Lake Avenue, Singapore 455711.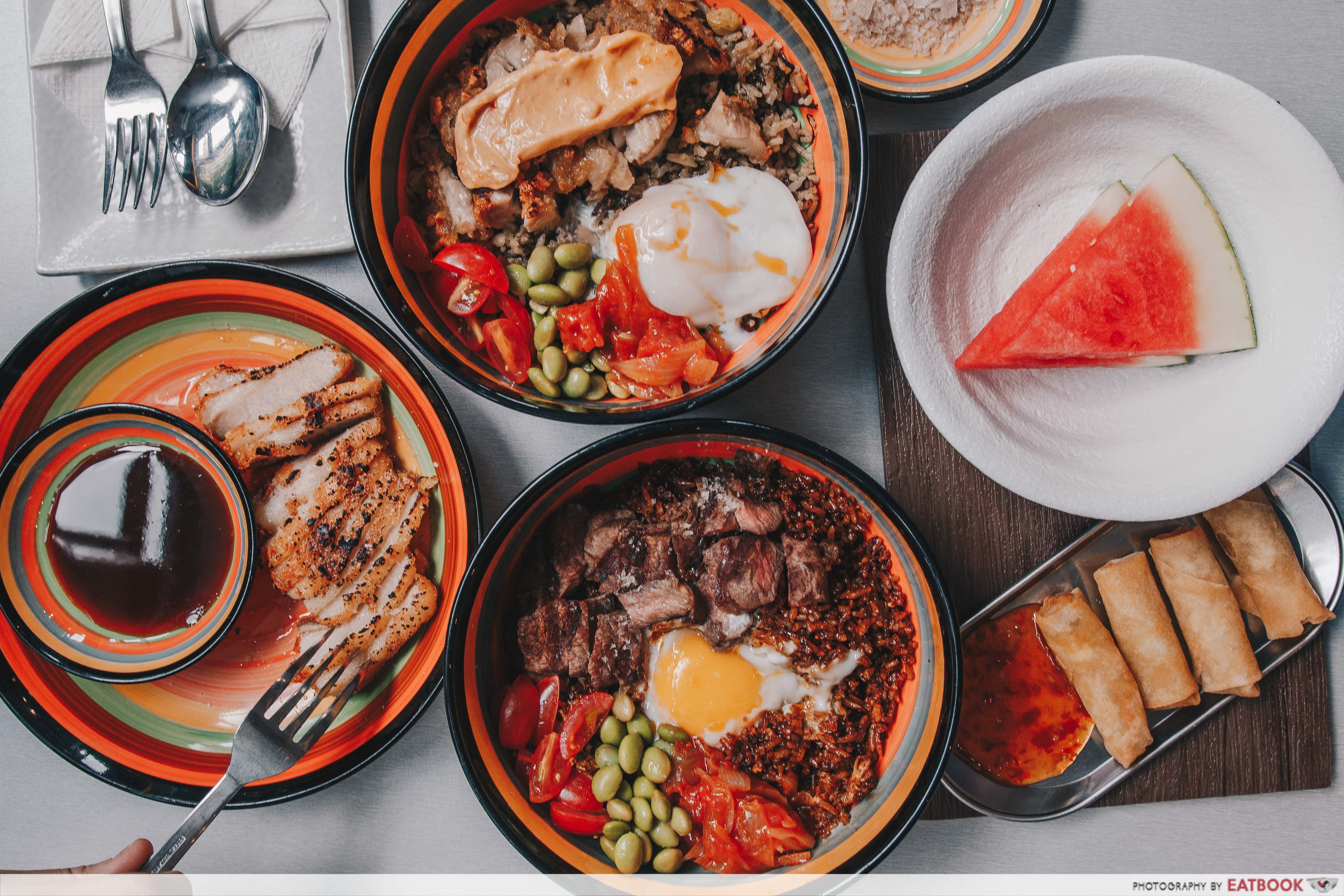 For those of you who have already been to the popular New Ubin Seafood, you most likely would've left that place craving for more. I am no exception. As such, when I heard about the existence of Garang Grill by New Ubin Seafood, I got my tummy ready. Garang Grill has two outlets, one at Swan Lake Avenue and the other at Henderson Road, and I headed down to the latter.
Food at Garang Grill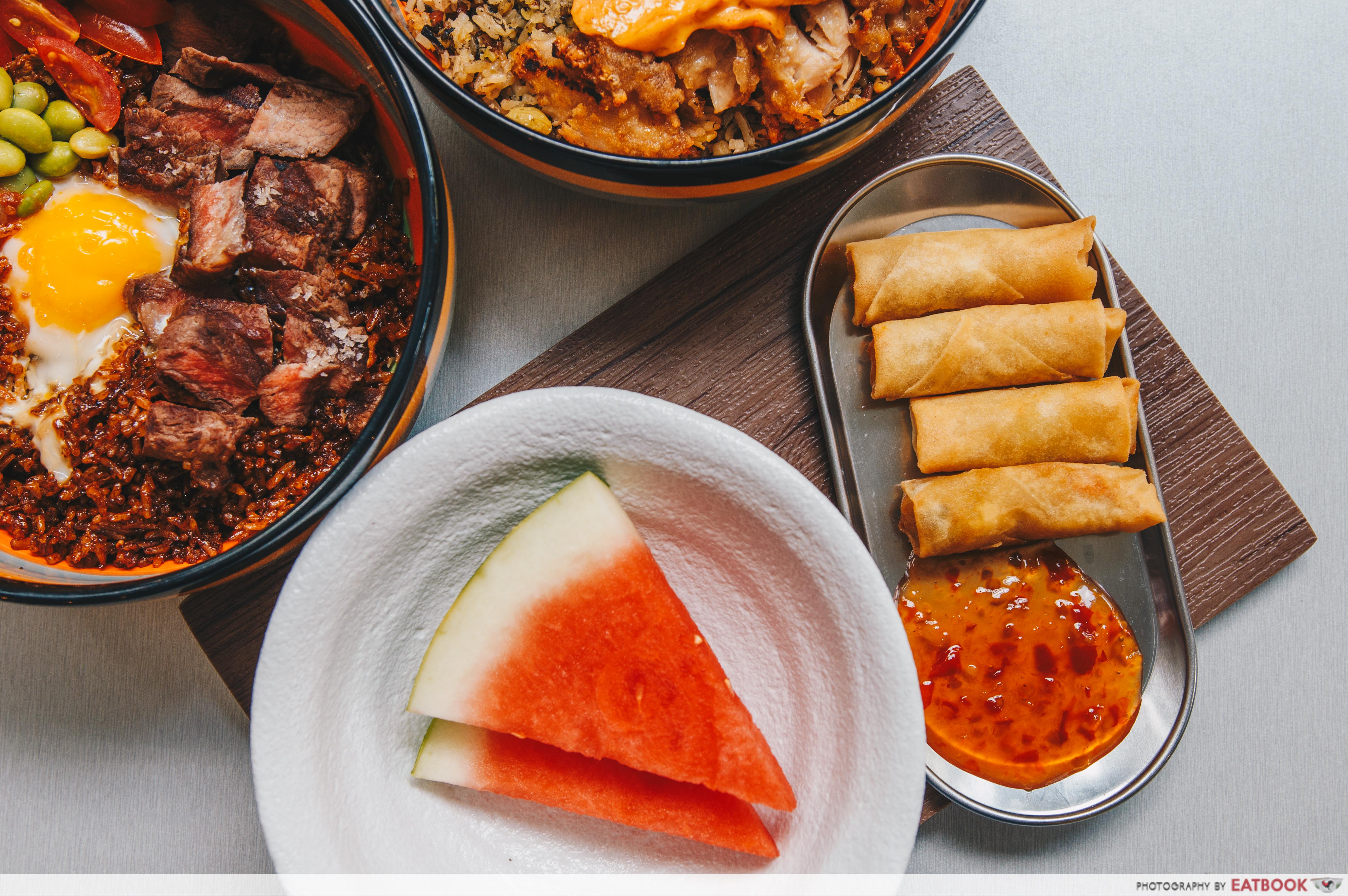 As my colleague and I went through the lunch menu, I was surprised by how affordable the prices are, especially when all the mains come with a complimentary side and fruit.
After rounds of indecisiveness due to the variety of rice bowls offered, we finally made up our mind on getting the Lime Leaf Chicken Rice Bowl ($9.90++), Garang Beef Rice Bowl ($14.90++), and Crispy Pork Jowl ($12++).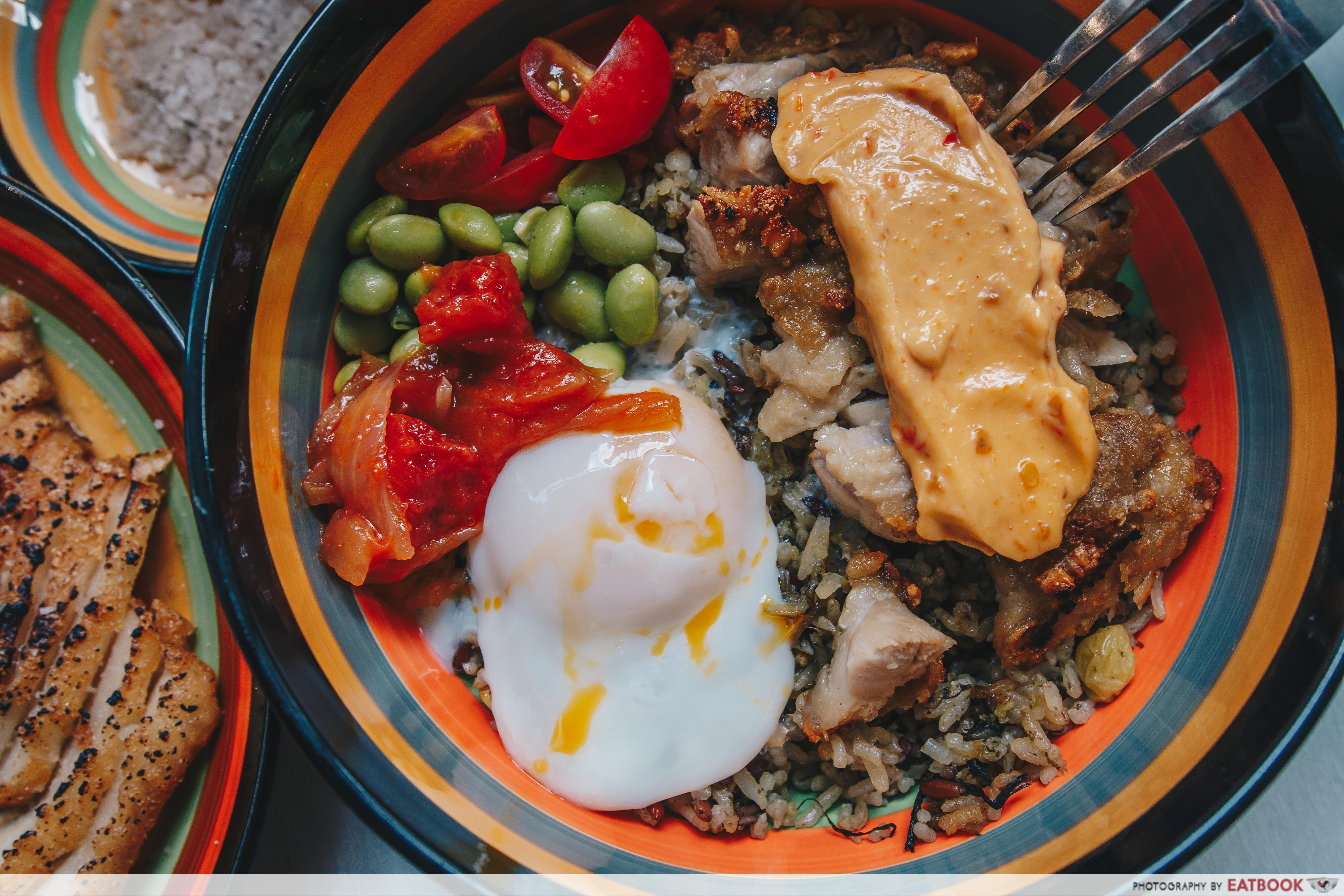 First up, was the Lime Leaf Chicken Rice Bowl. It came with crispy-looking pieces of chicken cutlet, a jiggly poached egg, and a slab of sambal mayonnaise sauce. Spicy tomato chutney, edamame, and cherry tomatoes were added nicely on the side.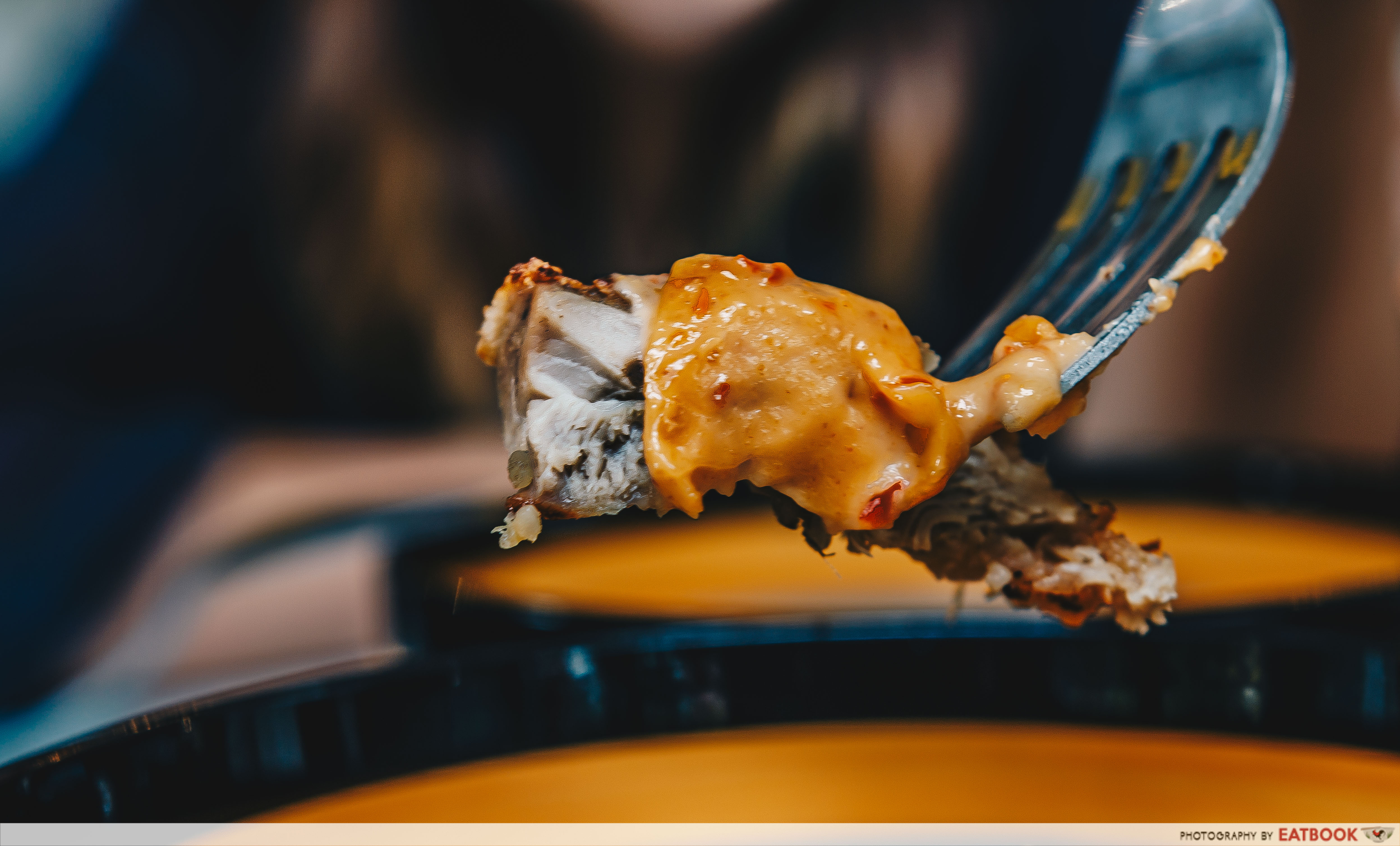 The taste of the chicken matched up to its looks – it was very crispy! Underneath the layer of crispy skin was tender and well-marinated meat.
Once I tried the sambal mayonnaise, however, I was let down. The mayonnaise's flavour was too strong and it masked the sharpness of the sambal. Although its taste was disappointing, the sauce's creamy and delicate texture complemented the chicken well.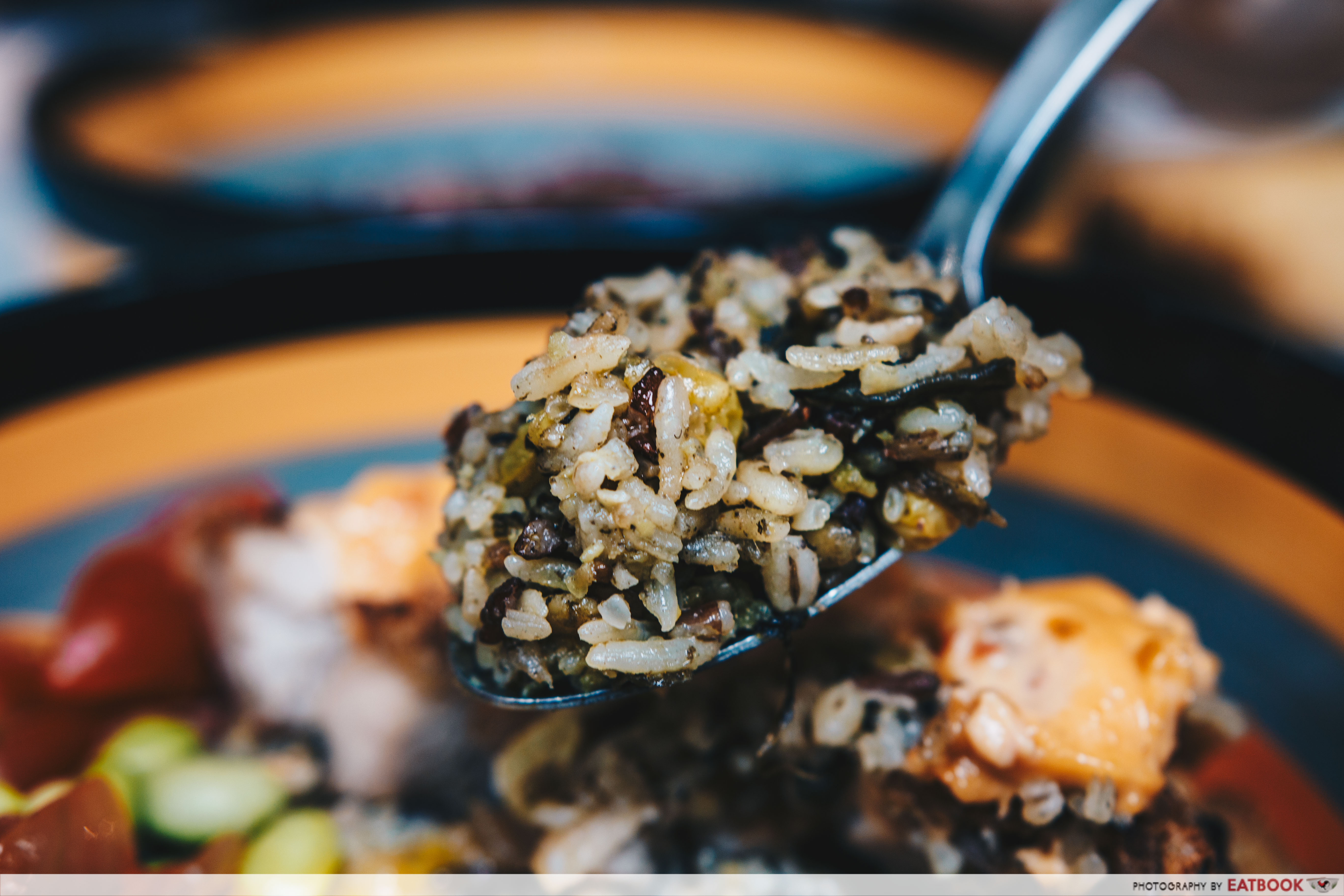 Hiding underneath the ingredients was a bed of olive grain rice made up of a mixture of white and brown rice, raisins, and barley. It was less oily compared to typical olive fried rice.
Feel free to upgrade the rice bowls from white rice to olive grain rice for $2.50 if you are looking for a healthier option!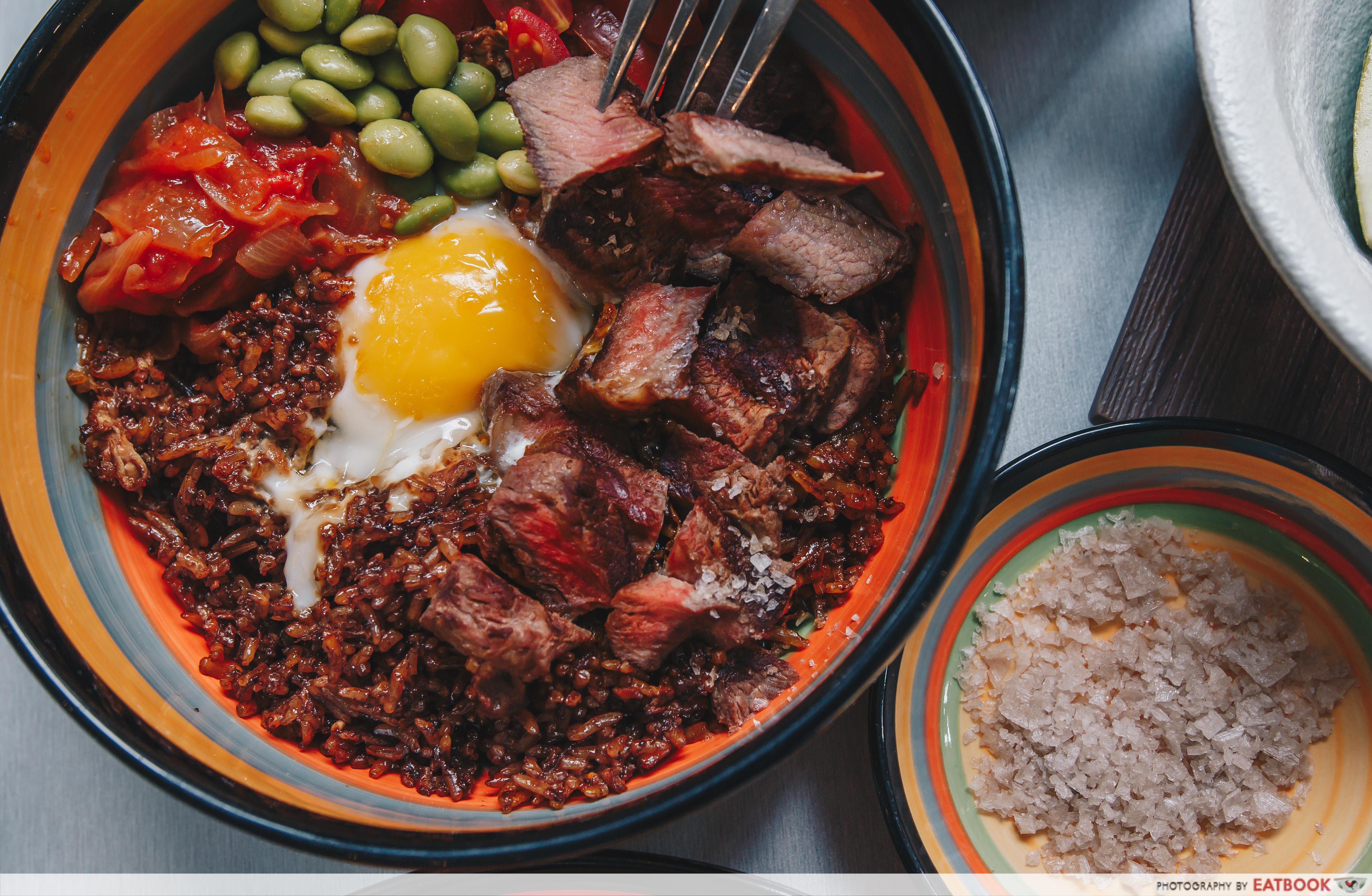 Next up was the Garang Beef Rice Bowl ($14.90++). Covering the "garang rice" would be pinkish-brown pieces of medium-well beef cubes, a poached egg, and the same sides as the Lime Leaf Chicken Rice Bowl.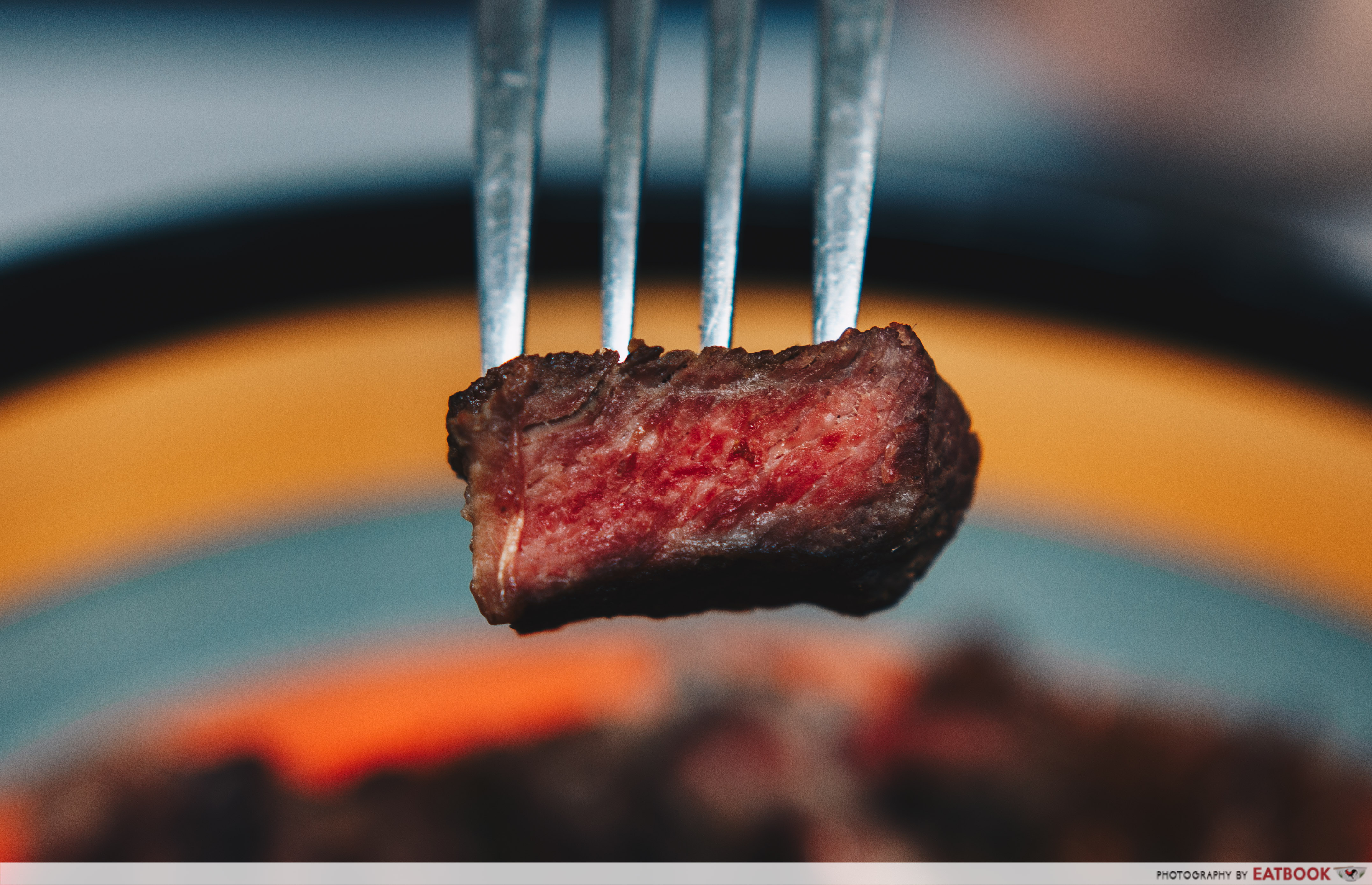 As someone who is not a huge fan of beef, I have to admit that I was extremely blown away by this dish. Every beef cube was grilled till the exterior had a brown sear to it, while the interior remained slightly pink. It reminded me a lot of Taiwanese beef cubes, although the ones at Garang Grill tasted more charred and better marinated.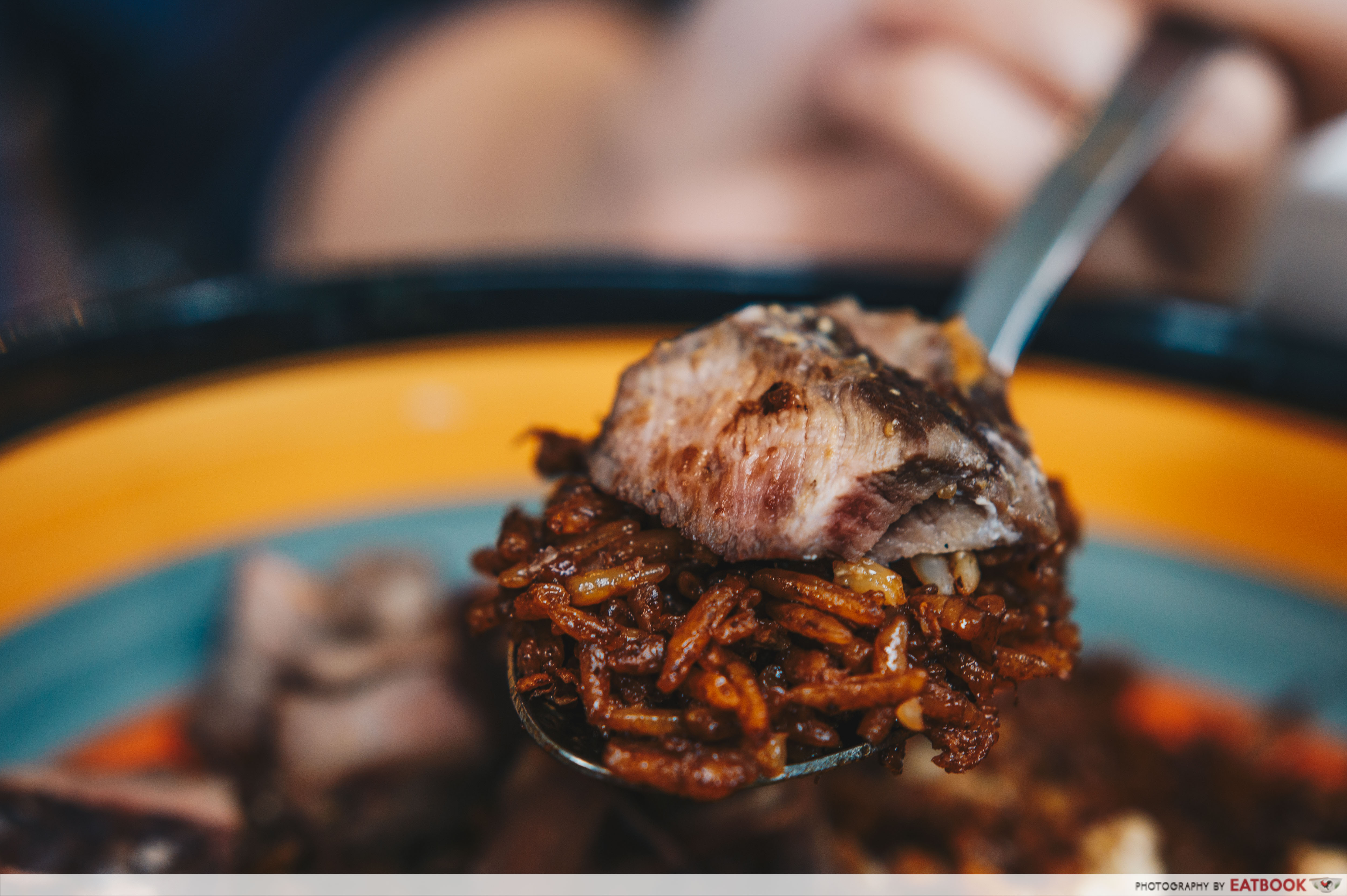 The "garang rice" is actually white rice stir-fried with spicy soya sauce. Just like the olive rice in the Lime Leaf Chicken Rice Bowl, the garang rice wasn't too oily. It tasted exactly like claypot rice with a strong wok hei, just with a little hint of added spiciness.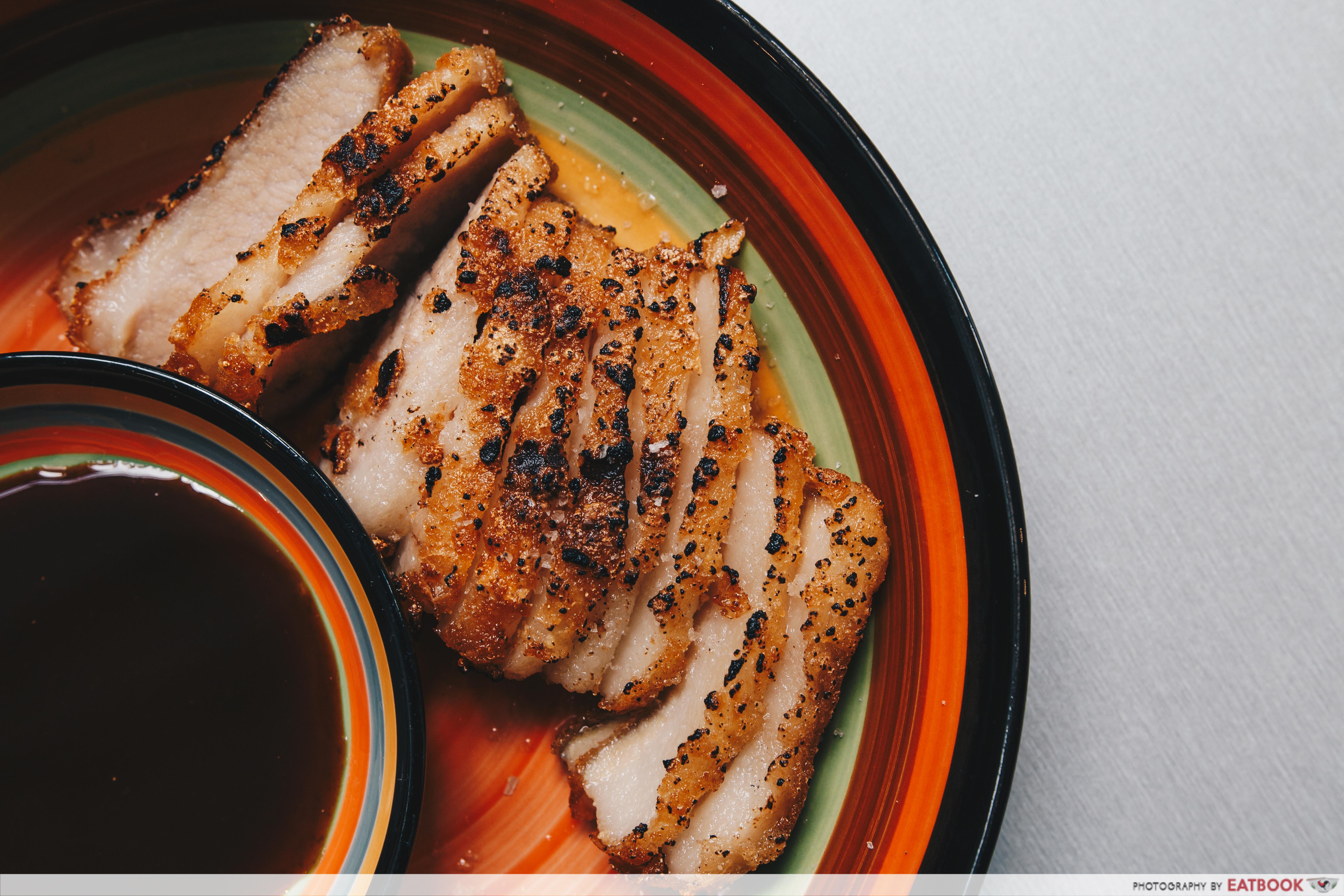 Lastly, out came the Crispy Pork Jowl ($12++). This dish comes with miso gula melaka sauce on the side.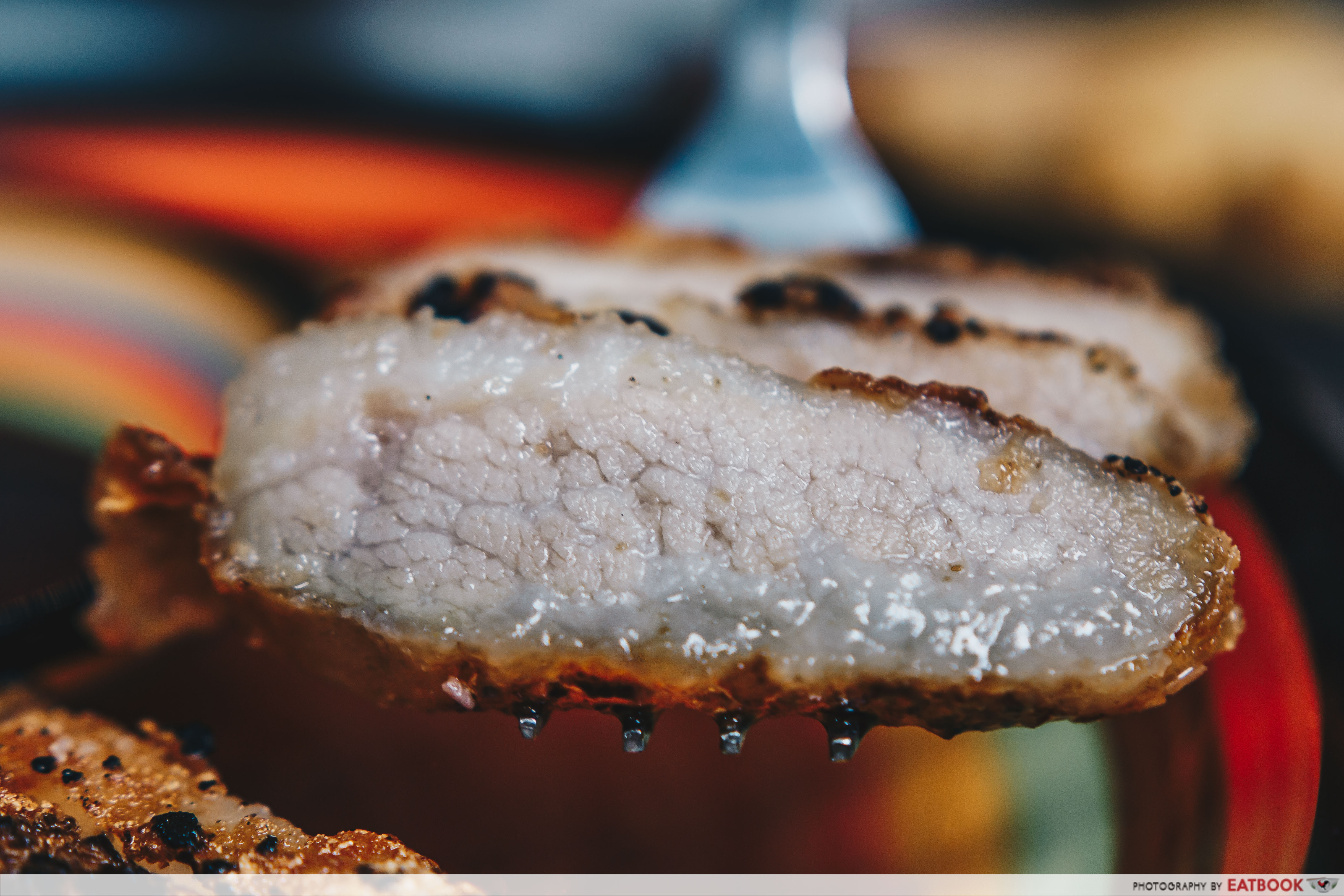 Marinated with salt and pepper, each slice came with a fatty layer that melted in my mouth. The oil in the pork carried the marinate's flavour, and the meat tasted similar to sio bak. The skin produced a crackling as I bit into its charred edges, which came with wok hei.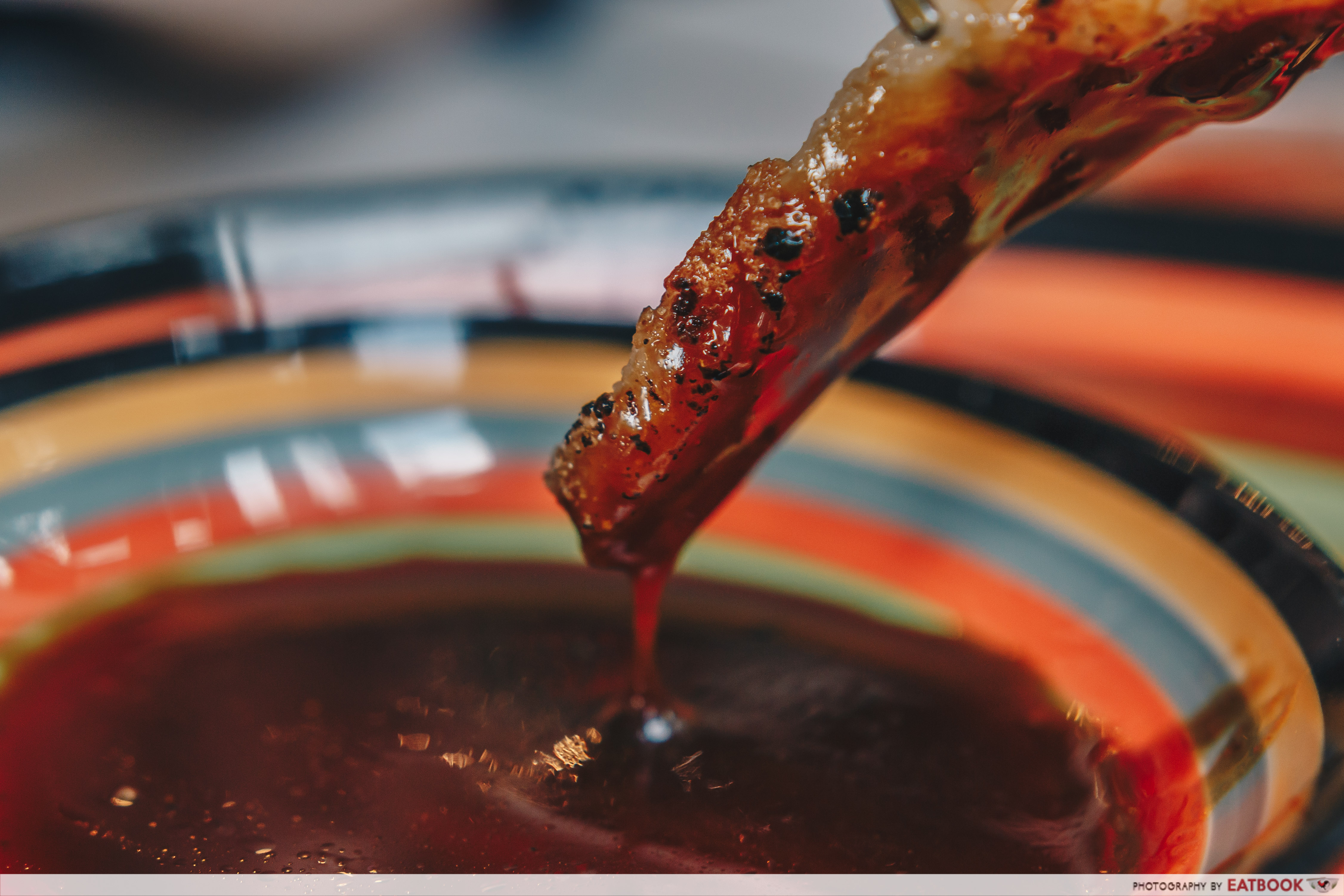 The miso gula melaka sauce did not appeal to me as I felt that the miso's saltiness counteracted the sweetness. Even without the sauce, the Crispy Pork Jowl tasted good on its own.
Ambience at Garang Grill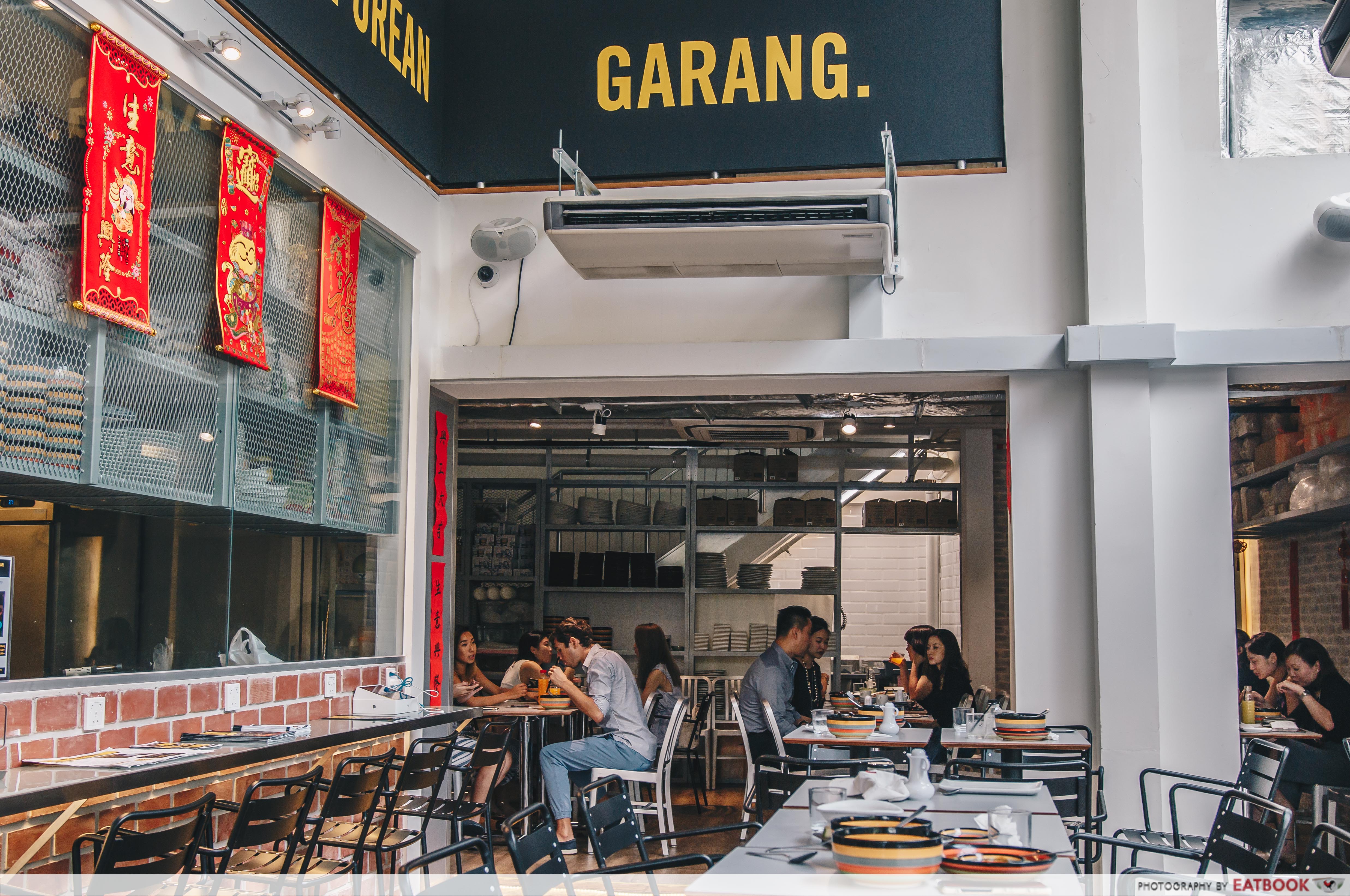 Garang Grill is tucked away in Apex @ Henderson. This place is both comfortable and chill. It is pretty popular during lunch hours, with office workers swarming the place to curb their hunger pangs.
The verdict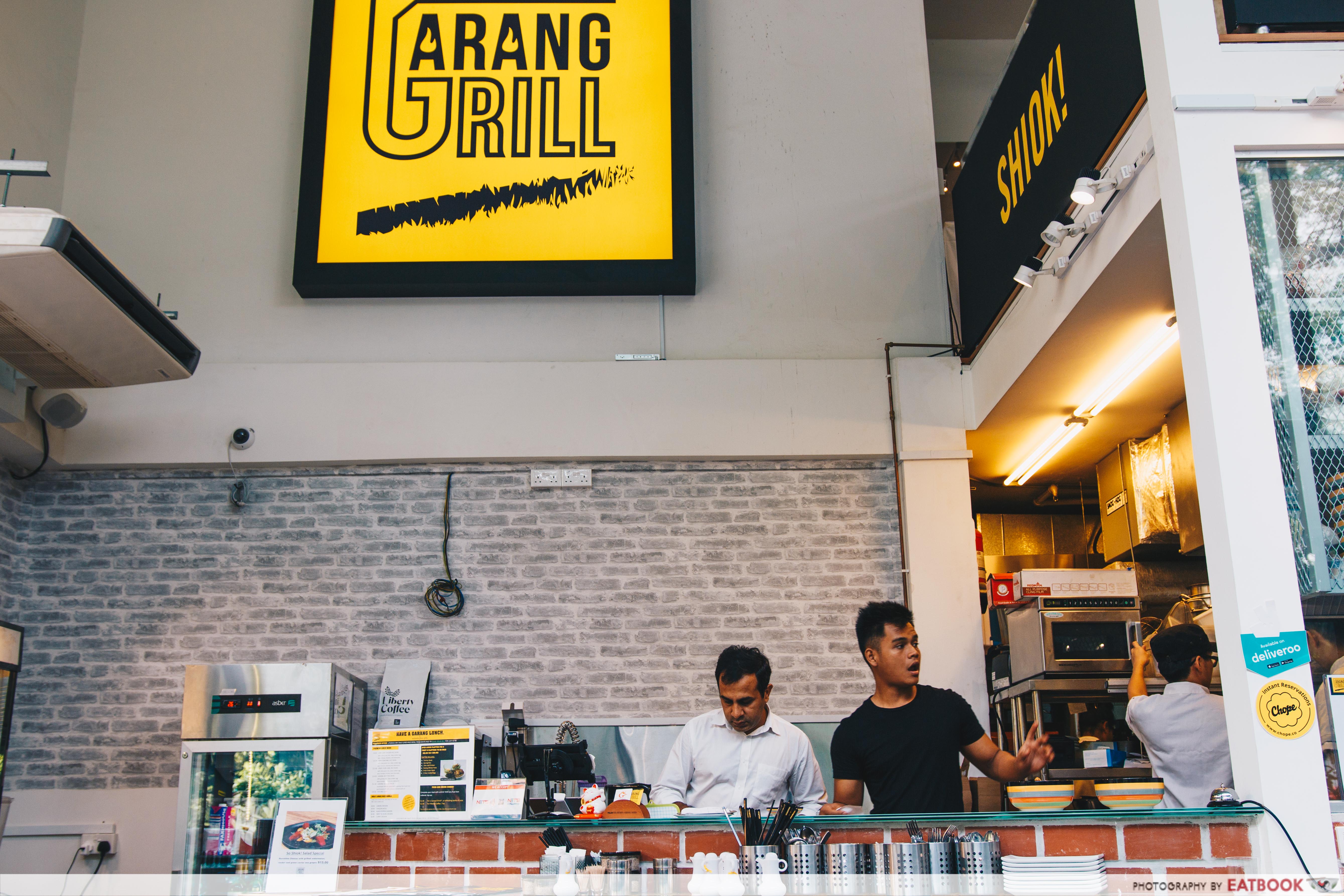 The prices of the food at Garang Grill are affordable and worth the money considering the portions given and quality of ingredients used. With such delicious and affordable grub offered, this place is definitely worth a trip down.
For more tasty rice bowls, check out our review on Rakki Bowl, a newly opened stall selling affordable Japanese donburi in a cafe, and our list of affordable donburi places to enjoy Japanese rice bowls at $12 or less.
Address: 15 Swan Lake Avenue, Singapore 455711
Opening hours: Tue 6pm to 10:30pm, Wed-Sun 11:30am to 3pm, 6pm to 10:30pm
Tel: 9740 6870
Website
Garang Grill is not a halal eatery.

This is an independent review by Eatbook.sg
Summary
Pros:
– Decent portions
– Meat was very well-marinated and succulent
– Rice was flavourful and not oily
Cons:
– The sauces were average
Recommended dishes: Garang Beef Rice Bowl ($14.90++), Crispy Pork Jowl ($12++)
Operating hours: Tue 6pm to 10:30pm, Wed-Sun 11:30am to 3pm, 6pm to 10:30pm
Address: 15 Swan Lake Avenue, Singapore 455711