Giant seafood steamboat opposite Bugis Junction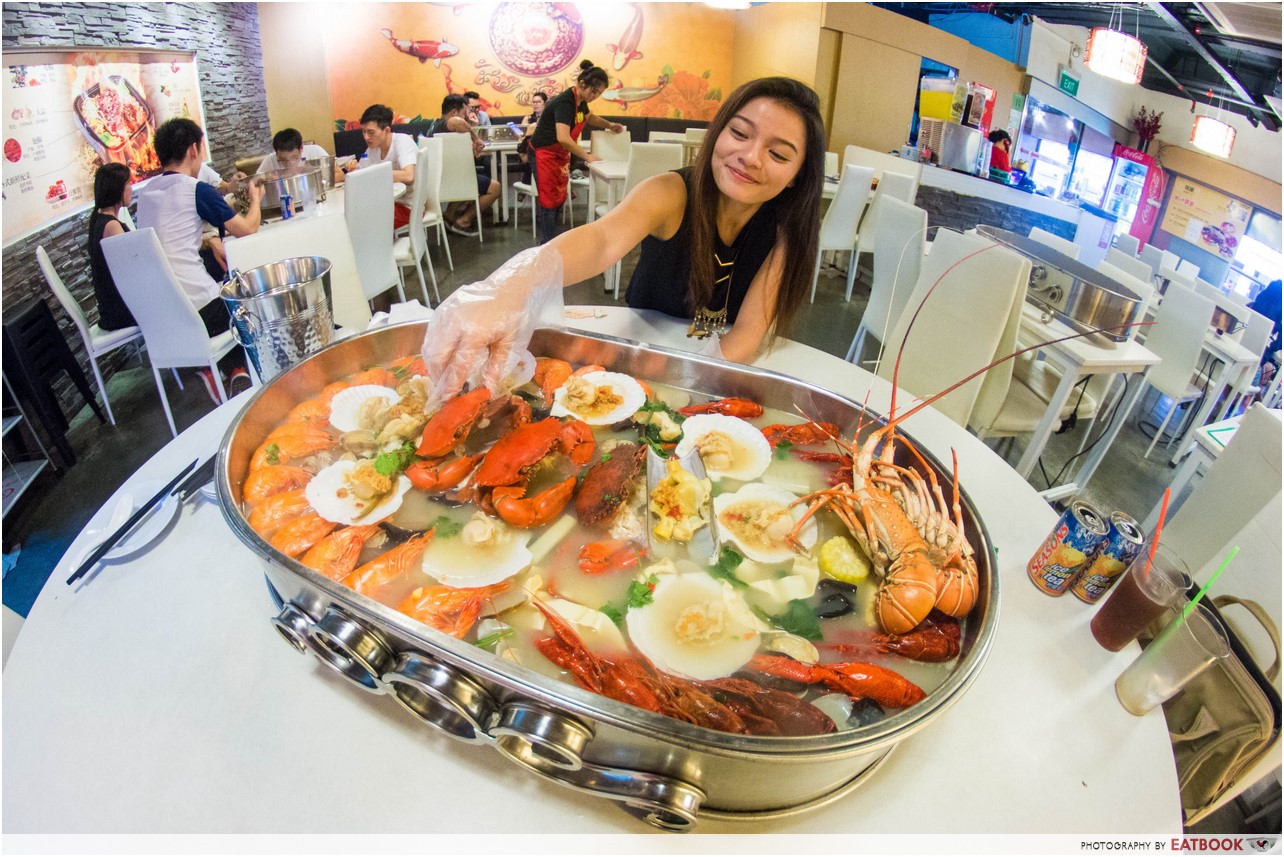 I'm quite a budget eater, but there are days I crave for something more than hawker food. And when it comes to a luxe meal, nothing can beat seafood. While going for a hotel buffet would do the trick, I'd rather save such places for special occasions that can justify a splurge. On usual days, the GIGANTIC seafood steamboat at Jiu Gong Ge Steamboat (九宫格火锅) will do.
Food at Jiu Gong Ge Steamboat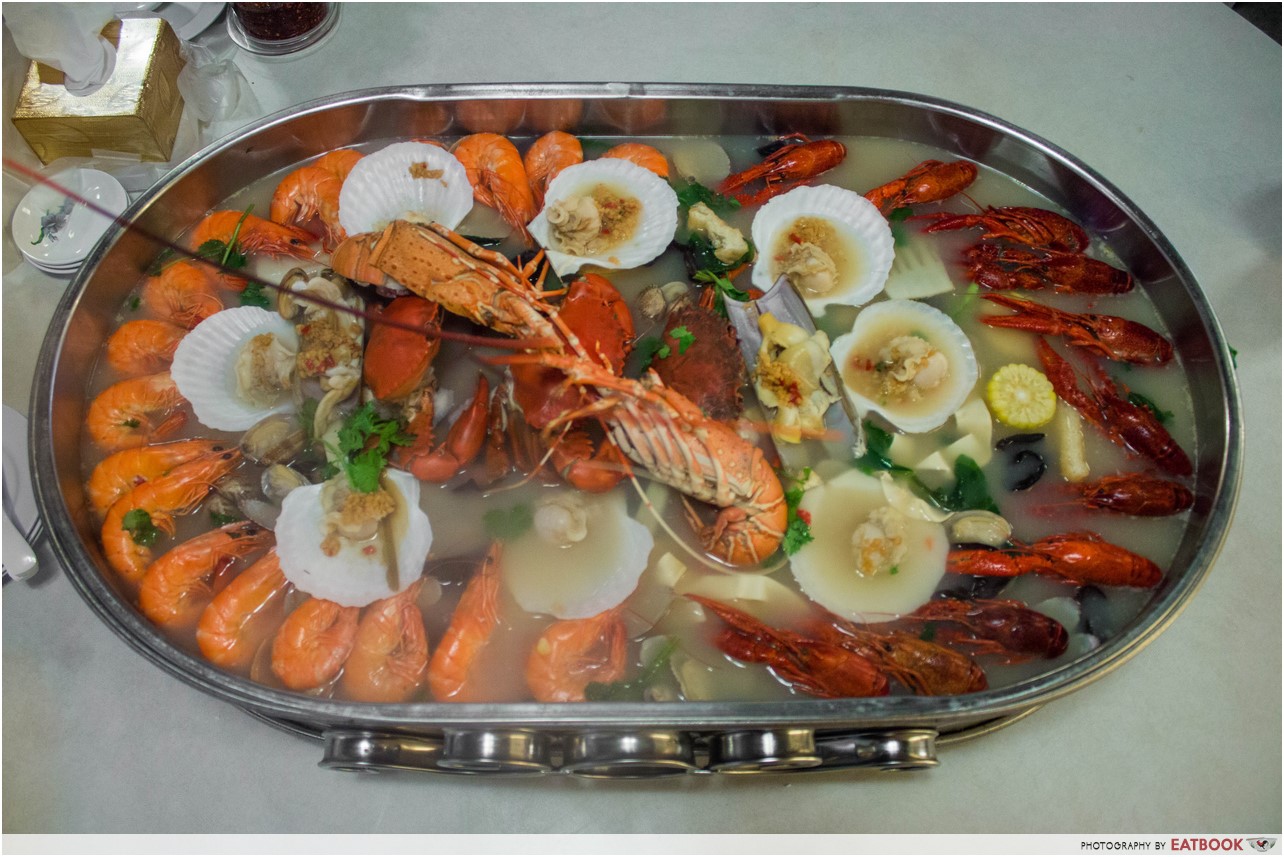 Located right across the street from Honeymoon Dessert at Bugis Junction, this place was easy to find. The staff recommended their giant Seafood Steamboat ($118++ for two, $148++ for three to four), and we decided on the $148++ one with a clear broth instead of ma la.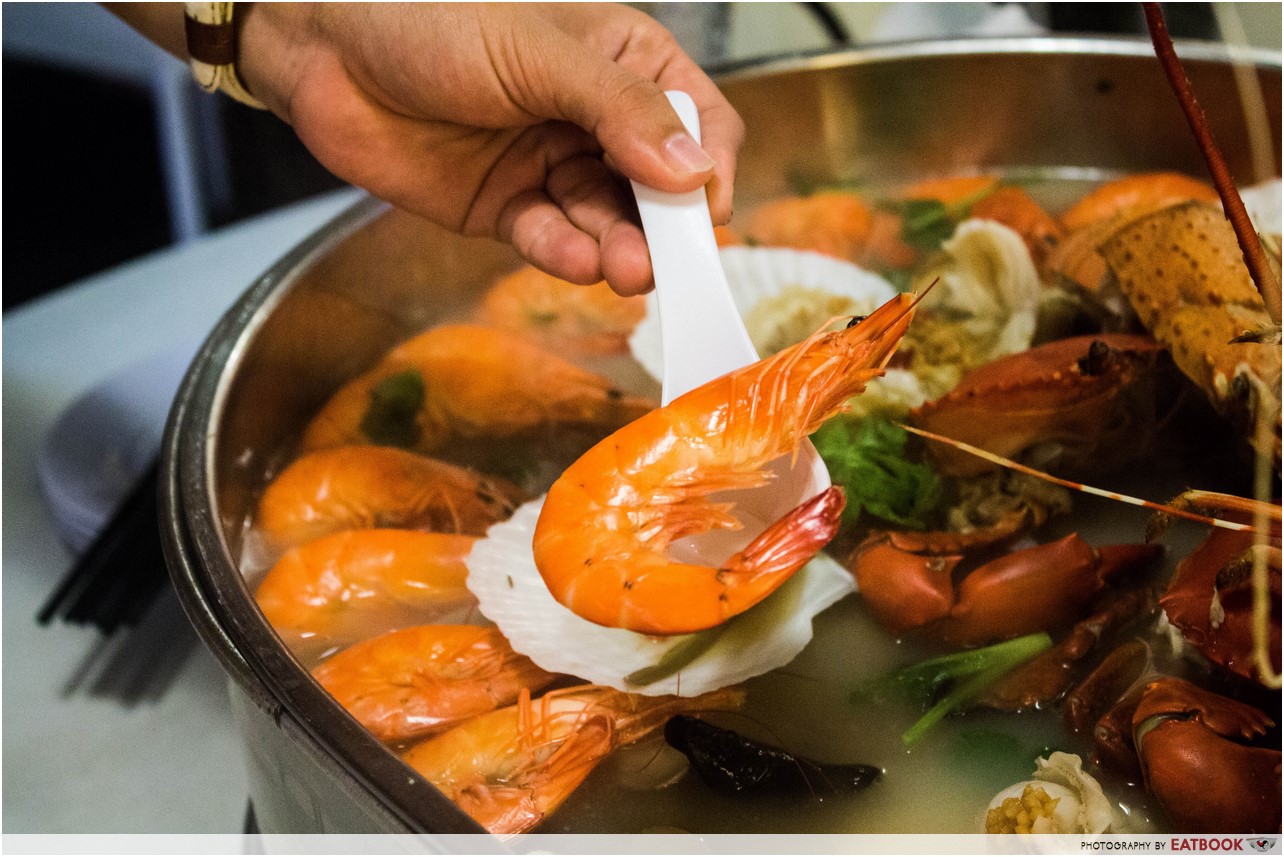 If a steamed prawn can taste flavourful without having any condiments added to it, you know it's fresh for sure. With close to 20 prawns, we were eating to our heart's desire without having to divvy them up.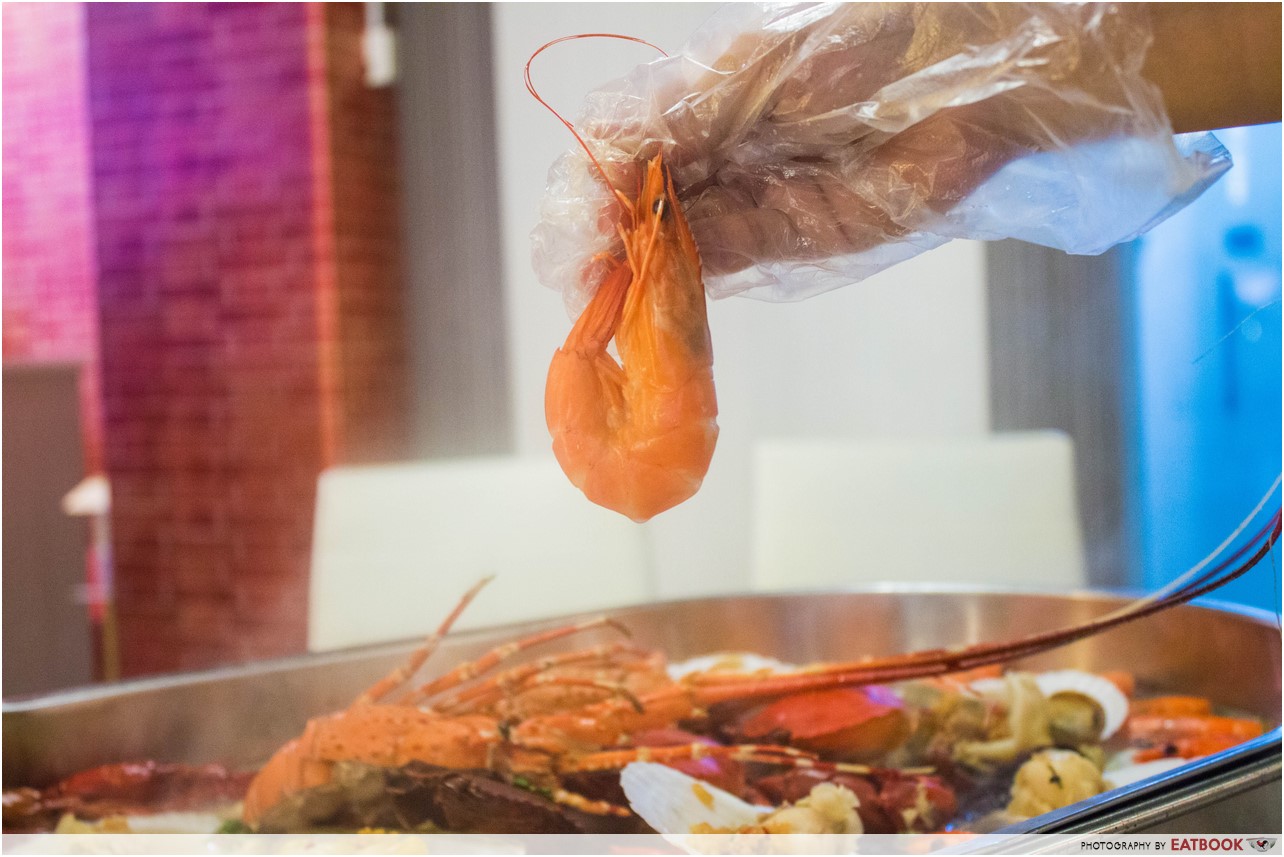 The prawns had a firm bite that gave it a slight bounce when I sank my teeth into it, and I could taste a burst of fresh sweetness from the juicy prawns. As someone who dips everything into chilli, this was probably the only time I refused to because the naturally sweet and fleshy prawns were delectable on their own.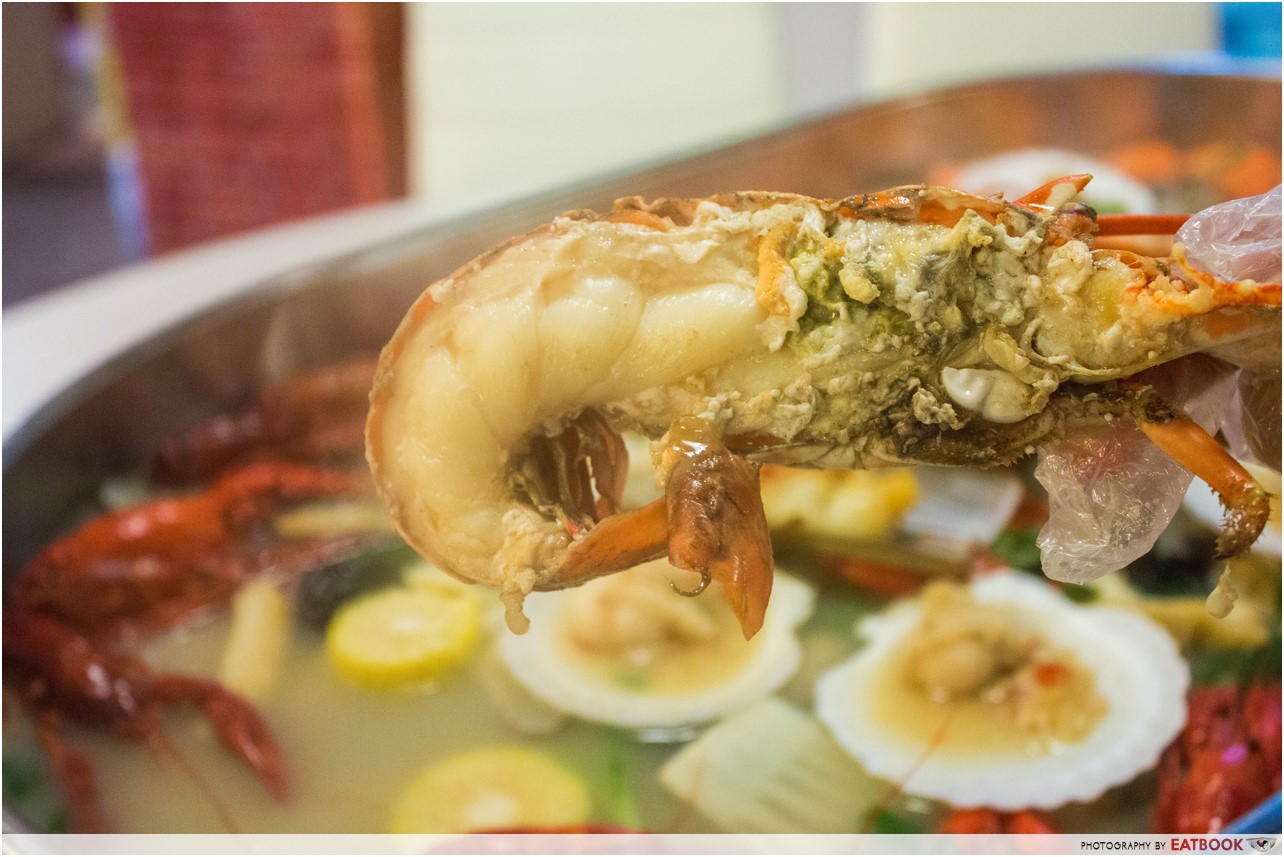 While the prawns were unbeatable in terms of taste, the lobster came close. The size of the lobster was the first thing that caught my eye when our giant steamboat arrived. I immediately put on the plastic gloves provided and dived straight into it.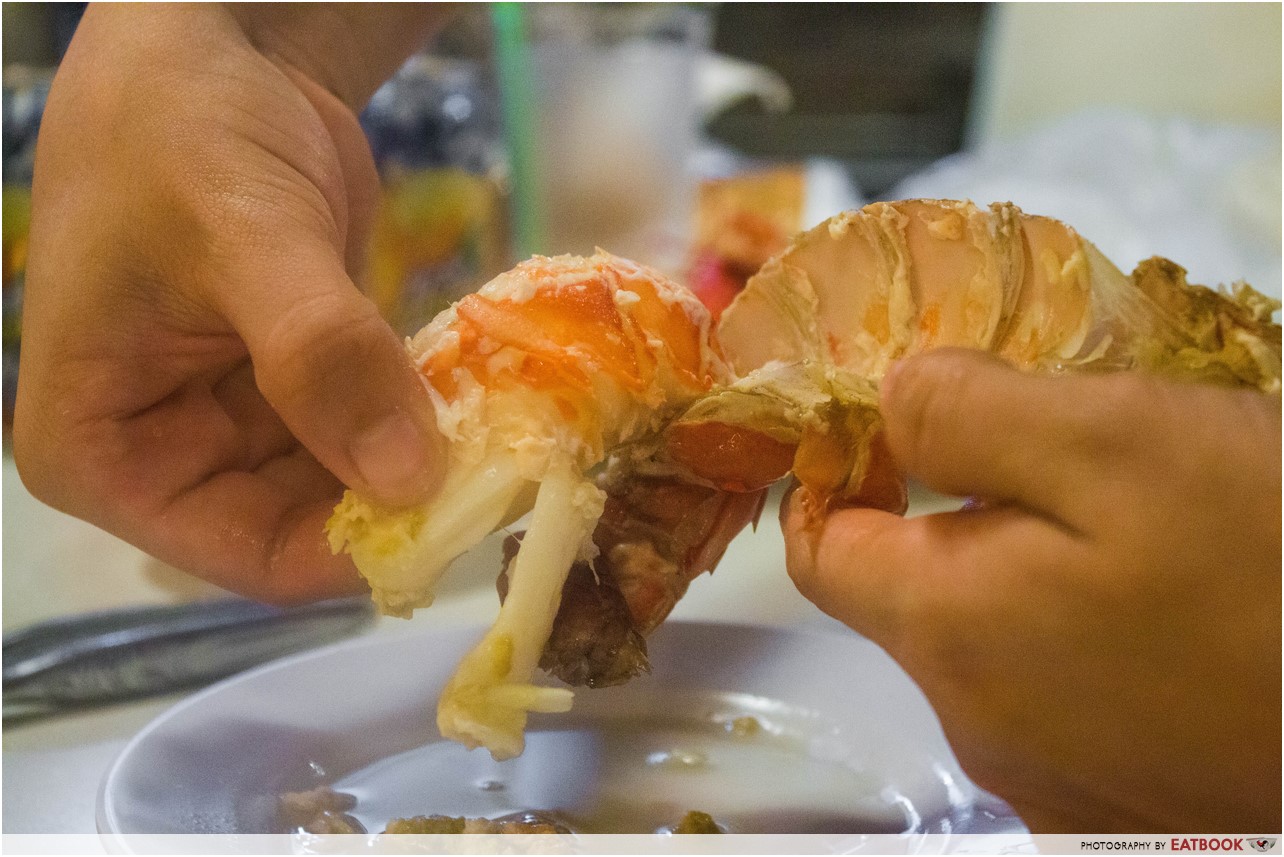 It was so satisfying to pull the lobster flesh off its shell in one tug. Though the meat wasn't as succulent as I expected, it was incredibly plump. With a little roe smeared on it, I was overall quite pleased with this sweet, briny goodness.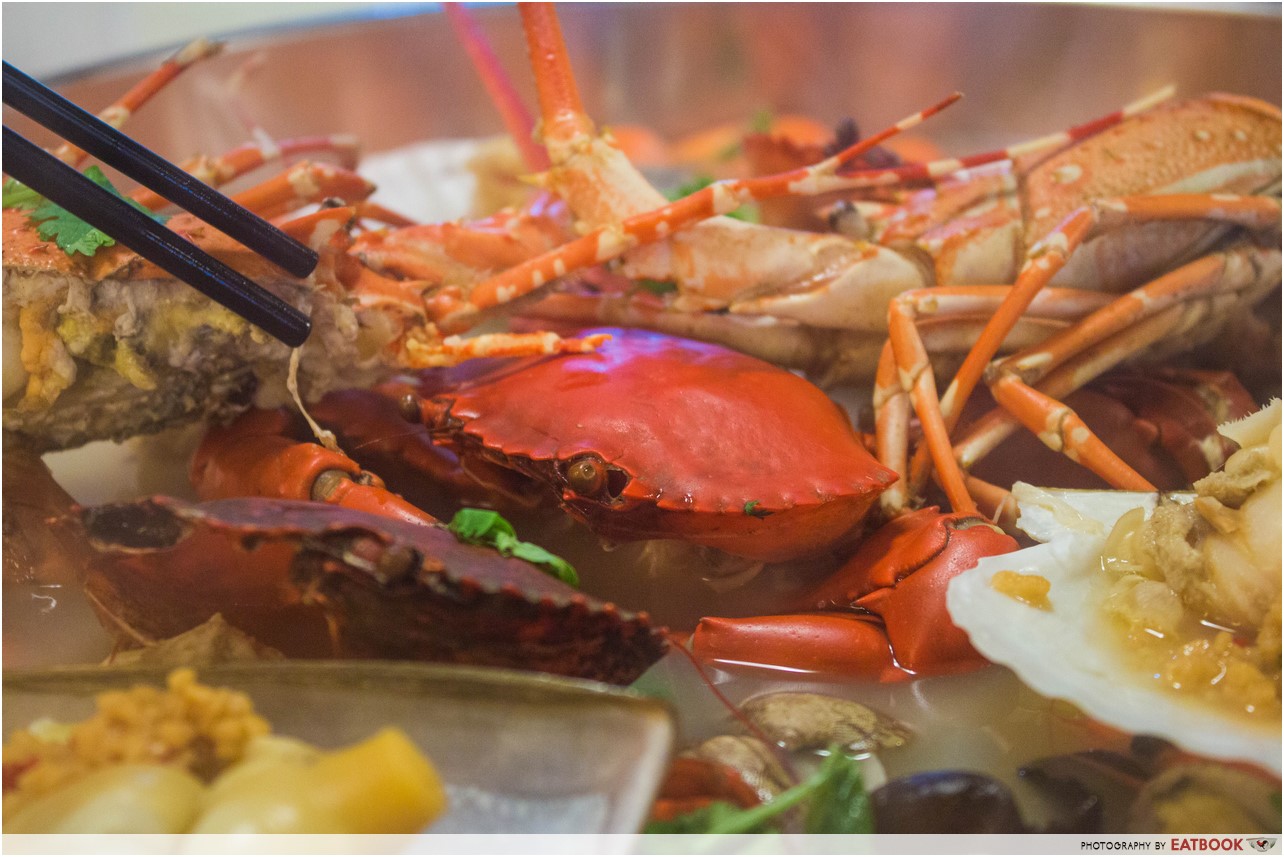 Another seafood worth mentioning is the crab. The claws were the best part and with three crabs in our steamboat, I didn't have to play the paiseh game to get them.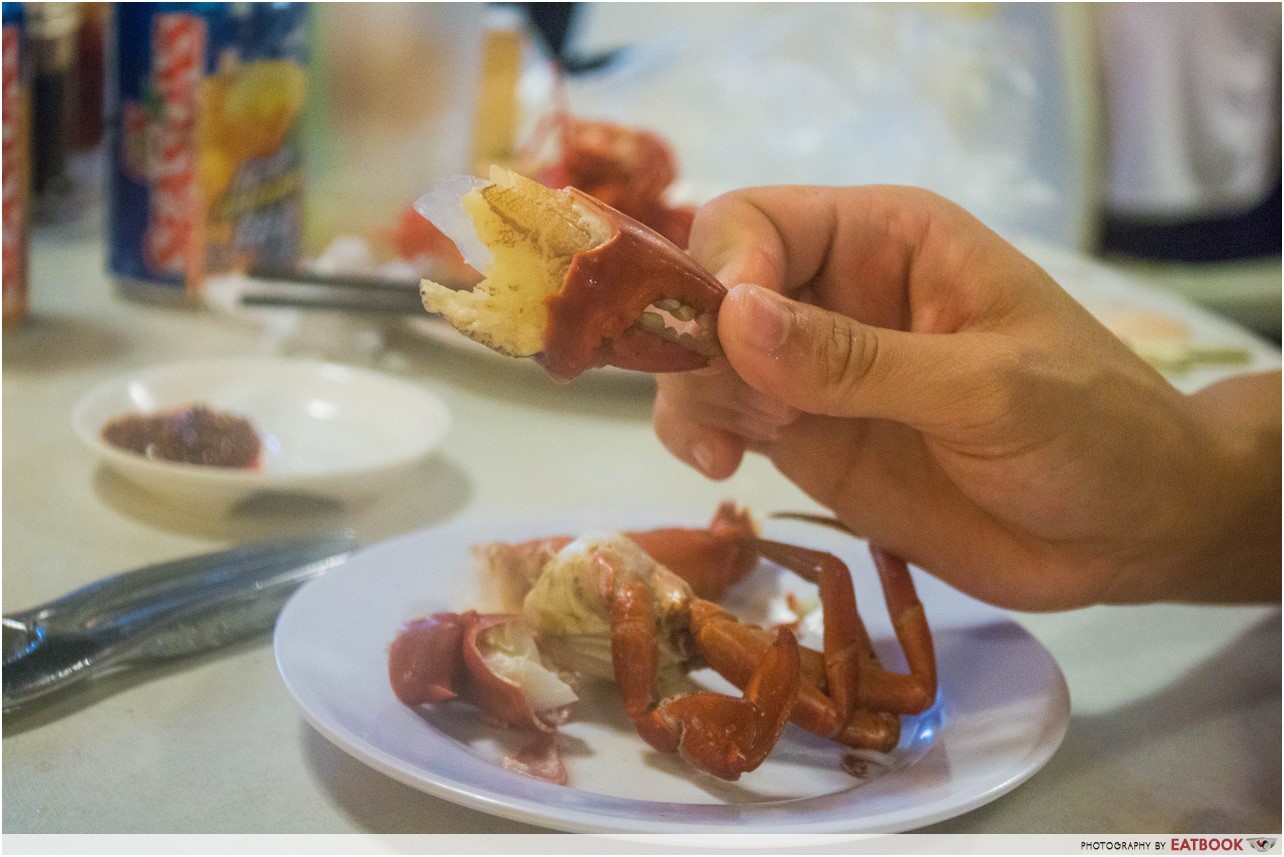 It didn't take me long to crack and remove the shell. I could see layers in the flesh and it was firm to touch but succulent and delicate as I bit into it. As expected, it was sweet and non-fishy. Even though the crabs were smaller than the ones at zi char stalls, it was incrab-dible nonetheless.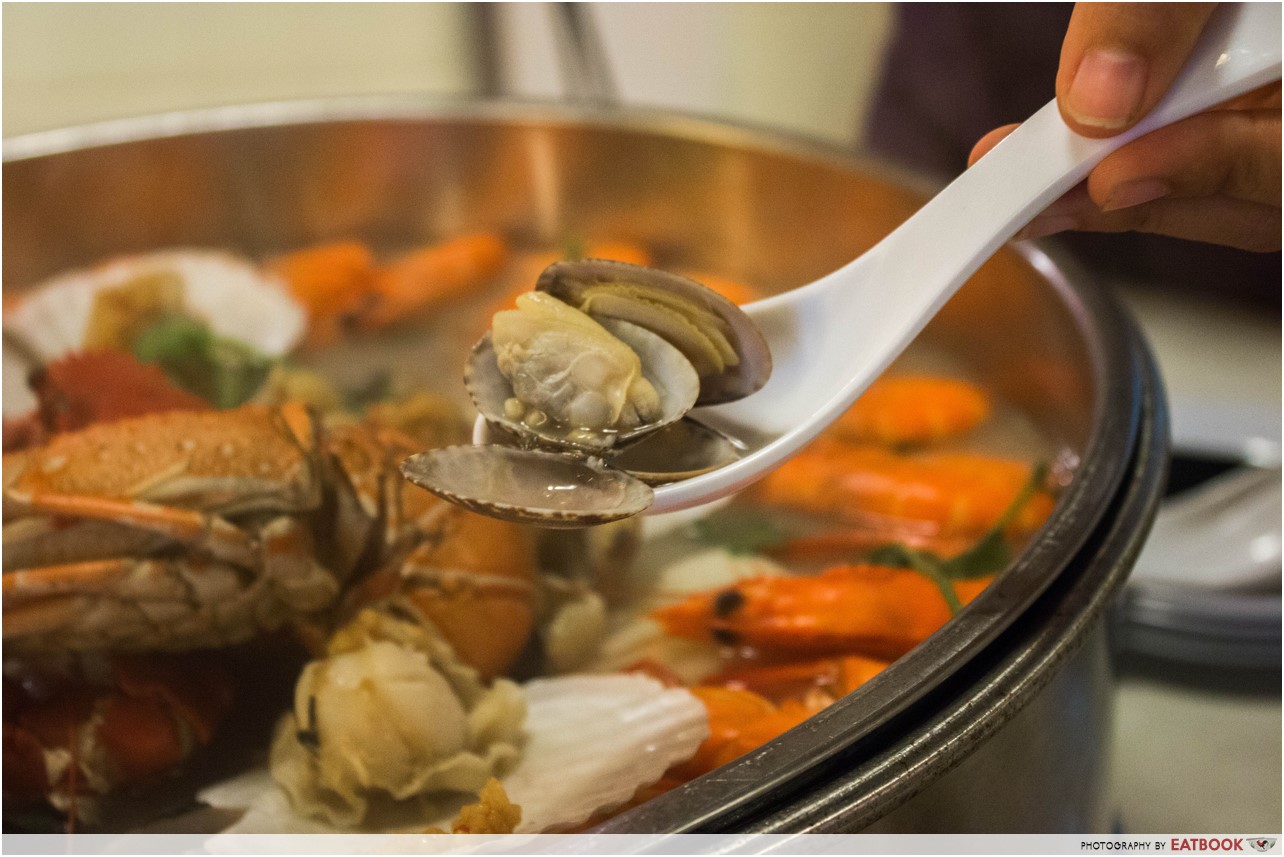 The mountain of lala and handful of scallops weren't outstanding but they were decent. I have always eaten lala with sambal sauce served in hawkers so this was a refreshing change.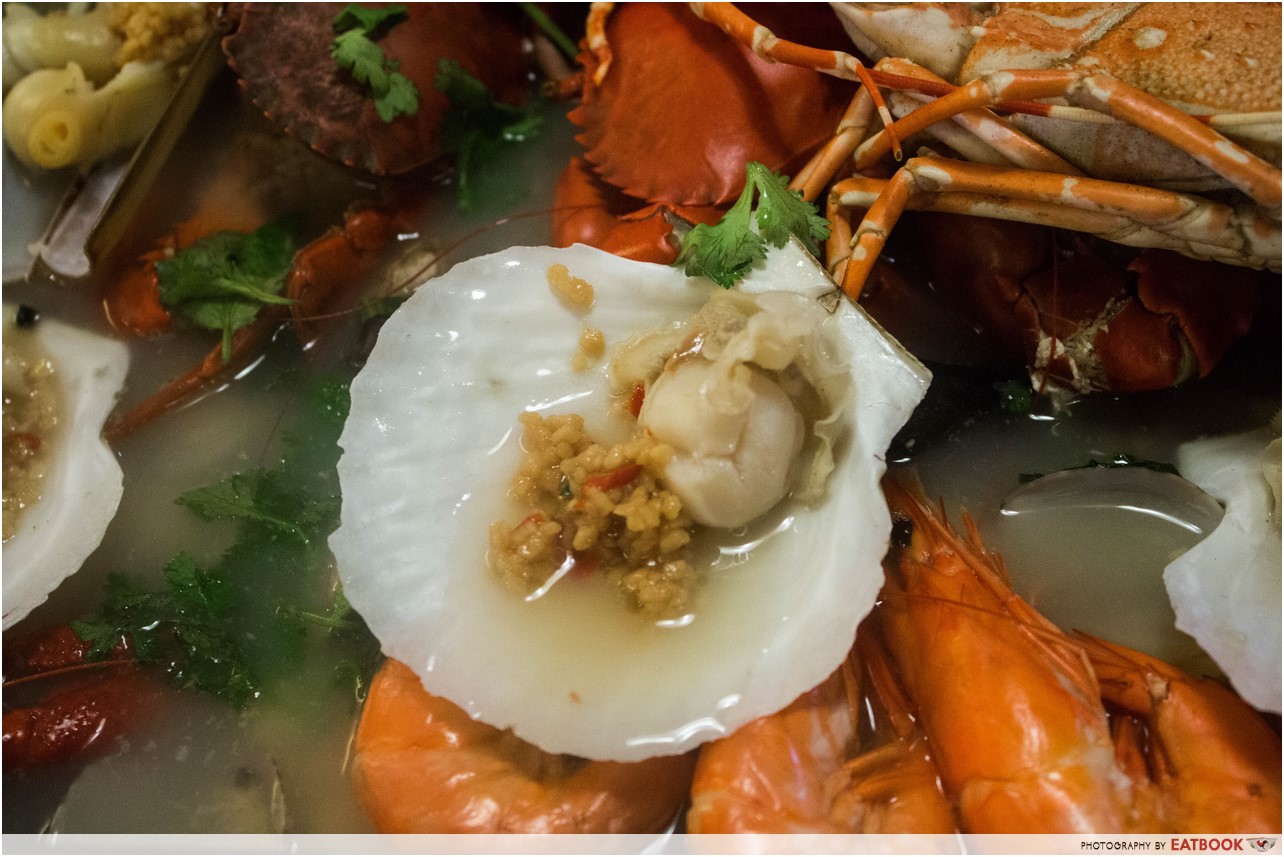 The scallops were garnished with a small heap of diced garlic and that added that bit of oomph without stealing the show. The scallops were juicy and a tad chewy. I liked how both the lala and scallops were cleaned well and didn't leave sand in my mouth.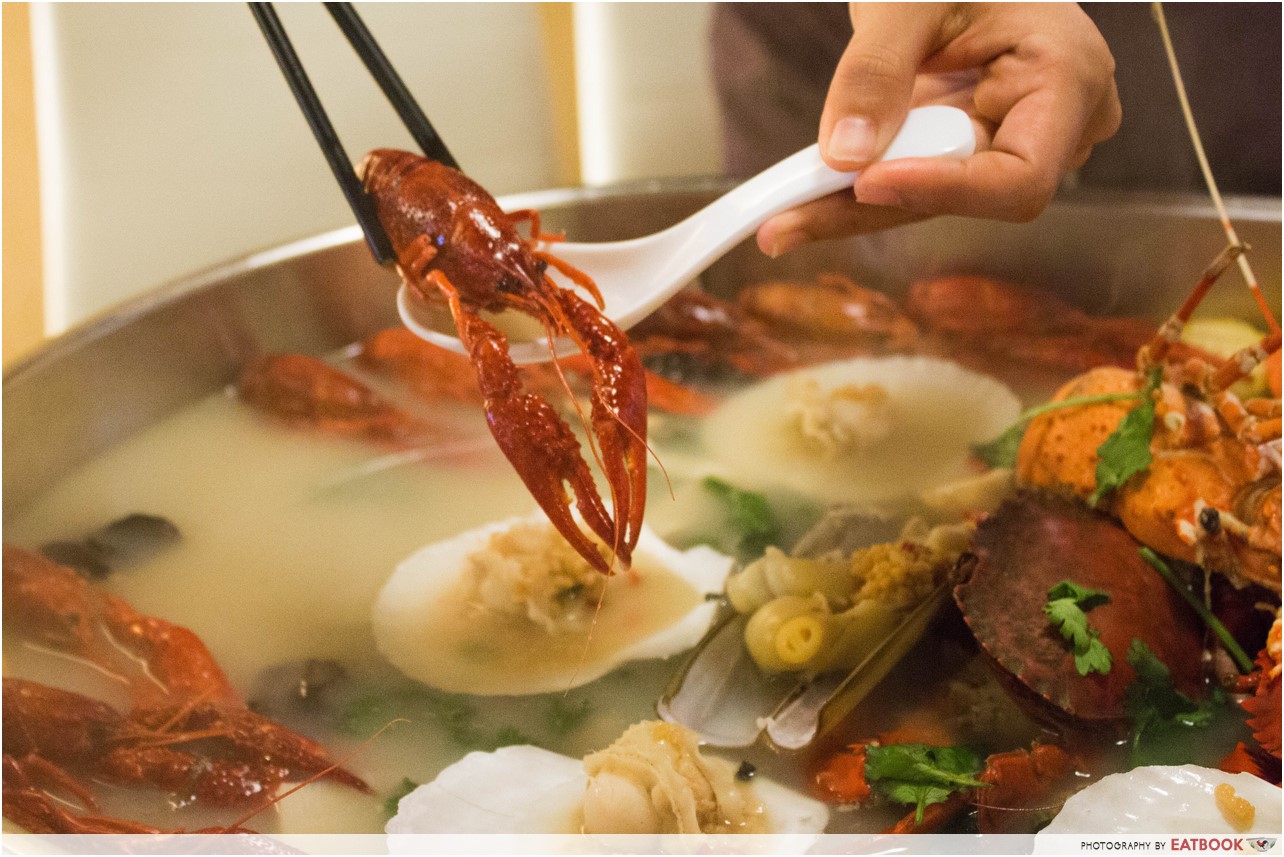 Truth is, I've never tried scampi before. I thought it would be similar to a baby lobster but it's completely different. Though it looks bigger than the prawns, it didn't contain much flesh. It is similar in texture and taste to prawns, except with a less bouncy bite and lighter in sweetness.
I thought the seafood was all pretty fresh until I tried the bamboo clams. I squirmed in my seat after tasting the fishy flavour of it while chewing on its rubbery texture. The good thing is there were only two of those so we still had a pile of the seafood we liked.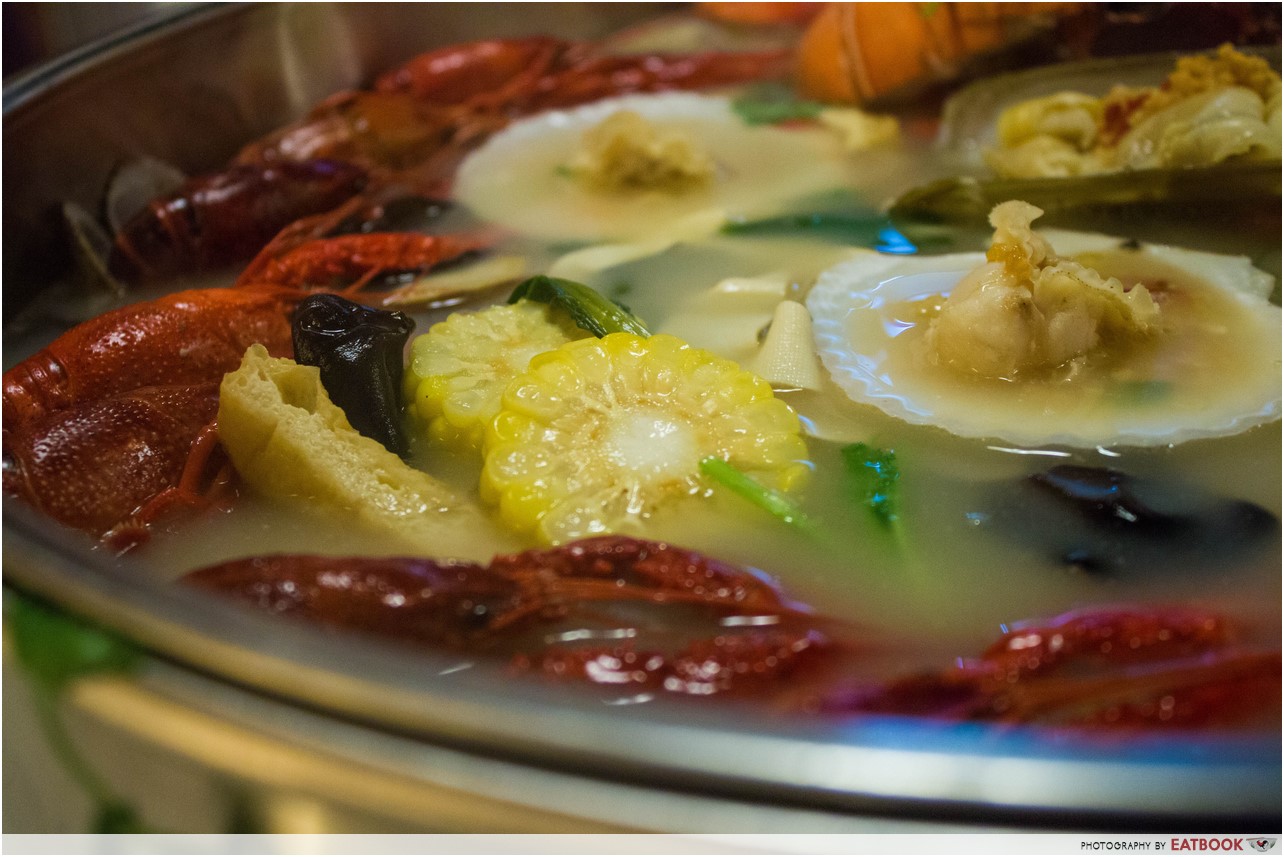 The broth was highly concentrated in the flavour of all the crustaceans with a hint of garlic and parsley. There were also some veggies like corn in it that helped to add more sweetness.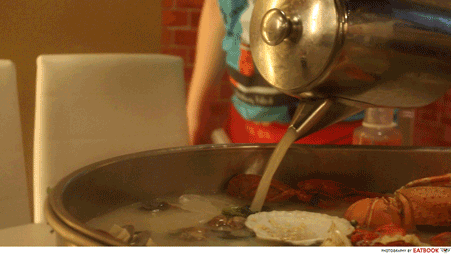 It was so good we refilled our pot thrice! I strongly recommend getting the clear broth because it was the definitely one of the highlights of our meal.
Ambience at Jiu Gong Ge Steamboat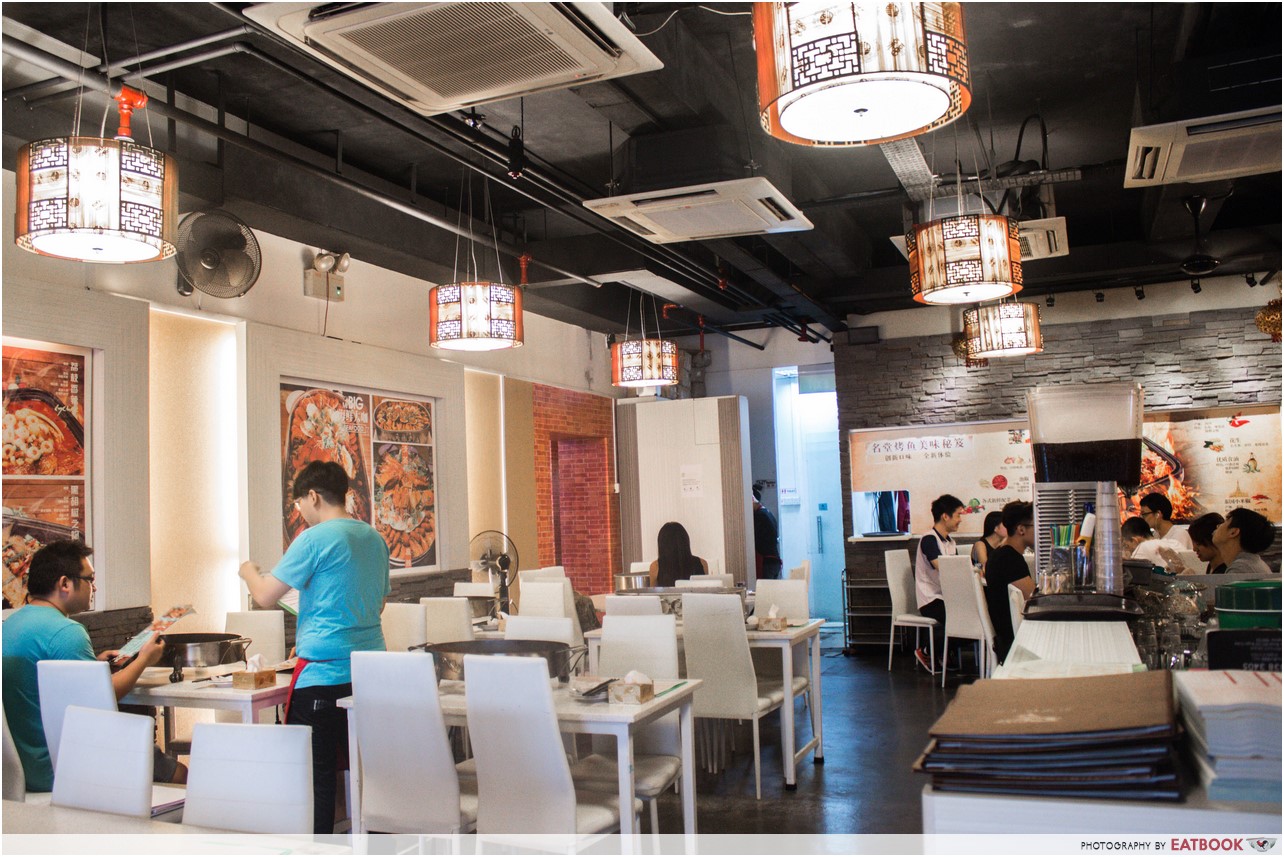 It's nice and cosy to gather around a giant steamboat, especially in this monsoon season. I also like that restaurant is air-conditioned so you don't have to worry about perspiring after stuffing yourself with piping hot seafood!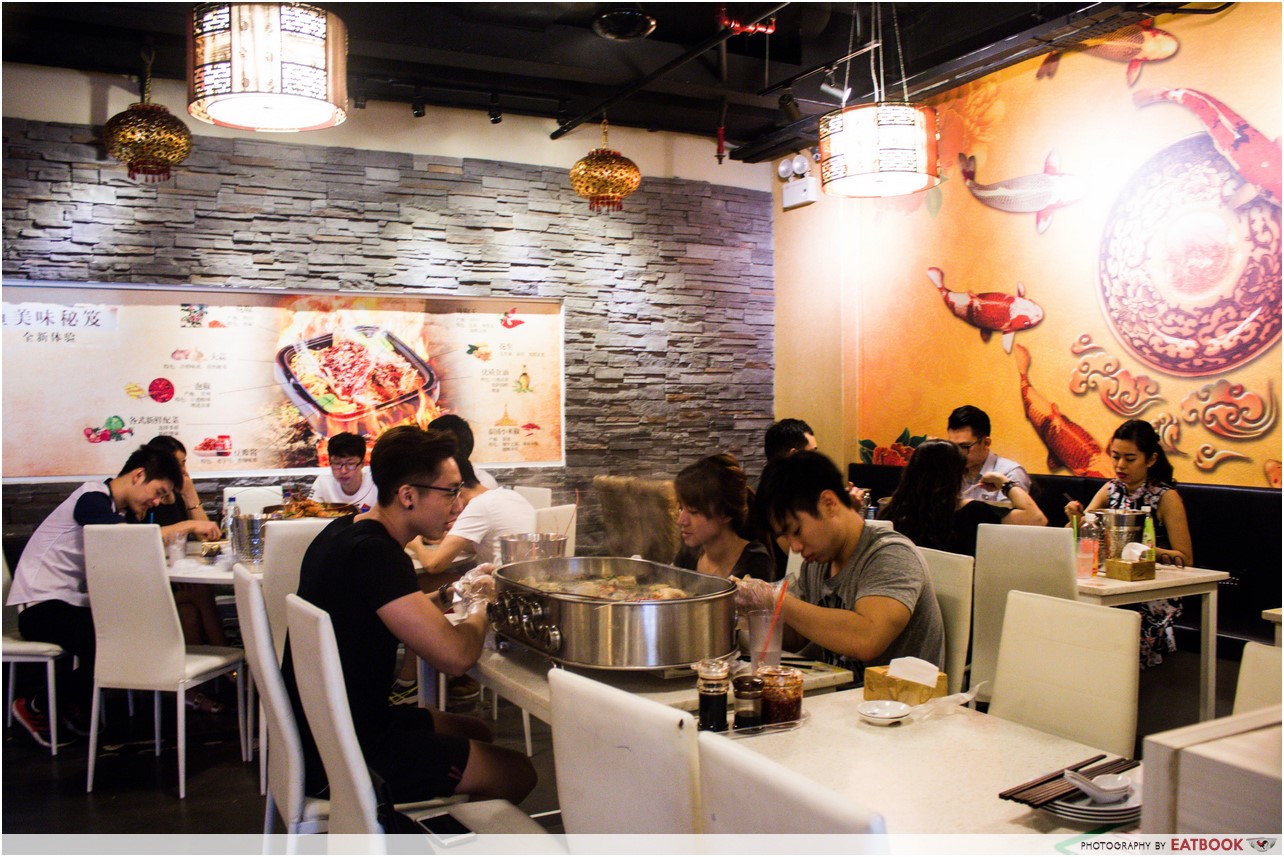 The crowd started strolling in at 6:30pm so if you're heading down, do so before 7pm or make a reservation to be safe!
The verdict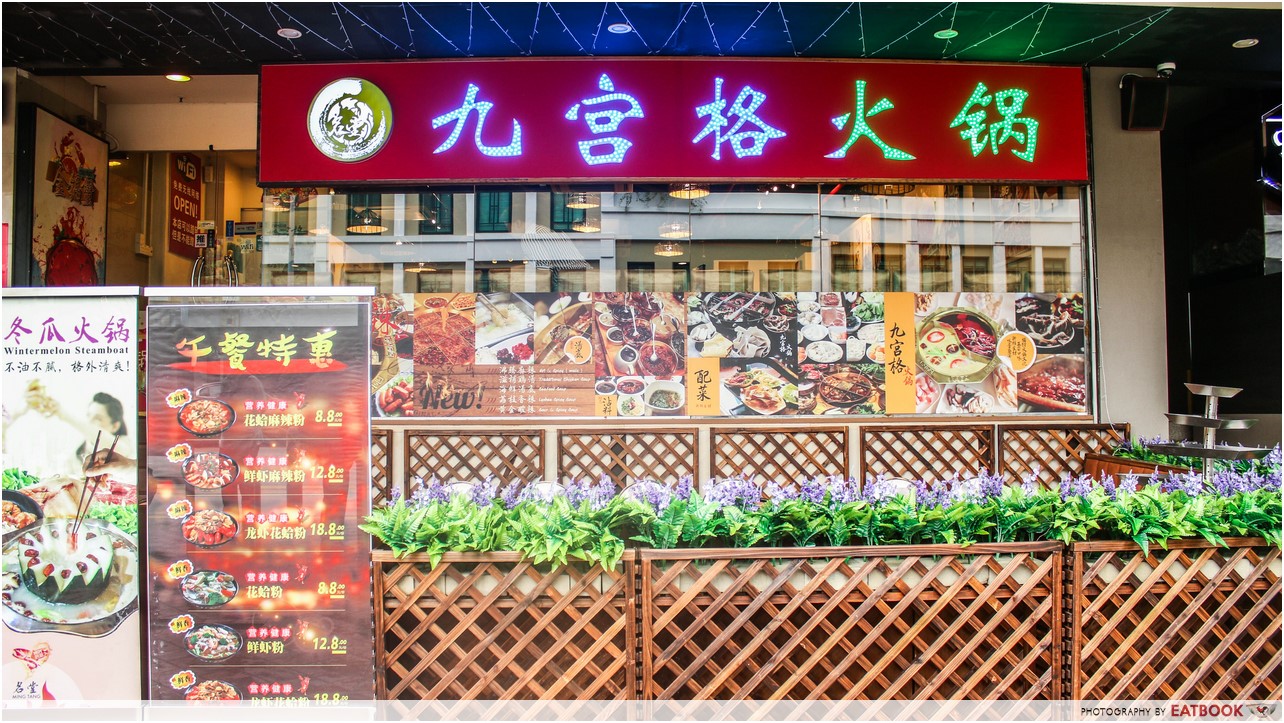 This is definitely not the kind of meal I'd eat every day, but on days when I want a treat, I find this seafood feast reasonably priced. Instead of heading over to hefty-priced seafood buffets, this might be a better pick for those with a smaller stomach or budget.
This is an independent review by Eatbook.sg.
Summary
Pros
– Huge portion
– Free soup refill
– Air-conditioned
– Convenient location
Cons
– Bad ventilation
Recommended Dishes: Giant Seafood Steamboat ($148++ for three to four)
Operating Hours:
Monday – Sunday 11am to 12am
Tel:
6338 3405
Address: 470 North Bridge Road, #01-02, Bugis Cube, Singapore 188735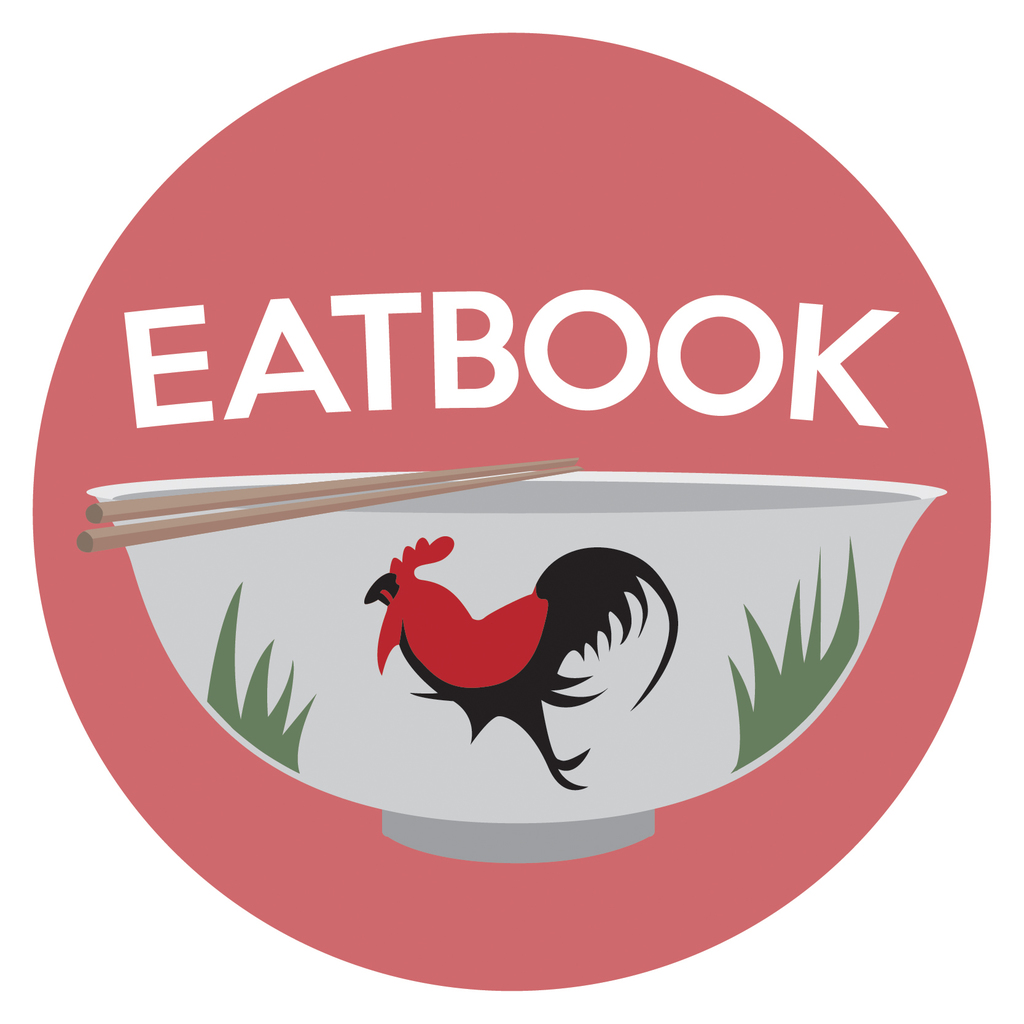 Drop us your email so you won't miss the latest news.