---
Great World City's Food Junction is new and improved
---
Great World City recently underwent a revamp, and is now home to plenty of new food options. The mall's Food Junction is no exception. Departing from its basement spot, the food court has moved into swanky new digs on the third floor.
With seven regular stalls and seven mini restaurants, you can choose from a host of different cuisines that tickle your fancy. Most stalls have opening specials for their signature dishes till April 2019, so be sure to head down soon to cash in on some great deals!
---
1. Renee's Western
---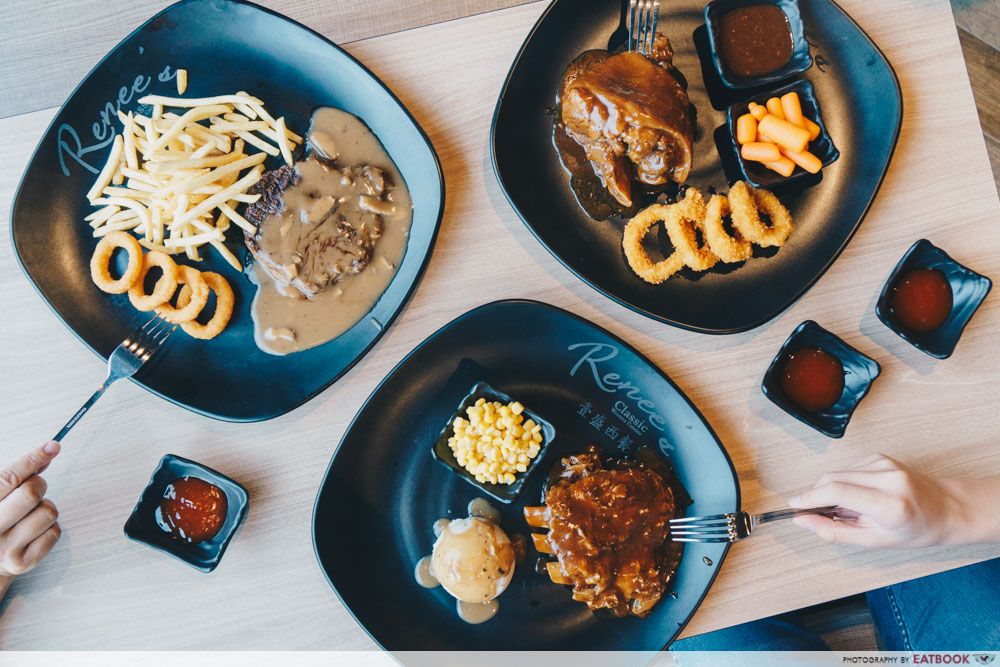 Renee's Western has something for everybody, with an extensive menu featuring Western stall classics such as Fried Chicken Chop ($6.80). They also have premium dishes, including their Grilled Sea Bass ($9.80), which are usually found at upmarket restaurants.
All the grilled dishes are cooked with large George Foreman grills. Named after the legendary American boxer, these grills allow grease to drain off during the cooking process, translating to lower calorie and saturated fat counts.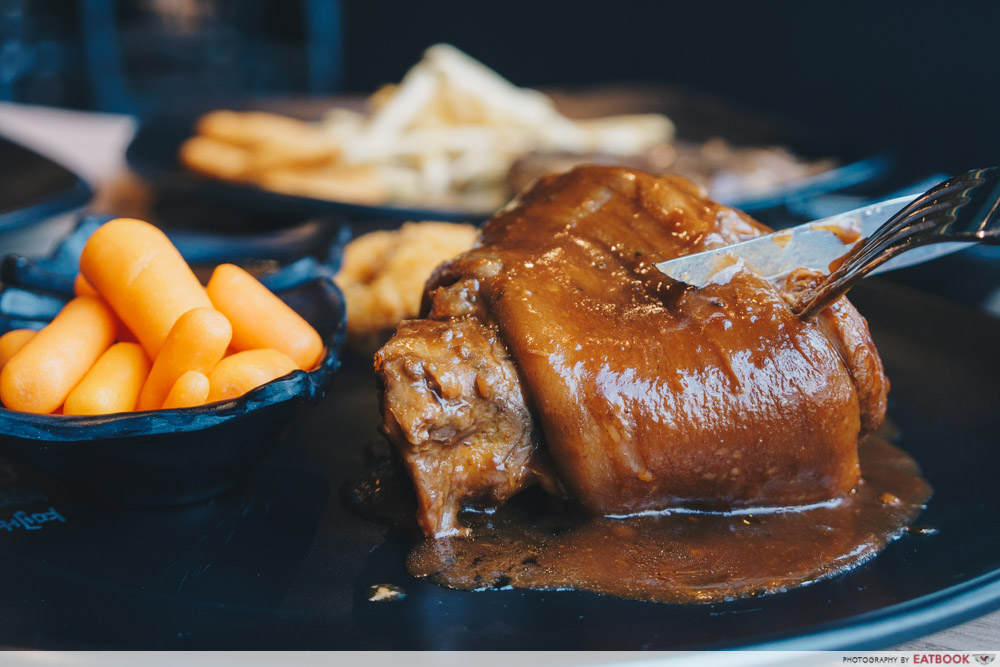 Pork Knuckle ($11.80) isn't a common food court dish, but we were pleasantly surprised by its fork-tender meat and massive portion size. Drenched in a mild barbecue sauce, this porky delight had luscious, gelatinous fat that kept us going back for more. Their Signature Pork Ribs ($7.80) also impressed us with its meaty flavour profile and soft texture.
Creamy coleslaw, addictive calamari, and silky mashed potatoes headline the 10-strong selection of sides, of which any two can be picked to accompany your main. With bountiful sides and generous portions of meat, you'll certainly be able to fill your belly without emptying your wallet.
Unit number: MR5
---
2. Mala Society
---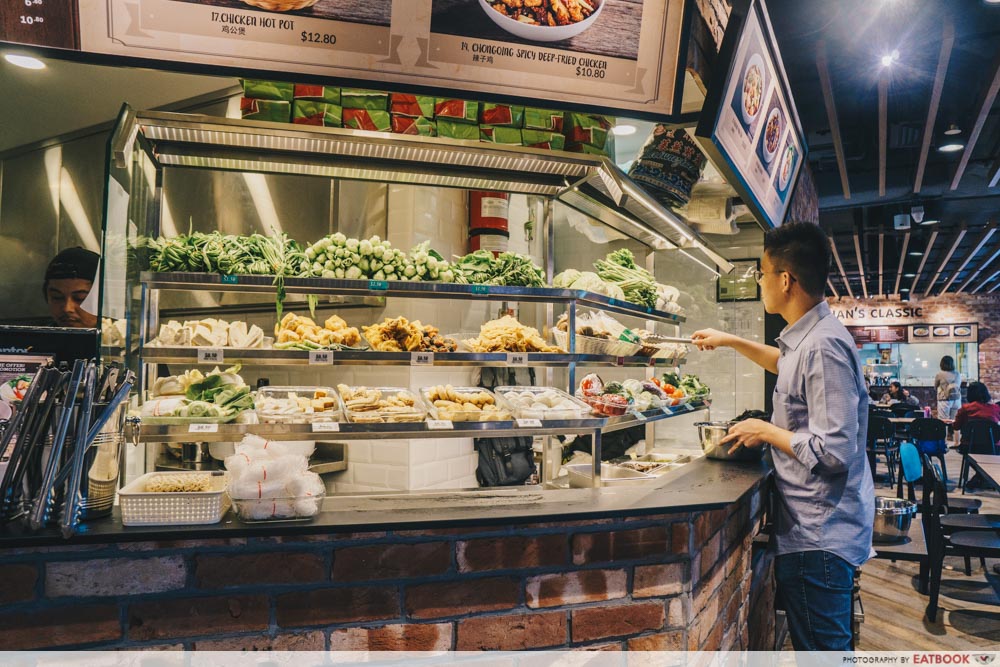 There's a plethora of ma la xiang guo stalls in Singapore these days, but not many tick all three boxes that mark a good bowl: mouth-numbing ma (numbness), sweat-inducing la (spiciness), and an explosively flavourful spice blend. But Mala Society does just that, delivering delectable, aromatic bowls of spicy stir-fry.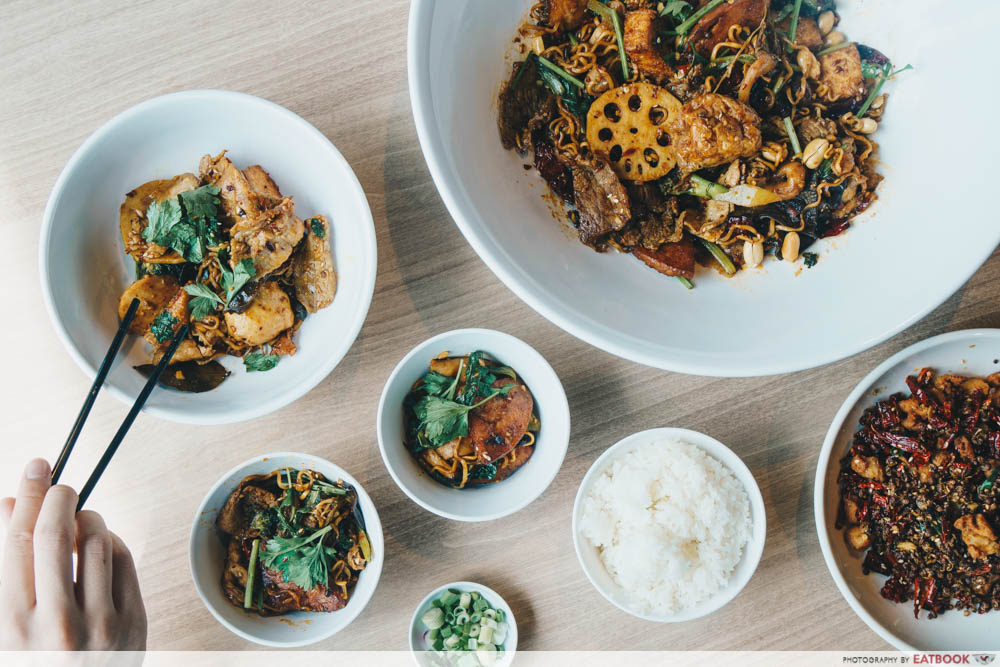 We were surprised by the rich, dark hue of our xiang guo. Taking a closer look, we noted lovely caramelisation on our Luncheon Meat ($2 per 100g) and Pork Belly ($3.20 per 100g), boding for a fantastically tasty bowl. We also found bay leaves in our bowl – an uncommon spice for ma la – that added an extra depth of flavour and a subtle woodsy, minty fragrance.
While you'd likely be tempted to stick to typical ma la ingredients such as Lotus Root ($2 per 100g) and Kang Kong ($2 per 100g), this stall doubles as a yong tau foo joint as well. Yong tau foo staples thus present an intriguing option to add to your bowl. We particularly enjoyed the Tau Kee with Fish Paste ($0.50 per piece), which soaked up the addictive ma la base brilliantly.
Unit number: MR4
---
3. Guan's Classic
---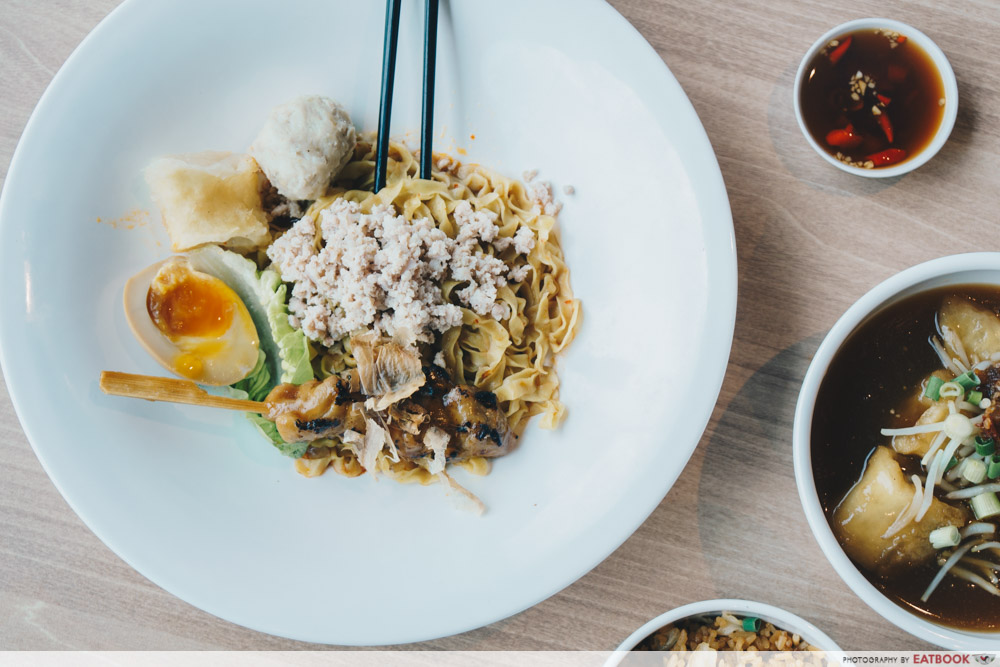 Guan's Classic puts a fresh spin on traditional dishes like bak chor mee by adding premium ingredients such as abalone and yakitori. Bak chor mee is one of Singapore's most beloved hawker dishes, and this premium rendition is sure to please even the most stalwart traditionalists with its combination of flavours.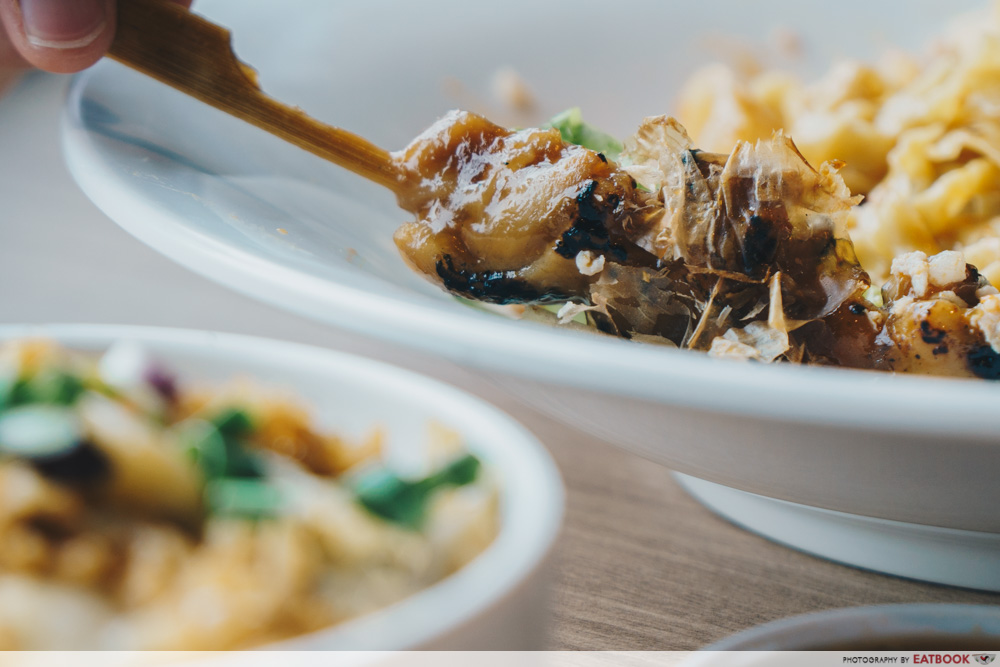 Crowned with fish maw, a handmade meatball and a bonito-topped Japanese skewer, Guan's Classic Noodle with Yakitori ($7/$8) comes nicely plated. Vinegary and slightly spicy, with infusions of soy flavour, the mee pok was enjoyable, while the yakitori added an interesting sweet dimension.
We recommend adding a Tamago Egg ($1 for half egg), as its creaminess complements the noodles well, while adding Japanese flair to the plate, in unison with the yakitori.
We also devoured their Cabbage Rice with Special XO Sauce Fish Maw Thick Soup ($6.40). The gooey soup had strong seafood flavour from ikan bilis and XO sauce, while the cabbage rice was perfumed by hae bee, and reminded us of a mixture of yam rice and claypot rice.
Unit number: MR7
---
4. Crane Korean Cuisine
---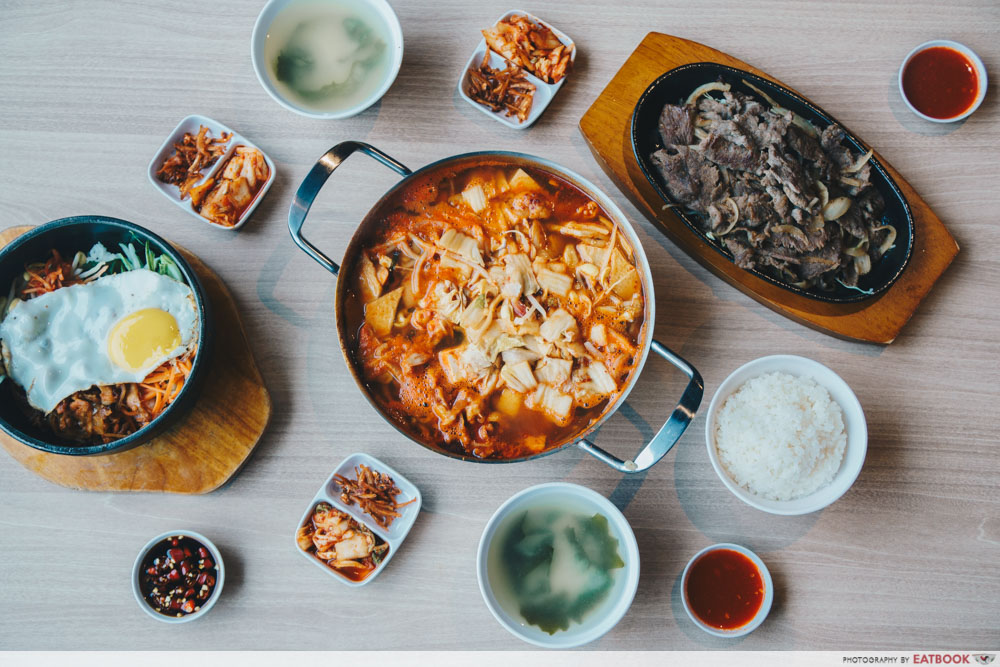 Most Korean restaurants in Singapore use store-bought kimchi as a side, so we were surprised to see a massive vat of raw cabbage and an array of seasonings at this humble food court joint. That's just a hint of the effort and commitment to freshness that Crane Korean Cuisine pours into every single dish.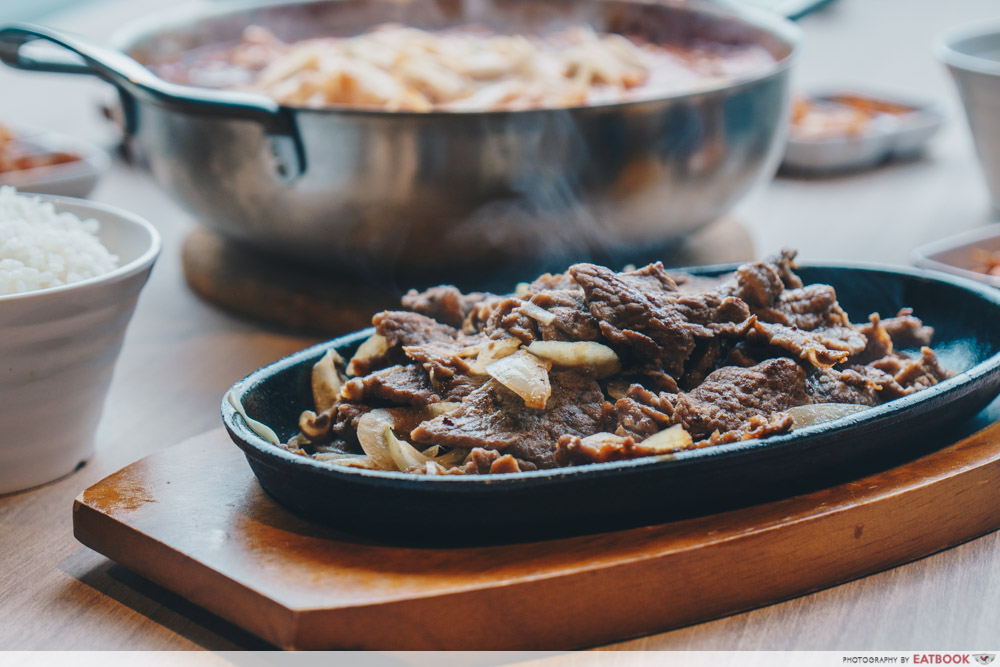 Their bubbling Army Stew ($15) is great for sharing between two hungry folks. It boasts a wide variety of ingredients, from prawns to instant ramyeon, all swimming in a mildly sweet and spicy kimchi broth. An assortment of ingredients, such as pickled papaya and a sunny-side-up egg, covered the Stoneware Chicken Bibimbap ($6). We loved its bits of crispy rice, punchy gochujang flavour, and creaminess imparted by the flowy egg yolk.
Beef lovers can opt for their sizzling BBQ Beef With Rice ($7.50), which has thick slices of meat and a pleasant soy flavour.
Unit number: MR6
---
5. Viet Taste Vietnamese Cuisine
---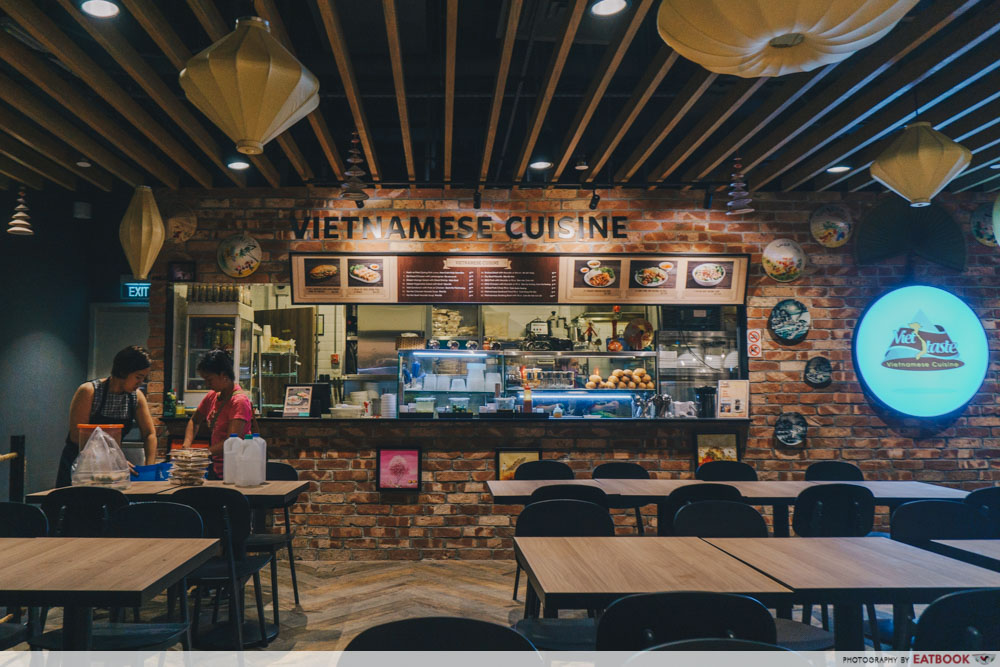 Originally occupying a regular hawker stall space back when Food Junction was at B1, Viet Taste Vietnamese Cuisine's crowd-favourite status means that it has graduated to a mini-restaurant, with plenty of new dishes on the menu. Run by Vietnamese staff members who are committed to using fresh ingredients, the mini restaurant offers a clear window into authentic Vietnamese cuisine.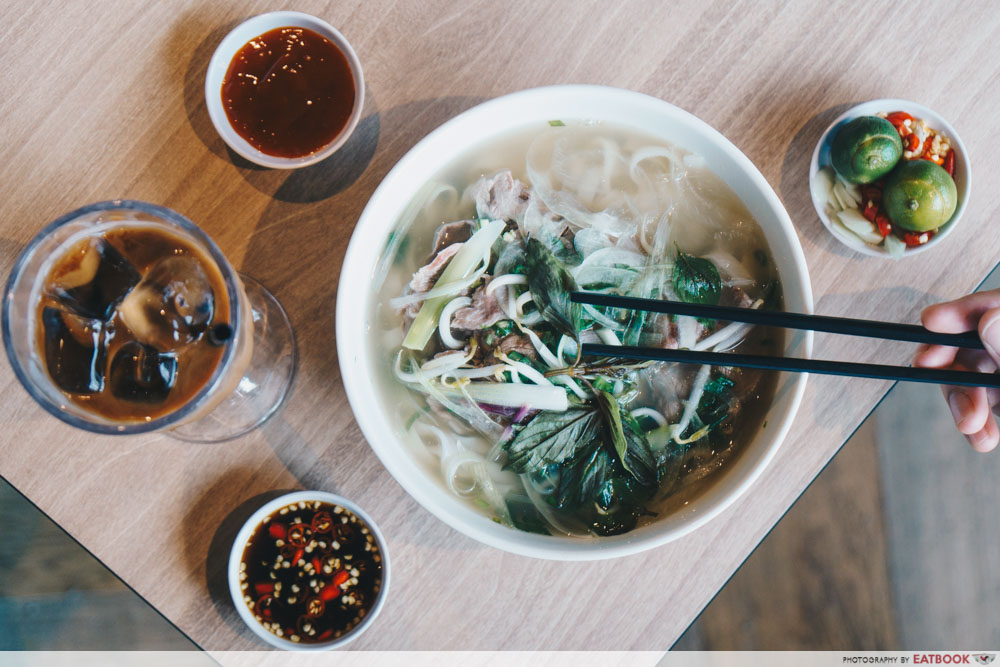 Their Ha Noi Pho Beef Noodle Soup ($7.10) comes blanketed in a layer of green, with fresh and aromatic basil greeting our palates in every spoonful. The soup is light yet flavourful, with generous amounts of thick beef slices, resulting in a supremely satisfying noodle dish.
I've got a soft spot for Vietnamese Coffee ($2.90). Bearing strong sweet and chocolatey notes, this version was as good as any found in Vietnam. It's a perfect way to combat Singapore's sweltering heat when taken iced.
Unit number: MR2
---
6. Beauty Nutritious Soup
---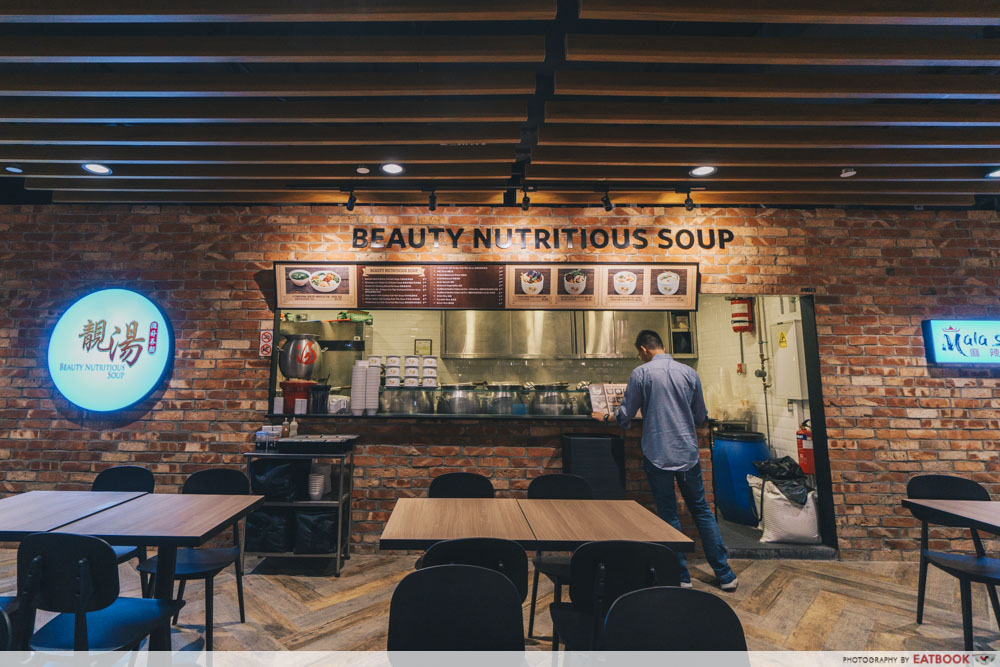 Those looking to cleanse their bodies after pigging out the previous day should check out Beauty Nutritious Soup. As its name suggests, this mini restaurant specialises in MSG-free herbal soups. Their broths are double-boiled over a slow fire for a minimum of three hours before serving, ensuring that every ounce of flavour has been extracted from its components.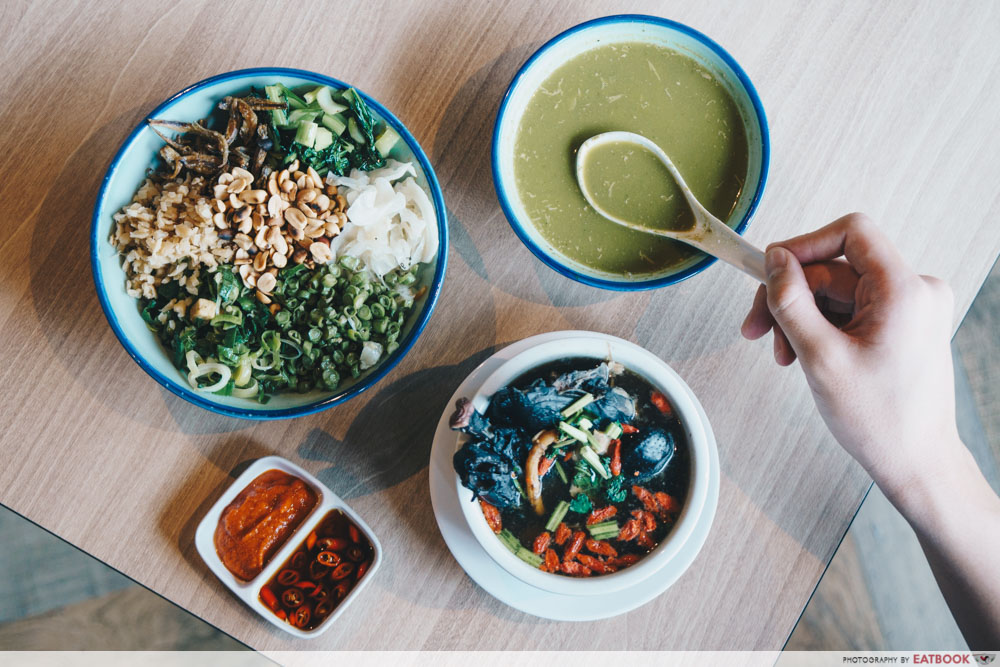 Our Special Herbal Black Chicken Soup ($9) came packed with a pile of traditional Chinese herbs, such as ginseng, wolfberries, yu zhu and dang shen among others. For those who can't stand bitter, herbal flavours, fear not, as the plump red wolfberries gave the soup a sweet streak. The black chicken was lean yet surprisingly tender, and added body to the broth.
We also tried their Traditional Healthy Hakka Lei Cha with Pumpkin Rice ($6). The lei cha broth carried a strong herbaceous aroma with a mildly bitter aftertaste, while the rice had freshness punctuated by salty hits of chye poh. Pumpkin rice isn't a common lei cha option, but it was welcomed here, as it provided a tinge of sweetness to the dish.
Unit number: MR3
---
Food Junction ups the ante for food courts
---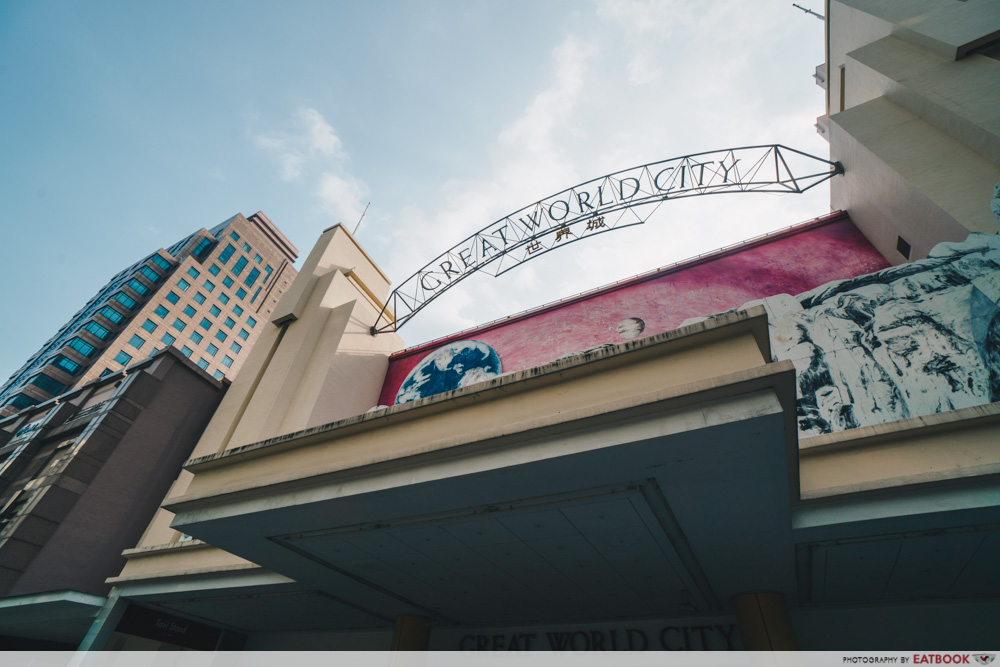 Shoppers usually see food courts as a convenient spot to eat at while shopping. But with its attractive refurbished look and a bevy of new stalls, Food Junction at Great World City is a food court you'll make plans to eat at.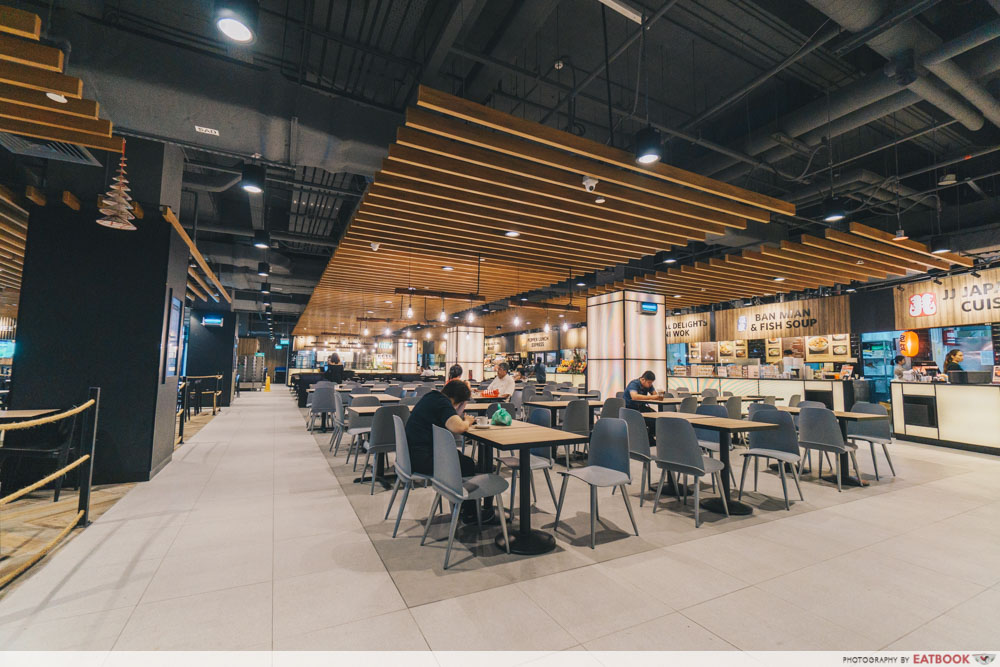 Classy brick and wood decor, along with zigzag parquet flooring adorn this Food Junction, giving it a sleek and modern look. Approach the rear and you're greeted with a cafe-like setting, where floor-to-ceiling windows bathe cosy booths in natural light.
There are plans to put tables outside to create a garden-esque alfresco area as well, where you can take in views of the surrounding area while enjoying your meal.
Apart from these mini restaurants, there are plenty of other stalls in Food Junction that will pique the interest of even the fussiest eater. Pepper Lunch Express is a perennially popular Food Junction fixture, while halal-certified Fitra Chicken Rice offers chicken rice and curry chicken noodles. Whatever you desire, there's a stall for you at Great World City's Food Junction.
Address: 1 Kim Seng Promenade, #03-116, Great World City, Singapore 237994
Opening hours: Daily 10am to 10pm
Photos taken by Pepita Hope Wauran.
This post is brought to you by Great World City's Food Junction.