---
Great World City's coffee and tea fair
---
Kopi and teh are staples to my weekday mornings. The weekends, however, are left for the good stuff, and that means a perfectly pulled espresso shot and well-blended teas. If you love sipping tea as much as you love spilling it, then you must check out Great World City's Life Is Brewtiful event that's happening from 6 to 15 September 2019. There you will find booths showcasing a curated range of coffee and tea, as well as workshops to up your coffee knowledge. Here are five you won't want to miss!
---
1. Petale Bloom Tea
---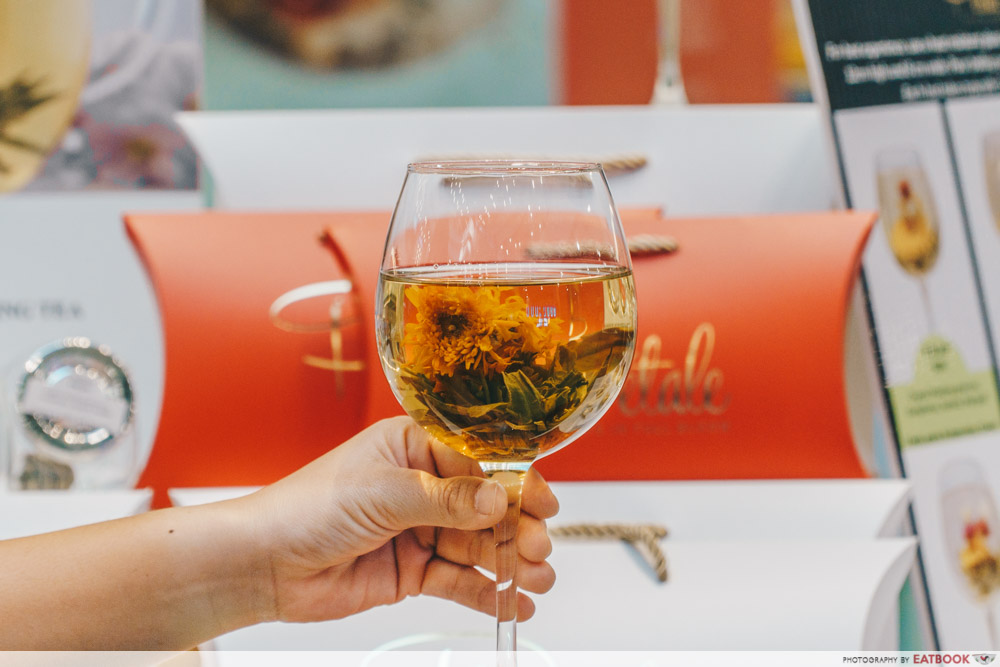 Drinking Petale Bloom Tea's creations is an experience that goes beyond mere taste. Hand-sewing together tea leaves and flowers into tiny balls, the blooming tea makes for an exquisite sight when they unfurl into a beautiful flower after being submerged in hot water. 
Grab a cup during the pop-up at $6, or buy some to bring home from $10 for two tea balls. They have a wide variety of unique blends, and my personal favourite is the fruity Antoinette Affair, as it was light and refreshing, with subtle hints of lychee.
---
2. The Ice Cream & Cookie Co.
---
The Ice Cream & Cookie Co. is best known for their ice-cream cookie sandwiches, and you can try their limited-edition Mocha ice-cream at the fair. The ice-cream is made with locally-roasted beans that are steeped in fresh milk, making it extremely rich and creamy. Get it served in a cup at $4.50 or sandwiched between soft cookies for $5! If tea is more your cup of, well, tea, then get their popular English Earl Grey featuring two chewy lemon zest cookies. 
---
3. T2
---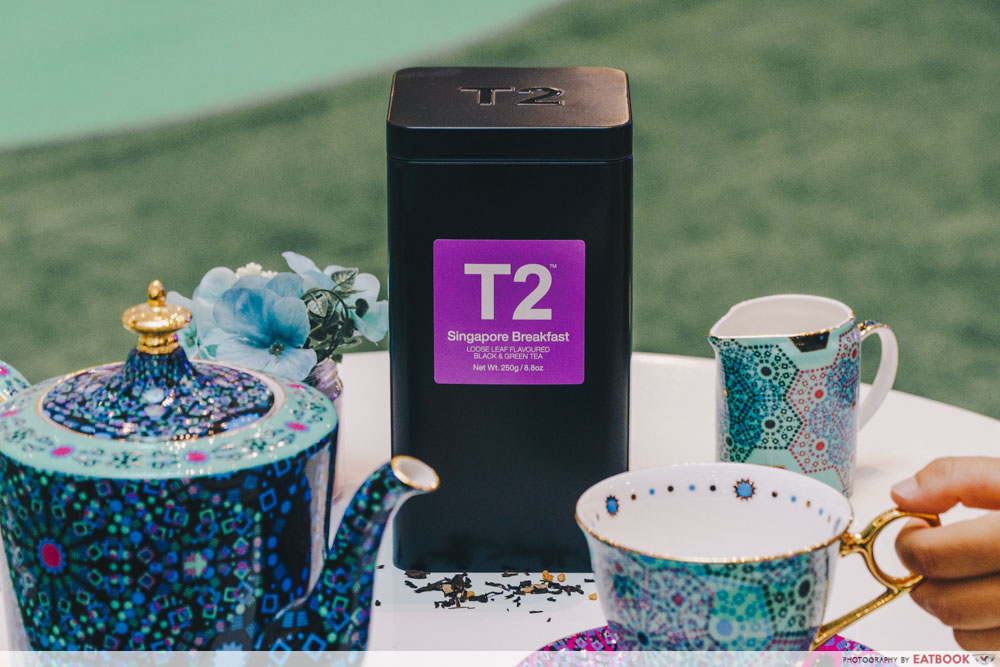 Call me basic, but I am a huge fan of T2, thanks to their gorgeous teaware and interesting blends. Sample a wide range of T2 teas during the pop-up, including the Singapore Breakfast ($17) that's inspired by kaya toast. The toothsome concoction is made up of pu erh, coconut, and pandan, giving it a sweet and nutty tang. 
For those organising a high-tea session at home, this will be the perfect time for you to invest in one of their pretty Teapots ($100 each) and a Cup & Saucer ($42) too.
---
4. IPPIN x Sake to Go
---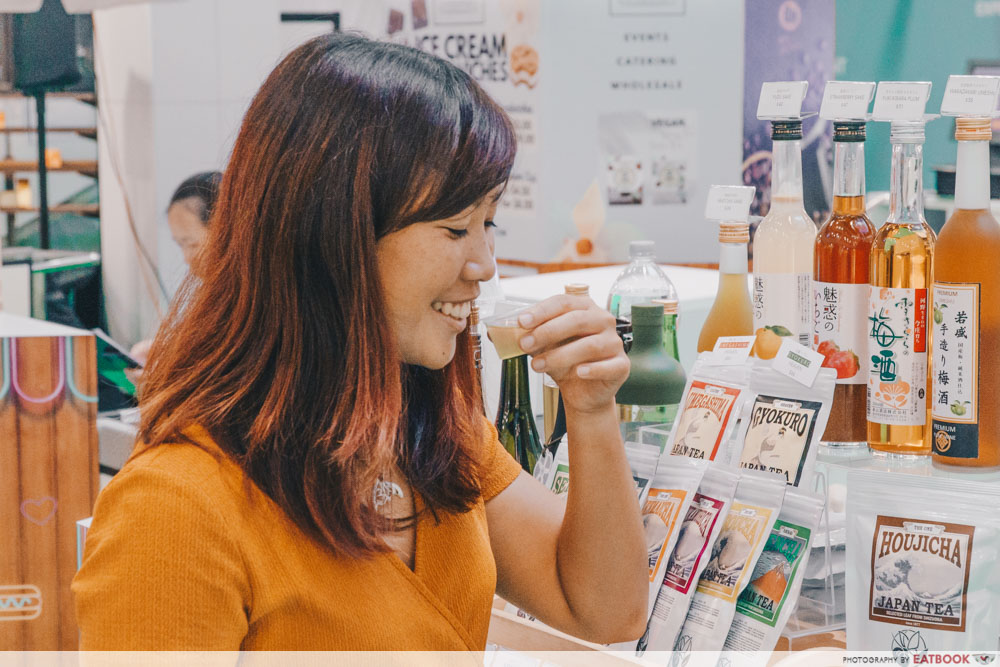 Those mad over matcha will enjoy IPPIN's selection of Japanese tea, including genmaicha, hojicha, and sencha. Prices start from $9 for value-for-money tea leaves, and caps off at $66 for their premium variants such as the Gyokuro Kiwami, which consists of tea leaves that are freshly cultivated under 20 days, without direct sunlight. This translates to a refreshing, rounded matcha taste that lingers on your palate.
But don't take my word for it; explore the different grades of tea through an in-depth tea appreciation session by the IPPIN crew. Then, have fun and booze it up with one of their tea sake cocktails!
---
5. tcc – The Connoisseur Concerto
---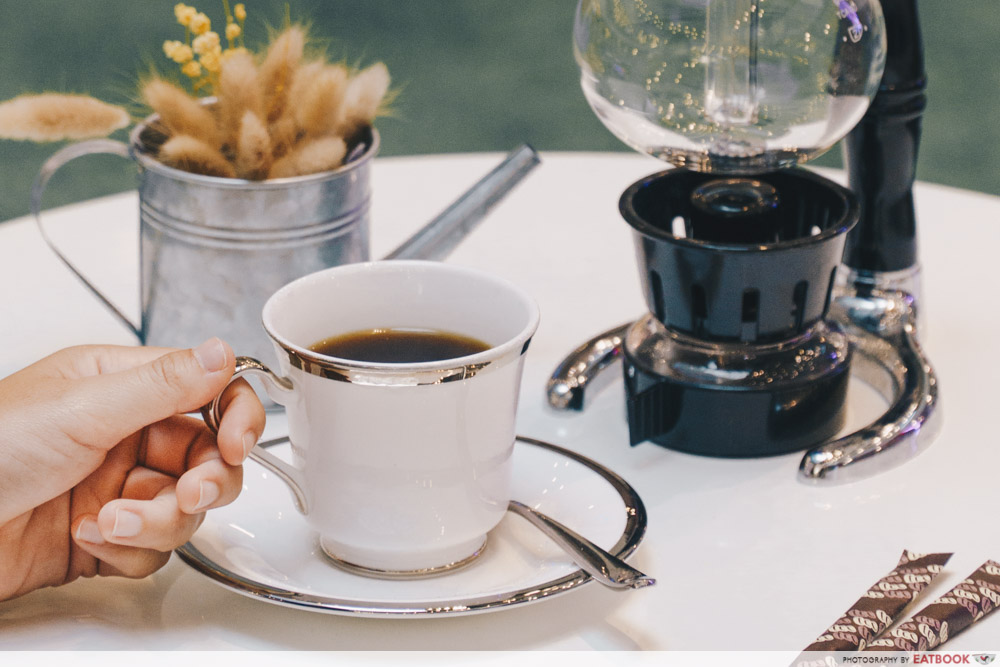 Drinking coffee can be intimidating at times, especially when you're at a hipster cafe and everyone's sipping back a single origin brew. Thankfully, tcc – The Connoisseur Concerto makes it accessible for novice coffee drinkers with their casual approach to gourmet coffee.

Swing by tcc's booth and try one of the world's most sought-after and expensive coffee, Hacienda La Esmeralda Geisha, that's known for its robust flavour profile, as well as the crowd-pleasing Jamaican Blue Mountain. If both brews tickle your fancy, you can get them at tcc's Great World City outlet at an exclusive price of $15++ and $13++ respectively, between 6 and 22 September 2019. 
---
Life is brewtiful at Great World City
---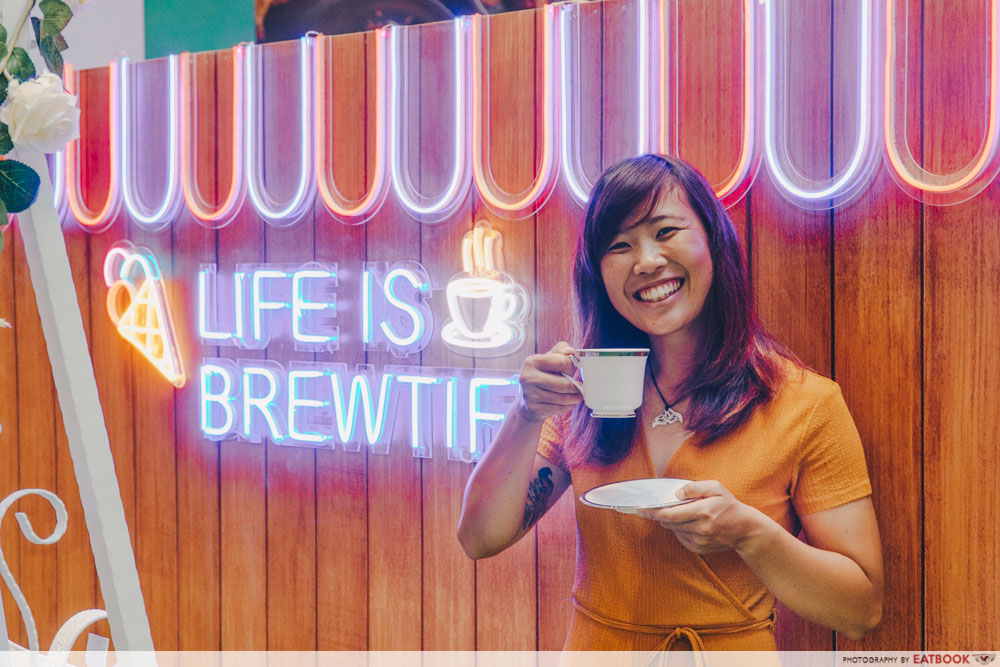 Great World City's Life is Brewtiful coffee and tea fair will definitely wake you up before September ends, with their great selection of coffee and tea for you to sample. The cherry on top is their Instagram giveaway that lets you win a HomesToLife Coffee Table worth $878!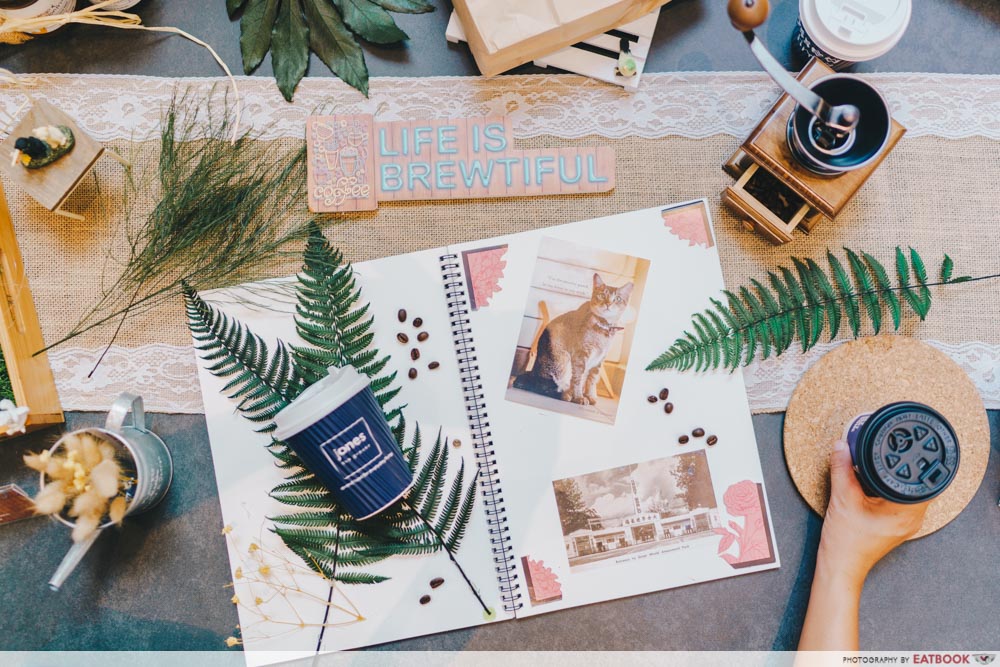 Here's what you gotta do to take part in the giveaway:
Take a creative flat lay using the table set up at the atrium display area and upload it on your Instagram.

Tag #MyGreatWorld and #HomesToLife in the caption.

Follow

@GreatWorldCity

on Instagram.

Don't forget to make your IG account public!
Contest ends 15 Sep 2019.
Don't miss out on the rewards happening during 6 to 22 September 2019 too. Earn 600 points when you spend $60, and receive an additional 200 points when you present a receipt from any booths at the Atrium from 6 to 15 September 2019. This is valid to the first 100 redemptions daily, so head down ASAP. 
You can also cinch a $10 Food Junction voucher and an exclusive umbrella (worth $39.90) when you spend $180, or $160 for Great V-app members.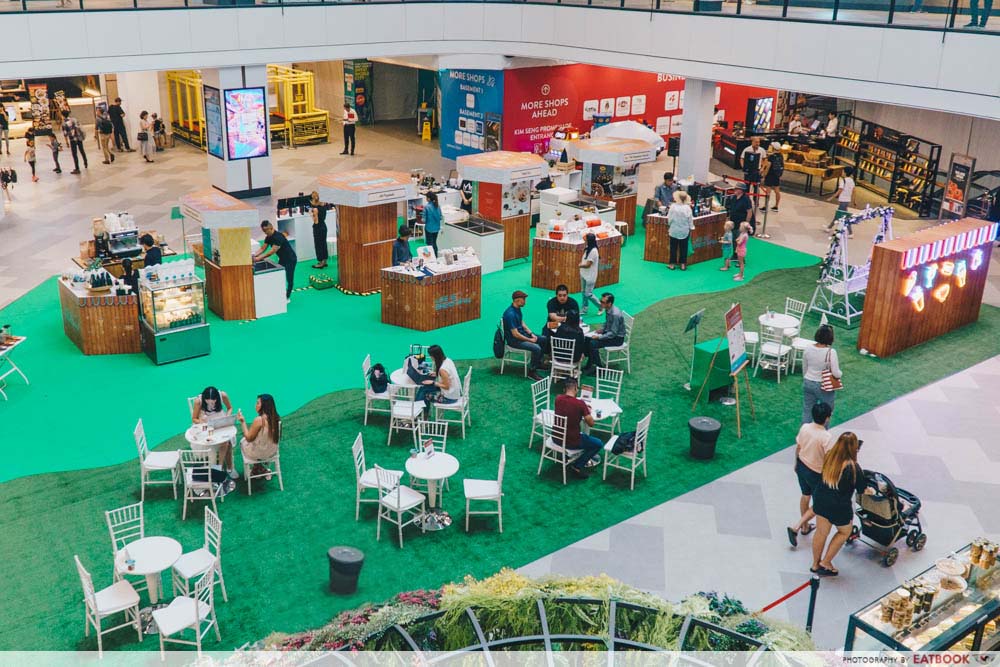 If you're looking for things to do in September, Great World City will also be hosting workshops and talks! Here are the dates to take note of:
7 September
11am and 3pm: The Art of Espresso & Perfect Milk Techniques talk by MAVRX Coffee Bar
14 September
2pm: Create your own coaster workshop
5pm: Coffee Art Workshop by Abrakadoodle (Pre-register here!)
15 September
2pm: Create your own mini terrarium workshop
5pm: Coffee Art Workshop by Abrakadoodle (Pre-register here!)
Both talks by MAVRX Coffee Bar are limited to 10 customers, while a total of 15 participants can join each workshop, so it's best you head down early to secure a place. To join in the fun, all you gotta do is present a receipt dated between 6 and 15 September 2019. This will be an easy feast, as Great World City has plenty of offers happening throughout the month, including a $10 nett cake and coffee set* at Cedele (#01-101), as well as 15% off* retail products at MAVRX Coffee Bar (#01-129)!
This post is brought to you by Great World City.
*Terms and conditions apply. All featured offers are valid from 6 to 22 September 2019, unless otherwise stated, exclusively at Great World City. The Management of respective participating stores reserve the rights to change terms and conditions without prior notice. Please check with respective stores for more details.