Over 15 types of gyoza below $10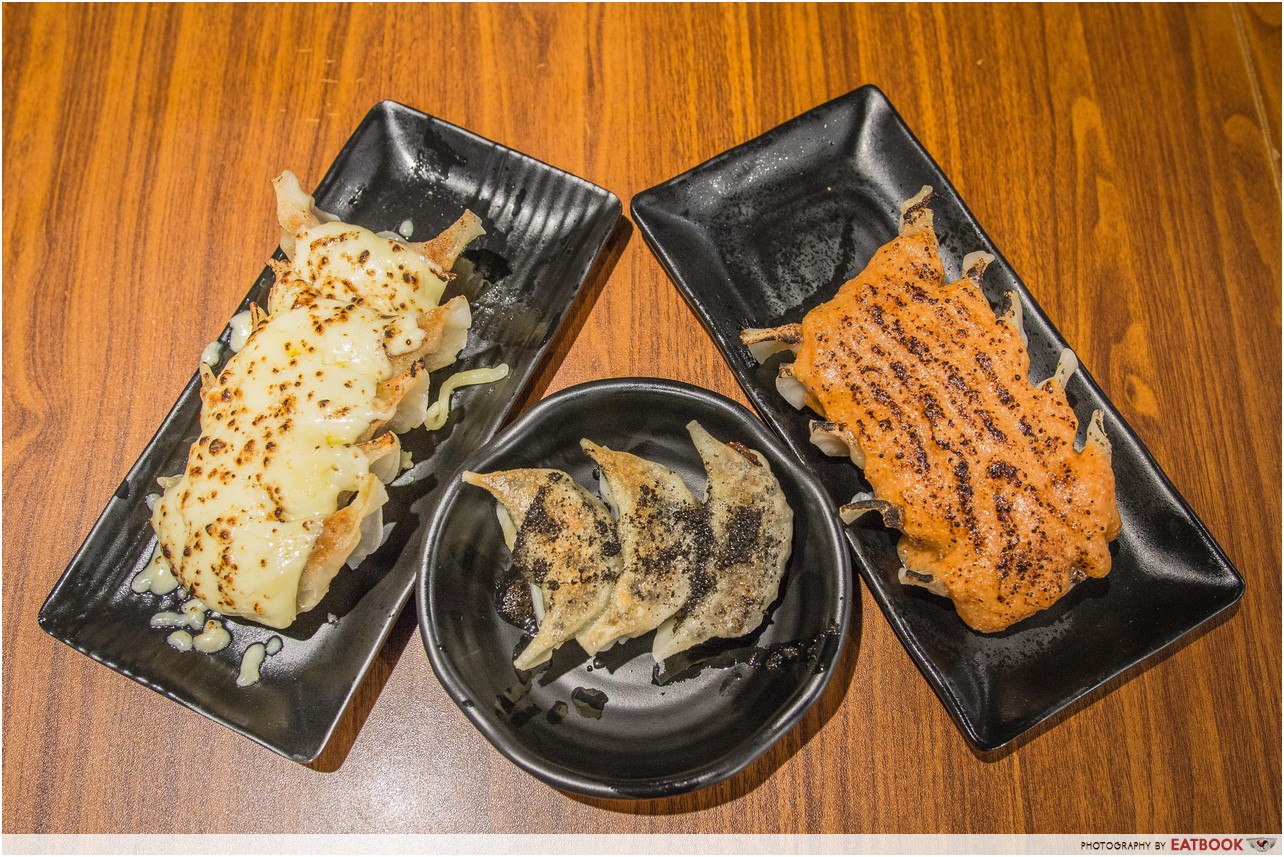 Gyoza (pan-fried dumplings) is my go-to side dish whenever I lunch at a ban mian stall or have ramen for dinner. Piping hot gyoza topped with strands of ginger soaked in vinegar is enough to complete my meal on a happy note.
At Gyoza-ya, this sidekick is getting an major upgrade. Aside from making gyoza a main, this Japanese restaurant also gave it character by adding all sorts of toppings to it. With more than 15 types of gyoza to choose from, choosing what to order is my favourite kind of #firstworldproblems. 
Food at Gyoza-ya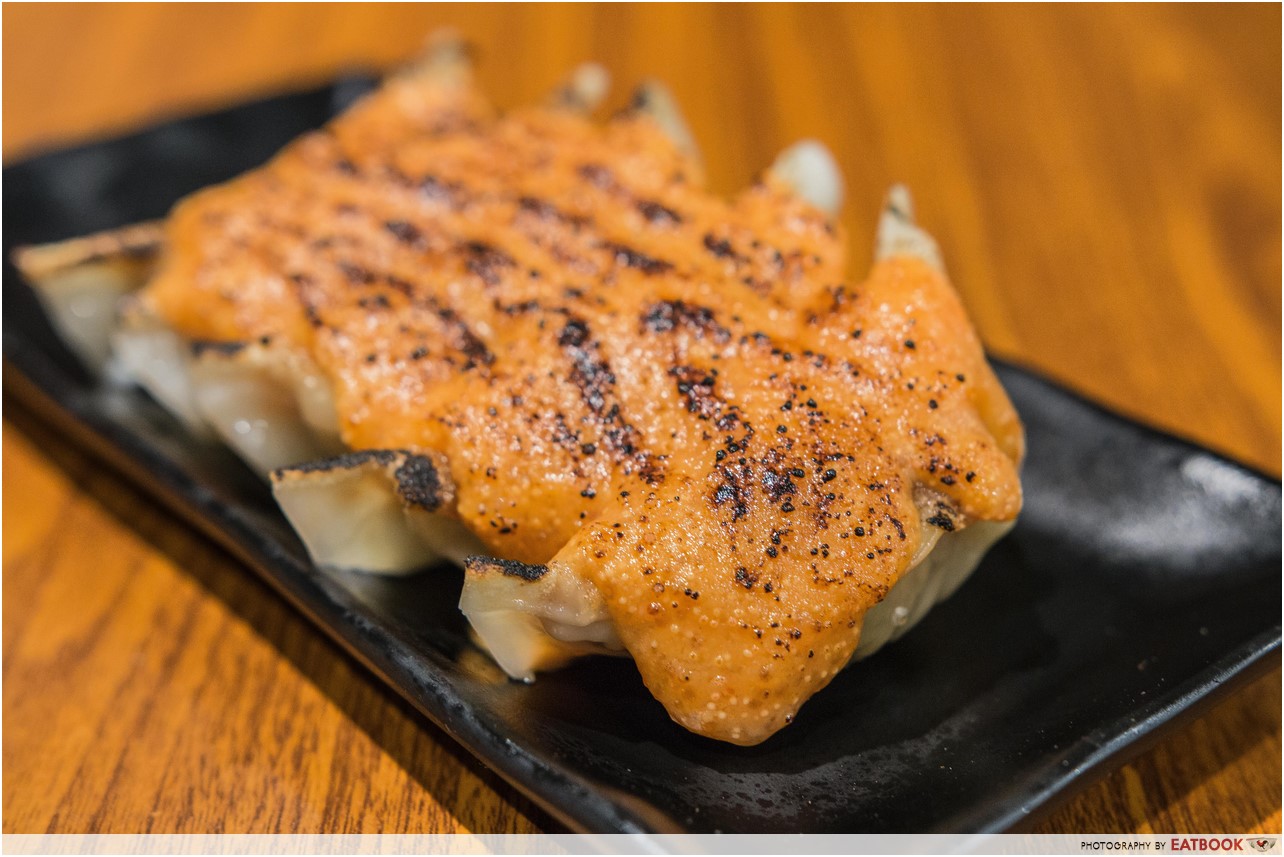 We ordered three different gyoza dishes here and my favourite has got to be Pan-Fried Dumpling with Mentaiko Miso ($8.80++ for 5). Each dumpling came with juicy pork filling and was blanketed in a thick layer of mentaiko torched right before serving.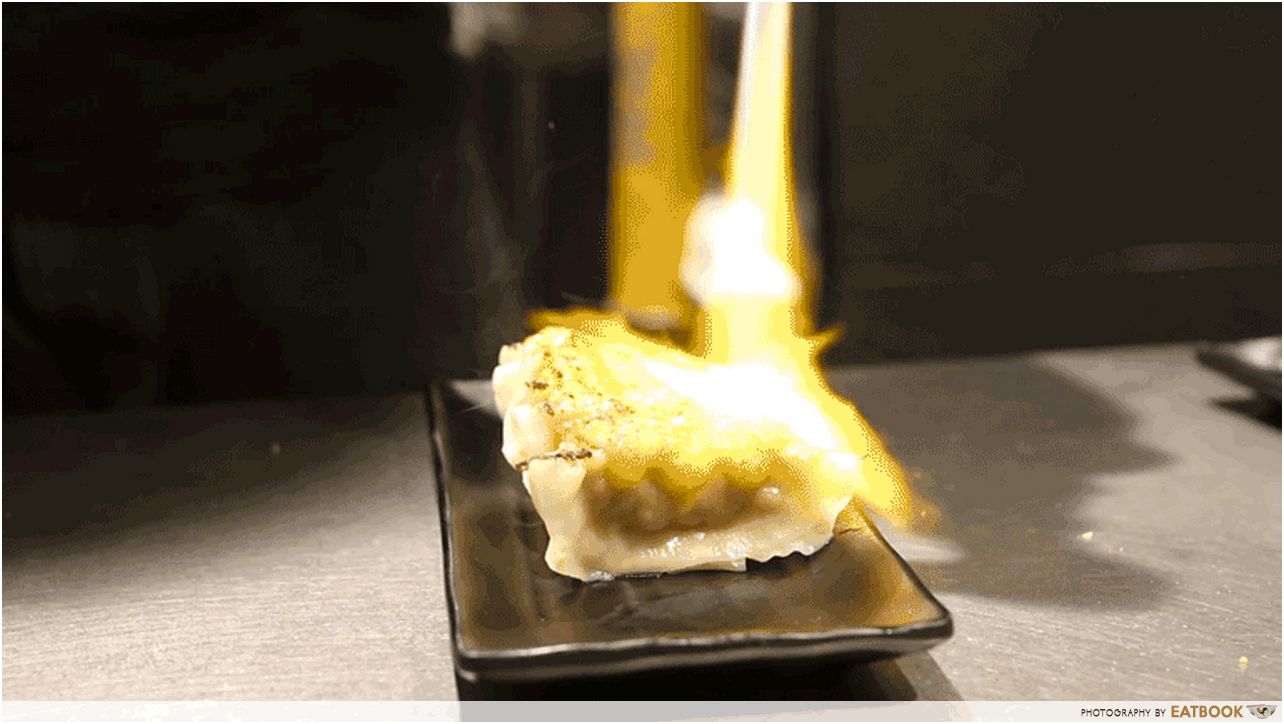 The smooth mentaiko sauce contains actual mentaiko to create a contrast in textures. It added a rich burst of flavour to the pork gyoza, though I have to admit the sauce was a tad too salty for me.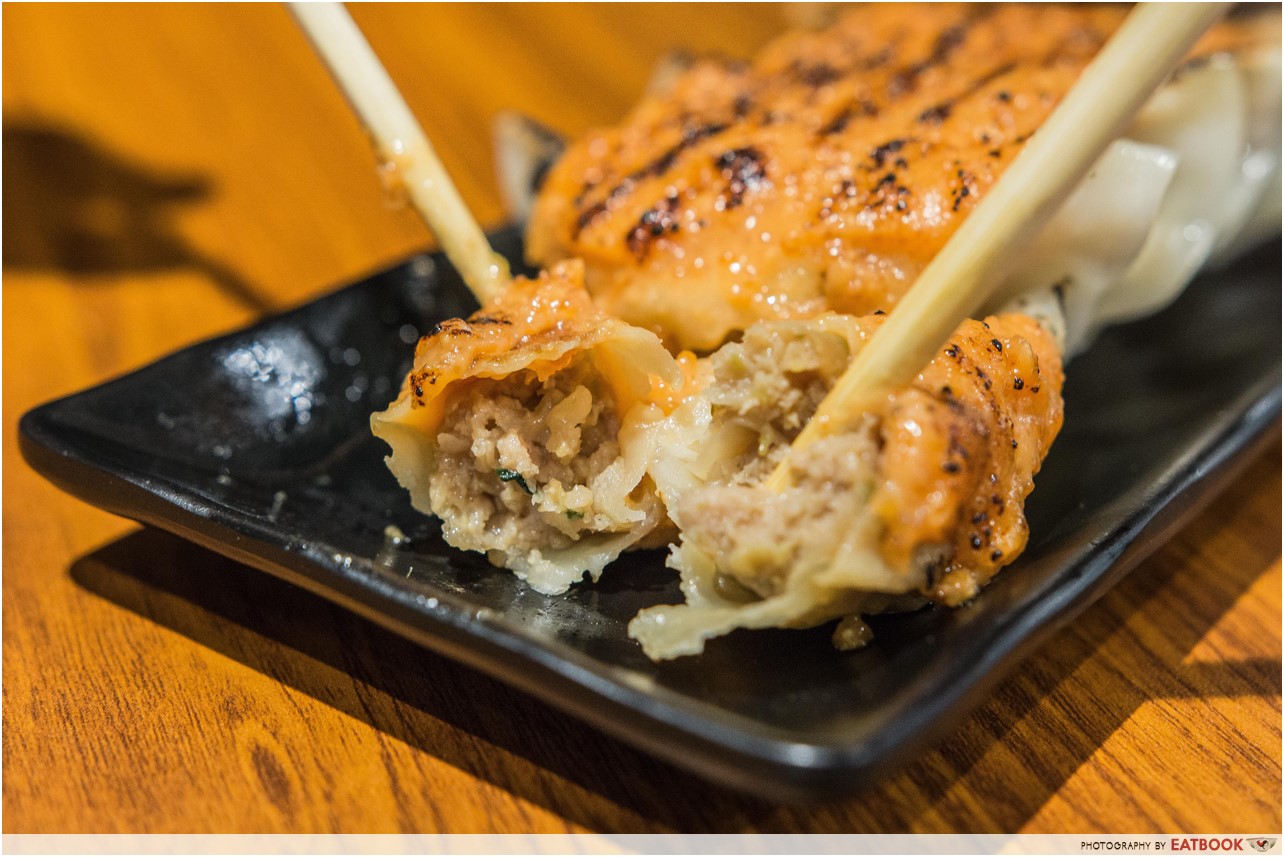 The gyoza proved itself to be a worthy main dish. I liked the contrast between the crispy pan-fried skin and the soft, juicy filling, as well as how the skin remains thin enough to let the succulent pork and vegetable filling stand out.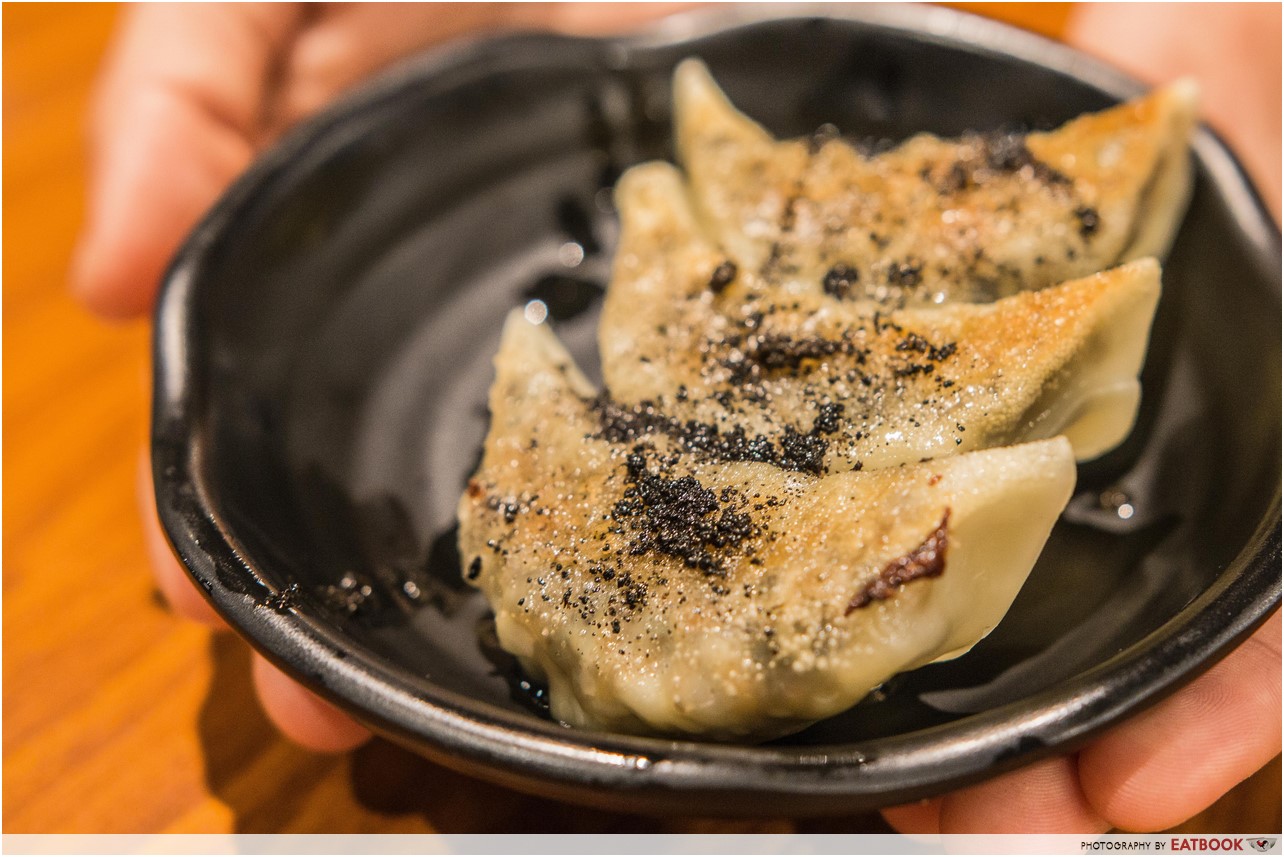 I'm a sucker for anything truffle, so there is no way I'm walking out of here without getting my hands on Truffle Gyoza ($9.80++ for 3). You know they're not stingy on the truffle oil when you can smell it even before it reaches your table. Their secret lies in the truffle salsa finish on the gyoza.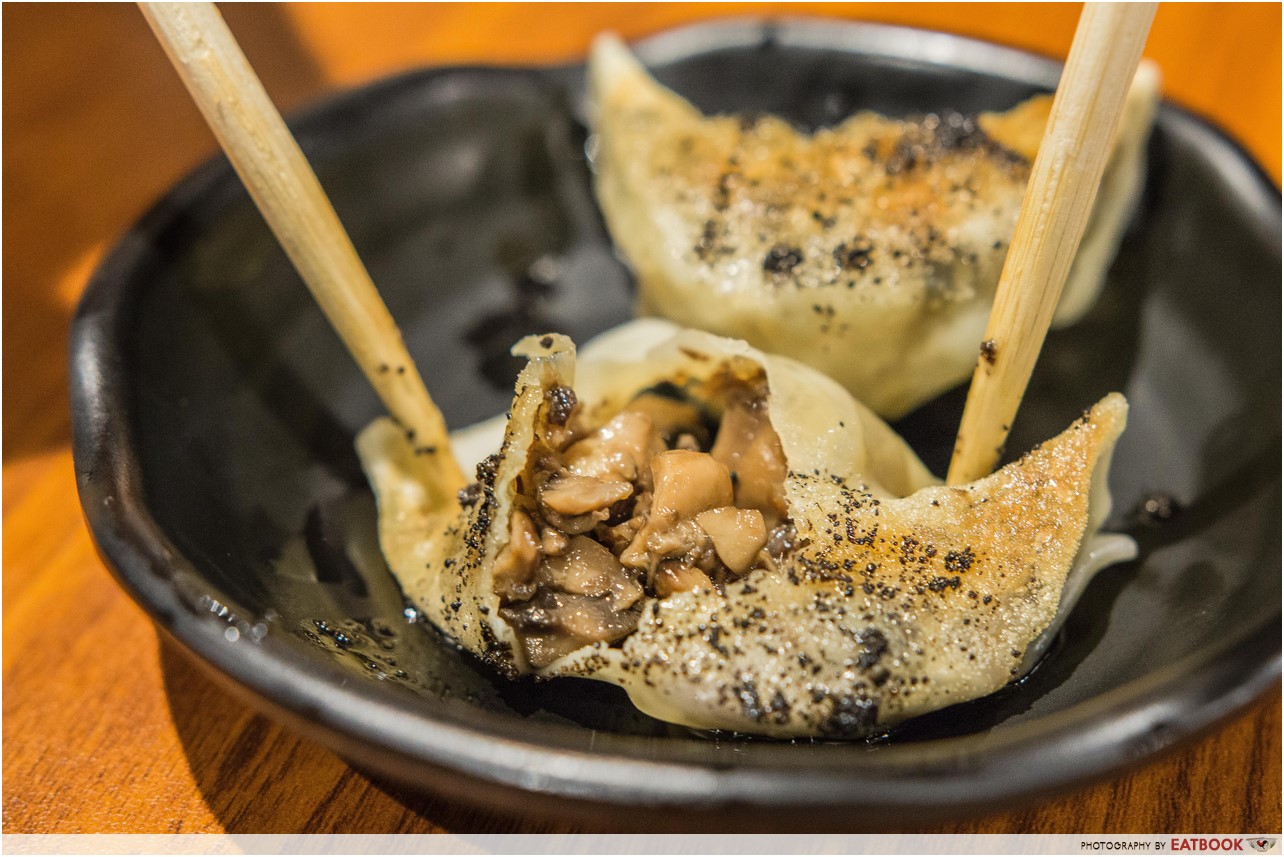 Instead of the usual meat filling, this dumpling surprised me with a mushroom filling. The minced Japanese mushrooms were unexpectedly sweet but I got really jelak after my first dumpling because it was overly greasy when eaten with the skin.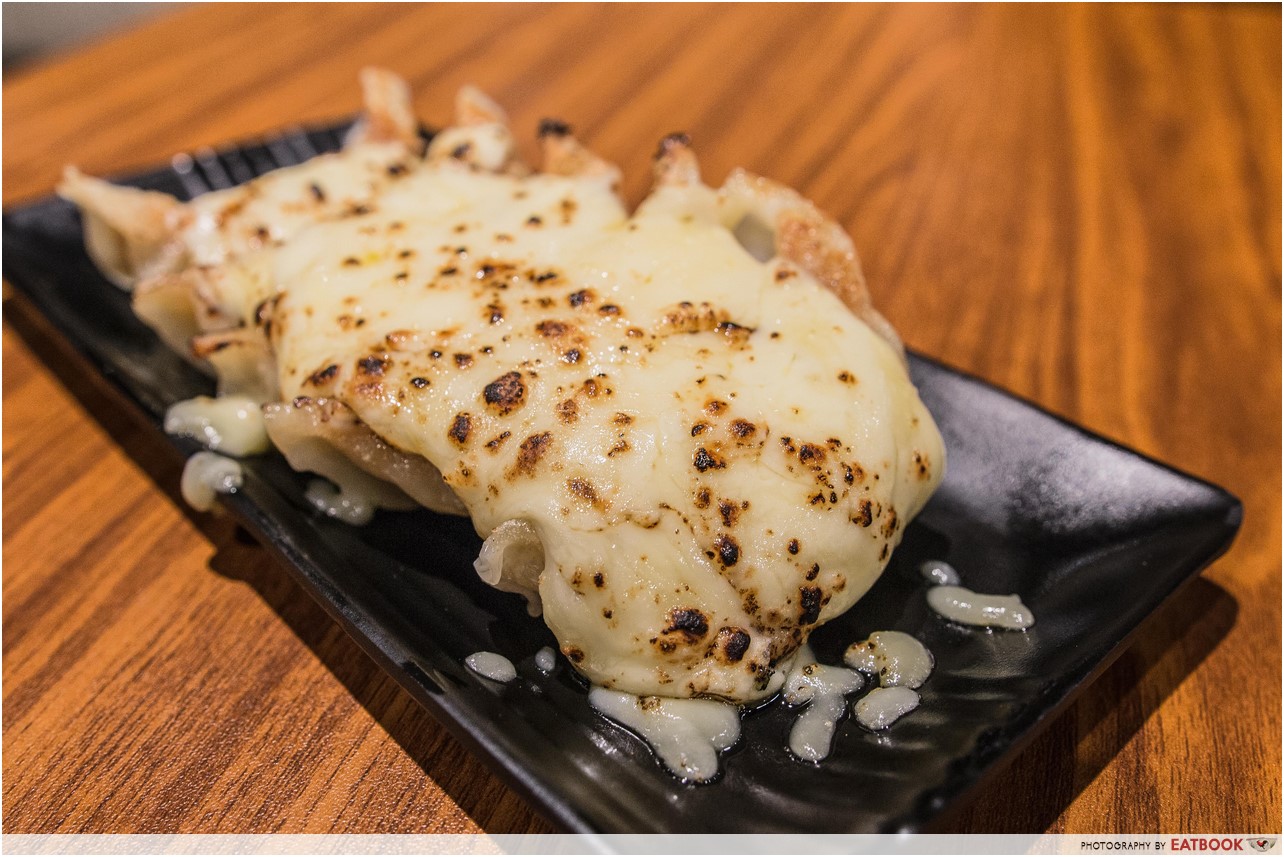 Last but not least, we got Cheese Gyoza ($5.80++ for 5). Watching the cheese bubble over a blow torch got me so pumped up to dig in. Surprisingly, the generous amount of cheese didn't overpower the taste of the gyoza. This came with the same pork and veggie filling as the Mentaiko Gyoza.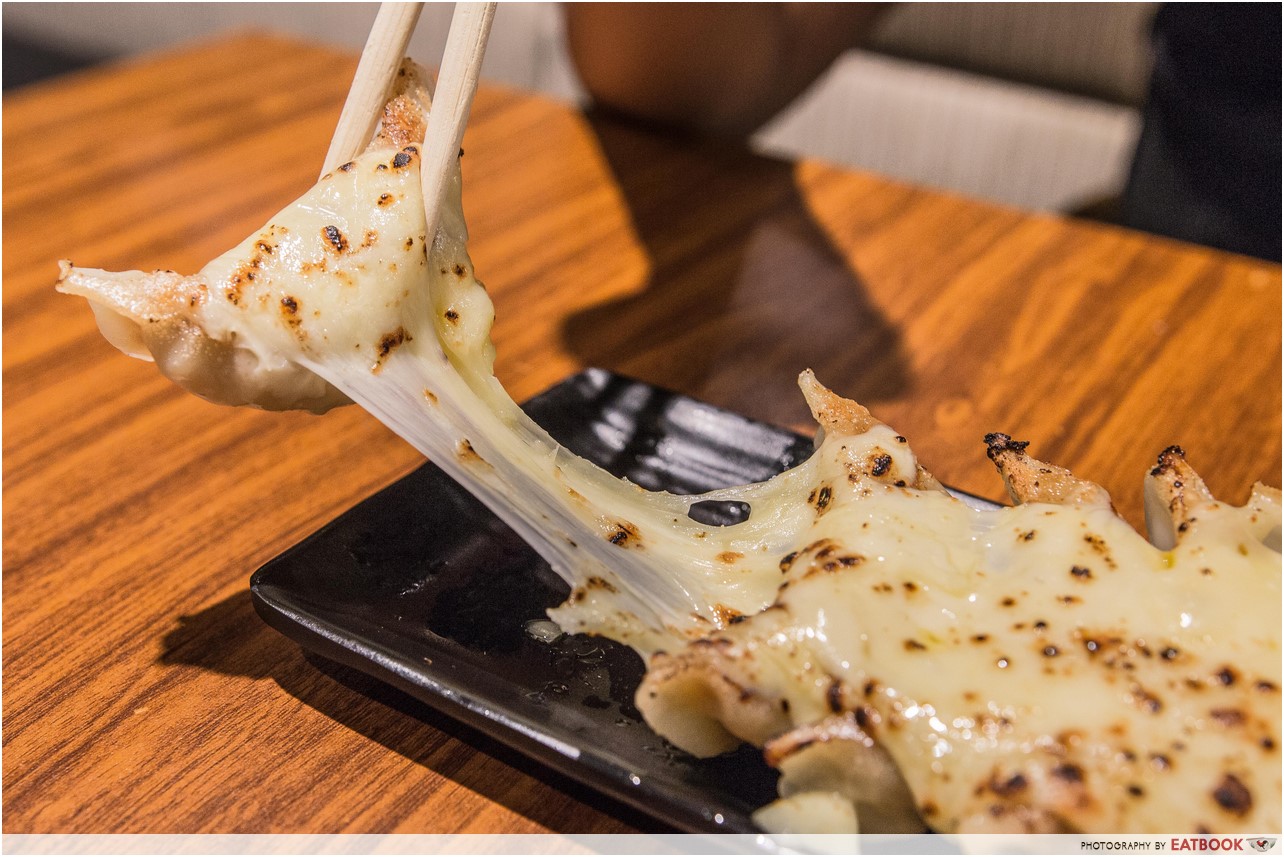 As gooey as it looks, the cheese hardened into a slightly rubbery texture after cooling down. Ain't nobody want rubber in their mouth so I recommend eating it IMMEDIATELY and share it with your friends because eating the whole plate will definitely make you want to stay away from cheese for a week.
Ambience at Gyoza-ya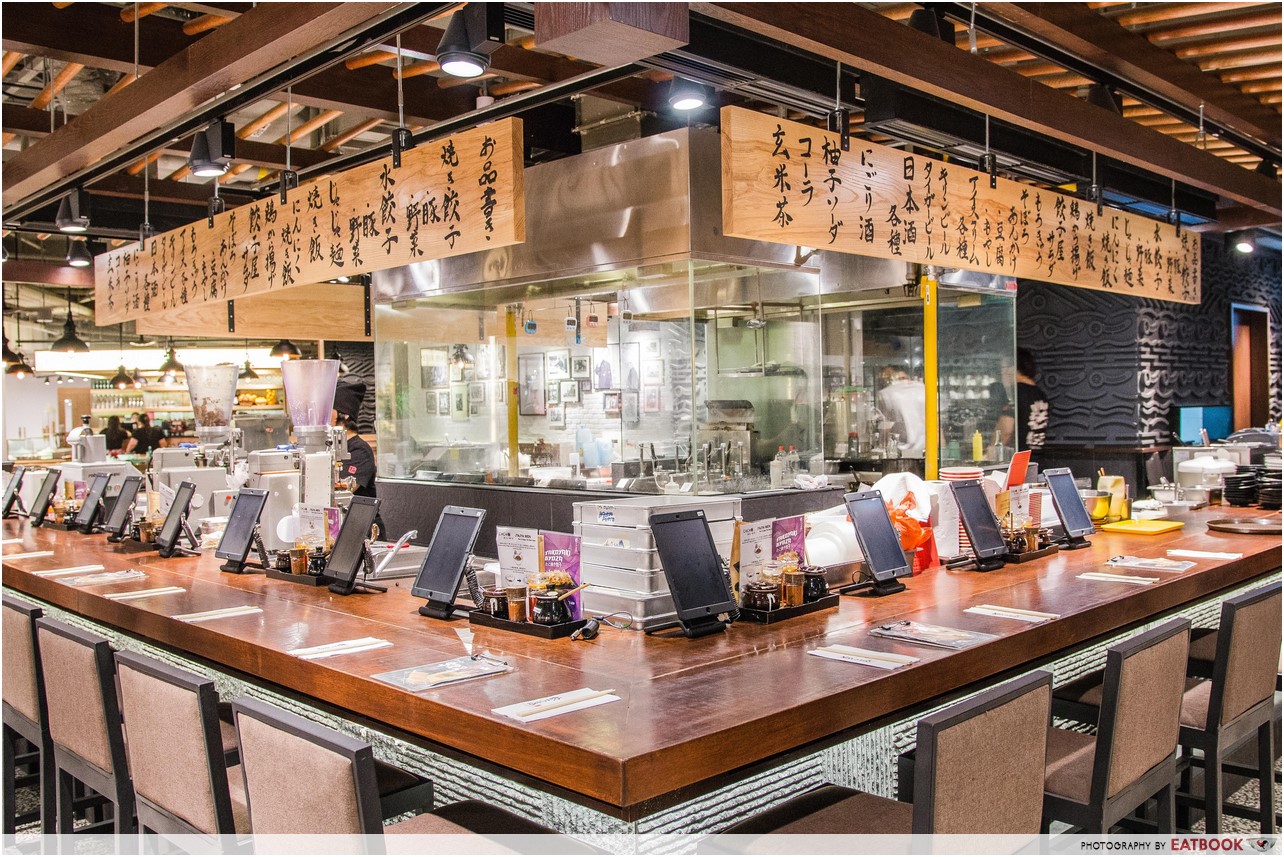 Located at the basement of Robinsons The Heeren, Gyoza-ya is a convenient spot for meet-ups with friends. As I walked in, the open kitchen got me all excited because it's like watching a live episode of Masterchef. You can make your order using the iPad on every table.
The verdict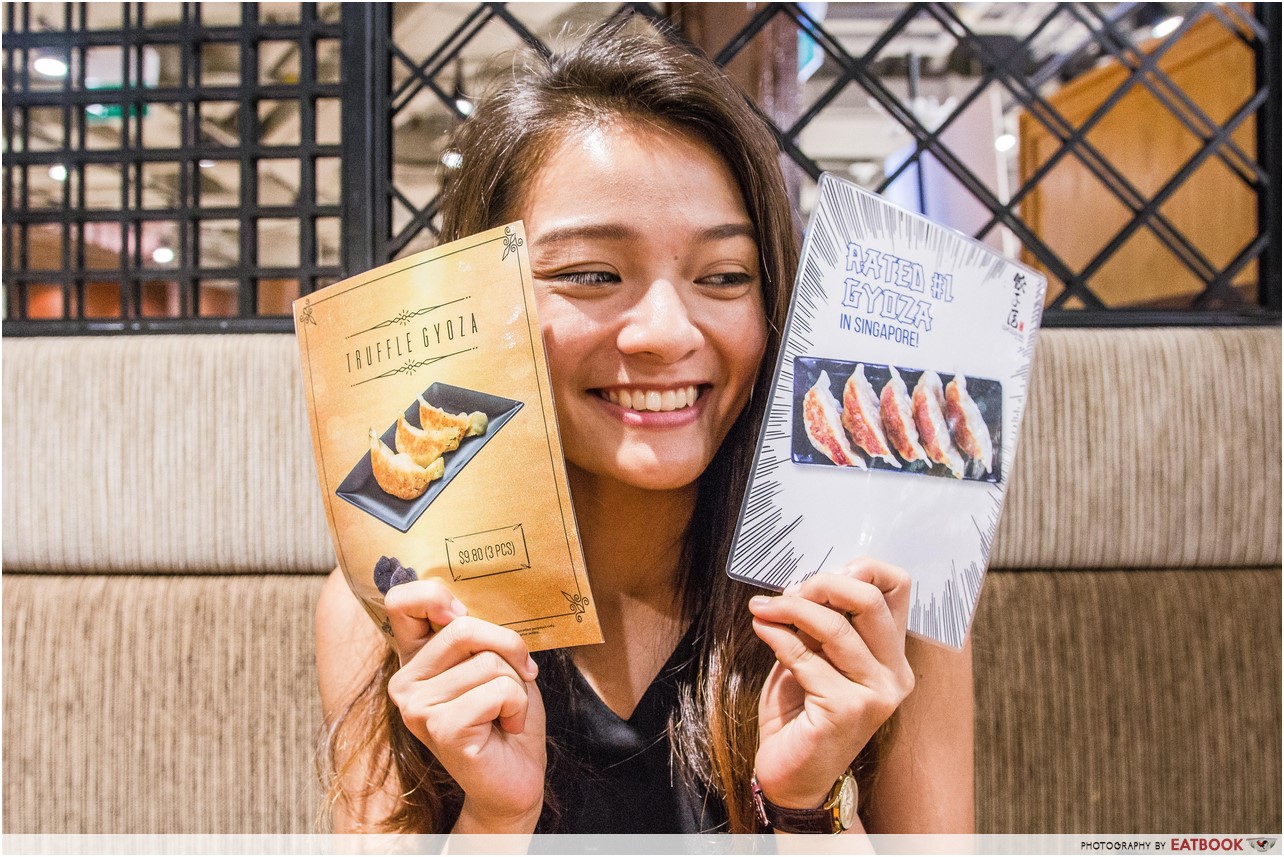 Though there were hits and misses in taste and texture, I would come back to try other interesting flavours such as Takoyaki Gyoza ($7.80++ for 5) and a sweet Yaki Azuki Gyoza ($3.80++ for 3). Taste wise, I wouldn't nod my head to it being #1 in Singapore, but it's good if you enjoy having a variety of dishes in every meal.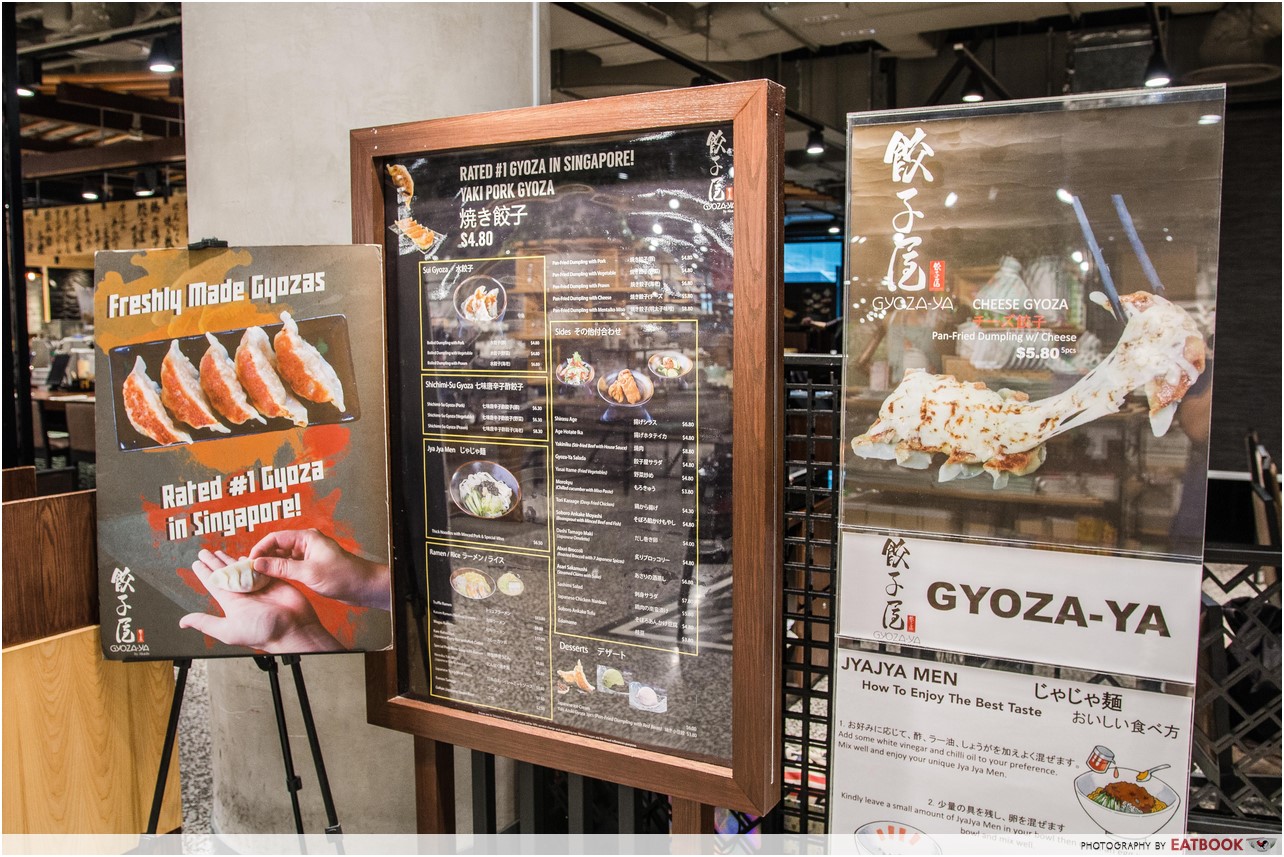 Apart from the usual pork filling, they offer prawn, vegetable and red king crab fillings. Noodles and rice dishes are also available.
This is an independent review by Eatbook.sg.

Summary
Pros
– Affordable
– Large variety of gyoza flavours
– Convenient location
Cons
– Hits and misses
Recommended Dishes: Pan-fried Dumpling with Mentaiko Miso ($8.80++ for 5)
Operating Hours:
Monday – Sunday 11:30am to 10pm
Tel:
6737 5581
Address: 260 Orchard Road, #B1-02A, Robinsons Heeren, Singapore 238855