---
Halal food deliveries for lazy days
---
With numerous food delivery services on the rise, ordering your favourite food to enjoy in the comfort of your own home has never been easier. Sorting through the lists to find halal options, however, is not as fun, so we've done the digging for you! Here are 10 halal food joints you can order food from for your next dinner-in-bed session.
---
1. Shin Tokyo
---
Halal food delivery exists for most of our favourite cuisines, including Japanese. Shin Tokyo delivers an assortment of Japanese sides, ramen and Japanese-Western dishes, perfect for days you're too lazy to get out of the house for lunch or prepare dinner. Although their site caters mostly to large orders, you can get smaller amounts through foodpanda. Their mains range from $17 to $27.80.
Address: 14 Scotts Road, #01-22, Far East Plaza, Singapore 228213
Opening hours: Daily 11:30am to 10pm
Tel: 6238 7983
Website
Menu
---
2. Spize
---
Spize is for indecisive groups, where one member wants prata but another prefers pasta. Offering three menus – Asian, Mediterranean, and Indian – the number of options available is impressive. The best part is they even deliver desserts, including a range of dessert prata, to end off your meal. Their meals are rather affordable too, ranging from $8 to $10.
Address: 336 Bedok Road, The Bedok Marketplace, Singapore 469512
Opening hours: Daily 10:30am to 4am
Tel: 6445 3211
Website | Menu
---
3. The Shepherd's Pie
---
If a place focuses solely on one dish, you can expect the dish to be pretty darn good. The Shepherd's Pie is one such restaurant, serving shepherd's pies in a variety of flavours. Each tray serves three to four people, although it says four to six on their website, so be sure to have a few hungry friends with you if you decide to order this. Their prices start from $33.90 for Veggie Lovers and Classic Beef, to $43.90 for Lamb Special.
Address: 5 Bedok North Street 2, Singapore 469645
Opening hours: Daily 11am to 8pm
Tel: 6789 0707
Website | Menu

---
4. Sakunthala's Restaurant
---
If you've got your heart set on Indian food, the large menu at Sakunthala's Restaurant definitely delivers. In addition to the usual biryani and naan, Sakunthala's also serves a range of crab, lobster, and squid dishes among many others. Each dish ranges from $5 to $20, so be prepared to spend a fair amount when you order here.
Address: 151 Dunlop Street, Singapore 209466
Opening hours: Daily 9:30am to 11pm
Tel: 6293 6649
Website | Menu
---
5. Golden Pillow 933

---
Golden Pillow 933 specialises in chunks of chicken curry wrapped up and served in a soft, pillowy bun. A portion is large enough for several to share. Pulling apart the bread and dipping it into the fragrant curry is a delight most would fancy, so be sure to order enough for your friends to steal a sneaky bite! Their signature Golden Pillow Curry Chicken Bun goes at $14.80.
Address: 1 Kaki Bukit Road 1, #05-11, Singapore 415934
Opening hours: Daily 9am to 9pm
Tel: 6323 8933
Website
Menu
---
6. Thai To Go
---
Thai To Go is, as its name suggests, a Thai food delivery. Their menu includes a wide range of seafood, meats, curries, noodles, and rice dishes, along with bento sets. Tom Yum Seafood is priced at $9.90, while Pad Thai Beef is $8.90 and a Basil Beef With Steam Jasmine Rice bento box goes at $9.90, overall making this a pretty affordable option. However, they do have minimum orders ranging from $20 to $65 depending on your location.
Address: 391 Guillemard Road, Singapore 399789
Opening hours: Daily 10:30am to 9pm
Tel: 6396 9696
Website
Menu

---
7. Pastamania

---
Pastamania delivers pizza, pasta, baked rice, and desserts right to your doorstep. Some dishes include Arrabiata ($6.90), Beef Bolognese ($8.90), BBQ Chicken Pizza ($9.90 for 7 inch), and Apple Crumble Pizza ($5.50). They have a minimum order of $12 for most locations, but it can be up to $20 depending on the address.
Address: 200 Victoria Street, #B1-08, Bugis Junction, Singapore 188021
Opening hours: Daily 11am to 10pm
Delivery hours: Daily 10am to 10:30pm
Tel: 6339 6635
Website
Menu
Full list of outlets

---
8. Popeyes

---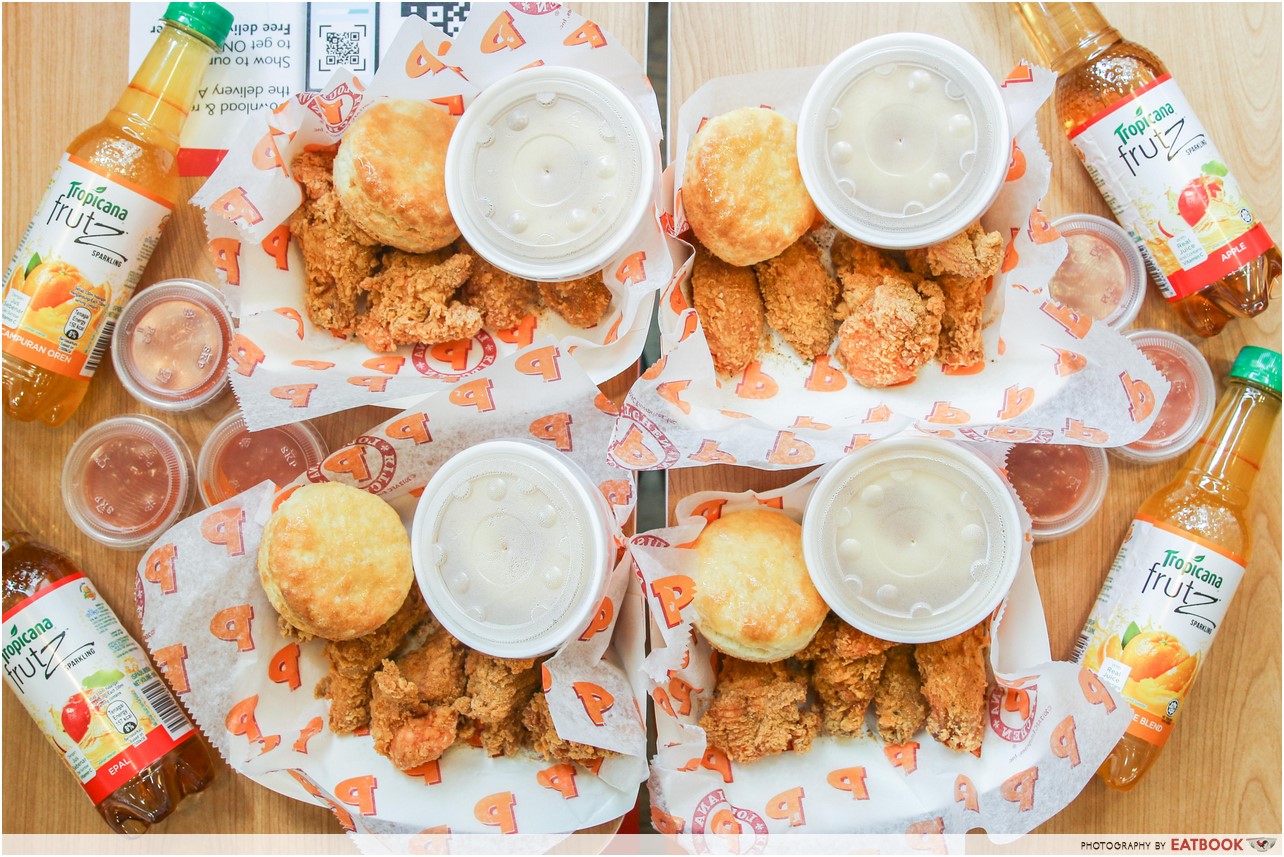 A surefire way of satisfying your chicken craving is by ordering from Popeyes. Offering special promotions only for delivery, the variety of feasts and platters are sure to fill up your entire family – or a very hungry you. A Hearty Feast ($34.80) includes chicken, chicken tenders, fries, burgers, and Popeyes' signature biscuits.
Address: 313 Orchard Road, #B2-15/19, 313@Somerset, Singapore 238859
Opening hours: Mon-Fri 11am to 10:30pm, Sat-Sun 10am to 10:30pm
Delivery hours: Daily 10am to 10pm
Tel: 6545 4555
Website
Full list of outlets
---
9. Haven Pizza
---
Haven Pizza is a relatively unknown pizza joint, perhaps due to their small number of outlets. Offering nine options for one-for-one pizza including Beef or Chicken Cheese Burger Pizza and San Remo Special at $26 for Regular and $38 for Extra Large, Haven Pizza gives you another choice in the competitive pizza delivery scene. There are 17 pizza flavours you can choose from in total, as well as an option to create your own pizza.
Address: 8A Admiralty Street, #03-41, FoodXchange@Admiralty, SIngapore 757437
Opening hours: Daily 10am to 10pm
Tel: 6365 5411
Website
Menu
Full list of outlets
---
10. So Pho
---
There aren't many halal Vietnamese restaurants in Singapore to begin with, so finding one that delivers is even more of a gem. So Pho delivers most of its menu items, including Pho ($10.80), Hanoi Fish Fillet with Lemongrass and Dill ($12.80) and Banh Mi ($6.50). They also deliver appetisers as well as party and bento sets, so whether you're satisfying a craving for spring rolls, or you're organising your next birthday bash, So Pho has got you covered.
Address: 290 Orchard Road, #B1-20, Paragon, Singapore 238859
Opening hours: Daily 11am to 10pm
Tel: 6235 0414
Website | Menu
---
Halal restaurants that truly deliver
---
You now have plenty of options for those days you can't be bothered to leave the house. Let us know which of these places you enjoyed best!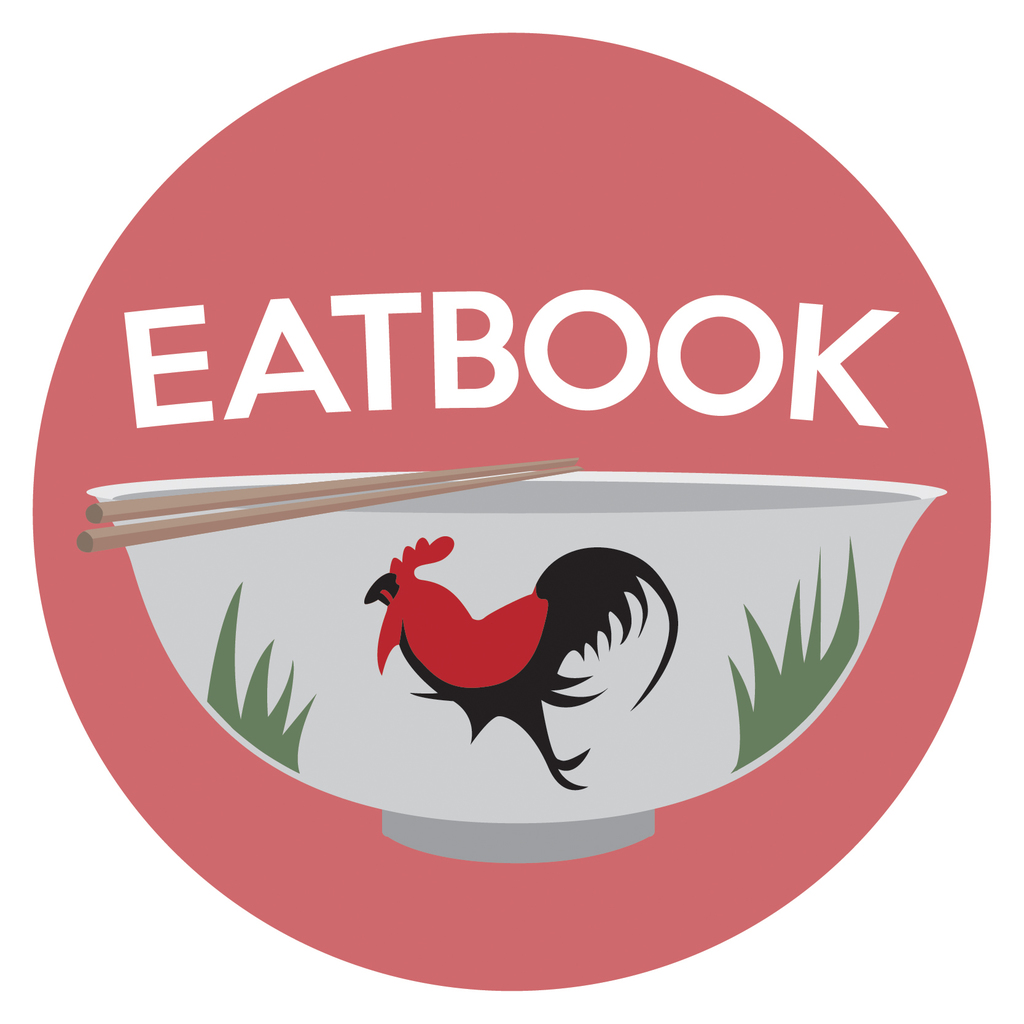 Drop us your email so you won't miss the latest news.