Jin Shang Yi Pin Buffet Hot Pot offers halal steamboat buffet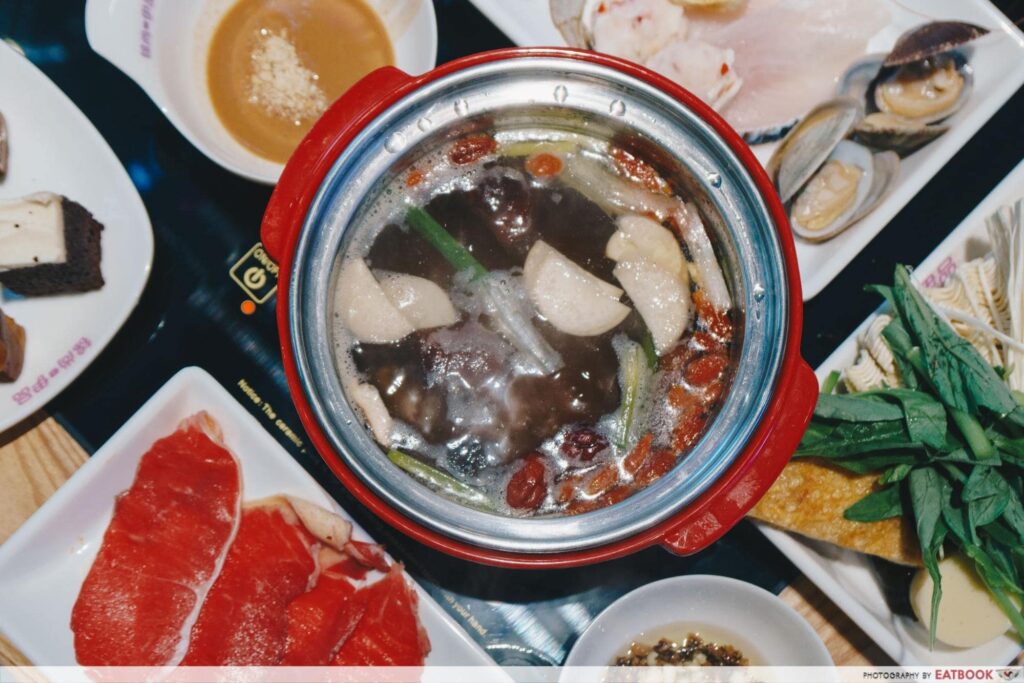 Joining the ranks of halal hotpots in Singapore is Jin Shang Yi Pin Buffet Hot Pot. Tucked at the back of Eastpoint Mall, this month-old joint is owned by Muslims who hail from China – making this as authentic as a halal Chinese hotpot restaurant in Singapore could ever get.
The buffet goes at $35++ for adults and $22++ for children, and it includes a pot for each diner, as well as unlimited meats, veggies, drinks, rice and desserts. At an additional $4.90++, we also got the option that includes a barbecue grill.
Food at Jin Shang Yi Pin Buffet Hot Pot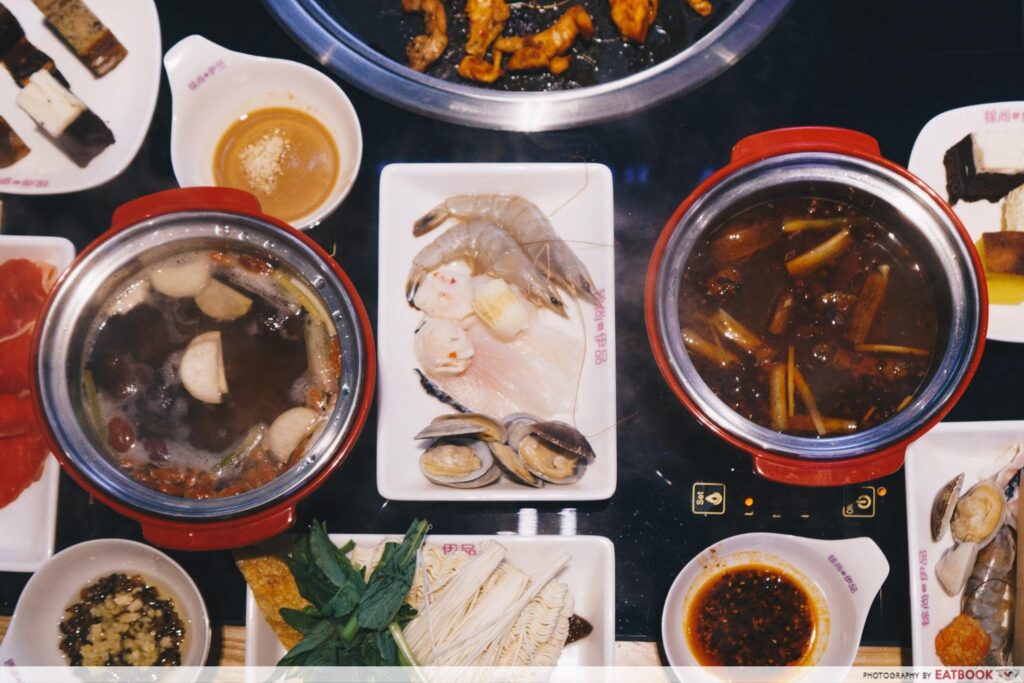 First things first, we had to choose from five soup bases:
Mala (spicy)

Salted vegetable (spicy)

Herbal chicken (non-spicy)

Mushroom (non-spicy)

Tomato (non-spicy)
Since we could each have a pot to ourselves, we got the Mala and Mushroom soups which were highly recommended.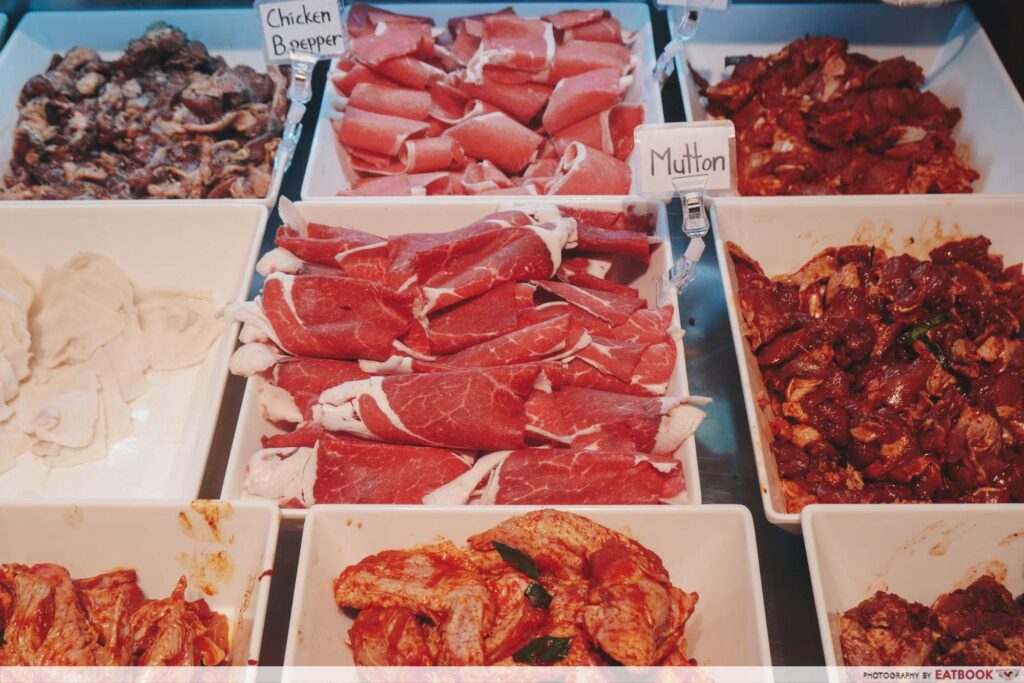 As we left the pots to boil, it was time to finally select the ingredients that would grace our soups and skillet. Thankfully, there was a healthy mix of protein and carb options like beef and mutton slices, toman fish, cheese tofu and udon.
And now, showtime. Initially, I was taken aback by how watery the ma la was, and on my first slurp, I thought it needed to be spicier. As I reached out for my beef, ready to write off the soup, the first wave hit me. The term "delayed effect" had never felt more real as the mix of peppercorns, chilli flakes and oil crescendoed into a tongue-numbing sensation.
Given the rainy weather and the fact that a whole lotta spice was lingering in my mouth, the mushroom broth was an absolute godsend. It was soothing and mellow, thanks to the wolfberries and dates which made the soup subtly sweet. I also appreciated how it was chock-full of mushrooms.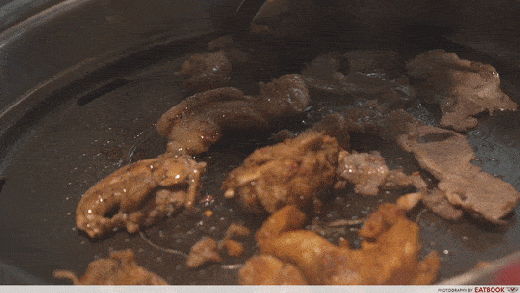 Placing the lean beef slices on the skillet brought forth a tantalising aroma. Despite the lack of marbling on the beef, I was pleasantly surprised by how buttery and tender it was – a clear sign of its freshness.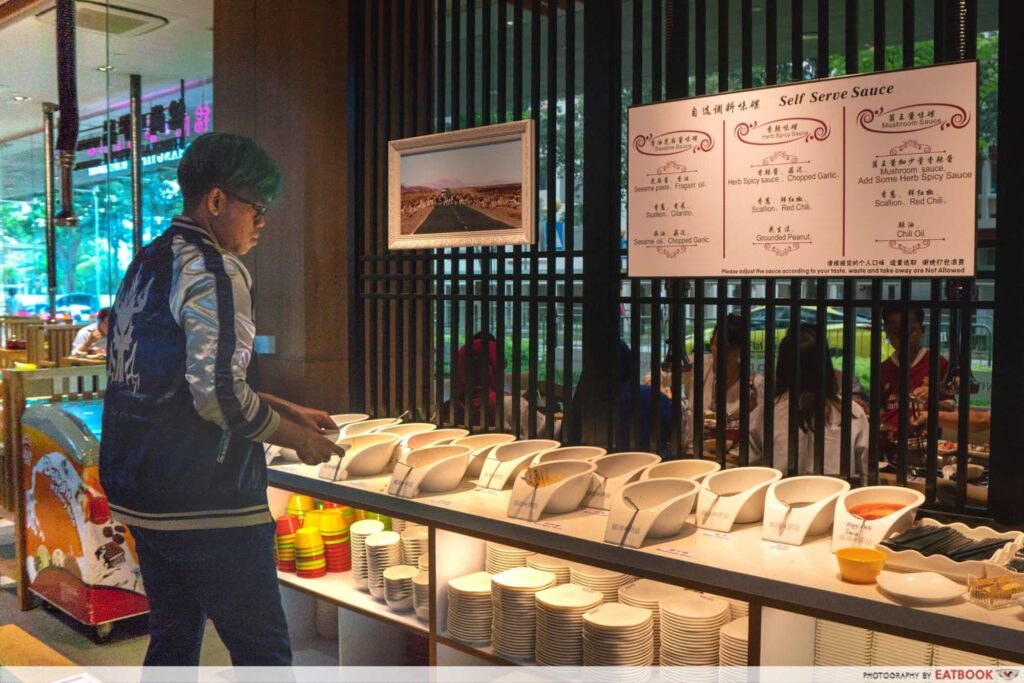 The restaurant also has a sauce station with over 10 options from creamy peanut sauce to savoury mushroom sauce. If the choices seem overwhelming, fret not as there's a helpful sign showing the pairings that best match your food.
Unlike certain restaurants that charge extra for drinks, Jin Shang Yi Pin Buffet Hot Pot provides free-flow drinks, rice and desserts – making it well worth the price. Options that were available that day include oolong tea, plain water and orange soda.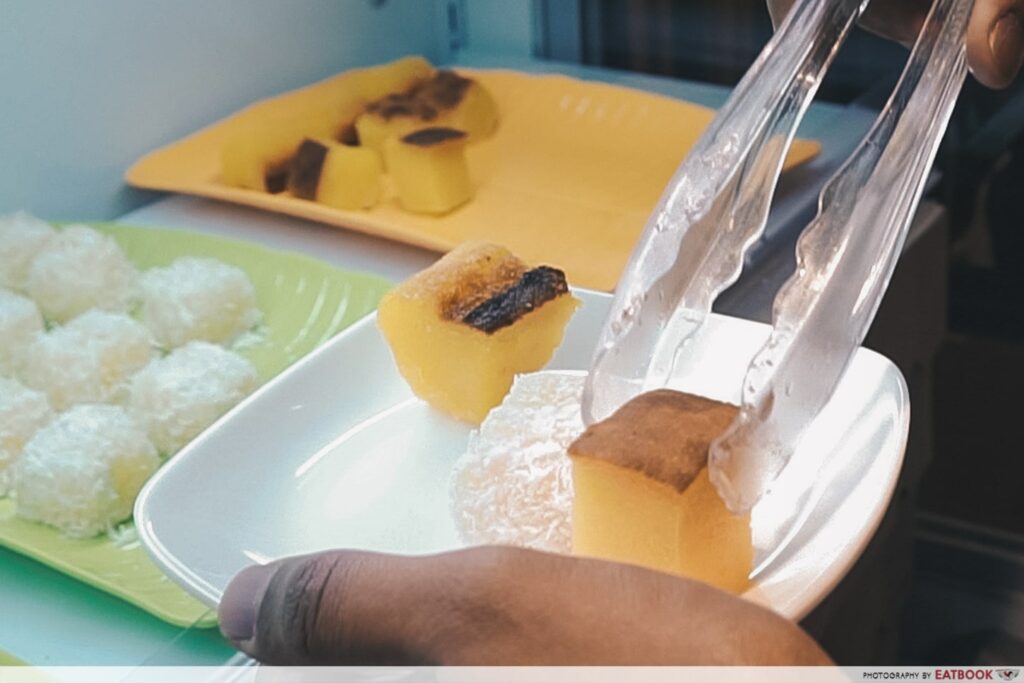 While the cakes were delicious, especially the banana cake and tapioca kueh, I would have preferred if there was a wider range of desserts available, given how most of the ice-cream was gone.
Ambience at Jin Shang Yi Pin Buffet Hot Pot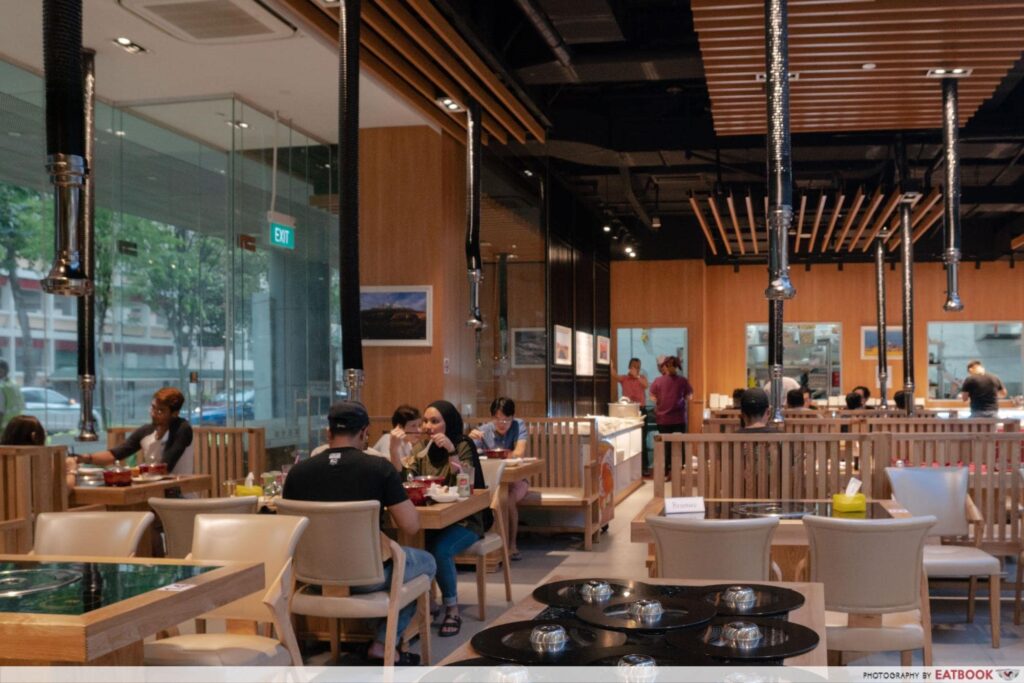 It's clear that the restaurant is becoming increasingly popular – we came at 4pm and almost half the seats were taken. Nonetheless, I liked how roomy the area was as the seats were widely spaced apart so you can dash for the good stuff without maneuvering past an obstacle course.
The service here was also commendable as the staff regularly checked on us to see if we needed a soup refill, and were happy to answer our questions.
With its comfy atmosphere and calming vibe, I would definitely recommend this place as a dating spot or somewhere to chill with your family and friends.
The verdict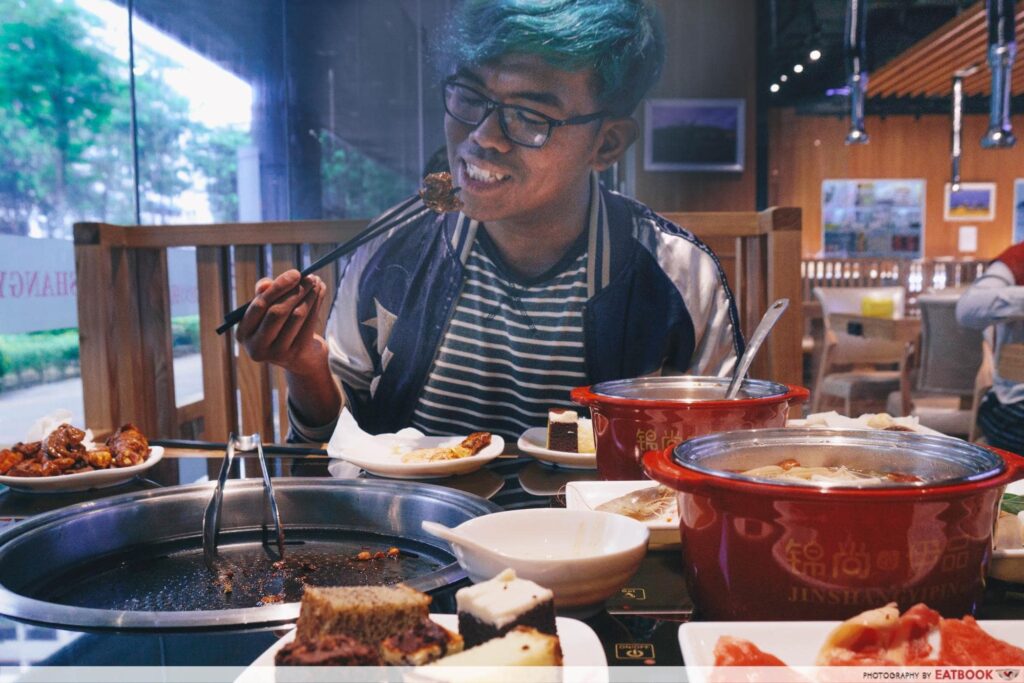 Tucking into authentic Chinese hotpot that's halal is something every Singaporean Muslim should experience. Jin Shang Yi Pin Buffet Hot Pot delivers on that front with its super flavourful soup and fresh, tasty ingredients.
That said, at $35++ for adults and $22++ for children*, it might be a tad pricey for some. Also, I would have preferred if there was a wider range of ingredients.
All in all, if you're an Eastie looking for a delicious hotpot buffet, Jin Shang Yi Pin Buffet Hot Pot is definitely worth a try.
*The restaurant is currently having a 30% off promotion. The discounted prices are $24.50++ for adults and $15.40++ for children.
Address: 3 Simei Street 6, #01-20, Eastpoint Mall, Singapore 528833
Opening hours: Daily 11am to 3pm, 4pm to 10pm
Tel: 6909 7355
Jin Shang Yi Pin Buffet Hot Pot has applied for halal certification.
Photos taken by Marissa Yeo.
This is an independent review by Eatbook.
10 Halal Date Night Places Under $20 Nett Per Person For A Night To Remember
Summary
Pros
– Potent mala
– Flavourful beef
Cons
– Pricey
Recommended dishes: Mushroom Sauce, Beef Slices
Opening hours:Daily 11am to 3pm, 4pm to 10pm
Address: 3 Simei Street 6, #01-20, Eastpoint Mall, Singapore 528833