Hansul Korean Dining Bar can be your next supper spot
Update (1 April 2018): Hansul Korean Dining Bar is now permanently closed.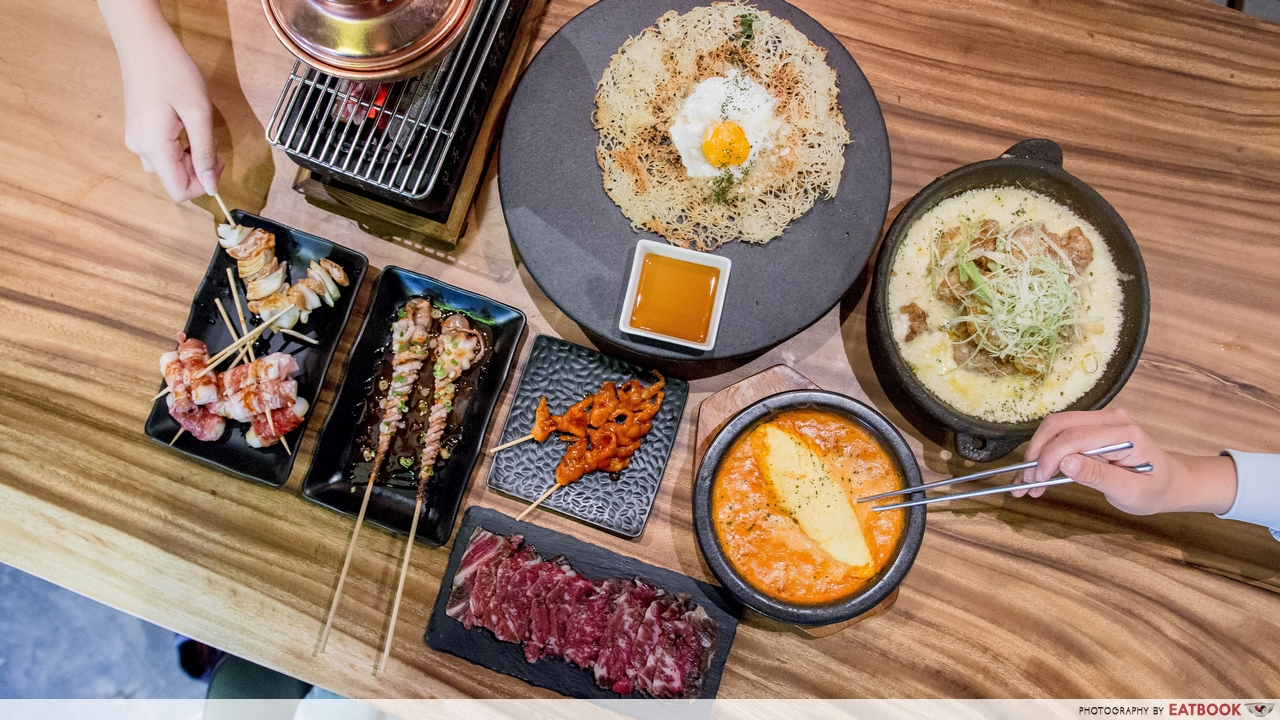 In recent years, Tanjong Pagar has become our very own Koreatown, judging by how the area has been dominated by countless Korean restaurants and K-marts. From getting a bingsu on a hot day to indulging in the wondrous combination of chimaek washed down with a pint of refreshing beer, here is the spot to get your Korean food fix.
If finishing the season finale of Weightlifting Fairy has left you feeling a little empty inside, fill up that void at Hansul Korean Dining Bar. Opened by part-time Mediacorp actor Haden Hee, this restaurant is his third, with the first two being Kimchi Korean Restaurant and Guksu Restaurant. Open till 6am daily, this is the spot to hit up when cravings for Korean food strike!
Food at Hansul Korean Dining Bar 

My stomach rumbled like pterodactyls causing a ruckus when our plate of sizzling Honey Butter Chicken Bumbuk ($25++) arrived, and I couldn't wait to dive right in. It was served on a piping hot stone pot with a generous amount of fried honey butter chicken and potato wedges sitting atop an ocean of melted mozzarella cheese. The dish was finished off with a handful of spring onions.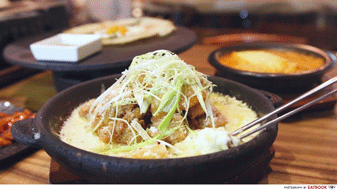 Two things in the world make my jaw drop – crazy shopping sales and ultimate cheese pulls. Not only was the cheese here great for a boomerang, it was also creamy and addictive. Be sure to wrap the fried chicken around it to form a cheese blanket for the bite of guilty pleasure.
The chicken itself was to die for. With a crisp exterior, juicy centre, and dusted with honey butter seasoning, these were little nuggets of happiness. The cheese, however, hardens quickly, so remember to stir it occasionally.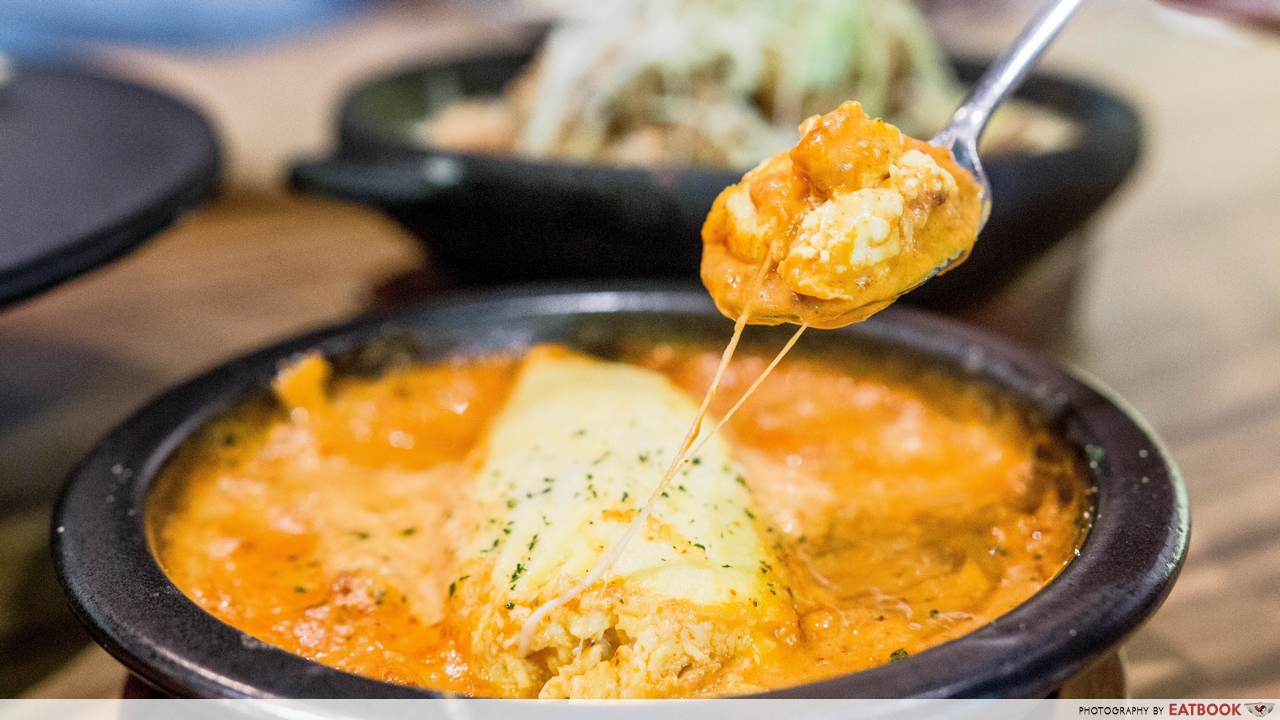 One of the more popular items on the menu is Kimchi Cheese Omelette ($12++). To keep the egg warm, it was served in a hot stone pot, and the omelette was swimming in a spicy tomato sauce.
The omelette was silky and smooth, holding a similar consistency to chawanmushi. It was loaded with kimchi and cheese, making each bite an explosion of flavour and crunch. When paired with the tangy and spicy tomato sauce, this dish made me go back for seconds.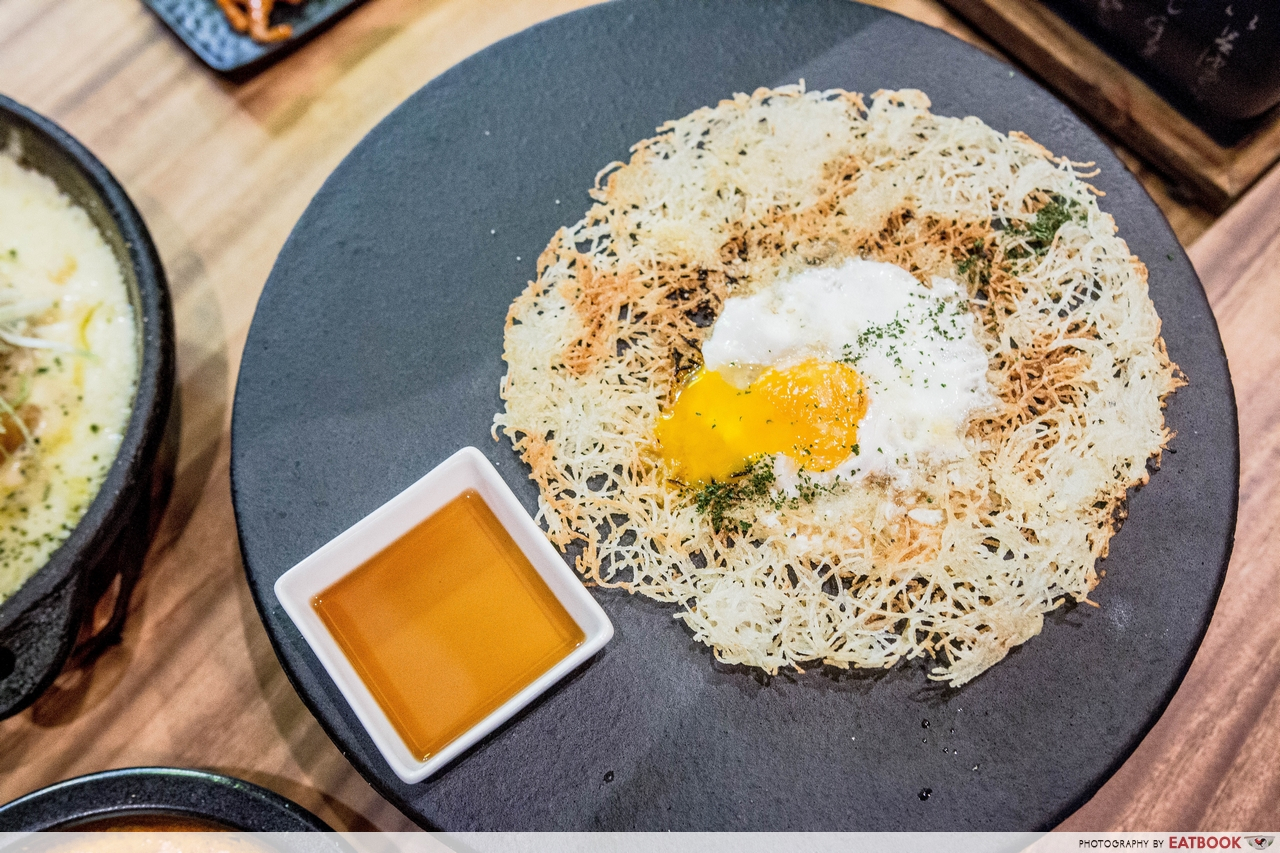 Their chef recommended Basak Gamja Cheese Jeon ($11++), which is apparently a popular dish in Korea. Reminiscent of a typical rosti, the dish is made up of thin strips of potatoes, cheese, an egg, and a sprinkle of parmesan.
The dip that came on the side tasted like a mixture of soy sauce and sesame oil. It went well with the dish and gave a right amount of saltiness to the otherwise bland pancake. Alternatively, you can tear apart bits of potato and dip them straight into the yolk in the centre of the pancake.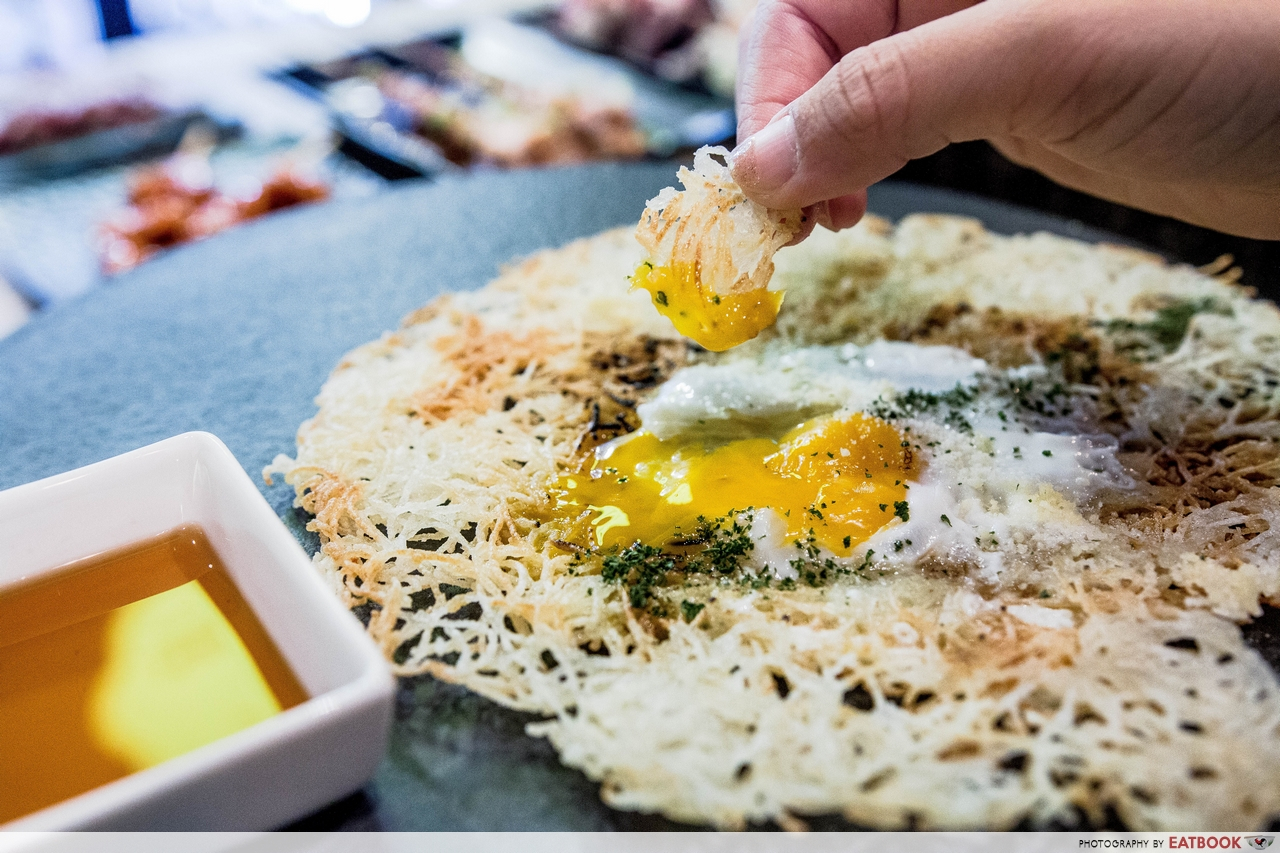 Even though the dish was tasty and its presentation was unique and eye-catching, it was a tad pricey considering its ingredients and execution. The egg also did not provide an additional layer of texture or flavour. This wouldn't rank high on my must-order list.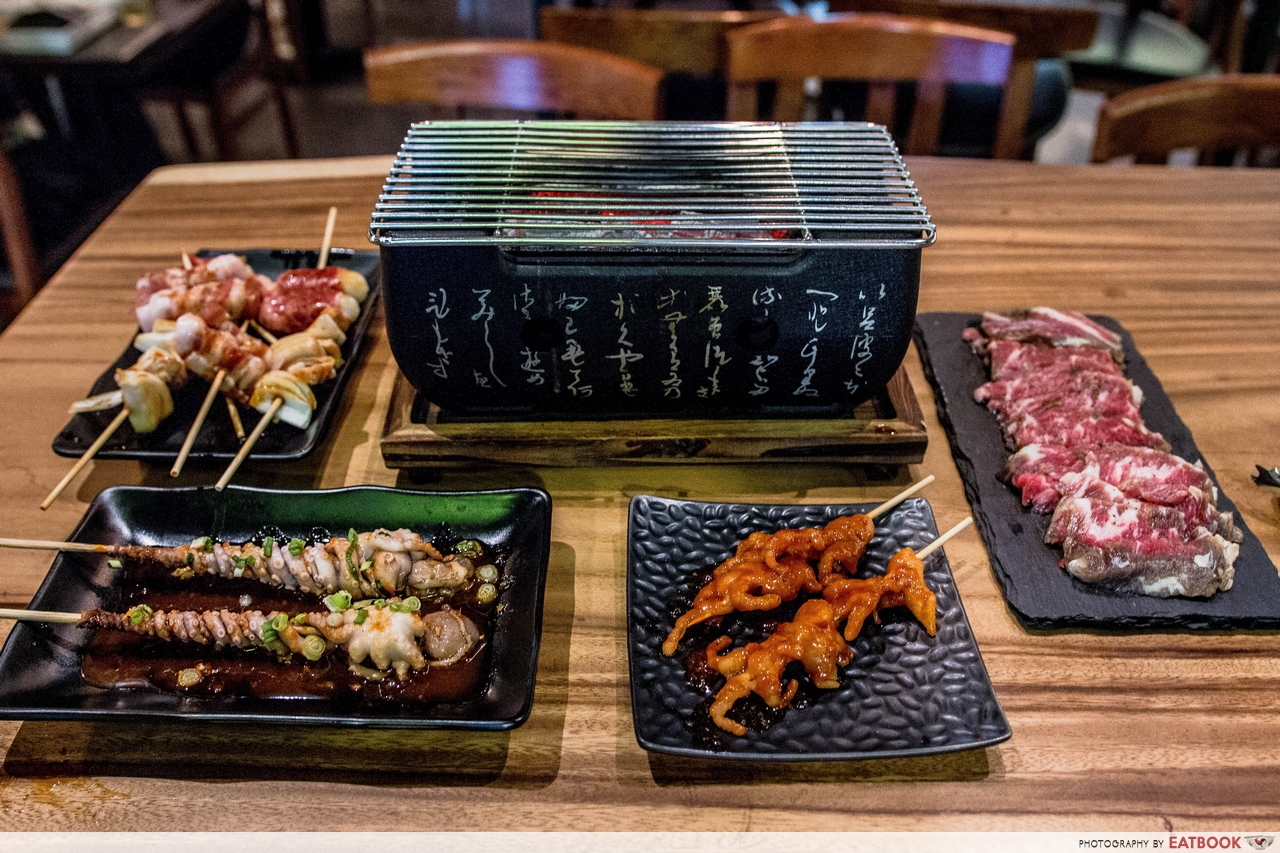 Finally, the item I'd been eyeing since I stepped in – the hwaro grill. Hwaro refers to the charcoal grill on which skewers are cooked on. All grilled skewers come in pairs here, and a minimum order of five pairs is required. Do note that the hwaro grill is only available from 5pm to 6am.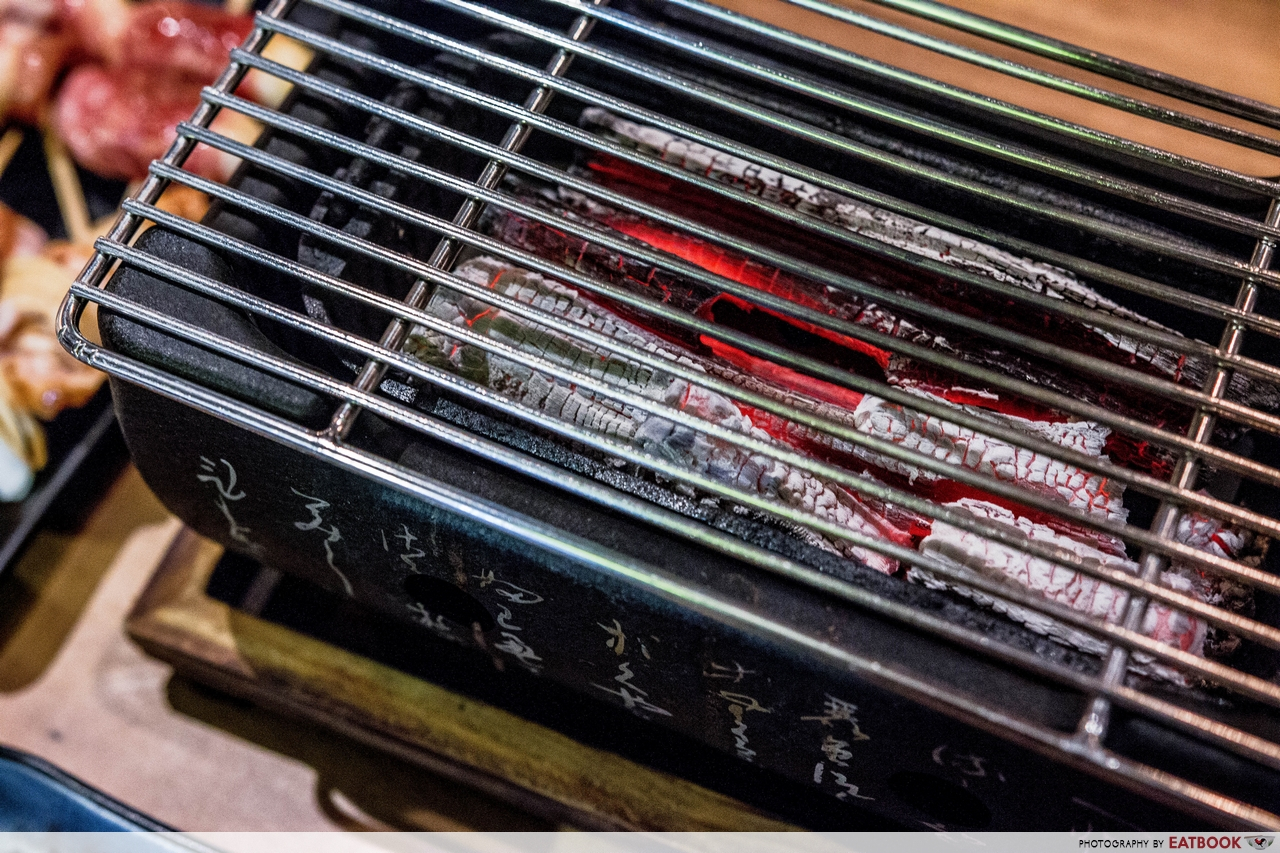 Unlike standard BBQ grills, the grill here was smaller and thus felt more personal. Be warned though, the whole setup gets HOT, so be extra careful to not burn yourself when shifting the grill around.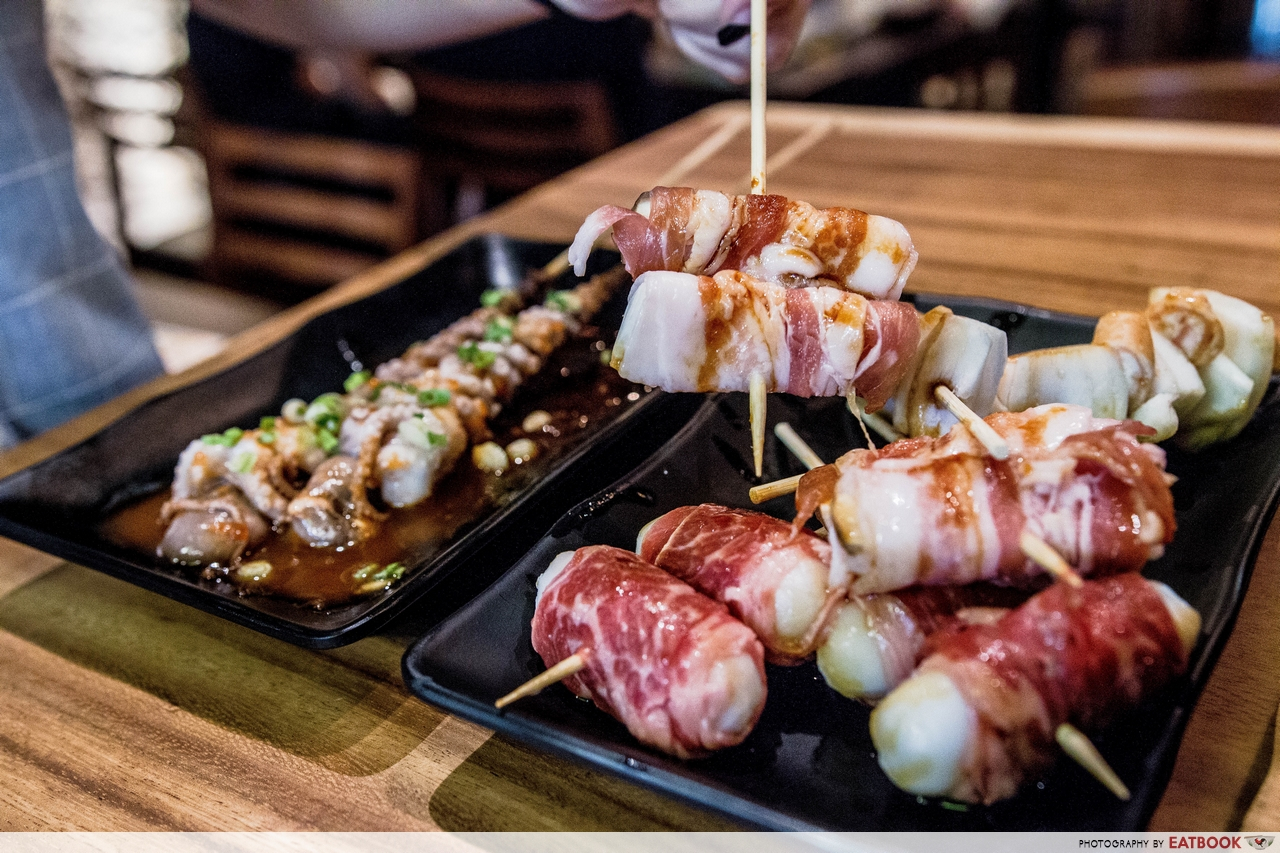 The menu offers over 20 types of skewers, so there's bound to be something that suits your fancy.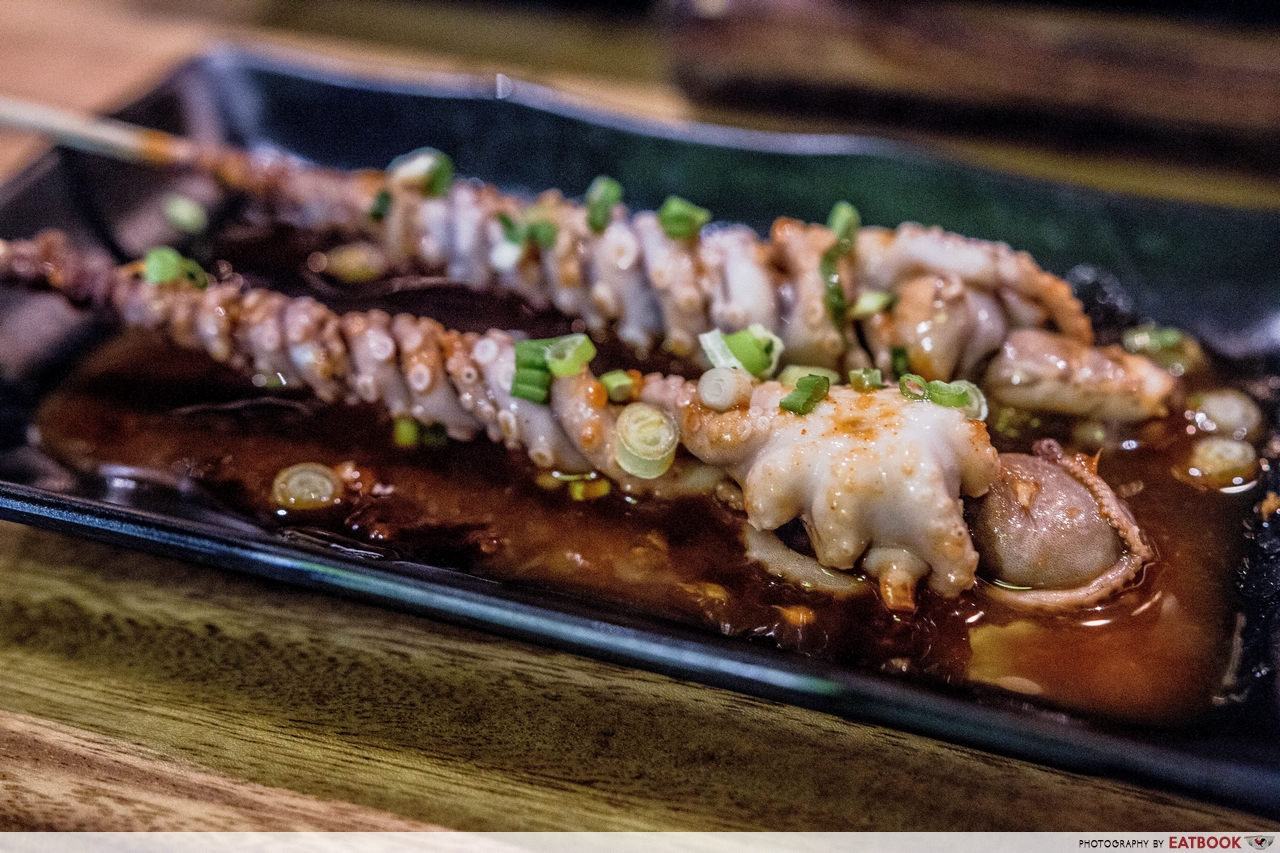 One of the more uncommon items on the menu is Long Legged Octopus ($8++ for two pieces). The octopus legs were wrapped around the skewer, allowing it to be cooked evenly and conveniently on the grill. Even though the octopus looked appetising, I'm afraid that's all there was to it. It didn't have much flavour, and was lacking the oomph I expected.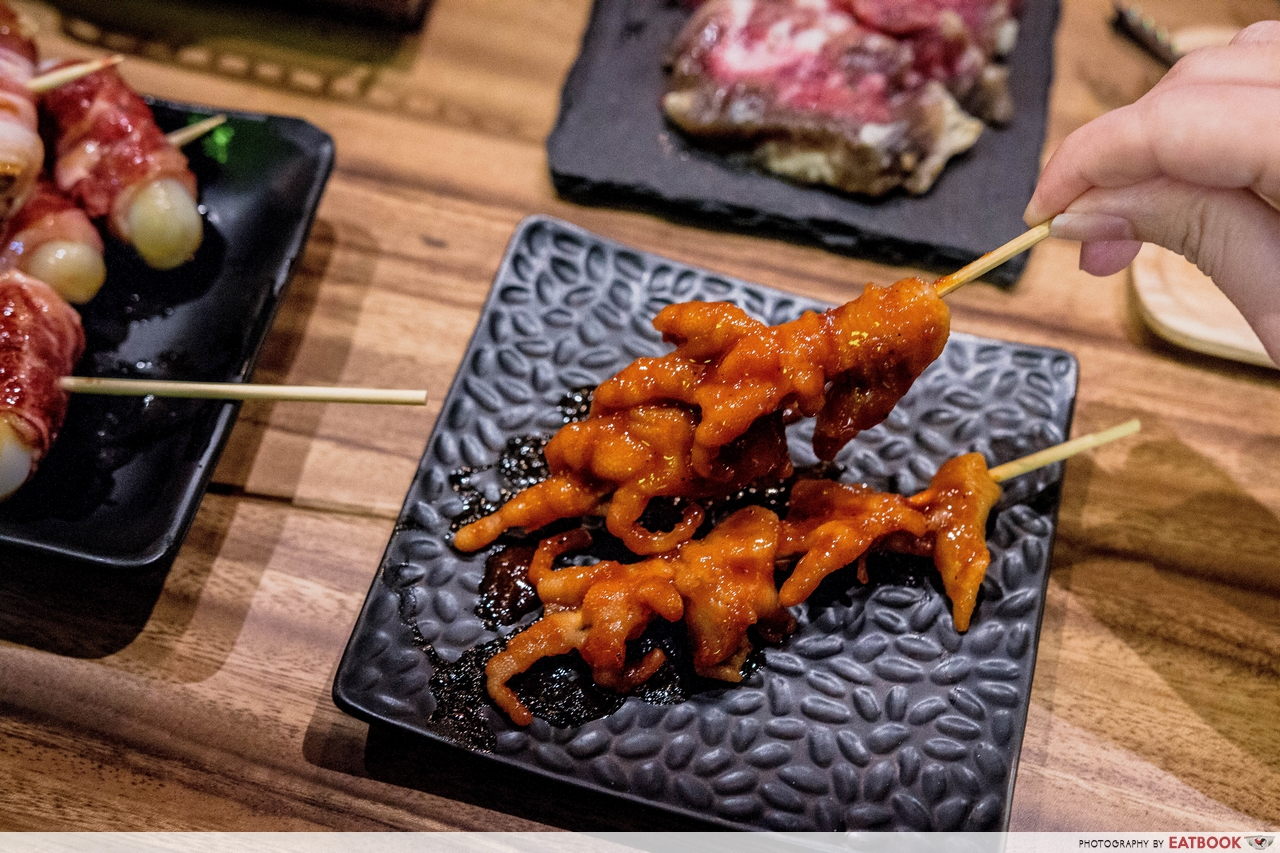 Spicy Boneless Chicken Feet ($6++ for two pieces) is an absolute must-try. Those with reserved palates might find them slightly disturbing, but the spicy gochujang almost made me forget I was munching on chicken feet. Spicy, chewy, and adorned with crispy edges, this skewer has since made me jump onto the chicken feet bandwagon.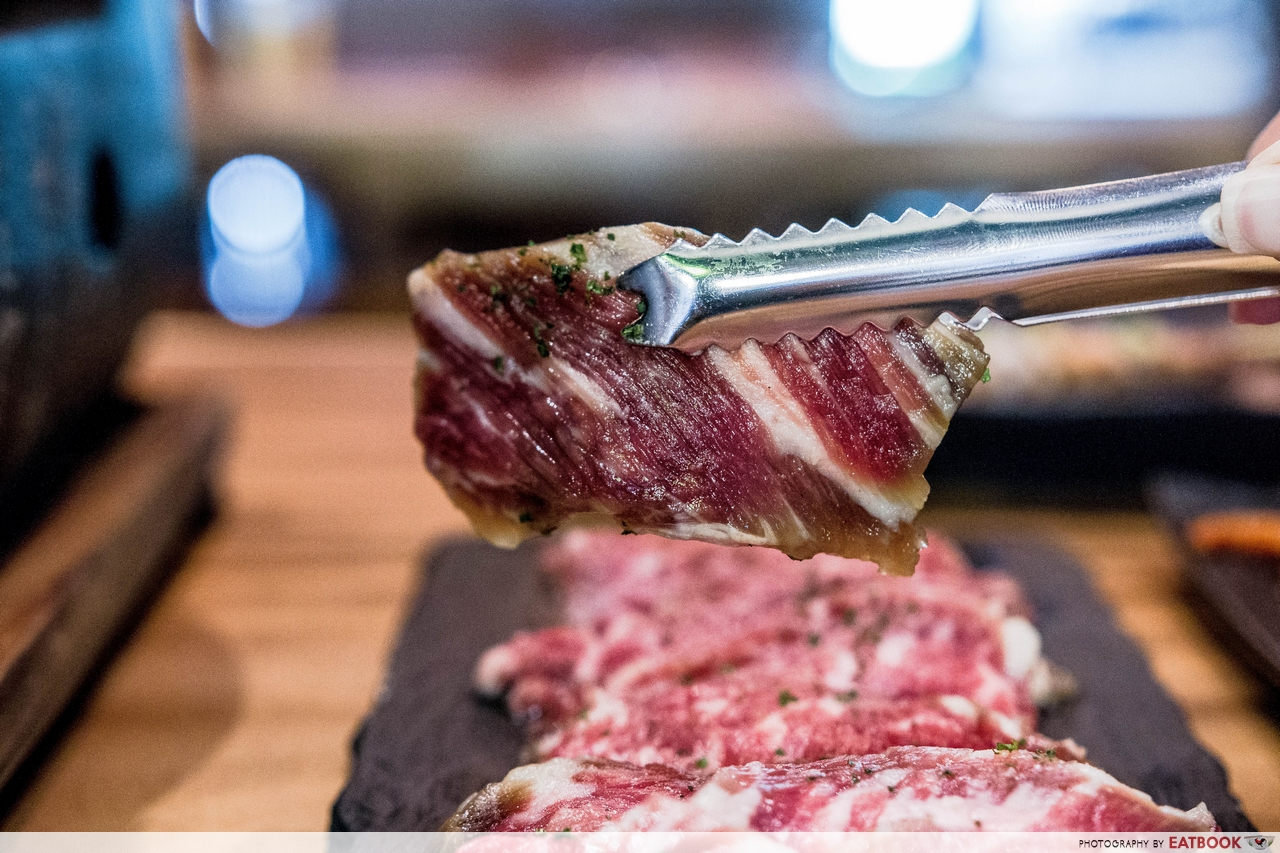 Other than skewers, you can also go for sliced meats such as Marinated US Prime Short Rib ($28++ for 180g, $50++ for 360g). This was the highlight of our meal. It had a high level of marbling, and each piece came with defined white streaks. The tender meat was extremely juicy and melted in my mouth. It was also marinated well and had a subtle charred flavour from grilling. Overall, this is a dish I'd gladly indulge in, despite its steep price.
Ambience at Hansul Korean Dining Bar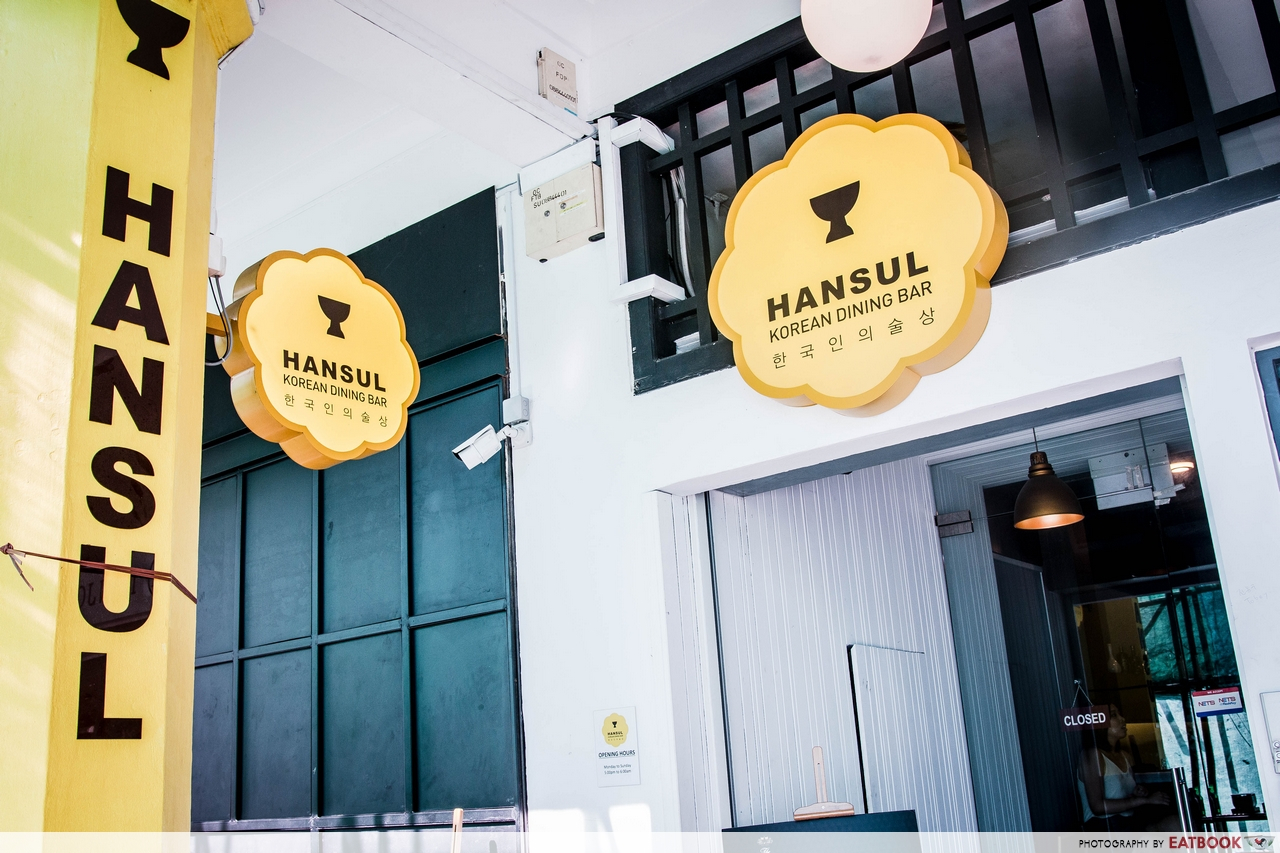 Located amidst the sea of Korean restaurants along Tanjong Pagar, Hansul Korean Dining Bar stood out with its bright yellow signs. It's a 10-minute walk away from Tanjong Pagar MRT Station, so it's pretty convenient to get to.
Great for get-togethers, the restaurant can comfortably fit 50 to 60 people. It is air-conditioned, so you don't have to worry about breaking into a sweat while grilling the skewers. There were K-pop music videos playing on a projector screen that die-hard K-pop fans might appreciate.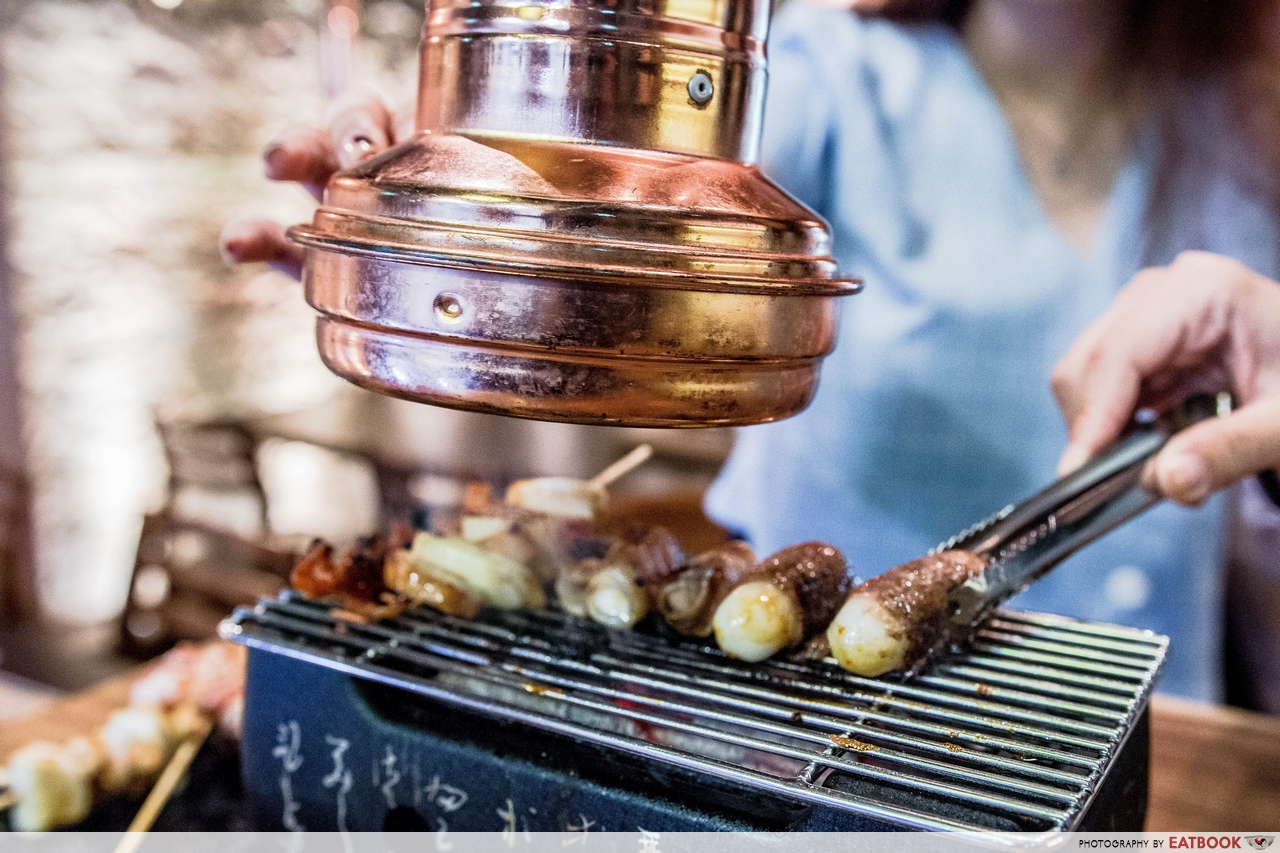 To prevent customers from smelling like BBQ after eating, an air vent was installed at each table. Compared to the typical ones we see at Korean BBQ joints, they were more powerful. I was quite amazed to walk out of the restaurant smelling only very vaguely like a kitchen.
The verdict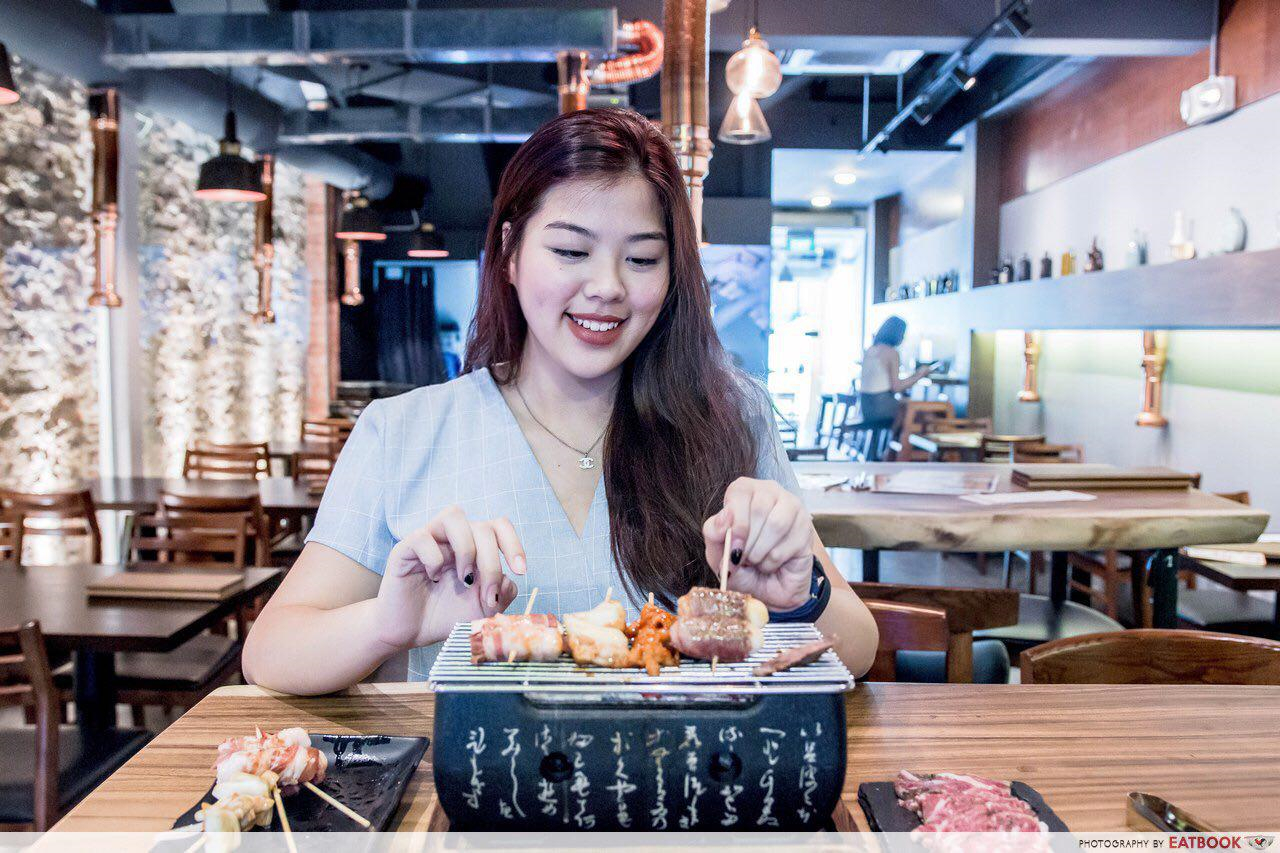 Open till 6am daily, Hansul Korean Dining Bar makes for a great place to satisfy your post-clubbing hunger over good ol' shots of soju and grilled skewers. Alternatively, it can serve as a comfortable place for your next clique lunch or dinner as well. 
Address: 21 Tanjong Pagar Road, #01-05, Singapore 088444
Opening hours: Daily 11:30am to 3pm, 5pm to 6am
Tel: 6906 7088
Website
Menu
Hansul Korean Dining Bar is not a halal restaurant.
This was a media tasting at Hansul Korean Dining Bar.
Summary
Pros
– Delicious food
– Cosy ambience
– Wide variety of dishes offered
Cons
– Hwaro Grill is only available after lunch
Recommended Dishes: Honey Butter Chicken Bumbuk ($25++), Marinated US Prime Short Rib ($28++/180g, $50++/360g), Spicy Chicken Feet ($6++)
Operating Hours:
Daily 11:30am to 3pm, 5pm to 6am
Tel:
6906 7088
Address: 21 Tanjong Pagar Road, #01-05, Singapore 088444