---
Best healthy food places in Singapore
---
Singapore is home to a wide variety of healthy food options, whether you're an avid gym goer who firmly swears by counting your macros, a busy office worker looking for a nutritious and tasty lunch, or just an average diner searching for a guilt-free meal.
From salad bars to acai cafes, and vegetarian restaurants to superfood bowl kiosks, here are the best places for healthy food in Singapore to help you along your quest to eat well.
---
1. Project Acai
---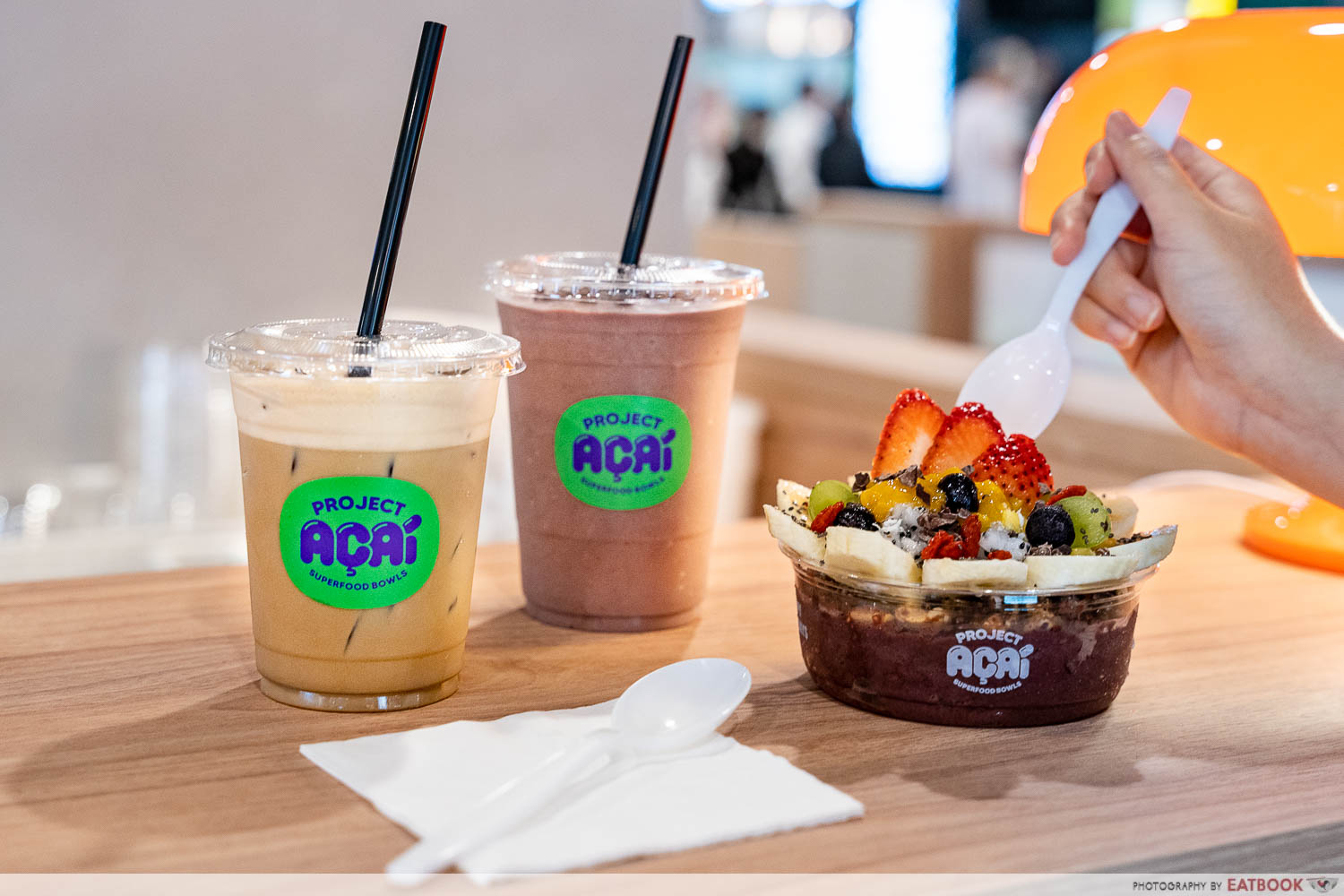 Acai is one of those superfoods that is well deserving of its hype. The berries are rich in antioxidants that help boost your immunity, and can often be found blended into cold, smoothie-like acai bowls in Singapore. Project Acai is an acai bowl cafe that, in our opinion, serves one of the best acai bowls around. Having been around since 2015, the homegrown eatery has six outlets islandwide, across Singapore's various neighbourhoods.
The acai bowls here are available in different flavours, all served with a blended acai base that is not too sweet. We recommend their signature Original Flower Bowl, where acai is topped with banana, granola, fruits, and superfood additions such as bee pollen, cacao nibs, coconut shavings, goji berries, and chia seeds. You can also DIY your acai bowl here! Prices differ according to outlets.
Webite | Full list of locations
Project Acai is not halal-certified eatery.
---
2. The Daily Cut
---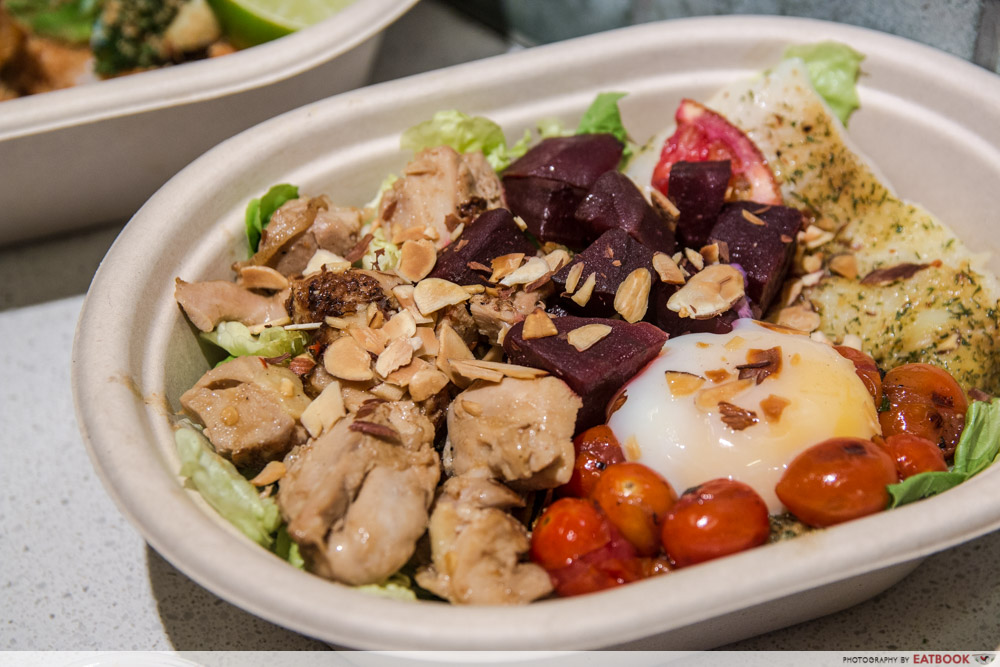 The Daily Cut is a perennial CBD favourite thanks to its fuss-free DIY grain bowls that are as satisfying as they are nutritious. The healthy food specialists take the bore and chore out of eating clean by ensuring that their range of ingredients, from veggies to meats, are seasoned well and served in sizeable portions. Their menus are seasonal and ever-changing, so you'll rarely get bored too. Bowls are priced at $10.50 for their petite option, and go up to $17.50 for a large.
Website
Full list of locations
The Daily Cut is not a halal-certified eatery.
---
3. Superfood Kitchen
---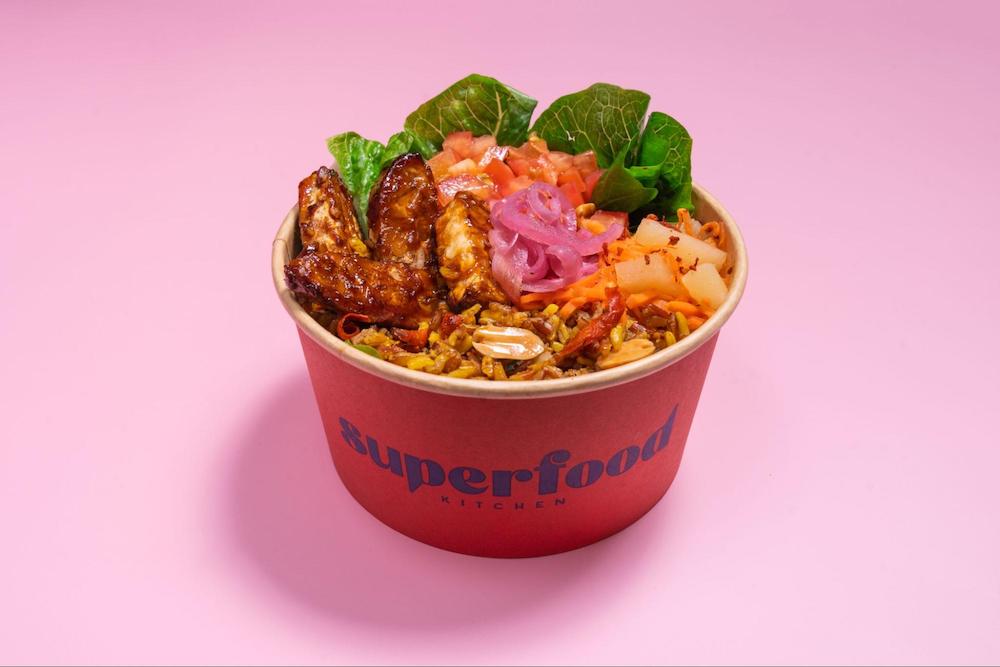 Image credit: Superfood Kitchen
If you're someone who is counting your macros, or you're just looking for nutritious meals to suit specific dietary needs, then check out Superfood Kitchen. The takeout order platform has a variety of healthy bowls and burritos that aren't just nutritionally balanced but has all nutritional information calculated instantly while you're making your selection. Plus, most of their bowls are under $10—eating healthy is now wallet-friendly.
The bowls are customisable, with over 40 toppings in a variety of different flavours, though there are also pre-mixed bowls available. Their signature, Le Cajun ($7.90), comes with roasted cajun chicken, spiced couscous, greens and guac—spicy, creamy, and satisfying. For something Japanese-fusion, try the Papa Java ($8.50). The brown rice bowl comes with roasted honey soy chicken and teriyaki tempeh, as well as zingy chilli-pickled pineapple carrots and red onions for a bit of kick. A vegetarian option is also available. If Korean flavours are up your alley, get their K-Fever ($8.50), a limited spring edition bowl that stars cauliflower rice, sous-vide chicken breast, as well as kimchi and a gochujang aioli to finish. 
Superfood Kitchen has three outlets in Singapore. They're located in Raffles City, Changi Airport, and Jurong Point. 
Website
Full list of locations
Superfood Kitchen is not a halal-certified eatery.
---
4. Afterglow by Anglow
---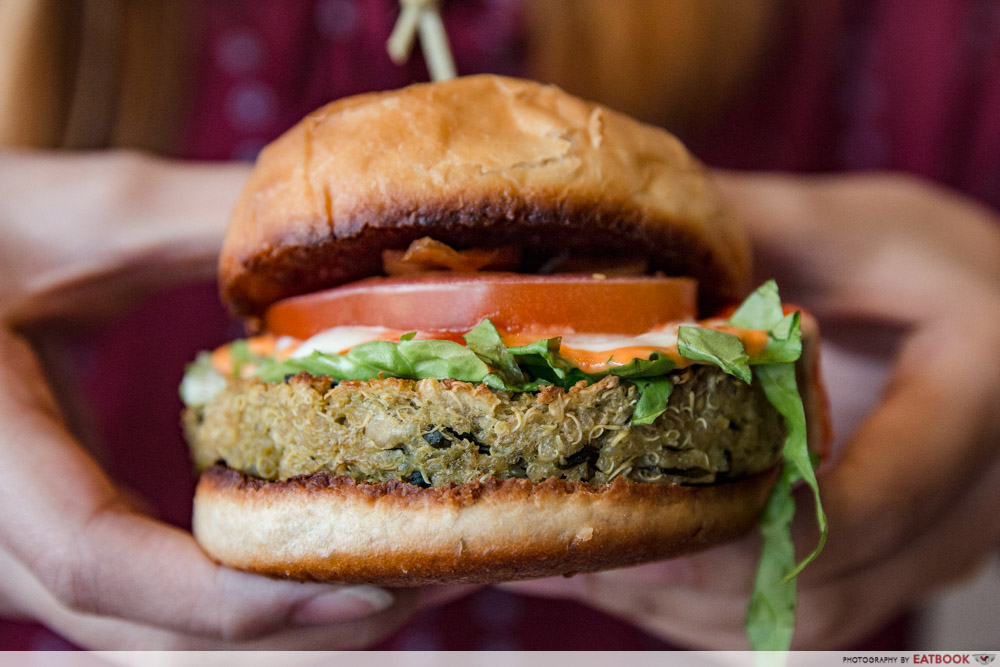 Those looking for a plant-based restaurant that offers healthy food, but is also suitable for special occasions and dates, can swing by Afterglow by Anglow. The restaurant specialises in plant-based farm-to-table eats, including raw food dishes that don't skimp on flavour. Menu highlights include their Tom Yum Zoodles ($23++), a riff on tom yum pasta, prepared with zucchini noodles, and their Cauliflower "Steak" ($25++), served with half a head of baked cauliflower and a sweet potato mash.
P.S: they also cater to a seriously wide range of dietary requirements.
Address: 24 Keong Saik Road, Singapore 089131
Opening hours: Mon-Sat 12pm to 10pm
Tel: +65 6224 8921
Website
Afterglow by Anglow is not a halal-certified eatery.
---
5. Haakon Superfoods and Juices
---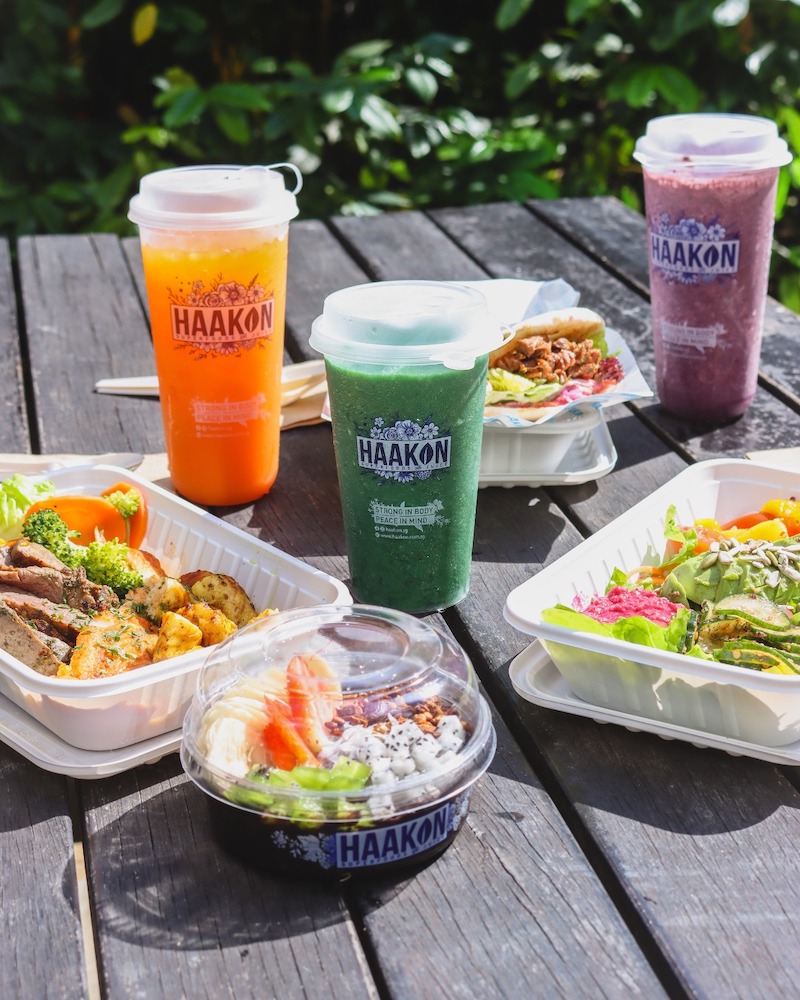 Image credit: Haakon
Haakon Superfood and Juices is the go-to destination to satisfy your acai and poke bowl cravings. The healthy food specialist offers a variety of poke bowls with toppings ranging from Mentaiko Salmon ($14.90) to Spicy Tuna ($14.90), as well as an equally impressive array of nutritious salads and loaded grain bowls. A handful of items are also Japanese-inspired, such as their Omu Beef Rice ($13.90), a healthful spin on omurice with a rich beef stew. Acai bowls here also start from $8.90, making them quite affordable. If you're minding your macros, their website also has a macro calculator where you can find the nutritional information for all their dishes.
Website
Full list of locations
Haakon is not a halal-certified eatery.
---
6. VeganBurg
---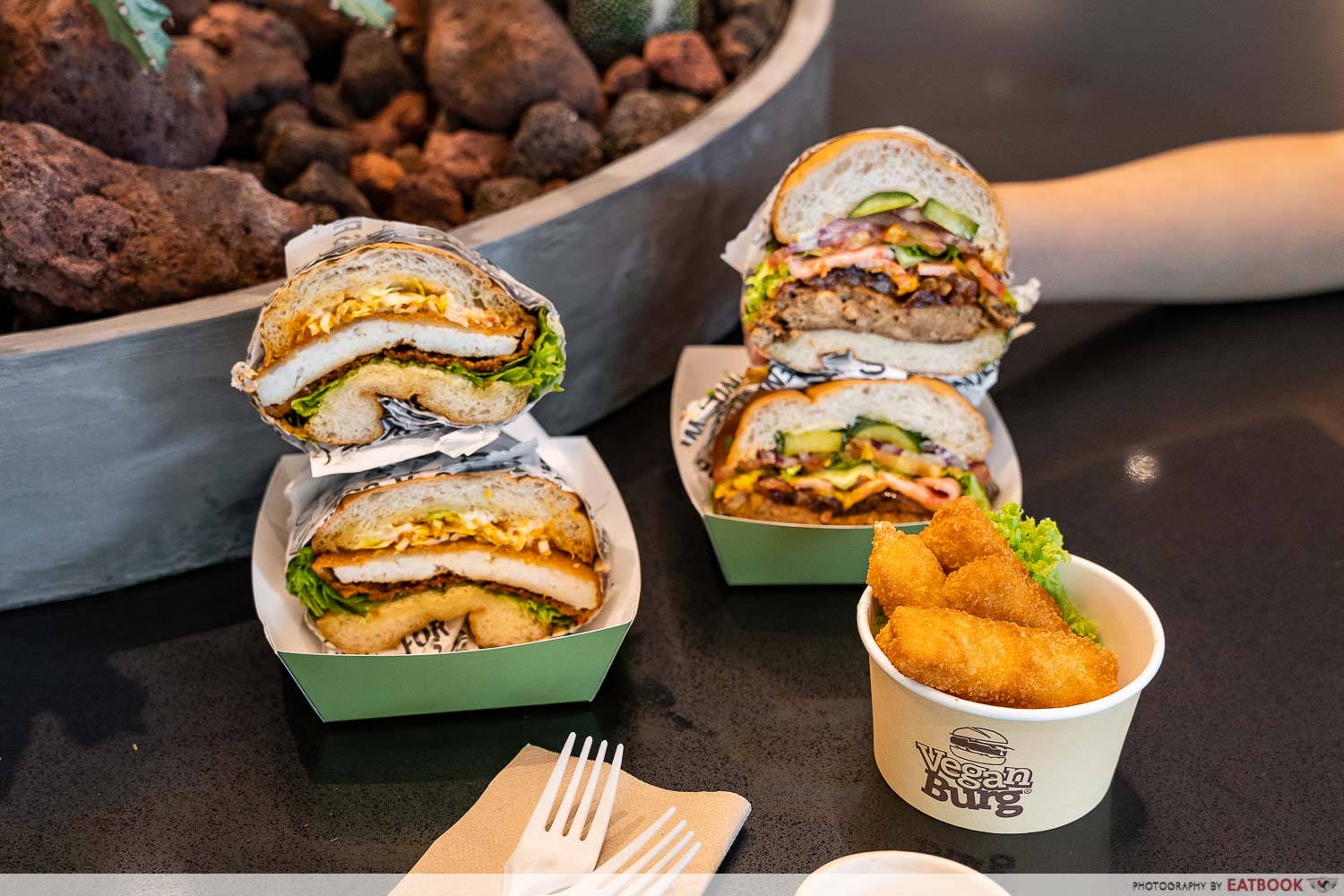 If you're looking for fast food that isn't junk food, VeganBurg is the perfect go-to. Their nutritious, plant-based burgers come in a range of tasty and inventive flavours, so you'll definitely find yourself spoilt for choice.
For something locally inspired, try their Chilli Krab Burg (from $13.90), where a gluten-free mock meat patty is topped with a spicy chilli crab sauce and creamy aioli. An Eatbook.sg favourite is the Cracked Mayo Burger (from $8.90), where a mock meat patty is topped with peppery mayonnaise. Don't skip on sides: you have their Seaweed Fries ($2.90) and Sizzlin' Broccoli ($2.90) to choose between.
Address: 44 Jalan Eunos, Singapore 419502
Opening hours: Daily 11:30am to 10pm
Tel: 6844 6868
Website
VeganBurg is not a halal-certified eatery.
---
7. Little Farms Cafe
---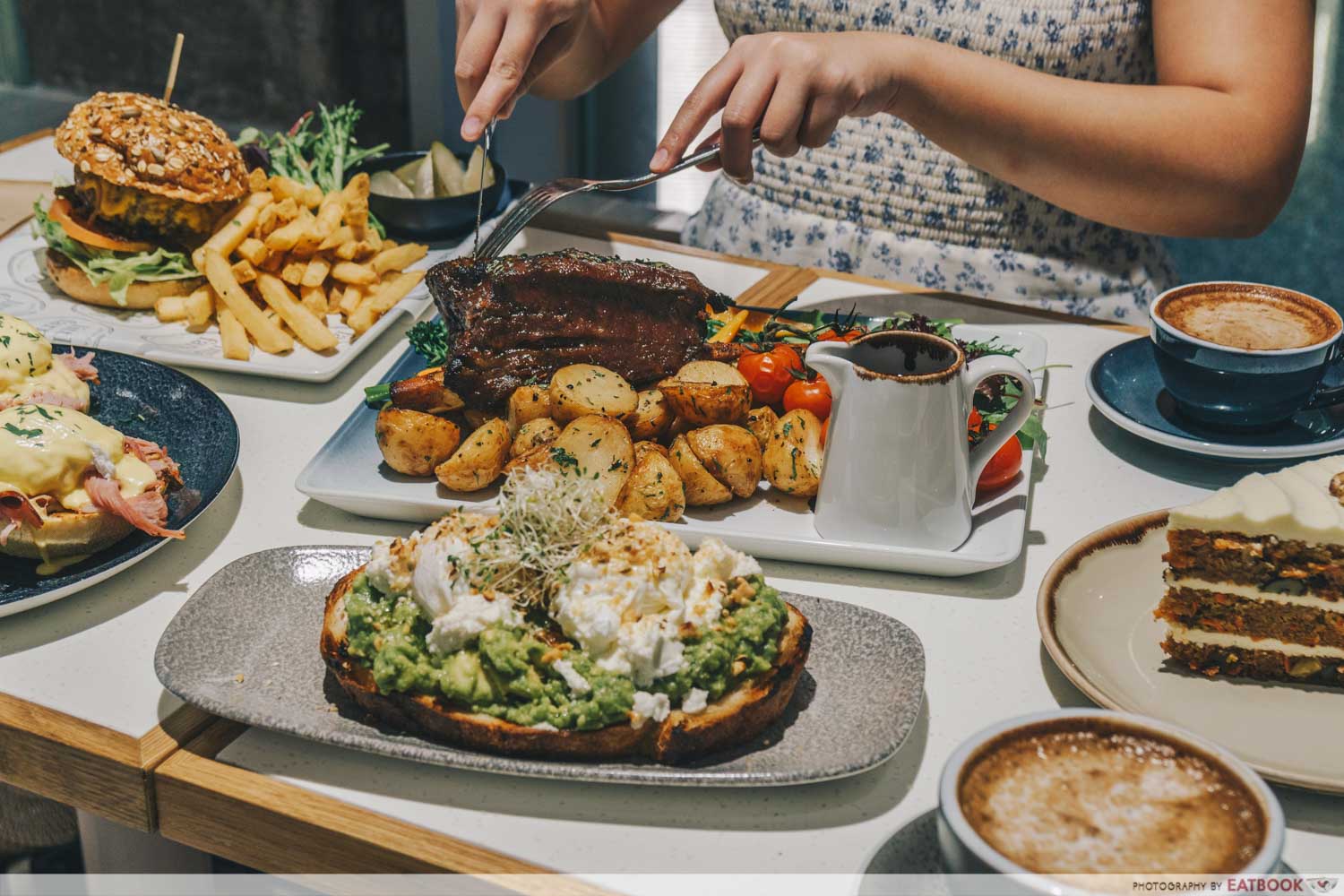 You may know of Little Farms as a specialty supermarket in Singapore that prides itself on its range of fresh produce, sourced from around the world. In some of those outlets, you'll also find Little Farms Cafe, an eatery serving up delicious, healthy cafe fare made with ingredients sourced from the market itself.
Prices vary depending on the outlet, but you'll find an array of nutritious brunch dishes on the menu, including the likes of their Avocado Smash on Sourdough and Eggs Ben on Toasted Croissant. Past 11am, the menu starts to offer its mains, which span curries to sustainable fish and chips, burgers and pastas. Plant-based and gluten-free options are available too!
Read our Little Farms Cafe review.
Website
Full list of outlets
Little Farms Bistro is not a halal-certified eatery.
---
8. Real Food 
---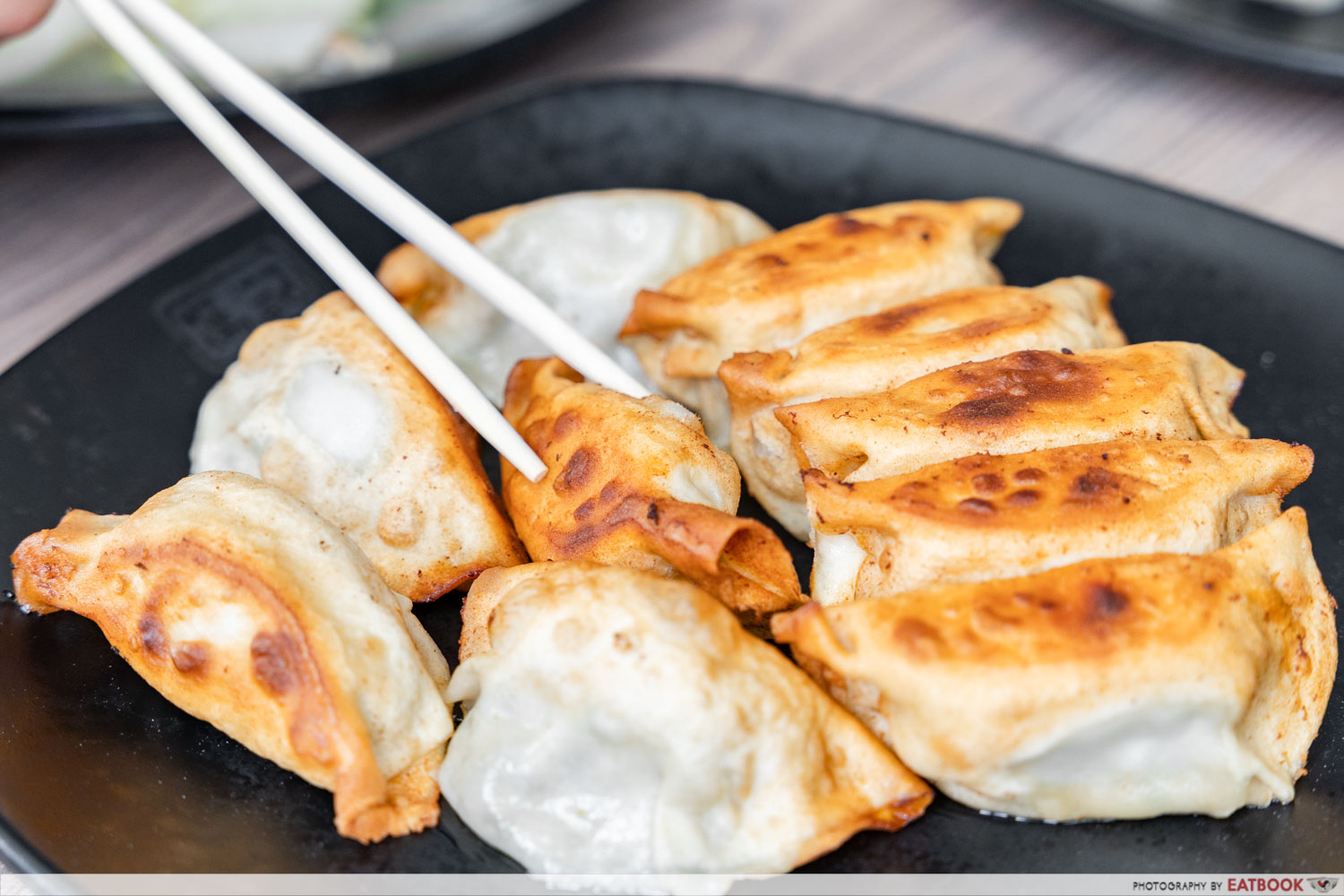 Besides being mostly vegan, Real Food is also committed to sourcing good quality, healthy ingredients that are free from preservatives, additives, and trans fats. Everything on their menu is made from scratch, from their Steamed or Fried Dumplings ($10.80) to their Sweet Pumpkin Pancakes ($12.80). With how scrumptious their food is, you almost can't believe everything is meat-free. 
Website | Full list of locations
Real Food is not a halal-certified eatery
---
9. Dosirak
---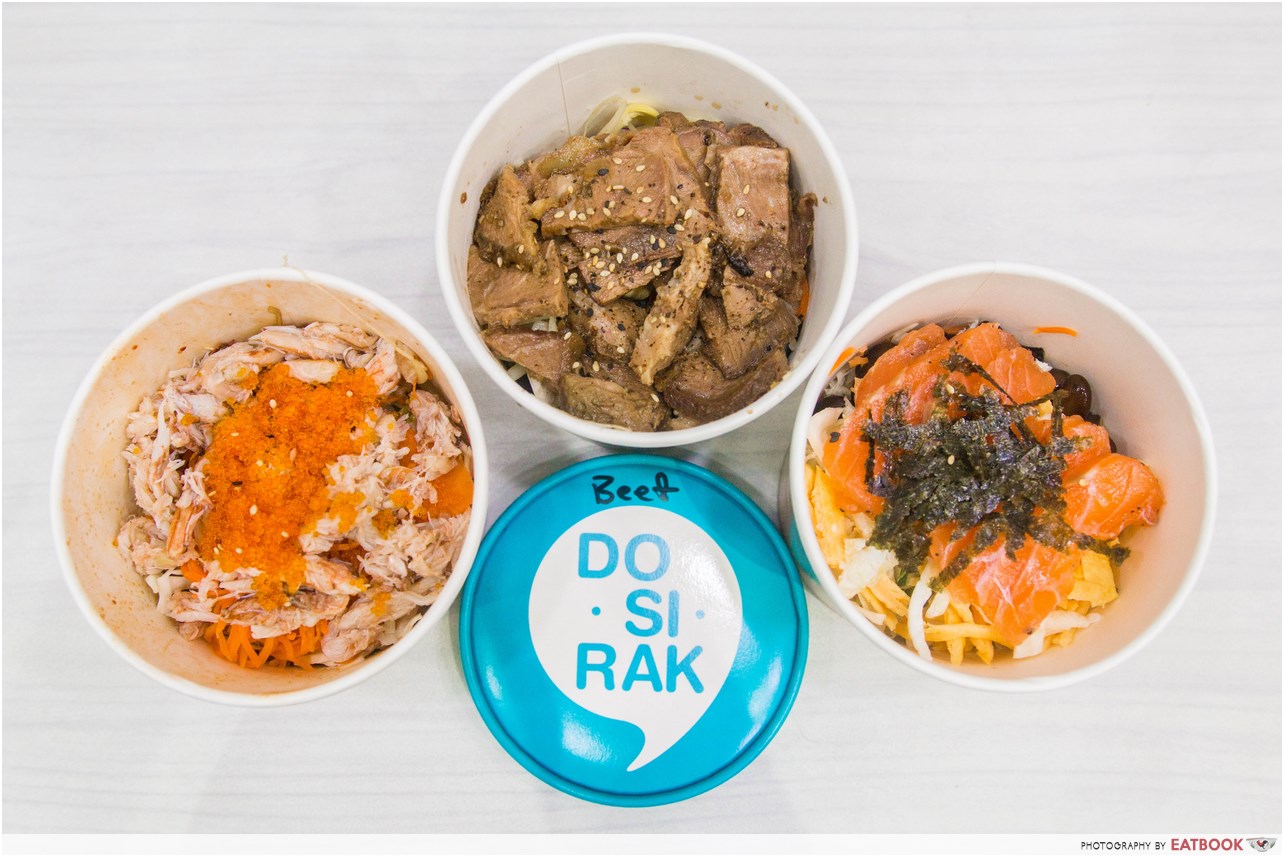 With Dosirak, you can have your Korean food without worrying about the calorie count. The grab-and-go Korean eatery specialises in bibimbap and noodle bowls you can DIY, with ingredients that are sustainably sourced and friendly to a variety of dietary needs. Simply pick a base, toppings, and your choice of protein, then finish off with a dressing from their selection of house-made sauces, including the popular Omma's Gochujang. Don't skip on their kimchi, as it's made fresh in-house, and full of probiotics. If you're counting macros, the website has a nifty nutritional calculator that gives you the nitty-gritty of your order. Dishes here start at $7.90.
Website
Full list of outlets
Dosirak is not a halal-certified eatery, but is halal-friendly.
---
10. Carrotsticks And Cravings
---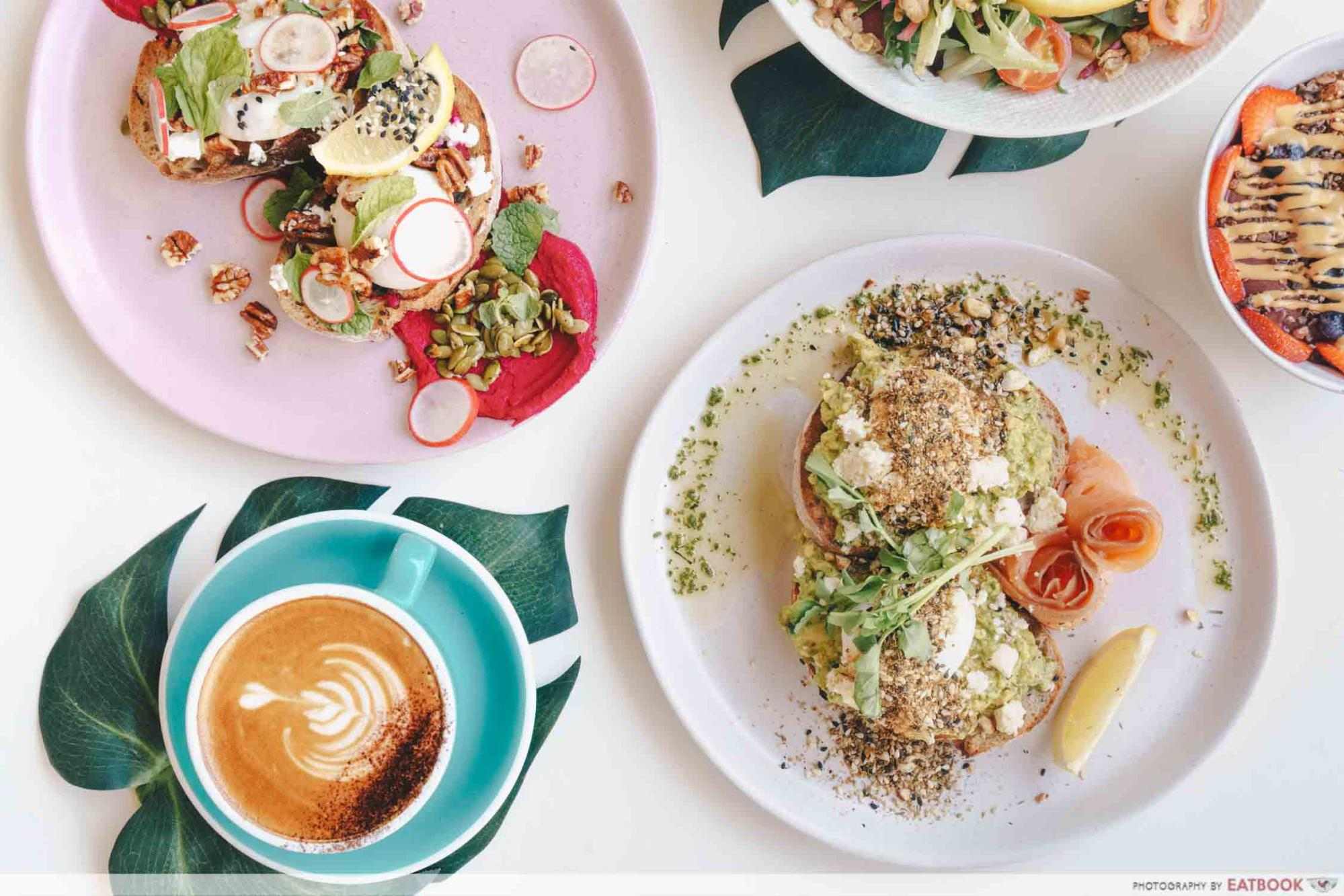 One of the OG Australian-style cafes in Singapore is Carrotsticks and Cravings, located in the CBD. The weekend brunch hotspot has also become one of the best places for healthy food in Singapore, thanks to their variety of dishes made with the freshest produce, and loaded up with superfood ingredients. They're one of the best places for avo toast, as their version comes with freshly baked sourdough, housemade dukkah, and a healthy serving of crushed feta. If you're someone who likes sweets for breakfast, try their Pitaya Wellness Bowl, which comes power-packed with nutritious toppings, such as red fruits, coconut chips, chia seeds, and bee pollen
Website | Full list of locations
Carrotsticks and Cravings is not a halal-certified eatery.
---
Where to find healthy food in Singapore
---
If you're looking for more places to dine that fall under the healthy food umbrella, check out our guide to the best vegetarian food places in Singapore. 
20 Vegetarian Food Places In Singapore For Meatless Chicken Rice, Army Stew And More
This post was brought to you by Superfood Kitchen.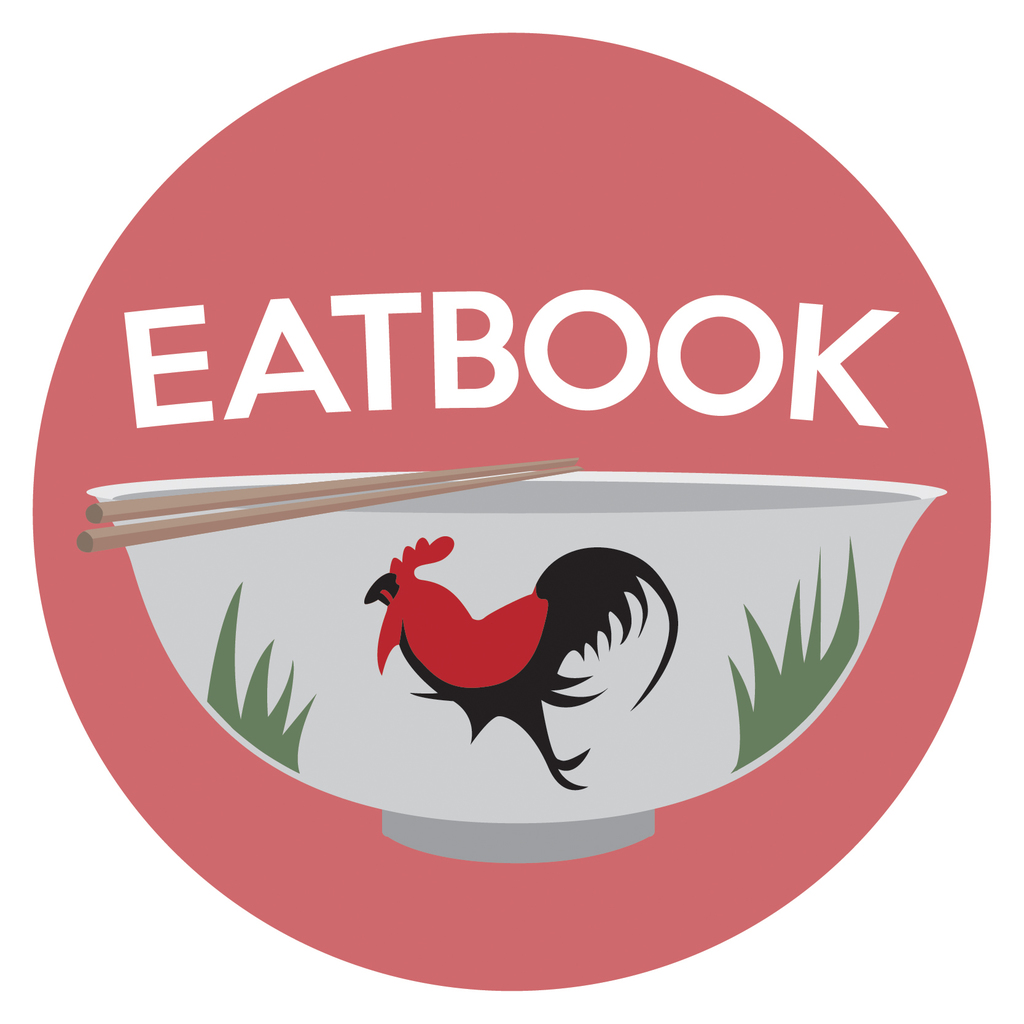 Drop us your email so you won't miss the latest news.