Hello Kitty Orchid Garden Opens
Update (4th April 2019): Hello Kitty Orchid Garden has permanently closed.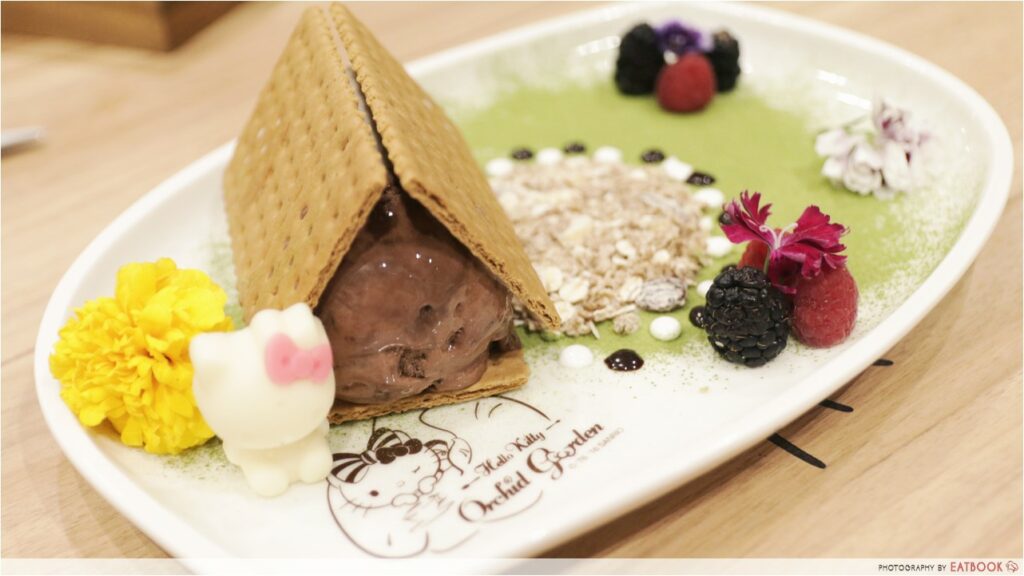 Hello Kitty has finally touched down in Singapore.
The grand opening of the Hello Kitty Orchid Garden in Changi Airport Terminal 3, on 12th May 2016 marks the beginnings of our island's first ever Hello Kitty cafe. This iconic character cafe is dedicated to serving up all kinds of Hello Kitty-themed bites and brunch items, along with desserts, tea cakes and drinks. 
What's more, it's the first Hello Kitty cafe in the world that's open 24 hours a day, 7 days a week. Now, you can get your fix of Hello Kitty any time you wish – literally.
The Place
You can't miss this brightly lit, garden-themed cafe standing out like a beacon under the florescent lights of Terminal 3.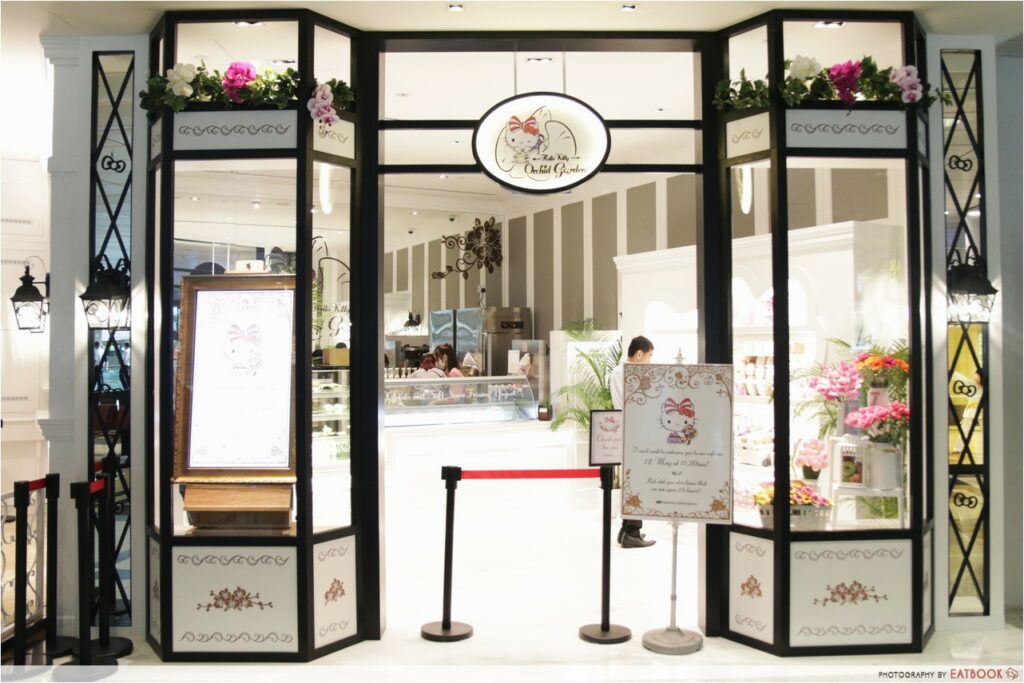 The portal to a whole new world…
I was stunned as I took my first peek into the cafe. Instead of the pastel-pink overdose of over-the-top frills and plushies that I was expecting, the Hello Kitty Orchid Garden turned out to be a vibrant garden space with stylish alfresco vibes.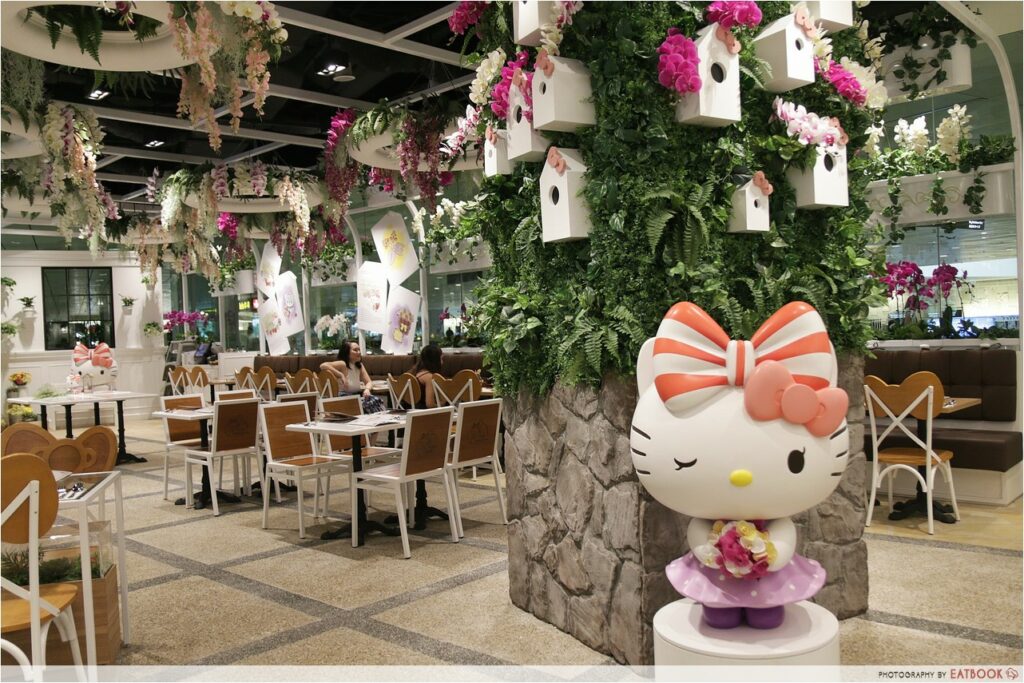 This Hello Kitty cafe creates a vibrant oasis smack in the middle of the airport- the perfect getaway for Hello Kitty fans, without having to board a single plane.  
With hanging planters overflowing with white, pink and red orchids, bright fern fixtures and comfy alfresco-style wooden chairs, you'll feel like you're dining in an outdoor tropical retreat.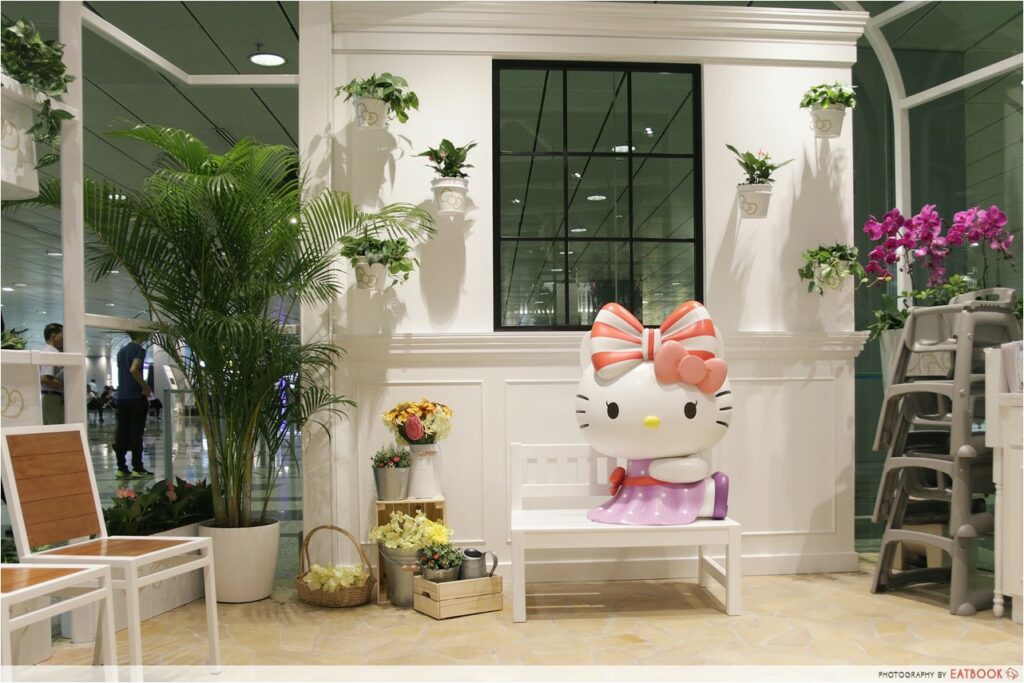 There are 2 photo spots for fans to snap photo keepsakes with Kitty – one near the plant wall adorned with birdhouses, and one at this tidy bench at the back of the cafe.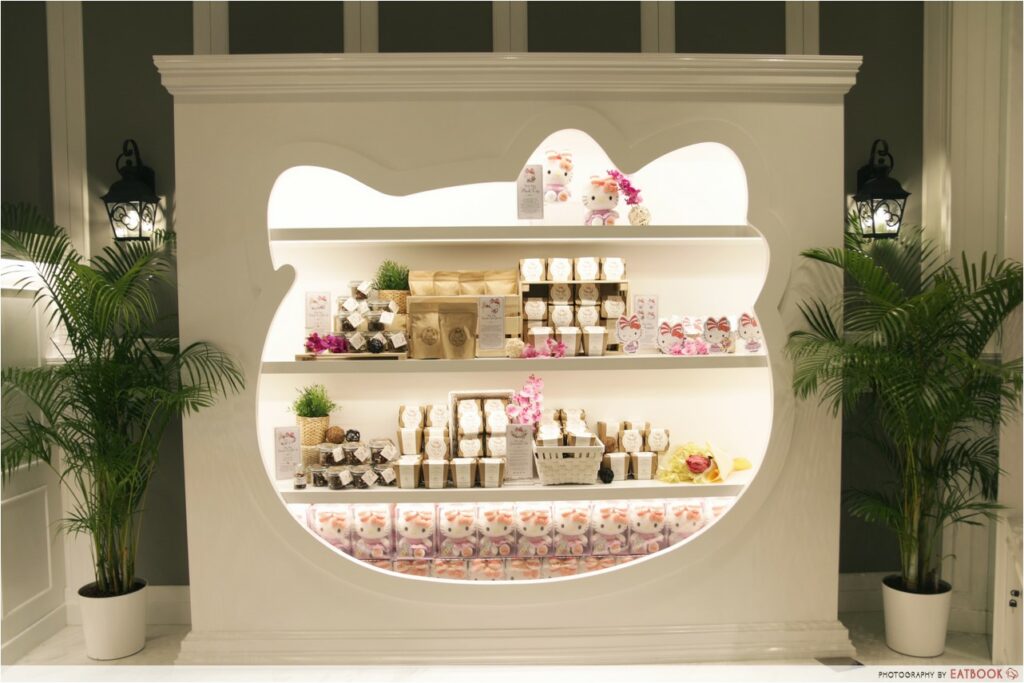 You can also find special Hello Kitty merchandise at the cafe's store, from limited edition Orchid Garden Hello Kitty Plushies unique to Singapore, to Hello Kitty Germination Kits.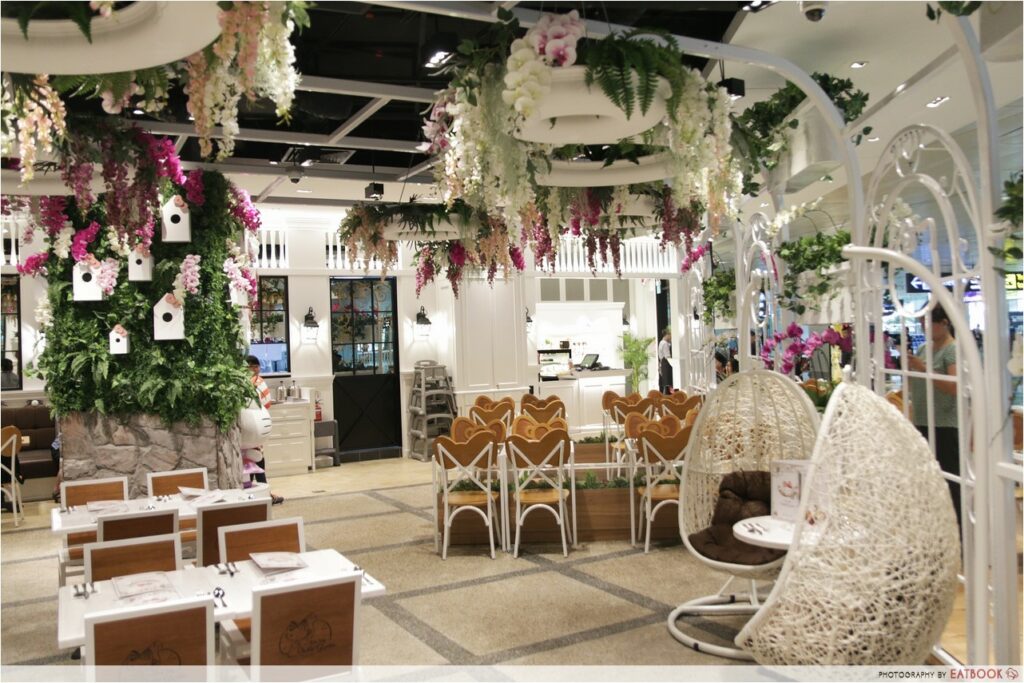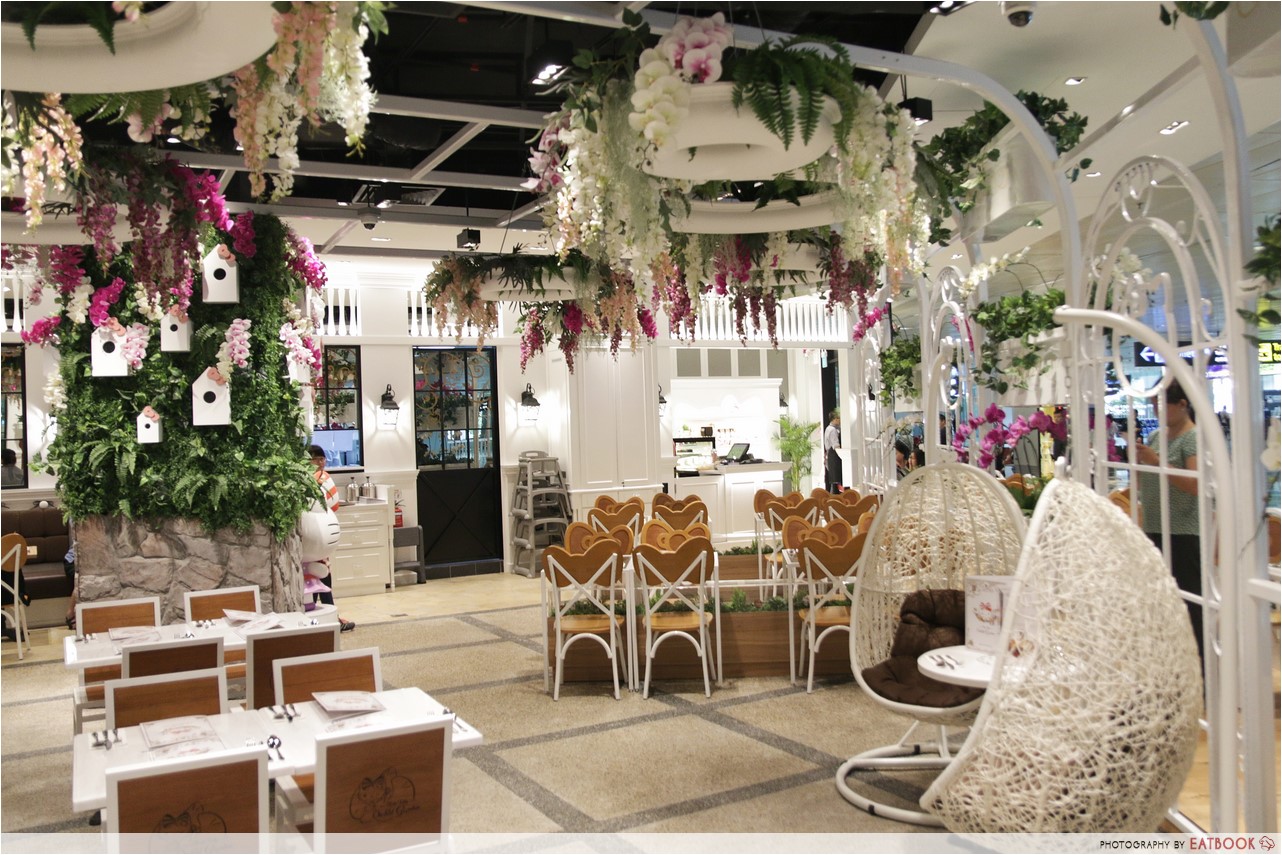 I can't believe this is Changi Airport!
The Drinks
Kitty Coolers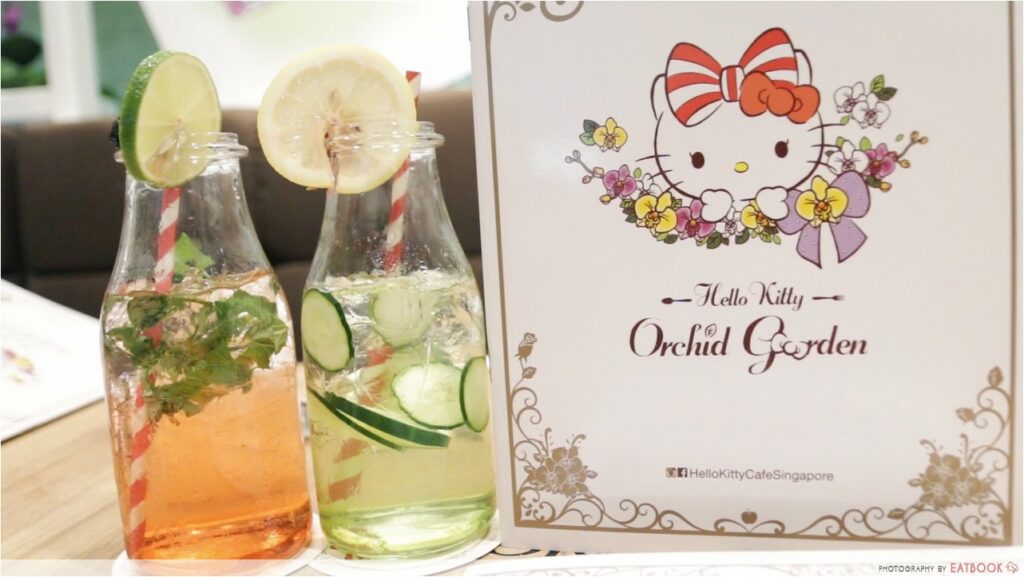 Kitty Blush and Cumbernade: Two too-pretty-to-be-sipped coolers
We were served 2 of Hello Kitty Orchid Garden's signature soda Coolers: The pink-hued Kitty Blush ($7.90), made with watermelon and basil, and the pale-green Cumbernade, a cucumber-infused sparkling lemonade.
The sparkling cookers tasted very refreshing and natural, with no saccharine artificial sweetness. I enjoyed the Cumbernade more for its cooling lightness, but both were good in my book. Perfect for beating the relentless Singapore heat.
Kitty's Apple Pie Tea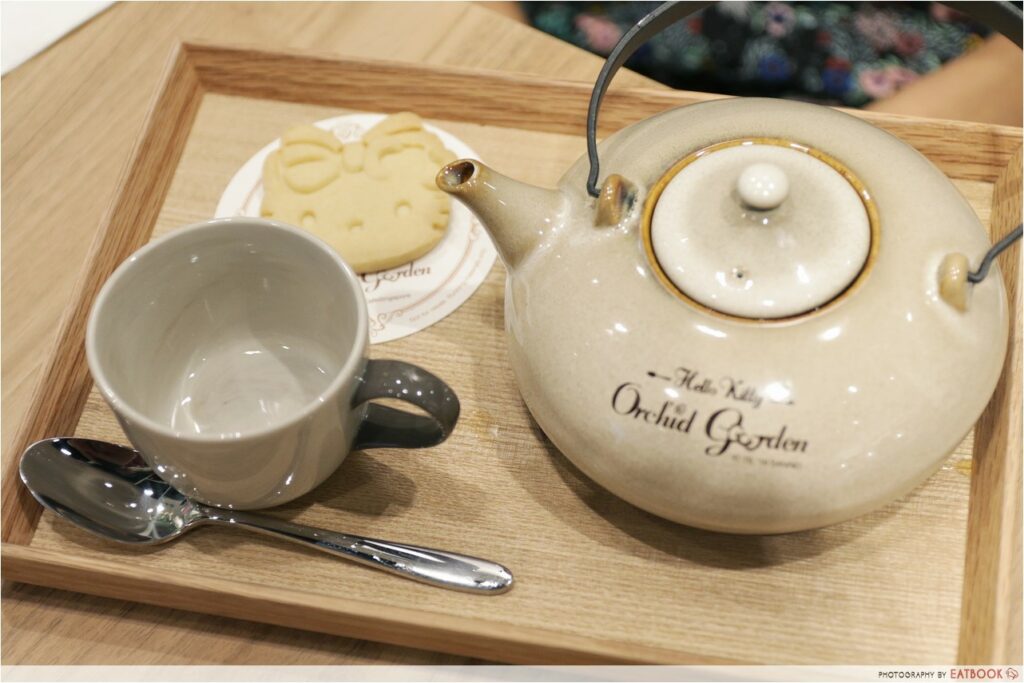 High tea, or pie-tea?
Kitty's Apple Pie Tea ($7.80 per pot) is a fruit tisane (herbal tea) infused with toasted apple and cinnamon, and comes with a buttery Hello Kitty cookie on the side. This deeply aromatic tea really does smell like apple pie – you can even smell the bright notes of apple and sweet spices from a few seats away.
I've always been a fan of creative teas, and the Apple Pie Tea worked wonders for me, with its surprising complexity. Taken straight with no sugar, the tea had a very distinct natural sweetness with an autumny kick from the cinnamon and vanilla notes. This is one deeply comforting drink to be sipped slowly. 
Iced Speculoos Latte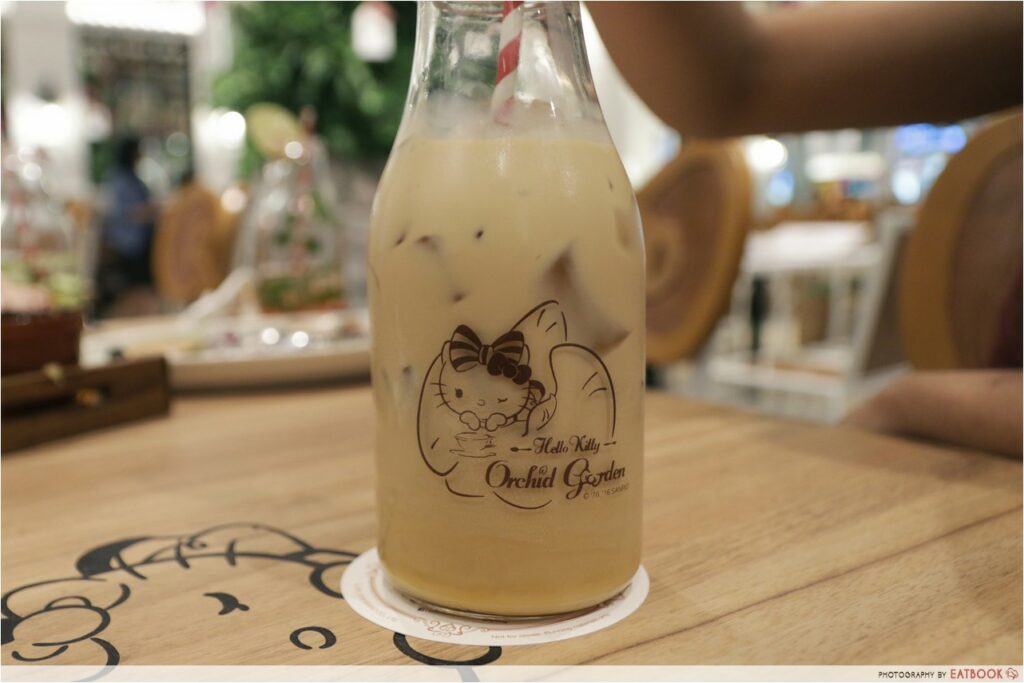 Stir it up!
Even Hello Kitty is jumping on the speculoos bandwagon The Iced Speculoos Latte ($7.00) is an intriguing concoction that incorporates the flavors of the ever-popular spiced cookie.
The latte tasted more caramel-like than speculoos, with the coffee taste being a lot more muted. This was too sweet for my liking, but I can imagine younger kids enjoying this beverage.
The Food at Hello Kitty Orchid Garden
Big Breakfast Surprise
The Big Breakfast Surprise ($18.50) comprised of 2 cheese-covered Hello Kitty-shaped waffles, topped with scrambled eggs, juicy sauteed shiitake mushrooms and slices of smoked duck, with a salad of greens on the side. This was served with a glass pitcher of honey lime-infused maple syrup, to give it a bright tropical touch.
Cowabunga! Wagyu!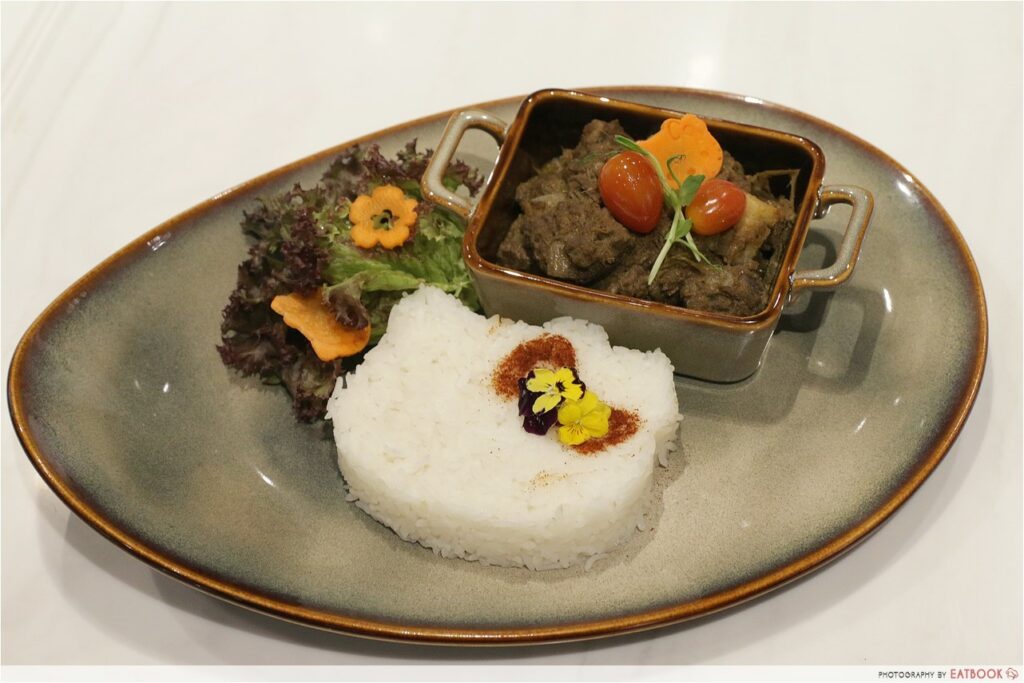 The Cowabunga! Wagyu! is an interesting fusion of local and Japanese flavors – A rendang made with cuts of marbled Wagyu beef and diced pineapples, served alongside a Hello-Kitty shaped mound of Japanese rice and ponzu-drizzled salad.
This rendition of rendang wasn't spicy at all, tasting more like stewed beef rather than a curry dish, with the pineapple chunks adding an extra layer of sweetness. Interesting in theory, but nothing to scream out.
The Desserts at Hello Kitty Orchid Garden
Rose, Rose, I Love You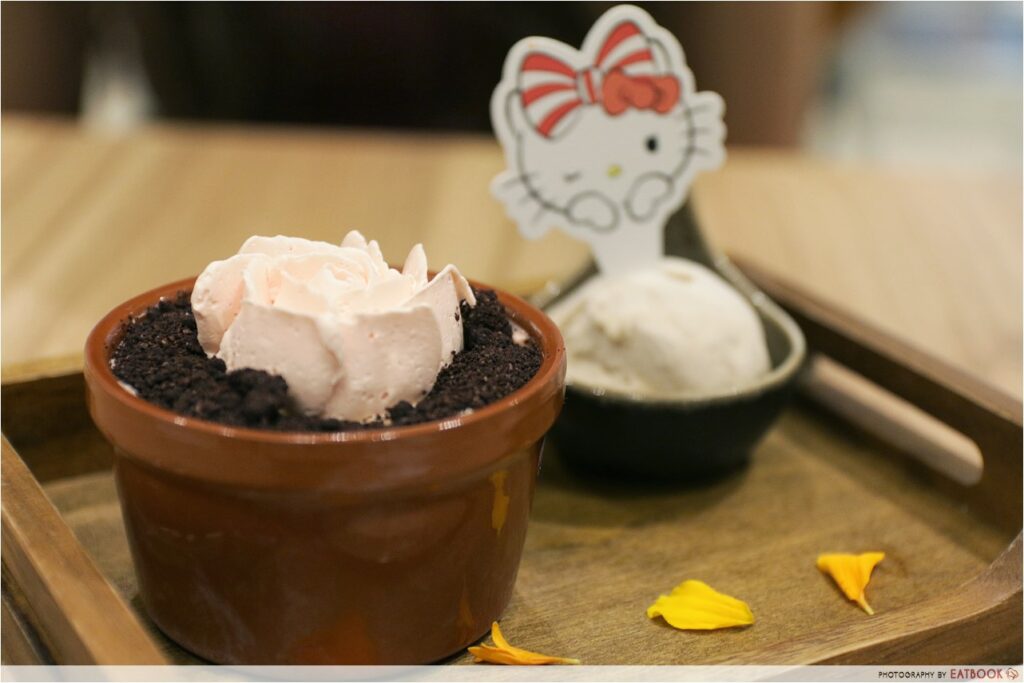 The romantic-sounding Rose, Rose, I Love You ($17.50) is an orange sugee cake baked into a mini flowerpot, topped with chocolate soil and adorned with a pale-pink strawberry buttercream rose. This was served with a scoop of peanut buttercup gelato.
Unfortunately, the sugee cake was dry and crumbly, with a overt sugariness. I guess we can't reciprocate with our love.  
The peanut butter cup gelato fared better, with its salty-sweet kick to temper the sweetness from the cake.
Camping Under The Stars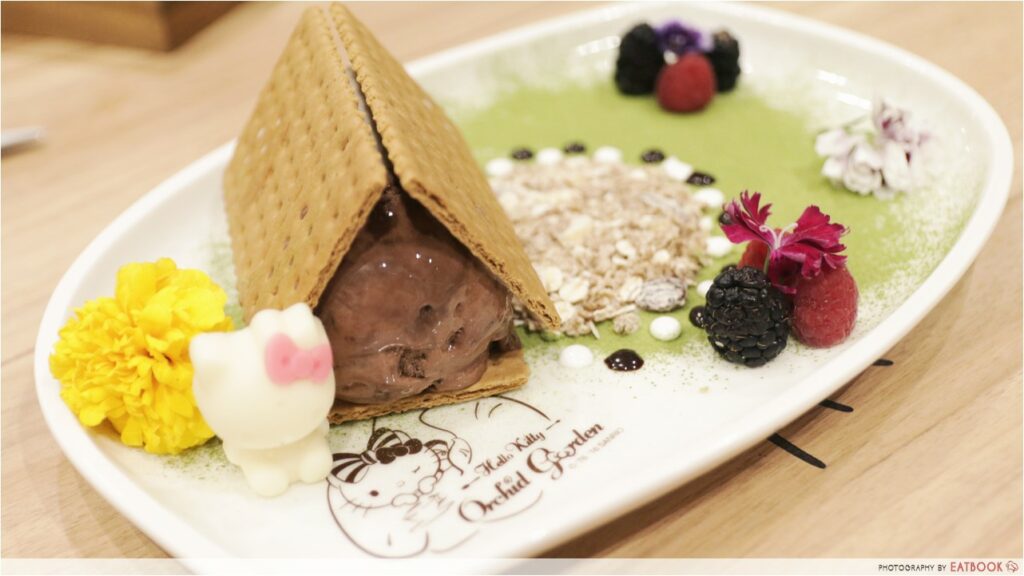 This beautifully constructed Camping Under The Stars ($19.50) sundae certainly told a story – a graham cracker tent sheltering scoops of hazelnut and chocolate gelato, next to a field of grassy-green matcha powder and a "campfire" made of muesli. The scene was complete by the adorable white chocolate Hello Kitty resting serenely beside the campsite.
Take the tent apart, spread the gelato on the crackers, and take a big bite.  
Soft Serve Frozen Yogurt and Gelato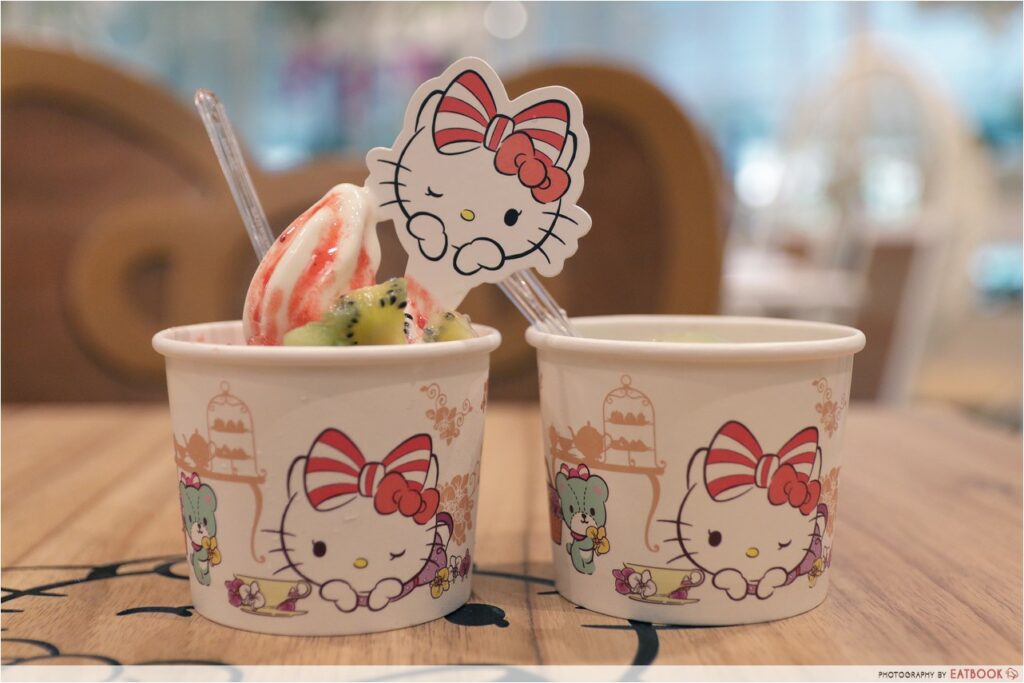 Aside from plated desserts, Hello Kitty Orchid Garden serve up scoops of their very own gelato ($6.00). Marketed as having a lower fat content than regular ice-cream, their gelato is a great dessert option for those looking to end their meal on a lighter note.
So far, they have 8 flavors, and are looking to expand their range to include at least 2 seasonal flavors. The Mango Gelato was pleasantly tart without being too sweet, while the Pistachio Gelato had a smooth, creamy nuttiness. Rather expensive for the price though.  
If even gelato sounds too heavy for you, the cafe churns out swirls of their very own Frozen Yogurt. For $4.90, you get a cup of their original soft serve froyo with a choice of 1 topping, which could range from sweet sauces to familiar local treats like milo nuggets!
The Verdict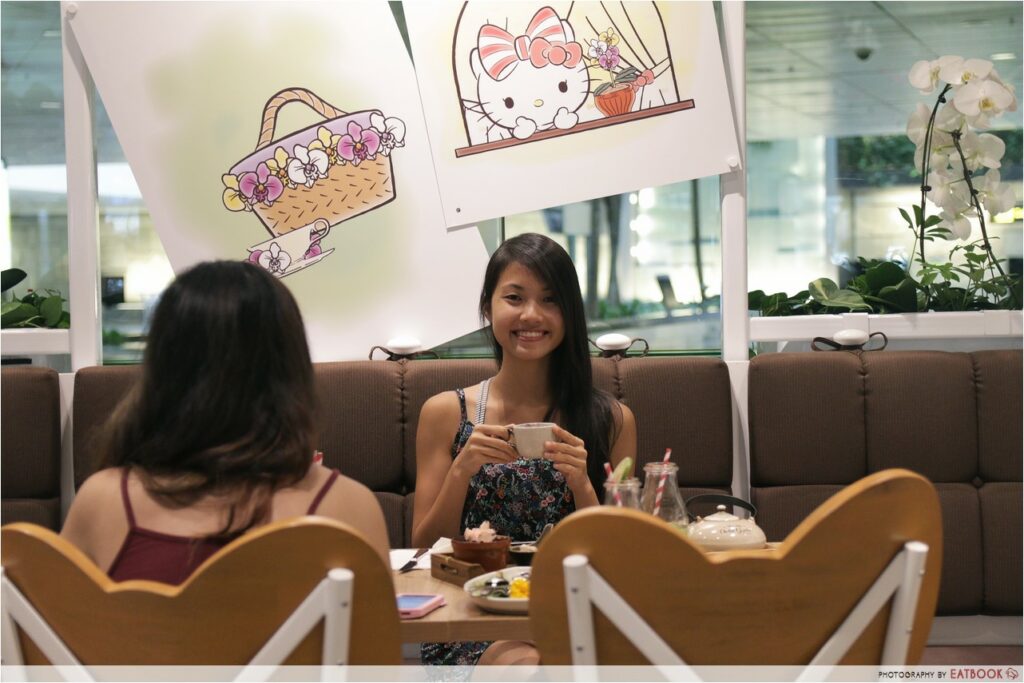 I like the concept of Singapore's 1st Hello Kitty Cafe. This is quite unlike your typical cutesy character cafe, in terms of atmosphere. While the food is nothing to rave about, it's passable considering that people generally visit character cafes for the ambience and aesthetic, rather than to indulge in a gastronomic experience.
The decor is spot-on, with an edge of sleek sophistication that doesn't compromise on the vibrancy synonymous with Hello Kitty. It felt cute and cheerful without being kitschy, fitting in snugly with the Singaporean demographic.
Hello Kitty Orchid Garden succeeds in creating a unique experience for all Hello Kitty fans, both local or overseas.  The local elements infused throughout the cafe – from the bright baskets of orchids to the local touches in the dishes – makes Hello Kitty Orchid Garden stand out from the other Hello Kitty Cafes around the world. If you're a longtime Hello Kitty fan, or a recent convert, a trip to the Hello Kitty Orchid Garden is worth your while.  
Hello Kitty Orchid Garden Address:
Summary
Pros
– beautiful interior and cosy ambience
– open 24 hours
Cons
– mediocre food
– pricey
Operating Hours:
Open 24 hours, Monday to Sunday
Address: Changi Airport Terminal 3 #01-22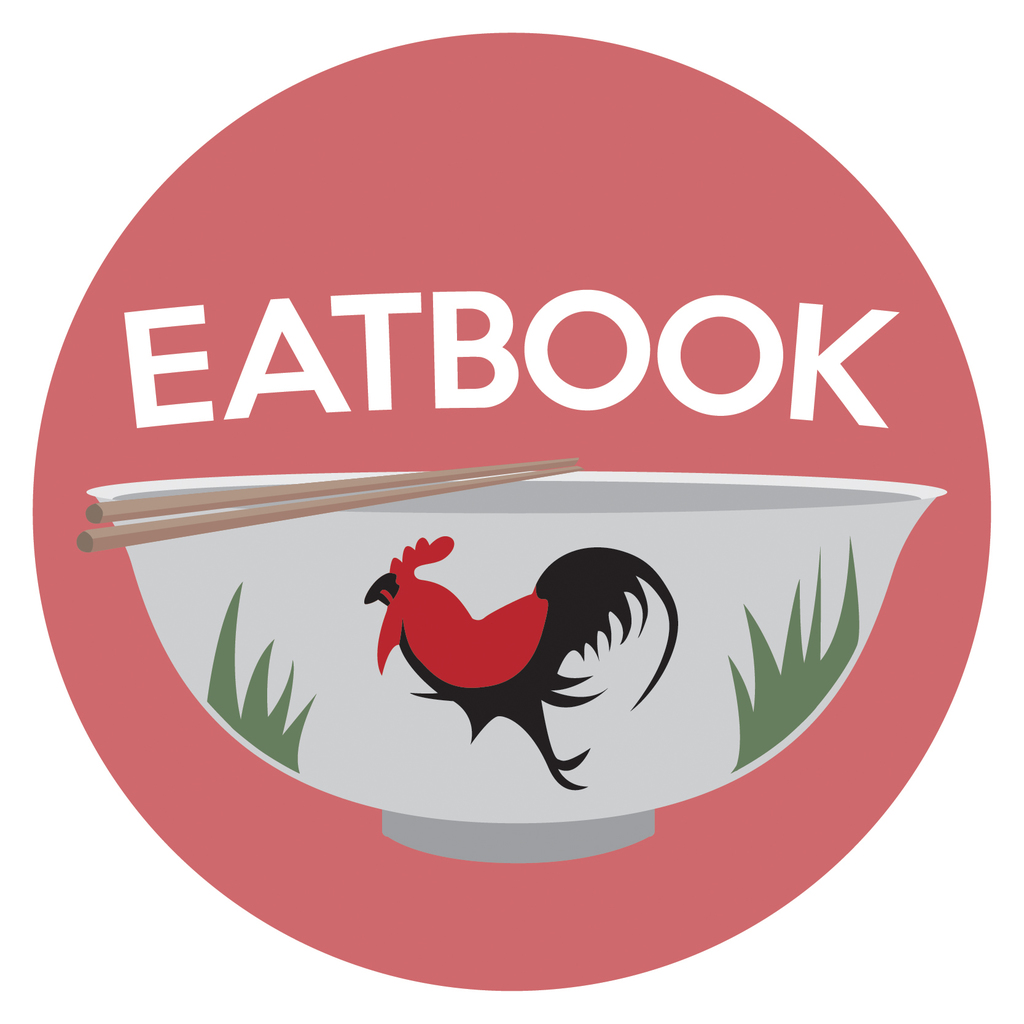 Drop us your email so you won't miss the latest news.