Holycrab introduces an alternative to the classic chilli crab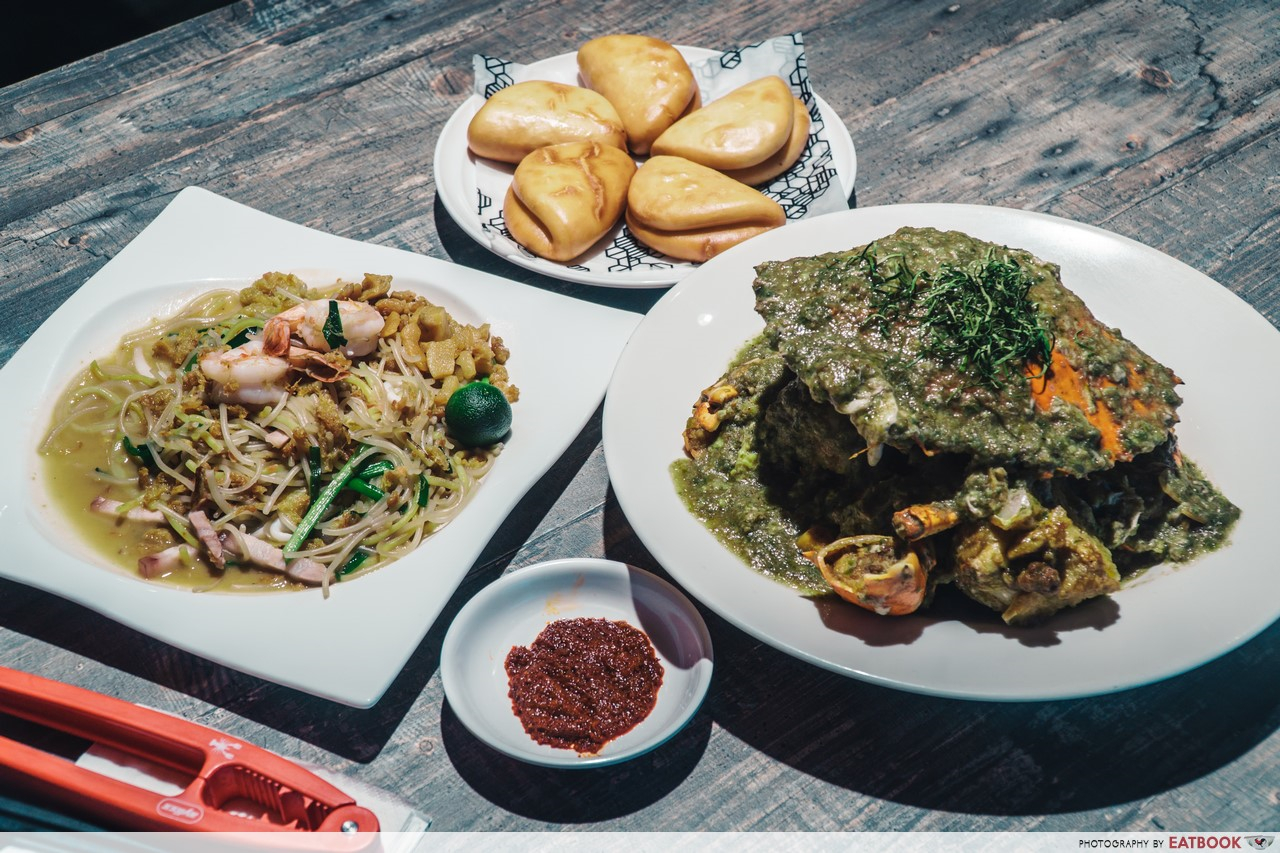 When I was eight, I had a nickname given to me by my relatives. I was infamously known as the "crab killer" in my family, and up until now, whenever my fambam mentions the word "crab", my eyes would still naturally light up. If you ever spot me at a zi char stall, there's a high chance I might be gobbling crabs down like I haven't eaten for days.  
I've downed plenty of red chilli crabs, but when I heard of Holycrab's green chilli crab, I knew I had to try it. Located at Bugis, Holycrab offers a variety of unique crab dishes. If you're a crab lover like me, this place would be right up your alley.
Food at Holycrab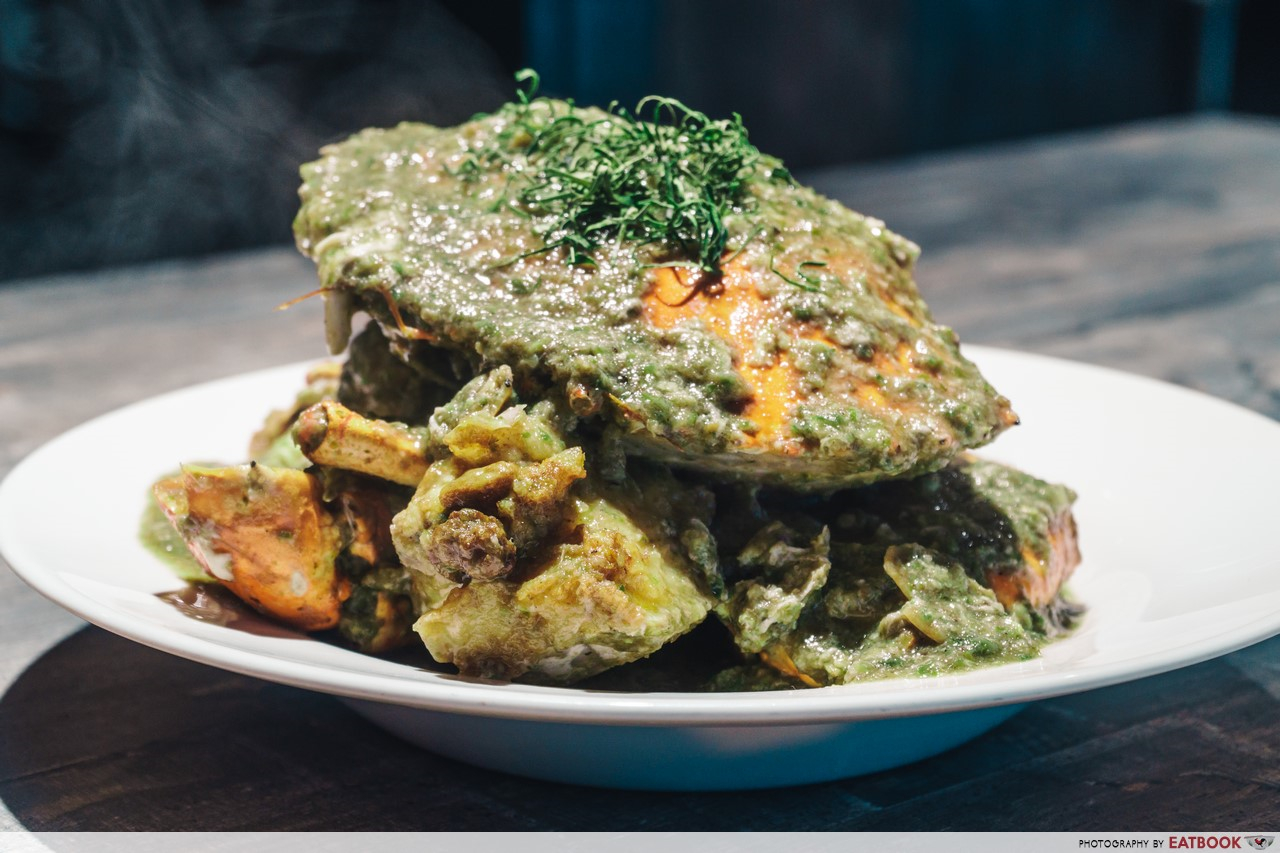 When we arrived, we immediately ordered what we came for- Green Chilli Crab ($9+/100g). At a whopping 1.2kg, this bad boy was slathered on with their house-made green chilli sauce and topped off with deep-fried lemongrass. It carried strong aroma and was emitting steam when it was served.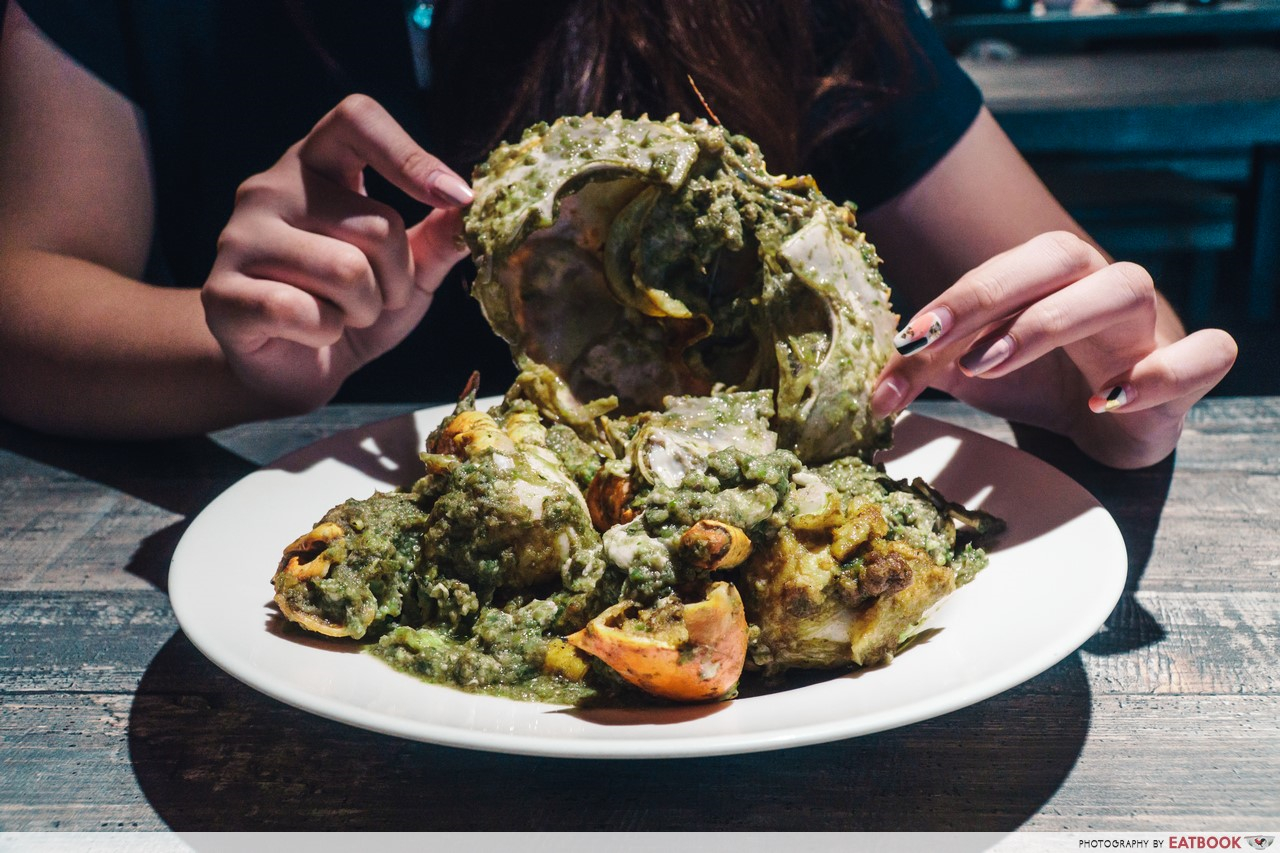 The Sri Lankan crab we got was fresh and huge. It had plenty of roe and the meat was firm. I was told by the chef that they were aiming for a fusion of Peranakan and Thai flavours, so they created the dish using ingredients such as freshly grounded lemongrass, large green chillies, green chilli padi, and dried shrimp. With over 12 ingredients in the sauce, this dish really got my hopes up before I even tried it.
Sadly, upon first bite, it lacked the oomph I was looking for. Contrary to its looks, the sauce did not pack a punch, and it tasted very similar to the typical red chilli crab we have at zi char stalls. Overall, there was nothing to shout about for the sauce.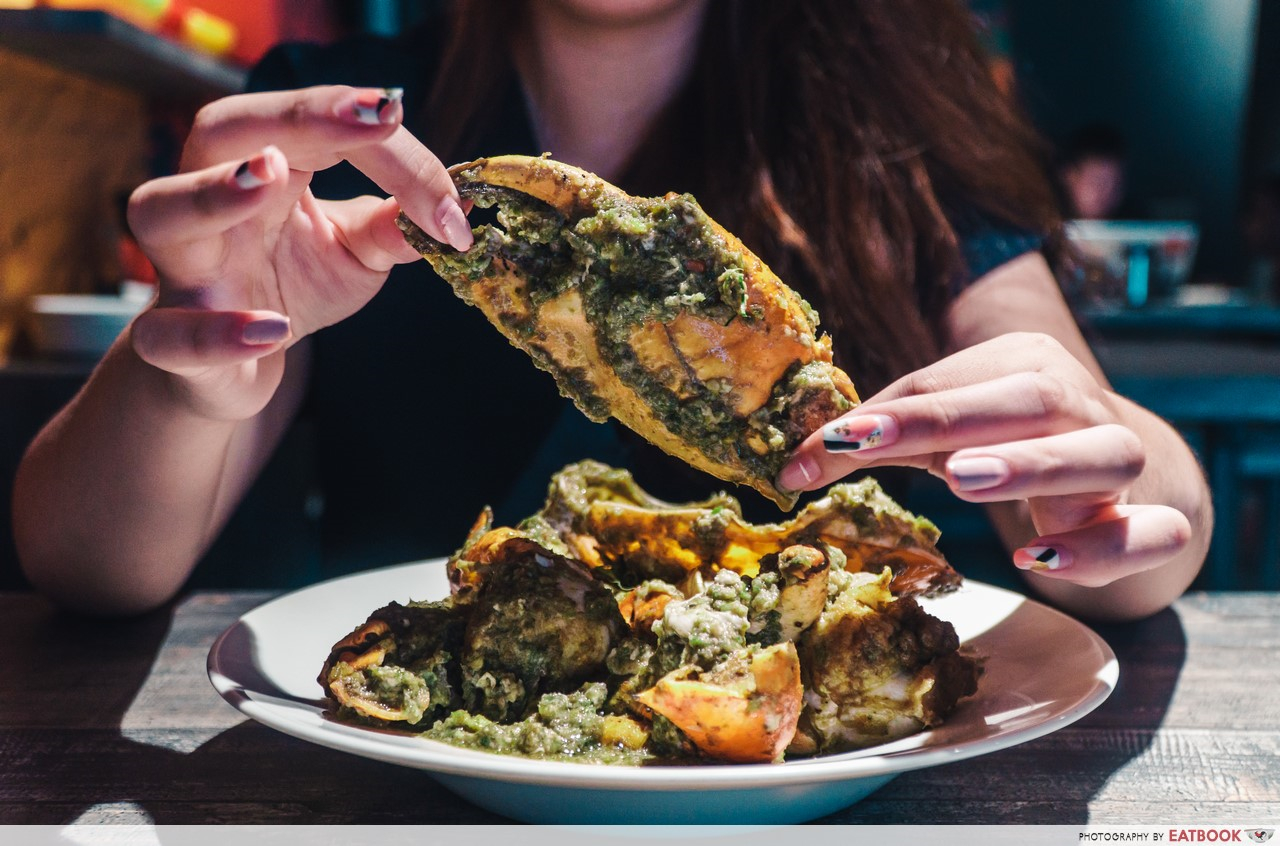 As disappointed as I was with the sauce, the size of the crab saved the dish. When I scooped the crab claw out of the bowl, I was shocked by how heavy it was. Jam-packed with meat, the crab lover in me couldn't wait to dive right in.
After removing the shells, the meat looked like a work of art. My first bite was so satisfying. The meat was firm and managed to retain its natural sweetness.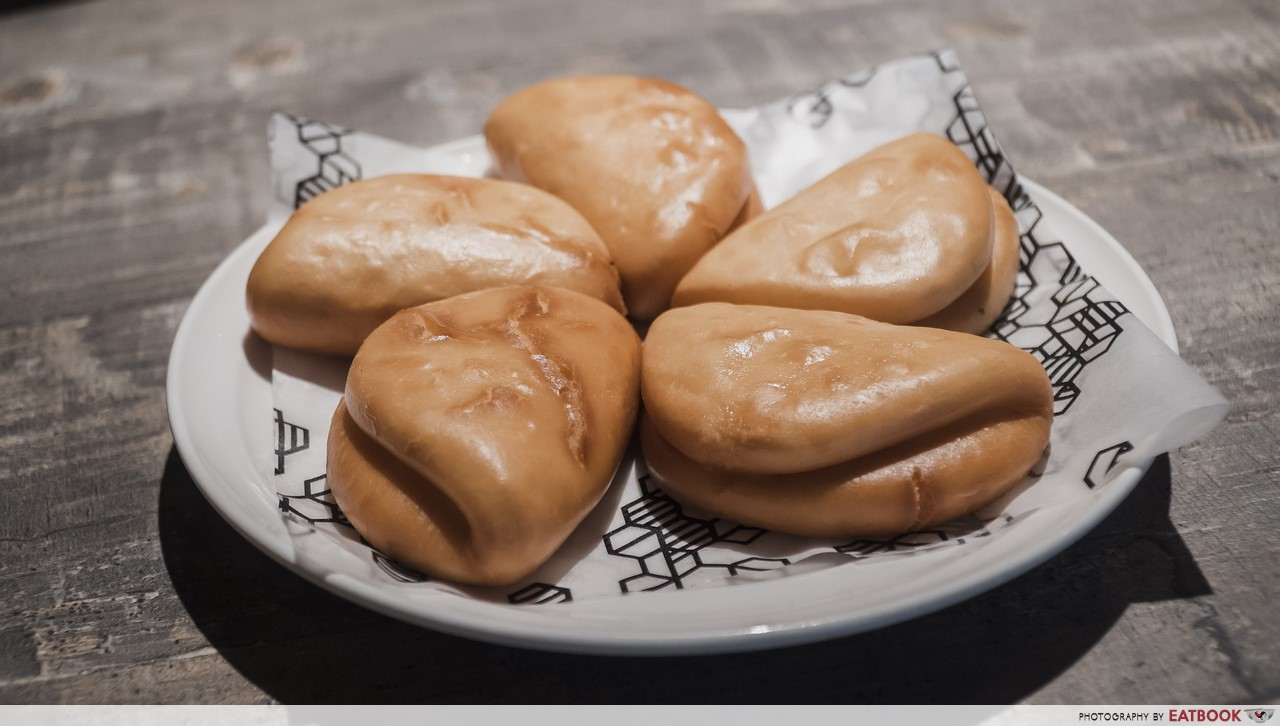 A plate of mantou is a must-have at every chilli crab feast. What sets the Mantou ($4+ for five buns) here apart from others, is that the restaurant serves kong ba bao buns instead of typical mantou.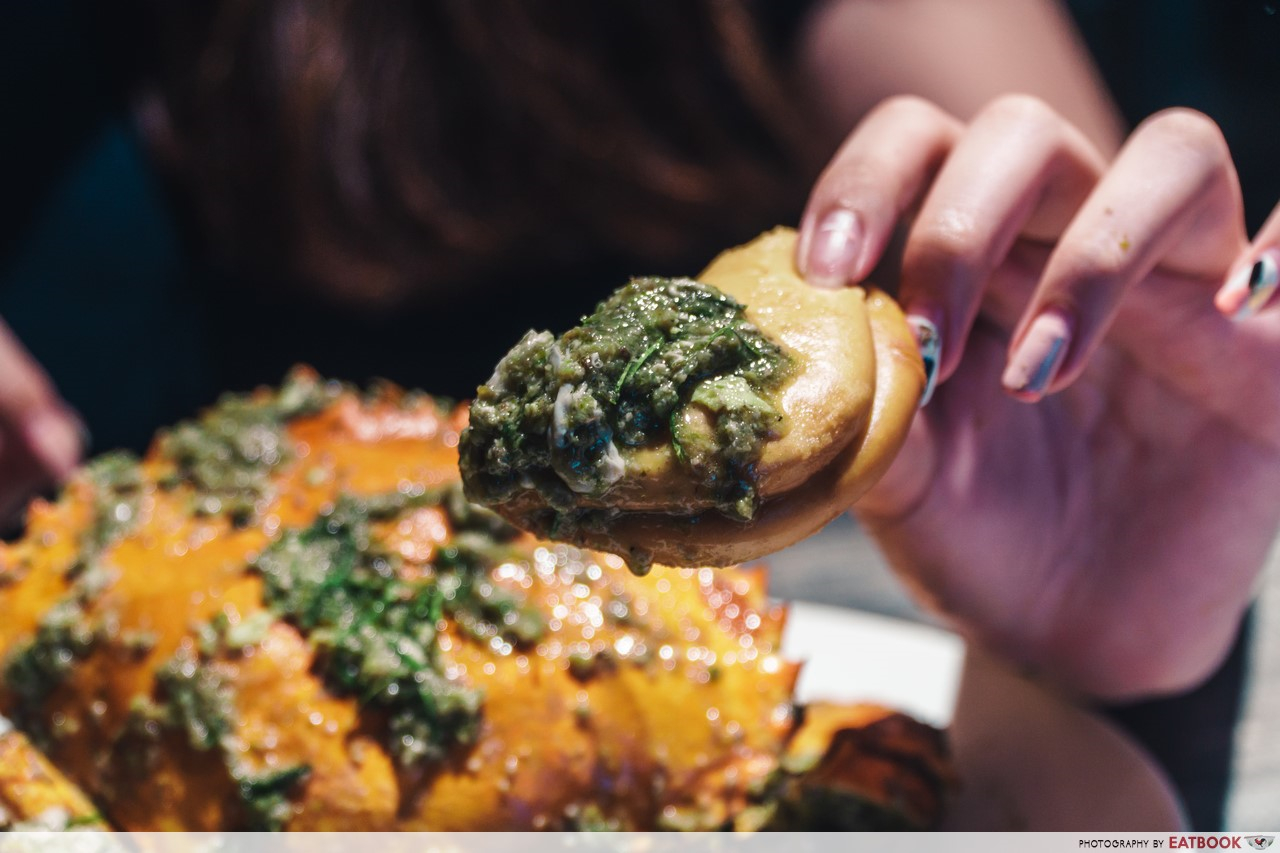 As the kong ba bao bun was thinner than regular mantou, it was crispier on the edges. These golden pillows were fluffy on the inside, and made a great complement to the sauce.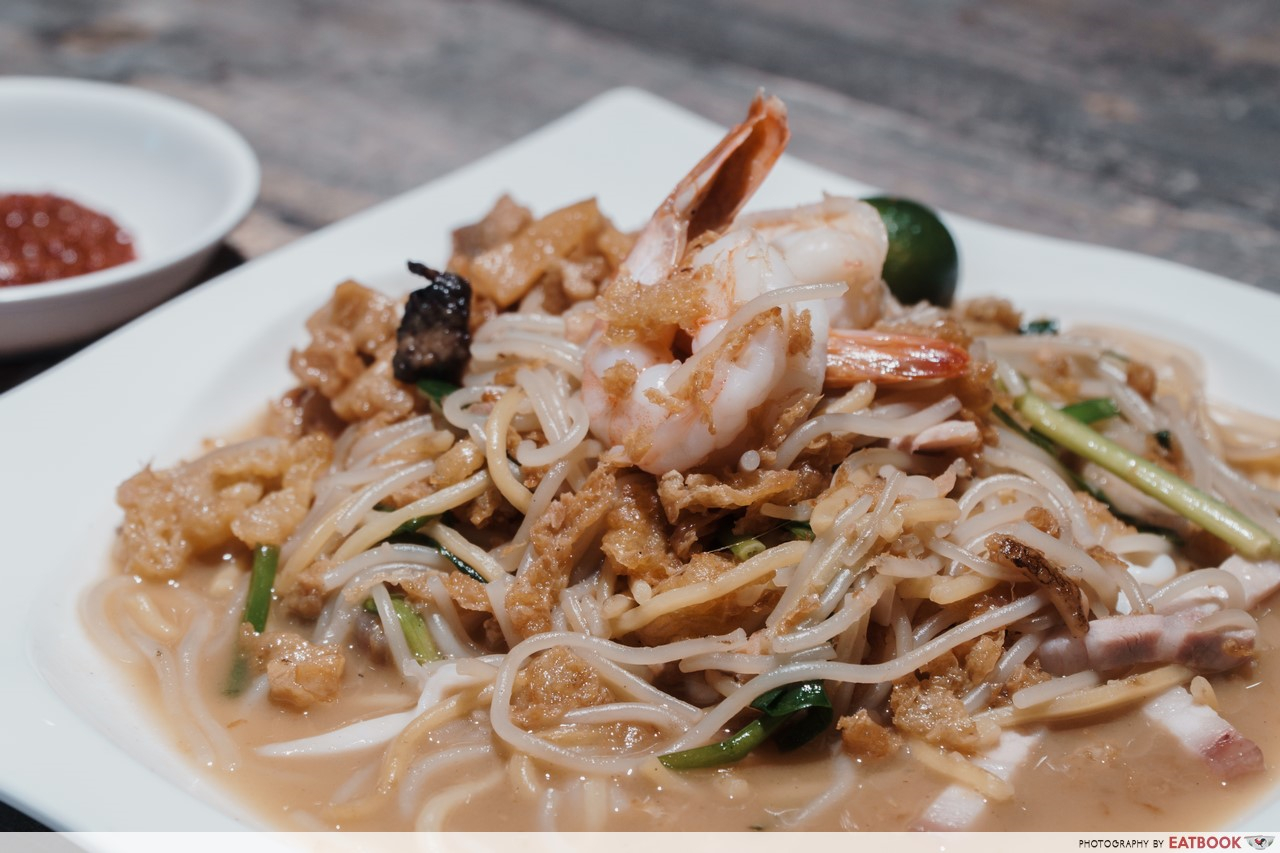 The last dish we got was Hokkien Mee ($12+ for lunch, $15+ for dinner). Even though this is one of the more popular items on the menu, I was quite skeptical as to how tasty a plate of Hokkien mee at a crab restaurant can be. Plus, at such a steep price, a part of me was definitely expecting something real good as compared to the three-dollar versions at hawker centres.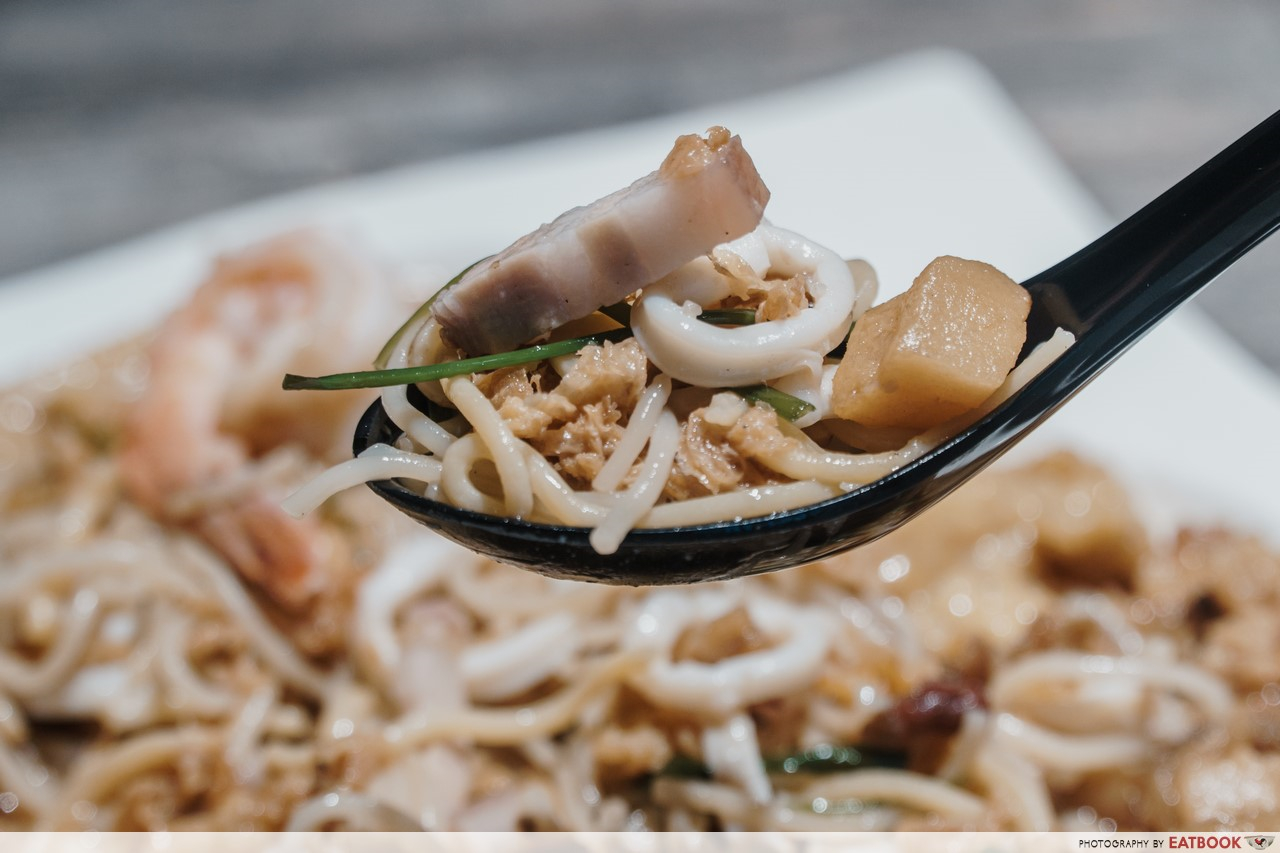 What's unique about this dish is that the chef adds a generous amount of pork lard and deep-fried egg bits to it. They were both welcomed additions to the dish as they provided contrasts in texture.
The broth itself was made from simmering prawn heads and pork bones for six to eight hours, making the dish fragrant and packed full of flavour. Overall, even though this was delicious, it just didn't meet the mark that made it worth breaking the bank for.
Ambience at Holycrab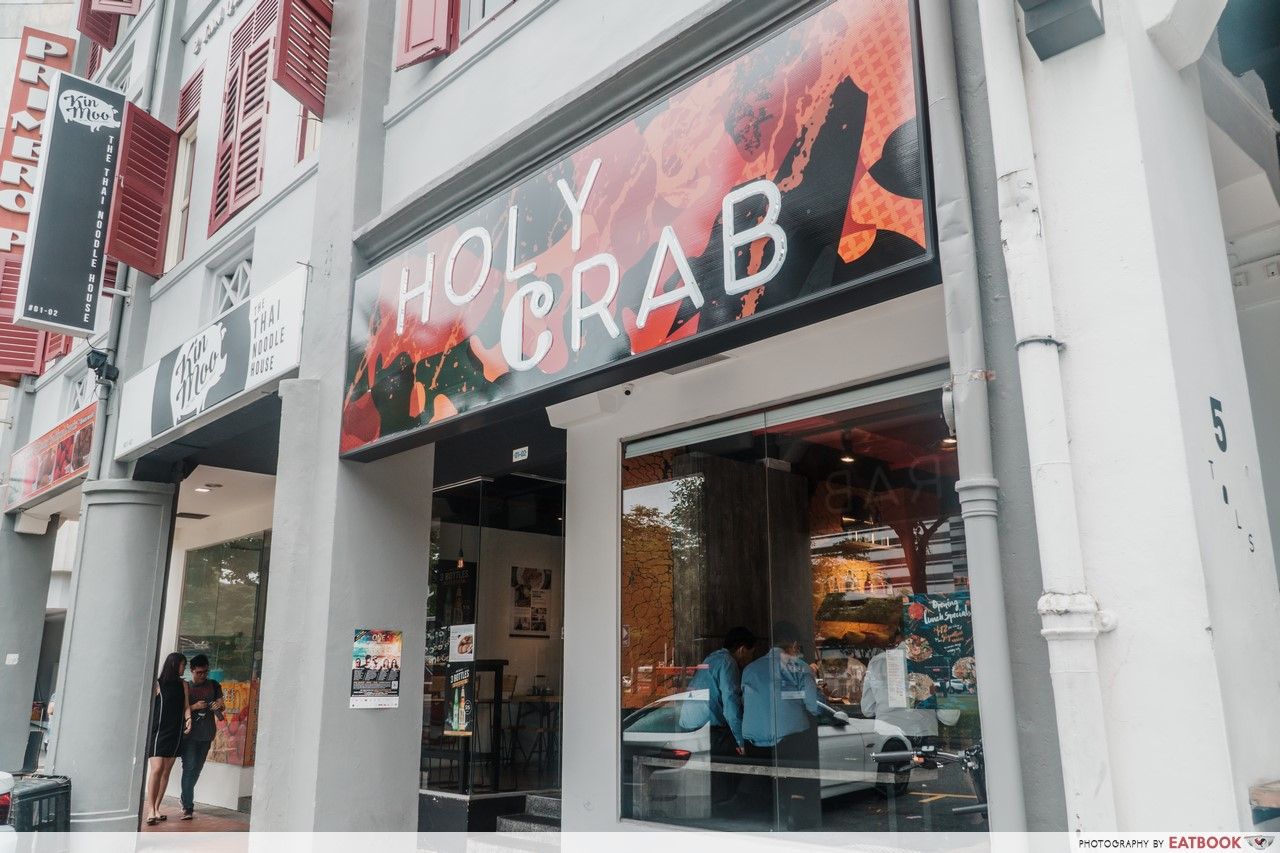 The restaurant is located along a stretch of restaurants that's just outside Bugis MRT Station's Exit D. They serve up a variety of crab flavours, ranging from interesting ones such as balsamic vinaigrette to more common sauces such as butter sauce with curry leaves, so you're bound to find something that tickles your fancy.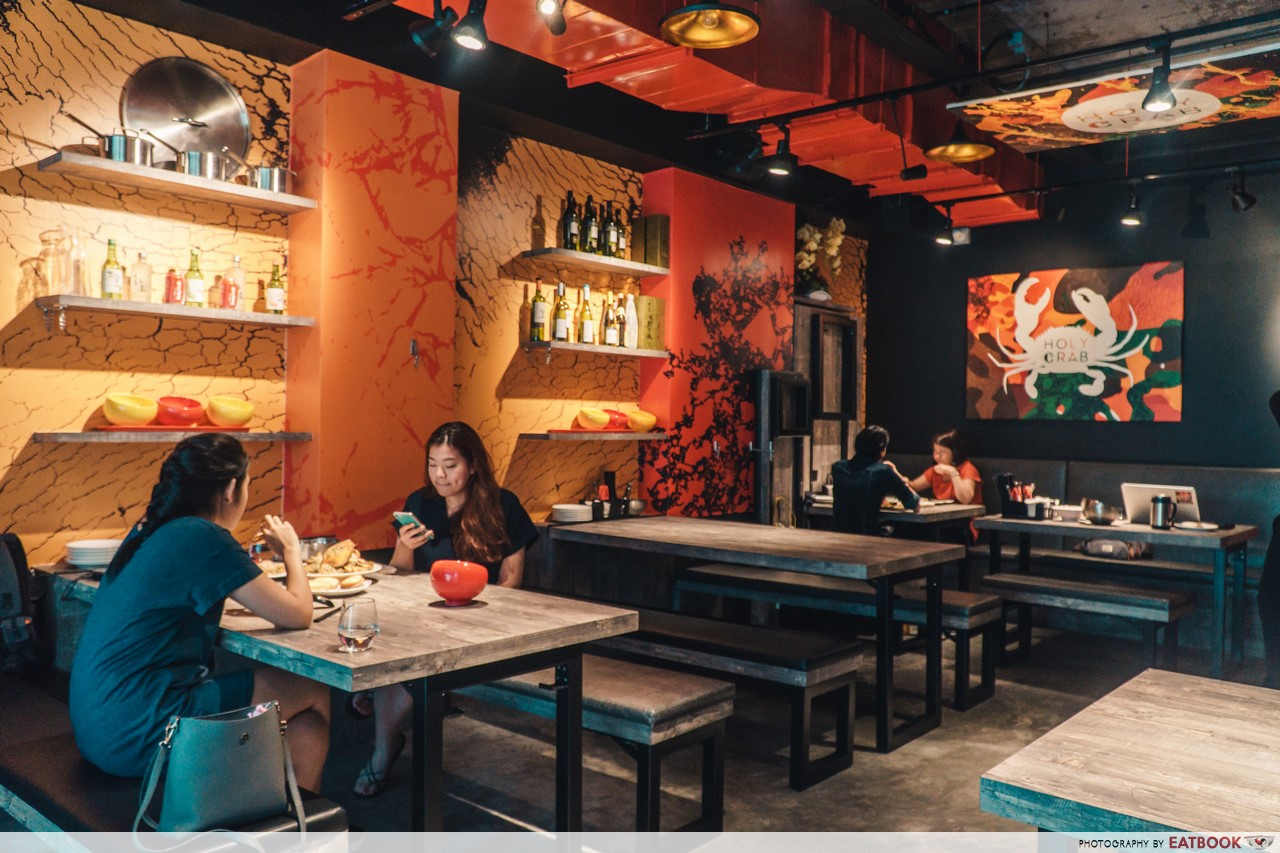 Holycrab has a modern and chic interior, and is furnished with grey wooden tables. The small restaurant is dimly lit, and gives off a cosy vibe. With less than 10 tables in total, the restaurant is able to fit around 20 people. We were able to get seats easily when we visited at 12pm on a weekday. The staff members were friendly and treated us with great hospitality.
It might get a little packed during peak hours, so remember to call and make a reservation! The owner of this place is the business partner of the people behind next door's Joo Bar, so they occasionally share spaces with Joo Bar if it gets too crowded.
The verdict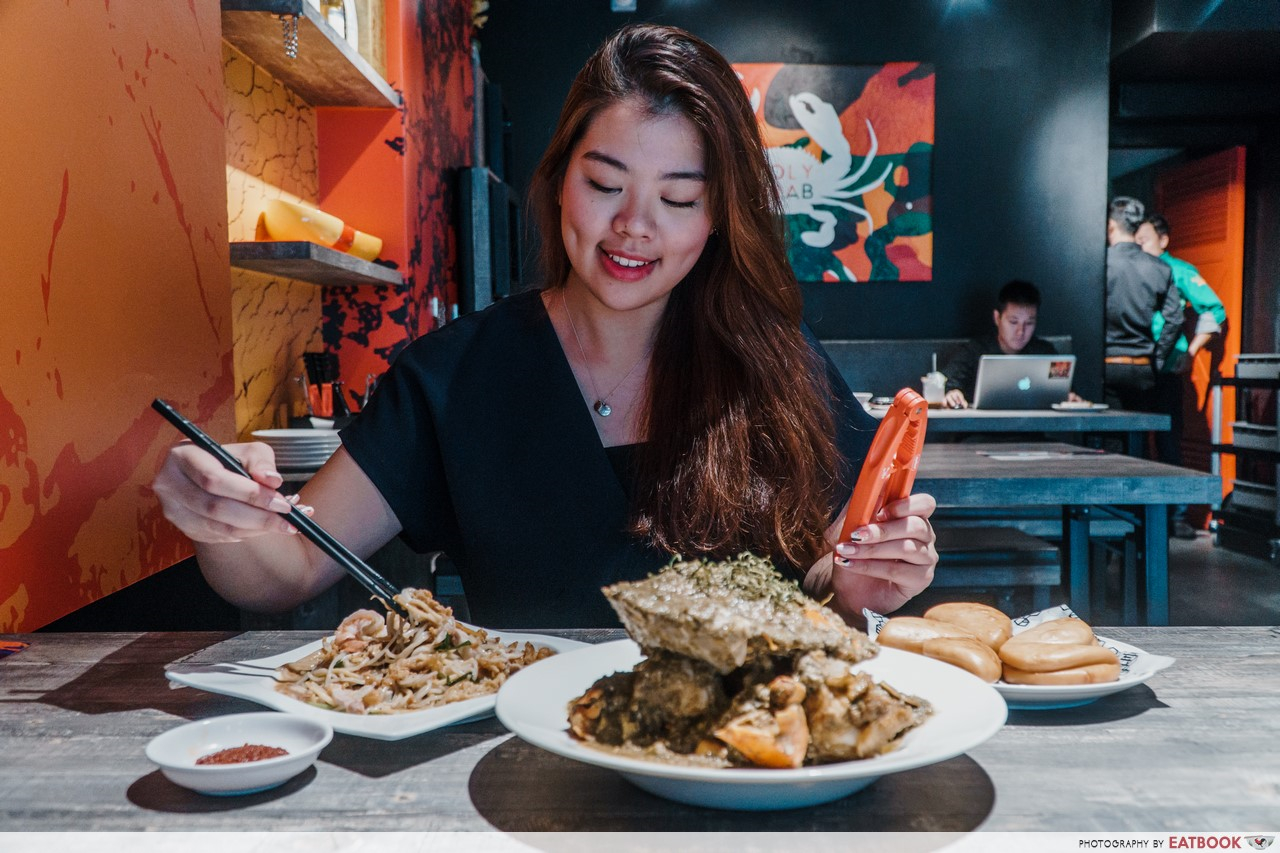 Overall, I was impressed with the wide variety of crab dishes offered. As an avid crab lover, the ones here were fresh and worth the money. The Hokkien mee, on the other hand, was slightly disappointing, especially in terms of quantity. For the price I paid, I expected a larger portion. If you are in the area, you can also check out Ah Bong's Italian, which is only two restaurants away.
Address: 2 Tan Quee Lan Street, #01-03, Singapore 188091
Opening hours: Mon-Sat 11:15am to 2pm, 6pm to 9:30pm, Sun 6pm to 10pm
Tel: 8444 2722
Website
Menu
Holycrab is not a halal restaurant.
This is an independent review by Eatbook.sg.
Holycrab Review: Singapore's First Green Chilli Crab Found At Bugis
Summary
Pros
– Cosy ambience
– Unique crab flavours
– Efficient staff
– No service charge
Cons
– Hokkien Mee is limited to 100 plates per day
– Expensive
– Might get crowded during peak hours
Recommended Dishes: Mantou ($4+ for five pieces), Green Chilli Crab ($9+/100g)
Operating Hours:
Monday to Saturday 11:15am to 2pm, 6pm to 9:30pm
Sunday 6pm to 10pm
Tel:
8444 2722
Address: 2 Tan Quee Lan Street, #01-03, Singapore 188091