Hong Kong
MX
Lava Custard Mooncake
i
n Singapore
I've been writing about food for almost a decade now, which means I've had the good fortune of trying every single type and flavour of mooncake imaginable, year after year. There's a cherished handful that has truly stood out to me, and these are the ones I won't hesitate to recommend when asked for mooncake recommendations. One of these is the award-winning Hong Kong MX Lava Custard Mooncakes. 
While I used to only be able to nab boxes of these MX goodies on trips to Hong Kong, the brand has finally brought the mooncakes to Singapore by popular demand.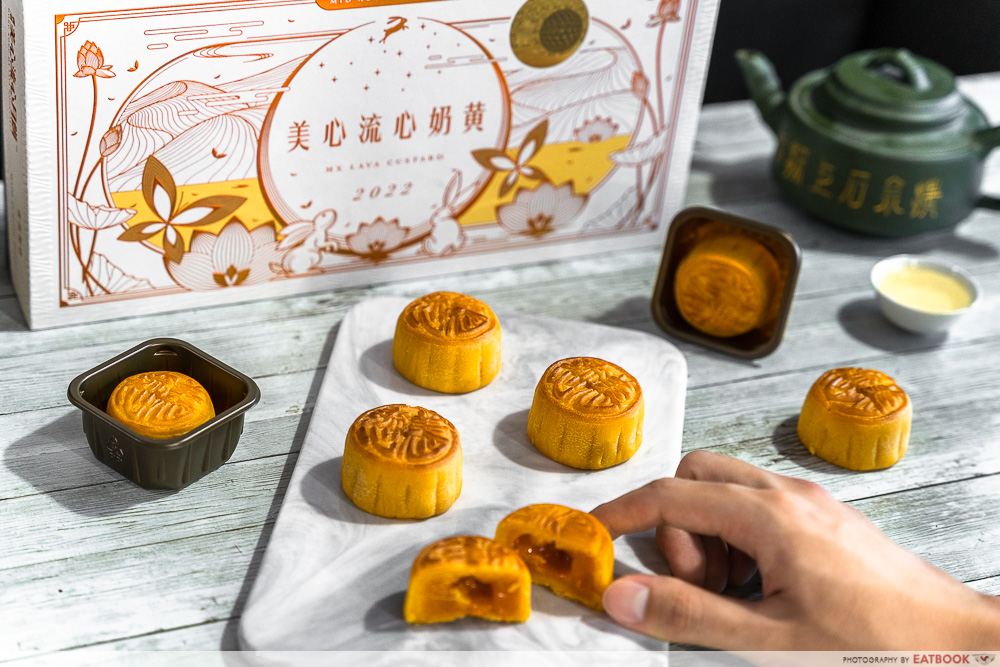 I know, the salted egg yolk lava bandwagon may be over, but Hong Kong MX mooncakes are a cut above the rest of the liu sha offerings we've tried. 
The process of creating the custard is a laborious one, but well worth the creamy, luscious final product. First, salted egg yolks are baked so they achieve a depth of flavour. Then, they're slowly cooked into a rich, creamy custard. The latter is made with premium French butter, and Southeast Asian coconut cream in place of double cream.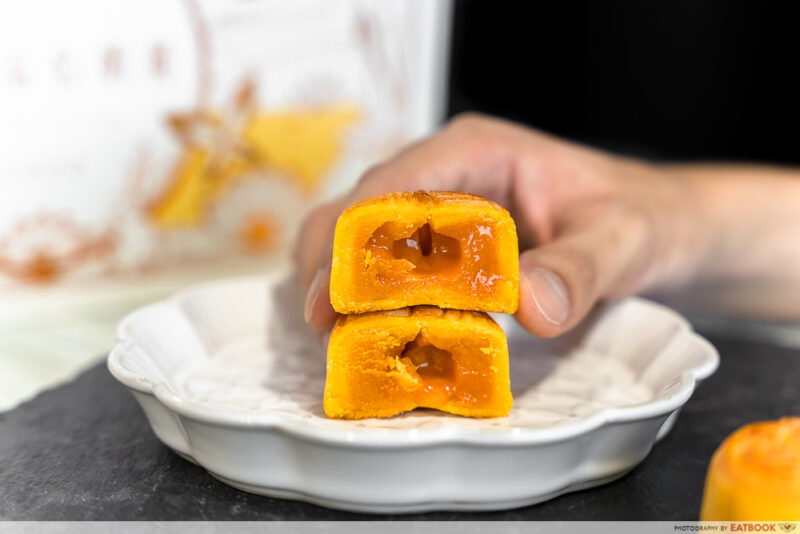 The use of coconut cream gives the MX custard an extra, almost lemak creaminess. Overall, these mooncakes are the perfect blend of sweet, savoury, and rich.
Cut into one of these mooncakes and you'll be greeted with a molten, golden middle. Pro-tip: heat up the mooncake in the microwave for five to 10 seconds to get the lava flowing.
I'm of the opinion that a mooncake's pastry is as important as the filling, and MX also delivers on that front. Their thin, cakey pastry is laced with egg yolk, and melts in your mouth with each bite. 
The mooncakes are available in boxes of eight, priced at $69.50.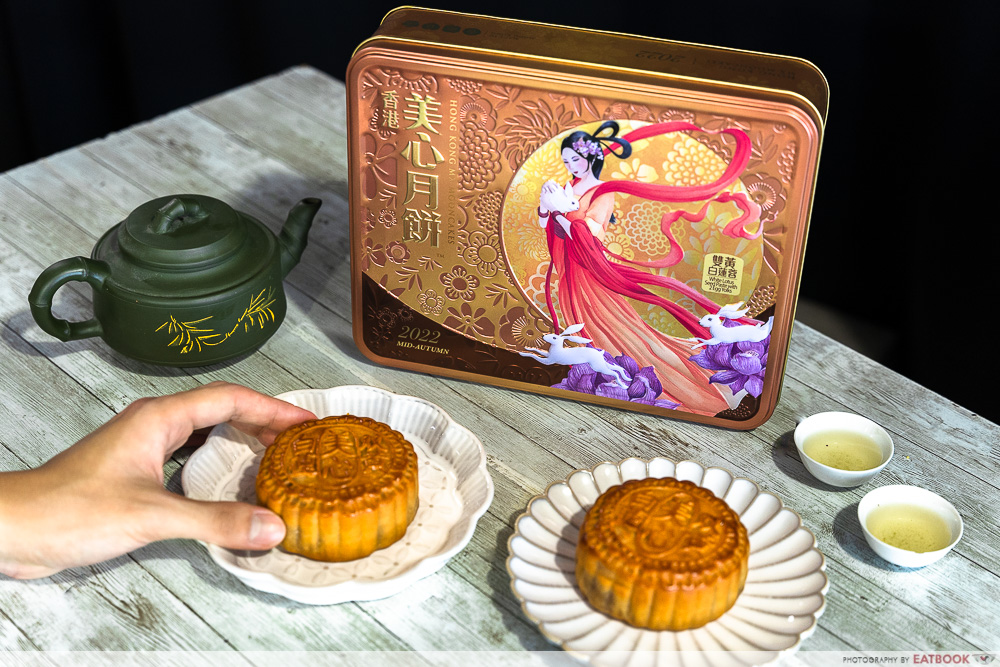 Apart from the salted egg flavour, Hong Kong MX also has a Traditional White Lotus Seed Paste Mooncake (Double Yolk) ($69.50) that's sure to appease fans of the lotus paste and salted egg yolk combo.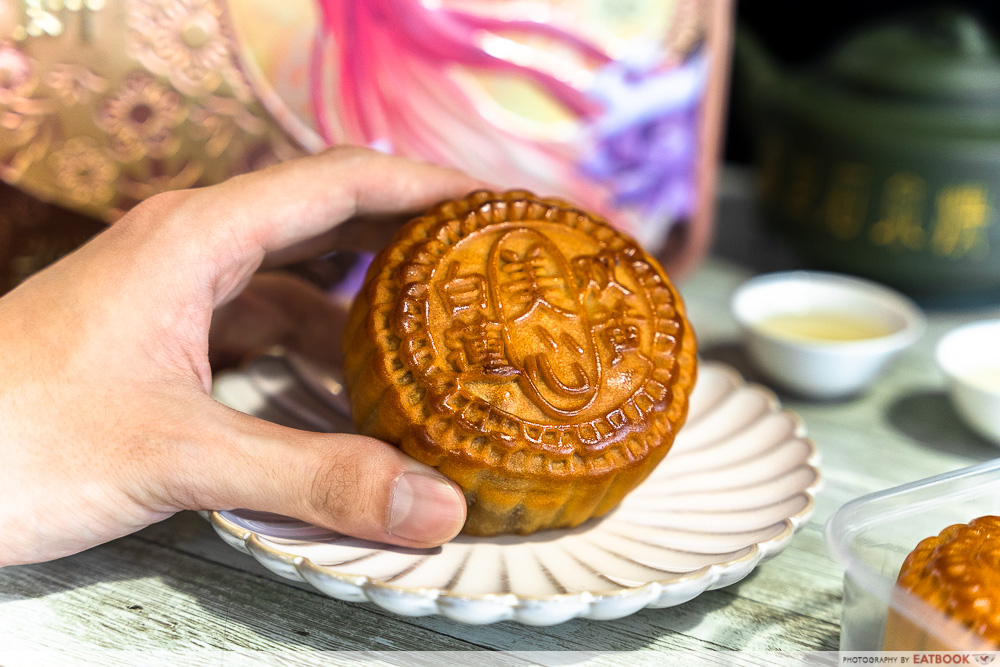 While lotus paste mooncakes are as ubiquitous as they come, Hong Kong MX changes things up with an extra decadent, silky white lotus paste, and creamy salted egg yolks.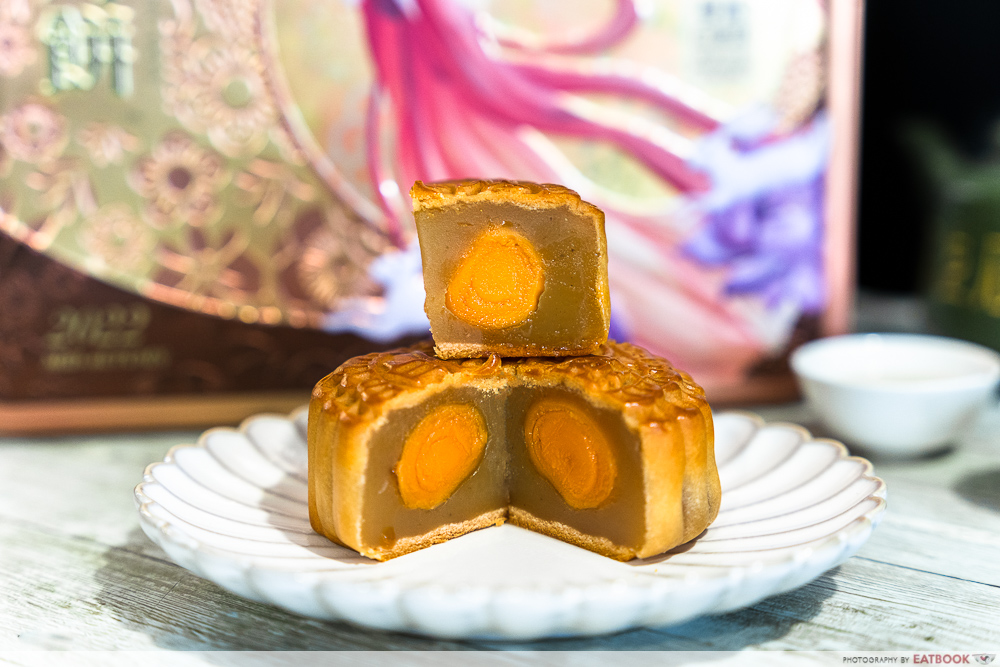 Our team raved about how the salted-to-lotus-paste ratio was just right.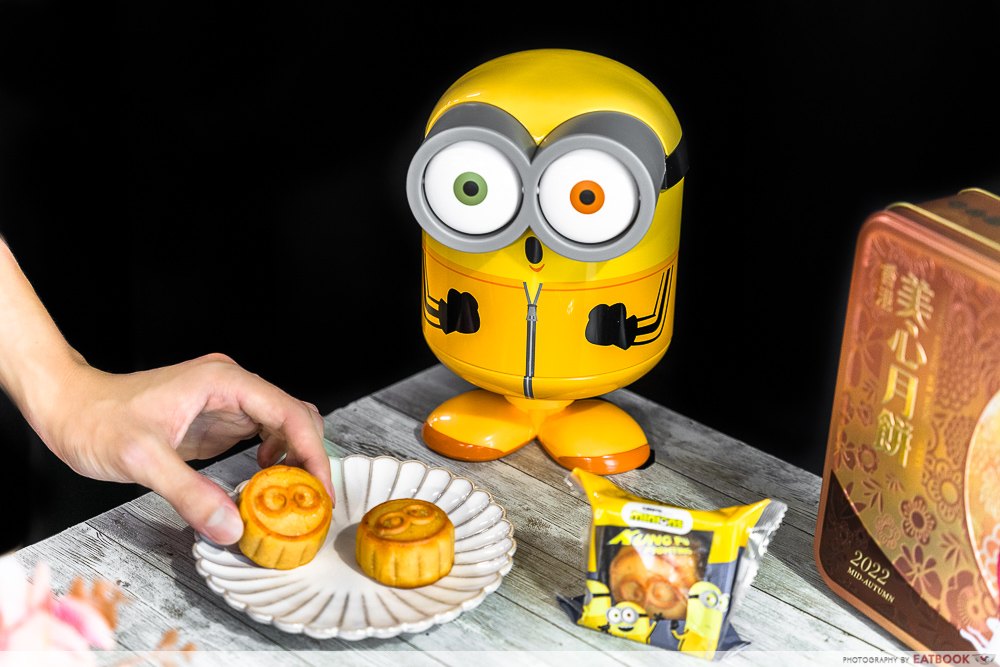 If you've got young ones to wow at your next Mid-Autumn Festival gathering, be sure to bag MeiXin's Minion-themed character mooncakes! Priced at $52, these themed Lace Lotus Seed Paste mooncakes come in an adorable Minion-shaped metal tin that catches the eye. The mooncakes are also unique, with a gooey middle that is reminiscent of toffee.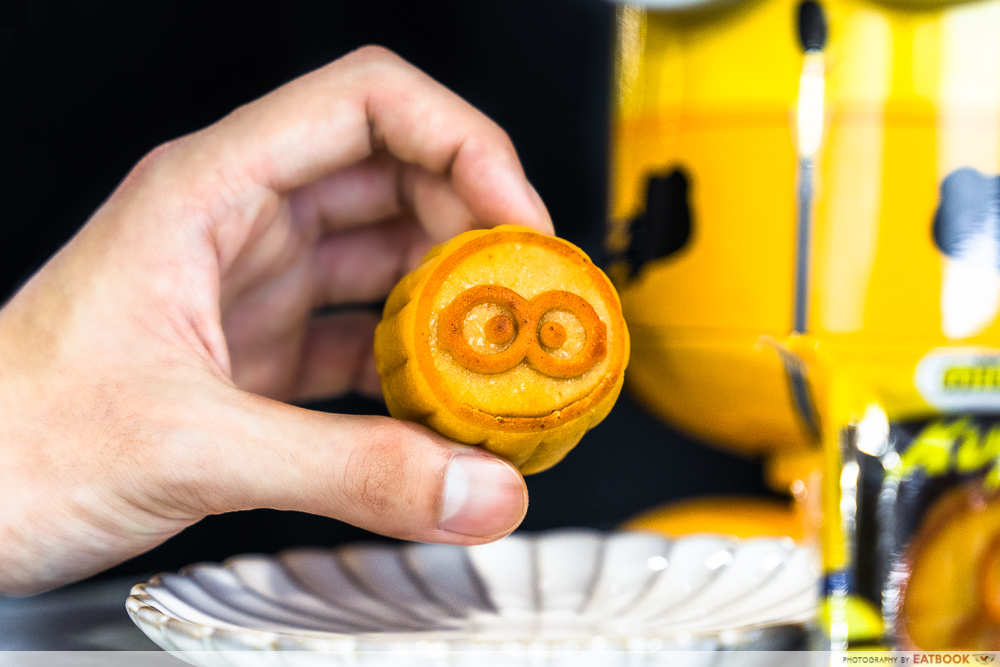 The mooncakes also come stamped with the Minions' signature eyeglasses!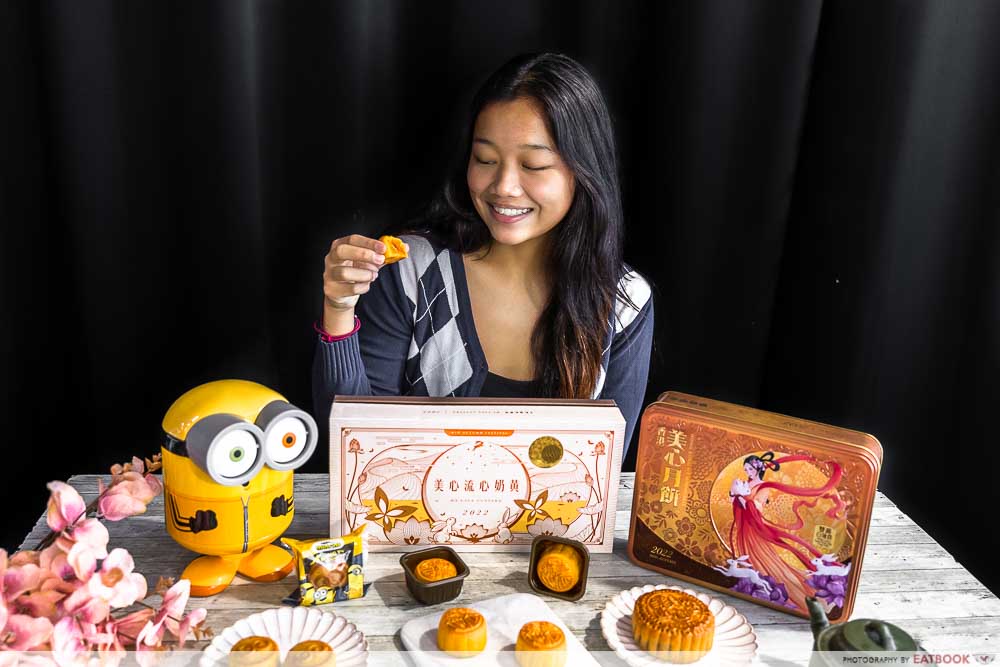 MX Mooncakes are 100% made in Hong Kong, and then imported to Singapore. As we've mentioned, their Mid-Autumn Festival treats are award-winning; the brand has scored the Belgian Monde Selection Quality Award, an honour that rivals the Michelin Guide, since 2005. The lava custard mooncakes, in particular, are gold medalists, so you're definitely purchasing quality mooncakes here.
Spend above $200 and get free delivery. You also get free gifts when you purchase over $100.
Photos taken by Chew Yi En.
This post is brought to you by Hong Kong MX.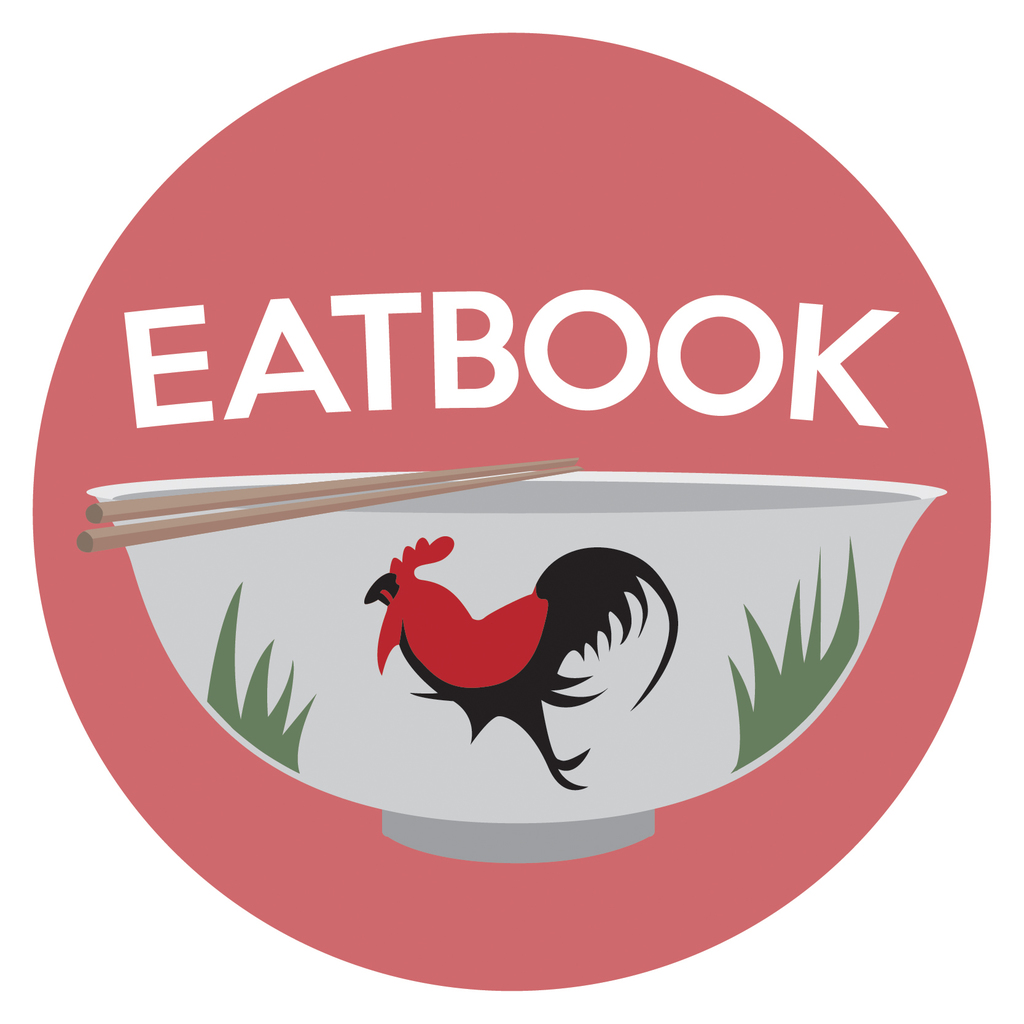 Drop us your email so you won't miss the latest news.