---
New food options at Kallang Wave Mall
---
Foodies will be delighted to know that there are five new dining spots that have recently opened their doors in Kallang Wave Mall! This reinforces the "Dine" component that is part of the 4 pillars of Kallang Wave Mall namely "Dine, Lifestyle, Wellness and Experience".
Those who have visited the mall will know that it is a one-stop-shop destination, housing leading retailers, recreational facilities and an array of eateries. You can conveniently run all your errands here, and have a hearty meal to satisfy your tummy afterwards.
---
1. CHICHA San Chen

---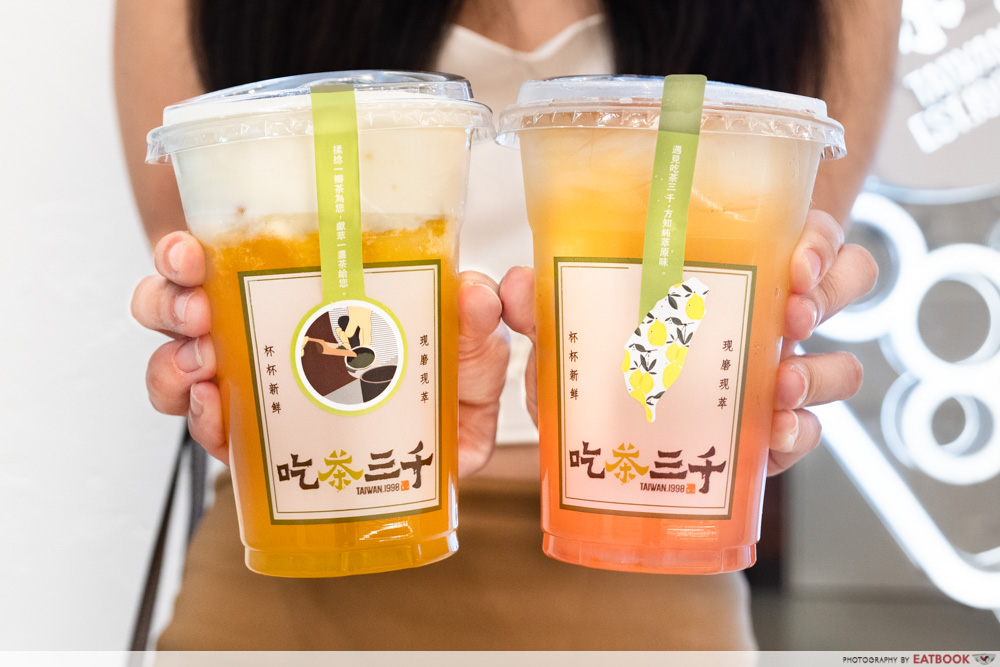 As soon as you enter via the main entrance, you will be greeted by the brightly lit Taiwanese bubble tea store—Chi Cha San Chen. Go straight for their best-selling Fresh Milk with Brown Sugar Bubble ($5), or the classic Bubble Milk Tea ($4.50) that replaces the fresh milk with cream for a richer aftertaste.
On a hot day, try their refreshing Green Tea + Honey ($4.20) combination, which features a pleasantly sweet drink perfumed with fragrant tea aroma. Add on $1 for pinkish Sakura Konjac Jelly for an added crunch.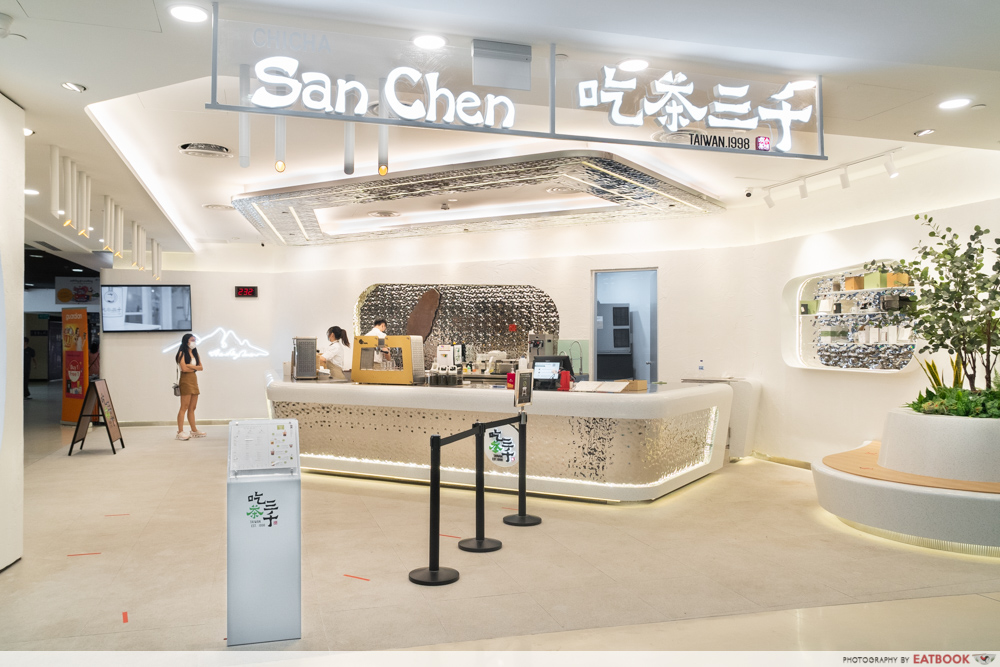 Fans of the famous tropical fruit will love the Mango Cream Pie ($7.50). Topped with fresh cream, you will find bits of real mango swimming within the sourish-sweet beverage.
Unit number: #01-52
Opening hours: Daily 11am to 9pm
Website
CHICHA San Chen is not a halal-certified eatery. 
---
2. The Coffee Bean & Tea Leaf
---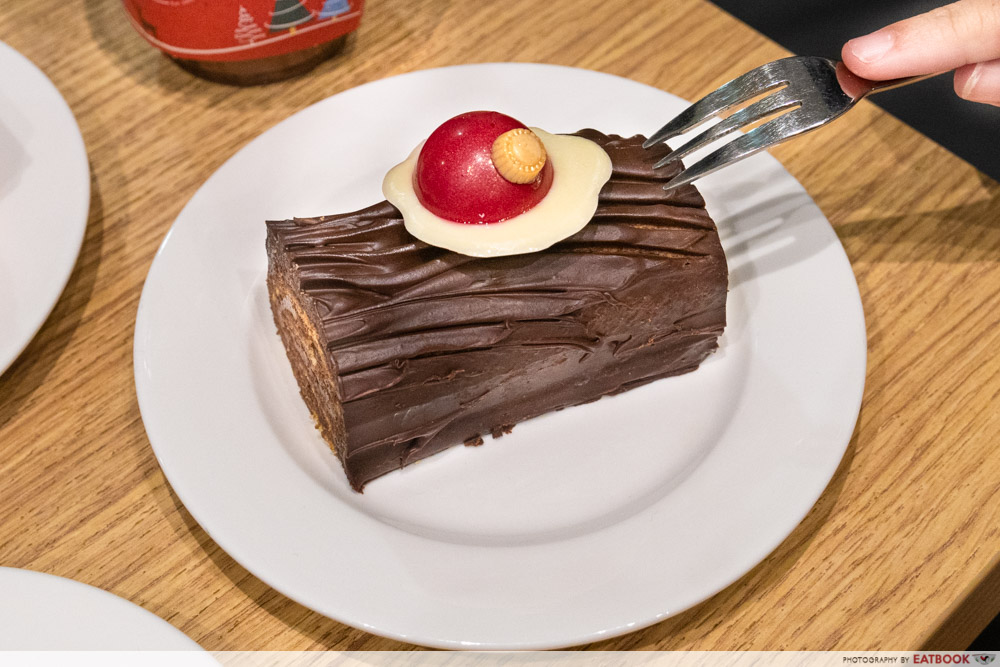 The Coffee Bean & Tea Leaf has launched their Christmas menu, with new cakes, merchandise, and drinks. For something extra festive, go for the Classic Log Cake ($7.50) that is coated in milk chocolate, and comes with swirls of decadent hazelnut cream within. There is also the Peppermint Chocolate Cake ($7.20) for a fresh, minty, yet bittersweet dessert.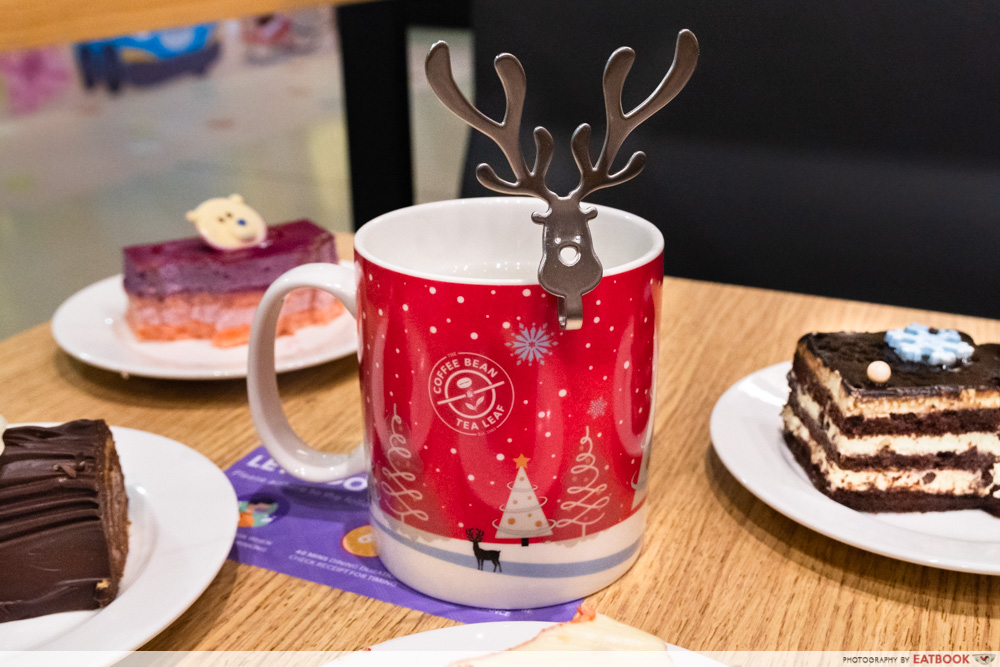 To further celebrate the festive season, they have also launched a Dark Chocolate Maple Fudge Ice Blended And Color Changing Mug With Reindeer Spoon Set for just $19.90. Add in any hot beverage to the mug and watch the scenery change before your eyes. The frappe is rich and chocolatey, yet slightly bitter, keeping it from being too jelak. 
Unit number: #01-44/45
Opening hours: Daily 8am to 10pm
Tel: 6702 7908
Website
The Coffee Bean & Tea Leaf is a halal-certified eatery. 
---
3. The Soup Spoon Union
---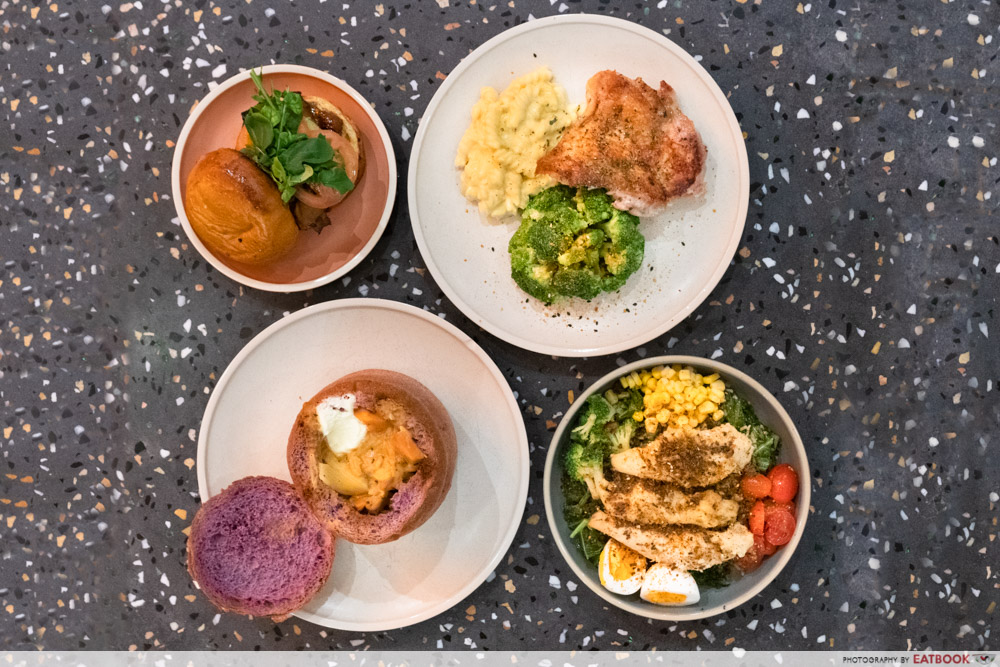 Moving on to the savoury goodies, there is Soup Spoon Union, that offers soups, mains and more. The Avo Chicken Burger ($8.90) sees a juicy grilled chicken thigh, smashed avocados, and rocket leaves, all sitting within two fluffy buns. For something with variety, try the DIY Salad ($12.80), allowing you to design your own salad bowl to your heart's desire. 
There is also the Chicken Thigh ($10.90), which is layered with crispy skin on the outside, and tender meat on the inside. Pair this with two sides for a well-balanced and satisfying meal.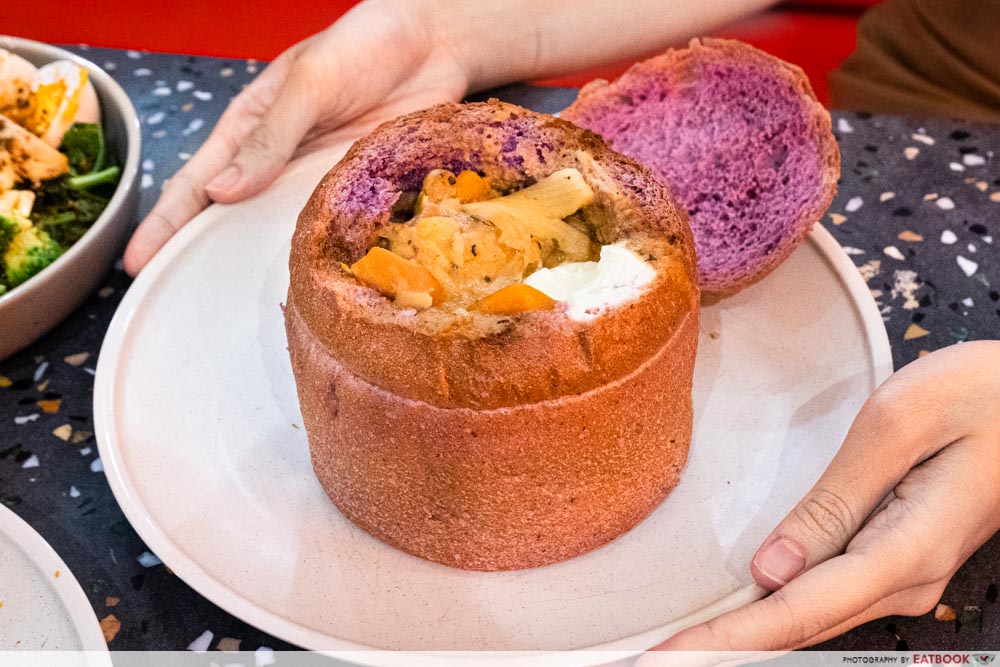 The SG Chicken & Mushroom In Bread Bowl ($13.80) is another item that is not to be missed. Conveniently nestled within this unique purple edible bowl is thick and savoury stew, filled with carrots, onions, and chicken. Topped with a dollop of cream on the side, it is recommended that you mix this in for a smooth finish.
Unit number: #01-41
Opening hours: Daily 10:30am to 10pm
Website
Soup Spoon Union is a halal-certified eatery. 
---
4. Pastamania
---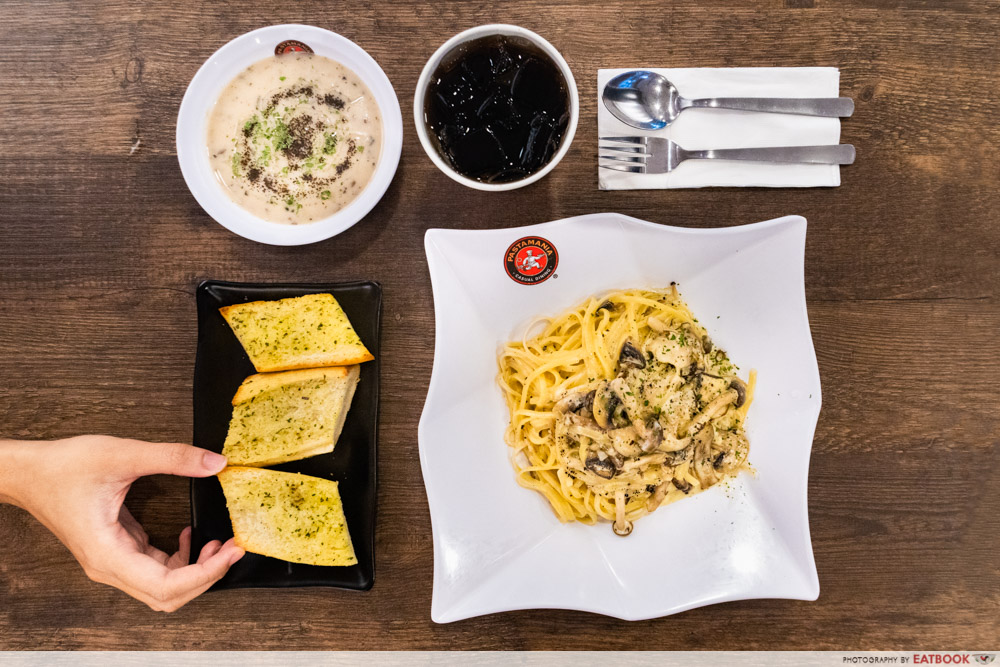 With a charming view of Kallang River, you can enjoy Italian delights at the newly opened Pasta Mania outlet. Fans of Thai food will adore the Hot Basil Chicken Pizza ($10.20), featuring a thin-crust pizza dough topped with stretchy mozzarella cheese, and aromatic minced chicken fried in basil and chilli padi.
If not, there is also the innovative and umami-packed Salted Egg Pasta ($12.90) slathered in a creamy salted egg yolk sauce. Go for the classic Chicken Ham Baked Rice ($10.90), and end your meal with a Nutty Chocolato ($7.50) for a sweet finish.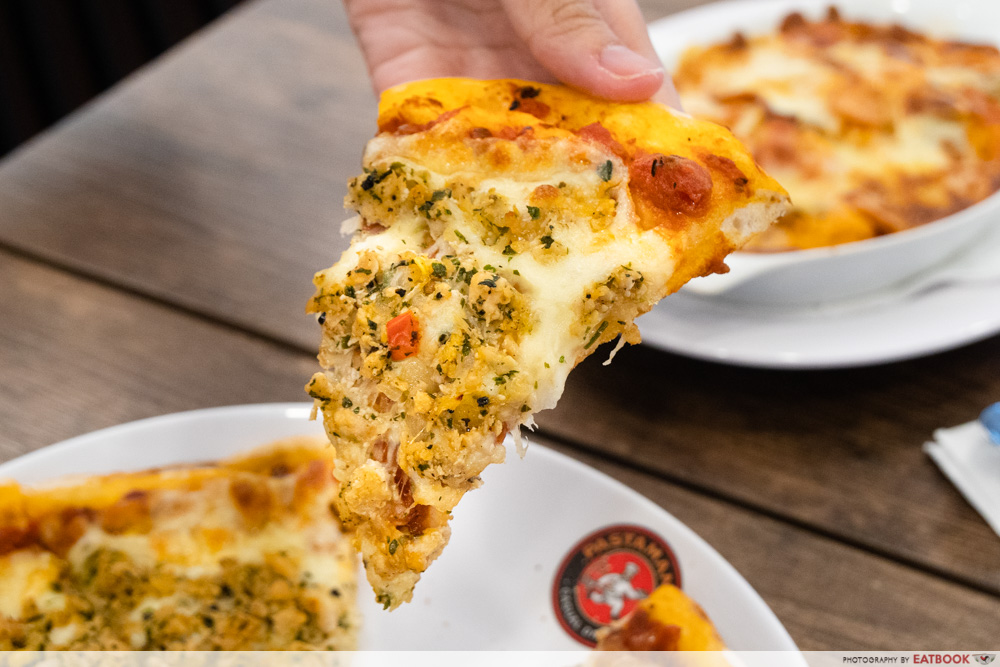 Pasta Mania has also launched a new truffle series, including items such as the Truffle Trio Pasta ($13.80), Truffle Pizza ($12.80), and a Truffle Mushroom Soup ($4). All items are sprinkled with a generous amount of truffle bits, so you will definitely smell the familiar aroma from a good distance away. 
For a complete meal, opt for the Ultimate Truffle Combo ($16.80), which comes with either the Truffle Trio Pasta or Truffle Pizza, a Truffle Mushroom Soup with Garlic Bread, and a soft drink. 
Unit number: #01-21
Opening hours: Daily 11am to 9pm
Tel: 6241 2425
Website
PastaMania is a halal-certified eatery. 
---
5. Joe & Dough
---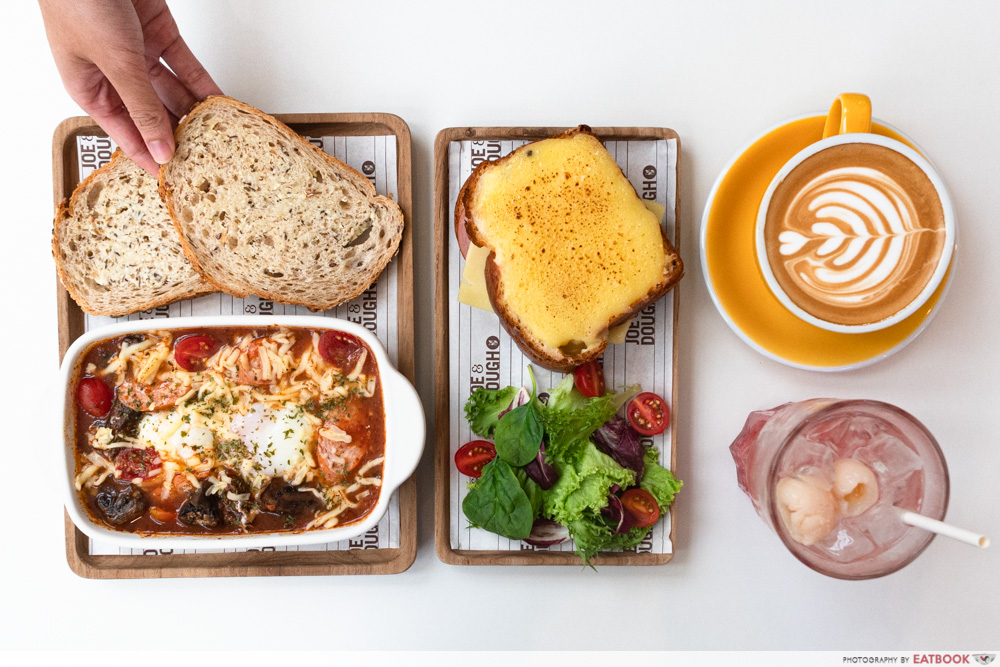 Head down to Joe & Dough for your tea break fix, and choose from their array of food and beverage options. For savoury delights, there is the Baked Eggs with Chicken Bratwurst ($14) that comes with two runny poached eggs, chicken sausages, and olives, all swimming within a tangy tomato sauce. Paired with a fresh salad on the side, the Croque Monsieur ($9) is a ham and cheese sandwich coated in a thick layer of cheese. 
Complete your meals with a hot Latte ($6), or the Pink Lychee ($6.20) for a refreshing drink made with sparkling water, lychee syrup, and even real lychee flesh within.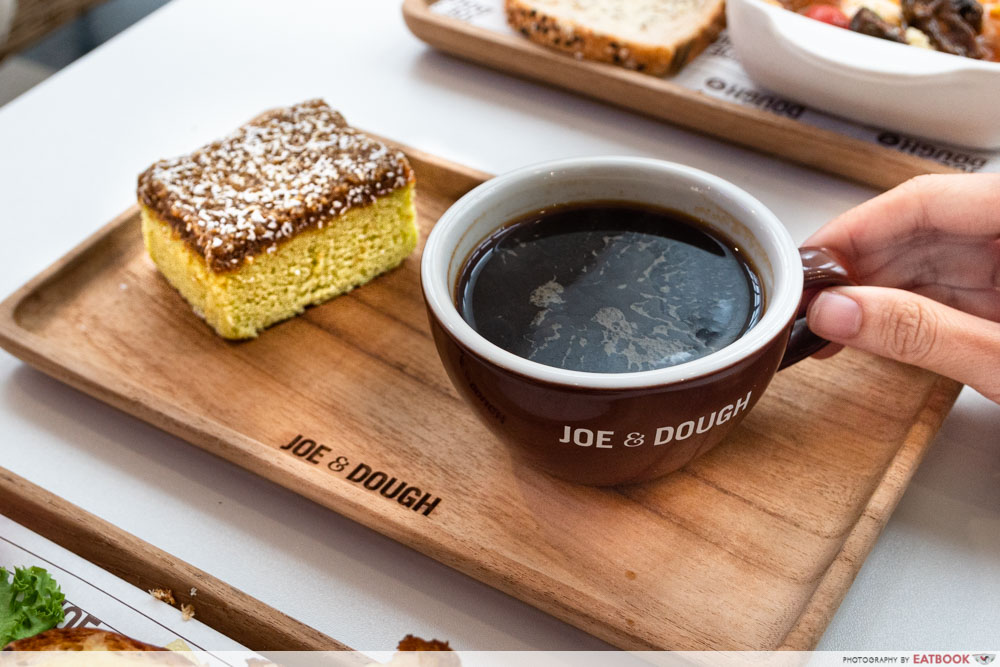 End off your meal with the Perfect Pairing ($7.80) that consists of their signature Gula Melaka Bar and a hot Americano. The Gula Melaka Bar is reminiscent of the popular ondeh-ondeh kueh, with a bittersweet gula melaka layer on the top and a pandan-flavoured cake layer on the bottom. The moist cake is sprinkled with coconut shavings for an extra crunchy texture.

Unit number: #01-42
Opening hours: Mon-Thurs 8am to 8:30pm, Fri-Sun 8am to 9pm
Tel: 6348 2848
Website
Joe & Dough is not a halal-certified eatery.
---
Christmas promos at Kallang Wave Mall
---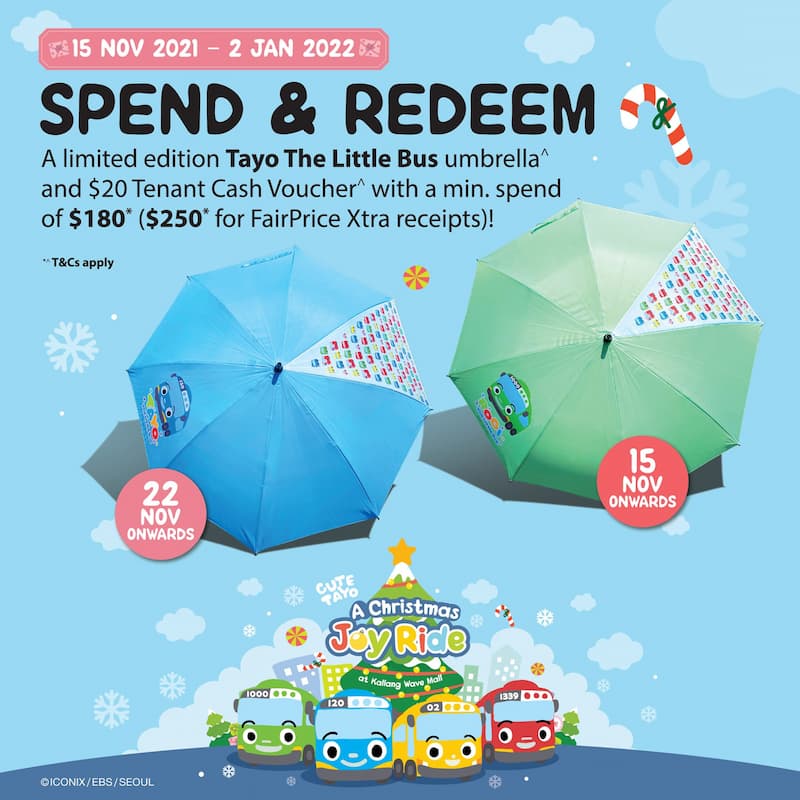 Image credit: Kallang Wave Mall
Kallang Wave Mall is having a Christmas promotion from now till 2 Jan 2021. Redeem a limited-edition Tayo The Little Bus Umbrella and a $20 cash voucher with a minimum spending of $180 or $250 at Fairprice Xtra. 
There is a maximum of five same-day receipts per redemption, and redemption is to be done at the concierge on the day that they are issued. Each shopper is limited to one redemption per day on a first-come, first-served basis.

Address: 1 Stadium Place, Singapore 397628
Opening hours: Mon-Sun 10am to 10pm
Website 
Photos by Melvin Mak.
This post is brought to you by Kallang Wave Mall.