New Mozzarella Zinger Double Down at KFC Singapore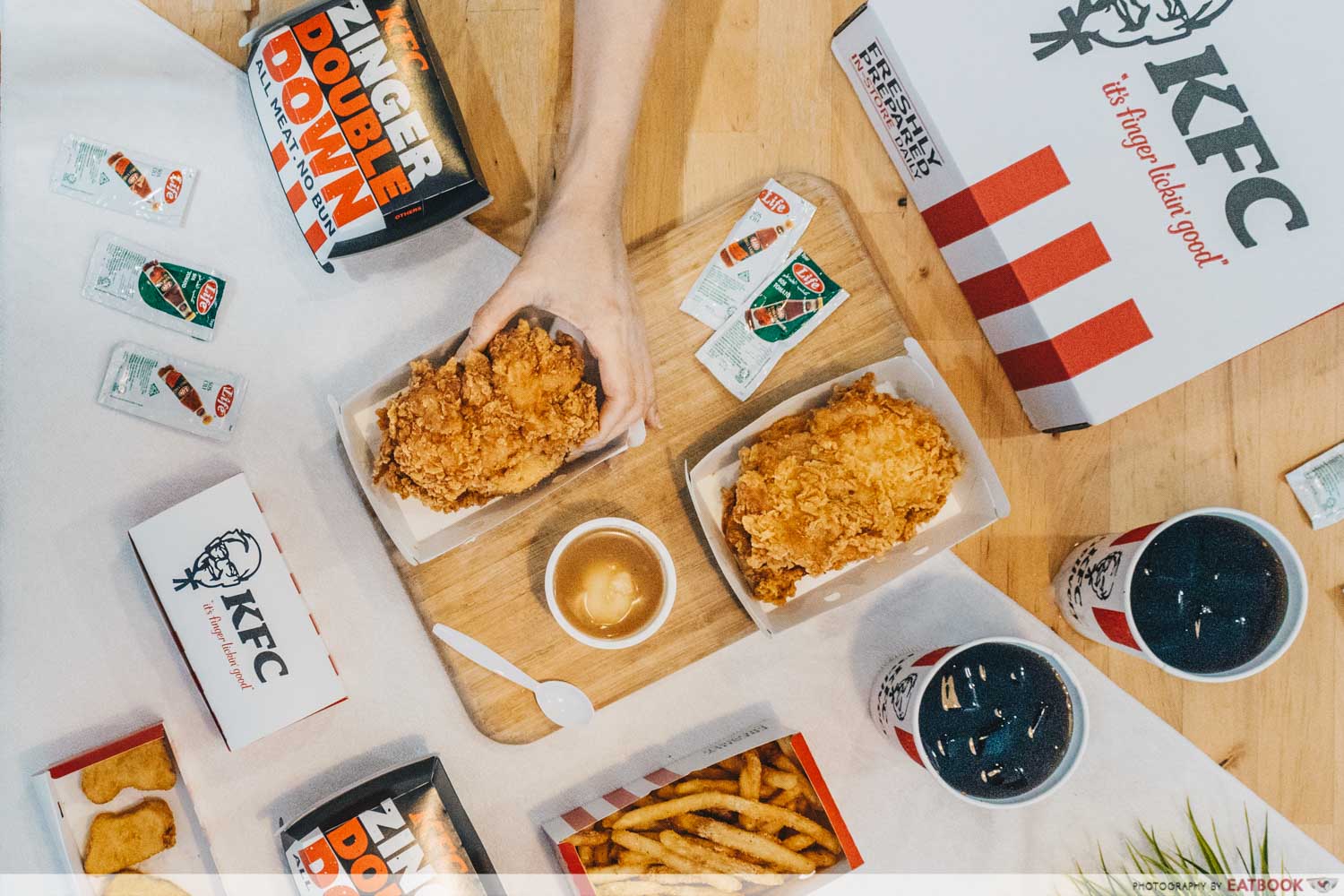 After gifting us with the mouthwatering Chipotle Meltz to tide us through the start of Circuit Breaker, KFC is back at it again with a newer, more indulgent creation. The Mozzarella Zinger Double Down is a marriage between two beloved KFC items: the cheesy Mozzarella Zinger, and the crispy Double Down.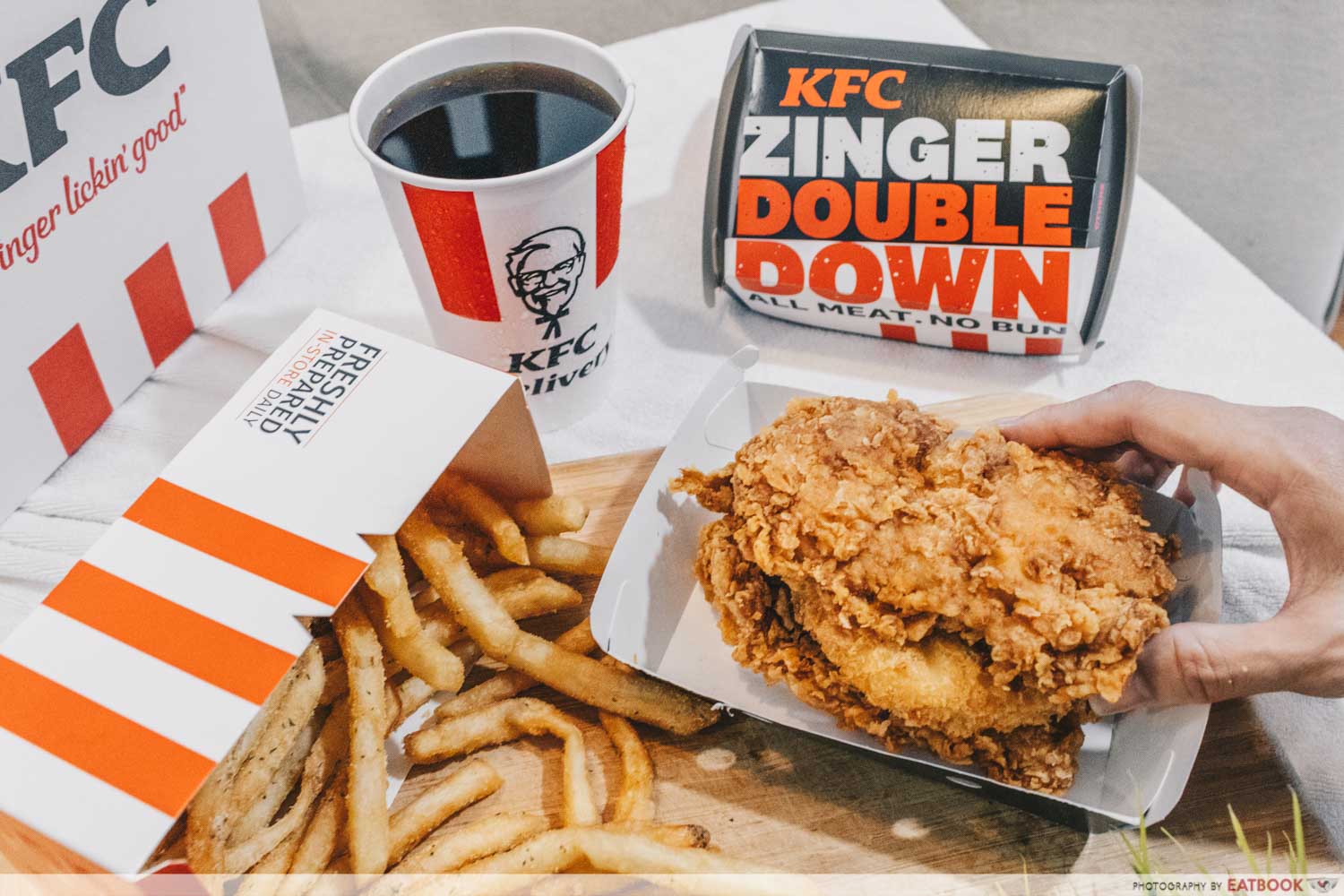 The beast of a burger is made of a mozzarella cheese patty sandwiched between two deep-fried Zinger fillets, and completed with a touch of KFC's tangy tomato basil sauce. We thought you couldn't get more sinful than a Double Down, but the fried chicken joint has exceeded our expectations—this might be one of the most decadent KFC crossovers we've seen yet.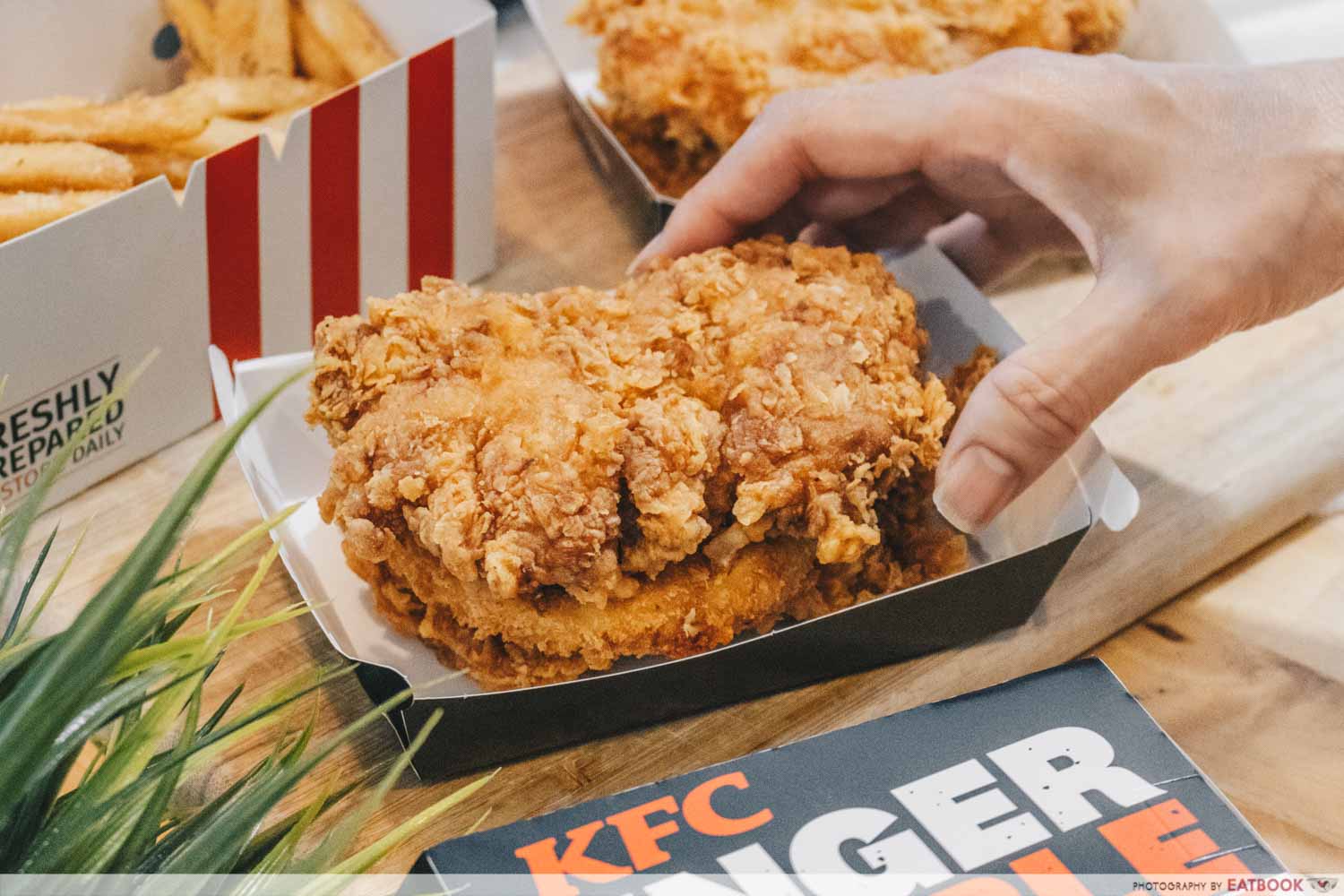 I was lucky enough to get my hands on this sinful burger, and just judging from the hunks of chicken meat flanking the cheese patty, I knew I was in for a treat. As someone who's not a big fan of messy eating, I appreciated the simplicity of the burger's construction. There was no rogue lettuce or overflowing sauce to battle with, and the burger held together as I scruffed it down.
For a burger built to be the pinnacle of indulgence, the all-meat burger was not too heavy. Its understated hero was the zesty tomato sauce, which joined hands with the spicy kick of the Zinger fillets, and cut through the grease. 
Texture-wise, KFC's crispy and juicy Zinger fillets need no further introduction, and it was their cheese patty that stole the show. The batter remained crisp the whole way through, while the mozzarella centre was soft and stretchy.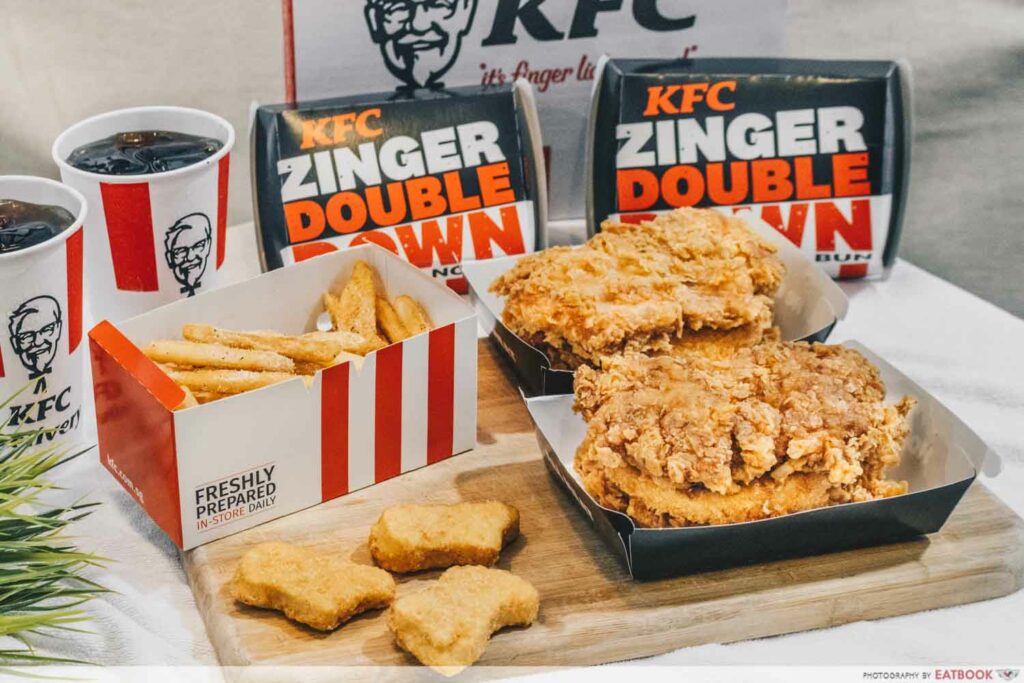 As always, KFC's new star item is available as a la carte and in various meal bundles. On its own, the Mozzarella Zinger Double Down will set you back $7.50 for takeaway orders. Those with a bigger appetite, go all out with the Mozzarella Zinger Double Down Box ($11.65 for takeaway) instead, which includes a 1pc fried chicken, regular whipped potato, fries, and drink.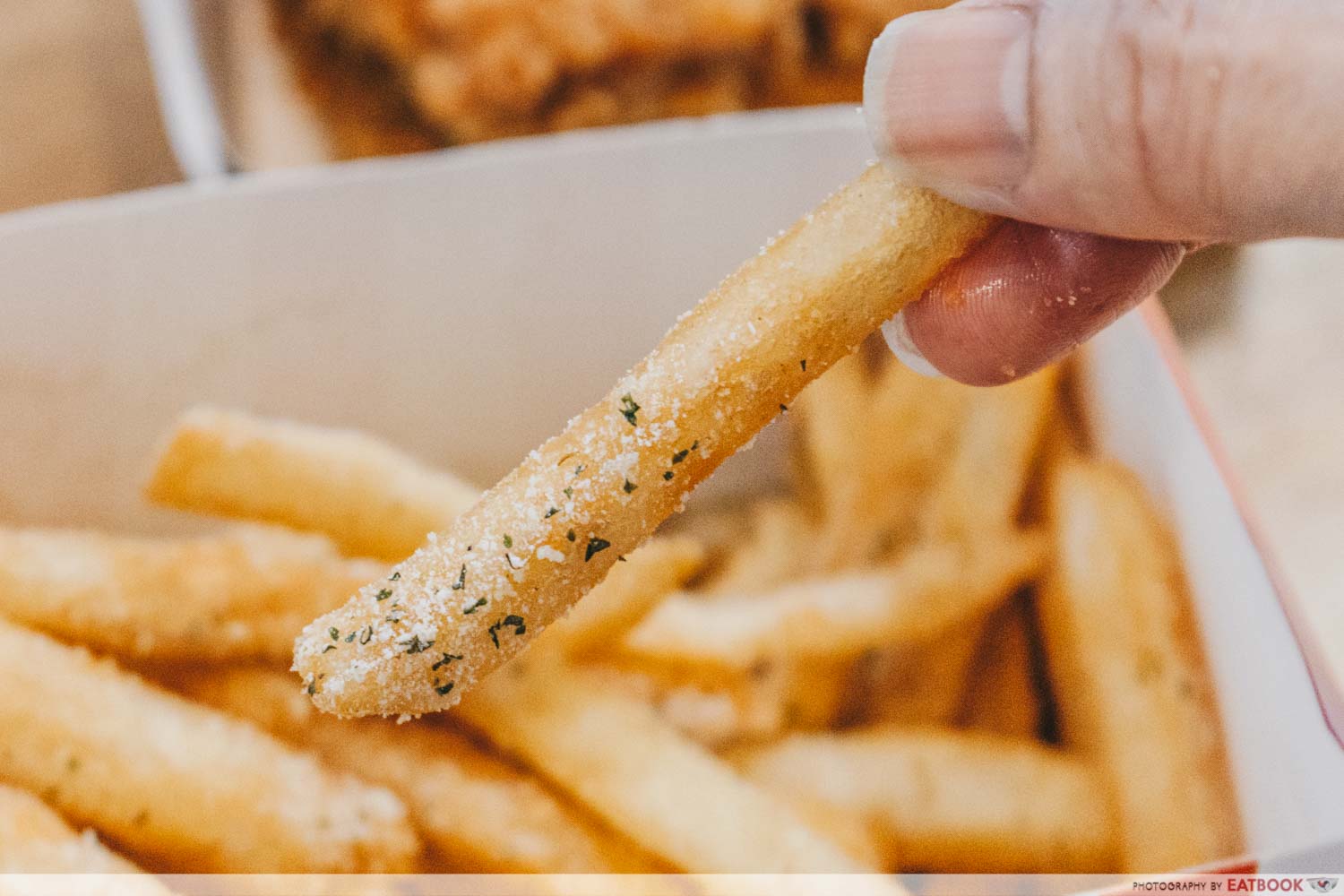 Another new item will also be gracing the KFC menu: KFC Sour Cream & Onion Fries. Toss in the Sour Cream & Onion Sprinkle with their crispy fries, and give it a good shake for a savoury and tangy complement to your meal. Grab a bag of these with a Mozzarella Zinger Double Down Meal ($9.85 for takeaway), or trade up any regular side for an additional $0.80.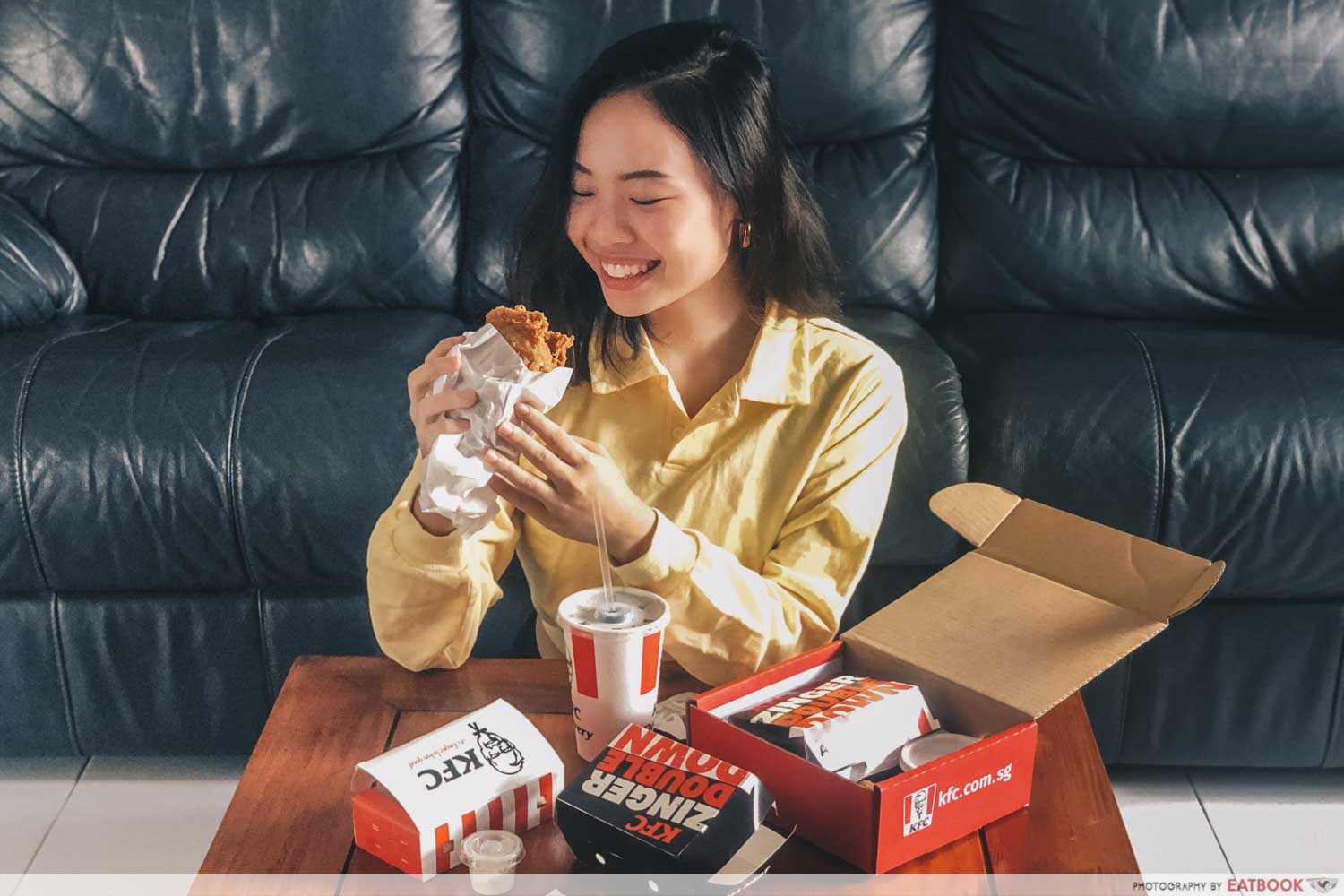 Don't be #FOMO when you start seeing this glorious burger on IG. If this Circuit Breaker has been getting dull for you, the easiest way to get your spirits up is with an indulgent meal—and it's hard to go wrong with fried chicken and cheese.
Before it's gone from the ever-evolving KFC menu, grab yourself a Mozzarella Zinger Double Down from any KFC outlet, with the exception of KFC ARC, Kidzania, JCube, NTU, Toa Payoh Lorong 1, Jewel Changi Airport, Orchard Cineleisure, Takashimaya, Singapore Polytechnic, and Singapore Zoo. 
Alternatively, just put in an order online or via KFC's app, and have it delivered to your doorstep!
Photos taken by Kerrianne Goh.
This post is brought to you by KFC.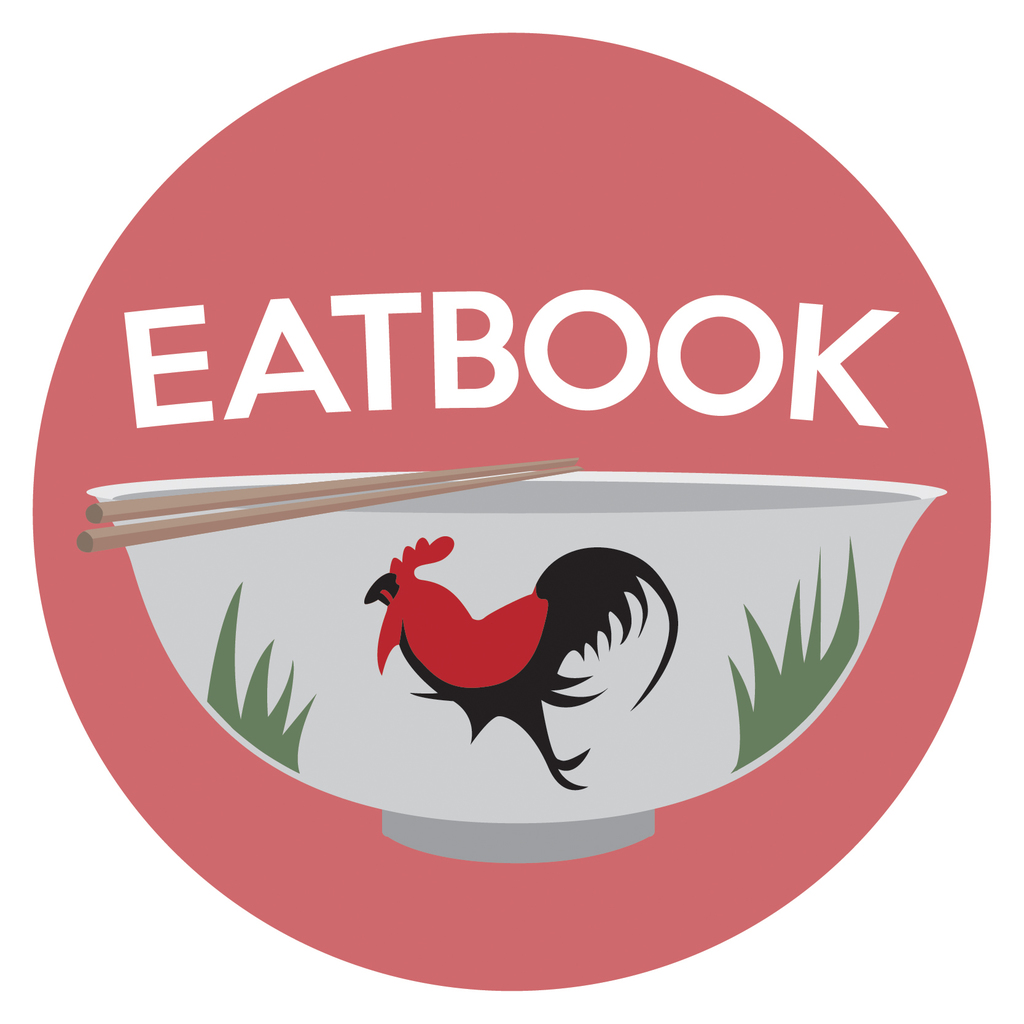 Drop us your email so you won't miss the latest news.