Kinohimitsu Essence of Chicken and The Soup Spoon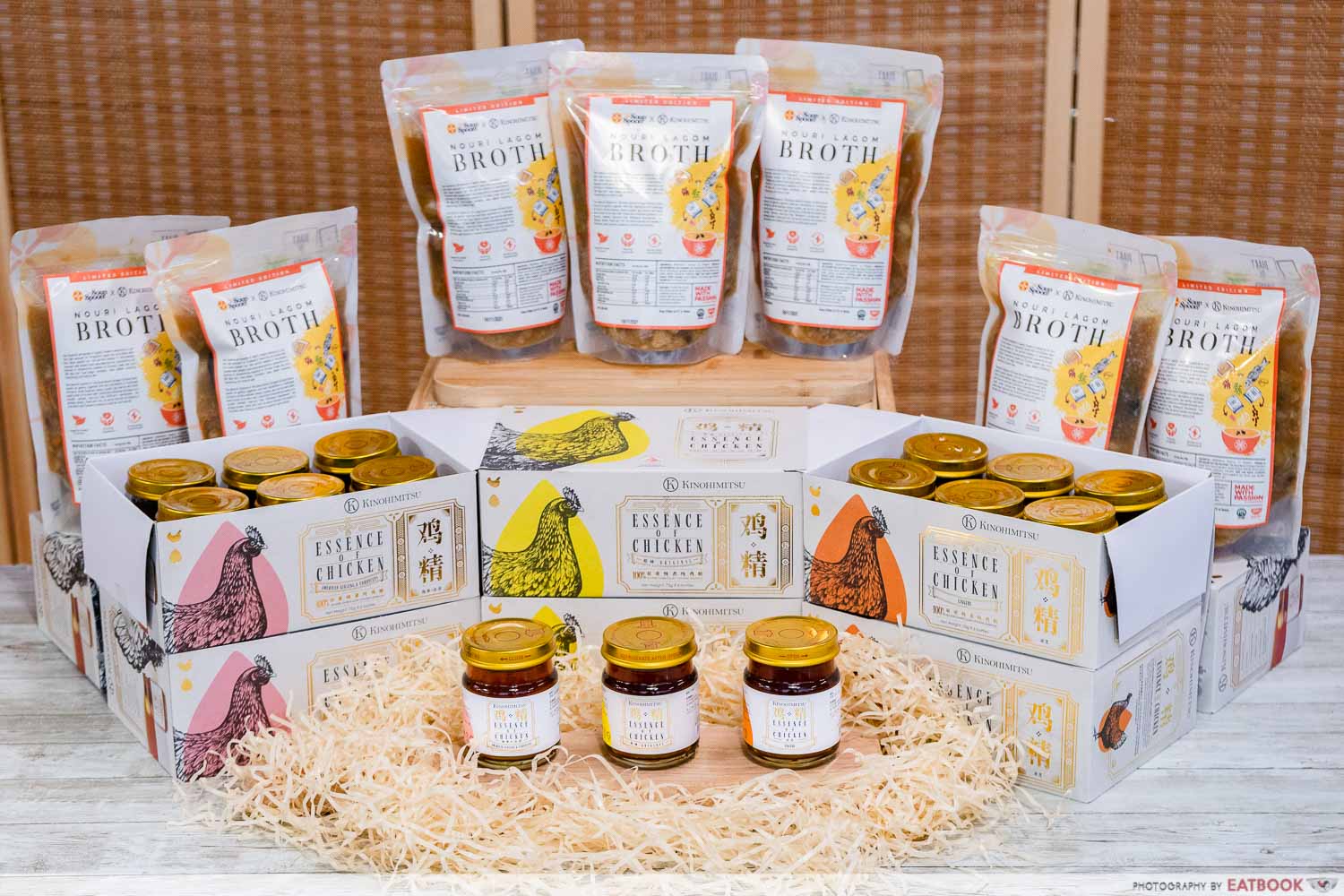 You may be familiar with Kinohimitsu for the brand's functional beauty beverages, such as the popular Collagen Diamond drink. The brand recently introduced their Original Essence of Chicken series, which has now expanded to include two new flavours: Essence of Chicken with Lingzhi, and Essence of Chicken with American Ginseng & Cordyceps. In addition to these, they have collaborated with The Soup Spoon to create a new, limited-edition soup—the Nouri Lagom Broth.
Here's what you should know about all of Kinohimitsu's Essence of Chicken products: they're made with 180-day-old, free range chickens that are antibiotic- and hormone-free. They're double-boiled under high pressure to extract every bit of the nourishing chicken essence, and are made without the use of preservatives, colouring, flavouring, caffeine, or salt. They're also fat- and cholesterol-free, and have been awarded the Healthier Choice symbol by the Health Promotion Board!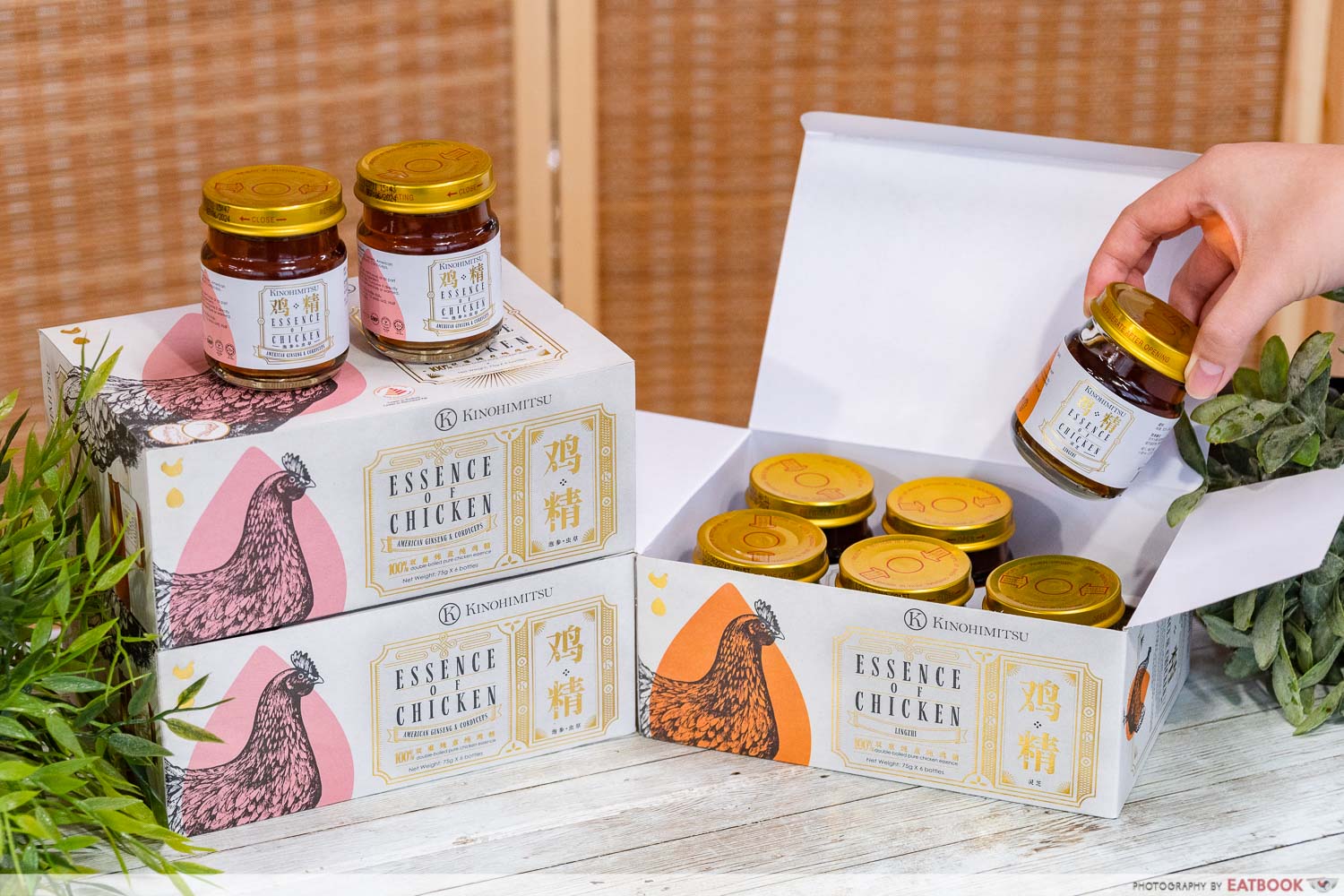 Kinohimitsu's new flavours—Essence of Chicken with Lingzhi, and Essence of Chicken with American Ginseng & Cordyceps—have been specially formulated with specific health benefits in mind. They retail at $22.90 for a box of six bottles, while the Original Essence of Chicken is priced at $19.90 for a box of six bottles.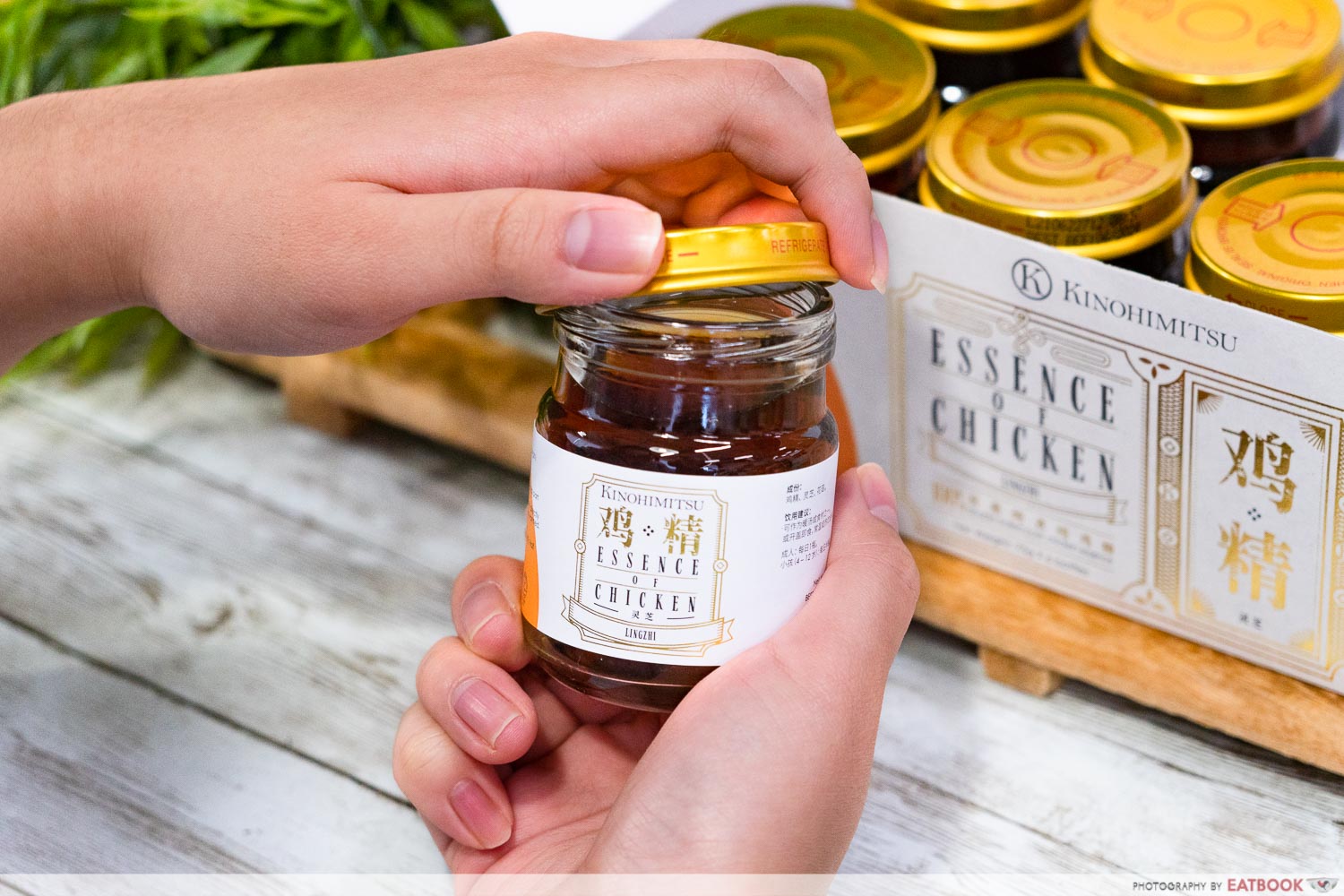 If you're looking for a gift for your parents, grandparents, or an elderly relative, go for the Essence of Chicken with Lingzhi. 
Lingzhi is a type of fungus highly prized in traditional Chinese medicine for its numerous health benefits. Studies have proven that it helps to boost immunity, and may aid in promoting longevity. 
The Essence of Chicken with Lingzhi has anti-viral, anti-bacterial, and antioxidant properties—perfect for bolstering the immune system. Moreover, it supports and promotes gut health.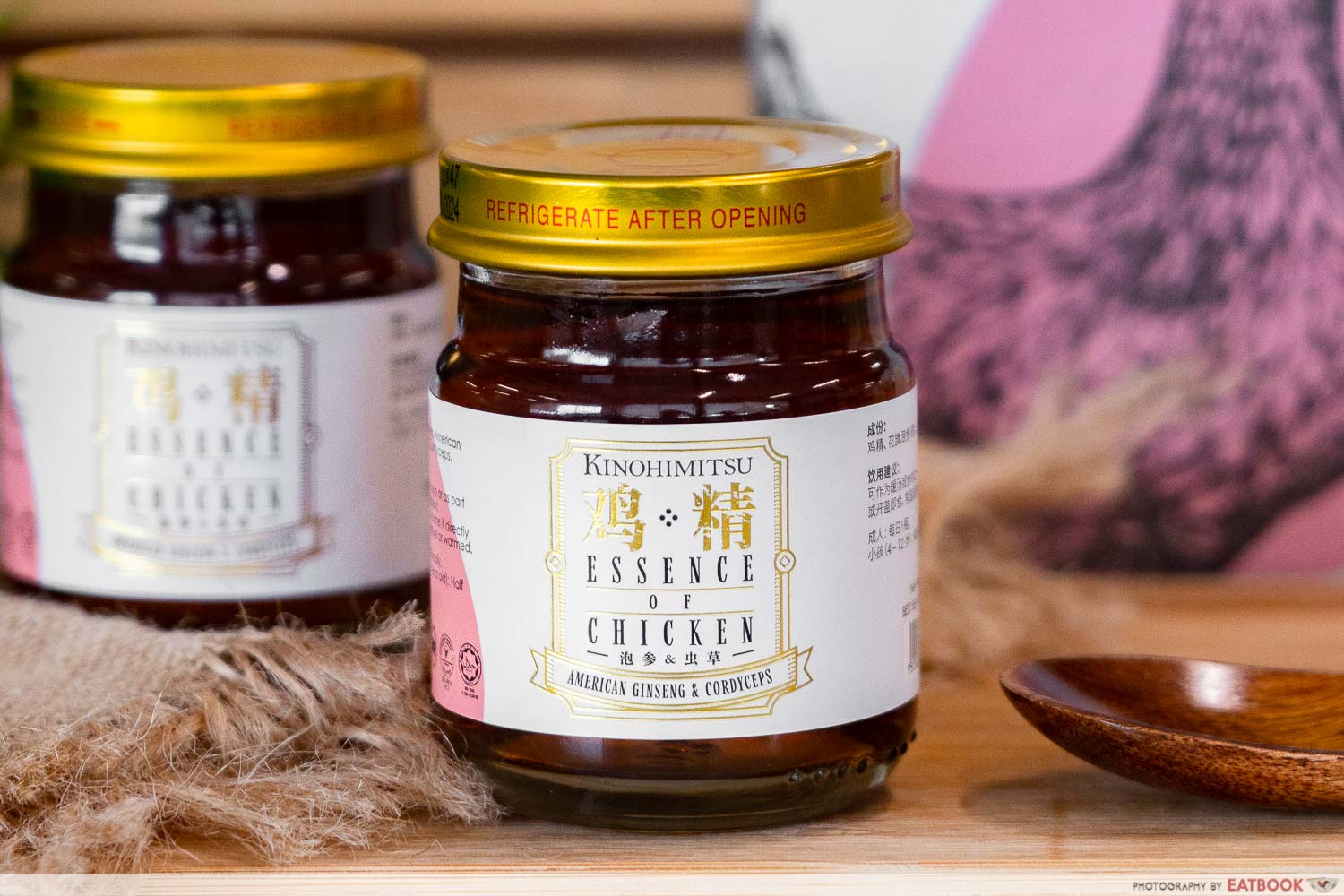 If you are feeling the burnout from a year of WFH, consider Kinohimitsu's Essence of Chicken with American Ginseng & Cordyceps. The combination of American ginseng and cordyceps works wonders to relieve fatigue and lethargy, while helping with memory and cognitive performance.
American ginseng and cordyceps are reputed for their energy-boosting, and stress-relieving properties, with cordyceps having additional anti-inflammatory benefits. The American ginseng gives this Essence of Chicken the strongest flavour of the range, although it's definitely still a palatable drink.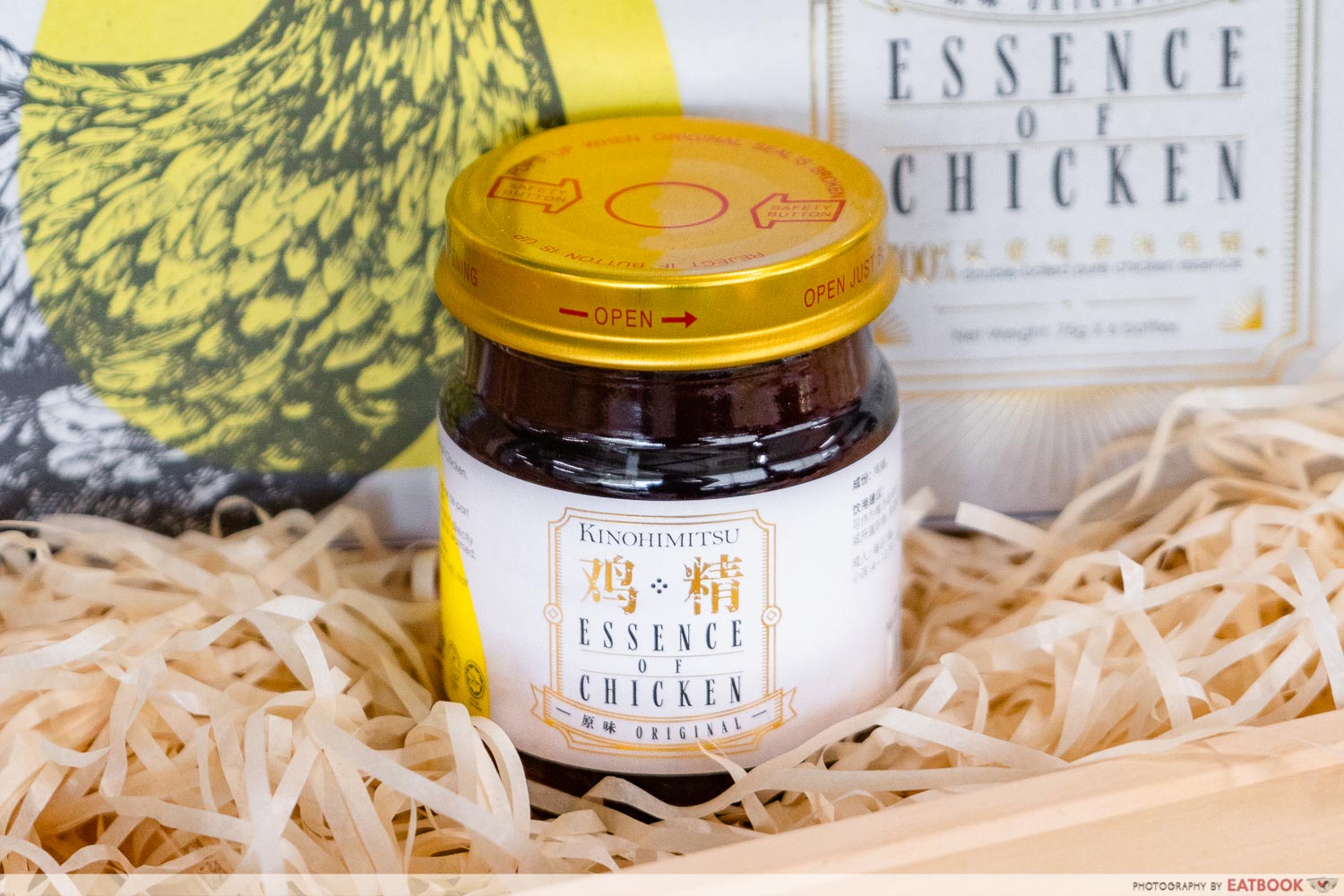 If you prefer the pure, natural flavour of chicken essence, go for Kinohimitsu's Original Essence of Chicken. This flavour is suited for all ages, but is especially recommended for kids above the age of four, and mothers—whether pre- or post-natal.
The daily consumption of this chicken essence is said to improve mental and physical fatigue, boost one's memory, and promote healing and rejuvenation. Moreover, for pregnant women, it has an added benefit of promoting lactation.  
Compared to the other flavours, this essence is light and savoury, without a herbaceous taste that might not sit well with everyone.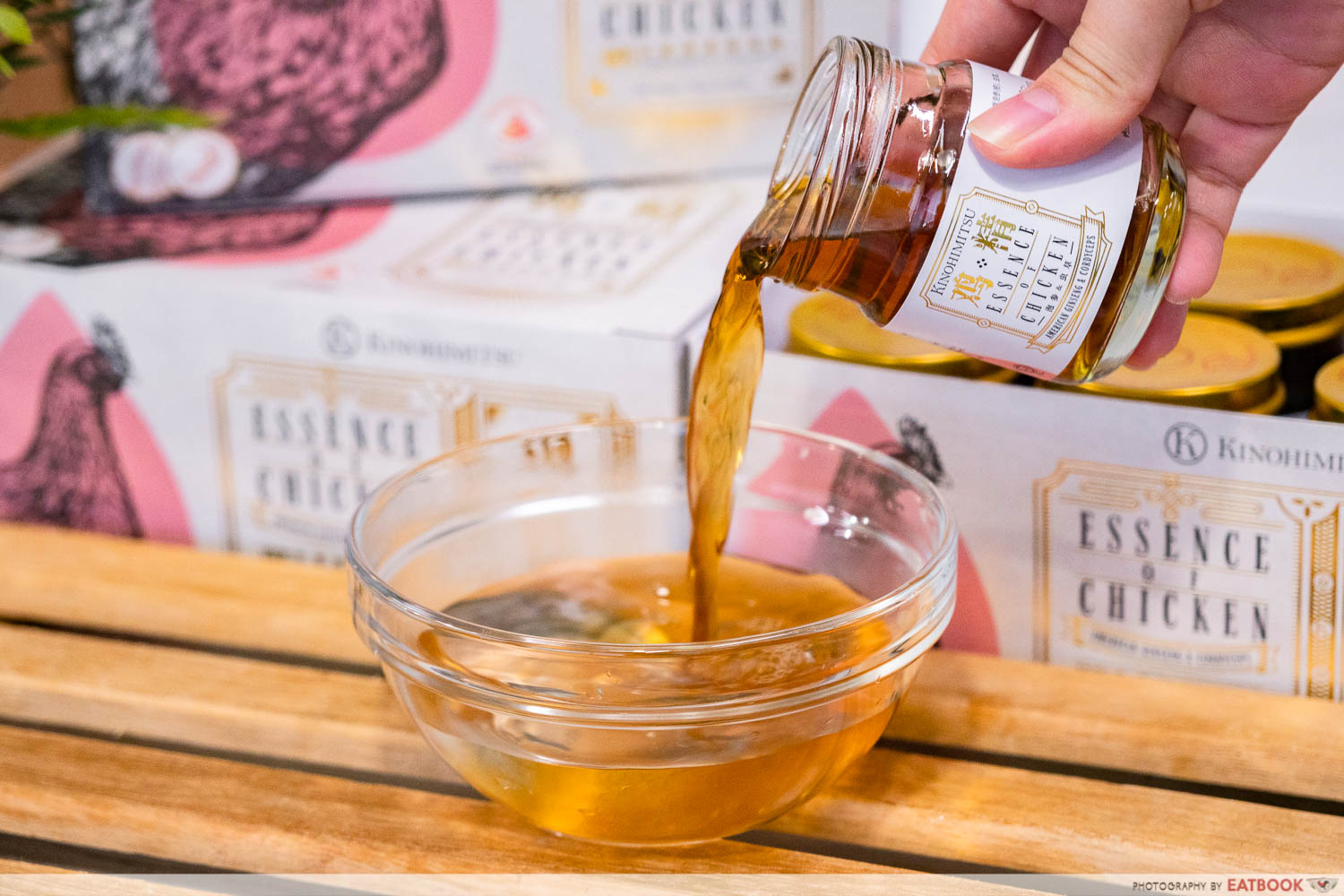 However, if you still dislike the taste of chicken essence, try integrating one or two bottles into your daily meals. One option is to use it when you cook. Alternatively, dilute it with hot water and serve it as chicken soup!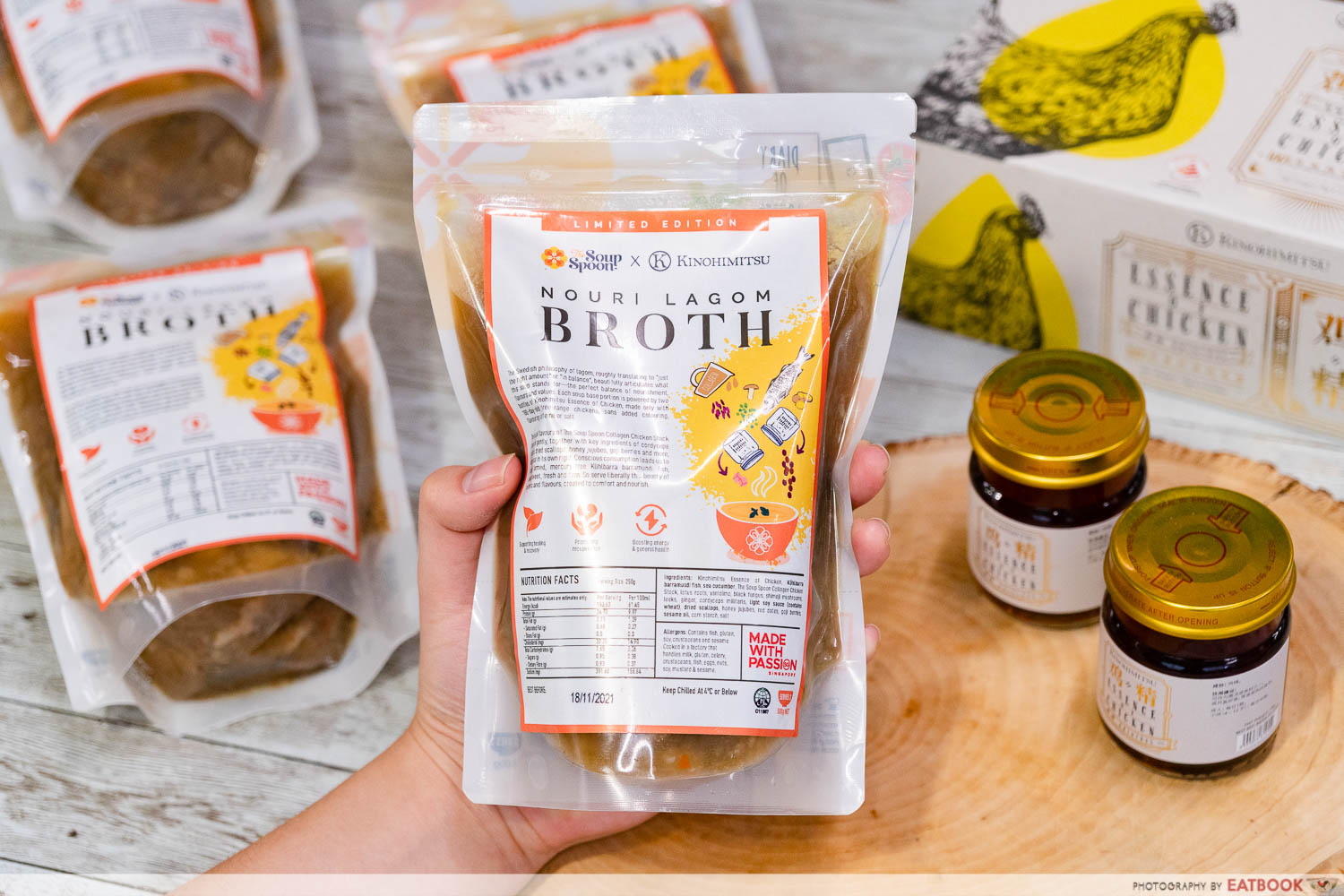 For those who aren't proficient in the kitchen or just want a quick hack, there's good news: Kinohimitsu has collaborated with The Soup Spoon to create the Nouri Lagom Broth, a new, limited-edition soup.
You may have seen The Soup Spoon's MSG-, preservative-, and artificial flavouring-free soups in many malls across the island. The new Nouri Lagom Broth is all that and more; it's zhnged-up with Kinohimitsu's very own Essence of Chicken.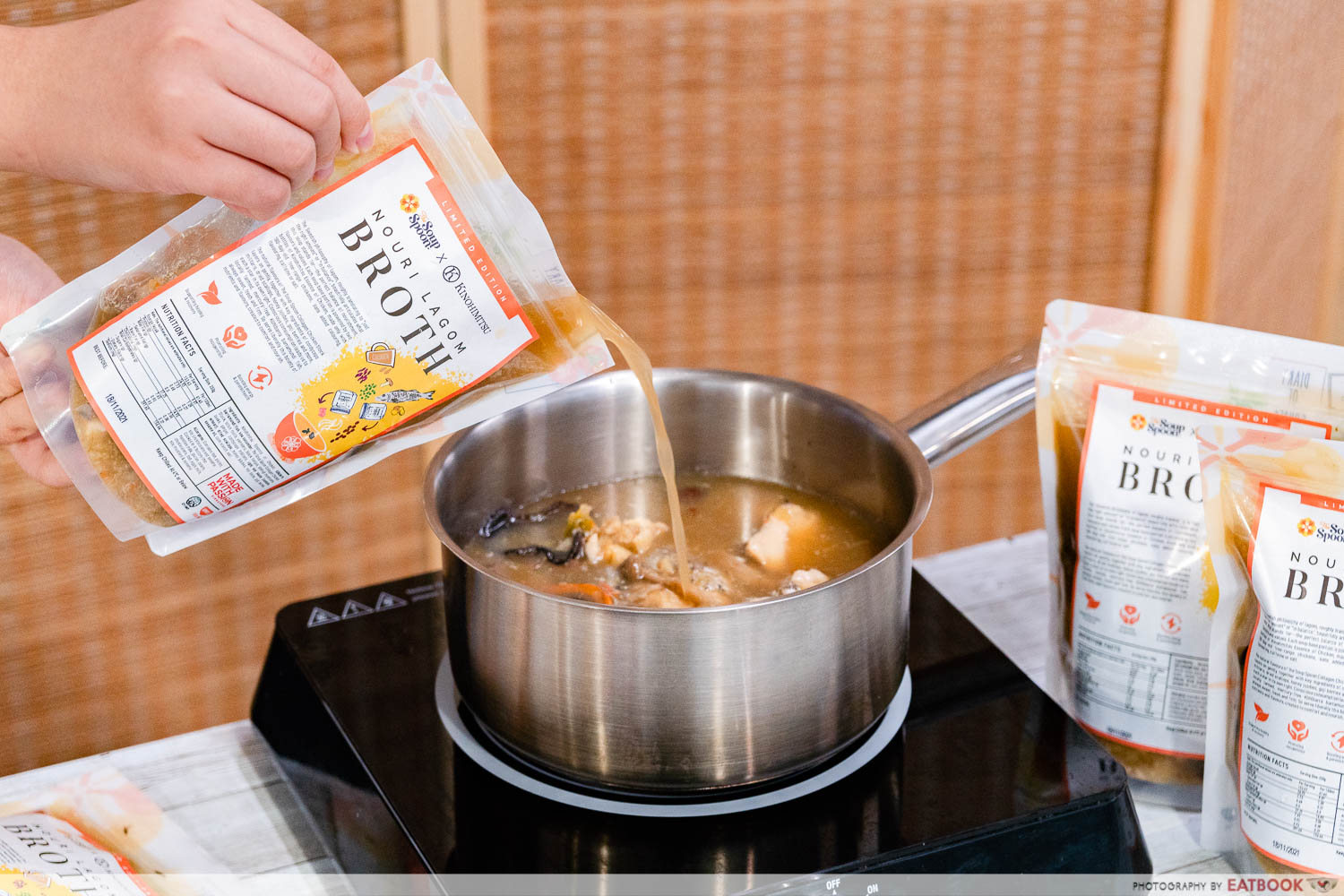 Retailing at $16.90 a pack for a portion that's good for two to share, each bag of Nouri Lagom Broth contains two bottles of Kinohimitsu's original Essence of Chicken, with a base of The Soup Spoon's Collagen Chicken Stock. 
The broth is packed with light and natural flavours, with fortifying ingredients including cordyceps, dried scallops, goji berries, honey dates, and more. There are also chunks of mercury-free, locally farmed Kühlbarra barramundi in the mix, which give the soup its sweetness and body. 
Not only does it taste good, the Nouri Lagom Broth claims to have several health benefits, including promoting healing and recovery—especially for postnatal mothers—giving a boost of energy, and improving overall health. It's a great way to sneak in added nutrients for kids who might not like the taste of chicken essence!
The Nouri Lagom Broth has flavours that go well with any dish, making this a quick and nutritious add-on to mealtimes. Alternatively, it's hearty enough to enjoy on its own too!
Simply pour the contents of the soup pack into a pot, and bring it to a boil, stirring occasionally. If you're tight on time, empty the soup into a bowl, and pop it into the microwave for four minutes on high heat.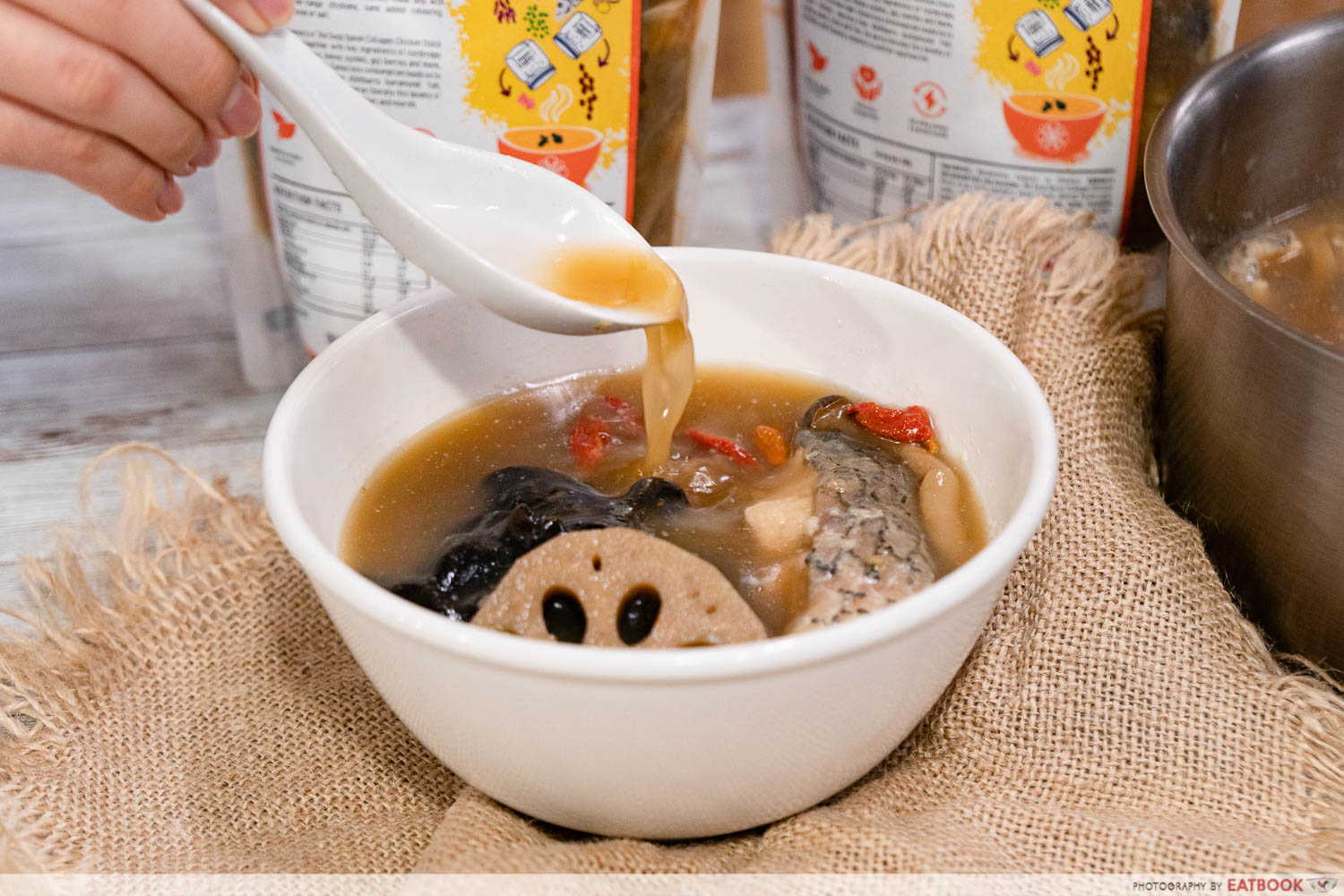 Only 800 packs of the Nouri Lagom Broth are in stock. Get your hands on this soup at any The Soup Spoon outlet, or on The Soup Spoon's website, while stocks last. It's only available for a limited time, so get it quick!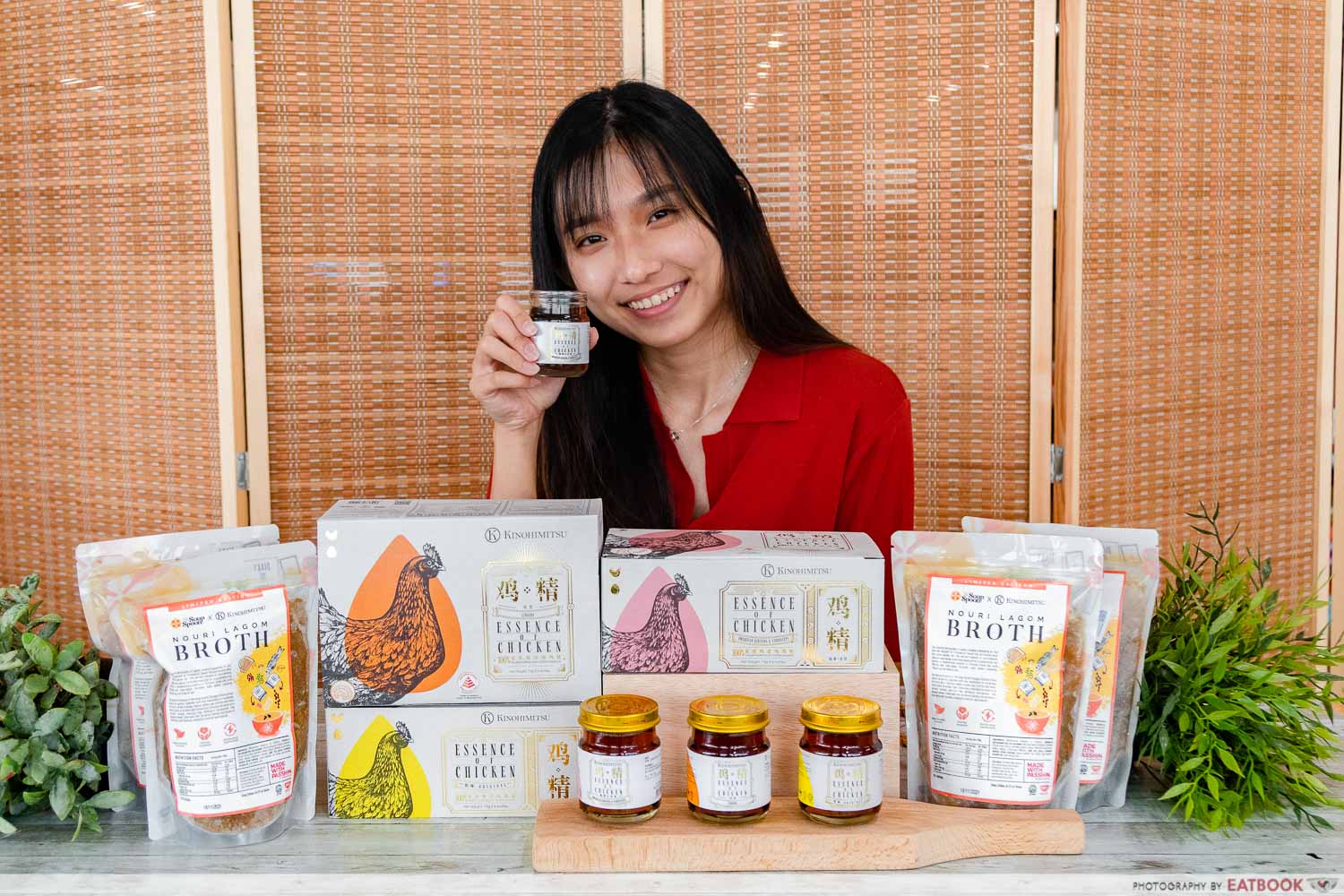 Stock up on Kinohimitsu's Essence of Chicken at Kinohimitsu stores, Guardian, Watsons, FairPrice, Prime Supermarket, SPC, and Caltex stations. Otherwise, you can get them online at the Kinohimitsu e-store, Qoo10, Lazada, Shopee, Taobao, iShopChangi, KrisShop, EZBuy, and the Guardian and Watsons e-stores.
Photos taken by Keith Kok.
This post is brought to you by Kinohimitsu.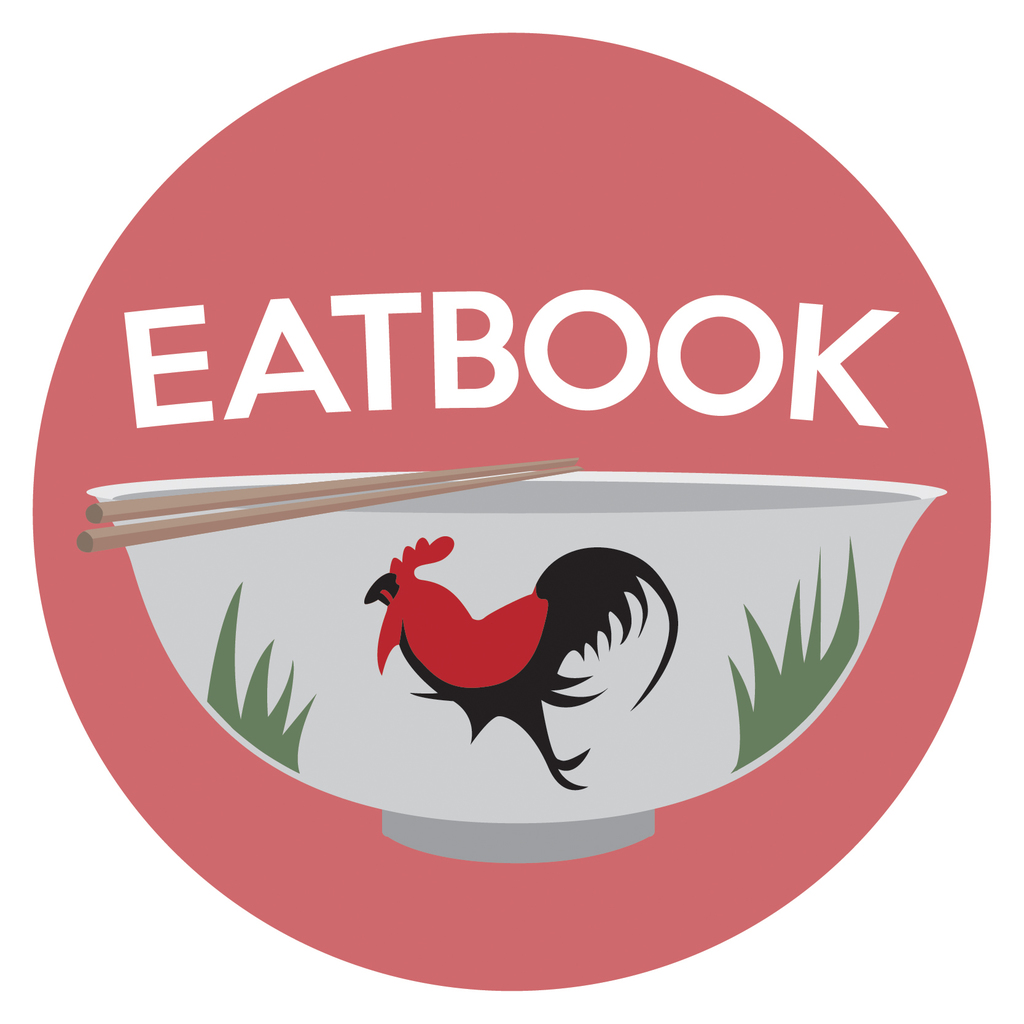 Drop us your email so you won't miss the latest news.