Lab Made experiments with liquid nitrogen ice-cream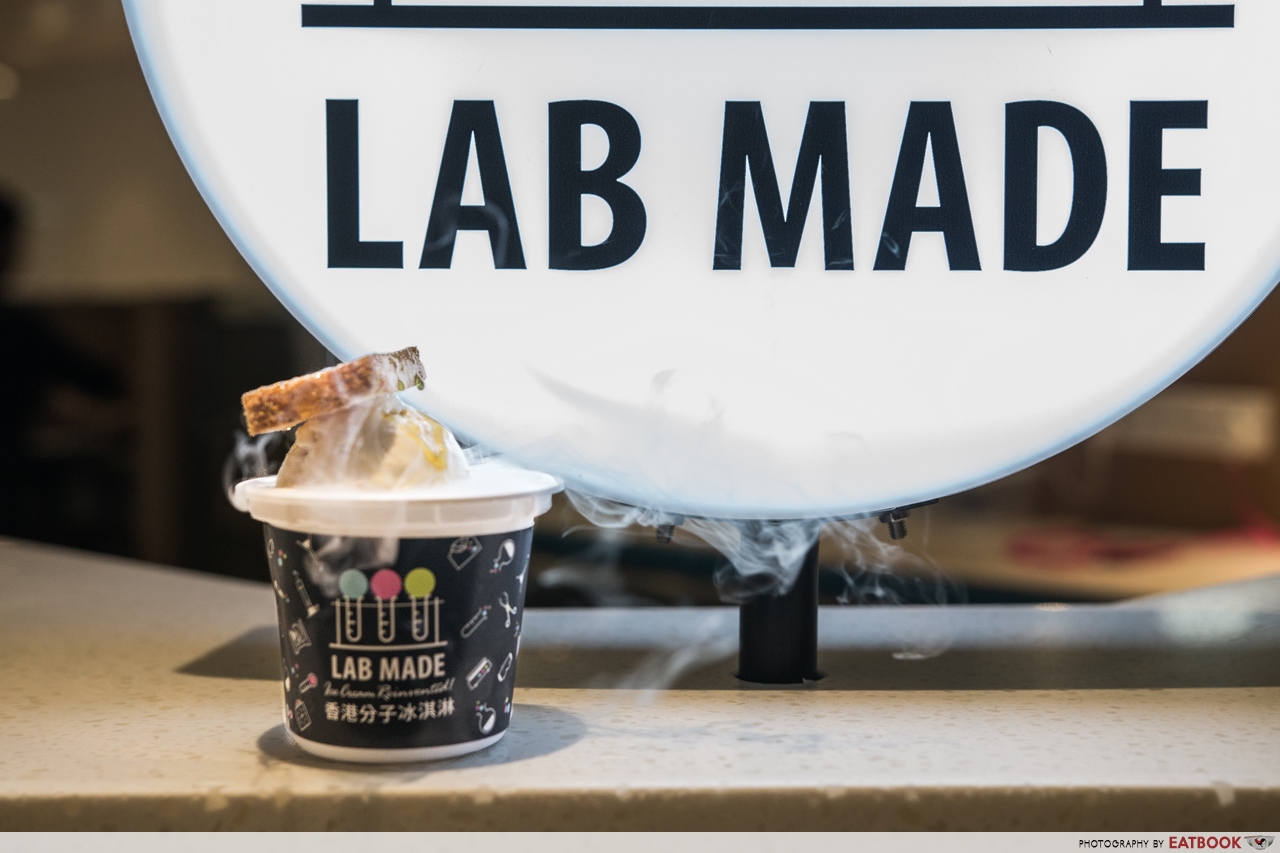 Let's be real, there's always space for ice-cream. And with an array of creative ice-cream desserts popping up all over Singapore, it gets harder and harder to decide on where to go for this cold, creamy treat. If you live in the West, an ice-cream shop worth checking out is Lab Made.
Founded in Hong Kong, Lab Made serves liquid nitrogen ice-cream that's free from preservative. But be warned, the ice-cream melts really fast due to the lack of stabilisers, so unless you want to turn it into a milkshake, eat it fast!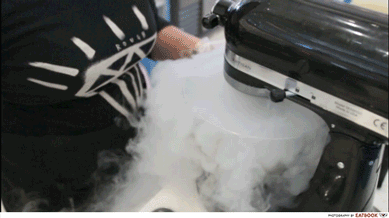 Instead of using the traditional method of freezing ice-cream, Lab Made makes their ice-cream in a standing mixer within two minutes. Each flavour is created by churning ice-cream bases with specific toppings. Liquid nitrogen, the most important ingredient, is then slowly incorporated into the mixer to freeze the ice-cream.
This rapid-freezing technique creates ice-cream with little to no ice crystals, resulting in a creamy and smooth texture.
Ice-cream at Lab Made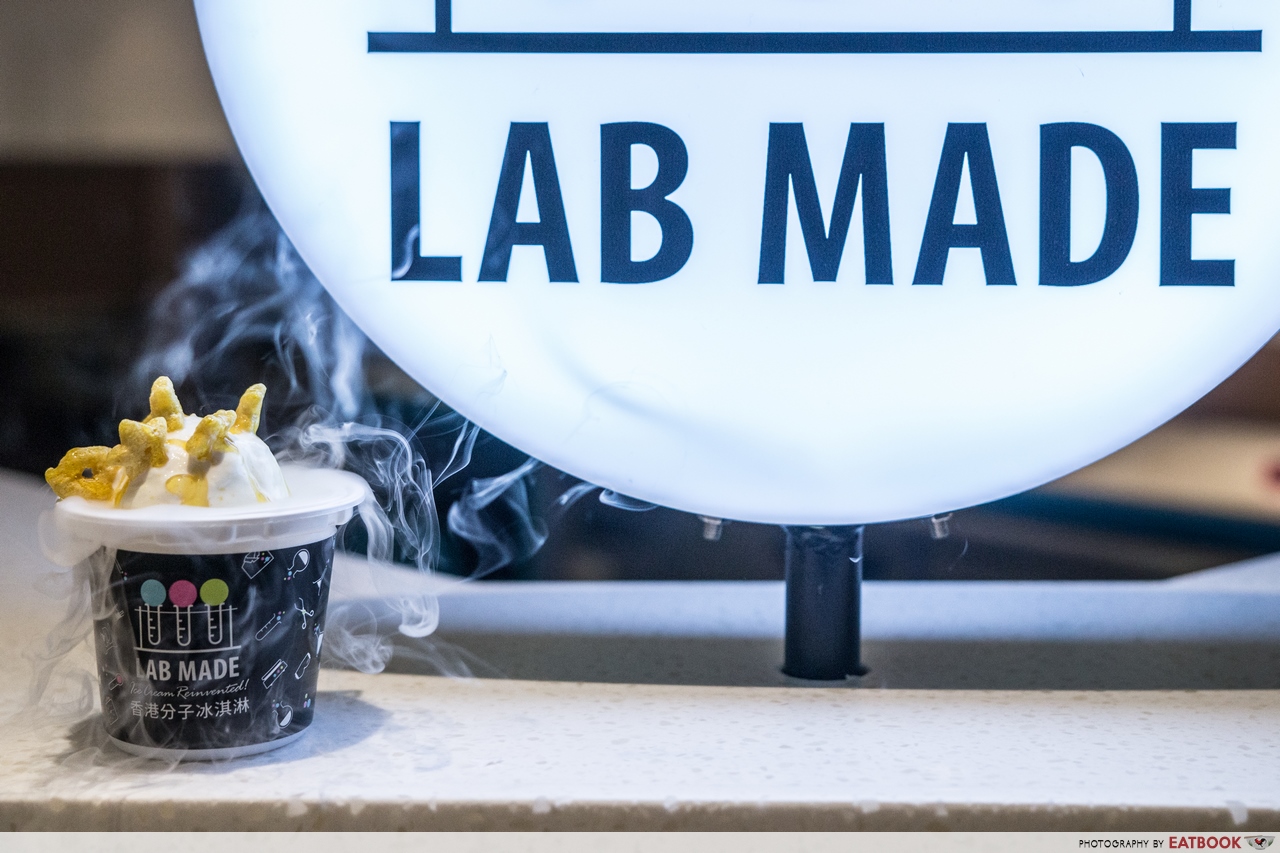 We intended to order all four items on their menu, but unfortunately, they ran out of Beancurd Dessert ($6.90) ice-cream, so we had to make do with the other three flavours.
Crunchy Sea Salt with Caramel ($6.90) is their most popular flavour. Pieces of Honey Stars cereal were blended into a sea salt ice-cream mixture, creating a sweet crunch that contrasted with the ice-cream.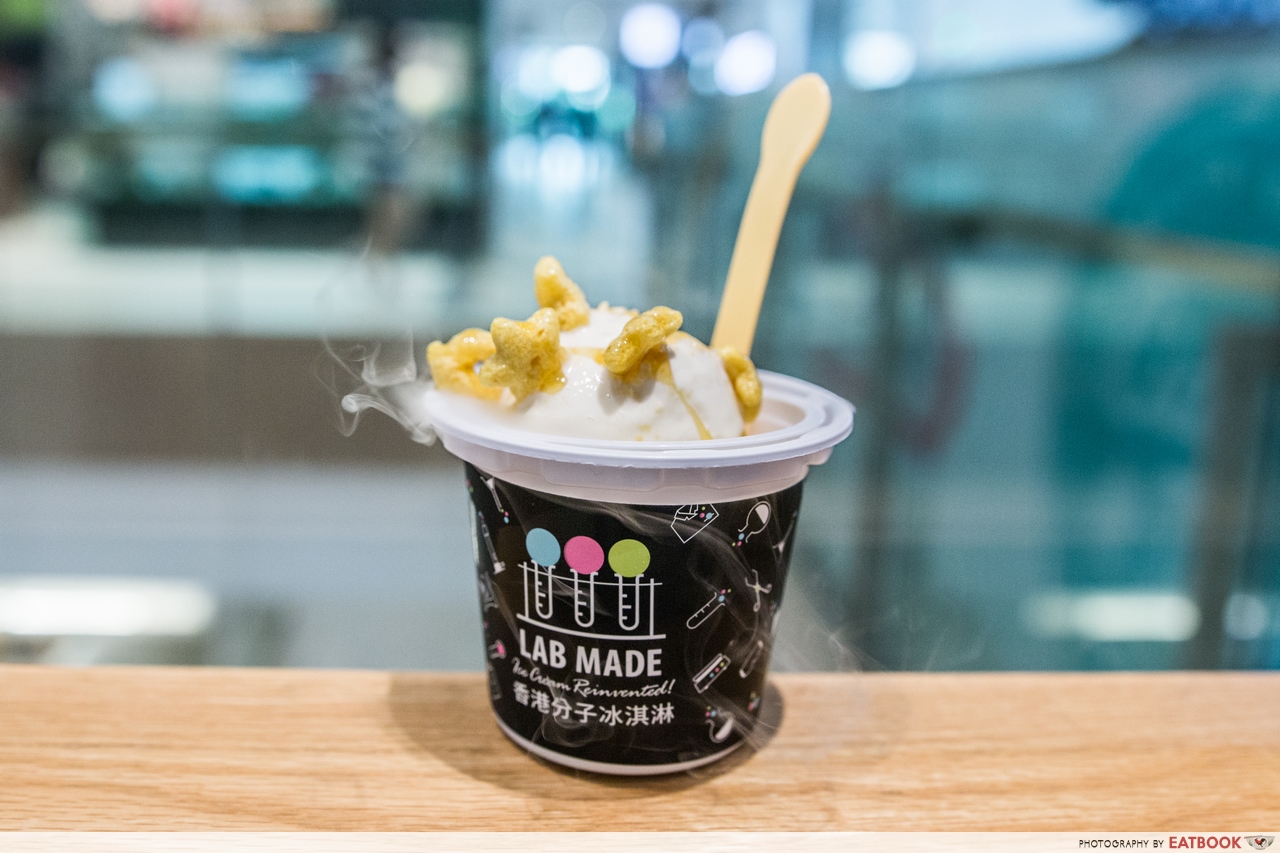 Studded with more Honey Stars and drizzled with a touch of caramel sauce, these tiny candied cereal bits complemented the ice-cream by adding another dimension of sweetness – different from that of the caramel sauce. This salty-sweet combination really got me hooked, no wonder this is their bestseller!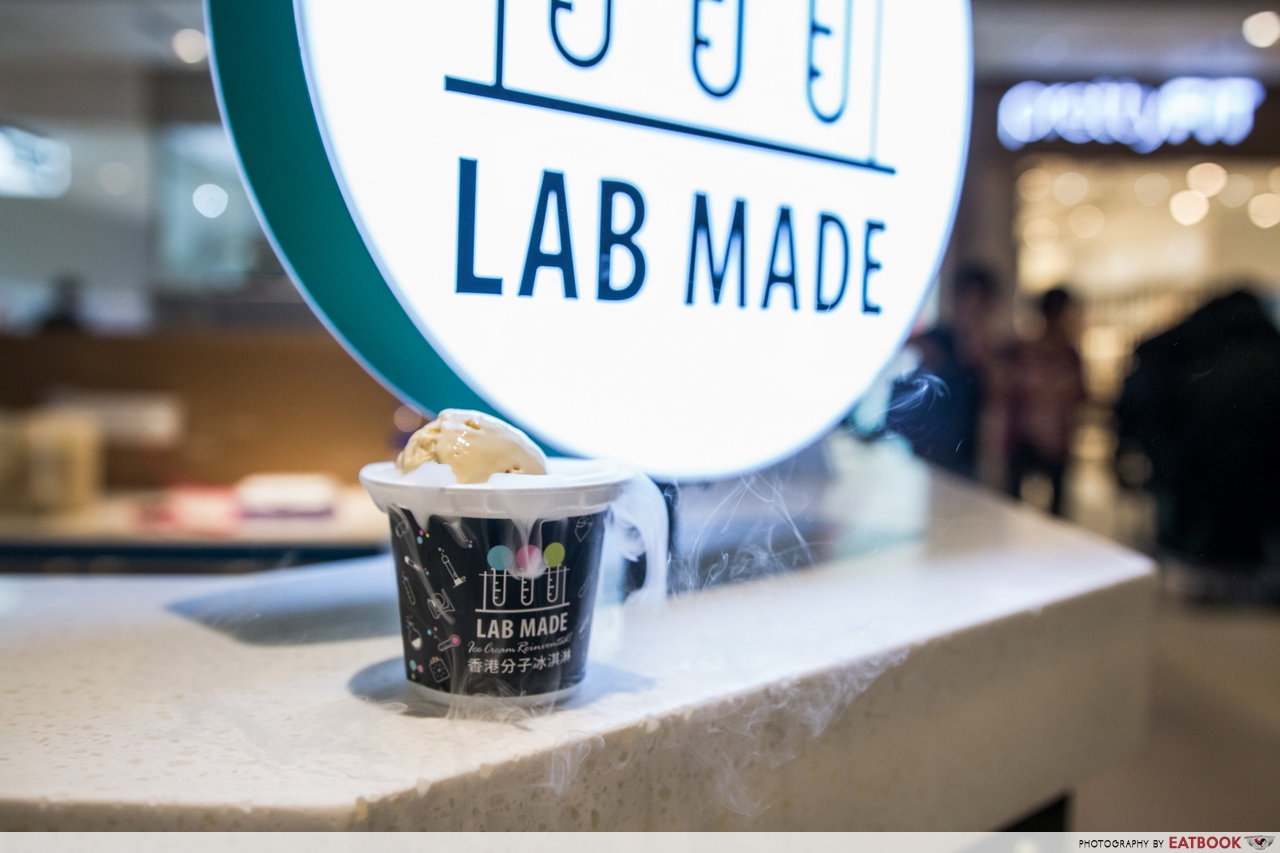 The last time I tried salted egg yolk gelato, the texture was lumpy and rough, with little salted egg yolk flavour – a major disappointment. Hence, I had low expectations for their Salted Egg Yolk Custard Bun ($6.90) ice-cream.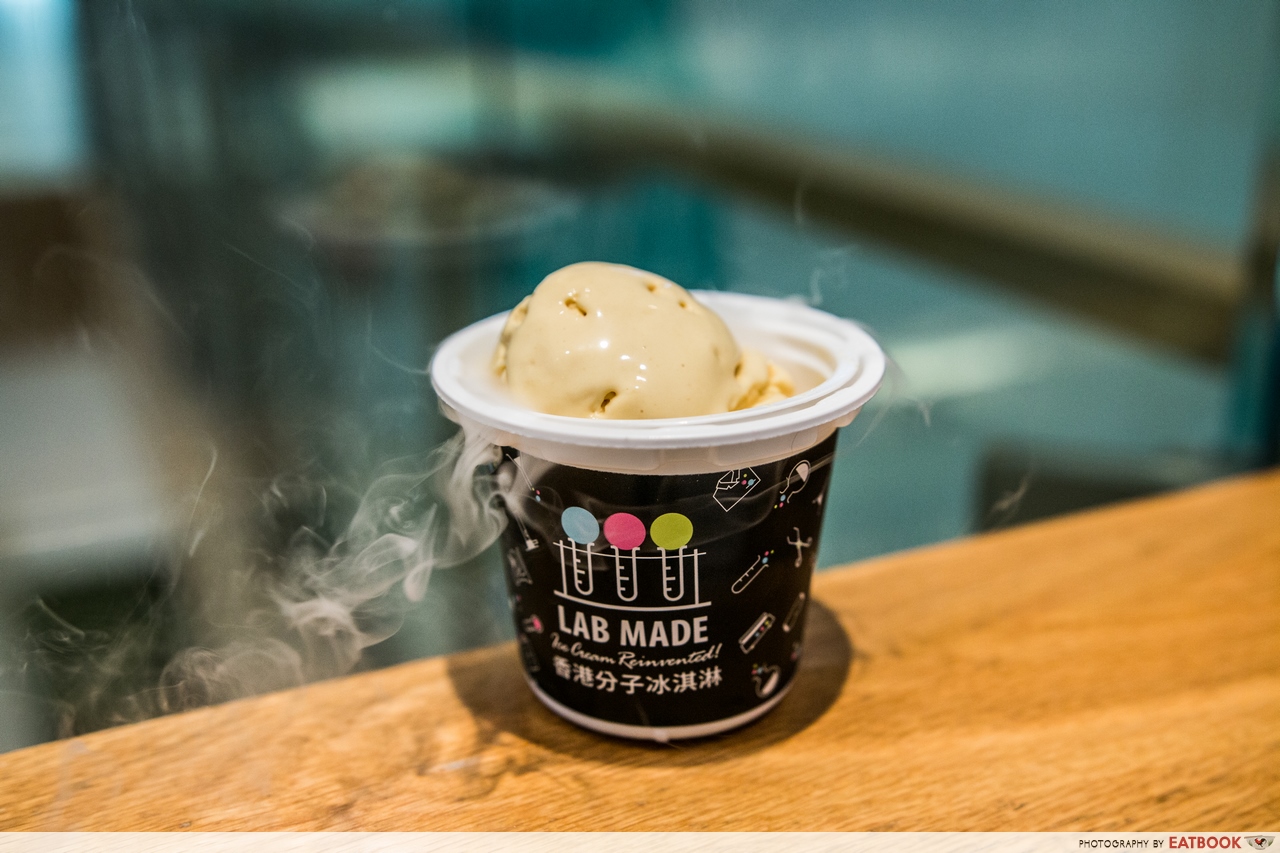 But upon taking my first mouthful, the creamy ice-cream melted almost instantly, leaving a deep, lingering salted egg yolk flavour. I like how the taste of salted egg yolk was evenly spread out, and remained rich till the very last scoop. My only complaint was the gritty residue left behind on my tongue.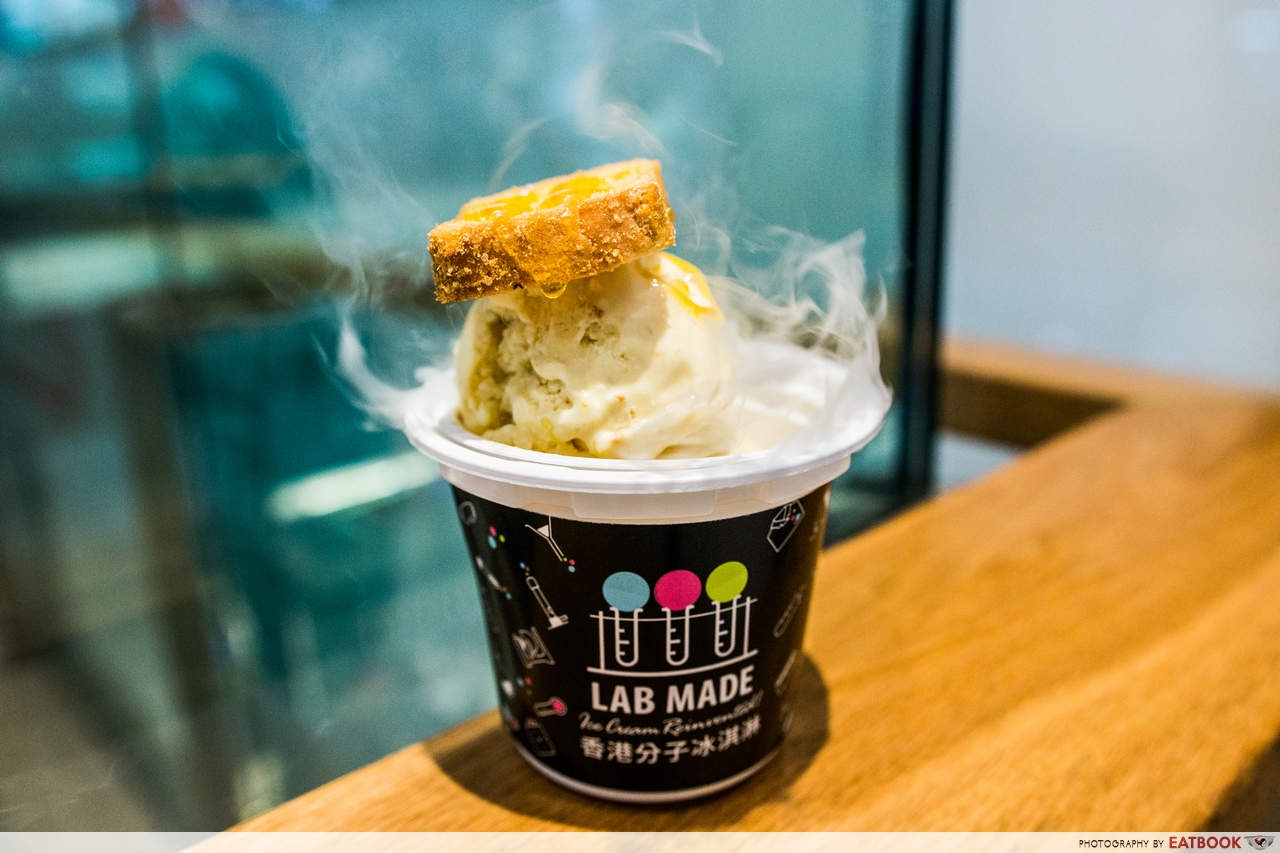 Out of all three flavours, this HK French Toast ($6.90) ice-cream looked the most enticing. However, don't go expecting a legit piece of French toast like I did, because "French toast" refers to a small rectangular piece of crunchy sugar-coated toast drizzled with honey.
The ice-cream base was blended with another piece of "French toast", adding a light, sugary crunch that stood out against the otherwise plain ice-cream.
Tip: use the toast as a spoon to scoop out the ice-cream and get a good mouthful of crispy toast and smooth ice-cream!
Ambience at Lab Made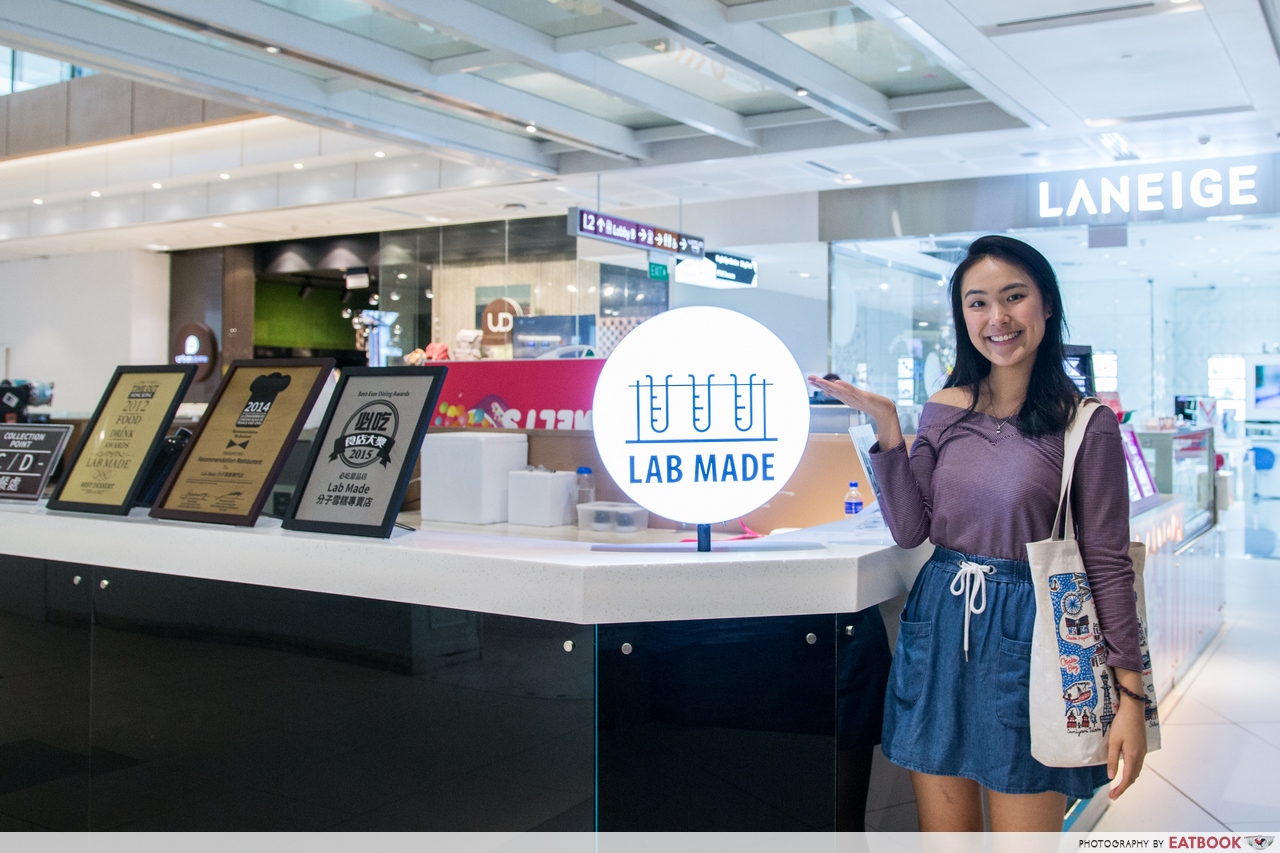 Conveniently located on the fourth floor of Westgate, it is easy to spot Lab Made given their bright sign and numerous awards on display. Watch the staff prepare your ice-cream on the spot, and have your camera ready to take a Boomerang of the smoking liquid nitrogen!
It would be good if they had a seating area for people who would love to sit down and have a chat over ice-cream.
The verdict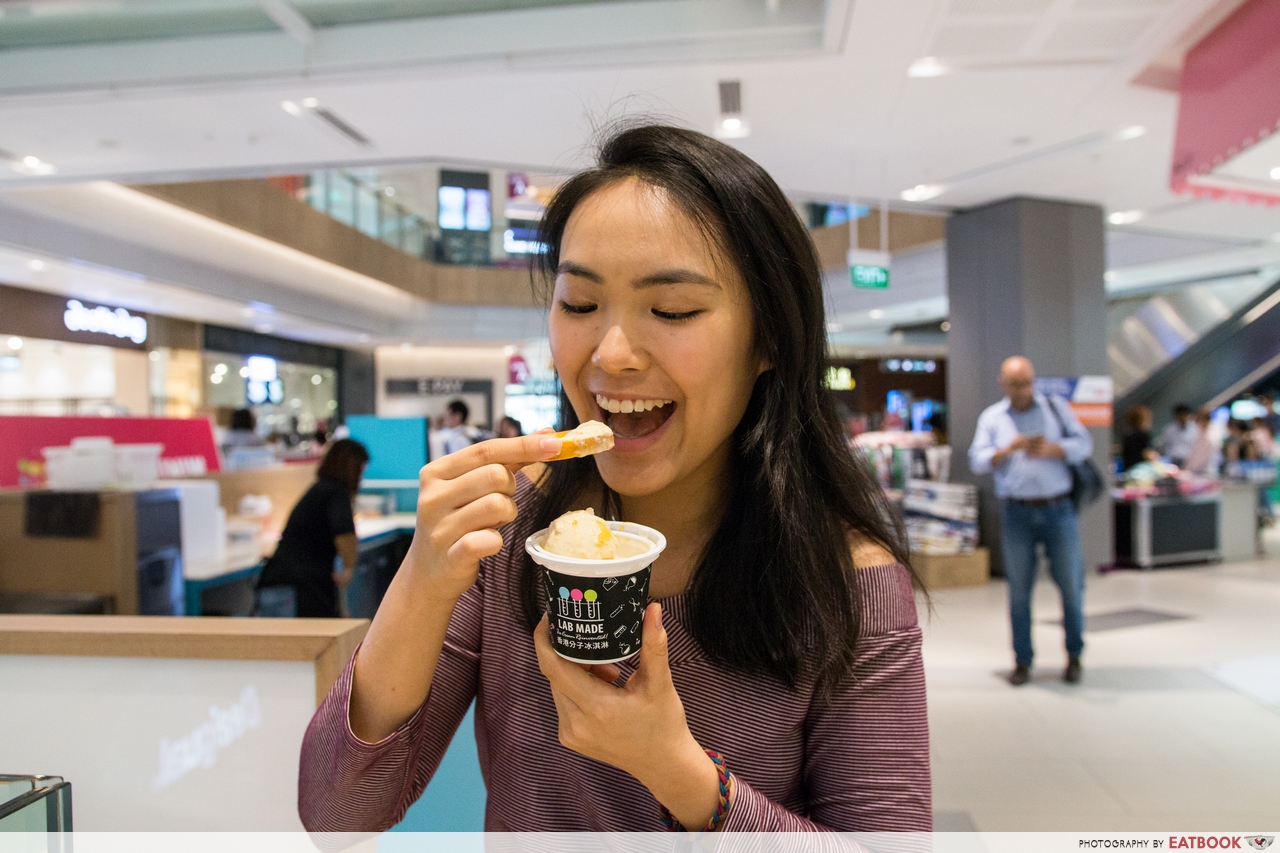 Liquid nitrogen ice-cream is not new to Singapore's food scene. Although there are other liquid nitrogen ice-cream shops around, Lab Made stands out with quirky flavours that are hard to get elsewhere.
This is an independent review by Eatbook.sg.
Summary
Pros
– Good service
– Unique ice-cream flavours made fresh upon order
– Interesting to watch staff prepare ice-cream with liquid nitrogen
Cons
– Pricey for the portion
– Inconvenient for people who don't live in the West
– Limited flavours
Recommended Dishes: HK French Toast ($6.90), Crunchy Sea Salt with Caramel ($6.90), Salted Egg Yolk Custard Bun ($6.90)
Operating Hours:
Daily 12pm to 9pm
Address: 3 Gateway Drive, L2-K3, Westgate, Singapore 608532