My Little Buddy Cafe is Southeast Asia's first LINE FRIENDS and BT21 pop-up cafe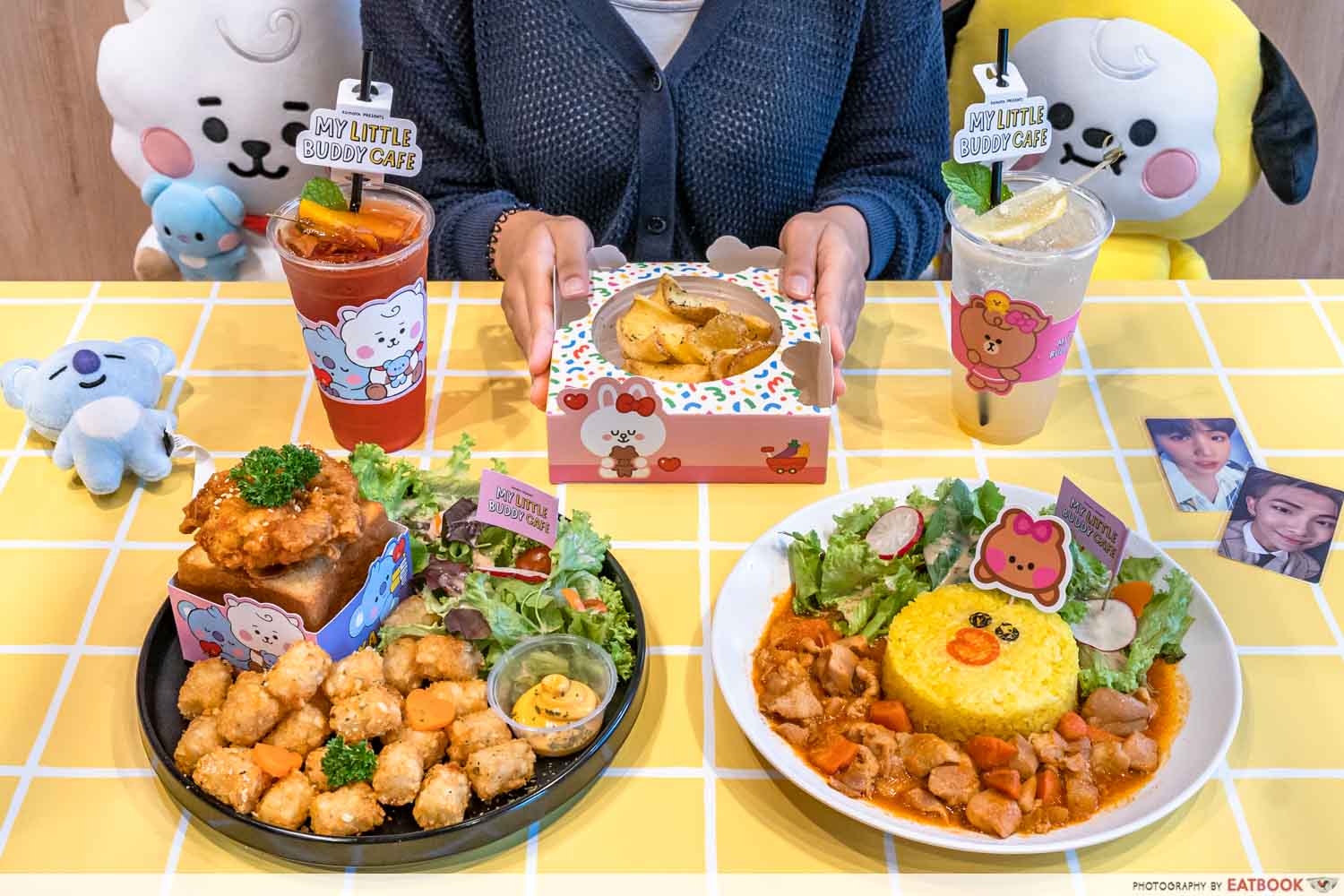 As an avid fan of the K-pop boy band BTS, I was more than happy to be given the opportunity to review the new My Little Buddy Cafe by Kumoya, featuring BT21 and LINE FRIENDS. If you aren't familiar with these terms, BT21 is a set of avatar characters created by Korean band BTS in collaboration with LINE FRIENDS. This is also the first such cafe concept in Southeast Asia!
Like all Kumoya pop-ups, the menu was specially designed in collaboration with local bento artist Shirley Wong, AKA Little Miss Bento, and prepared with halal-certified ingredients.
Food at My Little Buddy Cafe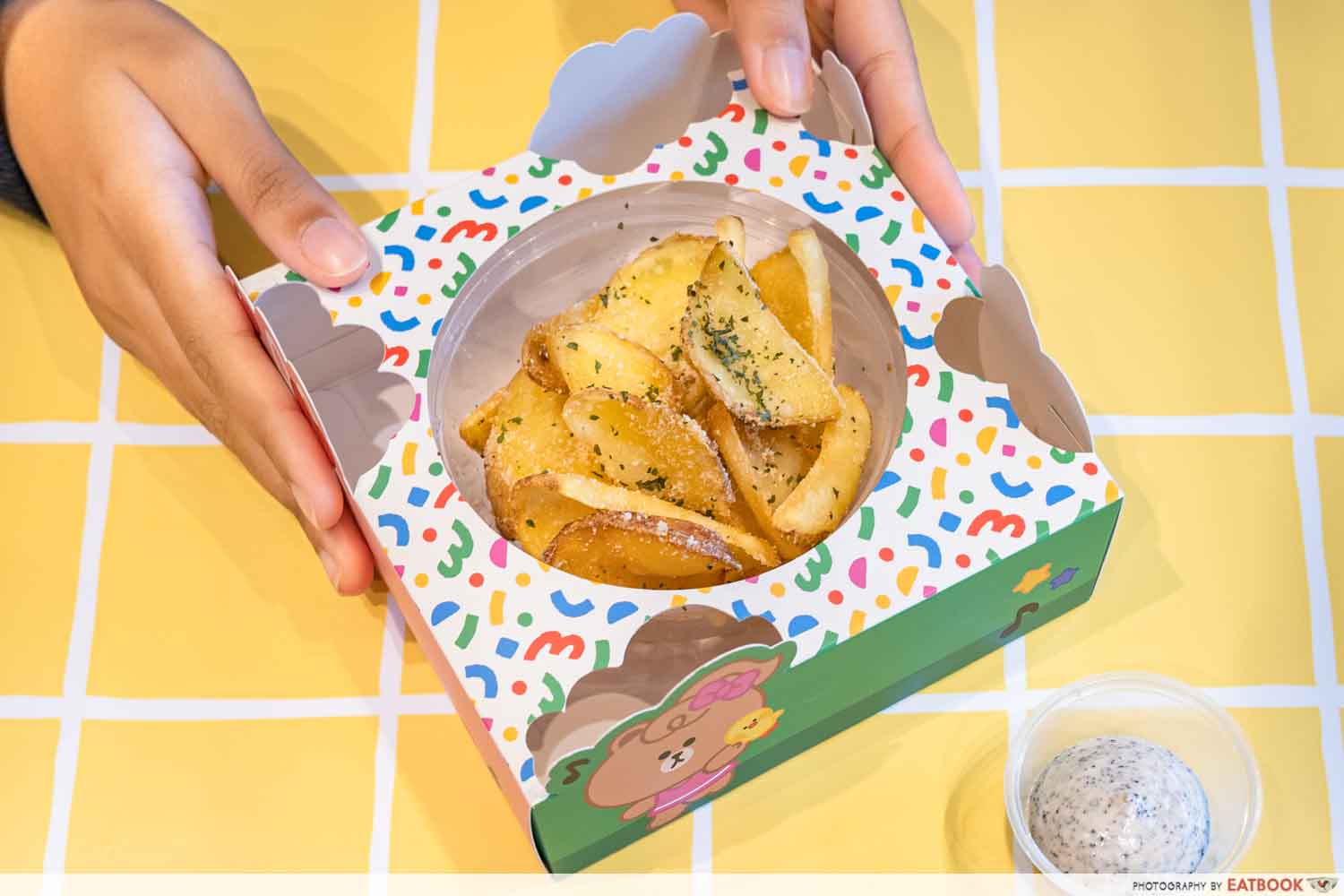 One of my favourite starters to order is truffle fries. Thus, the first dish I got was the Hand Cut Truffle Fries ($14.90+), which came with a truffle mayonnaise dip.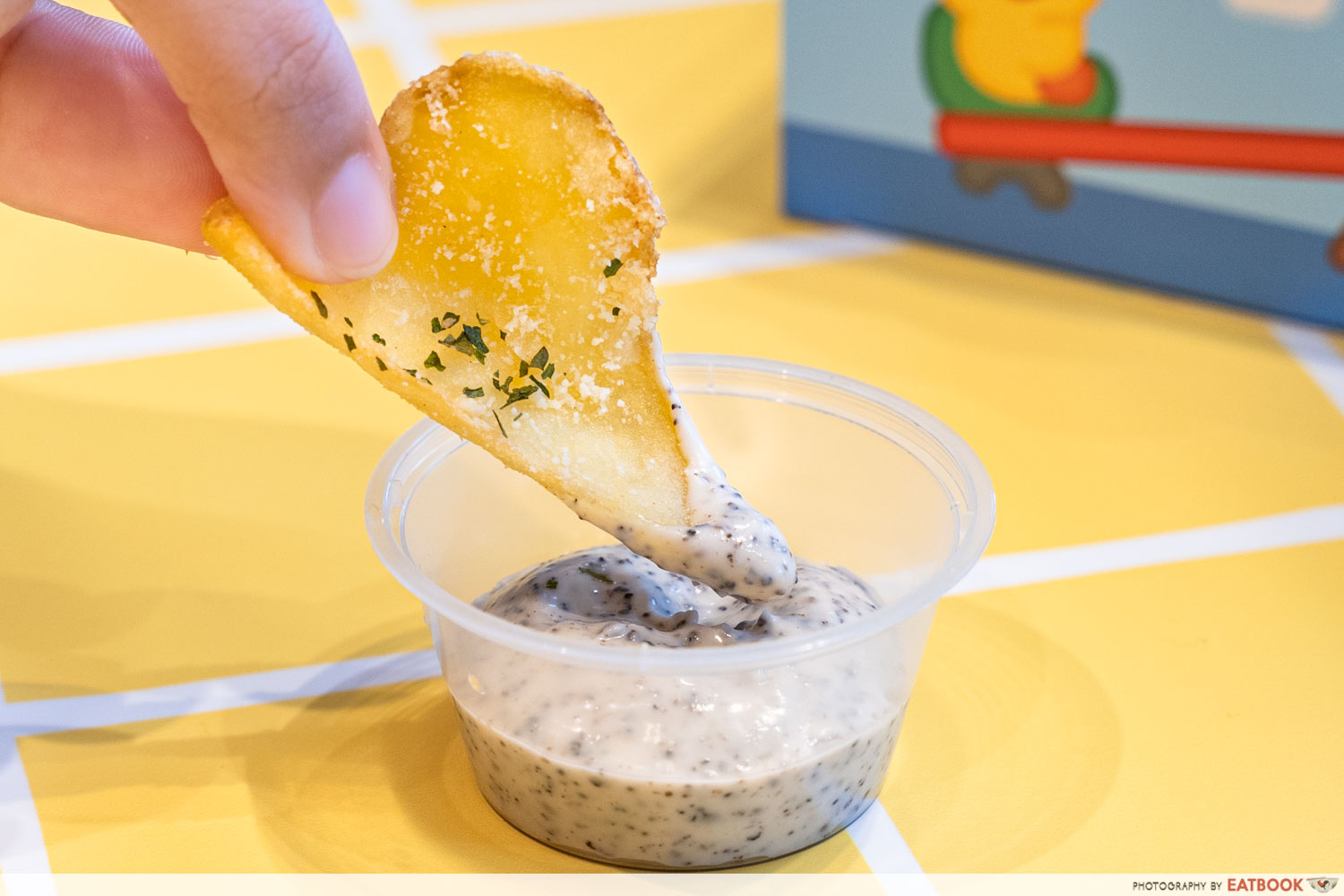 Unlike other French fries I'm used to, these fries were like potato wedges but much thinner. They remained light and fluffy on the inside, with a crisp crust that held onto the truffle dip really well. The truffle taste was quite pronounced, and I appreciated how it was not too salty either.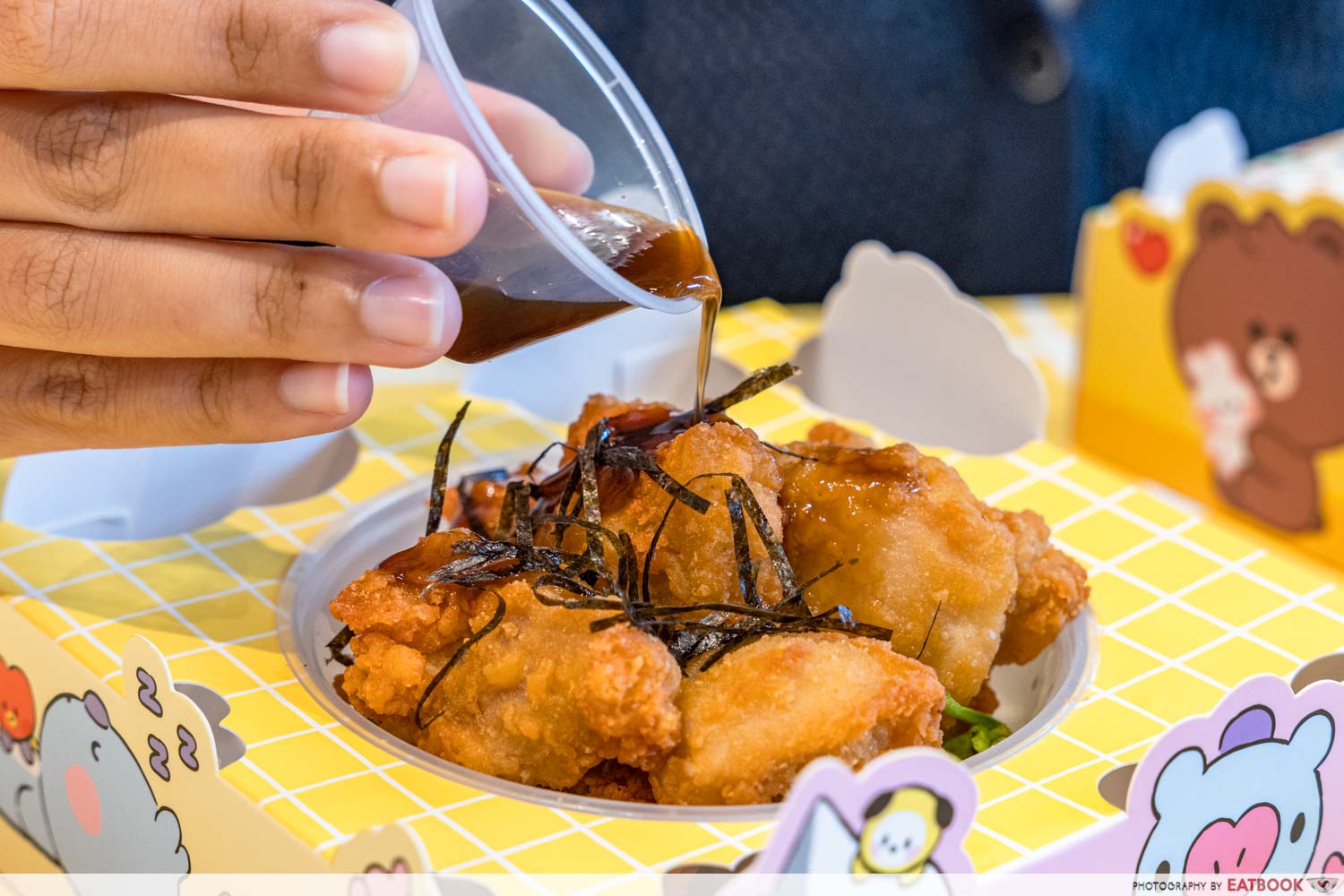 We also ordered the Karaage Chicken with Soy Garlic Glaze ($15.90+) with the special Cheese Cheolpan at an additional $9.90+. I liked how the restaurant served the glaze separately, as it prevented the chicken from getting soggy.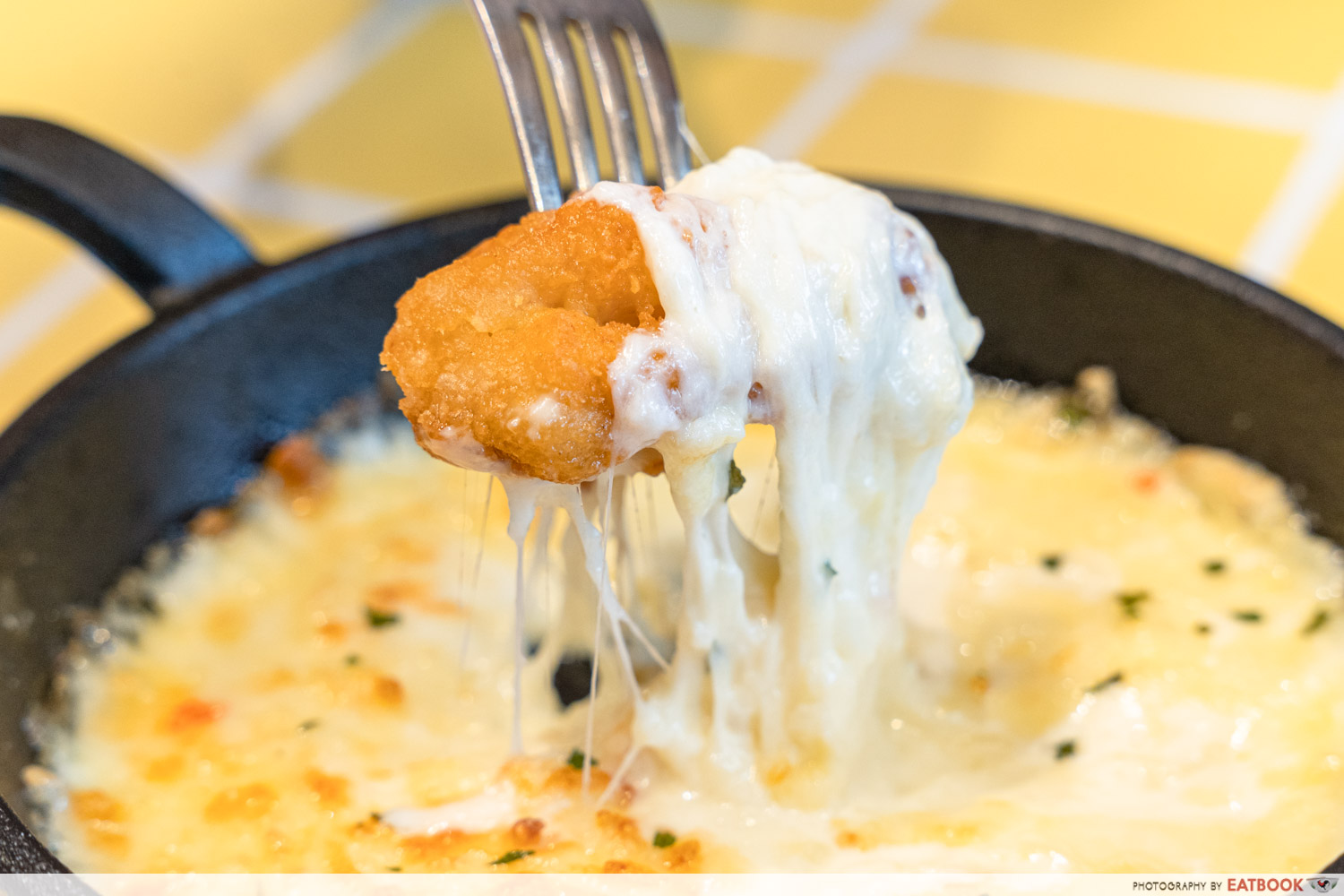 My dining companion and I also enjoyed how the savoury chicken complemented the sweet and creamy melted cheese.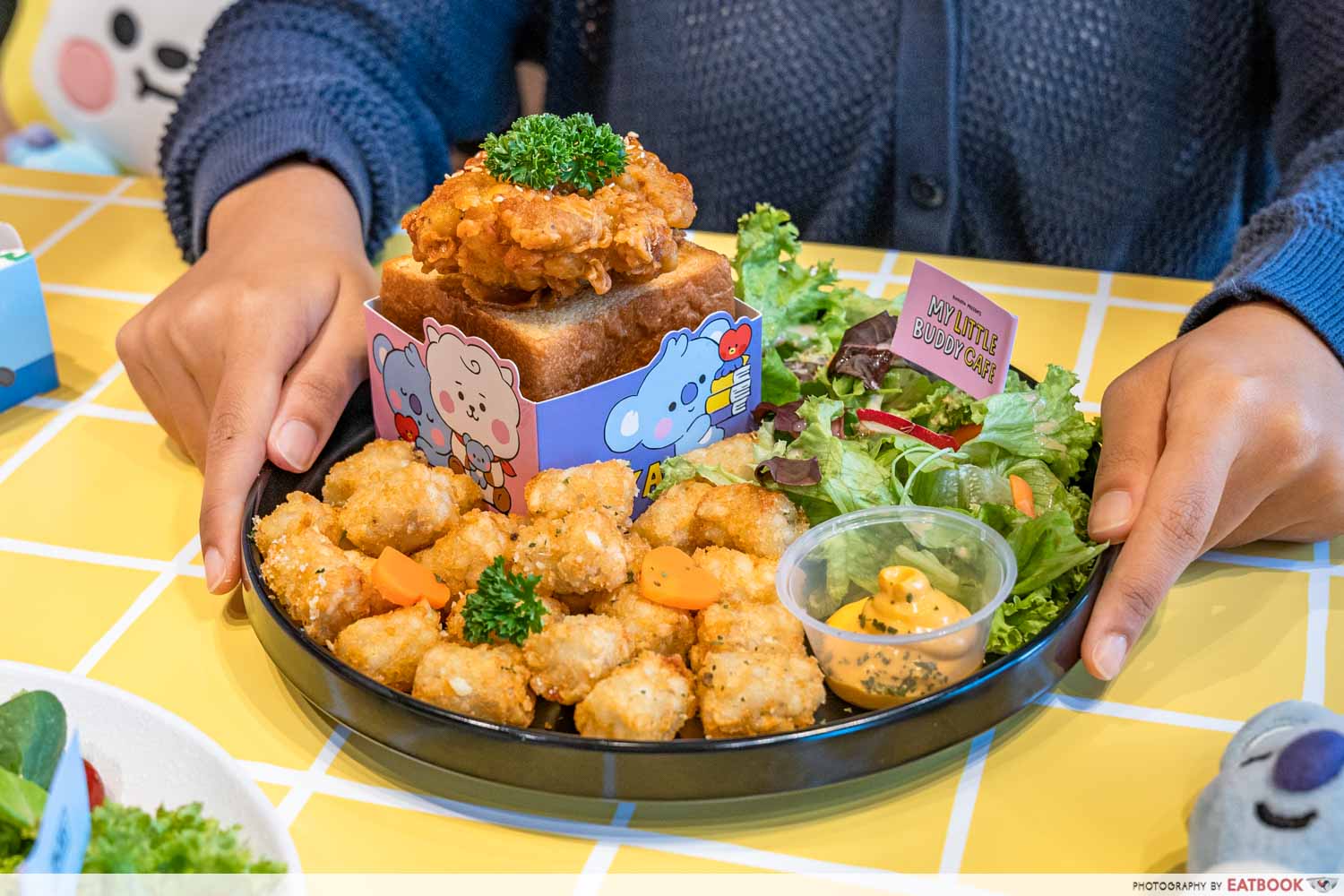 Moving on to the mains, I was most excited to try the RJ and KOYA Honey Butter Fried Chicken with Mini Brioche Toast ($27.90+). It consisted of a honey butter-glazed fried chicken on top of thick brioche toast, served with tater tots and fresh salad.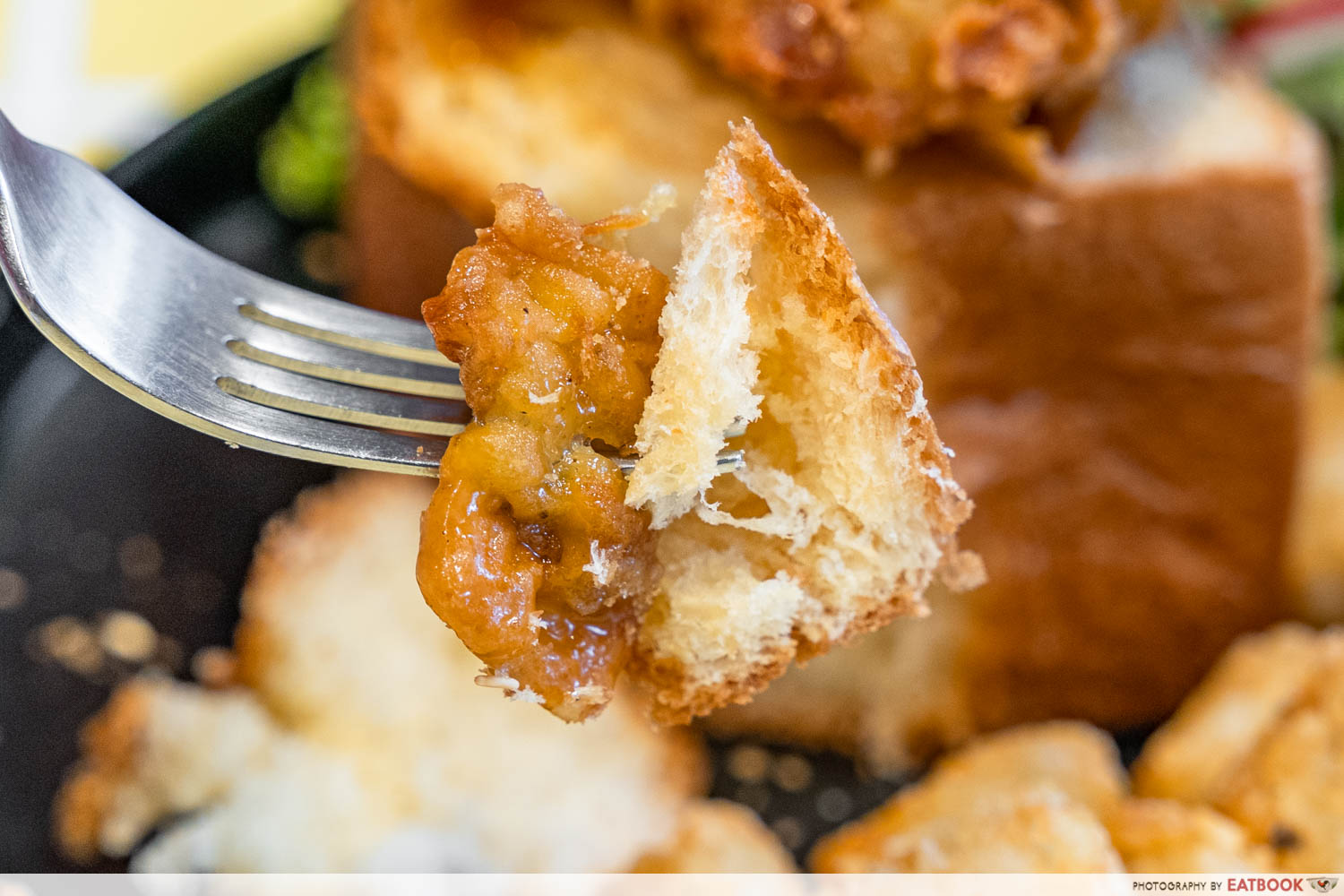 The honey-glazed chicken and thick brioche went well together, but I found the bread slightly dry, and the chicken a tad too sweet. Despite this, I would recommend this dish for its generous portion.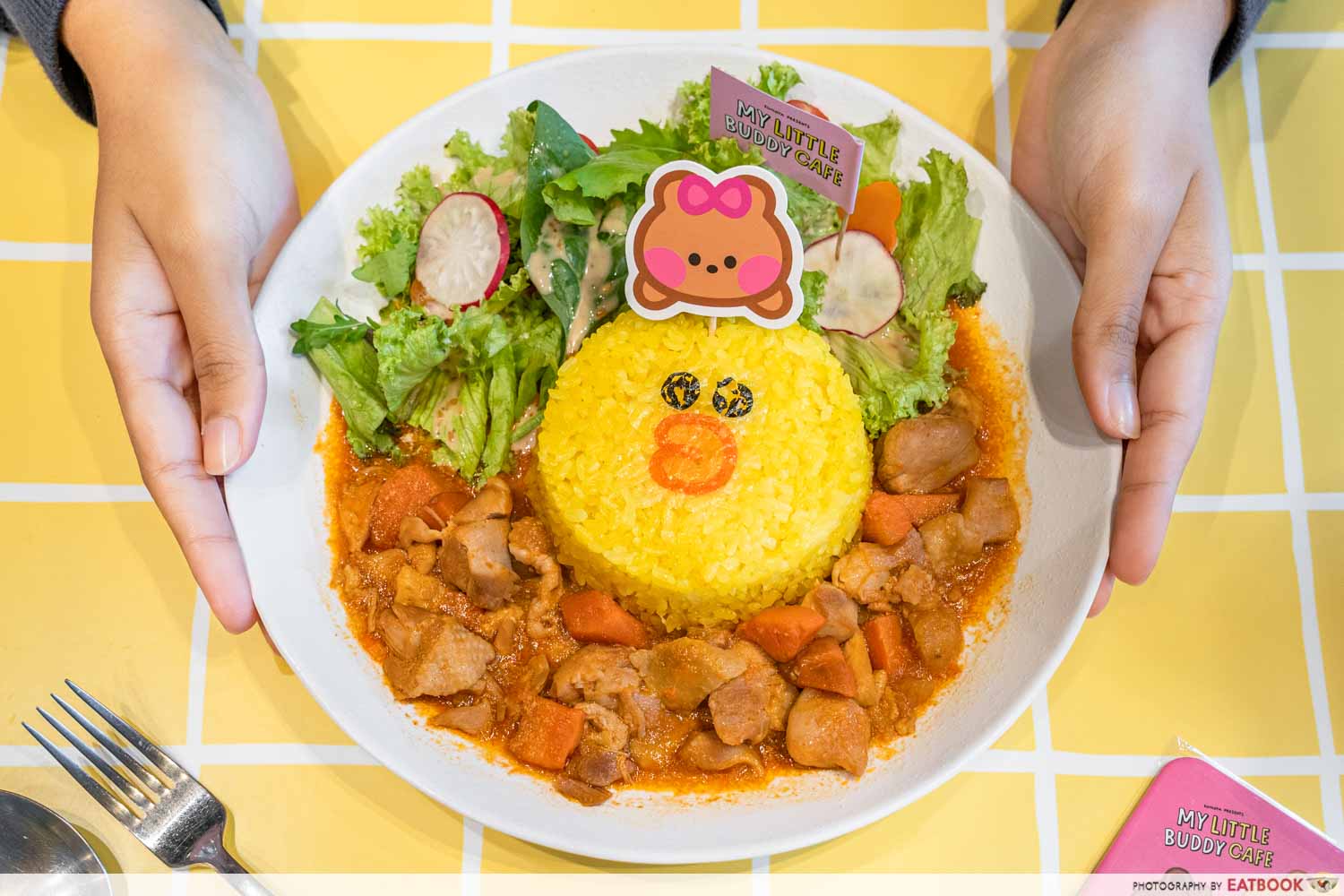 We also ordered the SALLY and CHOCO Korean Chicken Stew ($24.90+), which came with turmeric rice that's stamped with LINE FRIENDS character Sally's face. The stew came with chunks of carrot, potato, and tender chicken.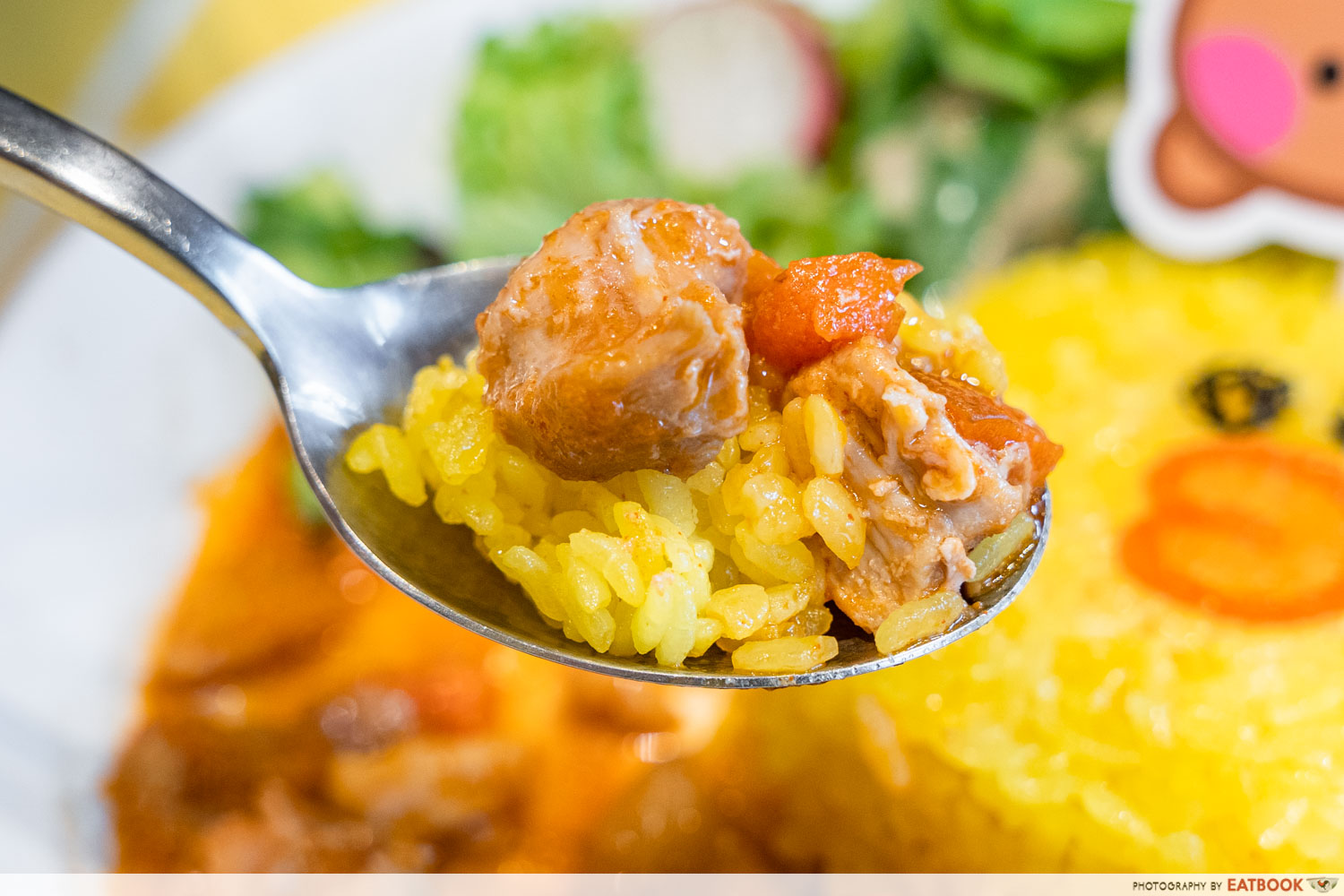 While I wish that the rice could be softer and fluffier, with a more obvious turmeric flavour, the tangy stew made up for it. When accompanied by the refreshing salad and nutty sesame dressing, I found it quite a well-rounded dish.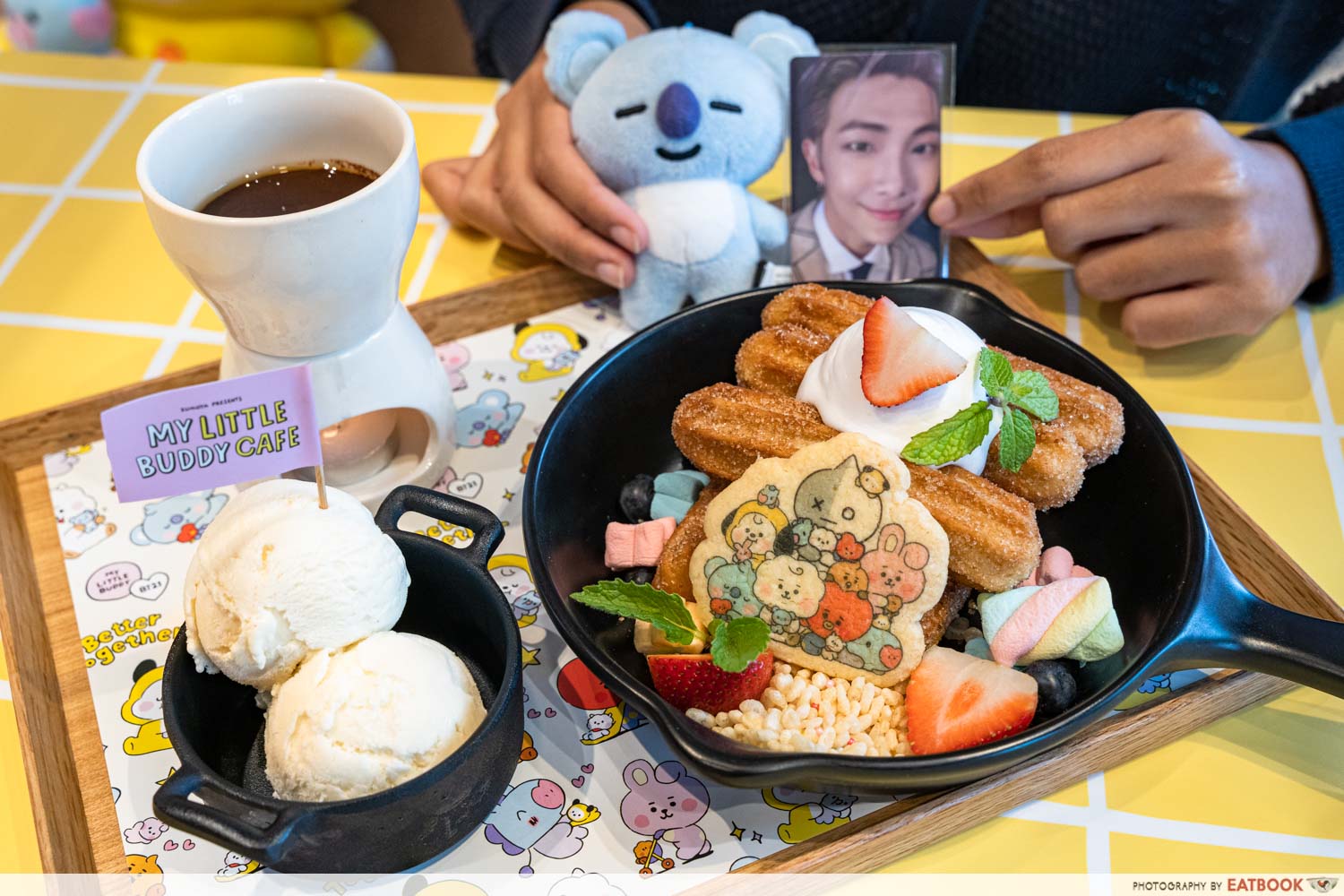 Since we saved some space for dessert, we got the BT21 My Little Buddy Chocolate Fondue Churros ($25.90+) to round off our meal. I'm not usually a fan of churros, but I couldn't resist ordering this dish with its cute presentation.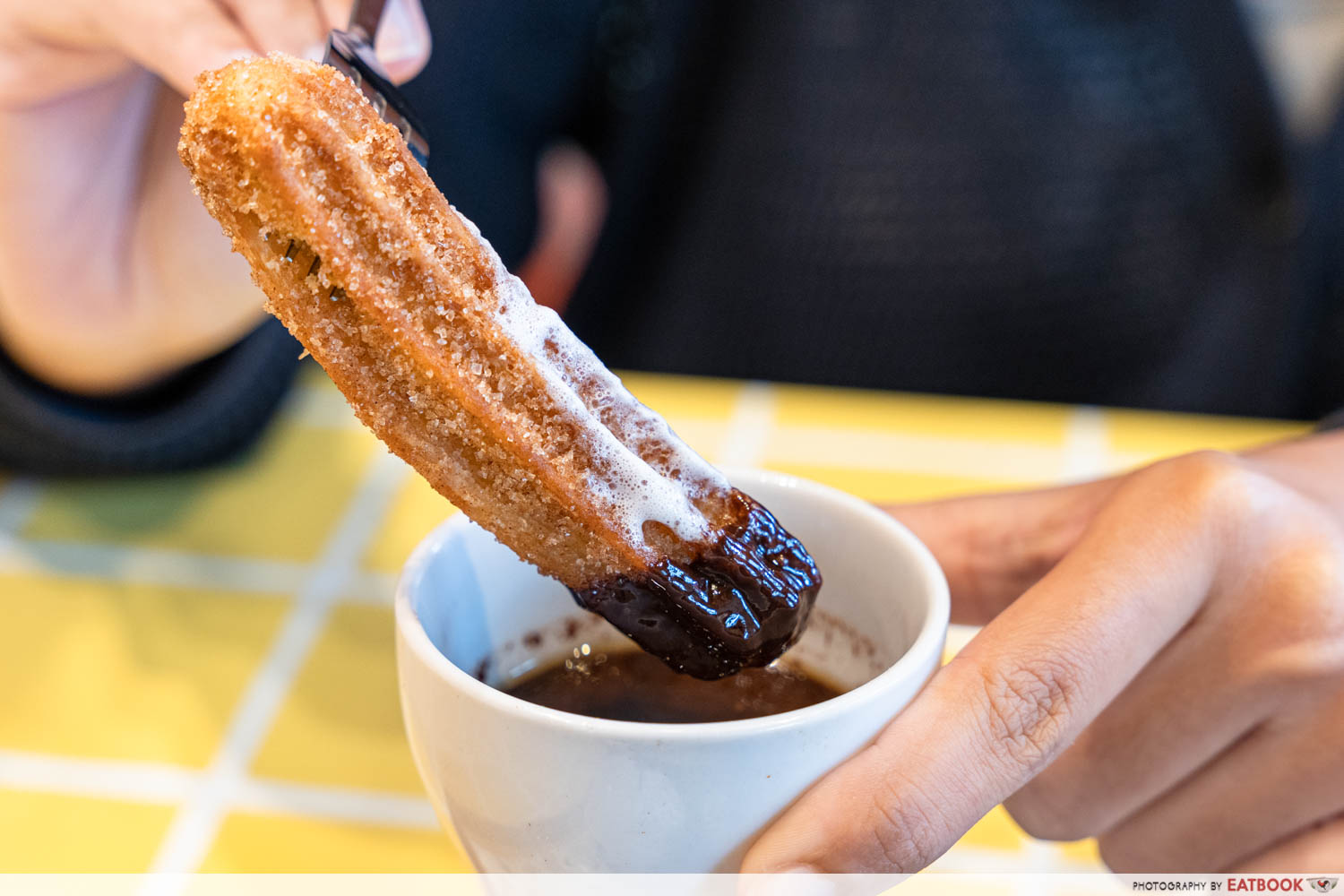 There was a hint of acidity and bitterness from the dark chocolate, which contrasted the sweetness of the cinnamon sugar-laced churros. I loved the combination of the cold vanilla ice cream, warm churros, and chocolate fondue too. The churro also had a satisfying crunch with a dense centre—a sign of a good churro.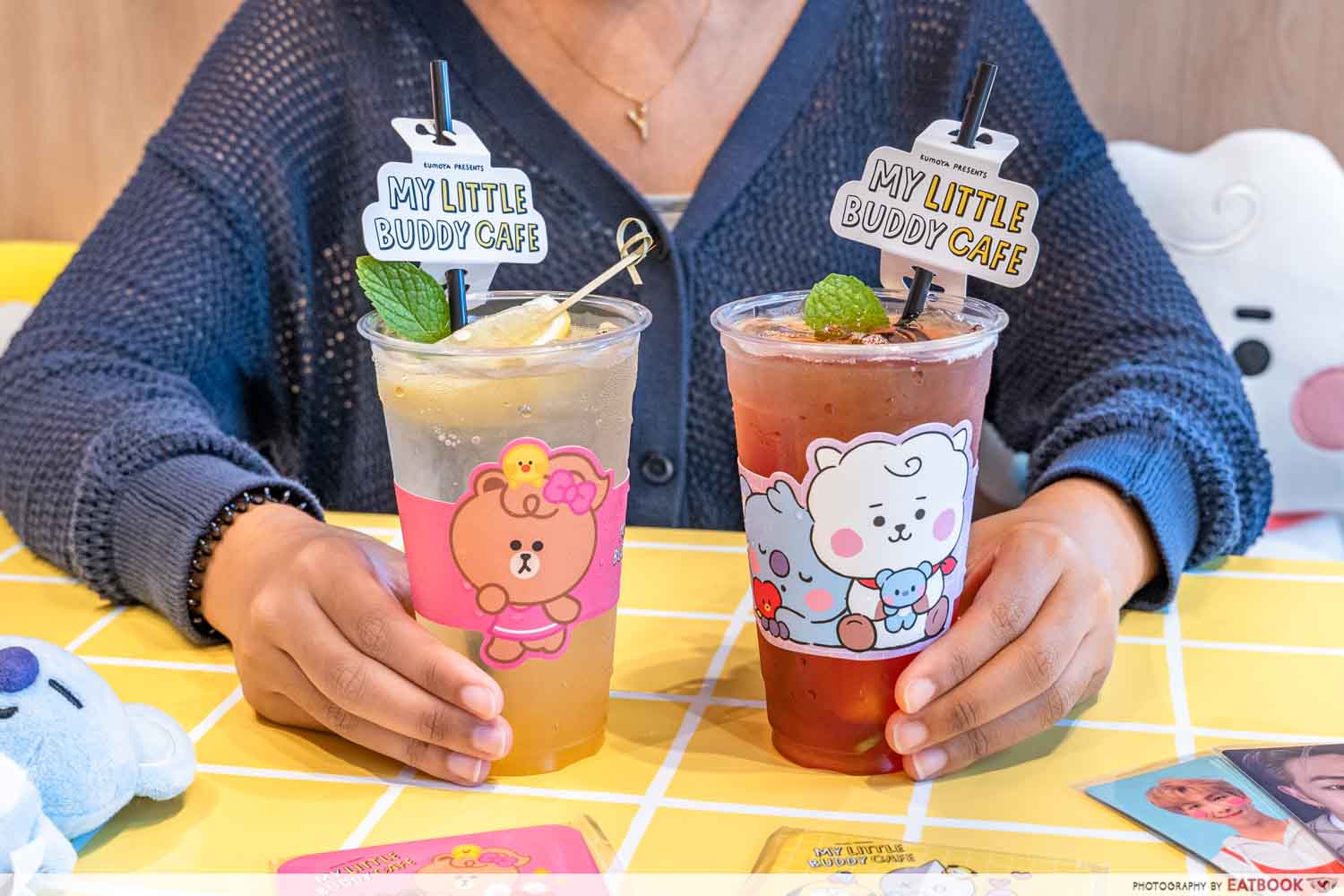 To cleanse our palates after the heavy meal, we got the RJ and KOYA Apple Momo Iced Tea ($13.90+) and the CHOCO Apple Citron Soda ($13.90+).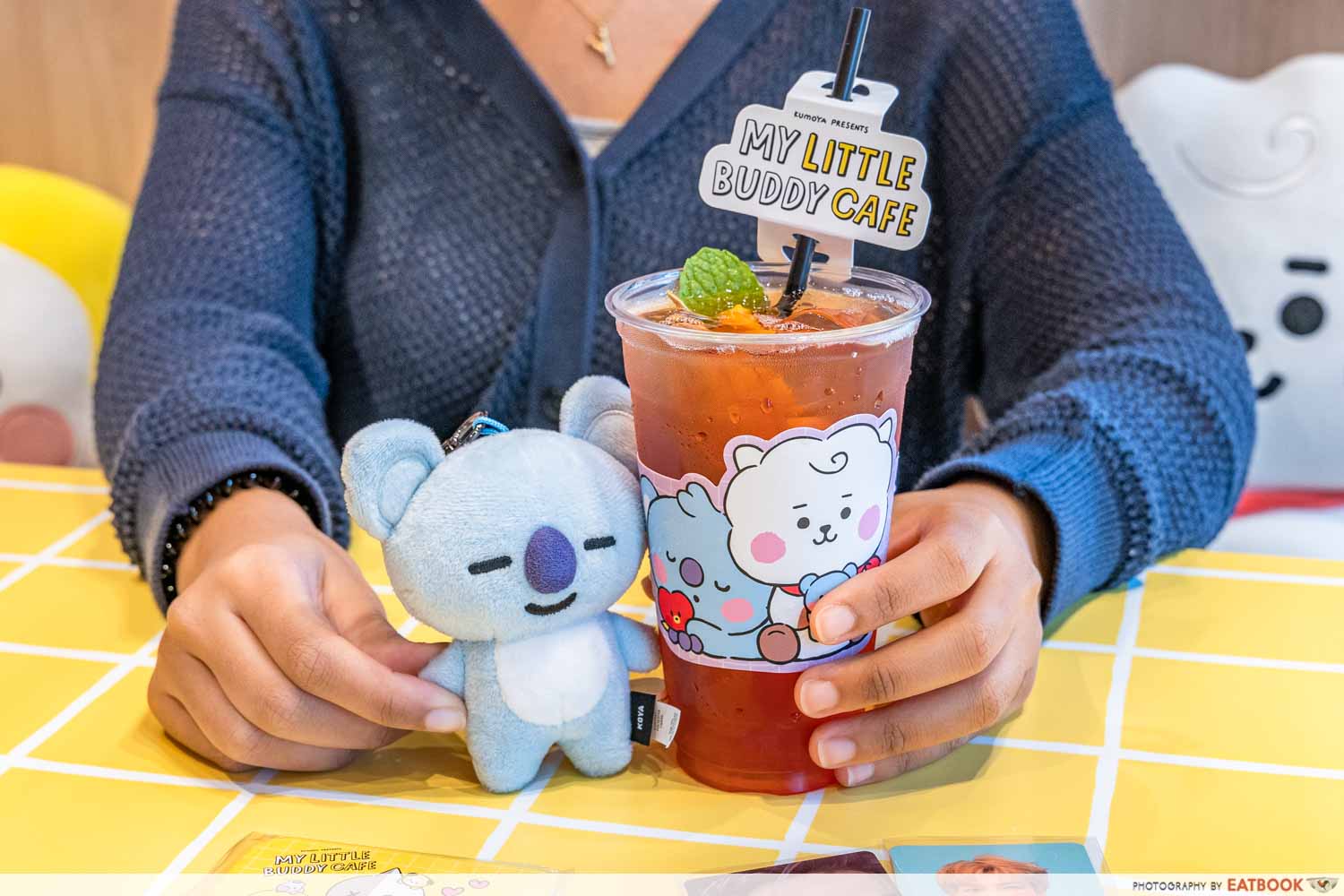 Both drinks were equally refreshing, but I personally preferred the iced tea while my dining companion chose the latter. The bits of aloe vera in the iced tea took me by surprise, but they gave a nice touch to the fruity drink. As for the soda, it was more citrusy with slightly bitter notes. 
Madu The Bakery Review: Popular Cafe With Cereal Prawn Croissants And Shiitake Mushroom Buns
Ambience at My Little Buddy Cafe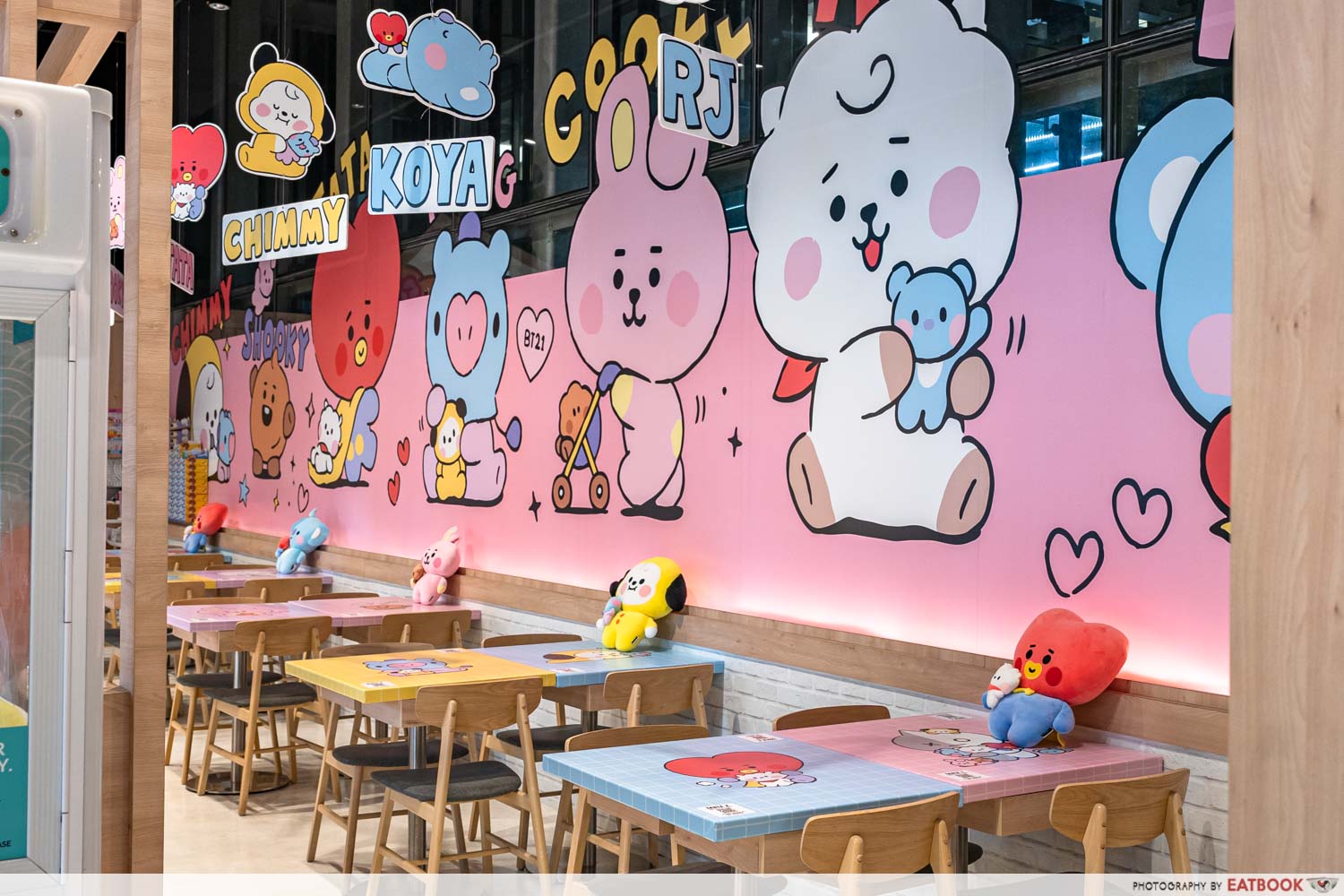 Like all Kumoya cafes, it is no surprise that they went all out with the decor. Sporting an interior that's plastered with murals of LINE FRIENDS and BT21 characters, the cafe reminded me of my trip to South Korea, where I would see these characters almost everywhere.
Each table also had either a LINE FRIENDS or BT21 plushie━perfect for taking your IG photos with. You may be interested to know that the cafe also sells LINE FRIENDS and BT21 merchandise. The cafe is also very conveniently located within Orchard Central, which is directly above Somerset MRT Station.
The verdict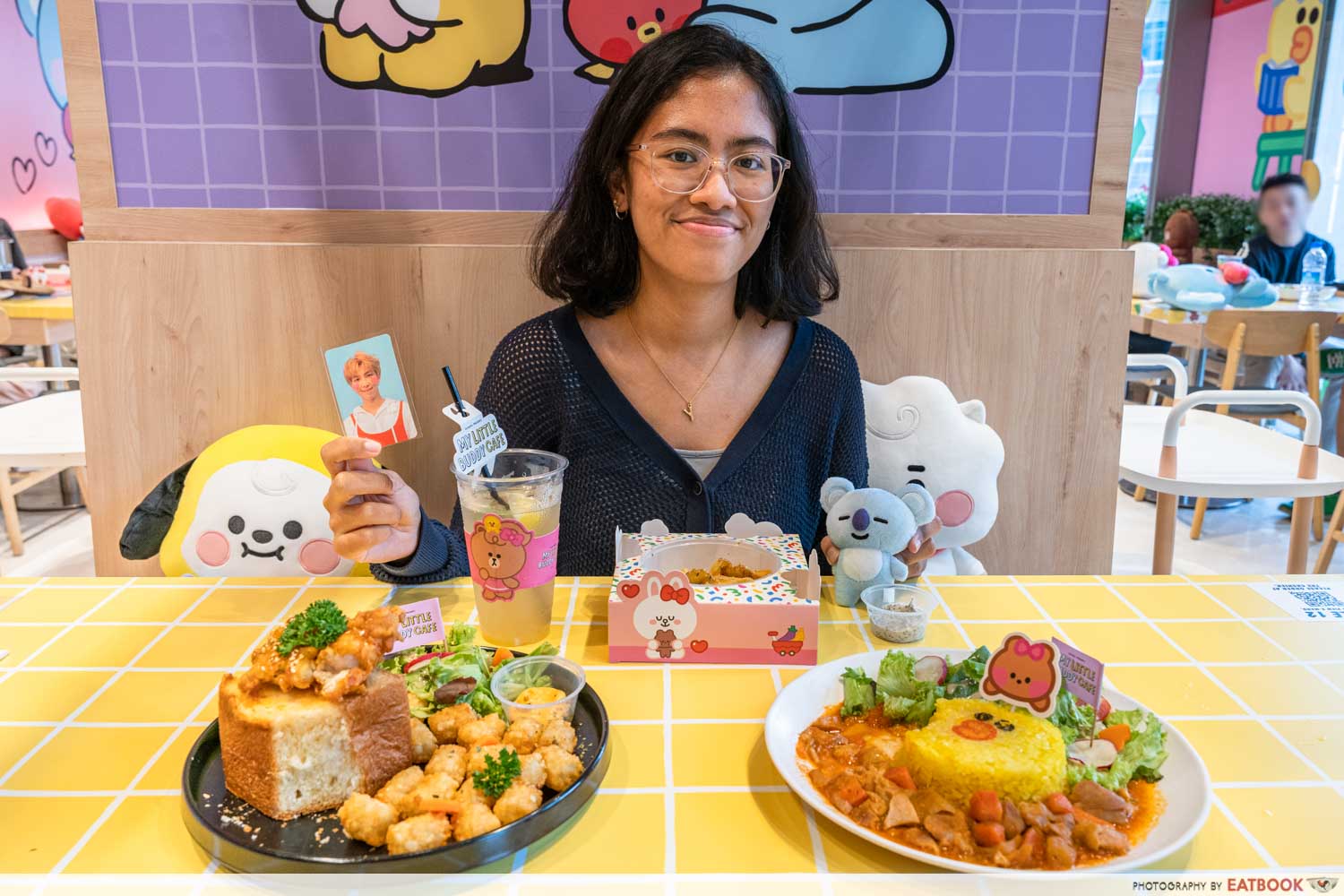 Personally, I felt that the food at My Little Buddy Cafe was underwhelming, yet overpriced. However, the dining experience definitely made up for it. If you're a BTS fan like me, the cafe is worth the visit for its cute decor and food presentation.
 If you're looking for more cafes to visit, read our Madu The Bakery review. Alternatively, check out Well Collective, a work-friendly cafe with Japanese rice bowls and sandos.
Address: 181 Orchard Road, Orchard Central, #04-08, Singapore 238896
Opening hours: Daily 11am to 9:30pm
Website
My Little Buddy Cafe is not halal-certified eatery but uses no pork or lard.
Well Collective Review: New Work-friendly Cafe In Punggol With Japanese Rice Bowls And Sandos
Photos taken by Hui Hui Lau.
This was a media tasting at Kumoya.
My Little Buddy Cafe Review: LINE FRIENDS And BT21 Pop-up In Orchard Central With Honey Butter Fried Chicken Toast And Chocolate Fondue
We Check Out The LINE FRIENDS And BT21 Pop-up In Orchard Central With Honey Butter Fried Chicken Toast And Chocolate Fondue -

7.5/10
Summary
Pros
– Nice ambience
– BT21 My Little Buddy Chocolate Fondue was delicious
Cons
– Food was quite overpriced
Recommended dishes: BT21 My Little Buddy Chocolate Fondue Churros ($25.90+), Karaage Chicken with Soy Garlic Glaze ($15.90+), Hand Cut Truffle Fries ($14.90+)
Opening hours: Daily 11am to 9:30pm
Address:181 Orchard Road, Orchard Central, #04-08, Singapore 238896