Lok Pot offers $1 skewers that can be cooked in three different ways
Update: Lok Pot is permanently closed.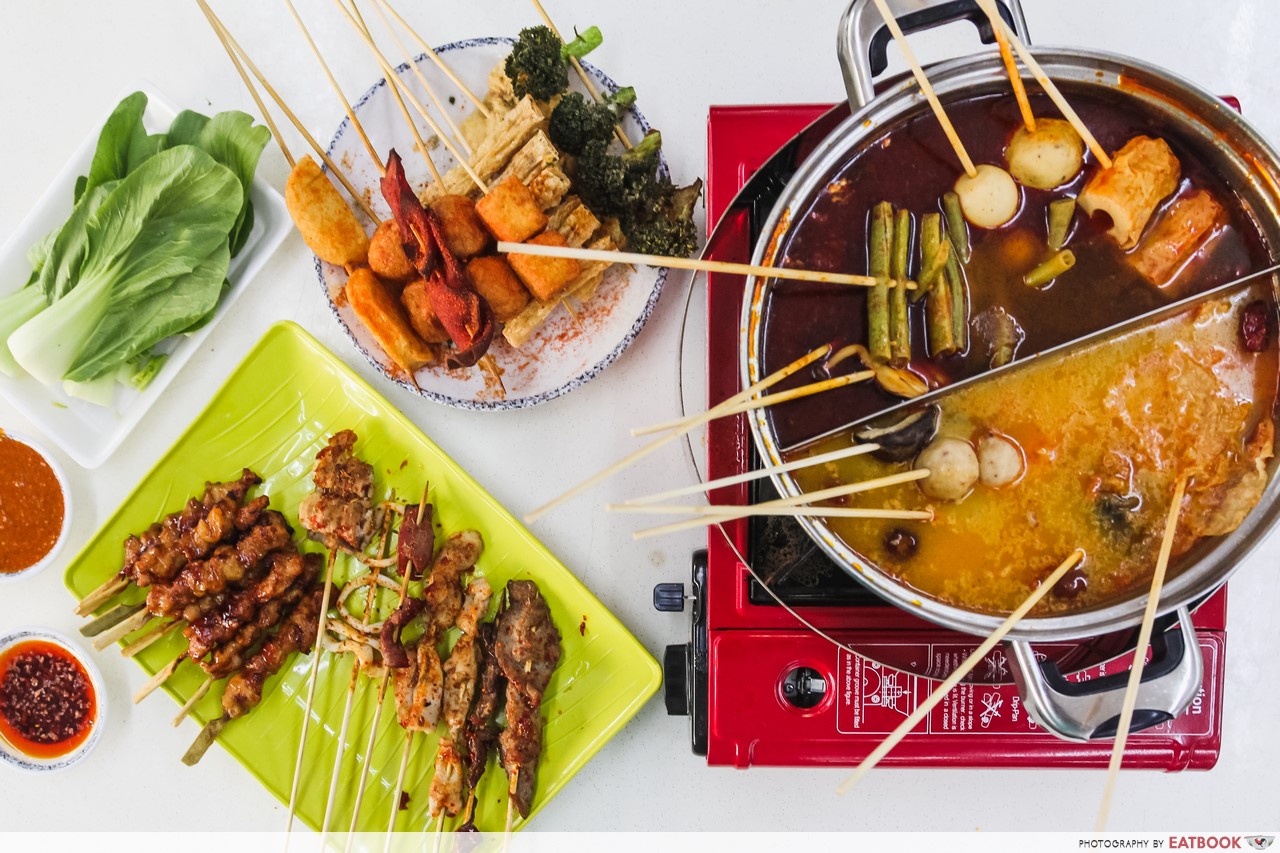 I'm a midnight snacker, and in the midst of binge-watching TV shows, I often end up starving and desperate for food. For me, the result is either fast food delivery or hoping for a 24-hour eatery close by. Lok Pot, which opens until 2am, is one such solution for all you Easties. Whether you like your food deep fried, barbecued, or boiled in flavourful broths, Lok Pot gives you the option to do all three.
Food at Lok Pot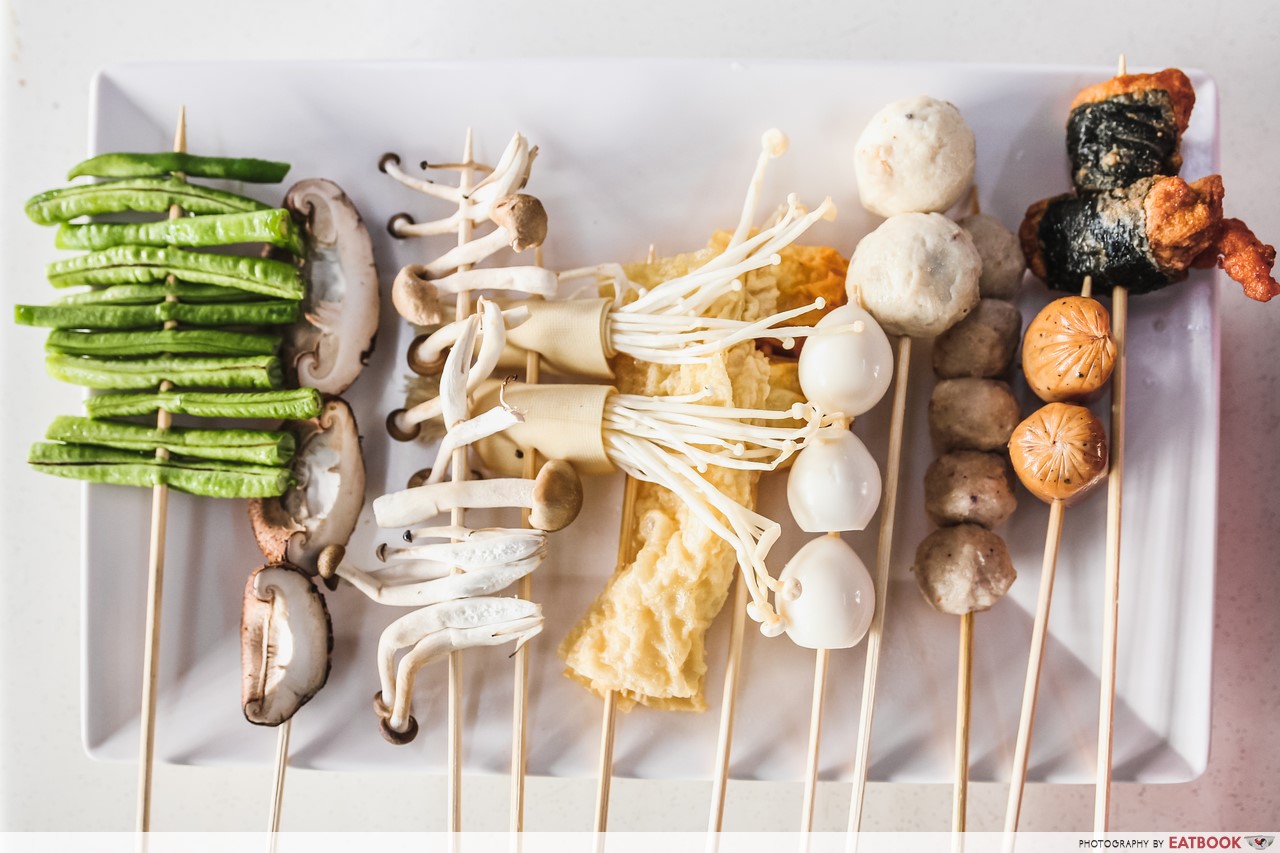 Lok lok + hot pot = Lok Pot. When you get to Lok Pot, you first choose two soup bases from five options – tomato, ma la, tom yum, dried scallop, and herbal chicken. Unlike at most lok lok places, they don't offer satay sauce as a base. Instead, free-flow satay sauce is offered at their condiments bar.
We decided to go for one spicy and one non-spicy base, and ended up choosing tom yum and dried scallop. Soup bases are $3 each, unless you buy at least 18 skewers, in which case they become free. While most of the sticks were $1 each, they also offer more expensive ones such as oysters, scallops and crabs. Prices range from $2 to $8 for these.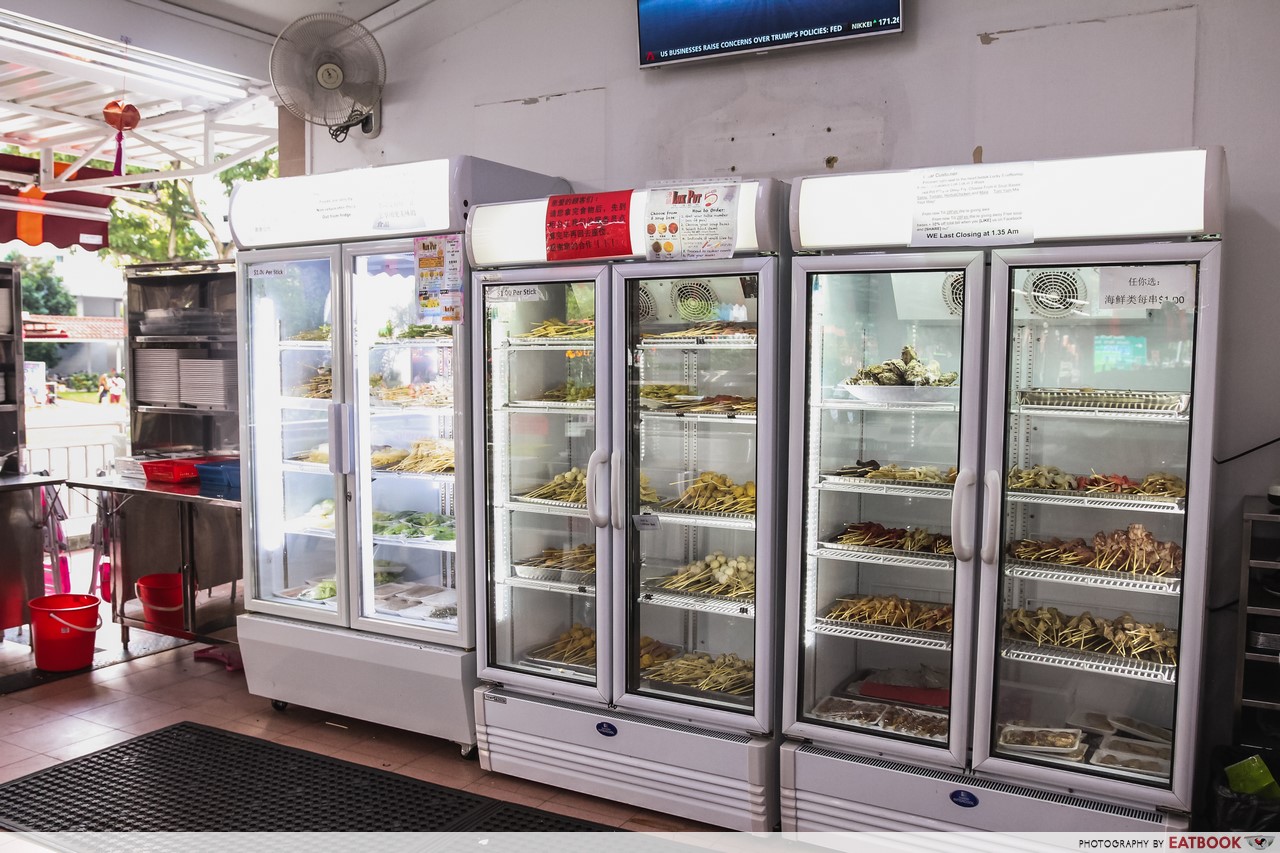 Lok Pot has three fridges filled with a wide variety of skewers. We chose an assortment of vegetables, mushrooms, bean curd, meatballs, fish balls, satay sticks, yakitori, and ended up with a grand total of 27 sticks. After choosing the sticks we wanted, we brought them to the counter and were asked to split them up into two plates.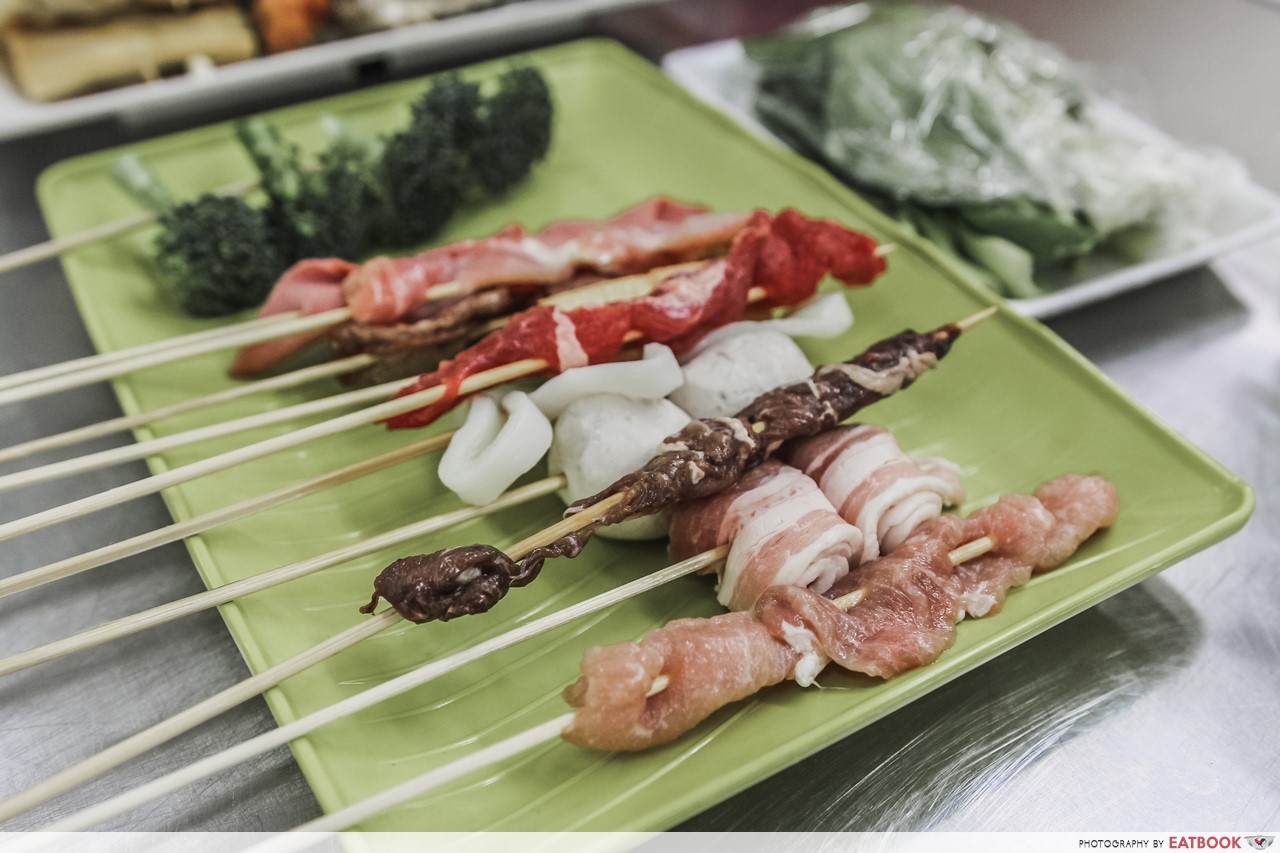 The green plate was for items we wanted the chef to deep fry or barbecue, and the white plate for skewers we wanted to take back and dunk in the broth. After sorting out and counting the skewers, the chefs asked if we could take spicy food, and we said yes.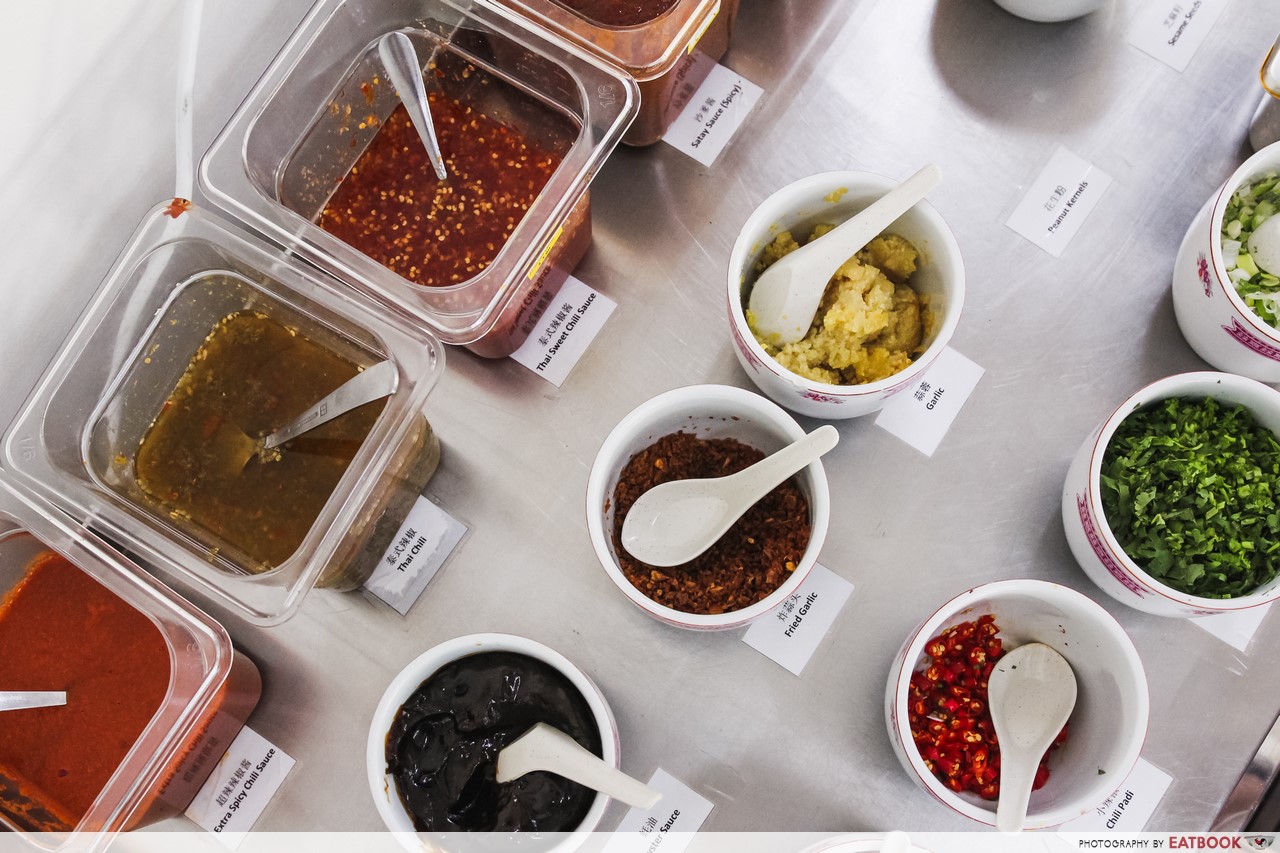 We then made our way to the condiments bar, taking our pick out of numerous options of spicy and non-spicy sauces, as well as toppings. We went with satay sauce, as well as soya sauce and fried garlic.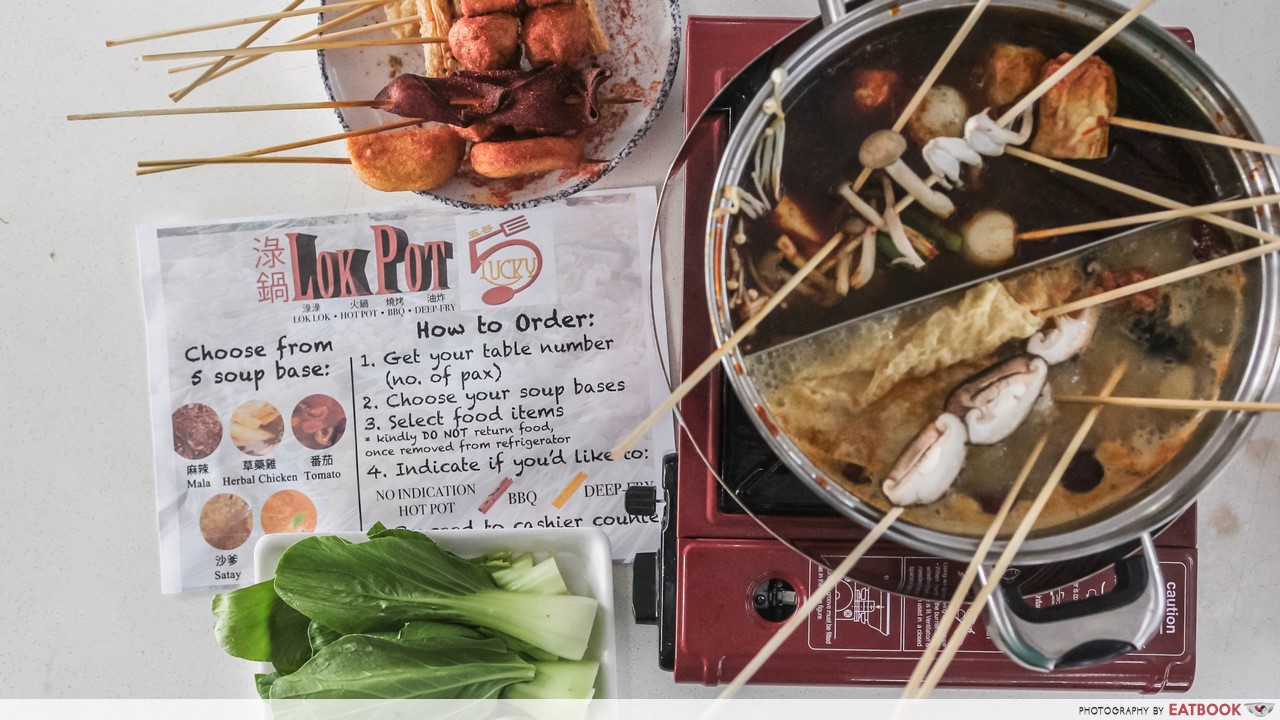 While some of our food was being fried and barbecued, we starting boiling the rest of the ingredients, spreading them out between the tom yum and scallop soups.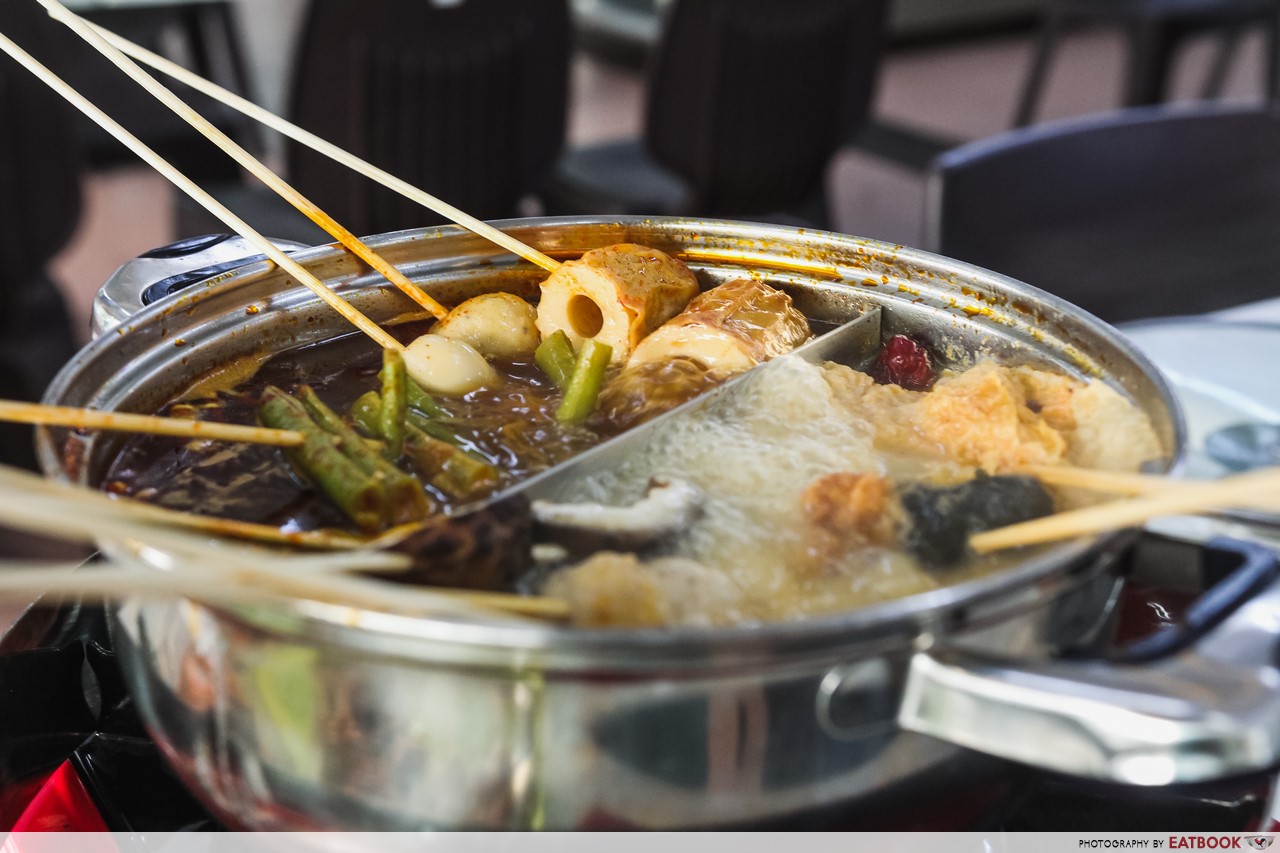 The tom yum soup was beyond spicy, burning our tongues and our throats. It was also a lot sweeter than traditional tom yum soup.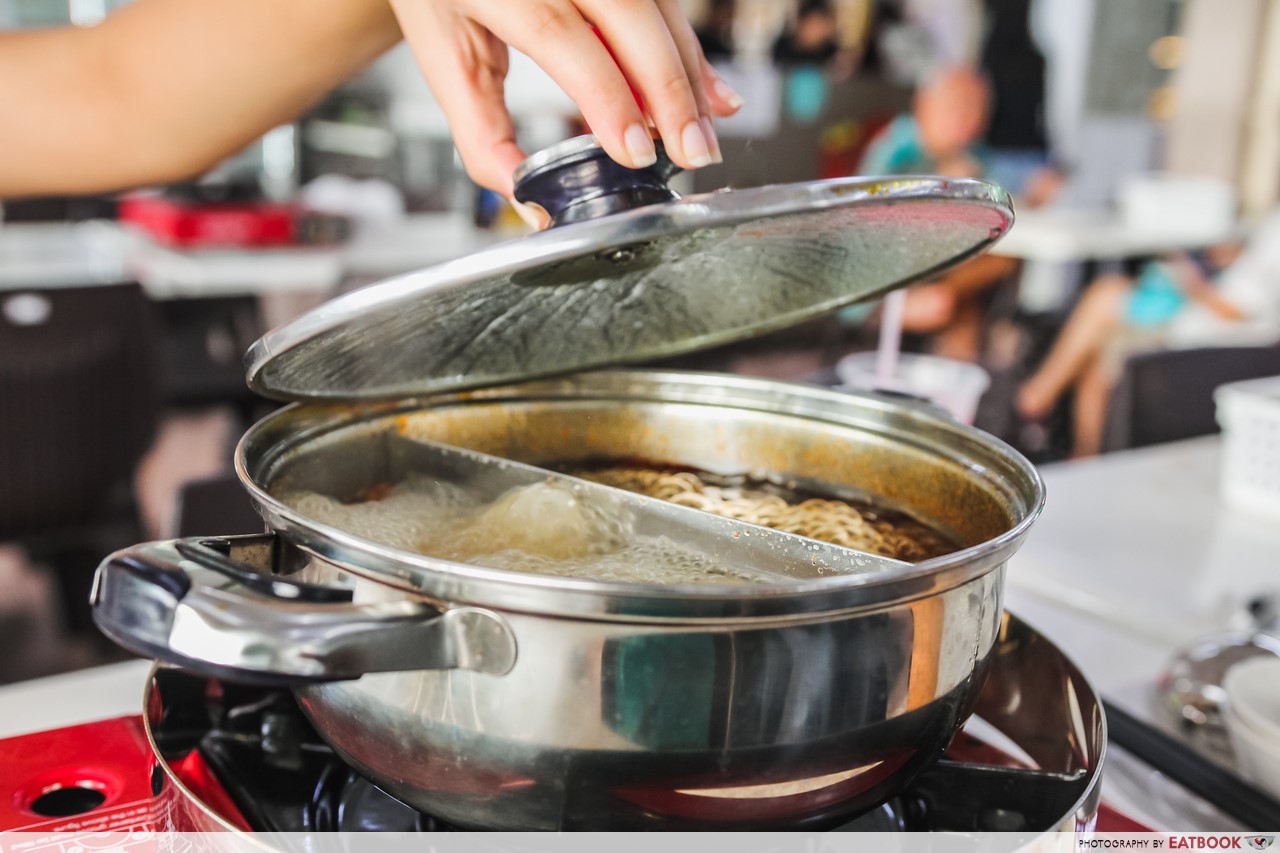 The scallop soup was fishy and salty, but because the pots were filled so full, the tom yum soup bubbled across into the pot with scallop soup, making that a tad spicy too. The staff were quick to top up our soups when needed.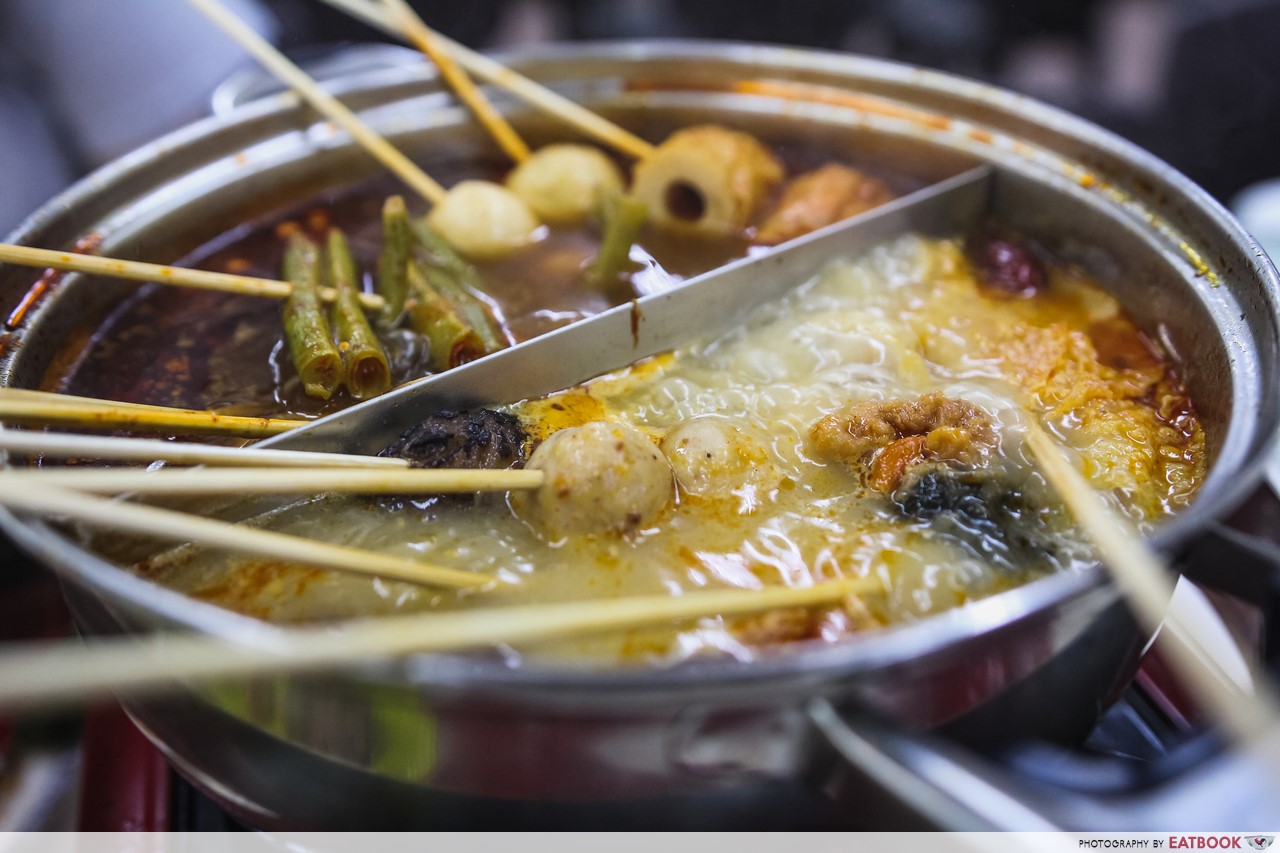 Some of the items we boiled include long beans, quail eggs, mushrooms and meatballs. The meatballs and quail eggs were cooked in the scallop soup, and ended up being really flavourful.  The quail eggs had been braised, and even after boiling in the soup, the yolks were slightly runny and mushy, giving a nice burst of flavour and texture as I chewed on them.
Mushrooms and long beans were cooked in the tom yum soup, and these were killer – extremely spicy but also extremely addictive. The long beans became mushy really fast, but together with the mushrooms, absorbed the flavour of the soup. On first bite, they didn't seem too bad, but wait about five seconds and you start to feel the burn, to the point of being near tears. The mushrooms were highly addictive, and I couldn't put the skewer down.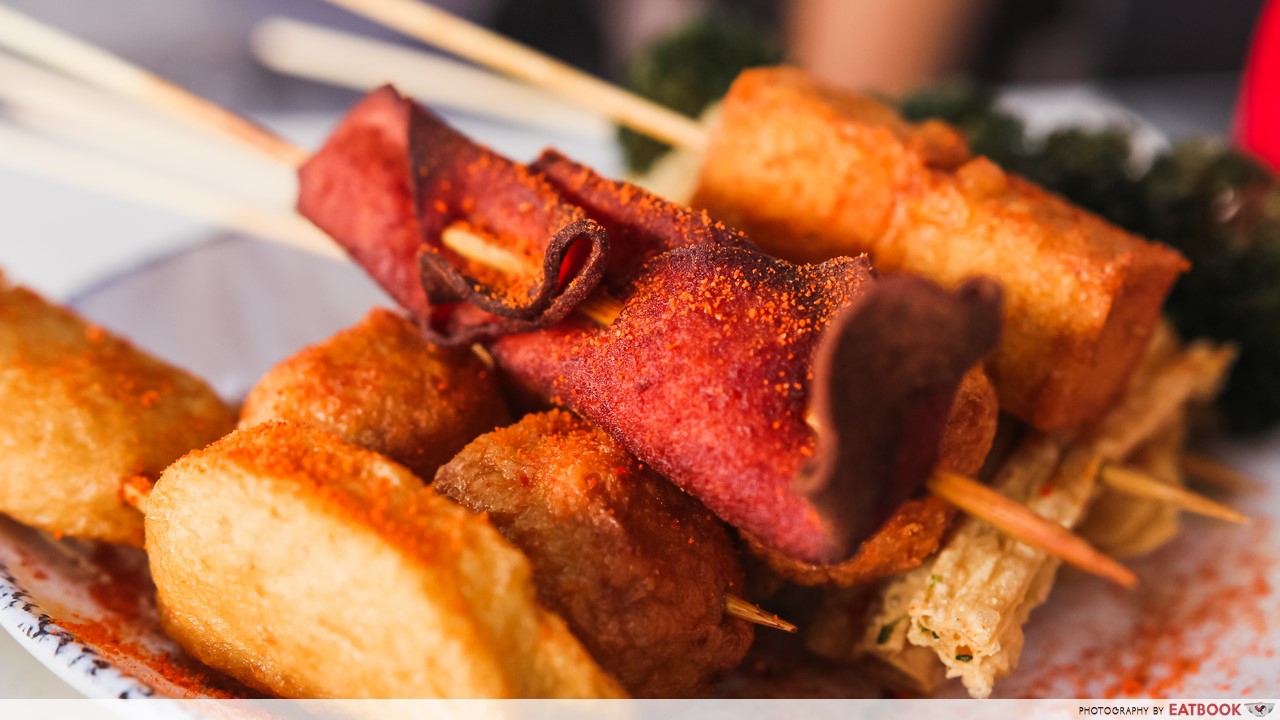 The fried food arrived next, generously seasoned with a mixture of salt, white pepper, garlic powder, chilli powder, and seaweed powder. Overall, the fried items were pretty good, with a nice crispy exterior and mostly soft interior.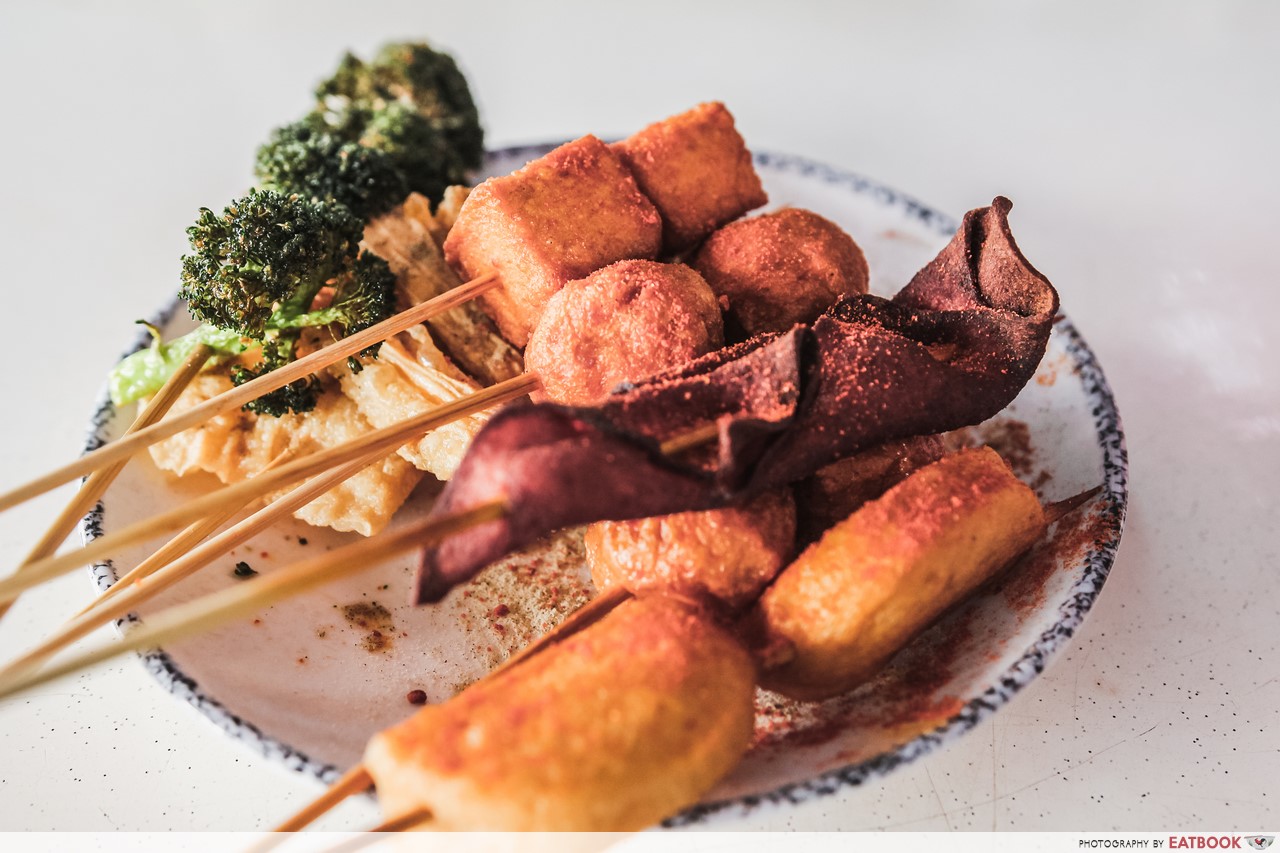 The fried broccoli was my favourite. It was dry and crunchy, but held the flavour of the seasoning well, and made for another addictive snack. I then tried a fried meatball, but ended up pleasantly surprised when cheese burst into my mouth upon biting into it.
One item I wouldn't recommend frying, however, is bean curd skin. It ended up hard and tough to chew, with no flavour.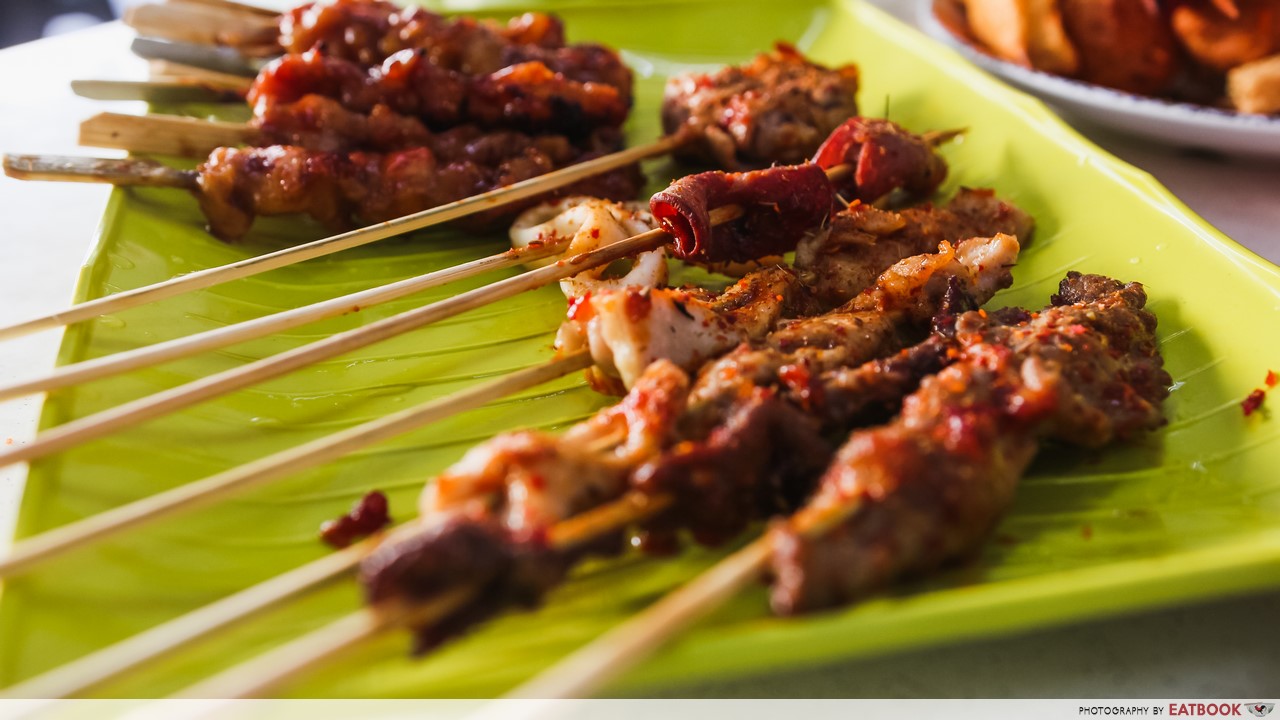 The barbecued items were coated in a sweet chilli sauce and seasoned with fennel seeds, cumin, oregano, and a couple of other spices that lent a unique flavour to the meats. Squid was my favourite, being slightly chewy with a nice mouthfeel. The lamb was also good, although slightly tough to chew. Yakitori was rather standard, but I found the sauce too salty.
Ambience at Lok Pot
Lok Pot is located in Lucky 5 coffee shop, which is a ten-minute walk from Bedok MRT Station. There were 'Reserved' signs on a majority of the tables when we were there, and their staff recommended making reservations in advanced. If you want to avoid the crowd, an early weekday dinner at around 5:30pm would probably be ideal. The staff were friendly and helpful, offering to show us the best way to cook the different meats.
The verdict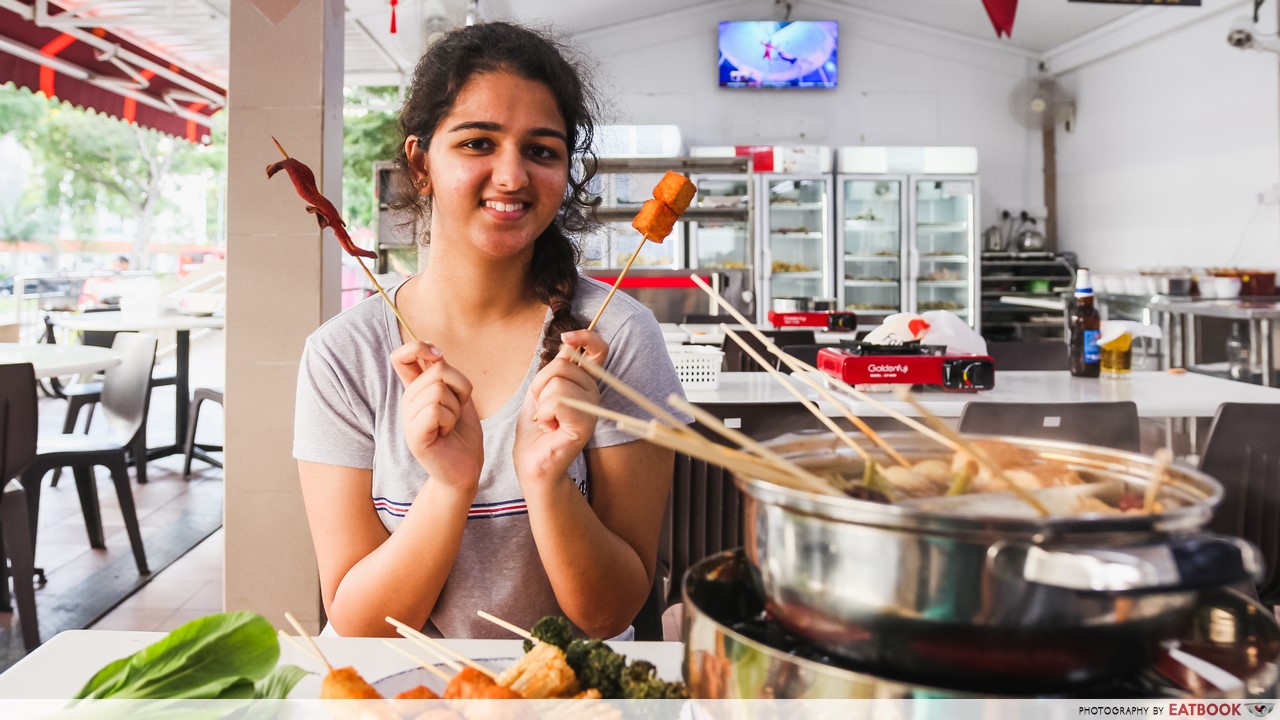 For the variety of skewers available and the option of cooking them three ways, Lok Pot is a sure hit for those who like to customise their food. The condiments bar adds to this with a range of sauces and toppings you can mix together to form your preferred dip. If you're ever in the East looking for lok lok, hot pot, or both, be sure to check Lok Pot out!
This is an independent review by Eatbook.sg.
Summary
Pros
– Affordable
– Customisable
– Convenient location
Cons
– Some ingredients did not turn out well
Recommended Dishes: Dried scallop soup ($3), cheese meatballs ($1), quail eggs ($1)
Operating Hours:
Daily: 5pm to 2am
Tel:
6445 8887
Address: Blk 18 Toa Payoh Lorong 7, Prime Court Coffeeshop, Singapore 311018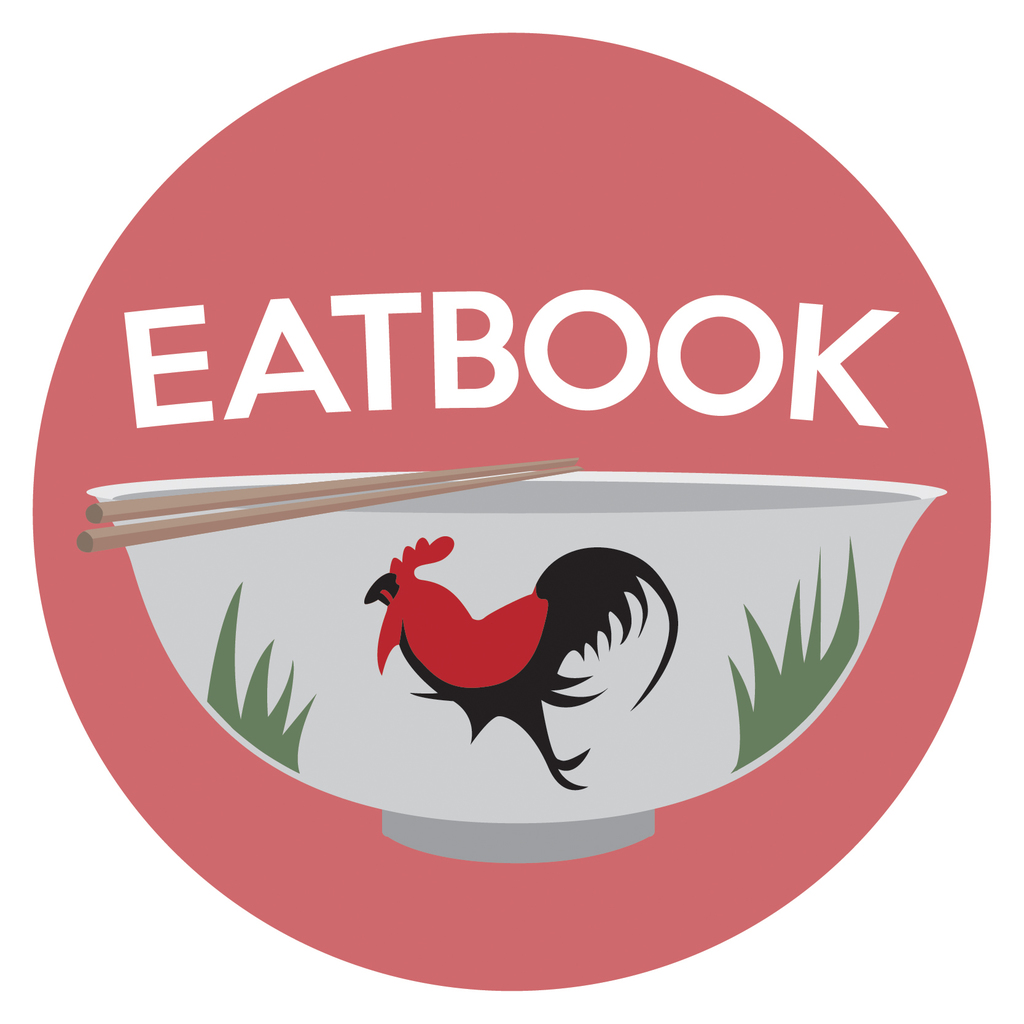 Drop us your email so you won't miss the latest news.