---
Marks & Spencer
Christmas food gifts
---
Christmas means it is time for presents, both to give and to receive. If you've got a foodie in your life whose gateway to happiness is through their stomach, then bookmark this list, as Marks & Spencer is bringing you a selection of yuletide food gifts that are guaranteed to wow.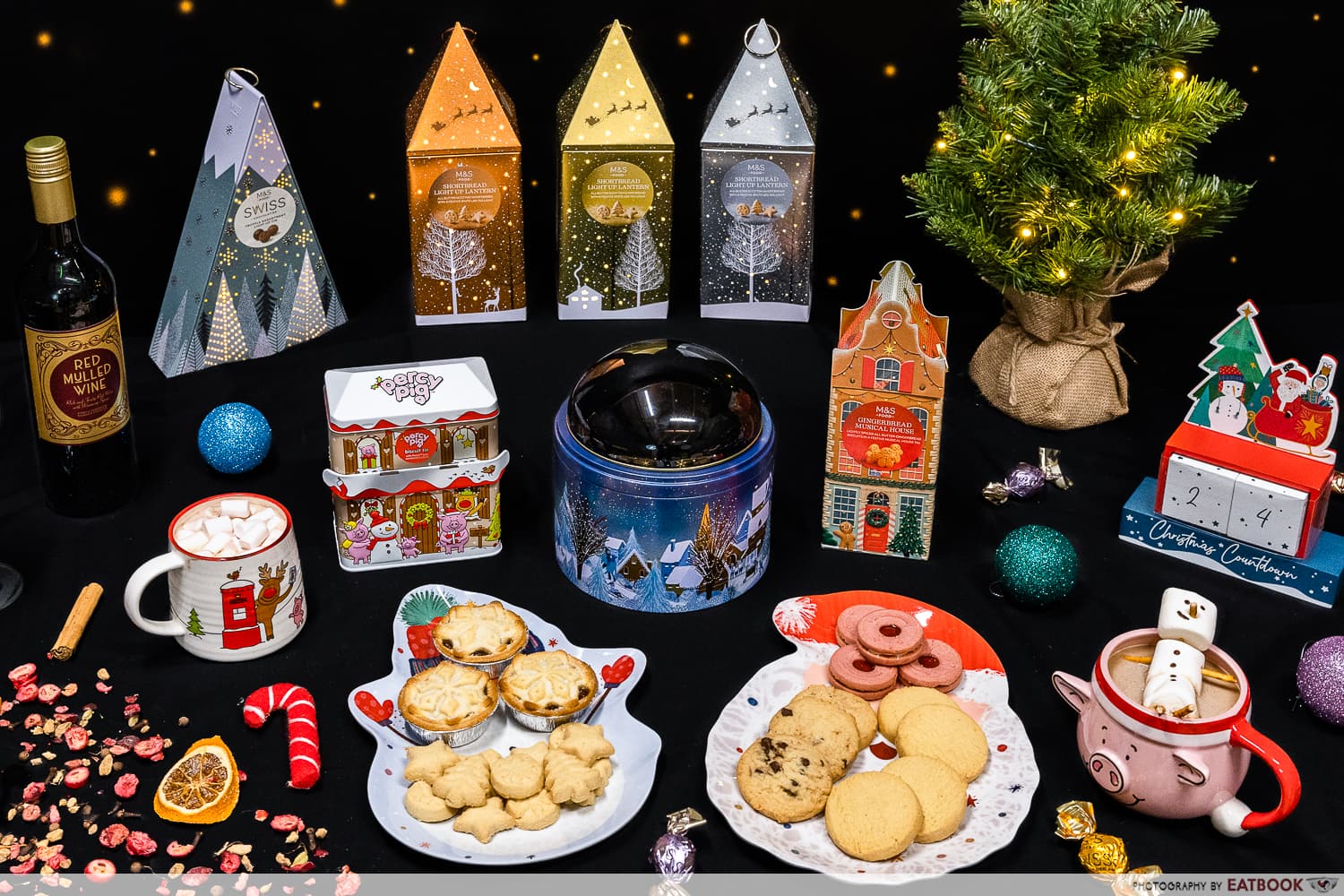 From biscuit tins that act as projectors to show-stopping light-up tins of truffle, these are food gifts that give a little something extra to the recipient, especially because they're of Marks & Spencer (M&S) quality. 
Don't sweat breaking the bank either, as the department store will be offering Christmas discounts across their gifts. Find out more as we take you through the must-haves below.
---
1. M&S Starry Night Shortbread Selection Tin
---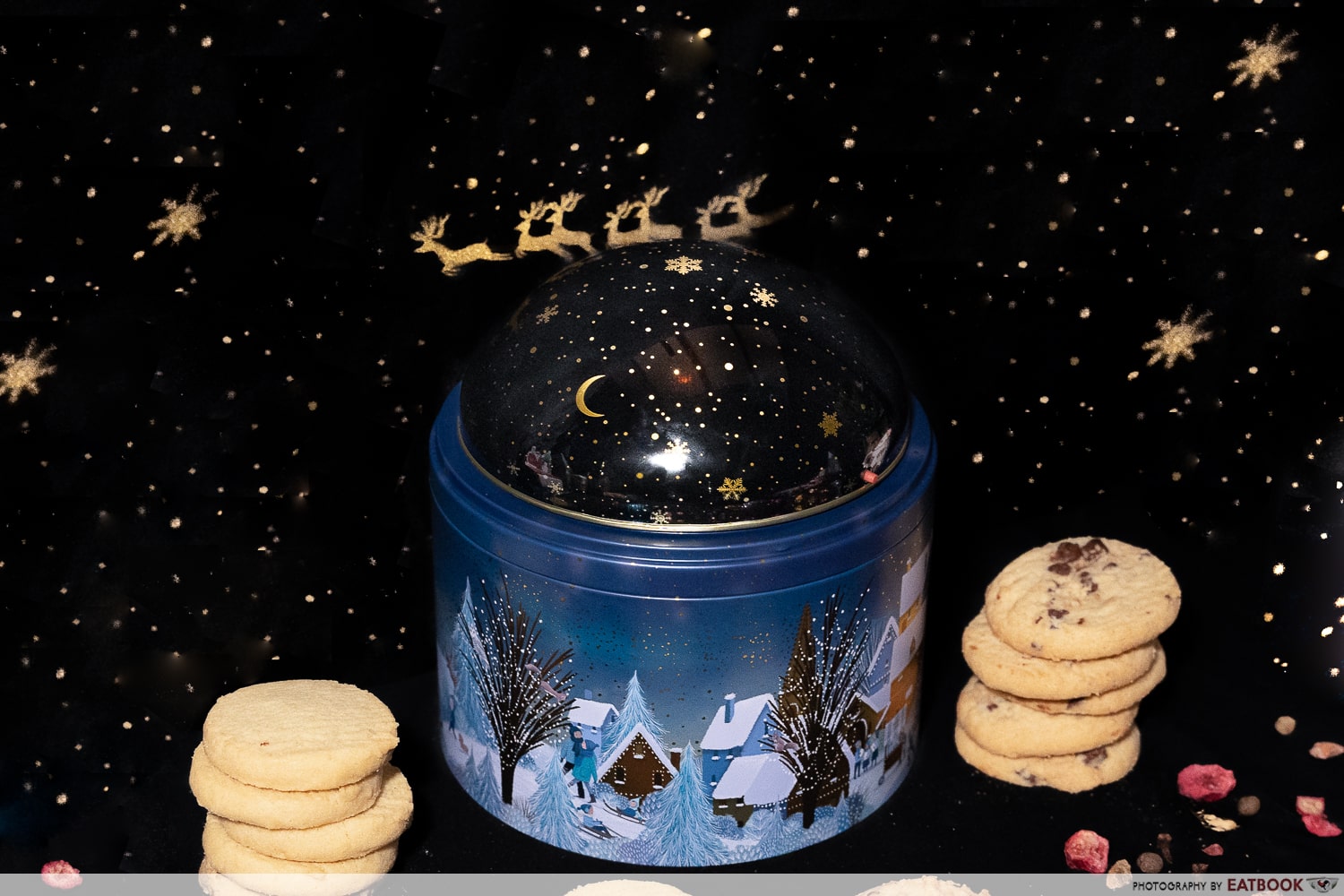 Fans of buttery, rich shortbread will surely appreciate the M&S Starry Night Shortbread Selection Tin, which comes with a selection of all-butter Scottish shortbread rounds, both original and with chocolate chunks.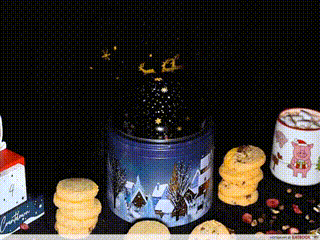 Apart from the indulgent biscuits, the tin they come housed in makes a statement of its own—it plays music as it rotates, and houses a light projector that makes the tin look like a starry night sky. Place it near a wall to cast the stunning projections, and set the scene for a delightful Christmas to come. Each tin is priced at $44.90. Buy two or more of their biscuit tins and save 20%; you get to mix and match, so choose from this tin, the Shortbread Light Up Lantern Tin, Gingerbread Musical House and the M&S Percy Biscuit Tin.
---
2. M&S Shortbread Light Up Lantern Tin
---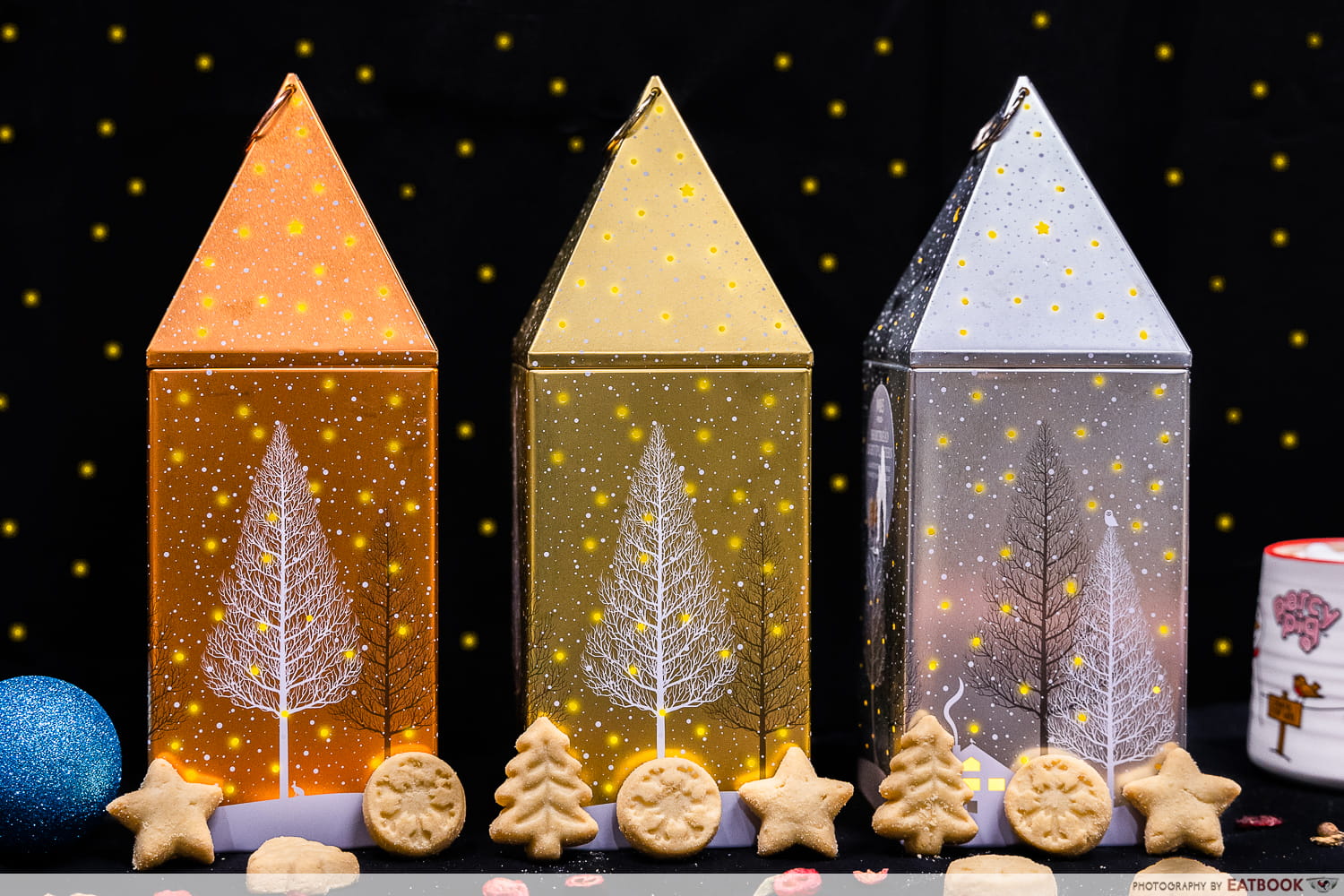 For an adorable stocking stuffer, get your hands on the M&S Shortbread Light Up House. These come in tins shaped like houses, packed with crumbly all-butter Scottish shortbread in festive shapes.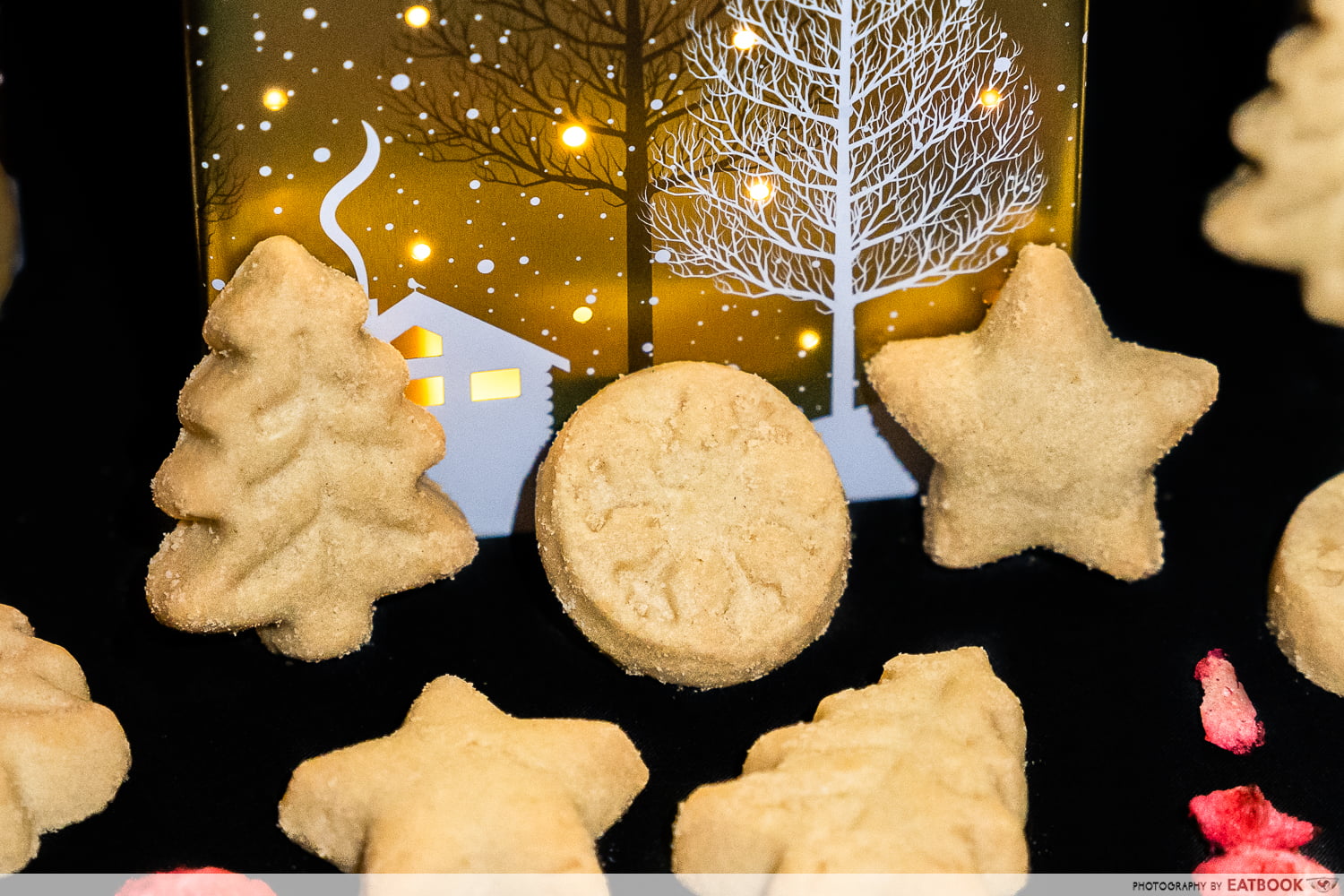 The tins come in three colours: gold, silver and bronze. All of them light up too, creating a cosy mood! Each tin is priced at $29.90.
---
3. M&S Swiss Mountain Truffle Assortment Light Up Tin
---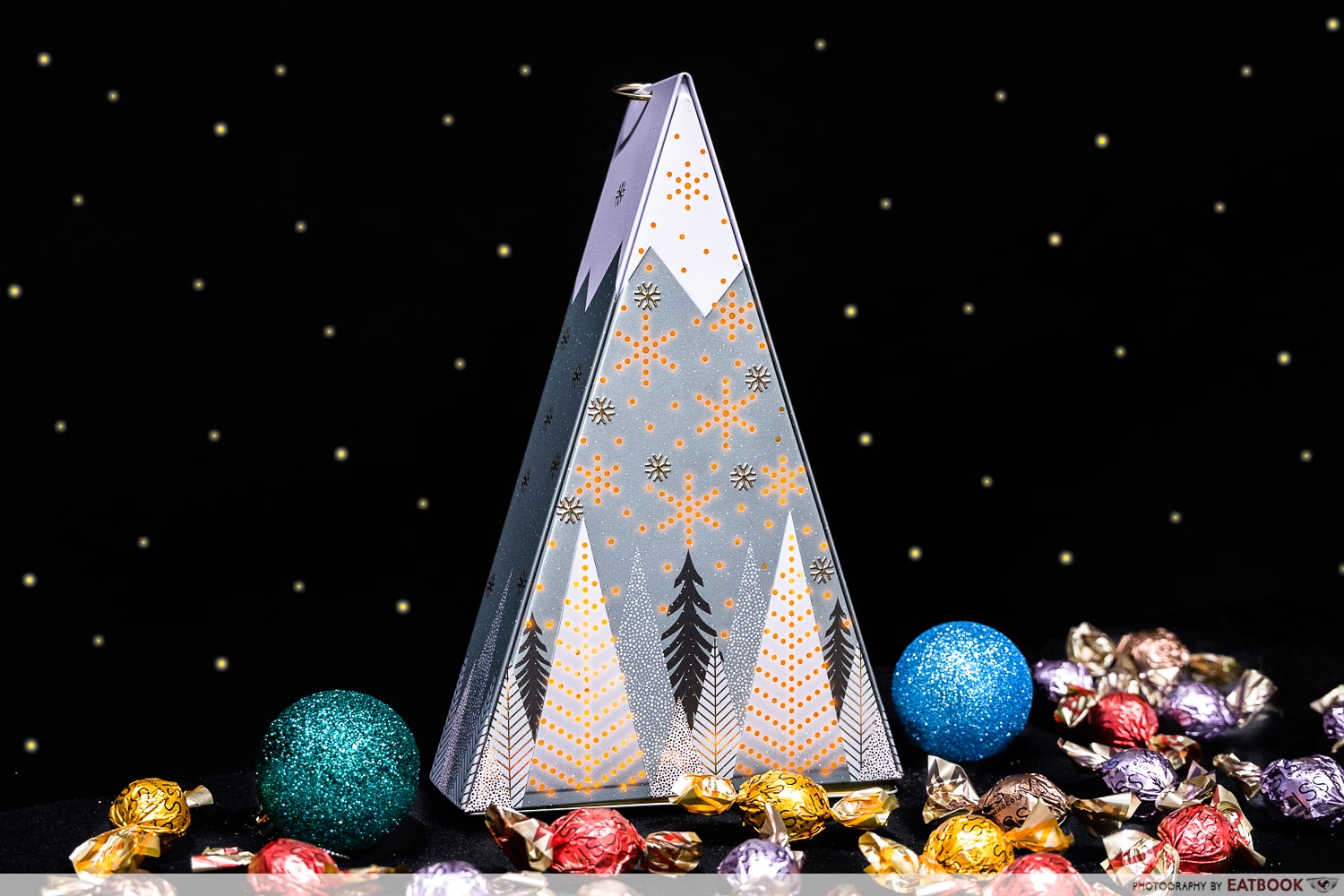 Get the chocolate lover in your life the M&S Swiss Mountain Truffle Assortment Light Up Tin ($39.90). Each tin is designed to look like a quaint, snow-capped mountain, and light up to double as decor.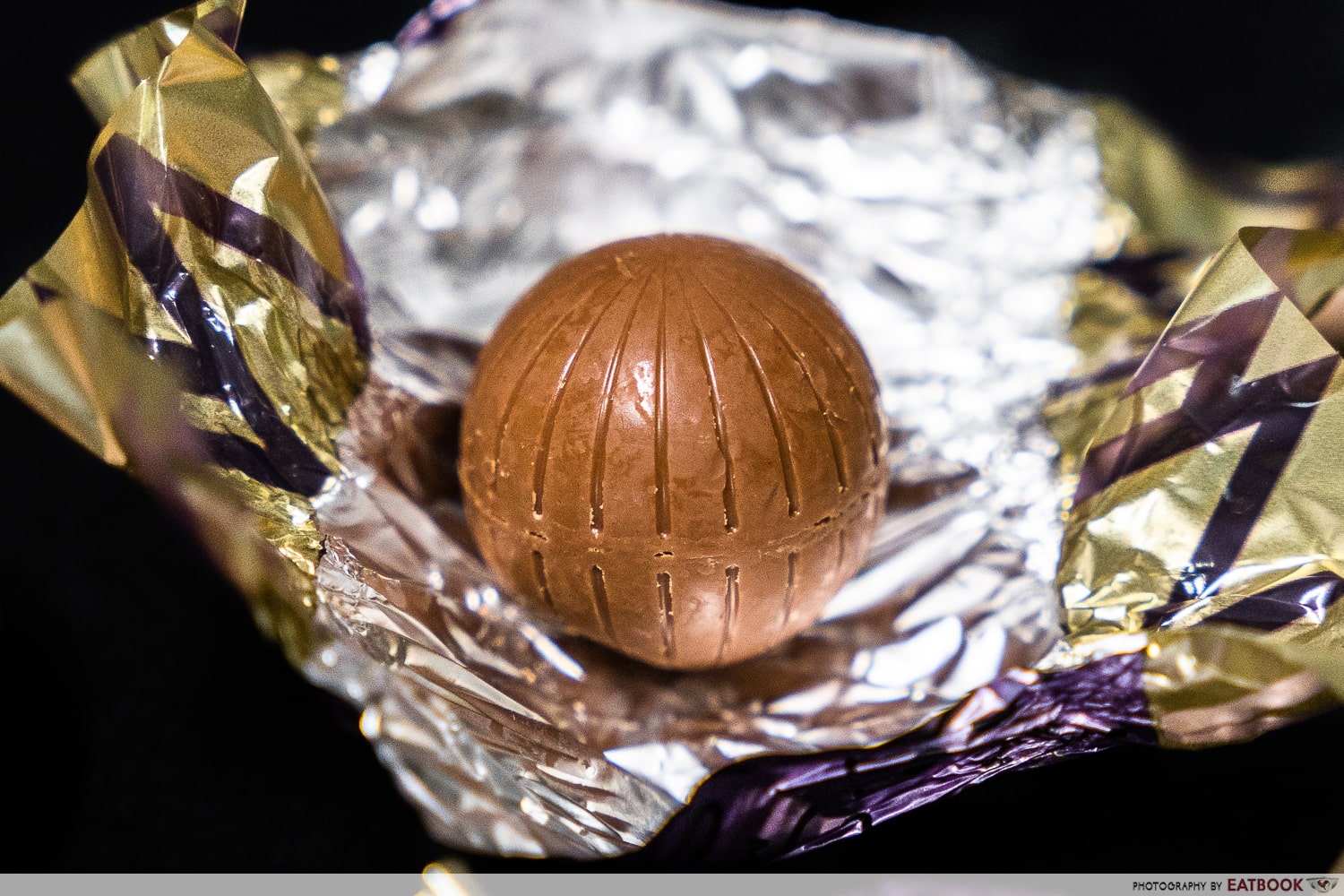 The tins come packed with Swiss truffles made with premium chocolate, available in assorted flavours, from orange to hazelnut. 
---
4. M&S Percy Pig Biscuit Tin
---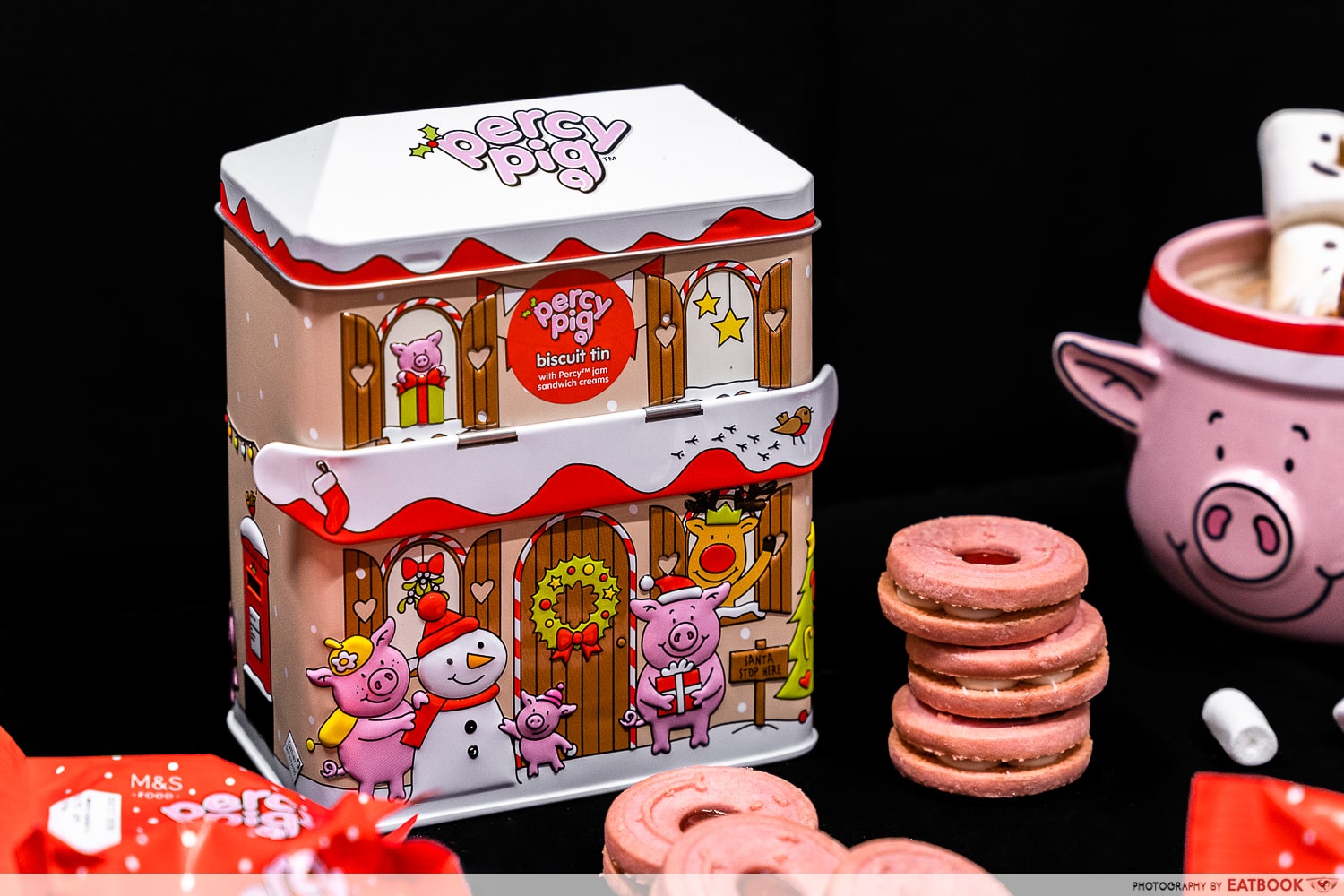 The young 'uns in your life are bound to love the M&S Percy Pig Biscuit Tin. This adorable set features a festive-themed Percy Pig house, with a roof that can be flipped open. The facade also stars the titular character and his friends, huddled around Christmas trees.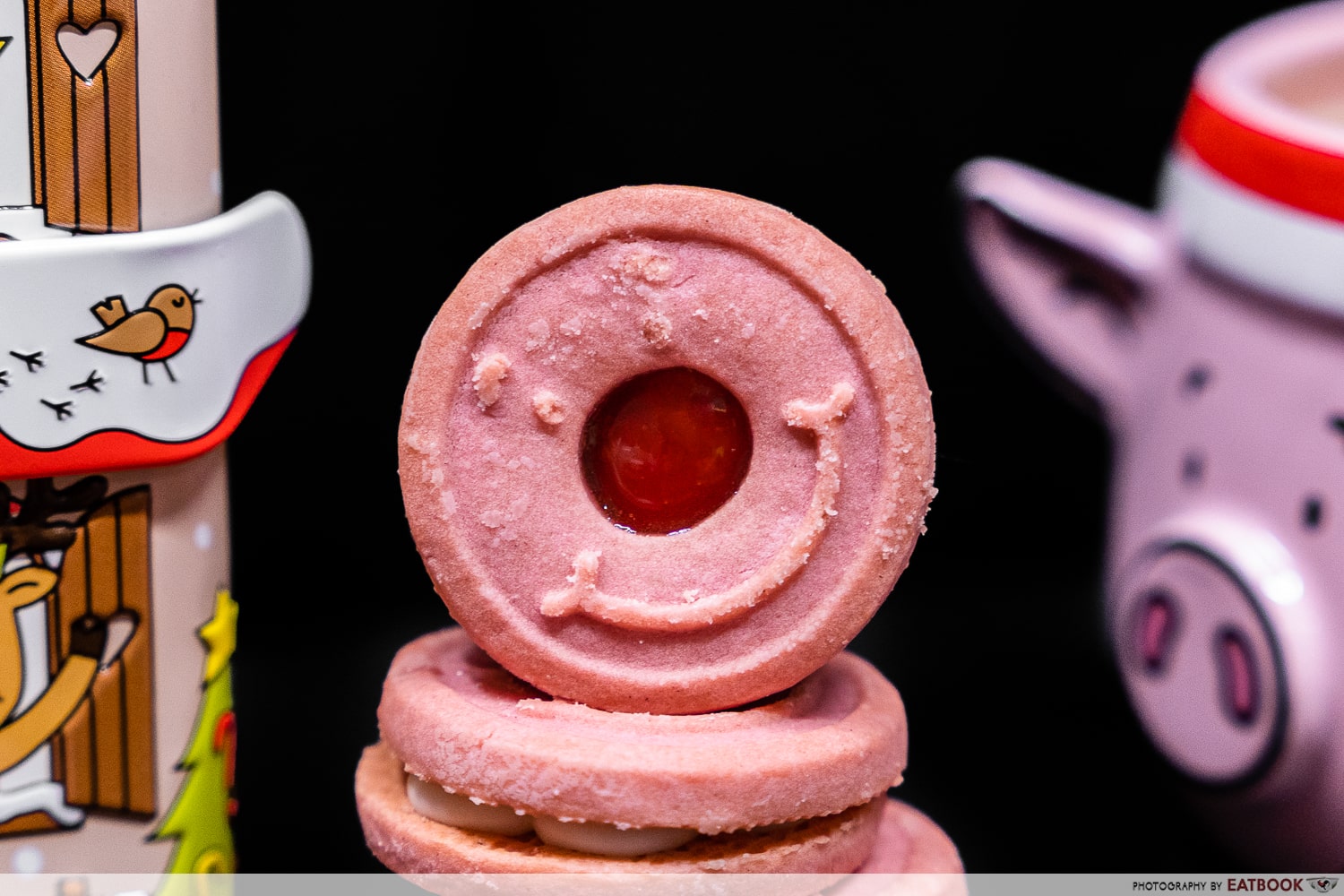 Inside the tin, you get berry and grape-flavoured shortcake biscuits flavoured with custard cream and raspberry jam—think famous British Jammy Dodgers. The tin can be reused to house future snacks, and makes quite the centrepiece. Young kids can also reuse it as a playhouse of sorts! Each tin is priced at $24.90.
---
5. M&S Magical Gingerbread Musical House
---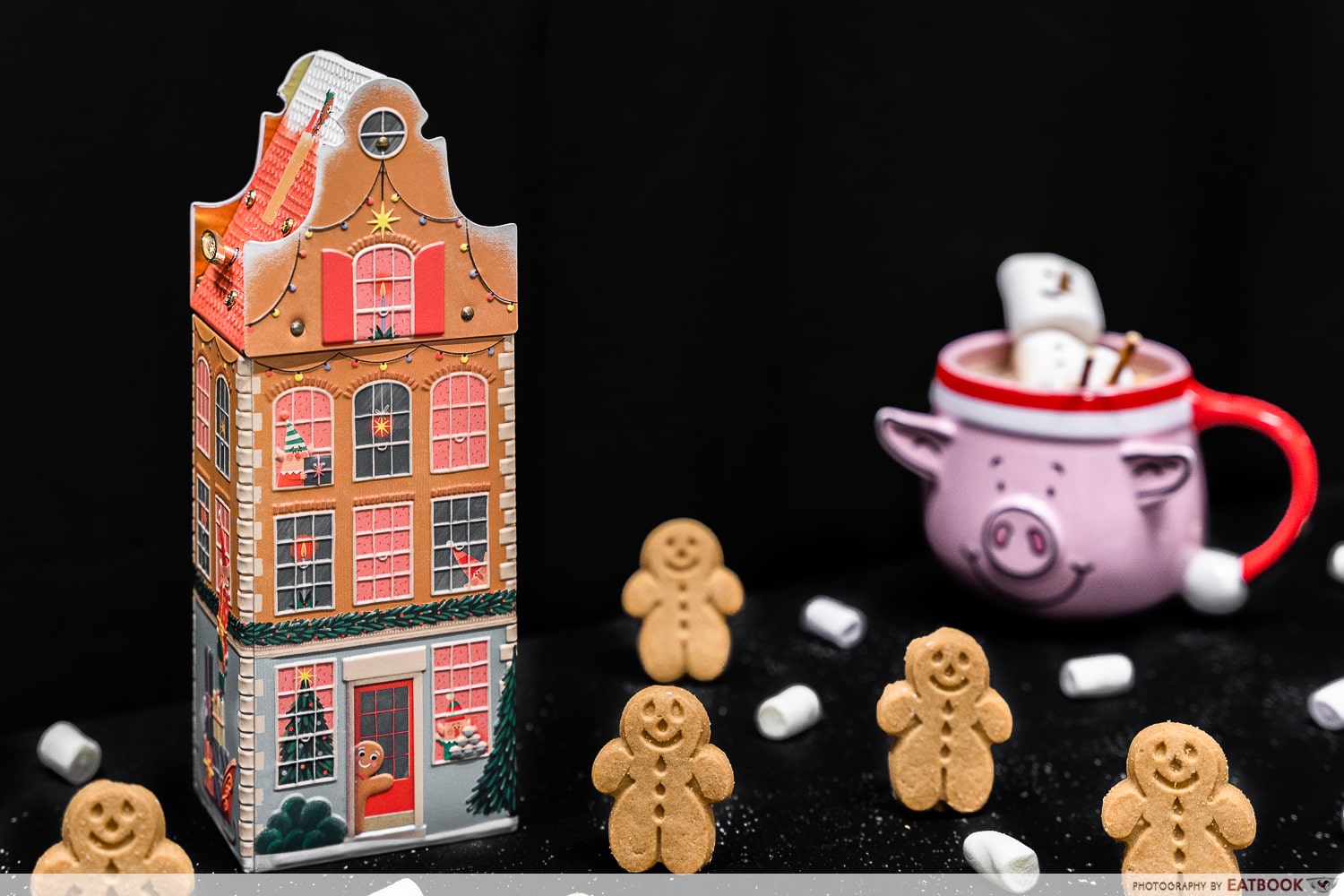 Gingerbread houses are another yuletide fixture, so bring on the cheer with M&S' Gingerbread Musical House. This adorable, family-friendly gift swaps out the perishable biscuit house for a musical biscuit tin decorated like a quaint, graphic gingerbread house.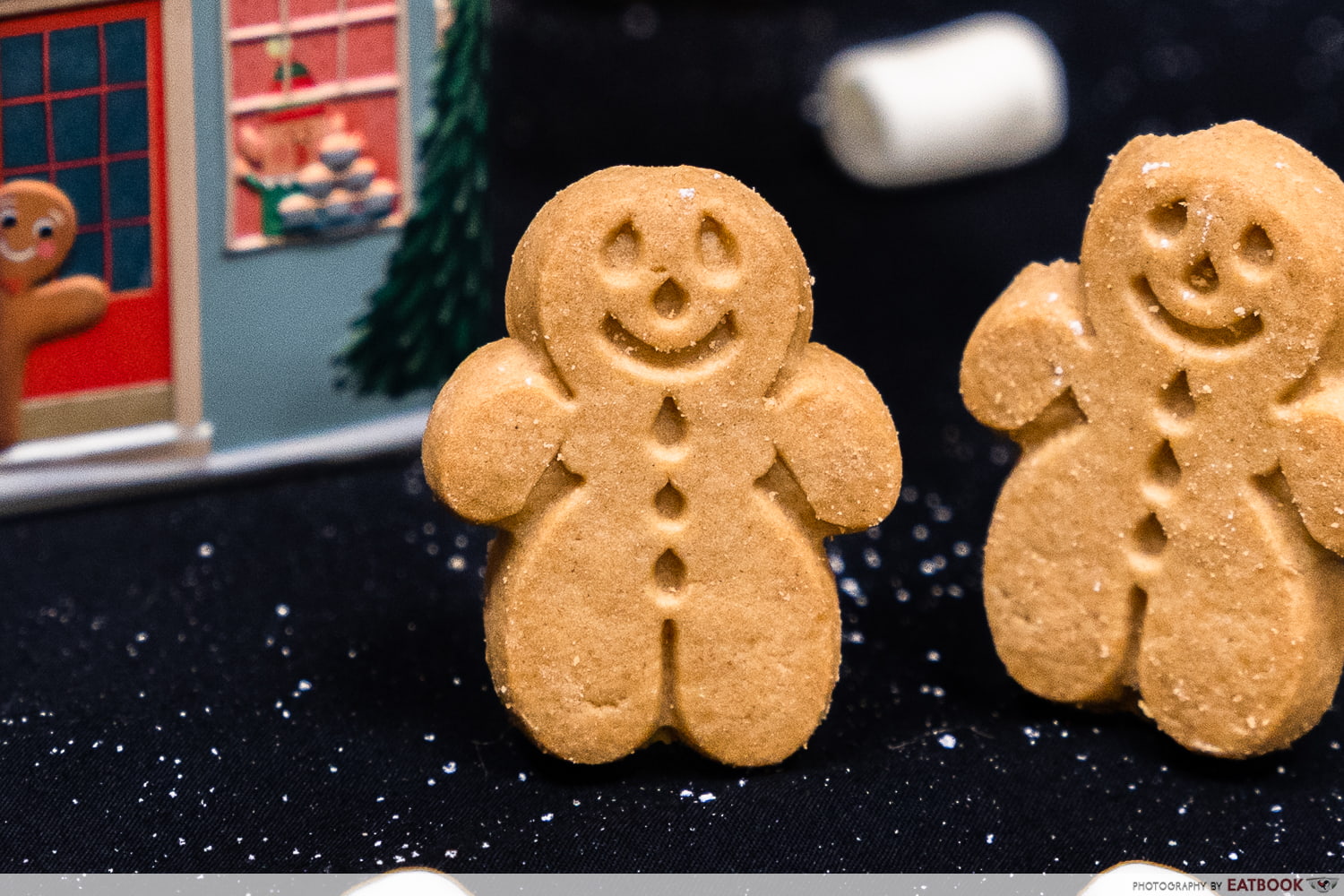 All the made-in-Scotland gingerbread biscuits are lightly spiced and made with pure butter, for a moreish crumb. The house is priced at $24.90.
---
6. Christmas Hampers
---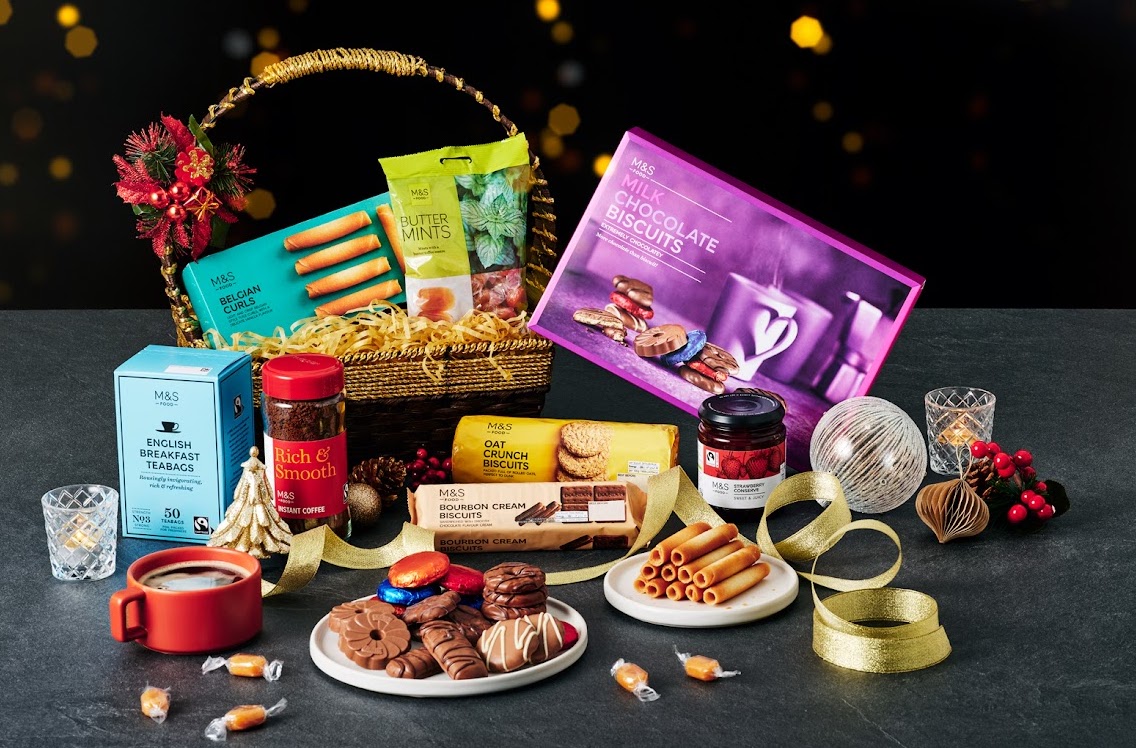 Image credit: Marks & Spencer
M&S also has a trio of Christmas hampers that are chock full of festive-themed food gifts, priced from $80. These have to be ordered off the M&S website, in-stores, or via email, and are only available till 18 December, so fastest fingers first!
We highly recommend the Yuletide Cheers ($80) set for fans of sweet treats, as this comes with eight different M&S brand items, from their signature Bourbon Cream Biscuits to their English Breakfast Teabags, and a festive Milk Chocolate Biscuit Selection. If you prefer to splurge, the Ultimate Indulgence ($300) hamper comes with full-sized Christmas goodies, including the Magical Gingerbread Musical House Tin we mentioned, and two bottles of wine.
---
7. M&S Percy Pig Piggy Bank with Pennies
---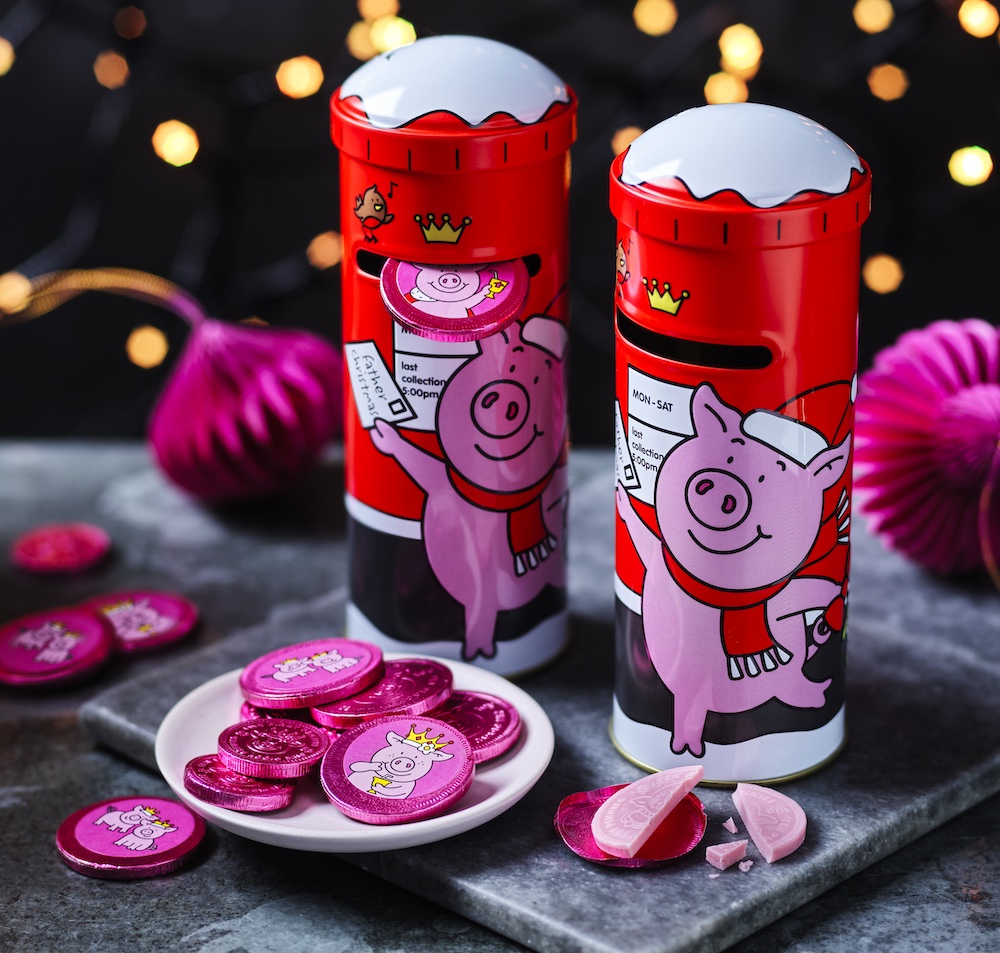 Image credit: Marks & Spencer
Kids and gummy candy lovers alike will definitely appreciate waking up to the M&S Percy Pig Piggy Bank with Pennies in their stocking. The packaging is a metal tin designed to look like a cute, classically British post box, and within are creamy milk chocolate coins wrapped in pink foil. Each box is priced at $19.90.
---
8. M&S Collection Mince Pies
---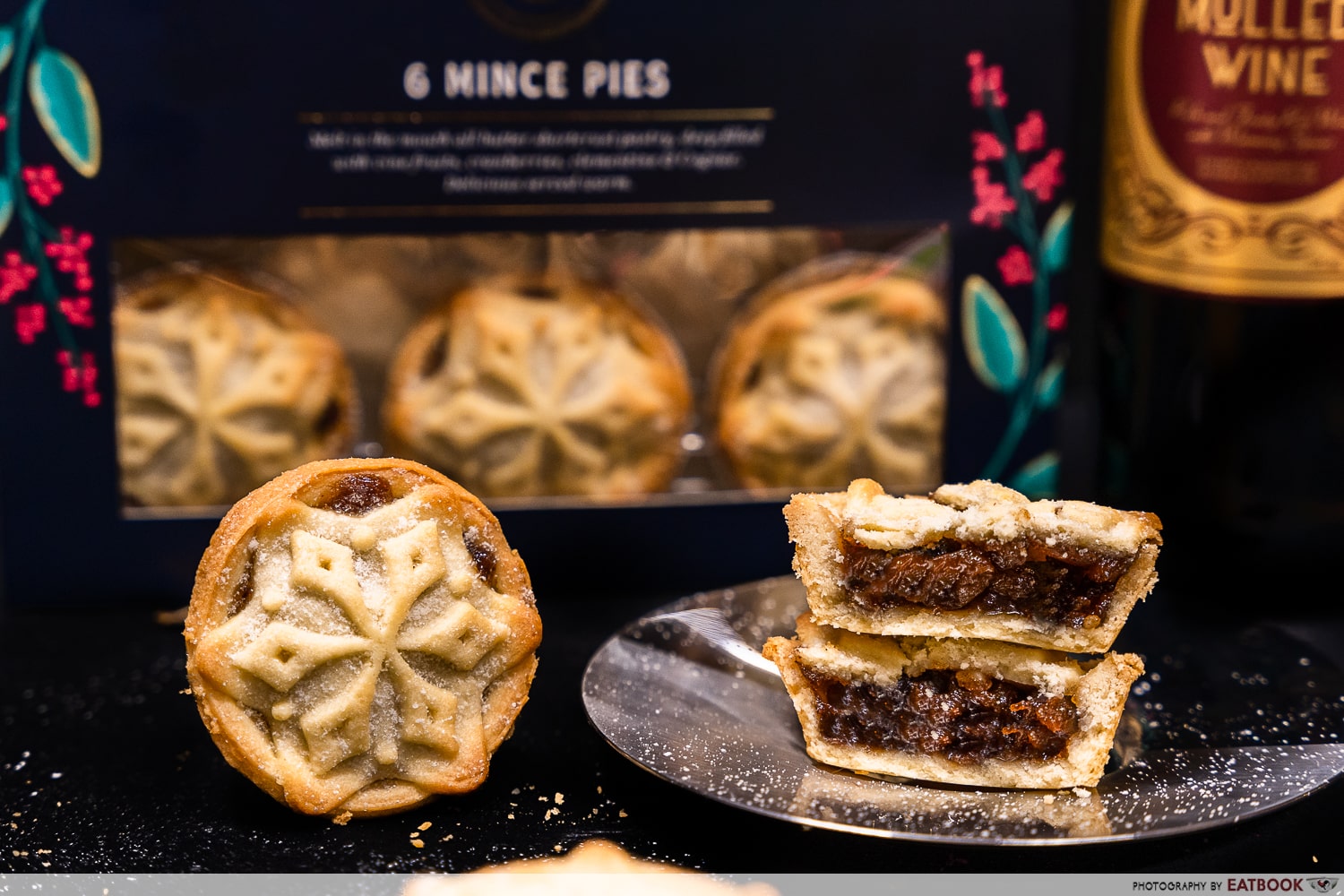 Mince pies are such a Christmas staple, so get your hands on some at M&S. These sweet pies star all-butter shortcrust pastry, stuffed with sweet mincemeat, comprising glacé cherries, cranberries, other dried vine fruits, and a liquid mix of brandy, cider, clementine juice and cognac, to bring on a warm, boozy undertone.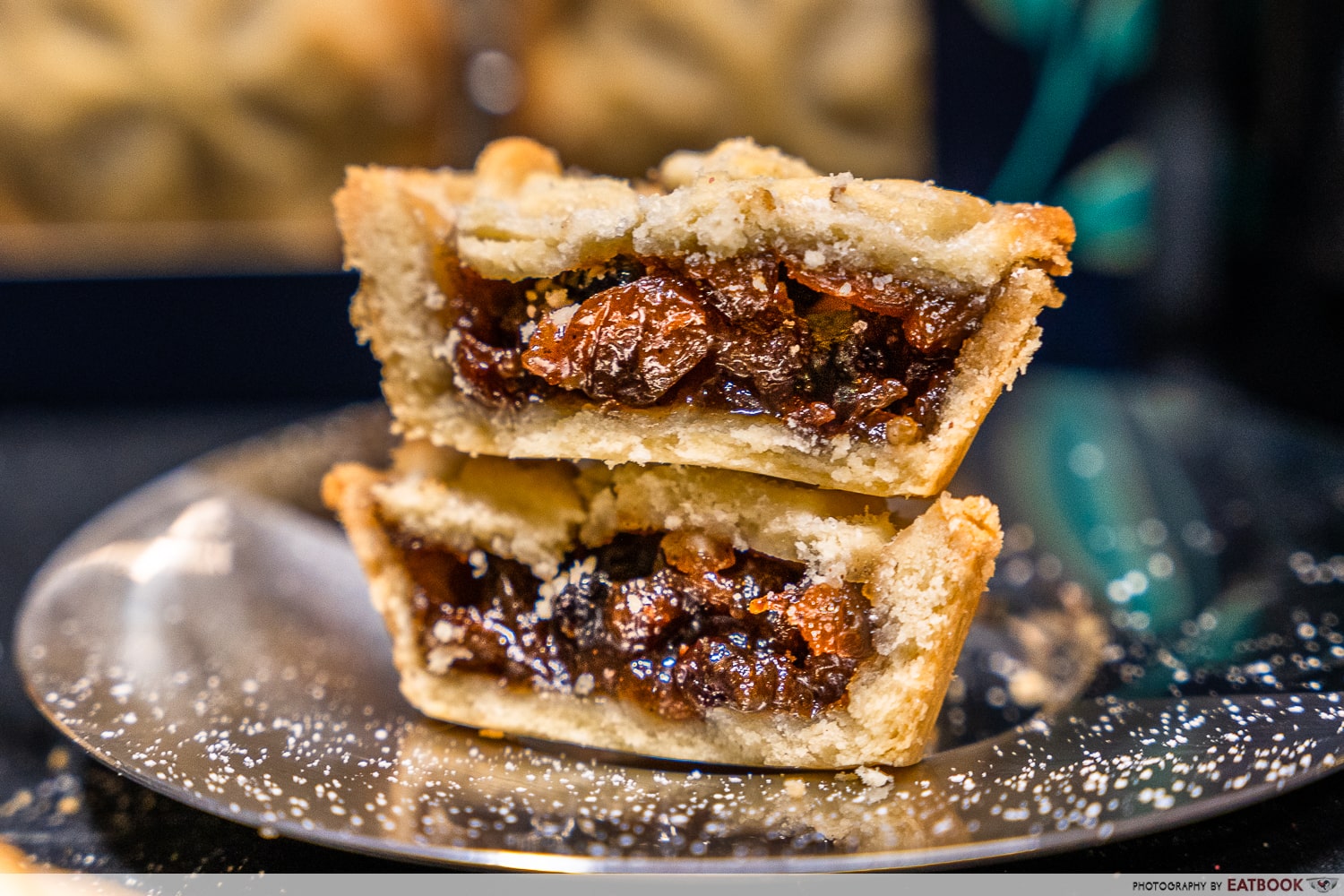 Served either hot or cold, these mince pies make for great stocking stuffers. They're also great as gifts for bringing to your next Christmas dinner to share with the people you love. A box of six is priced at $11.90, but if you buy two of these, or other mince pie flavours, you save 20%! Other options include icing-topped pies, lattice-topped pies, as well as gluten-free and vegan options. Mix and match is available.
---
9. M&S Red Mulled Wine & Spices
---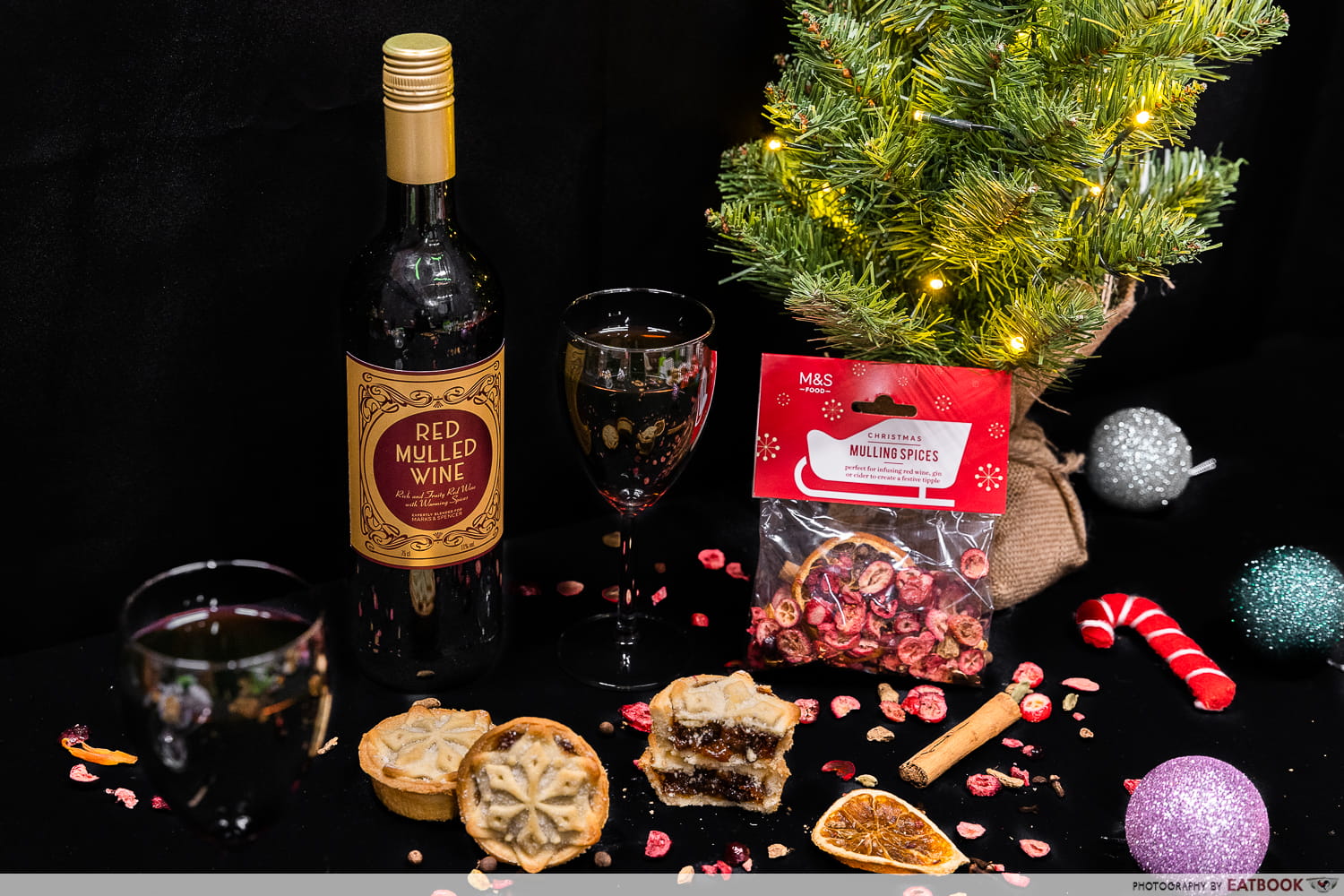 Mulled wine is another traditional Christmas must-have. To make things easy at home, M&S has a ready-to-drink, German-made Red Mulled Wine ($29.90), a rich, fruity concoction infused with spices that really bring on the festive cheer. Get two bottles for $49.90.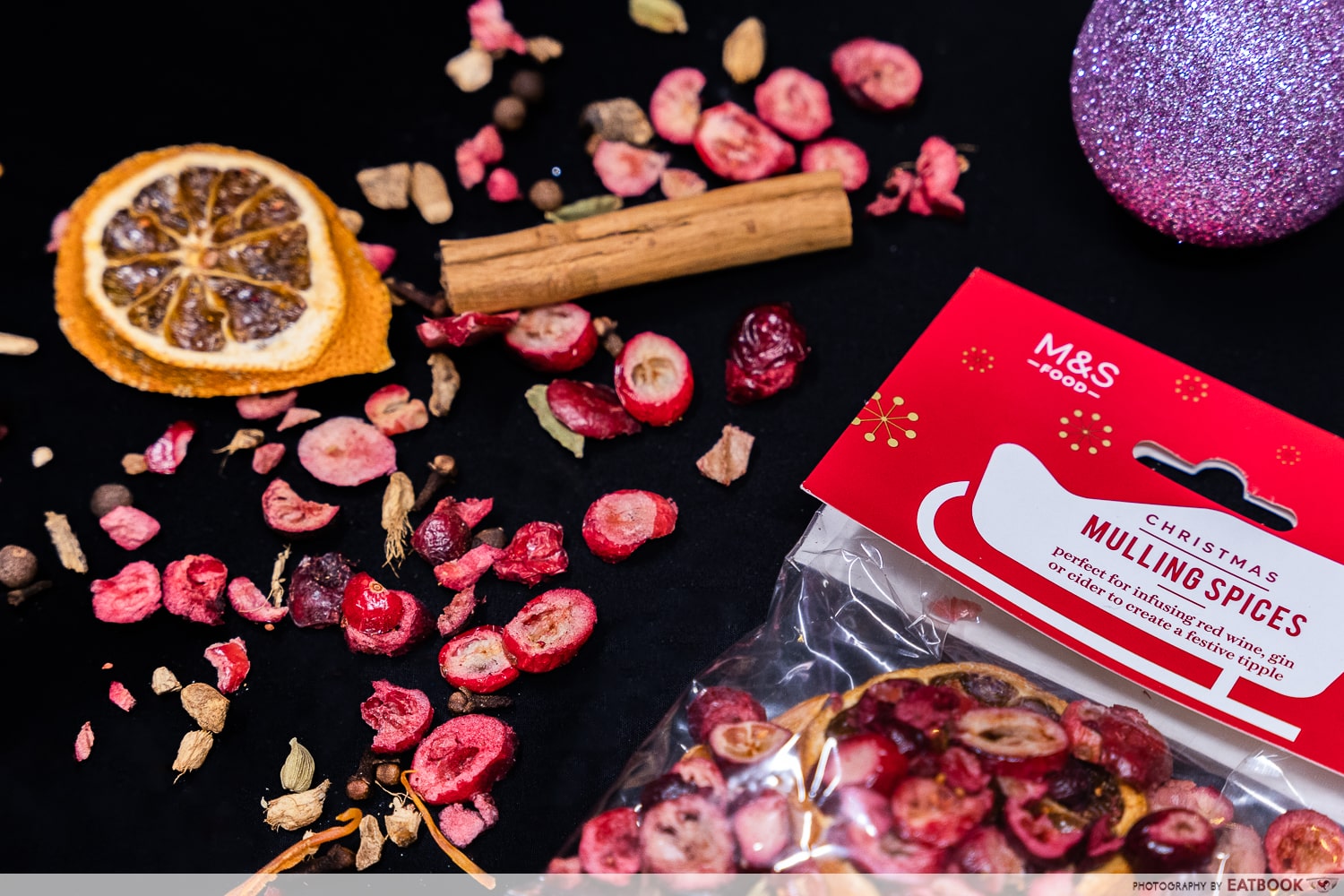 Simply pour the wine into a saucepan and heat it up slowly over the stove, then serve with an orange peel for maximum Christmassy vibes. If you prefer to DIY, M&S also has Christmas Mulling Spices ($7.90), a curated spice mix you can add to any red or white wine to create your own mulled beverage at home.
---
Festive food gifts and more at M&S Singapore
---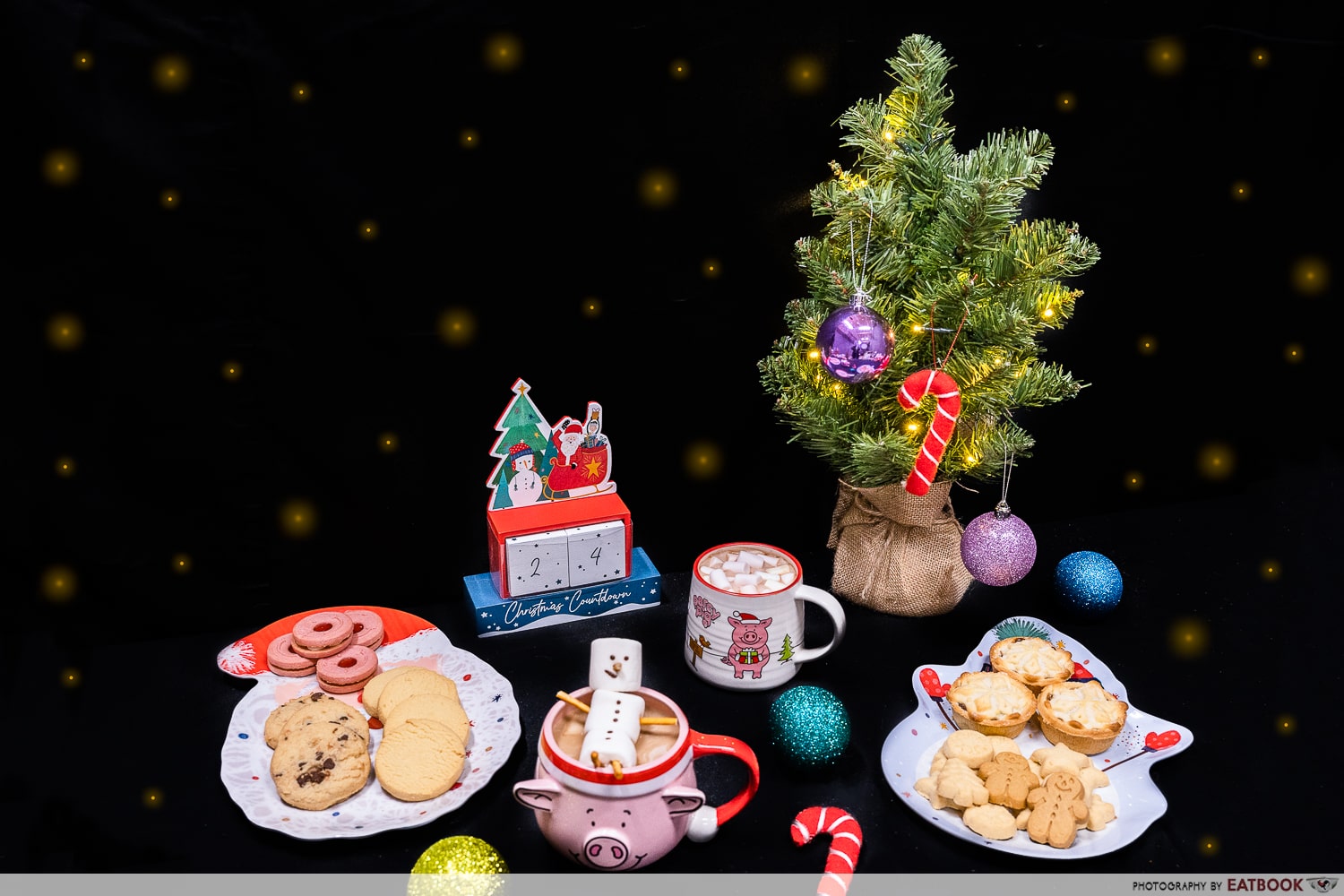 This festive season, they're also a leading store to satisfy your other Christmas needs, from yuletide-themed homeware and tableware, to Christmas tree decor and more! These include a Percy Pig mug that's perfect for hot toddies and hot chocolate, as well as other themed plates and serving dishes to make your dinner table that much more festive.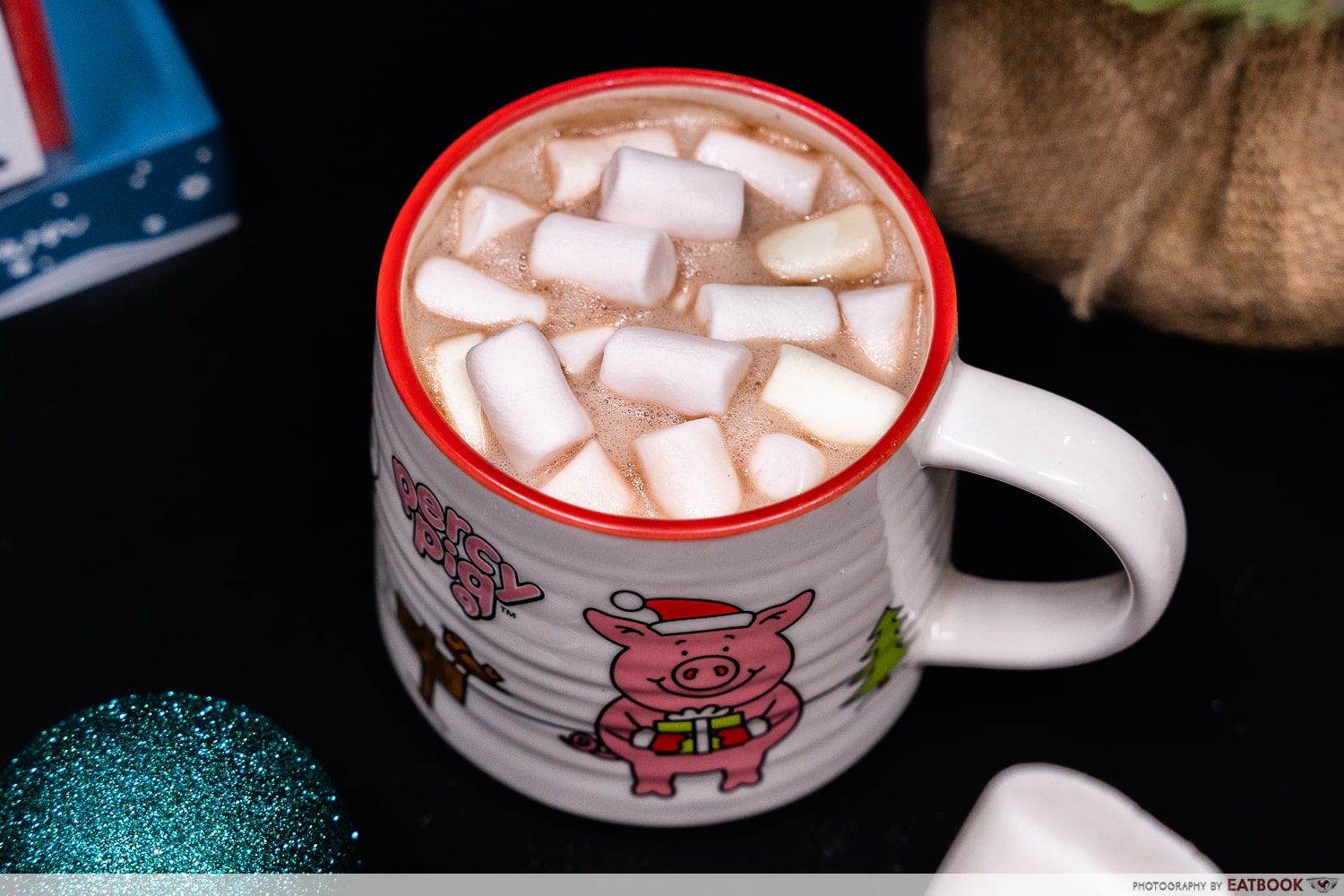 Head down to your nearest M&S outlet, their online store, or their app to get your hands on M&S' array of Christmas food gifts. 
Photos taken by Tan Zi Hui
This post is brought to you by Marks & Spencer