---
Marriott Cafe High Tea Buffet 2019
---
Marriott Cafe is back with their Delectable Durian High Tea Buffet that places Mao Shan Wang durians front and centre of a wild and adventurous menu. The buffet, priced from $45++ per person, will run from 3 June to 31 July 2019 at the swanky cafe.
Think DIY durian rojak with crispy you tiao pieces, and durian mozzarella pizza covered generously in rocket leaves.
We've reviewed every item on the menu so you'll know which ones are worth braving the durian fridge odour if you do decide to dabao them home.
---
1. DIY Durian Rojak
---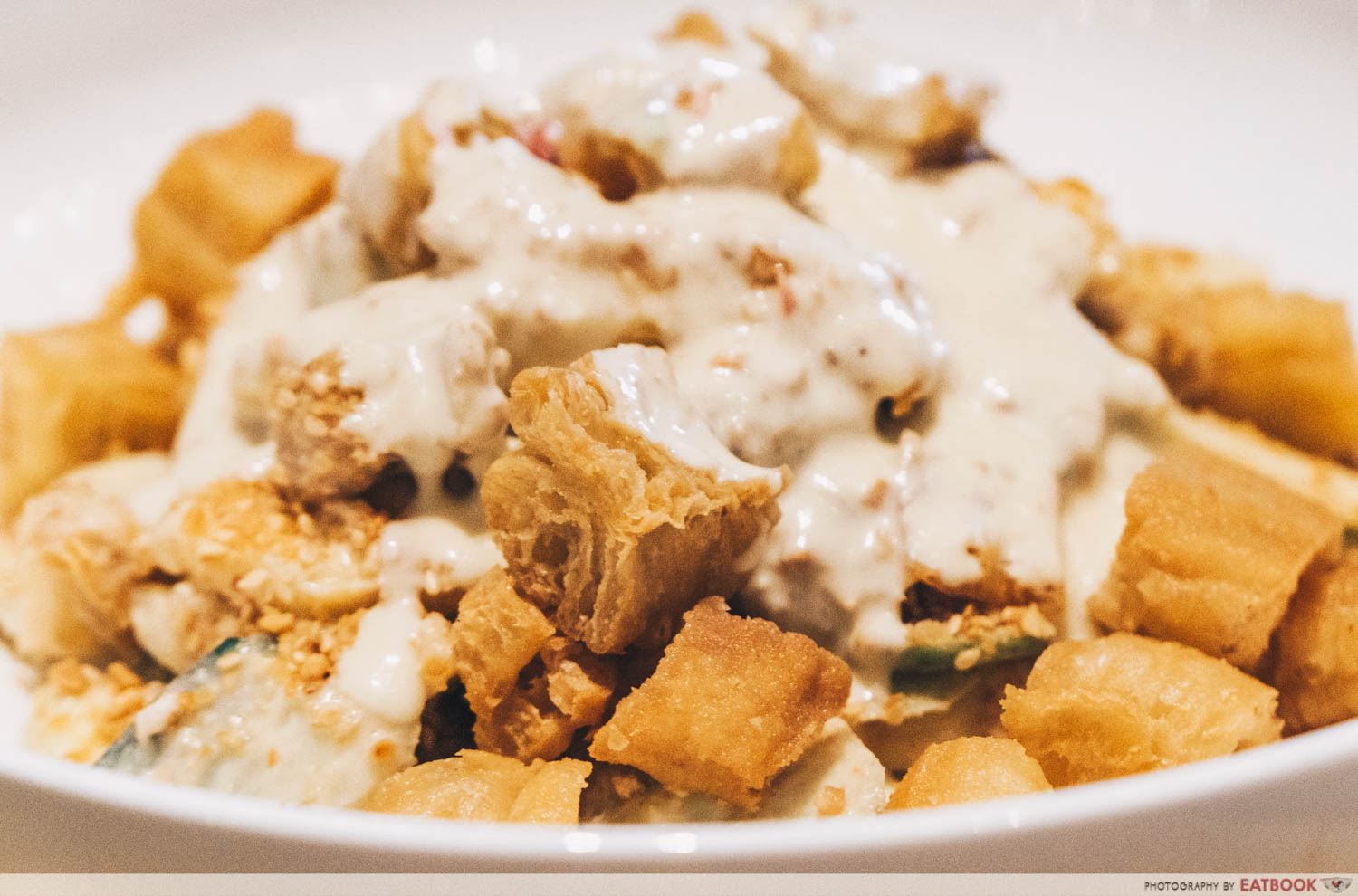 Mixing durian with another Singapore hawker staple seems like an insane idea. However, the chefs have found a way to incorporate durian into a smooth, creamy dressing that doesn't overpower the acidity of the pineapple pieces in rojak.
On the flipside, because the sauce is so balanced, the durian dressing feels more like an afterthought. We particularly missed the pungent tang of shrimp paste and tamarind—key components in rojak.
You can, however, go all out at the rojak booth and DIY your own salad based on your preferences. A special shout out to the you tiao pieces that remained crisp even with the sauce drizzled over it.
Durian intensity level: 1/5
---
2. Durian & Rocket Mozzarella Pizza
---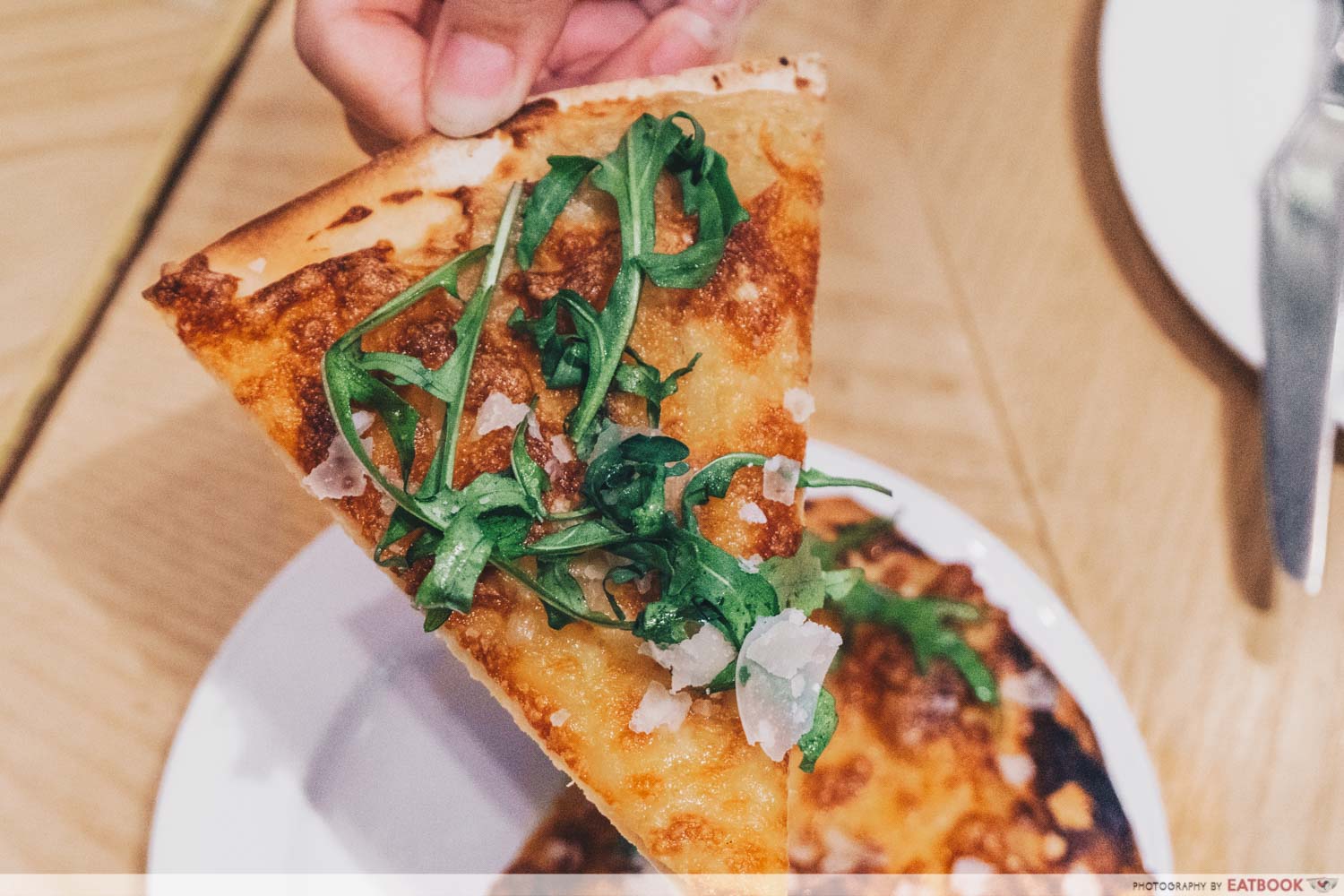 Marriott Cafe's star buffet main is a riff on Italian pizza with its thin but firm crust. Every slice was evenly spread with durian sauce under a well-meshed layer of stretchy mozzarella cheese.
We also appreciated the pops of saltiness and tartness that the parmesan shavings and rocket leaves brought to the plate.
Though tasty, we agreed that the durian wasn't the star of the dish as even on the first whiff, the cheese stood out a lot more.
Durian intensity level: 0.5/5
---
3. Durian Azuki Red Bean Pudding
---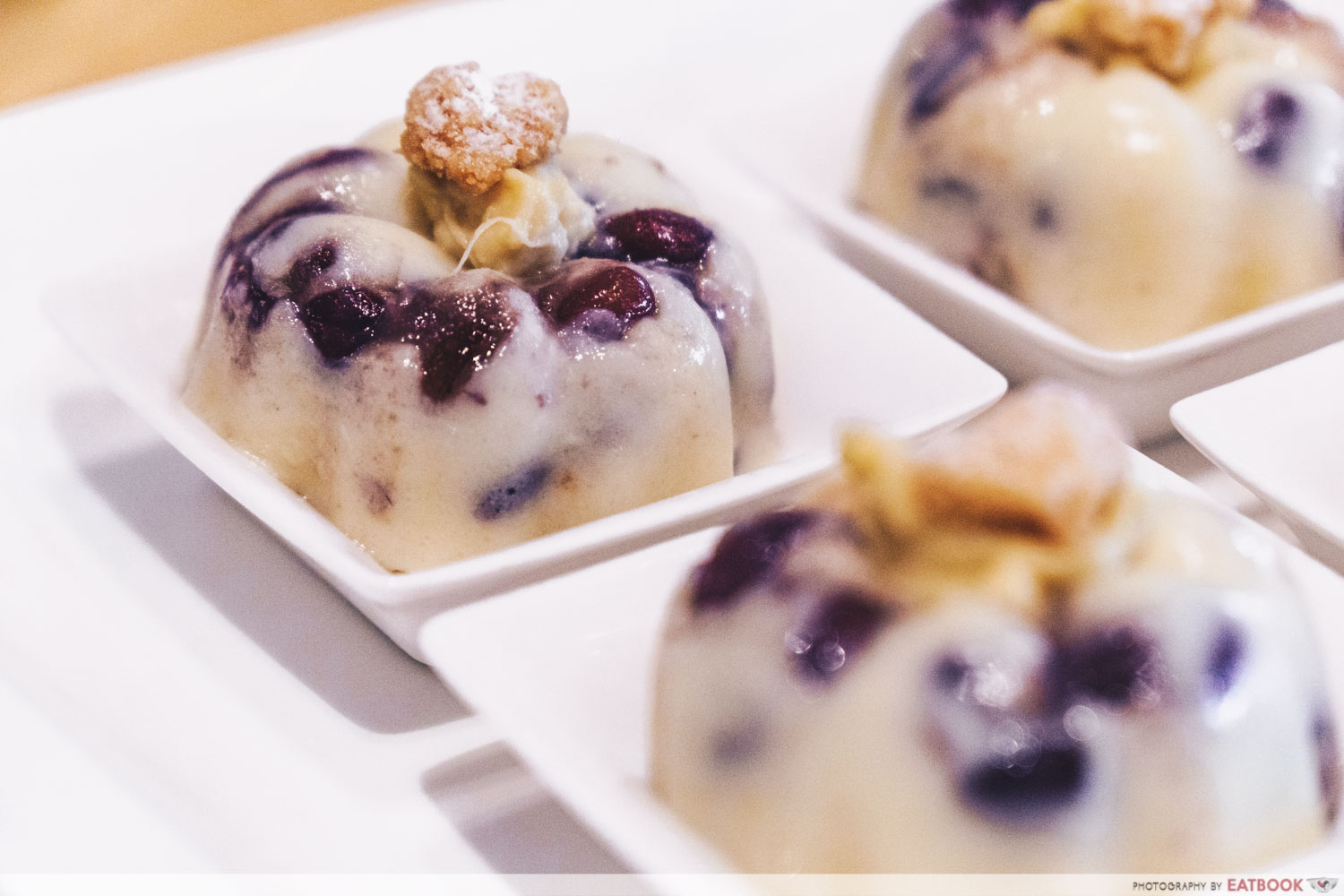 The pudding lives up to its name as it requires zero force to cut through. Inside, you can expect an interesting blend of textures—particularly, fibrous fruit of actual durian and grainy azuki beans that were evenly spaced throughout each jelly.
Crowning this dessert was a deconstructed almond shortbread crumble, which added a much-needed crunch to each forkful.
Durian intensity level: 4/5, plus points for actual MSW durian puree.
---
4. Durian Cream Puff
---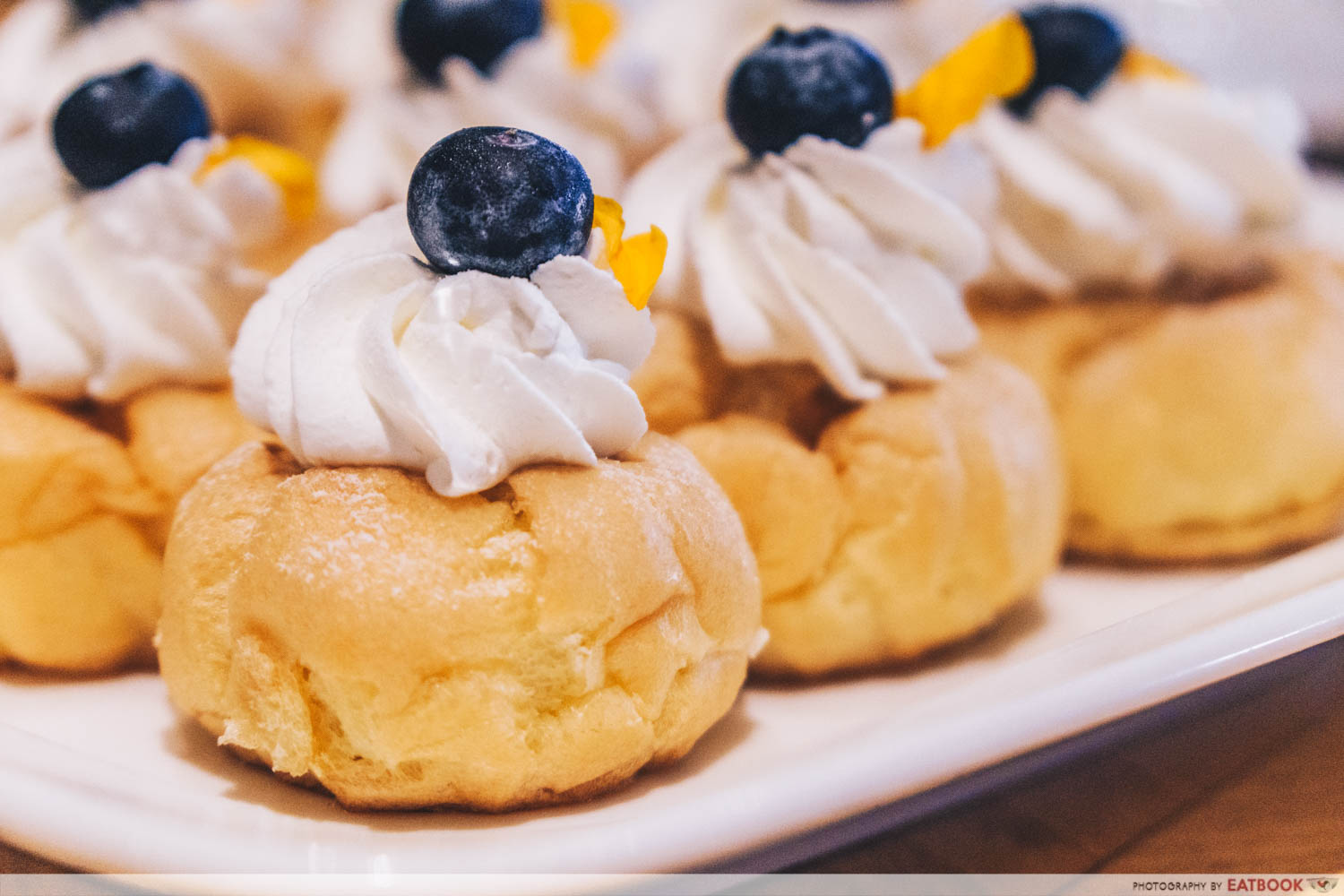 This pastry was light and airy, with just the right amount of butteriness to complement the rich dollop of durian puree in it.
The puffs were satisfying enough that you'll be reaching for a second right after popping one in your mouth. But the swirls of whipped cream topping, blueberry & flower petals don't add much to dessert other than being decorative eye candy.
Durian intensity level: 4/5
---
5. Durian Coconut Custard (Crepe)
---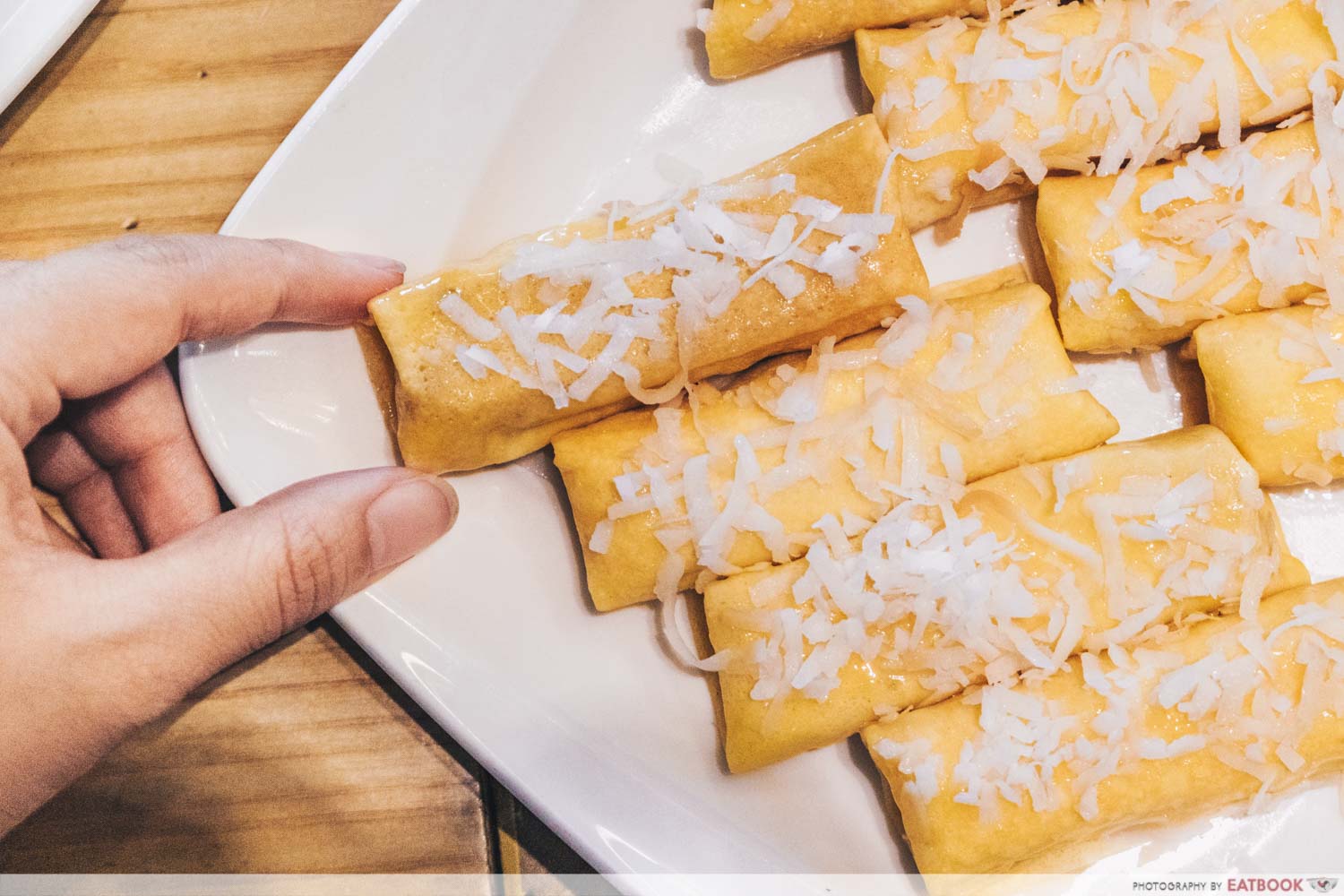 This dessert comprises slices of rolled crepes covered in caramelised shaved coconut. Biting into a roll didn't exactly feel gratifying as the layered crepes were a tad too thick to allow the durian custard to shine through.
We liked that the eggy even texture was consistent. However, there was a lot going on within each crepe as the custard was layered between a light sponge cake. Add the grated coconut to the mix, and the jelak feeling set in quickly by our second roll.
Durian intensity level: 2/5
---
6. Durian Gateau
---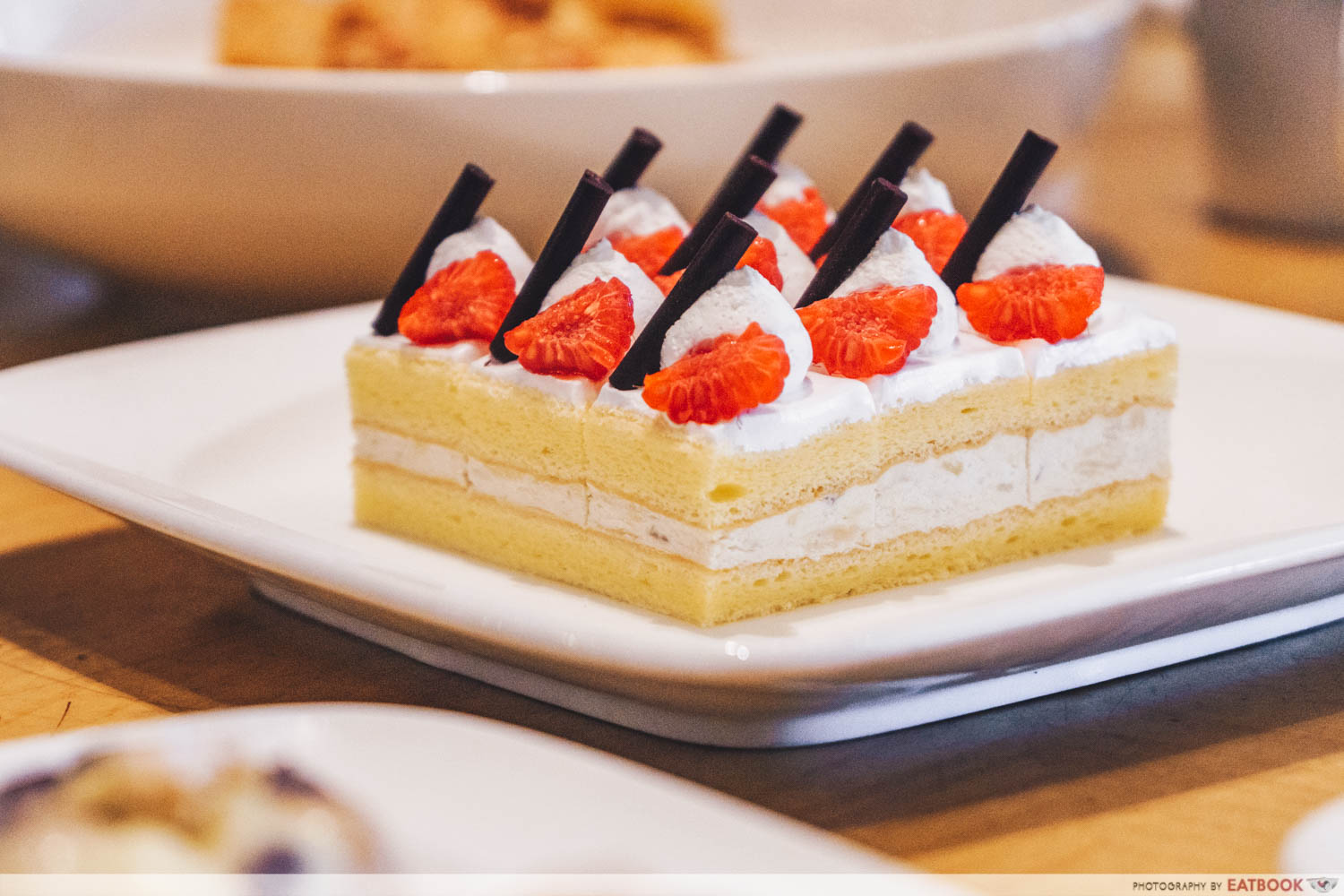 This delightful cake was beautifully executed—a thick, sweet layer of certified MSW durian mousse sandwiched between two layers of light, fluffy sponge cakes. The tart raspberry and bitter dark chocolate swirl helped balance the heavy-set sweetness of the dessert.
Unlike the durian puff, each slice didn't have any elements that didn't belong in the mix.
The only drawback was that each slice was way too small, so you should take at least three pieces before everyone else discovers how nice it is.
Durian intensity level: 3/5
---
7. Durian Tart
---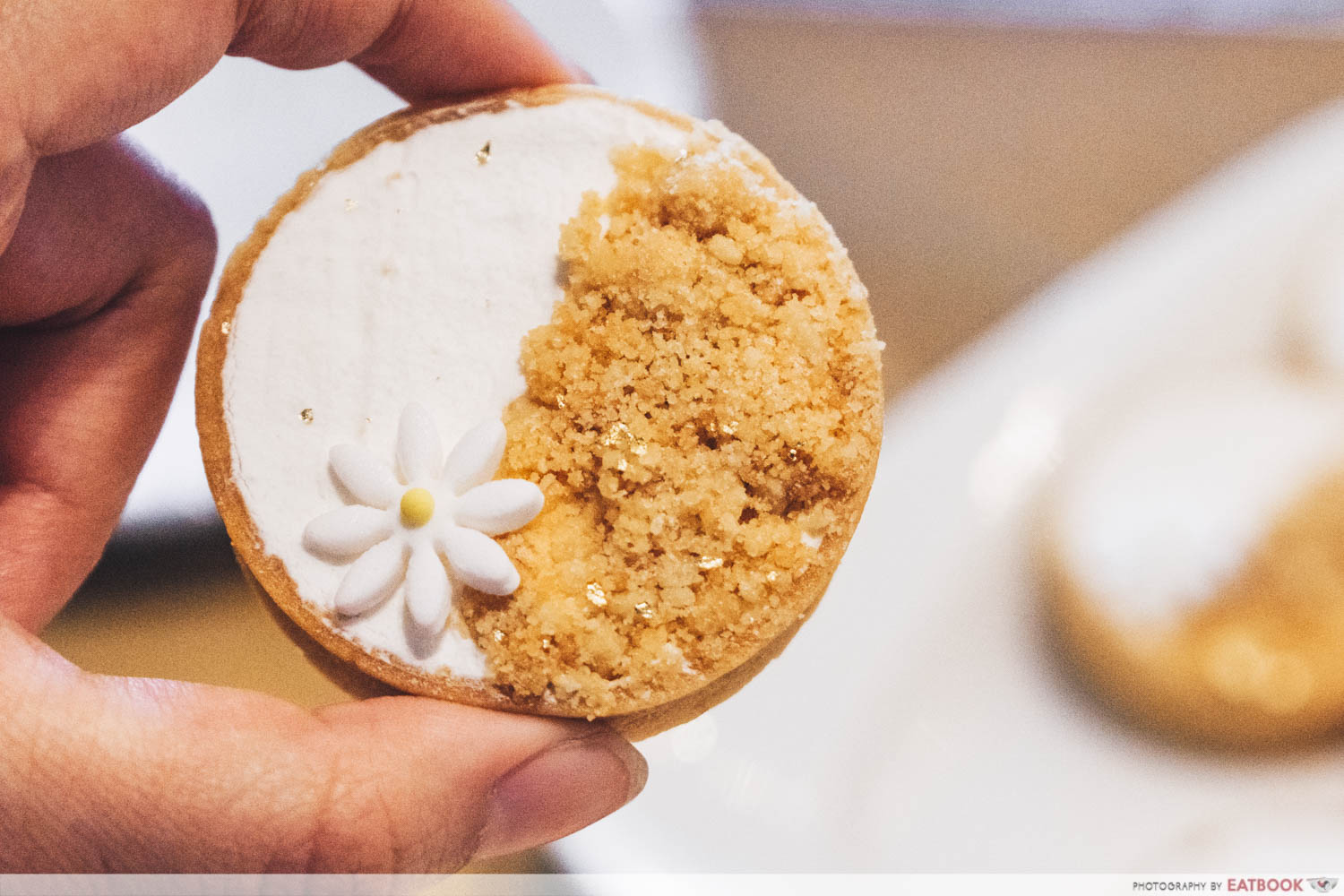 Thickness is everything in a pastry, and this tart's crust treads the balance carefully with its homage to classic durian tarts.
The filling wasn't as cloying as the other MSW durian entrées on the menu. We appreciated the familiar bittersweet aftertaste that some durian fans love. The pastry held together well, and served as an edible cup for the light whipped durian cream within.
Durian intensity level: 2/5
---
8. Durian Crumble
---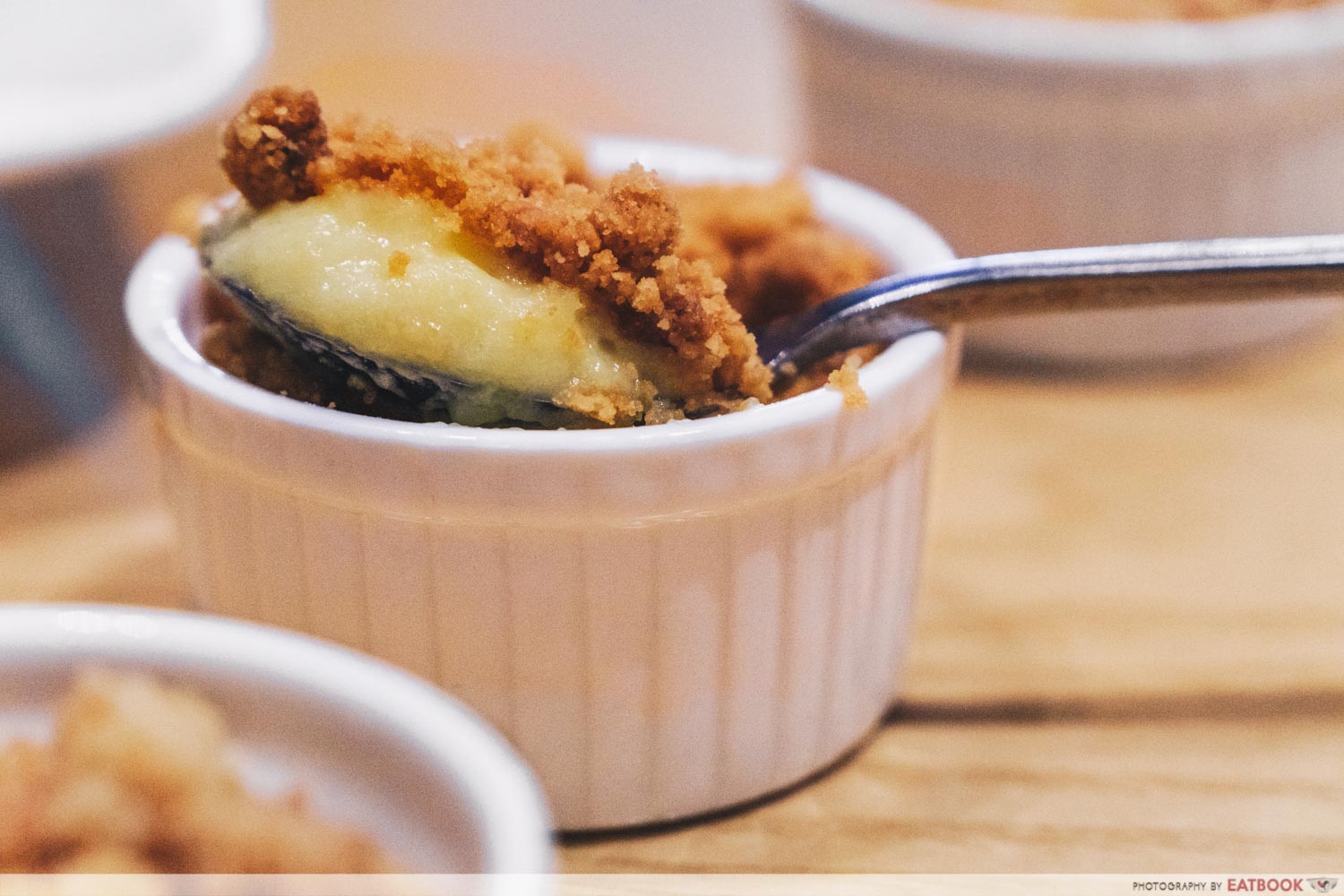 As part of the warm dessert offerings on Marriott Cafe's menu, the durian crumble was comforting with its sweet and generous brown sugar crumble topping.
The only drawback was that it's too heavy even in the small portion that we shared. However, if you're an adventurous durian connoisseur, this is the dish to get.
Durian intensity level: 4/5
---
9. Durian Strudel
---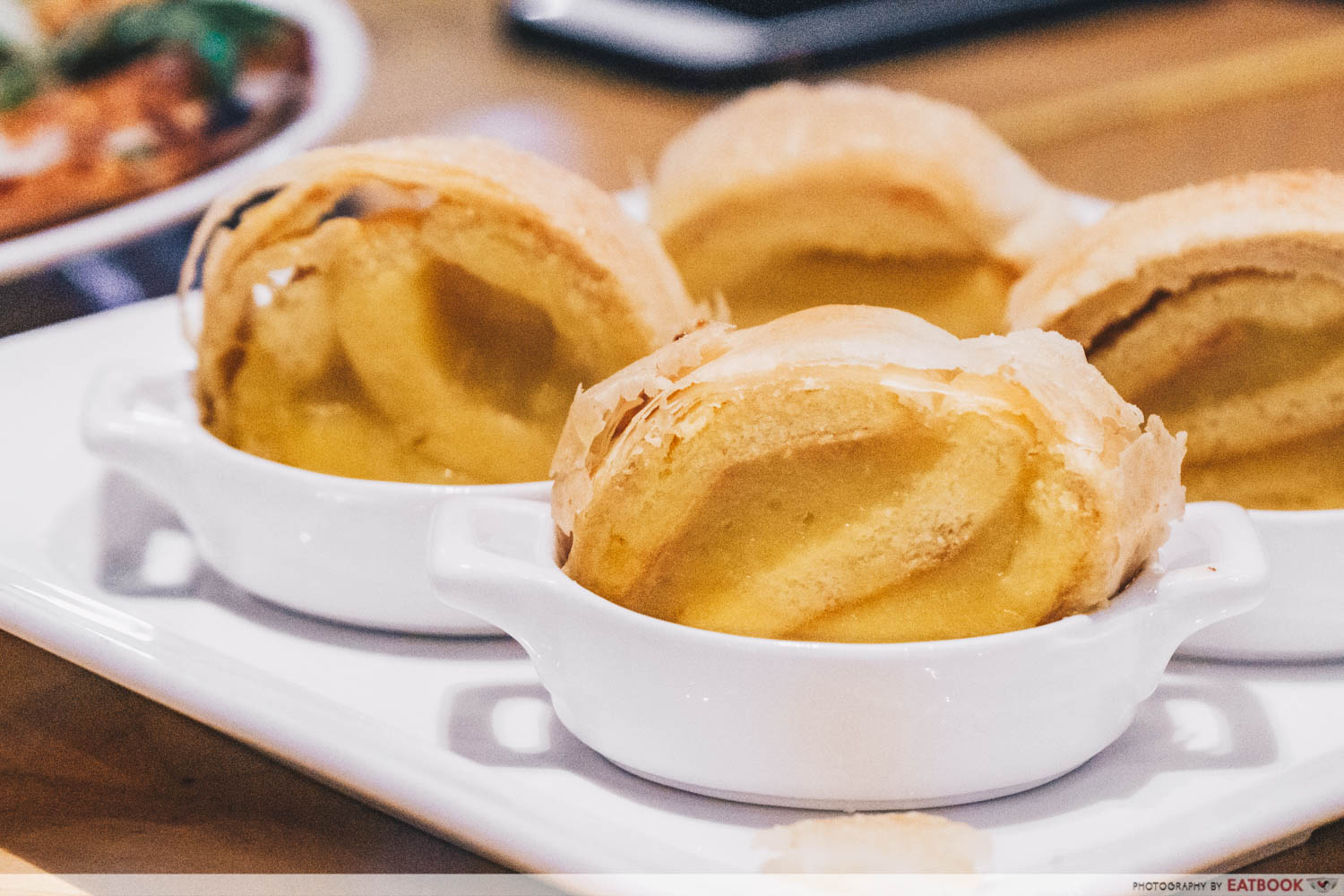 This homemade puff pastry was layered on top of a denser cake that's a carbon copy of Sara Lee pound cakes. Both work with the well-balanced durian mousse that's enveloped intricately between the rolls of strudel pastry.
Not overly sweet and with just the right hint of saltiness, this strangely addictive warm dessert will round out your pickings from the table.
Durian intensity level: 4/5
---
10. Durian Smoothies (Pandan & Banana Chocolate)
---
Lazy eaters who just want to enjoy durian in its purest form will love these rich durian smoothies. You can choose between rich dark chocolate banana, or pandan essence for a zhng-ed up creamy shot that truly encapsulates the allure of durian.
Durian intensity level: 4.5/5
---
Eat durian desserts at Marriott Cafe's Durian High Tea Buffet
---
As far as high tea buffets go, this is worth your RSVP. That being said, visiting once will be enough to satisfy you. For the less adventurous, it's a great foray into durian buffets due to its affordable price and lack of overly pungent dishes. You won't be inundated with only sweet treats at the buffet though. Marriott Cafe's spread includes crowd-pleasers such as poached prawns, dim sum and bak kut teh.
The price of entry to the buffet includes all the durian desserts as well, so your durian-adverse companions can still turn to other standard options for comfort.
Durian High Tea Buffet (Mon to Fri)
Adult – $45++ per pax
Child (5 to 12) – $27++ per pax

Durian High Tea Buffet (Sat to Sun)
Adult – $48++ per pax
Child (5 to 12) – $30++ per pax
Address: 320 Orchard Road, Marriott Cafe, Singapore Marriott Tang Plaza Hotel, Singapore 238865
Buffet hours: 3 June-31 July 2019, 3pm to 5:30pm
Tel: 6831 4605
Website
Photos taken by Leong Kit Shan.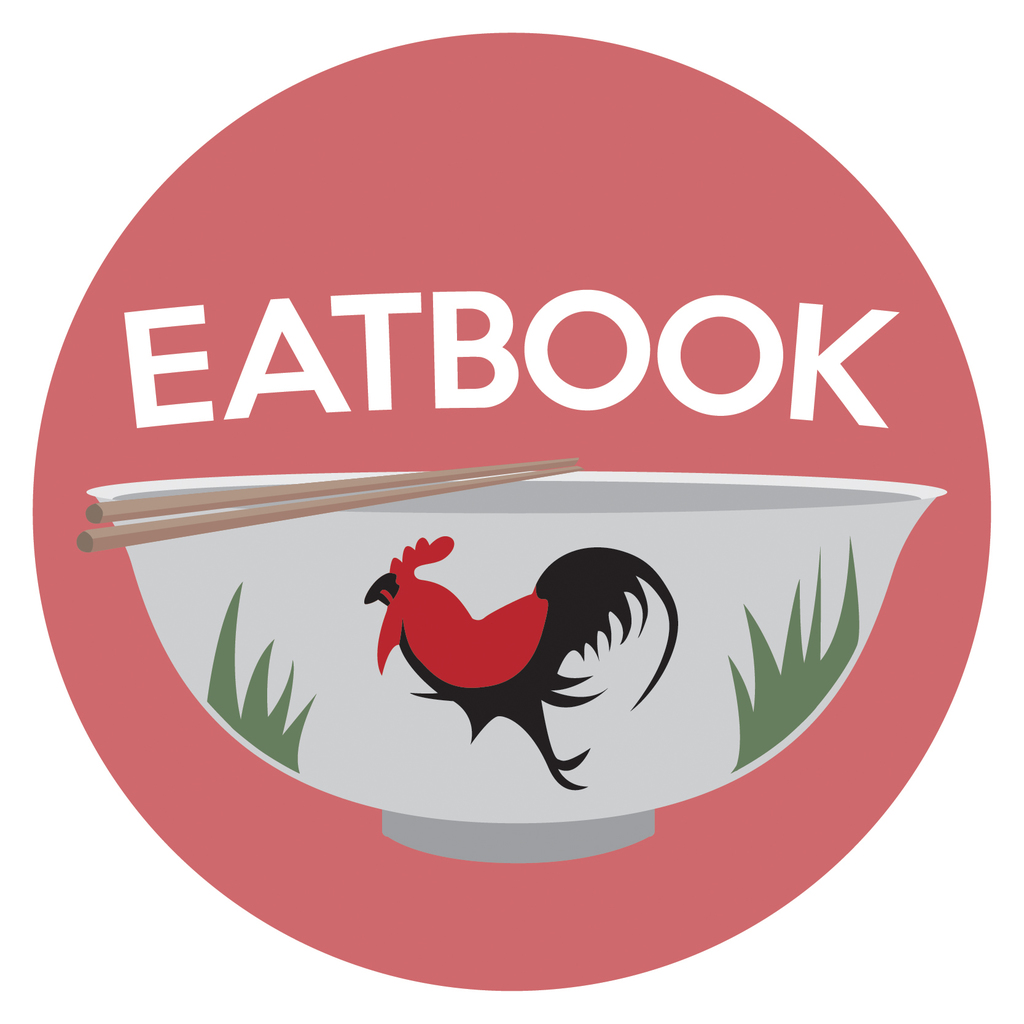 Drop us your email so you won't miss the latest news.