Messy Munch at Nanyang Polytechnic
Update: Messy Munch is now permanently closed.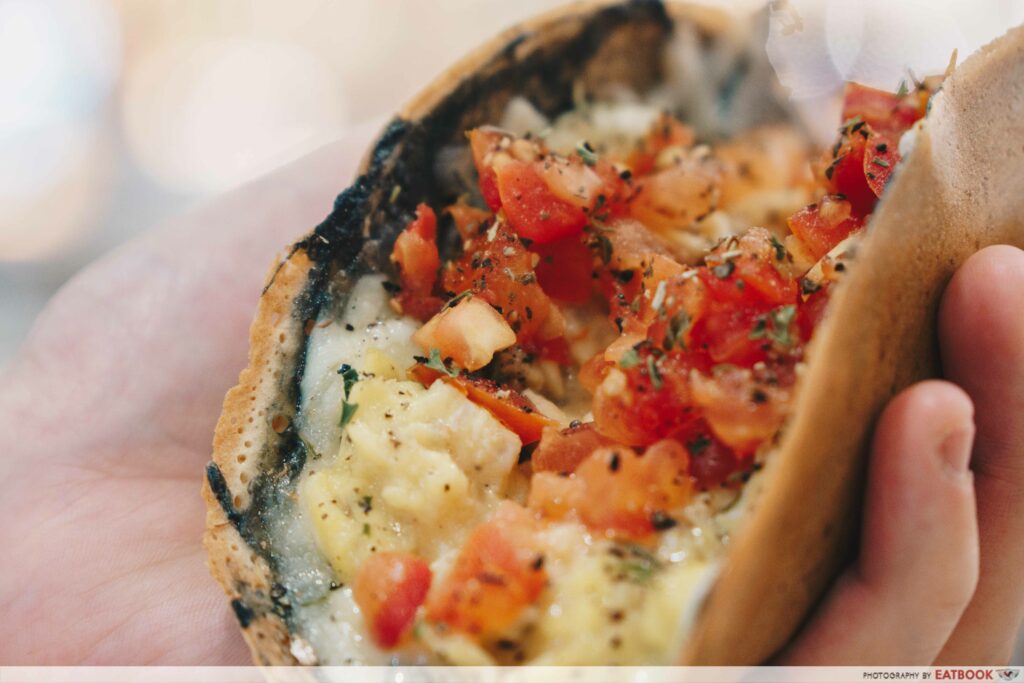 "Would you ever leave your full-time job to start your own business?" I asked my colleague who came with me to Messy Munch. He pondered for a while and shook his head, saying he does not have the courage to take that leap of faith. That was not the case for the stall owners of Messy Munch, a month-old crepe stall situated in the heart of Nanyang Polytechnic. The three co-founders left their full-time jobs to pursue their dream of starting their own brand.
Food at Messy Munch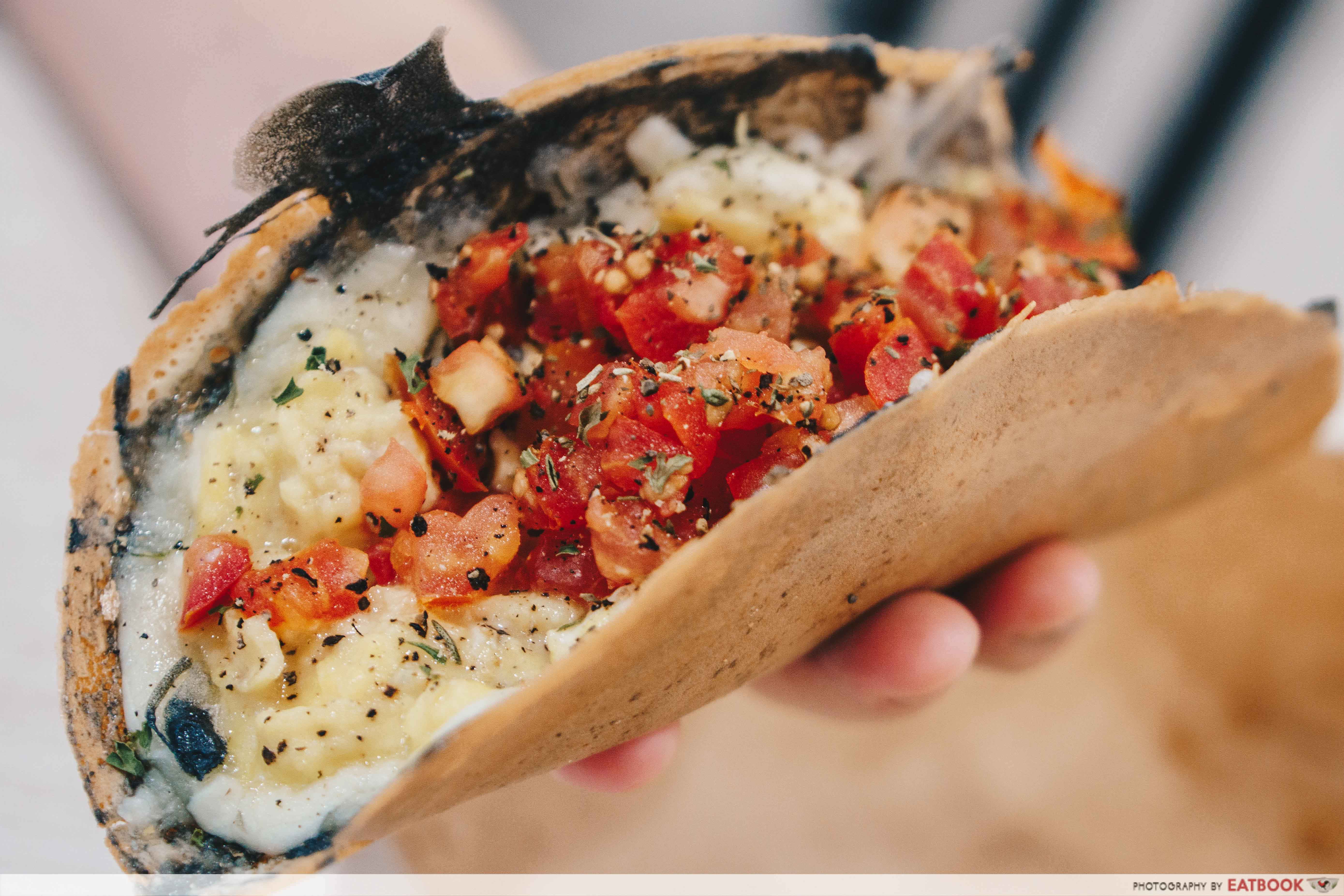 Messy Munch offers both savoury and sweet crepes. The first savoury crepe we tried was Morning Johnny ($2.80). One side of the crepe was black, as if it was made using black batter. The stall owners mentioned it's made using charcoal but didn't say anything more as this is their secret recipe.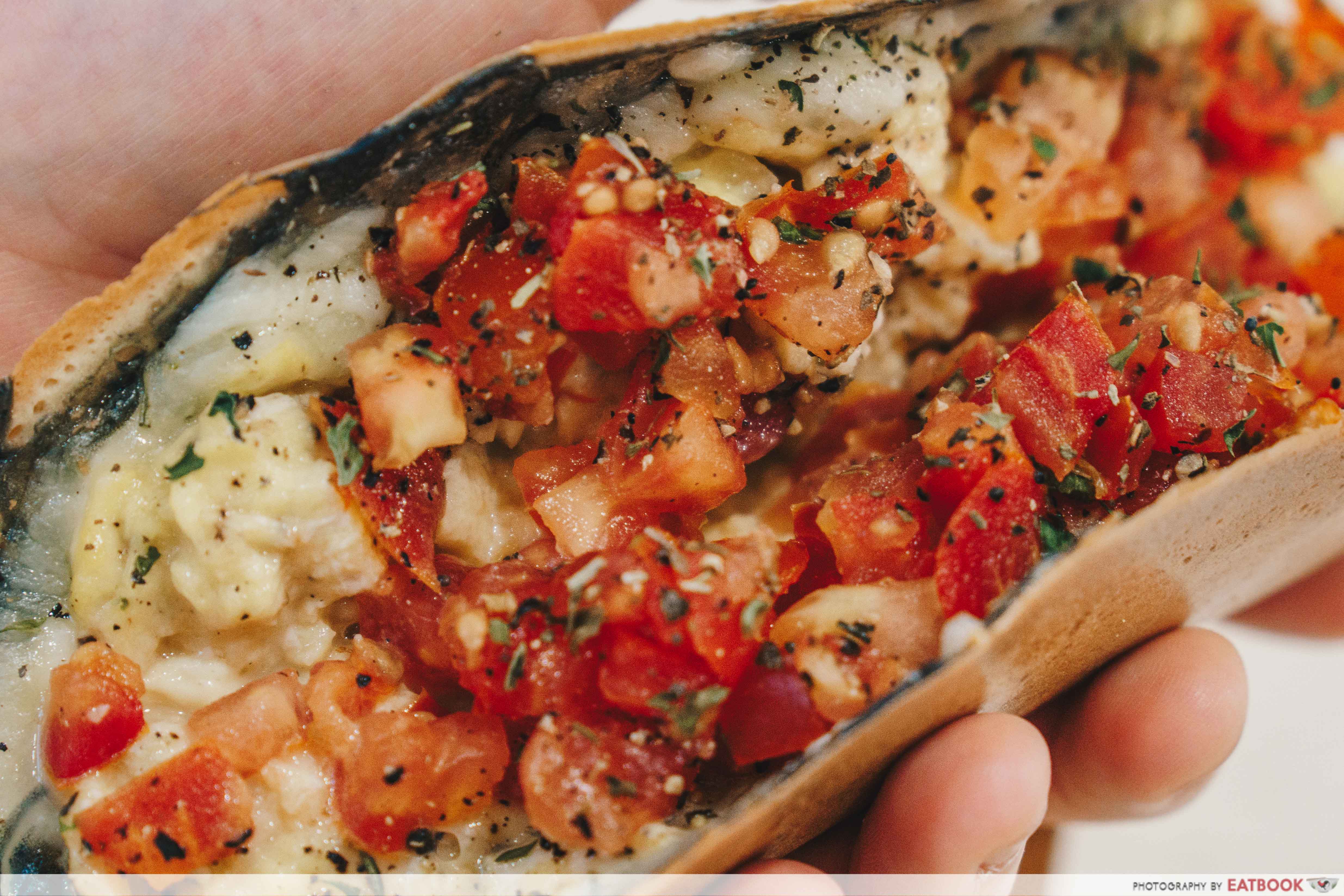 Morning Johnny comes with melted mozzarella as its base, along with creamy scrambled eggs and diced tomatoes. At the counter, there is a container of chopped herbs for customers to dust onto the scrambled eggs.
Afraid that the crepe might turn soggy, my colleague and I waited no further to try it. Both of us looked at each other with our eyes widened. We were amazed by how the sweet crepe and salty scrambled eggs went so well together. While the eggs carried a soft bite, the diced tomatoes gave off a good crunch.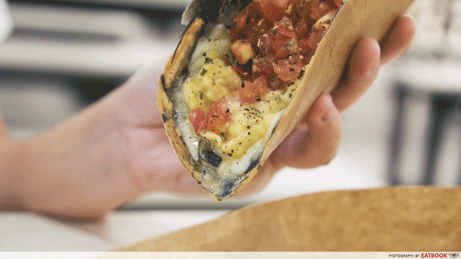 Juices from the scrambled eggs swam in my mouth as I savoured every mouthful. Towards the end, there was a slight spicy kick from the black pepper that was dotted on the top of the egg.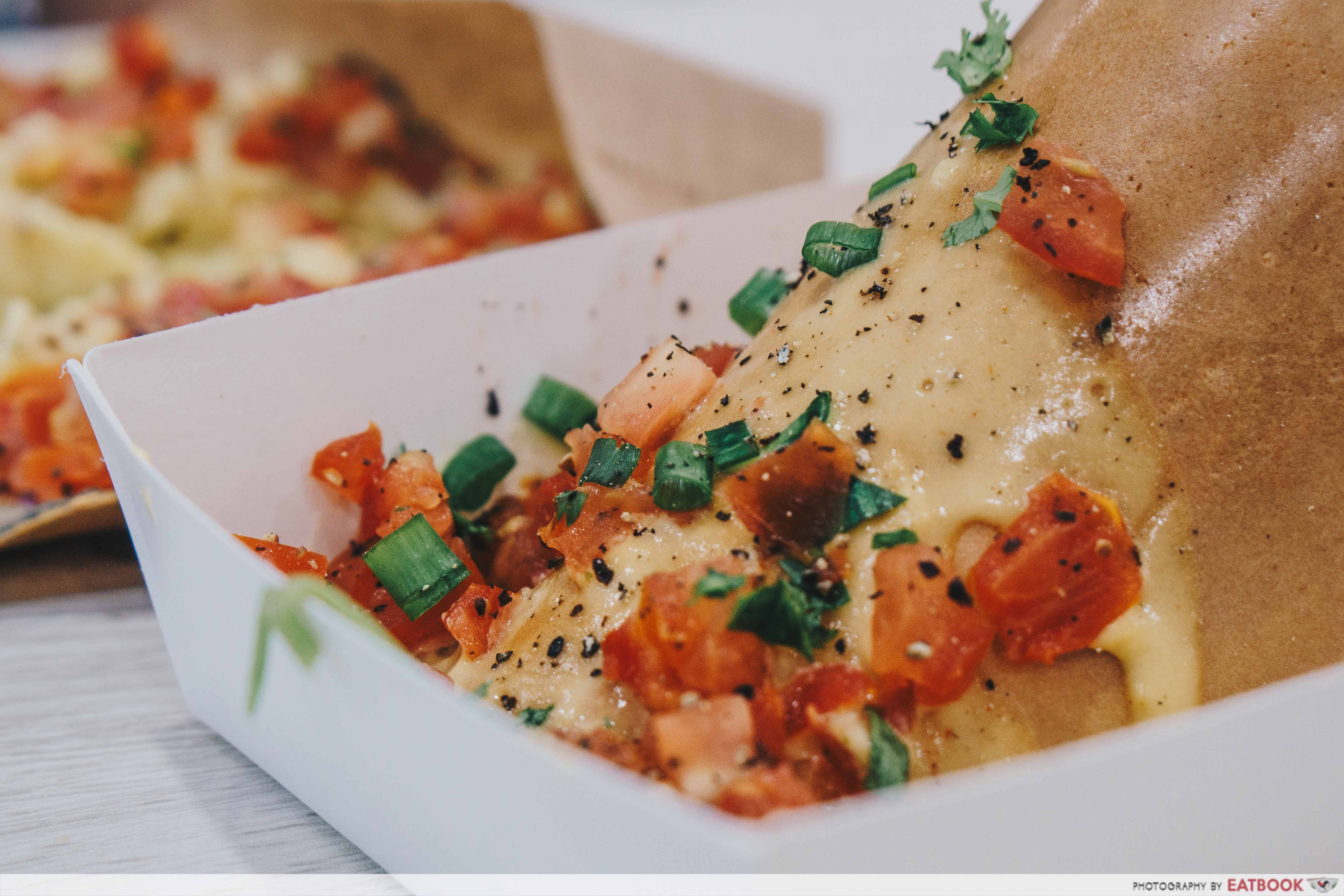 As my colleague and I childishly fought over the last bite of Morning Johnny, Big Dip ($2.50), another savoury crepe, saved us from an intense battle. Unlike the Morning Johnny, this crepe was massive.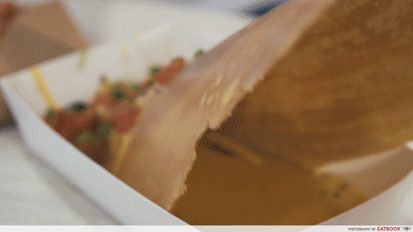 Initially, all I saw was nacho cheese and diced tomatoes resting at the bottom of the crepe. I then lifted up the huge crepe, only to find a pool of nacho cheese hidden underneath.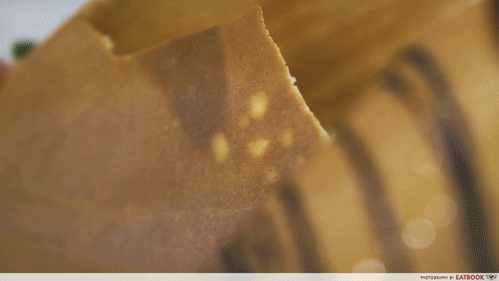 The crepe glistened from its reflection of the ceiling light. I pinched off a part of the crepe and it produced a distinct crackling. I scooped up some nacho cheese and popped the whole thing into my mouth. The cheese was very thick, and reminded me of a saltier version of the nacho cheese at cinemas.
Messy Munch offers sweet crepes too. They even have the option for customers to DIY their dessert crepe with five toppings, including either chocolate sauce or condensed milk. Happy Pills ($2.80) was the sweet crepe we got. The size of the crepe was the same as Big Dip's. It was drizzled with chocolate sauce, while the ingredients we chose – Fruit Loops, M&M's, mini marshmallows, and Kinder Bueno – sat at the bottom of the crepe. The Kinder Bueno cost an additional $0.60 as it was considered a premium topping.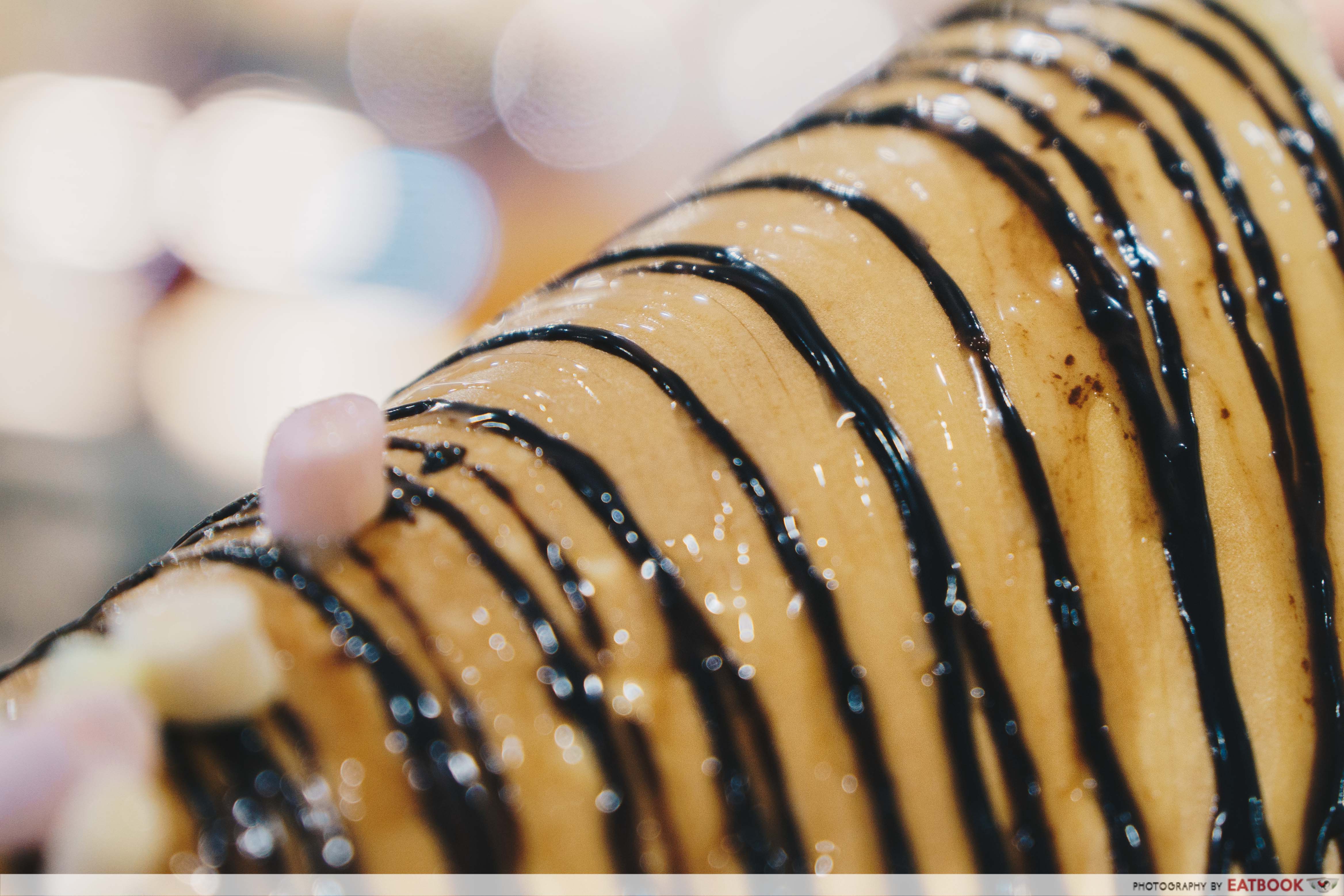 Eat it instantly as the crepe loses its crispiness when it comes into contact with sauces. The chocolate sauce tasted like Hershey's chocolate sauce to me – sweet with a tinge of bitterness. Aside from how good it looked, nothing else stood out about this crepe.
Ambience at Messy Munch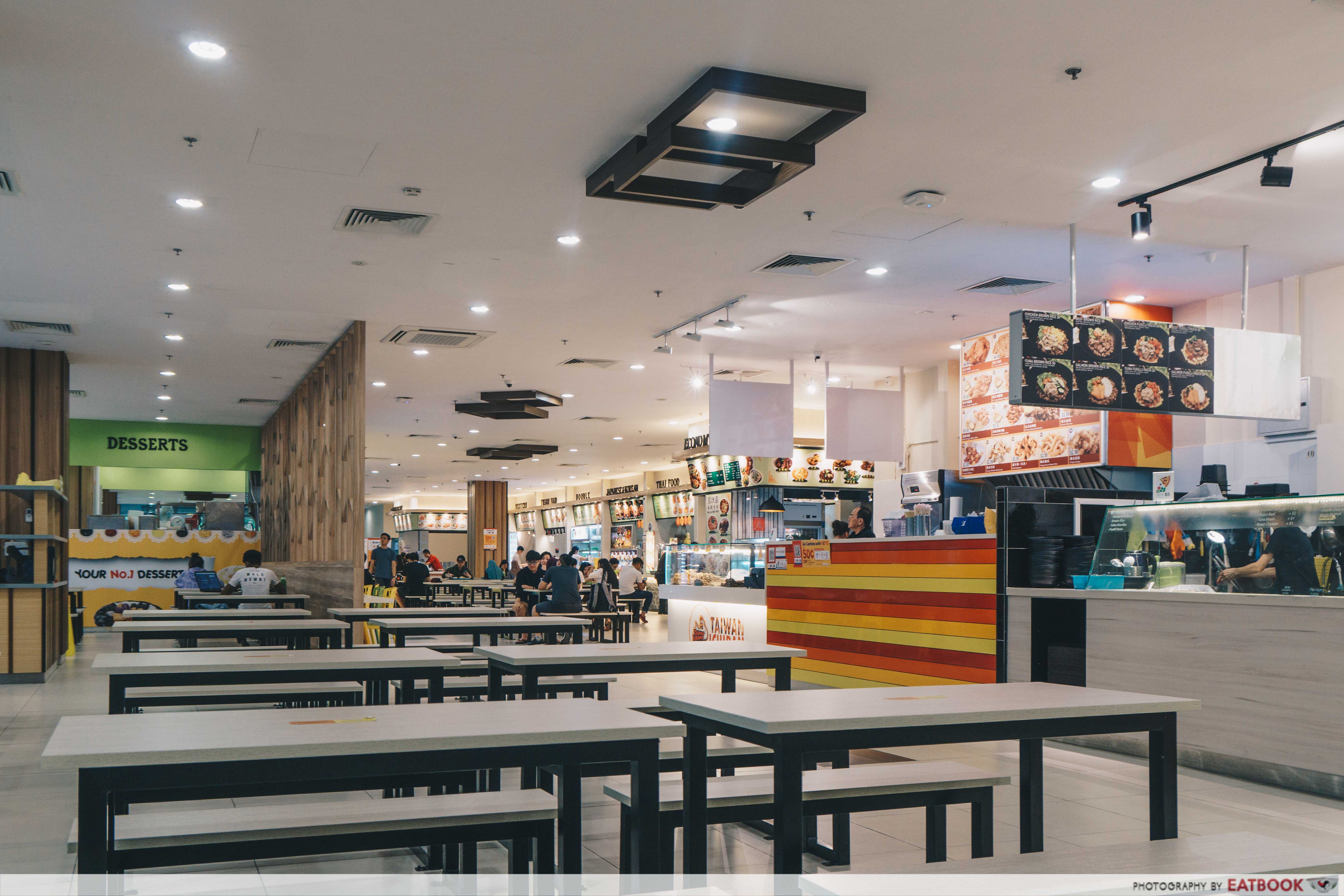 Messy Munch is located at one of NYP's many food courts – Foodgle Hub. It is not difficult to spot their stall as it looks colourful and outstanding. As Foodgle Hub houses many other stalls, you can always head to Messy Munch for dessert once you're done with your meal. Just like its stall name suggests, things can get pretty messy when you're eating, but fret not as plastic gloves are provided at the counter.
The verdict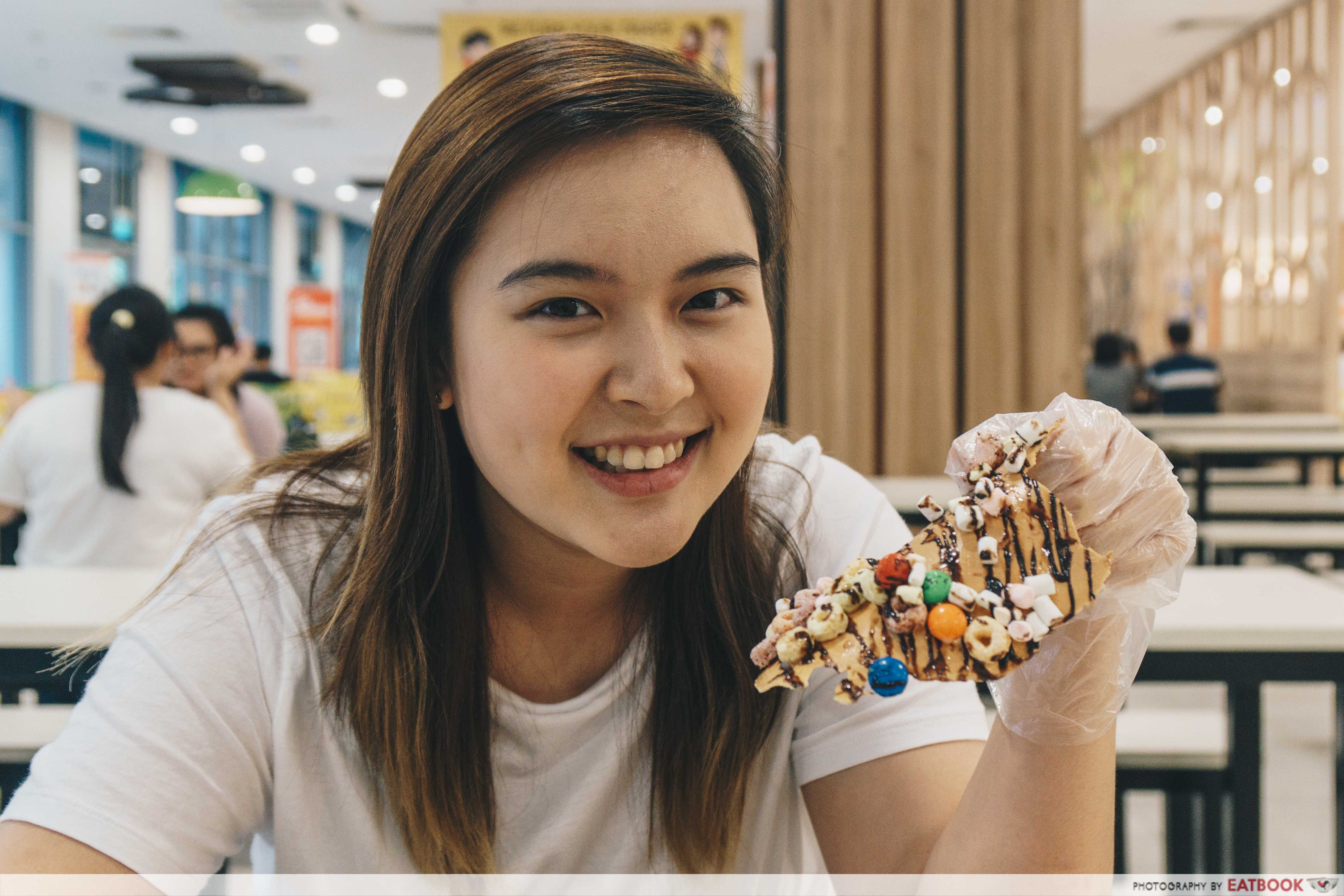 While the savoury crepes were good, I was more blown away by how affordable the crepes are. It is rare to find such enormous and delicious crepes under $3. If I were a student at NYP, I would not hesitate to head over to Messy Munch for a quick snack even if it means walking from one end to another. I'm not lying – I recommended Messy Munch to my friends in NYP immediately after I left the place.
If you're a student at SP, check out this list of Singapore Poly food stalls instead! Dessert lovers, these IG-worthy ice-cream desserts are must-tries.
Address: 180 Ang Mo Kio Avenue 8, Nanyang Polytechnic, Foodgle Hub, Singapore 569830
Opening hours: Mon-Thur 11am to 7pm, Fri 11am to 5pm
Website
Messy Munch is not a halal-certified eatery.
This is an independent review by Eatbook.sg
---
Featured image adapted from Instagram user @messymunch's post.
Summary
Pros:
– Affordable
– Savoury crepes were good
Cons:
– Inconvenient location
Recommended dishes: Morning Johnny ($2.80)
Operating hours: Mon-Thur 11am to 7pm, Fri 11am to 5pm
Address: 180 Ang Mo Kio Avenue 8, Nanyang Polytechnic, Foodgle Hub, Singapore 569830