Mookata Express lets you enjoy mookata on the go

Update: Mookata Express has closed down.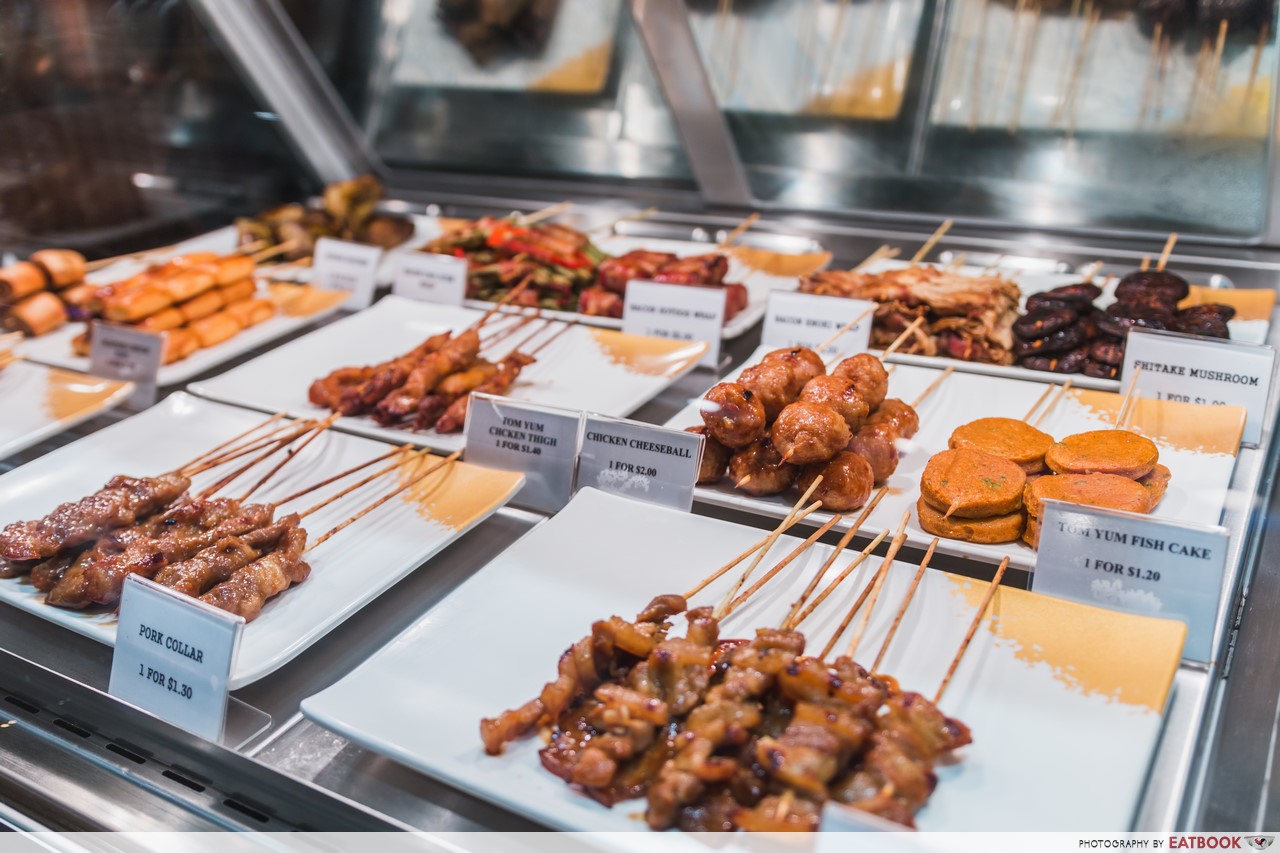 Though Mookata is undeniably tasty and great for large gatherings, I learned a rather important lesson the last time I had it: never plan something important after a mookata sesh. I left the restaurant like a walking potpourri of smoke and meat, to the dismay of others in the same movie theatre as me.
Thankfully, Mookata Traditional Thai BBQ recently expanded to include a new takeaway, Mookata Express. With a menu that condenses mookata into skewers, Mookata Express is the first in Singapore to focus on moo ping, or Thai-style skewered meats. Now I can enjoy Thai grilled meat without smelling like food, and multitask by eating mookata while window shopping!
Food at Mookata Express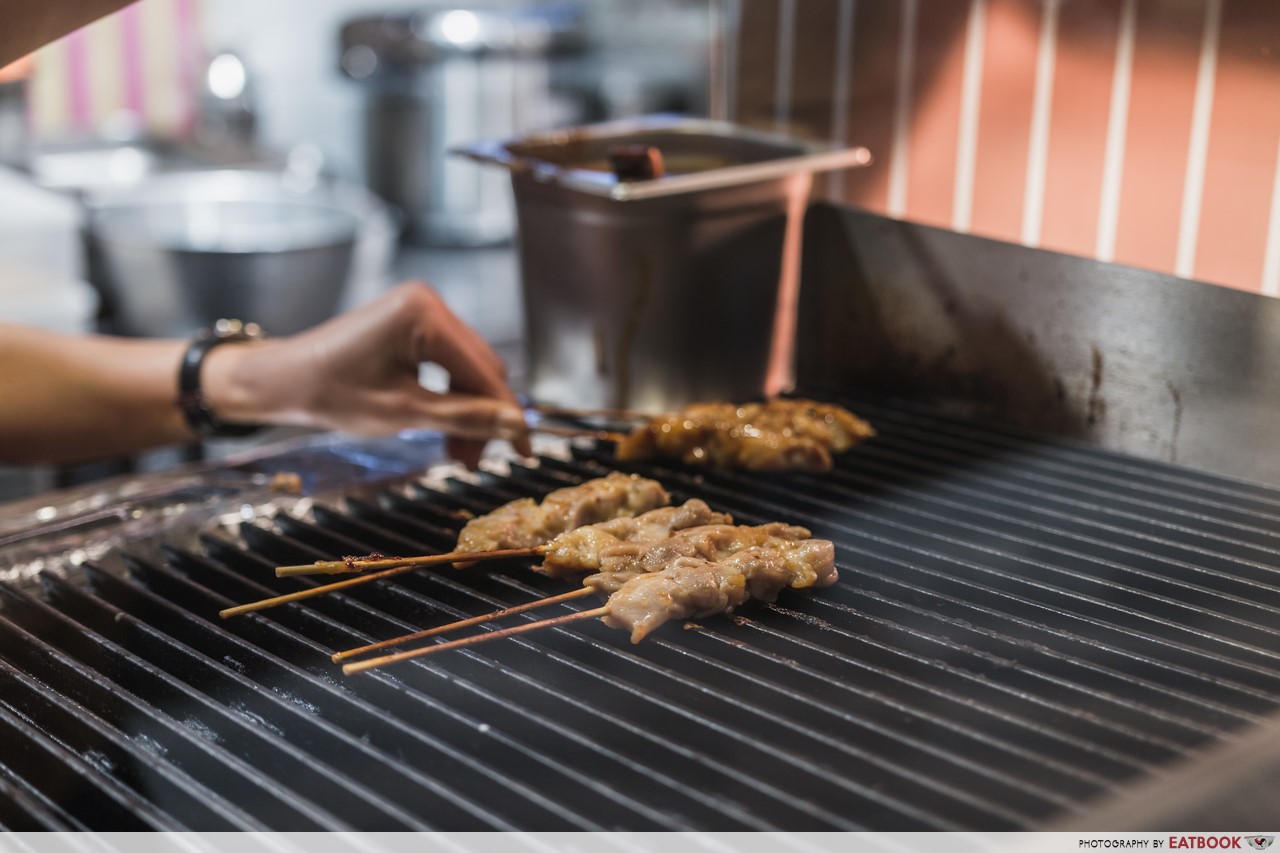 Mookata Express serves a wide variety of moo ping, all fresh off the grill and glazed with house-made Thai sauces, some tweaked slightly to suit Singaporeans' taste buds. For the month of April, they will be having a '$1 Skewers' campaign for all skewered meats except Bacon Enoki Wrap, Bacon Hotdog Wrap and Bacon Capsicum Wrap. This is no April Fools' joke, so be sure to share this lobang with your friends!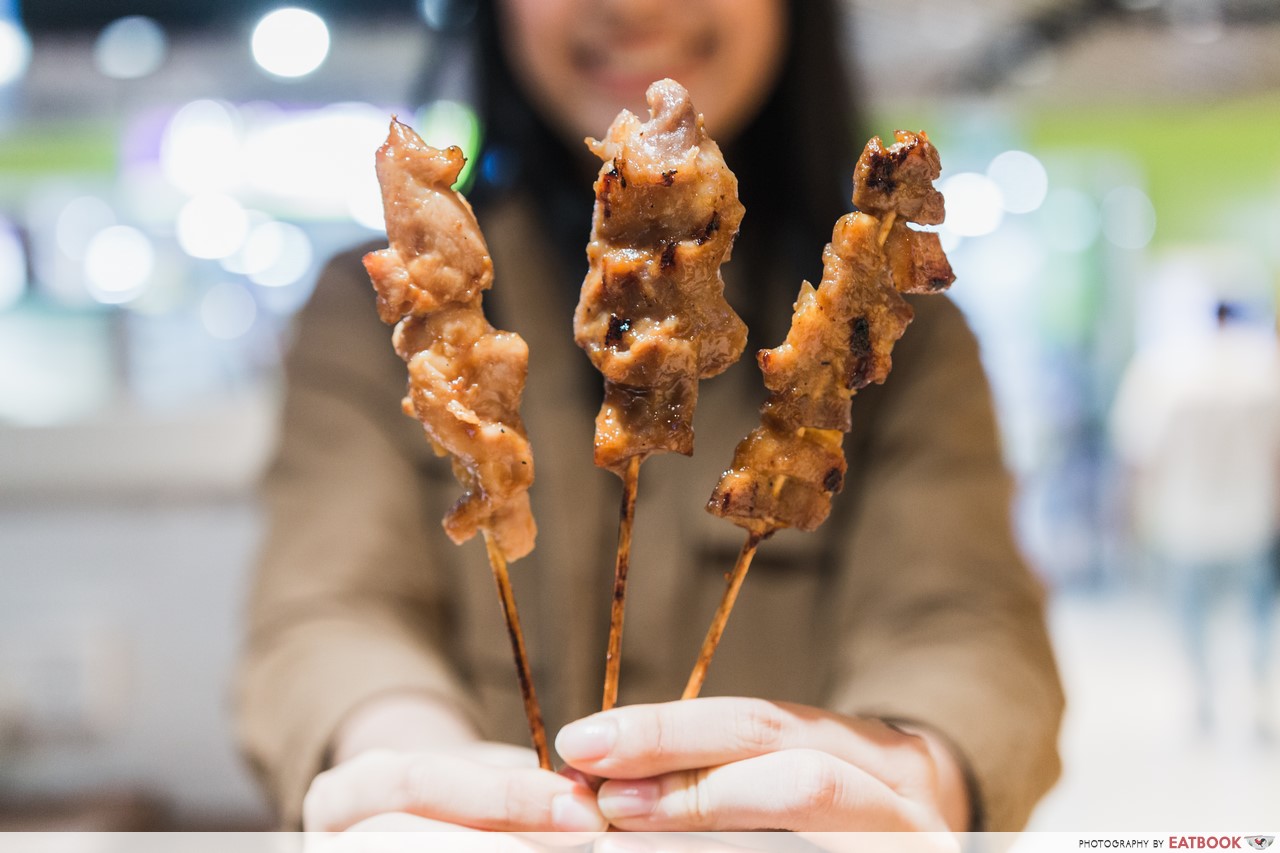 If I had to pick three favourites, it would be Chicken Thigh (U.P. $1.20), Pork Collar (U.P. $1.30) and Pork Belly (U.P. $1.30).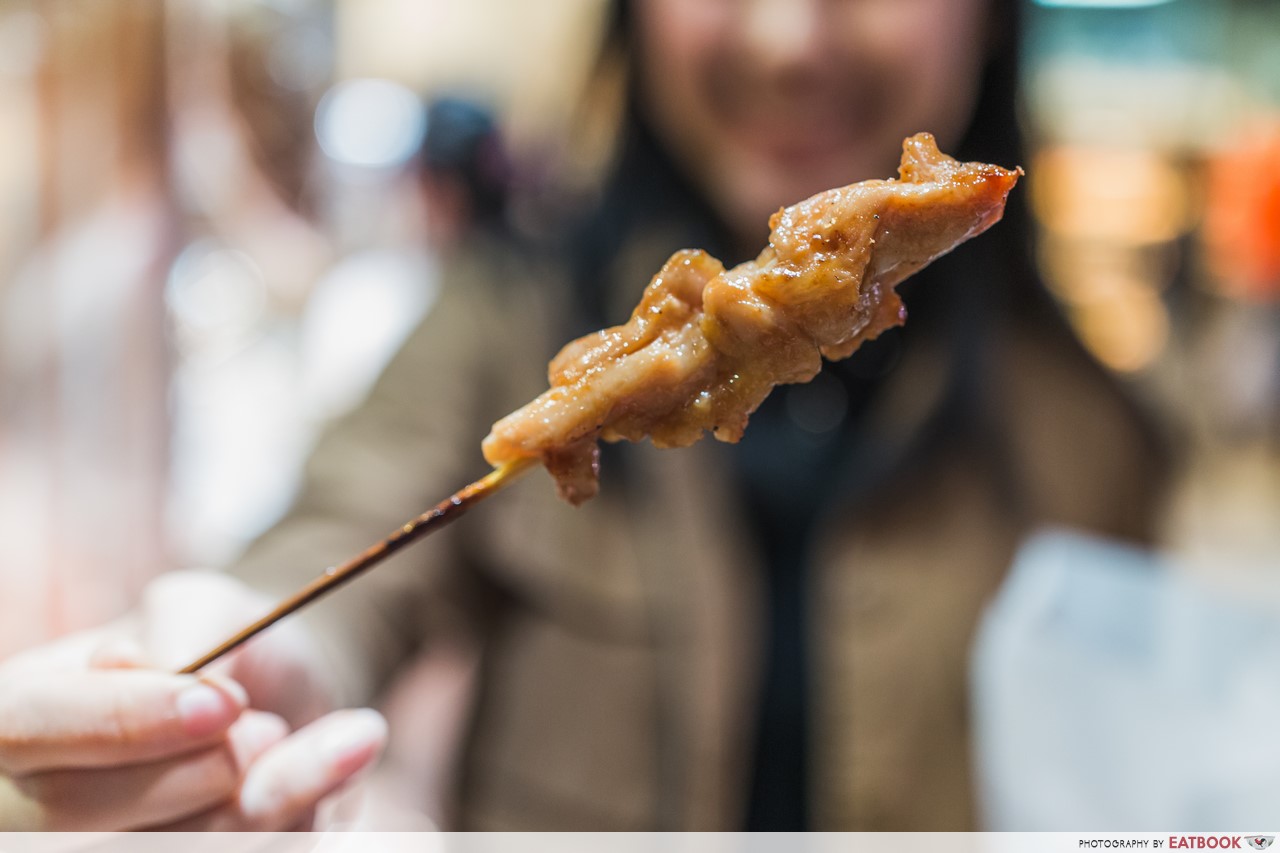 The chicken thigh was chunkier than other skewered meats I've tried, and I was pleasantly surprised by how substantial it felt in my hands. Some parts were charred to create that slightly chao da (burnt) flavour that I love.
The addictive, sticky glaze stood out the most. It was a blend of sweetness and saltiness, with a slightly spicy aftertaste. My favourite part of eating this skewer was biting into unsuspecting chunks of chicken fat that exploded in my mouth to release its juices – shiok!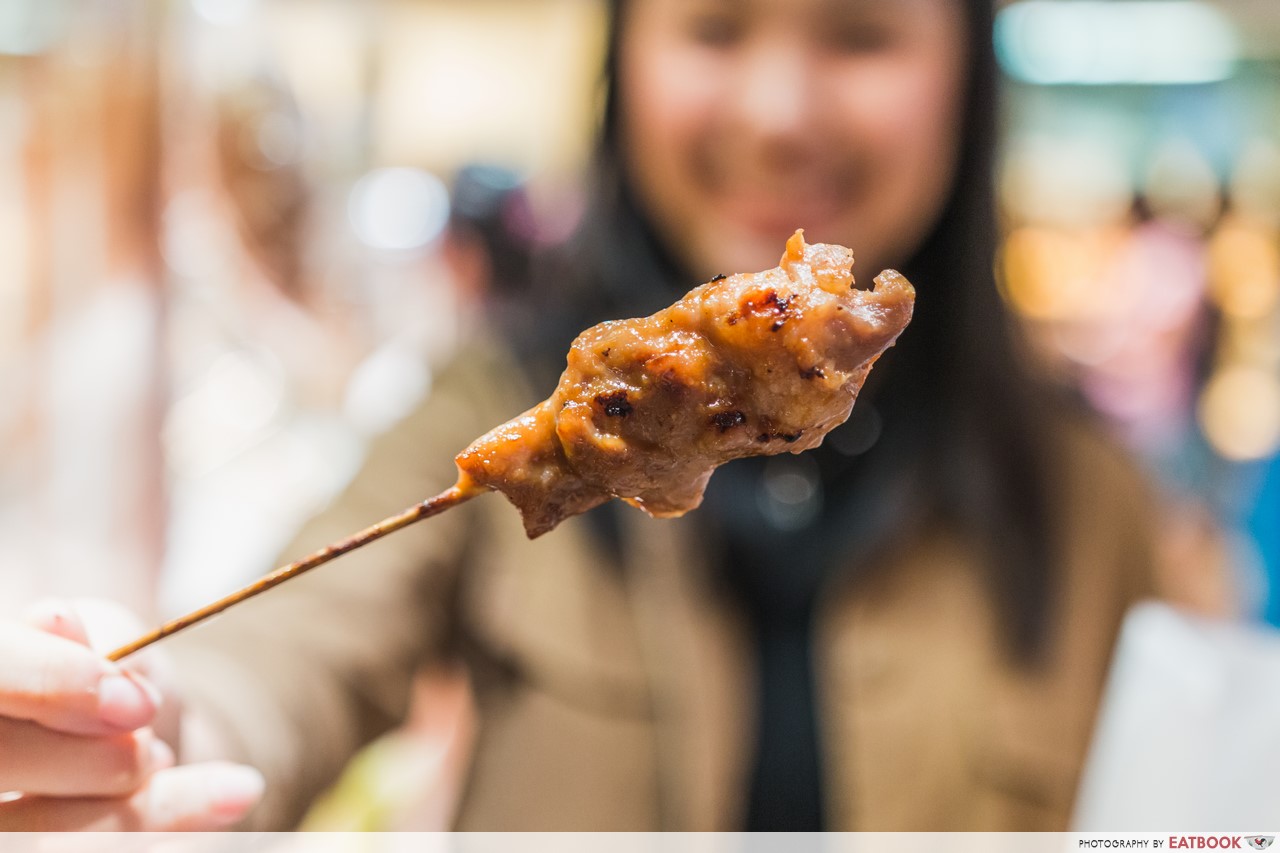 The pork collar meat had a good fat-to-meat ratio and remained succulent even though it was charred as well. Other than lacking a mild heat, the glaze on the pork collar was barely distinguishable from that of the chicken thigh.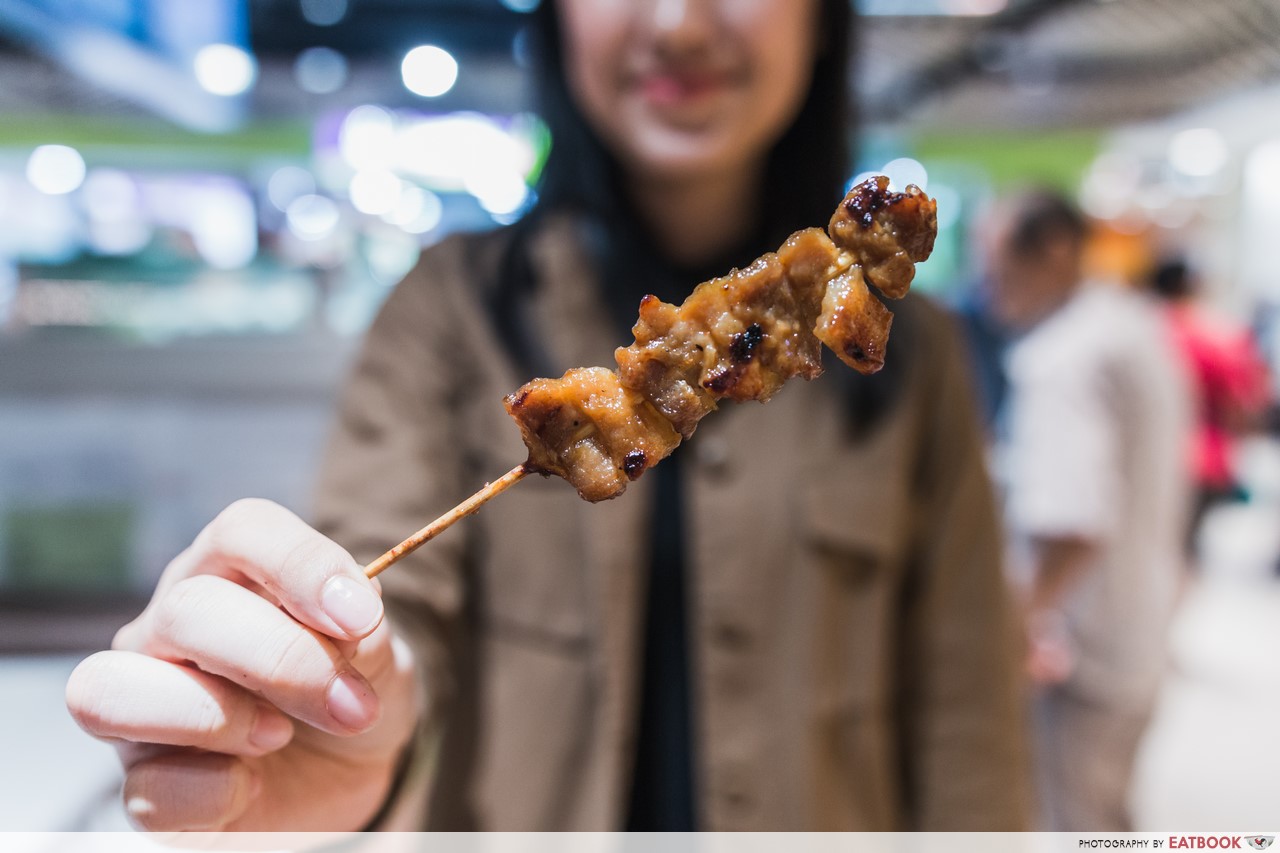 I saved the best for the last – this pork belly skewer was my ultimate favourite! Extremely tender and juicy, the meat teared off the wooden stick effortlessly. Each bite of pork belly practically melted in my mouth to merge with the sticky, sweet sauce.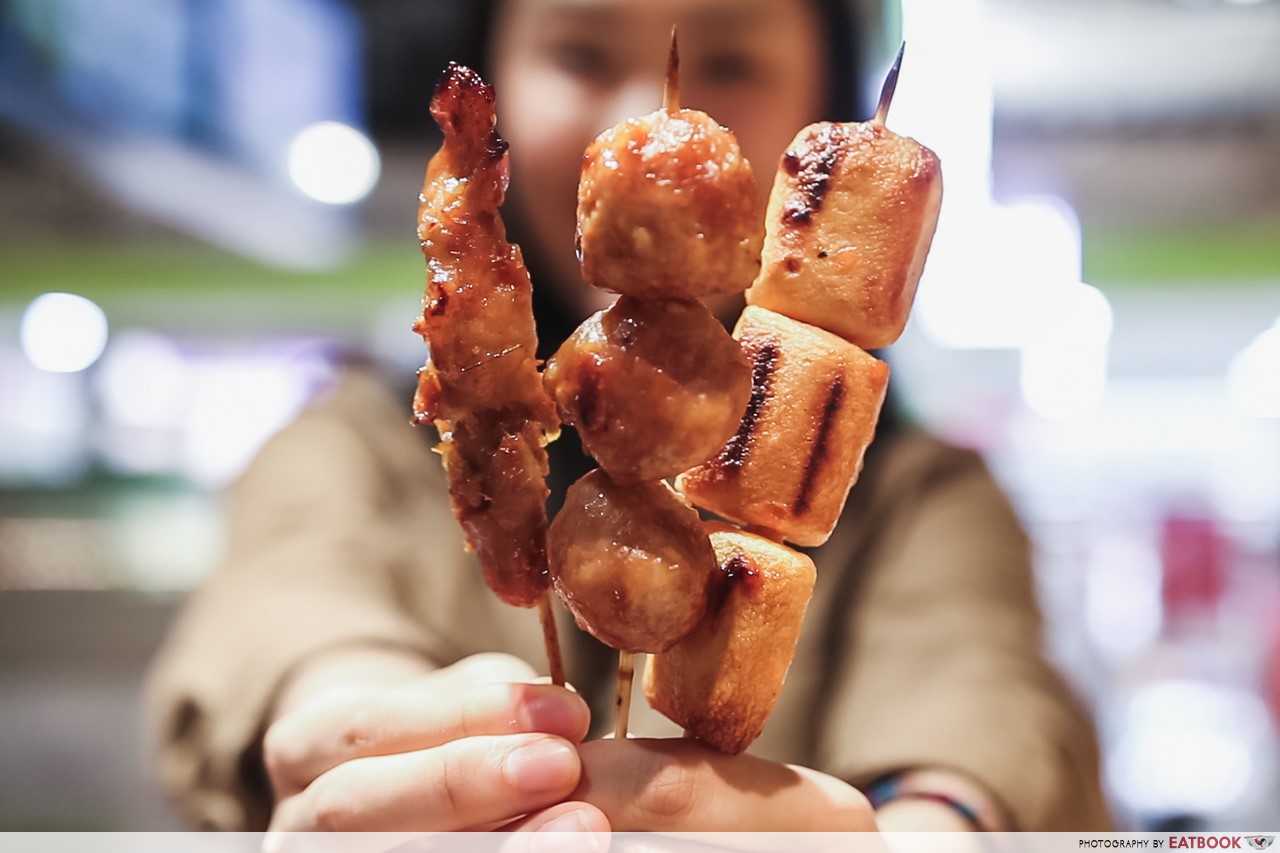 They also have other interesting skewers such as Tom Yum Chicken Thigh (U.P. $1.40), Chicken Cheeseball (U.P. $2) and Seafood Cheese Tofu (U.P. $1.50).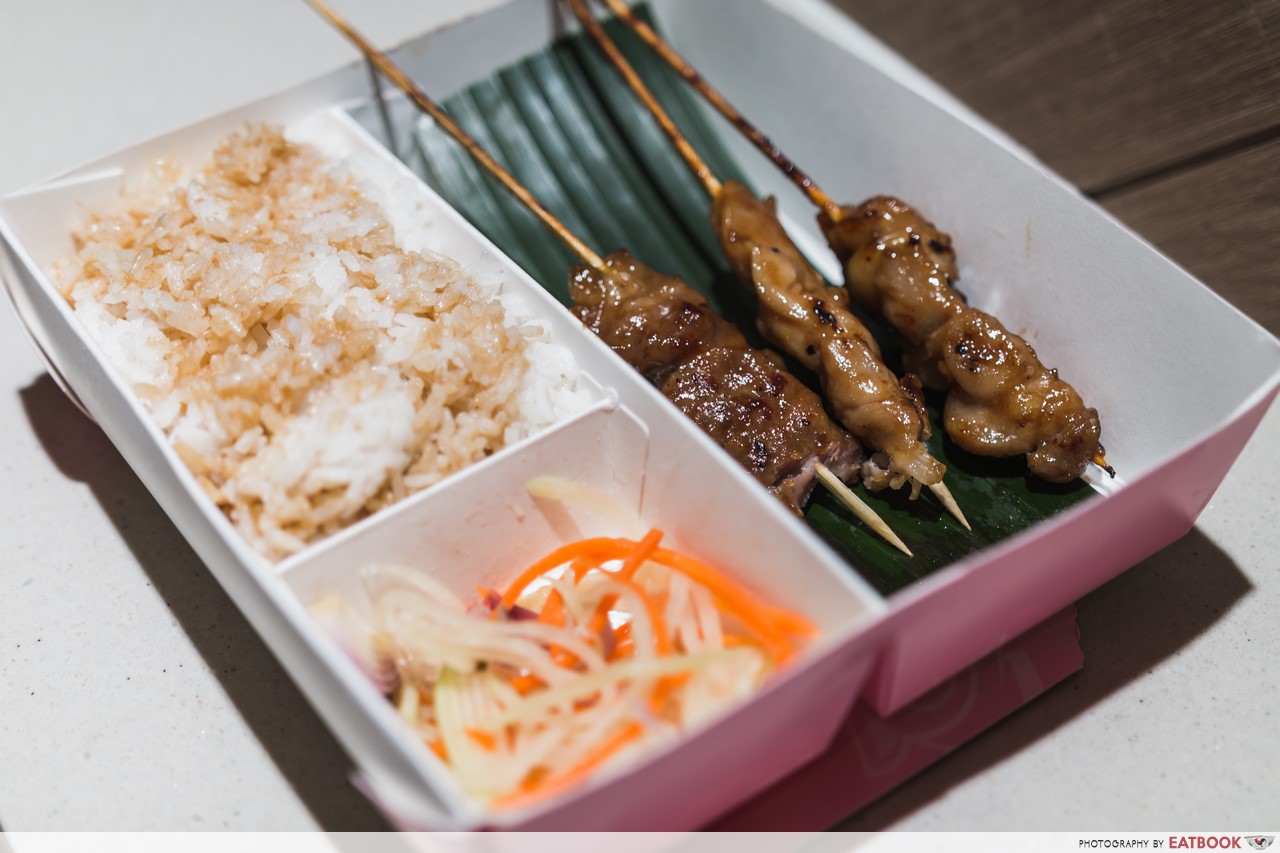 If you are looking for something to fill you up, go with Set Meal A ($5). White rice is served along with fresh papaya salad, two chicken thigh skewers and one pork collar skewer.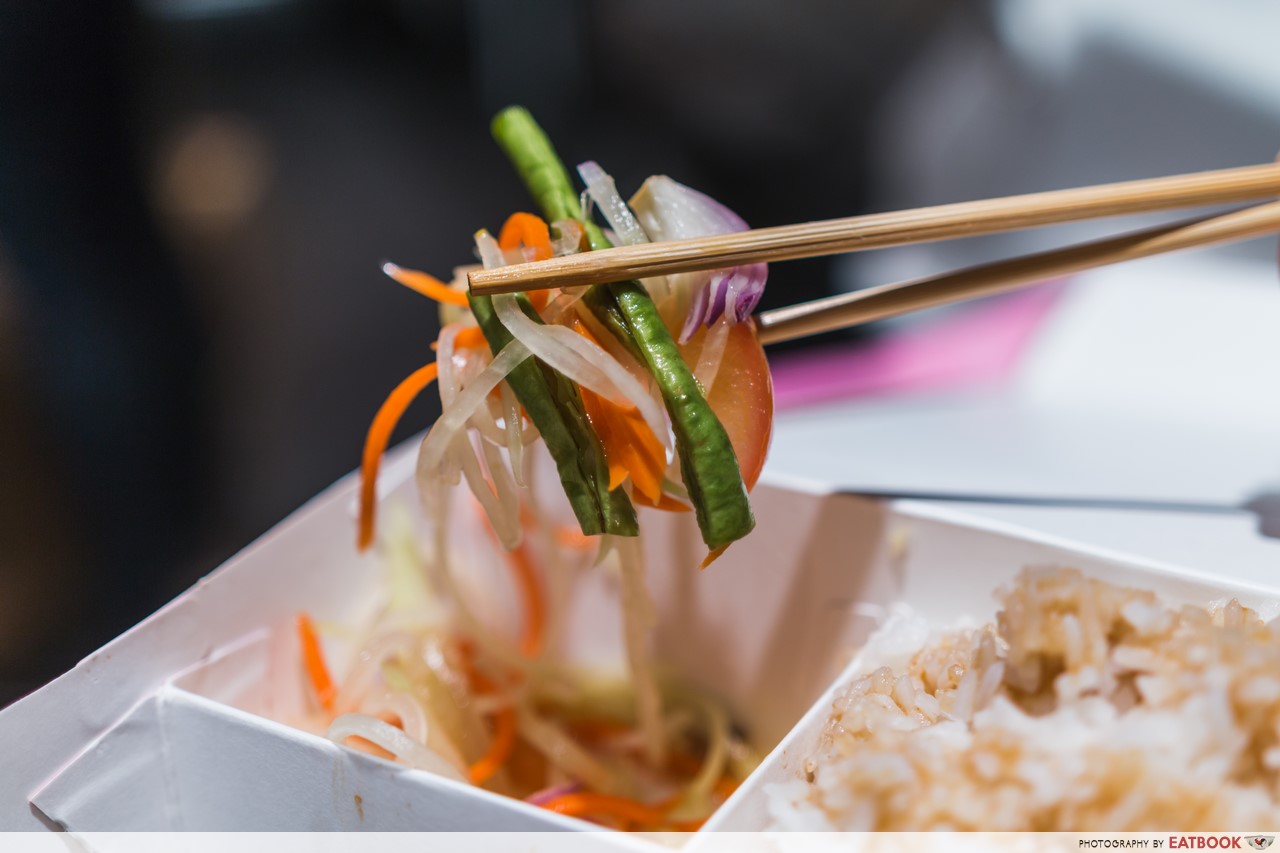 I found myself strangely addicted to their papaya salad. Julienned green papaya and carrots are tossed with crunchy cabbage, long beans, fresh tomatoes, shallots and a white vinegar dressing. The ingredients used to make the dressing are brought in directly from Thailand, and provided a tasty briny flavour.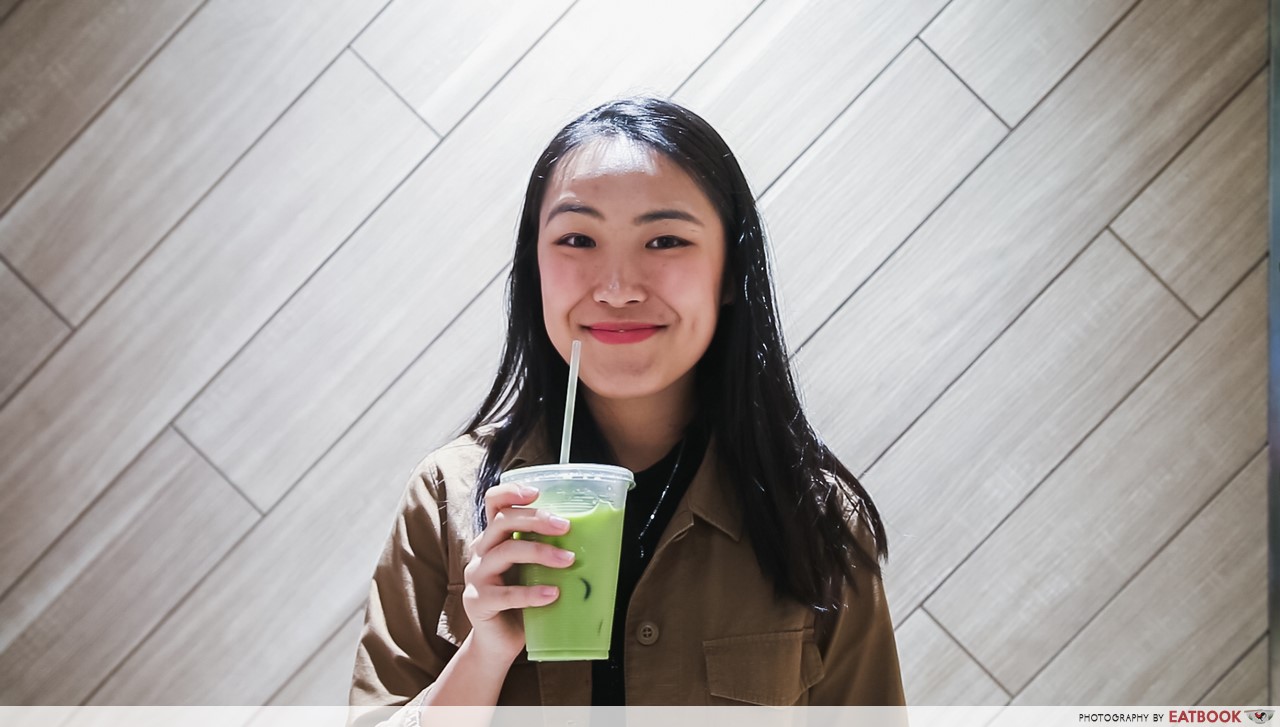 A meal is not complete without a drink – upgrade your bento set to include a drink at an additional $1. I enjoyed their Signature Thai Green Ice Tea ($2.50) that reminded me of a concentrated version of bottled green tea, with added milk to obtain that smooth, velvety texture.
Besides skewered meats, Mookata Express offers snacks too. If you like goreng pisang, you would love their Fried Bananas ($2 for a packet of three to five pieces). Bananas are sliced lengthwise and dipped into a batter studded with sesame seeds before deep frying. This creates a crunchy casing that cracks apart to reveal sweet banana flesh. If you're lucky, you might get bits of deep fried batter in your bag – super nutty and addictive!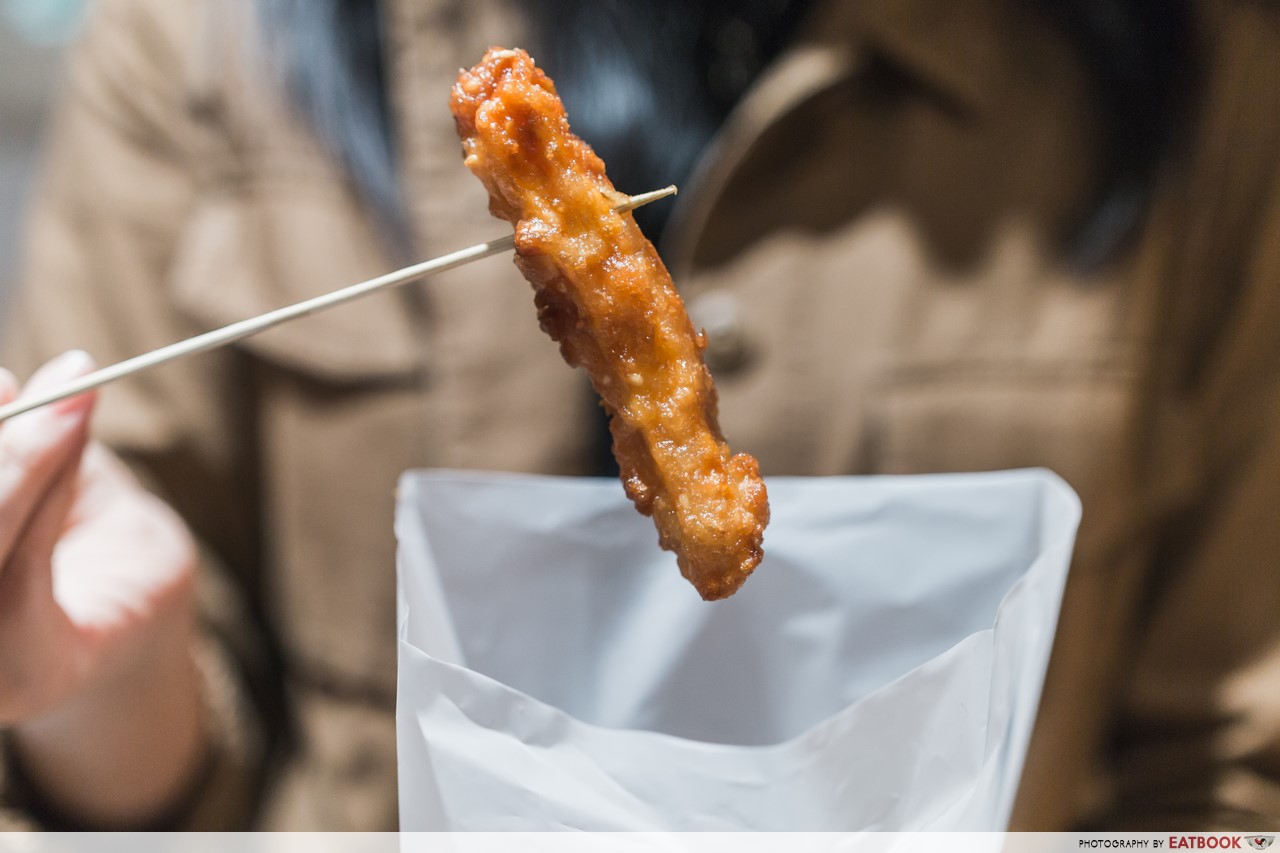 Think of Mookata Express' Sweet Potatoes ($2 for a packet of seven to nine pieces) as a chunkier version of sweet potato fries. The interior of the thick sweet potato fry was soft and creamy, a contrast to its warm and crispy coating.
Ambience at Mookata Express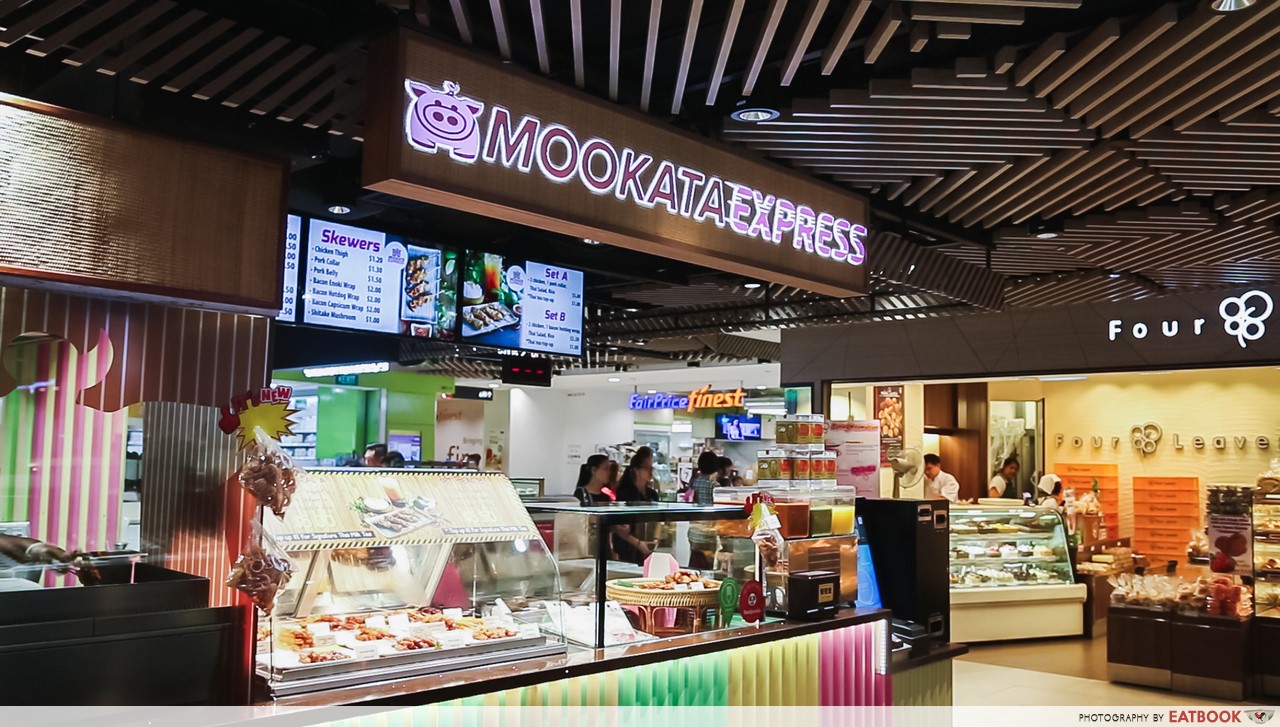 Despite being situated at the basement of The Clementi Mall among other food kiosks, it is easy to spot Mookata Express thanks to their cute logo.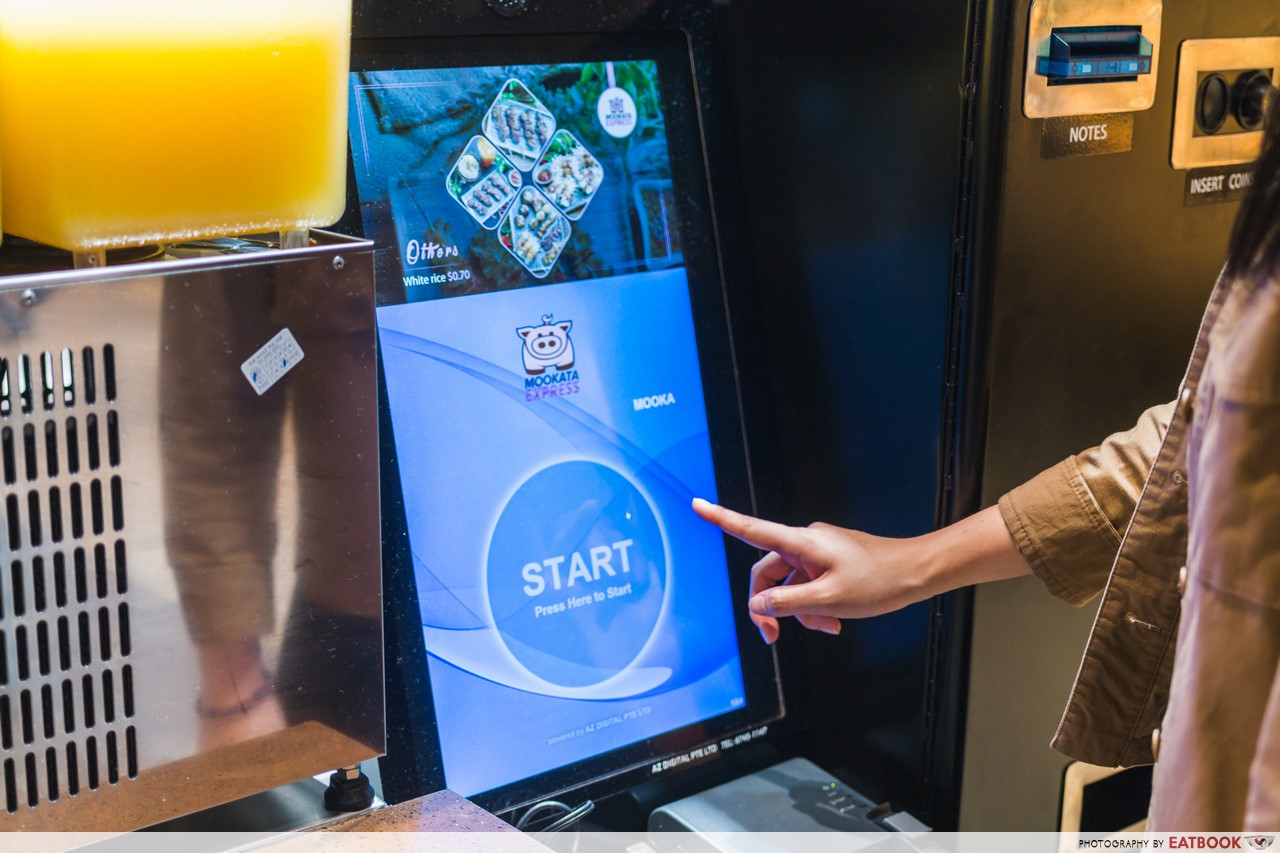 There is a self-ordering machine at the side of the stall, where you can order your food, pay and collect change with. Both cash and NETS payment are accepted. If you're a technophobe, you can also pay a cashier directly at the counter.
The verdict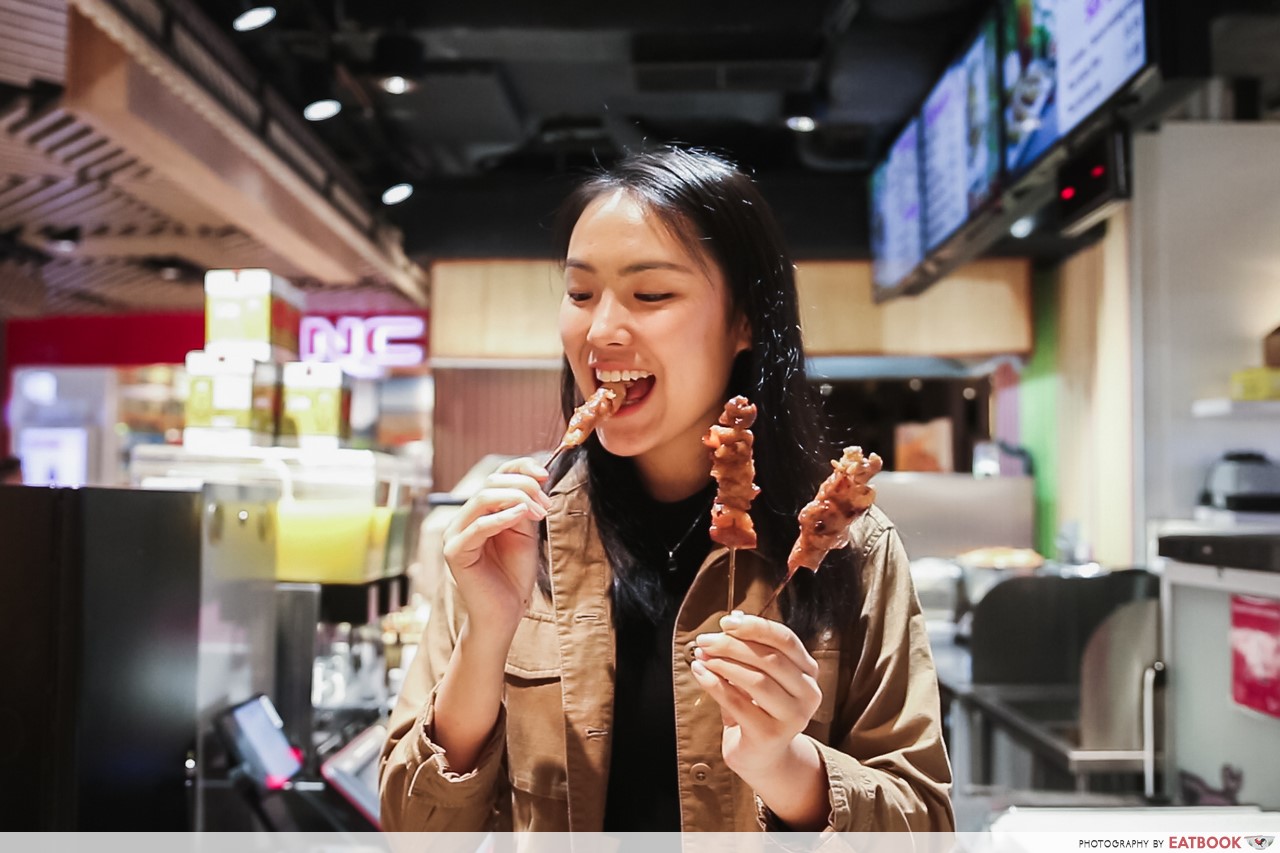 Mookata Express is the epitome of convenience. With a variety of moo ping and fuss-free bento set lunches, complete with a computerised ordering-and-paying system, it is catered for busy bees! Creating the taste of mookata-style grilled meat on a skewer is not easy compared to just grilling meat on a mookata pot, and I am glad Mookata Express is the first in Singapore to do so without compromising on taste.
Address: 3155 Commonwealth Avenue West, #B1-K22, The Clementi Mall, Singapore 129588
Opening hours: Daily 10:30am to 10pm
Tel: 6659 4118
This post is brought to you by Mookata Express.
Summary
Pros
– Affordable
– Wide variety of food, from bento to skewered meats to snacks
– No GST or service charge
– Able to self order
Cons
– No seats
– Inconvenient for people who don't live in the West
Recommended Dishes: Pork Belly Skewer (U.P. $1.30), Chicken Thigh Skewer (U.P. $1.20), Signature Thai Green Ice Tea ($2.50), Fried Bananas ($2), Sweet Potatoes ($2)
Operating Hours:
Daily 10:30am to 10pm
Tel:
6659 4118
Address: 3155 Commonwealth Avenue West, #B1-K22, The Clementi Mall, Singapore 129588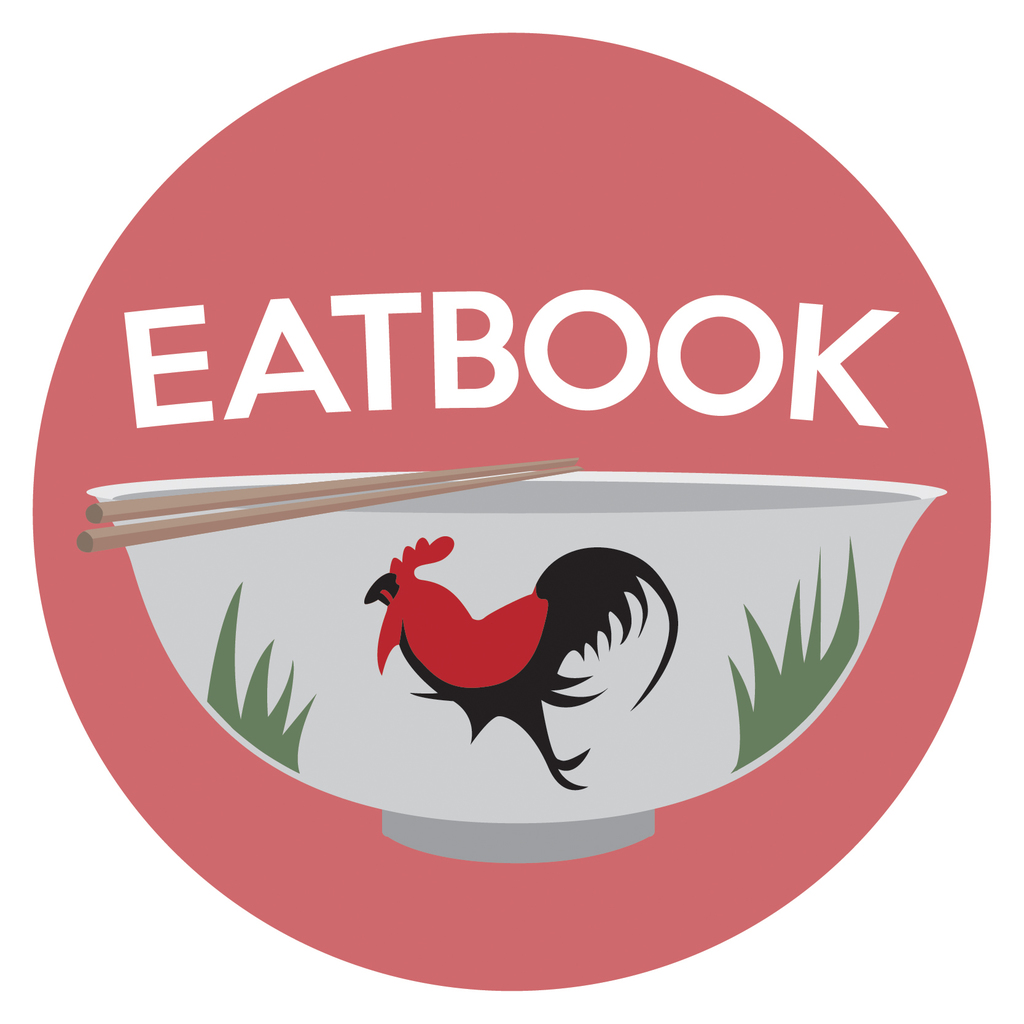 Drop us your email so you won't miss the latest news.