---
Oreo dessert recipes
---
Oreo is a pantry staple for many of us. Easy to pick up when we're craving something sweet, and oh-so-comforting when eaten with a glass of cold milk, Oreos are great on their own, but work even better when made into desserts. From easy mug cakes, to three-ingredient ice cream, and even a showstopping mille-crepe, here are some Oreo dessert recipes to try.
---
1. Three-ingredient Oreo Fudge
---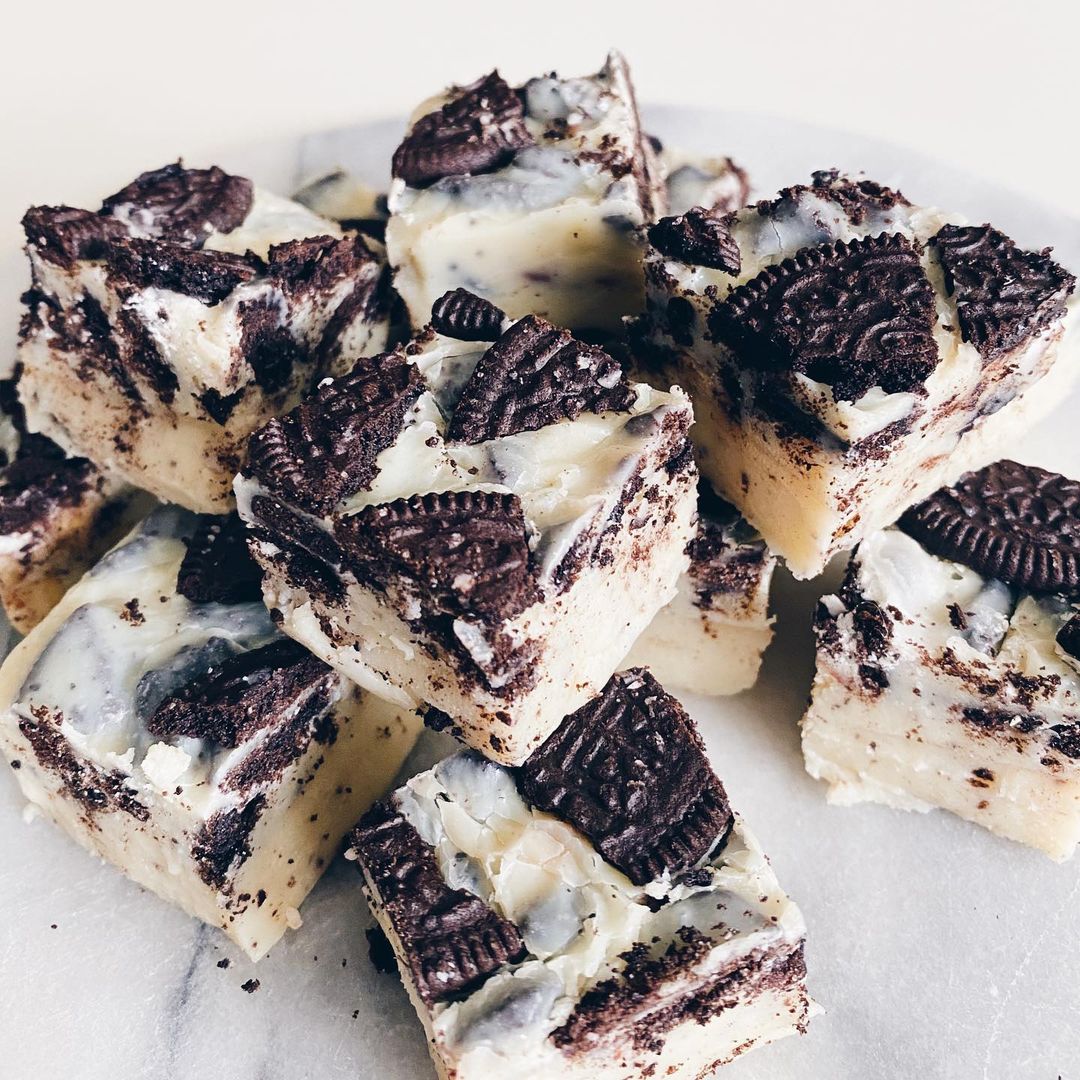 Image credit: @tastebyvivian
This viral TikTok Oreo dessert recipe only requires three ingredients! It cooks quickly, despite needing a few hours to set, and makes for a great snack to share.
Yield: 36 squares
Time needed: 4 to 5 hours
Ingredients:
400g white chocolate, chopped
1 tin sweetened condensed milk
7 Oreos, crushed
7 Oreos, whole
Directions:
Line a 25cm x25cm baking tray with aluminum foil, pressing it firmly into the corners and sides.

Put the white chocolate in a heatproof bowl and pour in the condensed milk. Microwave on full power for 30 seconds. Remove and stir, heating for 20-second bursts at a time, until all the chocolate has melted and the mixture is thick and smooth.

Spread half the crushed Oreos over the bottom of the tray. Allow the chocolate and condensed milk mixture to cool slightly before pouring it over the cookies, spreading it out evenly.

Arrange the remaining Oreos on top and press them down with your fingertips. Smooth the surface of the fudge using a knife dipped in boiling water so the top is flat.

Place the tray in the fridge for 4 to 5 hours to set. Cut into squares before serving
Recipe adapted from The Happy Foodie.
---
2. Three-ingredient Oreo Cake
---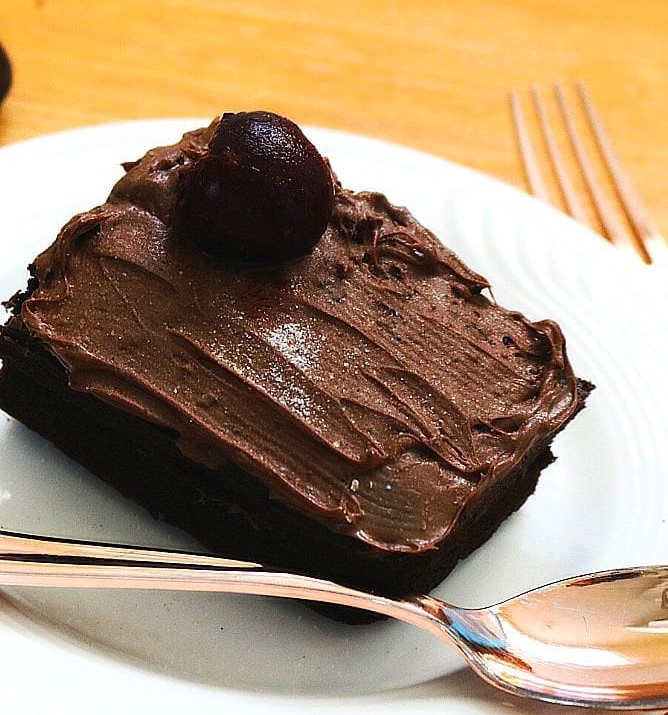 Image credit: @myrecipetree.91
A whole cake with three ingredients? Say no more. This easy Oreo cake recipe lets you wow your loved ones with minimal effort.
Yield: 8 servings
Time needed: 1 hour
Ingredients:
350g Oreos, cream removed and crushed
2½ tsp baking powder
1½ cups milk
Directions:
Preheat the oven to 170ºCelsius. Grease an 18cm round cake pan with butter, line the bottom with parchment paper. Grease the parchment as well. Set aside.

Add crushed Oreos, baking powder, and milk into a large bowl. Mix until combined.

Pour into the prepared pan and bake for 25 to 30 minutes, or until a toothpick inserted in the centre comes out clean.

Release from the pan, let cool, and serve.
Recipe adapted from The Cooking Foodie.
---
3. No-Bake Oreo Cheesecake
---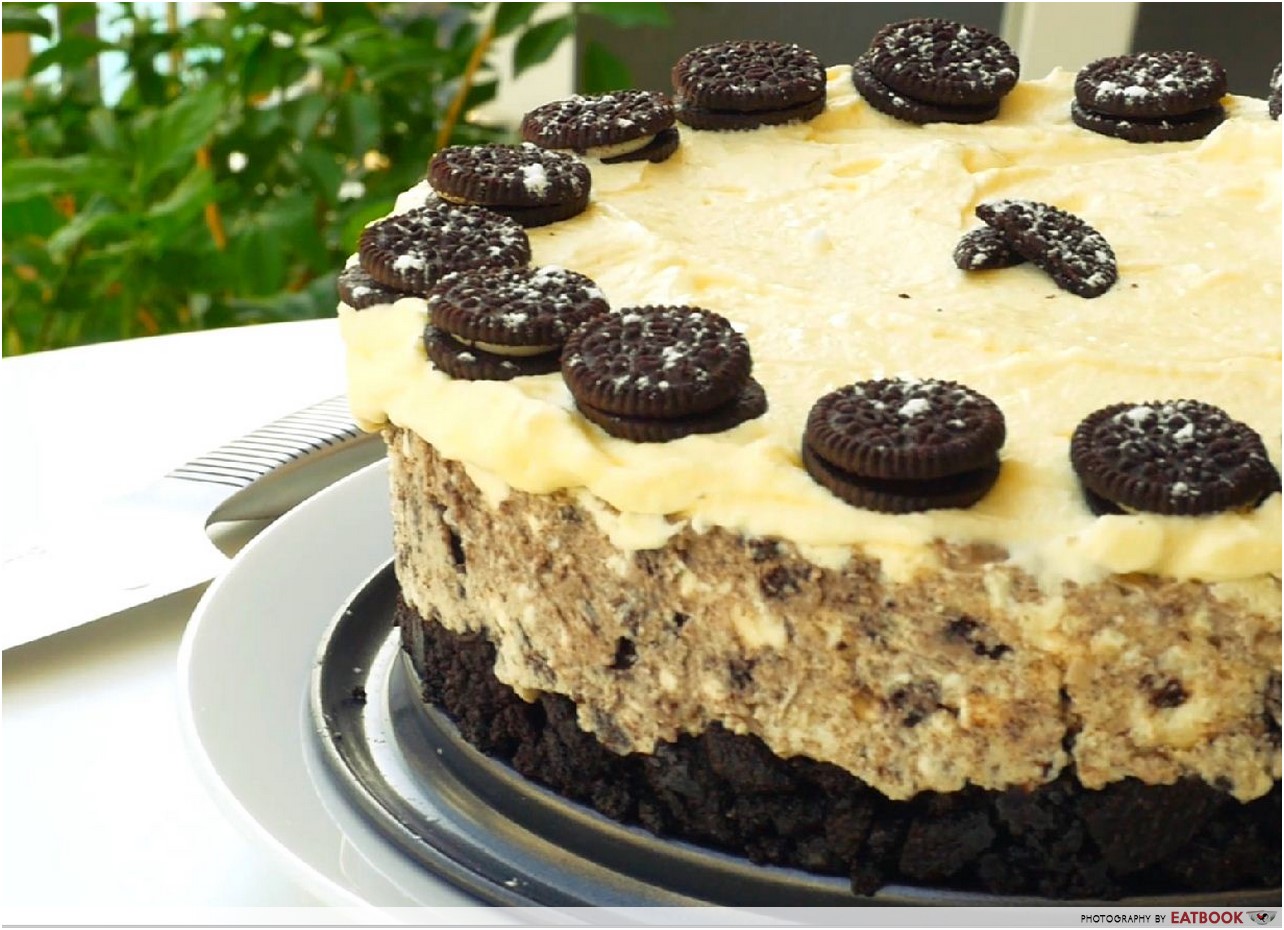 For a more time-intensive, but showstopping Oreo cake, try out our no-bake Oreo cheesecake recipe, which goes the whole nine yards with a variety of elements, from an Oreo crumb to an Oreo cream icing.
Yield: Serves 8
Cooking time: 4 hours
Ingredients:
265g Oreo cookies, cream removed
60g unsalted butter, melted
250g cream cheese, room temperature
2 tsp vanilla extract
300ml heavy cream
300ml heavy cream, whipped
Mini Oreos of your desired quantity
Directions:
Pour Oreos without cream into a ziplock bag, and crush with a rolling pin.

Set aside ¼ of the Oreo crumbs and pour the rest into a large mixing bowl.

Microwave butter for 20 seconds or until melted.

Mix melted butter thoroughly into Oreo crumbs.

Press mixture evenly into a 200 x 75mm springform pan.

Freeze for about 30 minutes or until set.

Whisk thickened cream until soft peaks form.

Mix cream cheese and vanilla extract in a large bowl, until smooth and well combined.

Add cream cheese mix into whipped cream.

Fold in reserved Oreo crumbs.

Pour mixture on top of set Oreo base.

Place in the refrigerator for at least 3 hours, or overnight.

When ready to serve, decorate with whipped cream and mini Oreos.
---
4. Oreo Mousse
---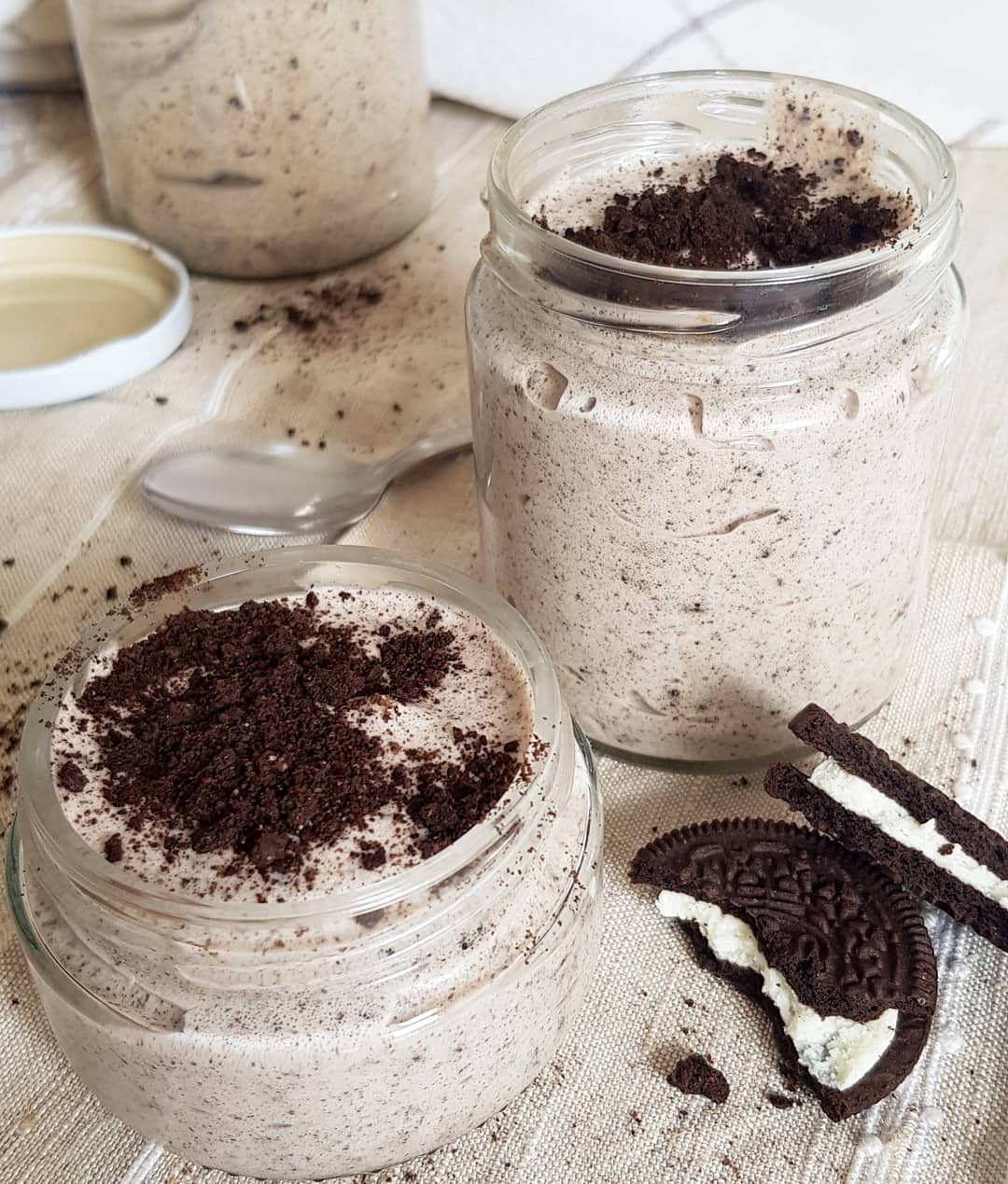 Image credit: @brocolos.com.alface
Another extremely easy Oreo recipe to try out is this Oreo mousse. Once more, you only require three ingredients to create a dense, creamy mousse reminiscent of cookies and cream ice cream.
Yield: Serves 6
Cooking time: 20 mins
Ingredients:
10 Oreo cookies, cream removed and crushed
1 cup heavy cream, cold
⅓ cup powdered sugar
Directions:
Crush Oreo cookies into fine crumbs and set them aside.

In a large bowl whip the heavy cream and powdered sugar to stiff peaks.

Fold in crushed Oreos. Transfer into a piping bag. Pipe into serving glasses.

Refrigerate for at least 4 hours.

Decorate with halved Oreo cookies.
Recipe adapted from The Cooking Foodie.
---
5. Easy Five-Ingredient Oreo Chocolate Tart
---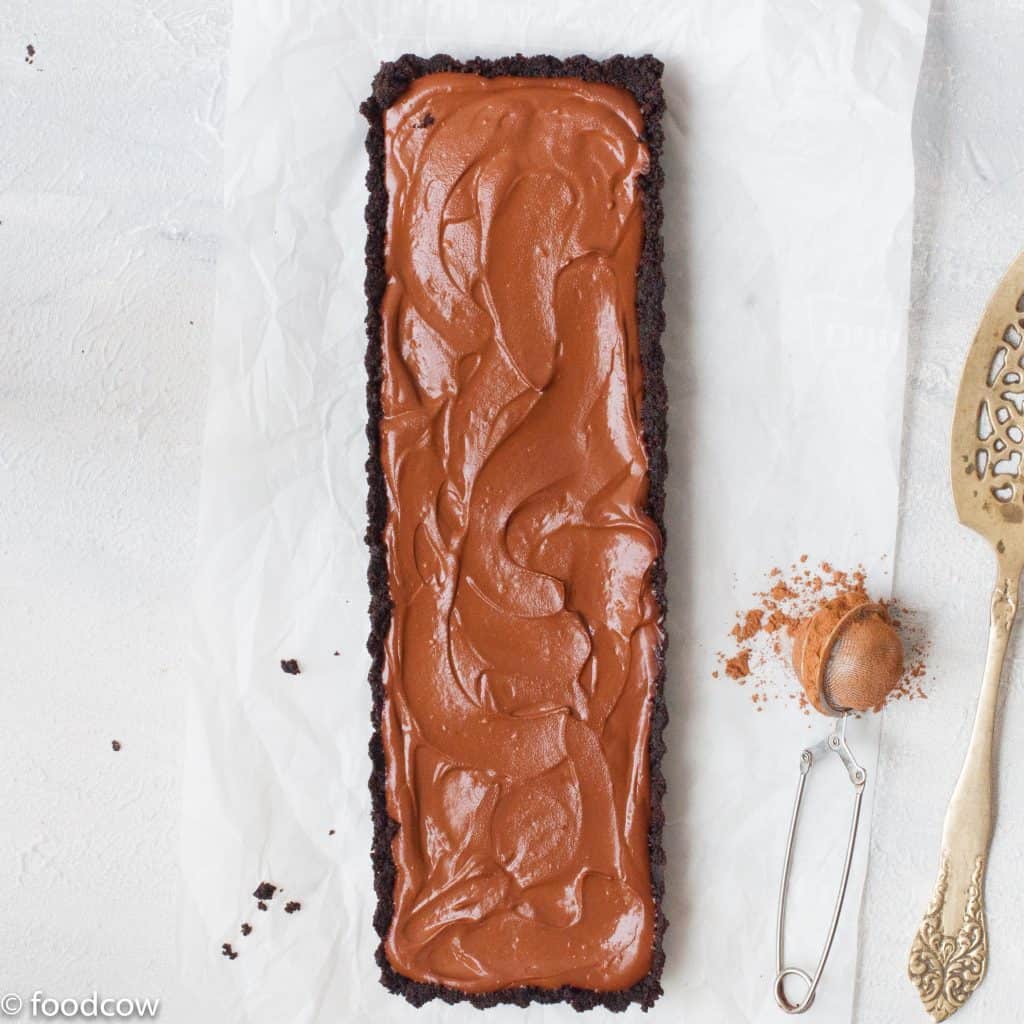 Image credit: Food Cow
If tarts are more your jam, then try out this five-ingredient Oreo tart recipe, which uses Oreos to make a dense, chocolatey tart base.
Yield: Serves 8
Cooking time: 5 hours
Ingredients:
25 Oreo cookies, cream removed
5 + 2tbsp unsalted butter melted
1 1/2 cups chocolate chips
1 cup heavy cream
2 tbsp granulated sugar more if needed
Directions:
Combine 5 tbsp butter and cookies by using a food processor until the mixture is very fine.

Press Oreo crumbles onto a 9-inch tart pan. Make sure to spread crumbles out evenly and apply pressure on the sides and bottom.

Refrigerate the crust and set aside.

Bring together the chocolate chips, heavy cream, 2 tbsp butter, and sugar into a pot. Heat on medium-low heat and stir continuously until mixture is dissolved. 

Taste chocolate filling, add more sugar if desired.

Remove promptly once it is dissolved.

Pour chocolate filling onto the Oreo crust. Let it cool for 10 minutes, then refrigerate for up to 4 hours or overnight. Serve.
Recipe adapted from Joyous Apron.
---
6. Deep-fried Oreos
---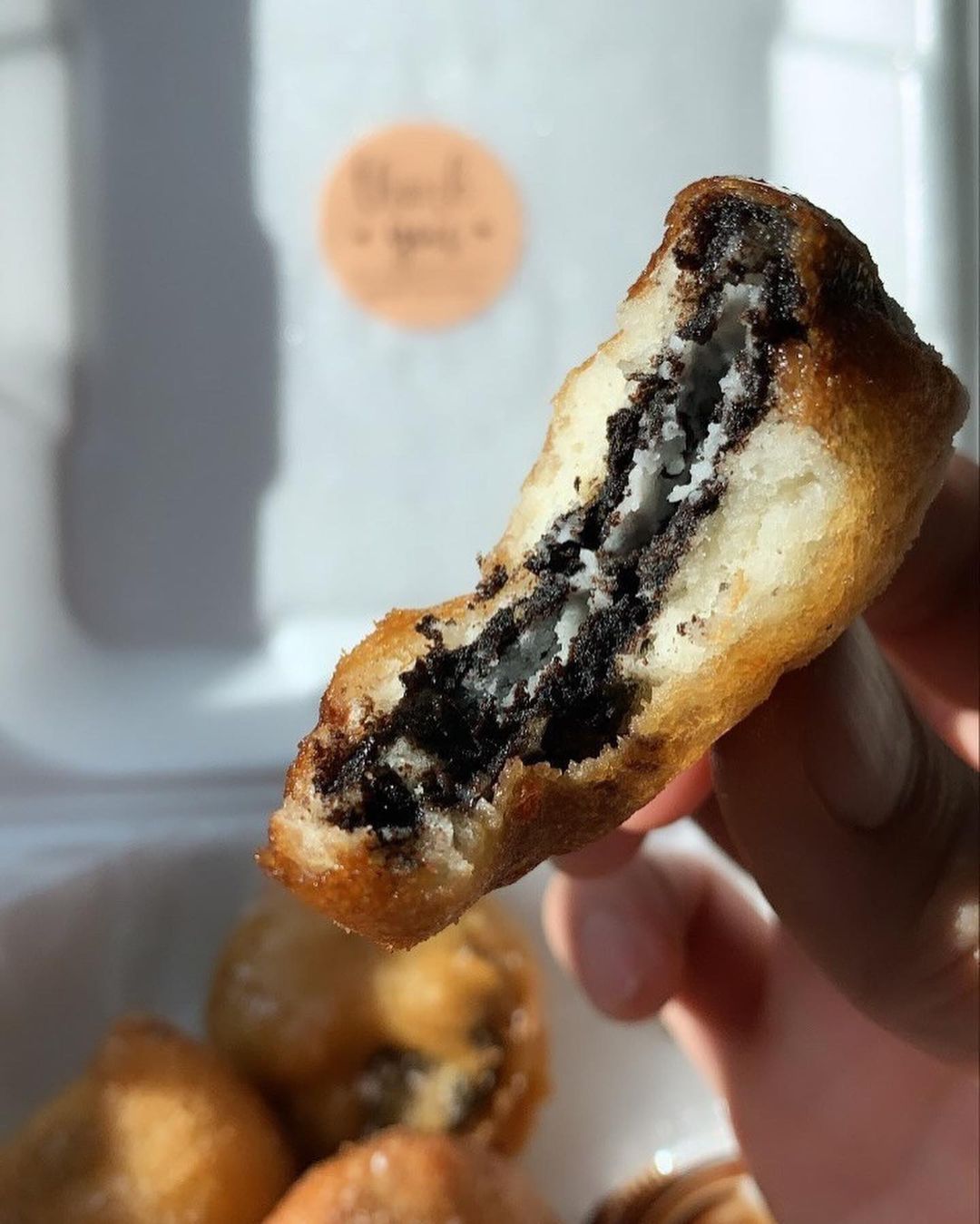 Image credit: @chey_n_lala

Another viral TikTok Oreo dessert recipe are these deep-fried Oreos, which use pancake batter, instead of your usual egg wash and breadcrumb mix to create pillowy shells for each cookie before they hit the fryer.
Yield: Serves 30
Cooking time: 40 mins
Ingredients:
2 litres of neutral oil
1 large egg
1 cup milk
2 tsp vegetable oil
1 cup pancake mix
30 Oreos
Directions:
Heat oil in a deep-fryer to 190ºC.

Whisk together the egg, milk, and 2 tsp of vegetable oil in a bowl until smooth. 

Stir in the pancake mix until no dry lumps remain. 

Dip the cookies into the batter one at a time, and carefully place into the hot frying oil.

Fry only four or five at a time to avoid overcrowding the deep fryer. Cook until the cookies are golden-brown, about 2 minutes. Drain on a paper towel-lined plate before serving.
Recipe adapted from Allrecipes.
---
7. No Bake Oreo Marshmallow Bars
---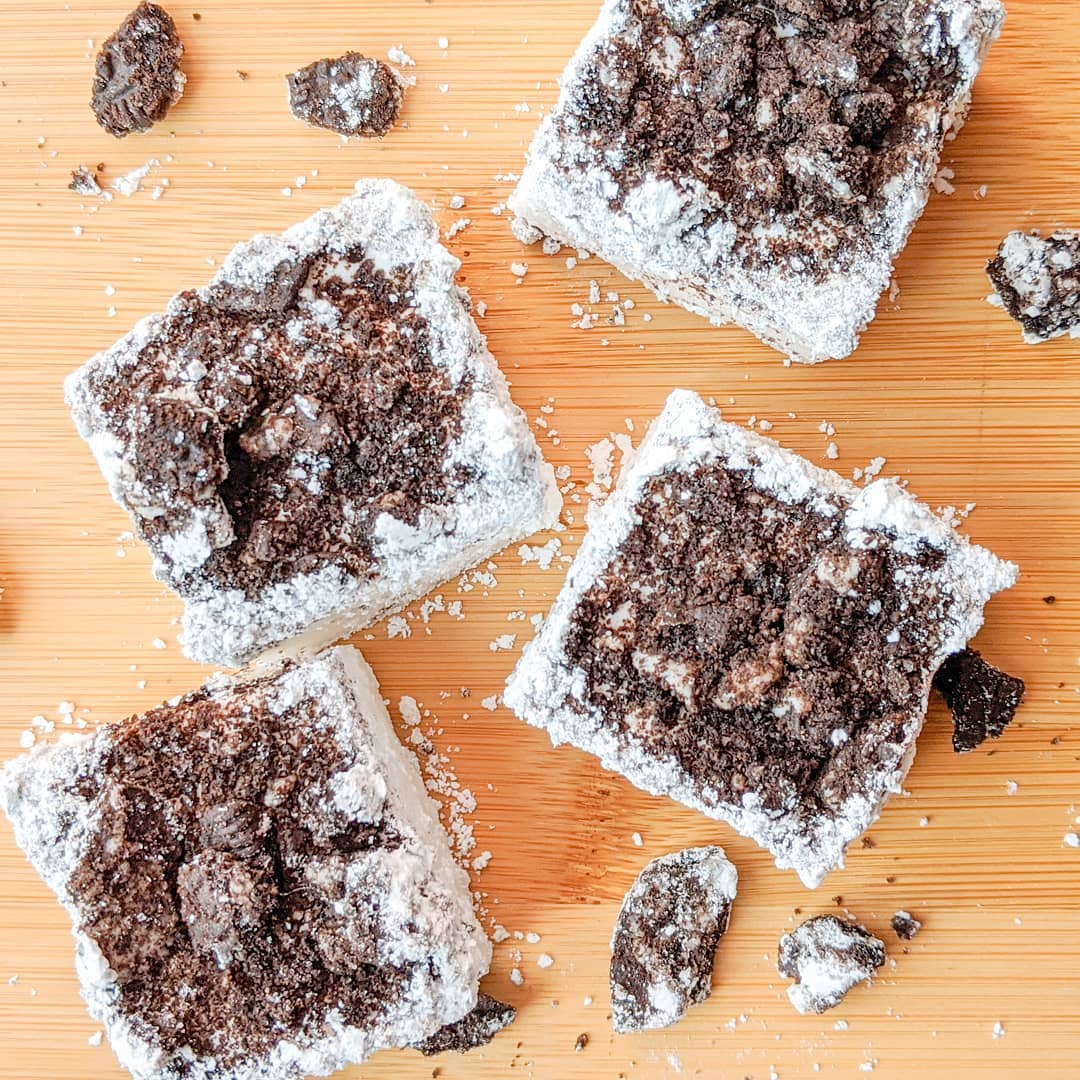 Image credit: @indulgence.ruthvi

Level up your marshmallow game with these Oreo marshmallow no-bake bars, which once again uses just three ingredients, and only 15 minutes, to create a chewy, gooey Oreo dessert.
Yield: 16 squares
Cooking time: 15 mins
Ingredients:
1 sleeve of Oreos, cream removed
5 cups large marshmallows
4 tbsp butter
Directions:
Line an 8 x 8 baking tin with aluminum foil.

Place Oreos in a food processor and pulse until finely ground.

Melt marshmallows and butter in the microwave until puffed, for about 90 seconds to 2 minutes.

Remove and pour in ground Oreos.

Stir to combine then transfer to the baking tin. Let it sit for 10 minutes.

Remove bars out of the pan with the edges of the foil and cut into squares.
Recipe adapted from Picky Palate.
---
8. Three Ingredient Oreo Ice Cream
---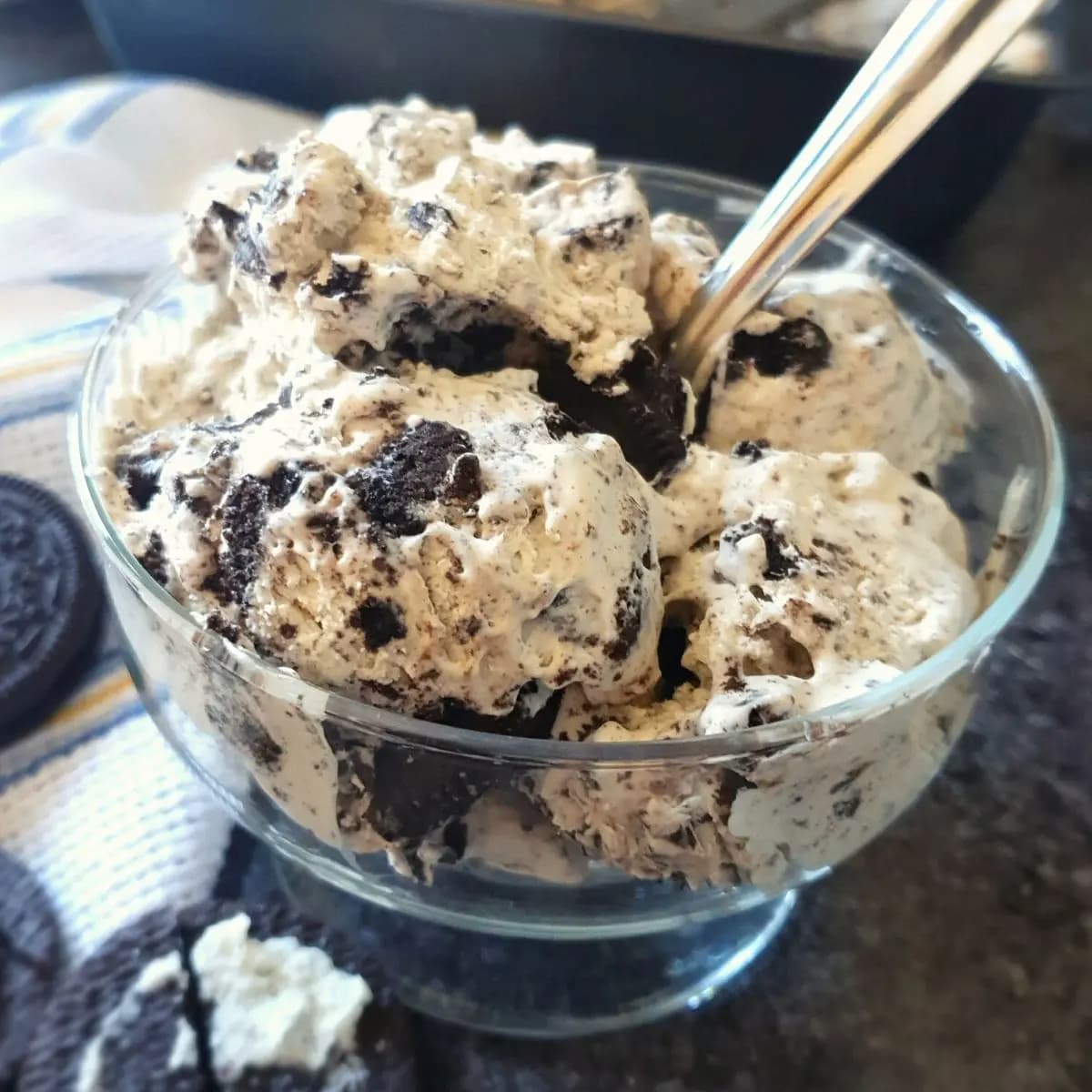 Image credit: Pavani's Kitchen
The weather has been hot lately, so cool off by making a simple ice-cold treat at home in the form of this easy Oreo ice cream. It doesn't require churning, nor an ice cream maker either!
Yield: Serves 12
Cooking time: 7 hours 20 mins
Ingredients:
18 Oreo cookies, cream removed
1 can condensed milk
2 cups heavy cream, cold
Directions:
Crush the Oreo cookies.

Place cold heavy cream in a large bowl, whip to stiff peaks.

Add sweetened condensed milk and beat on low speed until incorporated, add crushed cookies and fold.

Transfer into a container/dish, top with 3-4 extra crushed cookies and freeze for least 6 hours.
Recipe adapted from The Cooking Foodie.
---
9. Oreo Mille-Crepe
---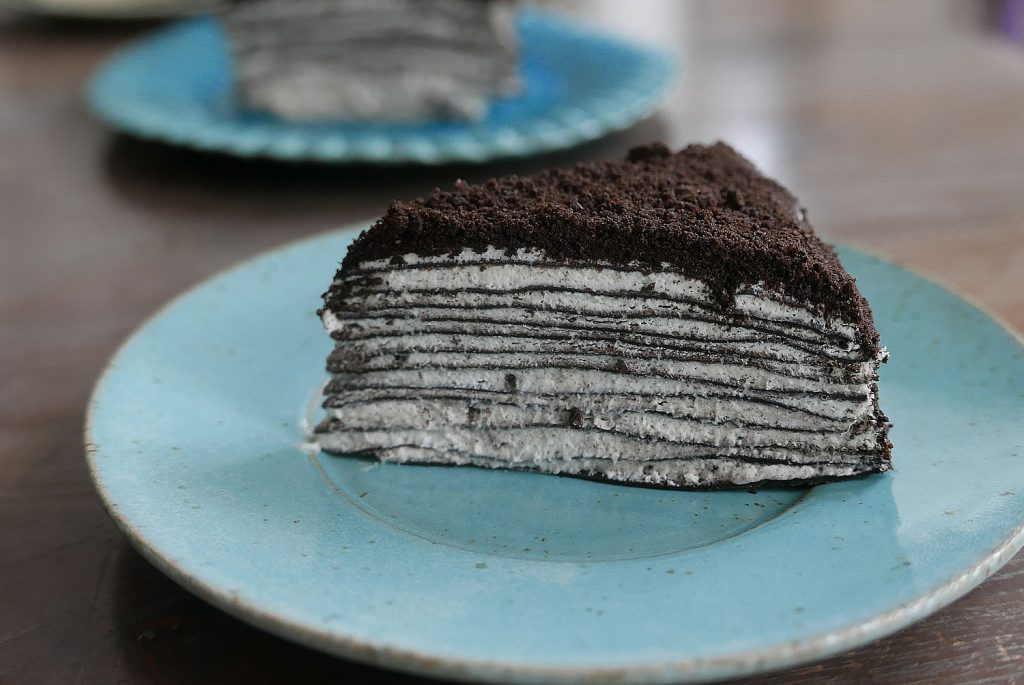 Image credit: Dans La Lune
If you know a friend who is a big fan of Oreo desserts, then make this treat for their birthday. Though time-consuming, this mille-crepe is so full of Oreo goodness, it's well worth it.
Yield: Serves 8
Cooking time: 2 hours
Ingredients:
For the crepe
2 eggs
30g sugar
1/4 tsp salt
100g plain flour
15g cocoa powder
400ml whole milk
30g unsalted butter, melted
For the filling
400ml heavy cream
60g white sugar
9 Oreo cookies, cream removed
Directions:
Crush the Oreos until you have fine crumbs. Set aside.

In a bowl, whisk together eggs, sugar, and salt. Pour the milk into the egg mixture slowly, and mix well.

Add the sifted flour and cocoa powder. Mix well until the batter is integrated.

Strain the crepe mixture through a fine sieve. Add the melted butter and mix well. Cover with plastic wrap and let it sit at room temperature for about 30min to 1 hour, or even overnight.

When it's time to cook the crepes, heat a flat pan till hot. Brush with oil and remove the excess with a paper towel (a thin application, only the first time is fine). Pour enough batter to cover the bottom of the pan and swirl it to coat evenly. Once the batter is dry and the edges start to dry, flip the crepe with your hand. Let it cook on the other side for a few seconds. Then transfer to a plate to cool down. Repeat the same until the batter is finished.

Once cooled completely, use an 18 cm round plate or cake bottom as a guide and cut off the excess crepes. Set aside.

Whip chilled whipping cream, and add the granulated sugar until stiff peaks form.

Now, spread a good amount of cream evenly over one crepe. Cover with another crepe and repeat until all the crepes have been used. Finally, cover the cake with cream.

Sprinkle crushed Oreos across the cake for decoration. Chill till set, then serve.
Recipe adapted from Dans La Lune.
---
10. Oreo Mug Cake
---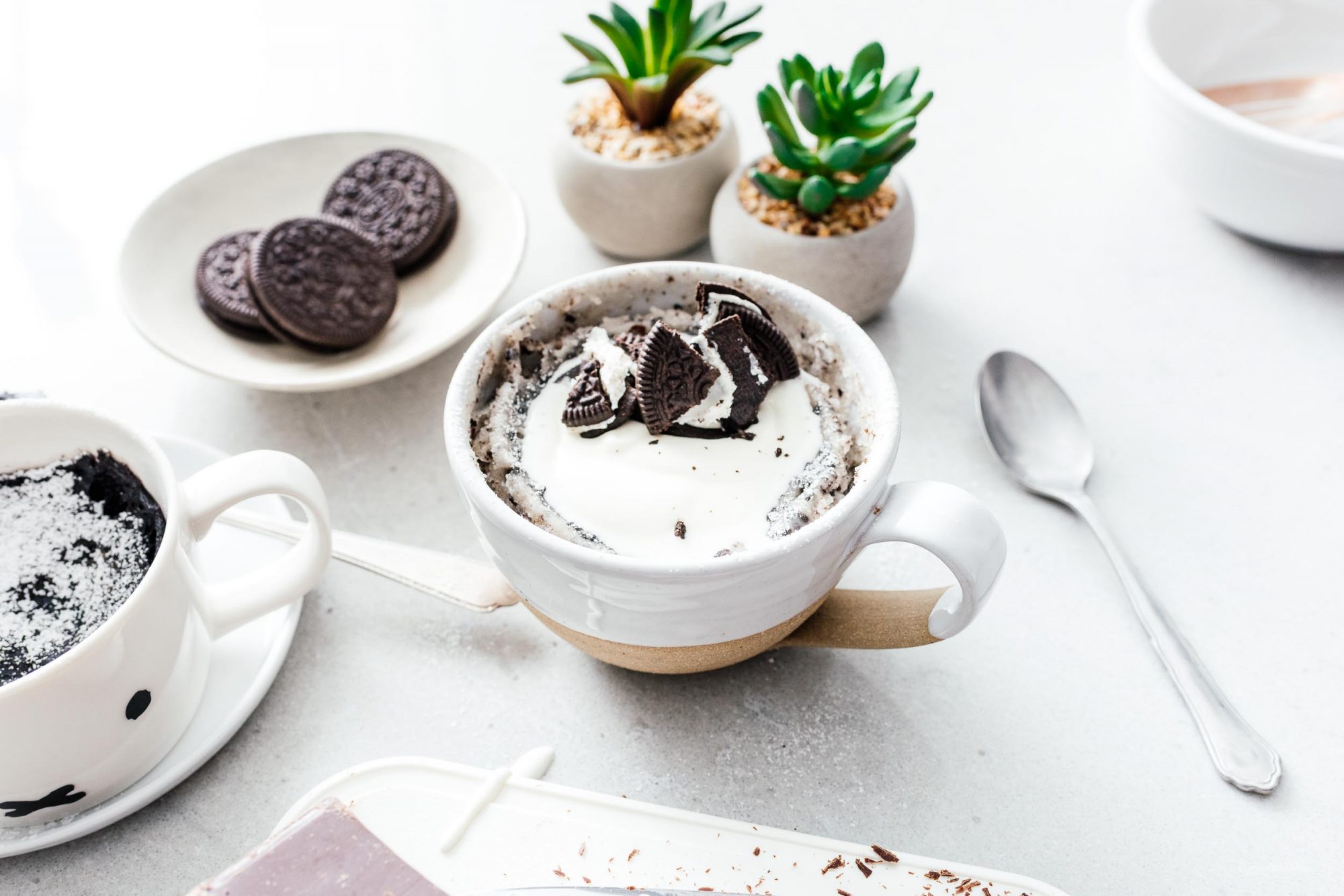 Image credit: I Am A Food Blog
Perhaps the most low-effort Oreo dessert on the list is this mug cake, which takes just three minutes or less to put together. For more of these, check out our mug cake recipes list.
Yield: Serves 1
Cooking time: 3 mins
Ingredients:
6 tbsp milk
1 tbsp oil
1/4 cup flour
2 tbsp unsweetened cocoa powder
2 tbsp sugar
2 Oreos, cream removed and lightly crushed
Oreos, for topping
1/4 tsp baking powder
1 pinch salt
1 tbsp chocolate chips or chopped chocolate
Directions:
In a large mug, whisk together the milk and the oil. 

In a small bowl, mix together the flour, cocoa, crushed Oreos, sugar, baking powder, and salt.

Add the flour mix to the mug and mix well until there are no lumps.

Sprinkle on the chocolate and extra crushed Oreos, if using.

Place on a microwave-safe plate and microwave for 1 minute and 20 seconds.

Let cool, and enjoy.
Recipe adapted from I Am A Food Blog.
10 Microwavable Mug Cake Recipes Including Cheesecake, Cinnamon Roll, And Molten Lava Cake
---
Easy Oreo dessert recipes
---
From no-bake cheesecake to a super simple mug cake, you can do plenty with that roll of Oreo biscuits you have in the pantry.
For more recipes you can recreate, check out our Milo recipes, as well as our air fryer recipes!
10 Air Fryer Recipes To Make Roast Pork, Prata Curry Puff, "McMuffins" And More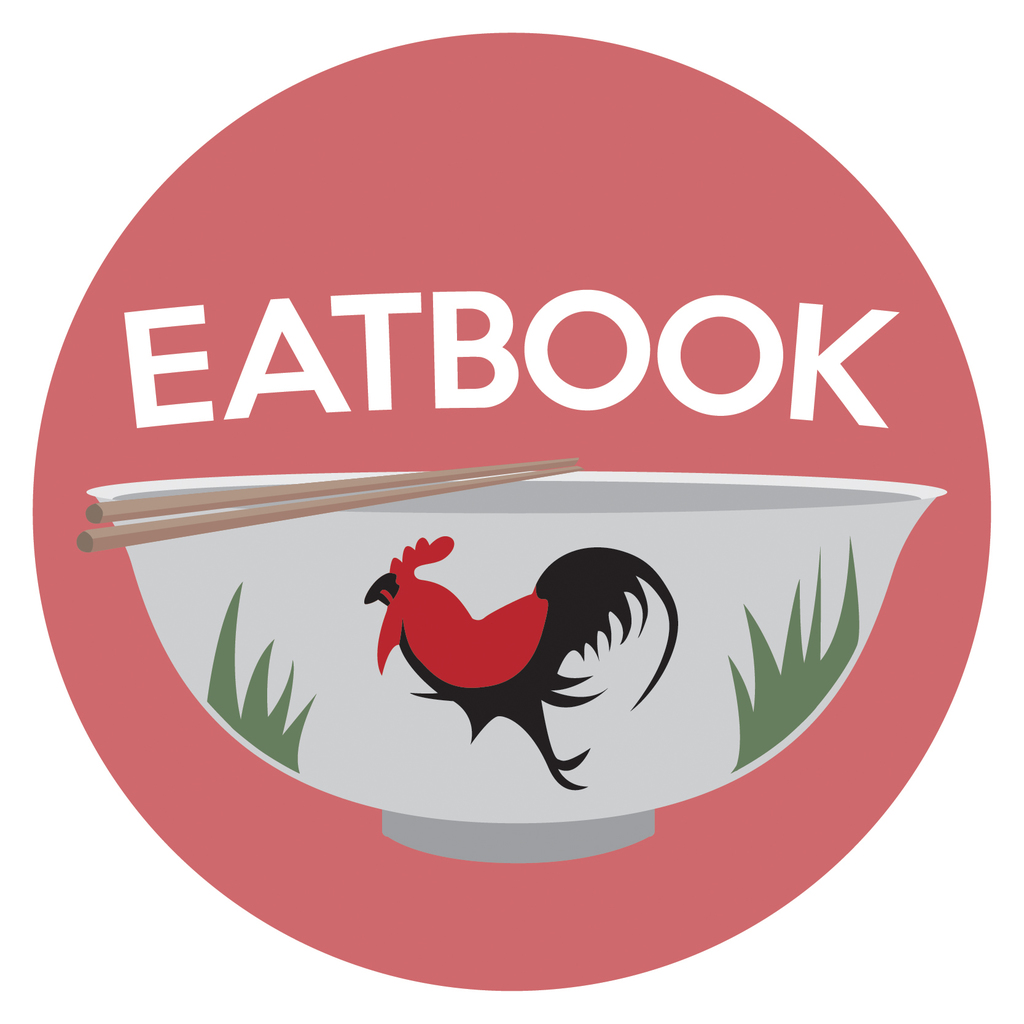 Drop us your email so you won't miss the latest news.