Pablo revives the cheese tart craze
Update (5 April 2019): Pablo Cheese Tart has permanently closed.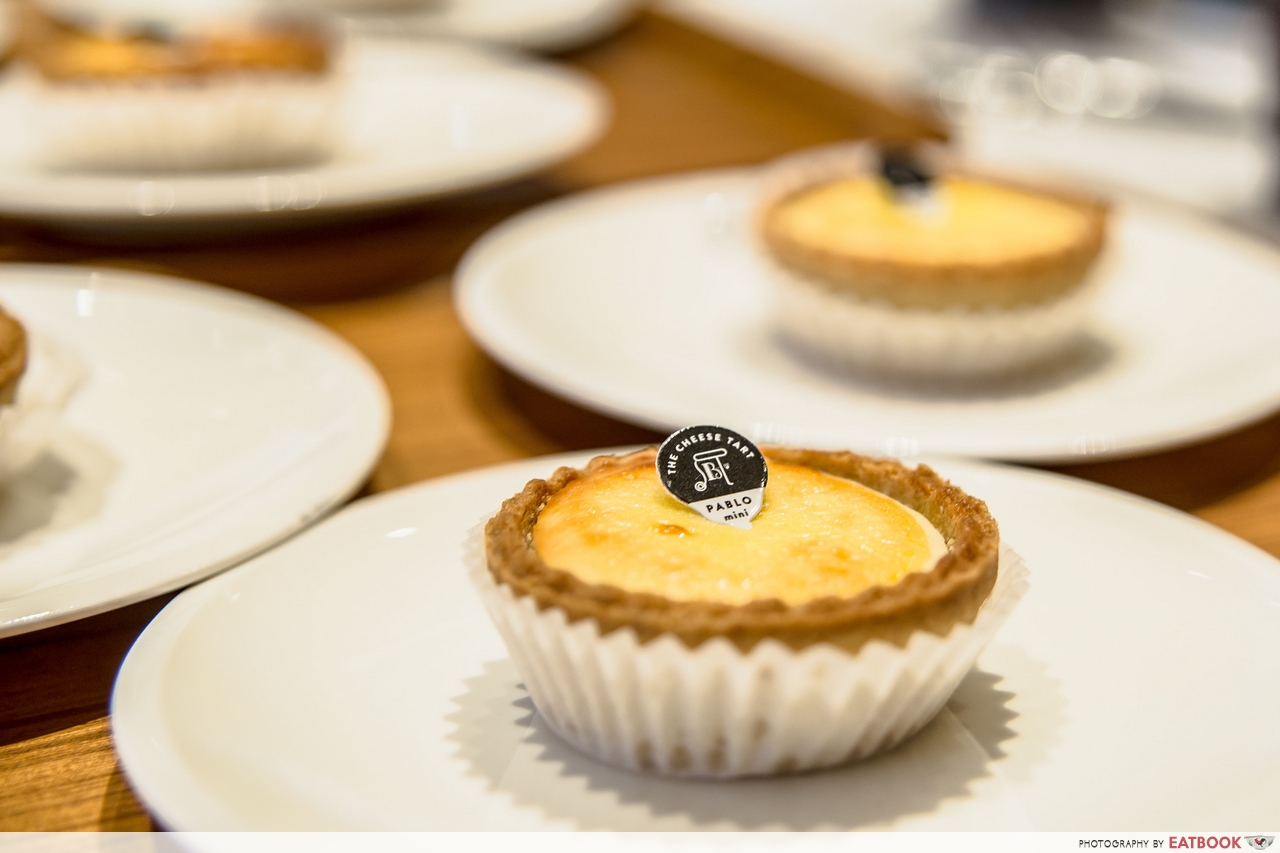 Just when I'd thought Bake was unrivalled, Pablo Cheese Tart opens their doors and dishes out signature cheese tarts, café style.
You've probably heard everything about it now – 15cm in diameter, oozey center, and the largest freshly baked cheese tart in the world. Plus, it doesn't hurt that they've got matcha, and chocolate cheese tarts to shake things up as well.
For smaller appetites, they've got Mini Cheese Tarts ($3.50 for original, $3.80 for matcha, and chocolate cheese) that have the same filling scooped into a sturdier crust, but only the original flavour is available for now.
Freshly baked cheese tart at Pablo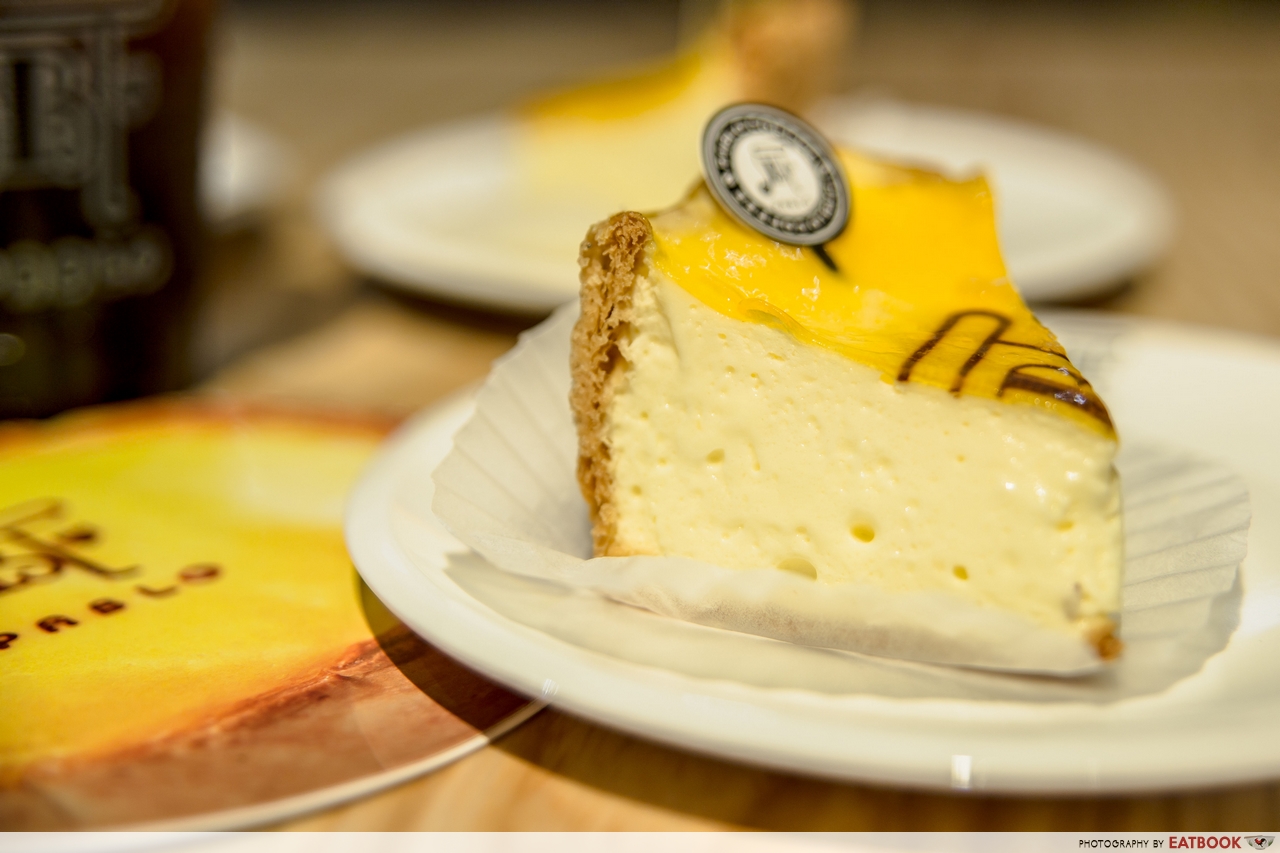 The first cheese tart Pablo served to the public dates back to 2011, in Osaka. Since then, all of its outlets in Japan and overseas have taken measures to serve Pablo's Freshly Baked Cheese Tarts with the same texture, flavour, and consistency by regulating its baking methods and oven temperatures.
We were served a slice of Original Cheese ($15 for a whole cheese tart) that initially held its shape, but gave in to the slightest bit of pressure. I had expected it to resemble Bake's cheese tarts, so I wasn't ready for the fluffy and airy consistency that the tart bore. It was as if the cheese tart was made out of 40% bubbles and 60% cheese mixture.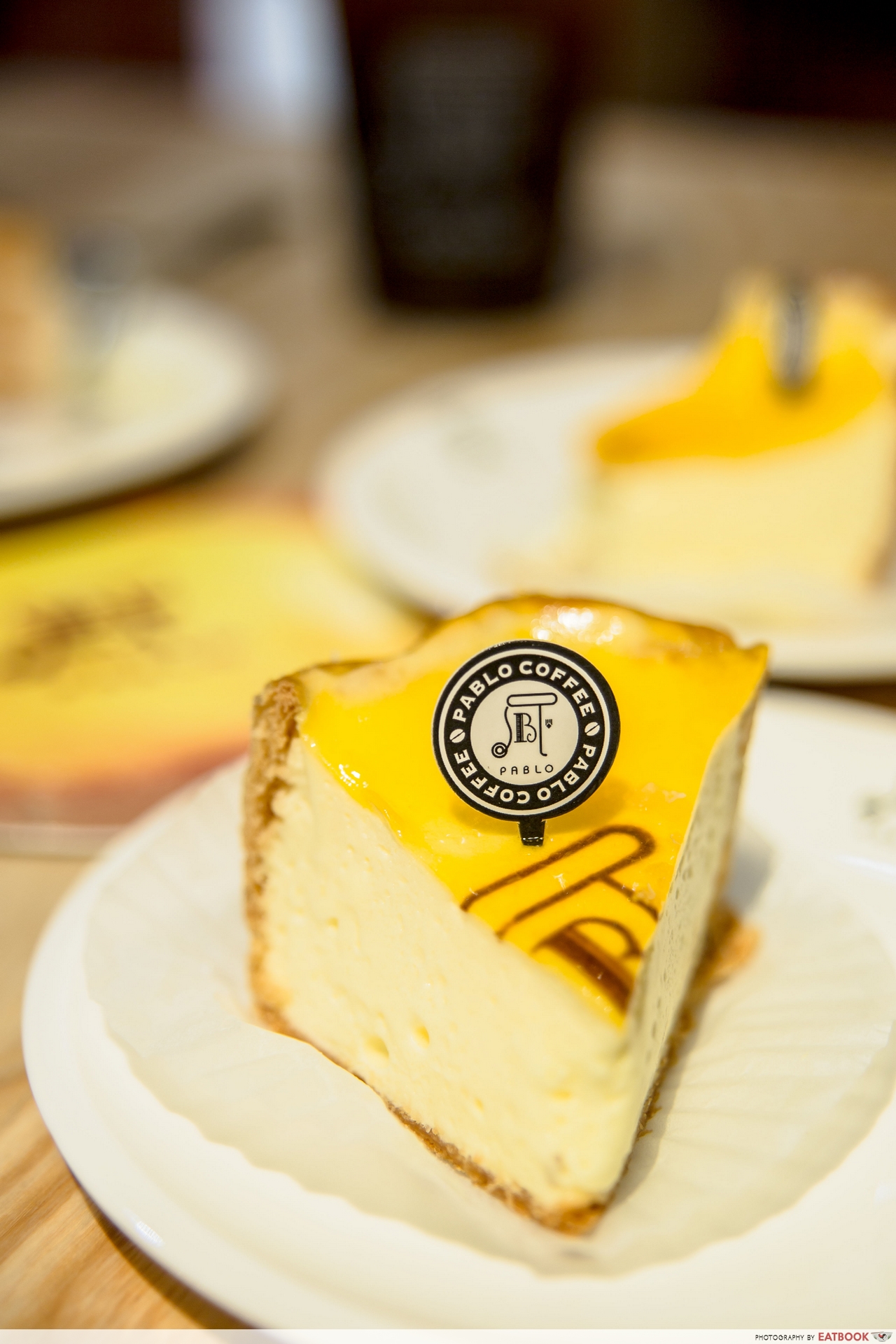 Texture aside, the tart was light in flavour, making it easy to have as a dessert even after a heavy meal. The cheese came across as more of a hint to the creamy, custard-like filling of the tart, and was well balanced by the sweet, fruity apricot glaze.
Even the crust wasn't the usual crumbly hard crust you'd typically find. Pablo's was flaky and buttery, and chewier at the base – probably because it soaks up moisture from the filling. If you don't think you'd be able to finish an entire tart, you can opt to dine in and have a slice of the freshly baked cheese tart along with a cup of coffee or tea ($9.50).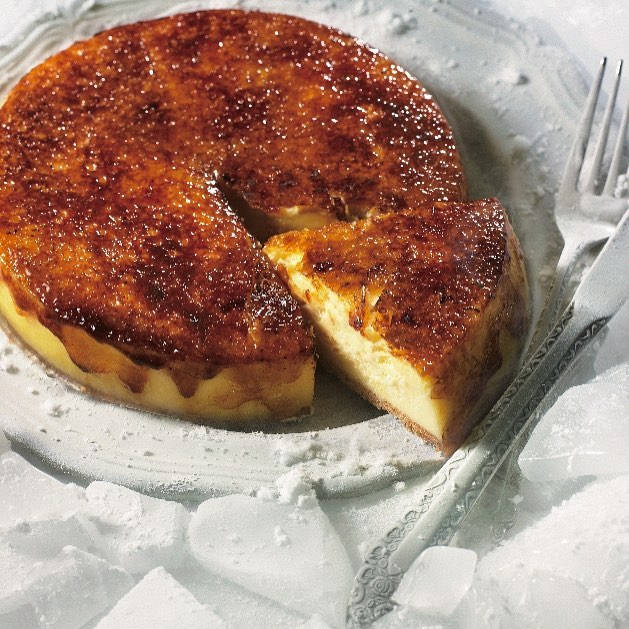 Image credit: @pablo_cheese_tart_singapore
While we didn't manage to try their creme brulee-inspired Premium Cheese Tart ($28 whole, $7.50 a slice) nor Cheese Soft Serve Ice Cream ($3.90), you can bet we'll be back to lay our hands and tastebuds on them.
Ambience at Pablo Cheese Tart
Instead of just taking away, Pablo gives you the option of chilling out with your friends over cheese-based pastries, beverages and soft serve in their 78-seater cafe. The bright, open space means better shots for the 'gram, and you can pick between sofa, counter or regular seats.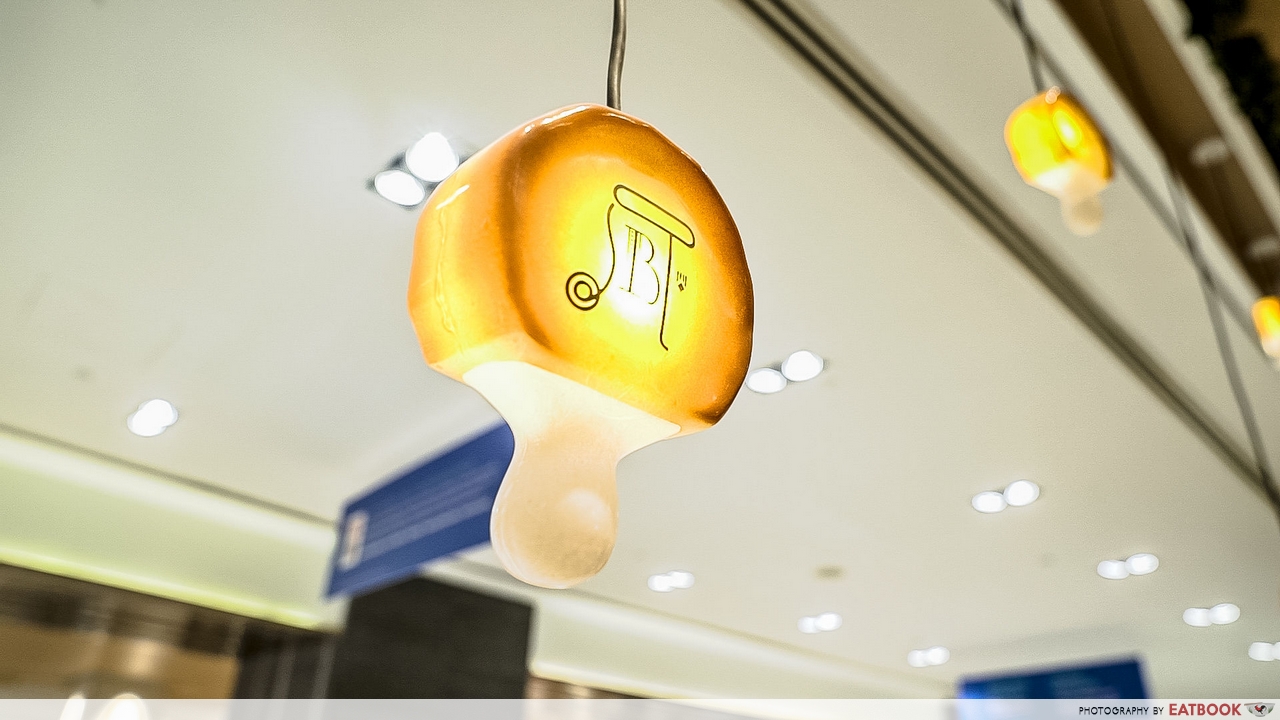 Their decorations and colours stay true to their cheese tarts, and you can bring a part of this home since Pablo will be selling merchandise such as mugs, lapel pins and boxed confectionery in store.
The verdict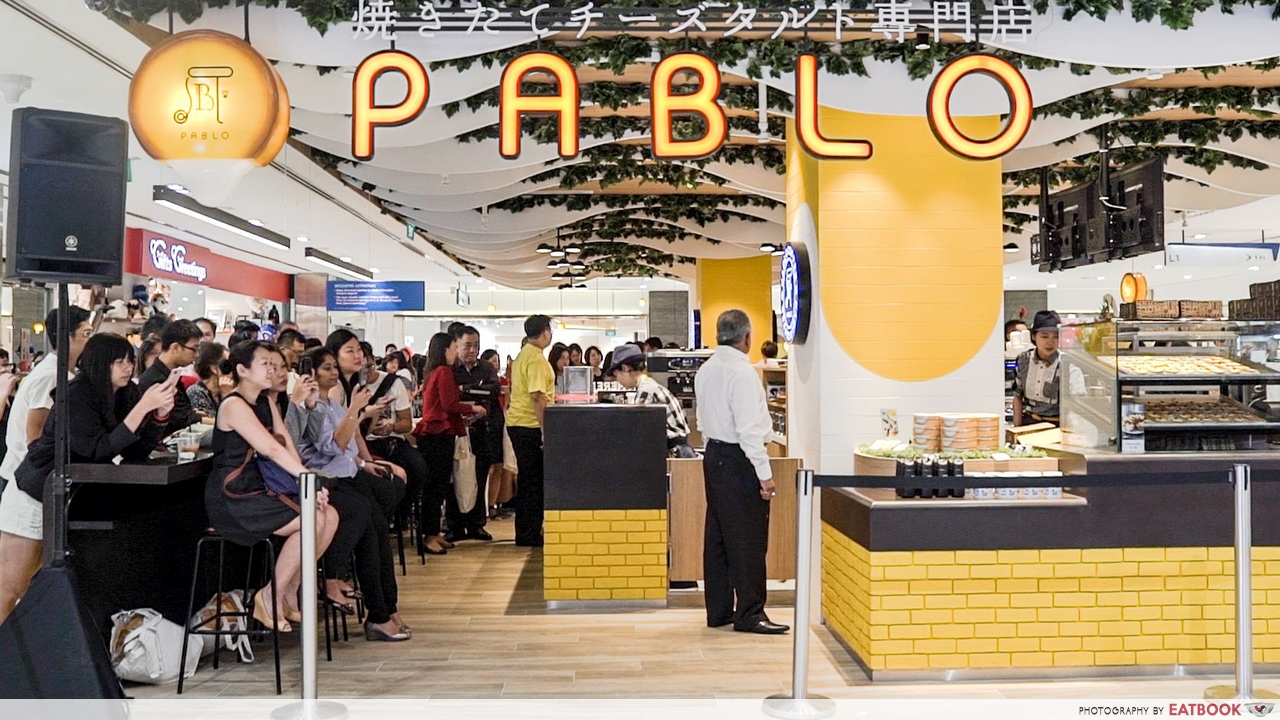 As someone who prefers a denser, richer, cheese tart, it's difficult to make the switch. That said, the well-balanced tart does have its own appeal, and if you're not a fan of the heavier cheese tarts, give Pablo's a try.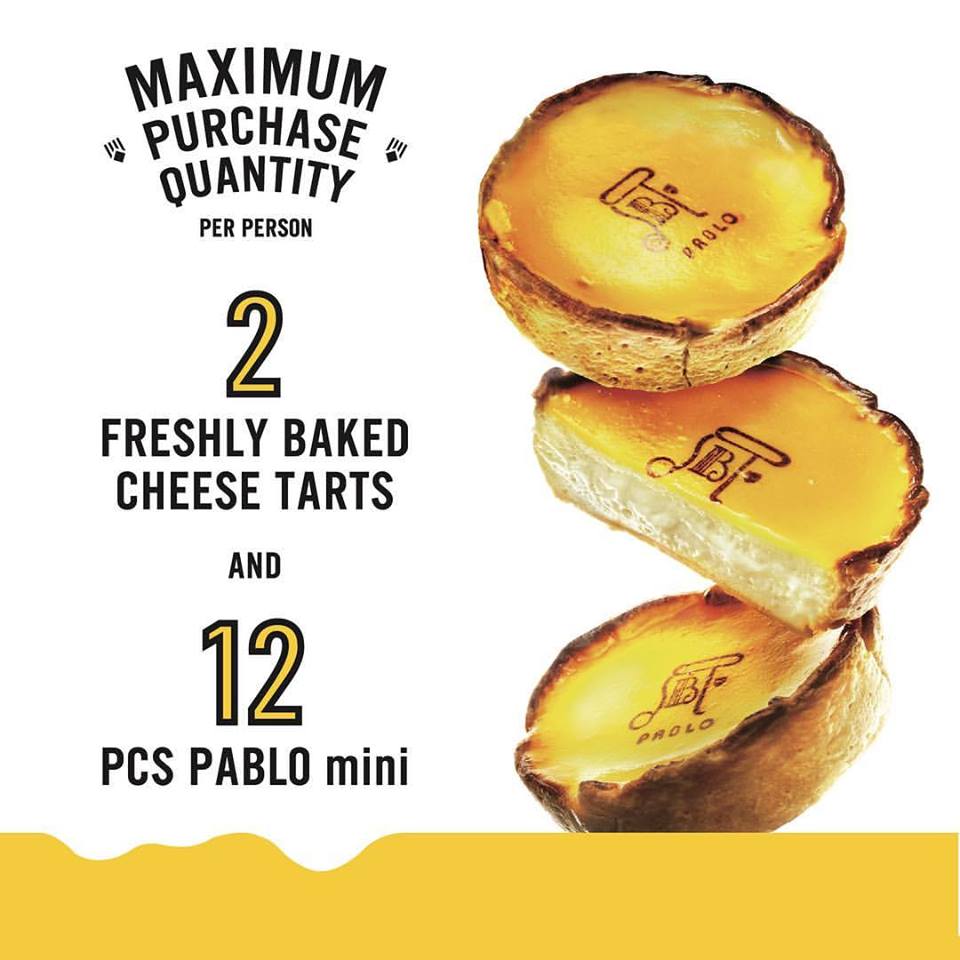 Image credit: Pablo Cheese Tart's Facebook
If you're planning to buy out the entire store, keep in mind that every customer is limited to two Freshly Baked Cheese Tarts and 12 Pablo minis only!
Address: 435 Orchard Road, #01-02/03/37-41, Wisma Atria, Singapore 238877
Opening hours: Daily 10am to 10pm
Tel: 6835 9269
Website
Pablo Cheese Tart Singapore is not halal-certified.
This was a media tasting at Pablo Cheese Tart. 
Summary
Pros
– Unique cheese tart
– Friendly staff
– Welcoming and cosy ambience
Cons
– Limited seats
– Waiting time might be long for now
Recommended Dishes: Freshly Baked Cheese Tart in Original Cheese ($15)
Operating Hours:
Daily 10am to 10pm
Address: 435 Orchard Road, #01-02/03/37-41, Wisma Atria, Singapore 238877