Head to PappaRich for true blue Malaysian dishes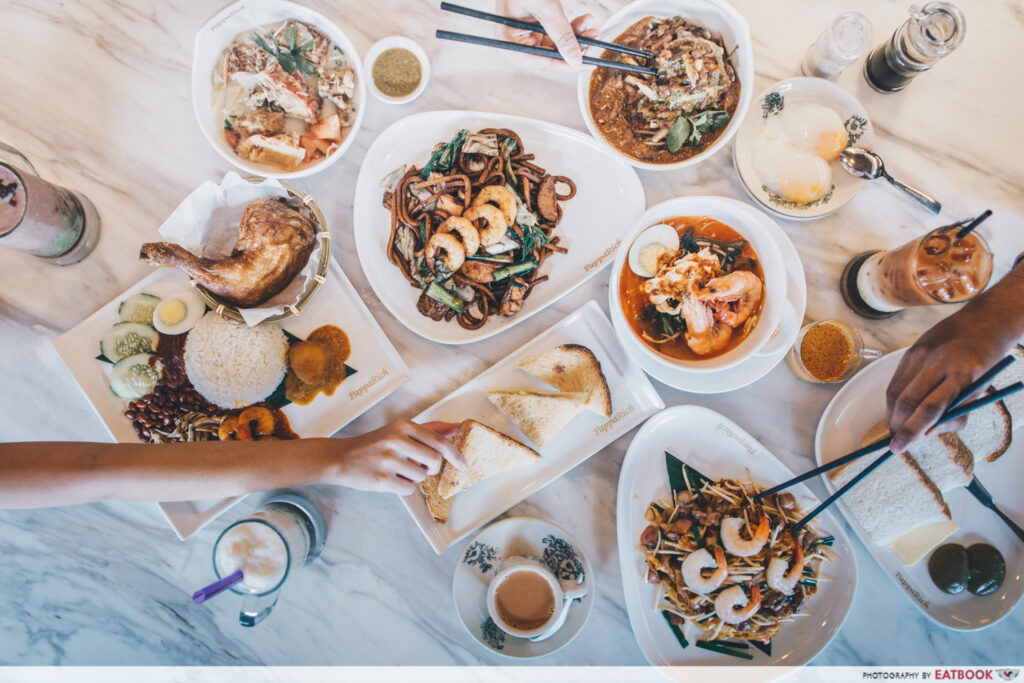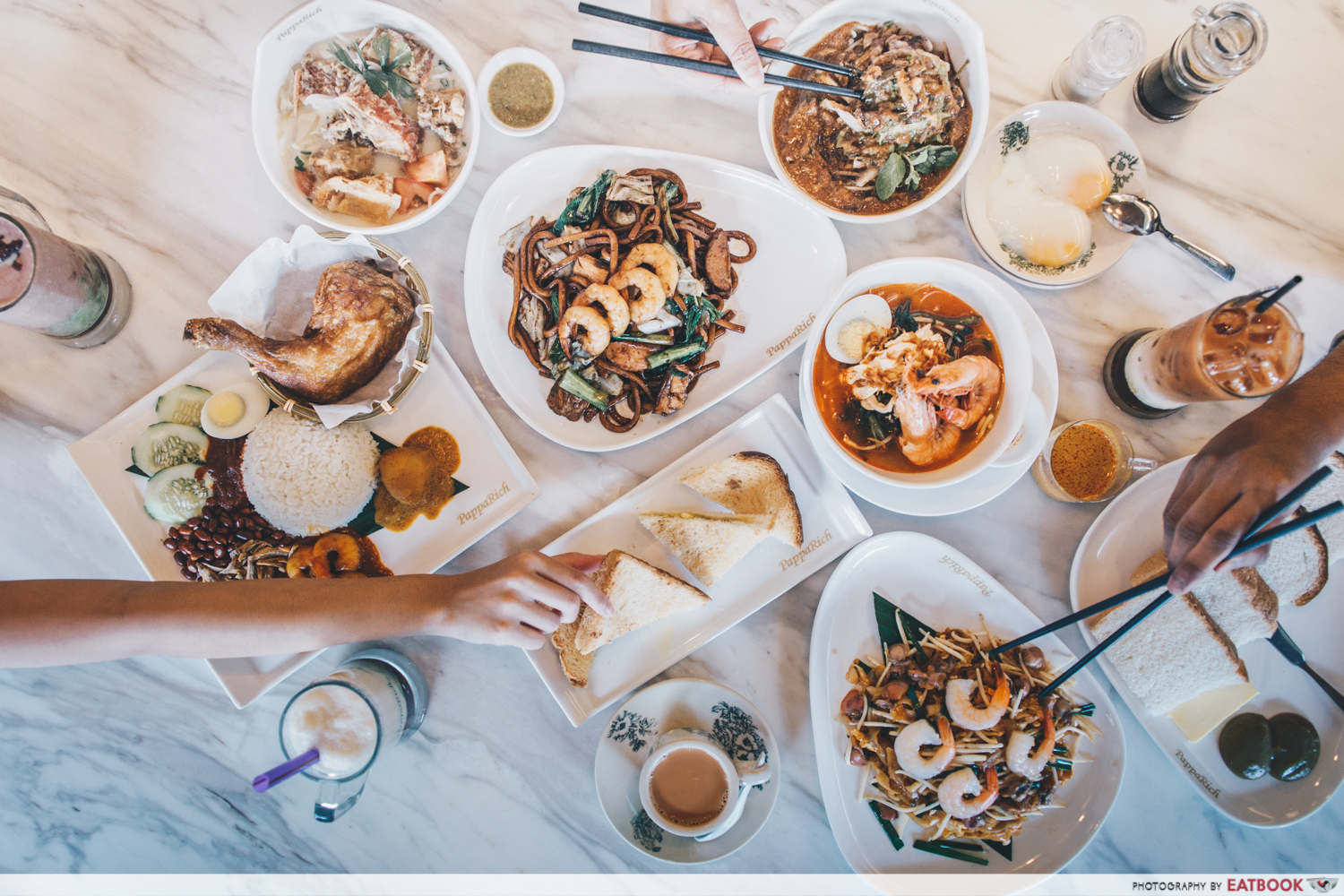 Confession: I'm a traitor when it comes to the food fight between Malaysia and Singapore. I think Malaysia does hawker food 100 times better than us. Flavours found in Malaysian dishes are just bolder and so much more distinctive! Taking Malaysian recipes off the streets – and this statement is no hyperbole – is PappaRich.
Passionate in bringing the true taste of Malaysian hawker favourites to their customers, the owners are known to literally camp for months at famous hawker stalls to woo the hawkers for their beloved recipes. One time, they even successfully lured a chef from a popular nasi padang restaurant, and he now works exclusively for PappaRich. His job? To simply fry up his delectable fried chicken. Crazy story but it's the literal truth, and you can taste it in their dishes to believe it.
Food at PappaRich's Plaza Singapura outlet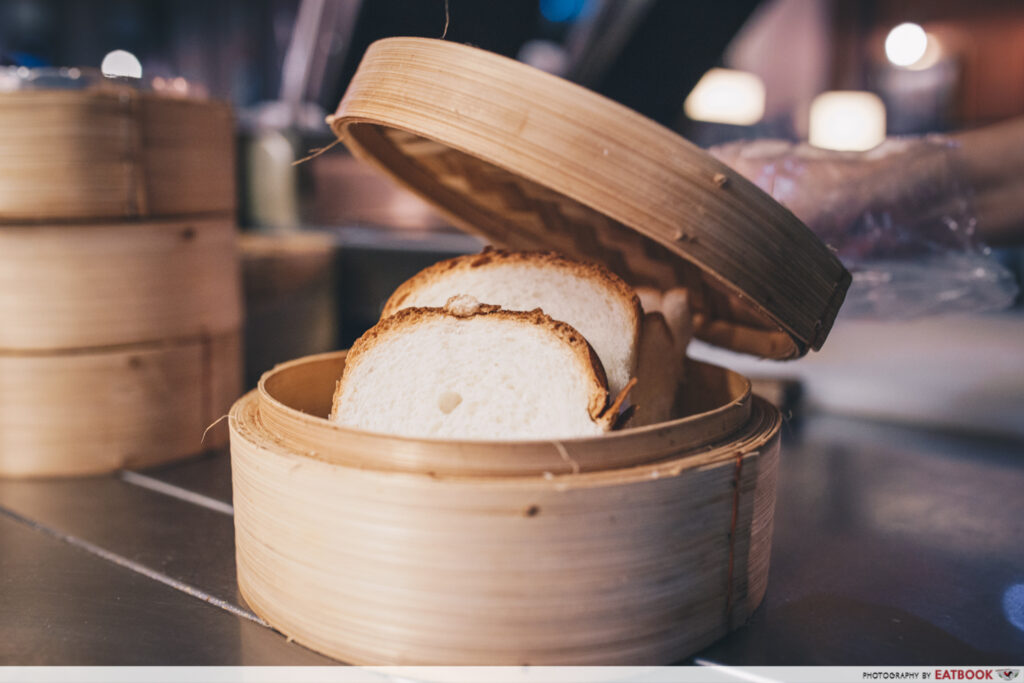 When I sat down to look at the menu, I had a slight panic attack – they were so many pages of Malaysian dishes, with each looking as sumptuous as the next, I didn't know which to choose! Thankfully, a kind staff member came to my aid and recommended me a few dishes.
First up was their Hainan Steamed Bread with Butter and Kaya ($3.90++). Now, while everyone can do a good toasted bread, it is quite rare to find decent steamed bread. So I was delighted with the divine texture of PappaRich's steamed bread – it was pillowy-soft like cotton candy.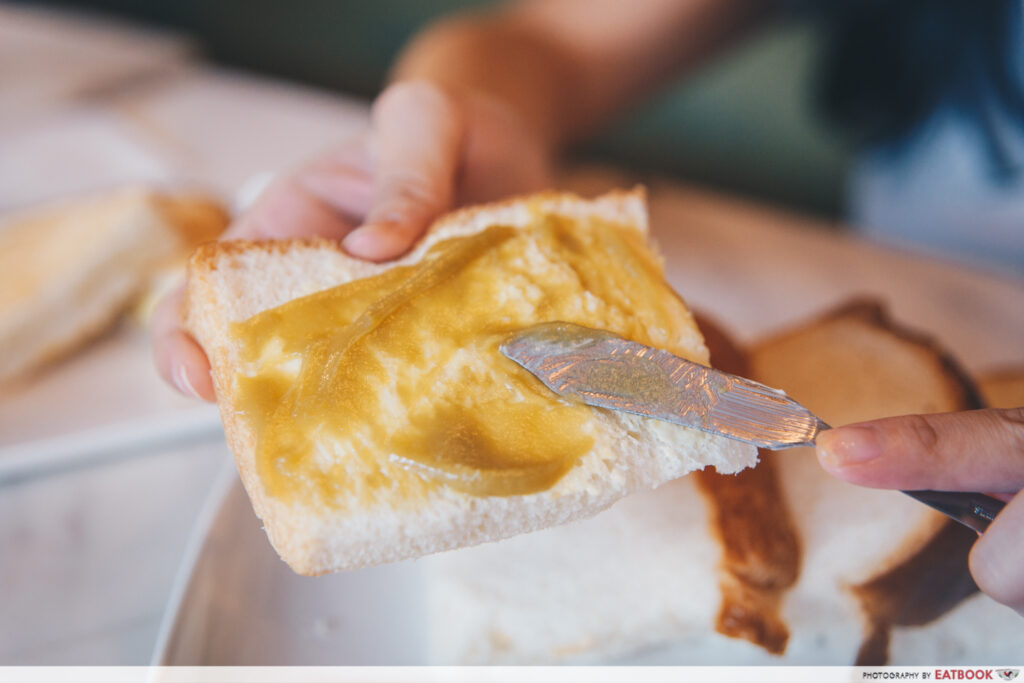 "It's too sweet" is a phrase I commonly say when I have kaya. But PappaRich's kaya was not cloying, and it had a mellow, lingering pandan tang. Sadly, because they only use fresh produce and no preservatives in their kaya, I can't buy this off the shelves. Woe is me!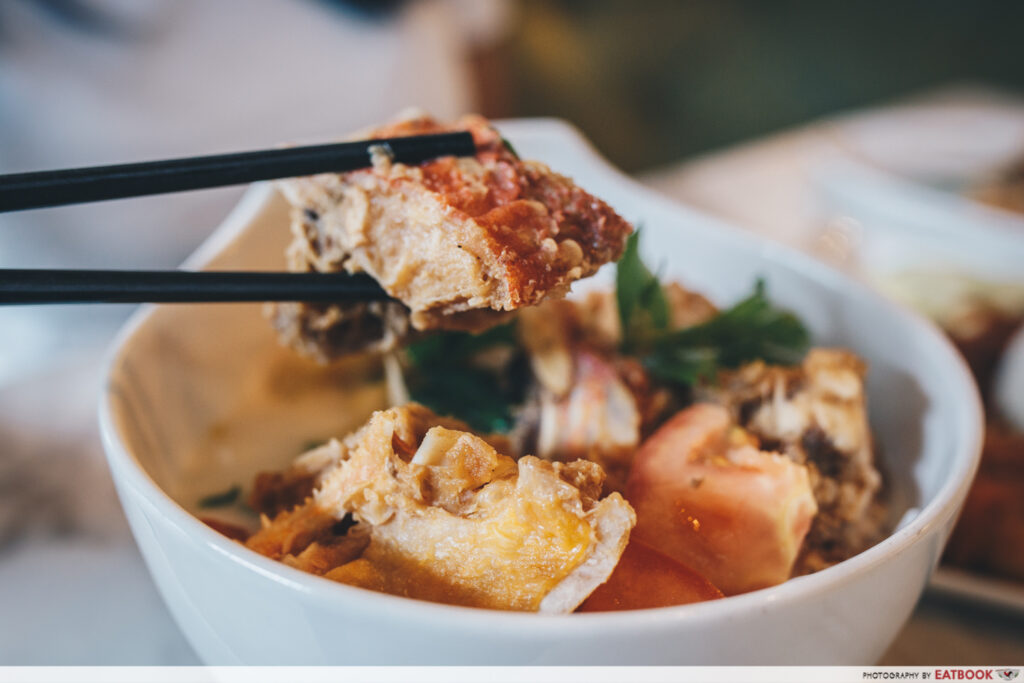 The Fish Head Noodles ($13.90++) was a dish that impressed. Unlike the delicate Teochew fish head soup found in our hawker centres, this umami, oceanic broth had a sharp, tangy twist from the pickled vegetables and fresh tomatoes. I'm all for generous portions, and the red snapper fish head came in huge chunks too. To go with this noodle dish is a house-made green chilli condiment made with ginger and garlic that added a little heat to the dish.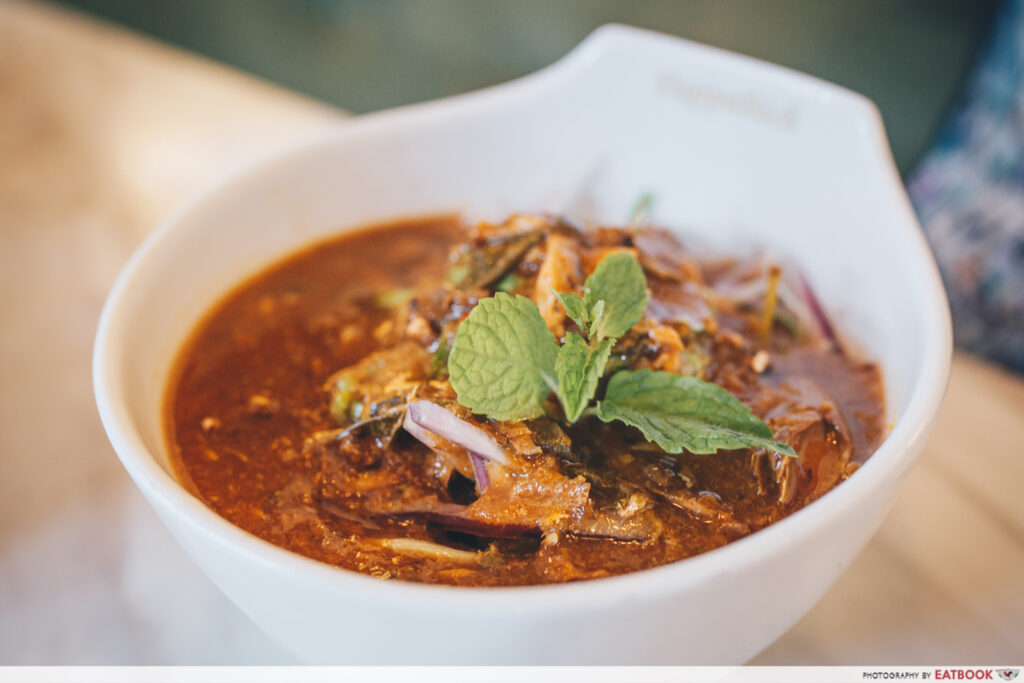 Arriving to our table with a wave of strong, tangy aroma laced with floral notes from ginger flower and mint, the Penang Assam Laksa ($10.90++) certainly teased my appetite. Prepared hours in advance , the broth was an intense mix of sweet, sour and spicy flavours, and had me caving in on my diet. Instead of just taking a bite to taste, I completely devoured the entire bowl. #notsorry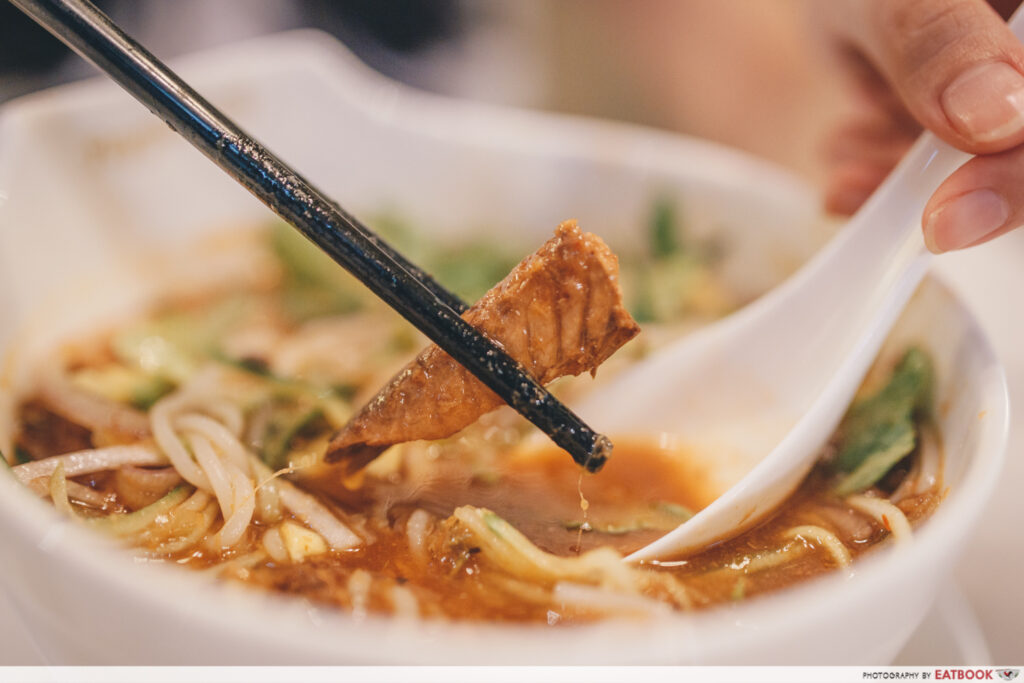 There were also thick shreds of fresh mackerel hidden in the heady broth, justifying the price of the dish.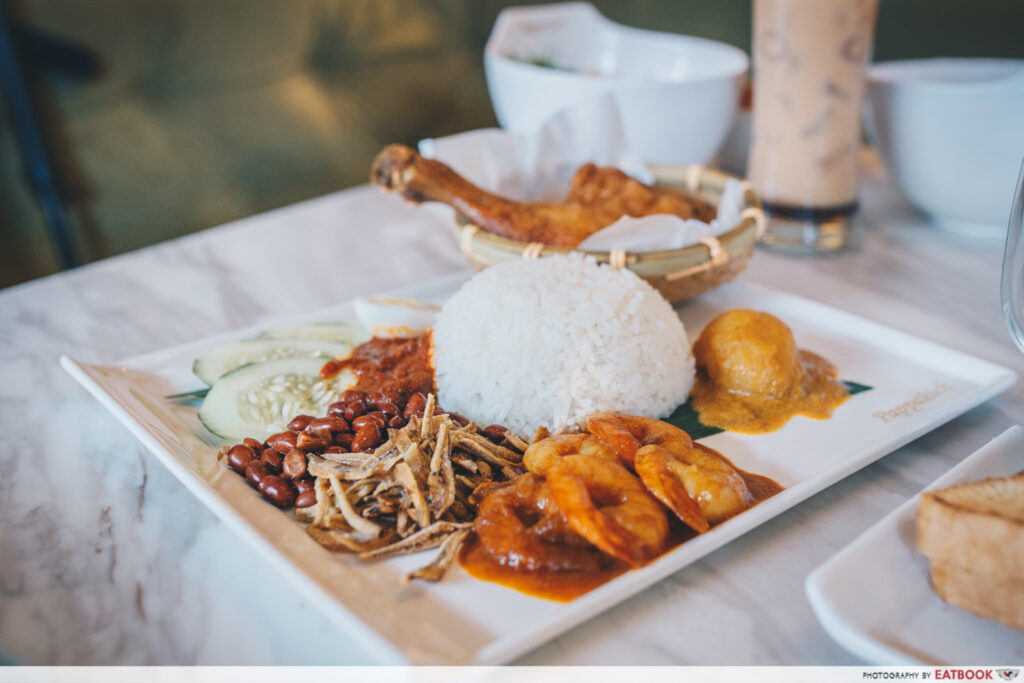 Remember at the start of this article I mentioned a chef from a nasi padang restaurant? This is his dish: Nasi Lemak with Fried Chicken + Sambal Prawns ($14.90++). Now, while I feel the rice could be a tad more lemak, my colleagues disagreed and insisted there was just the right amount of coconutty richness. Guess it all boils down to personal preference. That aside, the star of the show is, without a doubt, the crispy fried chicken thigh.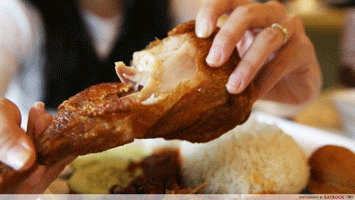 Fried up until all the fats of the chicken melted into the meat, this golden fowl boast a crackling skin and melt-in-your-mouth tender flesh. It was finger lickin' good, indeed. Be sure to dip it in the sambal, which is more sweet than spicy.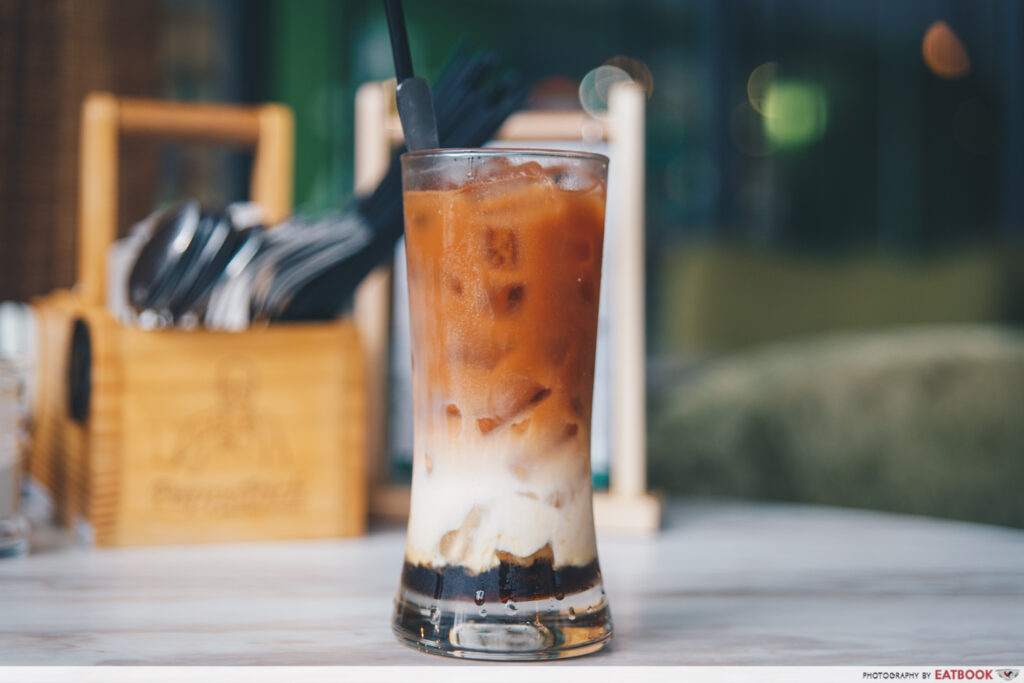 Do not overlook the drinks and settle for iced water, please. Their beverages are really stellar, and I think I found myself a new favourite place for teh bing. Seriously, I will come here just for their Iced Three Layer Tea ($4.50++)! Featuring Sri Lanka tea with milk and a layer of gula melaka, the palm sugar, which is directly sourced from a supplier in Melaka, enlivens up the robustness of the tea.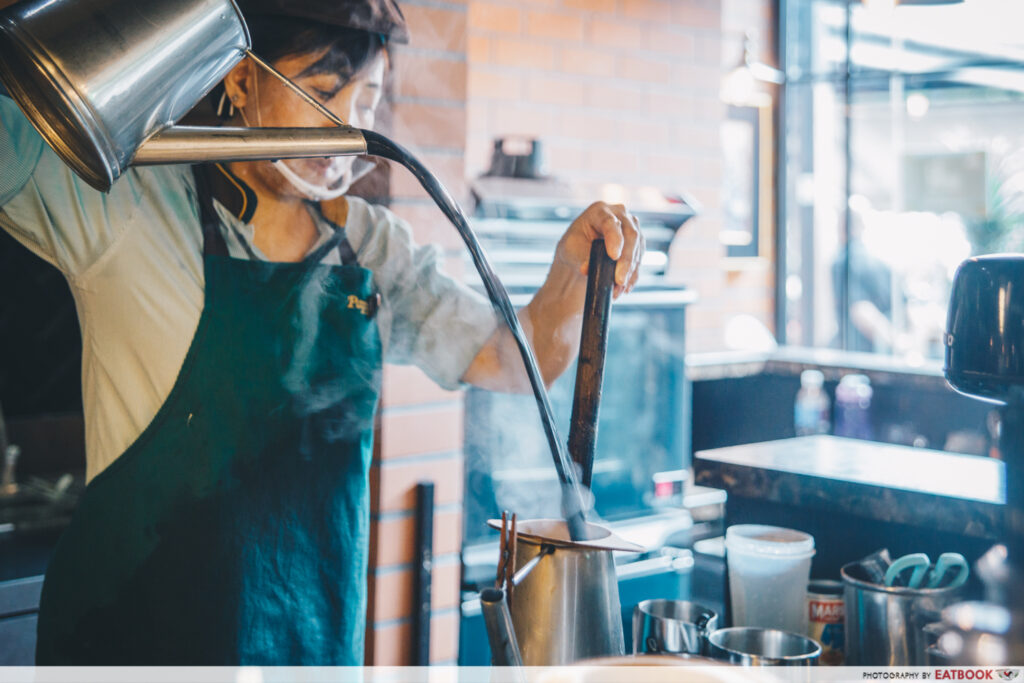 Their tea is also brewed the traditional way and is sifted through a tea sock from a large metal tea cylinder.
Ambience at PappaRich's Plaza Singapura outlet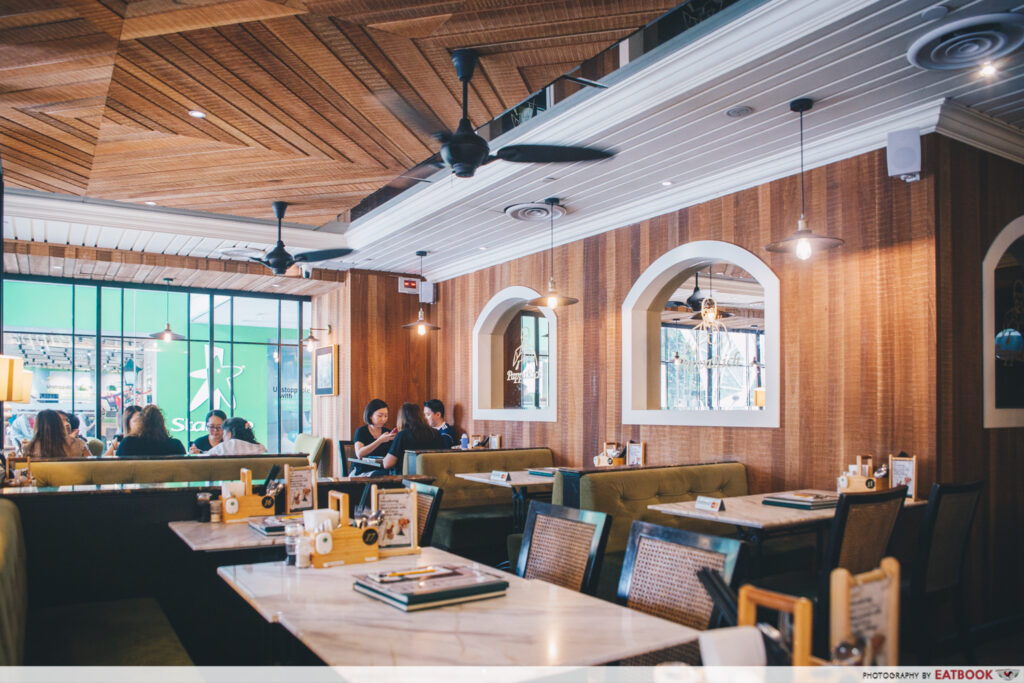 Melding Peranakan-colonial decor with modern interior touches, PappaRich's space exudes timeless elegance. Natural light floods in from the floor-to-ceiling windows, and together with the gorgeous marble-top tables, you can rest assured photos of their food is worthy for the 'gram.
The beautiful meranti wood along with the bubbly staff also add warmth to the space. Versatility is the restaurant's strongest suit. It's classy enough for business meetings, but sufficiently cosy to reach out to families and friends looking for a casual spot to hang out at.
The verdict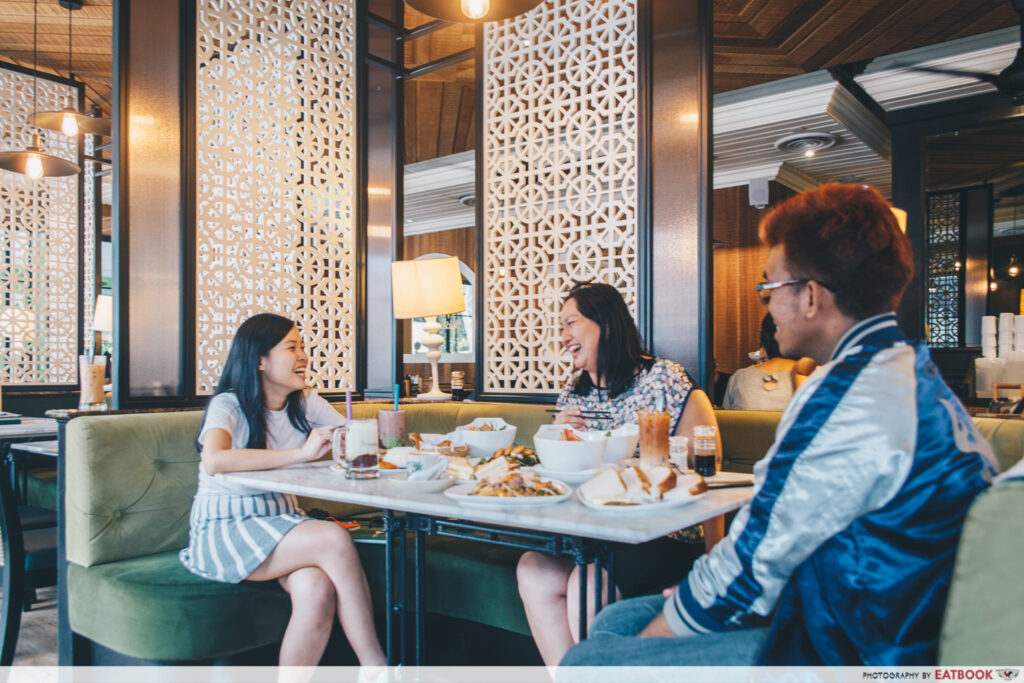 I came here with low expectations but left contented with a belly full of good eats. Every dish brought a smile to my face, and I am quite disappointed that I've never entered PappaRich before today. All the dishes were a delight to savour and can rival, if not beat, those served at a hawker centre.
Plus, with a newborn baby in my life, eating at a hawker centre is tough as it can be real hot and dirty sometimes. Even a food court in a shopping mall tends to be too noisy, resulting in a wailing baby. So PappaRich is a good alternative whenever I'm craving for good ol' hawker food in a comfortable setting. Will I come back? I've already set a date with my in-laws to come here for dinner next week.
Address: 68 Orchard Road, #01-35, Plaza Singapura, Singapore 238839
Opening hours: Sun-Thur 11am to 11pm, Fri-Sat 11am to 12am
Tel: 6735 9323
Website
Menu
Full list of outlets
PappaRich is a halal-certified restaurant.
This post is brought to you by PappaRich.
Summary
Pros
– Sumptuous, hearty food
– Friendly staff
– Beautiful and relaxing ambience
Cons
– A little expensive for food I can find in a hawker centre
Recommended dishes and drinks: Fish Head Noodles ($13.90++), Penang Assam Laksa ($10.90++), and Iced Three Layer Tea ($4.50++)
Operating hours: Sun-Thur 11am to 11pm, Fri-Sat 11am to 12am
Tel: 6735 9323
Address: 68 Orchard Road, #01-35, Plaza Singapura, Singapore 238839