Pizza Hut's
Christmas menu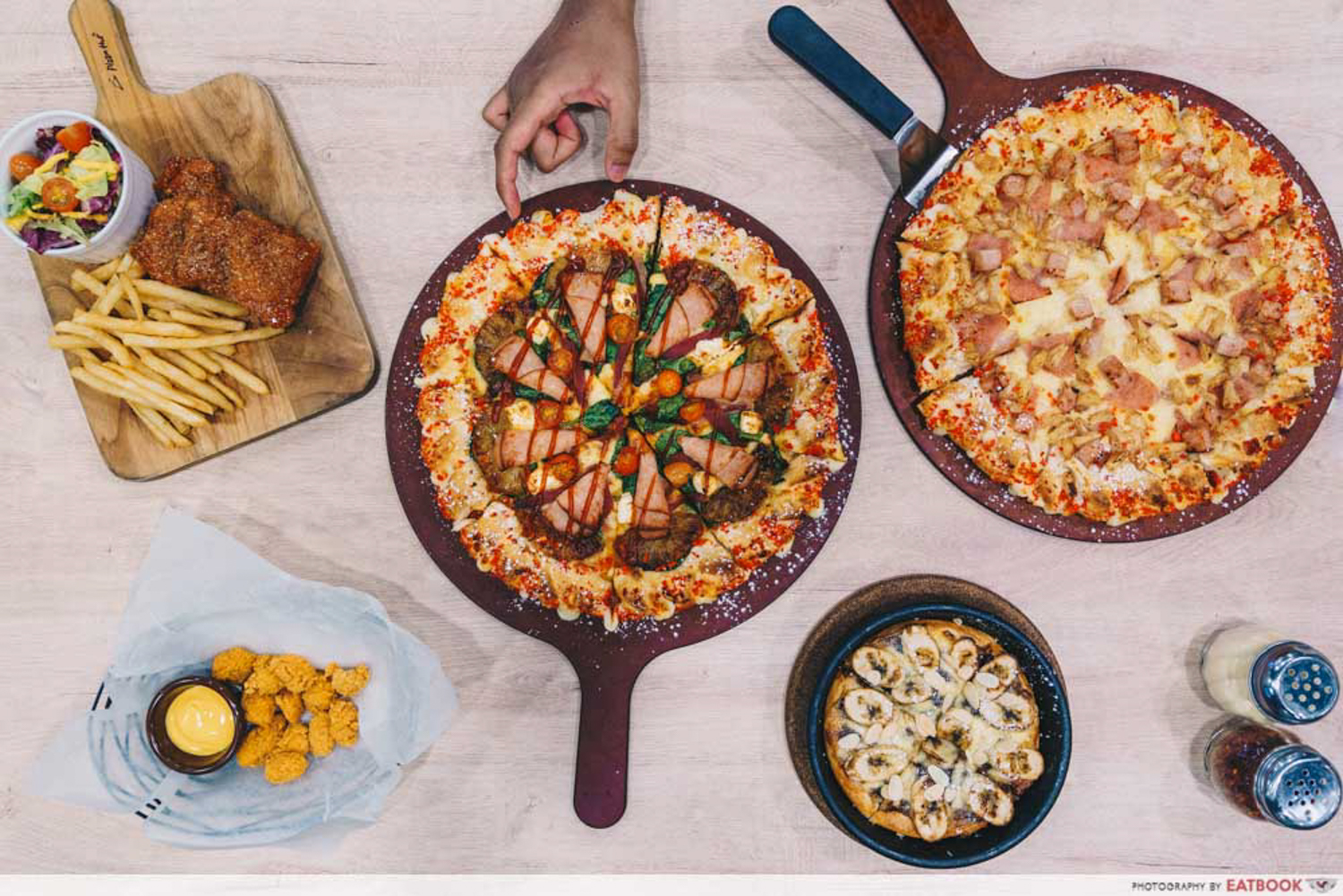 Christmas is about a month away, and Pizza Hut is leading the advent of festive-themed food with their popular Knotty Cheesy pizzas that are topped with a slew of indulgent ingredients such as chicken ham, caramelised pineapple, and cream cheese.
The restaurant is also bringing many holiday bites, including a dessert pizza that's loaded with hazelnut chocolate sauce and baked bananas, to round out your Christmas feast.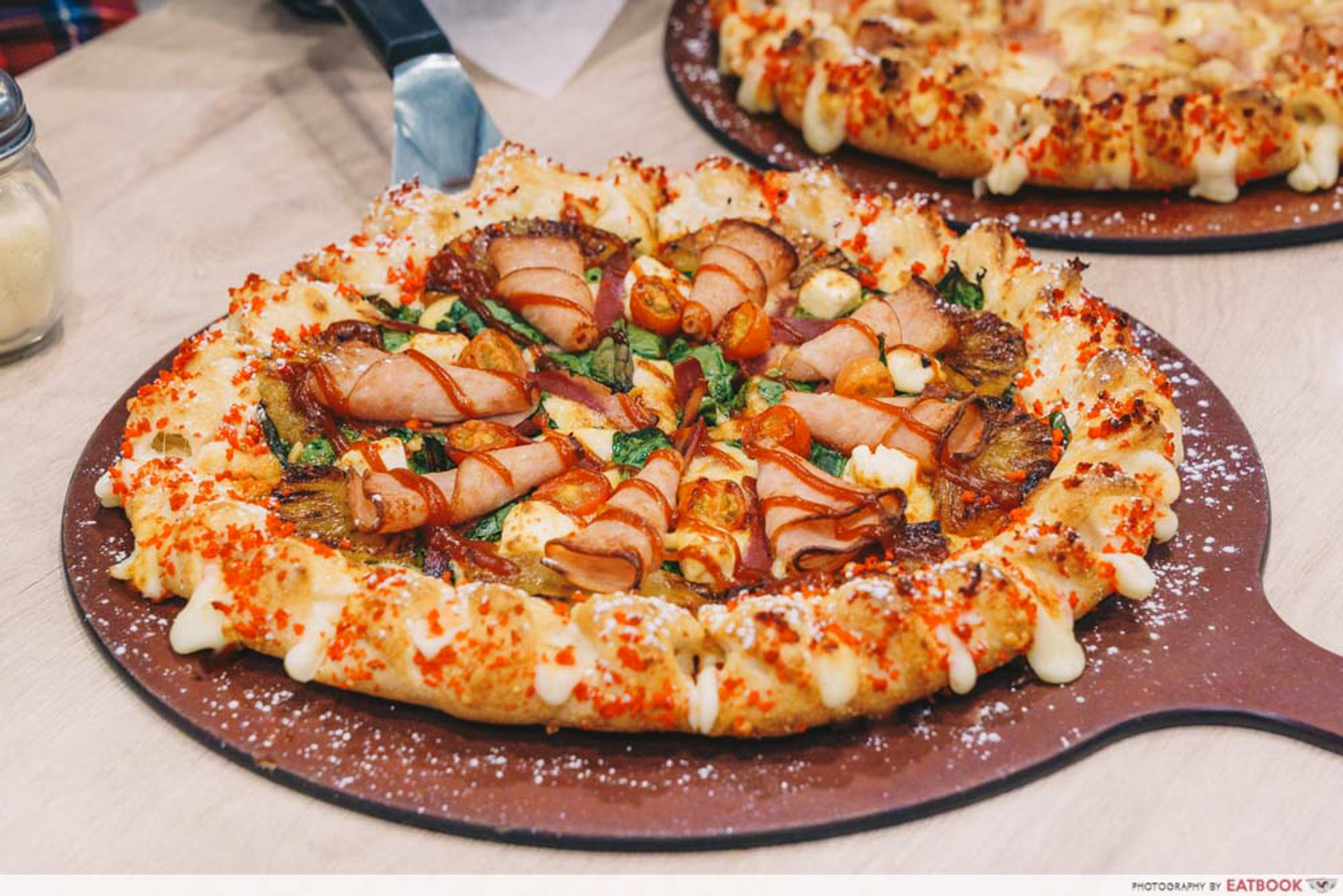 This year's Knotty Cheesy Ham (from $27.90++) stands out from last year's rendition in that it's powdered with icing sugar for a sweet finish and wintry aesthetic—maxing out the Christmas vibes.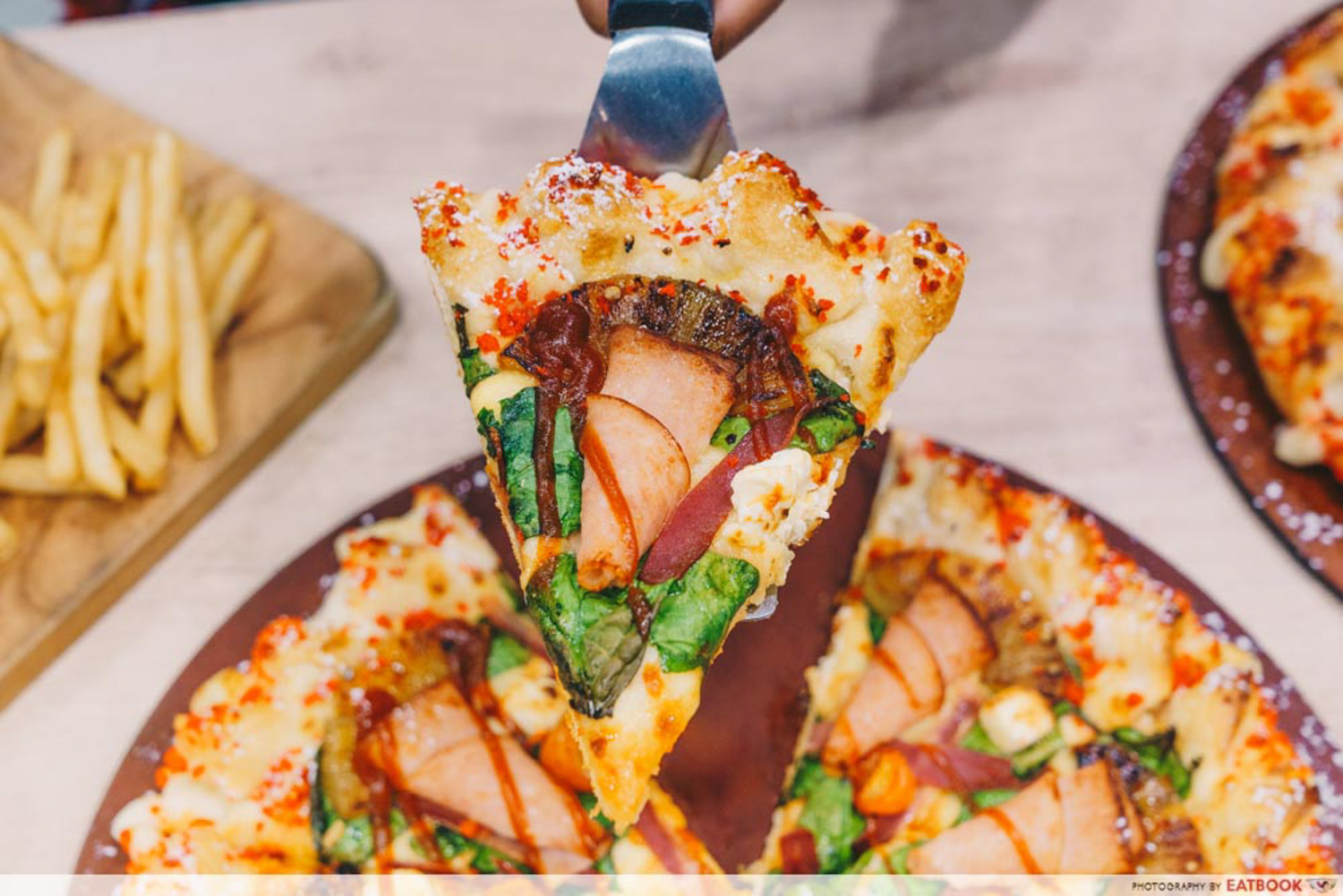 The glazed ham and cream cheese cubes sent a potent punch of savouriness that didn't cross over to jelak territory, thanks to the juicy cherry tomatoes and caramelised pineapple slices. The two fruits helped to temper the umami factor of the pizza with their mellow sweetness. Coupled with the sweet onion sauce, these toppings gave rise to a greater depth of flavours.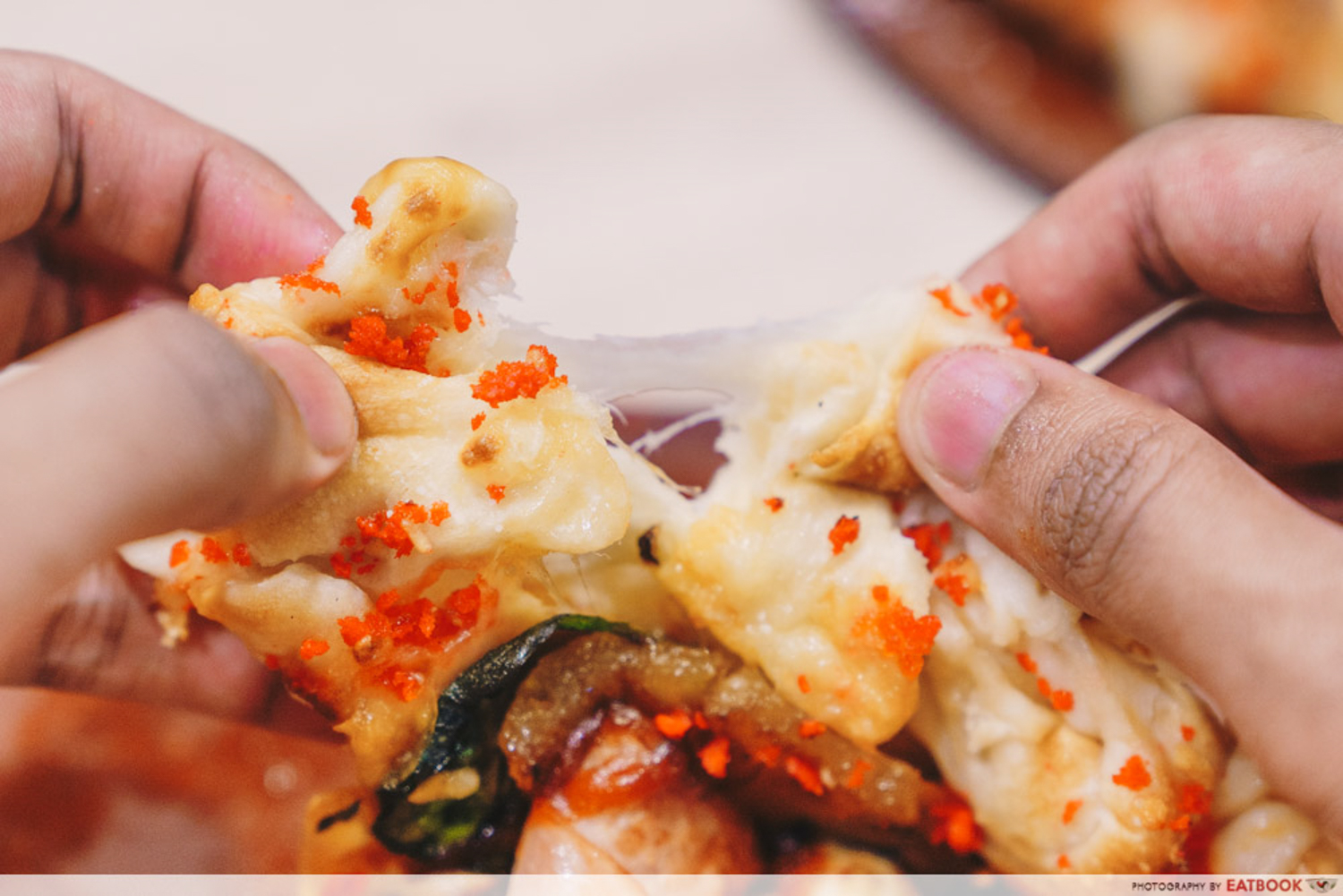 The star ingredient is undoubtedly the cheese-stuffed crust that's patterned after a knot. You won't need to use much force as the bread tore apart easily, revealing a gooey stream of melted cheese. While the cream cheese cubes had a milky aftertaste, the mozzarella cheese in the crust had a more robust flavour, so you'll get the best of both worlds in each slice.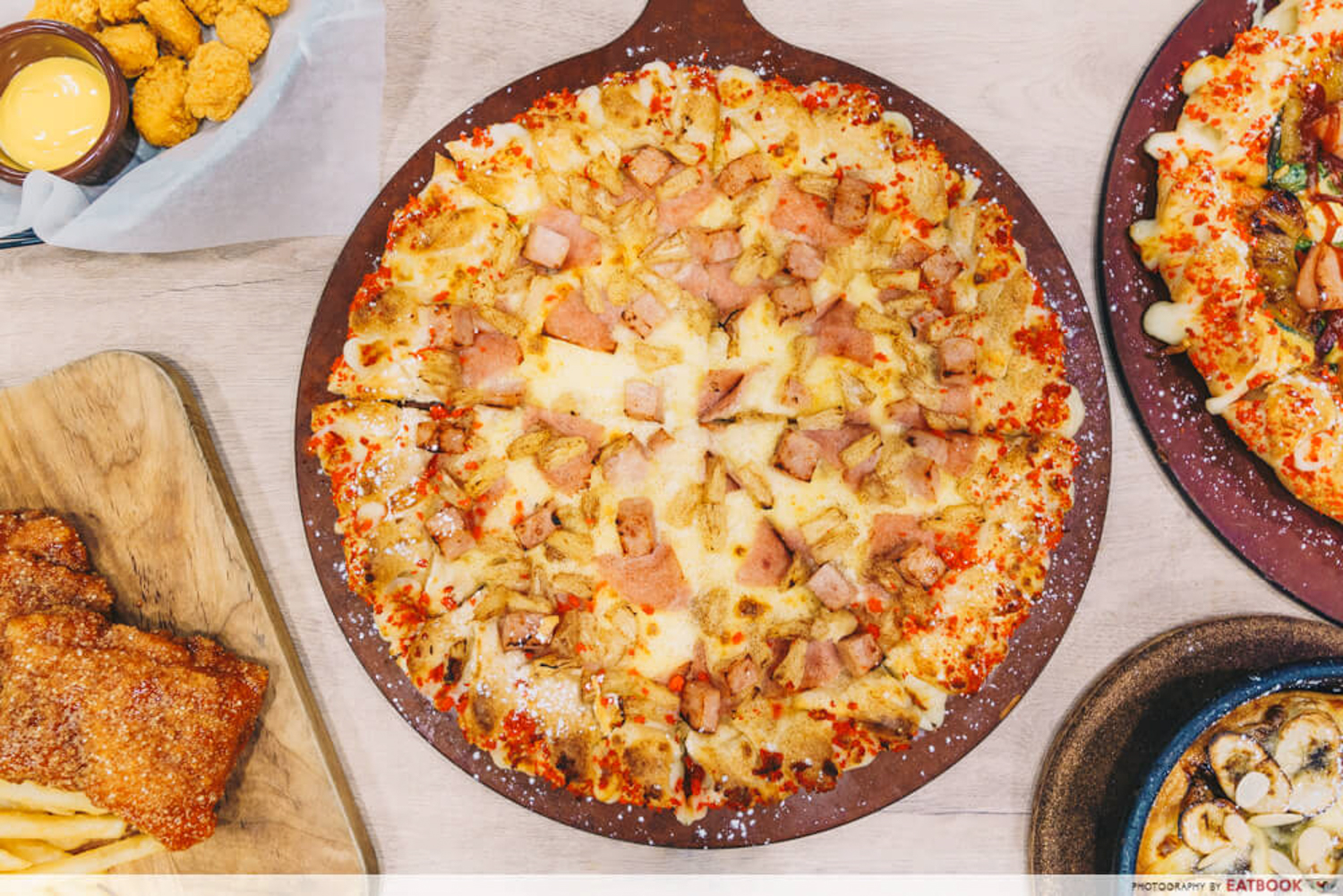 "Does pineapple belong on a pizza?" is an age-old debate that will never see an answer, but even the strongest detractors will admit that the Knotty Cheesy Hawaiian (from $27.90++) is a thing of beauty. Swapping rolled ham for a blanket of chicken chunks, the pizza will satisfy meat lovers, courtesy of chicken slices and cubes splayed across every inch of the dish. It's even sprinkled with cinnamon powder for a tinge of sweetness.
Your mouth won't need to work out to finish the pizza as the chicken was moist and tender, meshing wonderfully with the pineapple bits.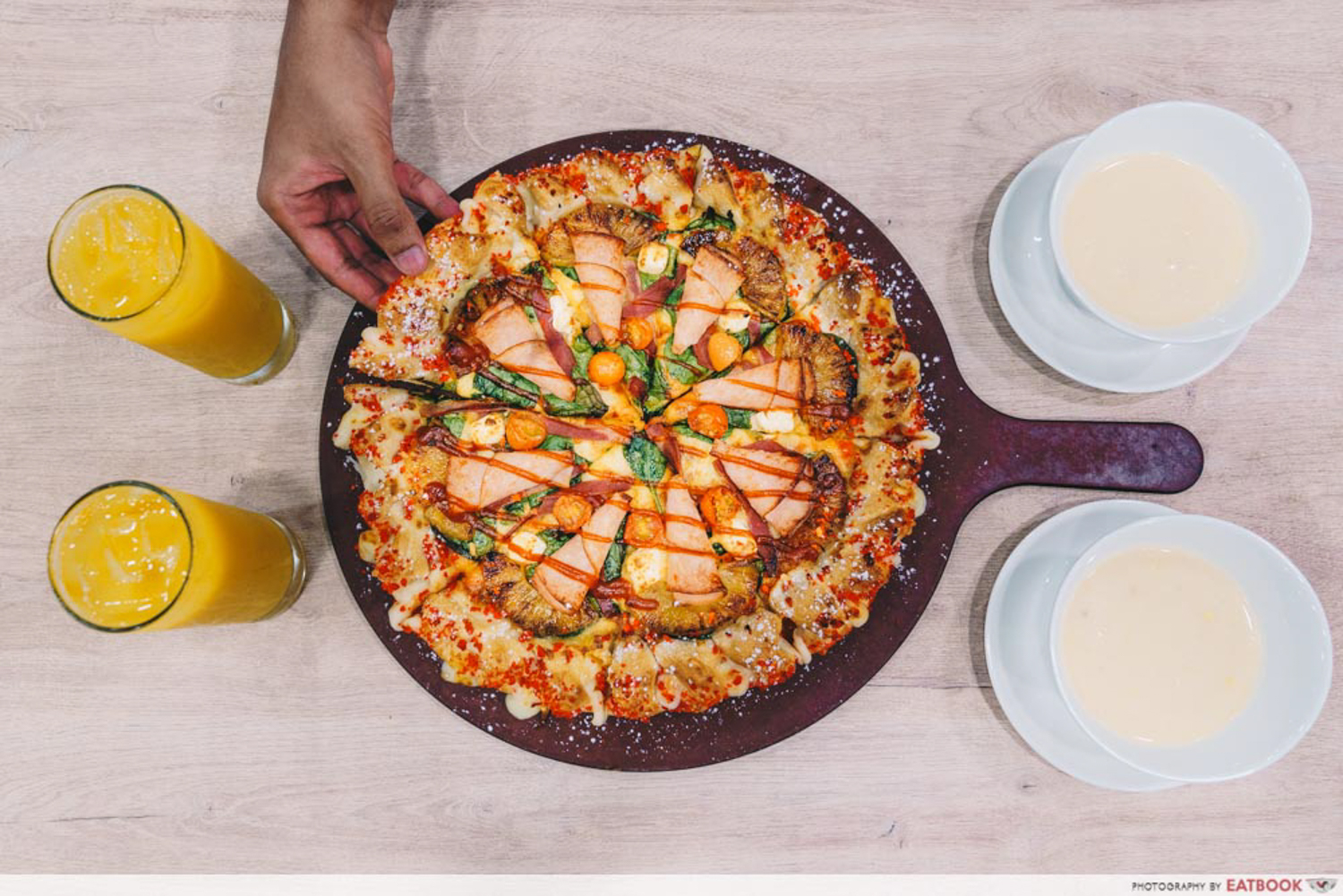 If you're dining with a companion, opt for the Meal For 2 ($32.90++) which lets you have any regular Knotty Cheesy pizza alongside two soups of the day and Sjora drinks.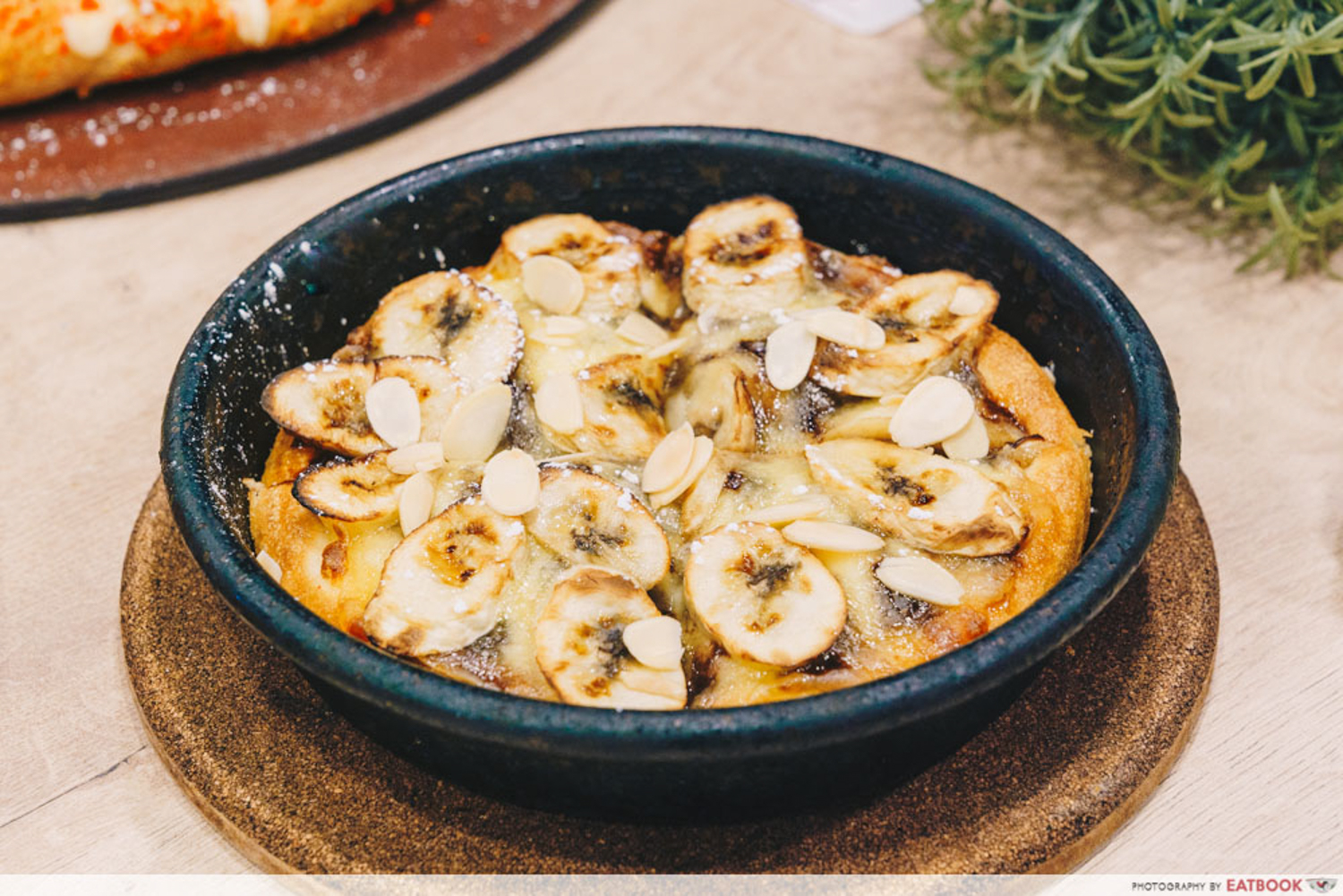 Taking a cue from Thailand's fried banana pancakes, the Season's Sweetings ($10.90++) pizza comprises almonds and baked banana slices that are doused in rich hazelnut chocolate sauce and condensed milk. 
Even though the item only comes in a Personal Pan size, more than one person will be needed to finish it as the pizza is quite indulgent. 
Cheese and fried chicken are a match made in heaven, and the Merry Chickmas Pops ($7.90++) is the result of the holy union. Fried till golden brown, the chicken cubes have a spicy kick that goes well with the mild cheese sauce. The portion is also decent, so you'll have enough chicken to pass 'round the table.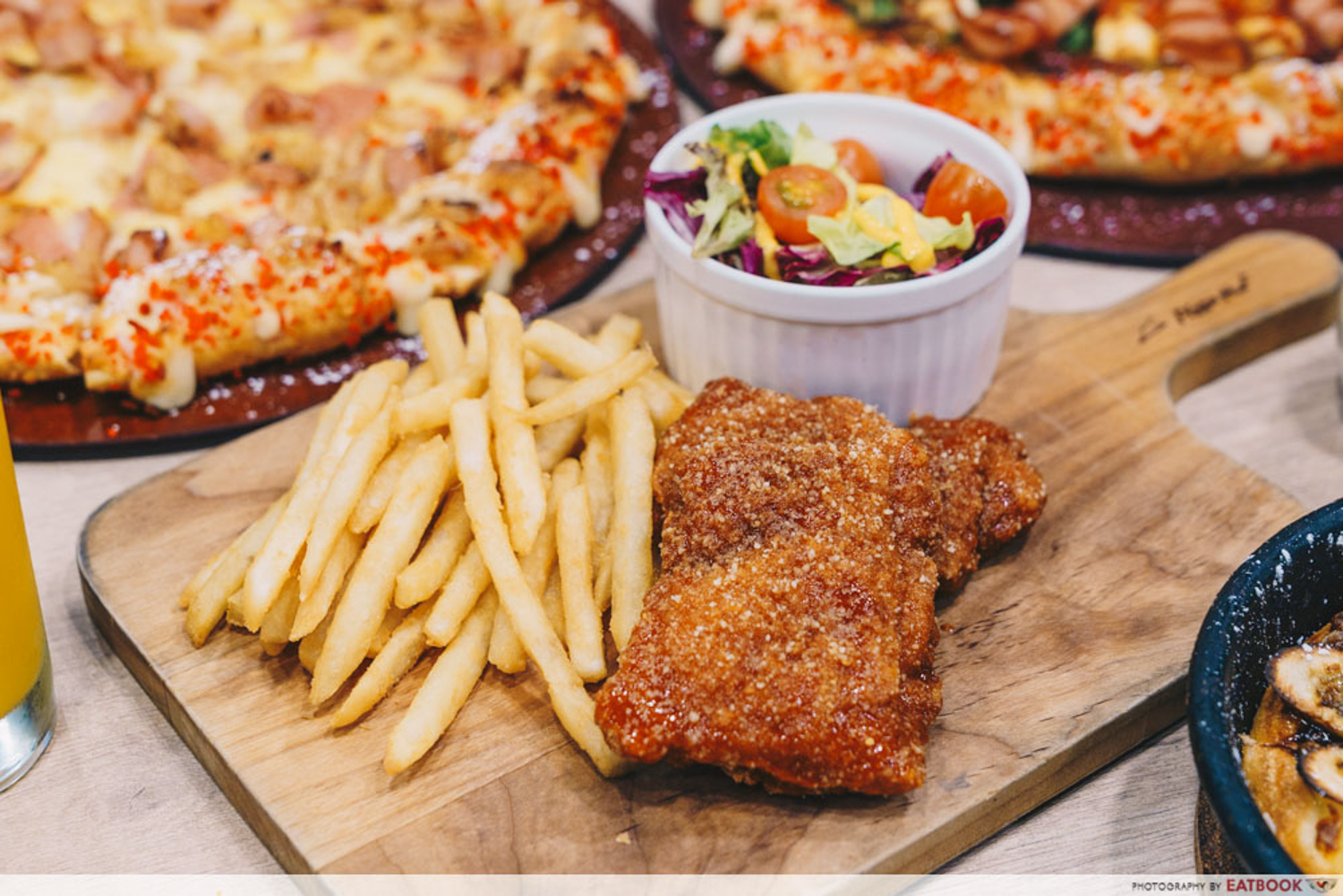 Available only as a dine-in exclusive, the Buffalo-ho-ho Chicken Cutlet ($15.90++) gives you the basic food groups with marinated chicken that's been lightly breaded, fries, and a garden salad.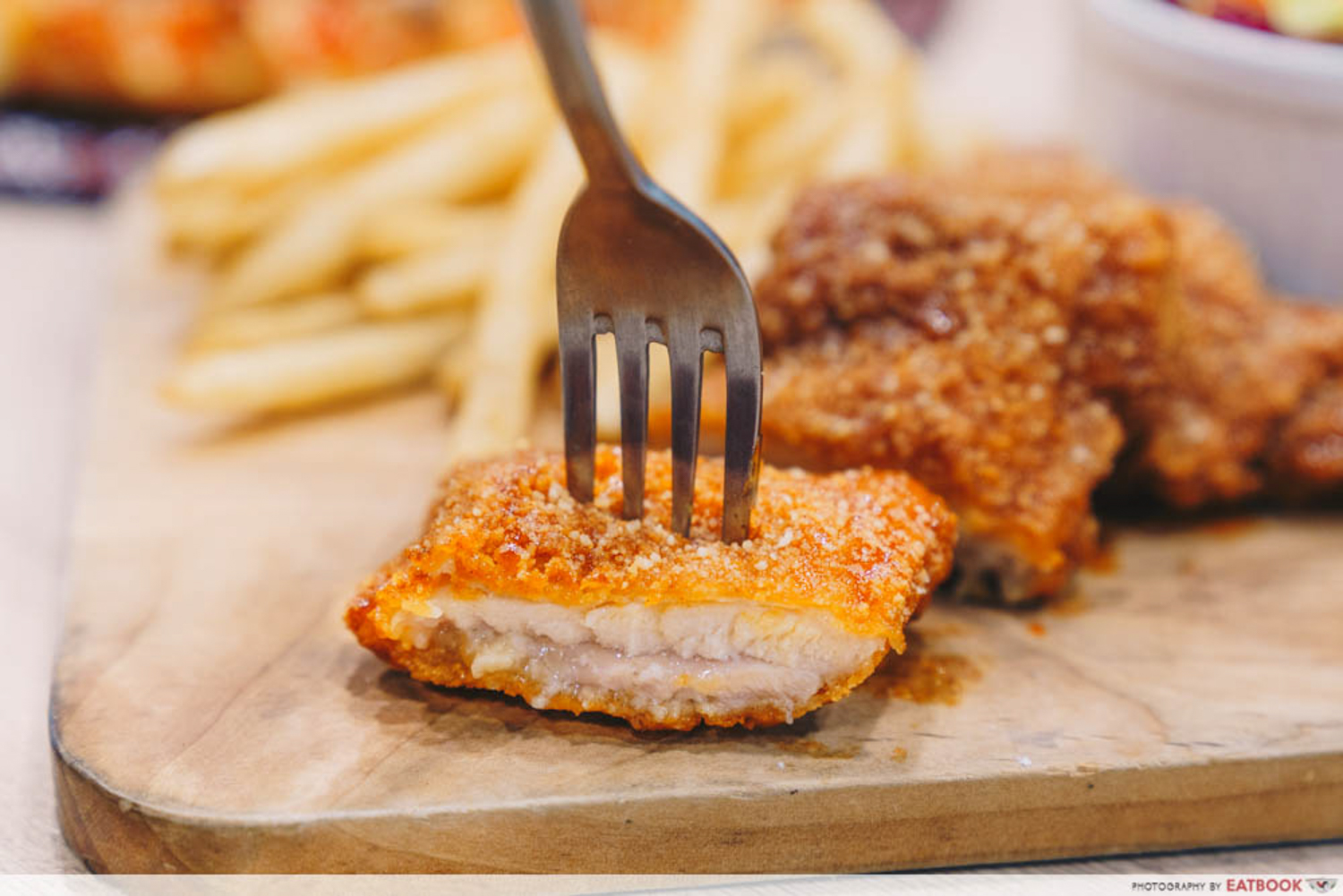 Despite having a crunchy exterior, the meat was extremely juicy and tender—a testament to the sublime frying technique. Each bite was filled with zesty flavour from the marinade and spice rub.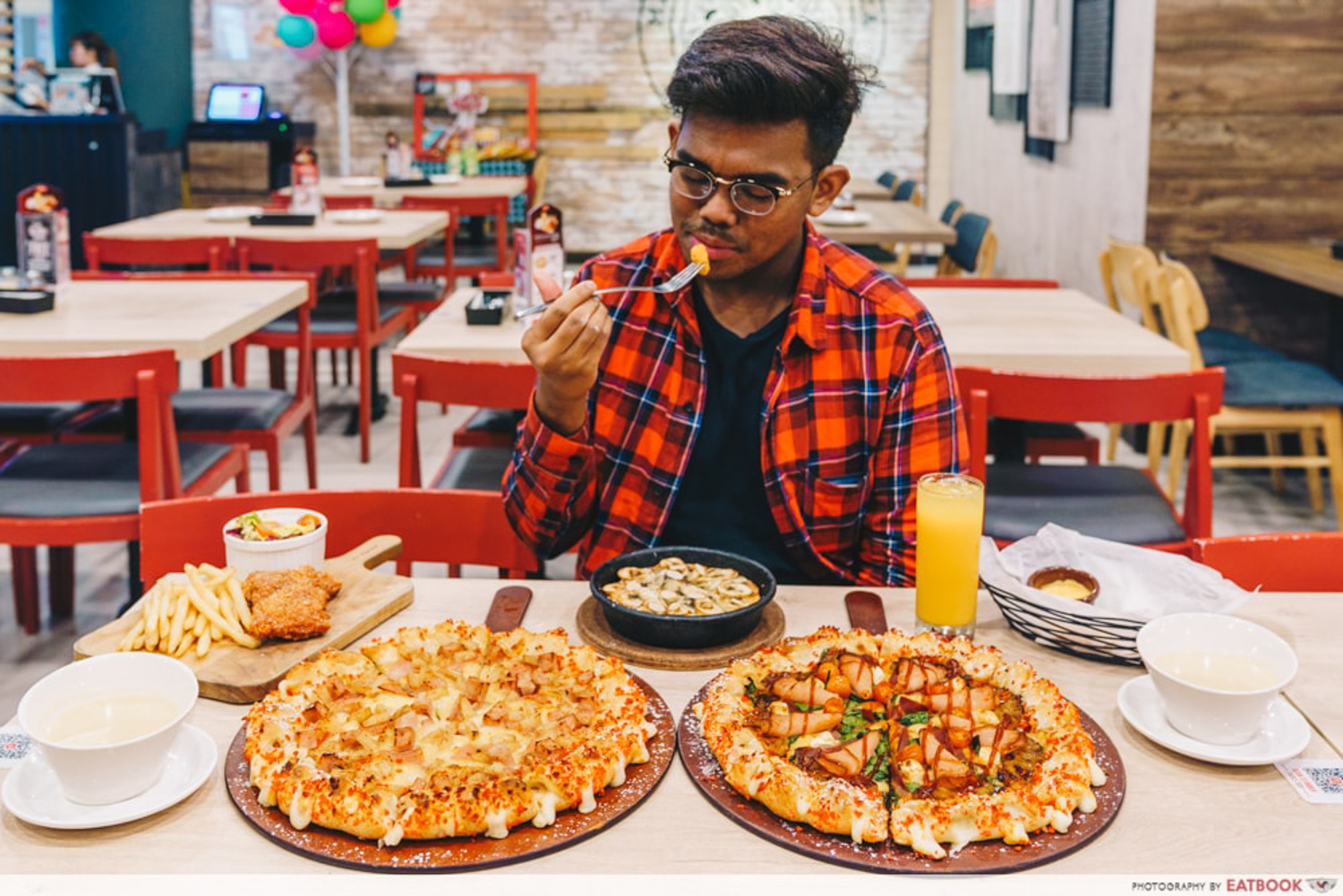 As All I Want For Christmas Is You starts filling the airwaves, it's time to set your EOY plans in motion with either an extravagant feast or nua day out. For those looking to strike a balance between the two, head to your nearest Pizza Hut store to indulge in their holiday specials. 
Their Knotty Cheesy pizzas are big enough to feed the entire family while boasting a festive aesthetic, making it a great meal to celebrate Christmas.
Photos taken by Joshua Ryan.
This post is brought to you by Pizza Hut.