Prata Alley serves pizza prata and maggi murtabak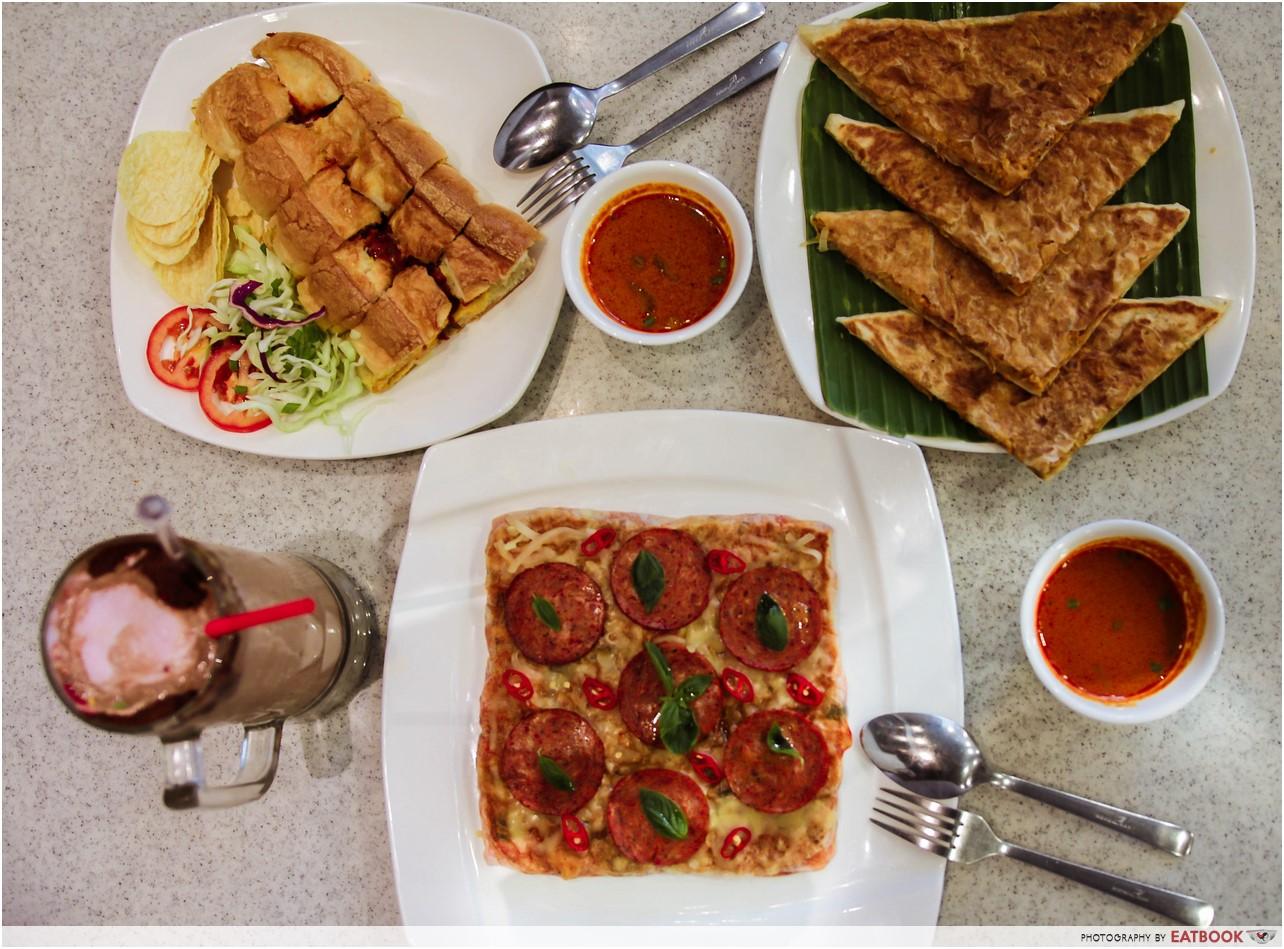 More and more prata restaurants have been coming up with new twists to their dishes recently, such as salted caramel apple prata and prata with M&M's hidden inside. While most are pretty delicious, some combinations can get a little overboard. We heard Prata Alley is one of those places offering unique prata combinations, so we decided to check it out!
Food at Prata Alley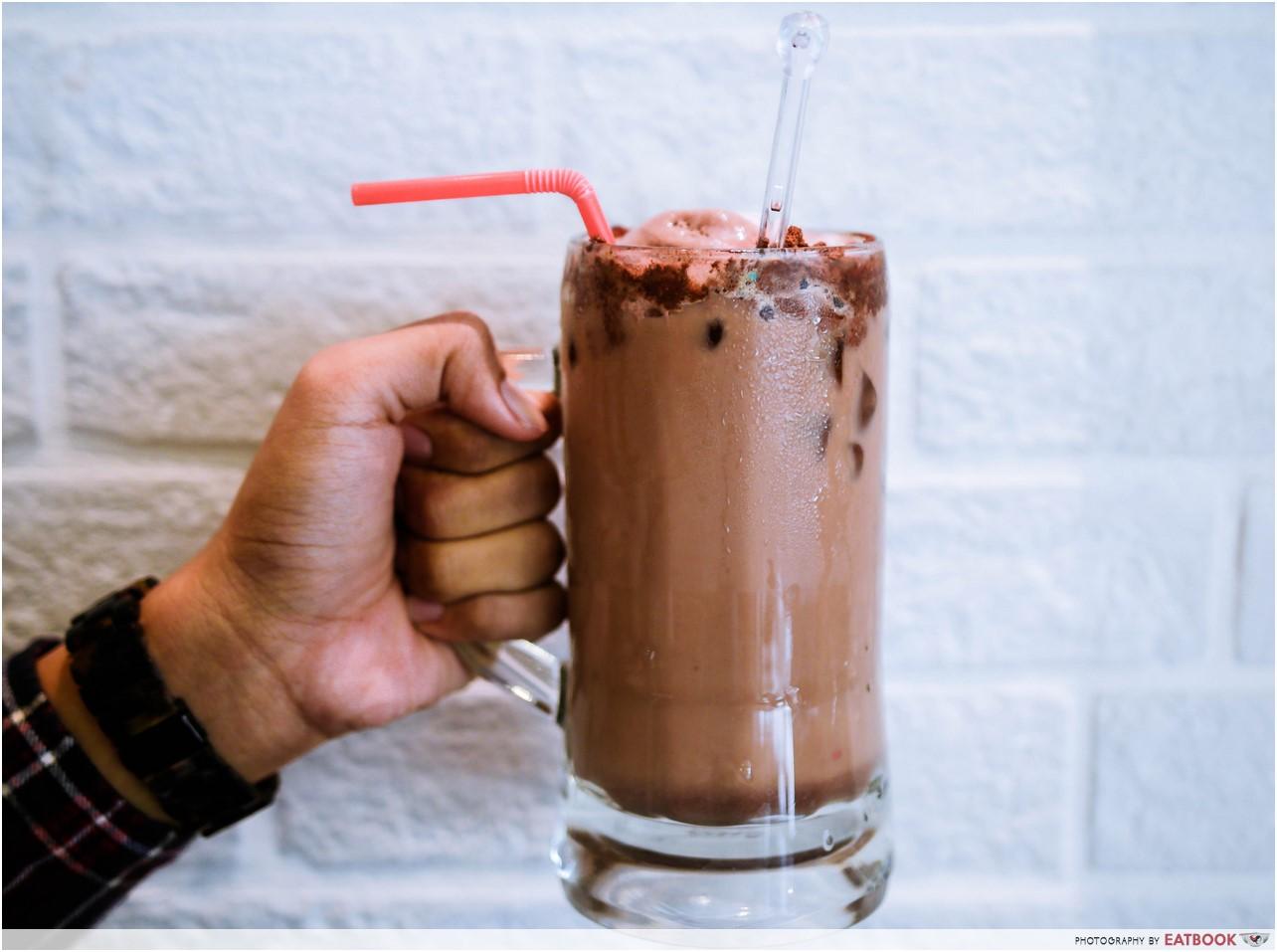 We got our Milo Zilla ($4.80) first while waiting for the rest of the dishes. It came in a huge glass, topped with Milo powder, strawberry and chocolate ice-cream, and was garnished with rainbow sprinkles. It was very sweet but that got better once the ice melted. While the addition of ice-cream was good, the chocolate ice-cream made it too chocolatey for me. If you're not a fan of Milo, you can opt for Bandung Zilla ($4.70) instead.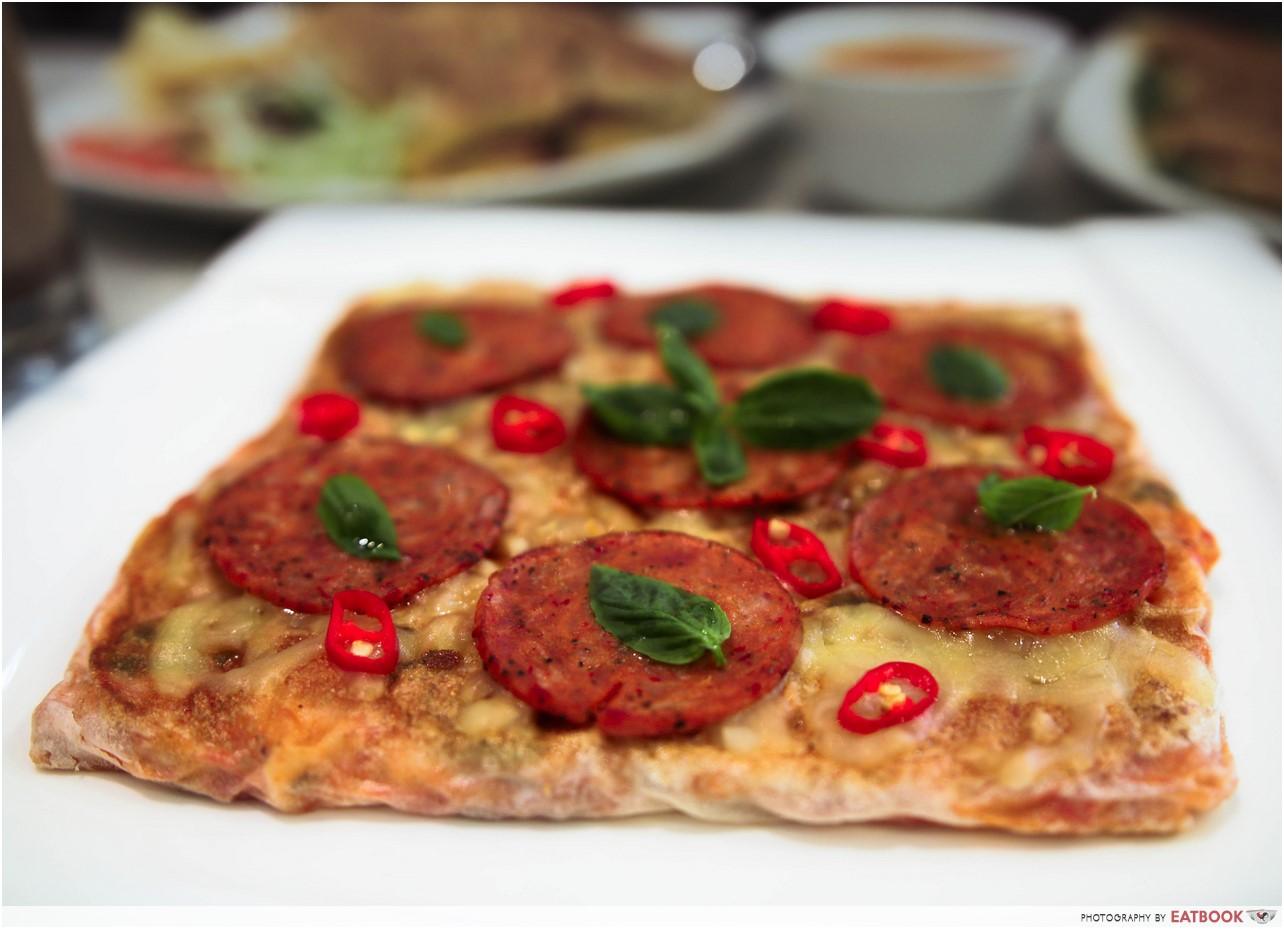 The Big One ($12.90) caught our eyes with its bright contrasting colours. It is basically a pizza combined with a prata. The toppings include huge pieces of chicken pepperoni, red chilli pepper, fresh basil, mozzarella cheese and a drizzle of olive oil. On the inside, it was stuffed with mozzarella, mushrooms, bits of chicken, capsicums, pineapple, olives, and Bolognese sauce.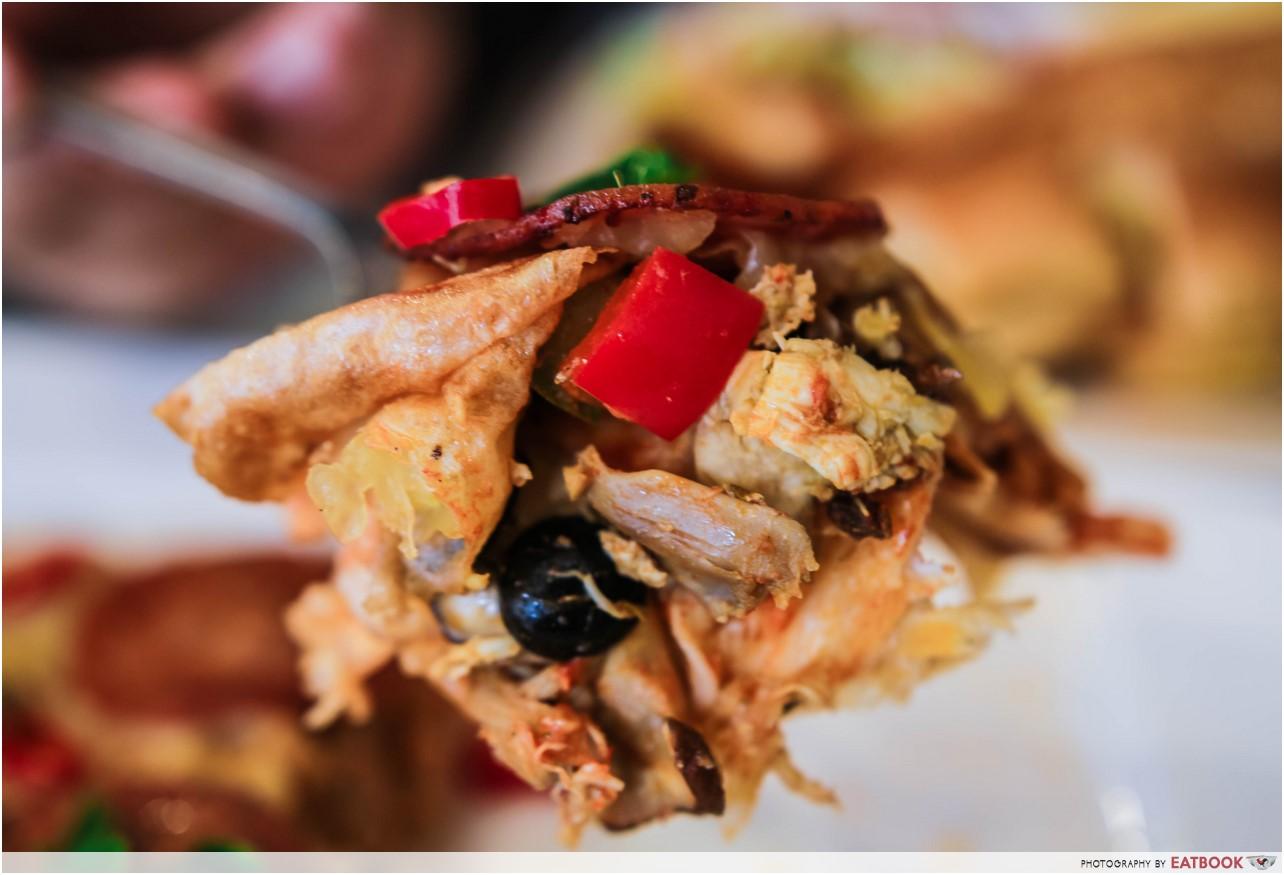 The skin was not too thick, making it easy to tear apart with our fork and spoon. The base was savoury and complemented by the sweet and juicy pineapple chunks. The mozzarella cheese melted but it wasn't as stringy as we thought it would be.
The chicken bits were tender and gave more texture to the dish, while the chicken pepperoni made every bite more savoury. I liked that the basil leaves added an aromatic and peppery touch as well. We were amazed that the pizza components went well with the prata dough.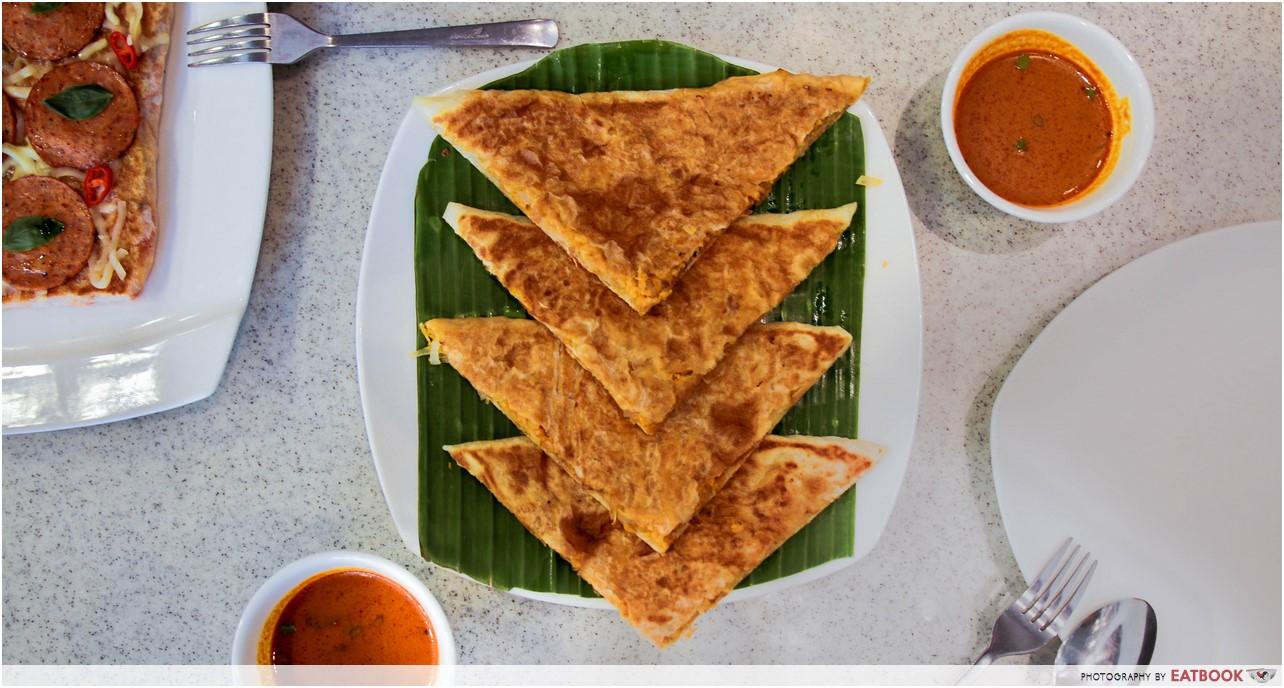 We were slightly taken aback when Murtabak Maggie ($6) was served. It came in four huge slices even though we ordered the smallest size.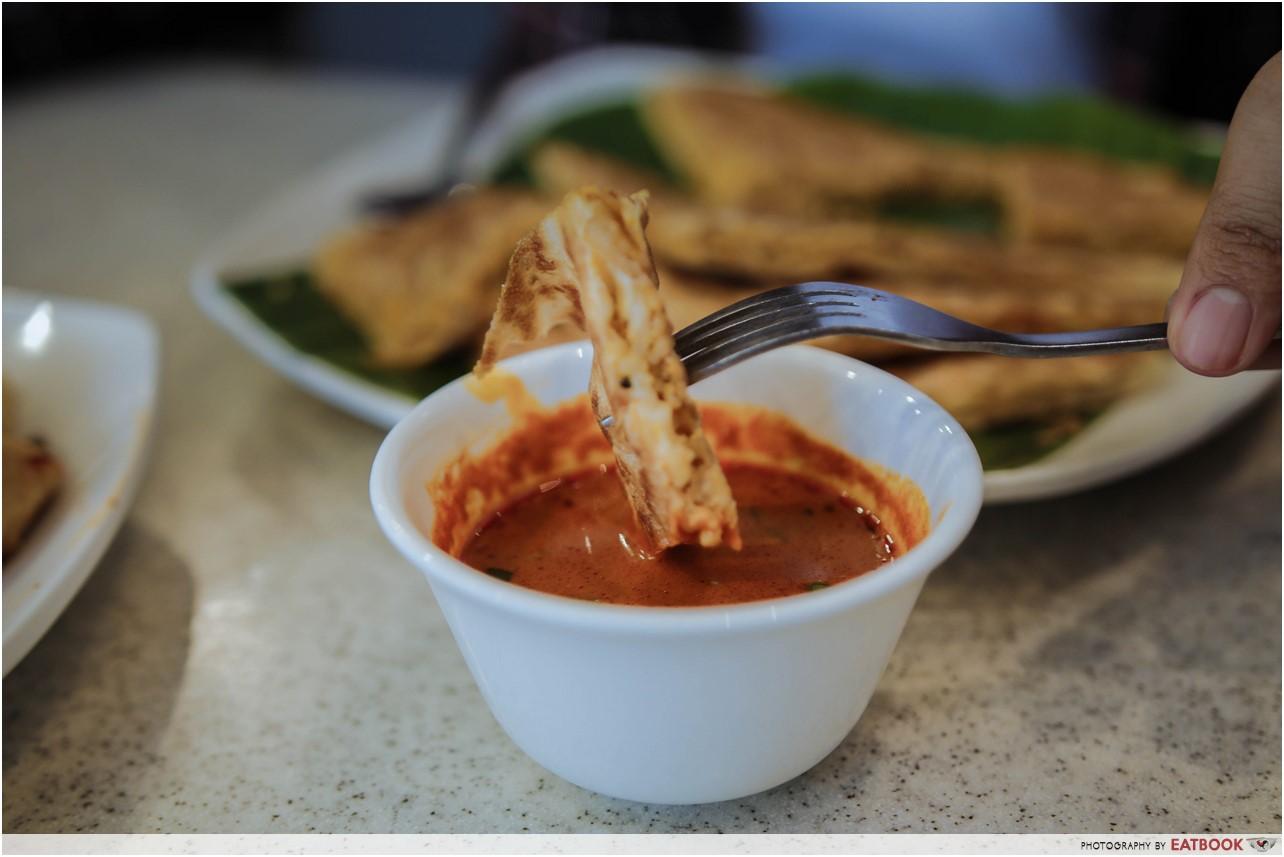 The slices were thin and stuffed with a layer of instant noodles. The noodles were a tad dry, with curry seasonings added into it. It was quite meh on its own but it was so much better when dipped into fish curry. We couldn't taste the fish curry at first but the spiciness kicked in later at the back of our throats and it was quite addictive.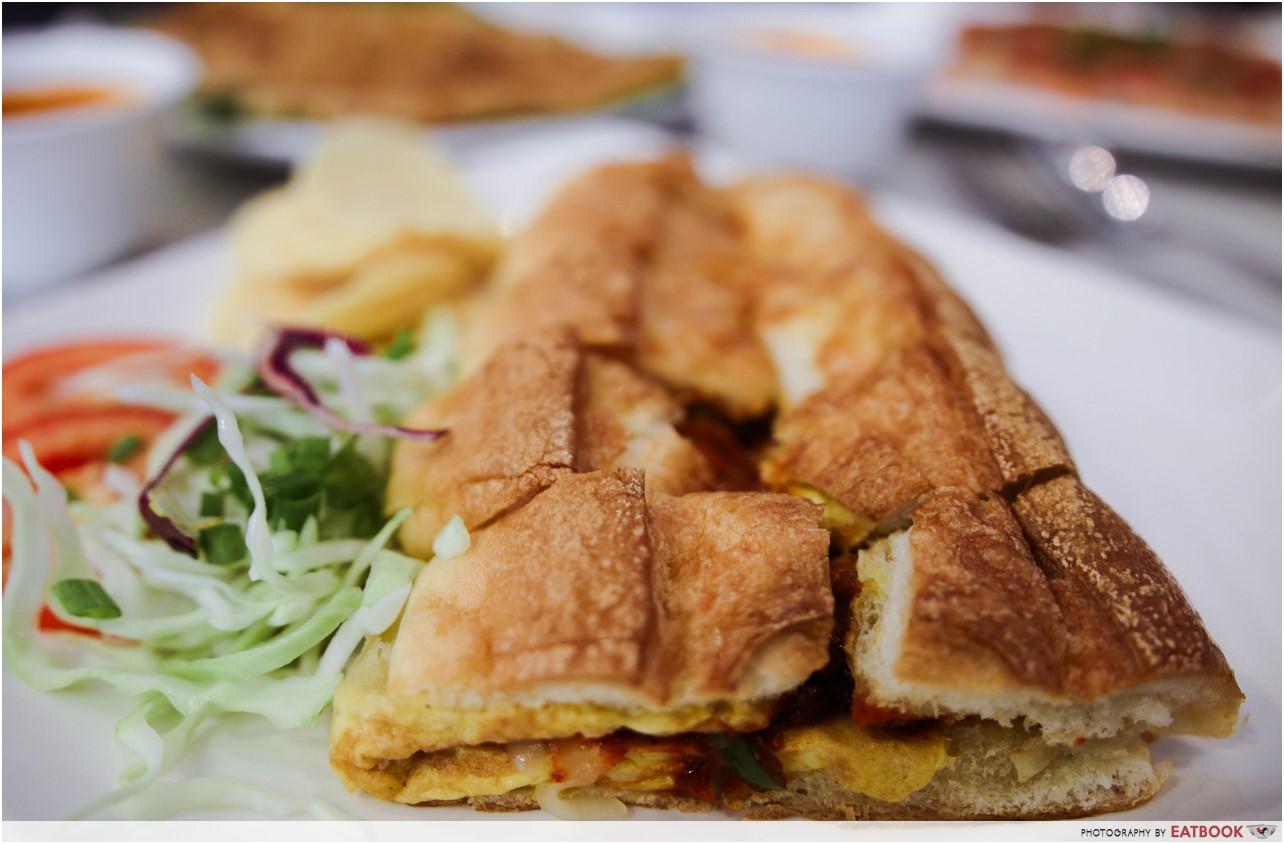 Another chef's specialty, The Big John ($8.90) lives up to its name with its huge size. The chef makes this with baguette instead of regular French loaf used in typical roti john because its exterior is more crusty and it has a soft and spongy interior.  
Each bite is accompanied by an audible crunch, followed by a burst of flavour. Don't be fooled by its plain exterior as the loaf is packed with slices of mutton bistik, marinated with their house-made spices. The meat was marinated well, making it very tender and flavourful. It was a little sweet and had a bit of a spicy kick. I thought I could finish this plate on my own but I guess I overestimated myself.
Ambience at Prata Alley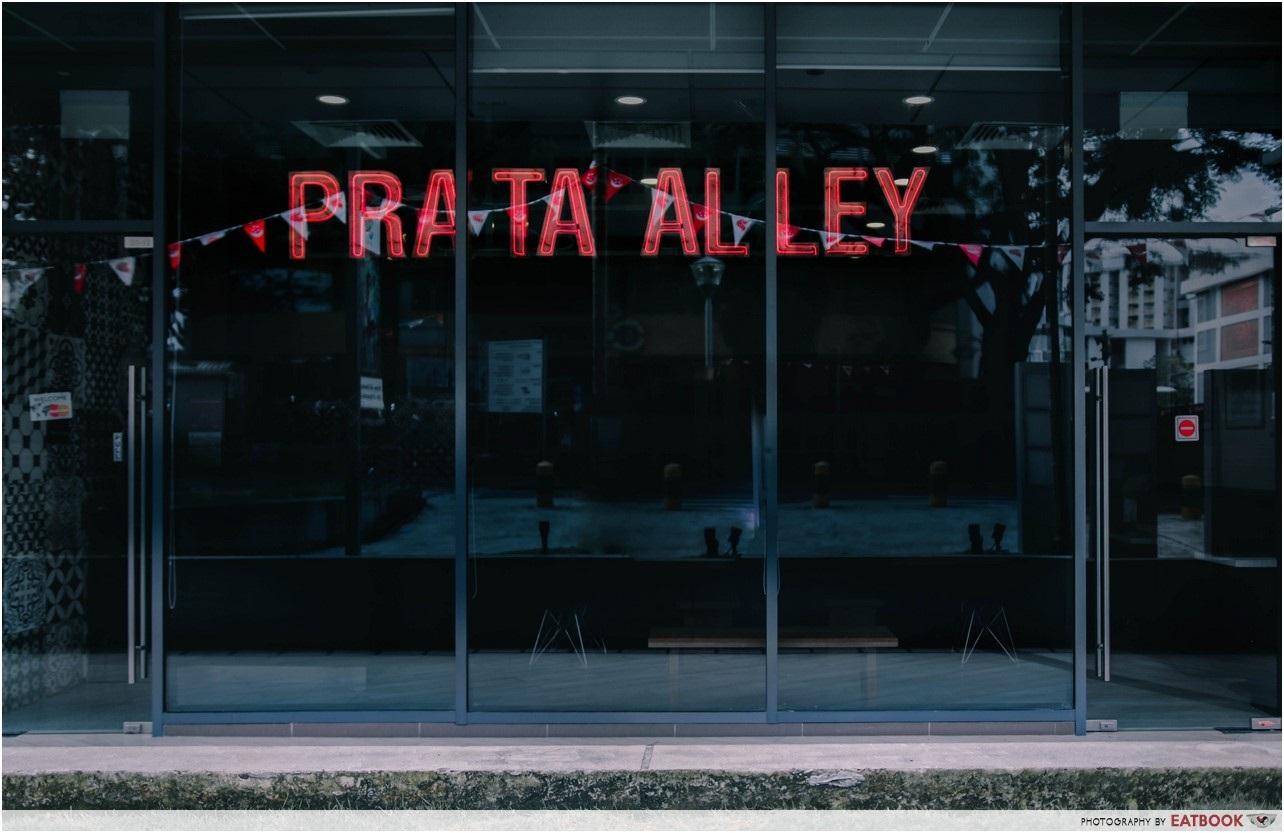 Located in 321 Clementi shopping mall, it'll be hard to miss the restaurant as they have a contrasting neon light signboard at its entrance. It is an air-conditioned area so you can take a break from the heat.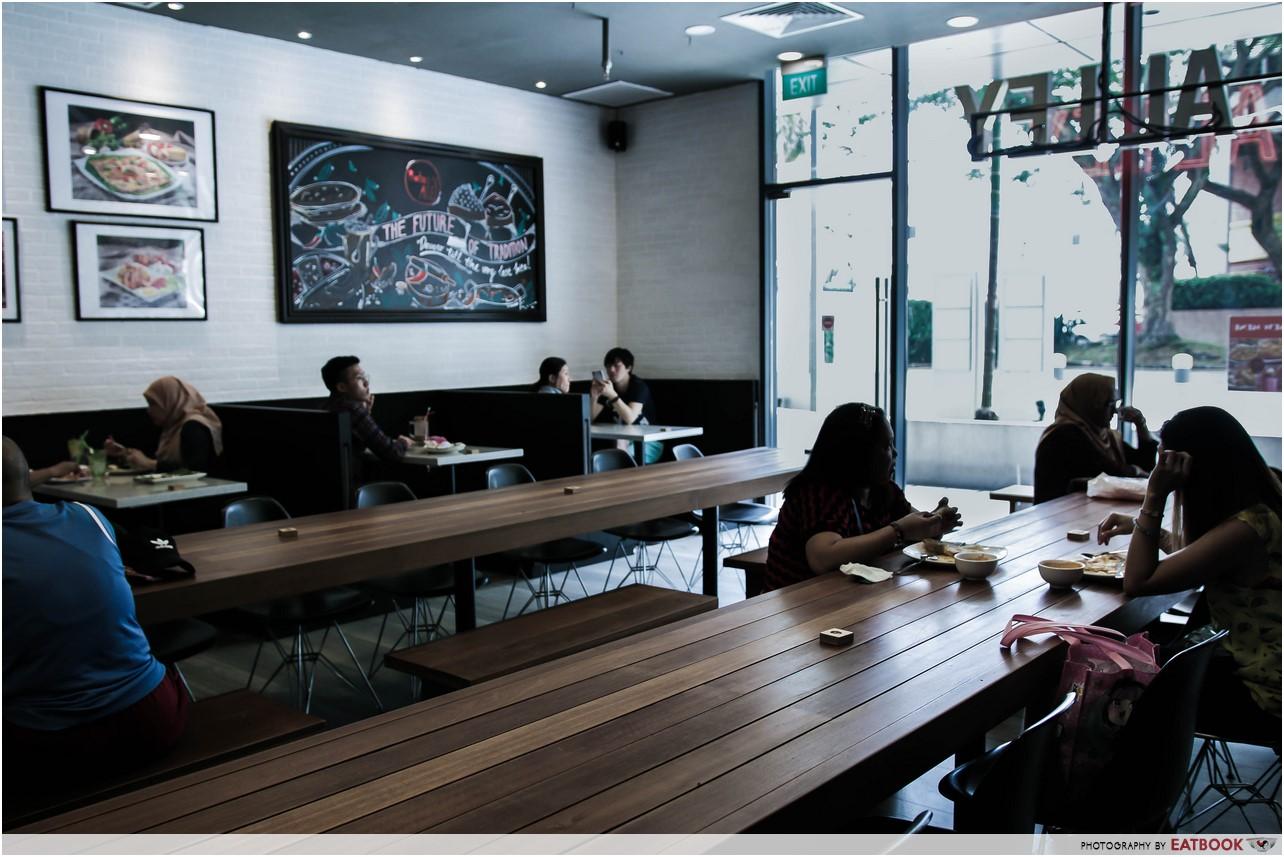 The restaurant is very spacious and there are plenty of seats available. They also have tables big enough for gatherings so you can dine-in with your family and friends. Their decorations are quite hipster with neon lights, black and white brick walls, and updated playlists played on their stereo system. The service was good, and their staff was very friendly and attentive to customers. Some staff members recognise their regular customers and have small conversations with all the customers as well.
The verdict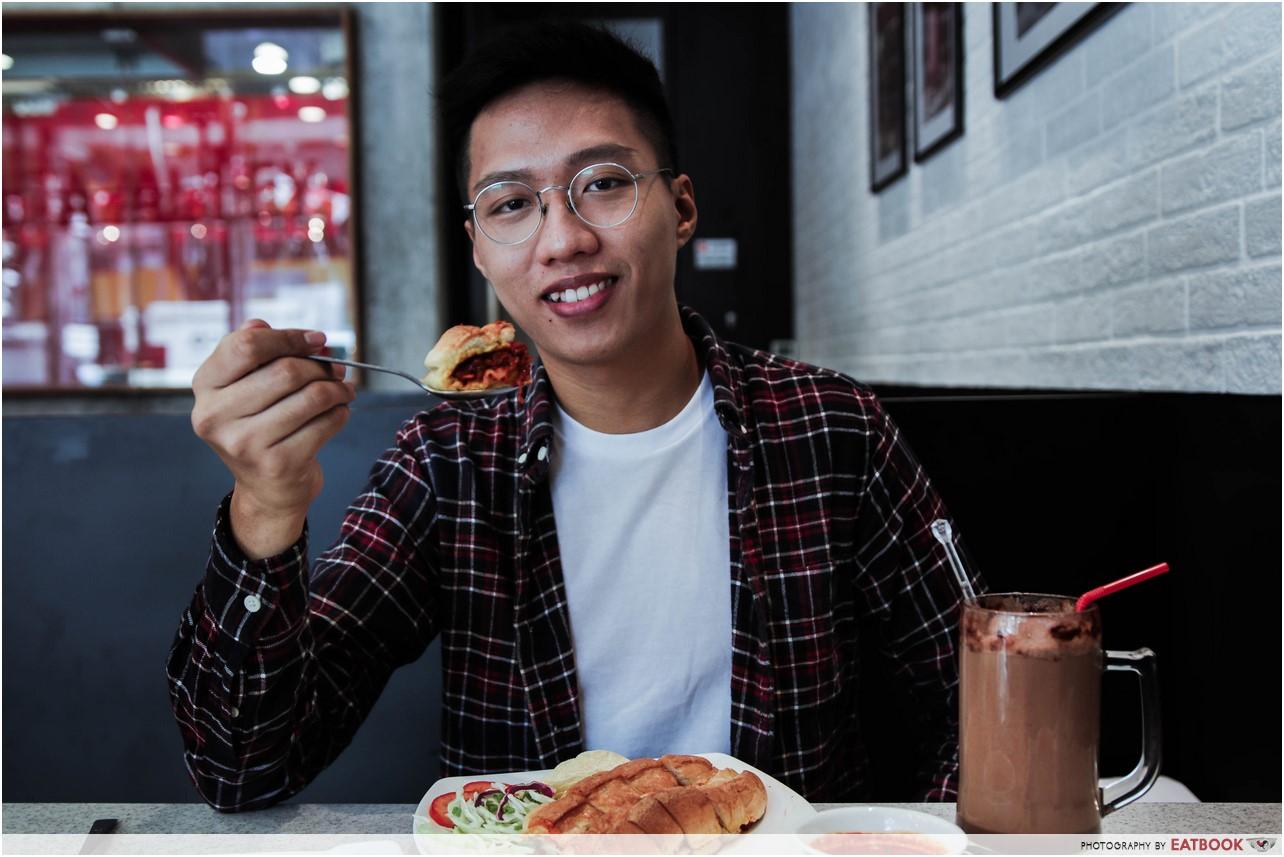 Bring along an empty stomach while you're here, as their portions are huge. The chef's specialties are only available from 11am onwards, so head over for a filling lunch with your friends or folks. All in all the food was pretty decent but the price leans towards the steep side. Although I don't see myself travelling all the way to Clementi for this, I'd definitely drop by with my friends for a good brunch if I happen to be around the area. Oh, and the neon signboard is pretty hip so you can definitely add another photo to your Instagram feed. Check out over here for more unique prata flavours around Singapore!
Address: 321 Clementi Avenue 3, #01-12, Singapore 129905
Opening hours: Daily 7:30am to 10:30pm
Chef's specialties are available from 11am.
Tel: 6924 2037
Website
Prata Alley is a Muslim-owned restaurant.
This is an independent review from Eatbook.sg.
Summary
Pros
– Air-conditioned
– Plenty of seats
– Friendly service
– Decent food
Cons
– Slightly expensive
Recommended Dishes: The Big John ($8.90), Milo Zilla ($4.80)
Operating Hours:
Daily 7am to 11pm
Address: Clementi Avenue 3, #01-19, 321 Clementi Mall, 129905