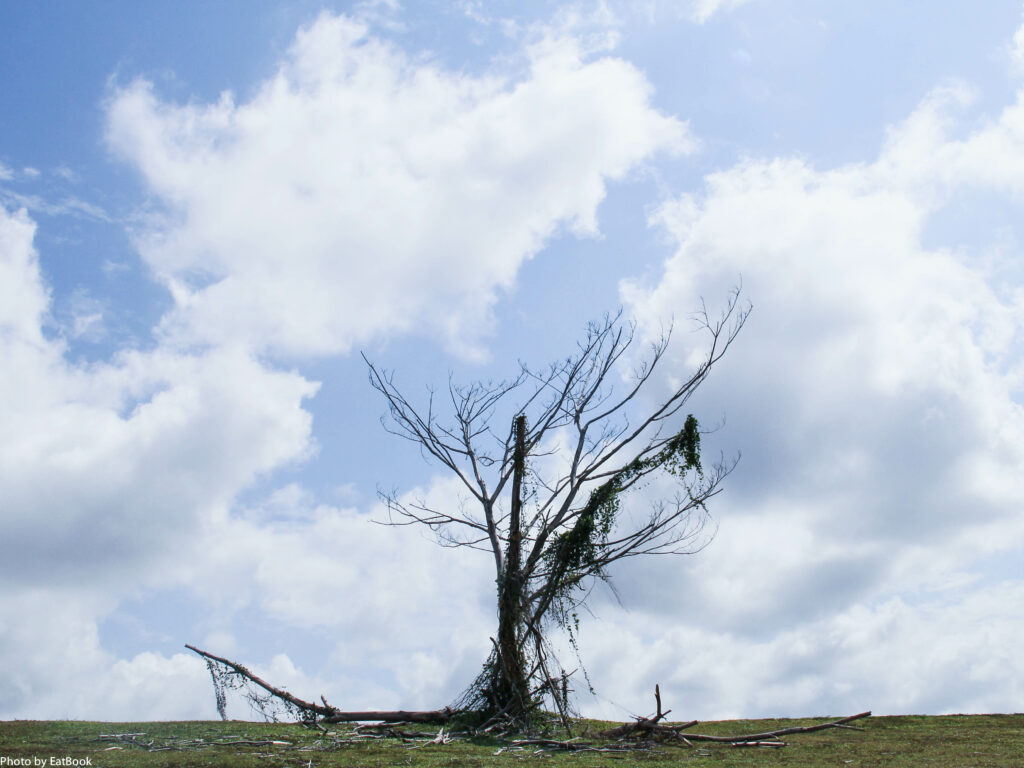 Punggol is probably the last place you would think to go to fill your empty tummy. Beyond the famous Instagram tree (R.I.P) and waterway, Punggol is fast becoming a dining hotspot overlooking some gorgeous scenery. The travel time might be off-putting to some, but the remote location makes it almost like a quick escape from the hustle of the city. We pick out ten different eateries that will make your trip down to Punggol worth it!
---
1. Whisk & Paddle
---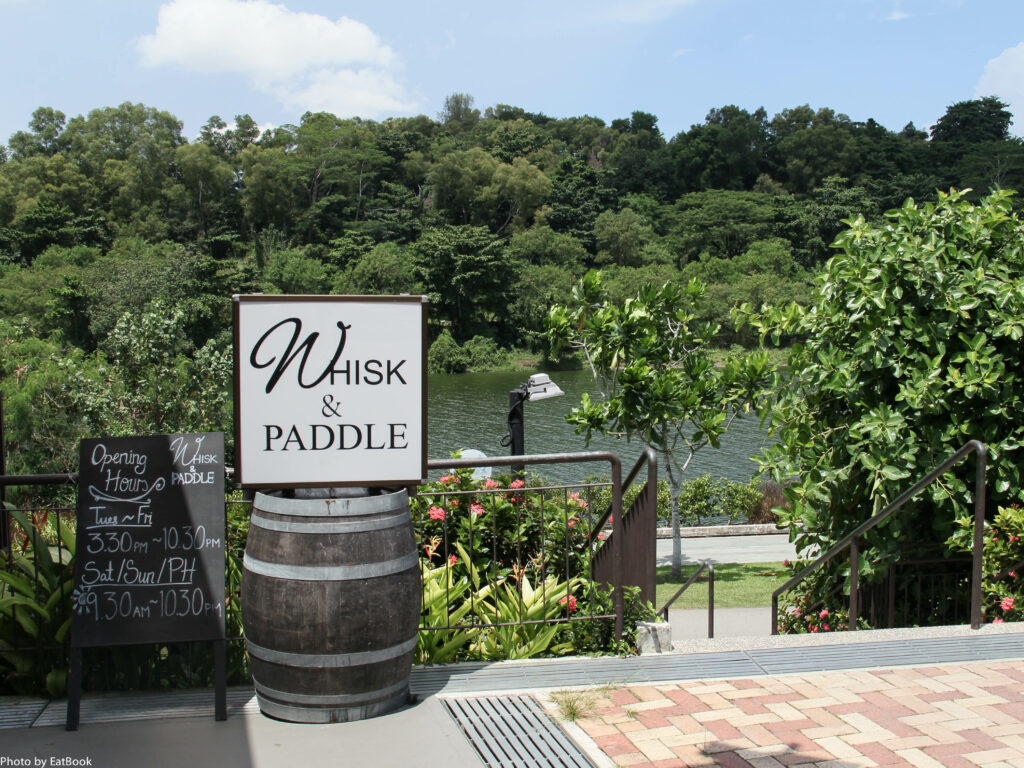 Located right next to the park connector, Whisk & Paddle is the perfect place to grab a Sunday morning breakfast after a jog or cycle. The alfresco seating overlooks some lush greenery, but those who wish to seek respite from the heat should head down early. Whisk & Paddle only has limited indoor seating and we were put on a waiting list when we went down on a weekend.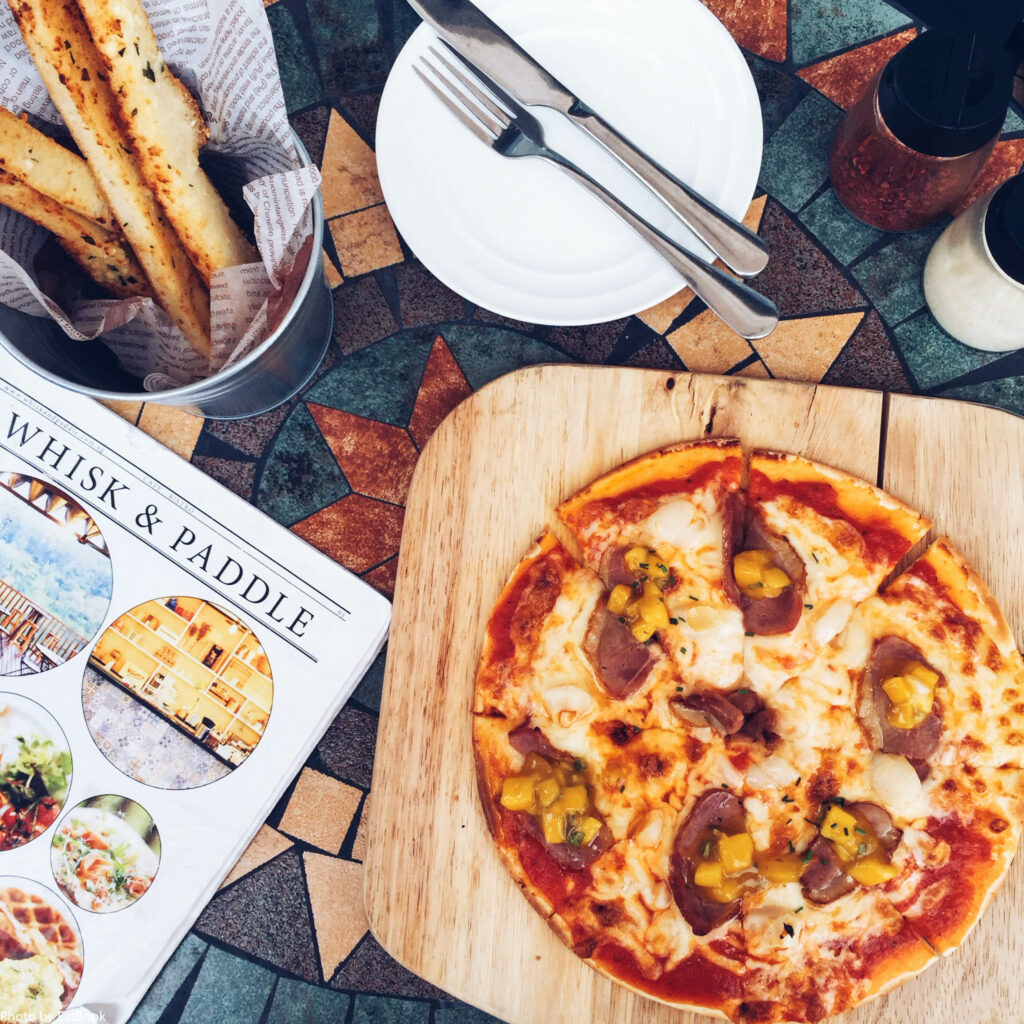 We gave the usual cafe fare a miss and went for the peculiar sounding Duck and Lychee Pizza ($17). The combination of smoked duck breast, mango salsa and lychee might sound like a strange and off-putting combination, but the fruity flavours worked surprisingly with the pizza.
Address:
10 Tebing Lane, Singapore 828836
Opening Hours:
Tue – Fri: 330pm – 1030pm
Sat, Sun and Public Holiday: 930am – 1030pm
---
2. Wayne's Chill Out
---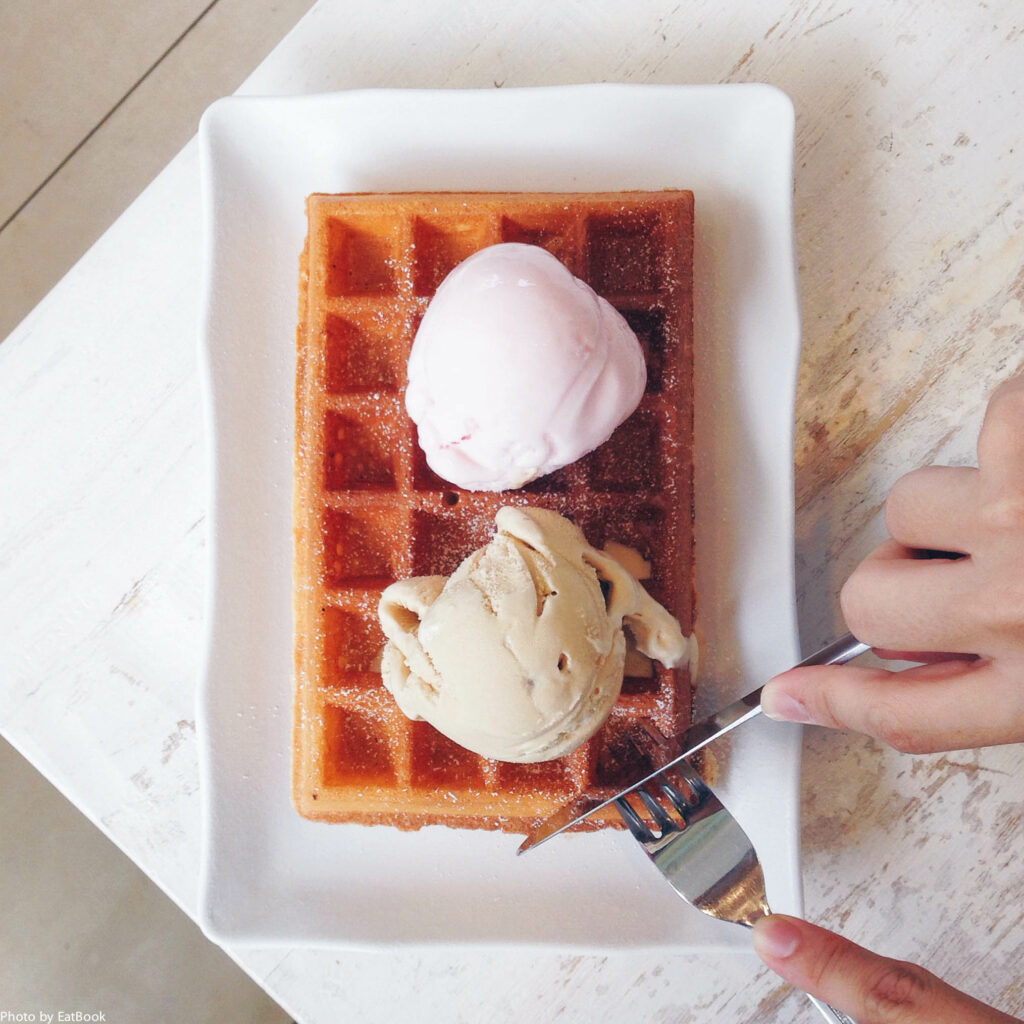 Wayne's Chill Out is a humble dessert cafe with a small selection of frozen treats and homemade pizza. We had their waffles with pink grapefruit and salted caramel ice cream ($12.50). I found the pink grapefruit ice cream delightful with bright citrus notes, but the waffles and salted caramel ice cream were pretty standard. Give the waffles a miss and just go straight for their ice cream instead.
Address:
3 Punggol Point #02-11, Singapore 828694
Opening Hours:
Mon – Fri: 2pm – 11pm
Sat – Sun: 11am – 11pm
---
3. Bacon & Booze
---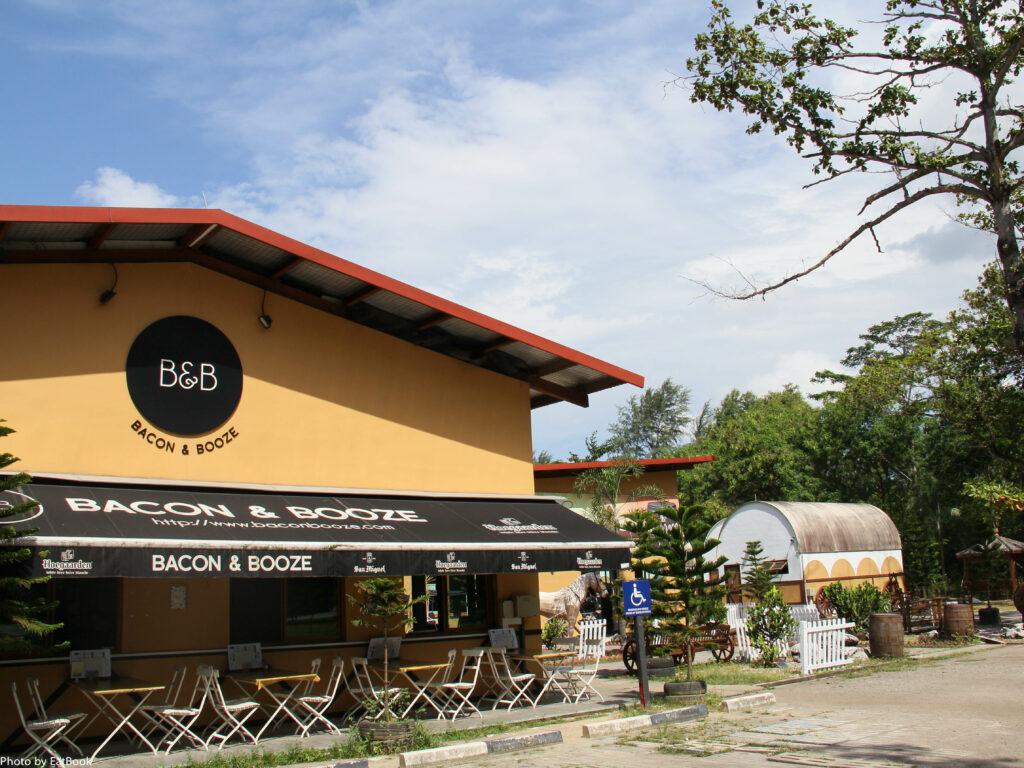 There are no prizes for guessing what Bacon & Booze serves. Nestled within the Punggol Ranch, they serve up bacon-paired food items like Crispy Bacon Salad ($9) and Bacon Rolls ($10), as well as a variety of beer, ciders and wine.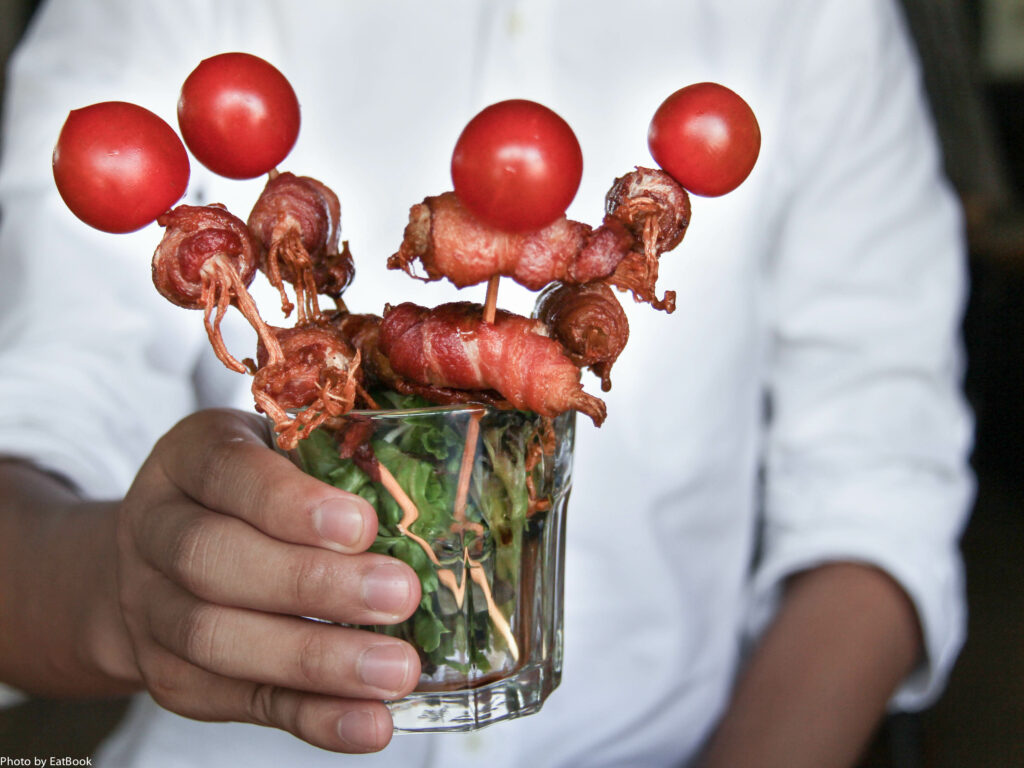 To me, the only thing better than receiving a bouquet of flowers is to receive a bunch of Bacon Wrap Enoki ($10). Drizzled with terriyaki sauce, this salty and smoky treat goes down perfectly with a pint or two.  With fully open-air dining, we recommend coming down in the evening to escape the sweltering heat.
Address:
900 Punggol Road, Singapore 829168
Opening Hours:
Mon – Fri: 3pm – 1am
Sat, Sun and Public Holiday: 9am – 1am
---
4. White Restaurant
---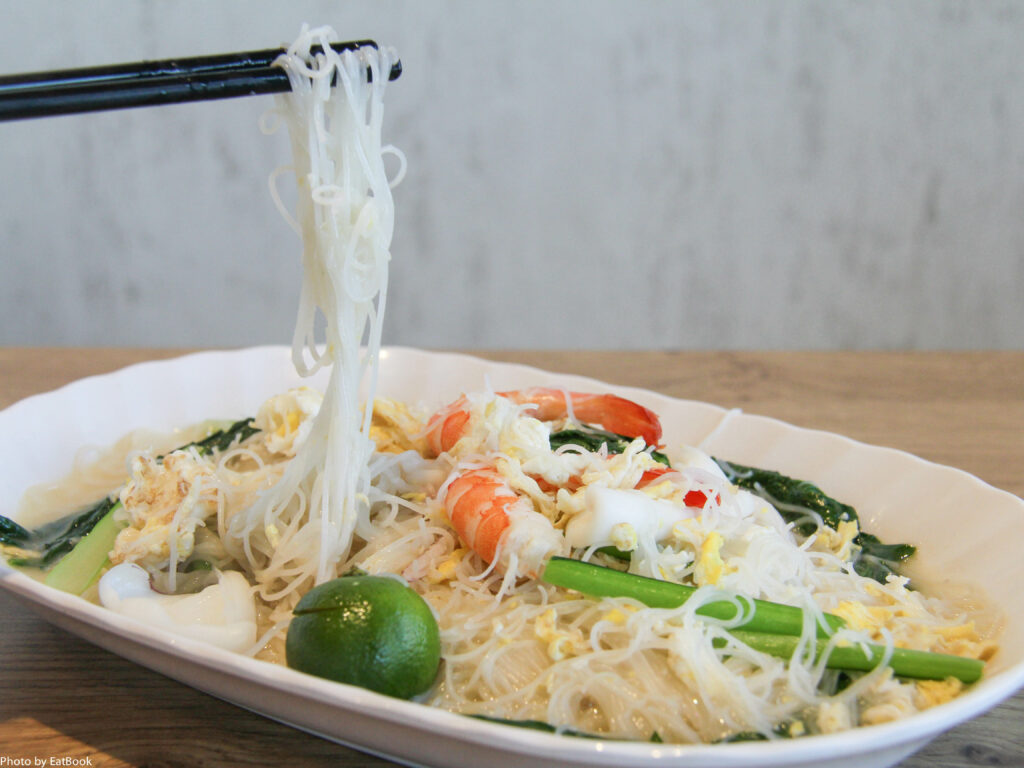 For the uninitiated, White Restaurant is essentially an upscale outlet of the famous Sembawang White Beehoon. Known for their Signature White Beehoon ($6 for a small serving), this dish sure did not disappoint. The texture and consistency reminded me of mui fan, with luscious gravy coating every strand of springy beehoon. This family-friendly restaurant also serve up some classic tze char items like Signature Meat and Seafood Roll ($10) and Sambal Tapioca Leaves ($8).
Address:
3 Punggol Point, Singapore 828694
Opening Hours:
Daily: 11:30am – 2:30pm, 5pm – 10pm (Closed on Wed)
---
5. Rilek 1 Corner
---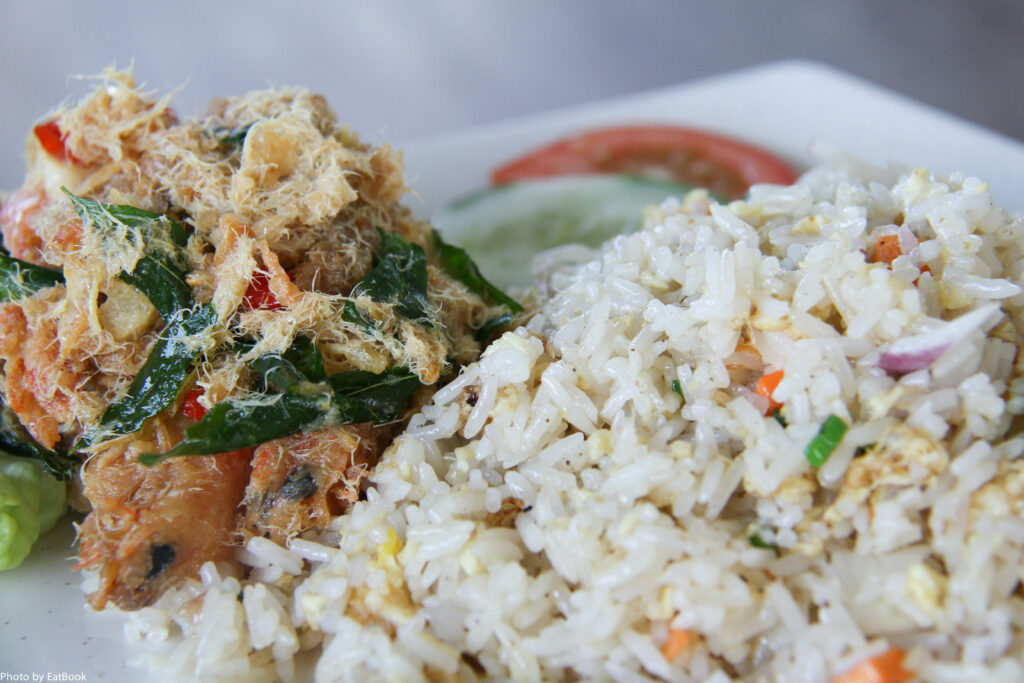 Almost like a halal-certified tze char store, the Buttered Prawn Fried Rice ($9) came highly recommended and it's easy to understand why. The crispy bits from the prawn complemented the fragrant fried rice perfectly. With fresh prawns and a slight spicy kick, this dish was cleaned off in no time.
Address:
3 Punggol Point #02-02, Singapore 828694
Opening Hours:
Tue – Sun: 4pm – 10:30pm
---
6. Ah Dong Teh House
---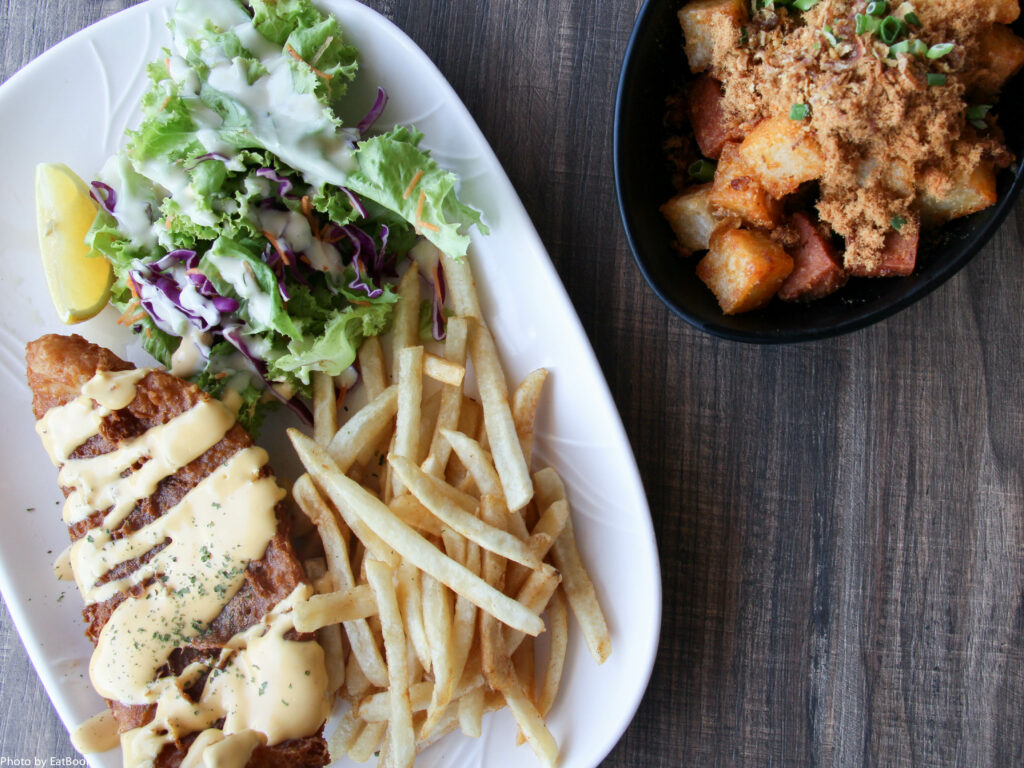 Free wifi aside, Ah Dong Teh House is a simple and casual eatery serving up a mix of western and Asian delights. The XO Fried Carrot Cake ($7.90) had crispy luncheon meat chunks and an addictive XO sauce, while the Fish N Cheez ($10.90) was a generous fillet of fish drizzled with cheese sauce. With an extensive menu and affordable student deals, visit Ah Dong for a no frills meal.
Address:
10 Tebing Lane #01-03/04, Singapore 828849
Opening Hours:
Mon – Fri: 11am – 2am
Sat – Sun: 9am – 2am
---
7. Leong Ji
---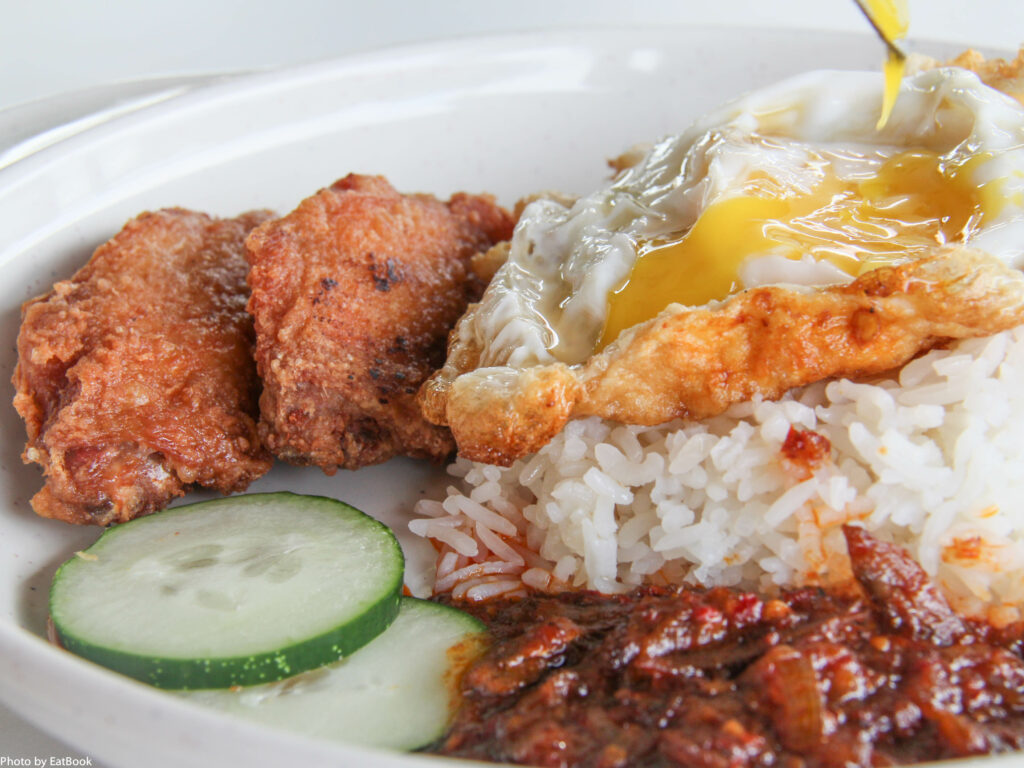 Leong Ji proves to be a family favourite with their second outlet here in Punggol. The Prawn Paste Chicken Rice ($6) might look like a dish of Nasi Lemak, but it's taste is unmistakably homely and authentic. But apart from that, Leong Ji also deviate from the usual hawker fare and serves up unique dishes like the Golden Roll ($12) and Fried Pork With Marmite Sauce ($12).
Address:
3 Punggol Point #02-09/10, Singapore 828694
Opening Hours:
Mon – Sun: 11:30am – 2:30pm, 4:30pm – 11pm
---
8. Just The Place
---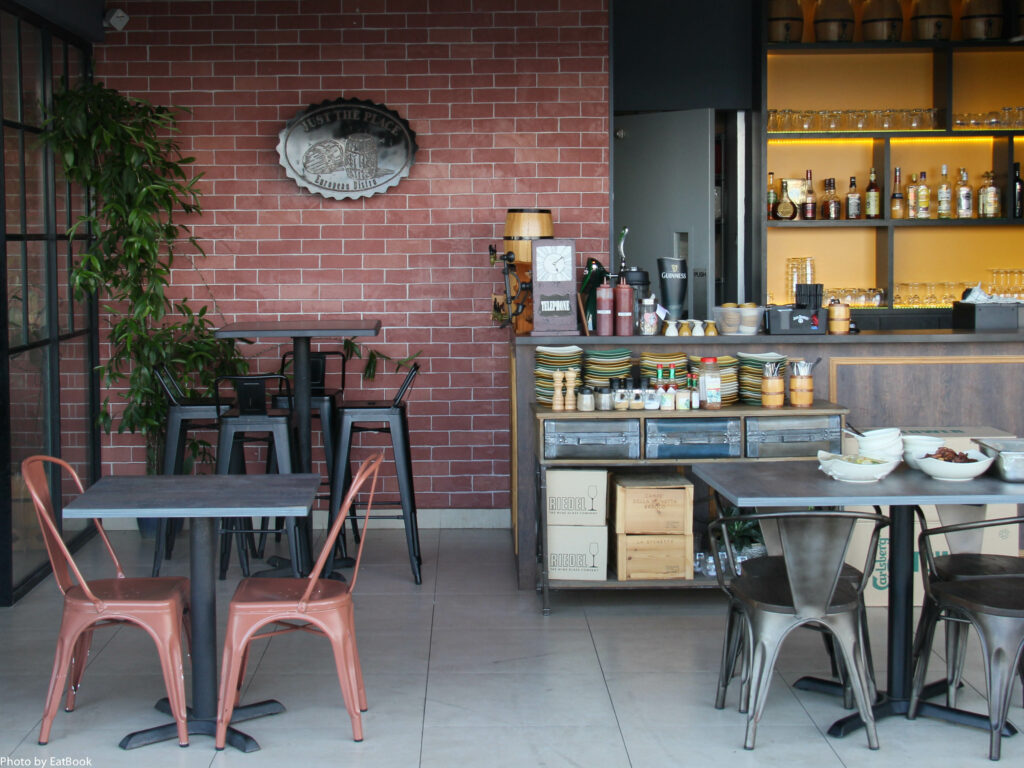 With an interior that is as simple and unpretentious as its name, Just The Place is a casual European bistro that you can visit for a hearty meal with western fare like Classic Steak Tartare ($13) and Mushroom Ragout In Garlic Creme ($15.90).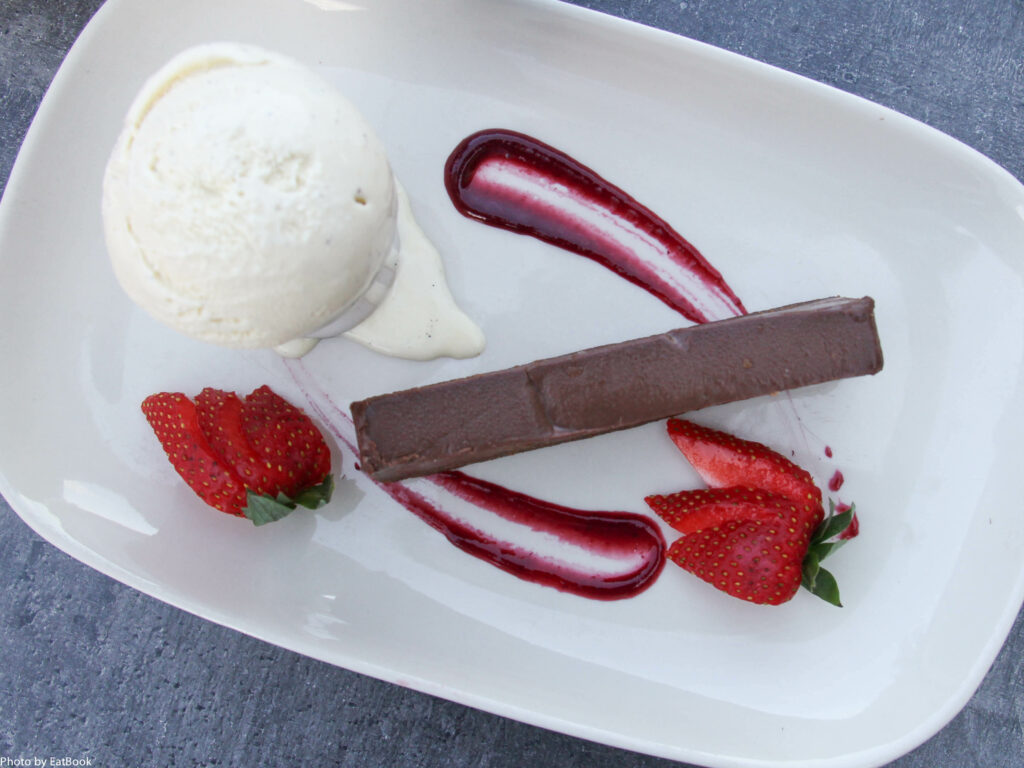 If you have a sweet tooth like us, go for their popular Chocolat Praline ($9.90). The valrhona chocolate bar looked somewhat like a giant kitkat with just the right balance of bitter and sweet, and I particularly enjoyed the tartness from the strawberry compote that cuts through the richness of the chocolate.
Address:
3 Punggol Point #02-07/08, Singapore 828694
Opening Hours:
Tue – Fri: 5pm – 12am
Sat – Sun: 10am – 12am
---
9. Cravings
---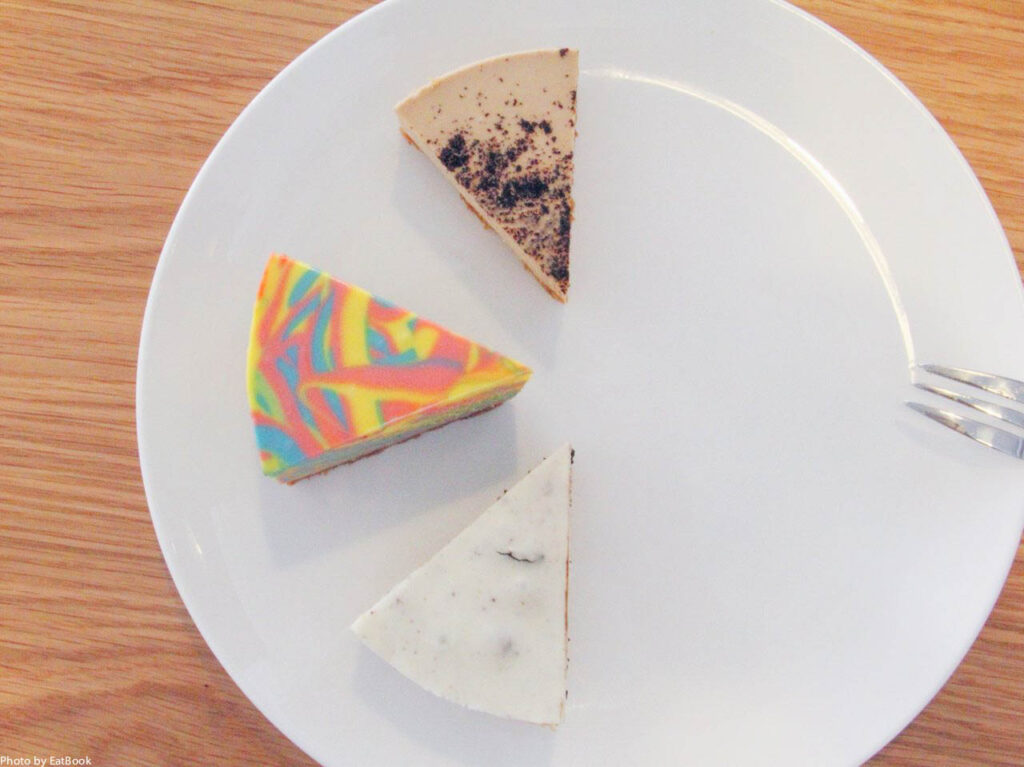 Pop by for a delectable selection of desserts that will definitely satisfy your sweet cravings. Perfect for fickle eaters like me, the Trio allows you to build your own dessert platter by choosing any three desserts on display for ($8.90). I don't know about you but I sure can't resist a photogenic Paddlepop Cheesecake!
Address:
6 Tebing Lane #01-05
Opening Hours:
Daily 11am – 3pm / 6pm – 930pm
Reservations:
6344 2761
---
10. Trunk At Bay
---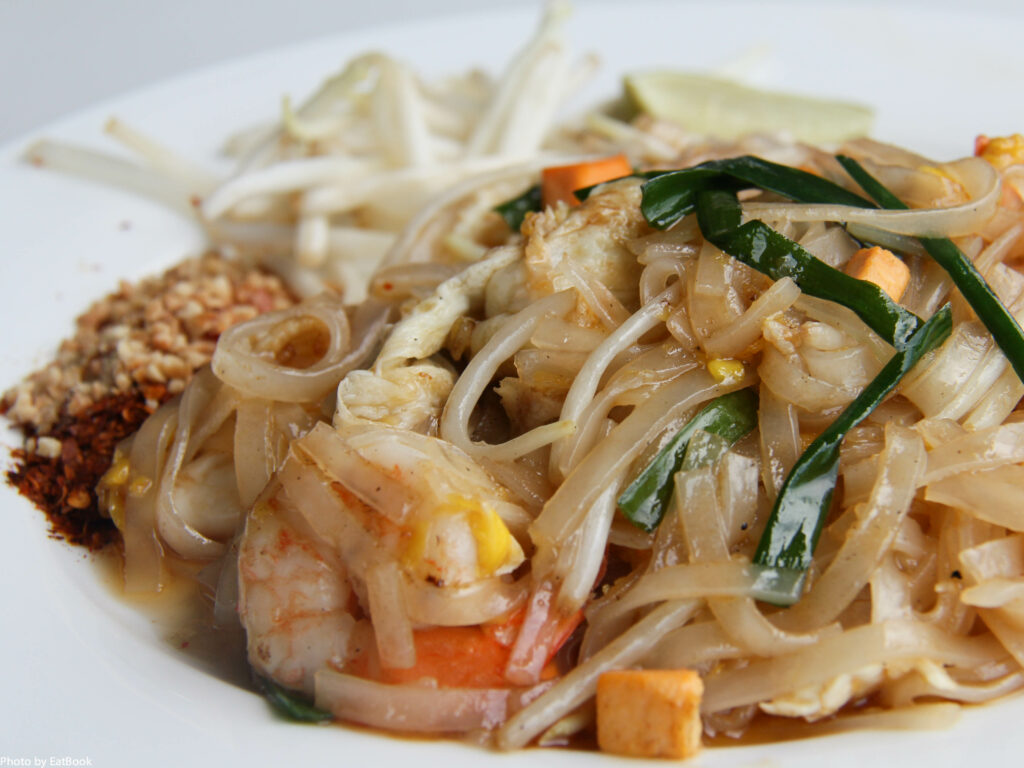 Turn up the summer heat with Trunk At The Bay and their traditional Thai cuisine. Their Pad Thai ($10.90) is a safe option with springy rice noodles. But those looking for something more adventurous can try the Drunken Noodles ($10.90), which is a Thai take on the local Char Kway Tiao.
Address:
3 Punggol Point #02-06, Singapore 828694
Opening Hours:
Tue – Thu: 5:30pm – 10pm
Fri: 5:30pm – 11pm
Sat – Sun: 11:30am – 2:30pm, 5:30pm – 11pm
6344 2761
---
Good Reason(s)
---
Punggol is more than just scenic views and lush greenery. With a backdrop for most of their dining options,  that's one, or rather ten other good reason to pop by Punggol with your family or friends.