Rumah Rasa at Bay Hotel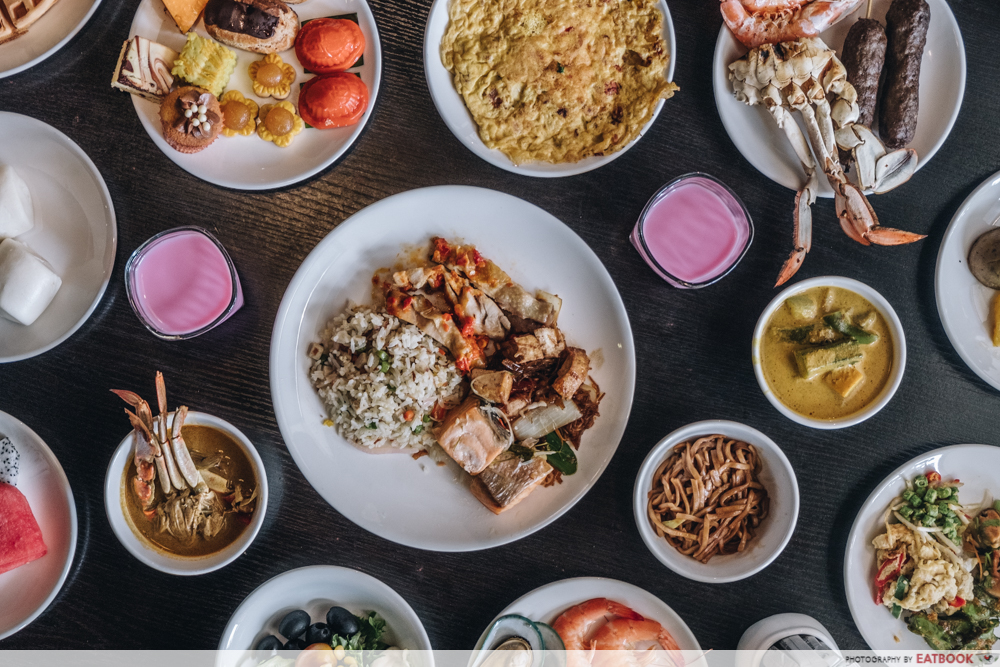 Indonesian cuisine doesn't get half the love it deserves in Singapore. Despite the abundance of restaurants dishing out food that'll make anyone go "Enak dong", it's quite rare for makan sessions to be centred around Indonesian food.
The Rice Table Review: 14-Course Indonesian Lunch Buffet At $18.95 Nett At Orchard
Hoping to change that is Rumah Rasa with their Sunday Brunch ($48++). The free-flow spread comprises quintessential Indonesian delights like kerabu and tahu, along with buffet mainstays like crabs and cakes. For a greater reason to splash the cash, they even have bottomless Ben & Jerry's – a sweet deal that's universal in any culture.
Food at Rumah Rasa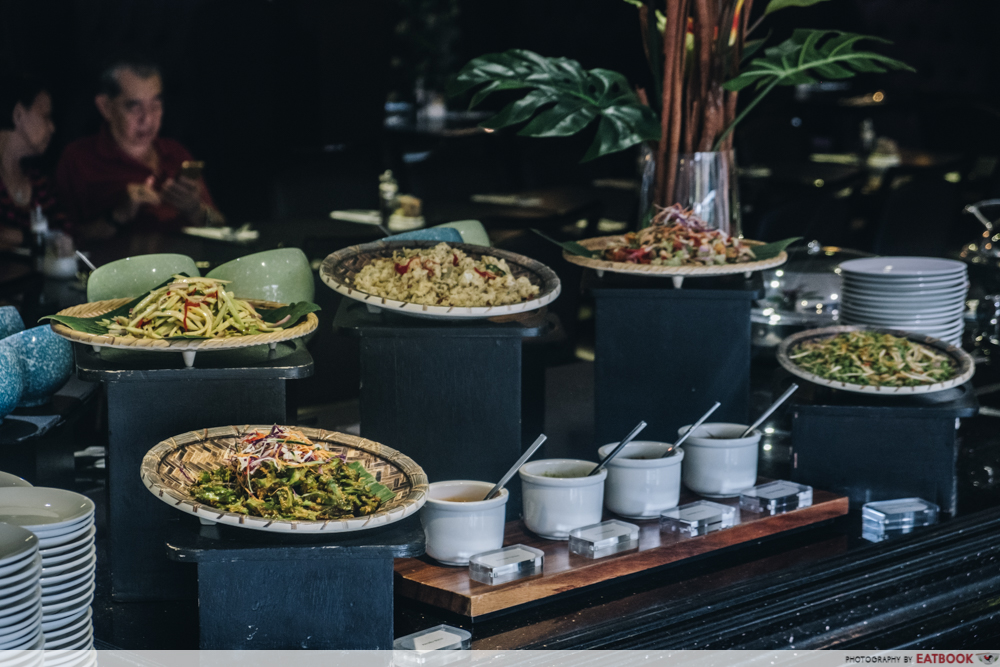 The first station we headed to was the kerabu station which had four different types of kerabu and a scrambled egg platter. For the uninitiated, kerabu is sorta like the Indonesian version of a salad – only that it's eaten with rice.
Most people would assume that kerabu tastes the same across the board, but they'd be wrong. Depending on the dressing and ingredients, every kerabu has different tastes and textures.
For instance, the kerabu botol – made of greens drenched in soy sauce – was refreshingly sweet. On the other hand, the kerabu kupang boasted a zesty finish, courtesy of the calamansi dressing, which in turn complemented the juicy mussels.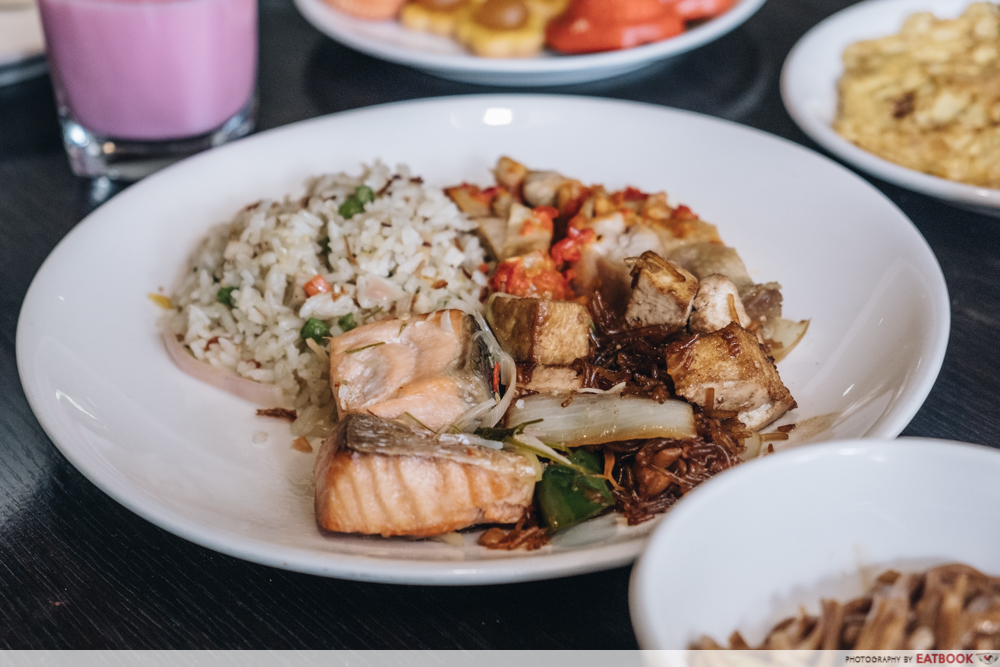 Admittedly, there's a limited range of food at Rumah Rasa. To get a sense of how small it is, the above picture features most of the side dishes that go with the Long Bean and Sausage Fried Rice – all lumped on one plate.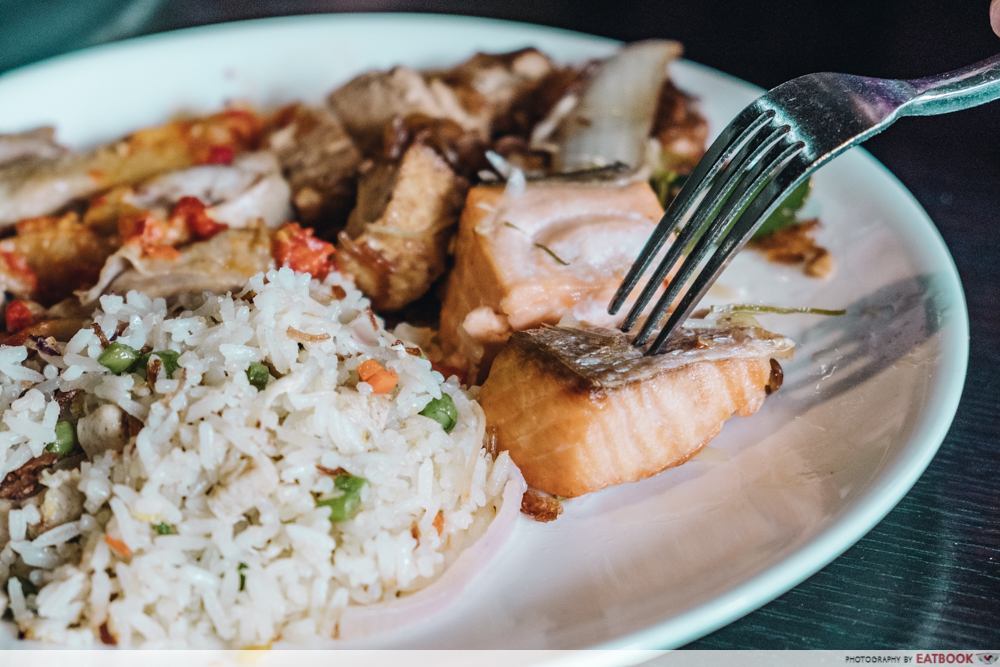 Thankfully, the flavours didn't disappoint. The Salmon Fillet with Sambal Matah had a subdued spiciness that didn't cross over to redolent territory. Its flesh was tender and offered no resistance as my fork pierced it. That being said, I would have liked it to be juicier.
The Roasted Boneless Chicken Leg With Belado Cream Sauce is what you get when you pour the thickest, most saturated version of chicken rice chilli sauce onto chicken. You get different flavour profiles as you bite into the moist chicken, such as spiciness, sweetness and a dash of sourness. This was by far my favourite item on the plate.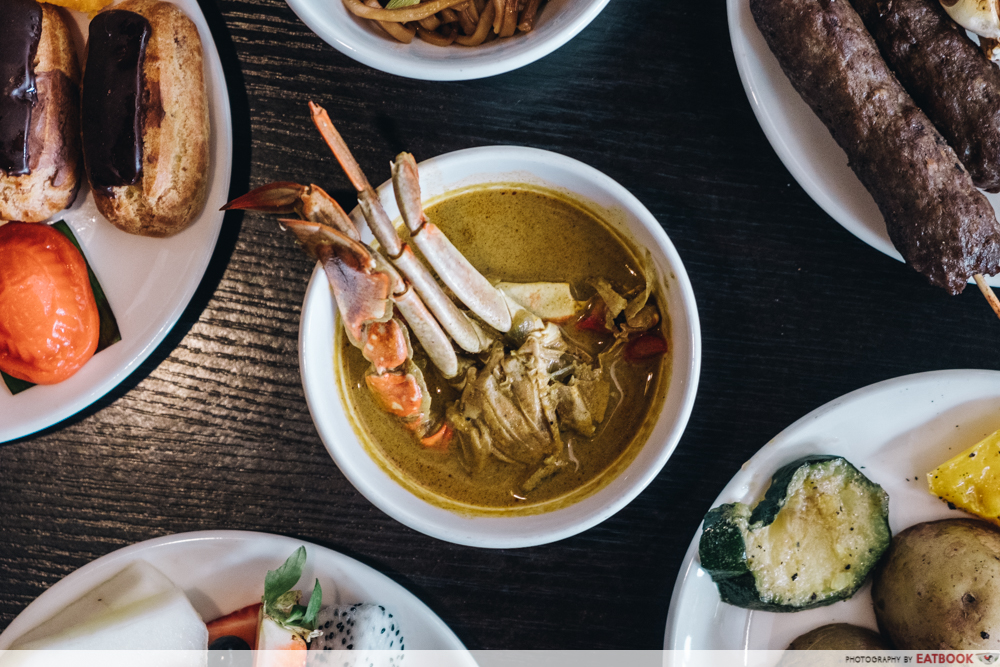 Also available was the Devil Curry, which lives up to its name if you can handle spicy food. As I slurped the concoction, I could taste a blend of red chillies and turmeric.
What caught me off-guard, however, was the sharp, acetic aftertaste from the vinegar. It was way too strong and left a sour taste in my mouth – literally.
You would have probably noticed the chopped crab that's floating in the bowl. Well, don't get your hopes up 'cause the amount of crab meat in it is really, really scant.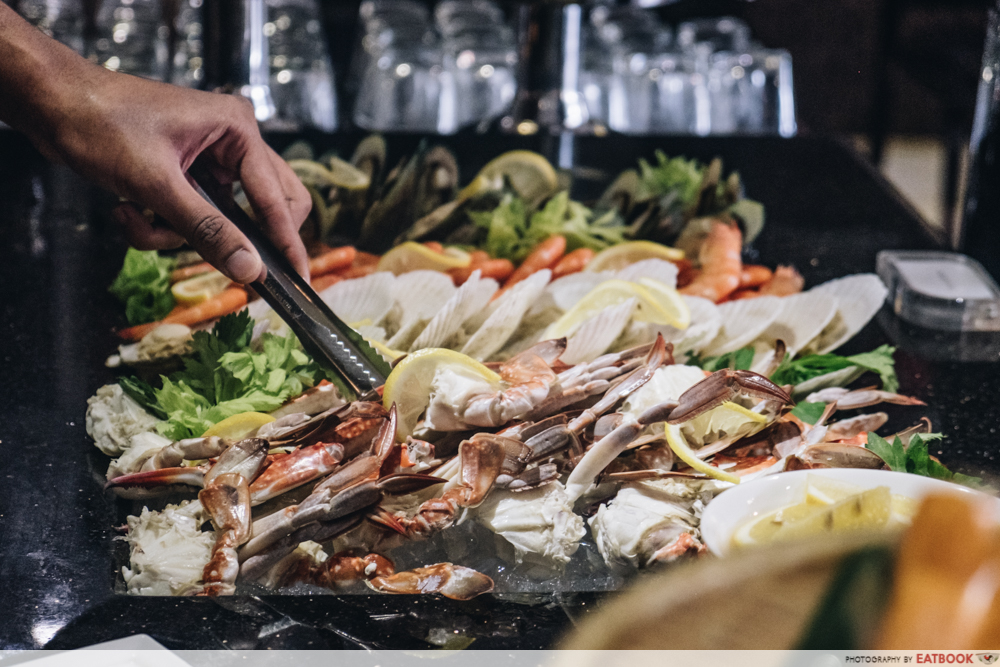 On that note, there was a surprisingly huge number of crab dishes at the buffet table, but the chilled ones at the seafood section were the best.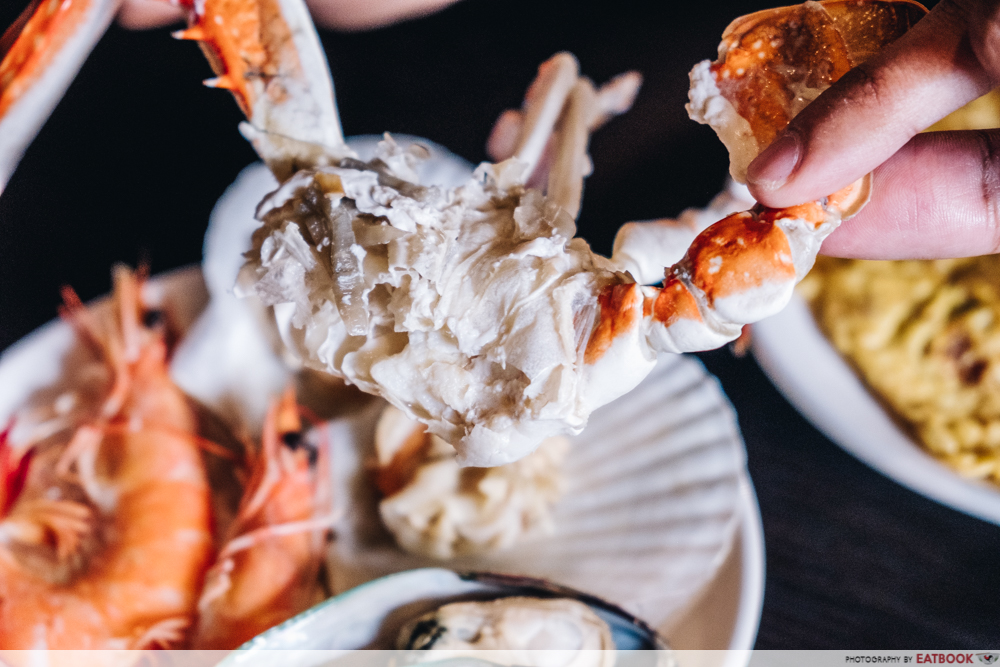 Bigger than their counterparts, the chilled crabs were brimming with meat from pincer to leg. Taste-wise, it had a mix of brininess and sweetness which made for a pleasant mouthfeel.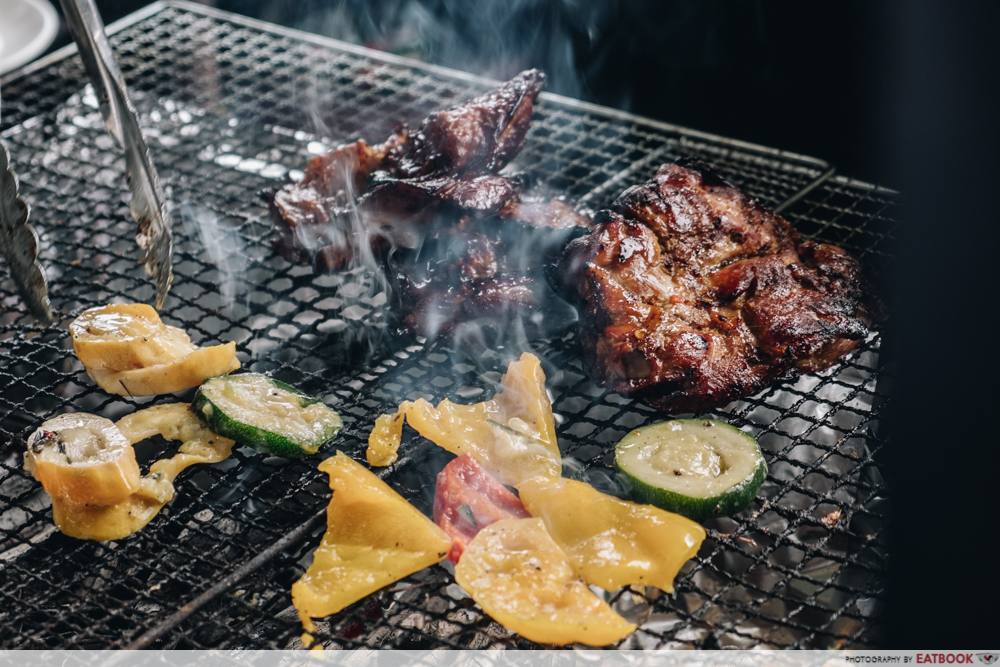 Luckily for us, they started the live BBQ station just as we were arranging our food, meaning we had first dibs on the grilled goodness that laid before our eyes. Some of the items that were up for grabs include squid, chicken, crab and potato.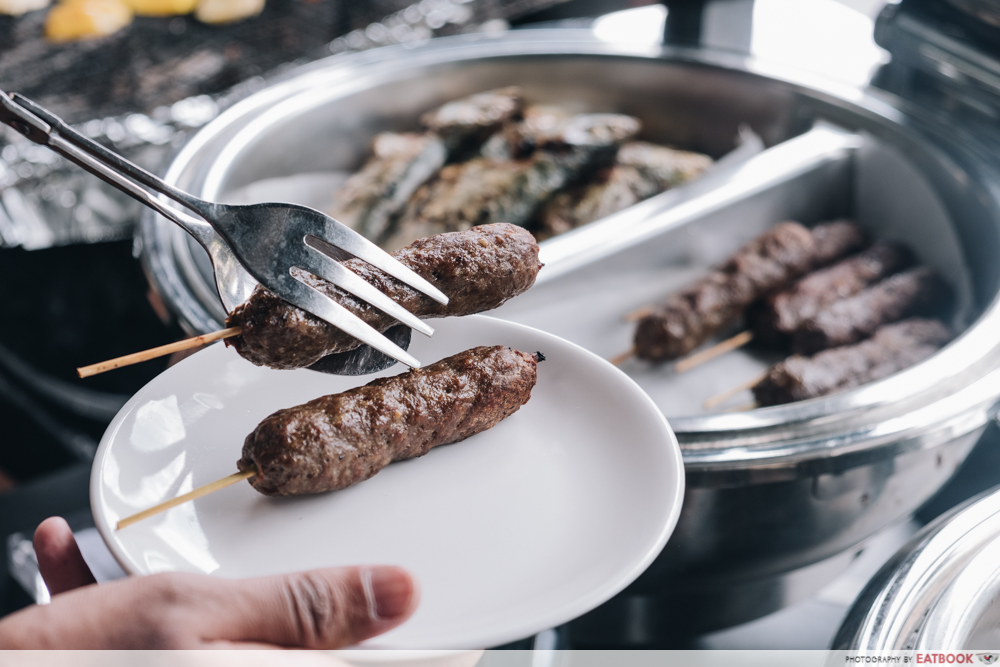 The item that left a lasting impact, however, was the beef sausage. Not 'cause it was good or anything.
Simply put, it was woefully dry.
There were absolutely no meat juices in this skewer. To be honest, I would have forgiven it if it had a potent umami kick. But it tasted as bad as it looked, with zero taste. Skip this if you're ever here.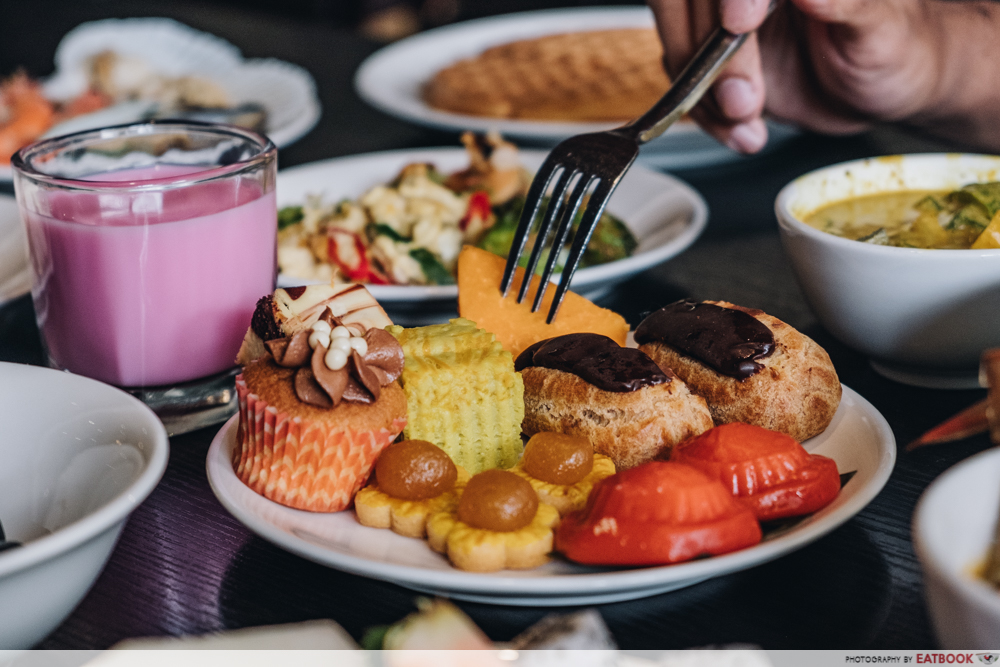 Next up were the kuehs and just like the entries that preceded them, they were a mixed bag. The ang ku kueh had the right amount of sweetness and springiness, while the pineapple tarts had a slight sourness which I loved. However, the eclairs were absolutely dry and was akin to eating sawdust.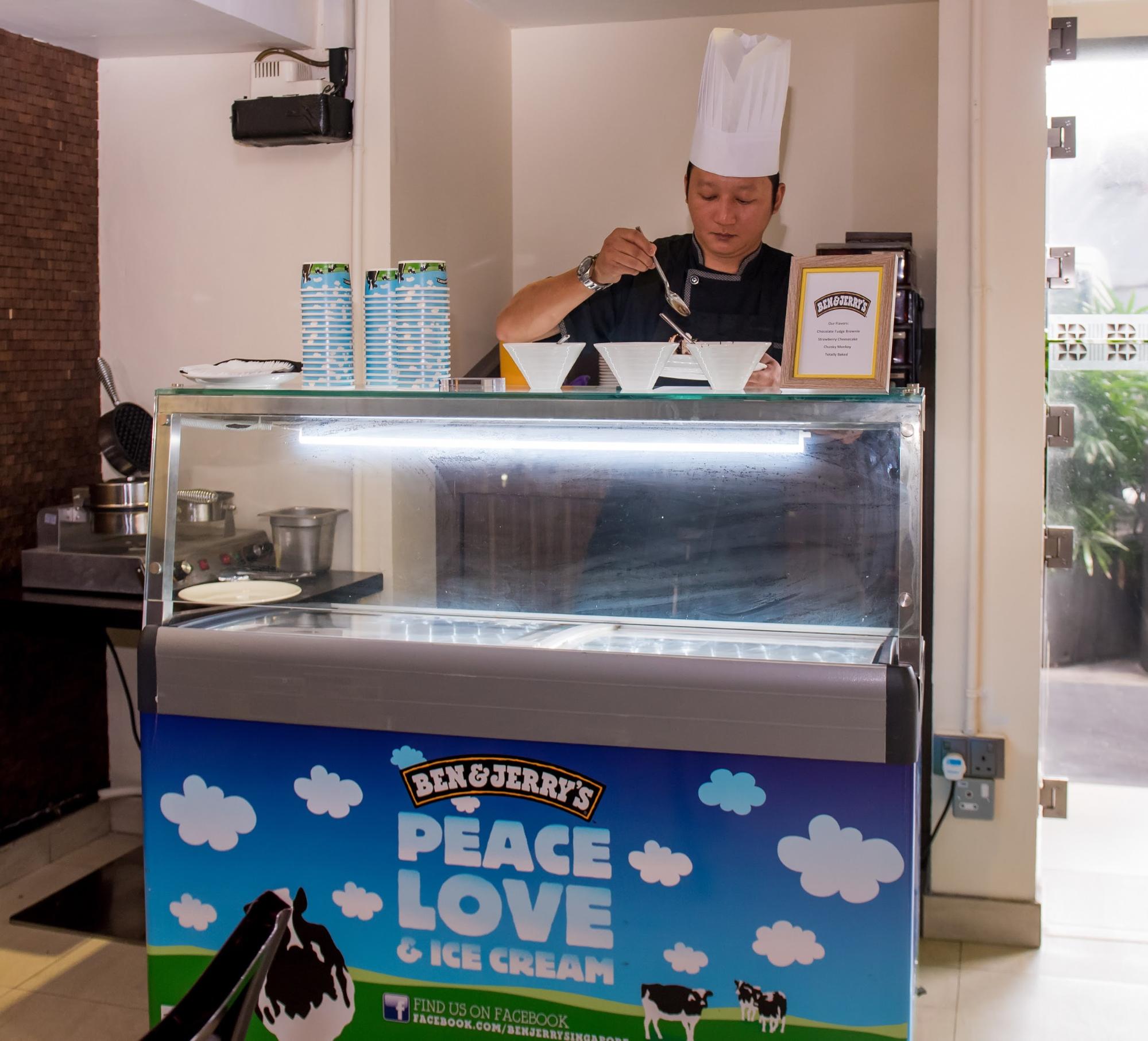 Image credit: Bay Hotel Singapore
The highlight of the entire lunch was definitely the ice-cream bar. Here, you can have unlimited rounds of six Ben & Jerry's flavours including Chunky Monkey, Strawberry Cheesecake and Chocolate Brownie.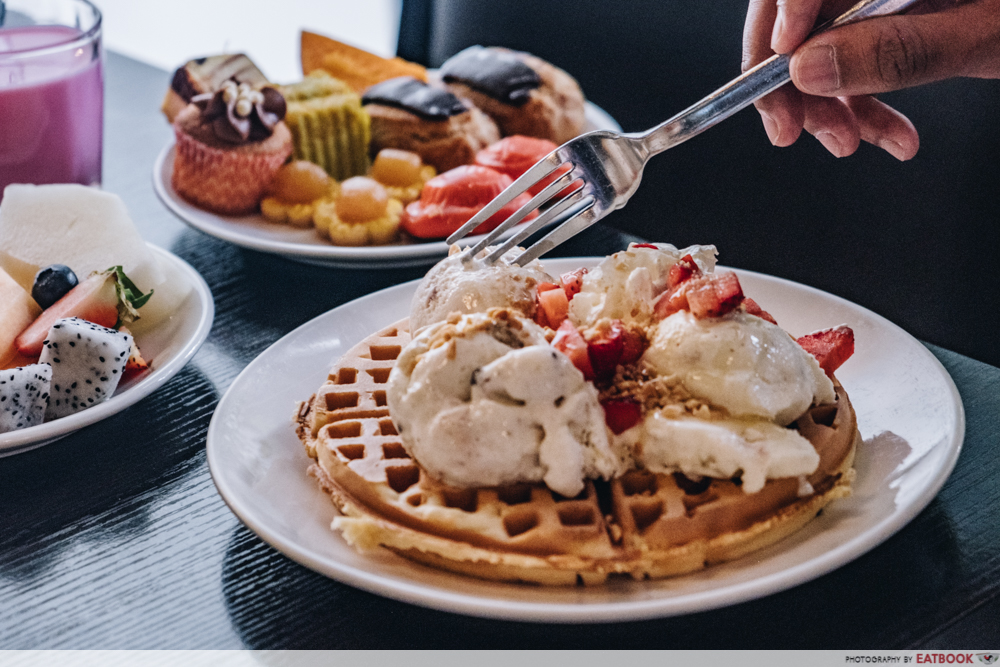 Pile as many scoops as you wish onto freshly made waffles and savour them with loads of tantalising toppings like sliced strawberries, chopped almonds, and rainbow rice.
Ambience at Rumah Rasa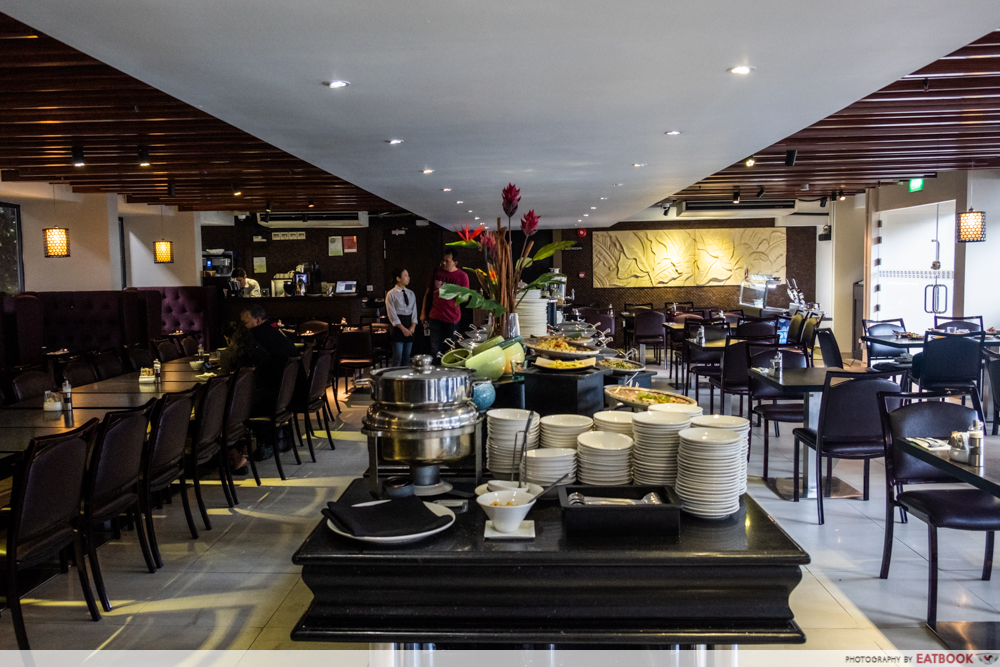 Rumah Rasa has that sort of posh decor you'd expect from hotels in the area. The dining space was well-lit and I especially enjoyed how classic Indonesian pop songs were constantly playing in the background.
That being said, I didn't like how many flies there were buzzing in the area. We had to constantly swat them away as we ate or took pictures of our food. Hopefully, this problem gets rectified in the future as it could pose serious health risks.
The verdict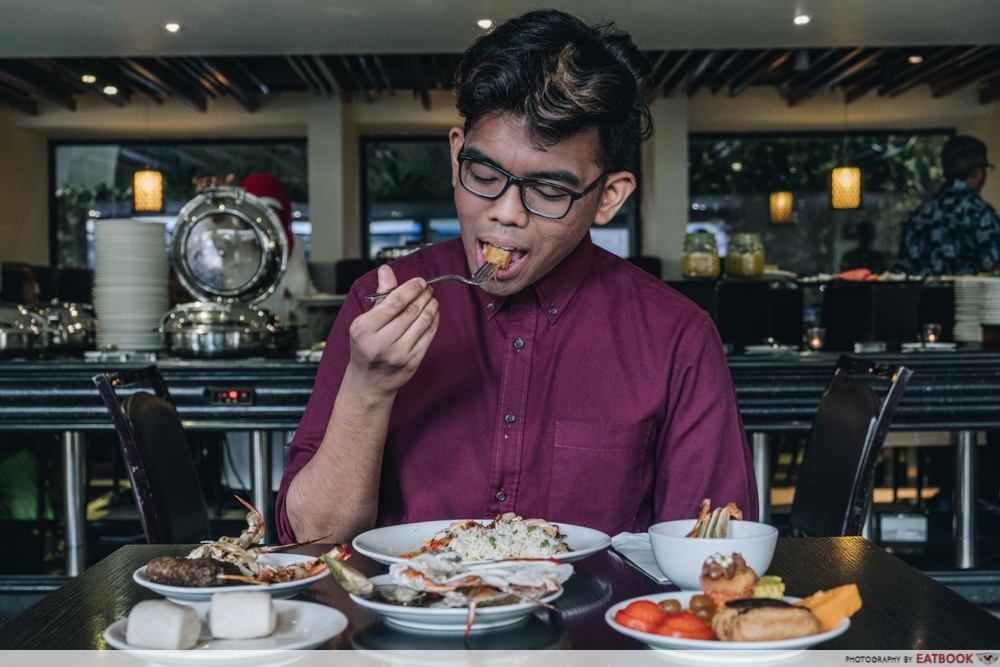 My experience at Rumah Rasa was mixed, at best. For every dish that I didn't like, I could find another that deserved high praise. Will this buffet herald a newfound appreciation of Indonesian food amongst Singaporeans, however? That'll be a resounding no.
Address: 50 Telok Blangah Road, Singapore 098828
Buffet hours: Sun 12pm to 3pm
Tel: 6818 6666
Website
Rumah Rasa is a halal eatery.
Photos taken by Huy Pham.
Summary
Pros
– Some of the dishes were really flavourful
– Friendly staff
Cons
– Limited range
– Flies in the dining area
Recommended dishes: Roasted Boneless Chicken Leg With Belado Cream Sauce, Chilled Crabs, Ben & Jerry's Ice-Cream and Waffles
Buffet hours: Sun 12pm to 3pm
Address: 50 Telok Blangah Road, Singapore 098828