SAMA Curry & Cafe serves customisable Japanese soup curry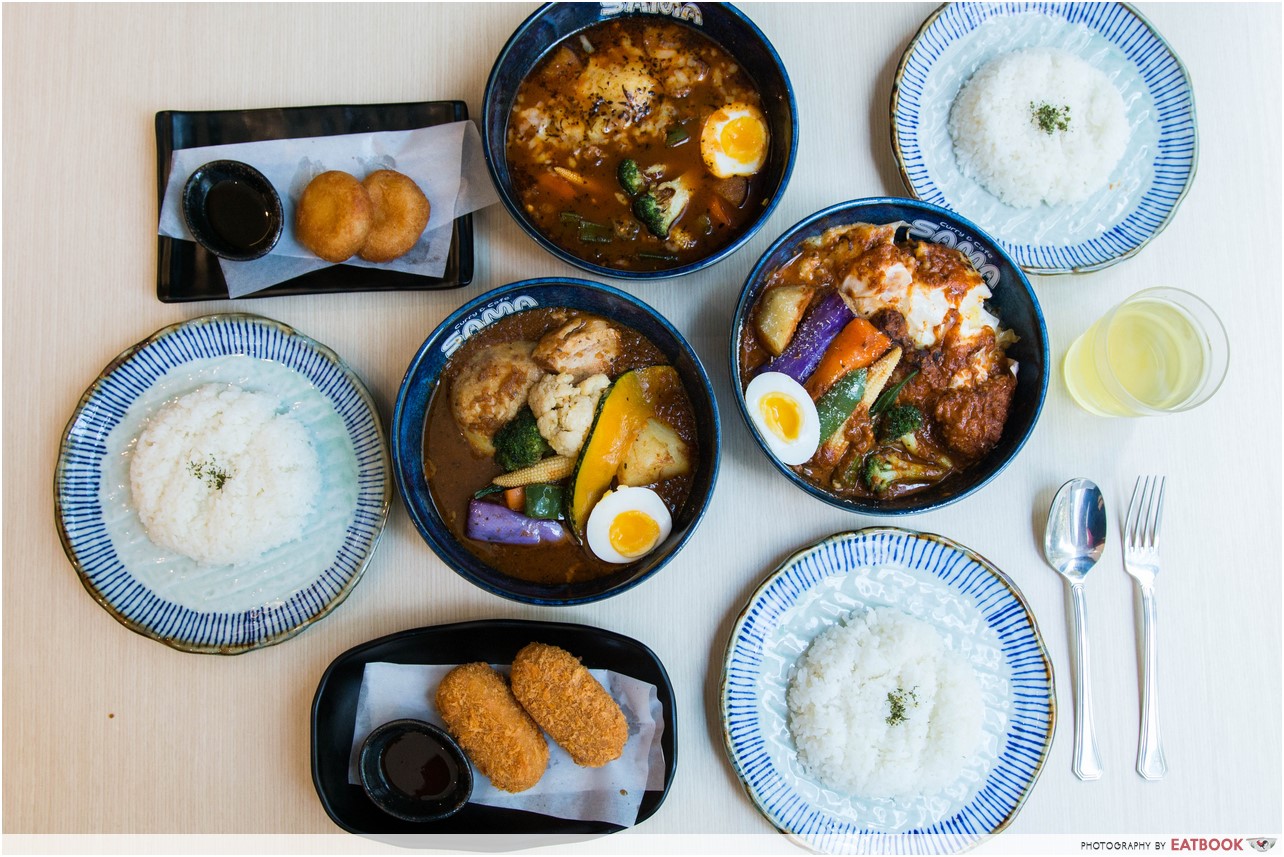 Unlike many Singaporeans, my low tolerance for spicy food has prevented me from enjoying popular dishes such as ma la, sambal stingray, curry chicken… you get the idea. Thankfully, I've got Japanese curry, which manages to be both comforting and tummy-warming – sans the spicy burn.

Hailing from Hokkaido, SAMA Curry & Cafe dishes out soup curry, which is a less jelak variation of Japanese curry that is a rare find in Singapore. The restaurant lets you customise your curry by choosing from four different soup bases – tomato, coconut, shrimp, and chicken – and 30 different levels of spiciness.
Food at SAMA Curry & Cafe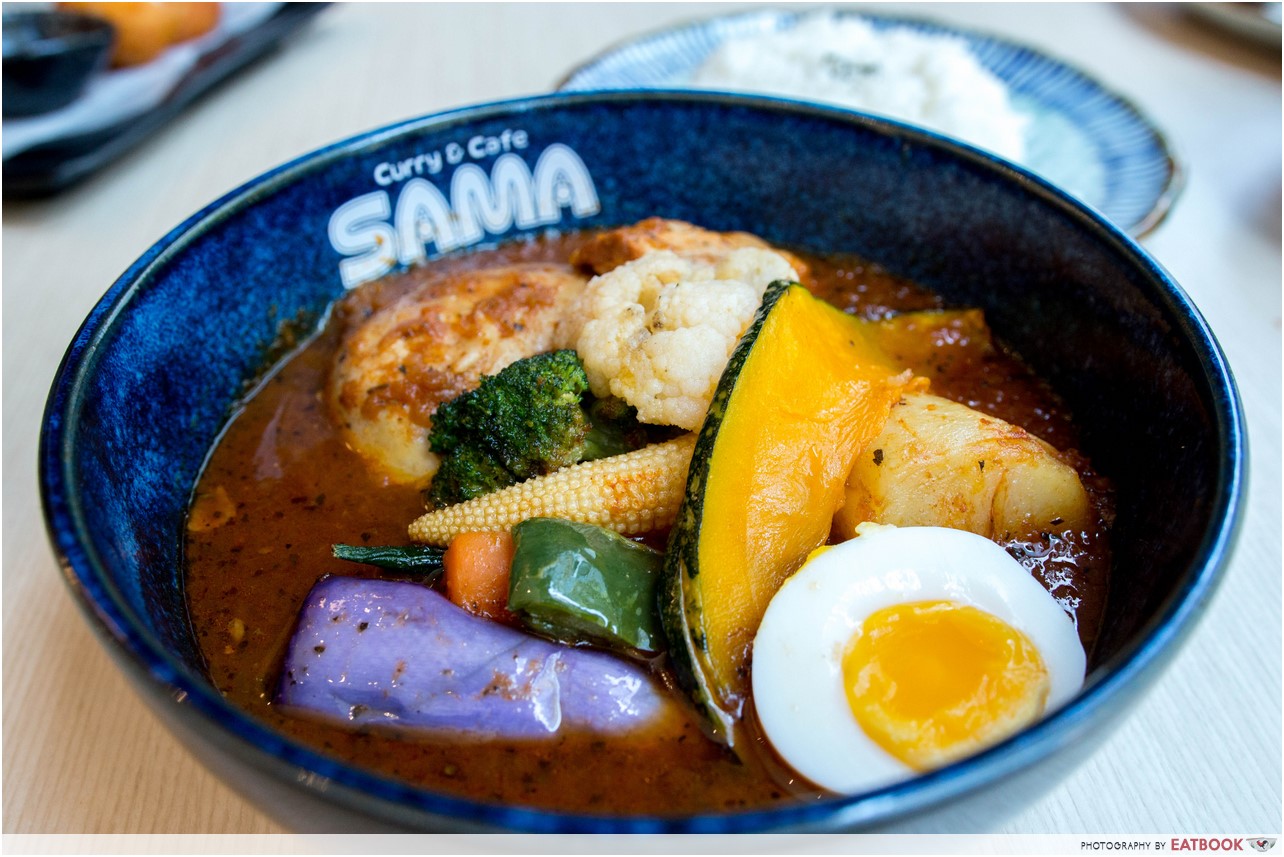 We eased into our first Japanese soup curry experience with Hungry Bear ($18.90+). We went with a tomato soup base at spiciness level five. This hearty bowl came with an entire chicken leg, vegetables, half an egg, and your choice of a beef hamburger patty or a slice of chashu pork.
The tomato soup gave the curry a pleasantly sweet flavour without any overwhelming acidity. Unlike conventional thick Japanese curry, this was much less viscous and had the consistency of a light stew. All of their soup curry dishes come with a plate of Japanese rice, as well as veggies such as eggplant, broccoli, baby corn, carrot, potato, bell peppers, and okra.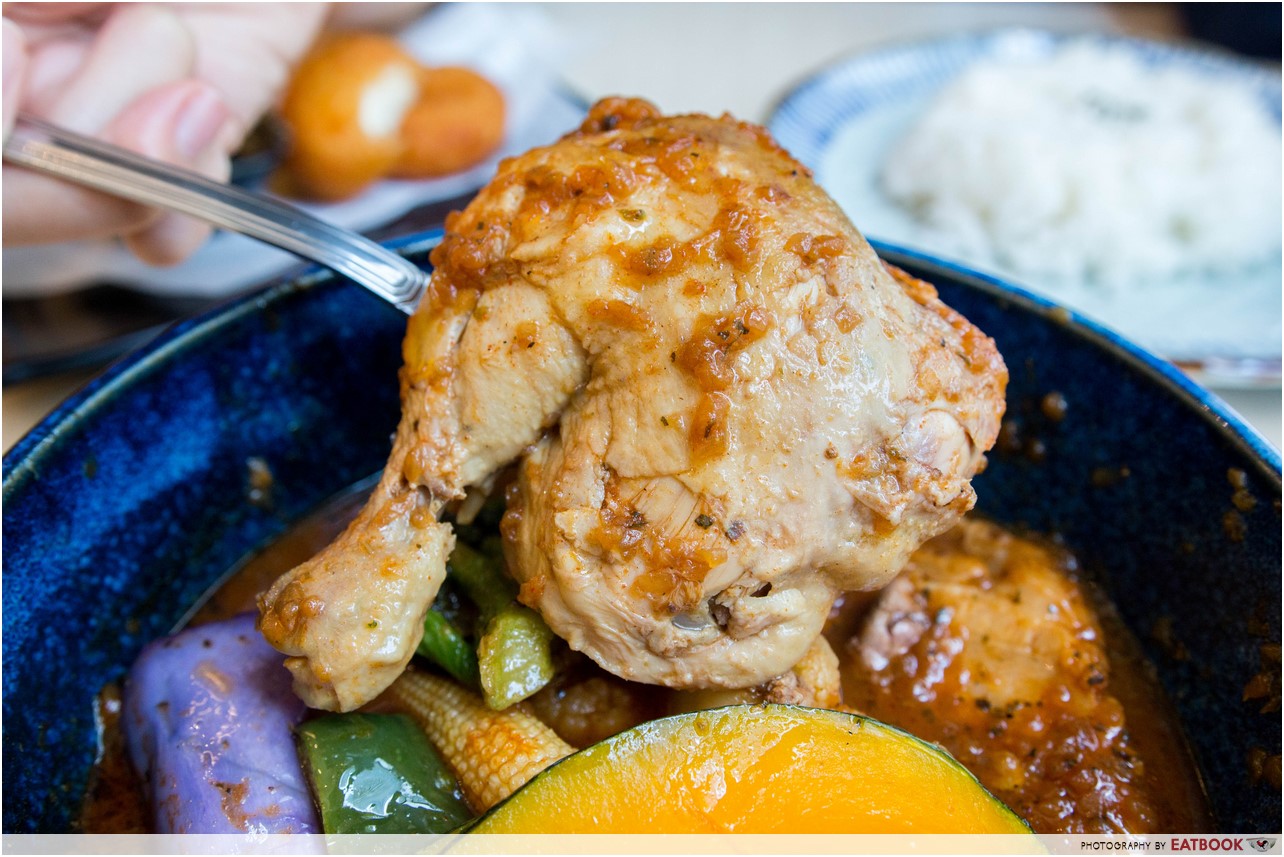 The huge piece of chicken thigh was very tender and the meat pulled apart from the bone easily. This went well with the stew-like soup curry and reminded me of the soft chicken thighs you get in Chinese soup.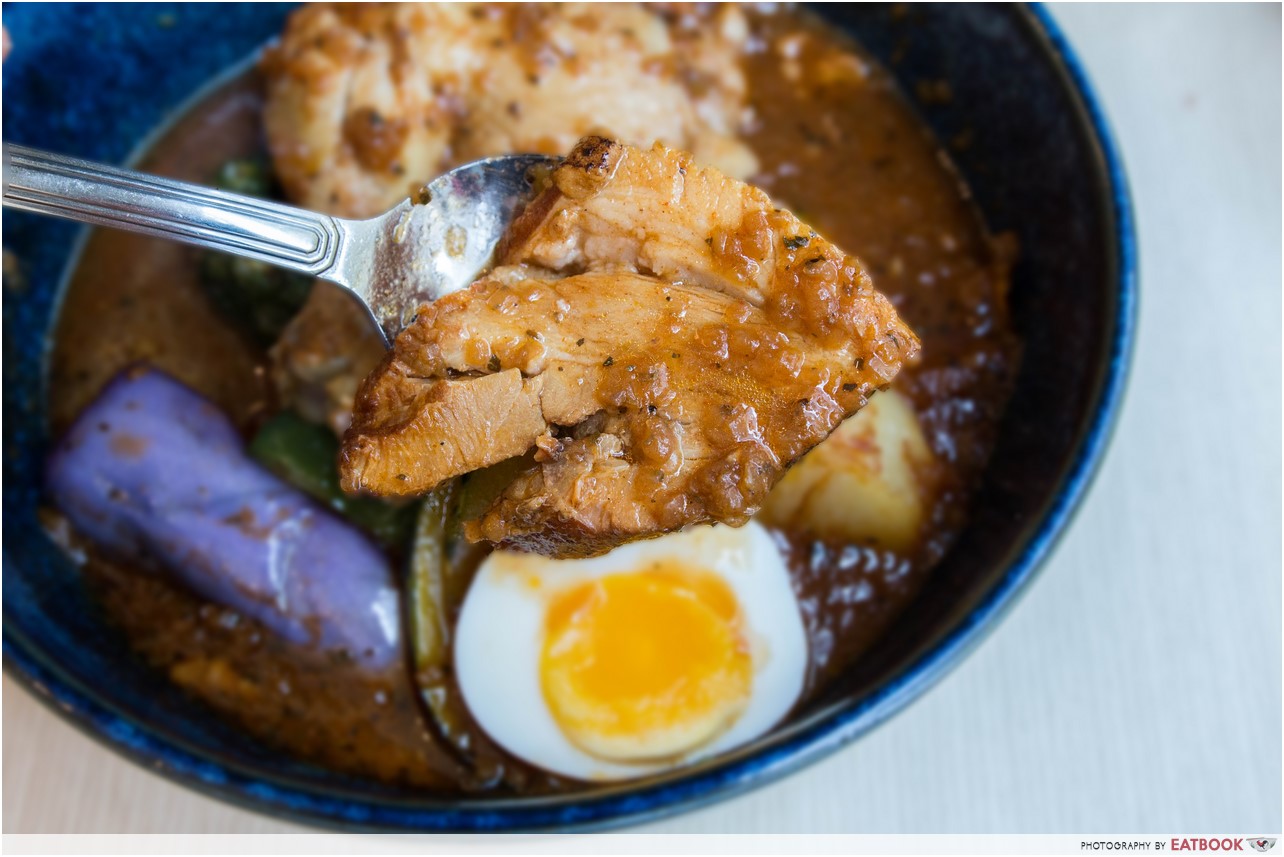 We opted for the cha shu pork instead of beef hamburger as per the owner's recommendation. Though we were only given one slice, it still managed to be satisfying. It was marinated well and came with a substantial layer of juicy fats that had a melt-in-your-mouth texture.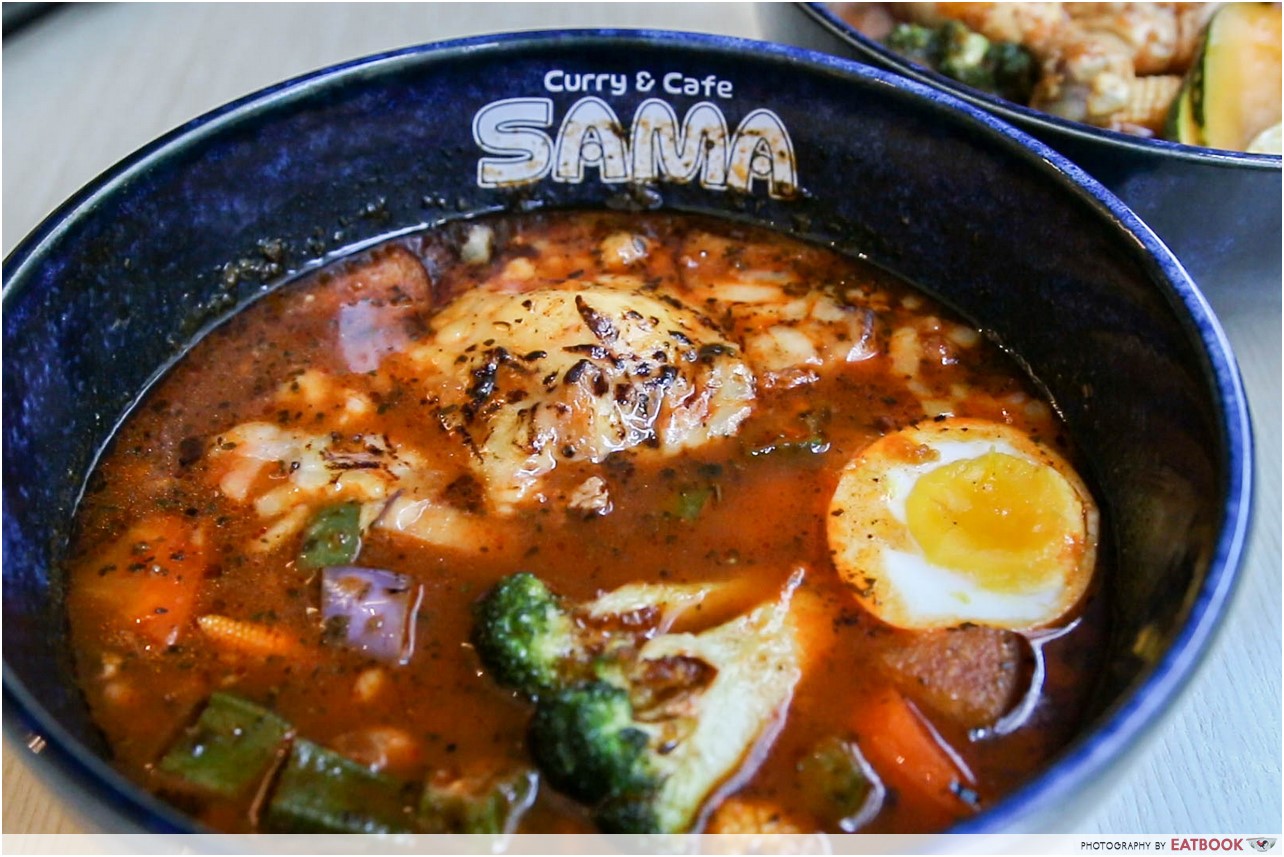 The next dish we tried was a slightly more unconventional option, Keema Natto ($16.90+). We got this at spiciness level 10 and had it made with their Japanese soup base, which is a light chicken broth. This soup curry came with minced meat, chopped vegetables, half an egg, and blow-torched cheese.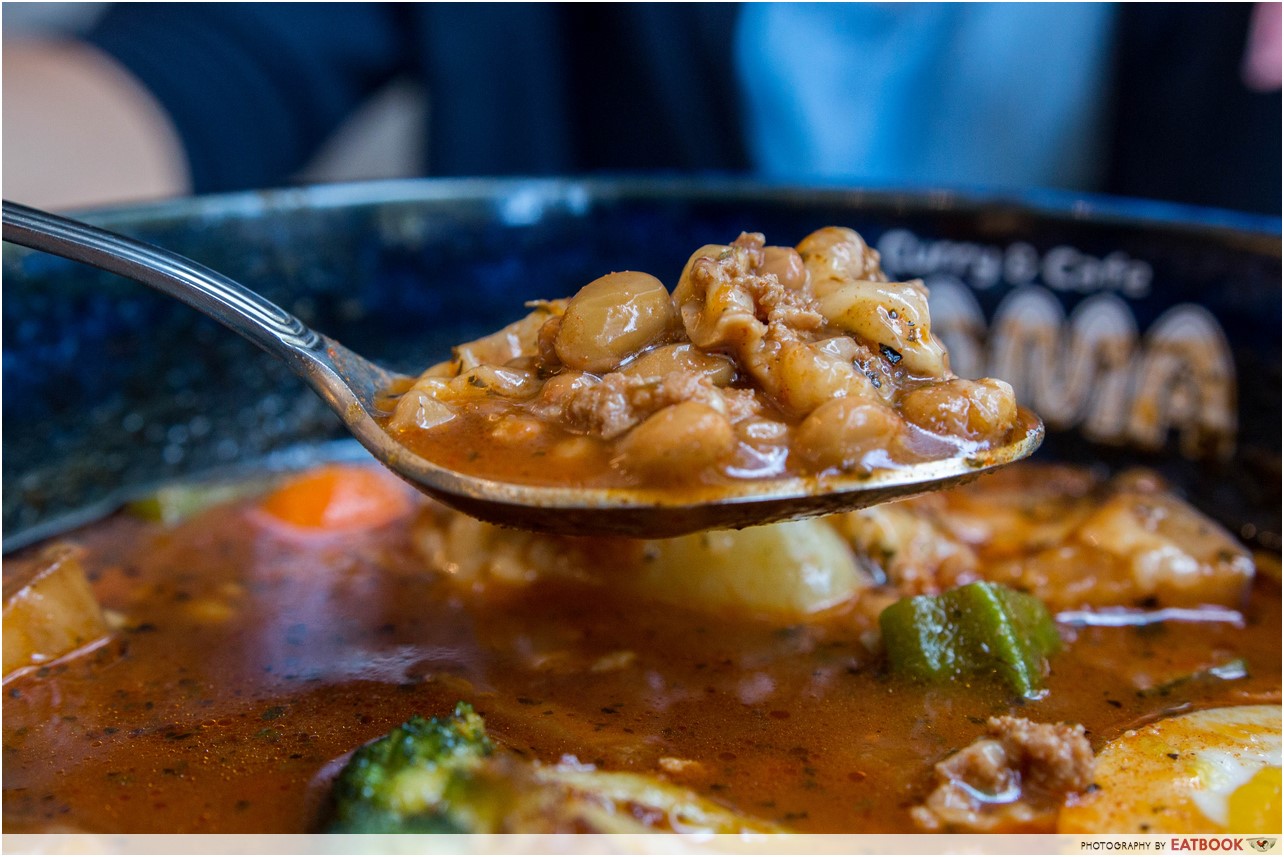 Natto, AKA fermented soybeans, are sometimes known as the "savoury durian" of Japan due to its pungent flavour and smell. The flavour of natto was very prominent throughout the entire dish. It had a slightly bitter, almost alcohol-like flavour that many fermented foods have, reminding me of strong cheese. The curry on its own was a little overpowering, so make sure to get a good mix of natto, meat, cheese, and rice on your spoon to balance it out. If you're an adventurous foodie or someone who loves intense flavours, this dish is definitely worth a shot.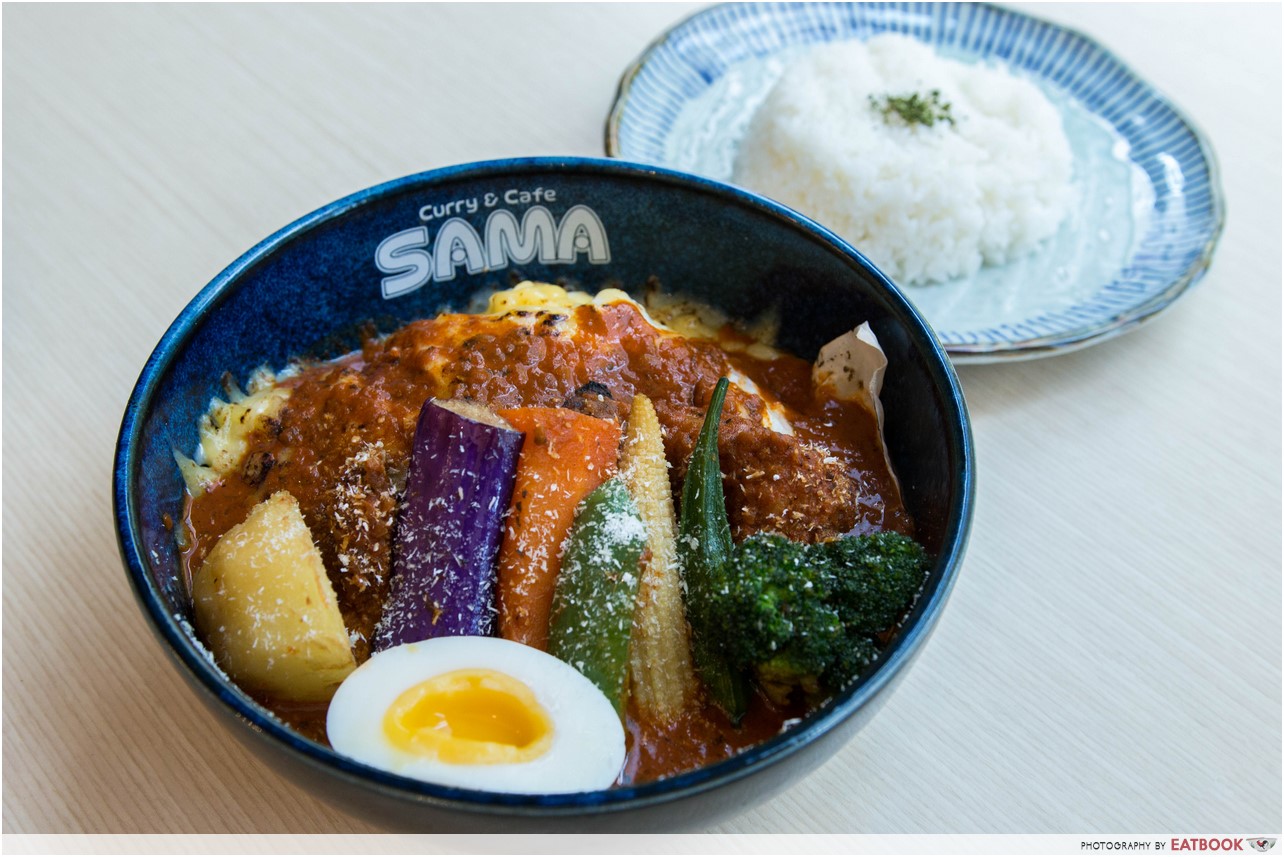 We ended our soup curry experience with Cheesy Bear ($16.90+). We chose the coconut soup base and the highest level of spiciness they offer: 30. This bowl came with substantial pieces of fried chicken, shredded cabbage, the standard assortment of vegetables, half an egg, and a blanket of blow-torched cheese.
As an amateur when it comes to spicy food, I had my expectations set high for this dish, and assumed it would take me out in a couple of bites. Surprisingly, though the soup curry was spicy and packed a significant punch, it was still quite manageable when eaten with the chicken or rice. Perhaps it was the creamy coconut base and the cheese that mellowed it out slightly.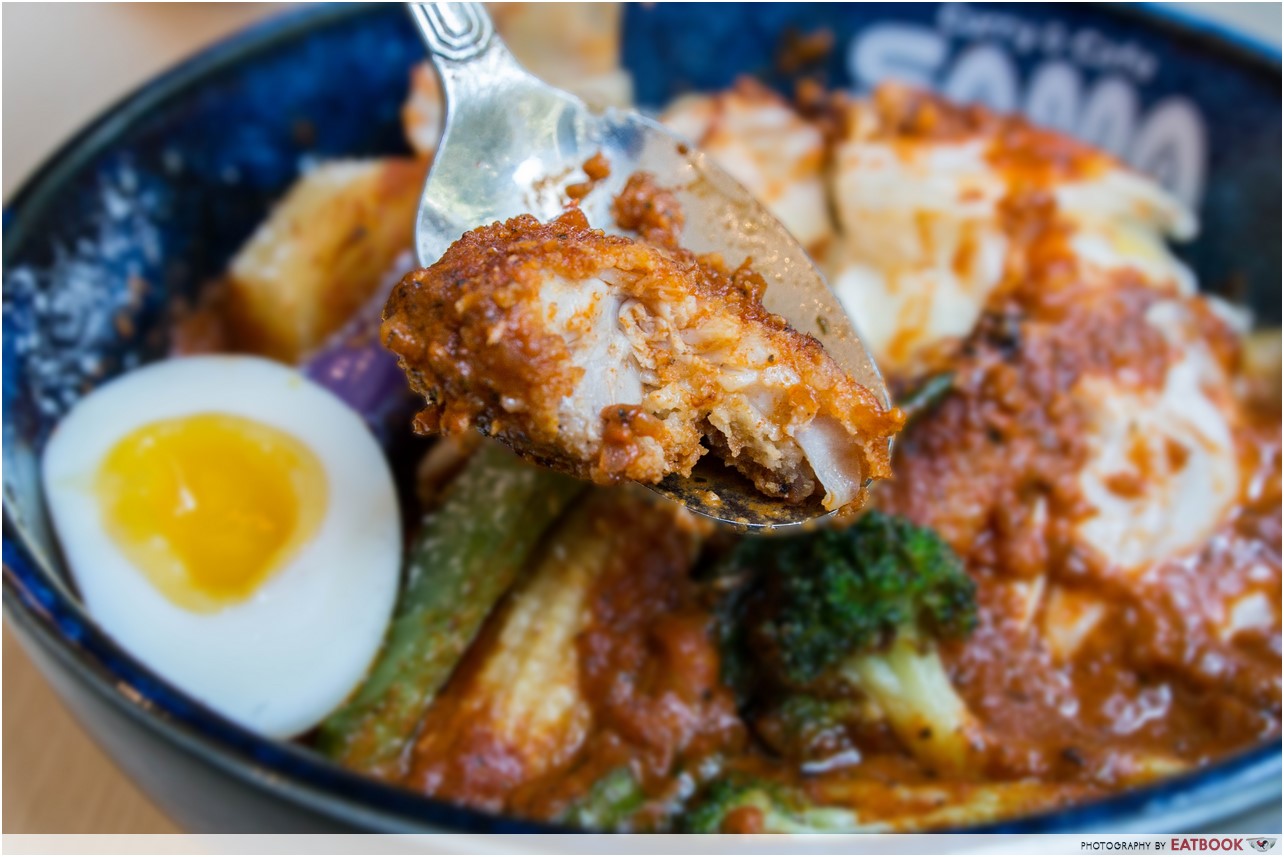 The pieces of fried chicken were tender and juicy. Each piece had a thin layer of fried batter that soaked up the soup curry, making every bite flavourful. The fresh, shredded cabbage underneath the chicken added a refreshing change in texture to the dish. Though this dish may be a bit of a letdown for spicy-food lovers looking for a challenge, it doesn't disappoint in terms of flavour.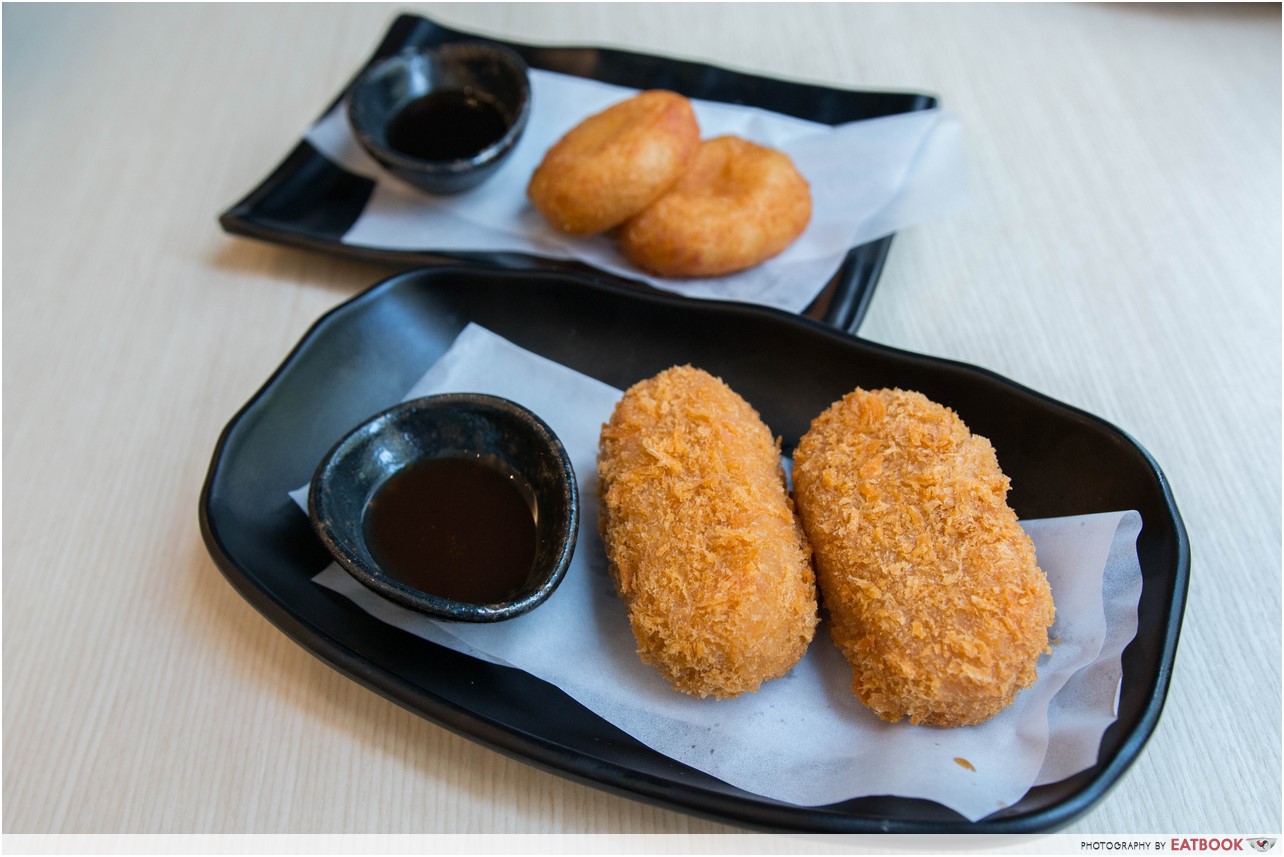 Though the soup curries were the main attraction, we were pleasantly surprised to find that their sides were equally impressive.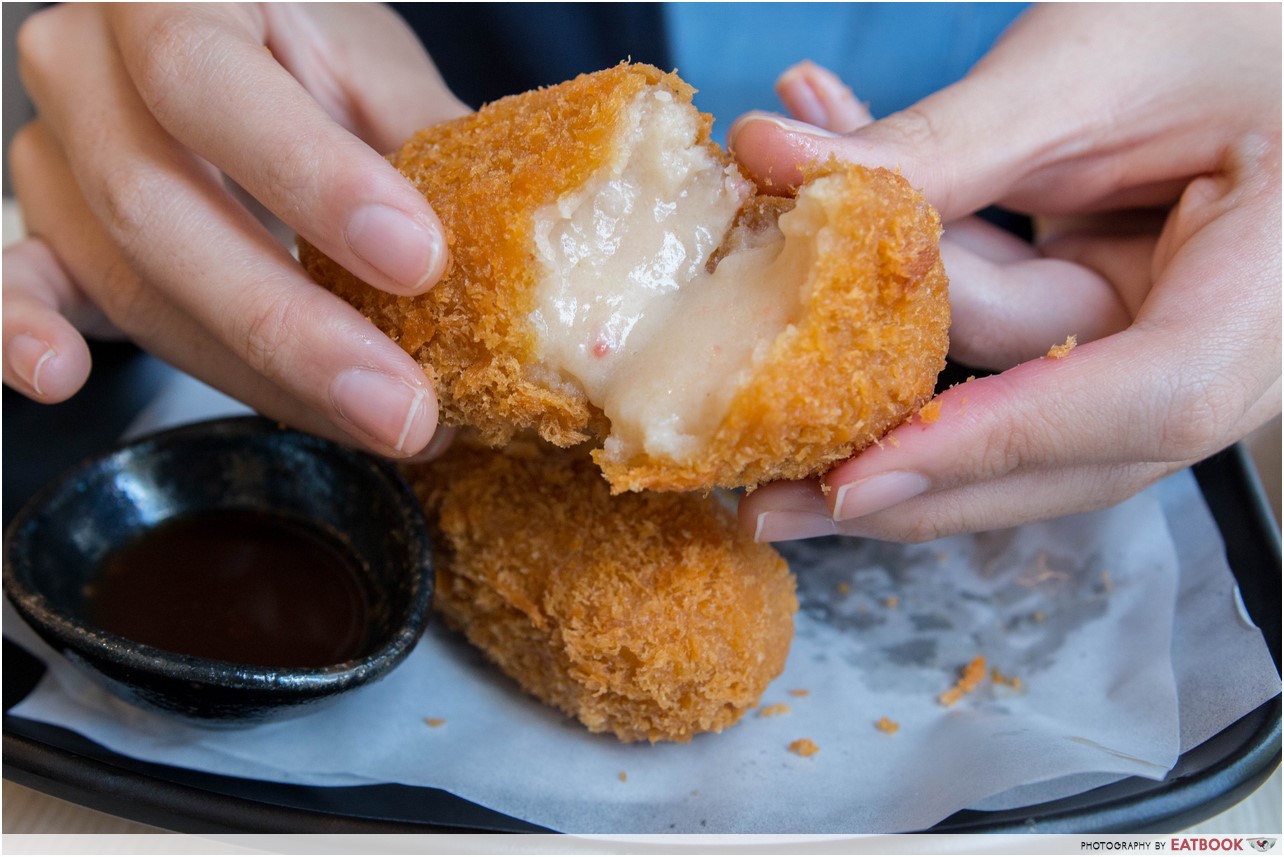 Breaking open a Hokkaido Crab Cream Croquette ($6.50+ for two pieces) was almost as enjoyable as taking my first bite. Golden brown and crispy, the outer layer of deep-fried panko and batter broke away easily to reveal a smooth, creamy centre. Though the creamy filling did not have an intense crab or seafood flavour, its rich, chowder-like texture made up for it.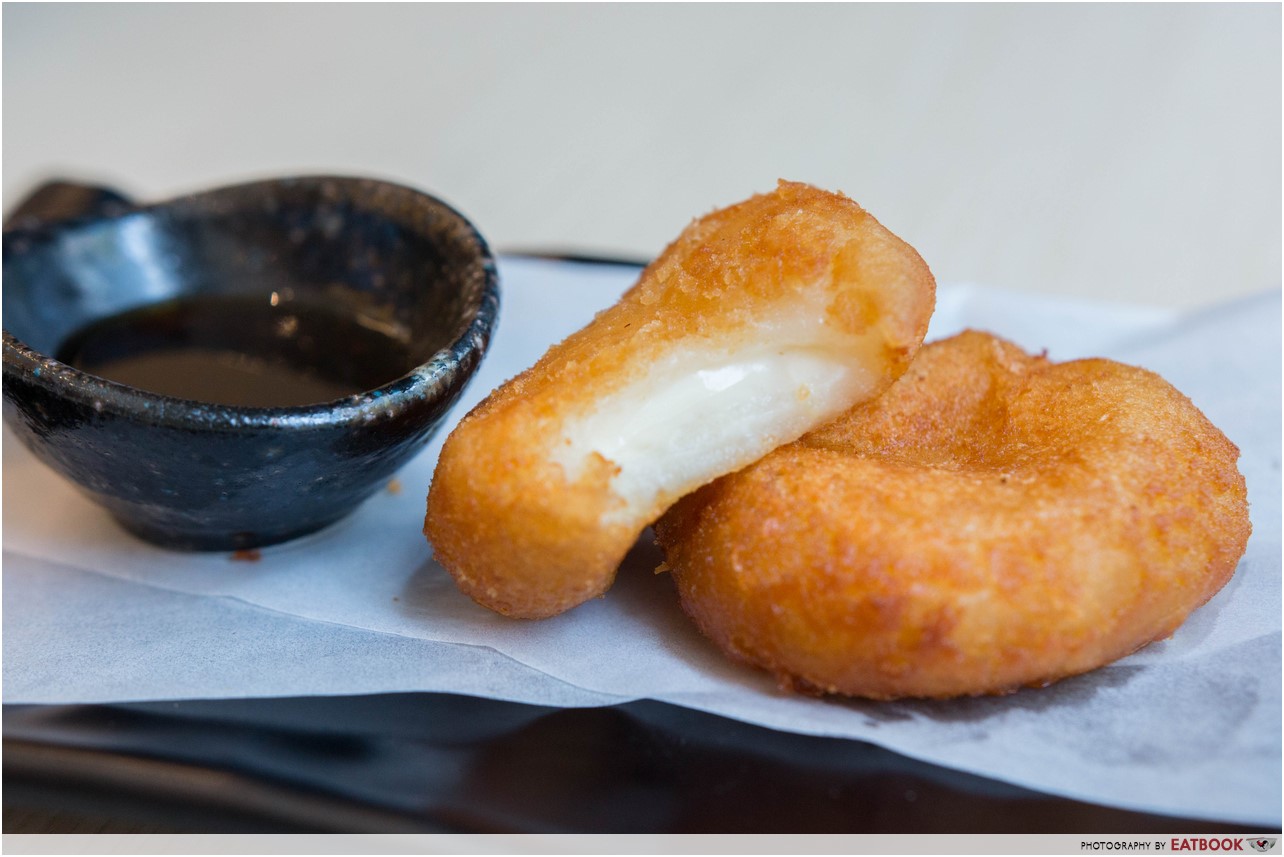 We ended our meal with Hokkaido Imomochi Cheese ($6.50+ for two pieces). These rounds of pillowy goodness were crispy on the outside and chewy on the inside. The mochi was soft and even had a satisfying pull when we bit into them, revealing a creamy cheese filling that added richness and a slightly salty flavour.  
Ambience at SAMA Curry & Cafe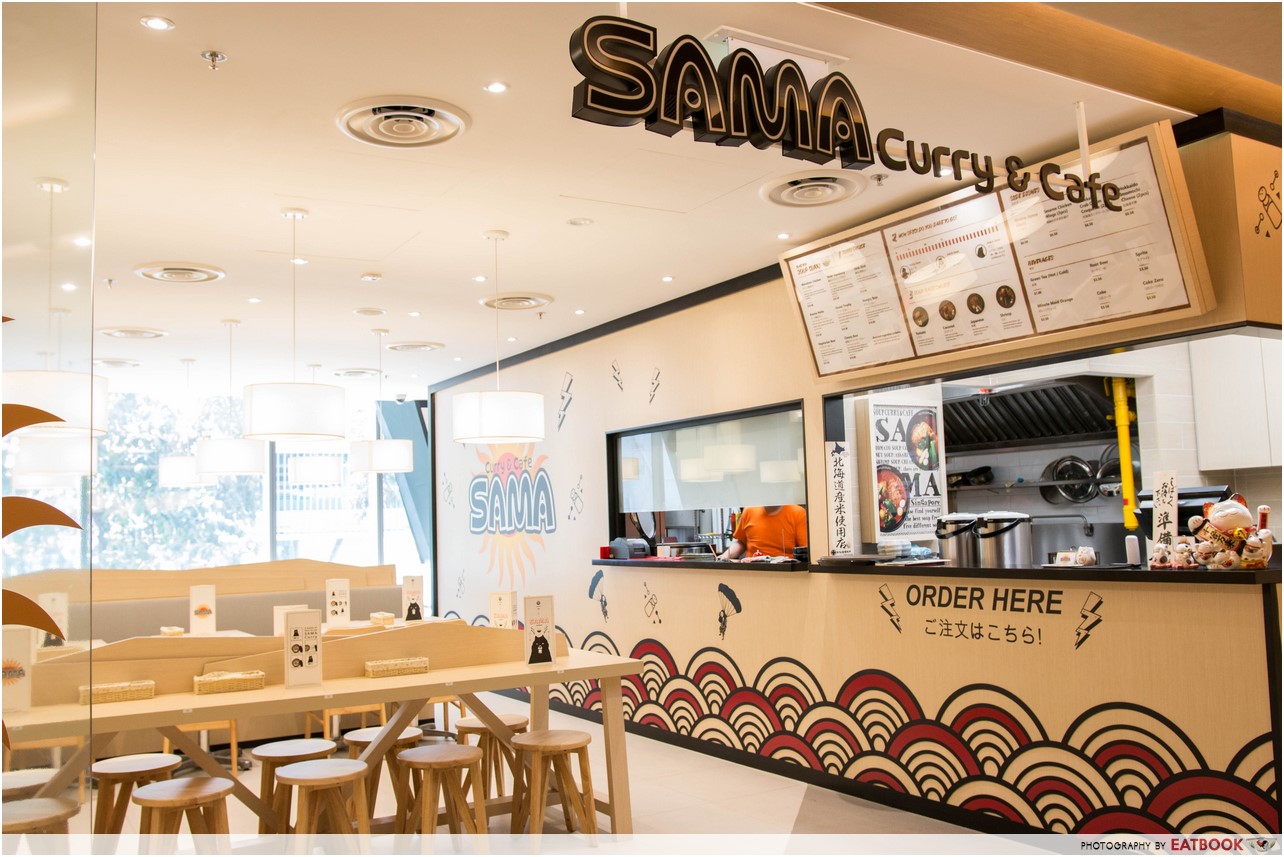 SAMA Curry & Cafe is located in the newly opened Downtown Gallery that is about a seven-minute walk from both Downtown and Tanjong Pagar MRT Stations. The restaurant was quite spacious and was also brightly lit from the sunlight that came in through glass panels.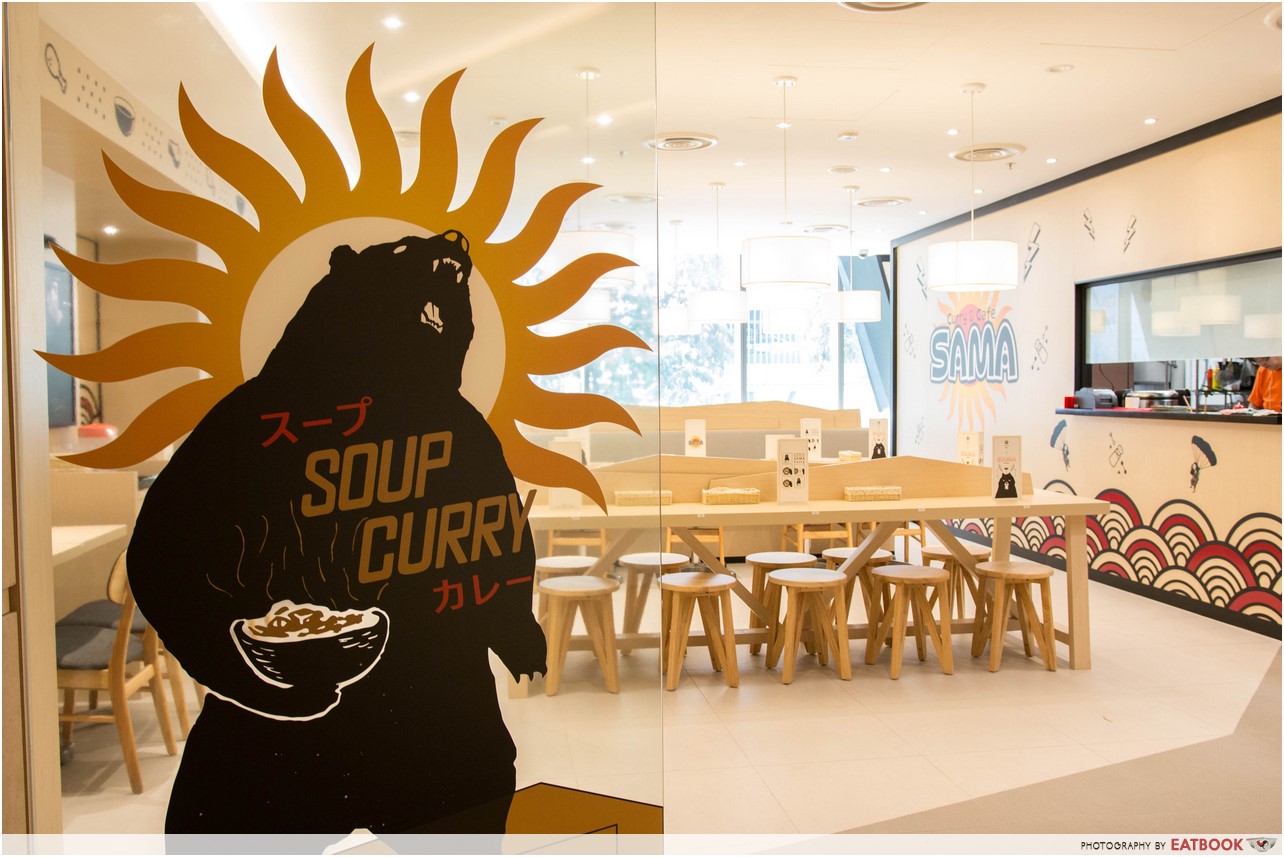 The lunch crowd pours in at around 12pm, so try to arrive earlier to avoid a long queue. It's not really a place where you can sit and chat for hours as many of their customers eat and leave quite quickly due to how busy the place is at lunch time.
The verdict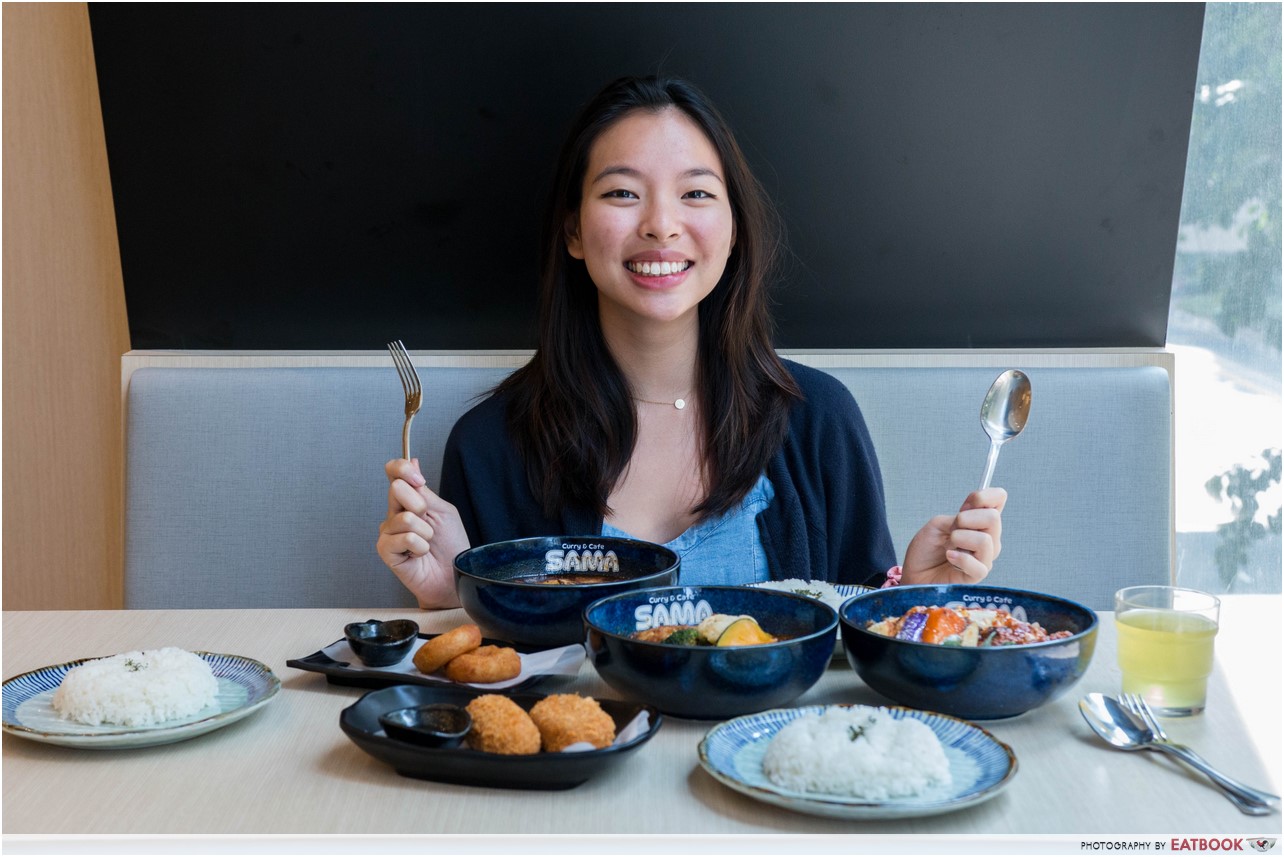 Overall, SAMA Curry & Cafe had satisfying mains and sides. It's also a huge plus that you can customise your soup bases and spiciness level, 'cause pretty much everyone can find something they're sure to enjoy on the menu.
Address: 6 Shenton Way, #03-26, OUE Downtown 2 Gallery, Singapore 068809
Opening hours: Daily 11am to 9pm
Tel: 6224 0590
Website
This was a media tasting at SAMA Curry & Cafe.
Summary
Pros
– Convenient location
– Customisable dishes
– Delicious food
Cons
– Crowded during lunch hours
Recommended Dishes: Hungry Bear ($18.90+), Cheesy Bear ($16.90+), Hokkaido Crab Cream Croquette ($6.50+ for two pieces)
Operating Hours:
Daily 11am to 9pm
Tel:
6224 0590
Address: 6 Shenton Way, #03-26, OUE Downtown 2 Gallery, Singapore 068809