Have your wagyu fix at Seoul Garden HotPot
Update: These limited-time dishes are no longer available.

Don't confuse Seoul Garden HotPot with stalwart Korean BBQ and steamboat buffet chain Seoul Garden. The former is actually a casual halal-certified restaurant offering scrumptious a la carte Korean dishes, from bibimbap to comforting army stew. Now, the reason I'm giving this disclaimer is because I'm guilty of thinking Seoul Garden HotPot was a buffet. Which was why I've never stepped in before, despite passing by it a few times! But I'm happy I finally did, as I came to realise that they do mouthwatering Korean dishes with superb taste.
This month alone they are beefing up their menu by introducing Australian Jack's Creek wagyu beef to five of their dishes – and I'm so glad I was able to try them all.
Food at Seoul Garden HotPot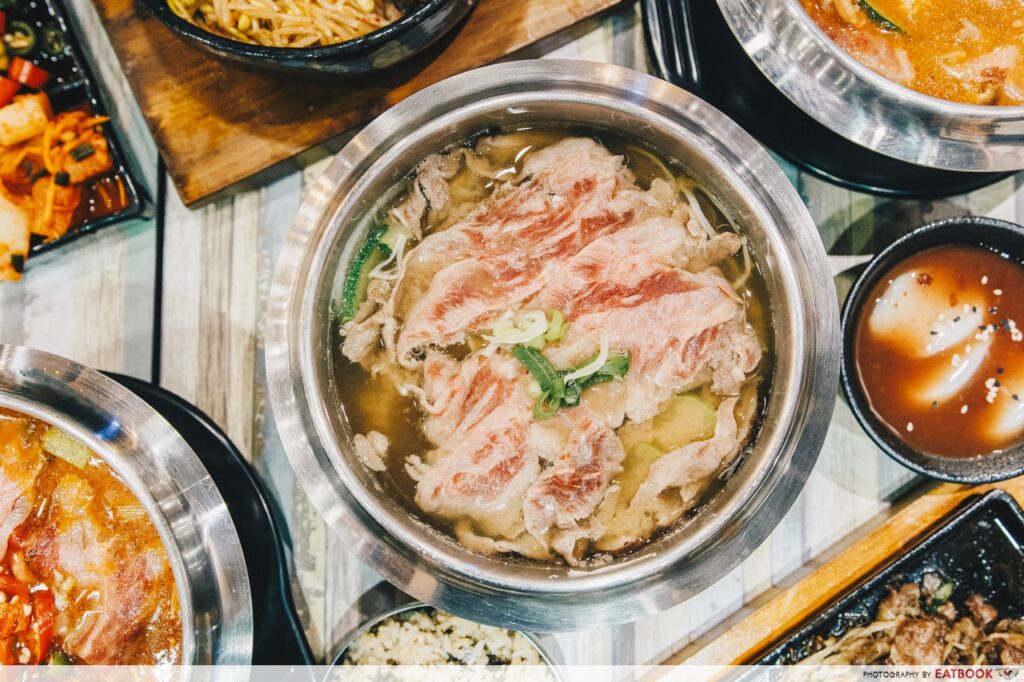 The constant December downpour is Singapore's version of winter. And after getting caught in the rain, I was pleased to find three soupy dishes gracing the menu at Seoul Garden HotPot. While we had a difficult time contemplating which dish to dive into first – they all smelled so good – we decided to go ahead with the clear Wagyu Beef Doen Jang Guk ($19.90++), as we didn't want the spices from the other heavier dishes to overwhelm our taste buds.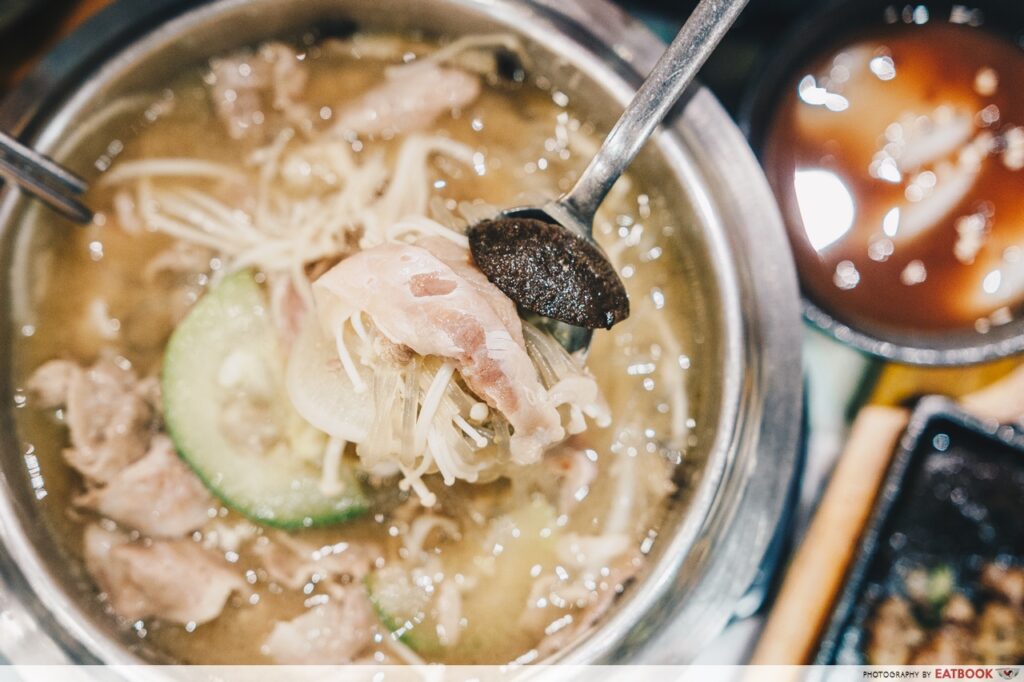 Made using doen jang guk (Korean soybean paste) stock, which is the K-version of miso soup, the stew was delicate and had a very homey feel. Its light broth made the robust flavour of the wagyu strips shine, and I can easily foresee moms lapping up this dish. There were also thin slices of white radish in the broth, which gave the soup an overall sweetness.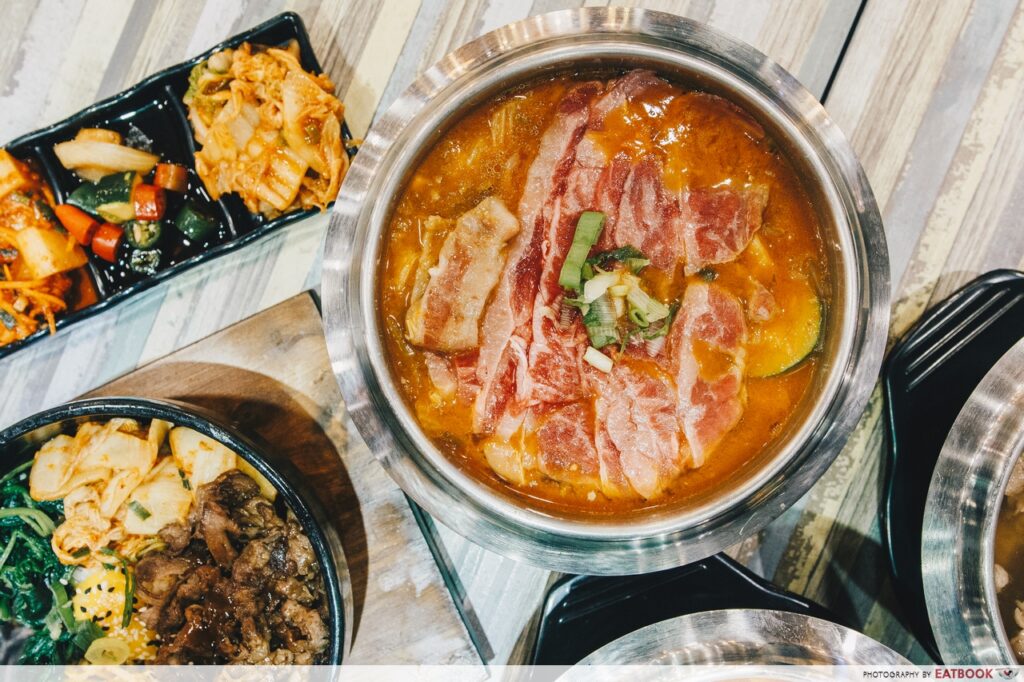 But if you prefer something spicier, opt for the Wagyu Beef Kimchi Jjigae ($19.90++) instead. Despite its fiery-red appearance, the broth had an approachable heat level that didn't leave us begging for iced water. The tartness from the kimchi was also nicely balanced and not too sharp.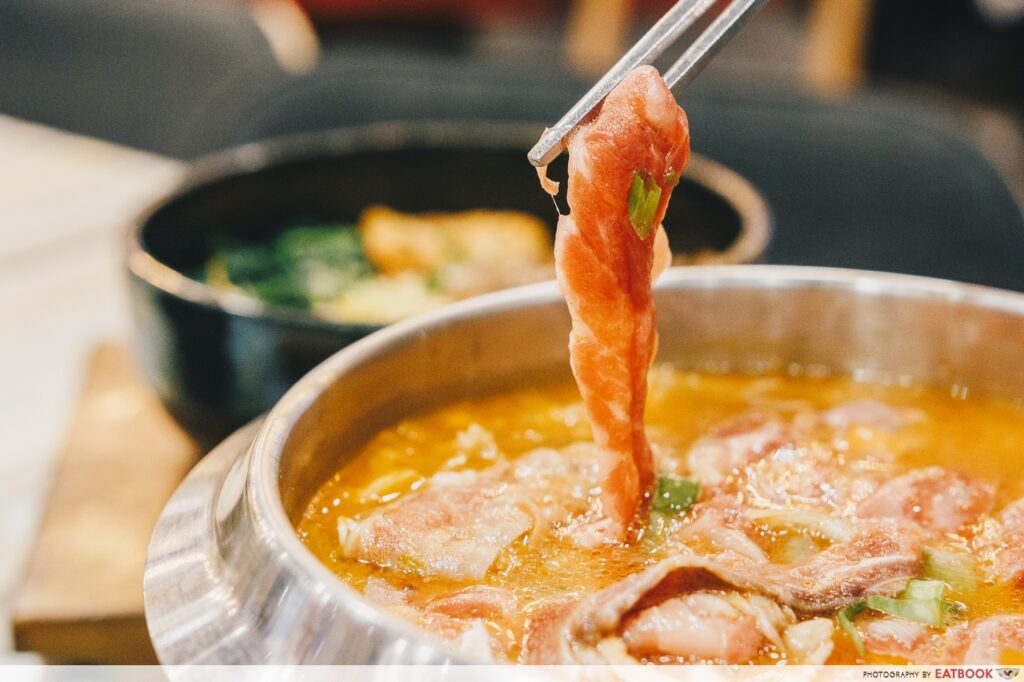 The richness of the tender wagyu melded well with the piquant kimchi jjigae base, with each complementing the other. Every mouthful brought my senses to overdrive; it was a beautiful combination of sweet, spicy, buttery, and sour flavours.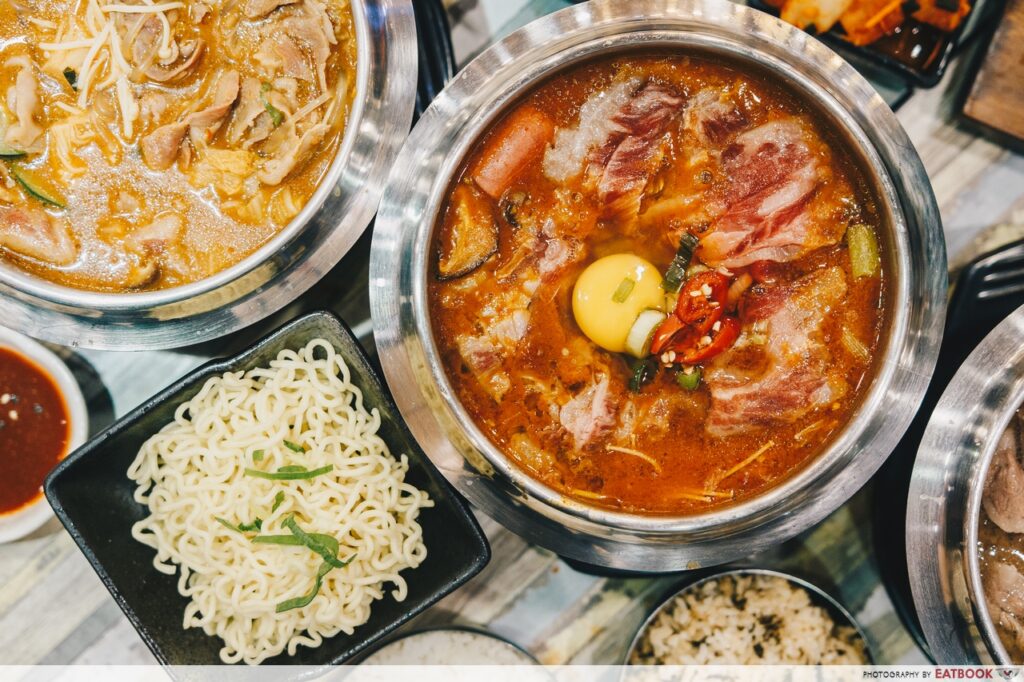 Truth be told, I've never tried army stew. Yes, sue me, but I never saw it a point to pay for hotdogs and crabstick. But after my experience with Seoul Garden Hotpot's Wagyu Beef Army Stew ($21.90++), I daresay I'm now an army stew convert. To add, their army stew comes in an individual, stand-alone hot pot instead of the usual sharing portion, so you can have all the delectable goodies swimming in the broth to yourself!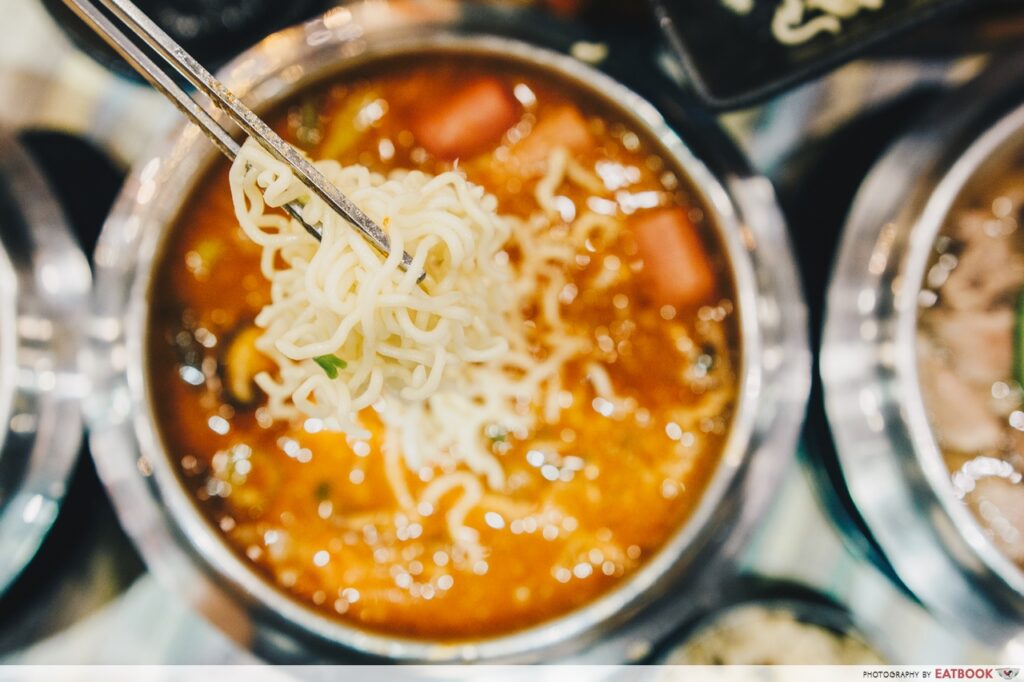 Boasting a chockful of additional ingredients including chicken franks, chicken luncheon meat, imitation snow crab stick, tteok, sliced red chilli, leek and sliced onion, this dish was a slap-up meal. Enhancing the army stew's base was the freshly cracked egg, which made the broth creamier and thicker in comparison to the kimchi jjigae. I also appreciate how ramyeon is served on the side for you to add in yourself to retain its QQ-ness.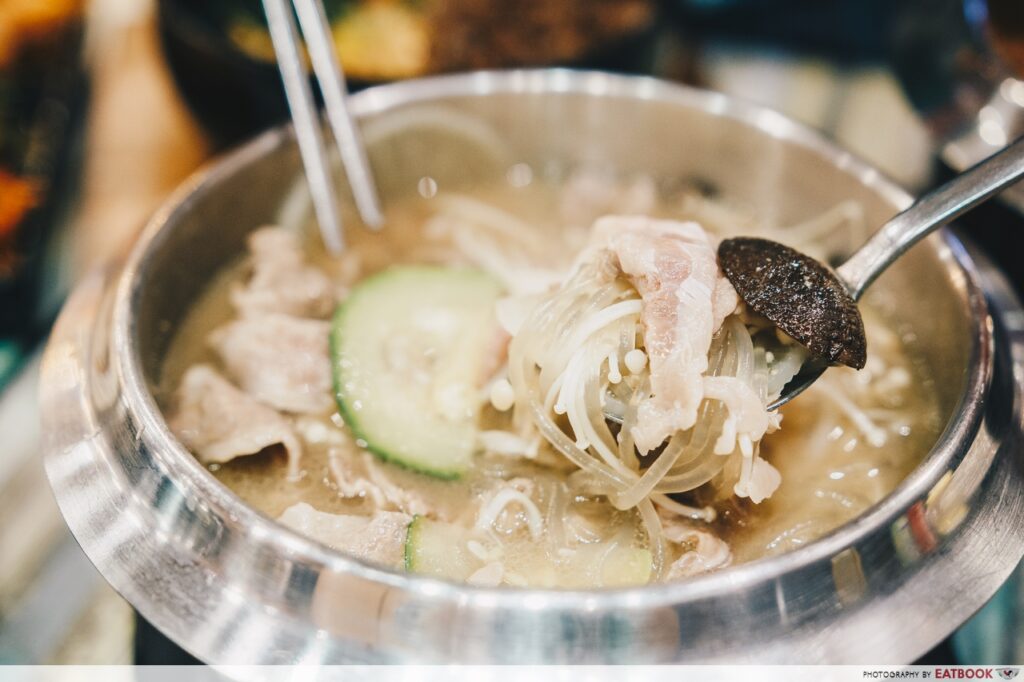 And don't worry about the three hotpots being a meat galore. All of them actually come teeming with shiitake mushrooms, Korean tang hoon, big bean sprouts, enoki mushrooms and zucchini slices to balance out the dish. You also get a bowl of rice for the doen jang suk and kimchi jjigae to make it a fuller meal.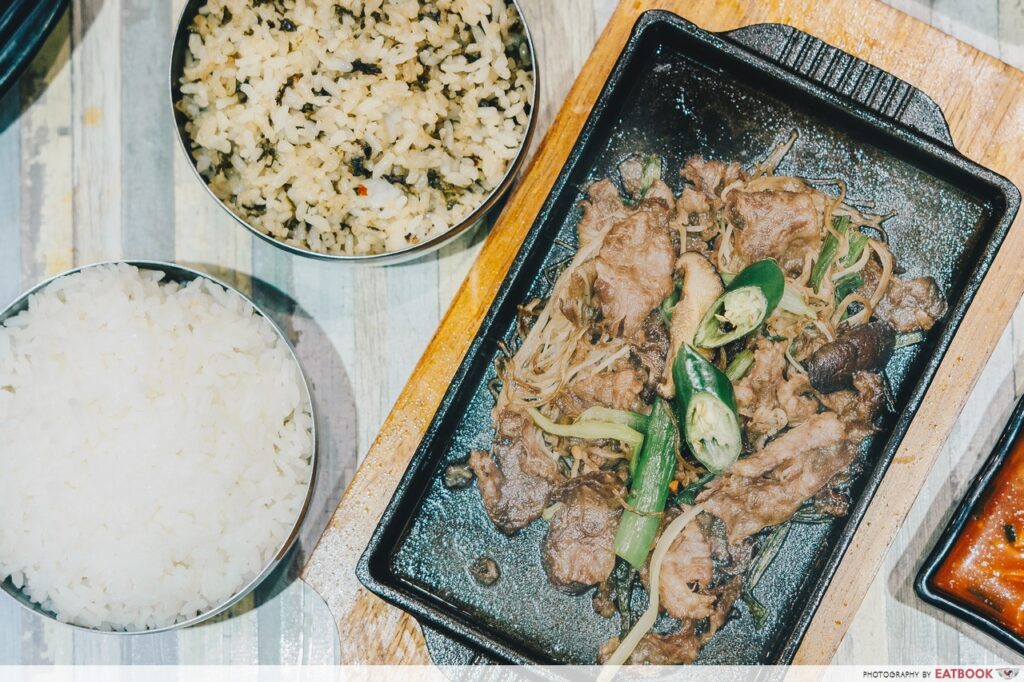 If soup isn't your thing, Seoul Garden HotPot also does a stellar Wagyu Beef Hot Plate ($19.90++) that's cooked with shiitake mushrooms, enoki mushrooms, spring onion, sliced green chilli and gravy, and served with a side of rice.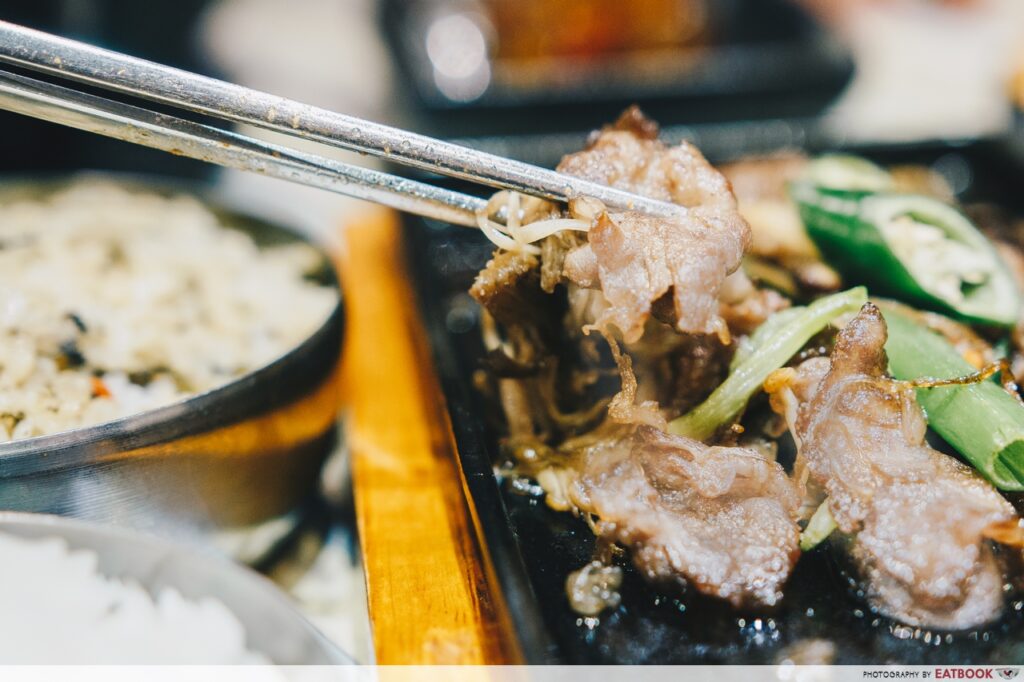 My nose filled up with the buttery aroma of the full-bodied beef as it arrived sizzling to our table. The taste matched up to its fragrance and did not let us down. The wagyu was nicely grilled and not heavily seasoned, showcasing the natural flavour of the beef.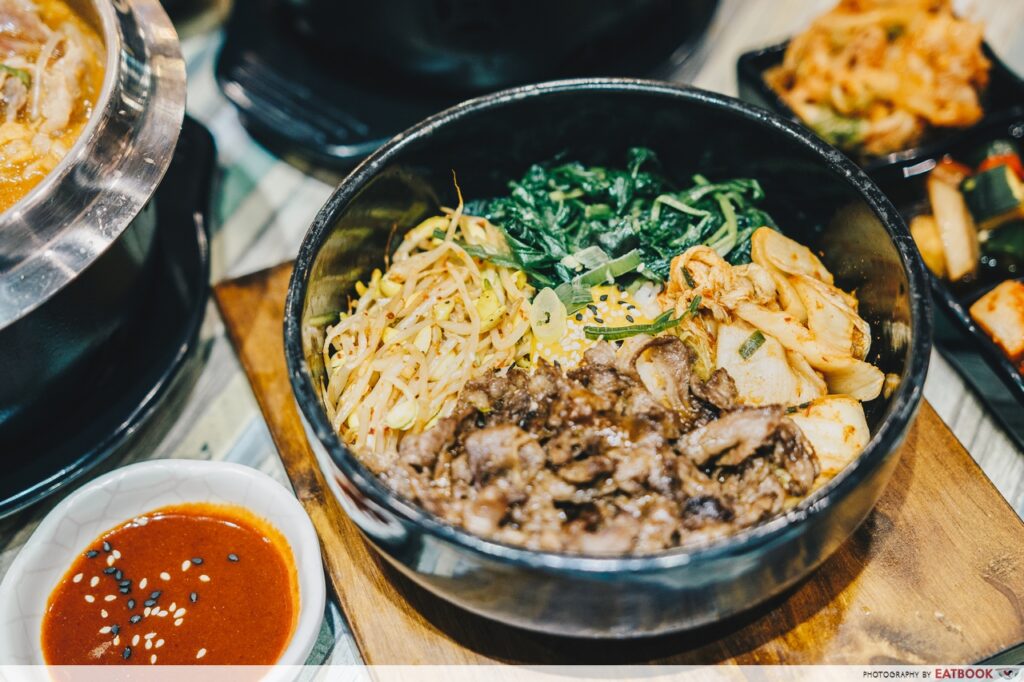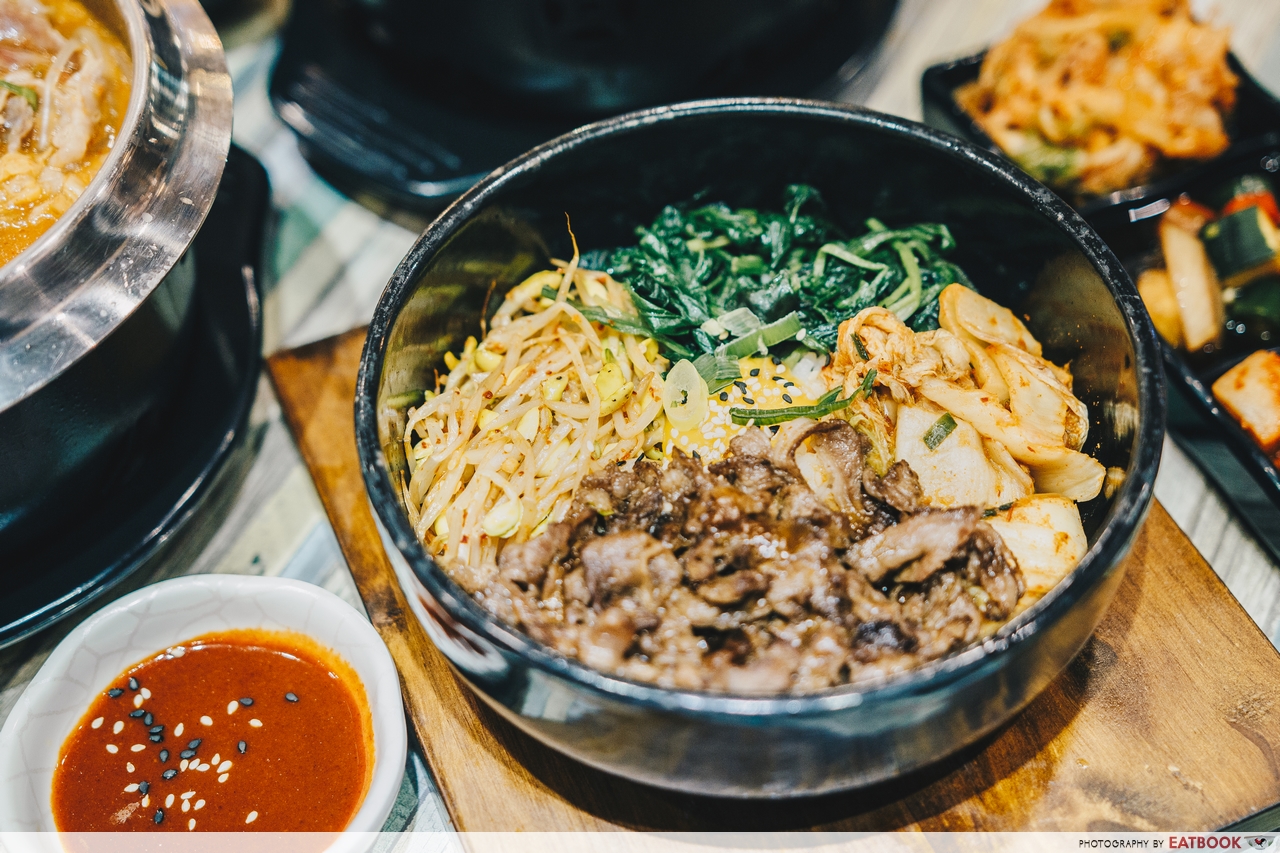 My number one favourite Korean food is bibimbap, and the Wagyu Beef BiBimBap ($19.90++) gets my two thumbs up. The bowl of warm rice was crowned with kimchi pickle, spinach namul, big bean sprouts, and of course, wagyu beef. Gochujang sauce was served on the side, allowing you to tweak the taste to your liking.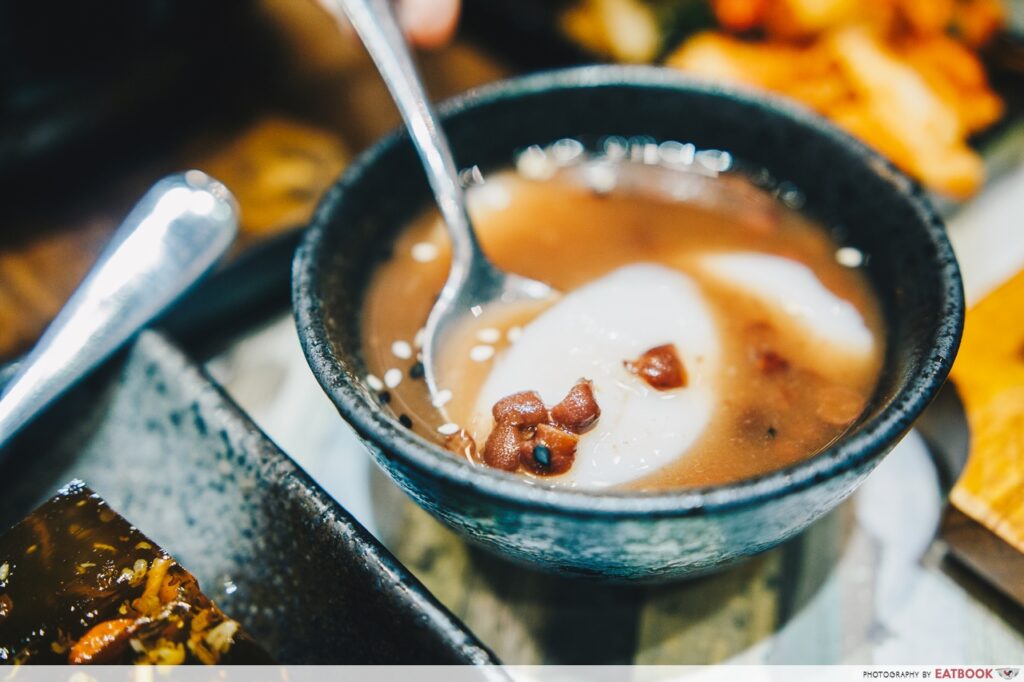 Top up $4.90++ and make your dish into a set meal comprising a canned drink and dessert. While you are given a choice of osmanthus ginseng jelly and lemon pak jook (hot or cold) as your dessert, we recommend sticking to the latter if you don't fancy the taste of herbal grub. The lemon pak chook featured three slices of tteok swimming in an earthy, mildly sweet red bean soup.
Ambience at Seoul Garden HotPot's Bedok Mall outlet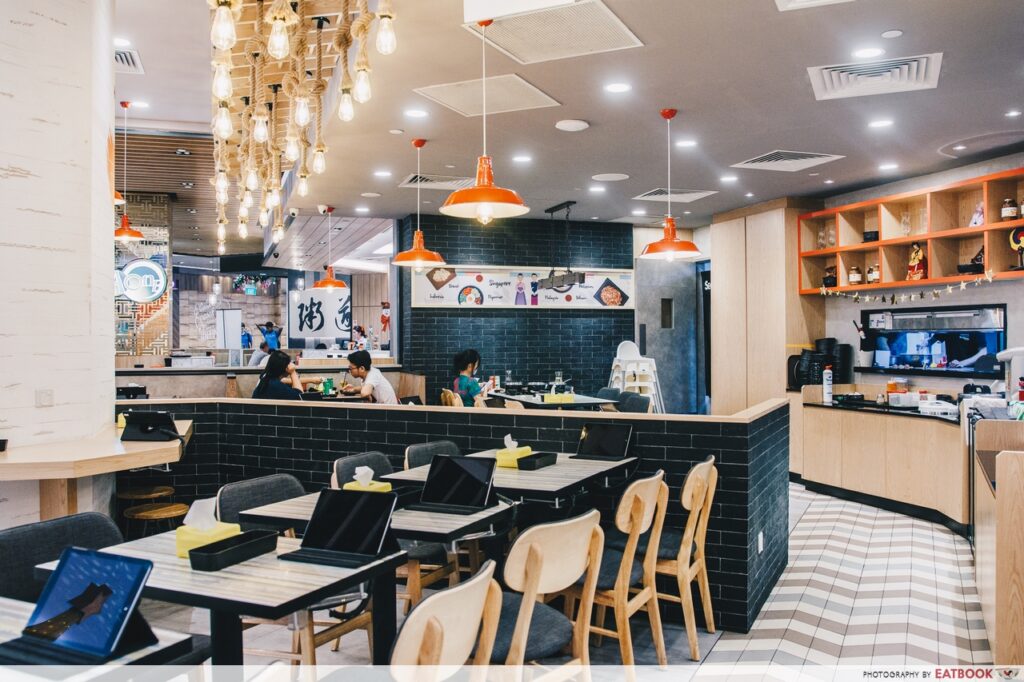 Located at basement 1 of Bedok Mall, this Seoul Garden HotPot outlet had customers strolling in and settling for a meal, even though it was way past lunch time. The friendly vibe makes for an ideal location for a relaxing meal.
The 56-seater restaurant can easily accommodate bigger groups too, thanks to its layout which allows the joining of tables. They have an iPad ordering system, which is great for slowpokes like myself; I tend to take a while to decide what I want to eat, and get stressed out when someone comes to take my order before I'm ready. This way, I can take my time and really choose what I want instead of succumbing to pressure and picking the first item off the menu.
The verdict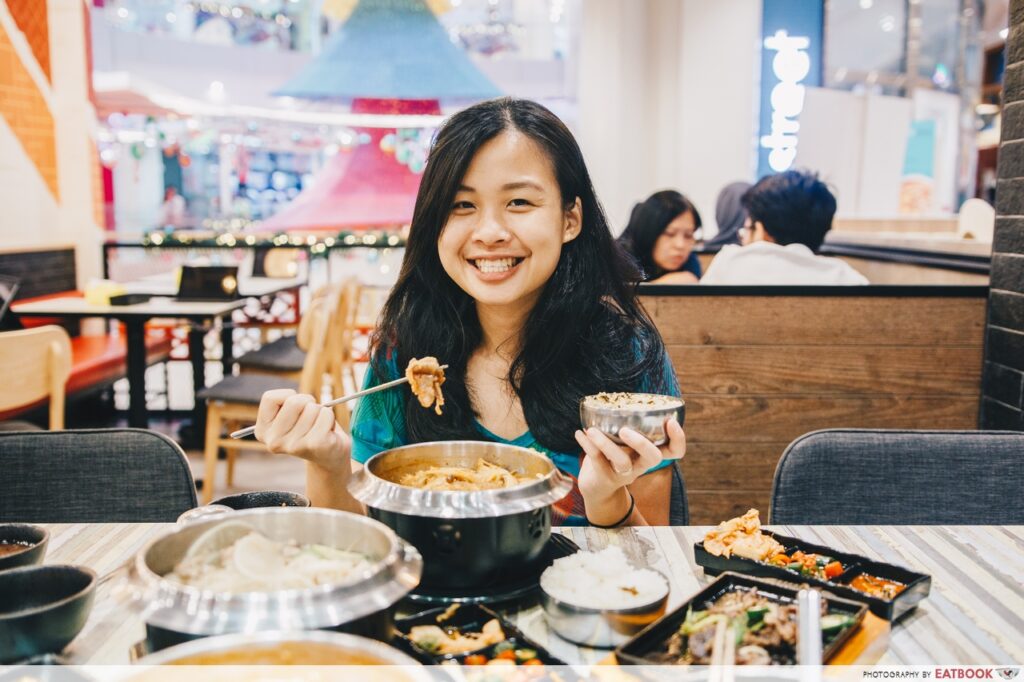 There are not many places where you can enjoy wagyu with a marble score of four to five for under $20++, and if they do, the portions are usually skimpy. But Seoul Garden HotPot definitely challenges this conception with their delectable wagyu dishes, which left us full to the brim and well satisfied. Plus, if you're a student or senior citizen, you get 10% off all mains whenever you dine from Monday to Thursday all-day, and Friday from 11:30am to 4pm!
On top of that, if you flash our Eatbook video and like Seoul Garden HotPot's facebook page, you stand to get an additional 5% off your total bill.
In the spirit of Christmas and New Year, they will also be doing a grand weekly lucky draw where you stand a chance to win attractive prizes for every $30 spent. Prizes include Samsung Note 8, CapitaLand Mall vouchers, and my favourite, an annual Universal Studios Singapore pass!
Don't leave without grabbing onto their frequency card, where you get to earn a chop for every $20 spent. And at every third, sixth and ninth chop, you get to enjoy complimentary Korean wings sticks, Korean seafood pancake, and $20 off your total bill, respectively.
Seoul Garden HotPot's special wagyu menu will be available from now until 2 January 2018.
Address: 311 New Upper Changi Road, #B1-51, Bedok Mall, Singapore 467360
Opening hours: Daily 11:30am to 10:30pm
Tel: 6584 1339
Website
Menu
Full list of outlets
Seoul Garden HotPot is a halal-certified restaurant. 
This post is brought to you by Seoul Garden HotPot.
Summary
Pros
– Good wagyu dishes
– Friendly service staff
– Affordable
– Delicious food
Cons
– Wagyu promotion ends 2 Jan 2018
Recommended Dishes: Wagyu Beef Army Stew ($21.90++), Wagyu Beef BiBimBap ($19.90++) and Wagyu Beef Kimchi Jjigae ($19.90++)
Opening hours: Daily 11:30am to 10:30pm
Tel: 6584 1339

Address: 311 New Upper Changi Road, #B1-51, Bedok Mall, Singapore 467360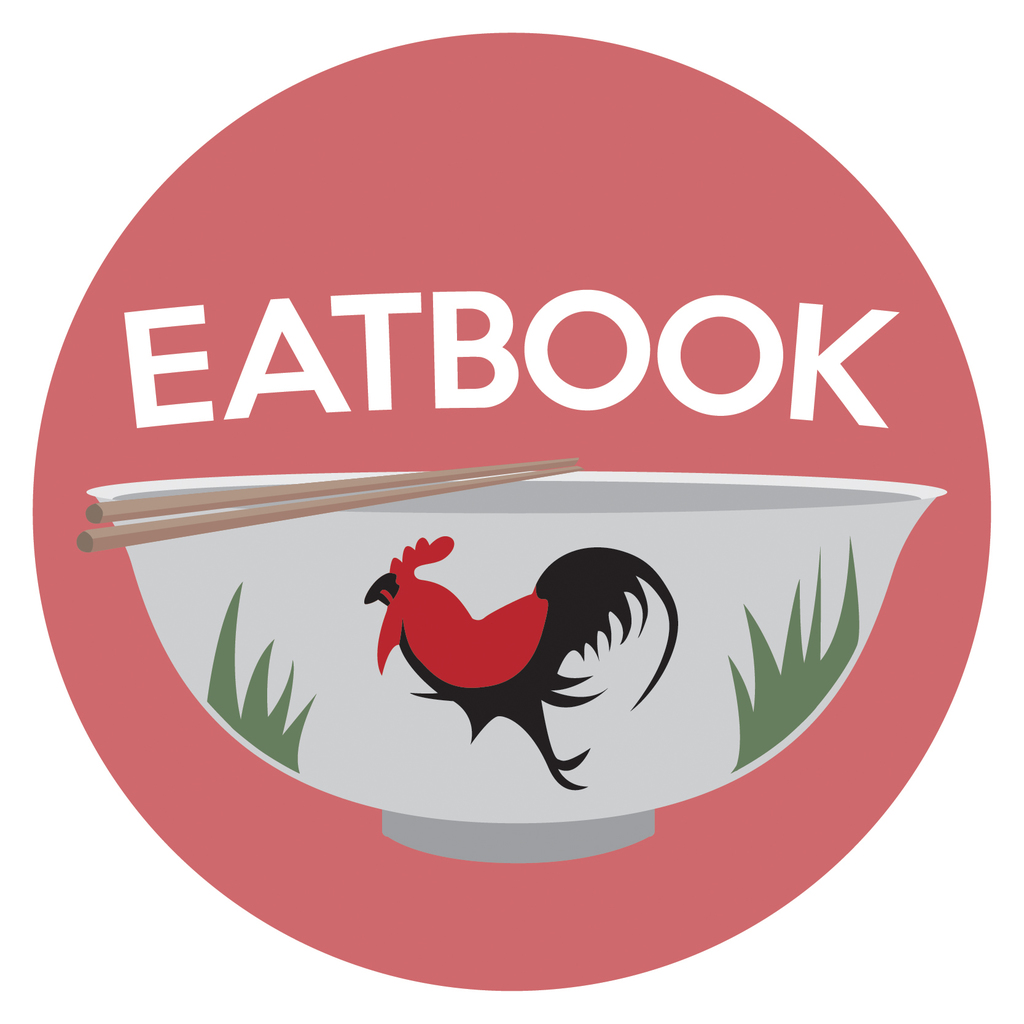 Drop us your email so you won't miss the latest news.