Shi Xiang Ge serves up delicious, handmade
la mian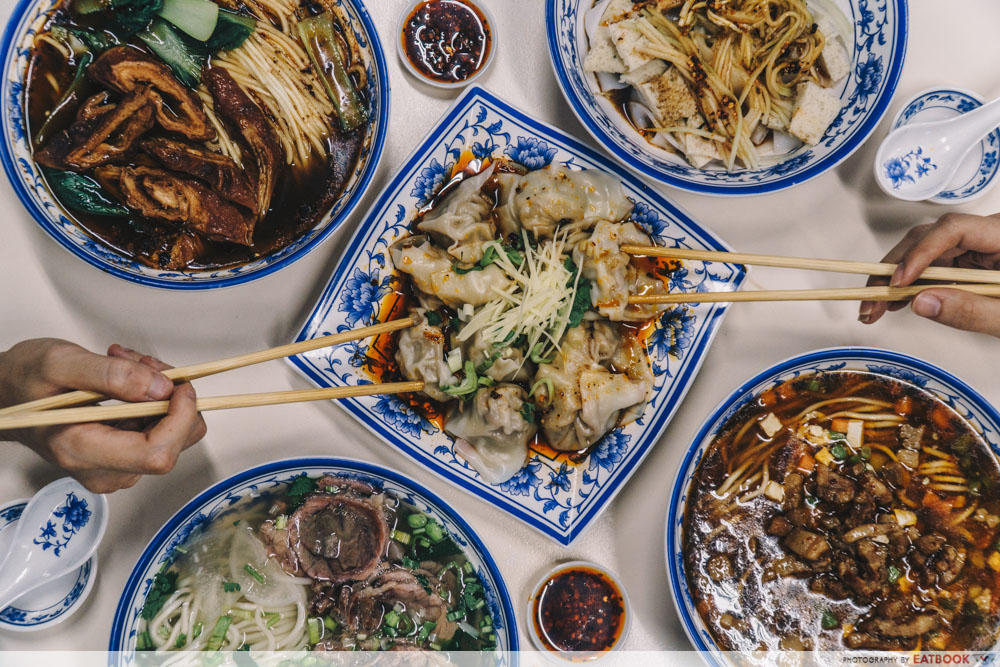 Shi Xiang Ge specialises in Shan Xi Chinese cuisine. Started in 1990, the owner Liu Yi Zhong has about 28 years of noodle-making experience. Even as a young boy growing up in China, Mr. Liu was intrigued by how la mian was made at a noodle house. Despite failures in the beginning, his determination to master the art of making la mian did not falter. Back in China, Mr. Liu had more than 10 years of working experience invarious noodle houses and hotels.
In 2000, he came to Singapore and joined Crystal Jade as a chef, becoming its La Mian Director soon after. He now owns Shi Xiang Ge and serves up delicious handmade la mian – Chinese hand-pulled noodles, infused with flavours from Shan Xi.   
Food at Shi Xiang Ge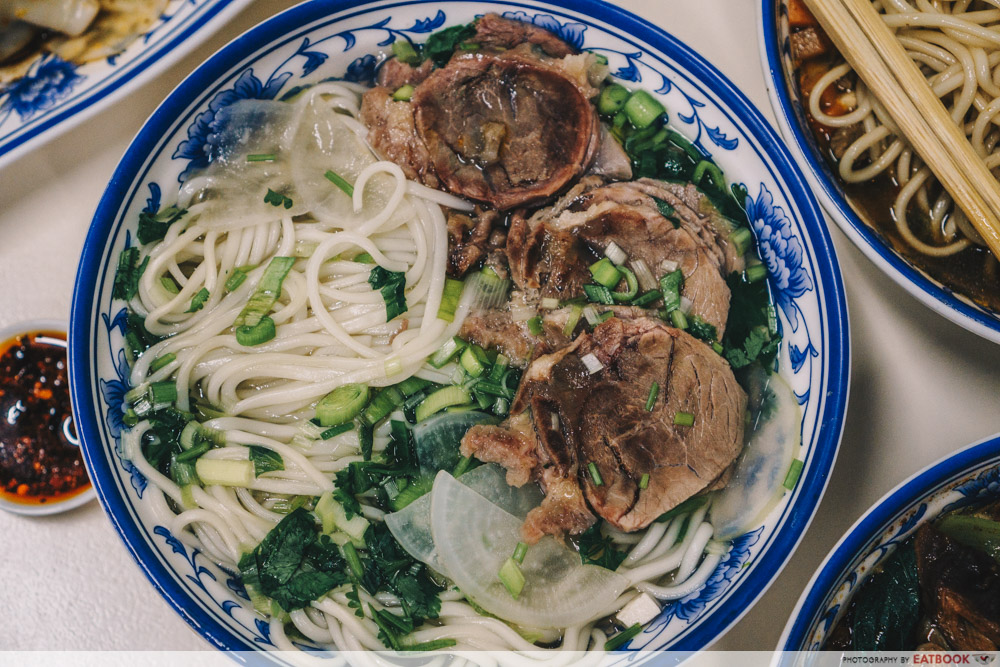 Hands down the most popular order here is the Beef La Mian ($5). While waiting for my food, almost everyone else in the queue was ordering this one dish – so I already had my expectations set up.
The soup was clear and not oily. Quite honestly, I thought it was going to be underwhelming and bland. However, I was pleasantly surprised by how strong and distinct the flavours that came through were. Mr. Liu uses beef bones and meat, unlike other shops in Singapore which use pork bone as their soup base instead.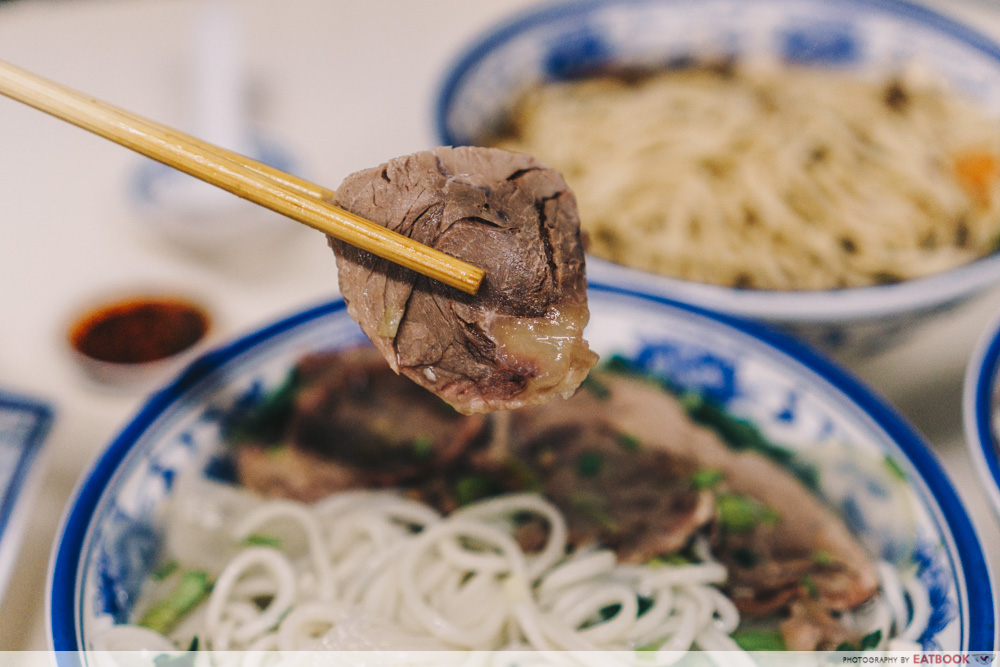 There was a generous serving of beef slices – thinly sliced and layered on each other. The beef was soft and easy to pull apart. I liked how the beef was lightly marinated, which allowed the natural taste of the beef to shine. For its price, this was a definite steal for me.
Overall, the beef and noodles absorbed the flavourful broth well and every spoonful was a delight. If you're looking for a lighter or healthier noodle option, I'd recommend this.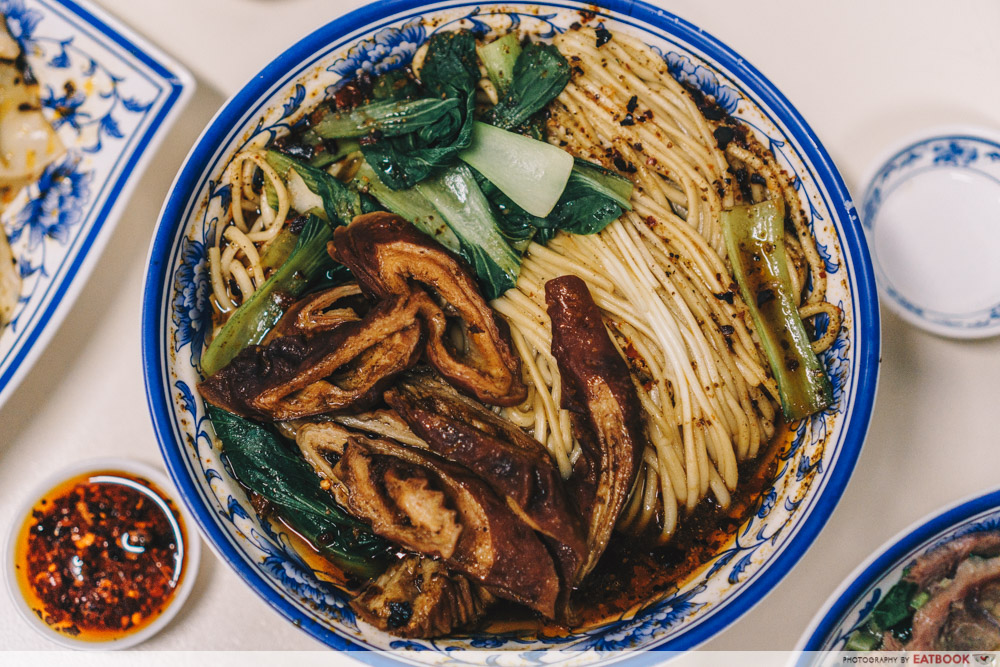 For mala lovers, you definitely have to give the Hot & Spicy Intestine Shaved Noodle ($5) a try. At first sip, the broth was not too spicy but there was a gradual buildup of spiciness and numbness on your lips.
Be sure to head down early if you want to try their shaved noodles.e went down for dinner and were disappointed to hear that they ran out and were replaced with la mian.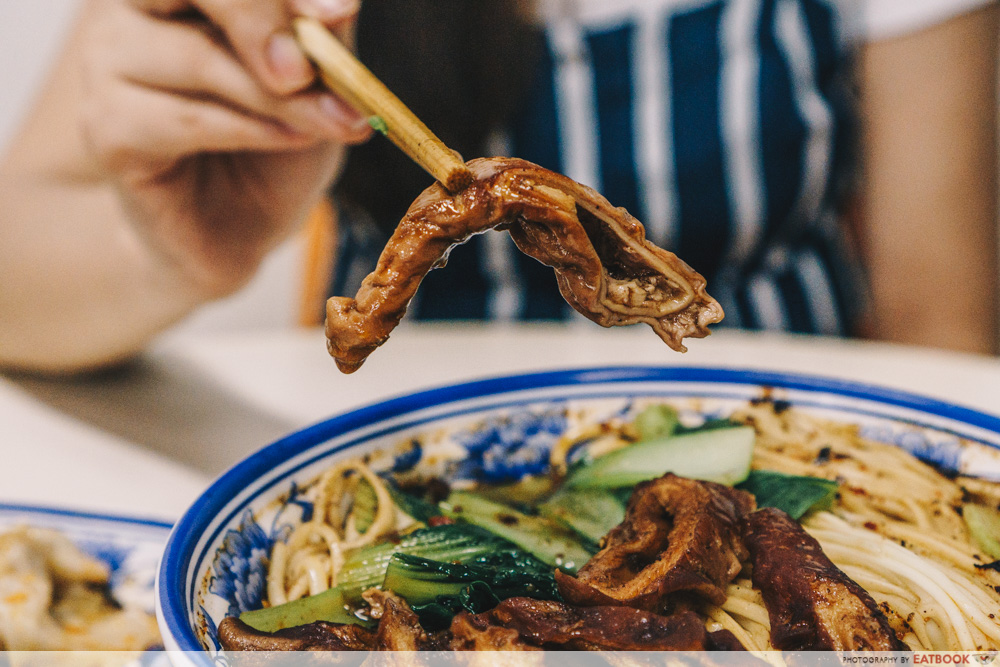 There was a generous serving of plump and juicy intestines which were soaked in mala broth. The intestines had a good amount of fat-to-meat ratio. The pungency of the intestines was not too overpowering and was masked by the mala flavour.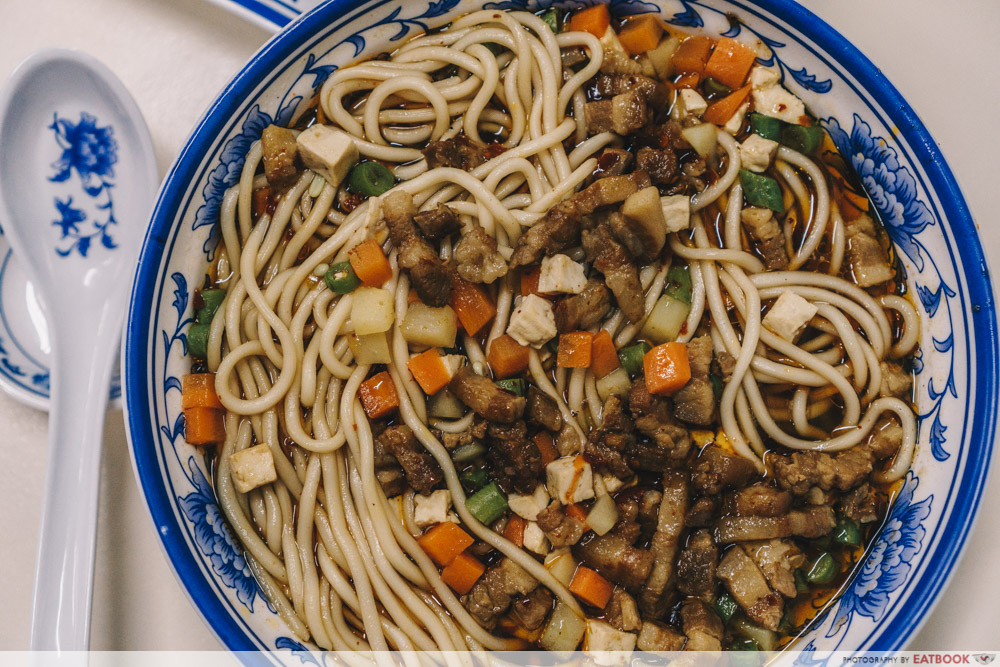 For those who want pork belly, order the Qi Shan Noodles ($5). The broth is served with small but tender chunks of pork belly with carrots, tofu, long beans and potato.
Other than the fact that the noodles were a little rounder than the la mian in the other two noodle dishes, the taste was rather similar. What made these noodles stand out was how it was both springy and soft at the same time. There was a slight sweetness to the noodles which balanced out well with the salty broth.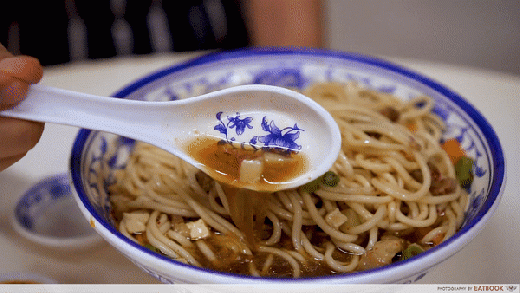 The soup was rich and flavourful, and had a strong hint of herbs which were infused into the broth. Though a tad oilier than the others, it did not leave a greasy aftertaste in my mouth.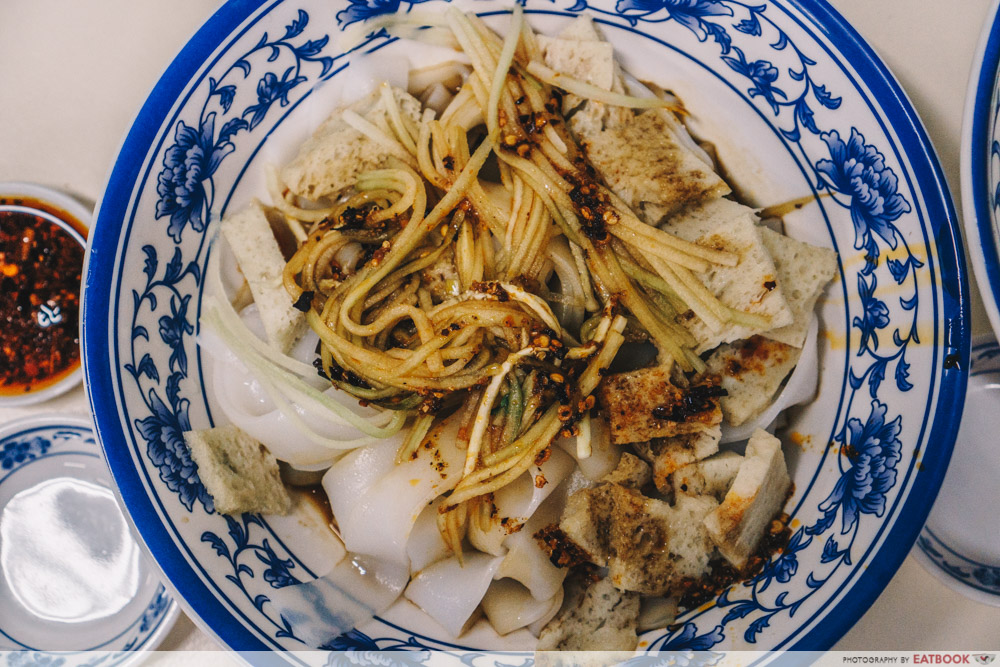 The Shan Xi Cold Noodle ($3.50) is a specialty dish from Mr. Liu's hometown which he wanted to bring to Singapore. I was hesitant about ordering this at first, but I was glad I did. There was a strong waft of chilli and vinegar that came with the dish.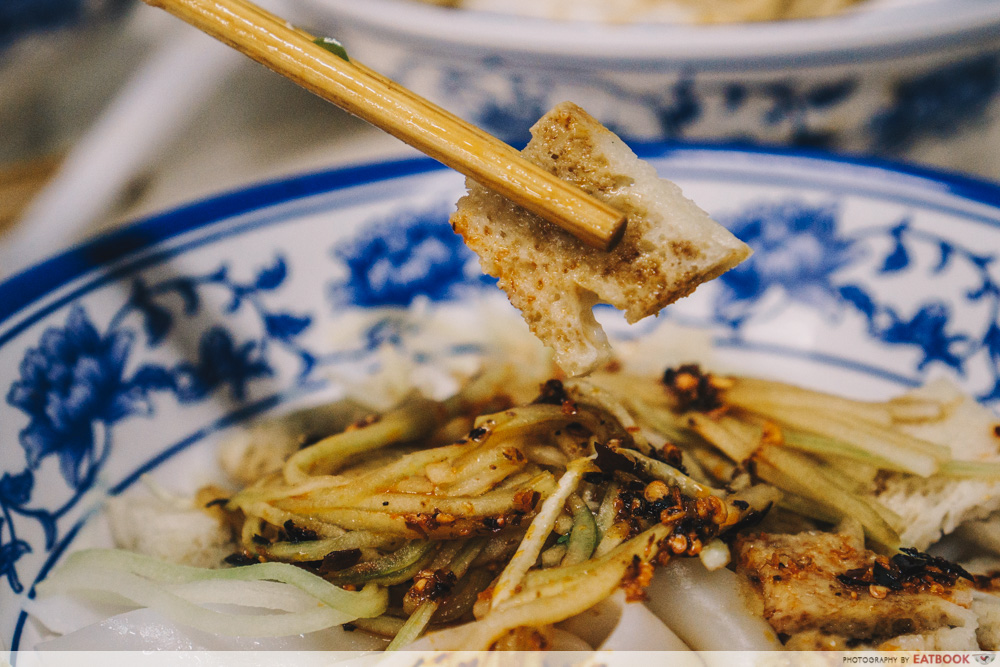 Interestingly, what I thought was tofu at first glance were actually dried bread cubes. I thought they were a good addition to the dish as they soaked up the remainder of the sauce which would have otherwise slipped off the rice noodles.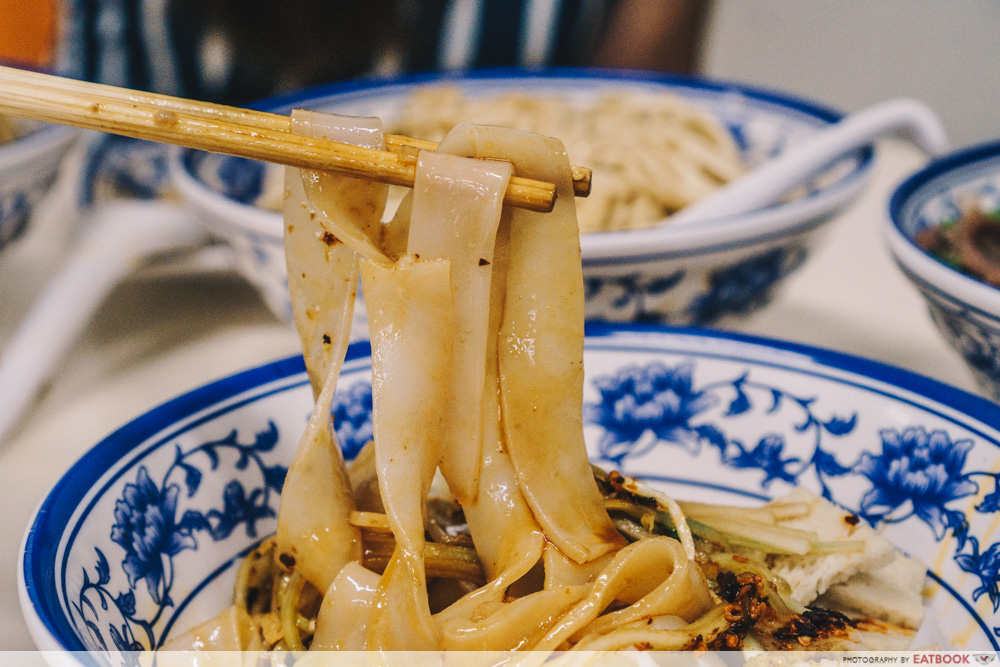 While the noodles looked like kway teow noodles, they were actually much firmer. Served cold, the rice noodles were enjoyably chewy and had a good bite to them, making the dish a good refreshing option in the hot weather.
For a more complete meal, we added a side of Poached Szechuan Dumpling in Spicy Sauce ($5 for nine dumplings). For me, this was the best order of the night, and I would even go as far to say that this was comparable to the ones from Din Tai Fung.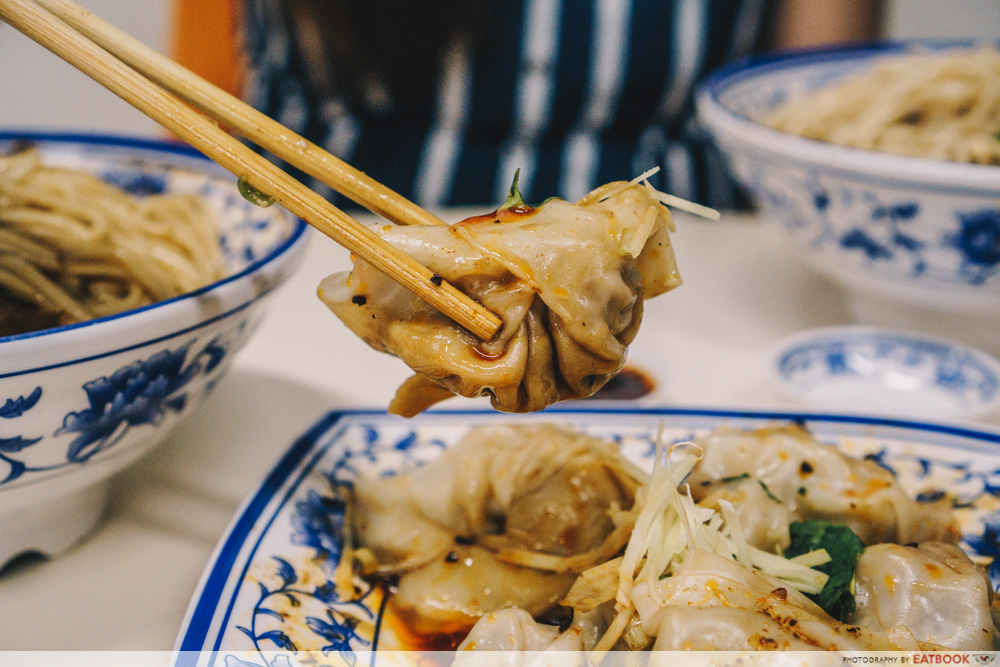 The dumpling skin was slightly translucent with just the right amount of thickness. The dumplings packed bags of flavour, and a generous amount of pork filling. It complemented well with the vinegar and chilli oil dipping which added a spicy kick to every mouthful.
Ambience at Shi Xiang Ge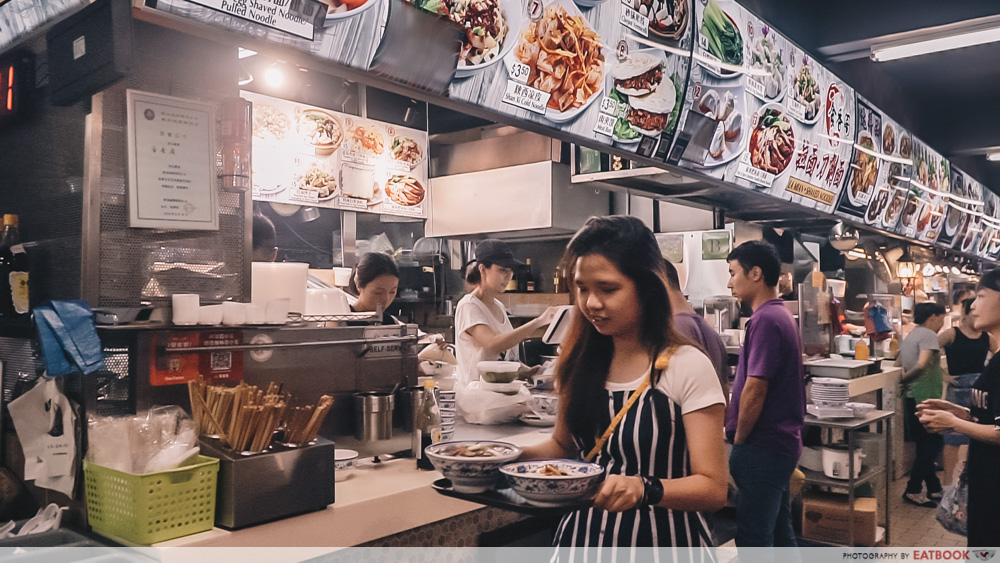 Shi Xiang Ge is a short walk away from Bishan MRT station, located in a small coffee shop above Bishan Bus Interchange. This eatery is most frequented by bus drivers on shift breaks but also attracts the working crowd in the vicinity.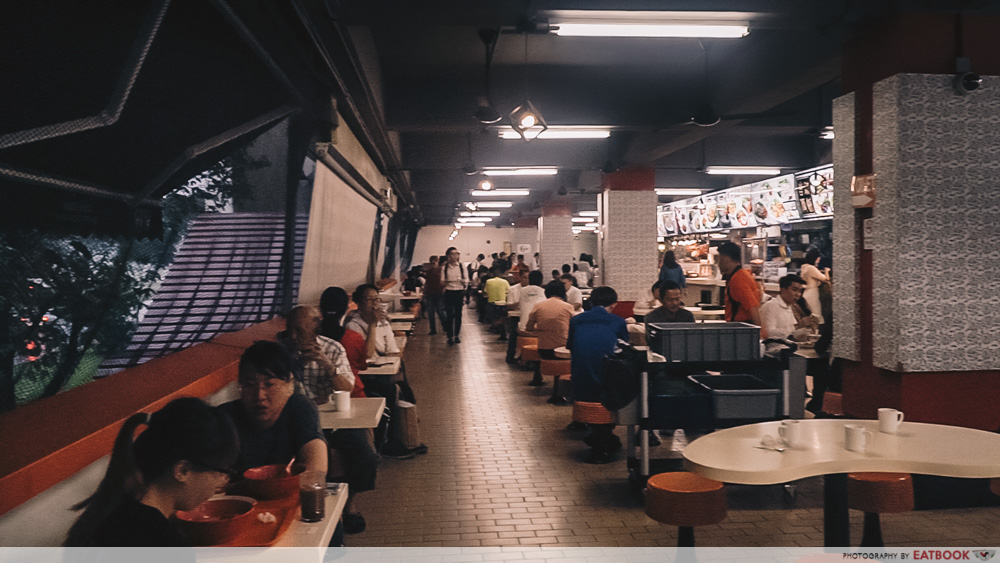 The coffee shop was clean but rather dim, possibly due to the rain that evening. Even though there were fans scattered throughout the coffee shop, it can get rather stuffy during peak periods because of the crowd. If you are coming down to try, I'd suggest coming during the non-peak hours.
The verdict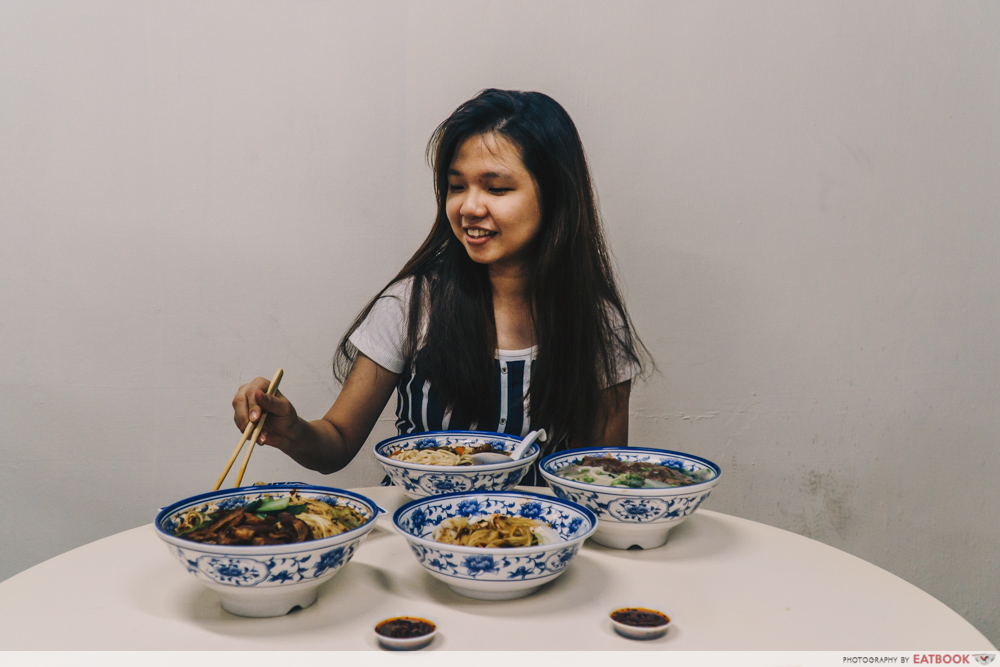 All in all, food at Shi Xiang Ge was pleasant and enjoyable. Just the impressive beef la mian was enough to make me want to revisit and spread the word. For its price, quantity and quality, Shi Xiang Ge is the place you'd want to go to for a value-for-money, hearty bowl of noodles. I believe that the price point for such quality dishes is why customers keep coming back for more – evident by the long queues during lunch and dinner.
Shi Xiang Ge can rival pricier Chinese eateries. I'd come back to try their Minced Meat La Mian ($5) as they were sold out by the time we came for dinner.
If you're looking to explore more places selling beef noodles, you can check out our list of beef noodle soup stalls and dry beef noodle stalls to satisfy all beef noodle cravings!
Address: Block 514 Bishan Street 13, Level 2, Bishan Bus Interchange, Singapore 570514
Opening hours: Wed-Mon 11am to 9pm
Tel: 9151 3586
Shi Xiang Ge is not halal-certified.
Photos taken by Dexter Looi.
This is an independent review by Eatbook.sg.
Summary
Pros
– Handmade la mian
– Generous and tender beef slices
– Flavourful broths
Cons
– Long queues during peak periods
– Area can get stuffy when crowded
Recommended dishes: Beef La Mian ($5), Hot & Spicy Intestine Shaved Noodle ($5), Poached Szechuan Dumpling in Spicy Sauce ($5)
Opening hours: Wed-Mon 11am to 9pm
Address: Block 514 Bishan Street 13, Level 2, Bishan Bus Interchange, Singapore 570514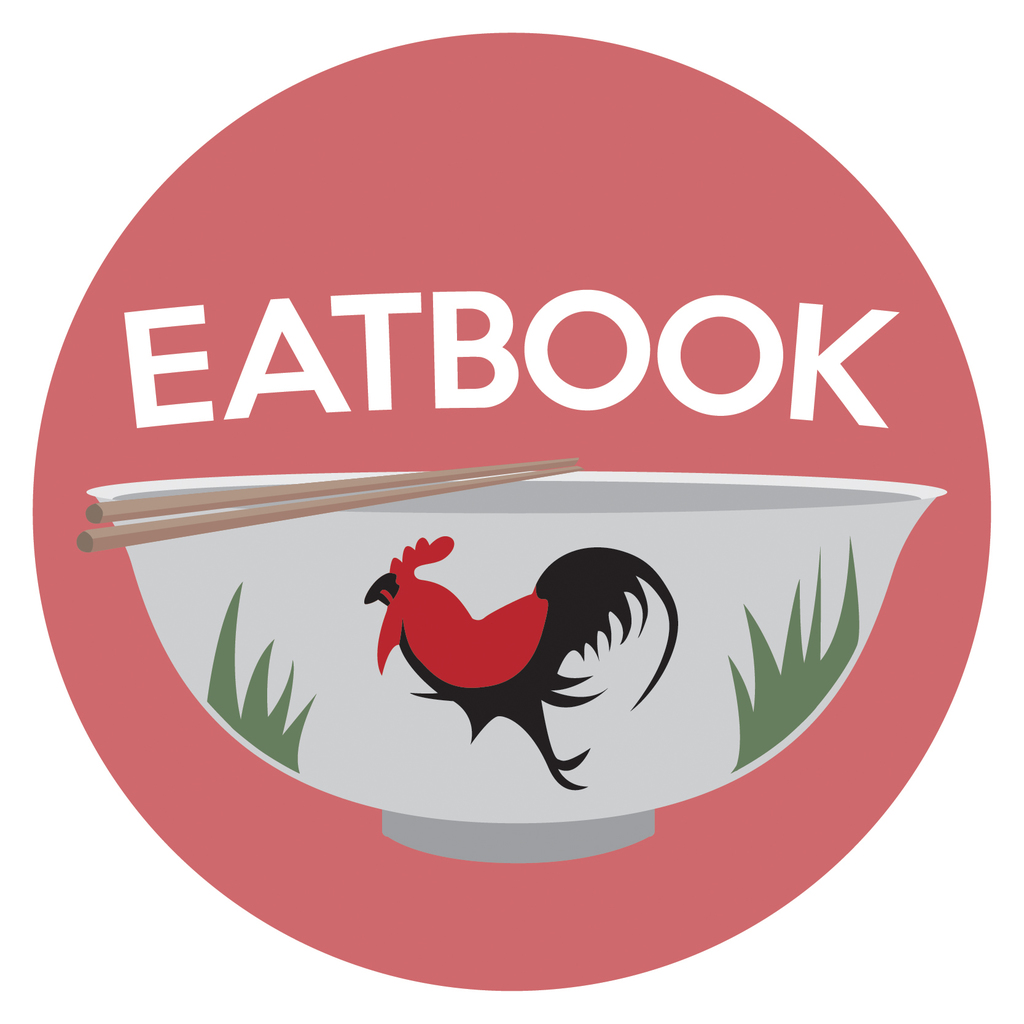 Drop us your email so you won't miss the latest news.