A new take on the traditional brunch fare
Update (4th April 2019): Sin Lee Foods has permanently closed.
This was an undercover review with expenses covered by Eatbook.
These days, there is a constant tension between rooting ourselves in tradition and standing out from the crowd. Away from the usual buzz of the cafe scene, Sin Lee Foods is set in Bukit Ho Swee, where new meets old.
Sin Lee Foods has developed a fusion menu that pulls readers in from first glance, based on ever-popular flavours and combinations. Think Spam fries, Fried Chicken and Waffle, Mentaiko Crab Mantou – yummmmm!
Recently, Sin Lee Foods has released a Special Menu to celebrate their 2nd Anniversary. It features 3 Calrose rice bowls going for between $12 – $14, alongside their usual menu. With this in mind, we decided to head down to the estates of Tiong Bahru to see how their dishes fare.
Small Plate
Salted Egg Sweet Potato Fries ($12)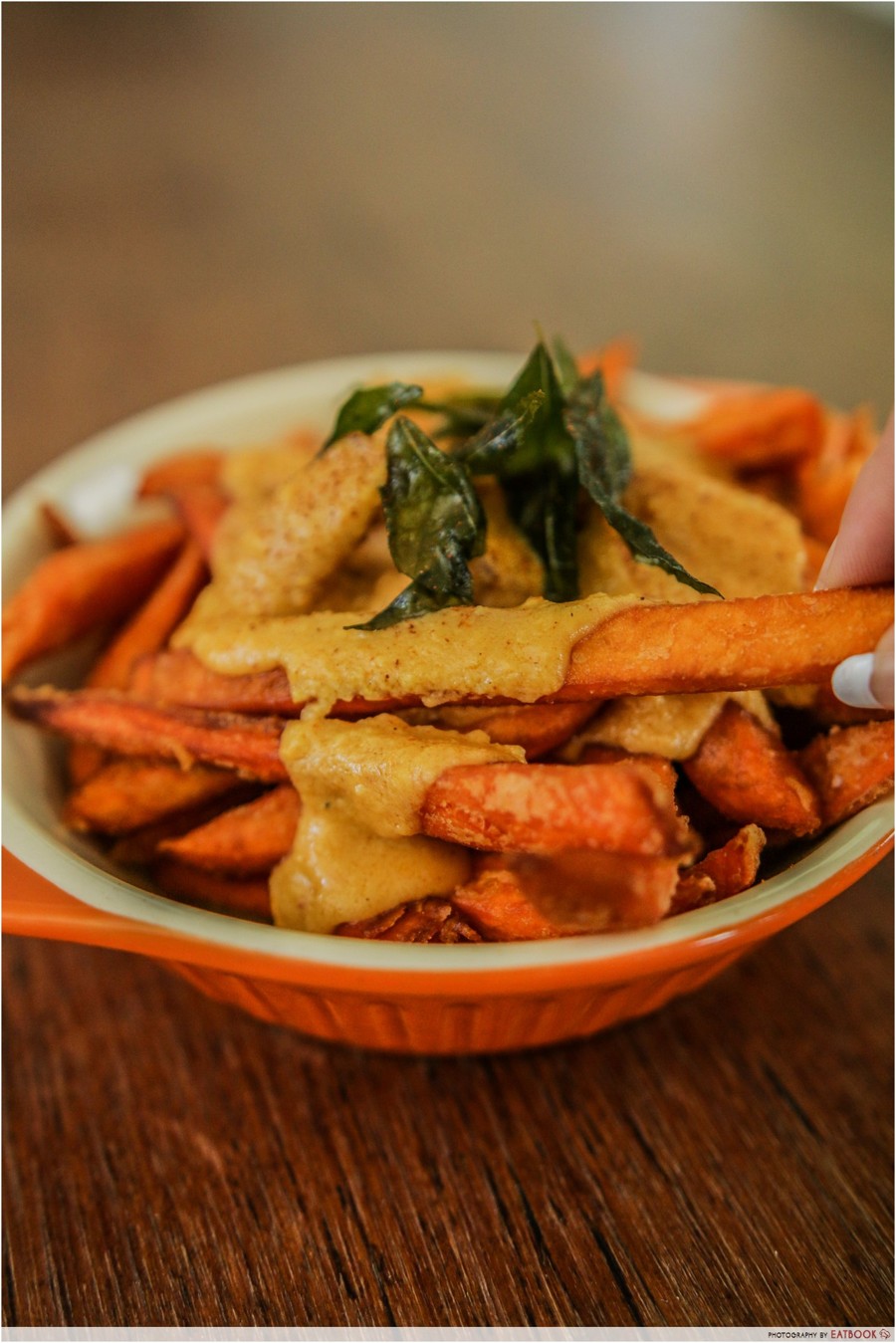 First up, we ordered their Salted Egg Sweet Potato Fries ($12). Just imagine: crispy twice-fried sweet potato fries, drenched with in-house salted duck egg sauce and finished off with fragrant curry leaves. It's no wonder that the combination of these flavours has definitely taken Singapore by storm!
Despite being a rather small plate, it was a rather filling dish. For those who like their sauces rich, the salted egg sauce had a thick consistency, similarly resembling that of a Tze char sauce. The savoury sauce packed a punch with its salted egg yolk taste, and a hint of curry leaves at the end. Fans of sweet potato fries will love this spin on the well-known carb bomb!
However, as much as the Internet claims this to be a must-have dish, it was slightly underwhelming. Instead of bringing out the a balanced sweet and salty taste of the dish, the overpowering flavour of the sauce subdued the sweetness of the fries. If you are like me, you might be sorely disappointed if hoping for a bowl of crispy hot fries with an oozing liu sha sauce.
Mains
Tuna and Salmon Chirashi bowl ($14)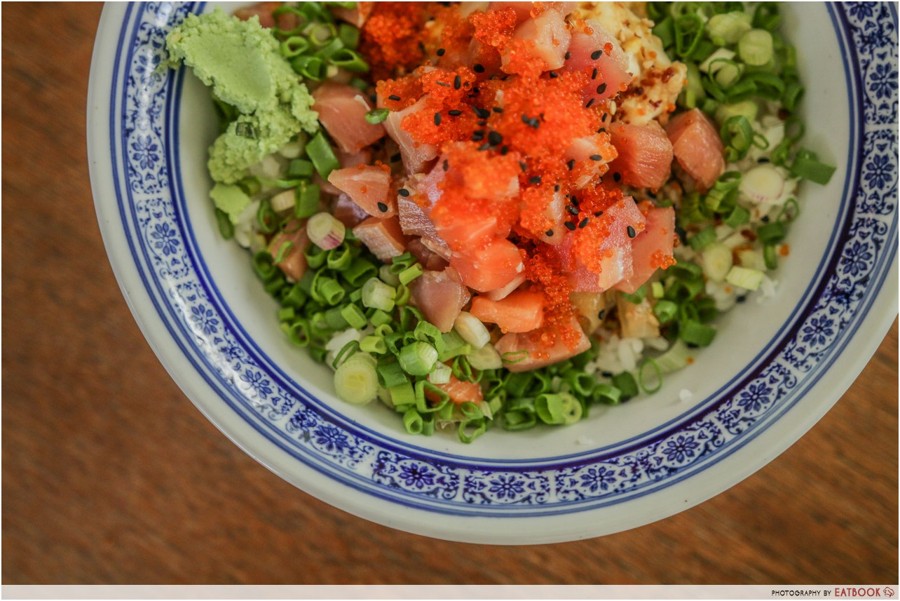 One of the mains in the new menu, the Tuna & Salmon Chirashi ($14) Calrose rice bowl is served with bits of fresh tuna and salmon, fish roe, spring onion, black sesame seeds and a dollop of wasabi on the side.
Shredded servings of caramelised onion and egg in the dish reminded me of an oyakodon. Overall, it is a tasty and most satisfying dish without being too heavy. The serving size was just the right amount for one, at a reasonable price.
However, the serving of fish was not as generous as expected for a Chirashi bowl. Another surprising aspect was how it had been served. As a Salmon Chirashi bowl, I was expecting it to be a cold dish – but it arrived at our table hot. The heat from the rice was starting to cook the raw pieces of tuna and salmon, which might be a rather strange experience of eating chirashi for some.
Lobster & Truffle Cassoulet ($24)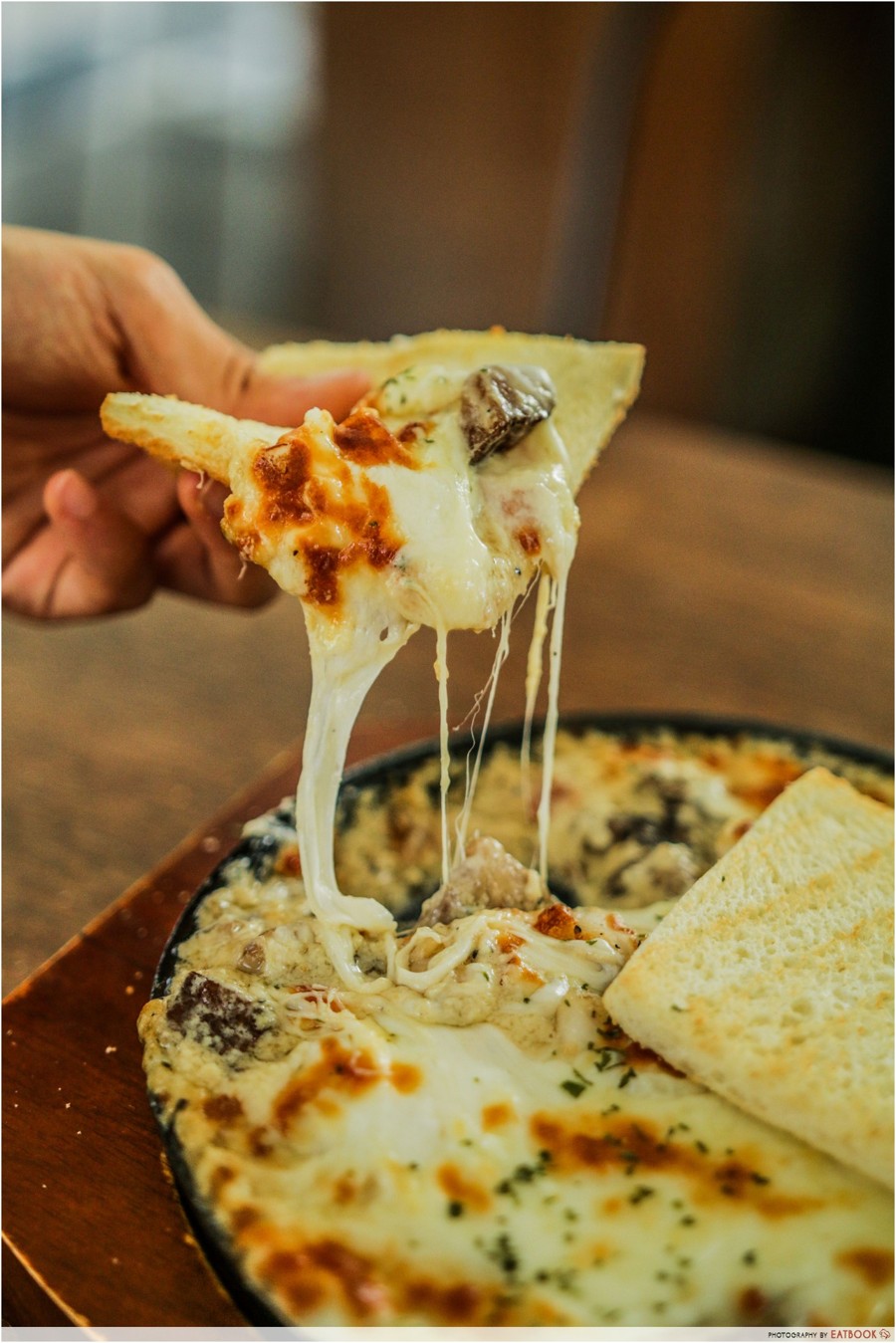 We decided to see how their regular menu items match up against their new specials. Under their 'Good for One' selection, their Lobster and Truffle Cassoulet sounded like luxury at $24 a serve. I was instantly sold when met with the list of Freshwater lobster, buttery mushroom, mixed potato and bacon hash, drizzled with white truffle oil and two slices of toasted white bread on the side.
When it arrived on a hot skillet, we were super excited to dig straight into the melted cheesy exterior. Pulling past the gooey cheese exterior, we discovered a generous mix of diced bacon and mushrooms. However, the taste of truffle oil was faint in amongst the flavours of the cheese, and lacked the freshness of lobster pieces underneath, resulting in a rather unbalanced dish.
Overall, for a lobster and truffle dish, there was hardly enough lobster and truffle to live up to its name. However, this would be perfect for those who love their cheese as it serves well as a mac & cheese type dish. As deceiving as their 'Good for One' sounds, I would strongly recommend sharing this dish with someone else, as the amount of cheese can get quite jelat towards the end.
As a note, Sin Lee Foods does not serve free water, so be sure to bring your own as you will definitely be needing it!
The Verdict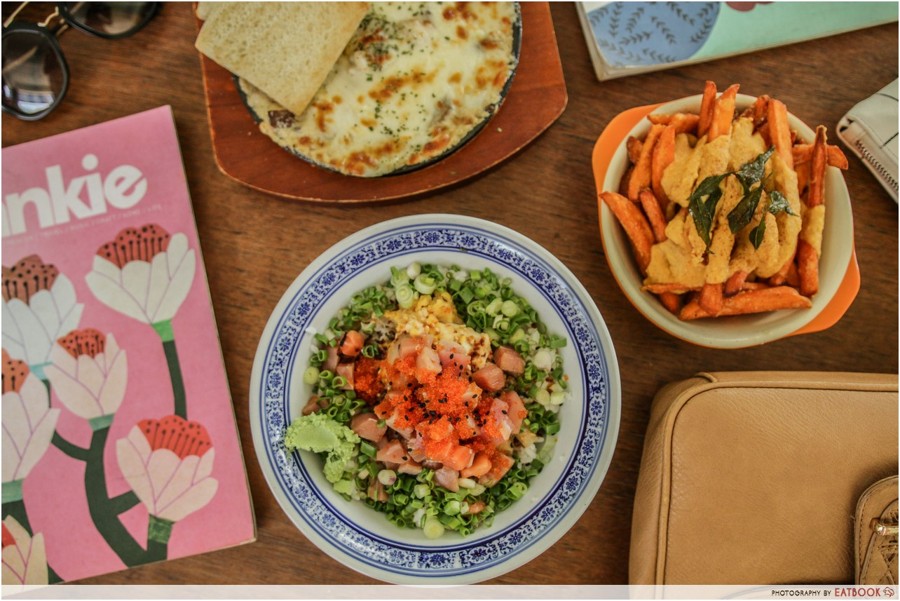 Sin Lee Foods prides themselves in going beyond mediocre cafe-styled food to delivering one-of-a-kind fare. From the list of ingredients shown to the look of the dishes delivered, their menu is definitely indulgent, insta-worthy and good for looks, with every flavour combination well thought through.
However, the dishes were slightly disappointing in terms of execution and value. Even without GST or service charge, their food items is generally steeper for a neighbourhood cafe with a smaller-than-usual portion size. Having said that, most of the items are generally quite heavy and rich, which can leave you feeling full without having to order too much.
A cursory scroll through social media suggests that Sin Lee could improve on their food standards despite their obvious Instagram-ability. As a constantly hyped-about place, I would definitely return for the industrial-like aesthetics of the place. However, I find it difficult to overlook in terms of pricing for the quality of food delivered. Other than the sound of a new menu popping up in future, unfortunately, it was a 'been-there-done-that' experience. That said, this cafe is definitely still worth a visit for those who have not yet been to try out their new menu, or for those wanting something different from your usual cafe selection.
Summary
Pros
– Unique flavour combinations
Cons
– Inconvienent location
– Steeper prices
– Smaller-than-usual portion sizes
Recommended Dishes: Tuna & Salmon Chirashi Bowl ($14)
Operating Hours:
Monday: Closed
Monday (PH): 11am – 9pm
Tuesday – Friday: 11am – 9pm
Saturday: 9:30am – 9pm
Sunday: 9:30am – 6pm
Address: 4 Jalan Bukit Ho Swee Singapore 162004