Sky22 at Courtyard by Marriott Singapore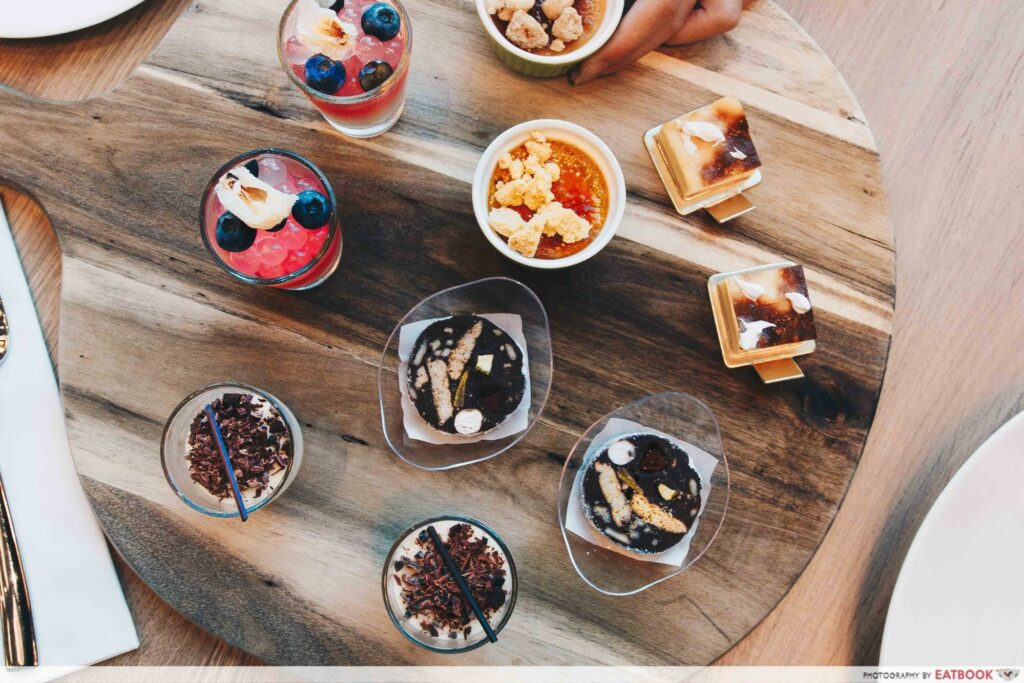 When you're living paycheck-to-paycheck like I am, dining in a hotel is an indulgent treat left for special occasions. In fact, even eating out at a casual restaurant is a luxury – I'm more of a hawker centre type of girl. But Sky22's all-new semi-buffet ($22++ for weekday lunch, $30++ for Sun-Thur dinner) called out to me. Not only is it considerably affordable for a meal in a hotel at Novena, the mains that came with the free-flowing appetisers, soups, cheese and desserts were all well-executed.
Food at Sky22

While waiting for our food, we decided to build our own salad bowl at the salad buffet line. They had a wide variety of greens, proteins like salmon, as well as condiments like chia seeds, flax and cashew nuts.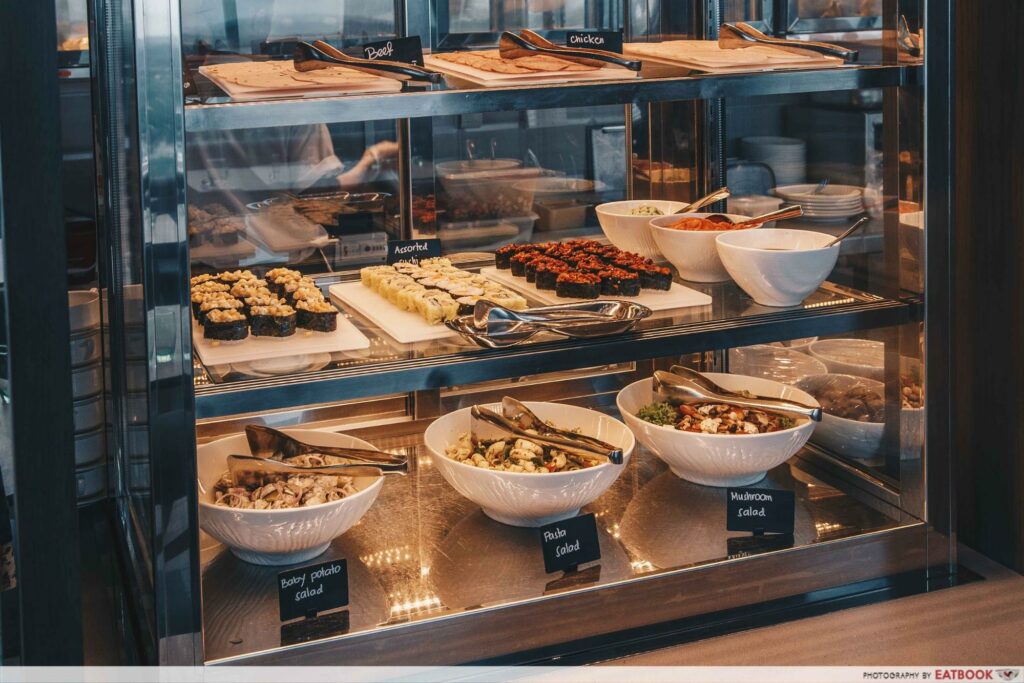 But if you rather have salad that has already been prepared, they also have a few selections, including Mushroom Salad and Pasta Salad.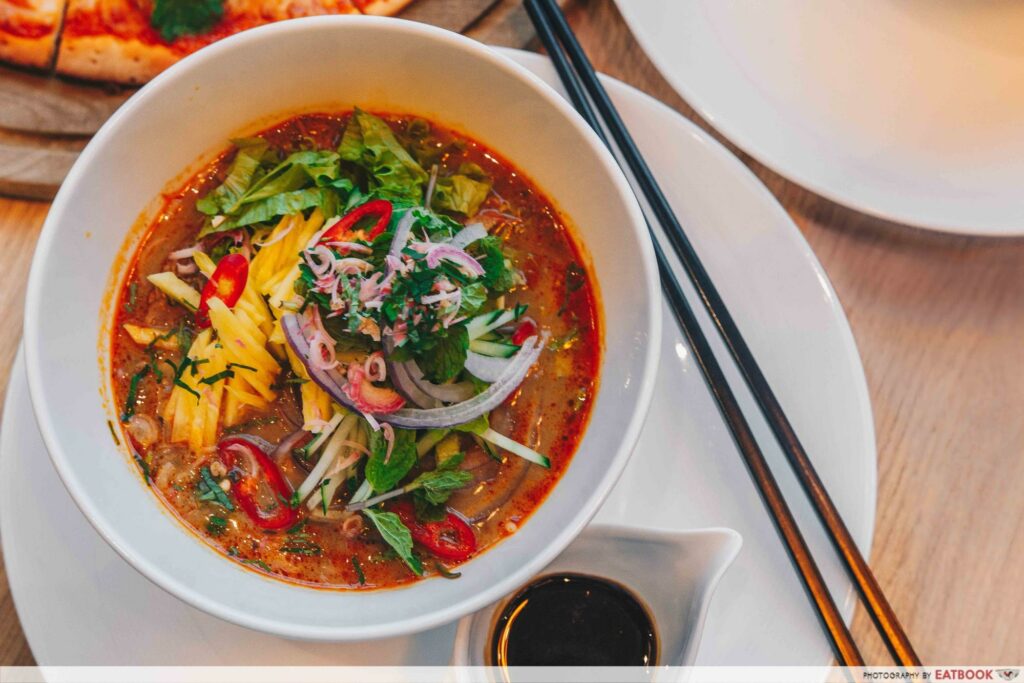 The mains offered with the semi-buffet are on a rotational basis. And during our tasting we tried the Assam Laksa Lemak. As I stirred the silky noodles, mint leaves, julienned pineapple, torch ginger flower and cucumber together, the tantalising aroma of the tamarind-rich broth became even more apparent. It was definitely appetite whetting, and I couldn't wait to dig in.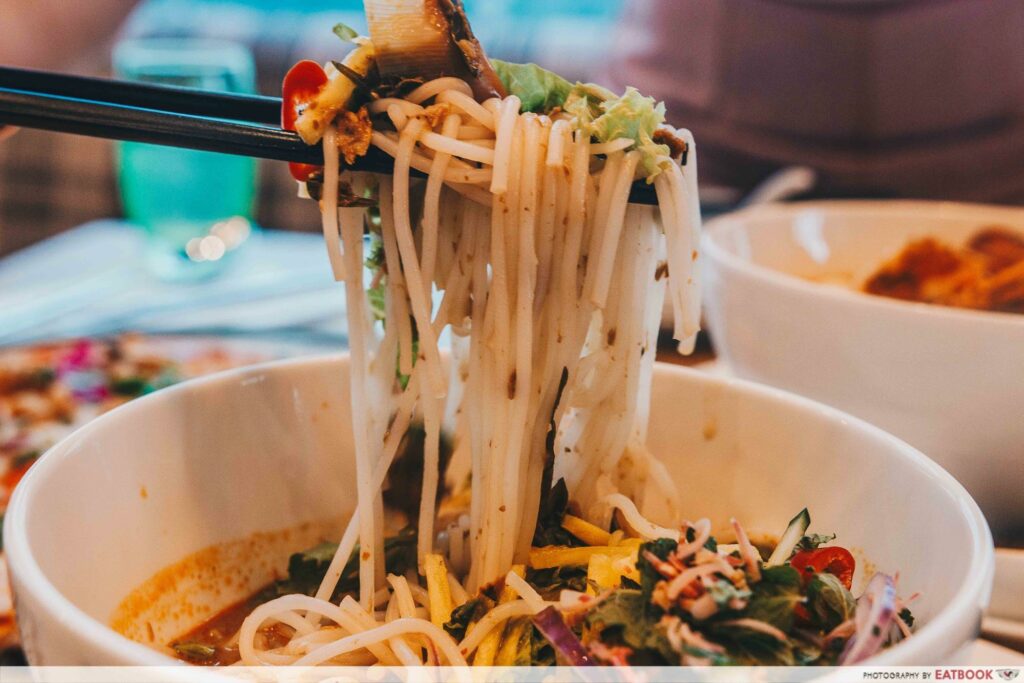 As I slurped up the noodles with gusto, I found chunks of mackerel in the complex tasting broth too. The dish reminded me of when I had legit Penang laksa in Malaysia, minus the sweltering heat and roadside ambience, of course.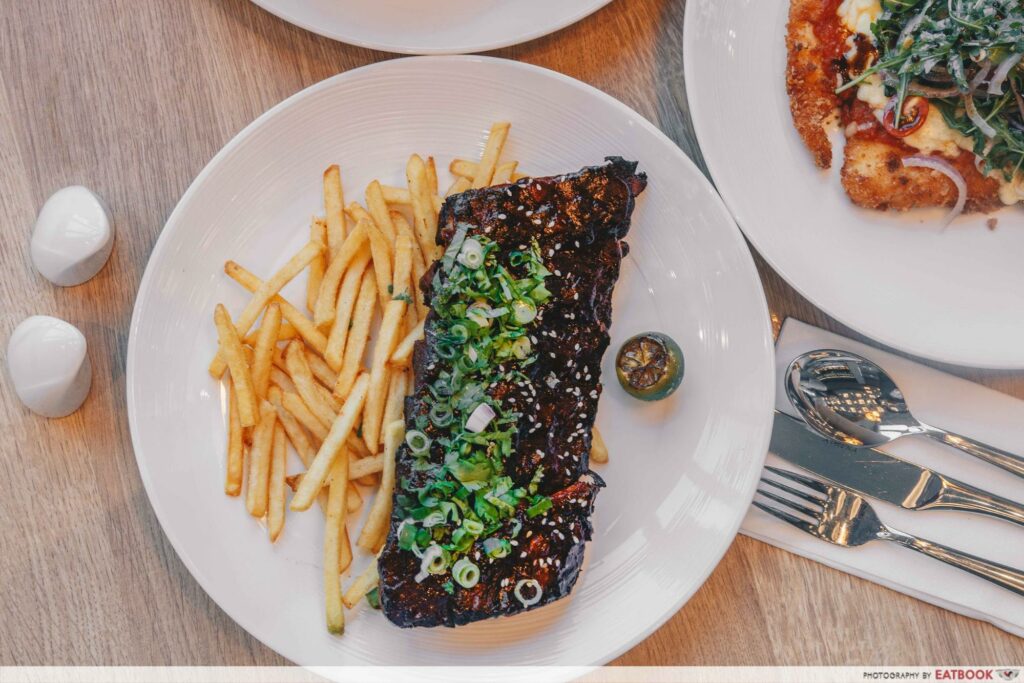 Next up was the Barbecue Pork Ribs with Cajun Fries. Slow-smoked in a grill for four hours, the meat easily slid off the bone.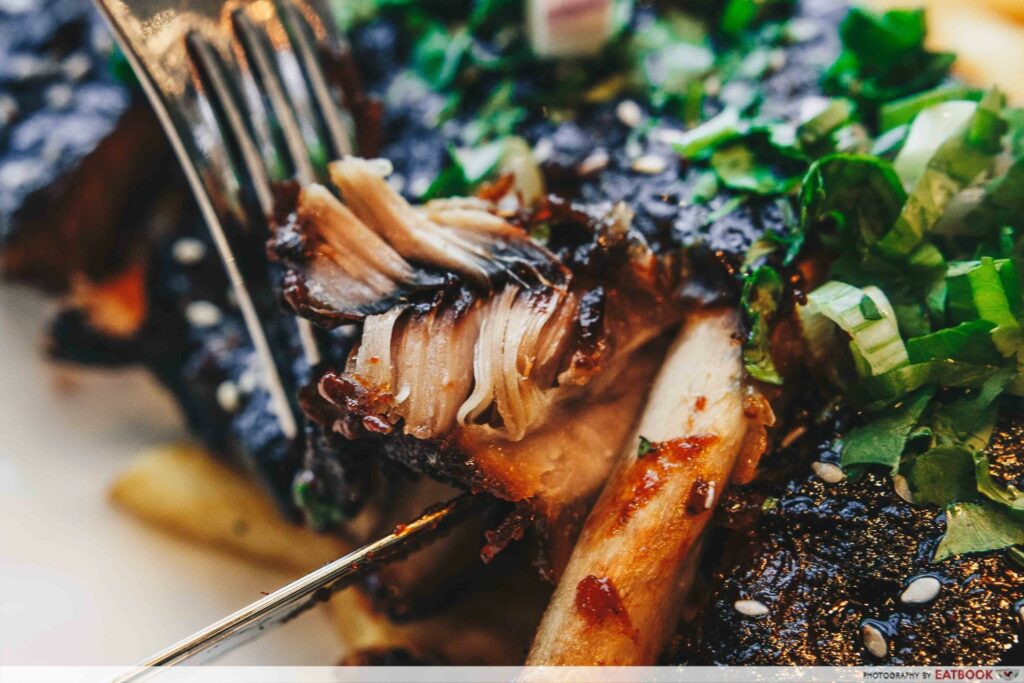 I really liked how the ribs were marinated with house-made char siew sauce, giving it a more honeyed flavour than the usual American-style BBQ glaze.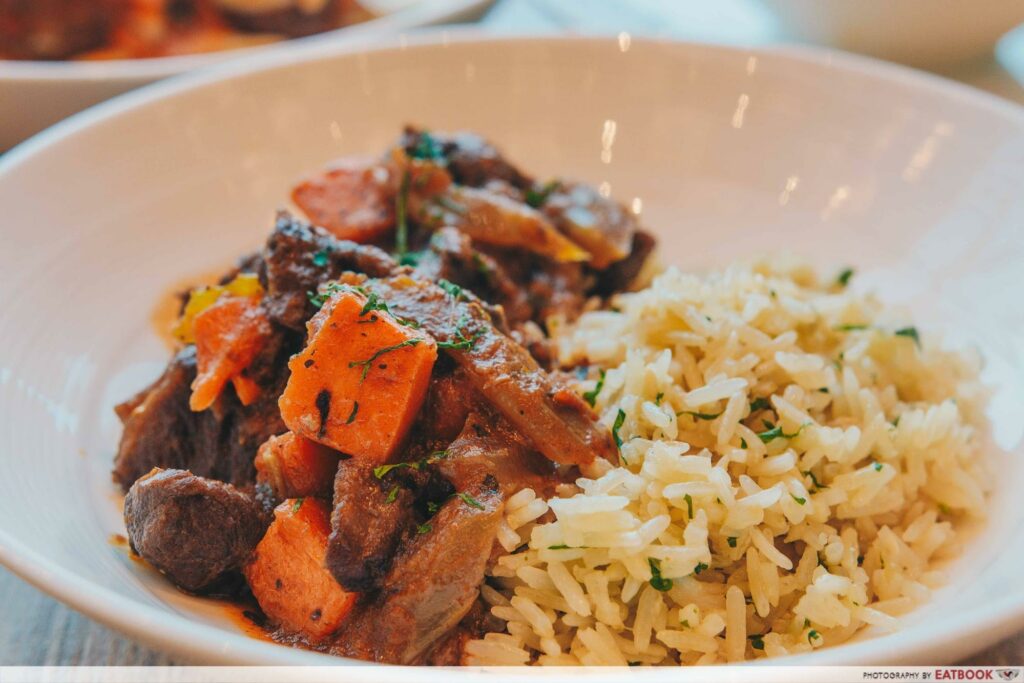 Simmered for three hours in a tomato sauce that's enriched with herbs like bay leaves and rosemary, the Beef Casserole brought upon a mix of comforting flavours.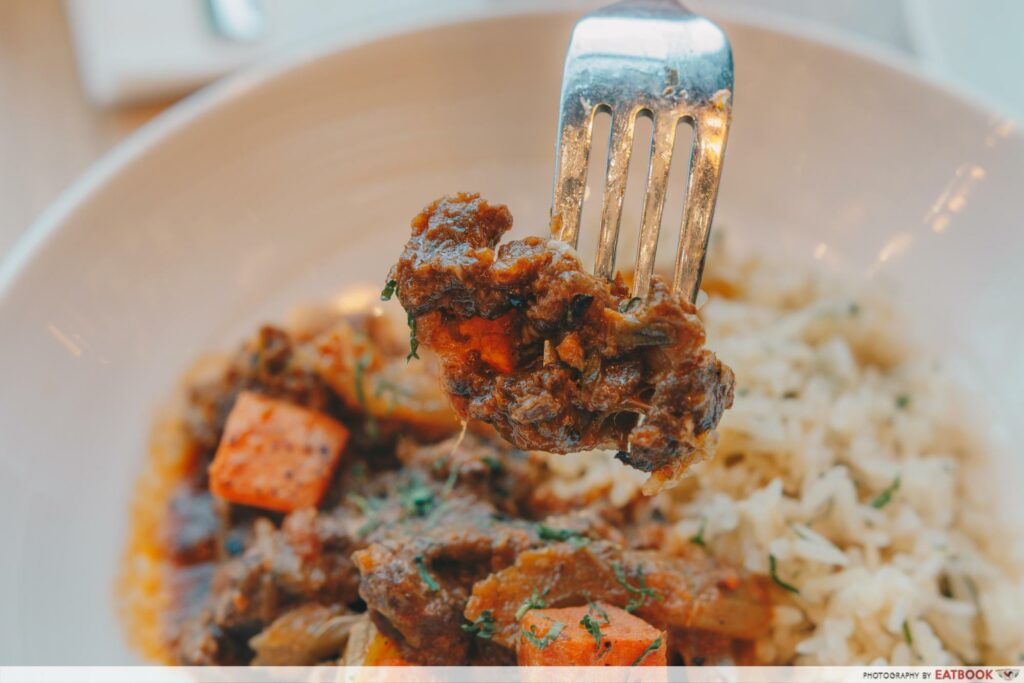 The fluffy rice pilaf served together also ensured that the chunks of beef weren't too rich, and perked up the flavours of the simple dish with its zesty undertone. It was one of my favourite dishes, despite its uncomplicated nature.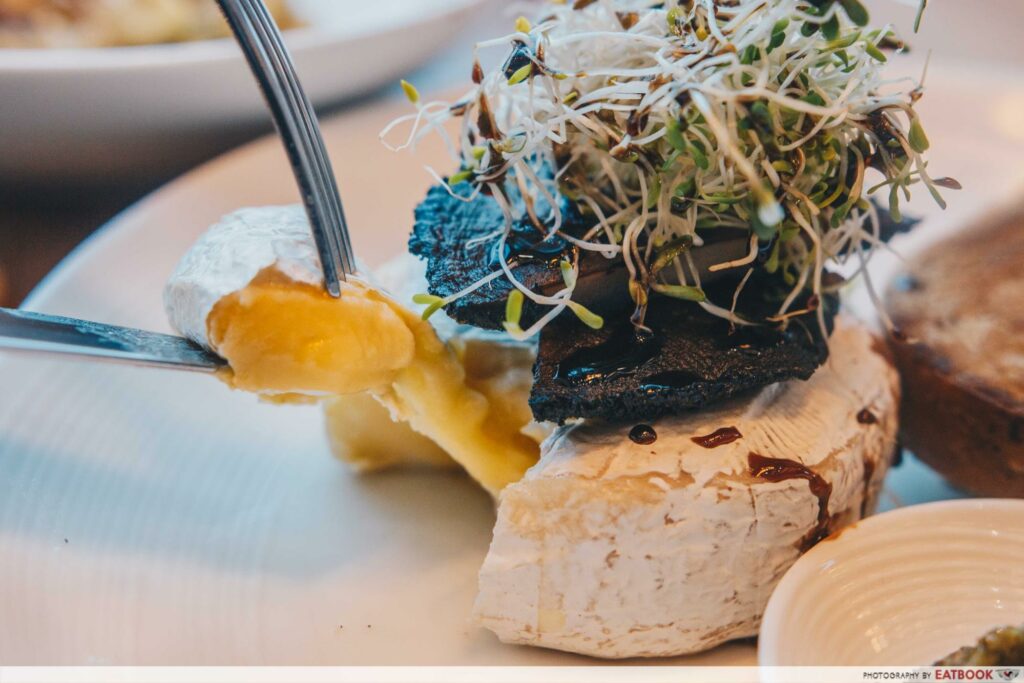 We also had the pleasure of trying Sky22's signature dishes from their a la carte menu. I was anticipating the highly raved Oven-Baked Camembert Cheese ($18++), which made multiple appearances on Instagram. Resting on crusty sourdough was gooey camembert cheese and a juicy portobello mushroom.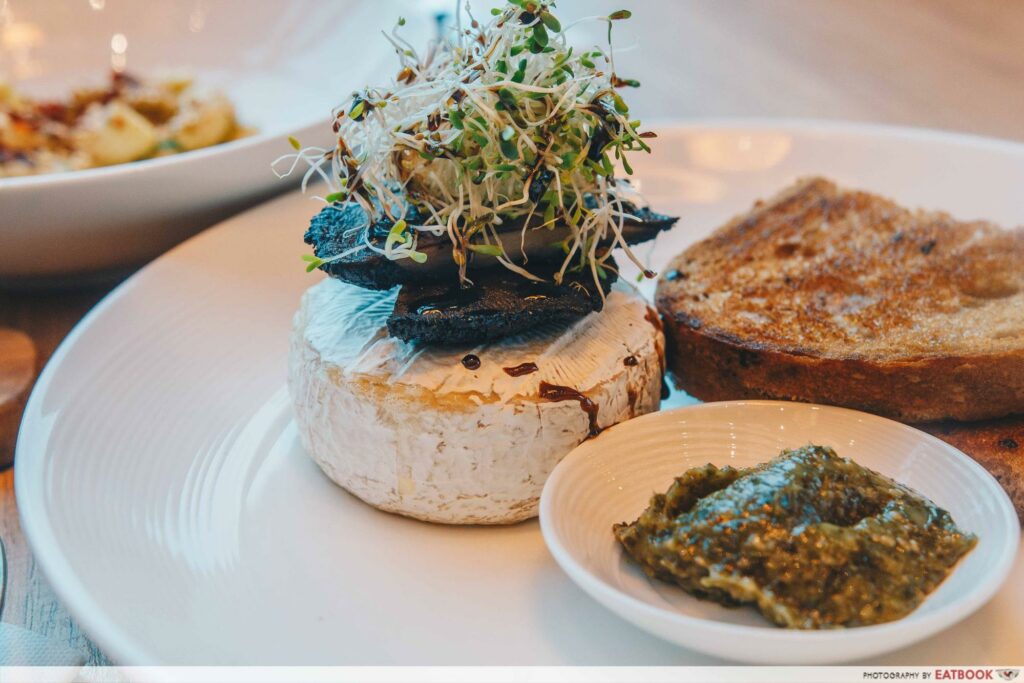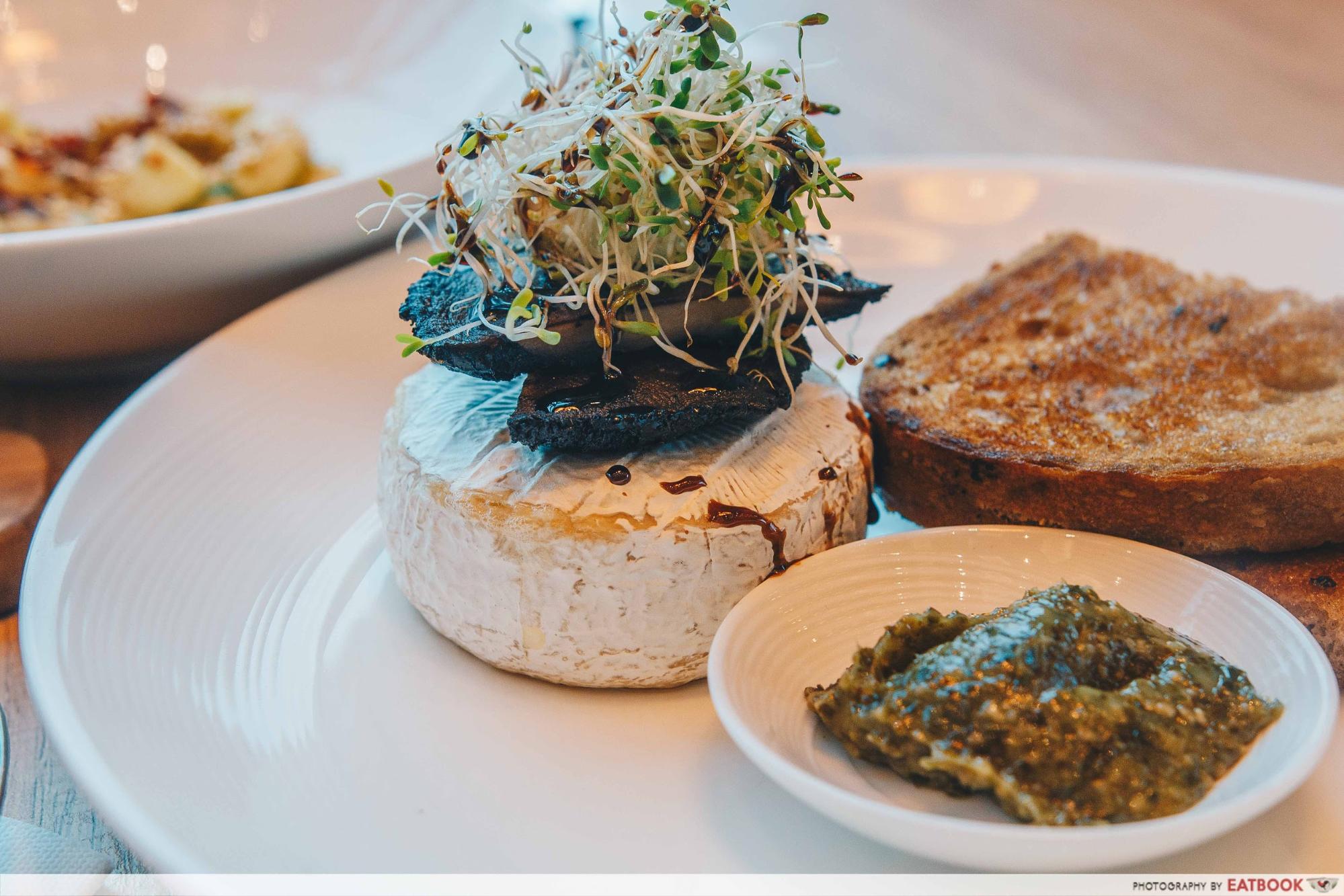 Slathering it with the accompanying walnut pesto, the vegetarian dish was creamy, nutty and very delicious.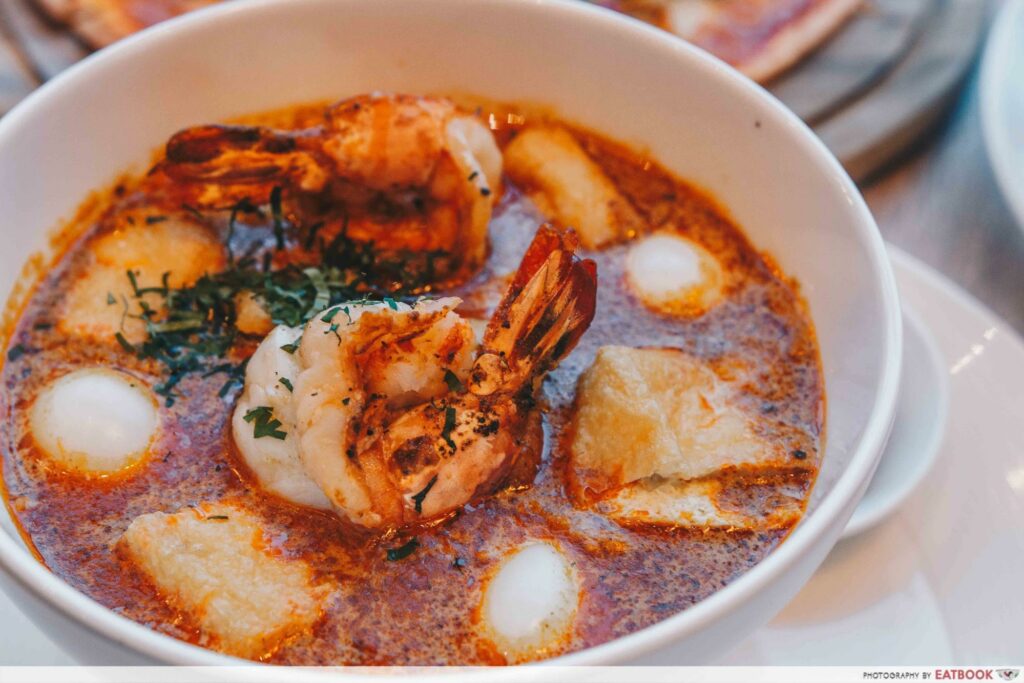 The Tiger Prawn Laksa Lemak ($18++) was another mind-blowingly good dish. Crowning the orangey-red lemak base were two plump prawns, quail eggs, fish cakes and beancurd. It was not as coconutty as expected, but if you like your food with a lot of spice, this piquant dish is right up your alley.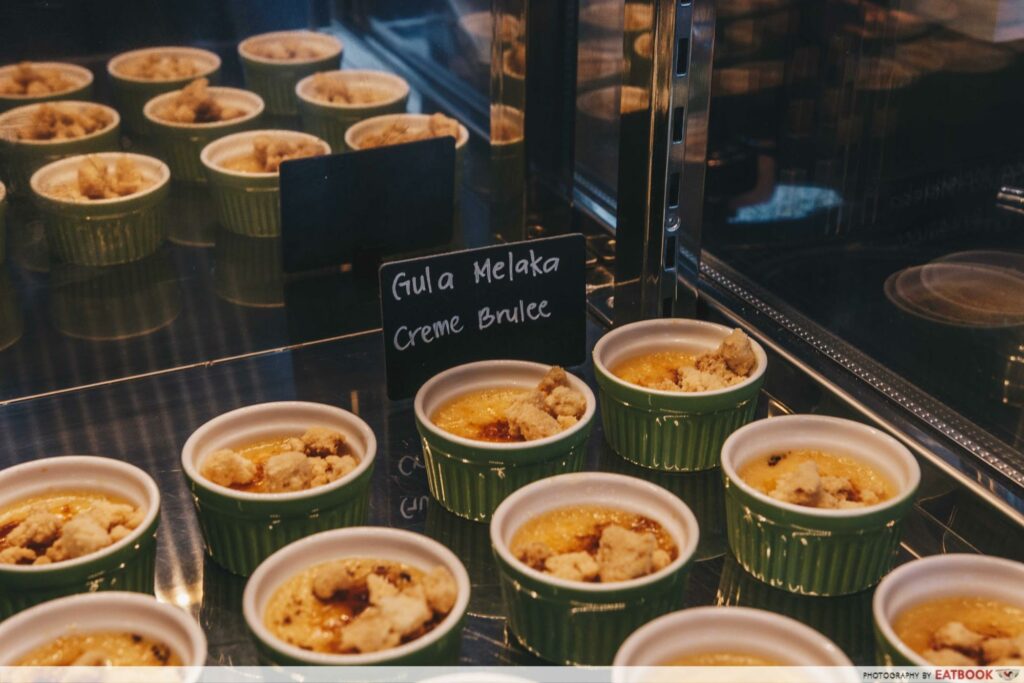 The desserts at the buffet table were rather boring, and the taste did not meet my expectations. As a fan of gula melaka, the Gula Melaka Creme Brulee had none of that palm sugar goodness and was pretty meh. It's better to just skip it and save your calories.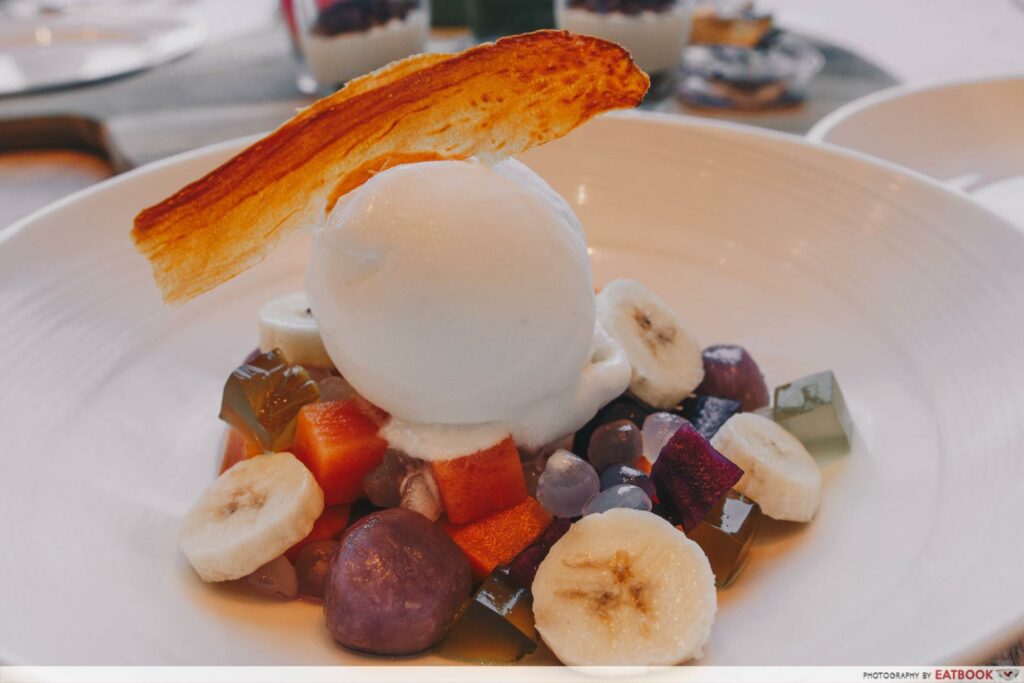 If you need to end your meal on a sweet note, I recommend ordering the Sky 22 Bubur Cha Cha Cup ($12++). A modern interpretation of the Chinese dessert, the sweet treat came with house-made coconut ice-cream surrounded by sweet potato, banana slices, gnocchi, sago, and pandan jelly. Even though I was full to the brim, I couldn't stop myself from sneaking bites of the colourful dish. It was not at all sweet, and the chewy gnocchi lent an interesting texture.
Ambience at Sky22

In our compact city dotted with grey concrete towers and colourful flats, a restaurant in town boasting a scenic view of lush greenery is rare. But Sky22 is a hidden gem tucked away in Novena that serves just that. The sunlight-flooded restaurant overlooks MacRitchie Reservoir Park, Bukit Timah Hill, as well as quaint bungalows and Novena Church. The interior, too, is kept classy, with a neutral colour palette that makes the space warm and welcoming.
The verdict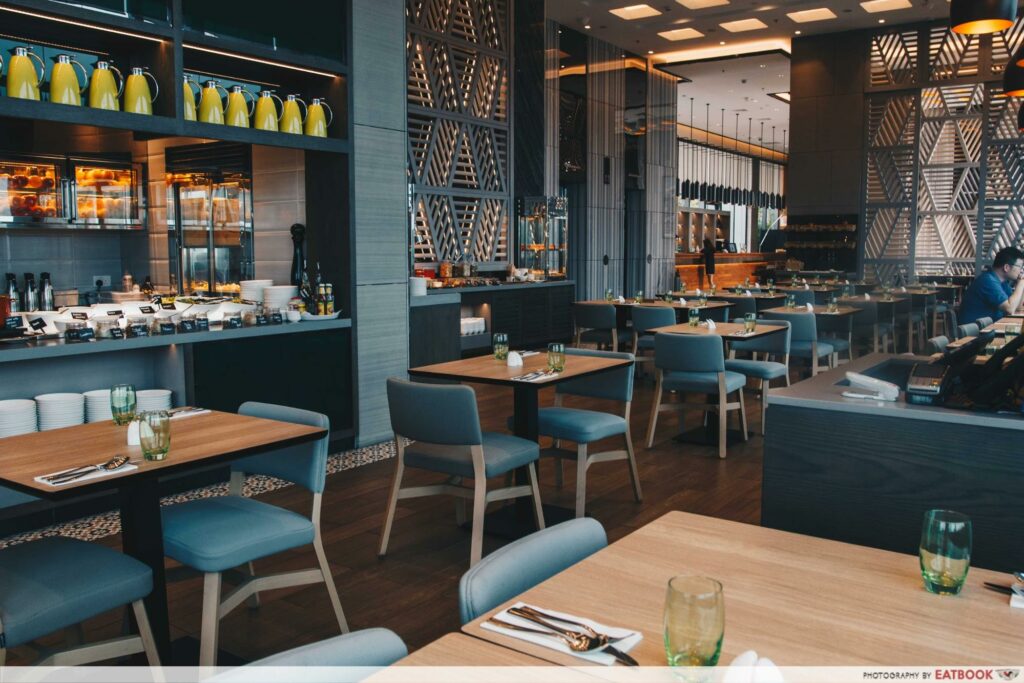 At $22++ for a full meal and unlimited appetisers as well as desserts, I say that's quite a steal! Especially when you put the gorgeous view in the picture. I would go back just for the view alone – it really is something spectacular. I like how the food fuses local ingredients and flavours together without being boring.
For more buffet places, check out these 1-for-1 buffets from $4.90++ as well as Yakinikuohji, which offers Japanese-style BBQ buffet from $20.30+.
Address: 99 Irrawaddy Road, Level 22, Courtyard by Marriott, Singapore 329568
Opening hours: Daily 6:30am to 10pm
Tel: 6378 2040
Website
This was a media tasting at Sky22.
Summary
Pros
– Relatively cheap semi-buffet
– Large portions
– Great ambience
Cons
– Semi-buffet lunch is only available on weekdays
– A la carte menu is pricey
Operating Hours: Daily 6:30am to 10pm
Tel: 6588 1359
Address: 99 Irrawaddy Road, Level 22, Courtyard by Marriott, Singapore 329568