Breaking my uni v-card at Skyve
Update: Skyve now has a new menu and the dishes mentioned in this review are no longer available.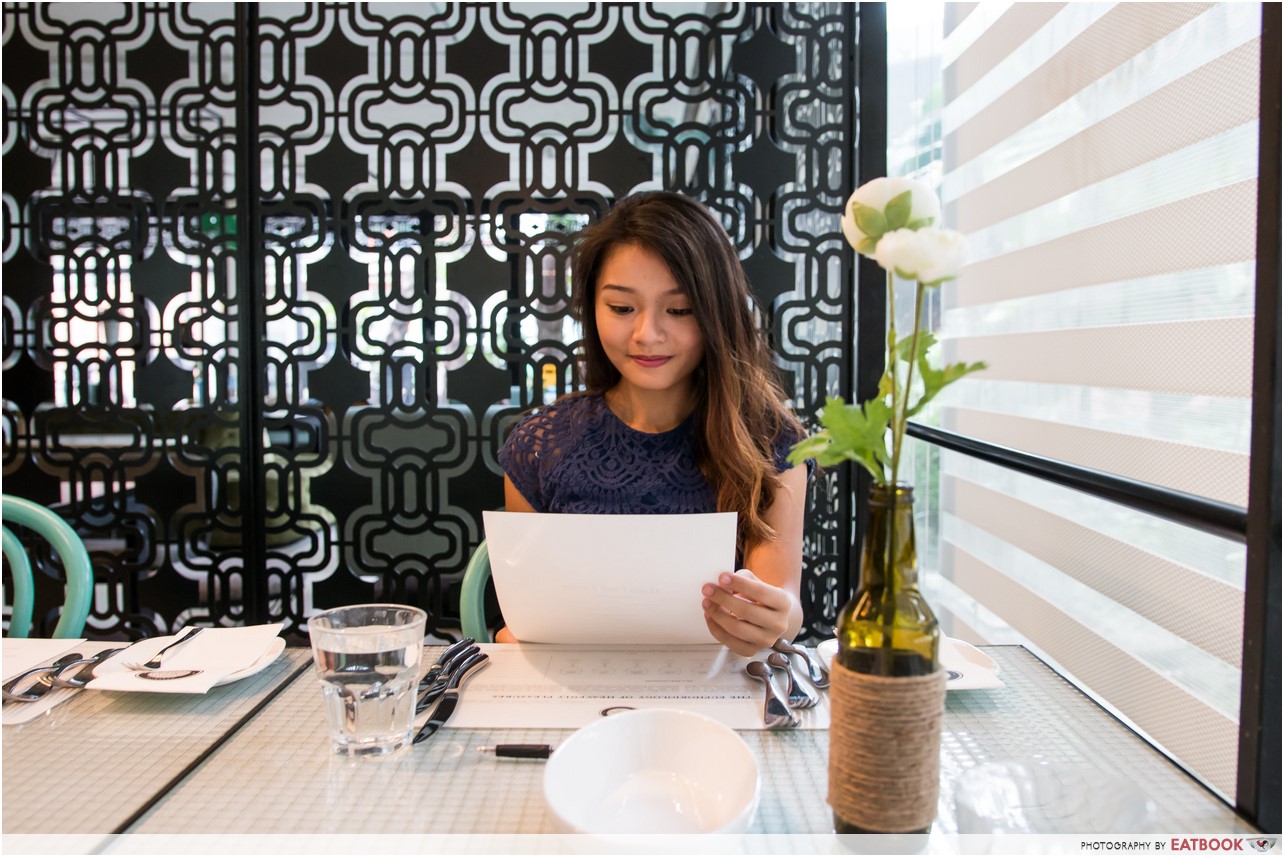 Call me suaku, but I've never had uni in my life. When it comes to seafood, I always stick to the usual salmon, tuna and prawns, and even though the whole world has been telling me how amazing uni tastes, I just haven't had a chance to taste it. I mean, given a choice, I would stick to aburi salmon instead of trying uni sushi at Itacho just cause A for aburi is also A for AWESOME.
Anyway, I digress. When I was invited to Skyve Wine Bistro to try their new a la carte dinner menu, I finally had a taste of uni and it blew my mind. Friends, sorry I ever doubted you. What's more, Skyve also added other seafood dishes and new vegetarian and vegan options to their menu, which means I no longer have to wrack my brains thinking of where to celebrate my vegetarian friends' birthdays.
Seafood dishes at Skyve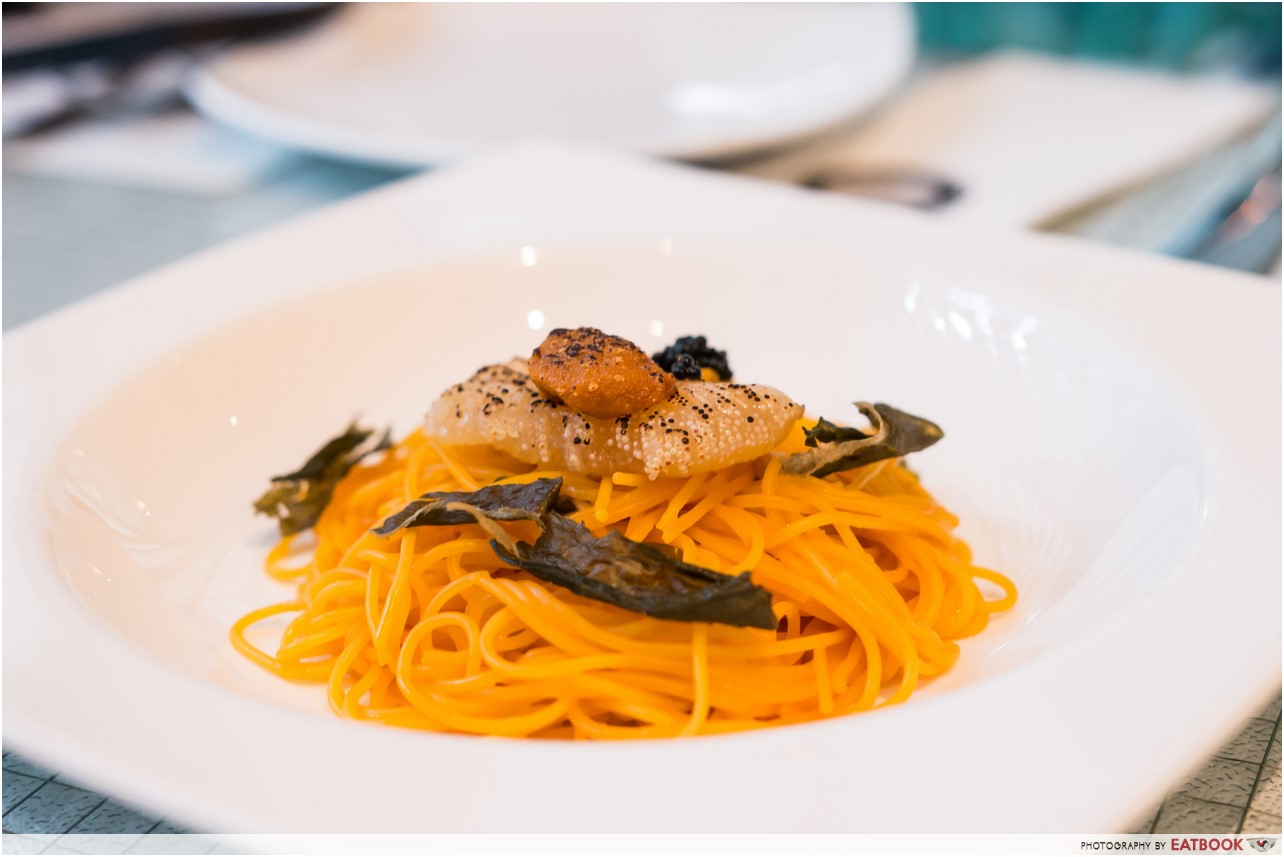 Not gonna lie, when Uni Spaghettini ($20++ as appetiser, $38++ as main course) arrived, I was a little intimidated by its striking saffron colour. The bright hues come from uni preserve that is used in cooking the spaghettini. It tasted lighter than aglio olio yet came with a touch of creaminess thanks to the uni. Finished off with a generous scoop of uni, kazunoko (herring roe) and seaweed caviar, the explosion of flavours takes "party in my mouth" to a whole new level.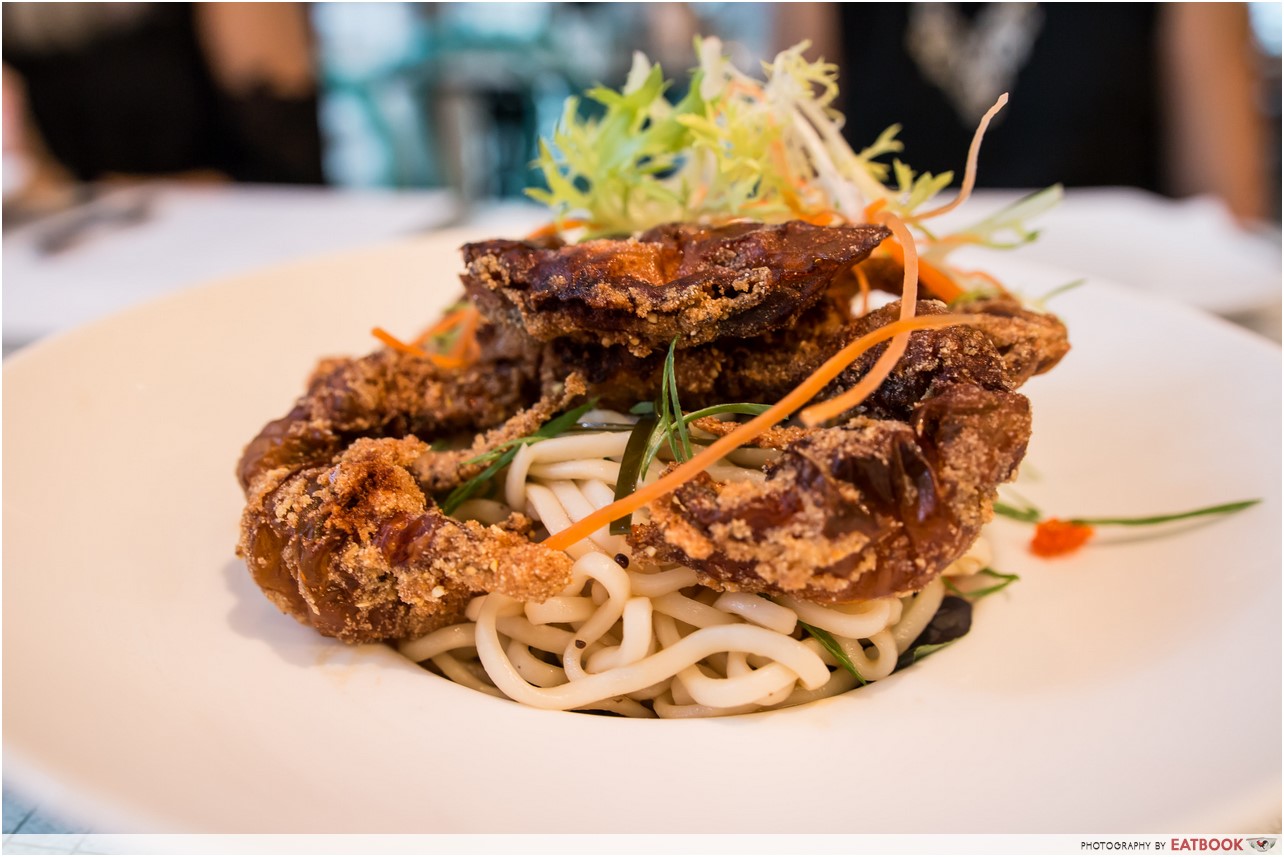 Soft Shell Crab Amandine ($22++) may come with a bed of udon, but it's served as an appetiser. The semolina-crusted soft shell crab was extremely crunchy yet soft and sweet within. Doused on the udon was a refreshing yuzu-wasabi dressing. The wasabi taste is surprisingly strong, so stay away if wasabi is not your thing.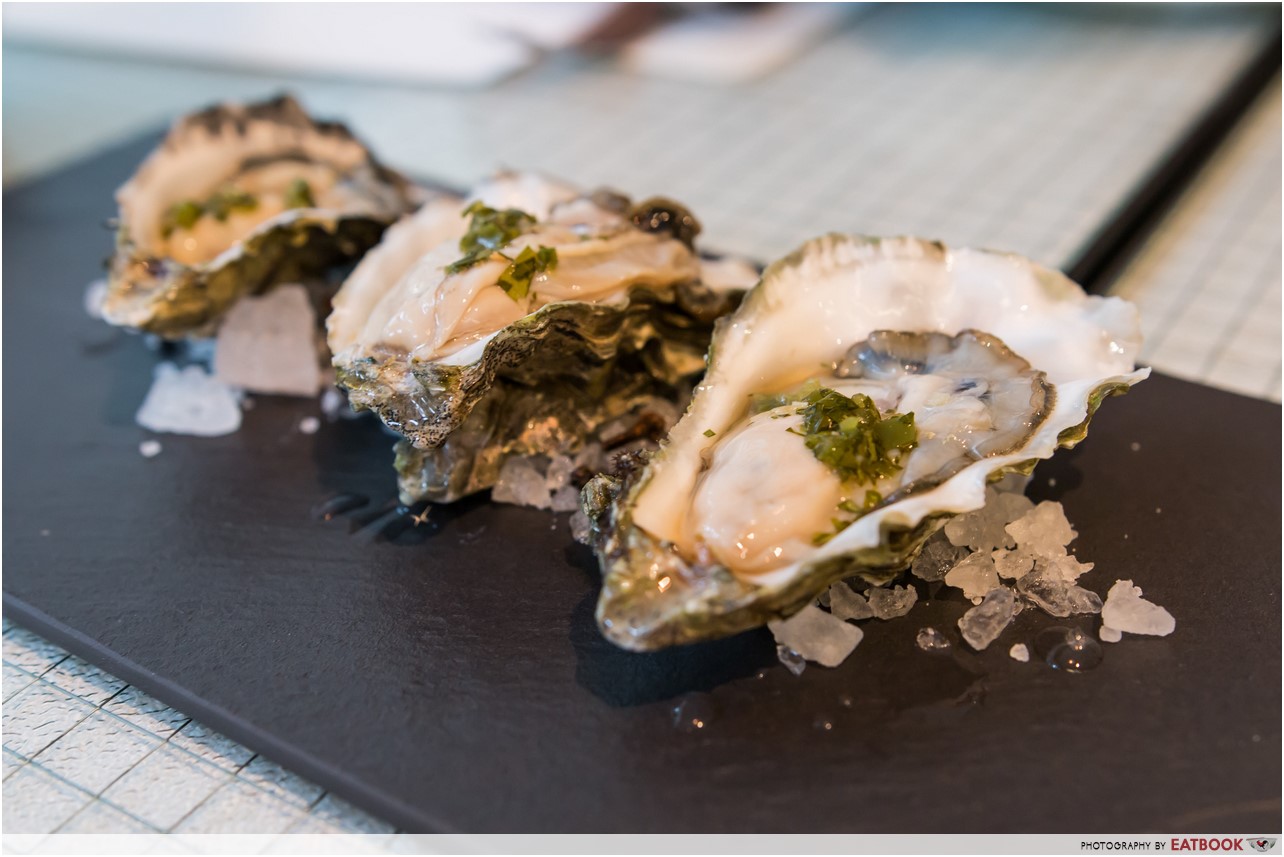 I have always been an avid fan of fresh oysters and I thought drizzling 'em with lemon juice was the best way to have them until I tried Gaucho ($34++for half dozen). Gaucho consists of apple cider vinegar and brown rice vinegar, which is less astringent as compared to lemon juice. It was slightly sweet and tangy, and definitely enhanced the natural taste of the oyster without overpowering it.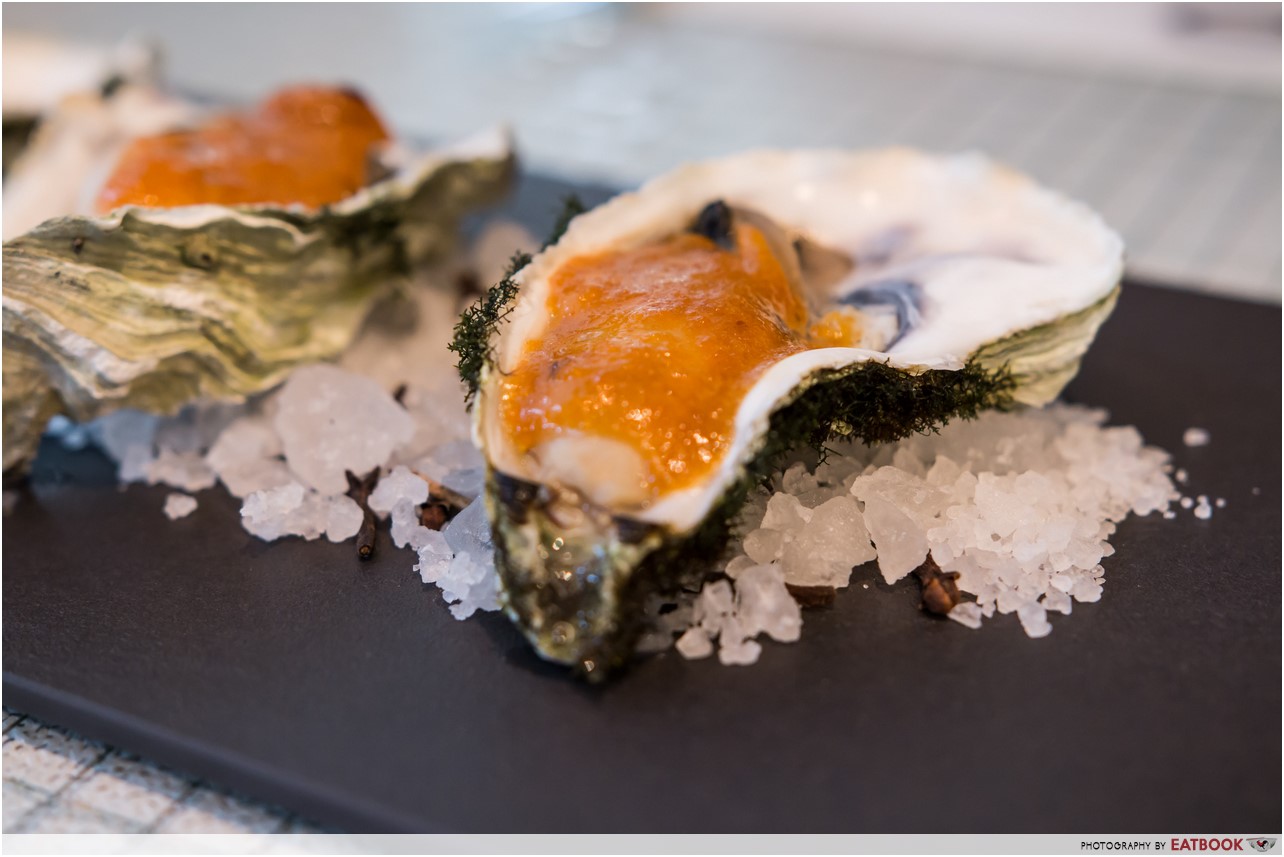 Unlike Gaucho, which was served cold, Ume Uni ($36++/half dozen) was warm and topped with a sweet Japanese plum jam and the sea-salty goodness of sea urchin. The uni melted right in my mouth and seasoned that plump oyster with its briny creaminess.

If you're craving for oysters, come down on Tuesdays as oysters are priced at $2.90++ after 4pm!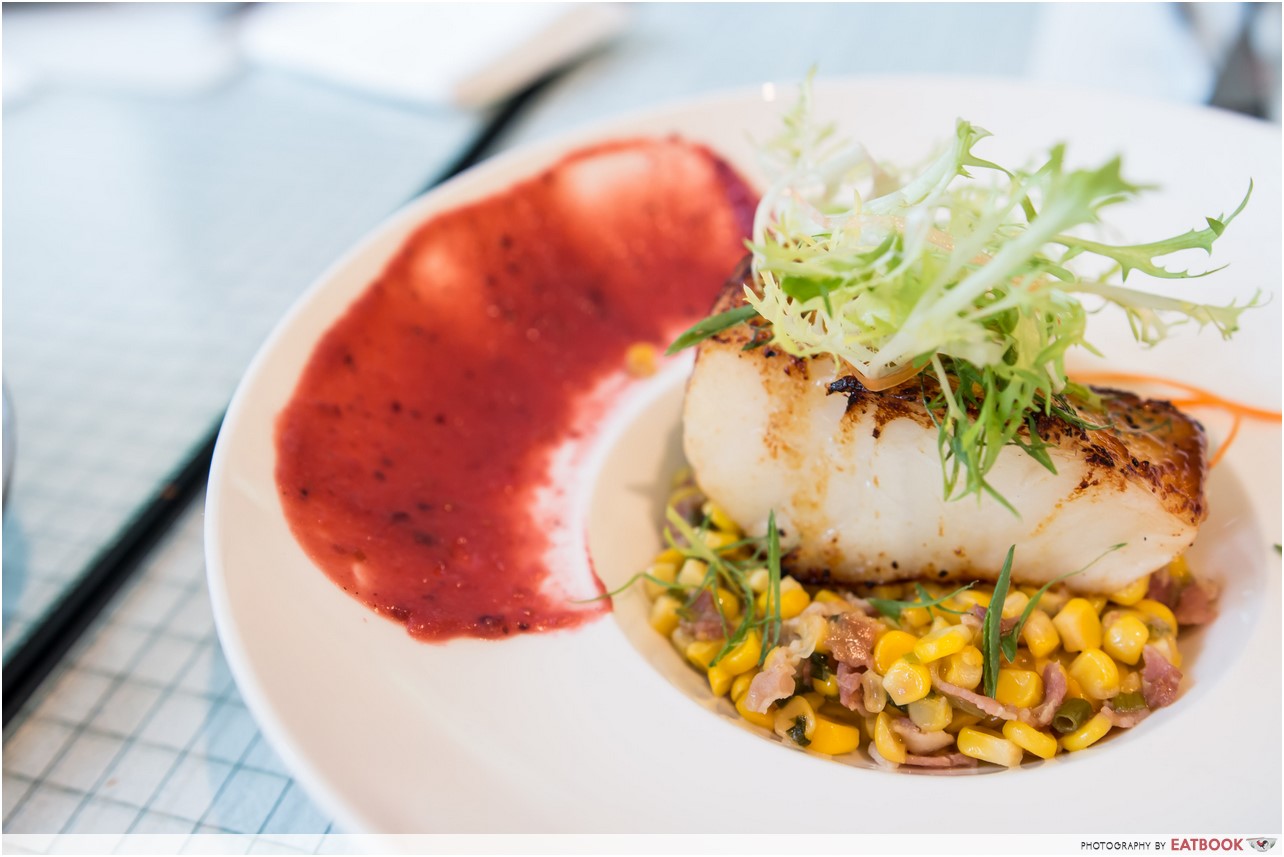 A gluten-free main on their new menu is Misozuke Cod ($42++). Think a thick slice of miso-glazed cod on a pile of dulcet corn infused with smoky bacon flavour. A finishing touch of red fruit gastrique (vinegar and sugar reduction) provided tanginess that gives your palate a good break from the robust flavours.
Non-seafood dishes at Skyve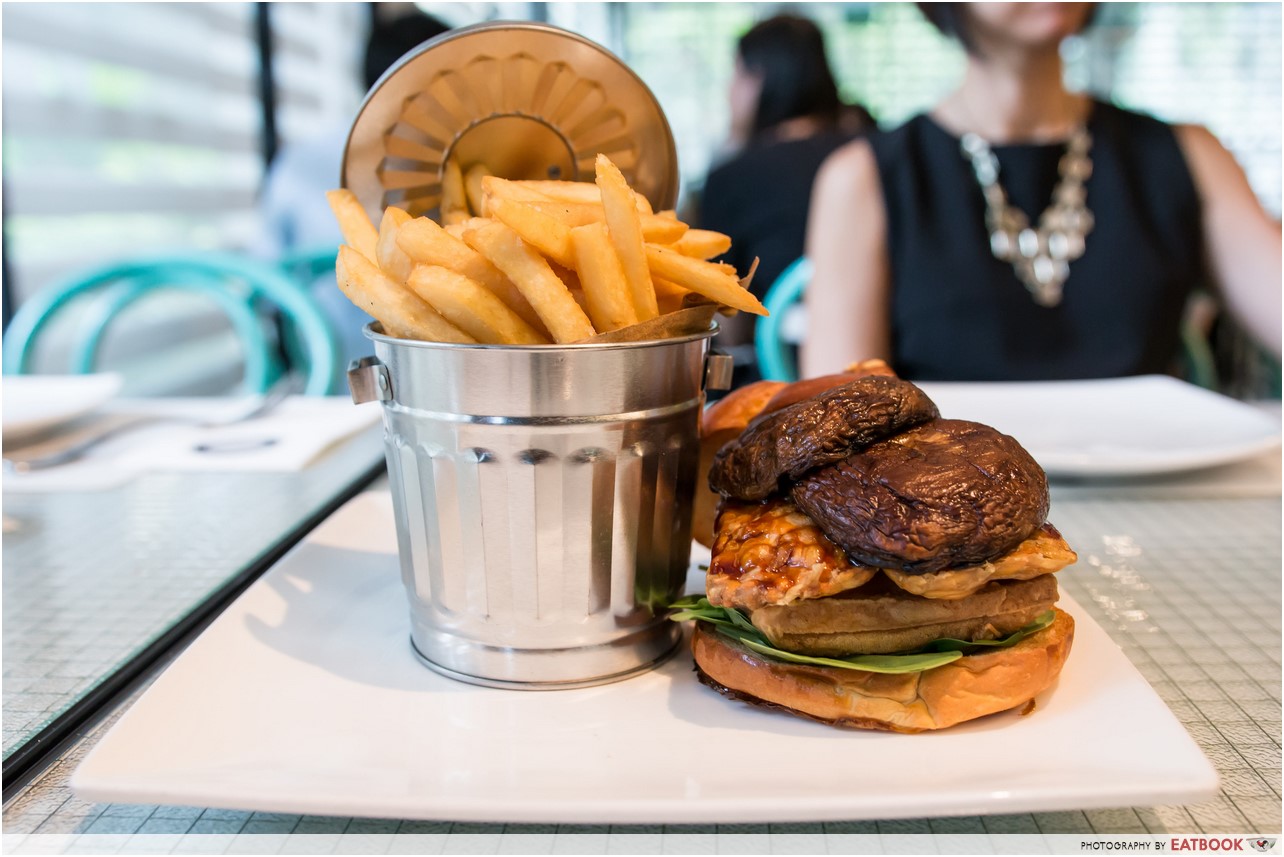 Guys, I might have found the burger of my life. Daizu Portobello Burger ($34++) is quite possibly the best burger I've ever tasted. Yes, it's even better than those with a huge patty of meat. Served with warmly toasted brioche buns, tempeh, fried tofu, fresh baby spinach and whole portobello mushrooms, I can assure you this burger will be an unforgettable one.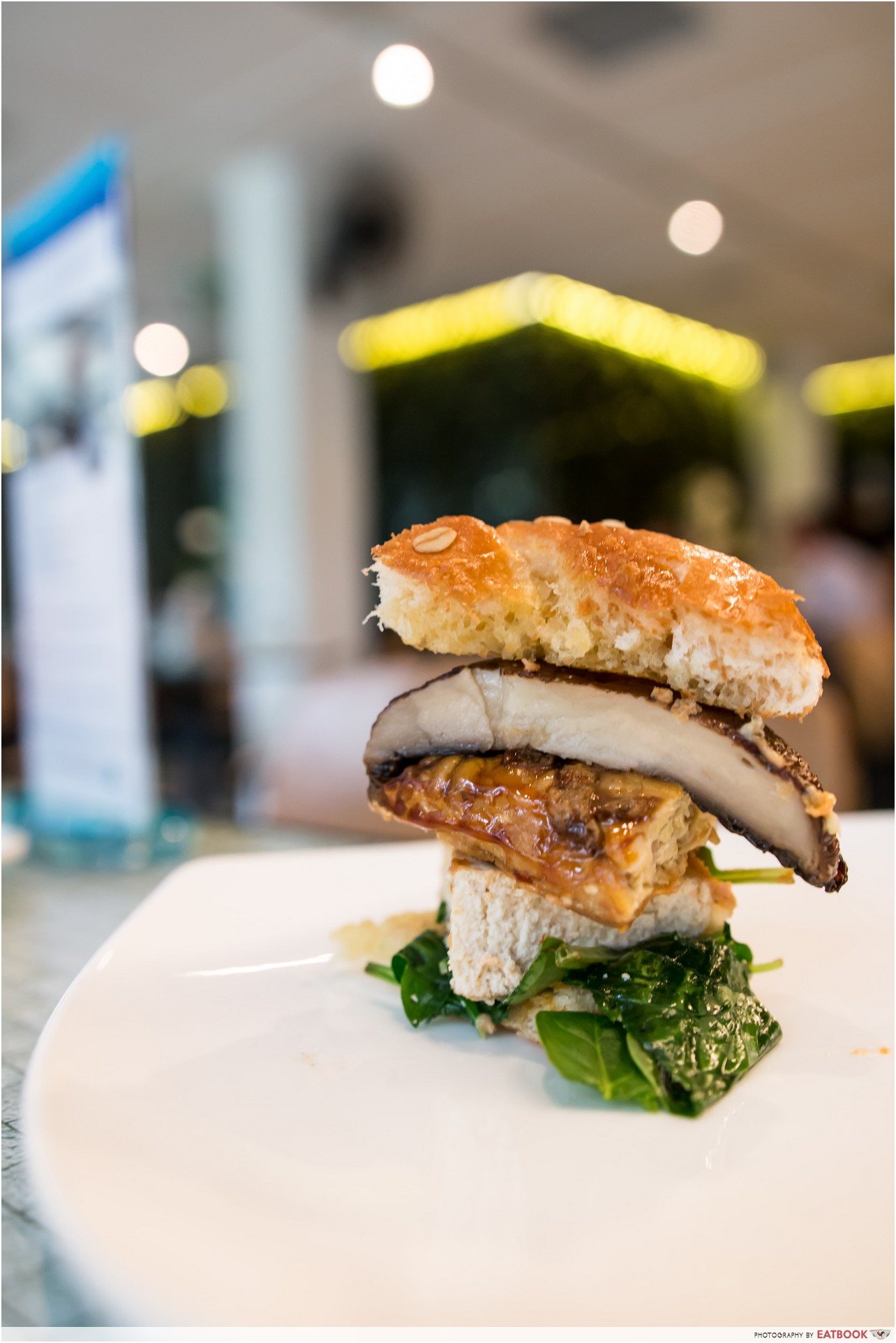 The firm tempeh juxtaposed with a thick slice of soft fried tofu and created a delightful balance of textures. I also like how the portobello mushroom was extremely juicy and chewy while the baby spinach kept everything light and easy on the palate. The sauce used is not vegan, but you can request for the chef to replace it with a vegan sauce.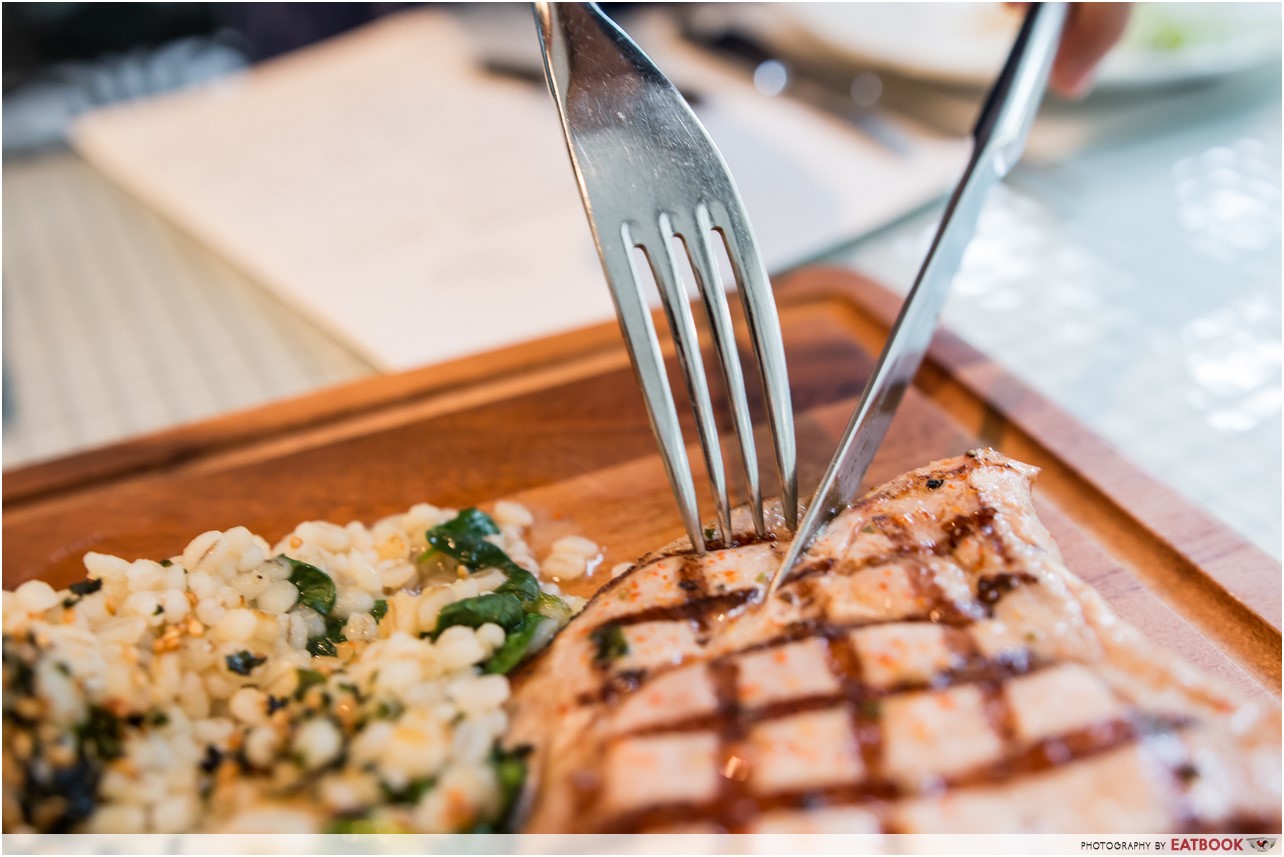 Sous Vide Hibachi Pork ($38++) is great for meat lovers. Paired with barley risotto, wilted spinach and spiced with a trio of togarashi (Japanese spice mix) as a side, this makes a wholesome and well-balanced dish. The pork was juicy and succulent, and I like how barley is used instead of rice because it kept this light yet hearty.
Desserts at Skyve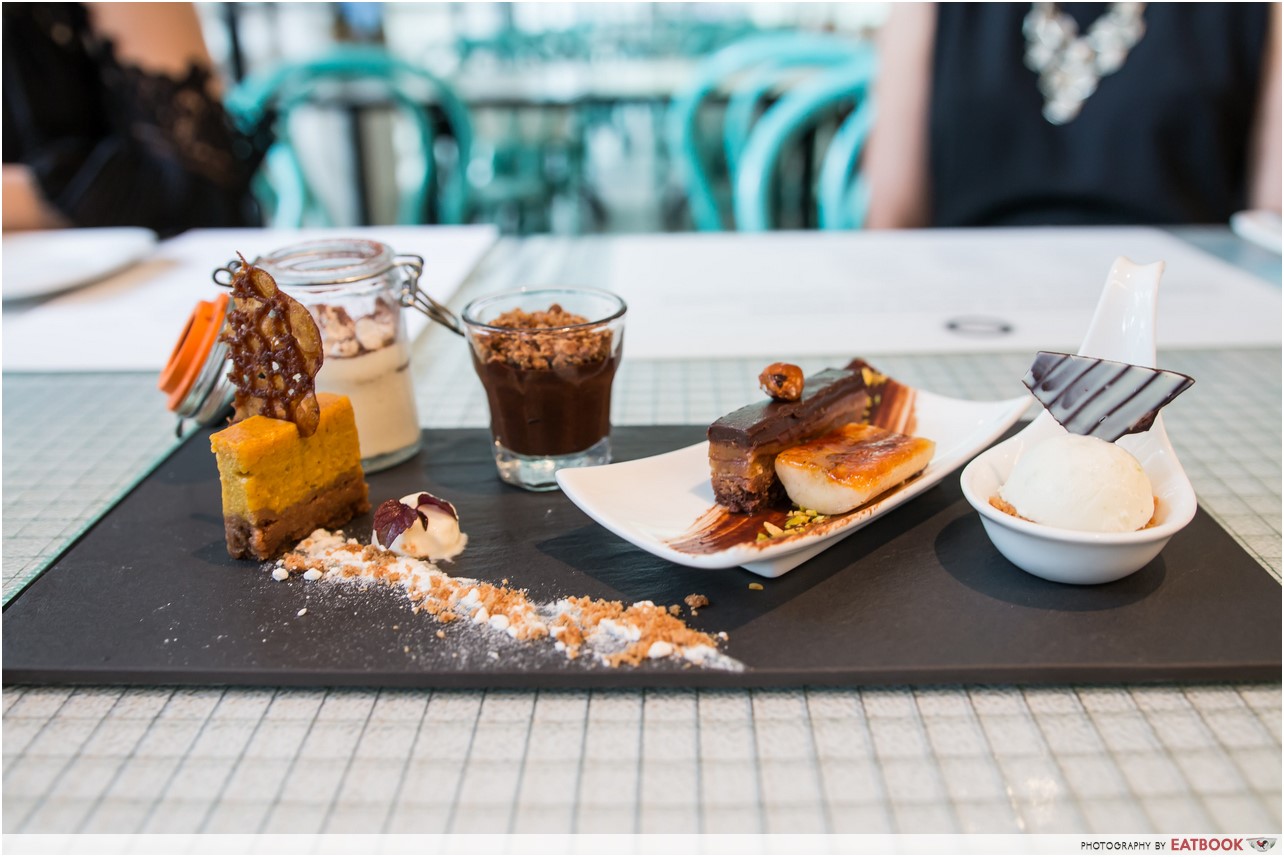 It is a must to end a good meal with dessert. Dessert Platter ($25++) consists of miniature portions of Tiramisu, Lime Semifreddo, Prefect's Chocolate Pudding, Pumpkin Pie and Snicker Bar. The top 2 desserts in this platter that got me swooning were Snicker Bar and Prefect's Chocolate Pudding.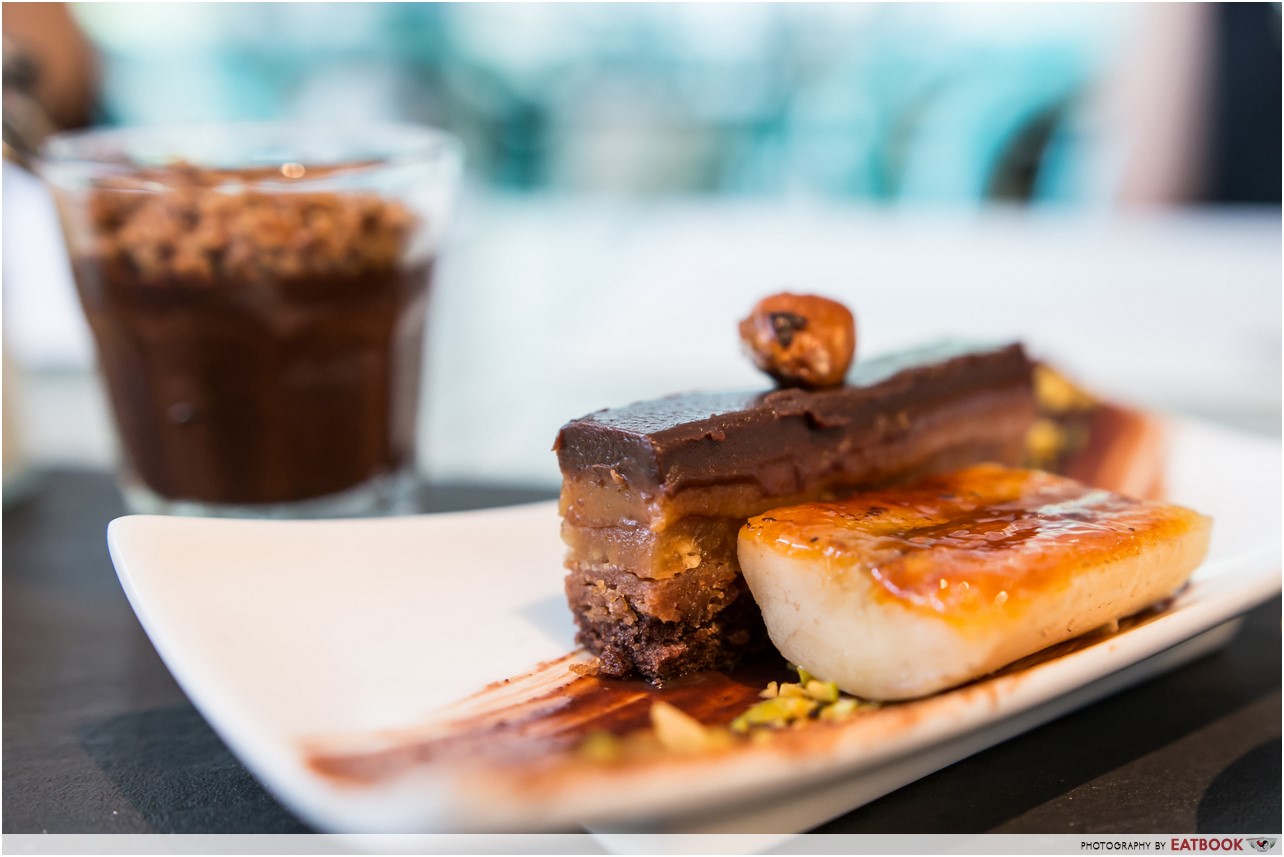 This Snicker Bar was definitely better than the one you get at NTUC. It was a lot more gooey and the chocolate ganache feuilletine was rich and luscious. Next to it was a piece of flambed banana, which made a perfect complement to the rich chocolatey goodness.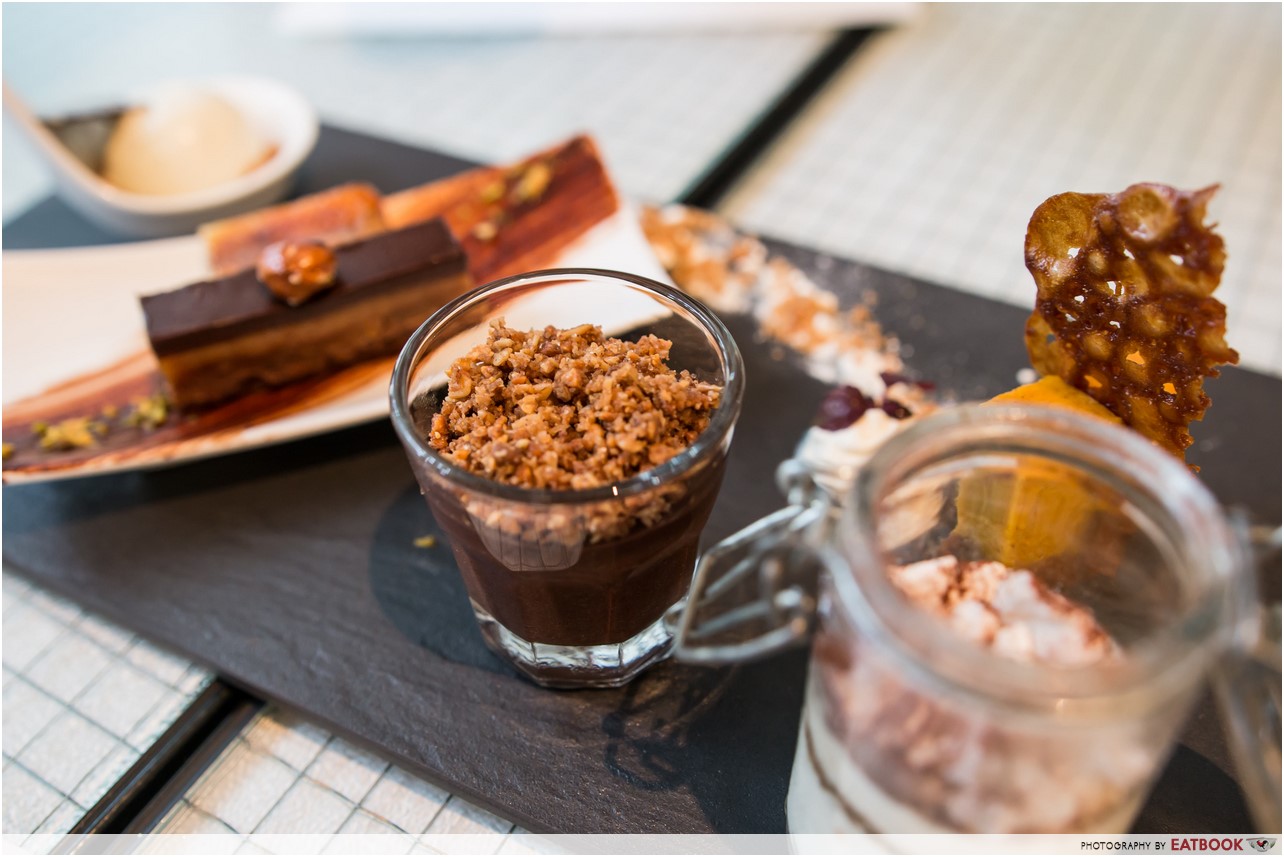 The most impressive of the lot would be Prefect's Chocolate Pudding, a totally guilt-free treat that is both vegan and gluten-free. Made with bananas, avocados and topped with a crunchy oat crumble, you won't believe how rich, creamy and chocolatey this healthy dessert is.
Ambience at Skyve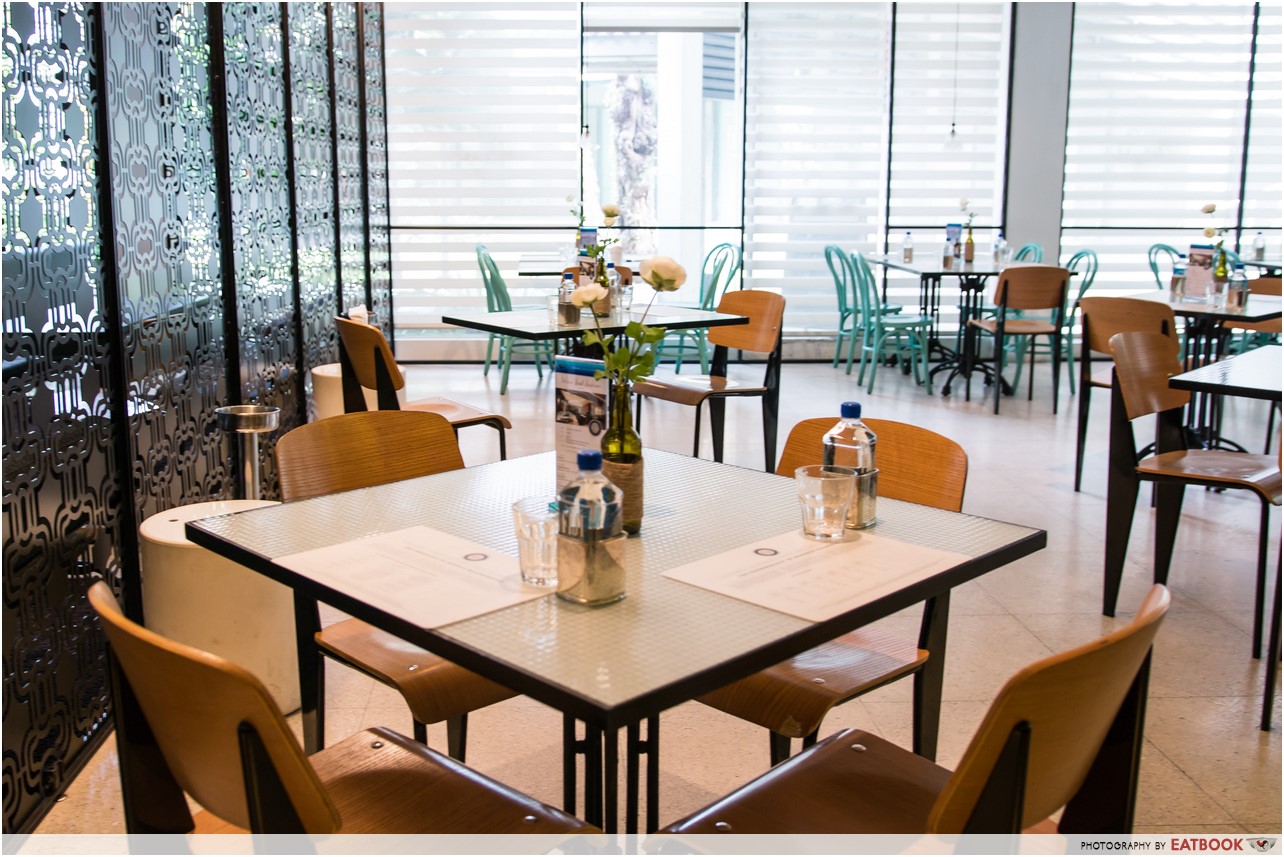 With its modern and pristine interior, it's no surprise that Skyve has been a popular spot for wedding lunches and other special events. Whether it's brunch on weekends or a romantic dinner with someone you love, this would make a great place to take a break from everything else.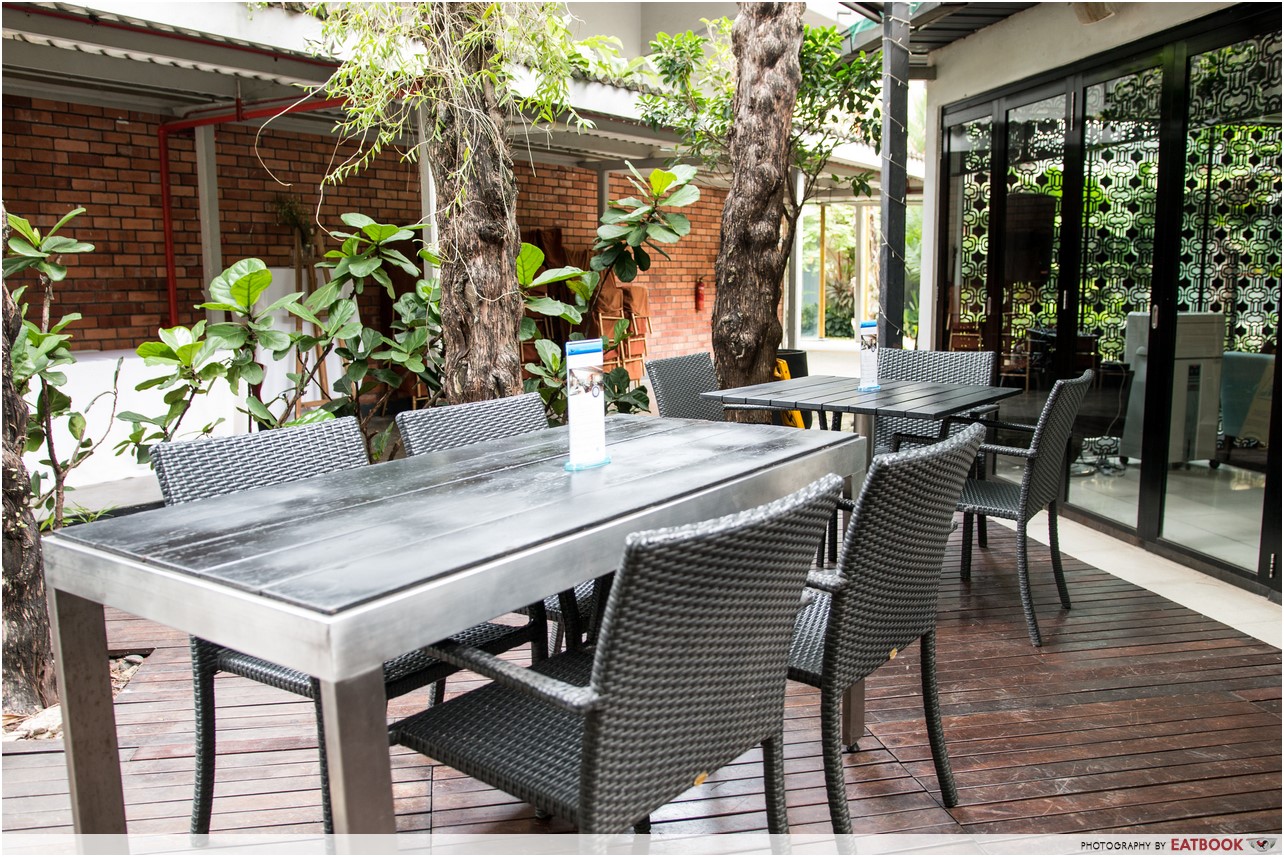 If you'd like, you can also choose to sit outside and enjoy live bands performing on Fridays and Saturdays. There are magic shows happening on Thursday nights as well, so get ready to be mind blown if you pop by then.
The Verdict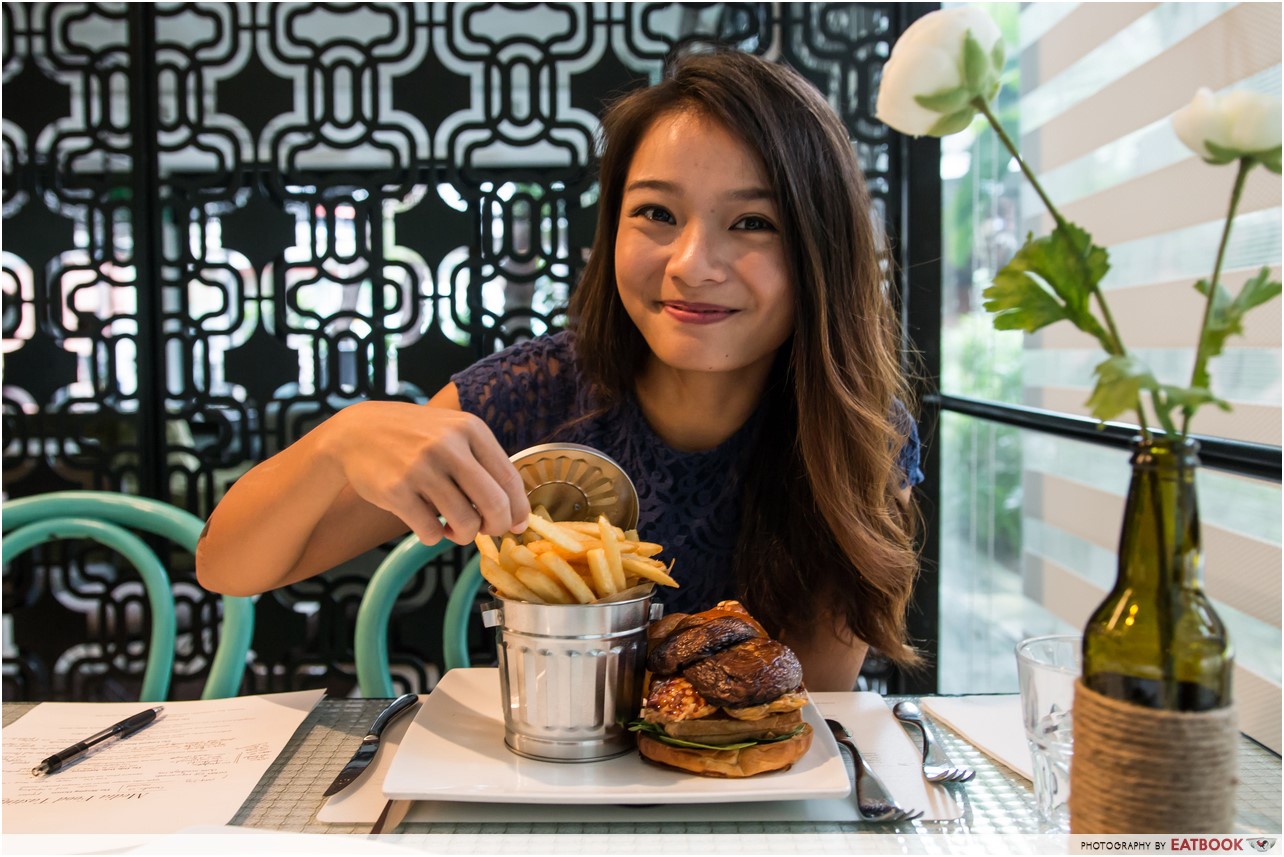 What I like most about food at Skyve is that they are really flavourful on the palate yet light on the stomach. They serve dishes that are confident of satisfying not just meat lovers, but vegetarians and vegans as well. Though it's a little pricey, the quality makes the splurge worth it.
This was a media tasting at Skyve Wine Bistro.
Summary
Pros
– Elegant setting
– Premium ingredients used
– Menu caters to various dietary restrictions
Cons
– Expensive
Recommended Dishes: Ume Uni ($36++ for half dozen), Uni Spaghettini ($20++ as appetiser, $28++ as main course), Soft Shell Crab Amandine ($22++), Dizu Portobello Burger ($34++), Dessert Platter ($25++)
Operating Hours:
Monday – Thursday 12pm to 11pm
Friday – Saturday 10am to 1am
Sunday 10am to 10pm
Address: No. 10 Winstedt Road, #01-17, Block E, Singapore 227977