Soe Tam Jiak for IG-worthy taiyaki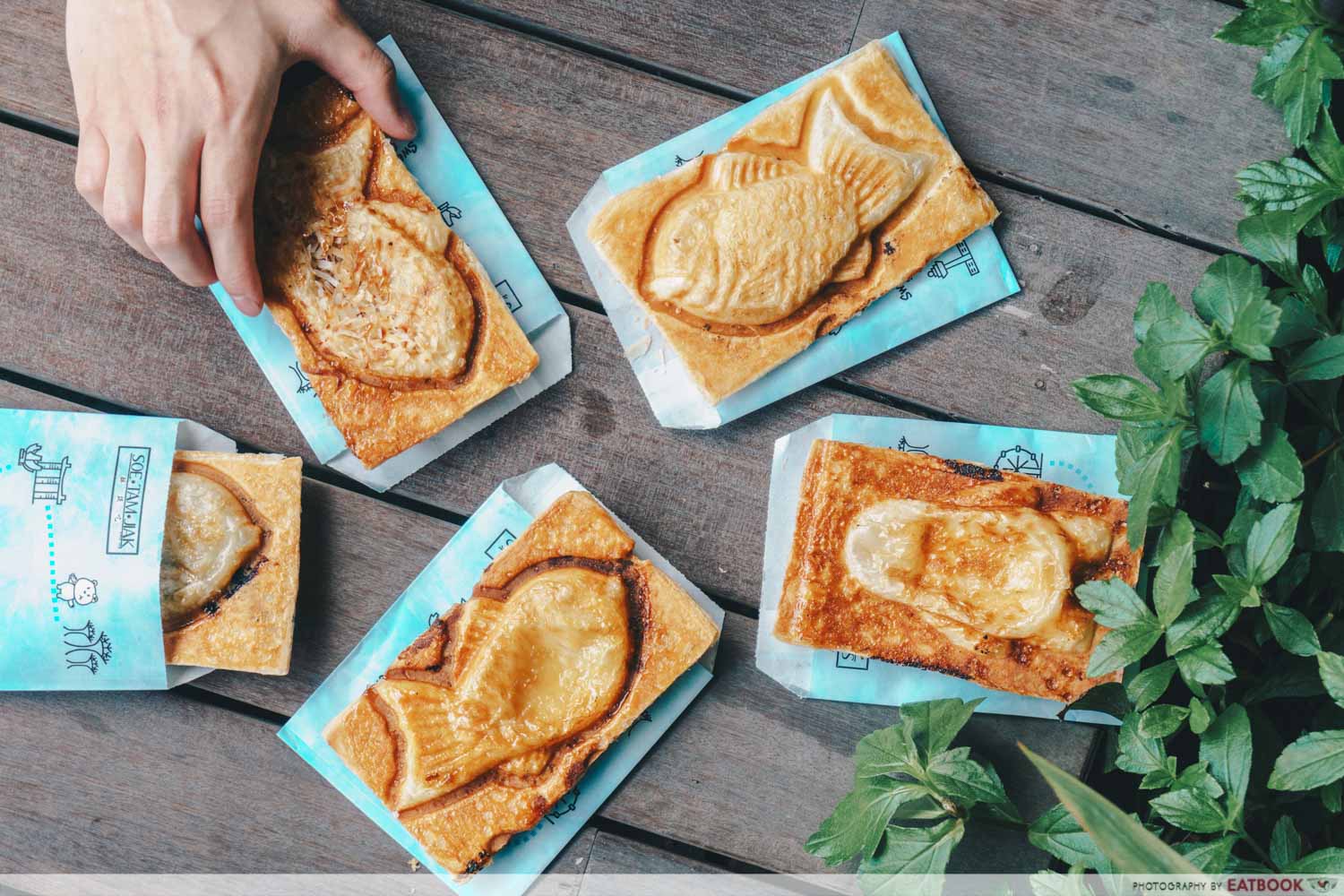 Many of us have tried taiyaki, the adorable fish-shaped pastry from Japan. But what about croissant taiyaki? Hailing from  Japan and Korea, this variant has a flaky and crunchy skin that sets it apart from the pillowy taiyaki we're used to.
You can now sink your teeth into these buttery goodies at Soe Tam Jiak, which is located in 313@somerset. This new stall takes it up a notch with their sweet and savoury fillings including chocolate and ham & cheese, which ooze out beautifully, making them a filling and #aesthetic snack.
Food at Soe Tam Jiak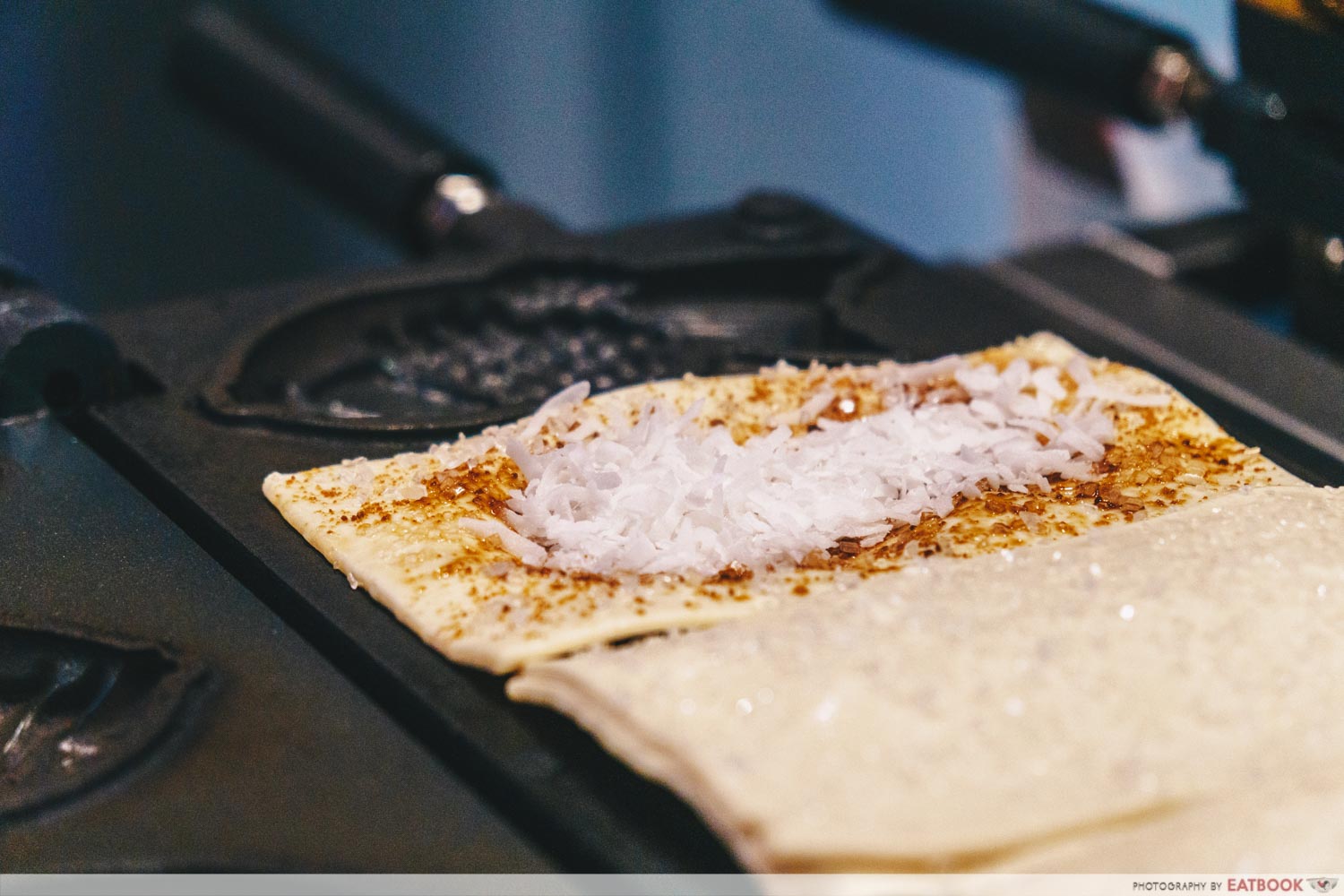 A generous sprinkle of sugar was scattered onto the puff pastry. Under the dim lights of the mall's basement, the sugar glistened like stars in the night.
The puff pastries were gracefully laid onto the taiyaki grill, and started sizzling on the iron.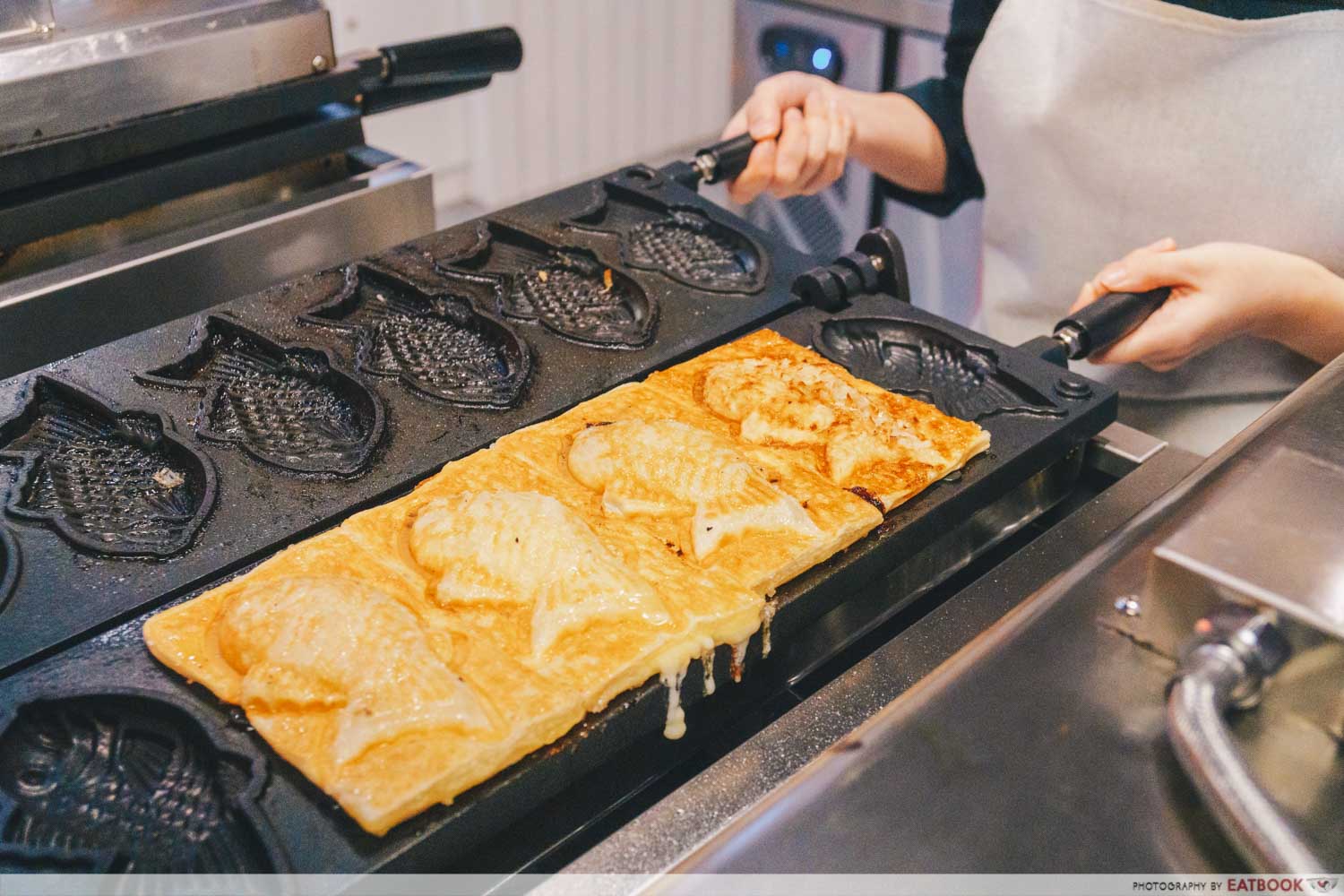 Like a waffle maker, the two ends of the mould were then closed together, sealing both sides of the delectable treat.
From where I stood, I could make out the distinct, sweet scent of caramelised sugar emanating from the mould.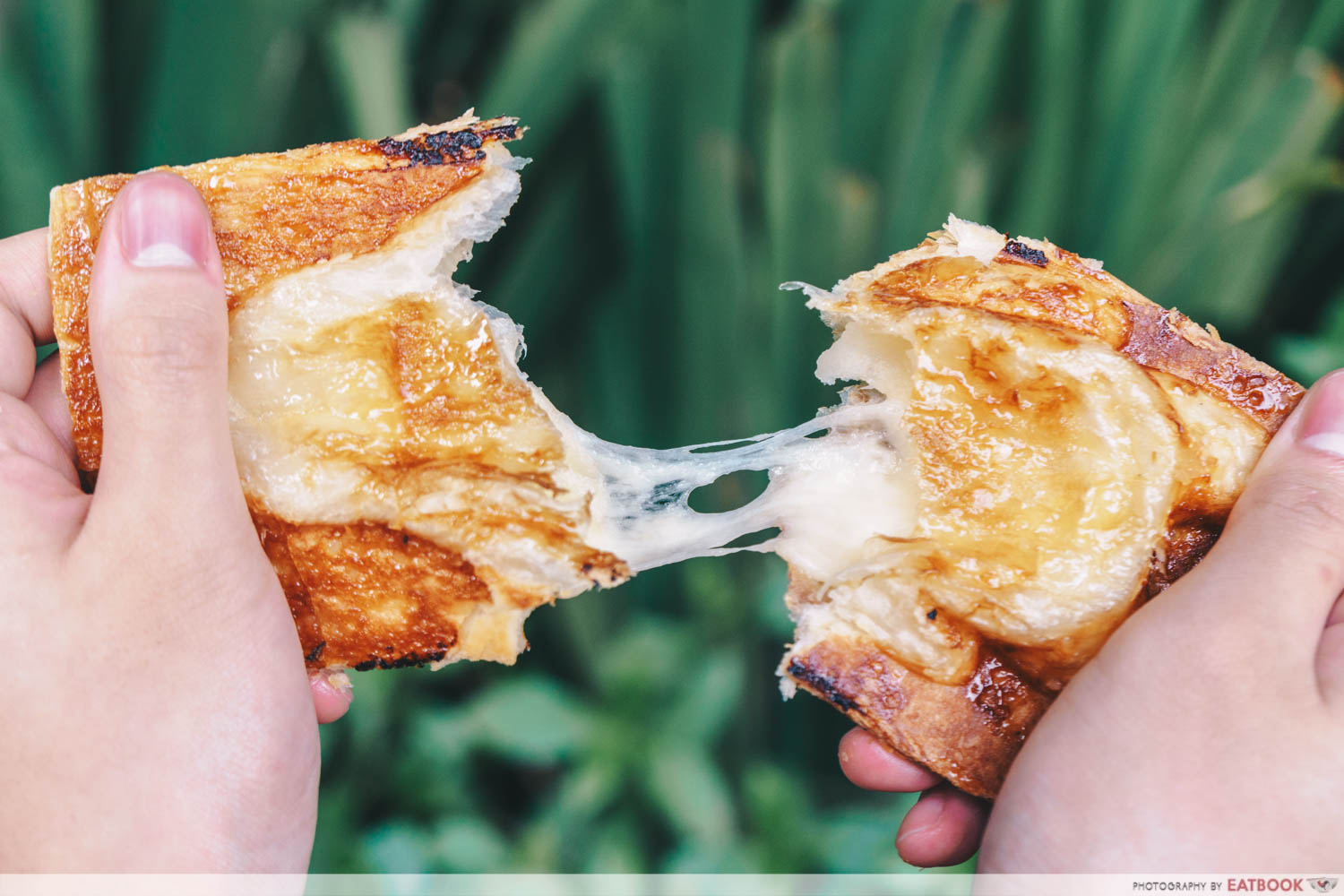 The Cheese ($4.80) was the first thing I tried.
As I tore it apart, I was expecting a gorgeous cheese pull, as photos on their Facebook page showed just that. Instead, all I saw were the few odd bits of stretched cheese. Nothing IG-worthy here. I would have loved if more cheese were added into each taiyaki.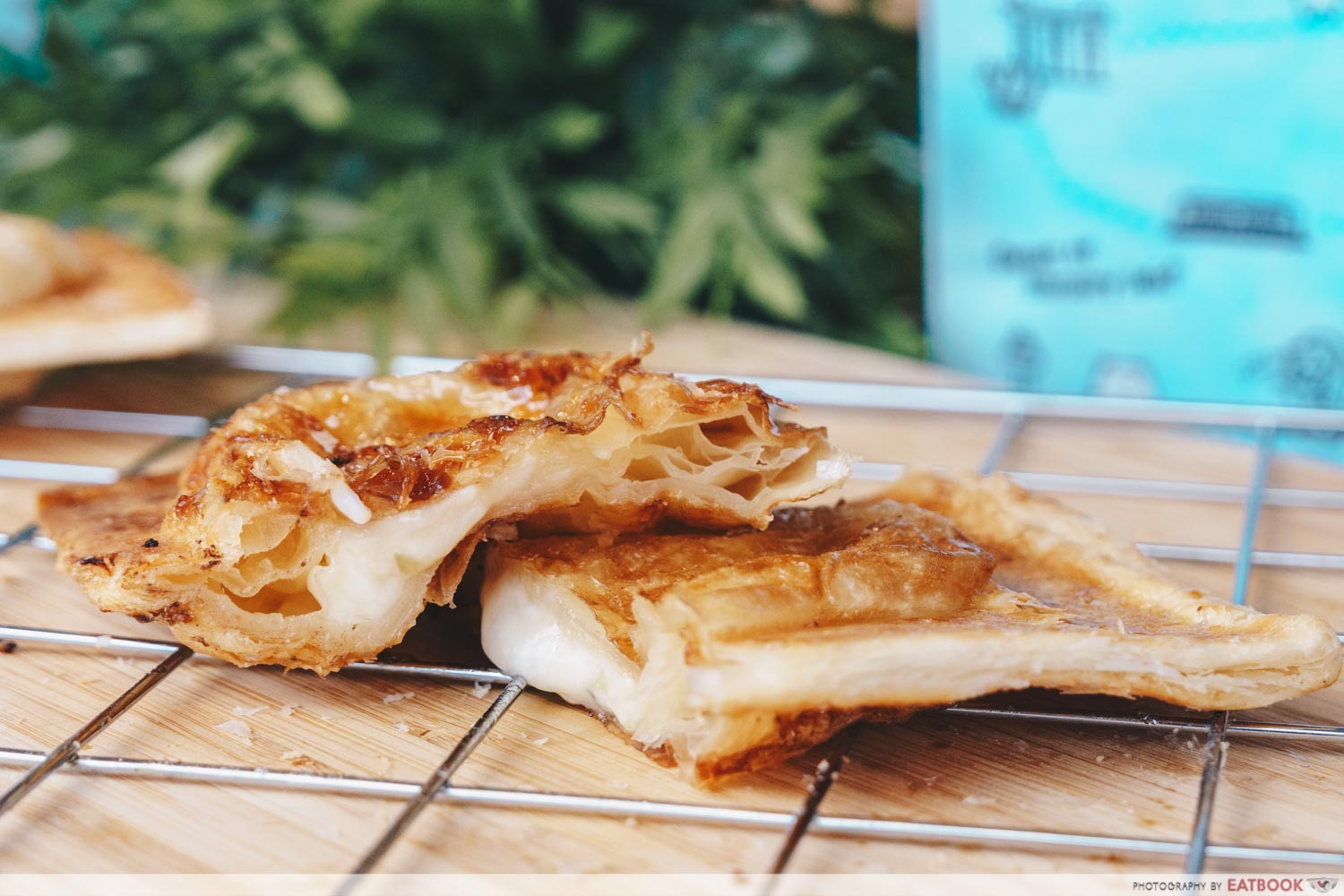 I was surprised by the bold flavours of the cheese, having expected a flat taste with the lack of cheese. 
The cheese was a mix of mozzarella, cheddar and jalapeno. This beautiful blend provided a pleasant sharpness from the cheddar that's enhanced by the jalapeno's tartness and lingering heat.
The crust was also noteworthy. Caramelised bits of sugar added a nutty taste, bringing out the buttery flavours of the puff pastry. I would compare it to the calorific Kouign-Amann from Tiong Bahru Bakery.
Tiong Bahru Bakery Safari Is An Exclusive Glamping-Themed Cafe At Dempsey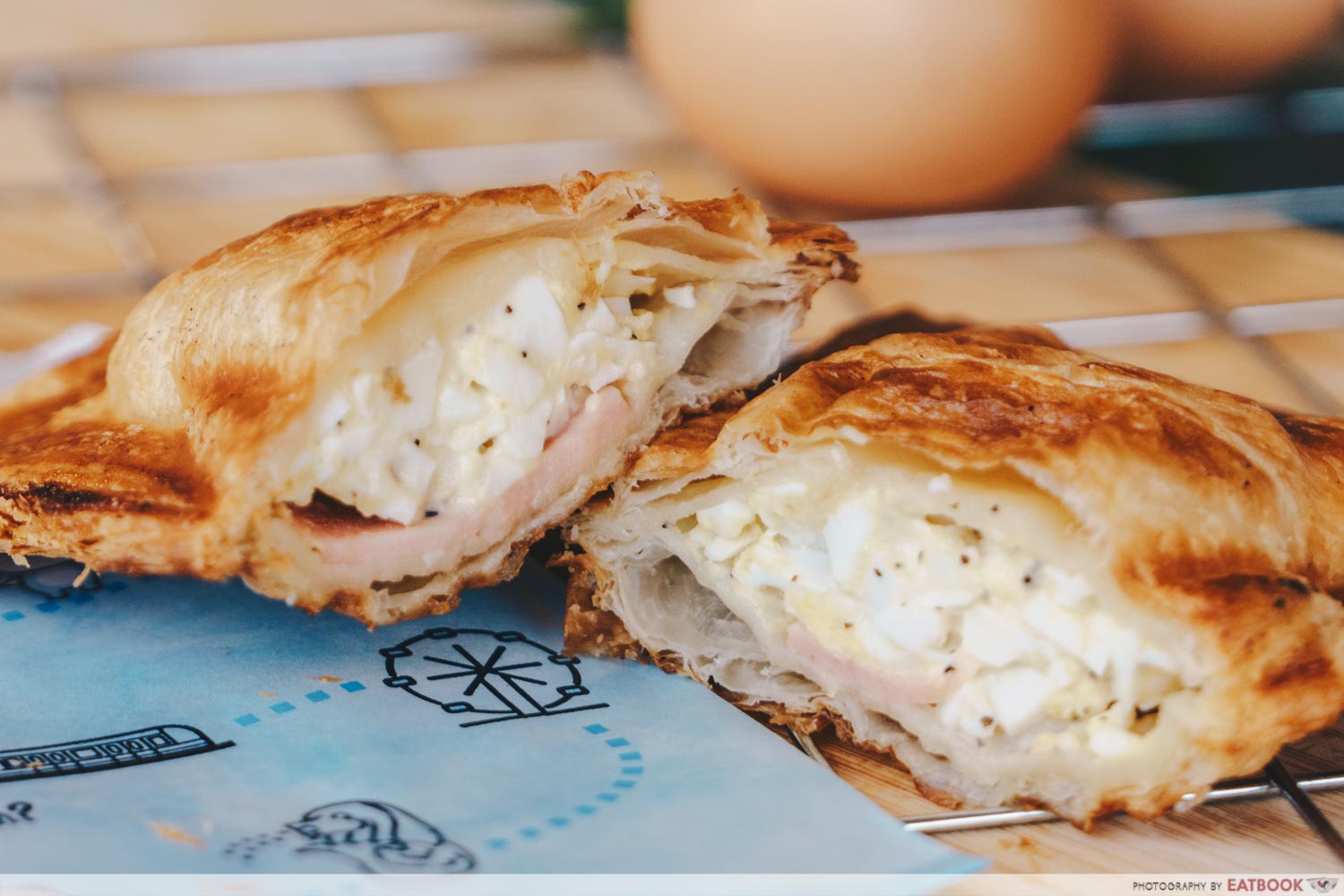 I felt that the crust best shone in the SOE TAM JIAK Breakfast ($4.80).
The way its sweet caramelised crust layered onto the savoury egg and ham filling was simply divine. Think salted caramel, but so much better.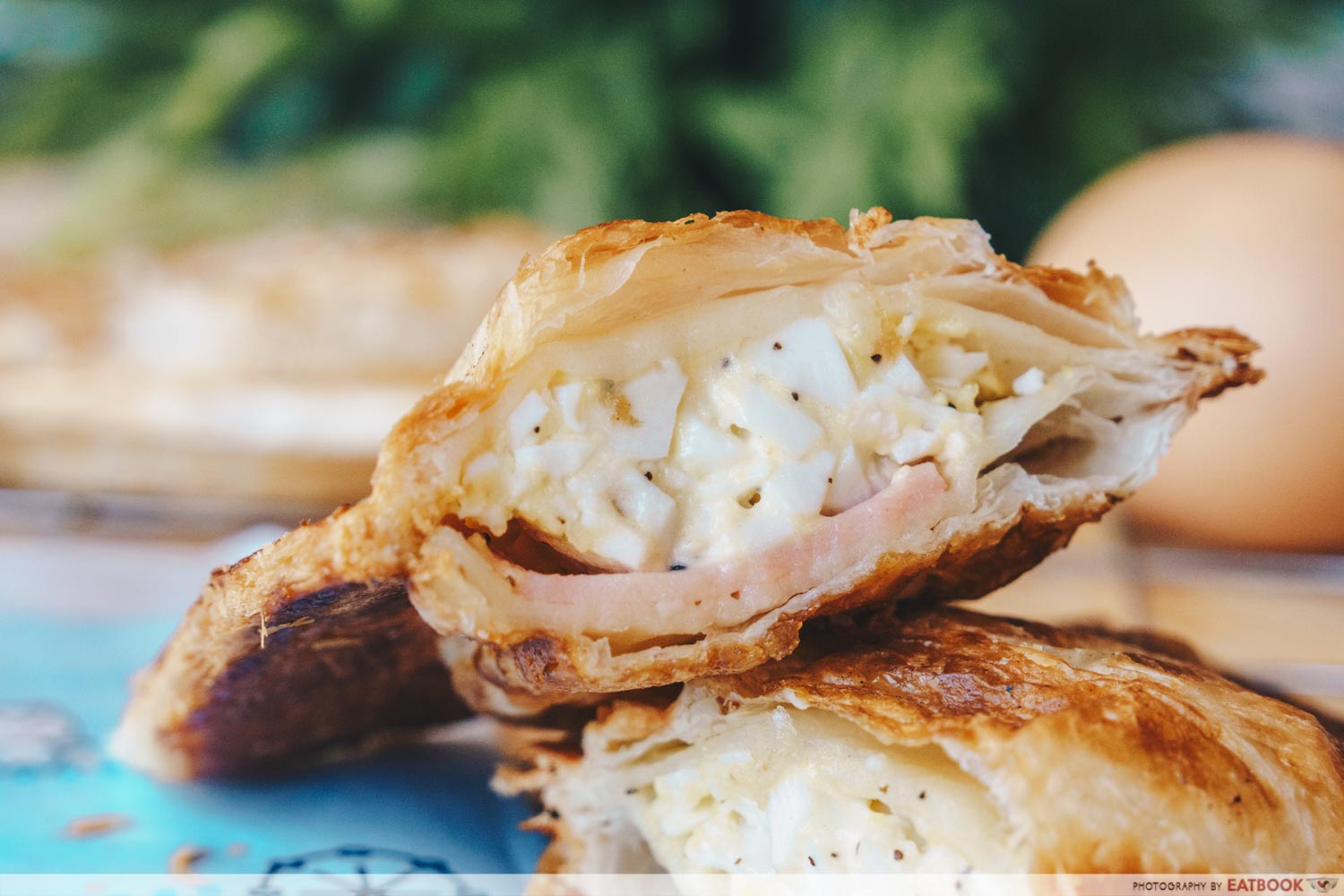 The savouriness enhanced all that rich caramel flavours on the crust. Having that soft gooey inside also accentuated the crispy exterior.
You can even taste a gentle aroma of herbs in the filling. I could make out some Italian herbs and black pepper, and these made the pastry taste more sophisticated.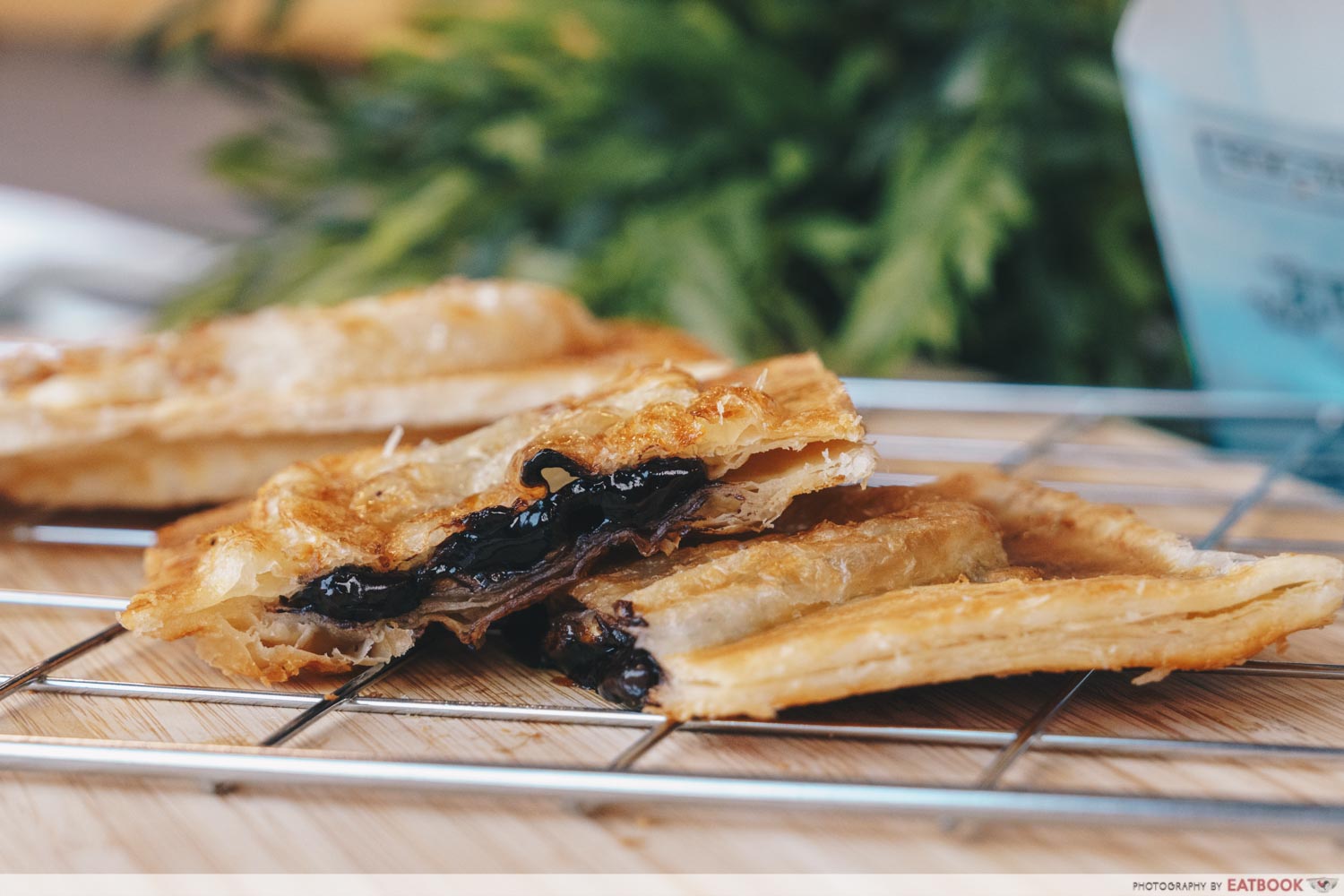 The Chocolate Banana ($4.20) was pretty delicious too. Yes, it looks flat but I assure you the taste makes up for it.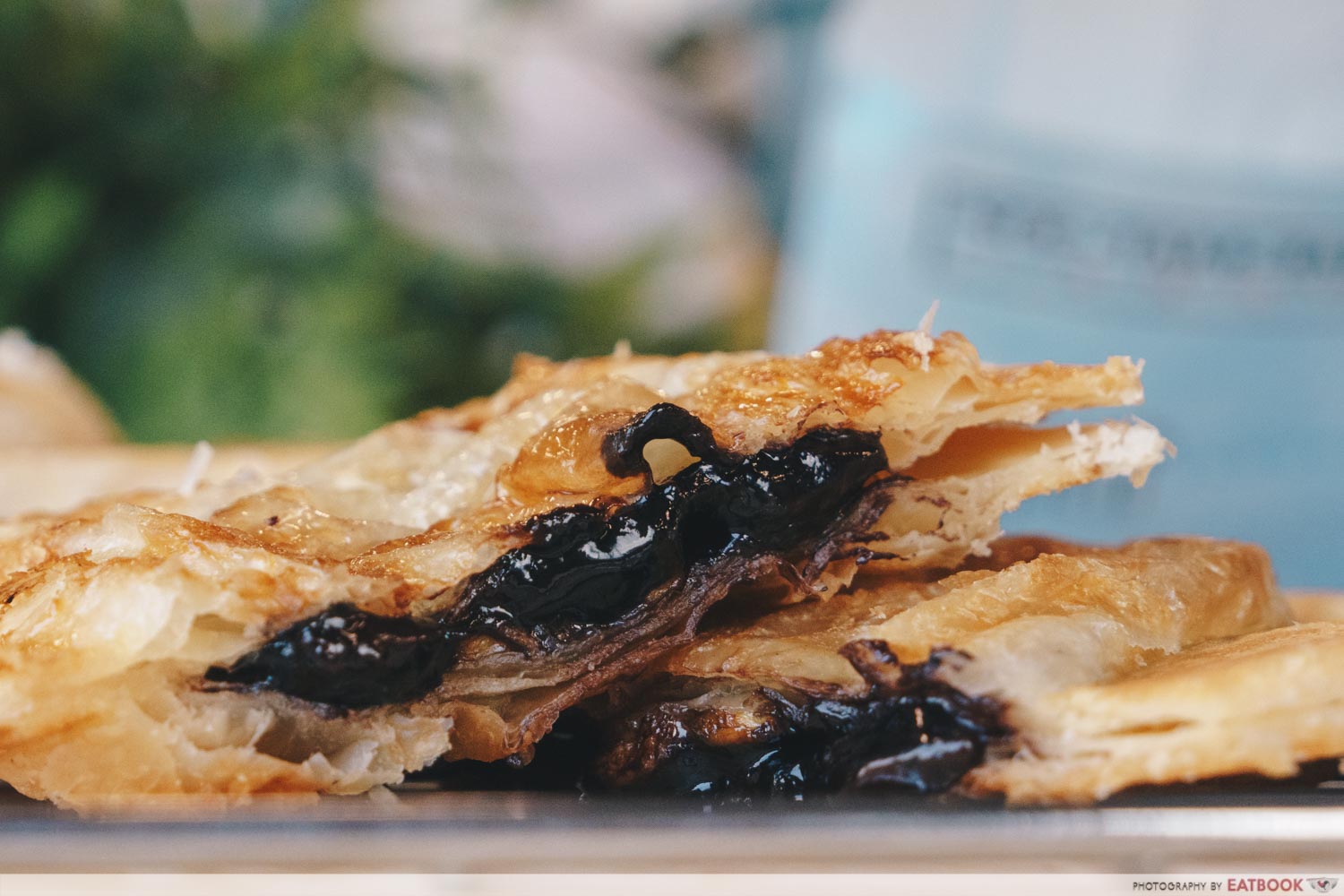 Dark chocolate was used, providing a mellow bitterness. The bananas, on the other hand, added a natural sweetness that brought out the richness of the dark chocolate.
It felt like a kawaii version of the pain au chocolat I would get in a French pâtisserie.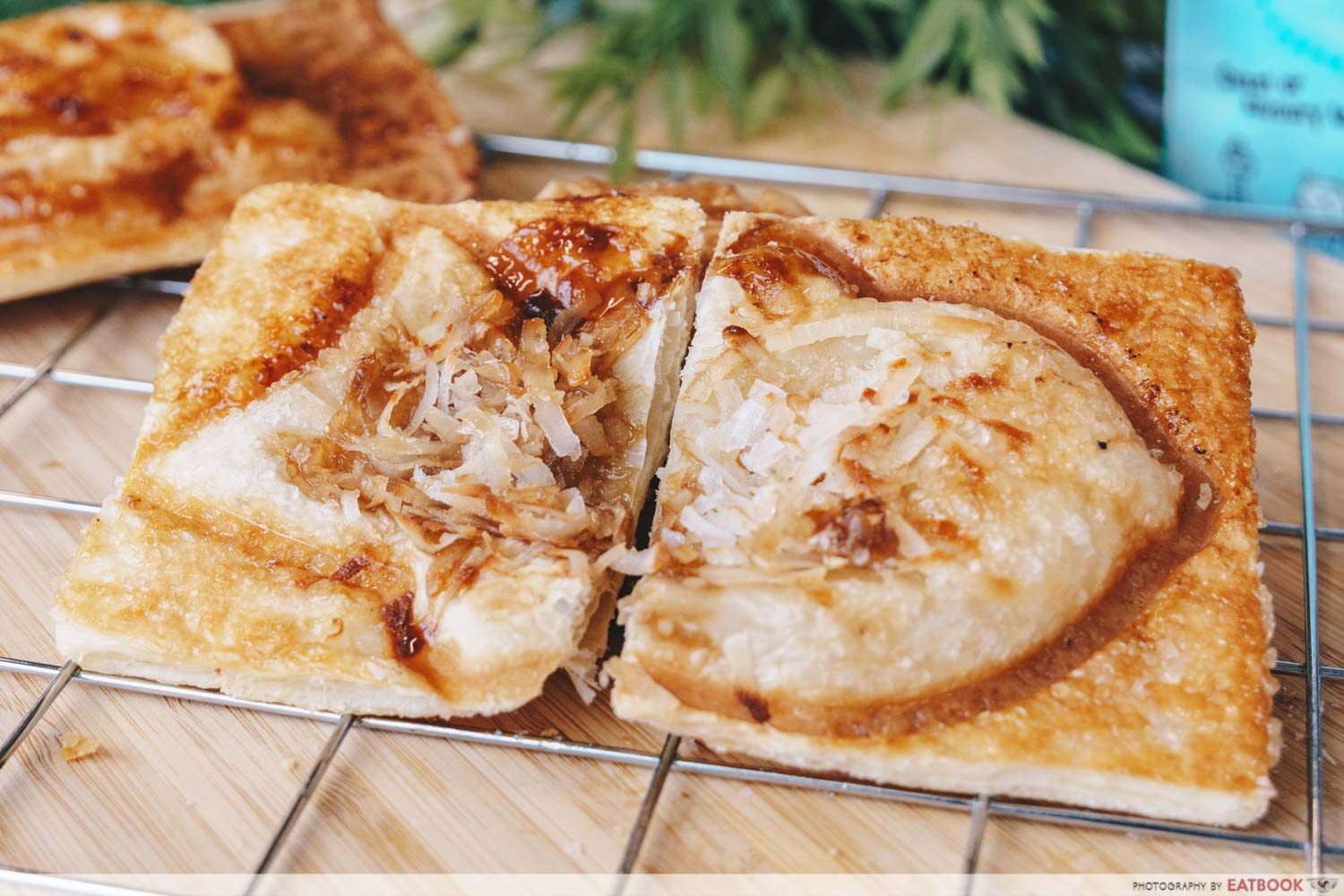 The Coconut Gula Melaka ($3.50) is Soe Tam Jiak's bold, local spin on taiyaki. Shredded coconut and hearty chunks of gula melaka were sprinkled onto a piece of pastry that's cooked till golden brown.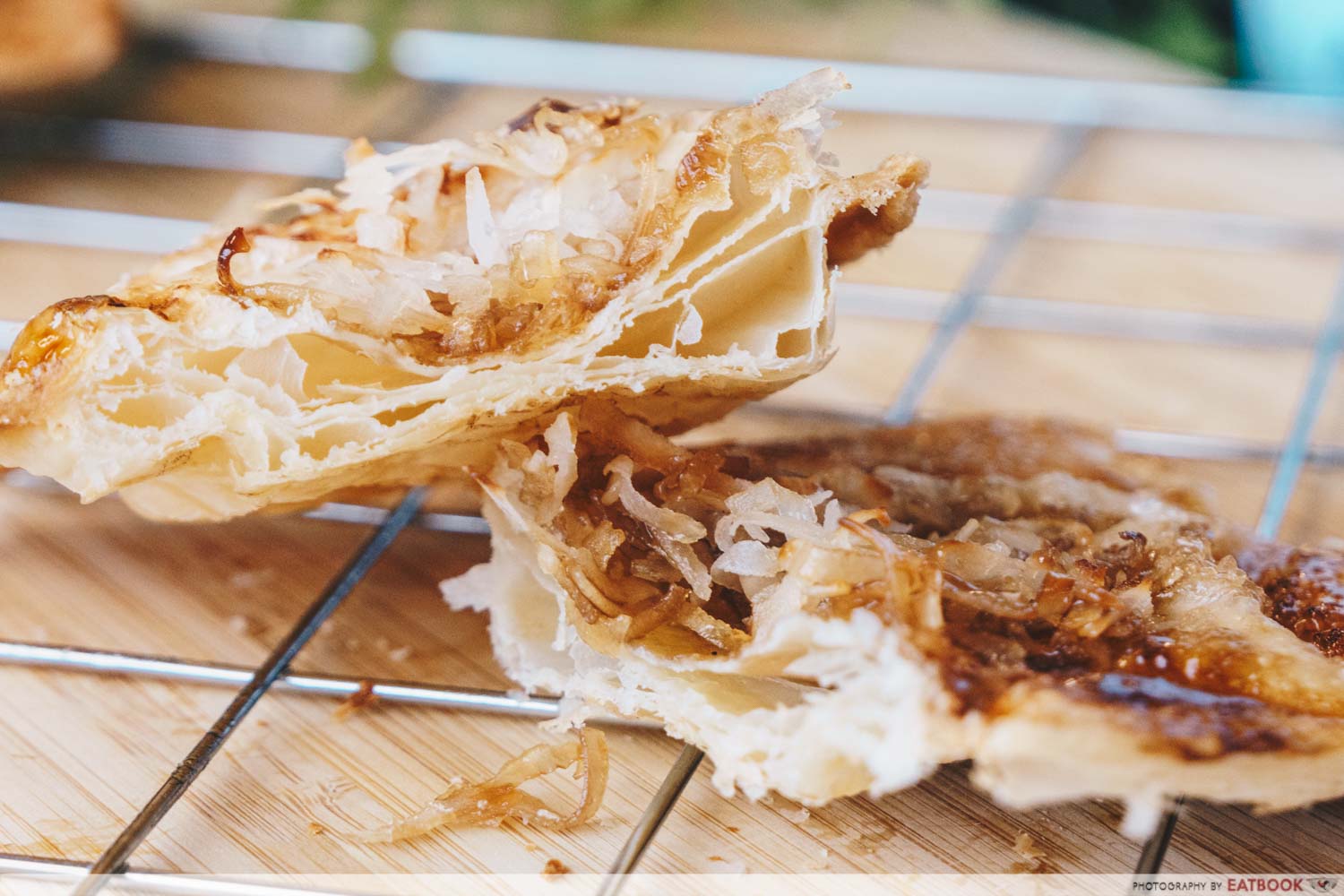 It tasted like a refined coconut tutu kueh. The earthiness of coconut shone through the pastry, giving it tons of tropical goodness.
However, I would have loved it if more gula melaka was used. The rich nuttiness of the palm sugar and molten consistency would have brought this puff to a whole other level.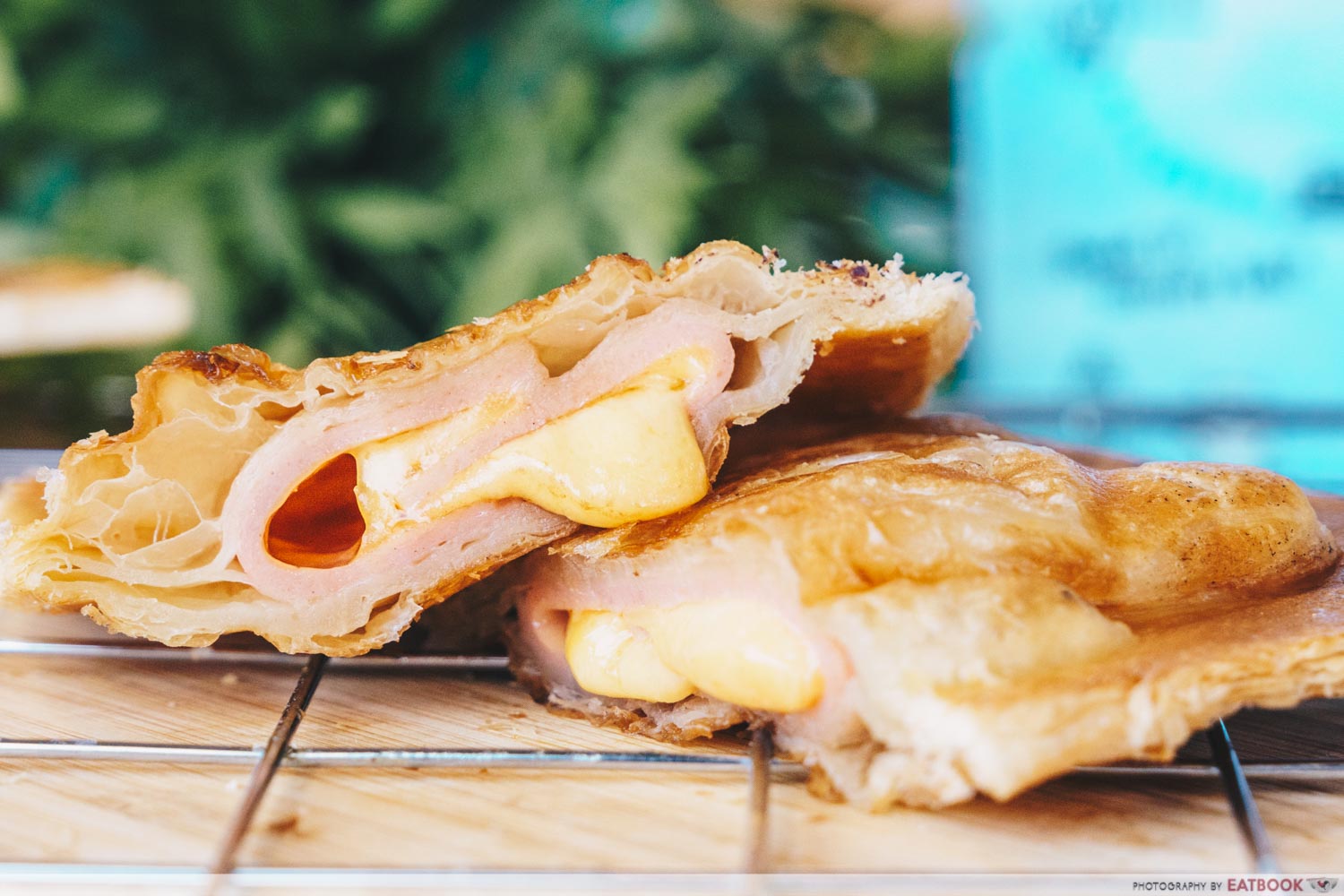 The Ham and Cheese ($4.20) was a sight to behold. It was mesmerising to look at the cheese ooze out from between the thick slices of ham.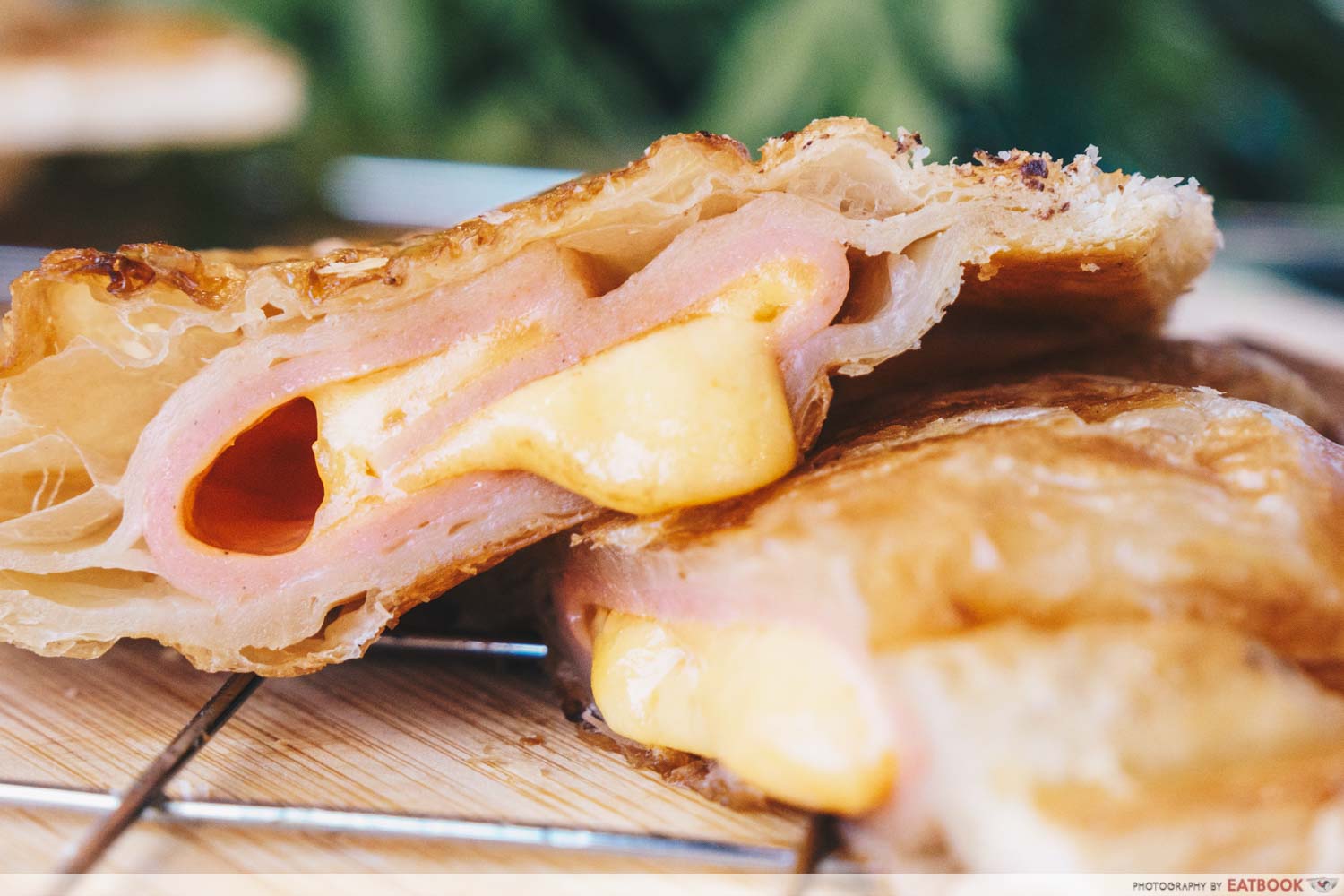 Just like the Soe Tam Jiak Breakfast, this had a good mix of sweet and salty flavours. The ham's brininess melded into the umami-laden cheese, bolstering the robust and sugary pastry.
Ambience at Soe Tam Jiak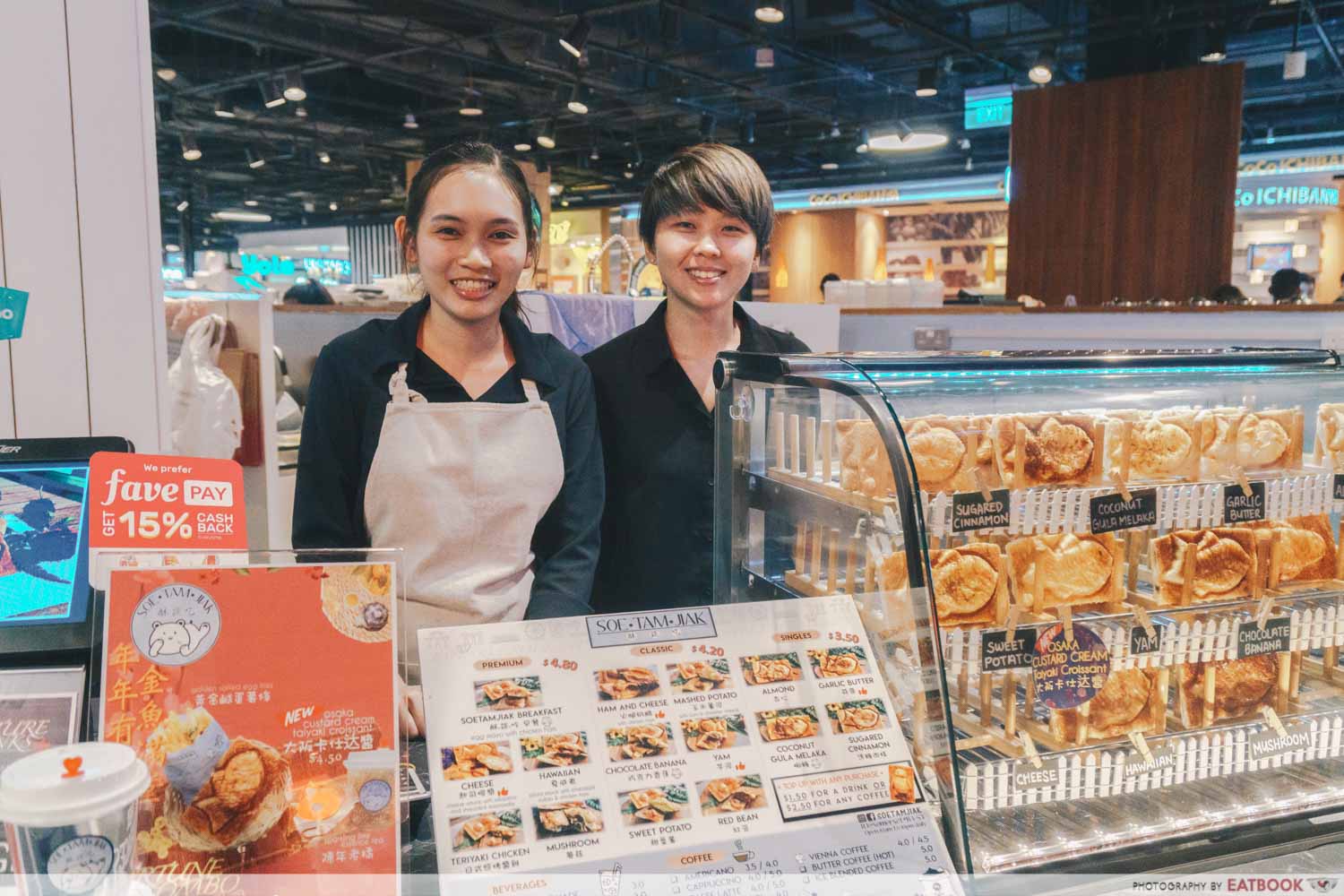 The decor here is minimal with just a whitewashed facade and a few trinkets to make the shop pop.
It's also worth noting that there's no dine-in space available; it's a grab-and-go kind of situation. But all is well because there are a few chairs and tables around the basement that you'll be able to dine comfortably at.
The verdict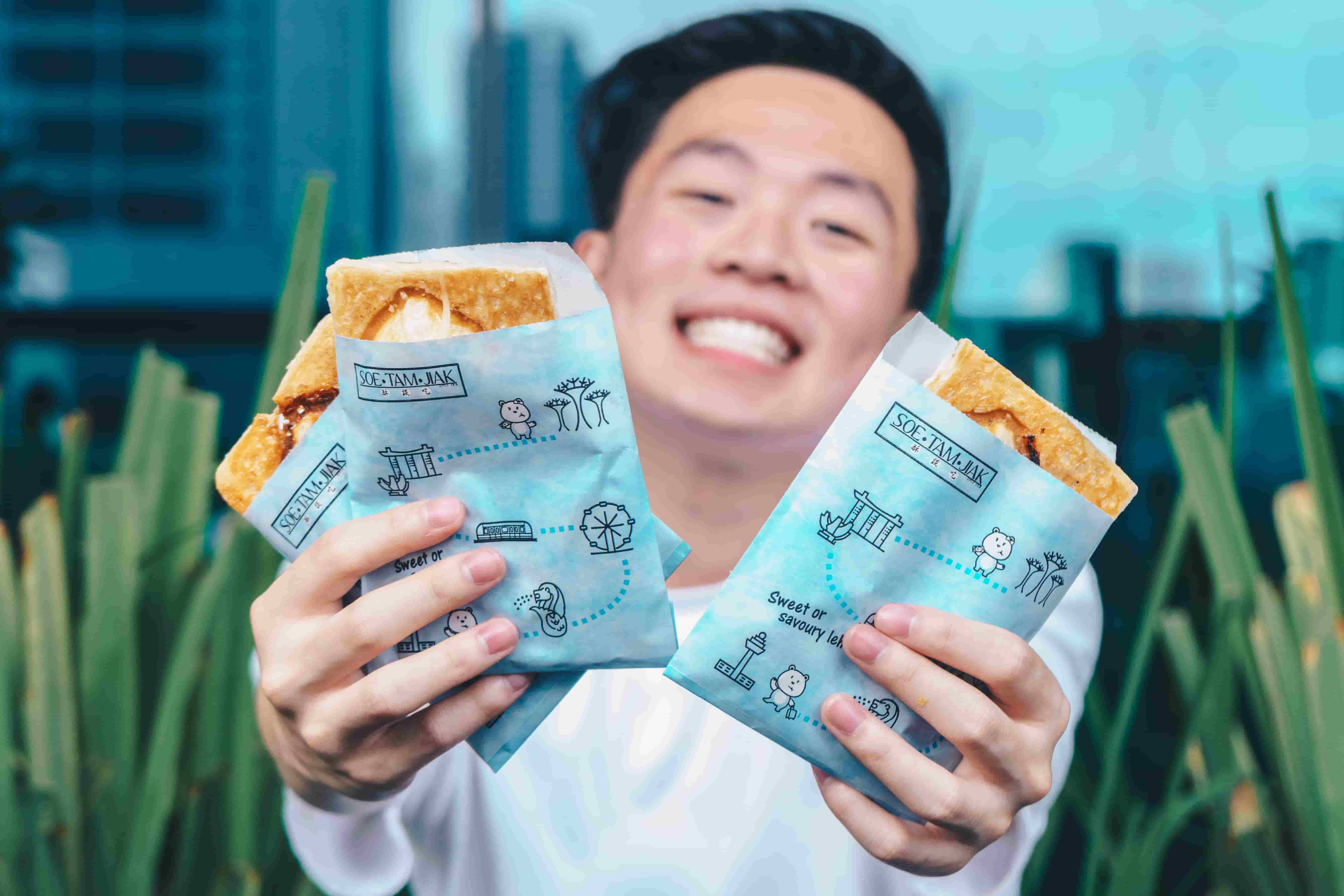 Croissant taiyaki is a novel concept. I love it. It's cute, tasty and makes for a tasty on-the-go snack.
What sets Soe Tam Jiak apart is their bold and unique Singaporean touch. Items like coconut gula melaka and yam push the boundaries of culinary trends. Therefore, it comforts me knowing I don't have to fly overseas to try a croissant taiyaki as the ones here are comparable – or perhaps better– to the OG.
Address: 313 Orchard Road, #B3-53, 313@Somerset, Singapore 238895
Opening hours: Daily 10:30am to 10pm
Website
Photos taken by Crystal Tan.
This is an independent review by Eatbook.sg.
Summary
Pros
– Good flavour
– Wide variety
Cons
– Slightly pricey
Recommended dishes: Cheese ($4.80), Soe Tam Jiak Breakfast ($4.80), Chocolate Banana ($4.20)
Opening hours: Daily 10:30am to 10pm
Address: 313 Orchard Road, 313@somerset, #B3-53, Singapore 238895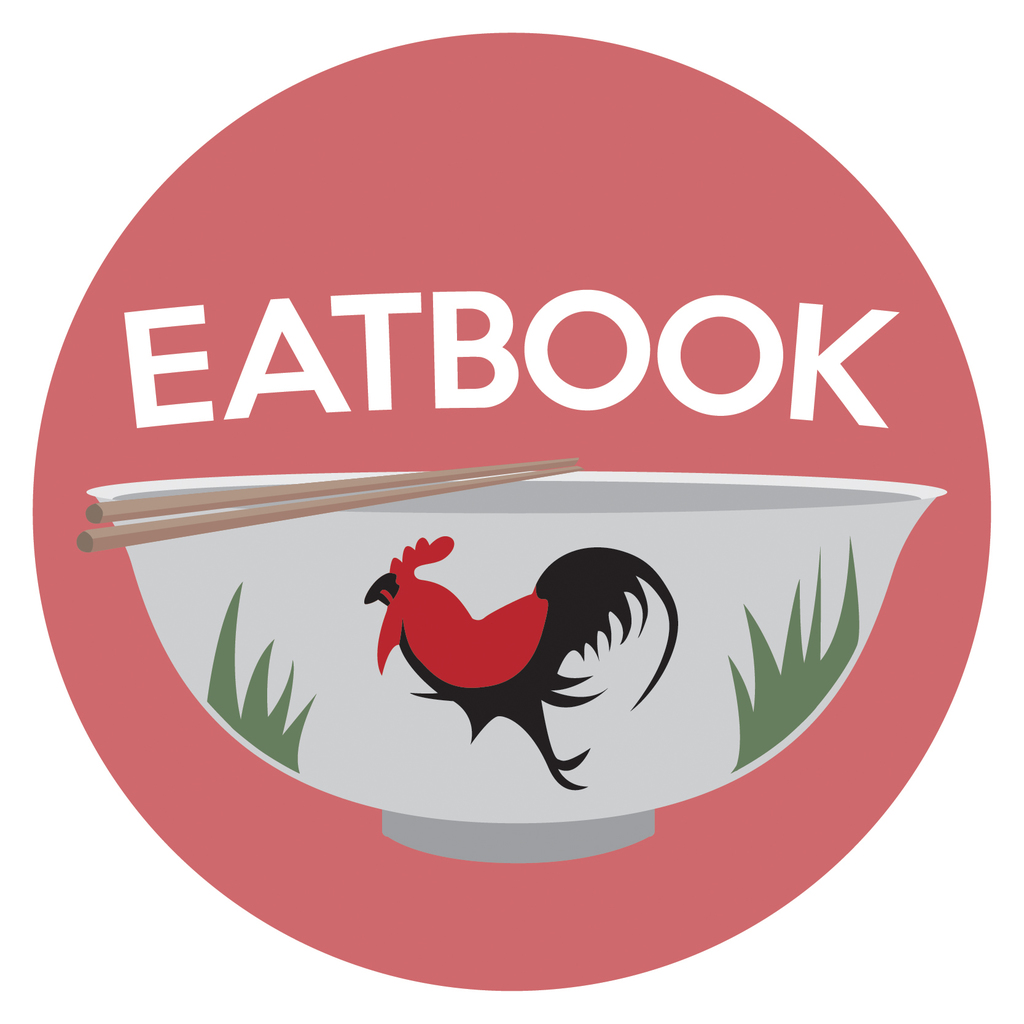 Drop us your email so you won't miss the latest news.