Let the Christmas feast begin
Update: Starker is now permanently closed.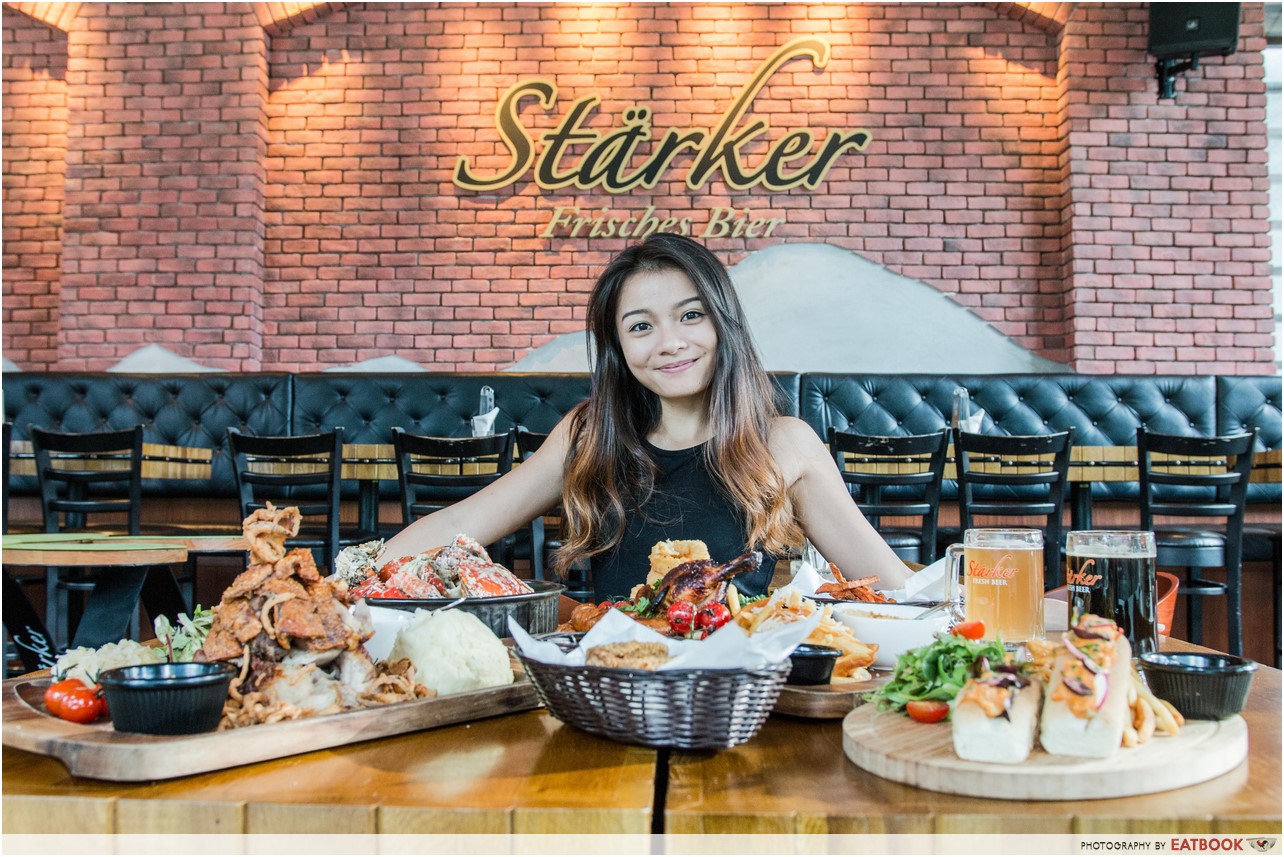 When I was little, I was just like any other kid who was drunk on the idea of being rewarded by Santa every Christmas. The only difference is, while everyone else was wishing for the big bearded man to drop them a Tamagotchi or Gameboy, all I wanted was a copious amount of food.
But I'm so done with waiting for that Santa who pangseh-ed me all my life. This year, I'm gonna be my own Santa and have my wish granted at Starker Bistro.
Food at Starker Bistro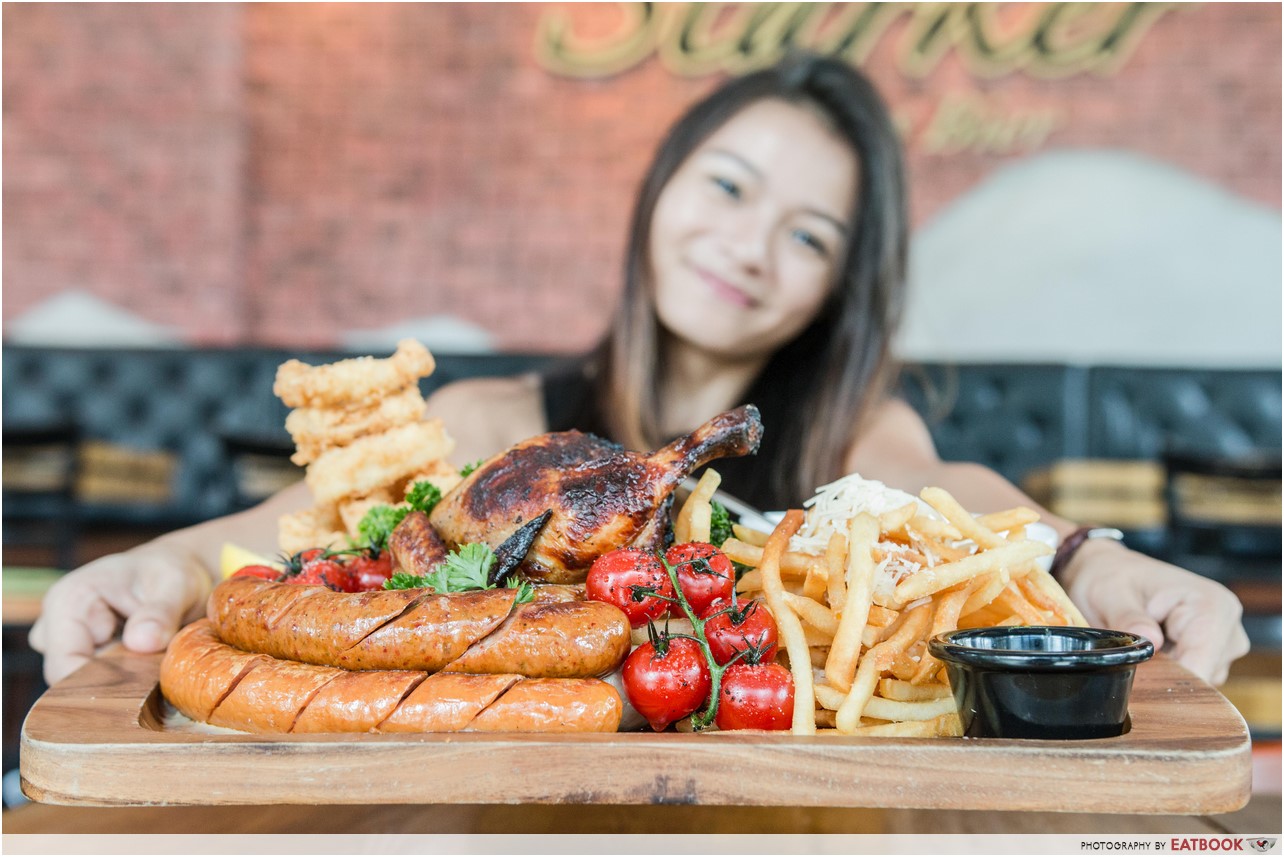 A girl doesn't need Santa when she's got Santa's Platter ($180++ with five litres of Starker Beer) that consists of crispy calamari, grilled sausages, shoe-string truffle fries and a whole roasted chicken. I now know why Santa's belly is so big because I couldn't stop stuffing myself with EVERYTHING.
If you're heading down with just bae alone, get a half platter that comes with half a roasted chicken, grilled sausages and two litres of Starker Beer for $80++.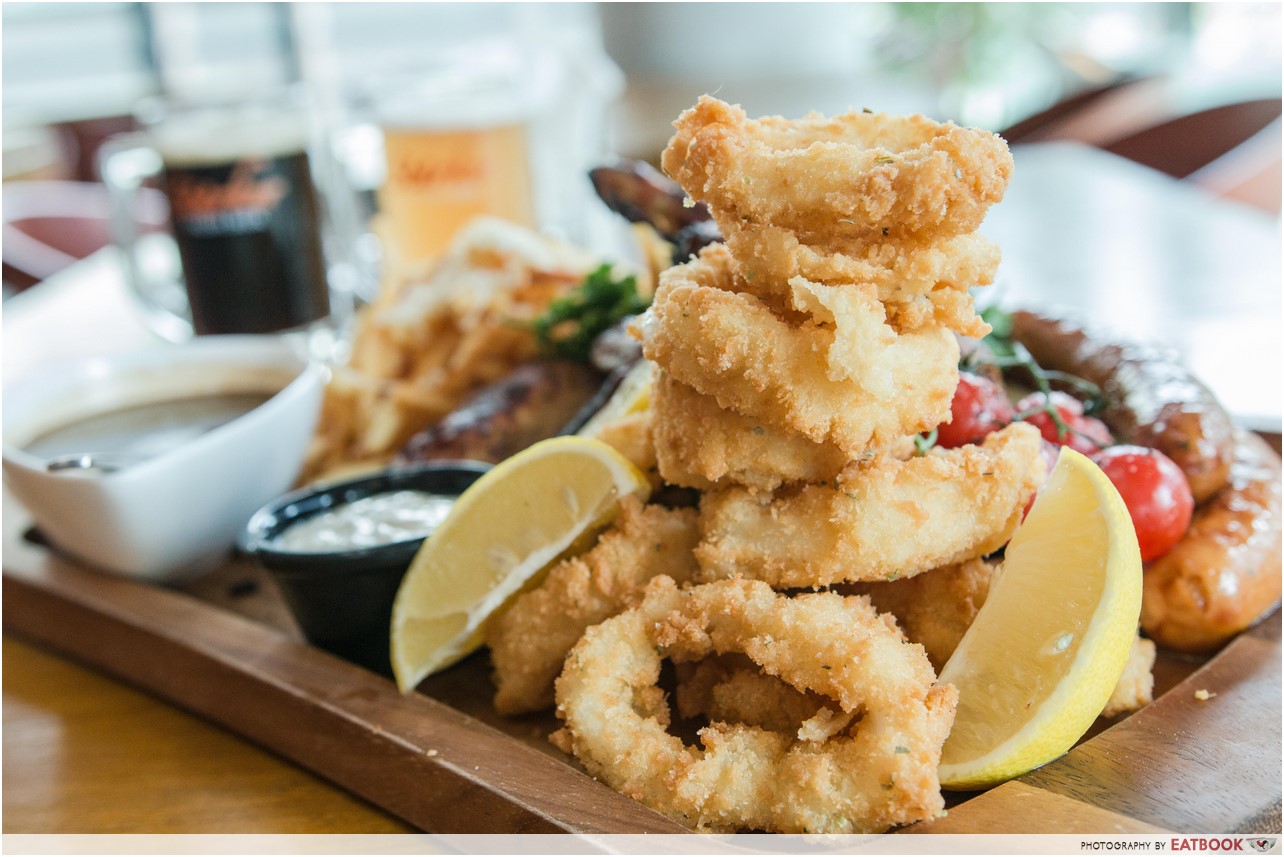 Let's start with my favourite of the lot: Crispy Calamari. The battered calamari was light and crispy on the outside while maintaining the tenderness and juiciness of squid within.
Calamari is one of the hardest ingredients to stand out because it can either get too dry or rubbery but Starker definitely nailed it. Drizzle some lemon juice to keep it light on the palate or dip 'em in tartar sauce for a good punch of flavour.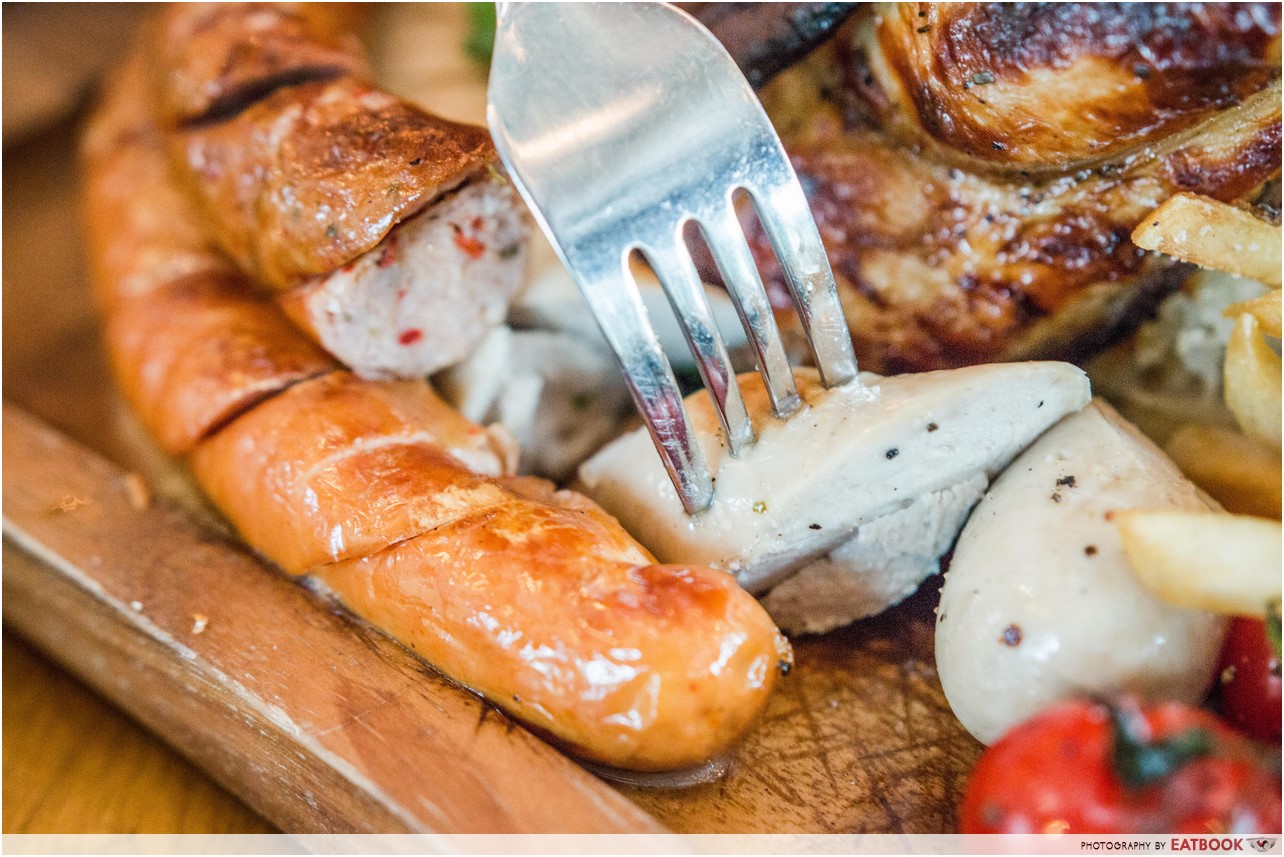 When it comes to sausages, the winning factor is texture. Lightly grilled to give it a slight burst as you tuck into it, I loved how the sausages were very firm while retaining a bouncy texture.
The weisswurst (white sausage) was non-spicy, less salty and had a subtle aftertaste of wild mushroom, whereas the spicy sausage was a lot more savoury with a little kick of spiciness. The best way to savour them is to dip them in my favourite sauce of all time – mustard. Tangy and sharp on the palate, this is perfect with Starker's Charcoal Beer.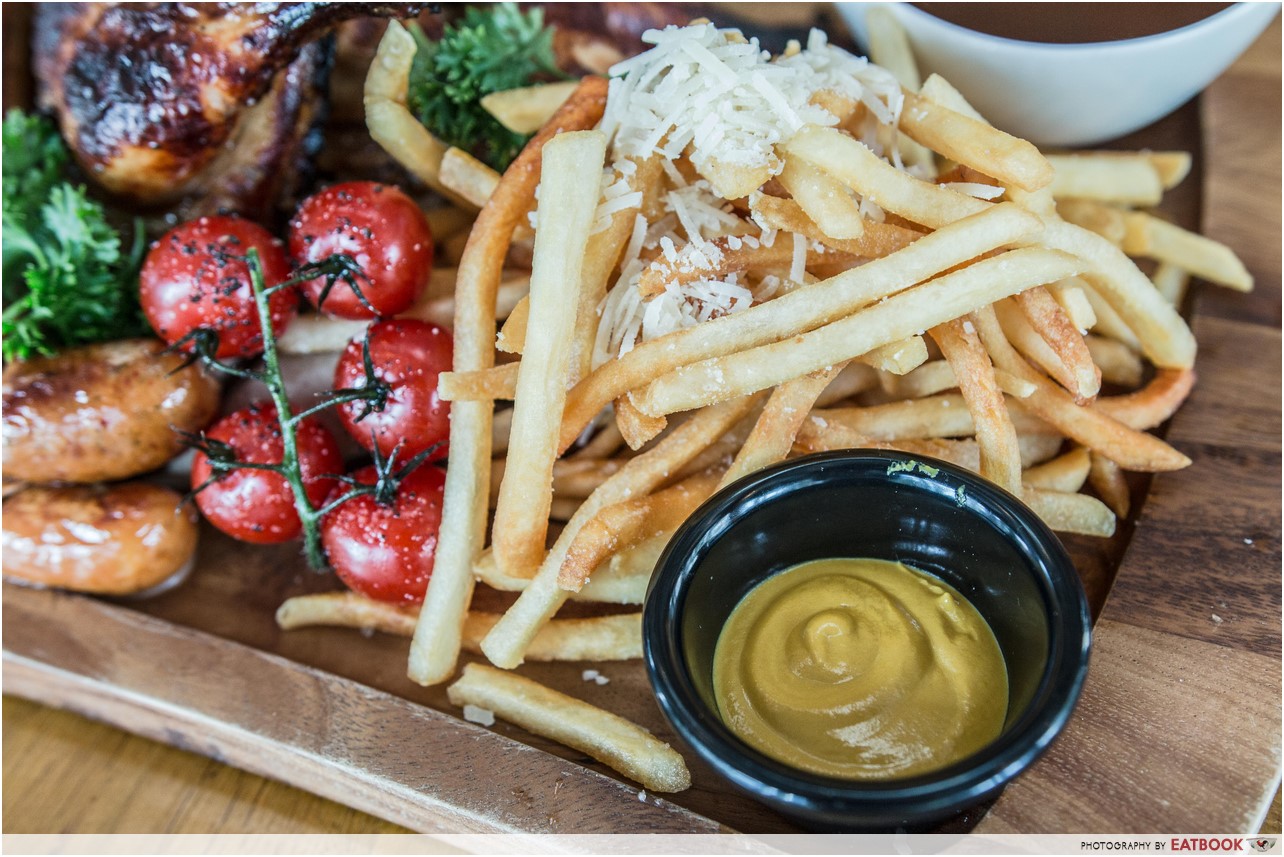 Don't ask me to calm down because I cannot contain my emotions when I'm served a good plate of truffle fries. These shoe-string fries came with a strong truffle flavour without it being too oily, making it a standout among other truffle fries I've had.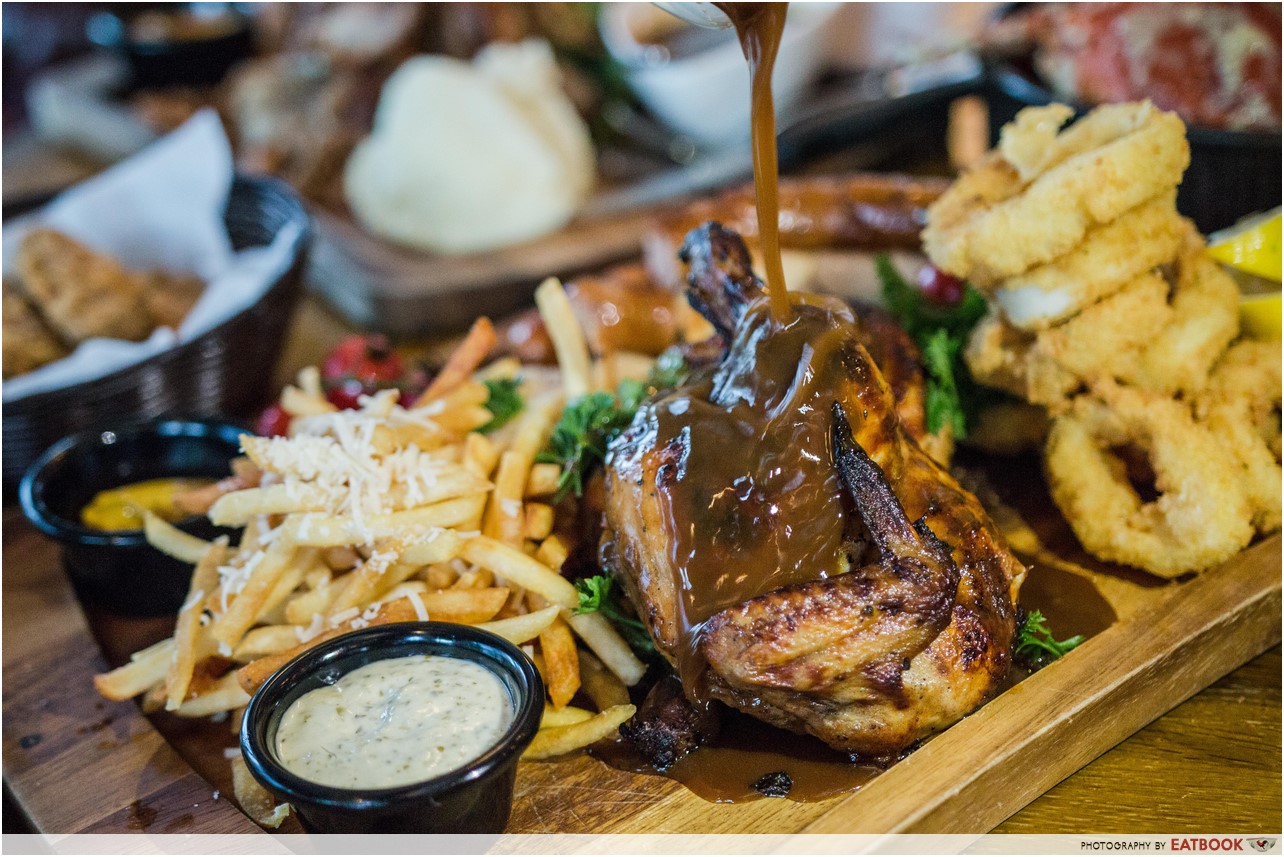 Not forgetting the star of the dish, the grilled chicken was slightly charred on the skin to give it that smoky flavour and the meat itself was incredibly succulent. Douse it with their homemade sauce that has a concentrated umami flavour and an aftertaste akin to mushroom gravy. Grab the tender drumstick first because there's no giving in when it comes to food.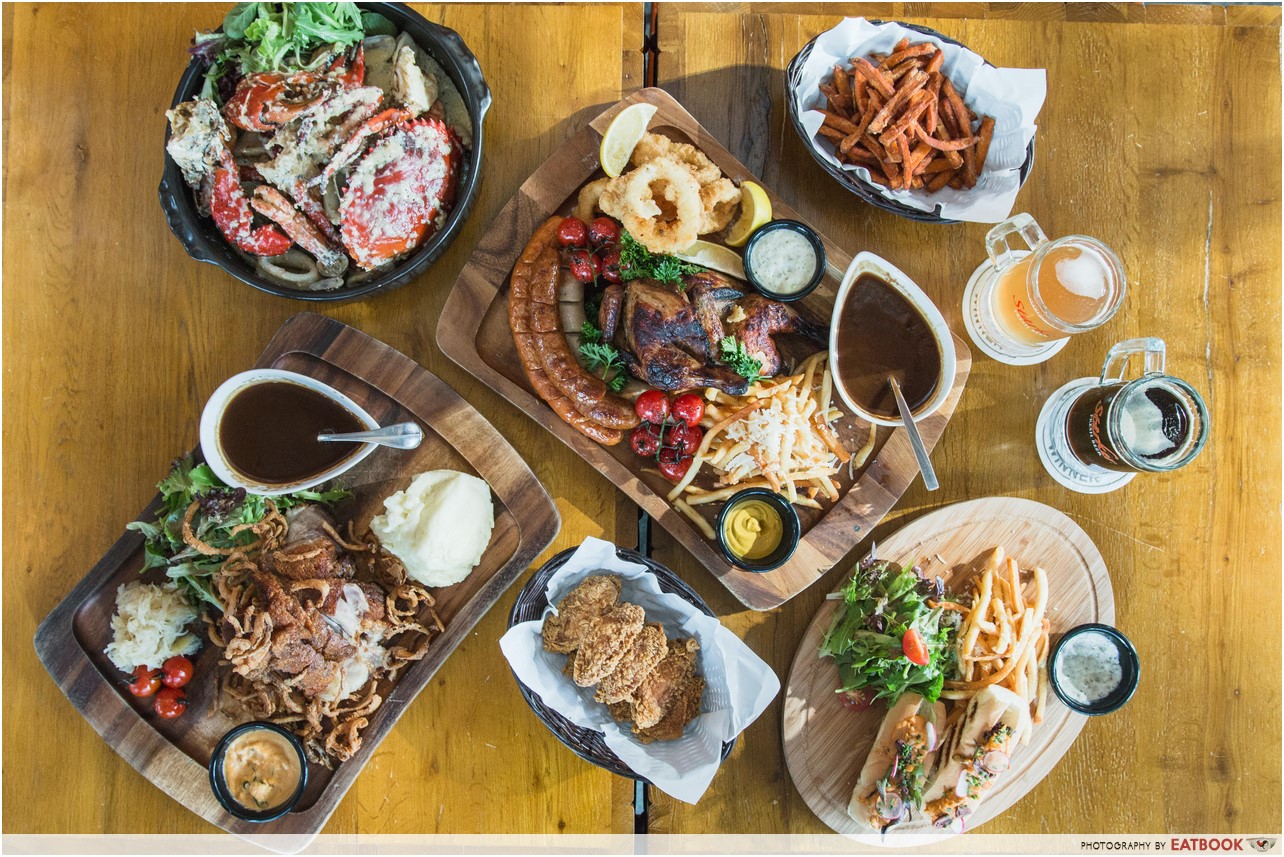 If you think that's enough for a Christmas treat, think again. With a newly launched seafood menu exclusively available at Starker Bistro Zhongshan Park, Christmas isn't complete without an ocean feast.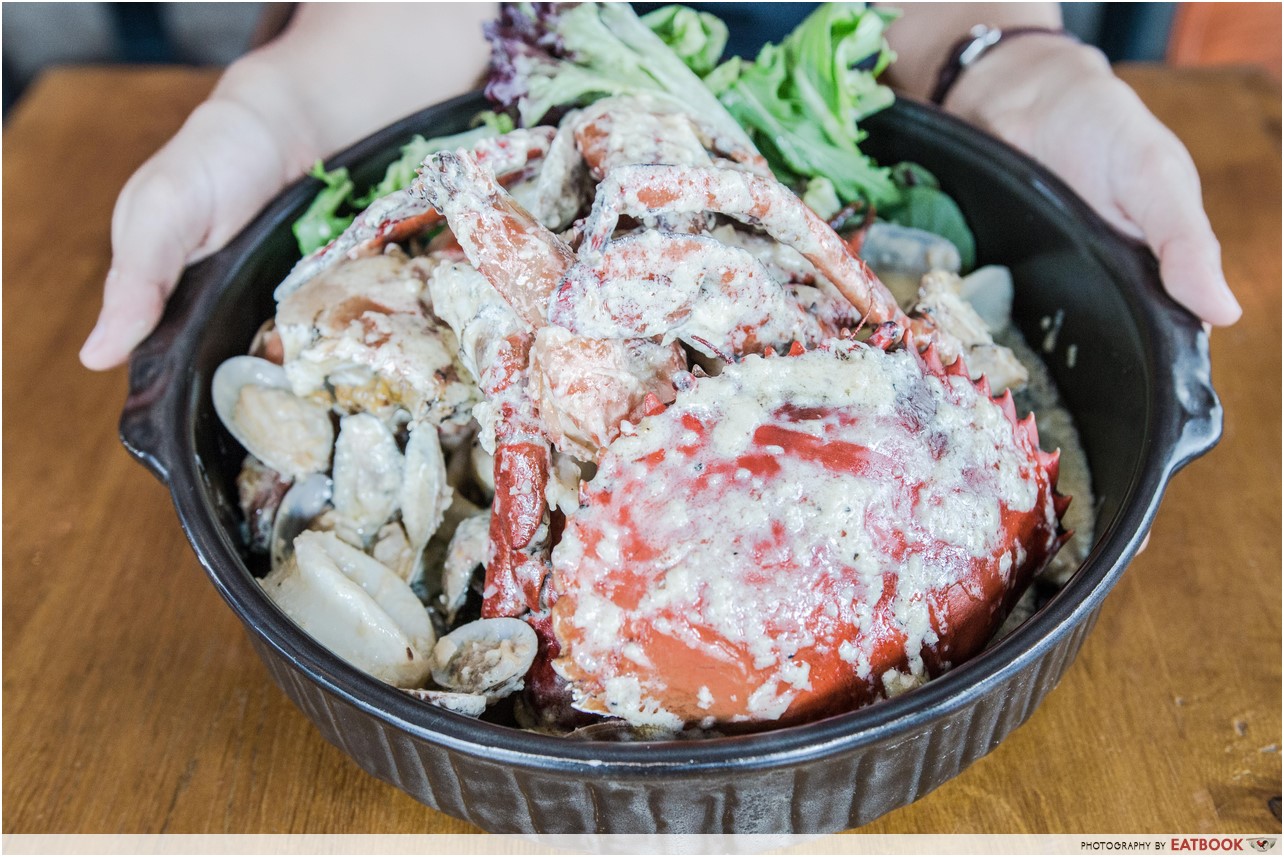 Catch 'em all with Ocean Galore ($93.80++ for two to three people) that consists of a whole Sri Lankan crab, tiger prawns, clams, and squid sauteed in homemade parmesan garlic butter. Seafood are handled live and prepared fresh in the kitchen itself. For the freshness and quantity of the seafood in this pot, it's no doubt a bang for your buck. As fresh seafood is involved, there are limited servings of this dish each day so be sure to make a reservation before you head over!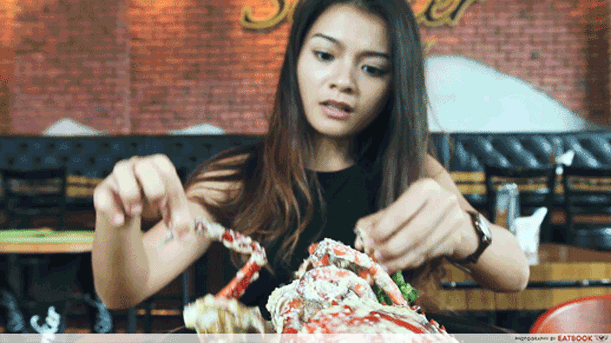 Well known for its plump meat and HUGE claws, the Sri Lankan crab was out to impress. Its shell was already slightly cracked so it came right off, revealing juicy and soft crab meat that was super fresh and sweet!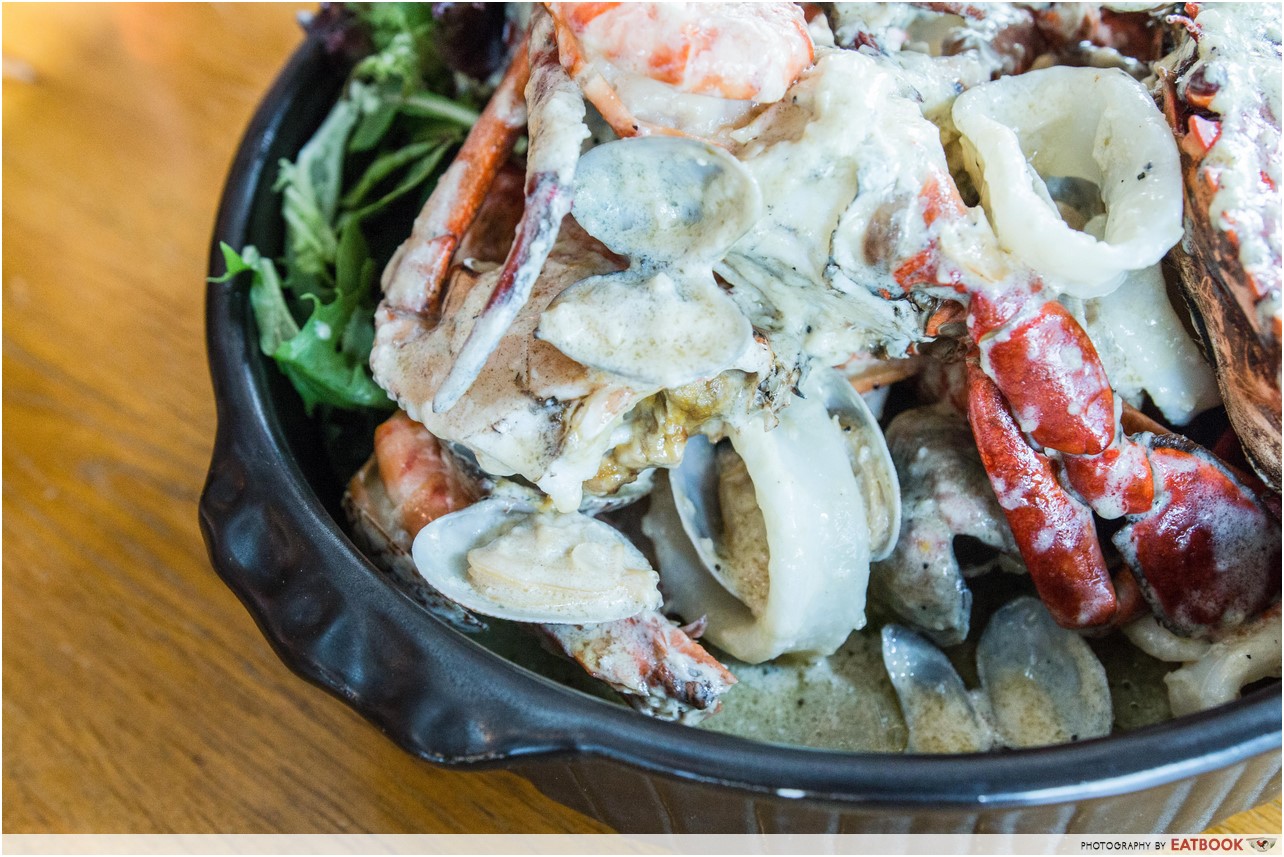 Apart from the crab, the tiger prawns, squid and clams were cooked to perfection. The clams seasoned in the parmesan garlic butter tasted like clam chowder! I loved how the sauce was fragrant and thick without pushing the natural taste of the seafood to the backseat.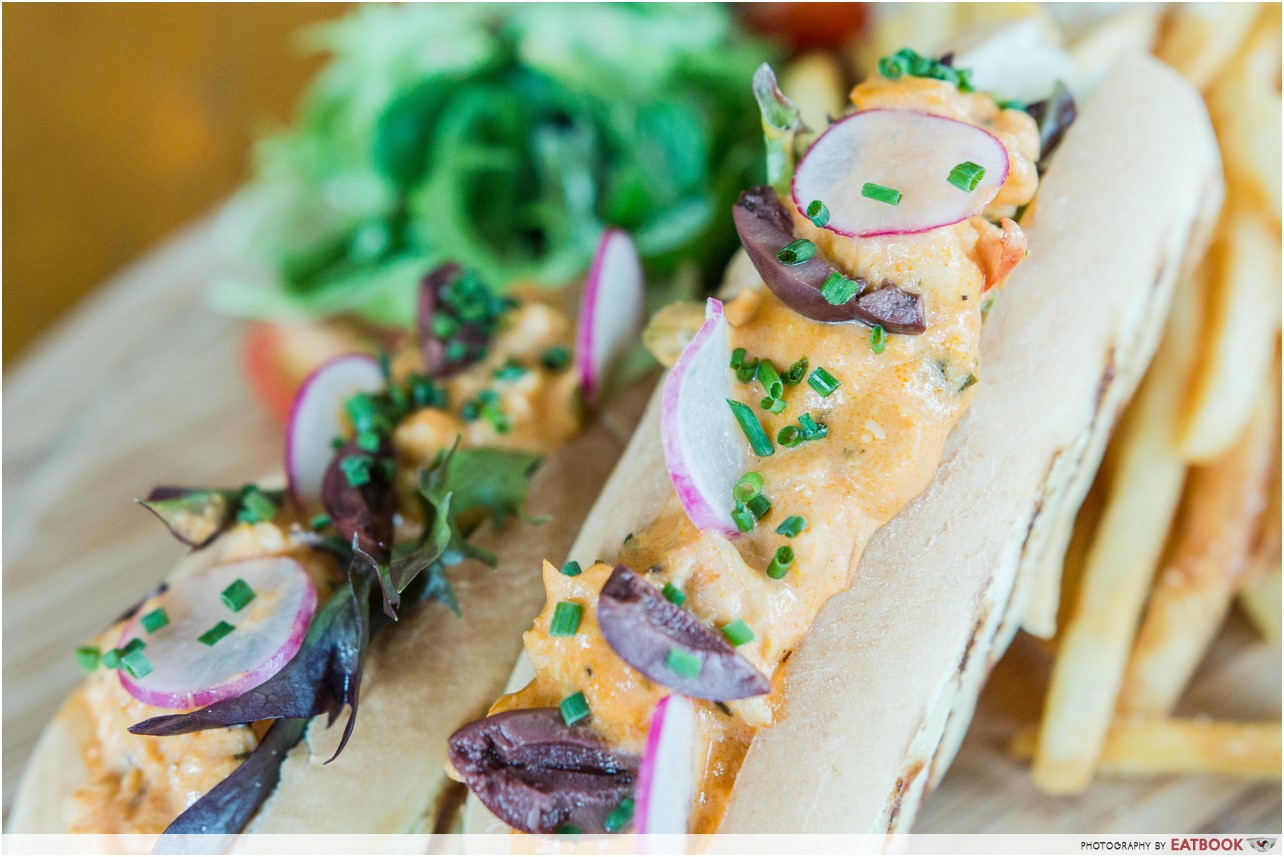 If you're craving for something light, go for Lobster Roll ($36.80++). With crunchy lobster meat, cherry tomatoes, red radish and olives tossed in their secret homemade dressing stuffed in a toasted buttered bun, this is a great pre-dinner fuel for the long night ahead.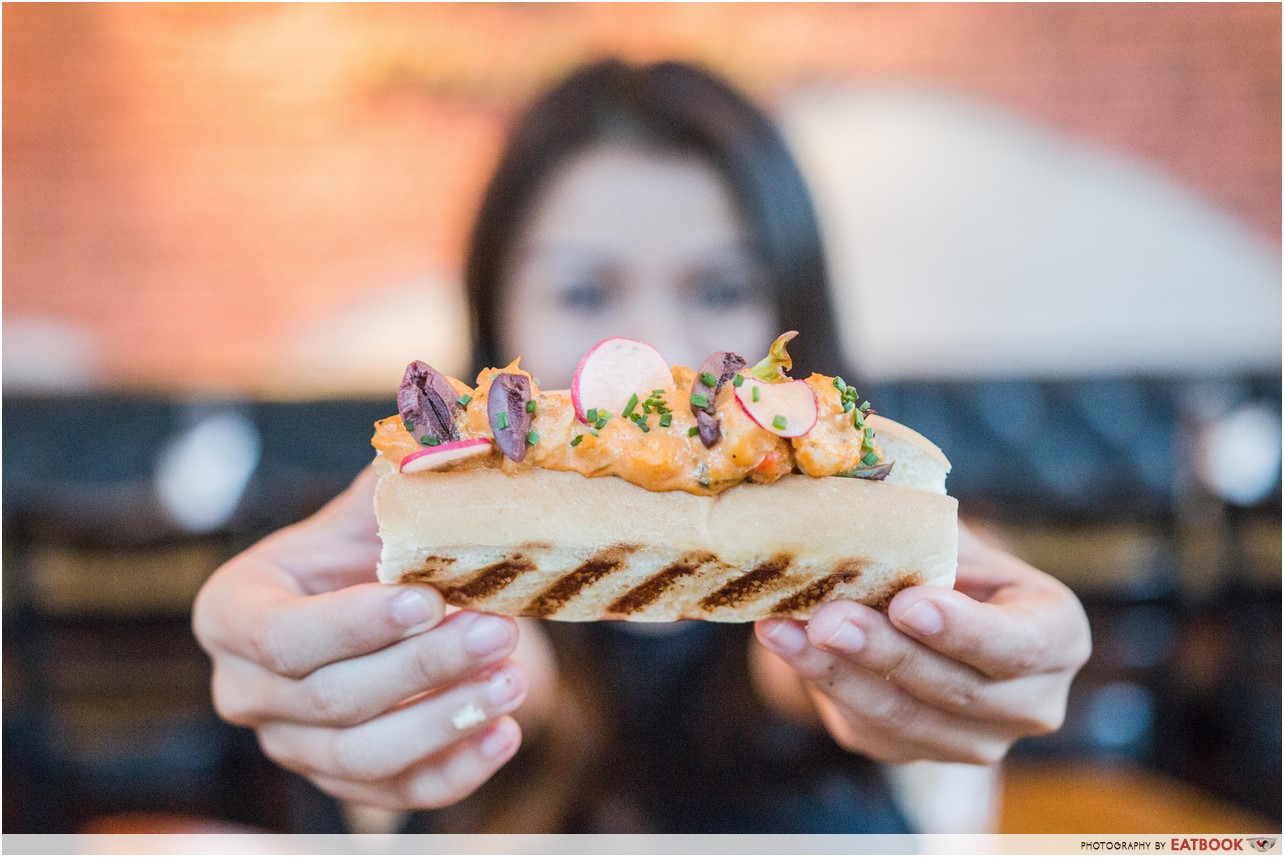 The creamy and tangy sauce covering the firm chunks of fresh lobster meat made this a sandwich worth ordering. I am not a fan of olives, so if you're like me, make a special request to leave them out when ordering!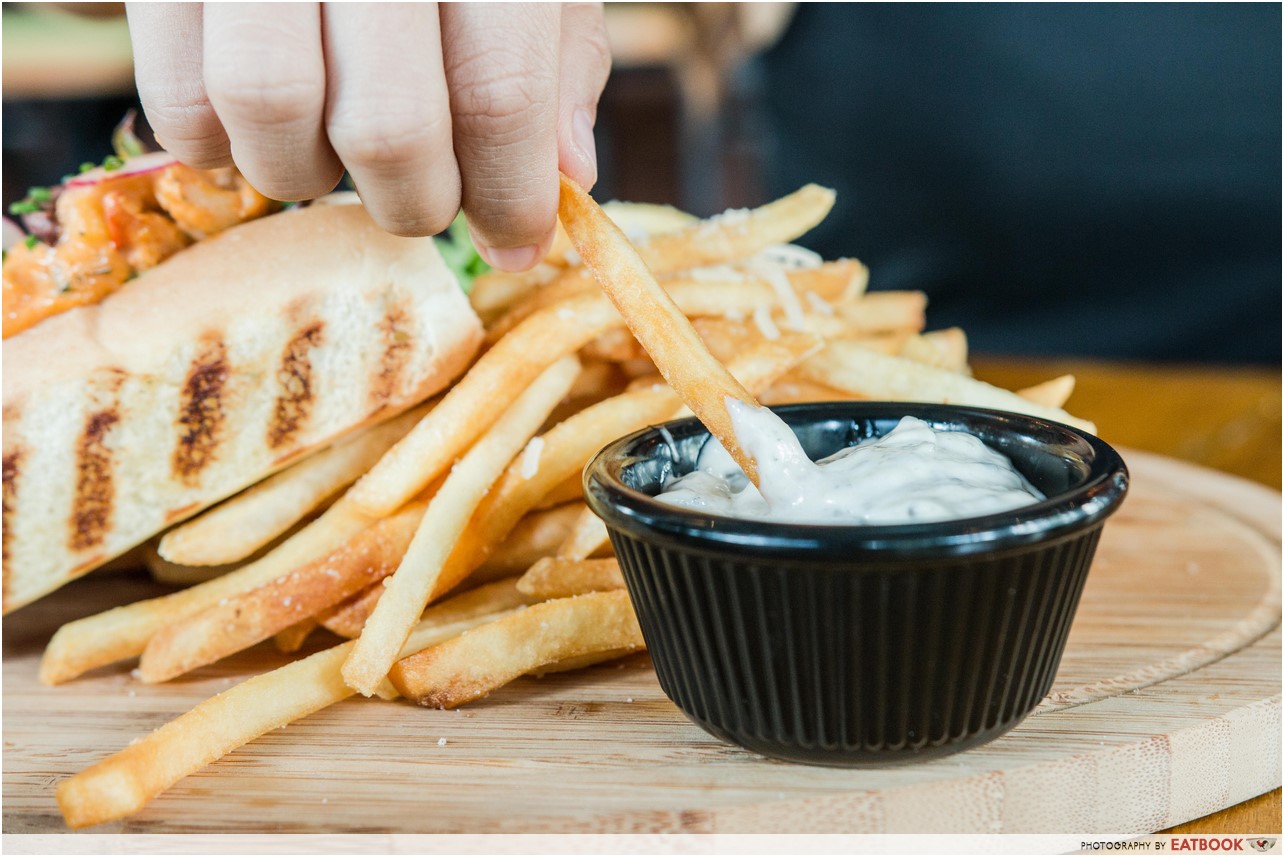 The lobster roll arrived with two sides: salad with balsamic dressing and shoe-string truffle fries. We also ordered their Truffle Mayo Dip ($3++) to up the truffle game. The dip was so good we literally wiped it clean!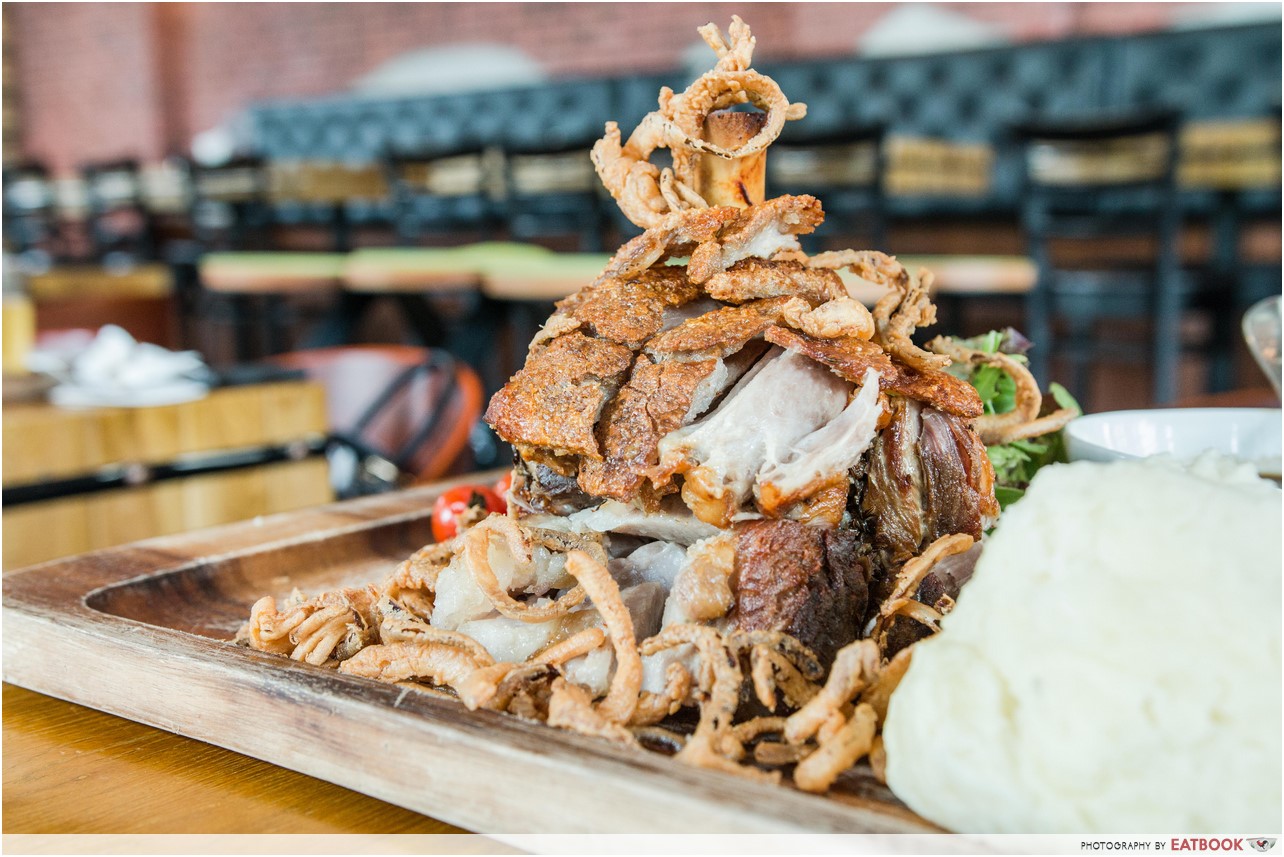 It's time to meet the beast of the night: Traditional Pork Knuckle ($38.80++) sprinkled with fried onions. It was served with Starker beer sauce, crisp salad and homemade creamy mashed potato.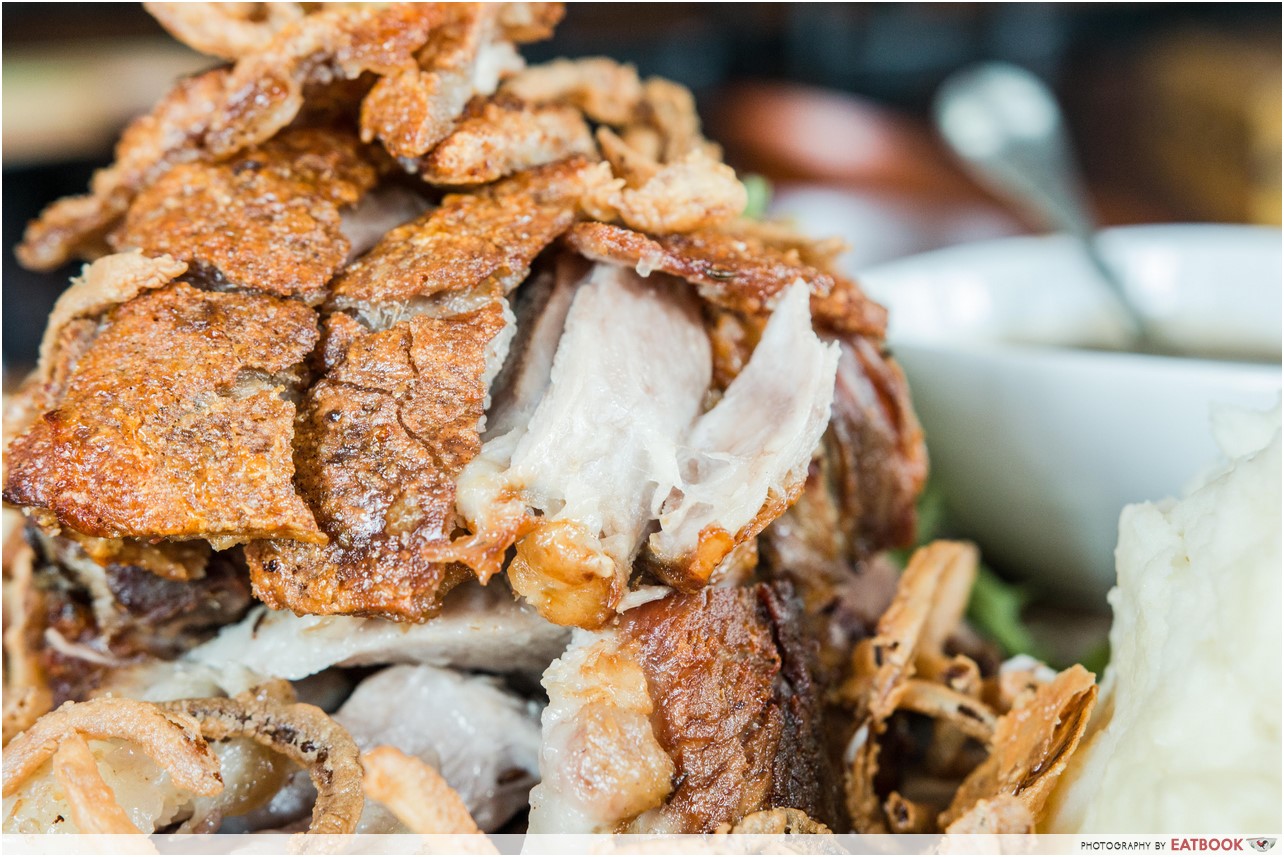 As I cut into it, I could hear the crackling of the skin and see the juice of the meat drip – dayum! The crackling skin wasn't plain crispy, it had a little bit of fat right underneath to keep it moist and flavourful as it crunches in your mouth. Just like a beast, the meat was thick, chunky and fleshy with a balanced layer of fat.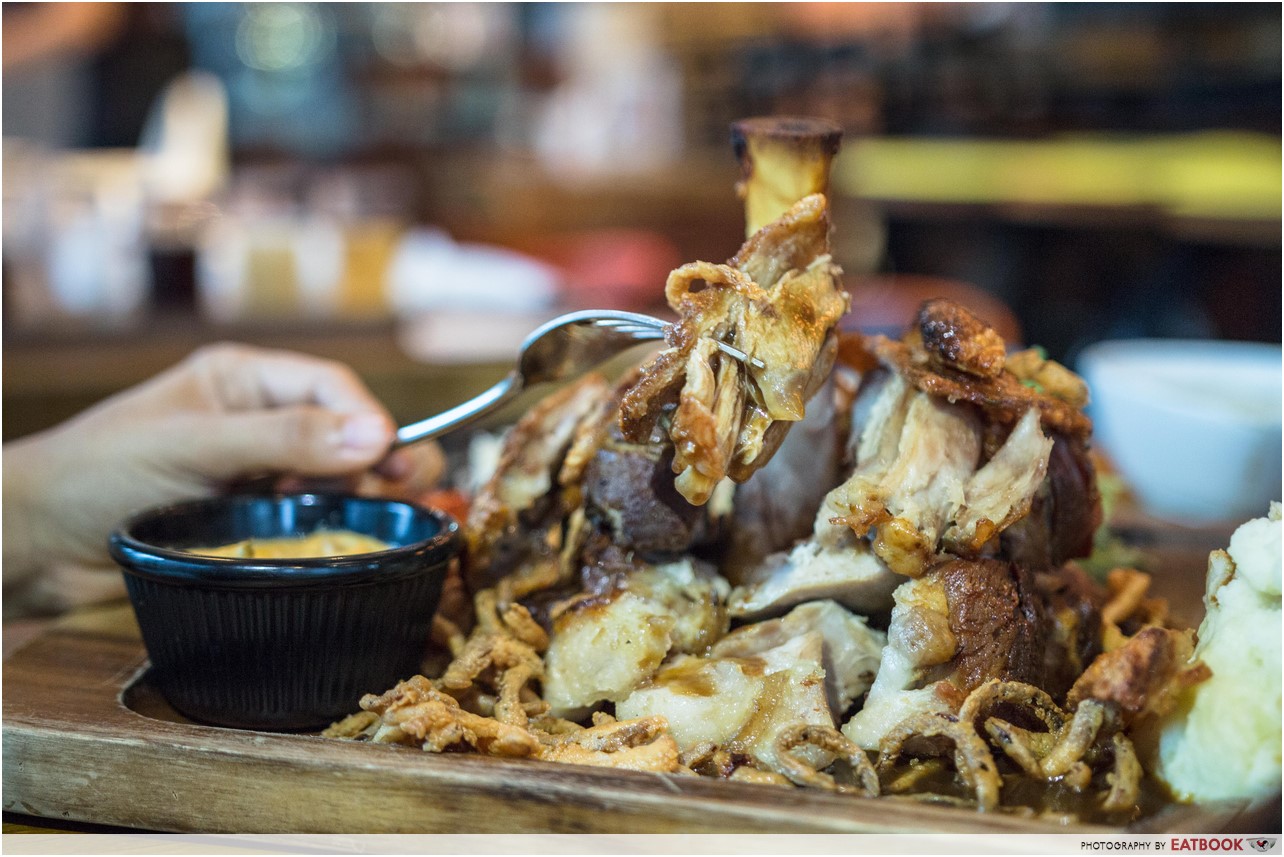 I didn't think a sauce was needed for this flavourful pork knuckle but the Starker beer sauce really complemented it. It's got an umami base that's light enough to keep the dish balanced in taste. The pork knuckles are prepared and cooked daily, so limited portions are available each day. Available from 5pm onwards, head down early to chope this!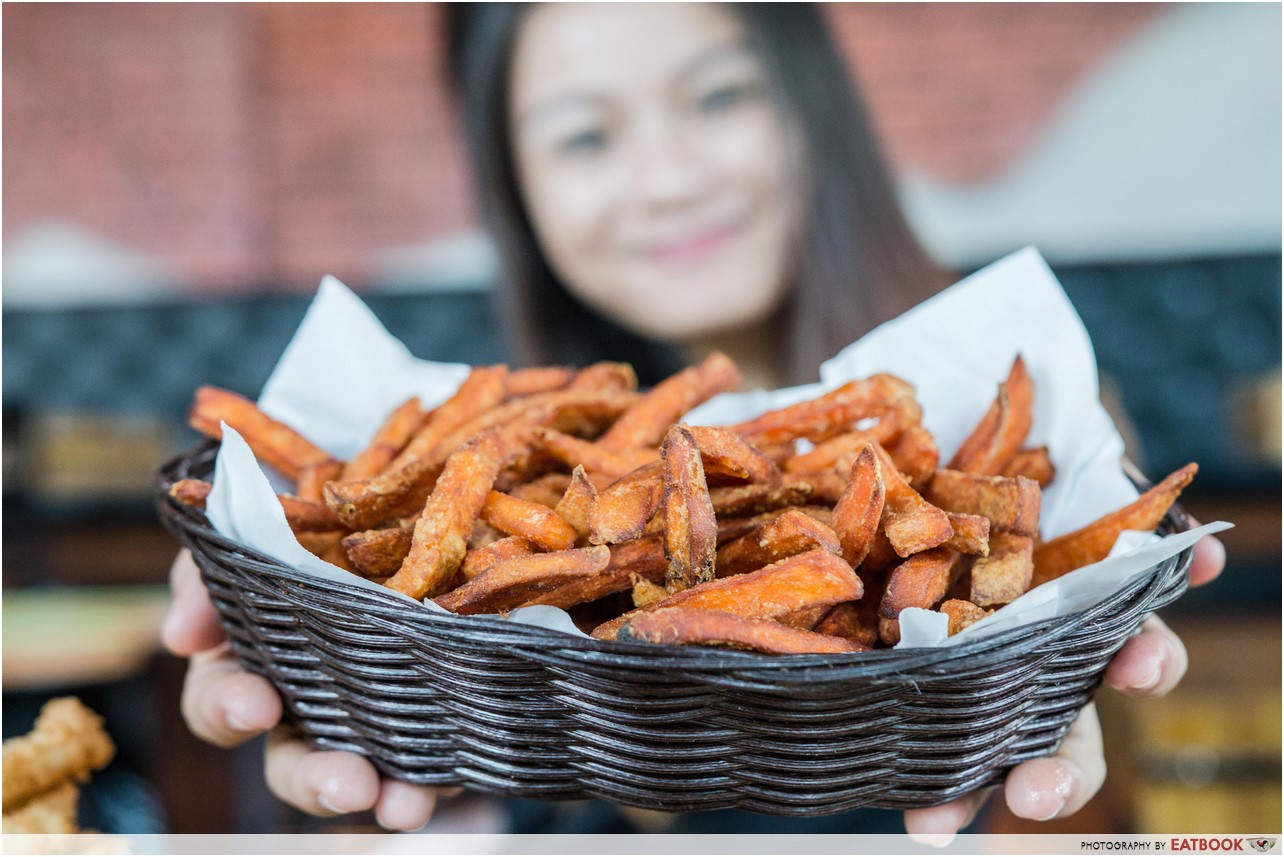 TGIF: Thank God It's Fry-day. Even though I already stuffed myself with truffle fries, this basket of crispy Sweet Potato Fries ($9.80++) was too addictive to resist. Dip them in truffle mayo or even Salted Egg Yolk Sauce ($3++) for a unique twist!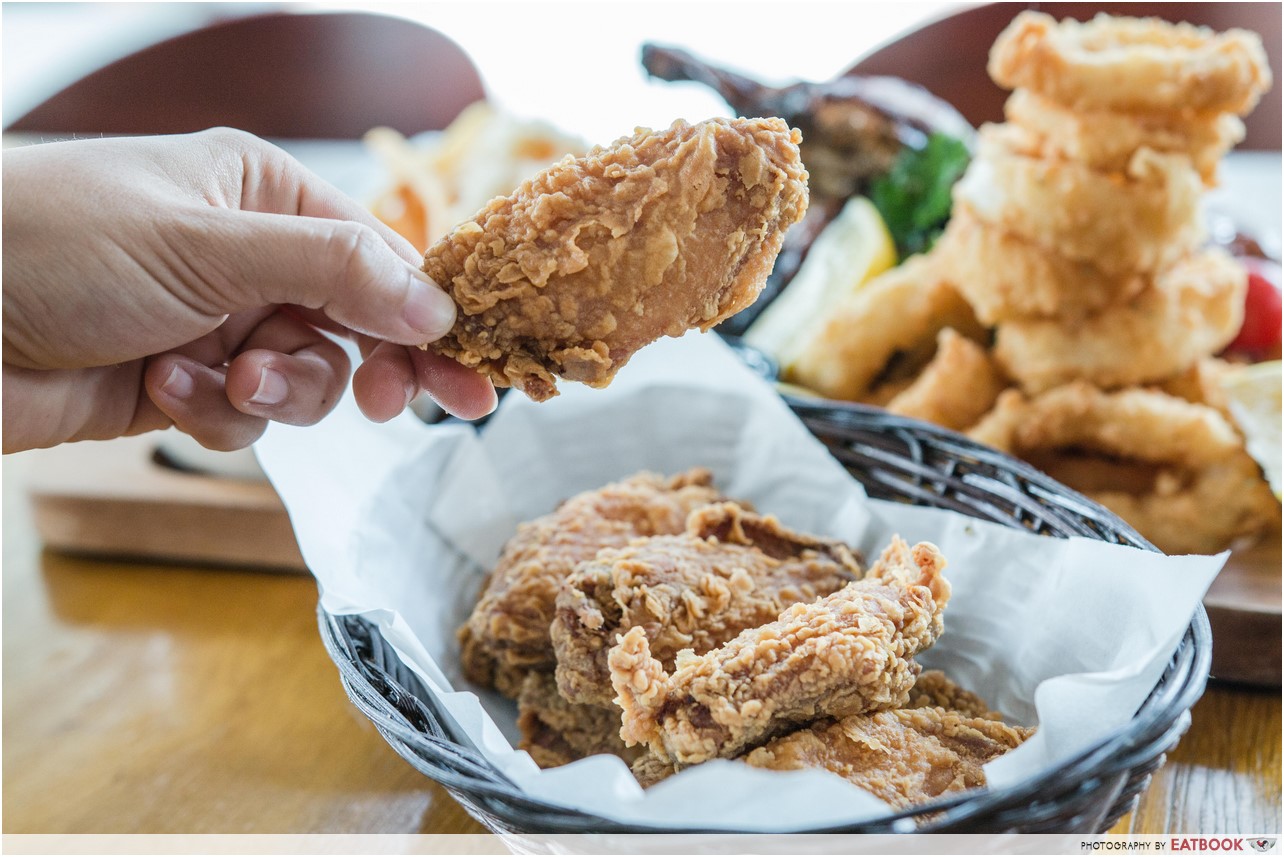 If there's one side you must order, it would be Starker Classic Wings ($10.80++). Marinated with Starker's very own beer, the crispy golden brown wings were unbelievably succulent once you bite into it. Even though it looks pretty plain Jane on the outside, this ranks high on my list of favourite chicken wings in Singapore.
Beer at Starker Bistro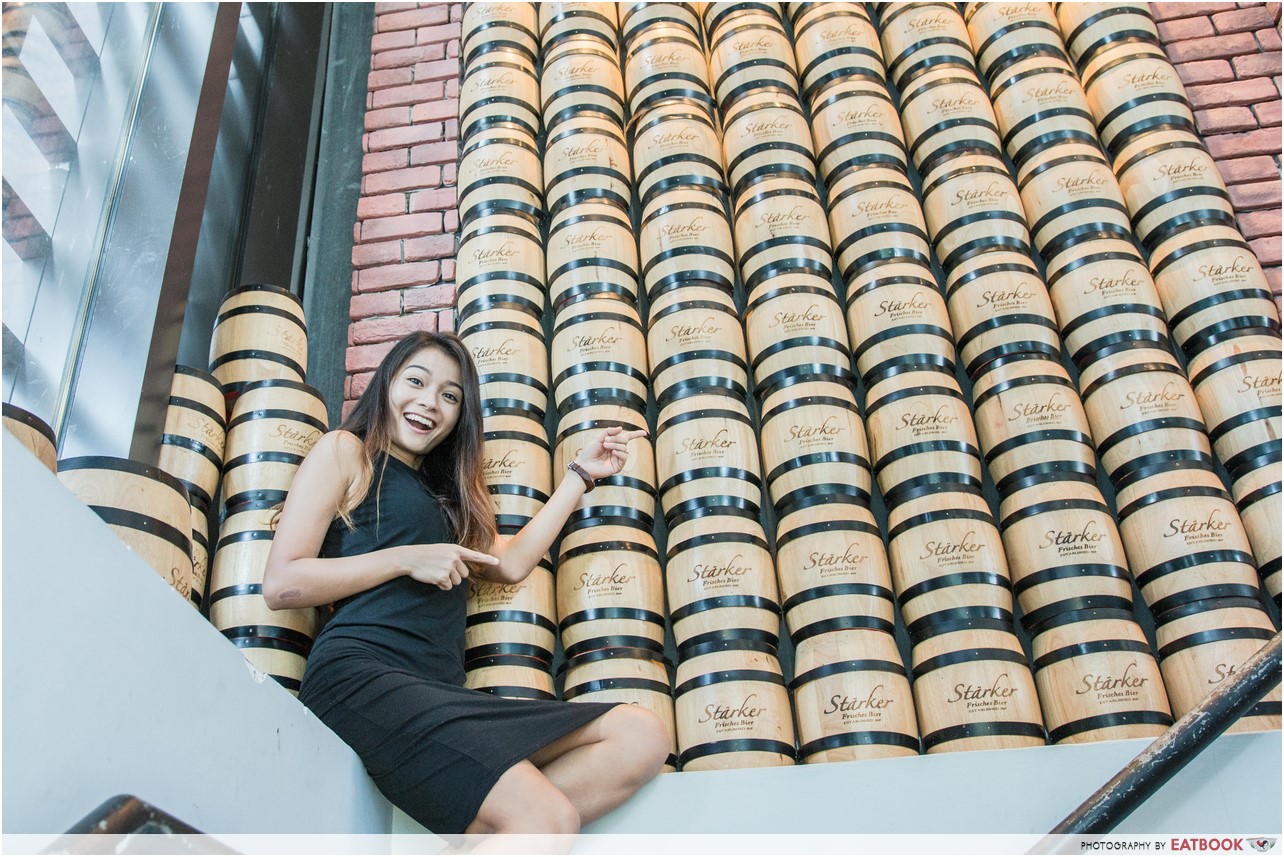 While all the party people be sippin' on their cranberry vodka or sour plum shots, I'd be happily gulping a mug of beer. If you love beer as much as me, Starker will be your second home because they serve German-style beer FRESH from traditional wooden barrels with guaranteed freshness of 7-day shelf life. I've never seen beer in wooden barrel freshly knocked and tapped when served in Singapore so this was an eye-opening experience.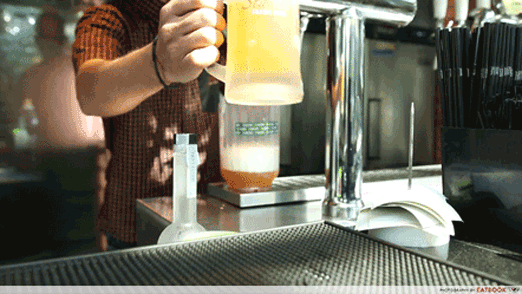 Plus, Starker offers to change your beer mug to keep the beer cold because, take it from someone who drinks beer regularly, it makes a world of a difference to the taste when the beer turns warm.
Starker Fresh Beer comes in five flavours, namely Lager, Aromatic, Lychee, Dunkel and Charcoal. If I have to pick two to stick to, it'd be Charcoal and Lychee.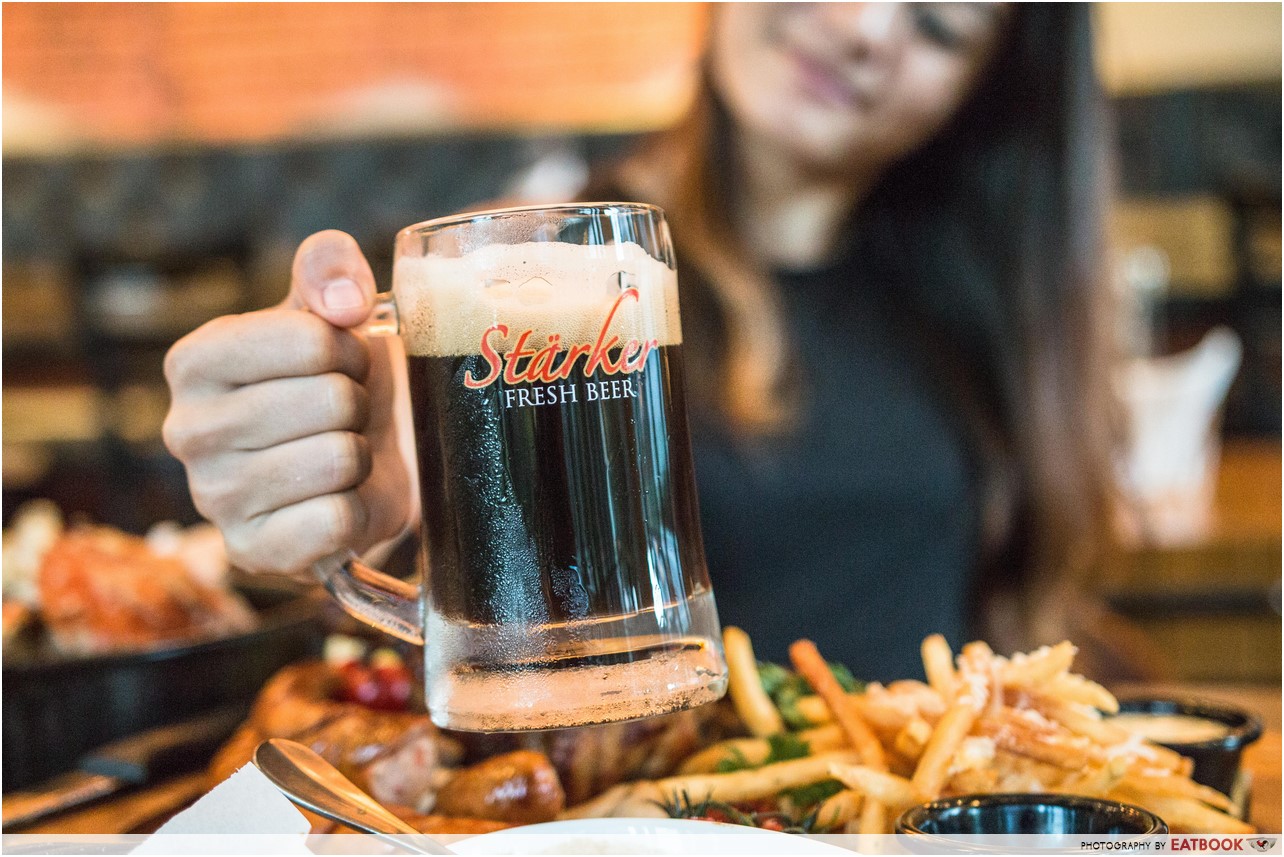 Charcoal tastes similar to stout – dark and roasted – except this is a lot smoother with a hint of roasted coffee. It has a stronger bitter undertone as compared to Lager but that makes it a good companion for heavy dishes like Traditional Pork Knuckle and Santa's Platter. This definitely gave my palate a nice break from the strong flavours.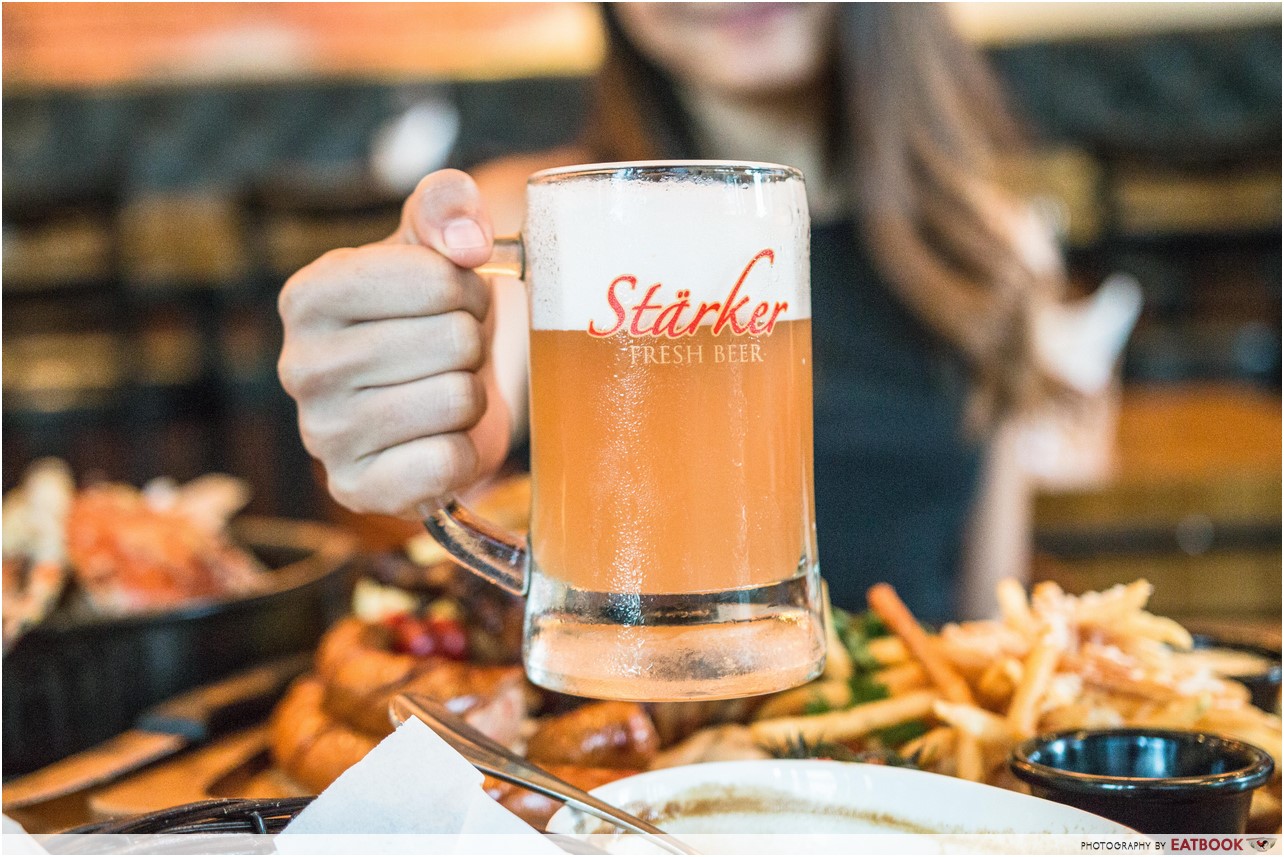 For those who rather stay away from the bitterness, you can have the sweetest of the pack: Lychee. This taste a lot lighter than Lager and Charcoal, and is sweetened with Belgium lychee. It's great for cider lovers and goes well with seafood dishes.
Ambience at Starker Bistro
With laidback charm from a setting made of brick walls, wooden tables and a bar, this is somewhere you can not only bring your date to, but your family or squad as well. Get a table by the glass wall to chill with a pint as the sun goes down, and wait until night falls to watch the bistro transform into a romantic bar with festive vibes.
For those who fancy some live music, head to Starker Music just beside. The eager beavers who are planning for New Year's already can consider going there because they've got a band that'll countdown with you on the 31st.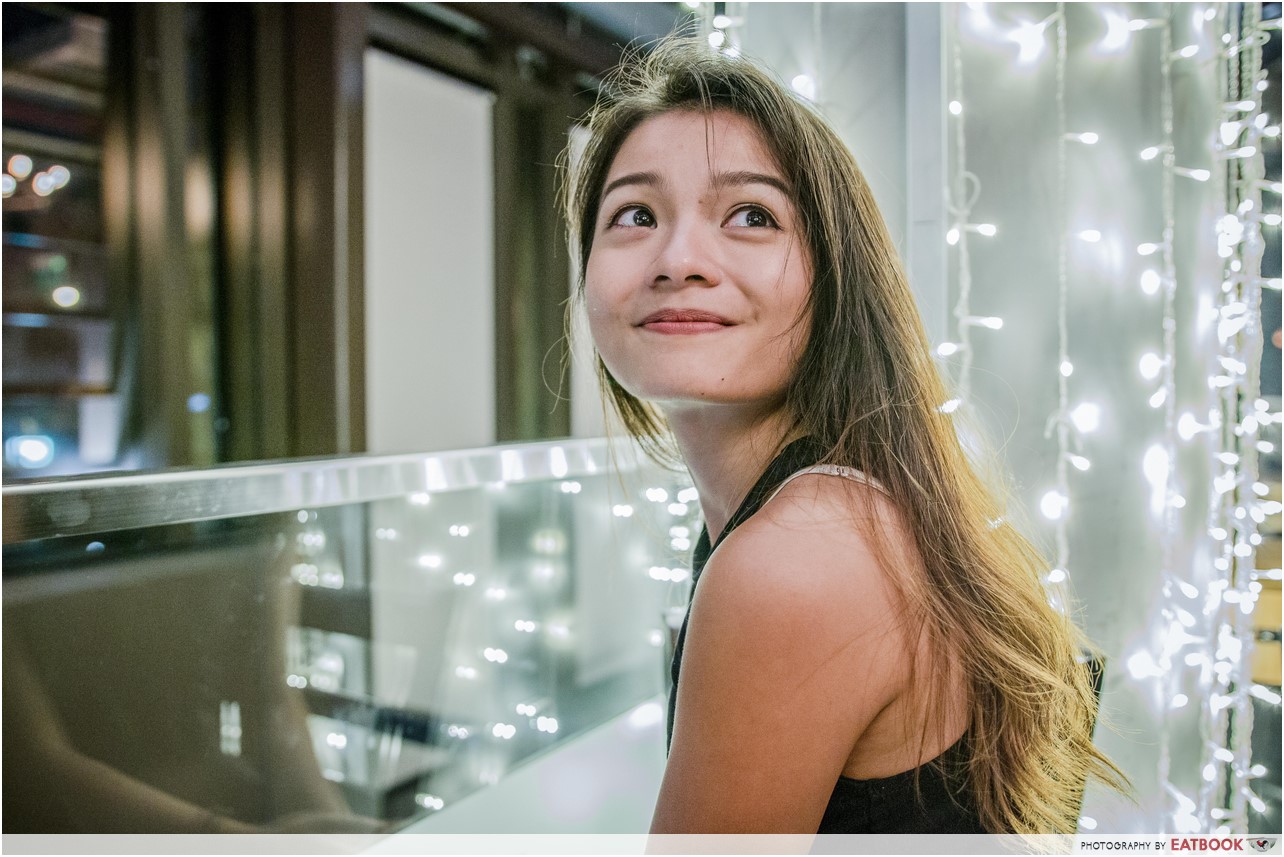 If you've got younger siblings at home, bring them here for events like balloon twisting and caricature sessions. Click here for more information.
The verdict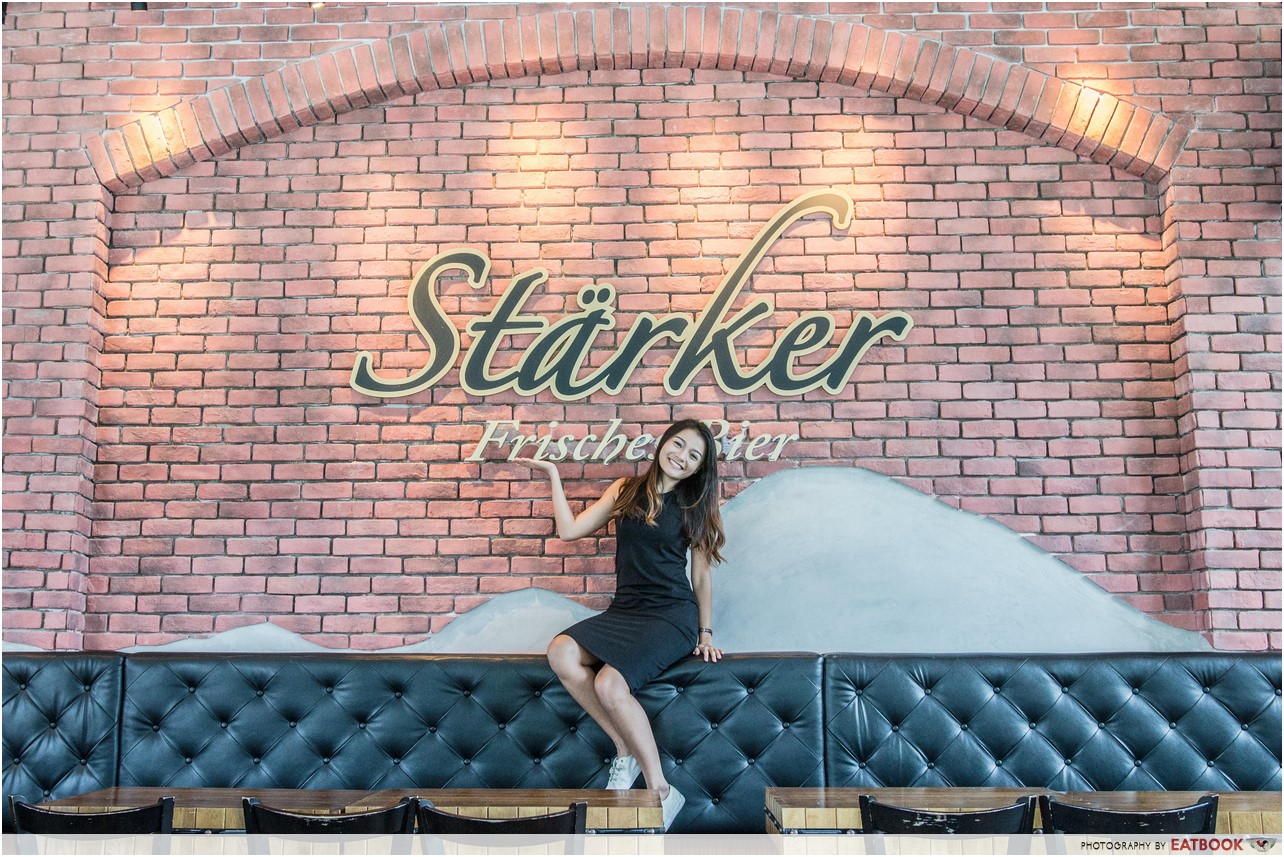 What makes the food and beer at Starker stand out is the quality of the ingredients used and the chefs' finesse. It's rare to find a bistro bar with freshly prepared dishes, a chill ambience and at a convenient location, so this is one of the places I'd bookmark in my mind for gatherings with the fambam.
And no matter what, remember to stuff yourself with good food and ice cold beer this Christmas because you deserve a good treat for making it through 2016 – cheers m8.
This post is brought to you by Starker Bistro.
Summary
Pros
– Romantic ambience
– Freshly prepared food
– Good service
– Accommodates small and large groups
Cons
– Expensive
Recommended Dishes: Santa's Platter ($180++), Ocean Galore ($93.80++), Lychee Beer ($8.90++ for half pint, $16.90++ for one pint, $63.90++ for a two-litre barrel, $148++ for a five-litre barrel), Traditional Pork Knuckle ($38.80++) and Starker Classic Wings ($10.80++).
Operating Hours:
Sunday – Thursday 3pm to 2am
Friday – Saturday, eve of PH and PH 3pm to 3am
Tel:
6734 1810
Address: 1 Jalan Rajah, #01-02/03, Singapore 329133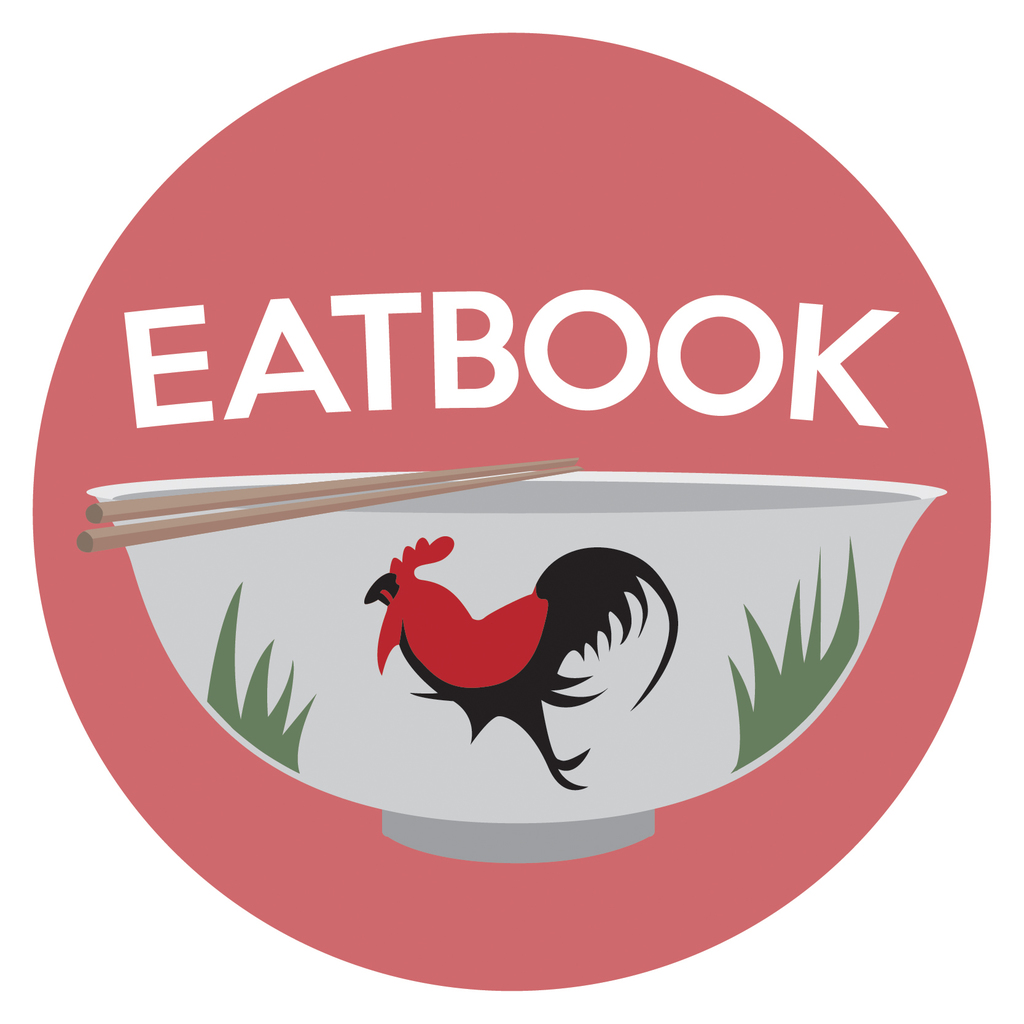 Drop us your email so you won't miss the latest news.